In total transparency, I have to confess that I knew, since the first test drive in September that I will have an Alpine A 110. The questions were when, as I had to find the funds and I was a bit limited on that matter, and which one I would choose.
As for the funds question, I could opt for a car I would configure, with the fundamental options, or one with a very low mileage. Both options were totally valid. The first option would have led me to wait around 6 months to have my car, but why not. The only problem is that the taxes could well double, next year, for a car of this kind, but well, why not, again.
A bit faster and a tad lower in price, the option of a low mileage car is the way I decided to take, so I started to hunt the for sale ads, here and there, in order to find MY car.

As for the version, I decided to take my time, to be sure, and to not regret my decision.
Indeed, I decided that the Alpine A 110 would be my daily driver, in alternance with my good old Volvo P1800E. So, that led me to bring my Volvo C 70 T5 in the deal.
So which one to choose? This is a first class problem, I must say.
The Pure? This is the lighter of all the A 110, with minimalist equipment, and fantastic seats. But you have to change the 17 inches rims for 18, to get the parking camera, and a few other things which are quite expensive. AND for a daily driver, the seats are not the best, since you cannot set their inclination.
The Legend? The seats are not totally the same, but at least you can set the inclination, and the hi fi system is good enough. It also has the 18 inches rims in series. So, all in all, with the level of equipment in series, it is an interesting offer. And it is more comfortable for a daily driver.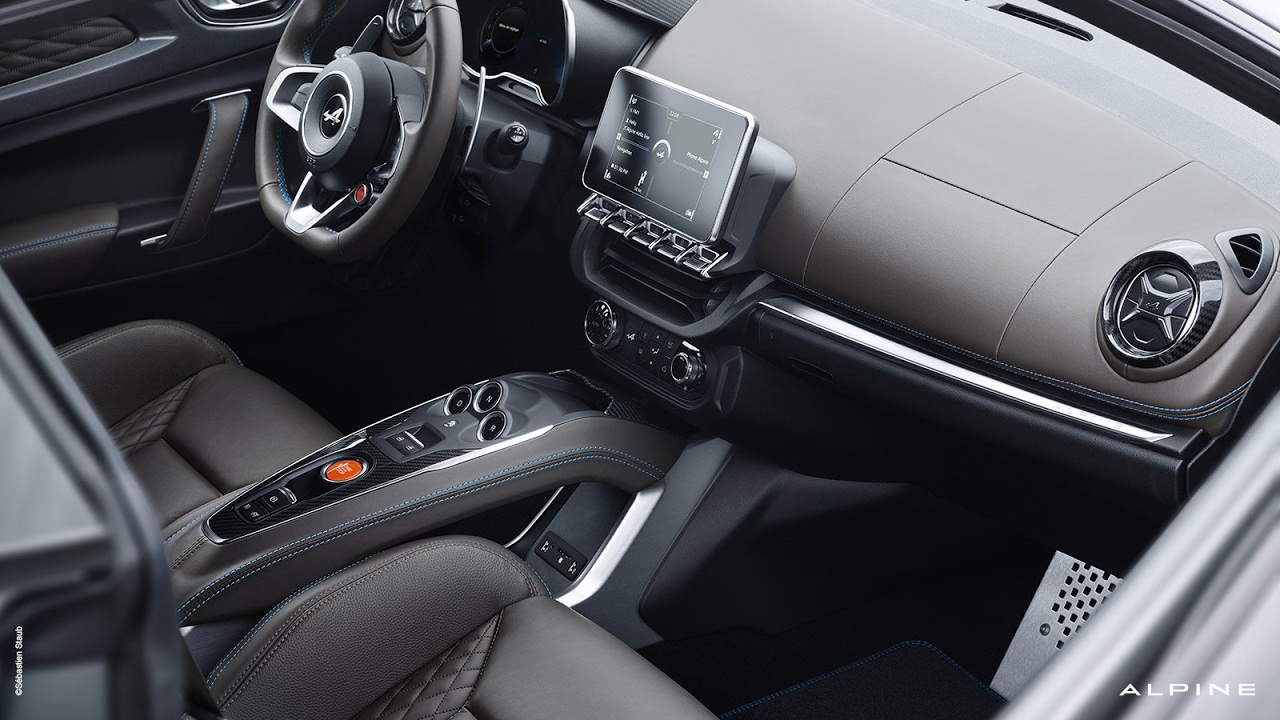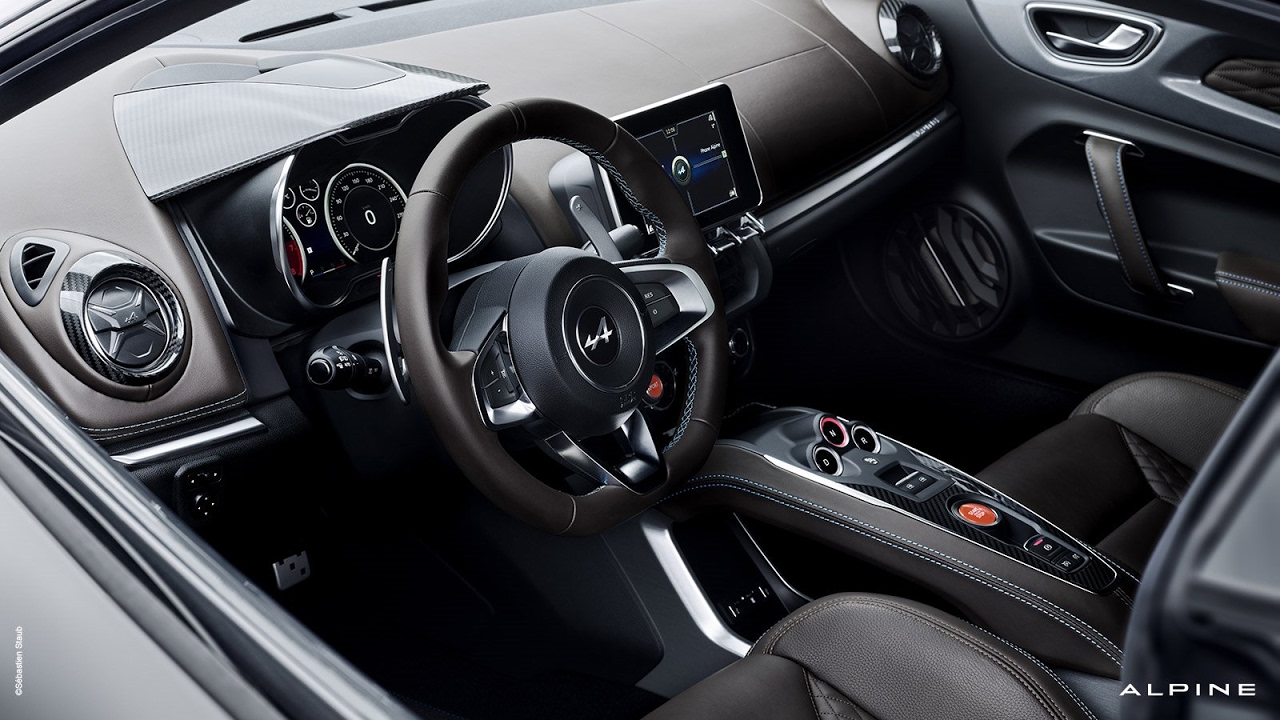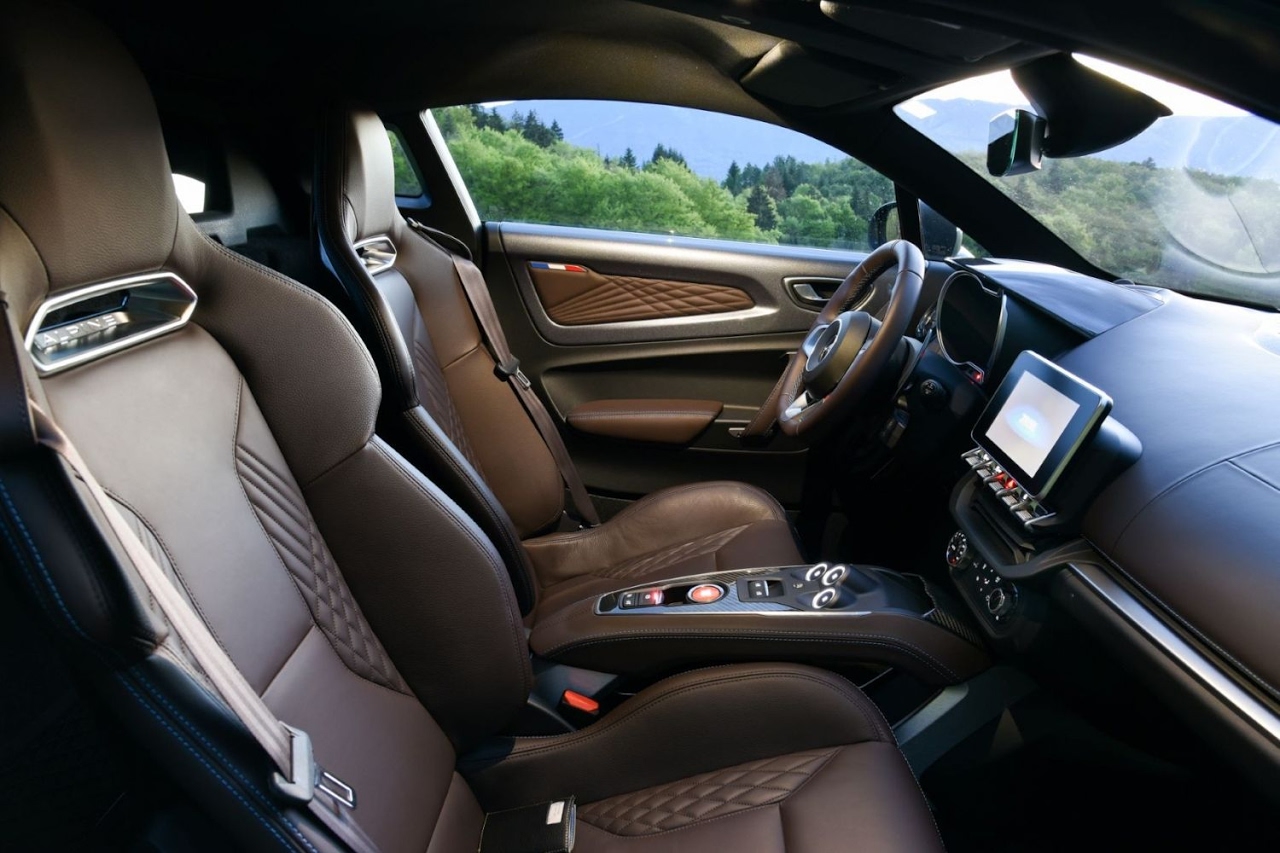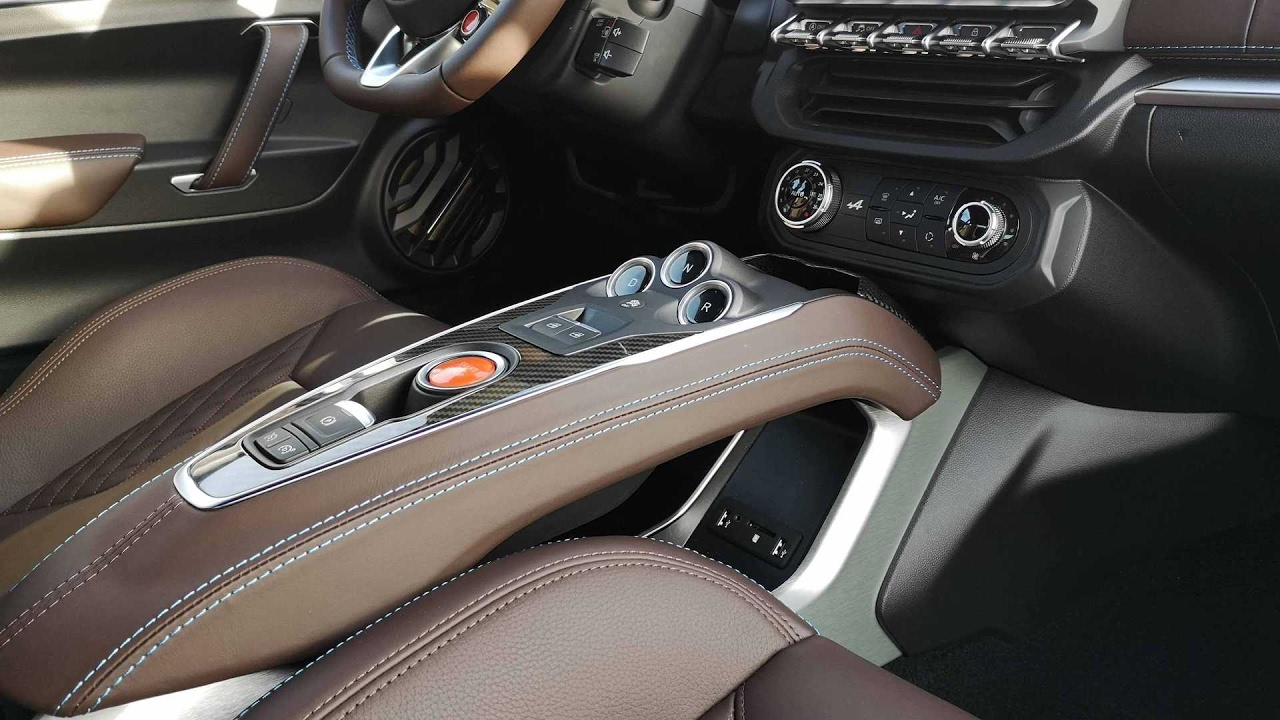 The A 110S is the one which pleased me the most. More powerful ( 40 extra HP ), but this is something you don't really feel. The chassis is sportier, stiffer, a tad less comfortable, and all in all, much more expensive than the Pure and the Legend.
The A 110S: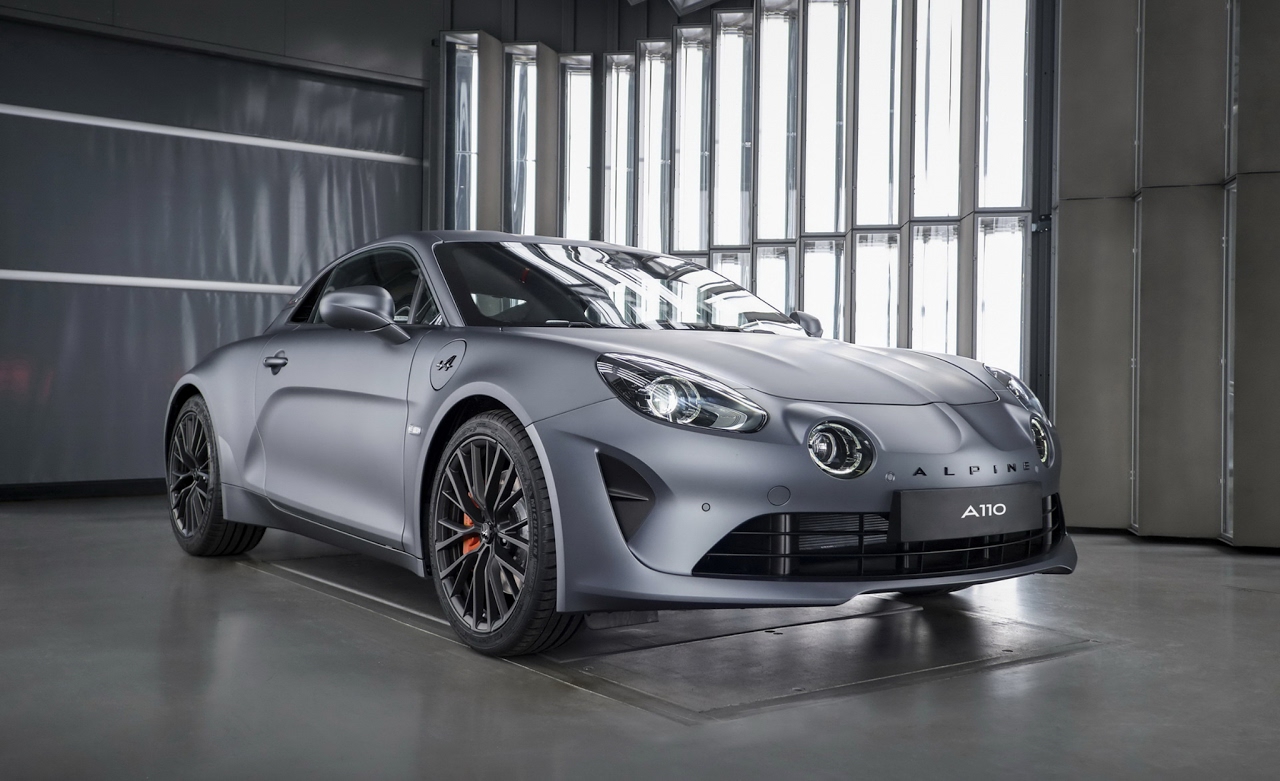 Then, the color... The Blue is the natural choice for an Alpine A 110, but other colors are historical, such as the white, the orange, the yellow, and the red.In fact, I hesitated between the Blue, the White, the Black and the Grey.

Here again, for an everyday driver, the Blue is a bit too much, and there are a lot of Blue A 110! I feared I could get rid of this color very quickly.
Credit picture: Topgear:
The Black? I had a lot of cars in Black, so I feel a different color could be better:
The White is very nice, but I fear it will get dirty very quickly:
I was quite tempted by the midnight blue with gold wheels, very vintage looking, too:
Though, I decided to go for the Grey, which has some very interesting and subtle nuances, not to say that this color adds a touch of Class, which is better for me, if I drive it very often.
The funny thing is that my first choice was a Pure, in Blue... And I ended with a low mileage ( 3000 Kilometers ) Legend,in Grey.
Here is my first moment with the Alpine, hence my first doubts between the Blue and the Grey, the Pure and the Legend, in Deauville:
And even where I bought it, the dealer had both, the Legend Grey which is now mine, along with the Pure Blue:
While the S or the Pure would have been the choice of Passion, I would say that the Legend is the choice of Passion AND Reason.
Now, there are some details I wanted to work on, some changes I wanted to do on what I can now call MY A 110.
The first detail, this thin and long metallic baguette
in the center of the front hood. Isn't this version called Legend? So it should have this detail we found on some of the A 110 from the past:
Here on a wonderful A 110 1600S ( credit picture: Classic Driver )
And here on a Legend:
Here on mine:
This baguette is called " heritage pack ", and it is not that common option.
Without:
The second detail, which is an easy one to solve, the air filter:
I hate air filters made in paper. Letting your engine breathing is not a superficial thing. So, I found a good one, from Green. I used to get the famous KN Air Filters, I wanted to change for something as good as KN.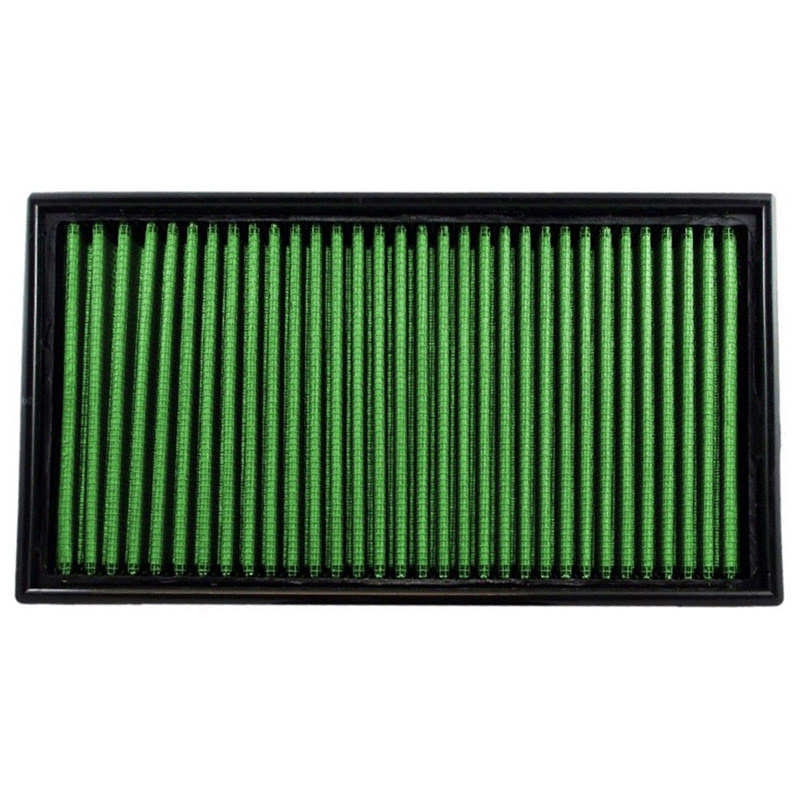 Not that you gain a lot of power and torque ( around 2 HP and 1 or 2 Nm Torque ), but it is always good to know that you have something reliable and good helping your engine to better " breathe ".
For those who think that it is the first step toward an engine tuning, I will kill the suspense, it is not. At least, I want to get used to my new car, to know it very well in the first months of ownership, then we'll see. IF this is something I want to work on, it won't be a big one, something like 30 or 40 extra HP maximum and a bit more torque 30 or 40 extra Nm ). No need for more, for me, for the moment. And I am pretty sure the A 110 comes with a bit more HP. Those who measured its power could see that their engines were close to 260 HP rather than " just " 252 HP and more around 340 Nm than 320.
Now, I can improve the special air filter with a dynamic admission, some new hoses, and a bit of work on the cooling system. I am studying the possibilities.Work in progress.
The third change? The rims!
I don't like the " Serac " rims on mine that much:
That was the main issue I had while deciding to get this A 110 Legend. I would have preferred Fuchs Rims, like here:
Or at the limit, the Legend Rims:
But these Serac are truly not my choice, nor my taste.
There are three options I am considering...
The GT Race Rims:
Which works very well with this grey body, in my opinion.
Here are the three models of original rims. From top to bottom: Serac, Legend and GT Race.
Note that here, the GT Race I would choose is not glossy, but matte, at the contrary of what is shown above, like here:
The Alpine catalog options:
The second option would consist in going for OZ Rims, such as the Allegerita HLT, which are 10 to 12 kilos lighter than the Alpine A 110 original rims.
Chasing weight is always a good thing, especially for non suspended elements such as brakes, rims, shock absorbers and exhaust, more important than the weight of the interior and roof. The issue is that they may not be very shock resistant...
The last option may well be my favorite, theFondmetal 9RR, lighter than the Fuchs:
And here, on another Alpine. Credit picture: Unknown.
After a long deliberation, the winner is the Fondmetal 9 RR 7x18 ( front ) and 8x18 ( rear ) !
I also took the opportunity to work on the chassis, and opted for the suspensions and anti roll bars of the A 110S; finally; after some tests on tracks and long fast curves.
The fourth change will probably be about the brakes. I have the normal ones, which are 296 mm big. I am seriously considering the big ones, which are 320 mm, and also are 2 kilos lighter! I feel it will be a good improvement, here, especially if I want to have fun on a track.Now, the choice is between original brakes and aftermarket ones... Still under deliberation.
The thing is the extra price of new rims and brakes, as I will have to spend around 5 K euros, but it is the price of satisfaction, so it is ok for me. Let's say that I want to feel my normal brakes for a while, to enjoy the improvements, but that I really want to change my rims right now.
The last change:
The exhaust, which will be in Titanium Grade 6... You gain more torque ( 23 Nm ) a bit more HP, and in lightness, as you save 8 kilos! It is a bespoke one, it takes a lot of time to order and well, it has a cost.
Here is the beast:
The other details are not changes, but additions of options: The storage pack is necessary, here, as well as the travel bags made for that car. I am working on that, too.
In the meantime, I am enjoying this car immensely.
The very first pictures of my car, when I picked it, with the A 110S of a friend I poisoned with delectation...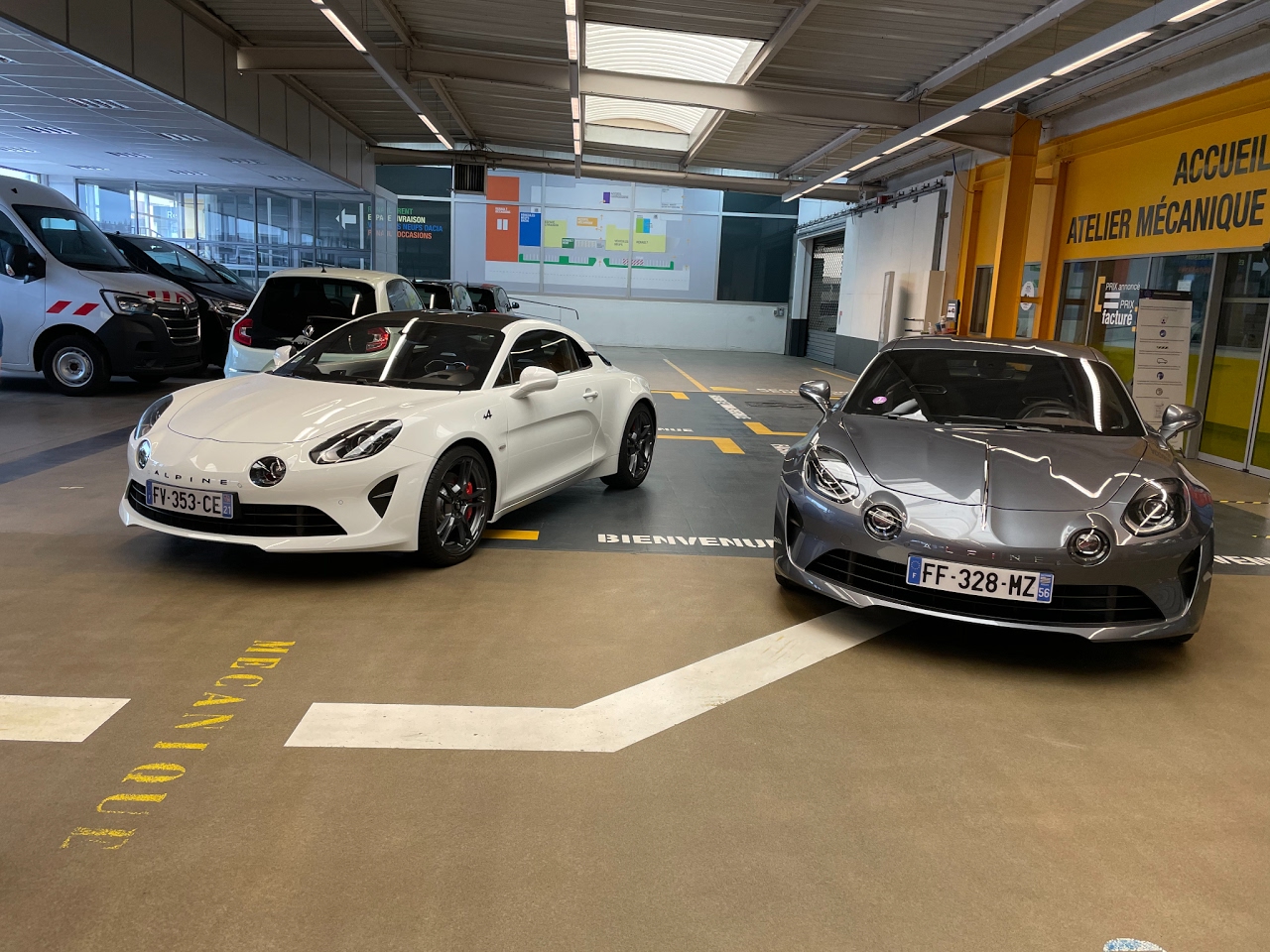 Testing a car is something, driving the one you chose is a totally different experience. It is yours! You made your dream come true.
Here is a video allowing you to hear the crazy sound of this engine:
You are not only driving, you are testing the different possibilities this car offers. You are writing the first pages of a book which will hopefully be a big one. you are starting to become proud of your new motorized companion, which will be a delicious option to my good old Volvo P1800E. Yes, these are totally different feelings!
The first refill: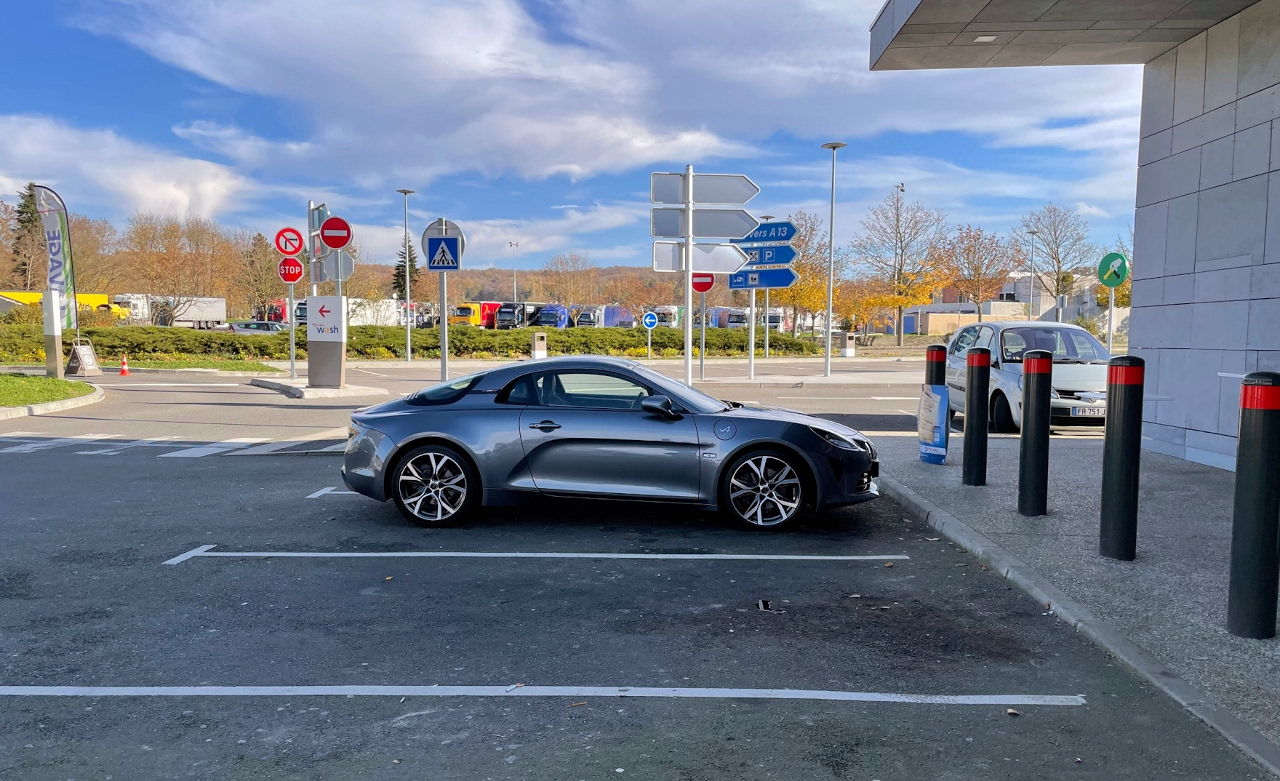 And you start to understand the philosophy or, if you prefer, the raison d'être of this car, FUN. FUN more than performances, even if the A 110 is a fast car: Once again, 0 to 100 Km / h in 4, 5 seconds, 1 kilometer in 23, 2 seconds, 80 to 120 Kilometers per hour in 2, 6 seconds, these are some very good figures, at the level of a Porsche Cayman with 300 HP. But its favorite playground is elsewhere, fun and pleasure. Here, it is a real champion. And it will be even faster, with more torque, HP and less kilos.
I still have to get used to it, and to master all its possibilities and talents. But God knows how much I am enjoying this car. It's been a very long time since I didn't have so much fun and love for a car.
More pictures will come as soon as I make some enhancements on my A 110.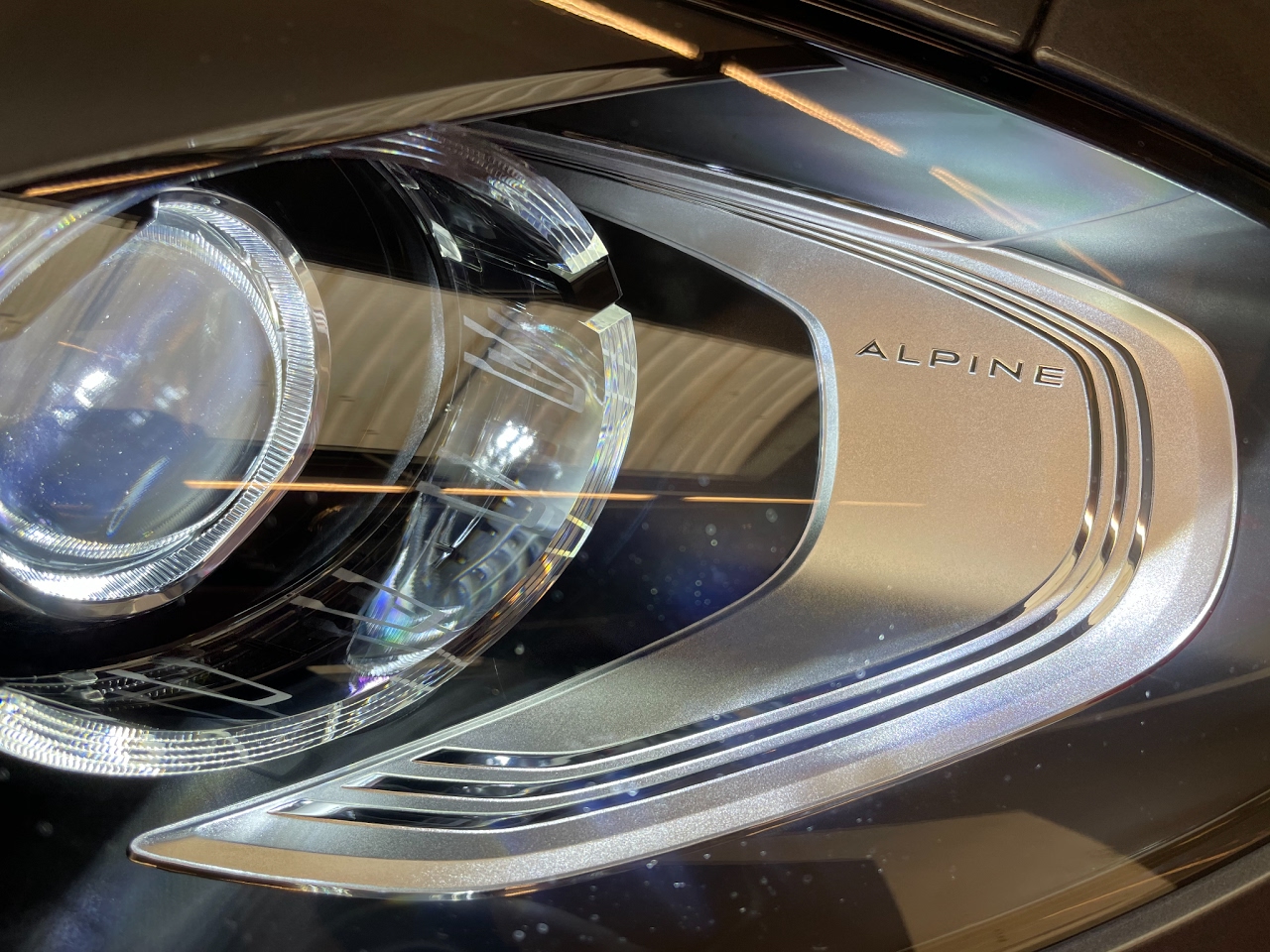 Best,
Nicolas