Moderator Patrick_y test drives the Jaguar I-Pace at a Jaguar demonstration. The ensuing is a review that incorporates the new electric Jaguar's features and driving performance.
INTRODUCTION
Jaguar, the car company that made the world's fastest production car in 1948 has had many accomplishments throughout the years. Fast forward to today; Jaguar's latest and potential future accomplishments are likely going to be all electric. Jaguar has invested heavily in electric cars and has even joined the Formula-E race series. The new Jaguar I-Pace will be a special vehicle that is meant to kick start Jaguar's foray into the electric car world. Audi (Germany), BMW (Germany), NIO (UK/China), Jaguar (UK), DS (China), and Nissan (Japan) are the other teams backed by large car companies in Formula E. Each one of these teams are quite formidable, even China-only brands like NIO are competitive; NIO has made the fastest road car to ever lap the Nurburgring (North Loop) in history, and yes, it was electric!
It's also important to note that Jaguar is a much smaller company than its German counterparts; BMW and Mercedes each sell over 2.25 million cars a year worldwide when Jaguar/Land Rover combined sell only around half a million cars per annum; around a quarter of either BMW (BMW sells approx. 2.4M vehicles per year). Imagine the scale that BMW and Mercedes are able to produce, and the economies that come with that scaling. Imagine the benefits larger car companies can enjoy especially in research and development; where more extensive research can be done at a lower cost per car since those costs are amortized over many more cars. Jaguar has certainly invested a large capital expenditure into developing this electric car.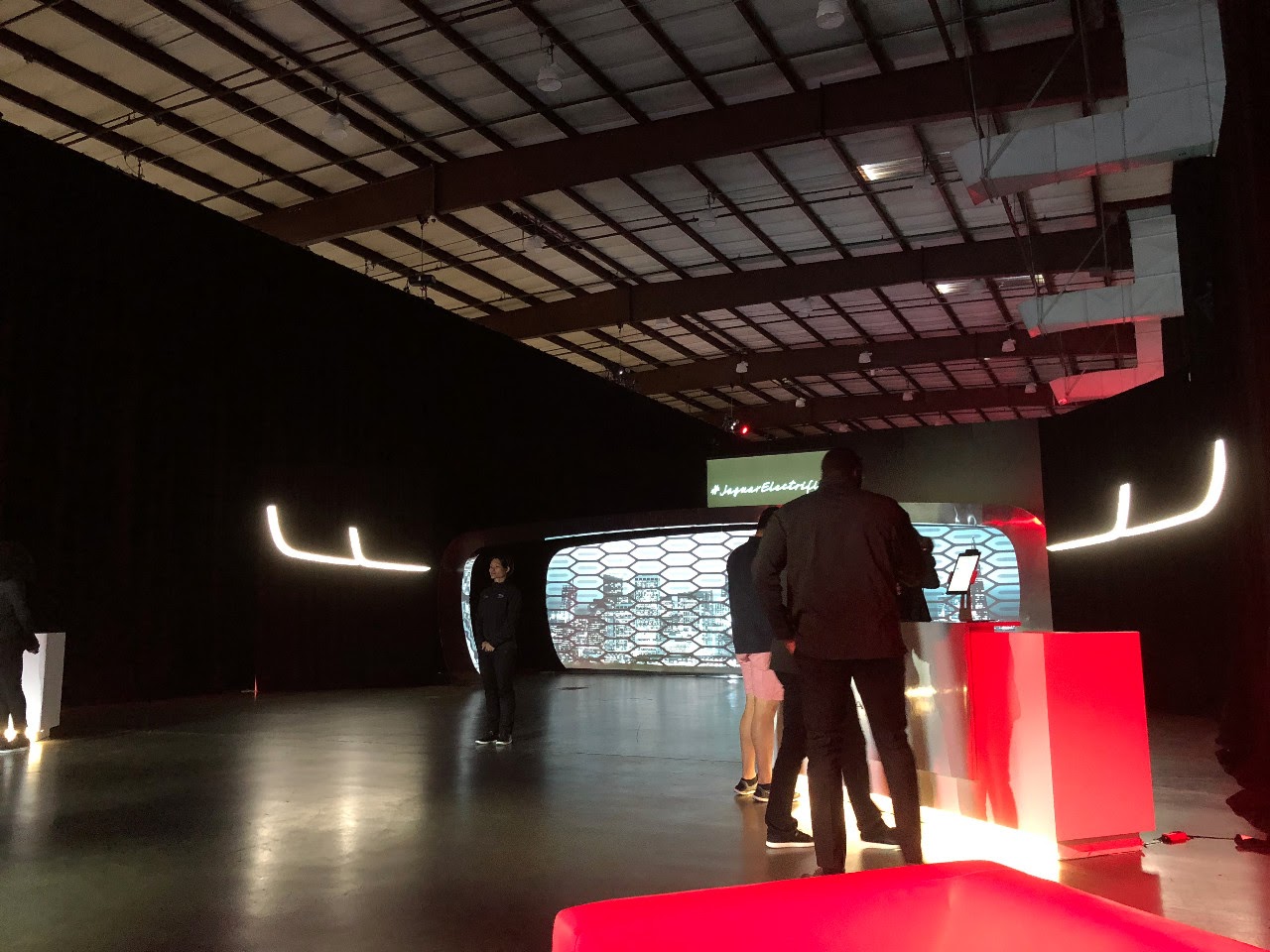 Reception Area
THE EVENT EXPERIENCE
Arriving at the experience, I park my antique internal-combustion engine car in a parking lot filled with newer and often electric cars. Probably 30% or more of the vehicles here are Teslas, which makes sense, since I'm attending an electric car event. Overall, nearly half the cars in a quick glance of the parking lot seem to be electric cars. An electric golf kart driven by a smiling Jaguar Ambassador takes guests from the parking lot to the event space. After a quick check in by a staff all in identical uniforms down to their black leather Cole Haan sneakers with white soles, I am whisked to the back where the exhibit starts…
At the Jaguar event; guests experienced the current line up of static Jaguar XE, XF, XJ sedans, F-Type sports cars (which I find to be a very dangerous car as the car is very prone to fishtailing), and Jaguar E/F-Pace SUVs. I walk past the "museum exhibit" in a hurry, I am here to see the electric car and determine if it's as good as the electric cars from Tesla and BMW, two brands' electric cars I've experienced so far.
After seeing all the internal-combustion cars, I finally see the I-Pace. It's good looking for an electric car. I find most Tesla vehicles to have a somewhat uninspiring design. The Tesla Model 3 isn't beautiful, the Tesla Model X is very functional, and the Tesla Model S is a quality design, but the aesthetics of the Tesla Model S combined with the discomfort of the rear seats does reduce its luster compared to a Mercedes S-Class.
In the static display cars, you can climb in and get a feel for the car. I'm pleased to say that the car looks good, appears to be mostly well built (panel gaps are consistent, this is not the case on Tesla vehicles), has reasonable materials (some hard plastics in the interior), the doors are light (felt like aluminum doors), and most importantly the rear seats feel adequately comfortable with enough thigh support and head clearance for normal sized adults (the thigh support is often missing on many electric cars, especially the Tesla Model 3 and S because the floors are shallower due to the batteries that raise the floor, thus causing the feet to be elevated). So far, no complaints!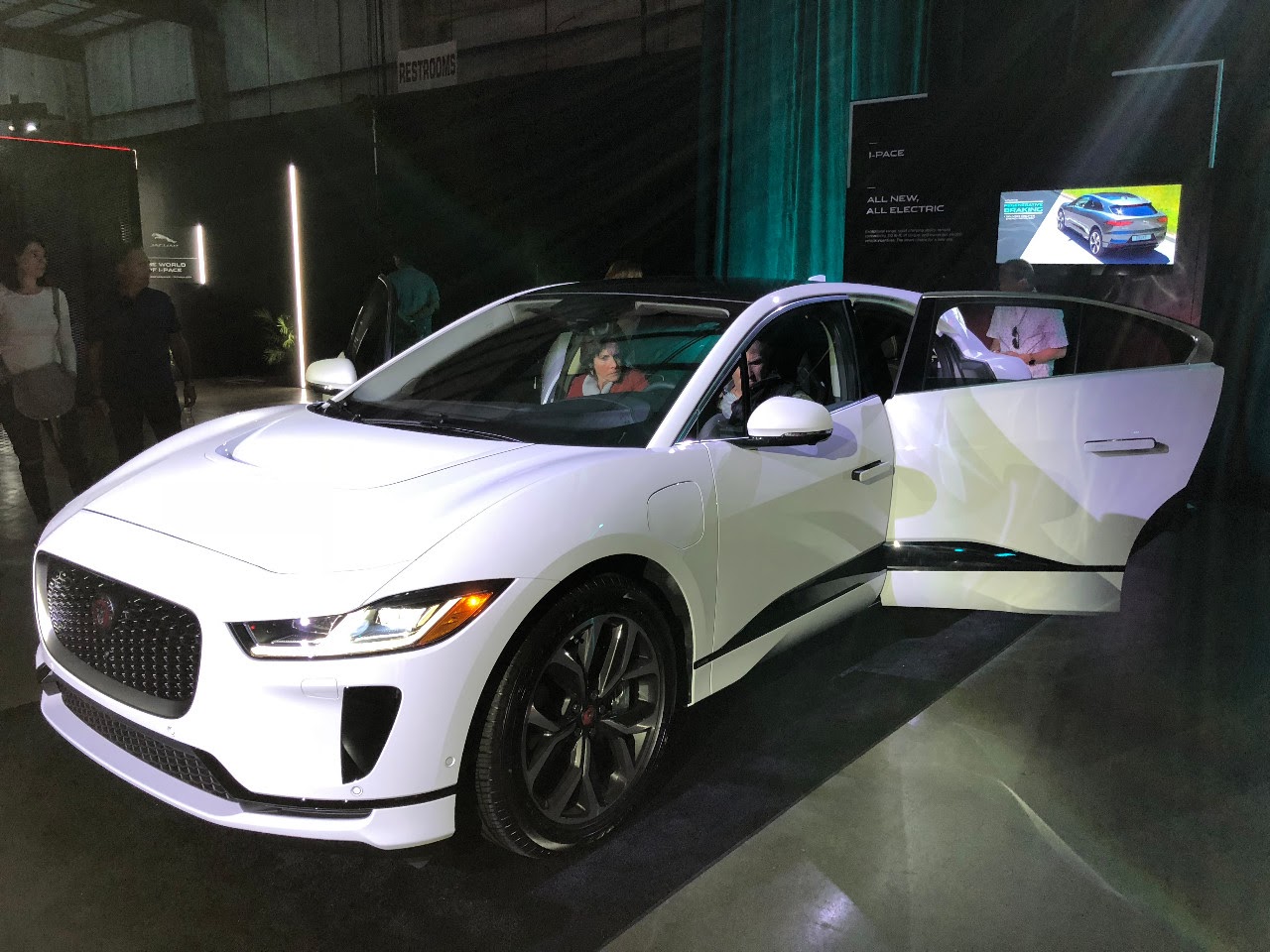 I-Pace in white.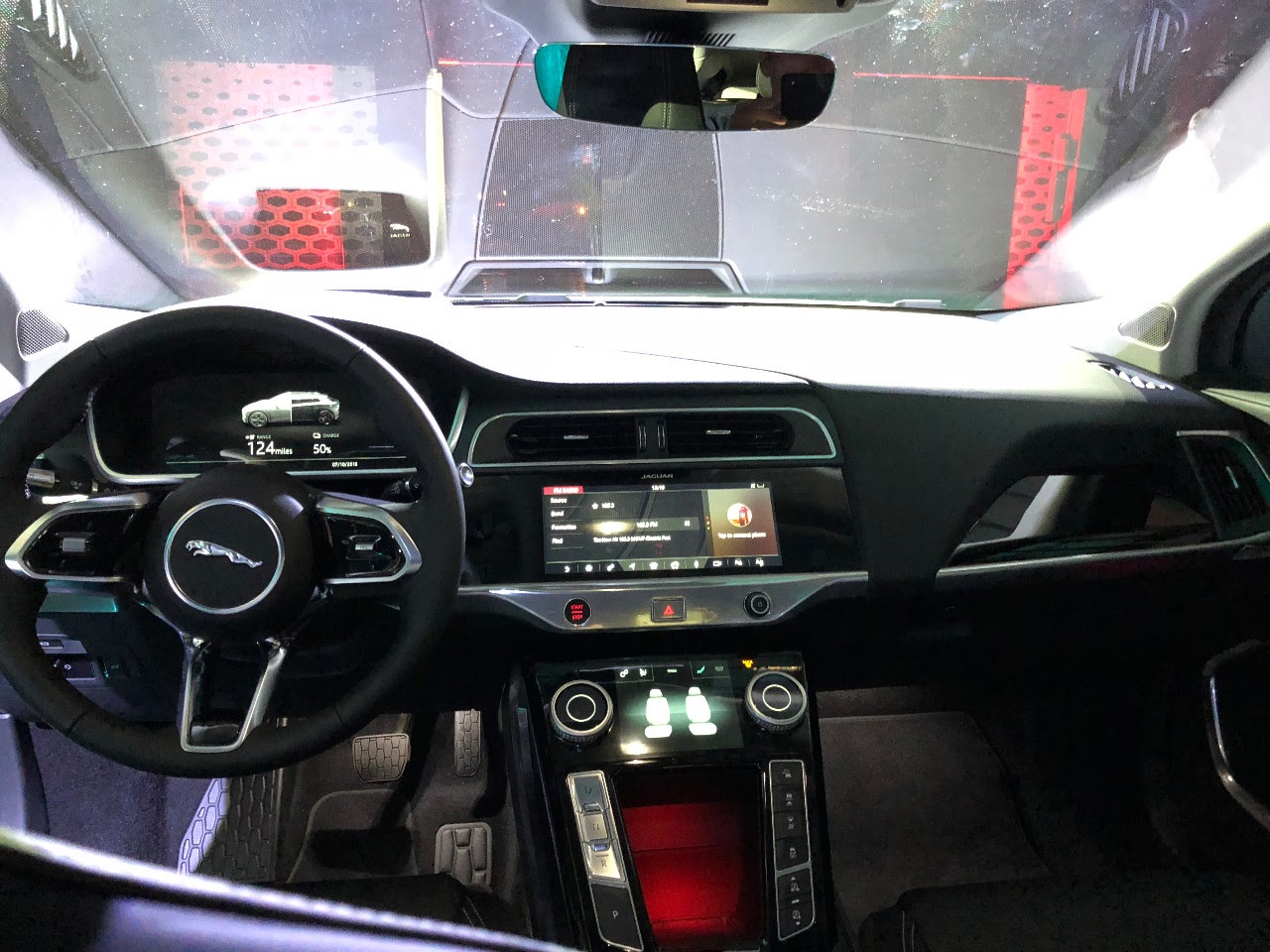 Interior has four screens; Heads-up display (if equipped), instrument cluster, main infotainment display, and lower secondary display. Notice, the gas pedal is unfortunately not floor hinged (floor hinged gas pedals are generally more ergonomic, many race cars even even have the brake pedal floor hinged).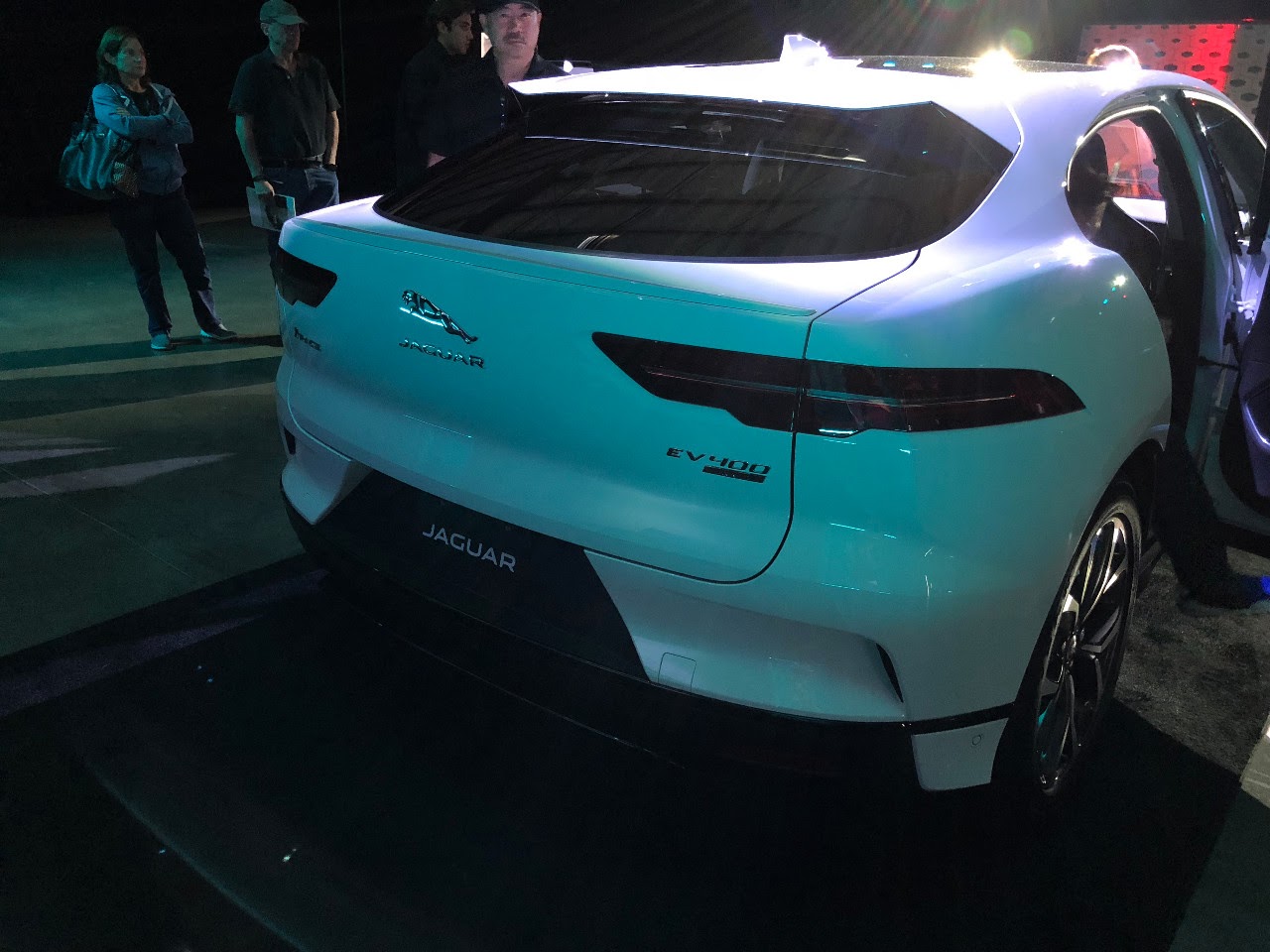 The rear design is very aerodynamic. The full name of the car is "Jaguar I-Pace EV400"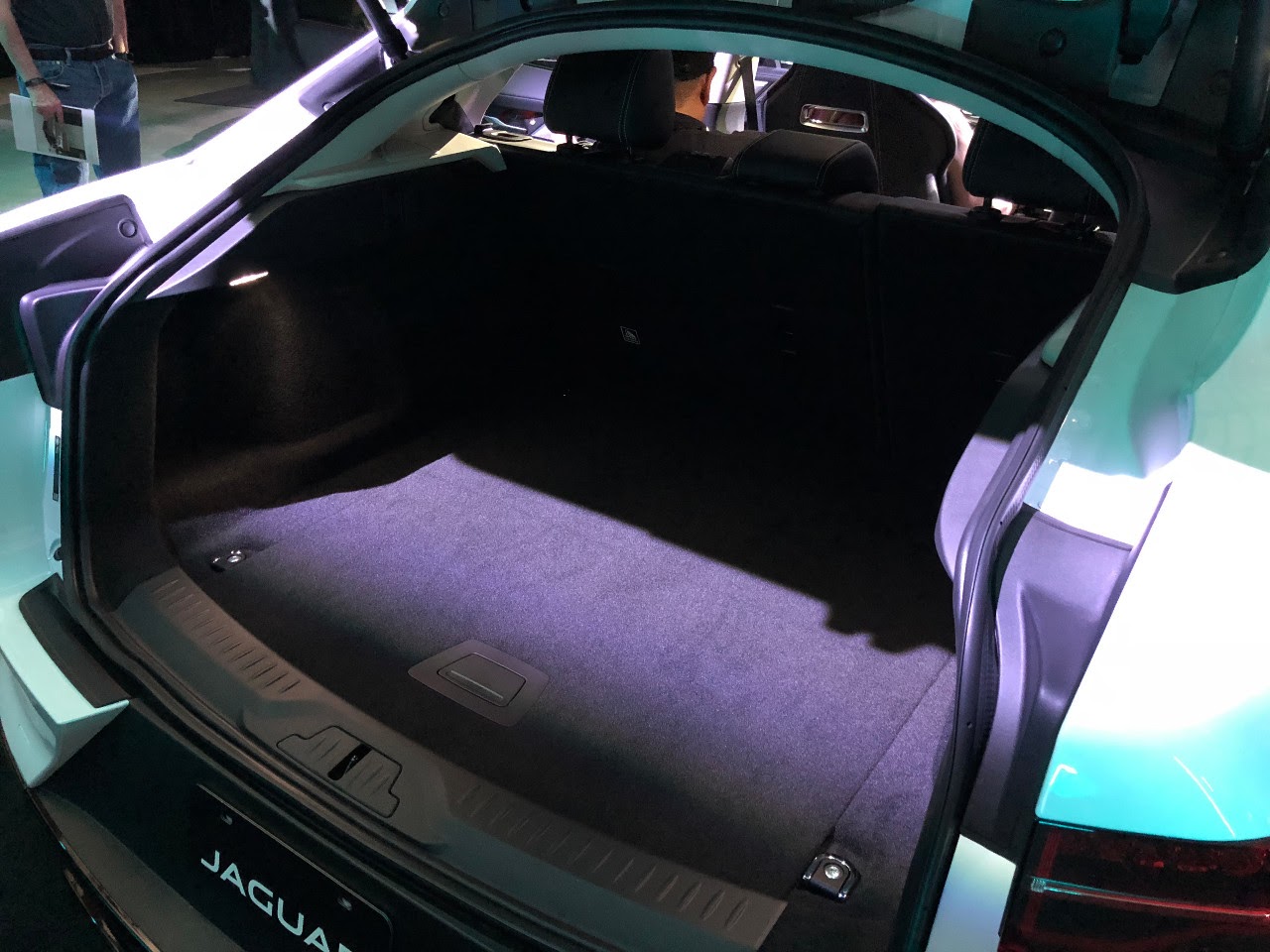 A large capacity trunk.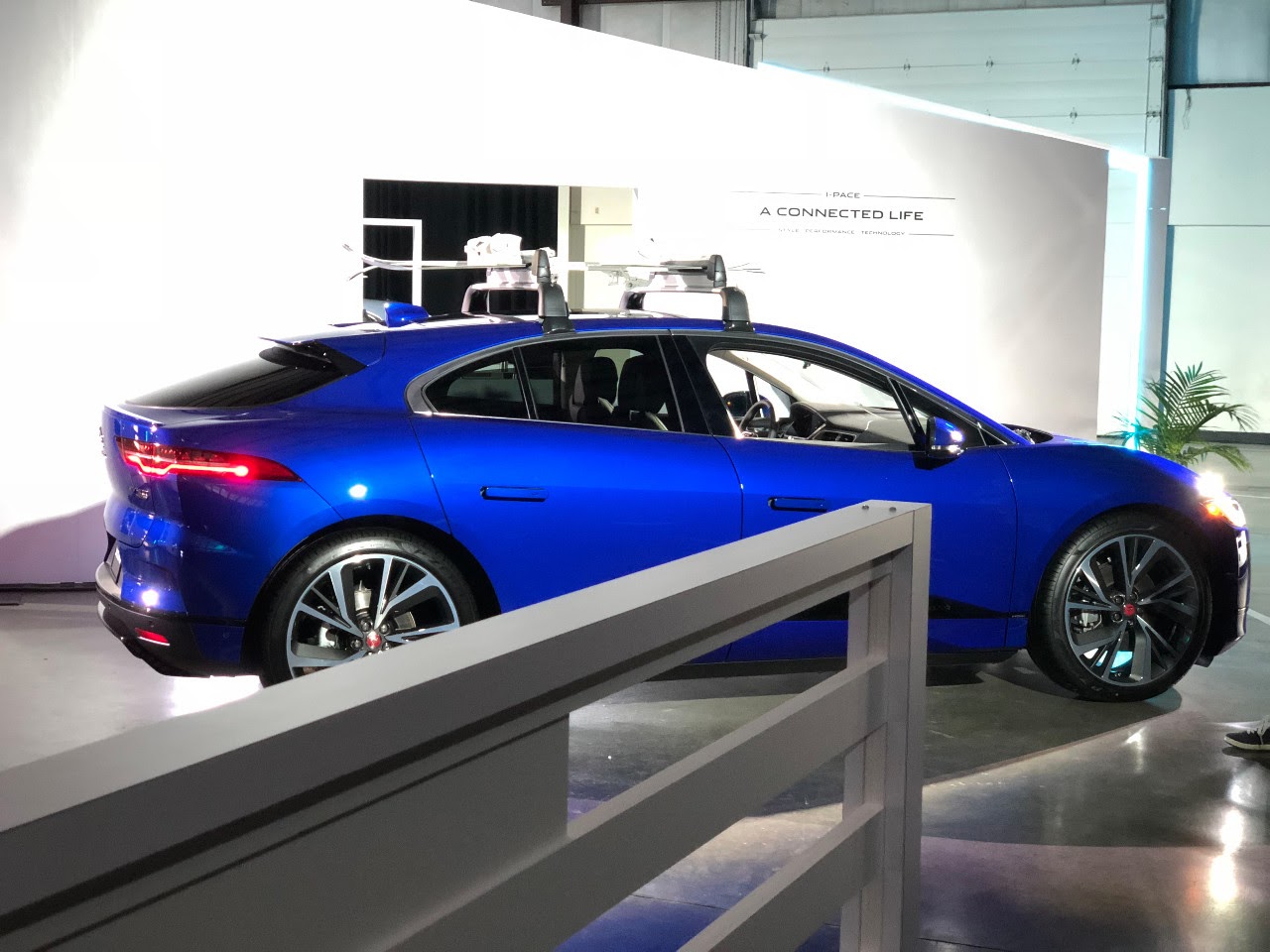 Bright blue seems to be a very pleasing color for this car. Taking a cue from Tesla's Model S, the door handles extend and retract.
The event has mock homes with mock kitchens and mock garages to give a lifestyle impression with how to live with an electric car. All of these mock rooms are lit up in beautiful nightclub mood lighting giving the whole place a look like the W-Hotel at night. The intention is that you drive your car to work every day; when you come home, you charge the car in the garage, if you forget to plug in the car, the charger sends a reminder to your phone. The car charges at night when electric rates are at their lowest. When you wake up in the morning, you tell the car (via the phone) to "pre-condition" itself while you're making your coffee. The car warms/cools the cabin and pre-conditions its battery to optimal temperature while it's still plugged so it's not sapping critical range. Ideally, when you leave your office, you should also tell the car 20 minutes before your departure to start its precondition cycle.
Shortly, the guests exit the dark nightclub and are taken outside (in the blinding light) to the test drive area; where guests are invited to drive on public roads and drive the I-Pace in an obstacle course. The obstacle course gives the entrant points for speed and accuracy. This moderator screwed up on the obstacle course (necessitating putting the car in reverse which cost a precious several seconds delay) and got 52nd place overall on the obstacle course (it is unknown how many hundreds/thousands of people had driven the obstacle course at that time).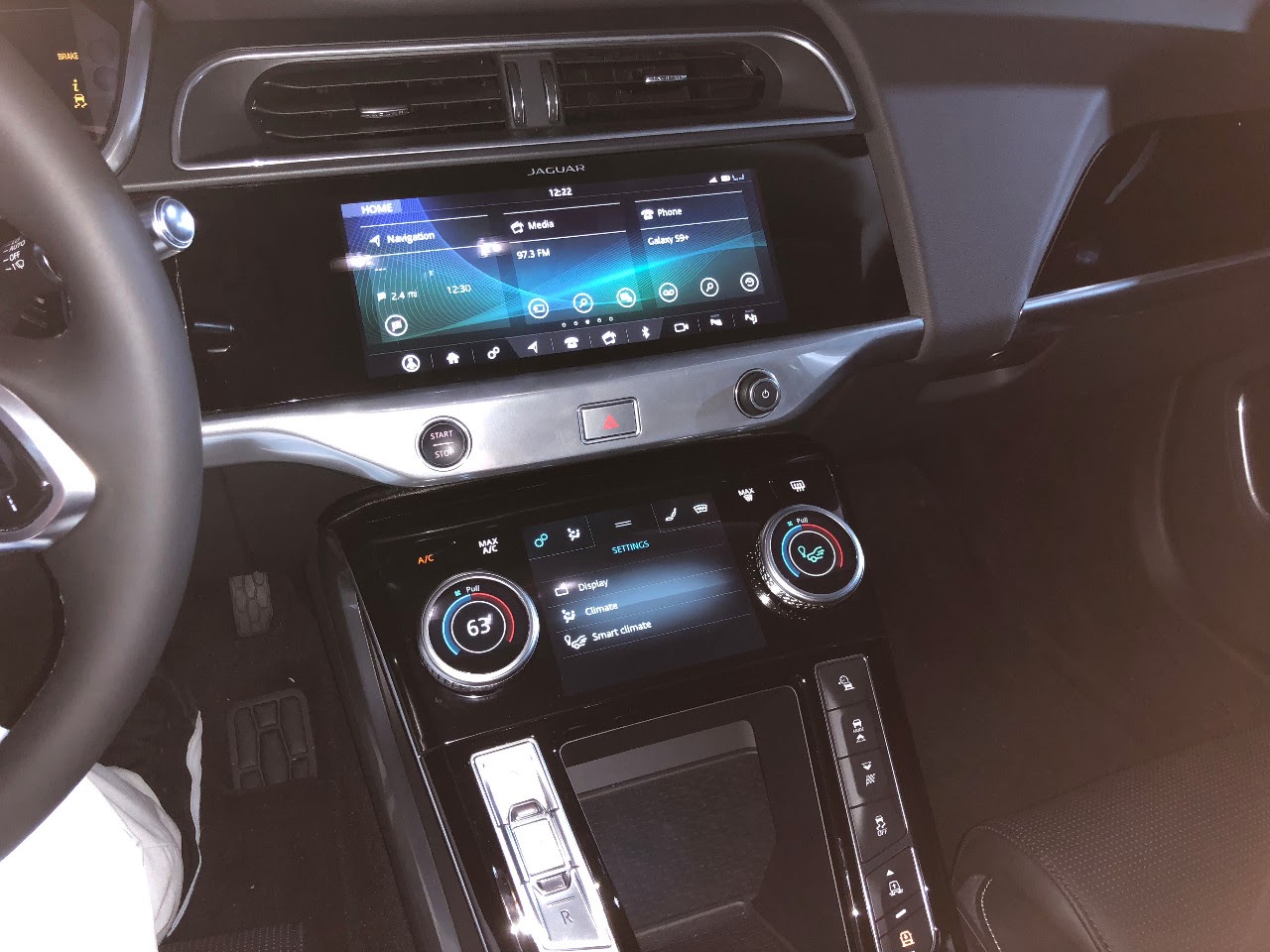 Some hard plastics, two infotainment control screens, the temperature knobs can be pulled, the display changes to a fan speed display. All of the touch screens exhibit a lot of lag and do not consistently recognize user inputs.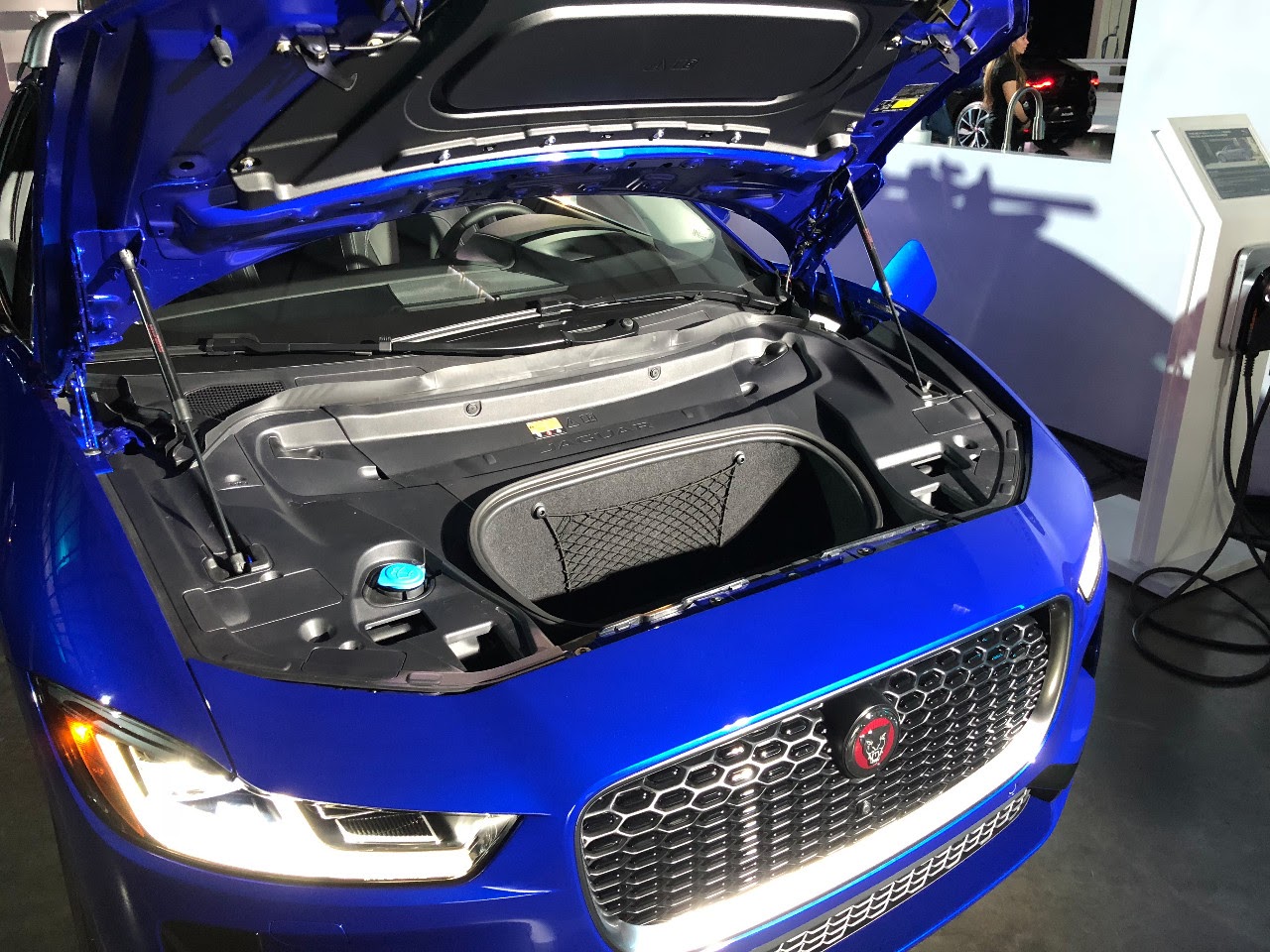 The FRUNK is tiny. But weather sealed! The BMW i3 FRUNK is not weather sealed!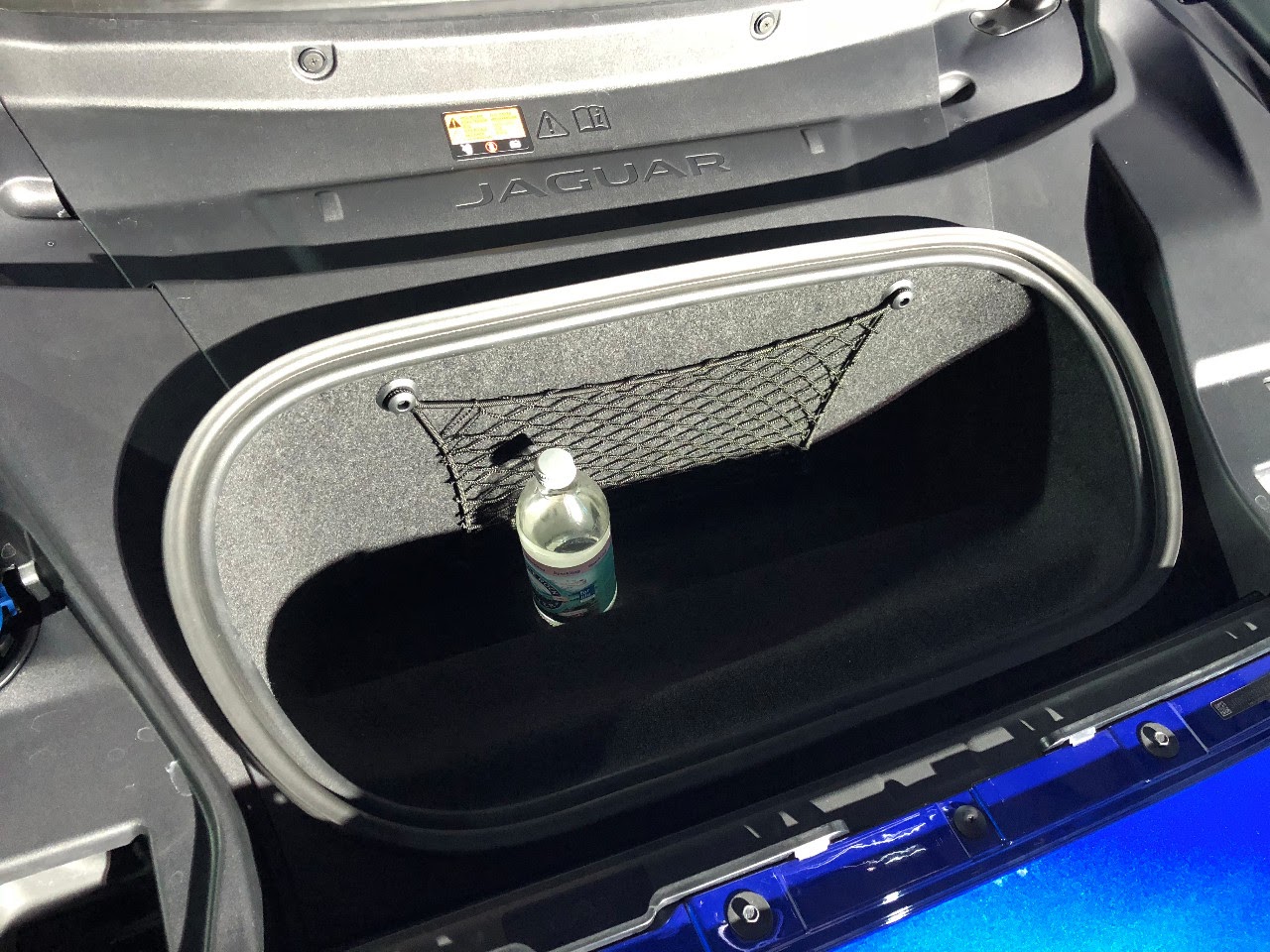 FRUNK is shallow and small. Might fit two bags of grocery shopping or a small gym bag. Will not even fit a normal carry-on suitcase.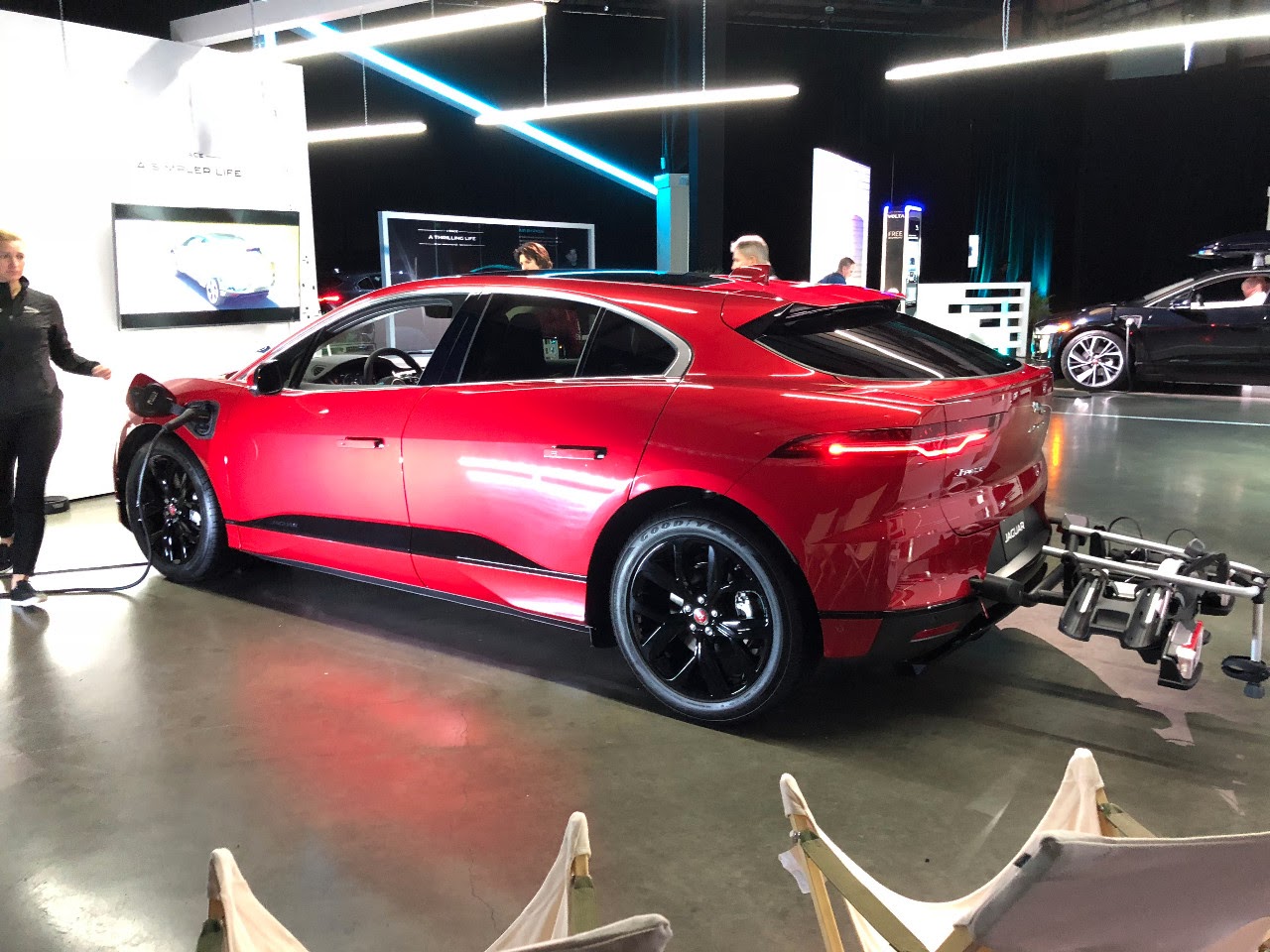 If you won't take the Blue Pill, will this Red Pill work? Take your choice! Huge bike rack! Bikes block the view of the brake lights and get really dusty!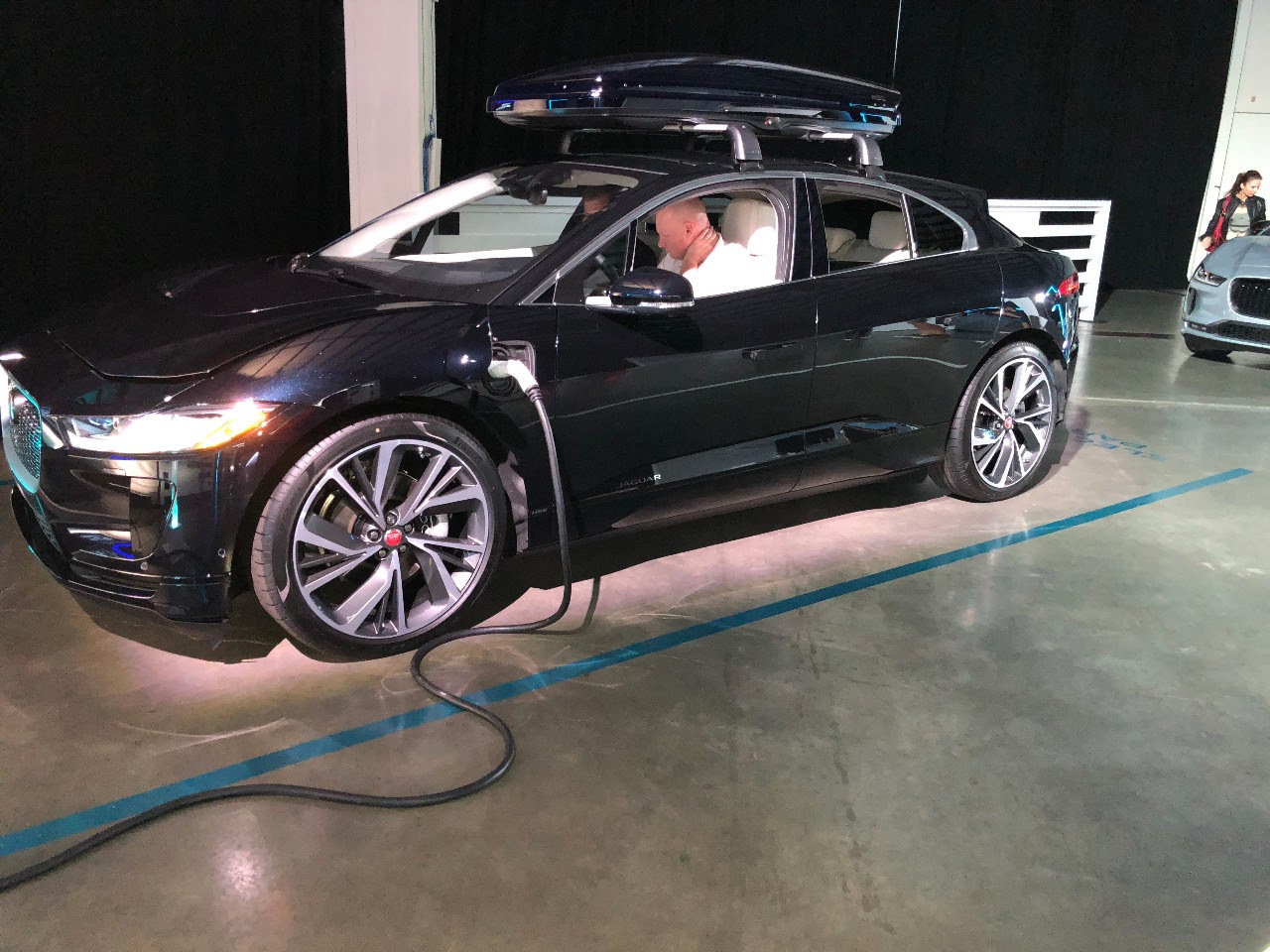 All the vehicles have sporty poses with camping equipment, bicycle attachments, skis, or other lifestyle accessories.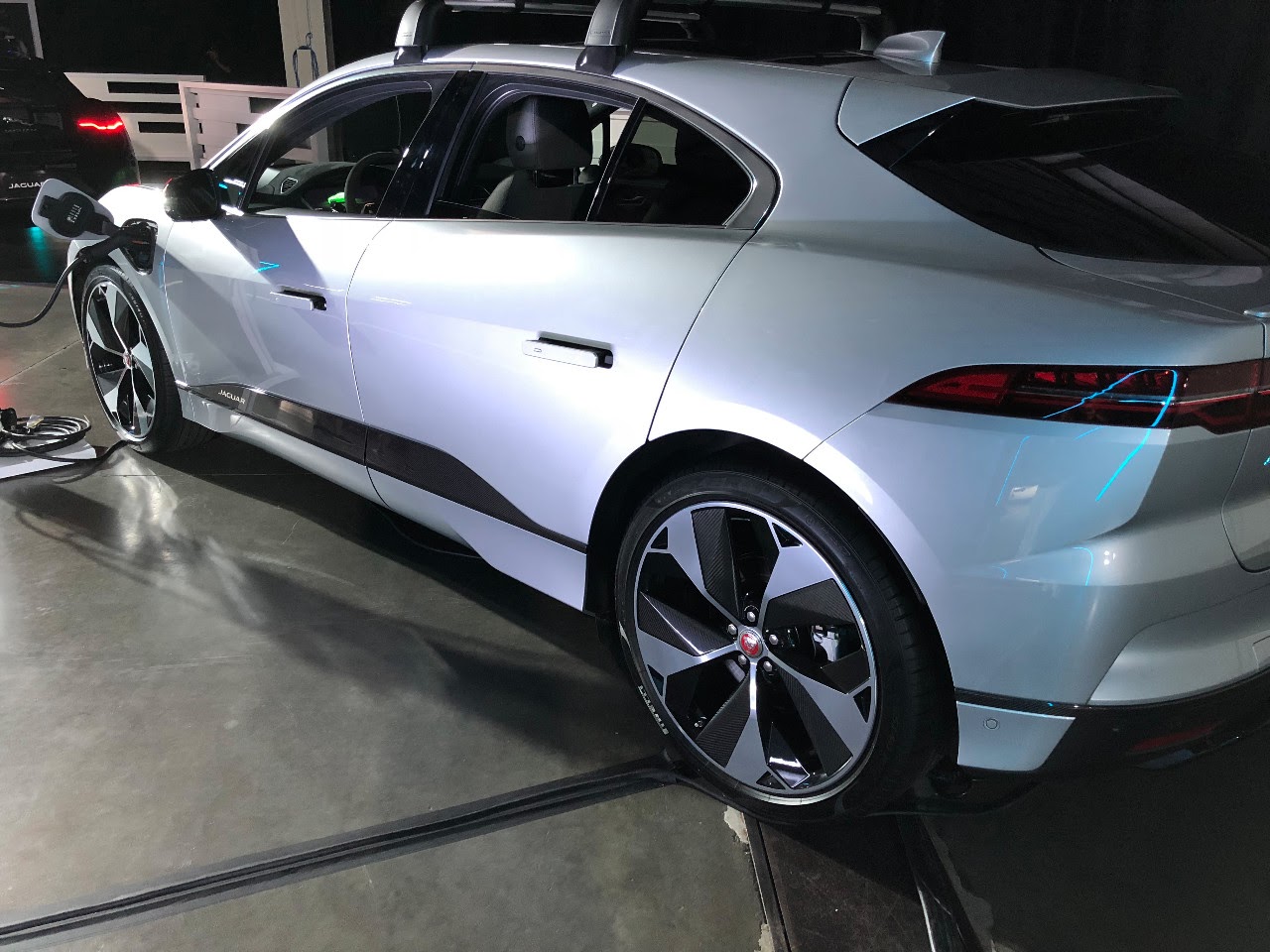 Silver Pill; The I-Pace utilizes an air suspension which is very good at making the car ride nicely. But the 22 inch wheels will definitely be harsher on poor road surfaces. The 20 inch wheels would be my choice. Air suspensions also leak and fail as the car ages, necessitating some expensive repairs, but the Tesla Model X competitor also has an air suspension, so there's no easy alternative.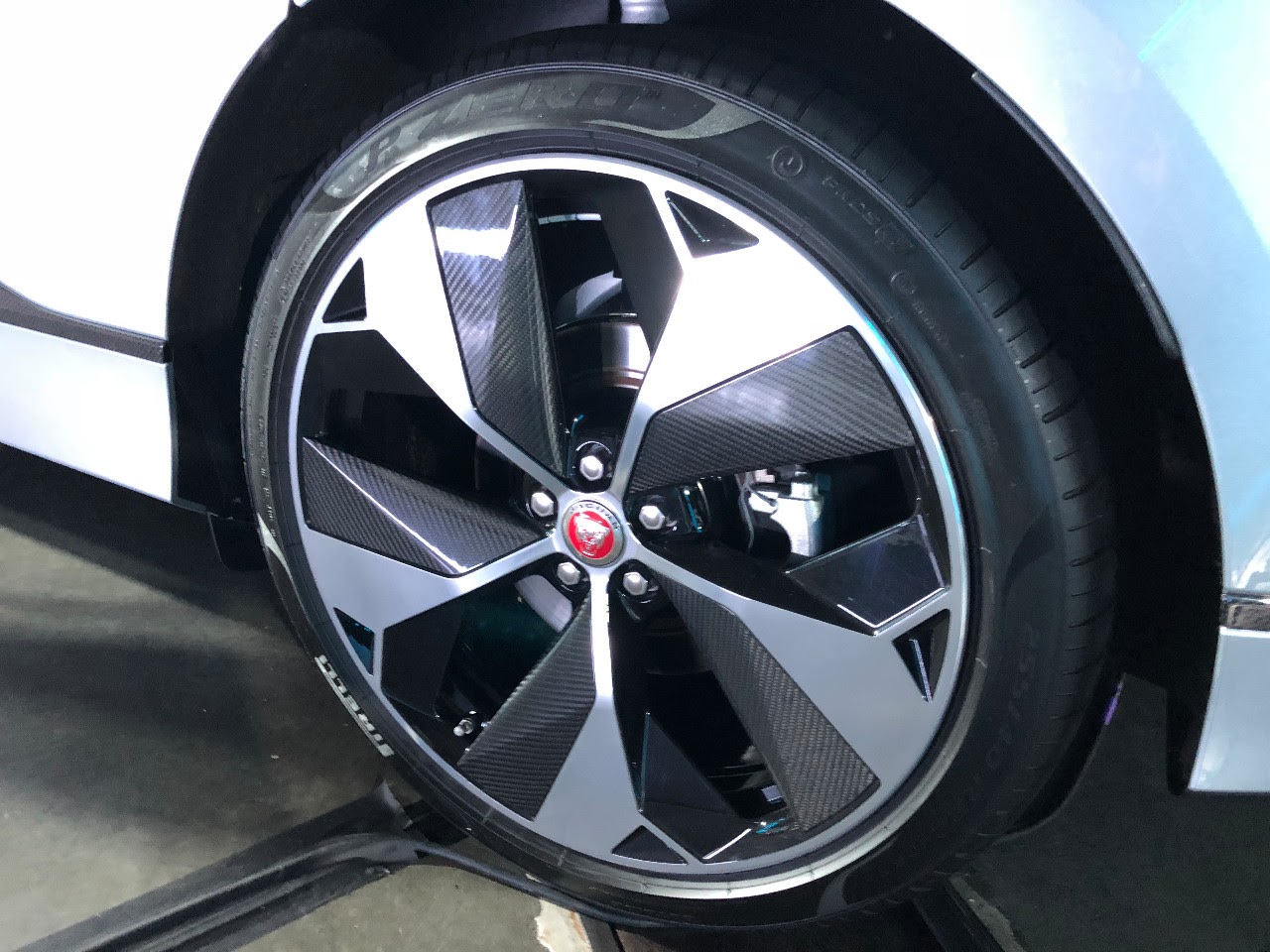 These are the largest 22 inch wheels with carbon fiber aerodynamic enhancements. But notice the tiny brakes within.

THE DRIVING EXPERIENCE
The driving experience of the I-Pace was overall quite good. The air suspension was very cushy, but the brakes were difficult to modulate. Regeneration can be set to low or high; the low is too low, the high requires some finesse from the driver. Generally, I got used to driving in HIGH regeneration mode but had to train myself not to lift off the throttle entirely, as all the passengers would experience heavy regeneration-braking in such a case. Maybe a MEDIUM regeneration mode would be ideal. Certainly better brake pedal feel and better brake hardware would be ideal as well; Jaguar employed very small rotors on small sliding calipers; large floating rotors with huge fixed piston brakes would be ideal.
Steering was devoid of feel, but a nice ratio for highway and street use, ratio might've been a tad slow for street use as I recall turning the wheel a lot for turns.
Handling and comfort seemed overall quite good. The batteries are mounted low under the floor so the car feels planted with a low center of gravity. I didn't push the car on public roads, but I do believe the car will have reasonable handling characteristics for a crossover/SUV.
Acceleration is very good. Acceleration is fluid, responsive, quick, and very quiet. I wasn't able to do an acceleration test, but no faults were found on my 20 minute driving experience around town. The Tesla Model 3 Long Range RWD has quick acceleration from 0 miles-per-hour (mph) to 60 mph but then tapers off very quickly after 60 mph, making the Model 3 feel artificially restrained. I couldn't experience if that was the case in this Jaguar.
The car's infotainment system allows one to set creep mode on or off, as well as regeneration strength. The infotainment system uses these button icons with no wording for regeneration and creep. So it's not immediately obvious what task each button icon performs when you first see it. User Experience and User Interface improvements could be better here. The touch screen also lags, one has to press the screen twice or thrice at times to get the screen to react and the screen reacts slowly at times. Definitely an annoying distraction and dangerous thing to do when driving. The Jaguar I-Pace infotainment screen will likely work with gloved fingers, for those who drive with driving gloves, but double check just in case. The lower screen features more controls, mainly for the air conditioner which is a little complex; the fan speed is controlled by pulling the temperature knob, the screen on the temperature knob changes to a fan speed knob after a short delay, you adjust your fan speed, and the knob reverts to a temperature knob. Unnecessarily complex, but definitely an experience, not all of it a high quality experience.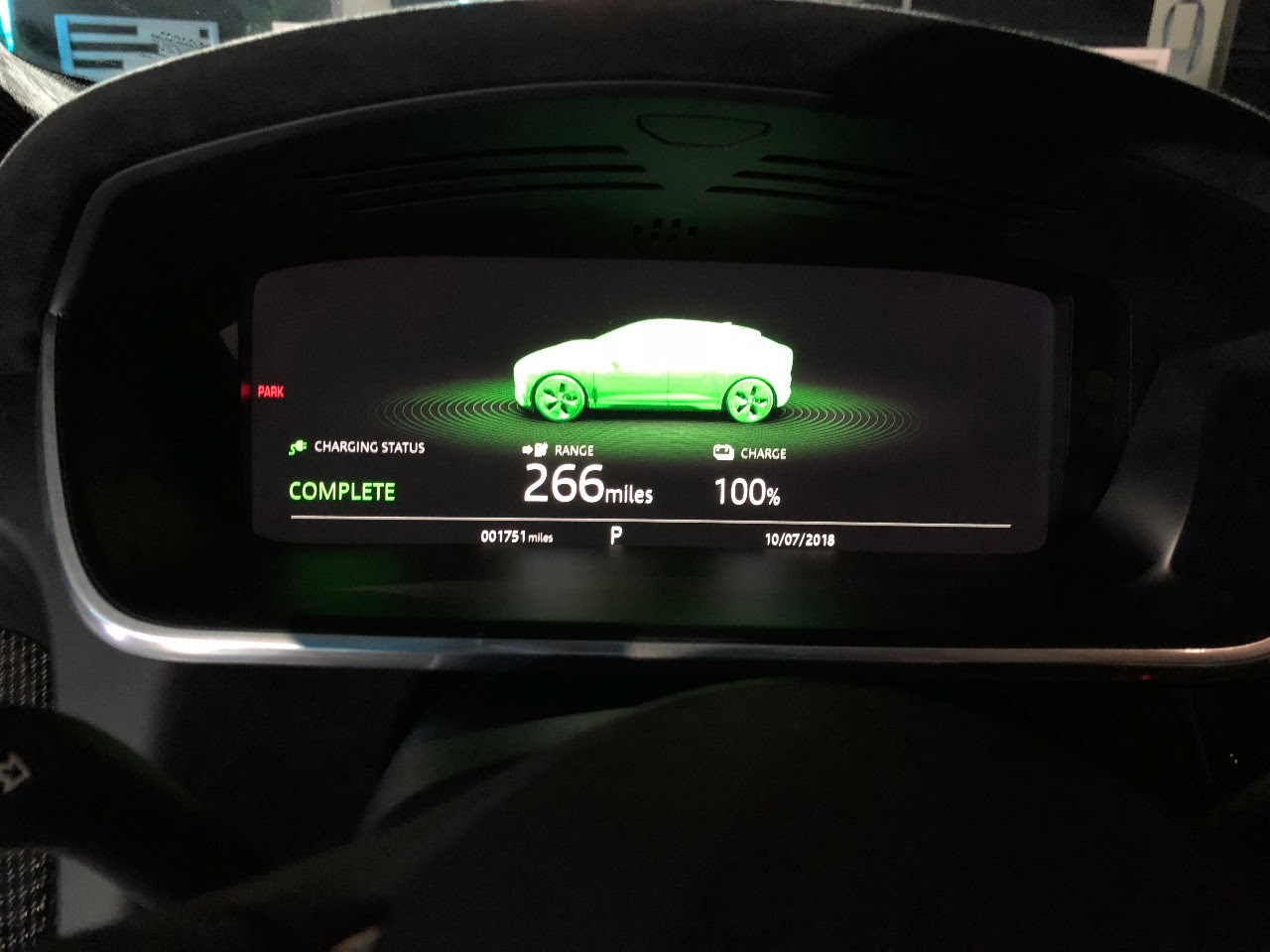 The vehicle has a 95 kWh battery pack, enabling it to go around 234 (US Government EPA rating) miles between charges! That's nearly 400 kilometers! Remember, your mileage may vary based on driving style, weather, and terrain. In cold weather, the efficiency drops dramatically!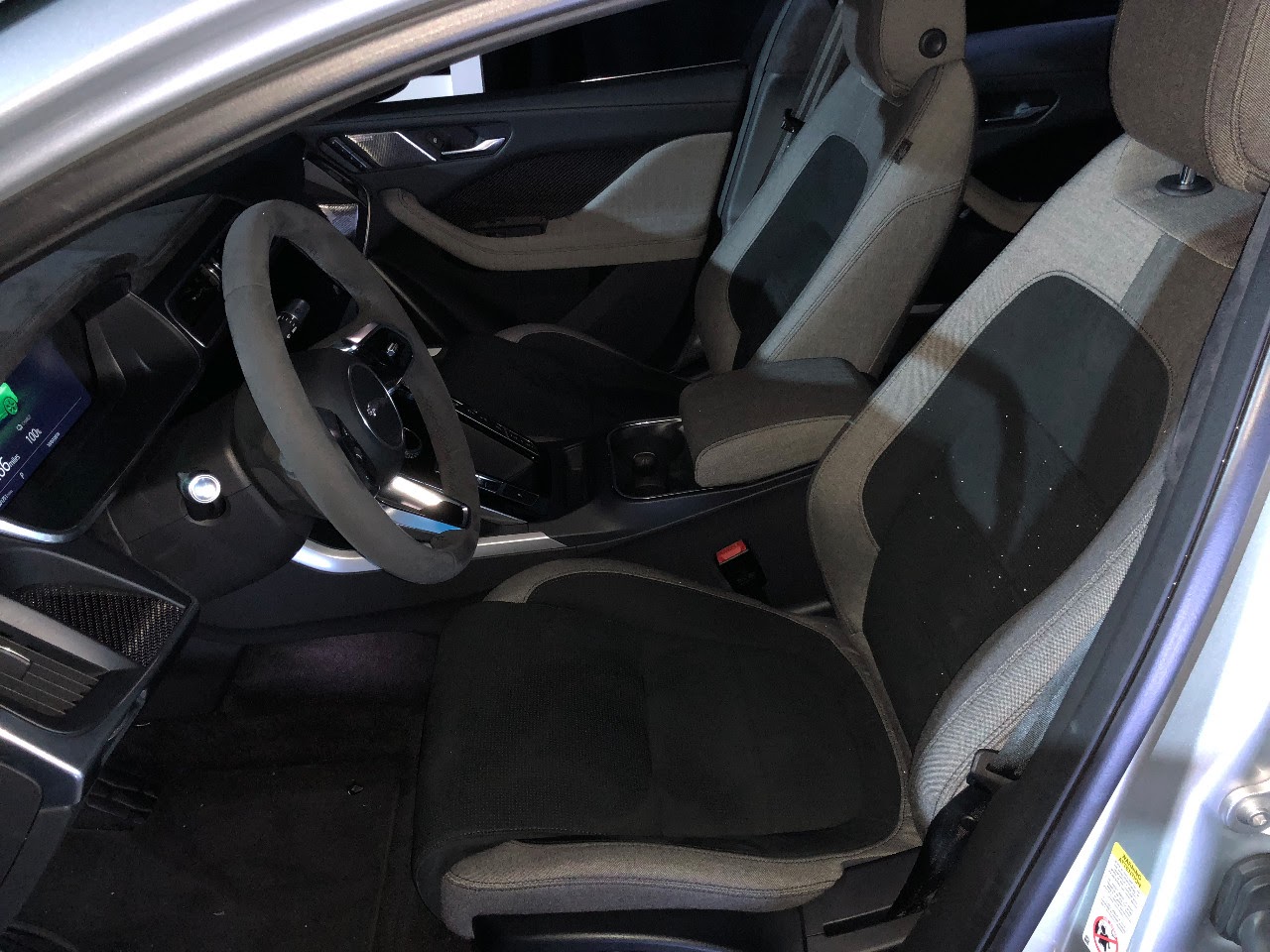 A modern interior made of cloth is also available as an alternative to traditional leather materials. Interior materials is overall quite nice. But there are still some hard plastics abound the cabin.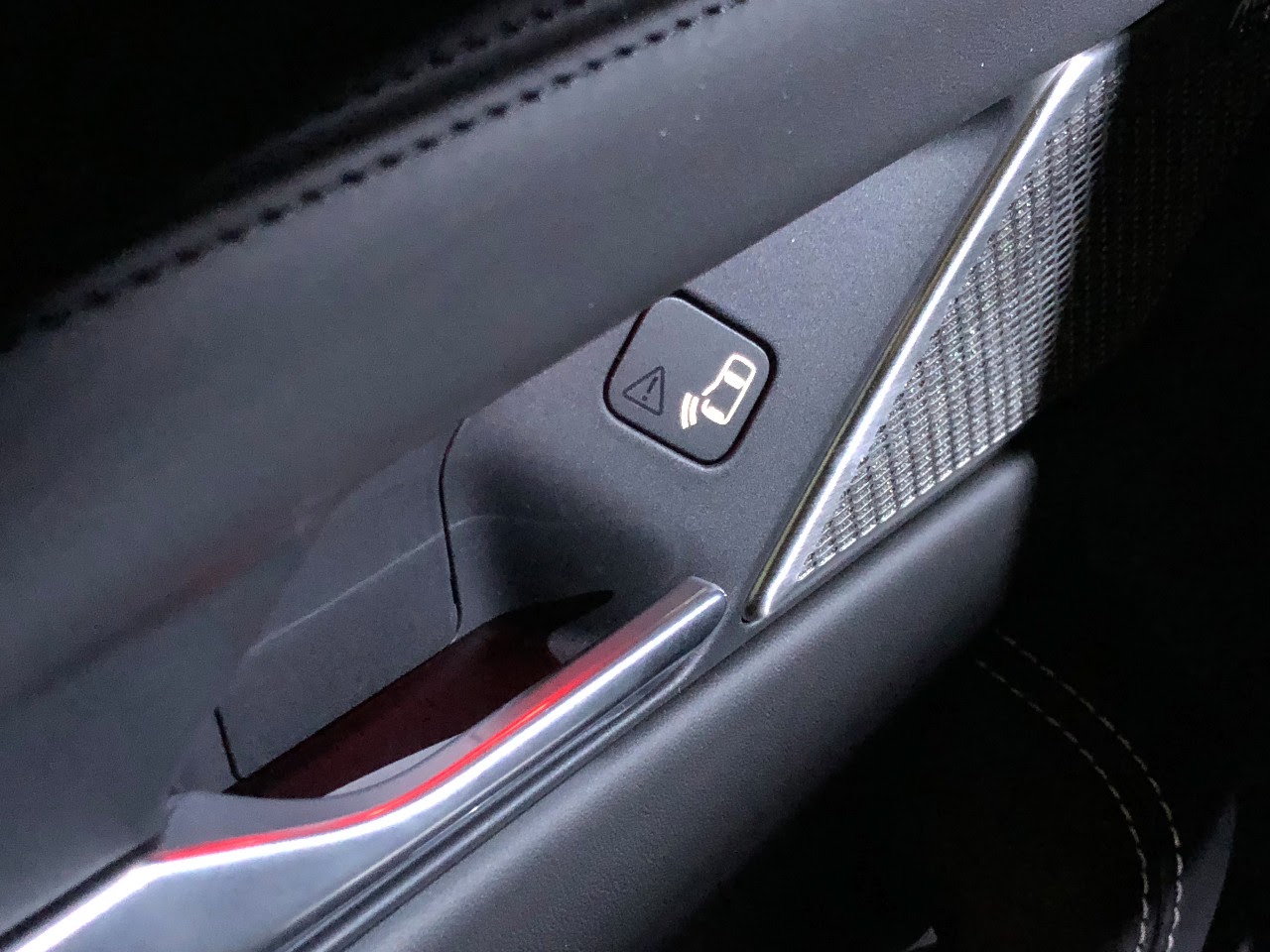 I'm not sure what this is; but the rear doors have this warning feature.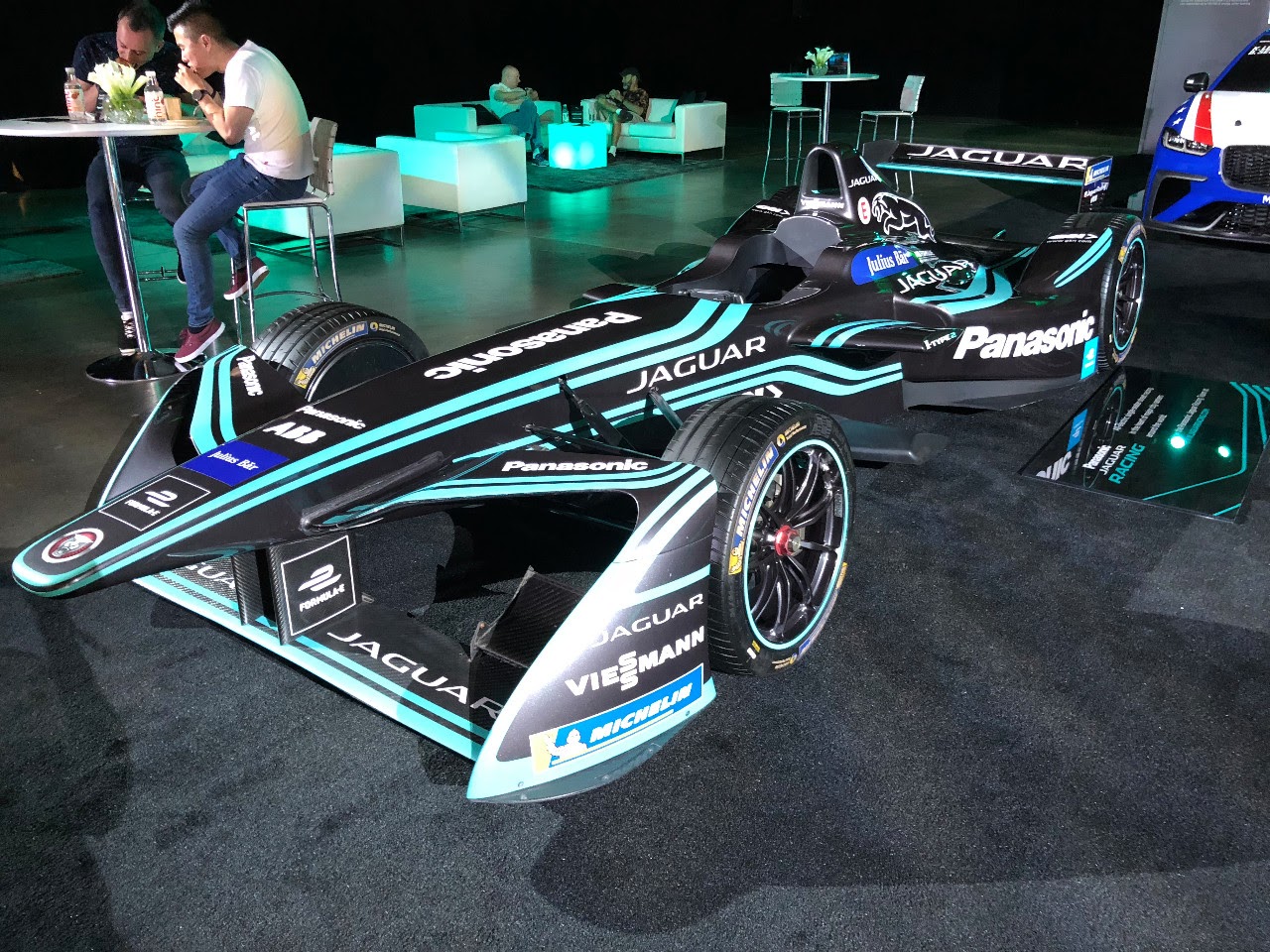 Jaguar is involved with Formula E.
IN CONCLUSION – Would I Buy One?
Overall, the Jaguar I-Pace was comfortable, had great visibility, had lots of tech, a mostly smooth ride (with 20 inch wheels), and was easy to drive. There's a lot of dive (unavoidable due to the weight of the car) when braking, and the braking pedal precision is difficult to modulate (some improvement needed here). The I-Pace also has a comfortable rear bench seat and adequate rear cargo capacity. The Infotainment screen does lag and needs improvement. Interior materials are adequate, but there are some painted buttons that may show wear, and a fair amount of hard plastics. The I-Pace also possesses aesthetics that are far better than other electric vehicles on the market.
Jaguar dealerships are usually franchised, thus, the dealers want to make money on both the service and the car. While electric vehicles should have lower servicing costs than their combustion engine counterparts, I'd expect the Jaguar dealer servicing cost to be substantial and equivalent to combustion engine cars. Furthermore, automotive technicians need to be retrained to work on electric vehicles; not all automotive technicians will survive the retraining to automotive electricians and they may incorrectly repair some cars along the way. This wouldn't be a problem with Tesla Motors as Tesla's employees were trained to be automotive electricians from day one.
Lastly, Jaguar's long-term product reliability is undetermined. Thus, I wonder if the I-Pace will run reliably in the long run. Those who plan to lease the car for only a few years should definitely consider an I-Pace, I know I would consider it for a lease. But those who keep their cars past several years still need to carefully consider if an electric car can meet their long-term reliability needs. The Tesla Model X can seat up to 7 persons with luggage when the Jaguar I-Pace can only seat up to 5 persons with luggage. Ultimately the I-Pace is also very expensive; over $80,000 USD when comfortably equipped with all the major options, the I-Pace also feels more akin to a compact SUV like the BMW X3 M40i, Porsche Macan S, or Mercedes-Benz GLC 43 AMG. Keep in mind, a comfortably equipped Porsche Macan S is a $65,000 USD car. With the equivalent Tesla Model X at $87,800 USD, I'd find the Model X to be a better value. The cars are expensive, but they promise great reductions in your fuel bill assuming you have the ability to charge the car with reasonably priced electricity.

In the near future, BMW will come out with their iX3, Audi with their E-Tron Quattro, and Mercedes-Benz with their EQC SUV; all of which are expected to cost around $70,000 to over $80,000 when comfortably equipped. Tesla will come out with a Model Y in the coming years that will be intended to be a compact SUV similar in size to the aforementioned vehicles and it is expected to debut in a couple years with an starting selling price of around $55,000 USD when equipped with options.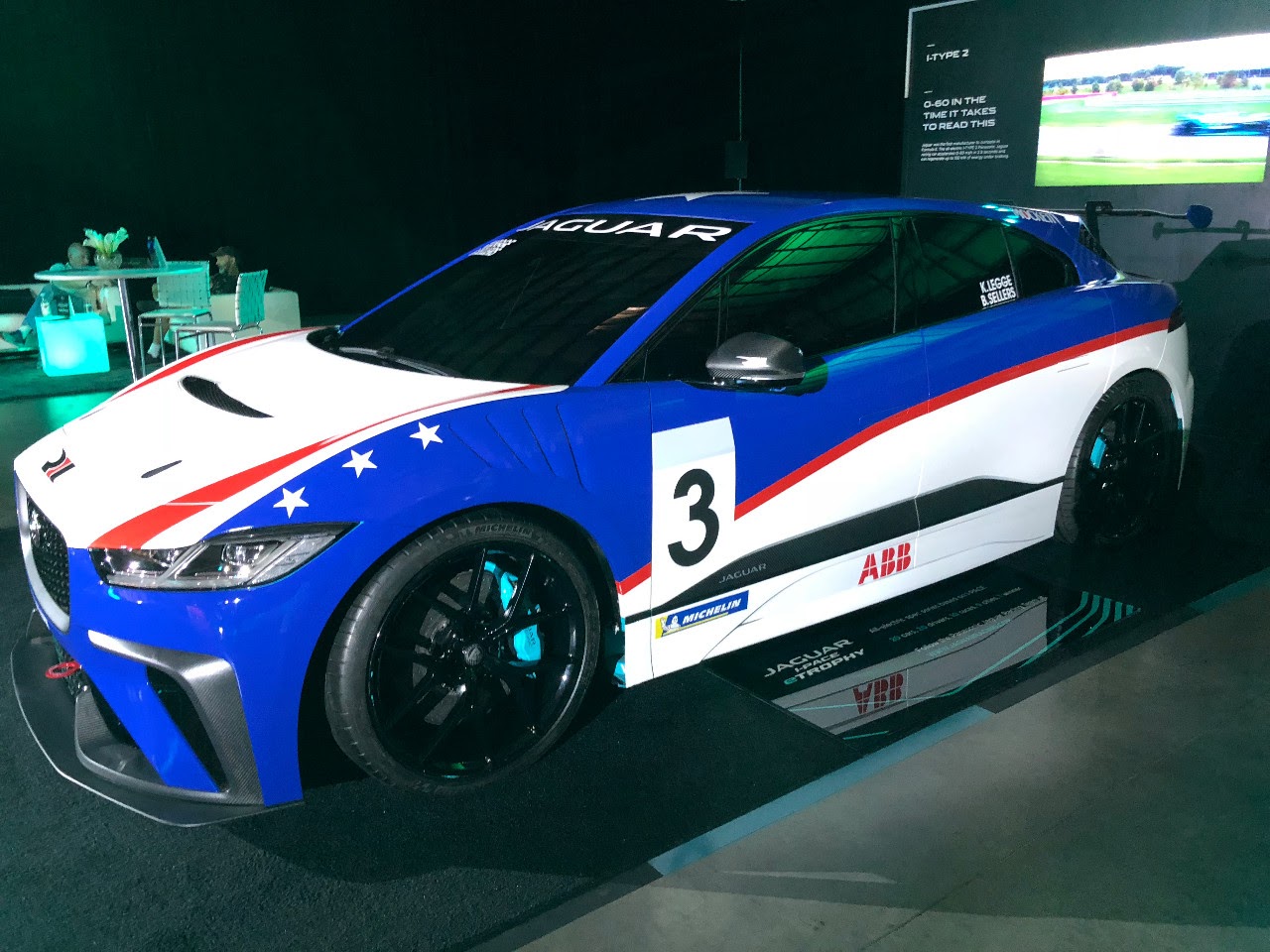 This is an I-Pace race car with really nice ceramic brakes! These brakes are not available on the normal cars!
Thanks for reading. Please comment and ask questions!

Specifications:
Seating: 5 passengers

Base Retail Price; $69,500; As Tested price $85,000 USD
Estimated range (US Government EPA estimation): 234 miles
Battery Size: 90 kWh
Motor Layout; 2 Motors; one for front axle, one for rear axle
Total Horsepower/Torque: 394 horsepower / 512 lb/ft (approximately 700 Newton Meters)
0-60 miles per hour acceleration: 4.5 seconds
Top speed: 124 miles per hour or 200 kilometers per hour
Length x width x height: 184.3 inches x 84.2 inches (with mirrors) x 61.3 inches

Estimated weight: 4800 Pounds
DISCLAIMER: The author, Patrick_y claims no bias favoring neither Jaguar nor Tesla, but the author is/was a Tesla stockholder and has worked as a professional analyst specializing in self-driving technology car companies and Tesla.