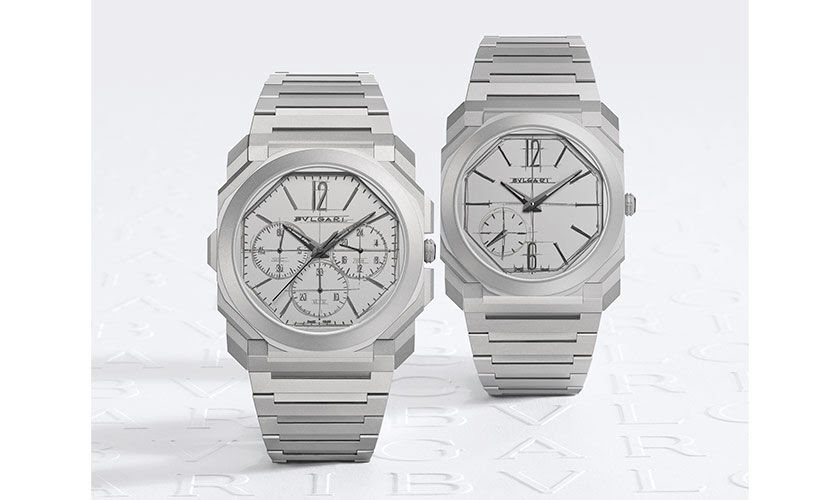 I want to write about music. Actually I really want to write about the best watch someone can buy in the 10,000 Euro range, but let's talk about music first. Music produced by bands today are often "manufactured" meaning a record label identifies a segment missing in the industry, and then "starts" a group specifically structured to appeal to its target demographic; they cast musicians that look the part and find writers that fit the genre. Enter watches. Watches are often done this way now too – especially right now – we're seeing a huge rush for all manufacturers to produce a 1970s style integrated bracelet watch since the Nautilus and Royal Oak are so successful. Some of these creations are good, some are not so good – but all of them have one purpose – to create short-term sales and to get big bonuses for watch company executives. I call the whole thing "The Great Sports Watch Renaissance" and it's a trend that watch companies from the low end like Tissot is partaking in with their 1970s PRX and even high-end companies like Laurent Ferrier and Lange are partaking in.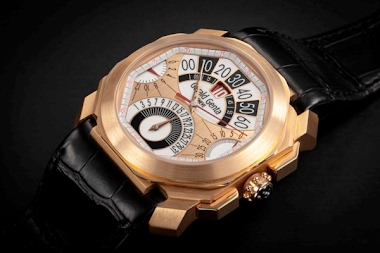 A Gerald Genta "Octo" watch. Photo from Christie's

Now, back to the nicest watch you can buy for around 10,000 Euros. Bulgari's Octo Finissimo has taken the world by storm. It's an incredibly handsome watch, a genuine Gerald Genta 1970s design – not a reiterated retro piece that's been manufactured to fit the current trend, and it's ultra-thin movements are true horological achievements. The standard thickness Octo L'Originale was first announced in 2012! Meaning this is the 10 year anniversary for the Octo! Bulgari started this Octo Finissimo well before the recent renaissance of Genta-like 1970s design – and planning/design stages began well before that!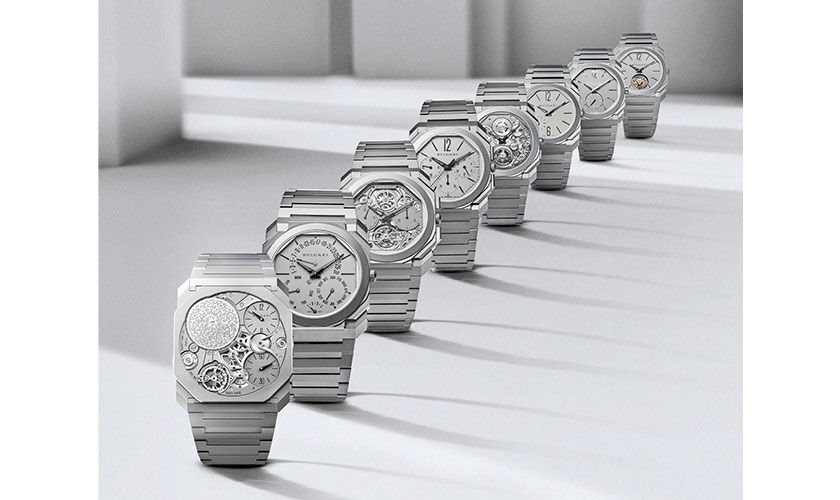 Photo by Bulgari.

Designing a movement can take years for an independent. Designing a movement for a larger company can take even longer as there are more robustness and durability considerations at a larger firm when you're pushing for reliability – a big brand like Bulgari cannot design something without reliability in mind as it compromises the integrity of the entire group. Designing a complicated ultra-thin movement might be one of the hardest things that can be done! The fixed costs of designing a record breaking ultra-thin Tourbillon (2014), a record breaking ultra-thin Minute Repeater (2016), a record breaking ultra-thin Automatic Tourbillon (2018), and the record breaking thinnest ultra-thin Automatic Tourbillon Chronograph (2020) are all extremely expensive endeavors. Combined with the fact that these high-priced works of art sell in extremely low volumes, the fixed costs are amortized only over a very few pieces sold per year. Thus, profitability is never a goal here, the goal here is pure artistry.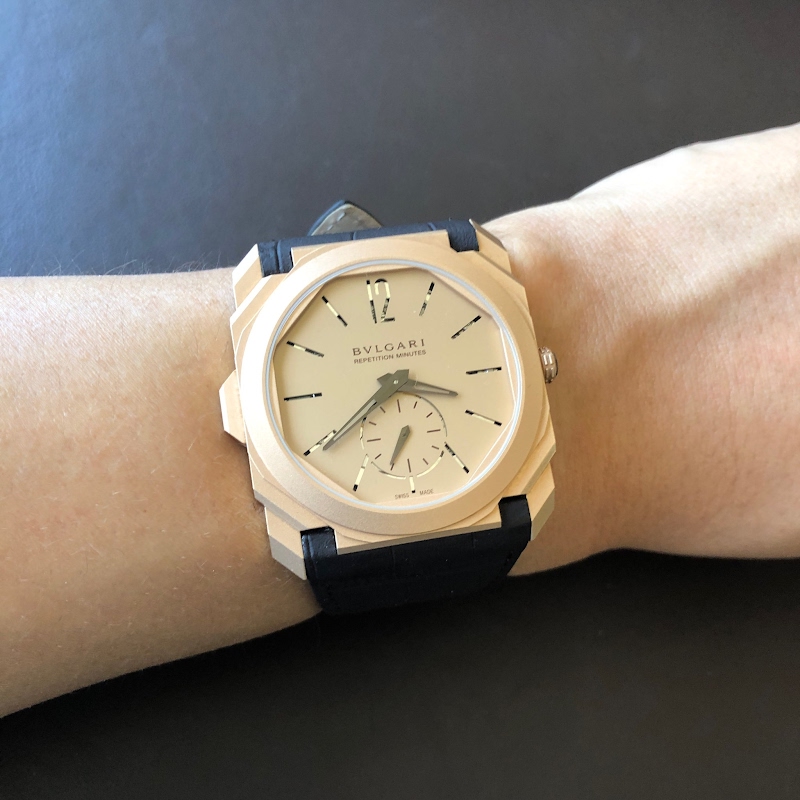 This is the Bulgari Octo Finissimo Minute Repeater. The thinnest minute repeater in the world!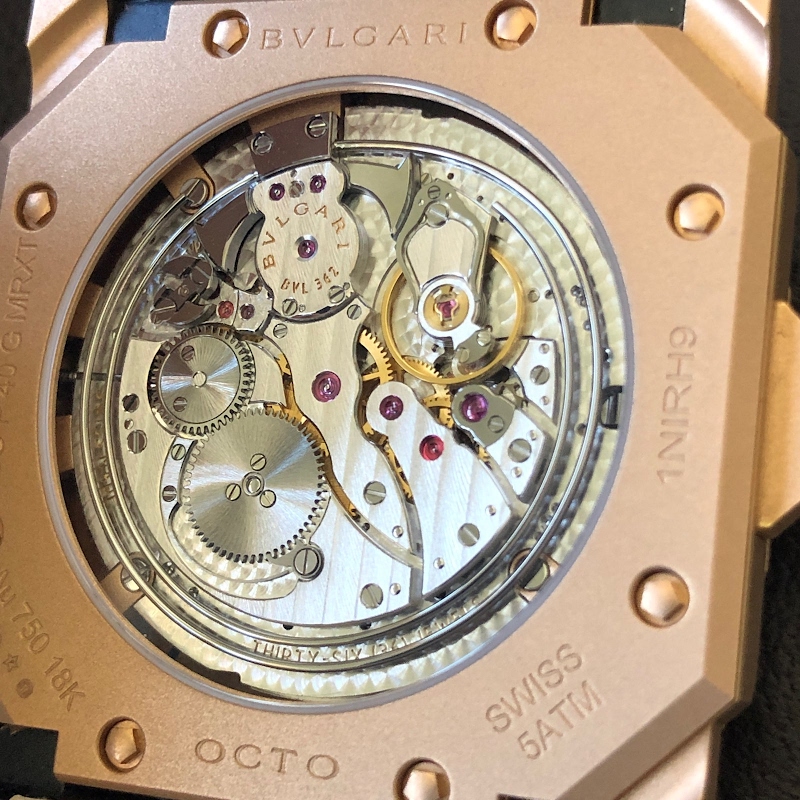 This movement is only about 3.12 mm thick! That'd be thin for any watch movement! But that's unheard of for a minute repeater!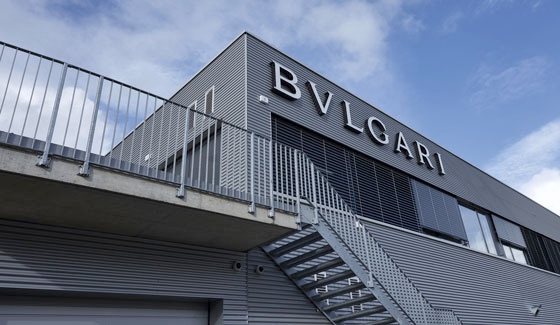 But let's explore the value of the Bulgari Octo Finissimo Automatic in polished and brushed steel. First, let's look at the case. I had the pleasure of visiting the case factory in Saignelegier. It was an impressive facility. Photo from Horological Federation.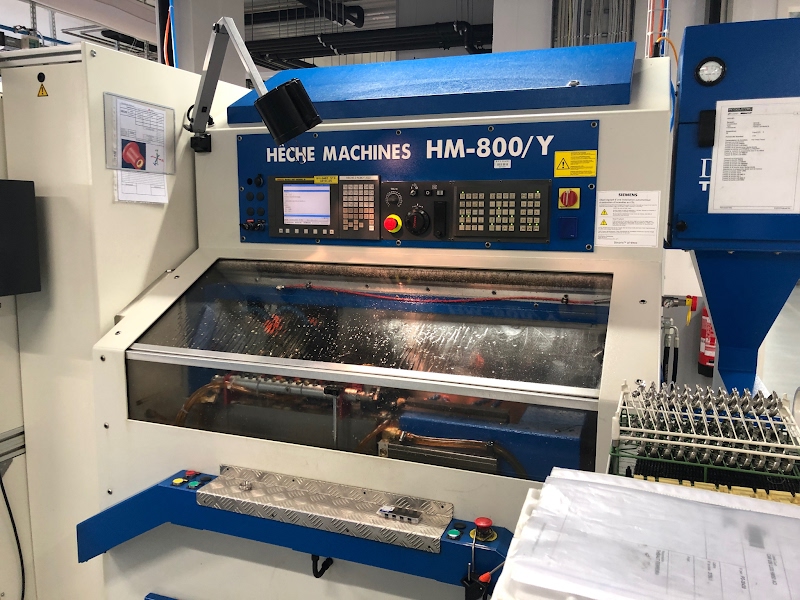 Large bars of steel are fed into this CNC machine which creates the case of the Octo watches. Photo by author.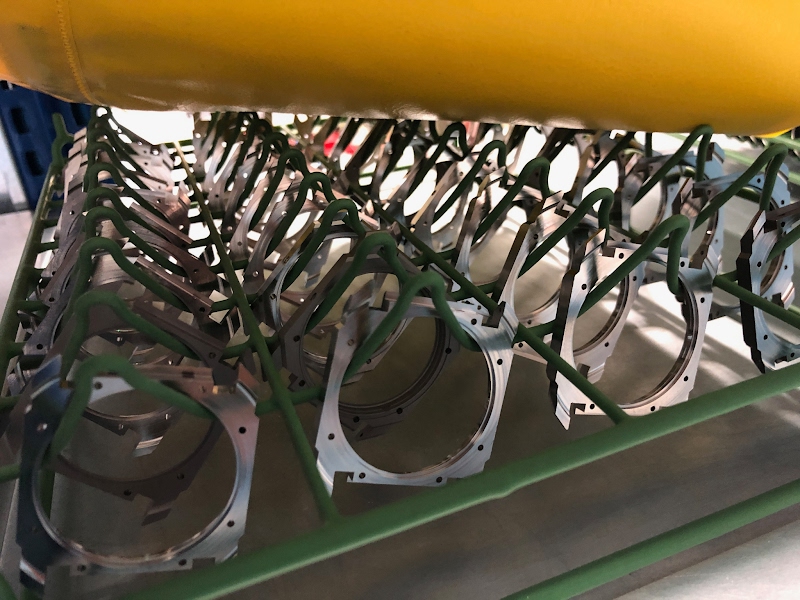 Cases. But these cases are in their rawest state. Many more operations will need to be done before they can be used in a watch. Photo by author.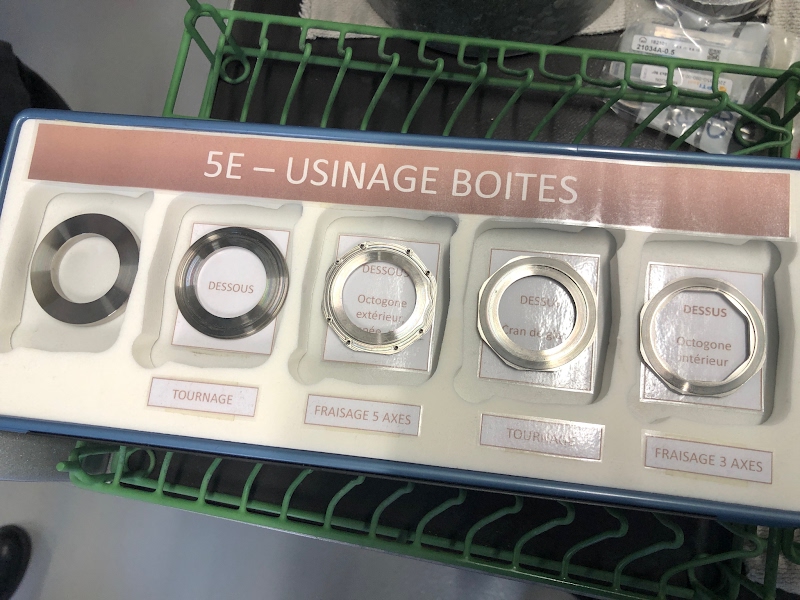 A bezel is made through multiple steps using a 5 axis CNC machine and a 3 axis CNC machine. First starting as a round steel ring, and then slowly shaped in various steps into the octagonal bezel. The movement comes in through the front of the watch by opening the bezel, not the rear of the watch! Photo by author.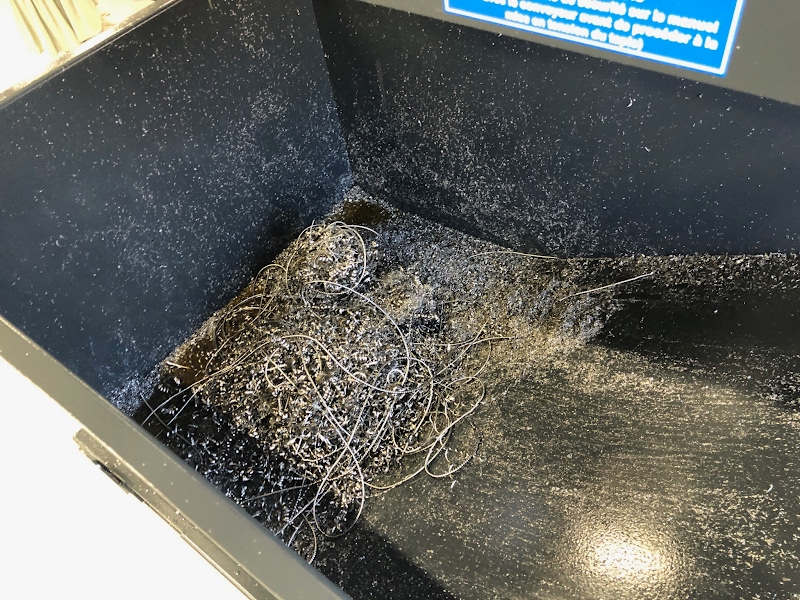 Waste material from the machine. Photo by author.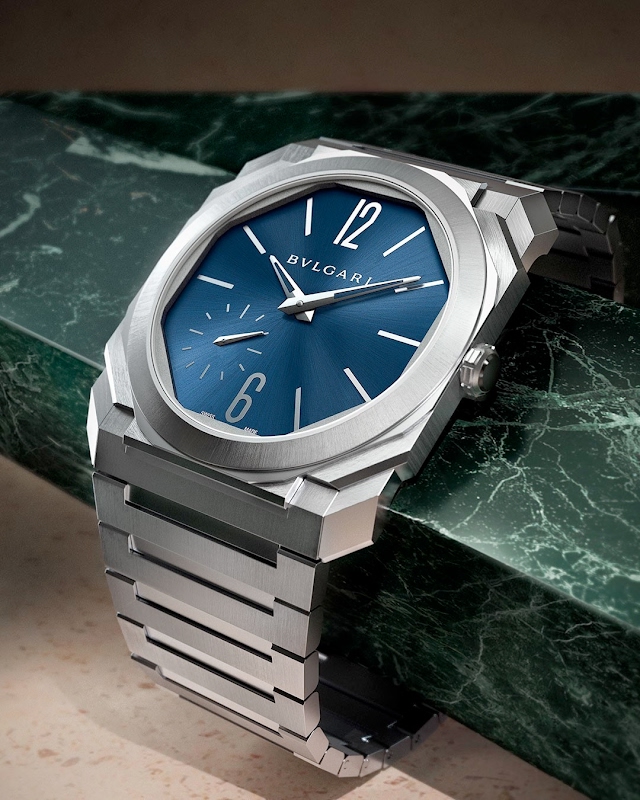 The Octo Finissimo case has about 100 facets! Above is a photo reminding you of what the finished product looks like. Photo by Bulgari.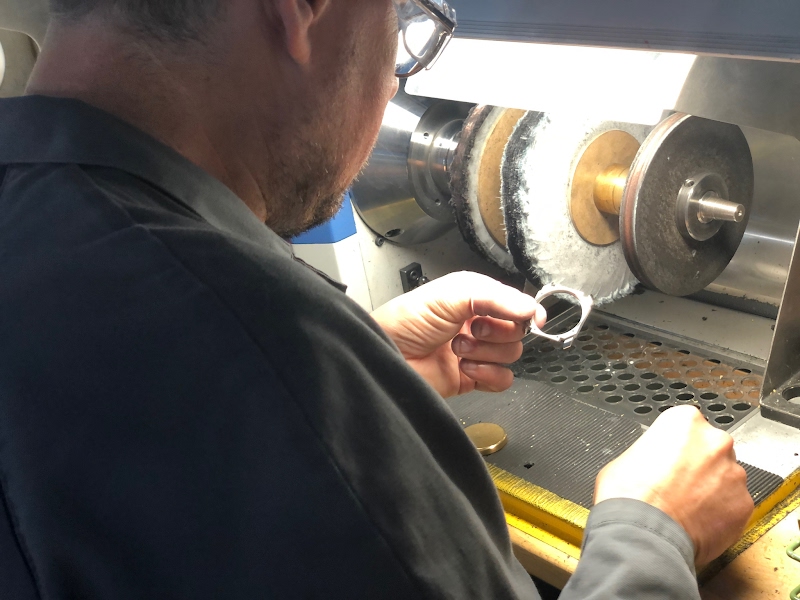 The case is first expertly hand polished by a skilled worker. Photo by author.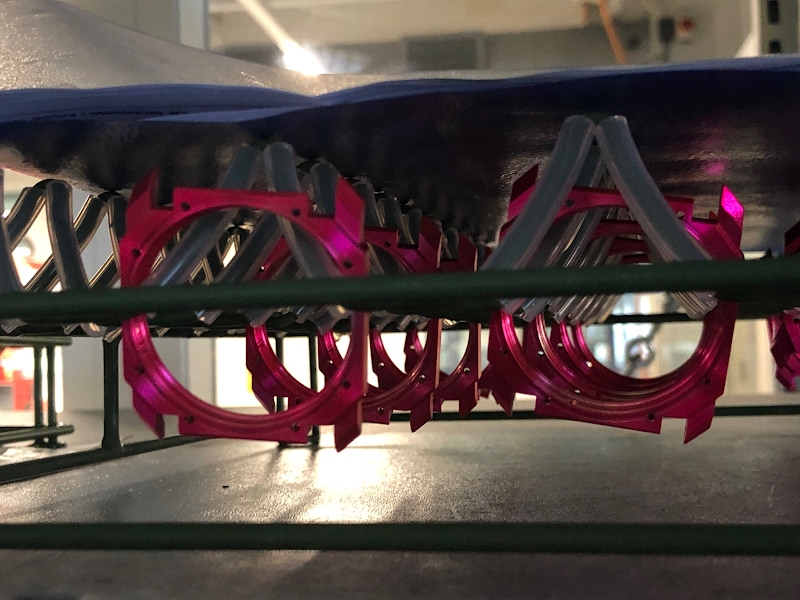 The polished case is coated in a protective pink gel paint to protect the polished surfaces. This pink gel will be washed off eventually. Photo by author.

Now, the watch gets its brushed treatments. Out of those 100 facets, about half are polished, and half are brushed. I tried to count them, but I kept on losing count.
The brushing is done by specially set CNC machines. While the CNC machines are 5 axis machines, each one can only work on one brushed area on the case at a time. Meaning if it's giving the brushed treatment to the lug, it can only do that operation per cycle. This means the worker needs to upload a different program into the machine for every different series of operations. The machine is able to be efficient enough to do up to four facets at a time. For instance, the brushed portion of the lug is the same operation on all four lugs – the machine can do that operation on all four corners in one go.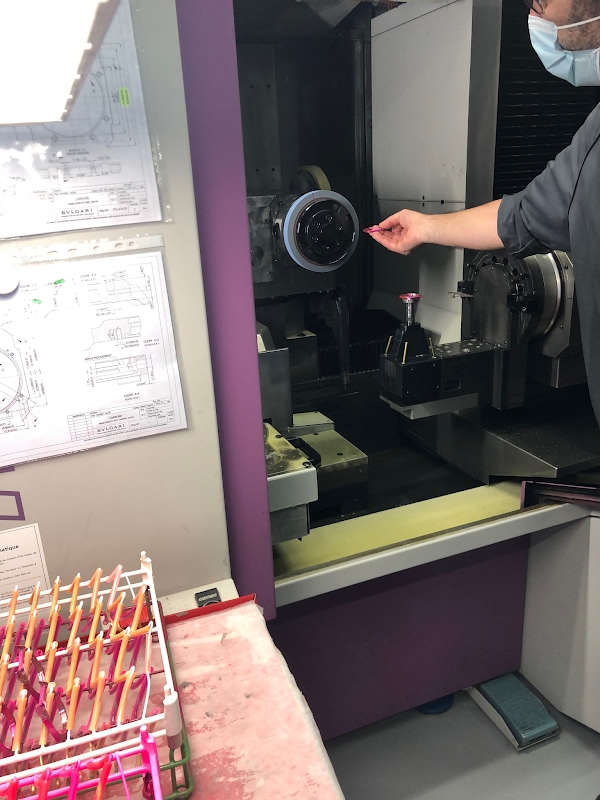 This CNC machine has a grinding stone that will make circular brushings. Photo by author.


The machine will also pick up another case and repeat the process. So if there are say 20 cases on the tray, the technician uploads the computer program one time, hits the green button, and the machine will brush that single facet on all four lugs on each case, for all 20 cases on the tray.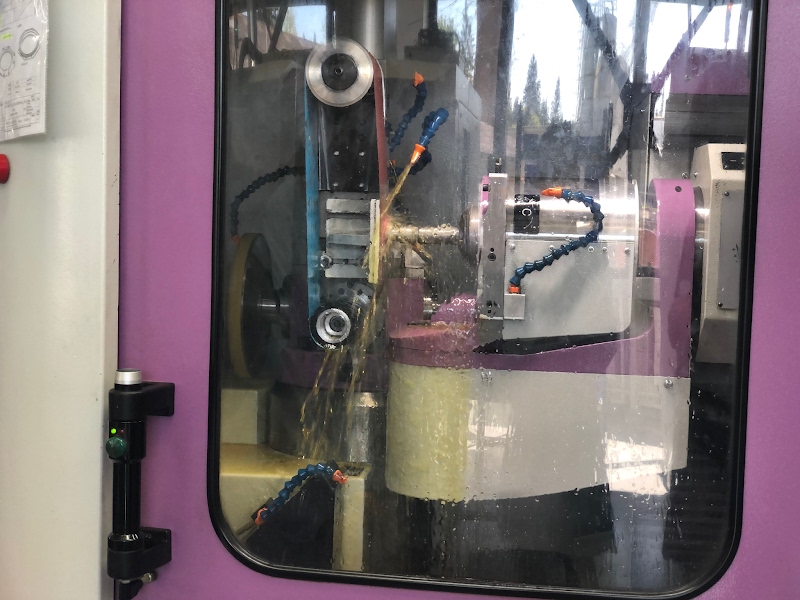 This CNC machine has a jig that is similar to a belt sander. It will make straight graining. Photo by author.
A single case will need to go into the CNC machine about a dozen times for different operations until it is finished; each time the machine will need to be recalibrated, a different jig is set up (the jigs hold the case at the best angle to give the best exposure and to minimize vibrations so a clean brushed-finish is achieved), and a different operational computer program is uploaded.
I also noticed some of the brushings are different. Some are radiant (from the center), some are circular, and some are straight – another special little detail in the design. The designer definitely didn't make any friends by creating a super complex design that wasn't easy to be produced! The accountants are also probably thinking this case costs too much and takes too long to produce. Bulgari only has two CNC machines dedicated to polishing the Octo line, hence a limited production.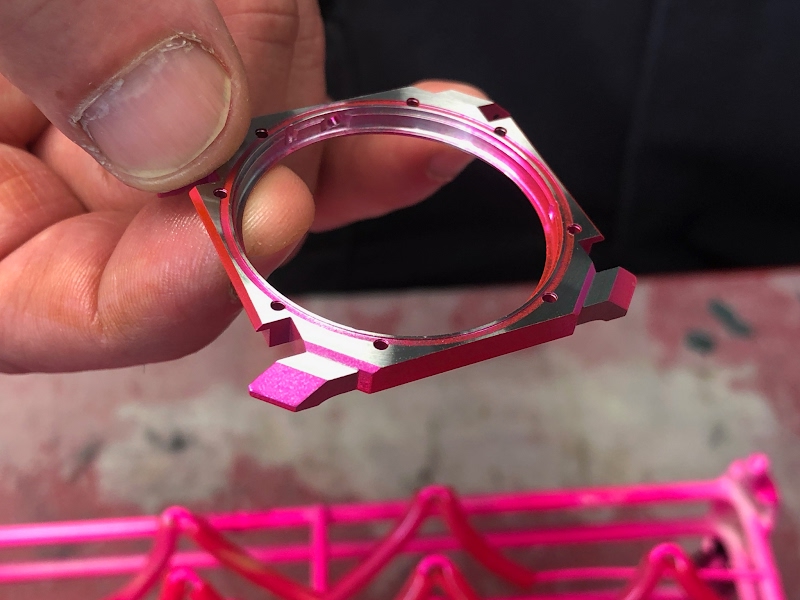 This is a case with its edges brushed. The case has already gone into the CNC machine for multiple processes, but it's still not finished and there are more facets requiring brushing operations to be done. Photo by author.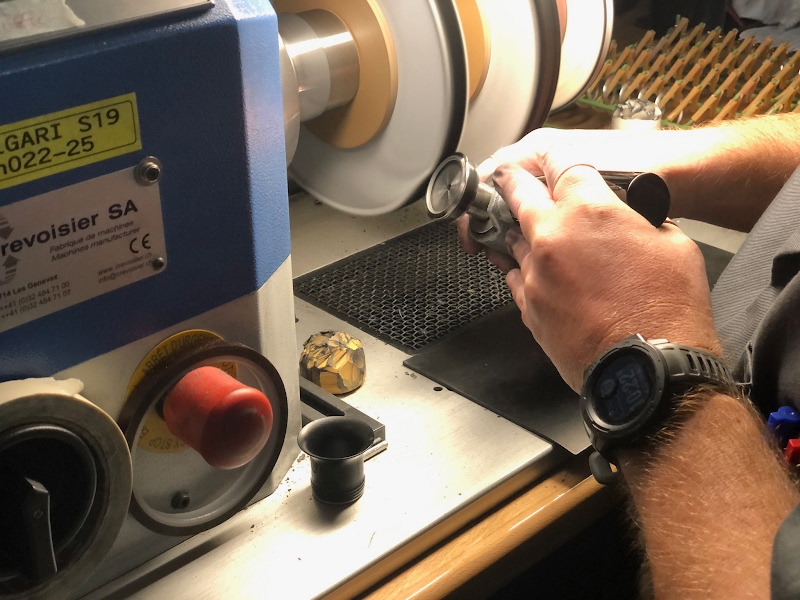 Here the bezel is getting its side polished. Photo by author.
Some of us also have the sandblasted version! The sandblasting of the case is done by a small team of expert sandblasters, whom individually sandblast every case by hand. Lighting is so important while sandblasting, so they have to pay attention to the angle they hold the case while sandblasting for light optimization, otherwise, one side of the case may look a little "darker" than the other side of the case.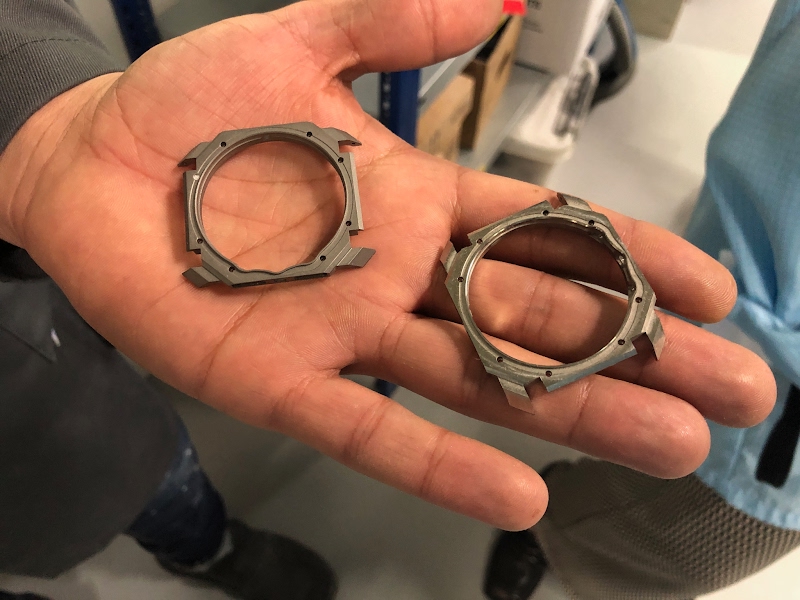 On the left we have a finished sandblasted case. On the right we have a case still that just came out of the CNC machine. Photo by author.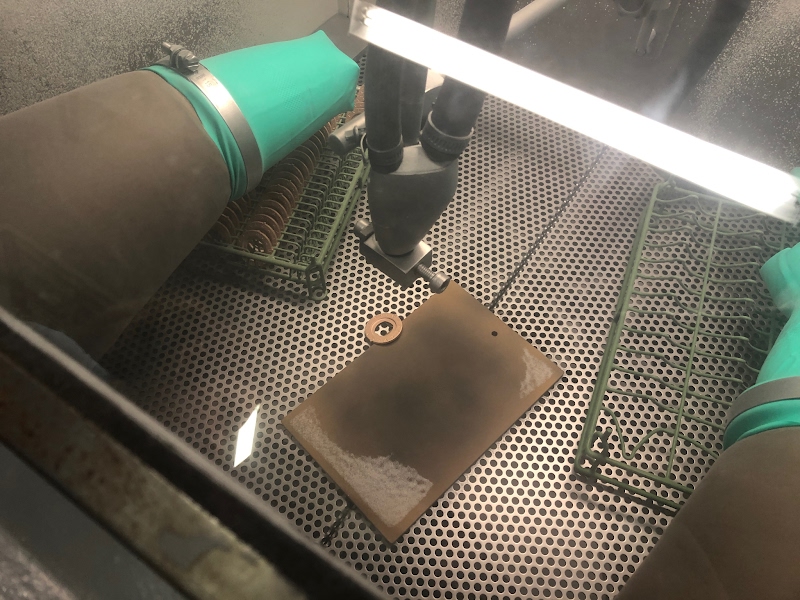 The sandblasting machine is well lit. Photo by author.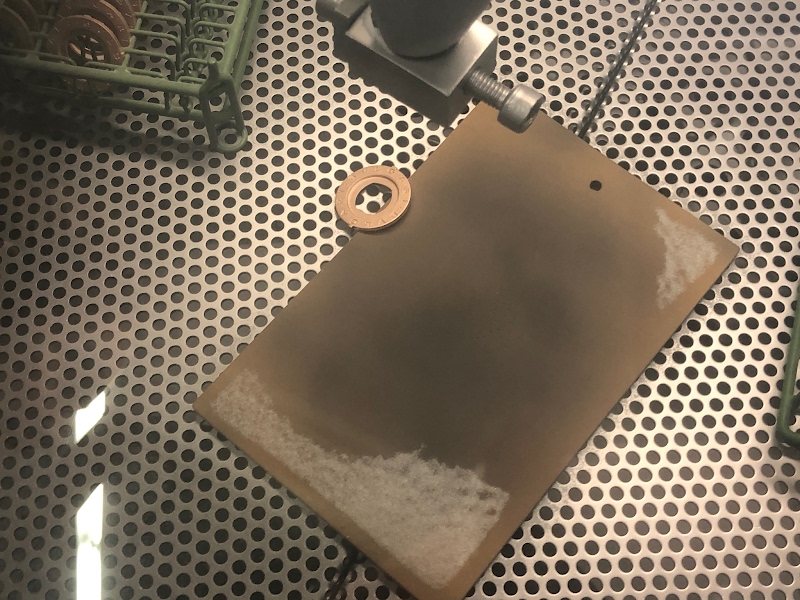 The machine shoots out glass beads in a very even and uniform way, the glass beads give that matte look. The beads are collected at the bottom of the machine and reused. Photo by author.
The dial of some Octo models are quite special. All dials are made from 0.23mm metal sheet and then electroplated with various color treatments.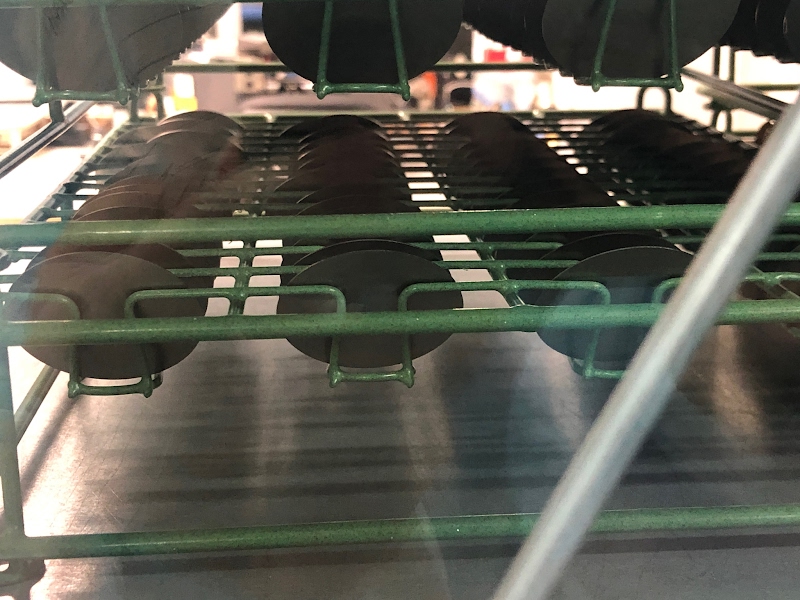 These are metal circles that will become dials. Photo by author.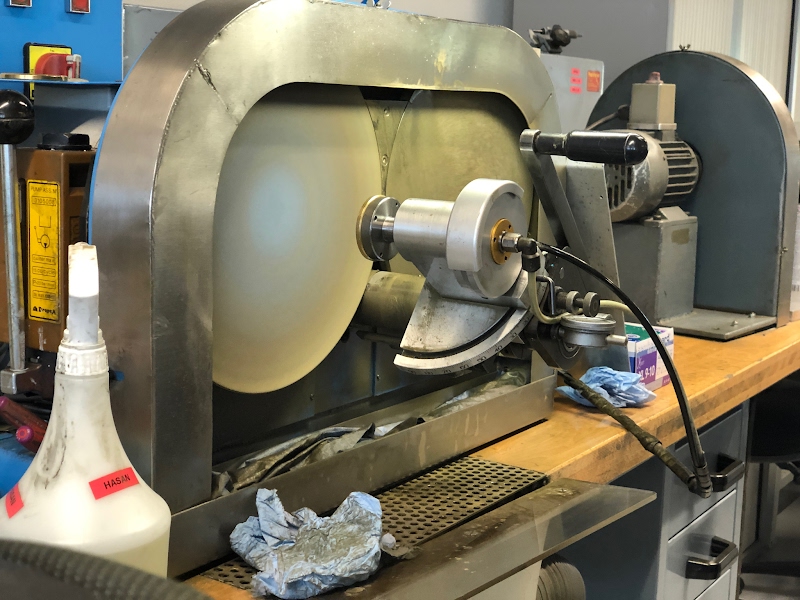 The metal circles are polished and prepared to be transformed into dials. Photo by author.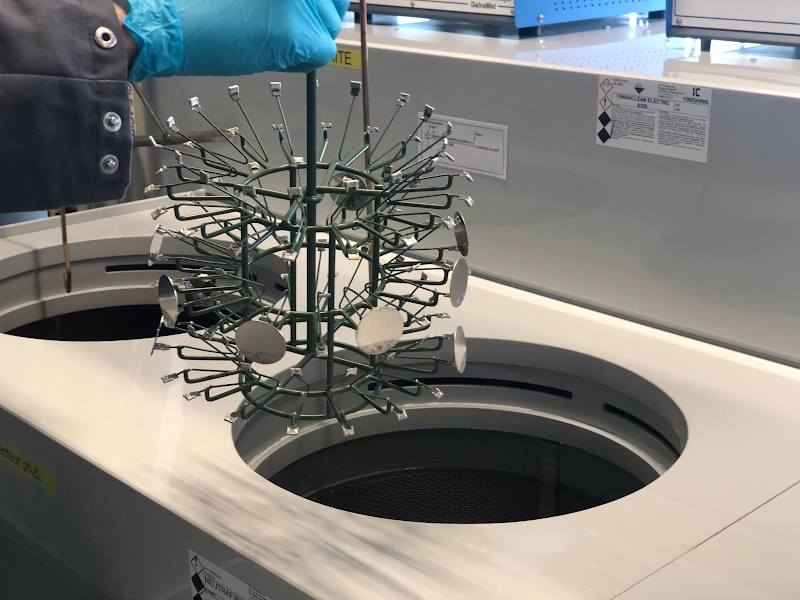 These dials are being electroplated in a special liquid that has gold in the liquid solution. Photo by author.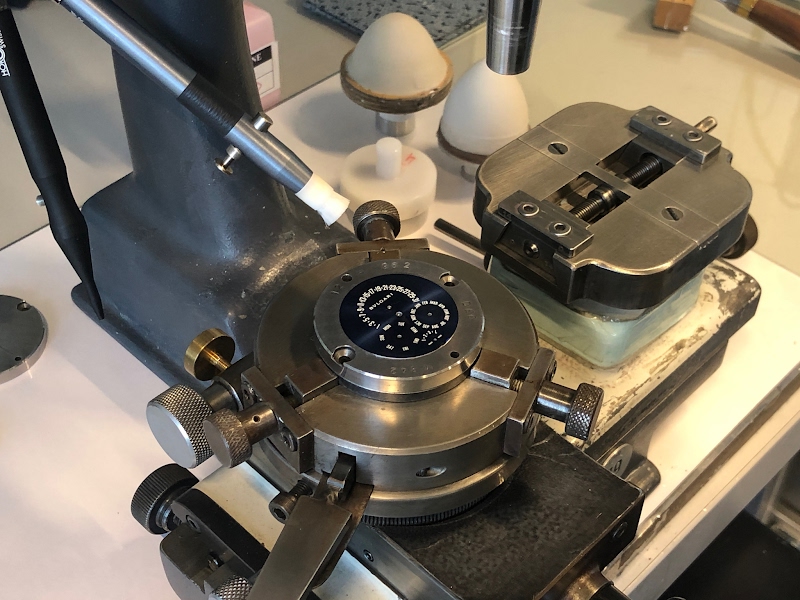 Some dials are printed with the standard egg spatula process using a normal ink transfer process with a silicon spatula that looks like an egg. Each stamp can only be of one color. Photo by author.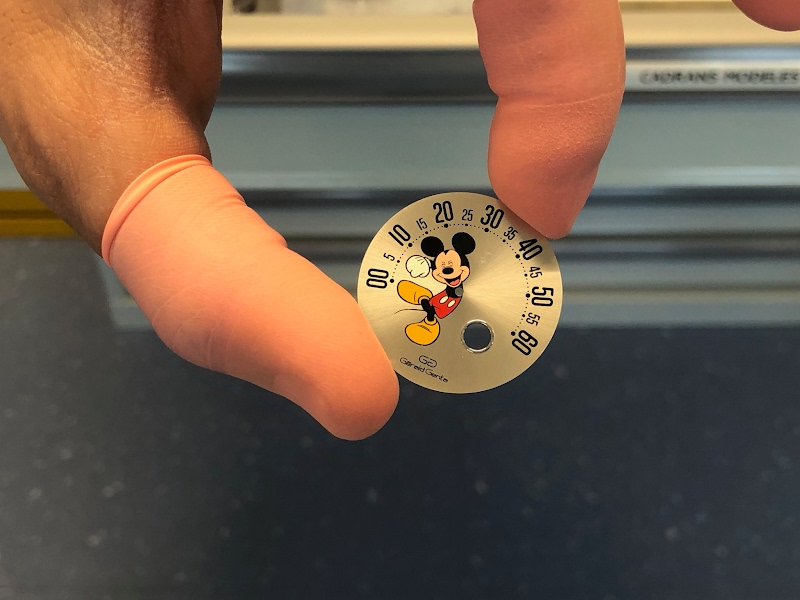 This Gerald Genta dial has at least six colors; black, white, Mickey's face, Mickey's tongue, yellow shoes, and red pants. This means there are at least six different egg spatula stampings necessary to create this single dial! Wow! Photo by author.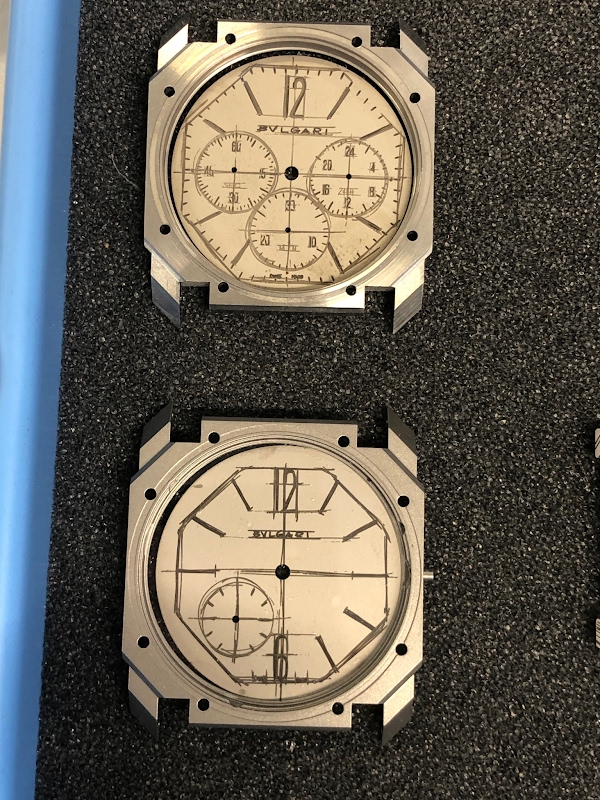 Some dials are made by laser etching! I had never seen this before! The photo above shoes the 10th anniversary Octo Finissimo model dials, we have had a few WatchProSite members become lucky new owners of this watch, the latest model from Bulgari! Also note, Moc's tattoo watch dial was also created using laser engraving on both the dial and the bracelet! Photo by author.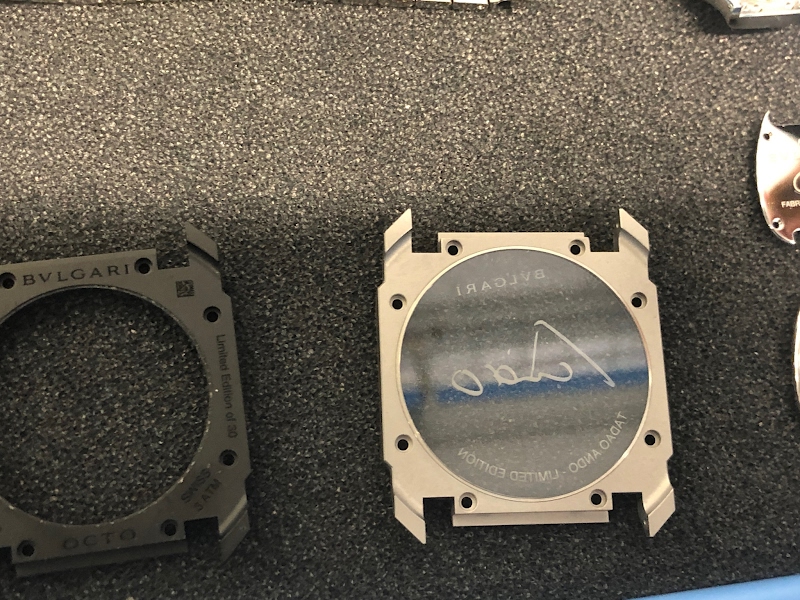 The laser engraving can also be applied on sapphire glass. Some WatchProSite members are lucky owners of the 200-piece Tadao Ando limited edition in titanium - my favorite Bulgari watch! Photo by author.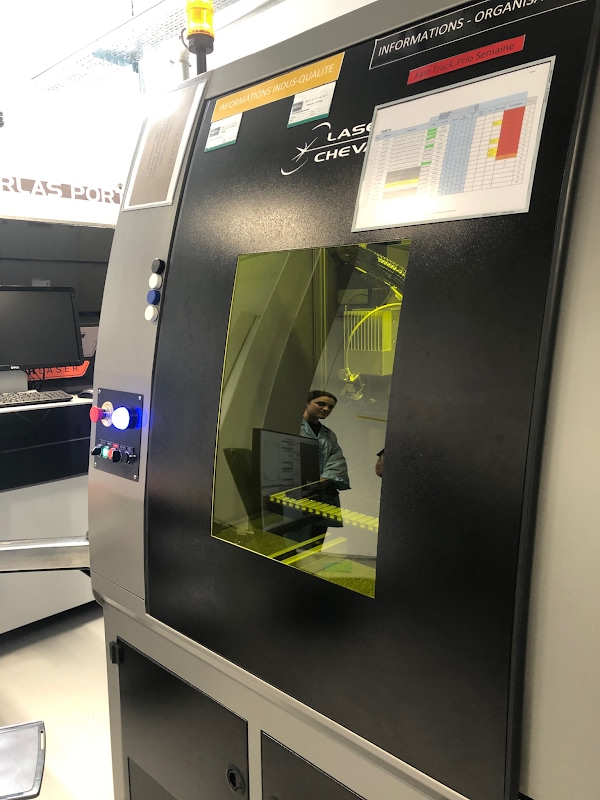 Please meet the impressive laser machine. This is the first time I've seen one of these machines in a watch factory! Photo by author.
Some dials with metal indices are made in an ingenious way! The metal indices are galvanically grown on a plastic "sticker." The plastic sticker is then pressed onto the dial and somehow the metal indices are fused onto the dial. The plastic sticker is then peeled off. I unfortunately couldn't see the whole process, but I found this to be extremely innovative.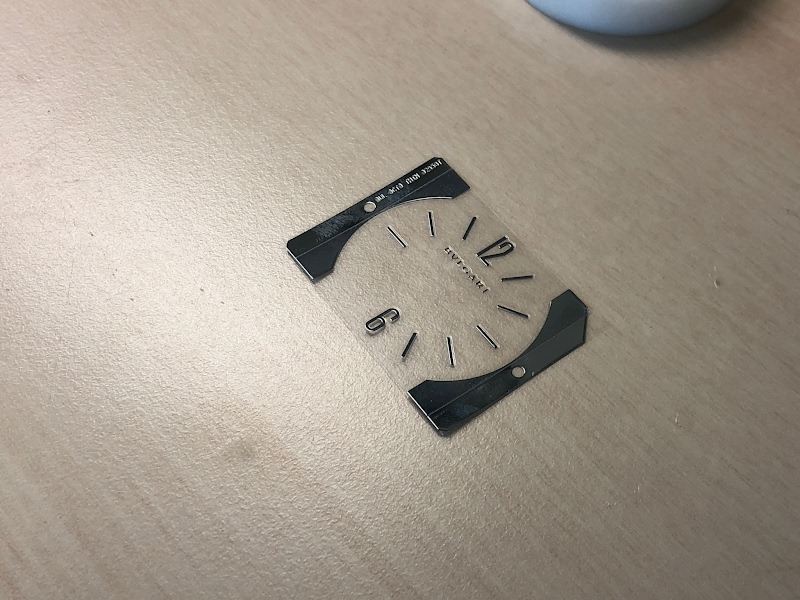 Plastic sticker with galvanically grown metal indices. Photo by author.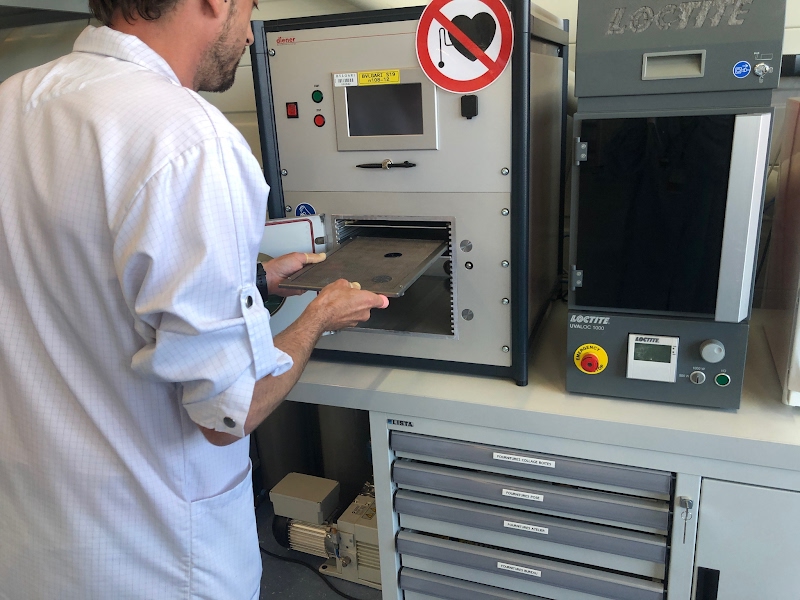 The dial and metal on the stickers are fused together in this special oven that uses two special canisters of gas - one of which is liquid oxygen (to help with combustion). Photo by author.
Bulgari Horlogerie's Product Creation Executive Director Fabrizio Buonamassa Stigliani explained to me, "because the watch is so thin, traditional applied indices would be too high and would hit the hands. Thus, to keep the watch thin, we had to find technical solutions to keep to the aesthetics dictated by the design." I have a feeling that the designers are uncompromising and not limited by technology – telling the engineers to come up with a pioneering solution to turn their design into reality.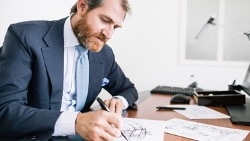 Photo by Bulgari.

Now we have an understanding of how Bulgari makes the exterior of the watch, but what about the interior? Well, Bulgari has another factory in Le Sentier for making the movements. This is the original Gerald Genta factory. Bulgari acquired Gerald Genta and the factory about 20 years ago, along with its intellectual property, machinery, and talent. They used that talent and expertise to build a team to make incredible thin timepieces. Gerald Genta had previously been known to make Grand Complications and had thus refined the art on how to miniaturize complex movements. We will explore how the movements are made in Le Sentier in Part II…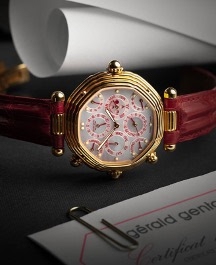 Photo by Bulgari.

I trust you enjoyed this tour of Bulgari's factory. Many thanks to Bulgari for allowing WatchProSite to visit their factory. It's definitely been difficult to tour factories due to the COVID pandemic. Please stay tuned for Part II where we will learn more about what goes into a Bulgari timepiece! As always, I look forward to your comments and questions!

WatchProSite Moderator Disclosure: here at WatchProSite, your moderators are held to the highest ethical standards and avoid influence from the brands. To keep our high ethical standards, our moderators promise not to accept gifts nor special privileges in exchange for favorable reviews. I flew myself to Switzerland at my own expense to tour this factory. Bulgari did provide me ground transportation for my visit; since I did not know where all the factories were, the factories were also scattered far apart from one another, and this was done for efficient logistics.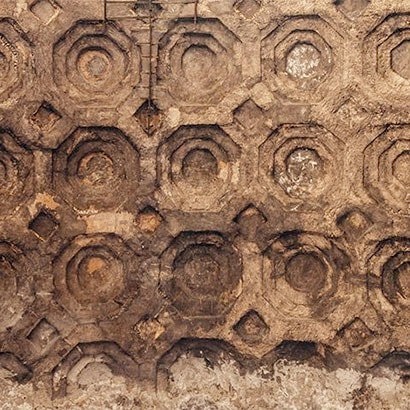 Ancient Roman architecture was one of the inspirations for the Octo. Photo by Bulgari.
This message has been edited by FabR on 2022-08-12 08:32:12