After more than two decades of the haute horlogerie L.U.C Collection, we are used to the raft of complicated watches from Chopard but obviously the maison has been producing them sporadically since 1860.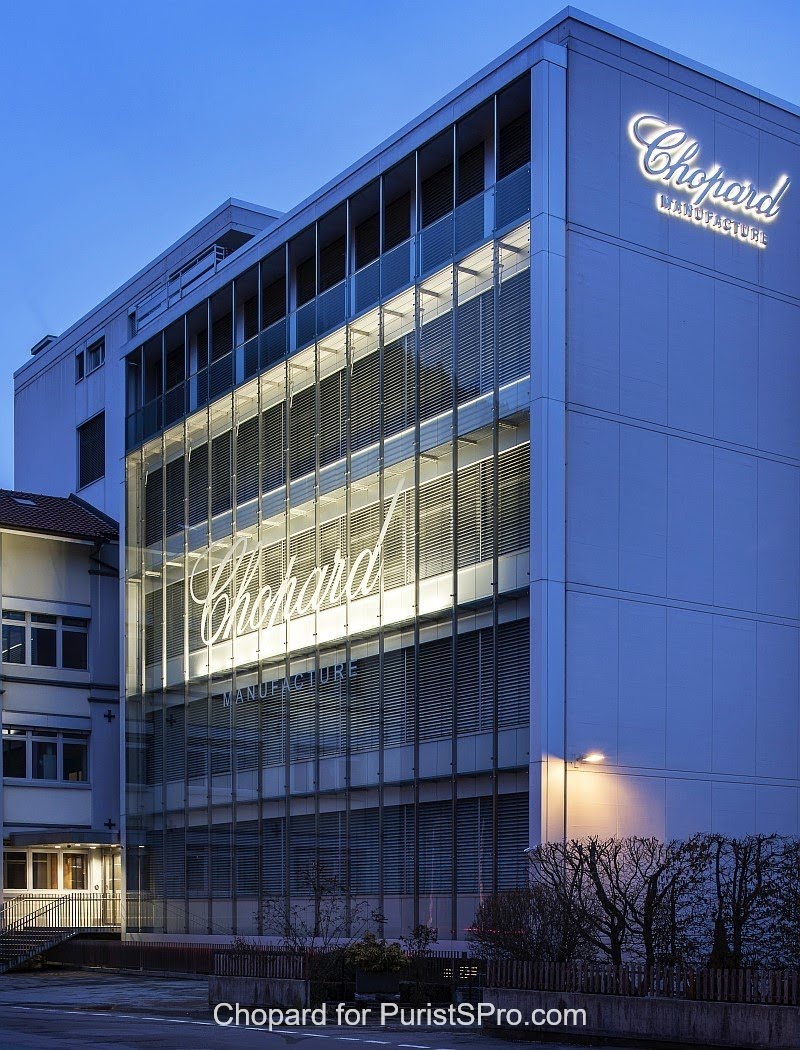 Chopard Manufacture Fleurier
We were all surprised when a Chopard minute repeater pocket watch turned up recently.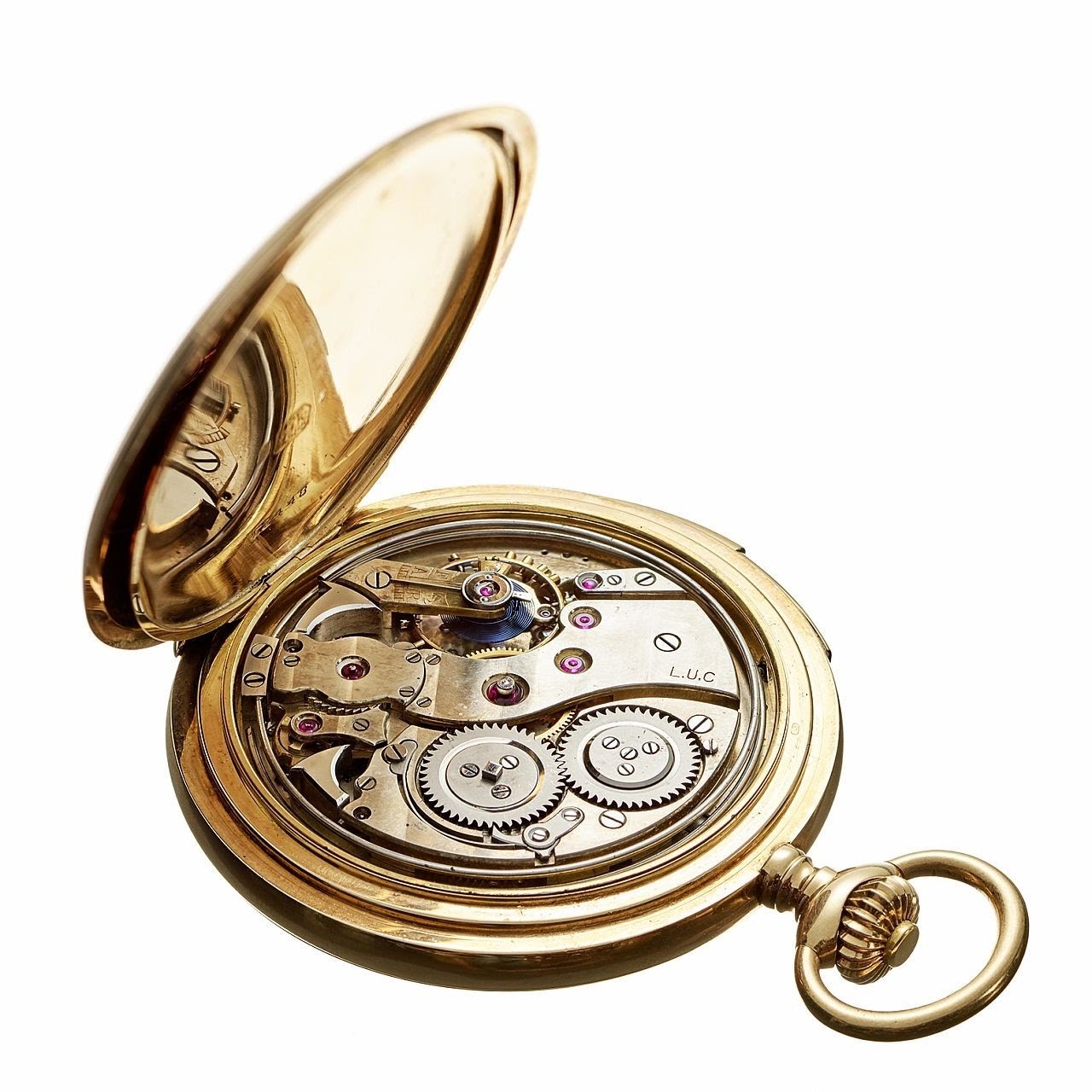 Chopard Minute Repeater Pocket Watch
PERPETUAL CALENDAR
For this historical summary, I would like to focus on that other romantic complication: the perpetual calendar. In watchmaking, "perpetual calendar" is a calendar mechanism that correctly displays the date on the watch "perennially", taking into account the different lengths of the months as well as leap days. When the Gregorian calendar was introduced by Papal decree in 1582, it posed a tangible problem for mechanical calendar clocks because of the disparate lengths of days of months ranging from 28 to 31 days.
A Genevan watchmaker called Duboule solved the problem in 1615 with most likely the world's first clock with true perpetual calendar. Twenty tears later, another mechanism was created by Jacques Sermand and since then, there have been countless variants.
CHOPARD PERPETUAL CALENDARS (1990s)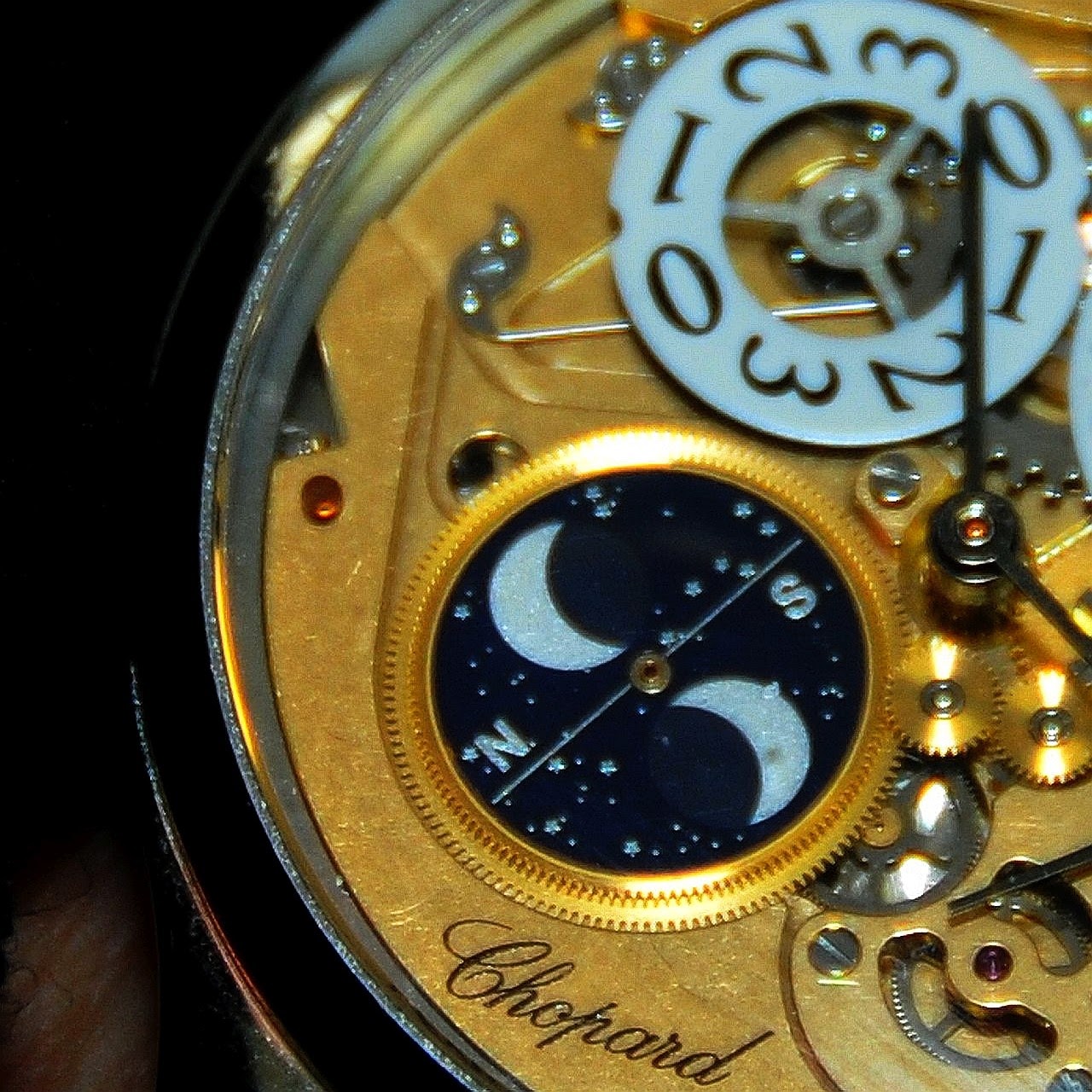 Moon Phase Displays

Through the mid-1980s, Chopard watchmakers devoted much time to developing their technique and craftsmanship for mechanical perpetual calendar wristwatches with smaller spaces for the complicated movement. The so called 'Quartz Crisis' put a dampener on progress as 90% of sales revenue came from quartz movement watches.
As luck would have it, independent watchmaker Svend Andersen invented an innovative perpetual calendar mechanism and was trying to find an industrial partner. The prototype was observed and tested minutely as it had a retrograde date display. The date pointer progressed by daily increments across a semi-circular sector until it reached the 28th, 29th, 30th or 31st, and depending on the calendar mechanism, would retract back to the 1st of the next month.
Chopard Luna d'Oro (1994)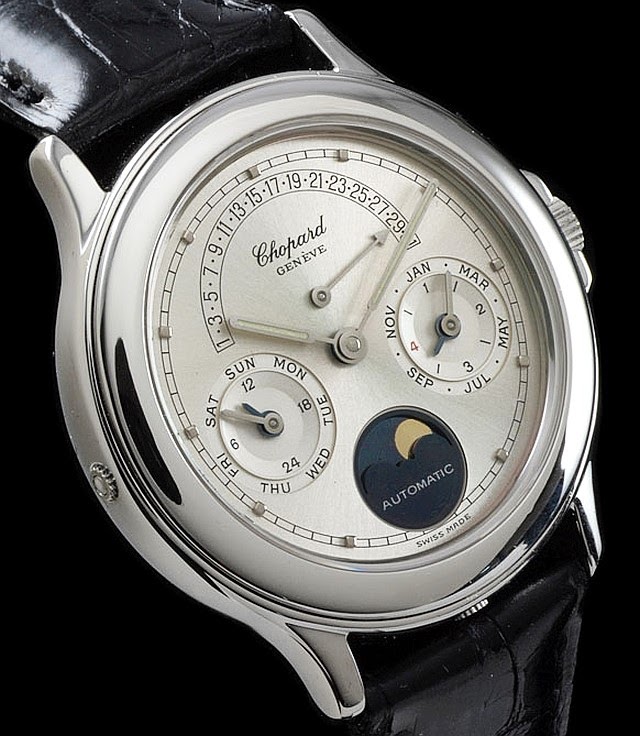 Chopard Luna d Oro Pt
Chopard acquired the rights to use the Andersens's calendar mechanism and working in-house, they mated it to a base Piguet movement with the whole calibre decorated to Chopard standards. The new perpetual calendar movement was enrobed in a luxurious gold case and Chopard's top clients were offered the fancy "Luna d'Oro" as a limited edition. This "Golden Moon" refers to the moonphase display on a perpetual calendar watch as well as the lunar disc made of solid gold. Later, a platinum limited edition was issued.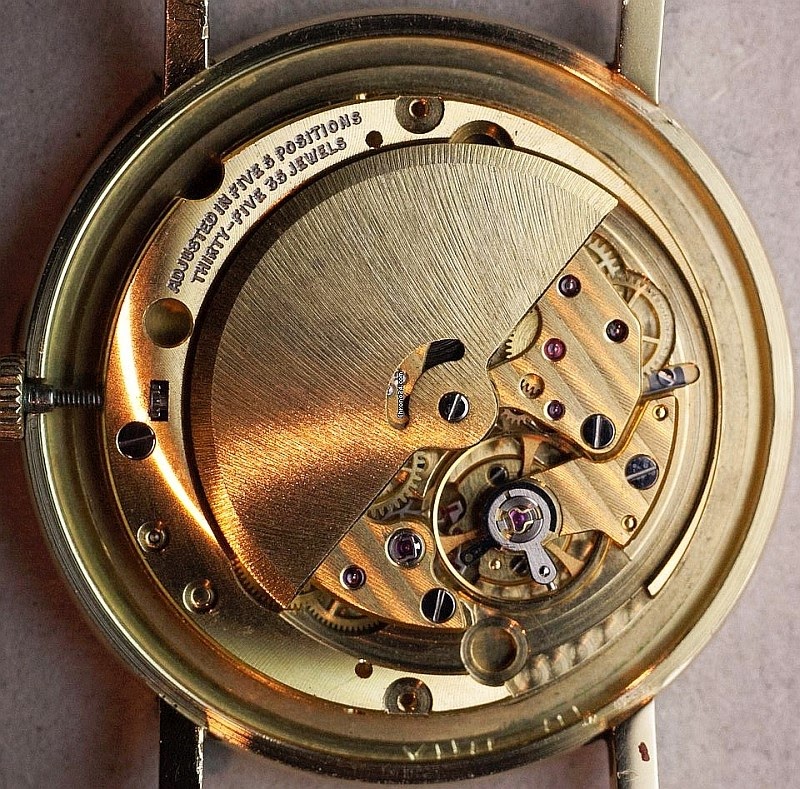 F.Piguet cal.P71

The Piguet P-70 ultra-thin (2.4mm) automatic base movement was introduced in 1970 and made until 1985. The movement is ostensibly of the "central" uni-directional rotor type but the large beryllium rotor was mounted slightly off-center, the rotor perimeter ran in a channel cut into the base plate. The P71 movement shown in the photo is similar.

Chopard Tonneau Perpetual Calendar Ref. 36/92249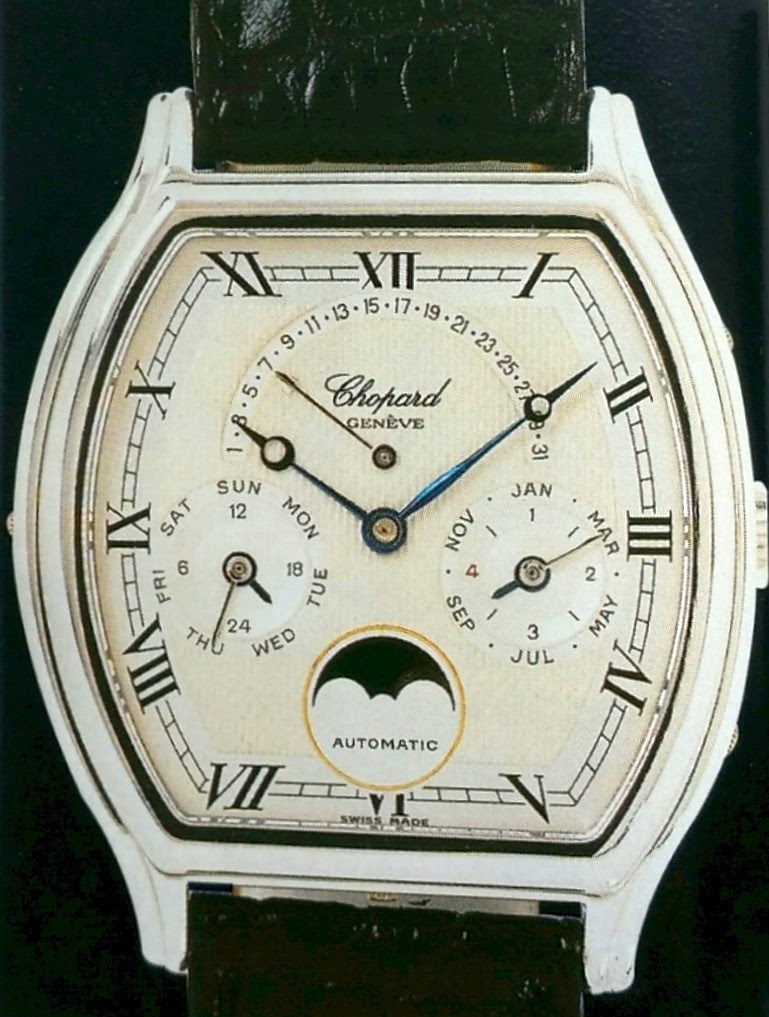 Chopard Tonneau Perpetual Calendar Pt Ref.36-92249
Chopard offered a classic tonneau case with the perpetual calendar displays but JLC 888 base movement as Ref 36/92249 in platinum.
Other variants included yellow and white gold cases as well as skeletonised models in both gold colours.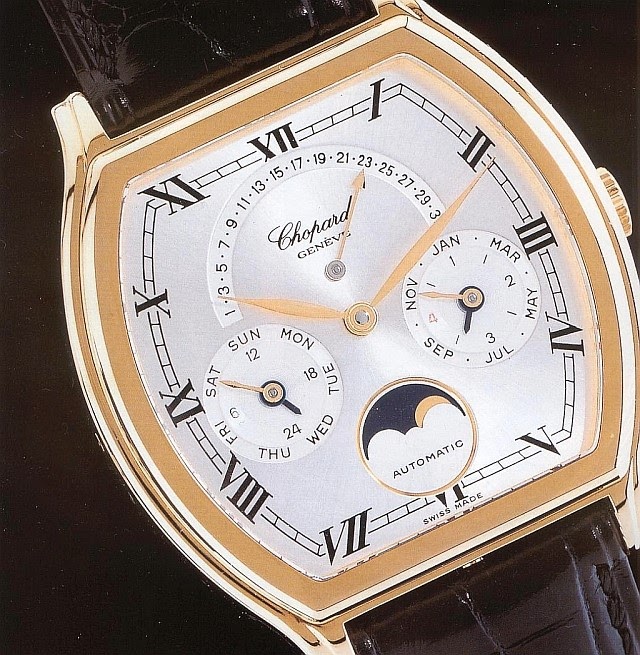 Chopard Tonneau Perpetual Calendar YG

Chopard Chronograph Perpetual Calendar Ref. 36/1224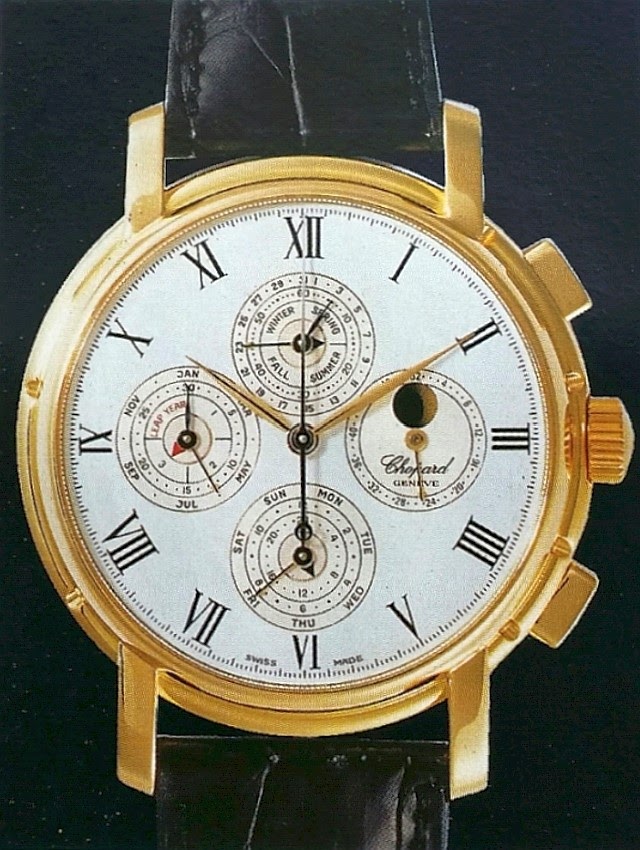 Chopard Chronograph Perpetual Calendar Ref 36-1224
Chopard added the Chronograph Perpetal Calendar to their "Quantieme Perpetuelle" range with the JLC 889/1 movement and conventional calendar indicators.
There were 50 pieces in each edition of platinum, yellow gold and red gold, as well as 10 pieces in white gold.

CHOPARD PERPETUAL CALENDARS (2005 - 2010)

L.U.C Lunar One Mk.1 (2005)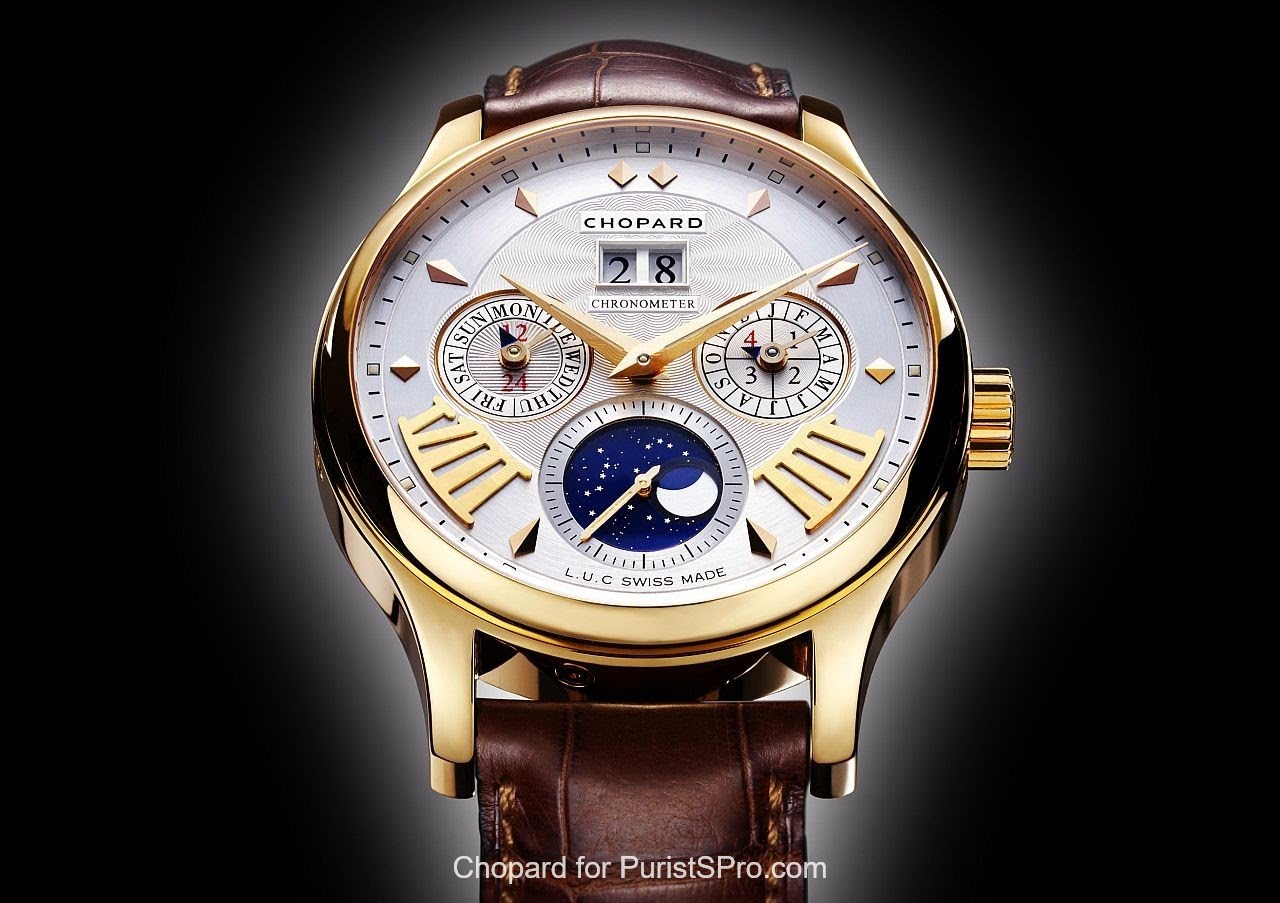 L.U.C Lunar One Mk 1
First presented in 2005 as the Mk 1 version, the L.U.C Lunar One has over the years become a flagship model in the Chopard Haute Horlogerie collection. The original L.U.C 96QP movement was based on the L.U.C 1.96 automatic base. Owners could specify either Northern or Southern Hemisphere constellations and moon display but as you can imagine, the vast majority are for the Northern Hemisphere!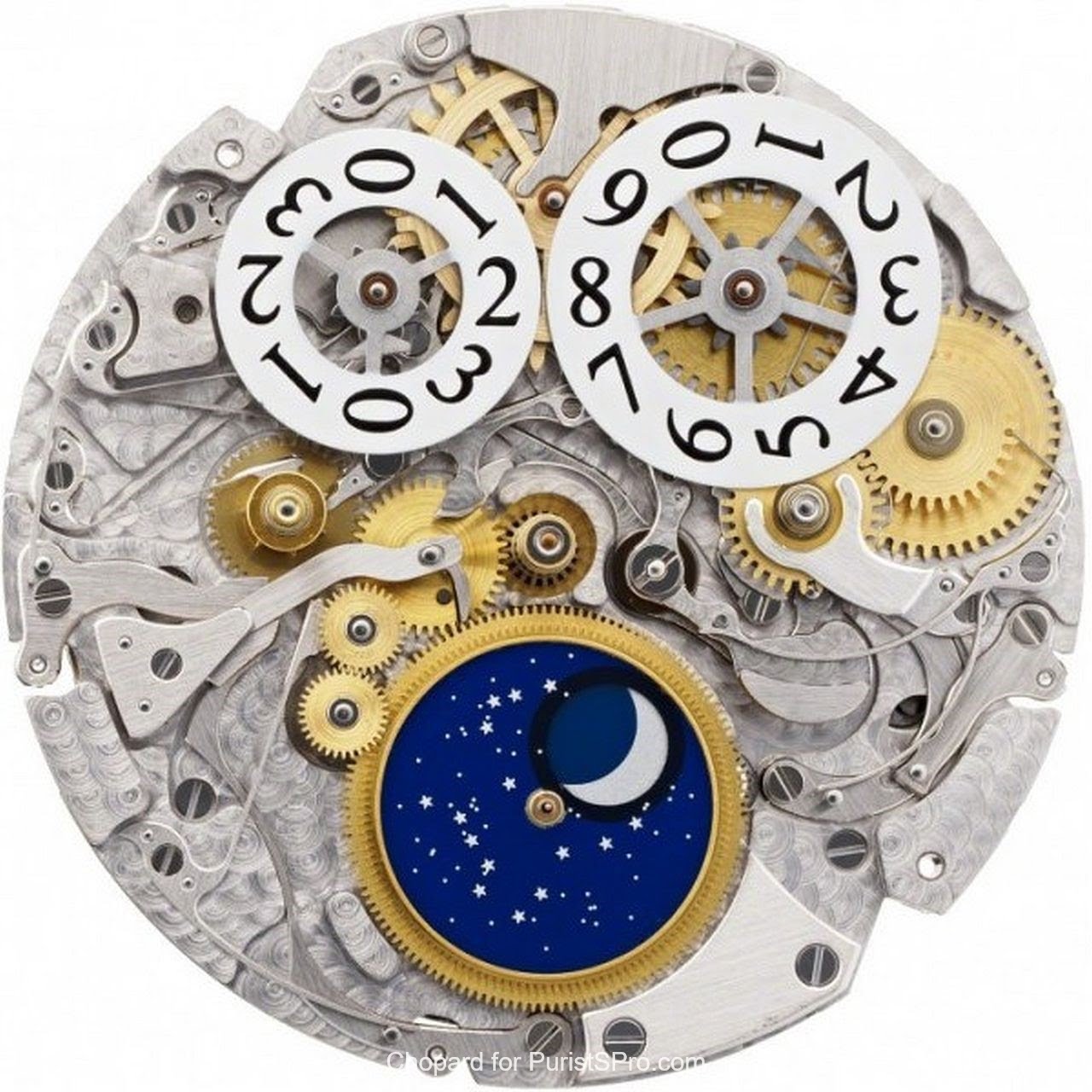 L.U.C Lunar One Calibre L.U.C QP
The Roman numeral and bevelled hour markers are reminiscent of Chopard watch dials when the Scheufele family bought and formed LE PETIT-FILS DE L.-U.CHOPARD & Cie S.A.
Note the classic dauphine hands, smooth case sides and step-less lugs.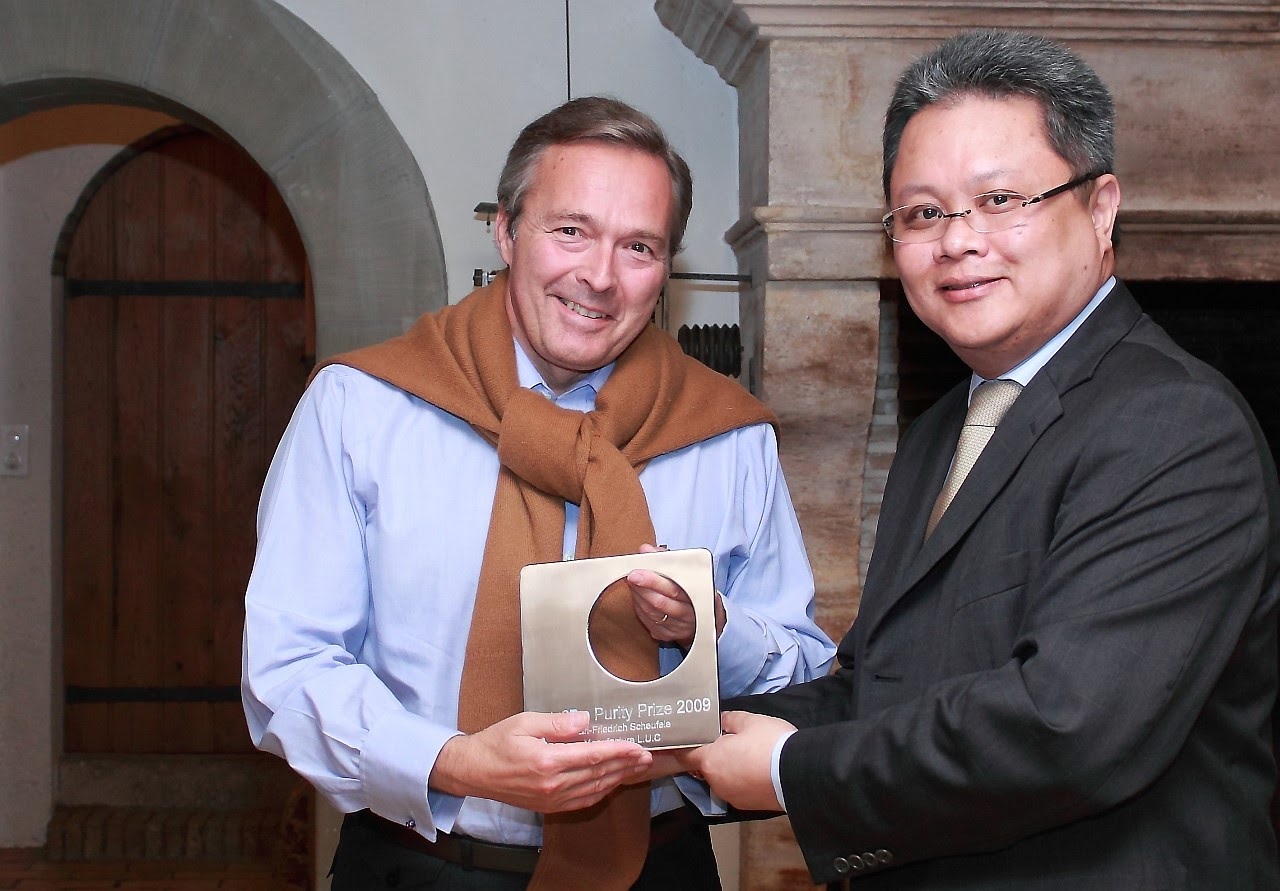 PuristSPro Purity Prize
Chopard won a PuristSPro Purity Prize CLICK honouring "the pursuit of perfection in an imperfect world".
The award is a crowning recognition for the five proprietary movements developed by Chopard Manufacture within 10 years, and above all for the "technical and aesthetic excellence" of the L.U.C Lunar One.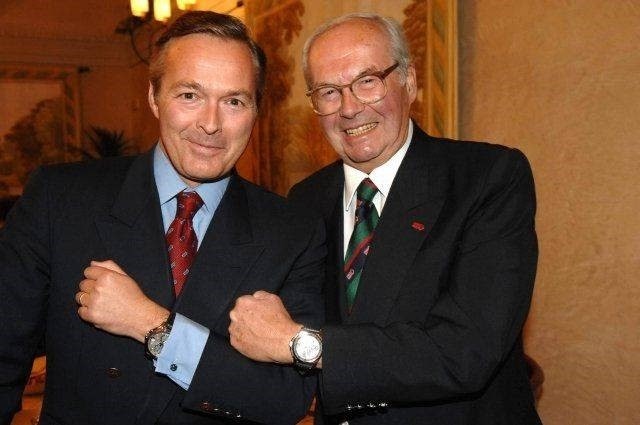 Karl-Friedrich and Karl Scheufele wear President's Watch
It is also known in the company as The Presidents' watch as both father and son wore it daily.
L.U.C All-in-One by Chopard (2010)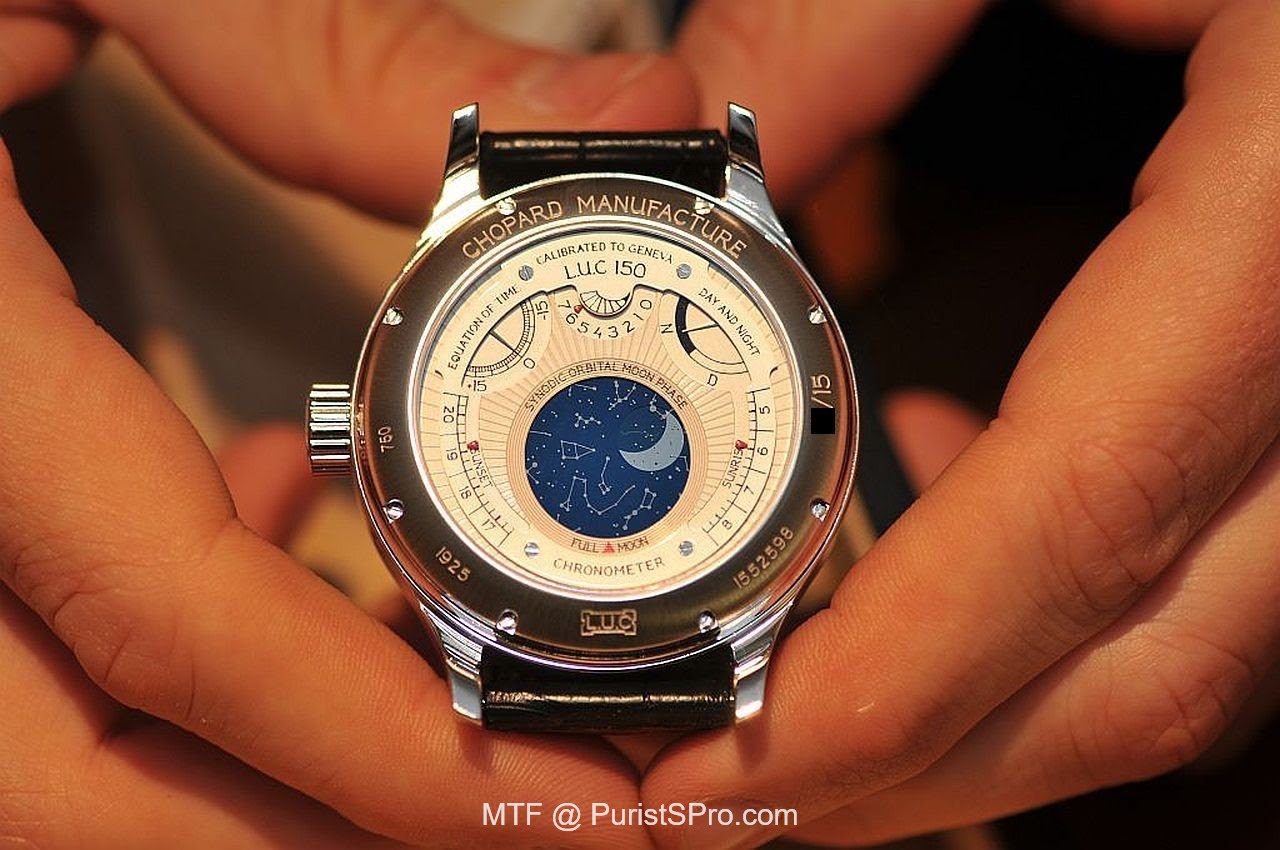 L.U.C All-in-One 150th Anniversary
The original L.U.C All-in-One watch was issued as a 15-piece white gold edition to celebrate Chopard's 150th Anniversary in 2010.
Now, this 46 mm L.U.C All-in-One watch in 18-carat rose gold featuring a gold hand guilloché nickel colour dial and equipped with a L.U.C mechanical movement with manual winding – L.U.C 05.01-L, is presented on brown alligator strap with brown alligator lining; the mark of Chopard attention to luxury detail with leather both inside and out.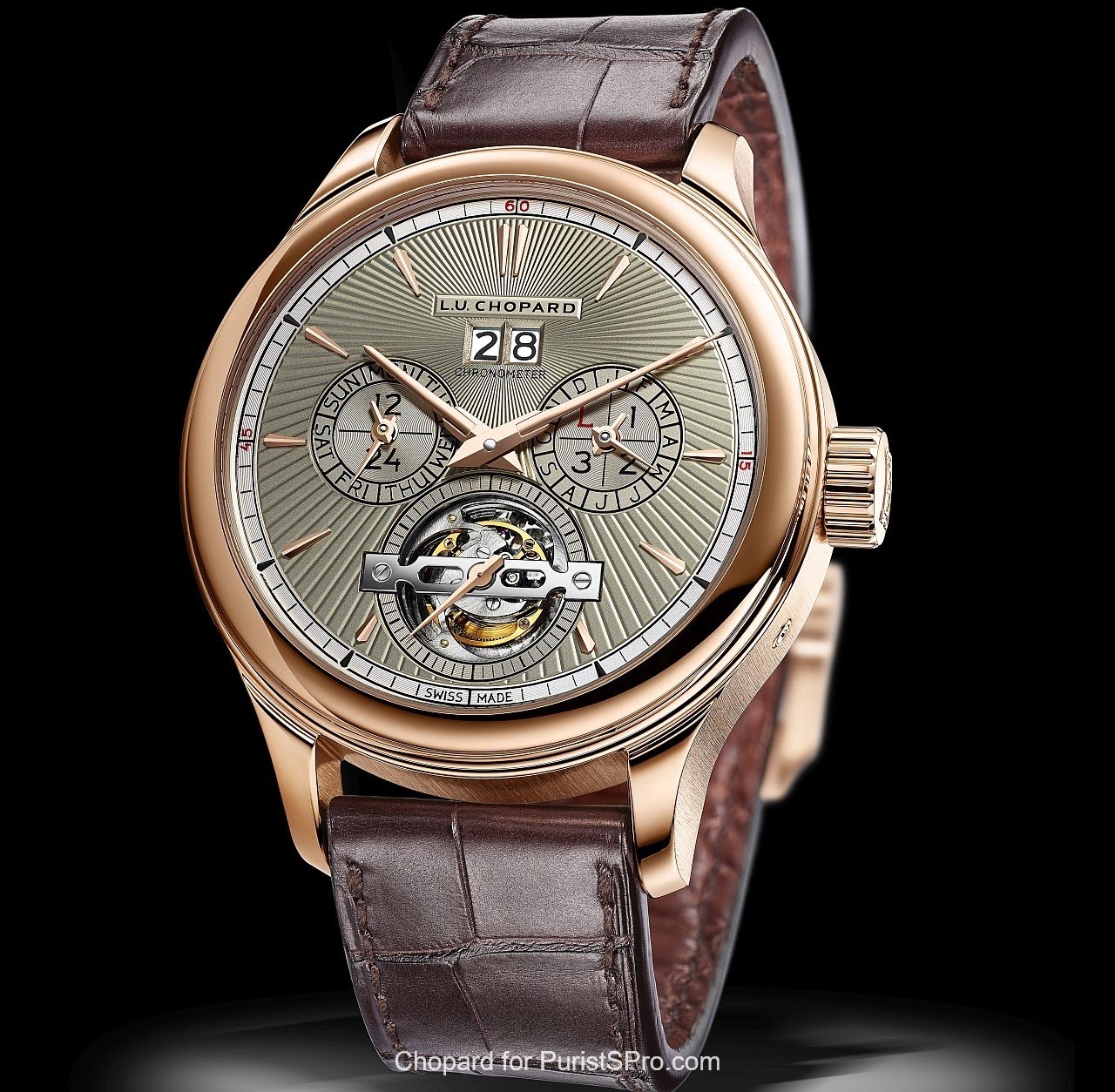 L.U.C All-in-One Ref.161925-5002 dial
The refined, exclusive and ultra-complicated new L.U.C All-in-One from Chopard orchestrates 14 indications on its two faces, including extensive calendar and astronomical functions, as well as a tourbillon. It is issued in two limited series of 10 pieces in platinum and 10 pieces in 18-carat rose gold, all bearing the Poinçon de Genève (Geneva Seal).
Discrete ultra-complexity is imbued with the effortless elegance of the L.U.C collection.
A watch replete with refined details and colours, the L.U.C All-in-One embodies the peak of Chopard's in-house approach to watch manufacturing, a distillation of exclusive craftsmanship.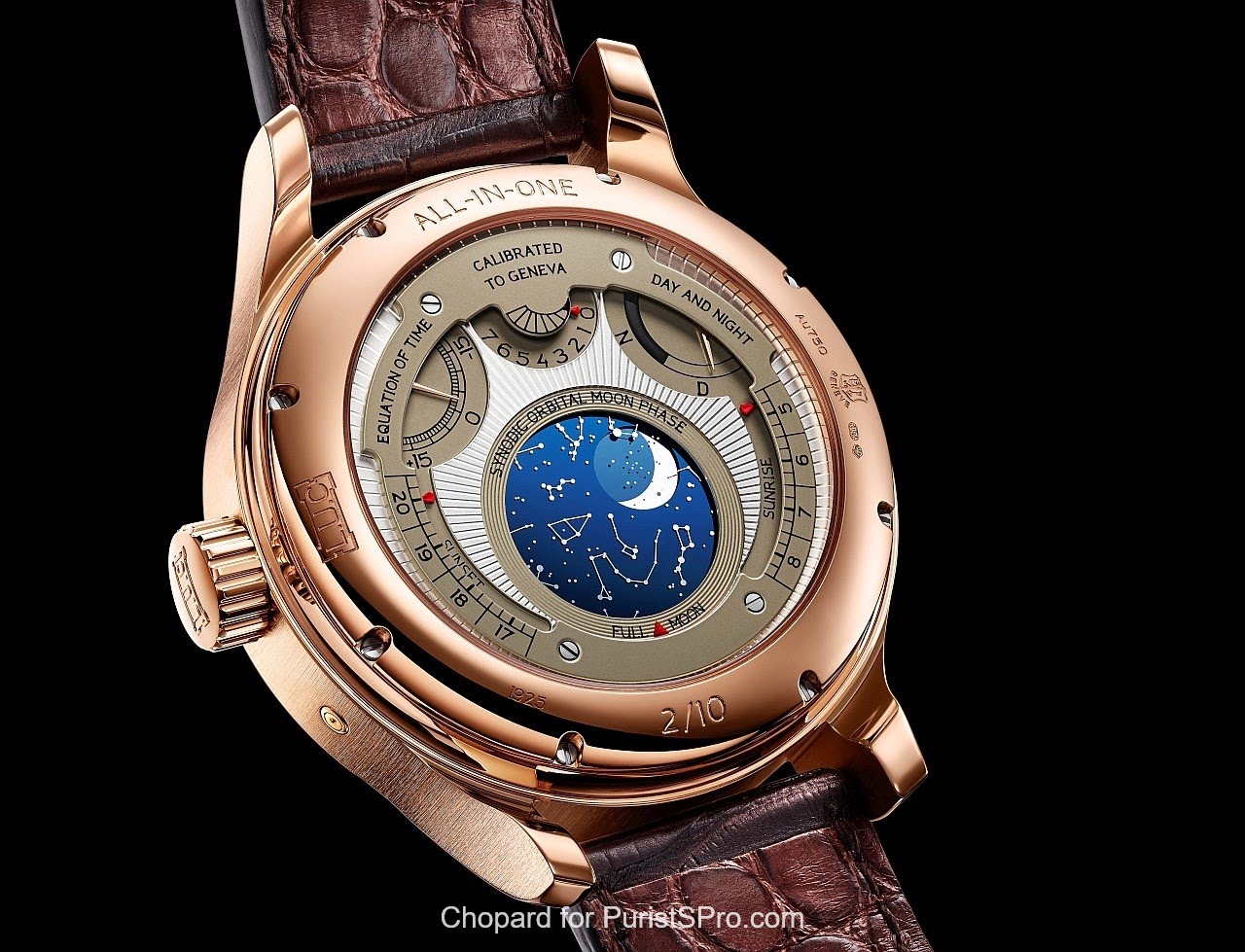 L.U.C All-in-One Ref.161925-5002 back
Dial side
Central display of the hours and minutes
Small seconds on a tourbillon at 6 o'clock
Perpetual calendar with 24h indication and day of the week indication at 9 o'clock
Display of the month and leap year at 3 o'clock
Aperture-type large date display at 12 o'clock
Movement side
Display of the equation of time, power reserve, 24-hour day/night indication, sunrise and sunset times set to Geneva and astronomical orbital moon phase.
CHOPARD PERPETUAL CALENDARS (2011 - Present)

L.U.C Lunar One Mk.2 Platinum Blue Dial Ref.161927-9001 (2017)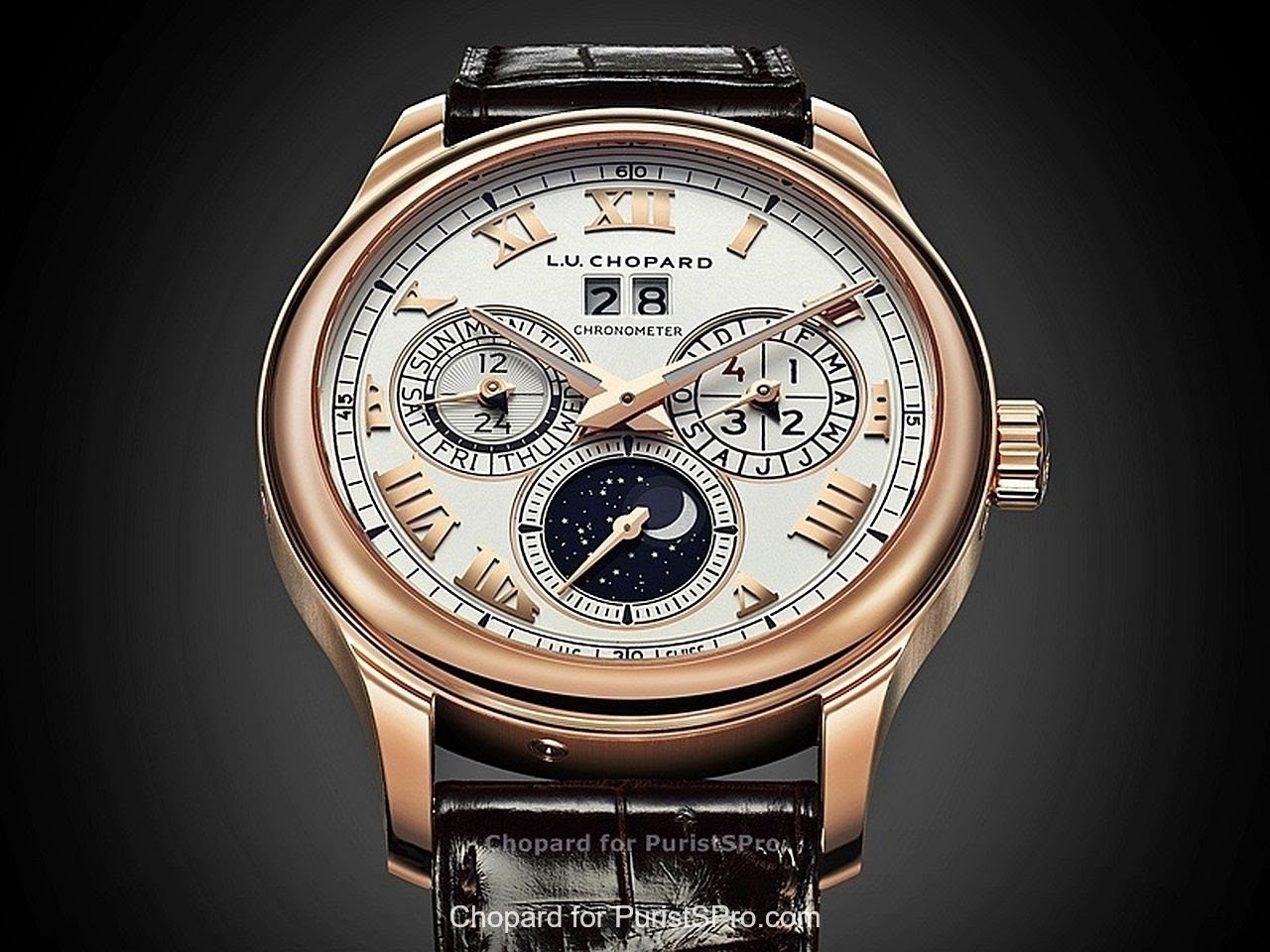 L.U.C Lunar One Mk 2 in 2012
The L.U.C Lunar One was redesigned in 2012 as the Mk 2 flagship model of the L.U.C collection and is now available as a new 100-piece platinum limited edition.
Chopard's perpetual calendar model bearing the Poinçon de Genève (Geneva Seal) has an astronomical moon-phase display on a deep blue sunray-patterned dial.
A deep blue sky, studded with the actual constellation pattern of the Northern Hemisphere, also features a moving moon display that evokes poetry....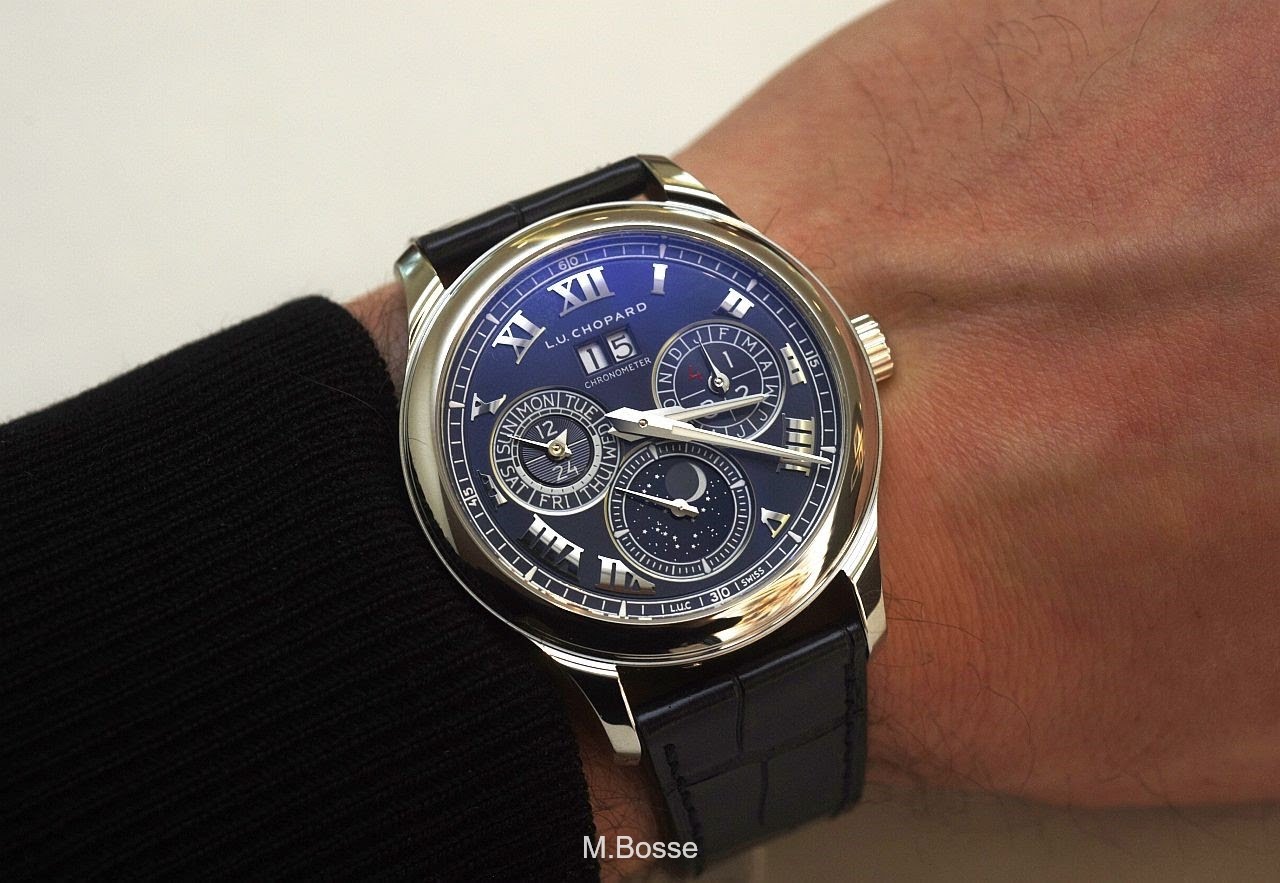 L.U.C Lunar One Mk 2 Platinum ©M.Bosse

The Mk 2 case is larger at 43mm diameter x 11.47mm height. This allows for larger calendar displays.
The case sides are satin brushed and the lug design is stepped.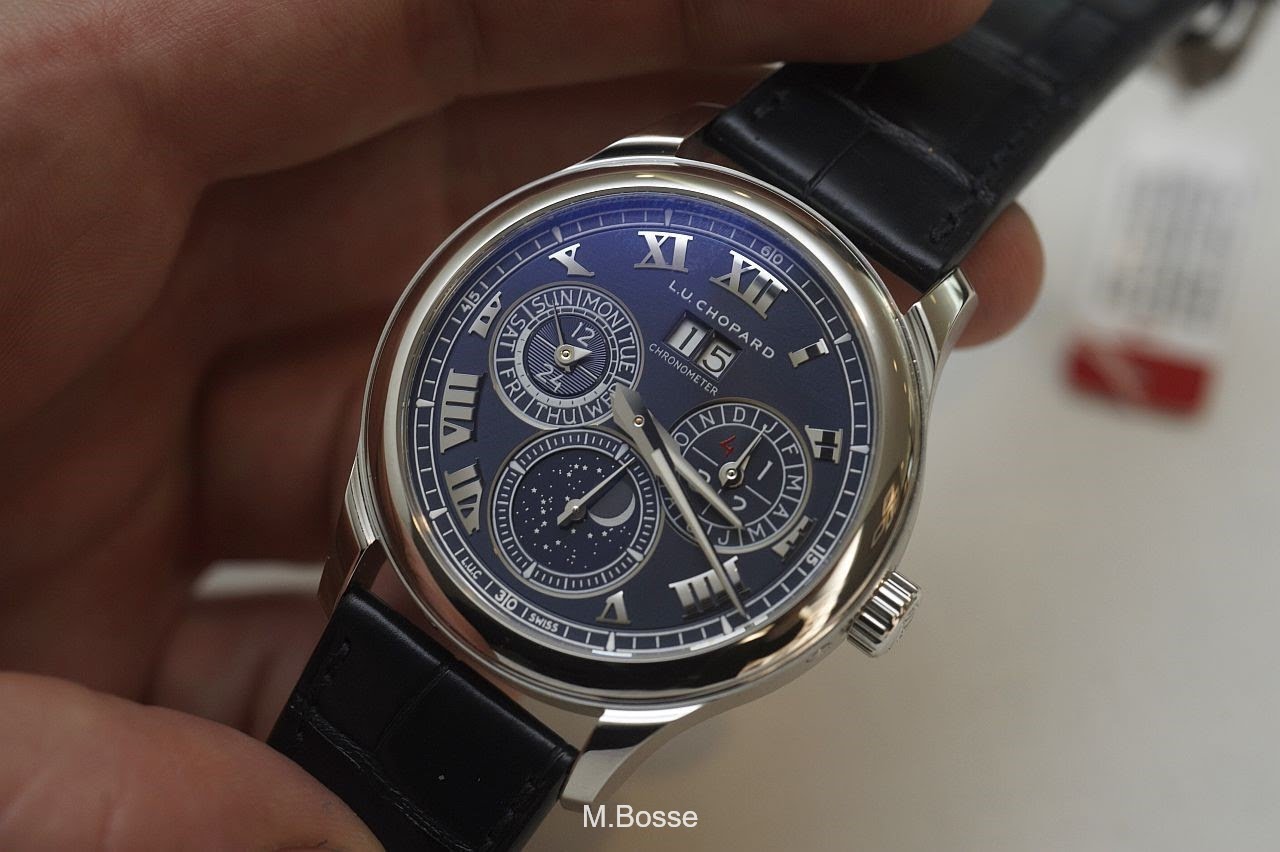 L.U.C Lunar One Mk 2 ©M.Bosse
The new rounded bezel frames a larger dial area. All the hour markers are now Roman numerals albeit curved and variable size to accommodate the other dial displays.
The new L.U.C dauphine fusee hands now provide more luminescence.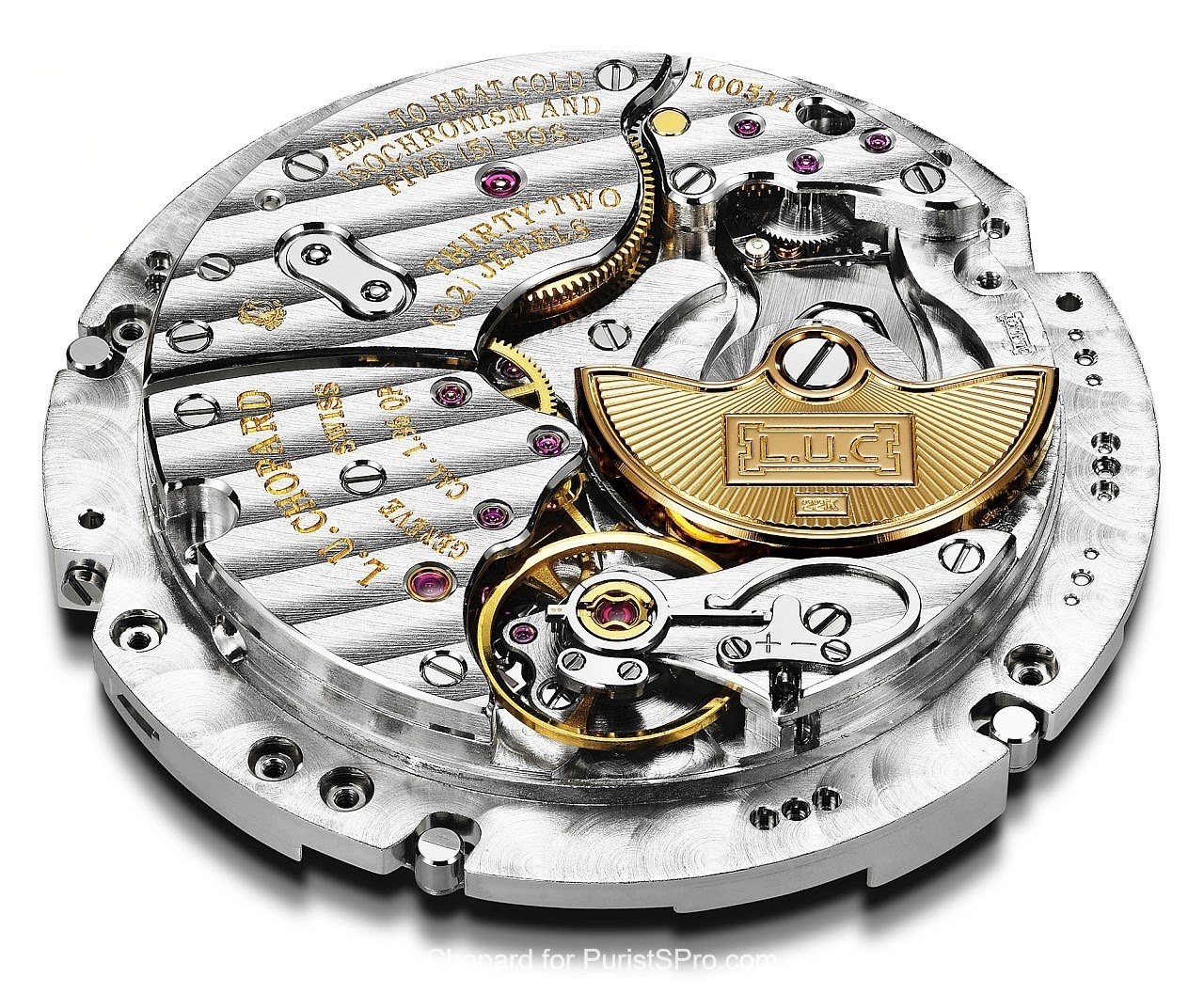 L.U.C Lunar One Calibre L.U.C 96.13-L verso
The movement is the same as before but renamed L.U.C 96.13-L.
New to the model are the double-sided alligator straps for extra luxury and sweat resistance.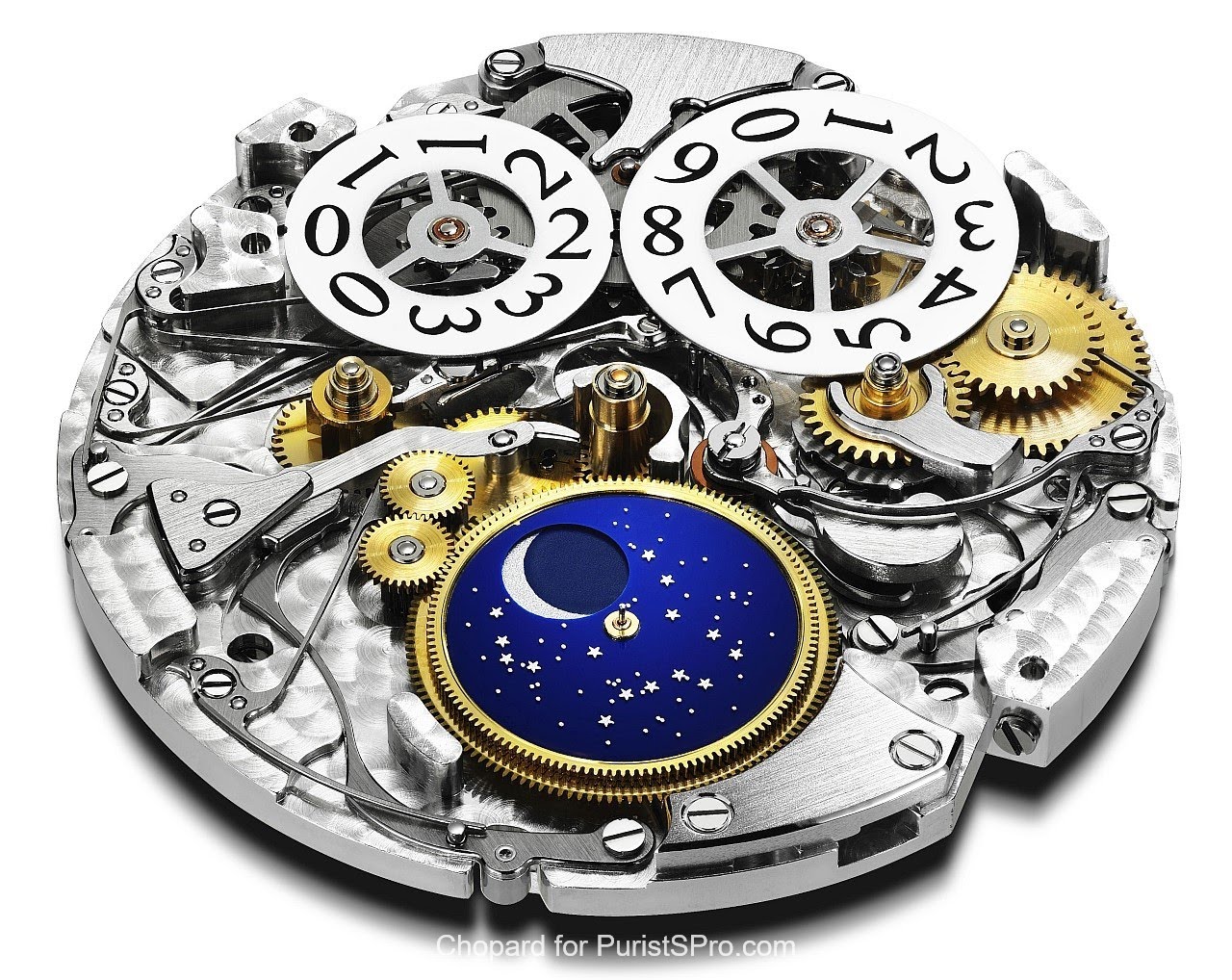 L.U.C Lunar One Calibre L.U.C 96.13-L recto

This Mk 2 version of the perpetual calendar watch with large date and moon-phase display showcases the full range of watchmaking skills cultivated at Chopard and the core thema of the L.U.C aesthetic.
This classic masculine model, governed by elaborate rules of symmetry and optimal legibility for perfectly balanced appearance, was introduced in platinum for 2017.
L.U.C Perpetual T (2015)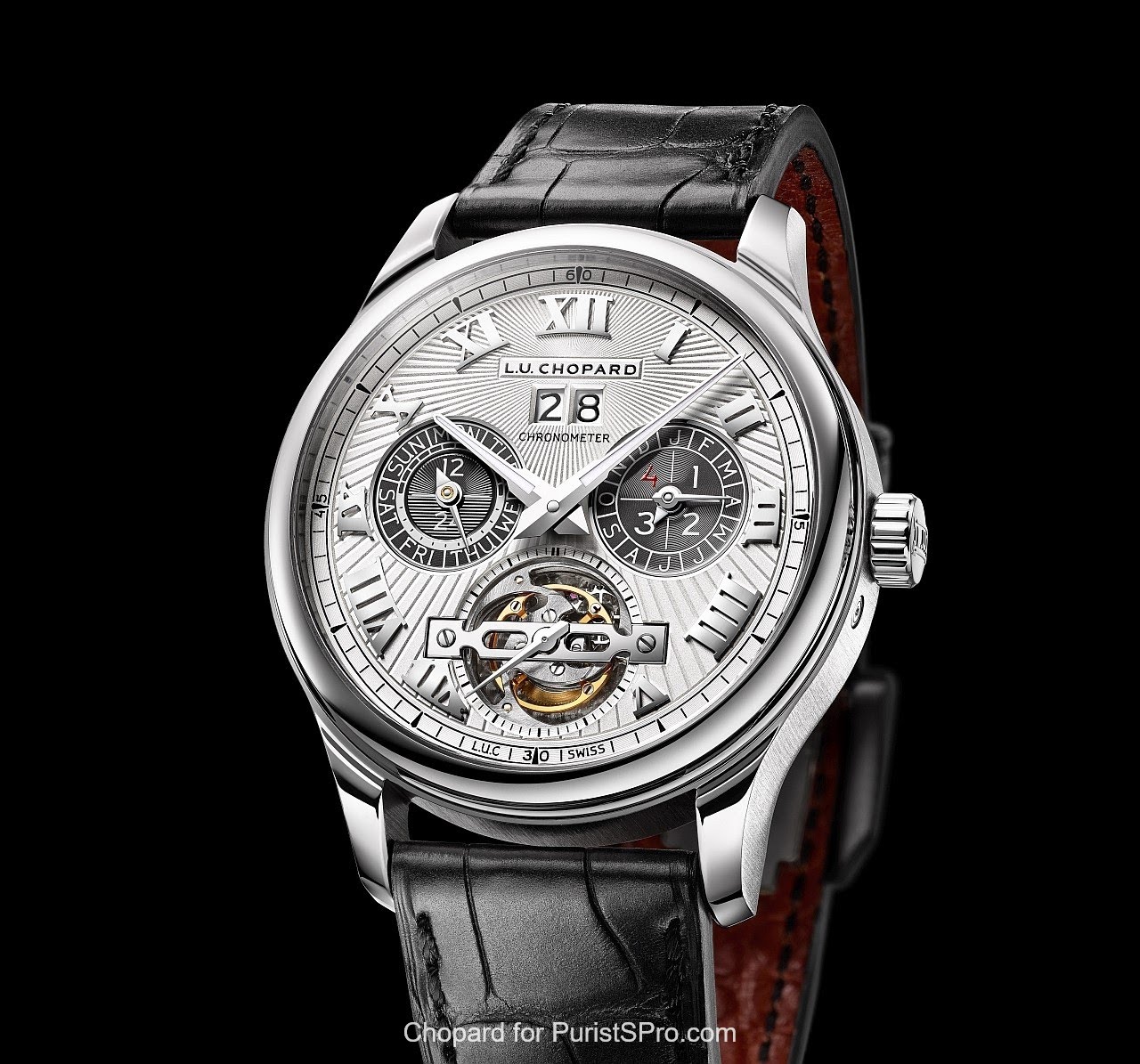 L.U.C Perpetual T Ref.161940-9001
Chopard launched the L.U.C Perpetual T as the epitome of Fine Watchmaking in a platinum version. The nobility of its two horological complications and the superlative refinement of its decorations, together with its discreet sophistication, sum up the highest standards from the legacy of Louis-Ulysse Chopard. A tourbillon escapement joins a legible perpetual calendar in a watch characterised by its elaborate aesthetic appeal.
The manual wind, 216-hour power reserve, L.U.C 02.15-L movement is chronometer-certified by the COSC and bears the Poinçon de Genève for the quality of its craftsmanship and the 43mm diameter L.U.C Perpetual T is more than the sum of its parts.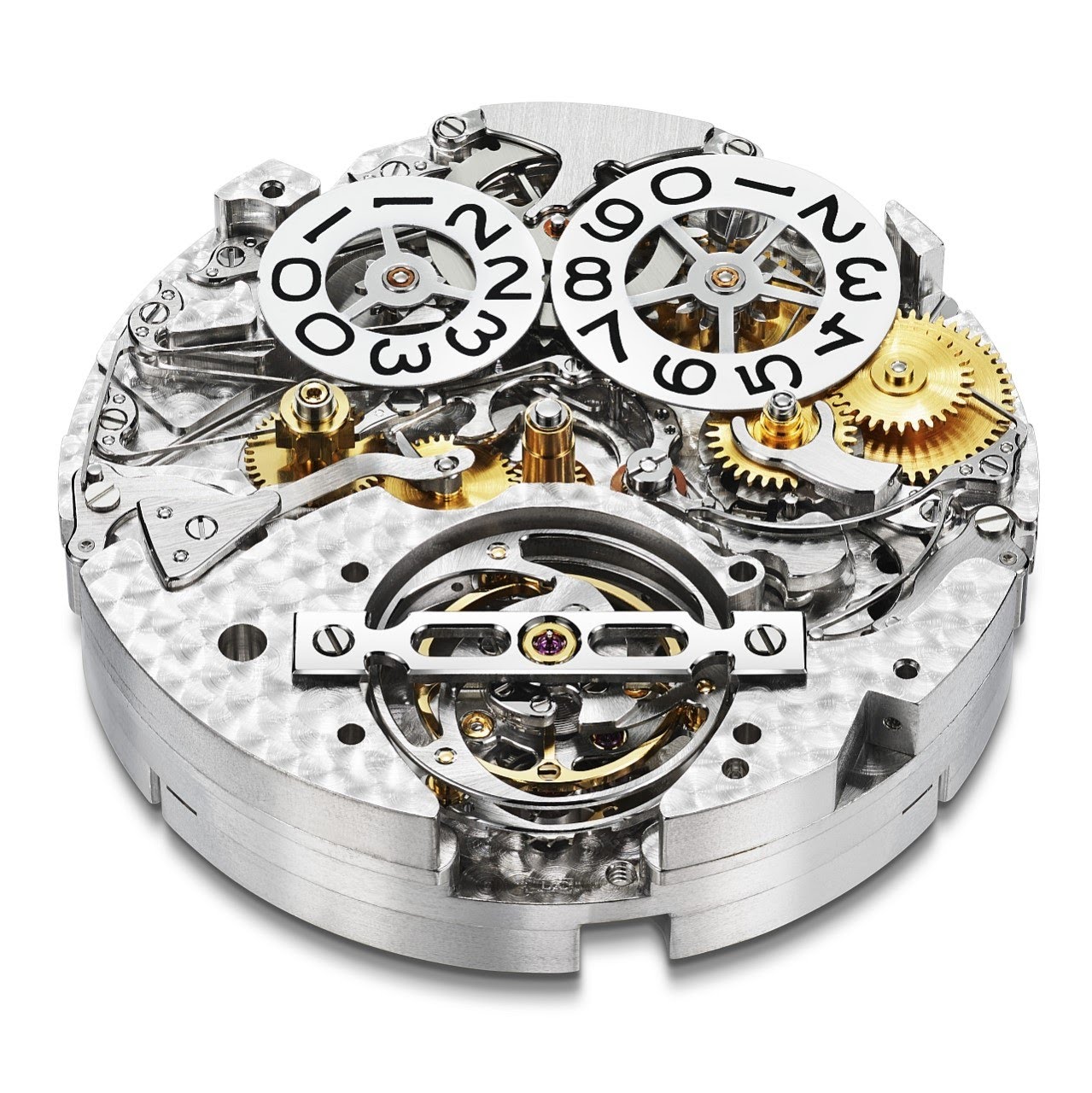 L.U.C Perpetual T Calibre L.U.C 02.15-L
18-carat gold hand-guilloché dial has slate grey snailed counters.
Perpetual calendar subdials (date window, day of the week and 24-hour indication, months and leap years) – on the dial side
Rhodiumed dauphine-type hours, minutes, small seconds. days and months hands. White triangular-type day/night and year indications – Gilded hour-markers
Power-reverse indicator on the back
Ref. 161940-9001 – In platinum
25-piece limited edition
L.U.C Perpetual Chrono (2016)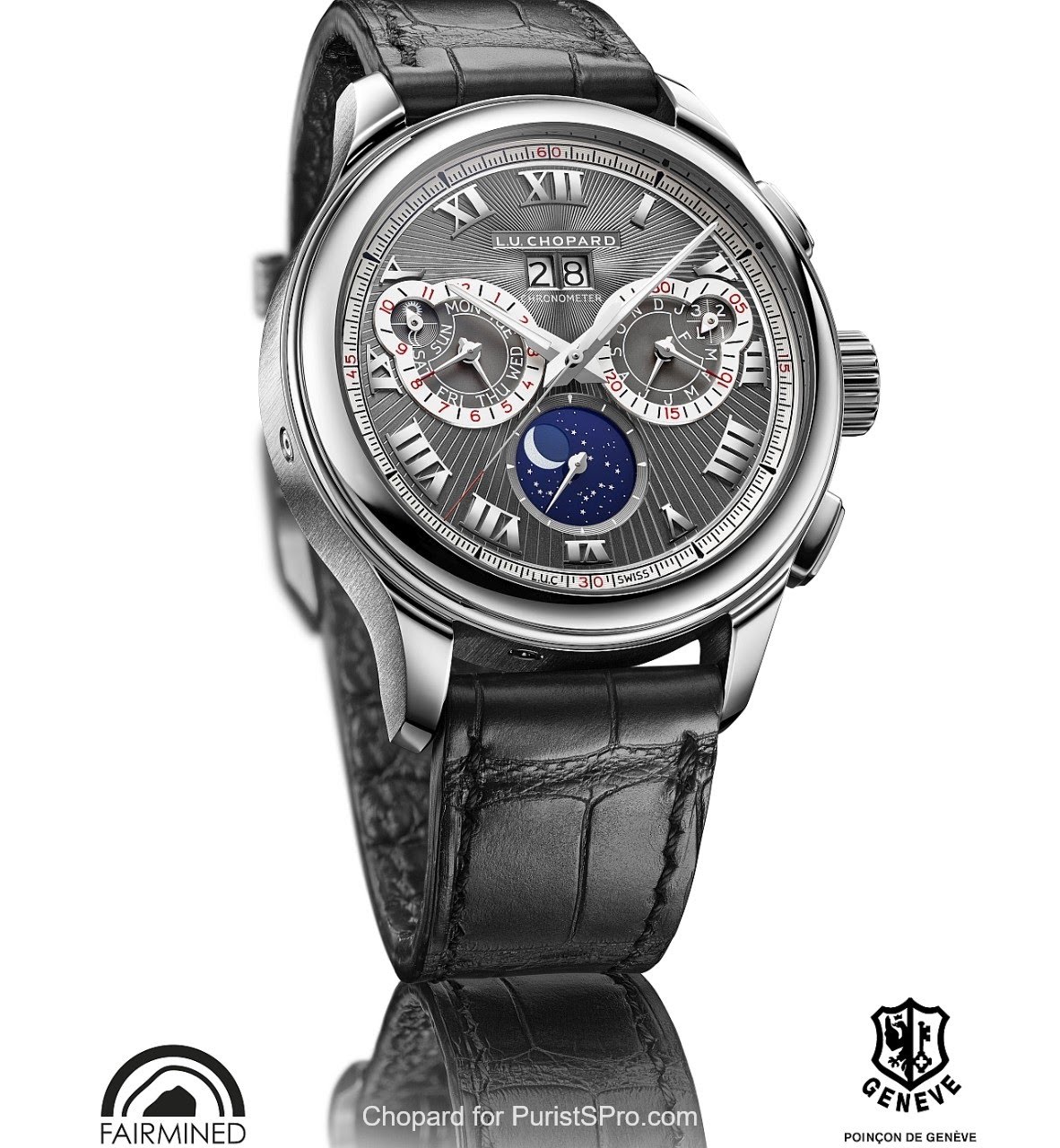 L.U.C Perpetual Chrono Ref.161973-1001
Harking back to the Chopard Chronograph Perpetual Calendars of the 1990s, this new model in 2016 is an authentic collector's watch for modern gentlemen, the new 45mm diameter L.U.C Perpetual Chrono combines a hand-wound flyback chronograph and a finely crafted perpetual calendar within a new in-house L.U.C movement, Calibre 03.10-L. The L.U.C Perpetual Chrono flaunts one of the most sophisticated styles and constructions in the world of Haute Horlogerie, while meeting the highest technical ethical and aesthetic standards. Issued in a "Fairmined" 18-carat white gold 20-piece edition, it is intended for watchmaking connoisseurs and devotees of exceptional objects.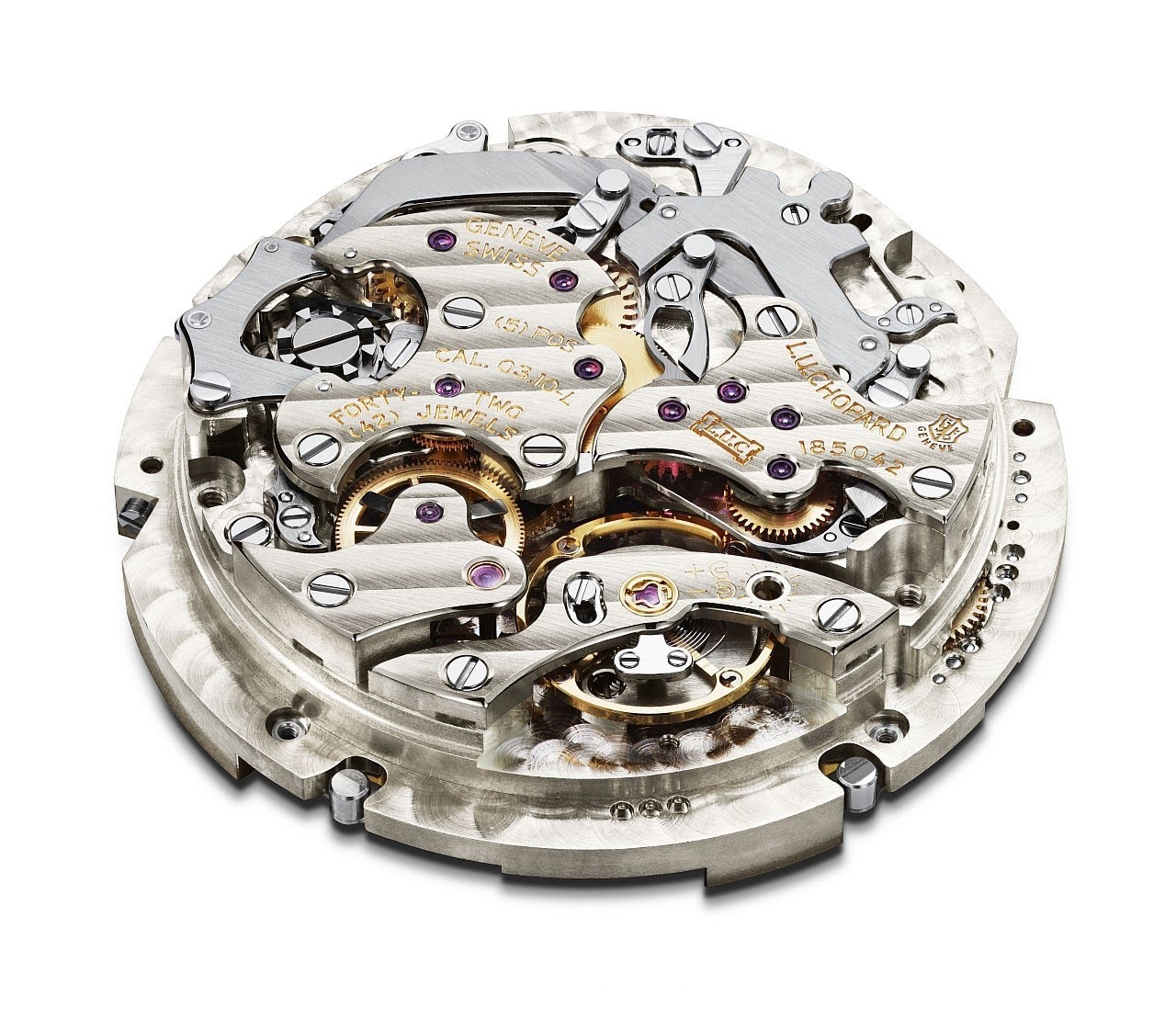 L.U.C Perpetual Chrono Calibre L.U.C 03.10-L back
Ref. 161973-1001 – in "Fairmined" 18ct white gold 20-piece limited edition.
The ruthenium-toned sunburst satin-brushed and hand-guilloché gold dial with beams radiating from the date and snailed silver-toned inner bezel ring, is highlighted by red and black transfers as well as rhodiumed Roman numerals and hour-markers. The rhodiumed dauphine fusee hands for the hours, minutes, small seconds, day and month counters are differentiated from the baton-type rhodiumed red-tipped sweep-seconds hand.

L.U.C Perpetual Twin (2016)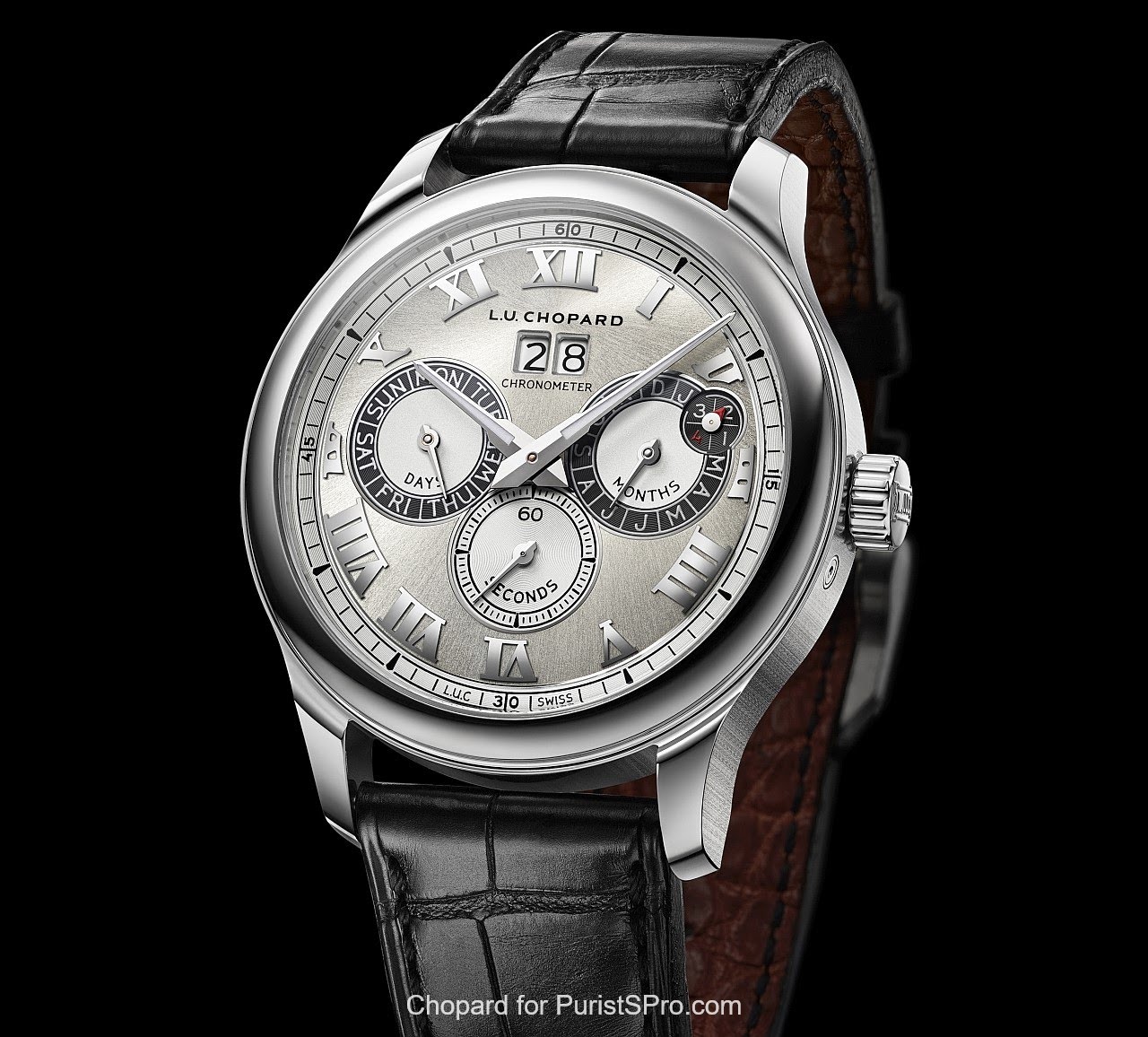 L.U.C Perpetual Twin Ref.168561-3001
Chopard shook up the classic codes of complicated Haute Horlogerie by introducing the new L.U.C Perpetual Twin, an all-steel chronometer-certified perpetual calendar so more people could enjoy a classic complication at great value.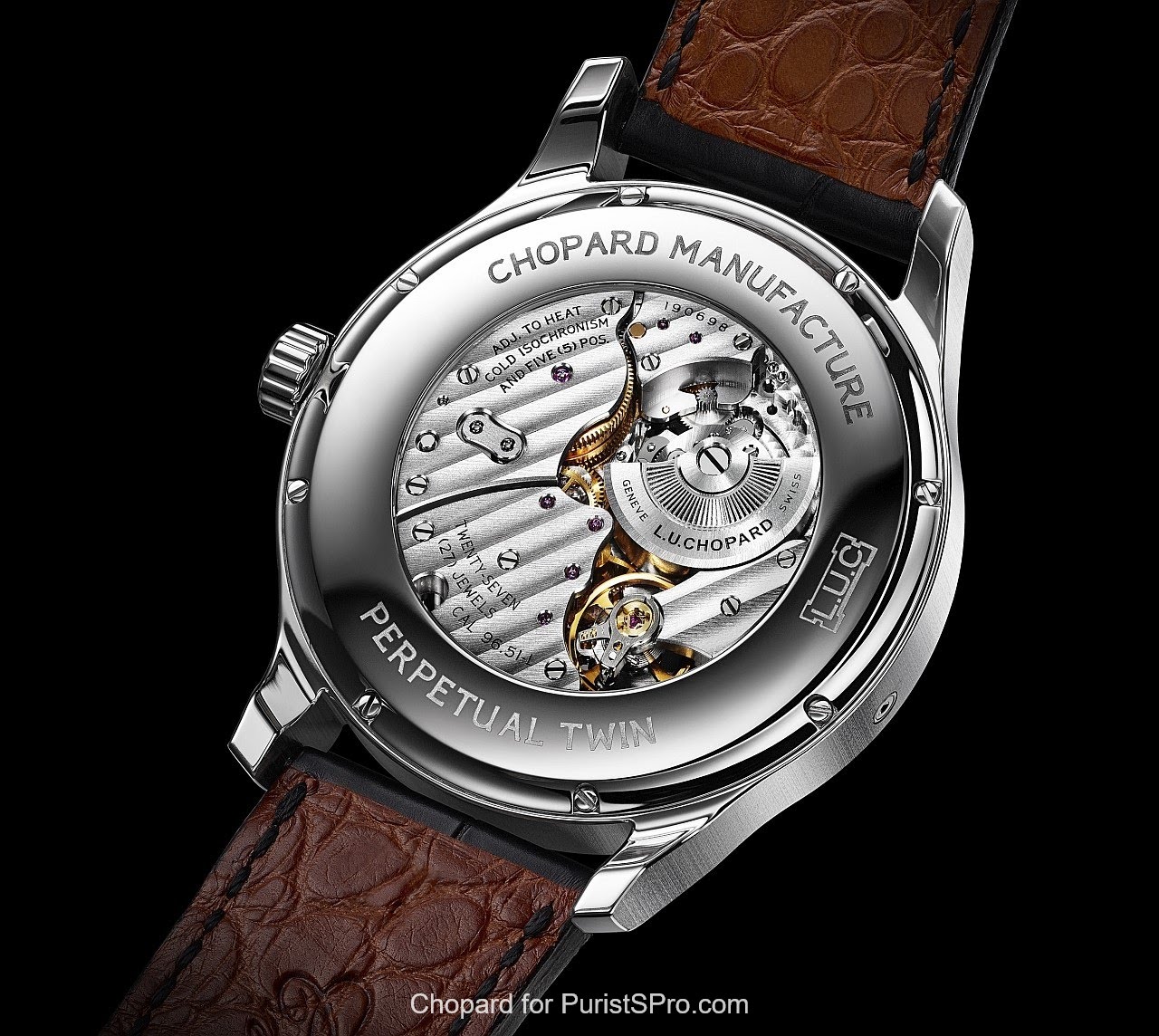 L.U.C Perpetual Twin Ref.168561-3001 back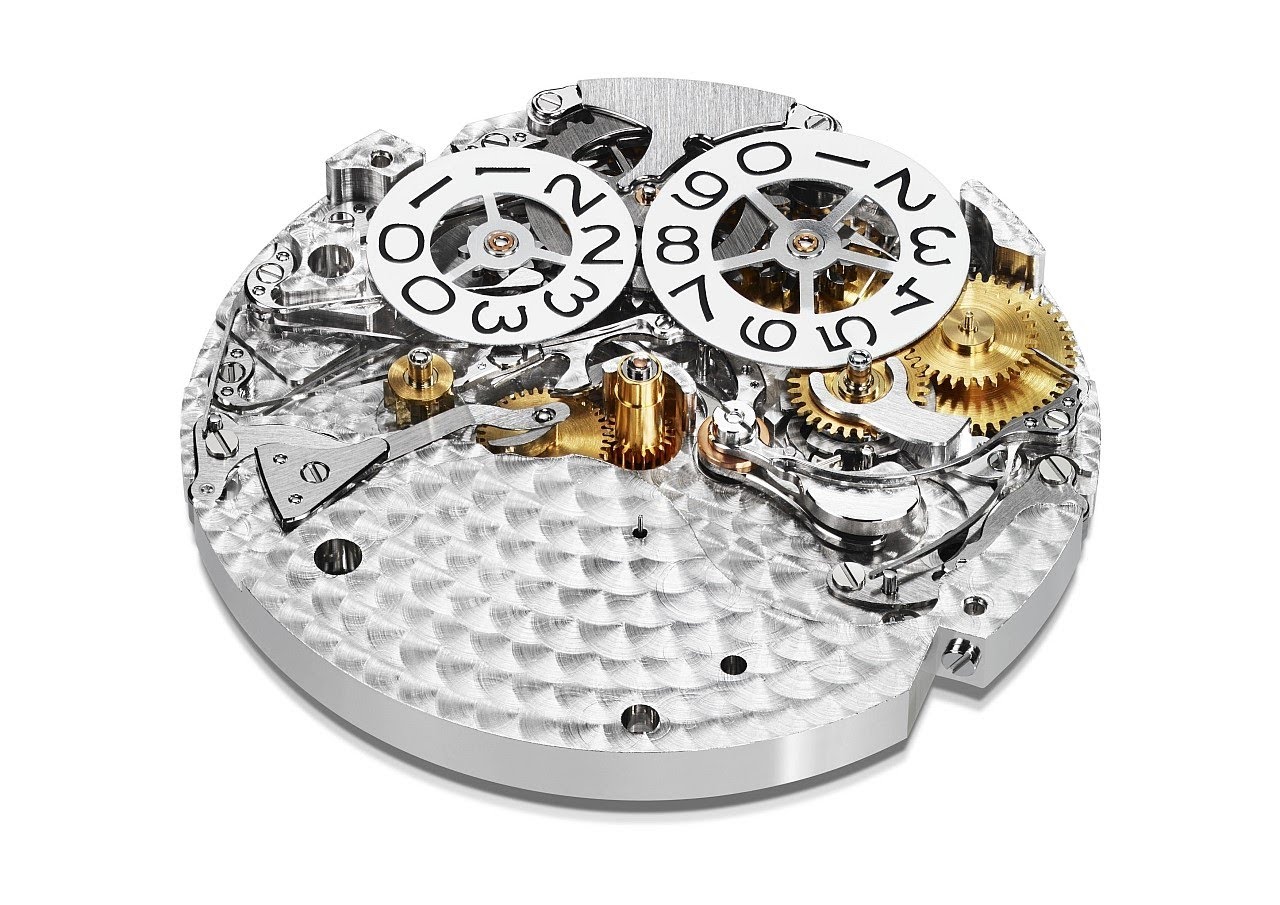 L.U.C Perpetual Twin Calibre 96.51-L front

Essentially, differences from a L.U.C Lunar One are the loss of a moonphase display and that is only available in a steel case.
Ref. 168561-3001- in steel
CONCLUSION
In just over two decades, the Chopard "Quantieme Perpetuelle" range is now fully rounded with something for nearly every aficionado of perpetual calendar timepieces.
Of course, the whole landscape will probably change during the run-up to the Chopard 160th Anniversary in 2020.
Dr. M. Teillol-Foo, 2018