Chopard Co-President Karl-Friedrich Scheufele gave some of his precious time for an interview with PuristSPro to talk about Chopard and Ferdinand Berthoud for 2018.
Chronométrie Ferdinand Berthoud
As an anchor exhibitor at Baselworld Watch and Jewellery Show (formerly Schweizer Uhrenmesse and Schweizer Mustermesse Basel), Chopard does not exhibit at the SIHH show in Geneva. This year, SIHH hosted a room of largely independent watchmakers although some were large commercial brands. Chronometrie Ferdinand Berthoud showed for the first time at the 'Carré des Horlogers' in the SIHH.
Mr Scheufele is President of Chronometrie Ferdinand Berthoud that plans to hand-make 25 watches per annum and that production rising to maybe 50 pieces a year.
I wondered why Chronometrie Ferdinand Berthoud showed at SIHH when the parent group exhibits at Baselworld.
The explanation was simple. It was to set the stage for Ferdinand Berthoud and achieve visibility, now they are in a position to ramp up production. Until then, only a limited number of people have even seen a Ferdinand Berthoud watch in real life. There have been reports in the Press and on PuristSPro: Chronométrie Ferdinand Berthoud Launch Report [CLICK] but few opportunities to try the watches.
I asked about the key changes needed for People, Processes and Products at Chronométrie Ferdinand Berthoud.
The primary concern was how to improve the finishing quality and after "almost invisible progress", they are now ready at production levels. They are also working on two or three novelties but will not launch until they are perfect. Unlike the big brands, there is no pressure to do so.
Chopard
There were three big announcements from Chopard at Baselworld 2018.

1) We've already reported an Interview with Caroline Scheufele [CLICK] about the 25th anniversary of the Happy Sport watch and the new Chopard mechanical movement for ladies' watches.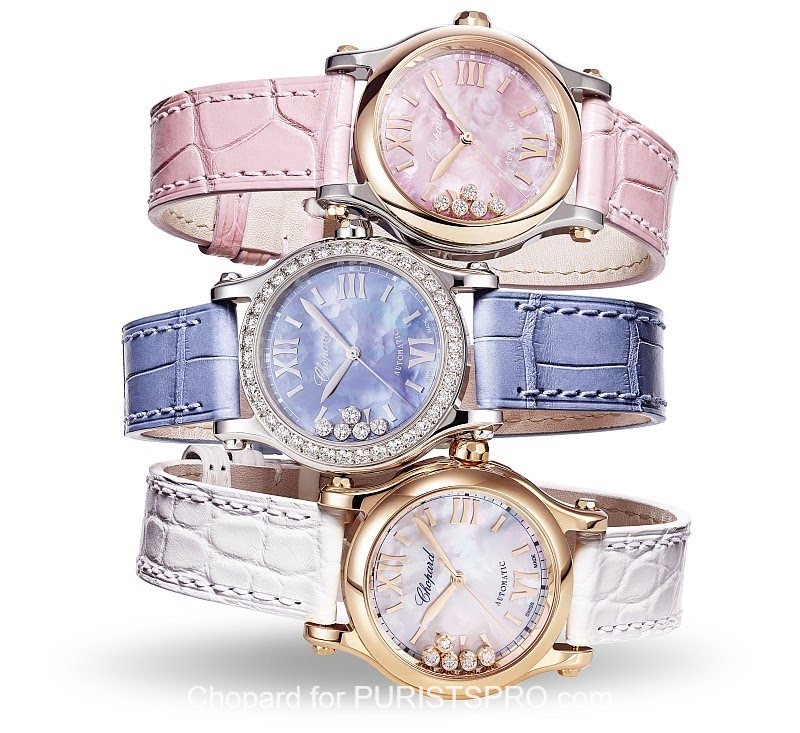 Happy Sport - 278573-274893-5009_278573-3010_278573-6011
2) 2018 is also the 30th anniversary of Chopard's partnership with the Mille Miglia race [CLICK].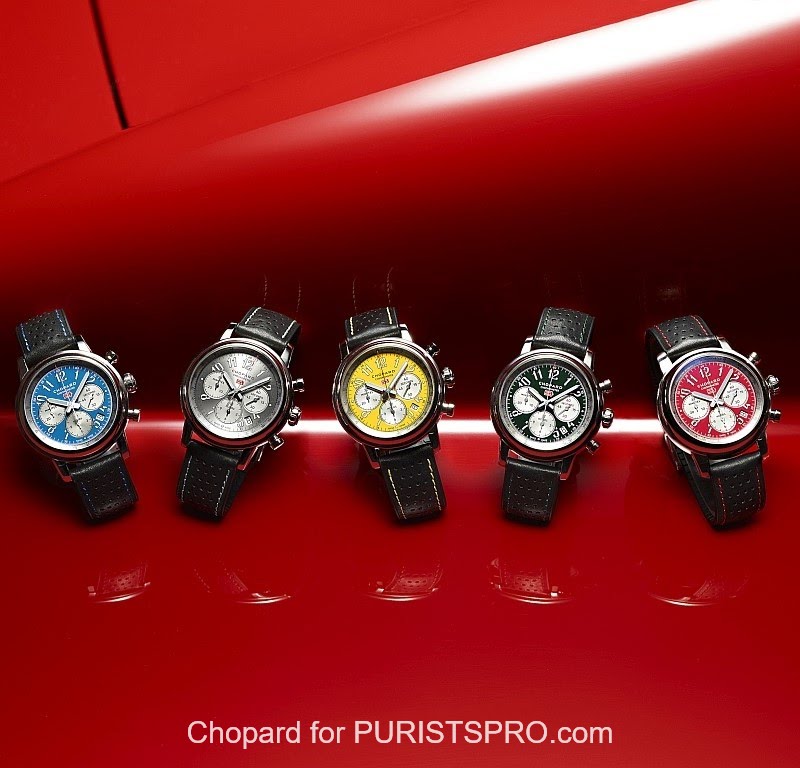 Mille Miglia Racing Colours
3) Chopard lead the watch and jewellery industry with a major and unique announcement: By July 2018, Chopard will use 100% Ethical Gold in its jewellery and watch creations [CLICK]
Karl-Friedrich Scheufele elaborated on the new mechanical movement for ladies watches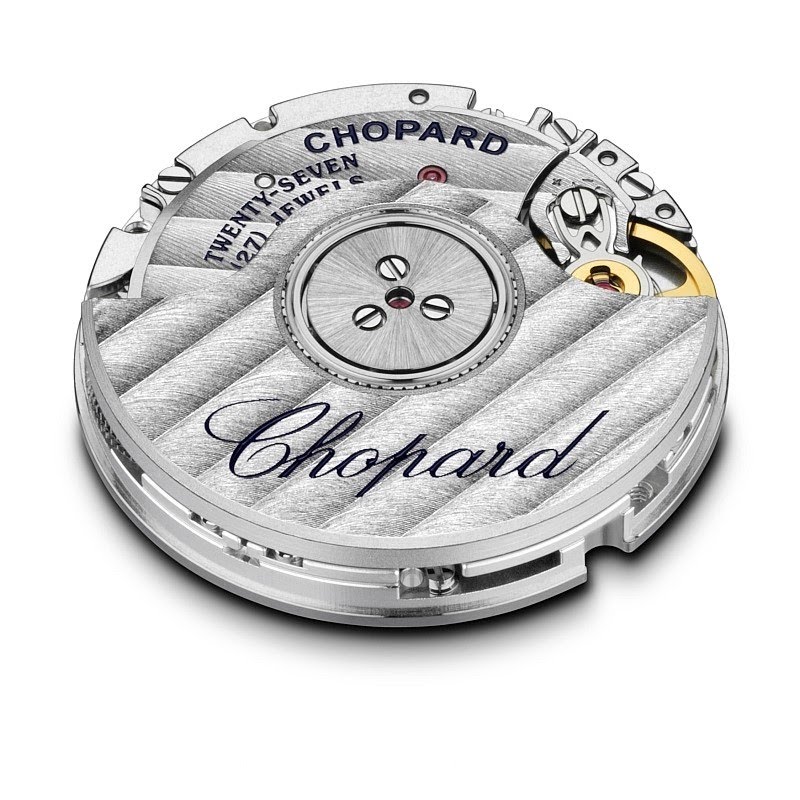 Calibre Chopard 09.01-C

The 'MaDame (MD) project' was finally initiated about three and a half years ago. There had been Chopard ladies watches with mechanical movements before but they were larger models. They proved that there was a demand for mechanical watches for ladies.
The new movement allows smaller ladies watches like the 30mm diameter Happy Sport to contain a Chopard automatic movement. Chopard is particularly proud of the short R&D time because every available human resource was made available for just one project. Whereas, usually two or three R&D projects are in the works, Project MD was a focused effort with attention to the production of a movement at an industrial scale.
The new Chopard Cal 09.01-C movement has to be completely reliable from the beginning even if 20,000 movements are needed in Year 1.

L.U.C
I asked if the way forward is for L.U.C customers to be served with a degree of exclusivity; hence the small limited editions of maybe 8 - 20 pieces and even pieces unique.
Mr Scheufele said that was not the only way forward. The recent spate of limited editions were customer driven requests particularly after the introduction of the L.U.C Time Traveler One world-timer [CLICK].
It allowed local partners to connect with their clientele and the popularity took Chopard by surprise e.g. L.U.C Time Traveler One Time of the Desert ref.168574-3005 and L.U.C Time Traveler One Moscow ref.168574-3002.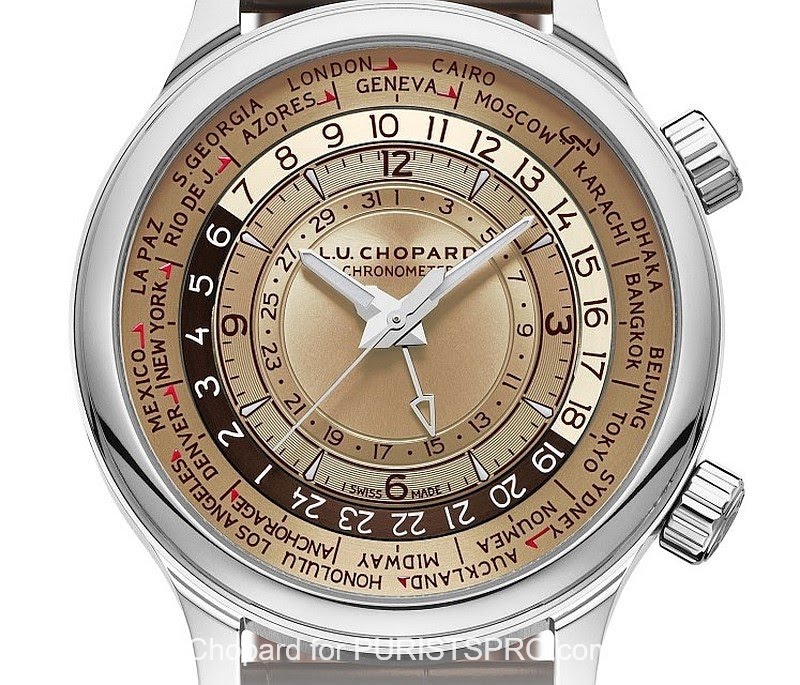 L.U.C Time Traveler One Time of the Desert ref.168574-3005
We can still look forward to a XPS new line and traditional automatic chronograph but there was no comment to my speculation of an ultimate Grand Complication to celebrate Chopard's 160th anniversary.
There was absolute silence to my suggestion of a L.U.C Tourbillon Perpetual Calendar Minute Repeater Rattrapante Chronograph.....

Superfast
With the Porsche Motorsport 919 Hybrid association, Chopard had a popular and trendy product line. Now that Porsche has withdrawn from World Endurance Championship racing, how does that affect Chopard?
Mr Scheufele assured me that the relationship with Porsche will continue and more will be revealed at an appropriate time. You'll hear it first here.....

Markets and Outlets
Historically, Europe and Middle East saved Chopard during the 1970s/80s quartz crisis with new product lines becoming popular especially in Middle East. I see more attention paid to emerging markets like China and Mexico. Where will Chopard focus on in 2018?
Karl-Friedrich Scheufele: "It is too early to say that the crisis is over but we can really perceive more than sunshine at the end of the tunnel. There was double digit growth in China for 2017 and we have shown at SIAR (Salon Internacional Alta Relojería) in Mexico.
America still has great potential but the weakness is the retail network across a large country. The current issues we face are due to economic geopolitical instability like USD vs CHF currency exchange losses of more than 10% in the last three months. Such volatility makes pricing our products with consistency difficult across the world."

What's needed in the watch industry?
Karl-Friedrich Scheufele: "We are missing daring new development as the industry is still geared on the past for design. We need more out-of-the-box design. Established brands carefully weighing steps would rather re-edit a piece."
On Sustainable Luxury and 100% Ethical Gold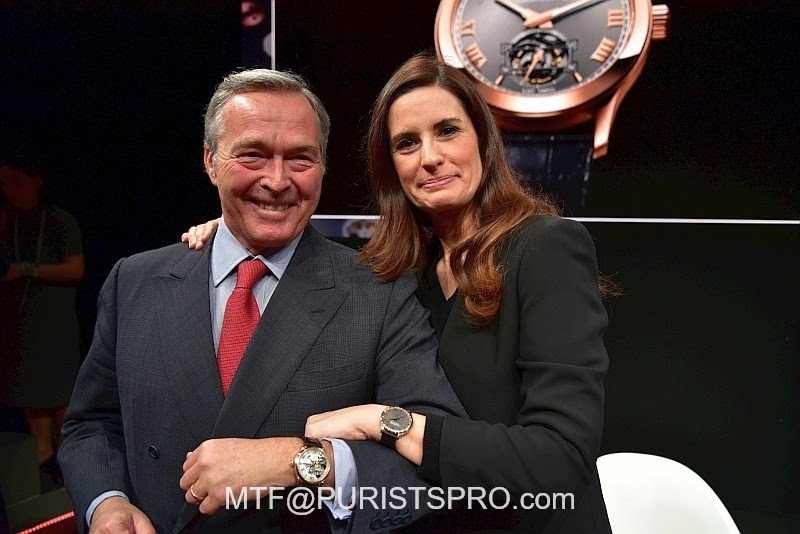 Karl-Friedrich Scheufele and Livia Firth
Karl-Friedrich Scheufele: "We are incredibly proud of being able to say that from July 2018 all of our gold will be purchased from responsible sources. Chopard's vision is to increase, as much as it possibly can, the proportion of artisanal gold we buy as it becomes more available on the market. Today Chopard is the largest buyer of Fairmined gold. It is a bold commitment, but one that we must pursue if we are to make a difference to the lives of people who make our business possible.
We have been able to achieve this because more than 30 years ago, we developed a vertically integrated in house production, and invested in mastering all crafts internally, from creating a rare in-house gold foundry as early as 1978, to the skills of high jewellery artisans and expert watchmakers."

© Dr Melvyn Teillol-Foo, 2018