Last week I had to drop off a watch for service at the newly renovated Boutique, so I grabbed this opportunity take some pictures to show you the place and a few watches.
(Perhaps You have already seen the my post from a former visit. If you missed it, here is the link. )
Let's take a small virtual tour.
The main boutique space where customers are welcomed. The space is welcoming and has the ambience of an elegant and informal exhibition space with cosy armchairs where you sit and talk with the staff. The interior is made in pact with the old building, in beautiful high quality materials. No faux surfaces as is often the case in watch stores.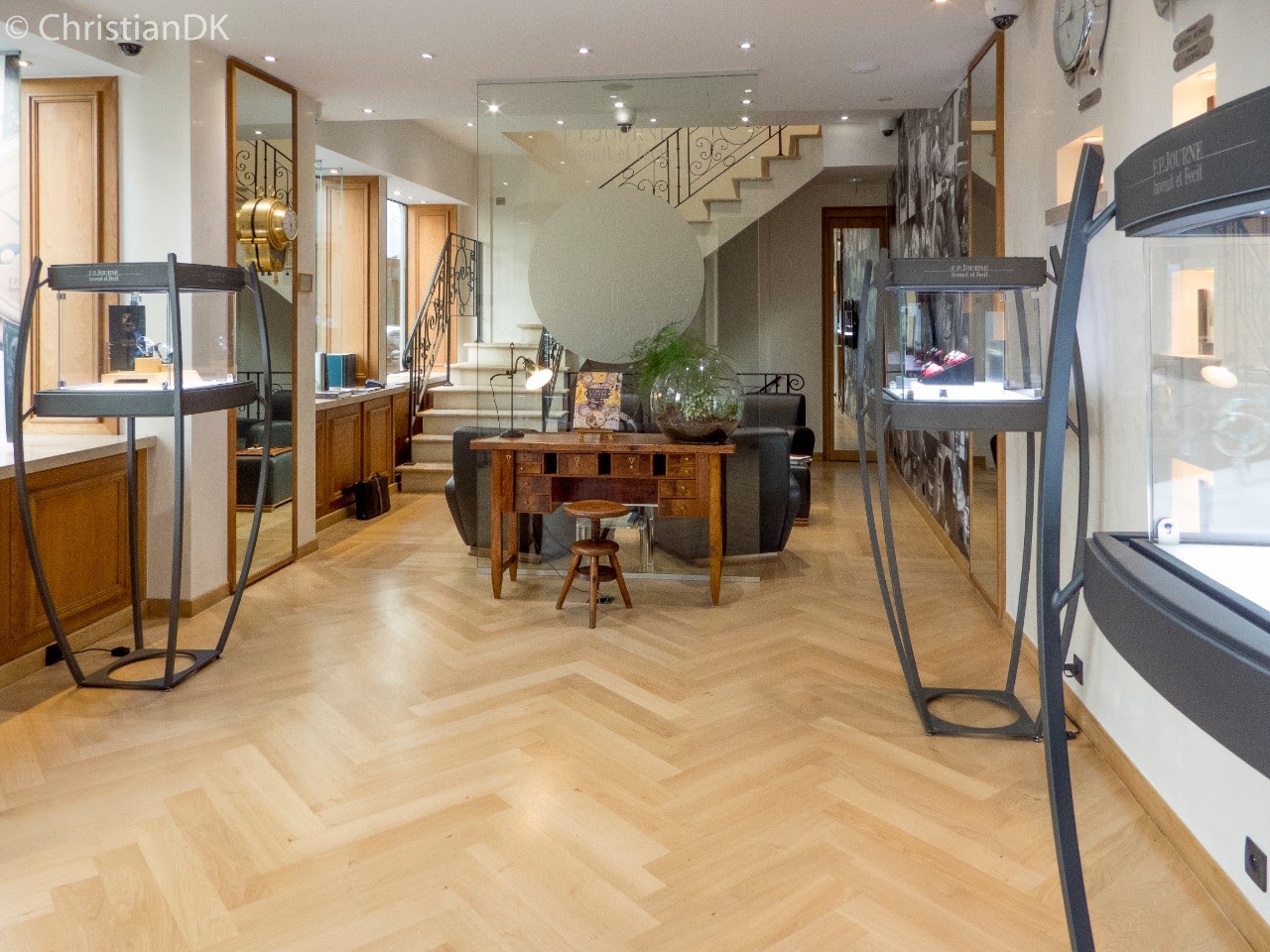 One of my favorite things about this Boutique, is the spaces are flooded with natural daylight. As the windows are facing east and north, you get a soft reflected light that is optimal for viewing the watches. Textures and colors can be seen as they really are.
Mr Journe designed the exhibition vitrines.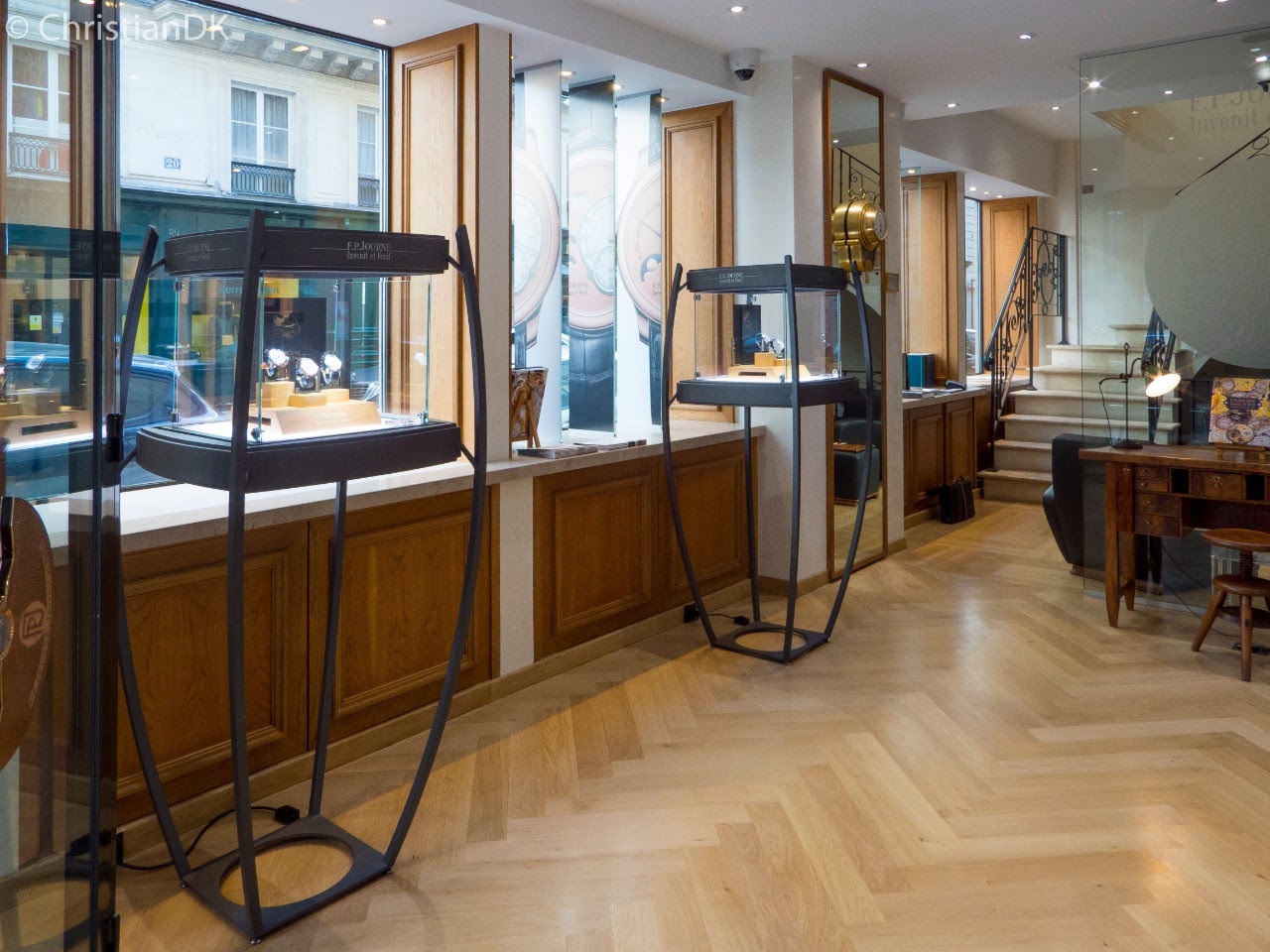 Upstairs is a bar that is useful for hosting events, exhibitions as well as serving customers who prefer a private setting.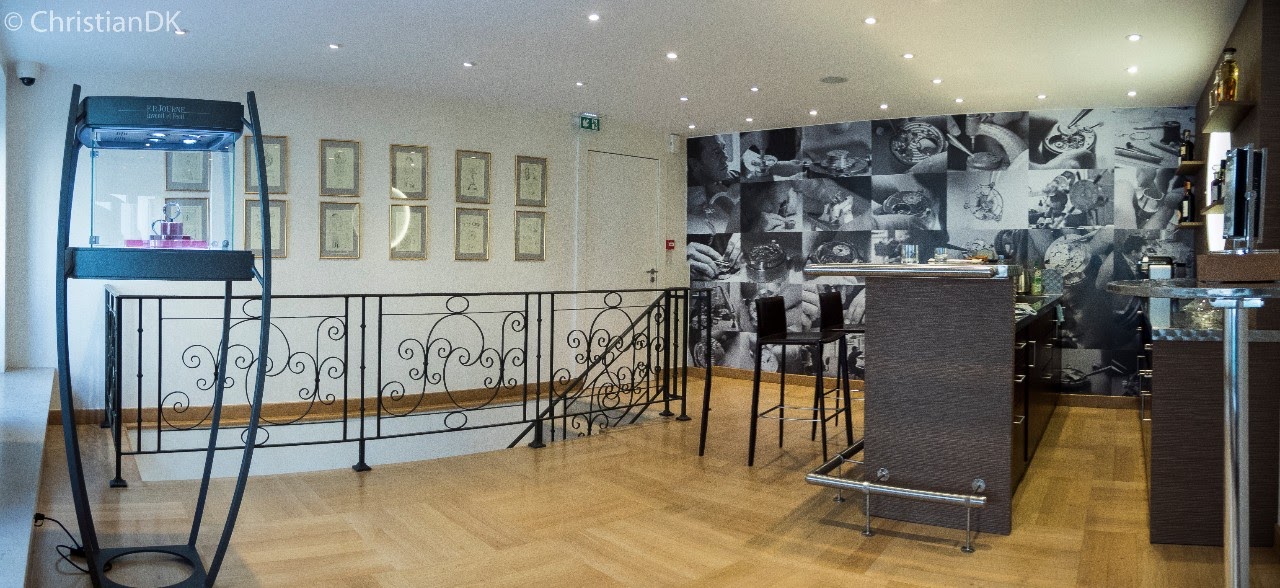 A large etched glass lighting up the bar with the Resonance movement.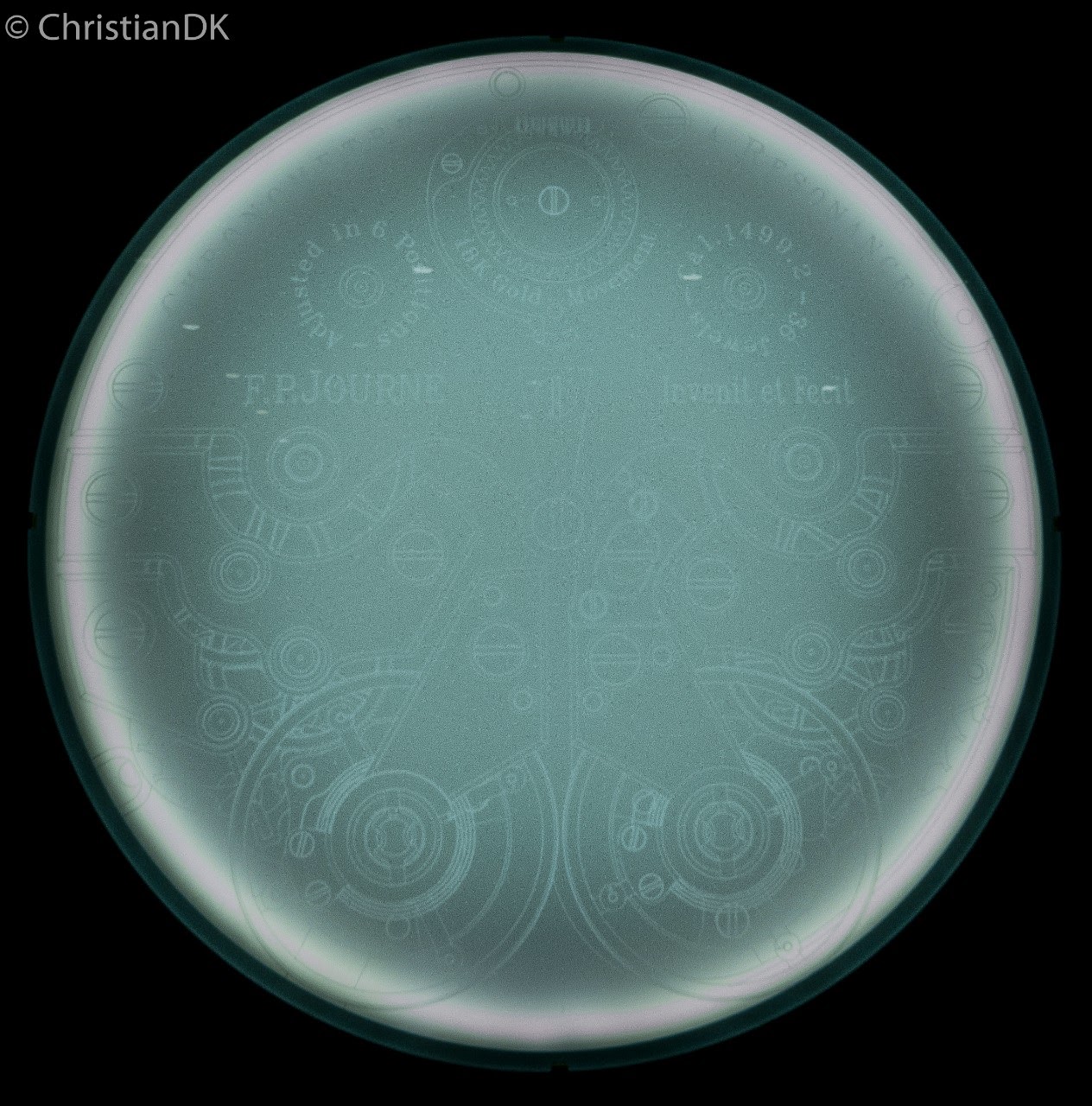 The next room is the lounge. A living room type of space. It is elegant and again, informal. What I like about the structure and the ambience of the Boutique is that you could almost live there. It has a feeling of a home, which makes it very pleasant and welcoming.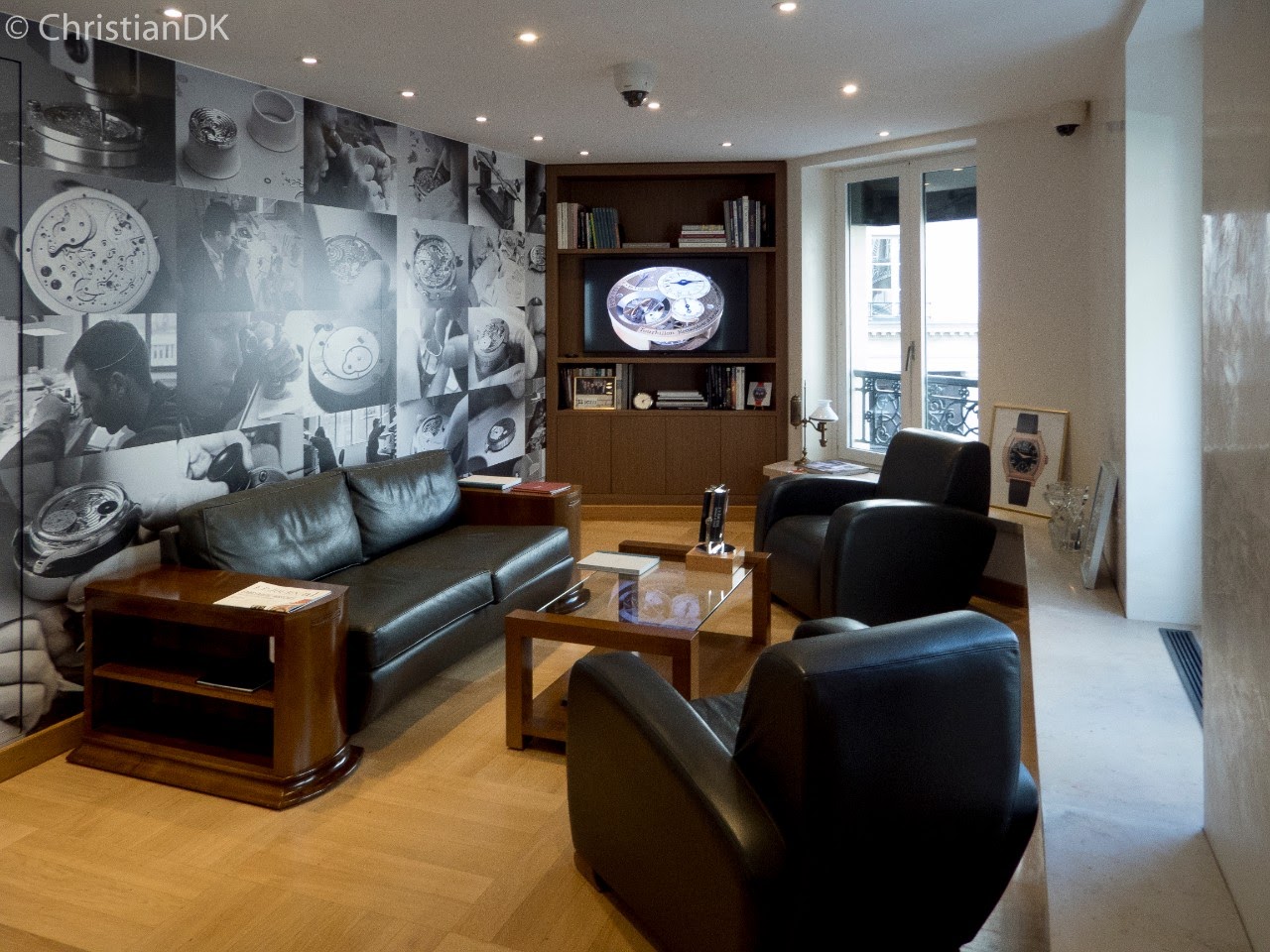 The view from the first floor. Rue Faubourg St Honore. Located only 50 meters from the LÉlysee Palace, the official recidence of the French President. We are talking about an extremely well-guarded area with lots of police and security on the street.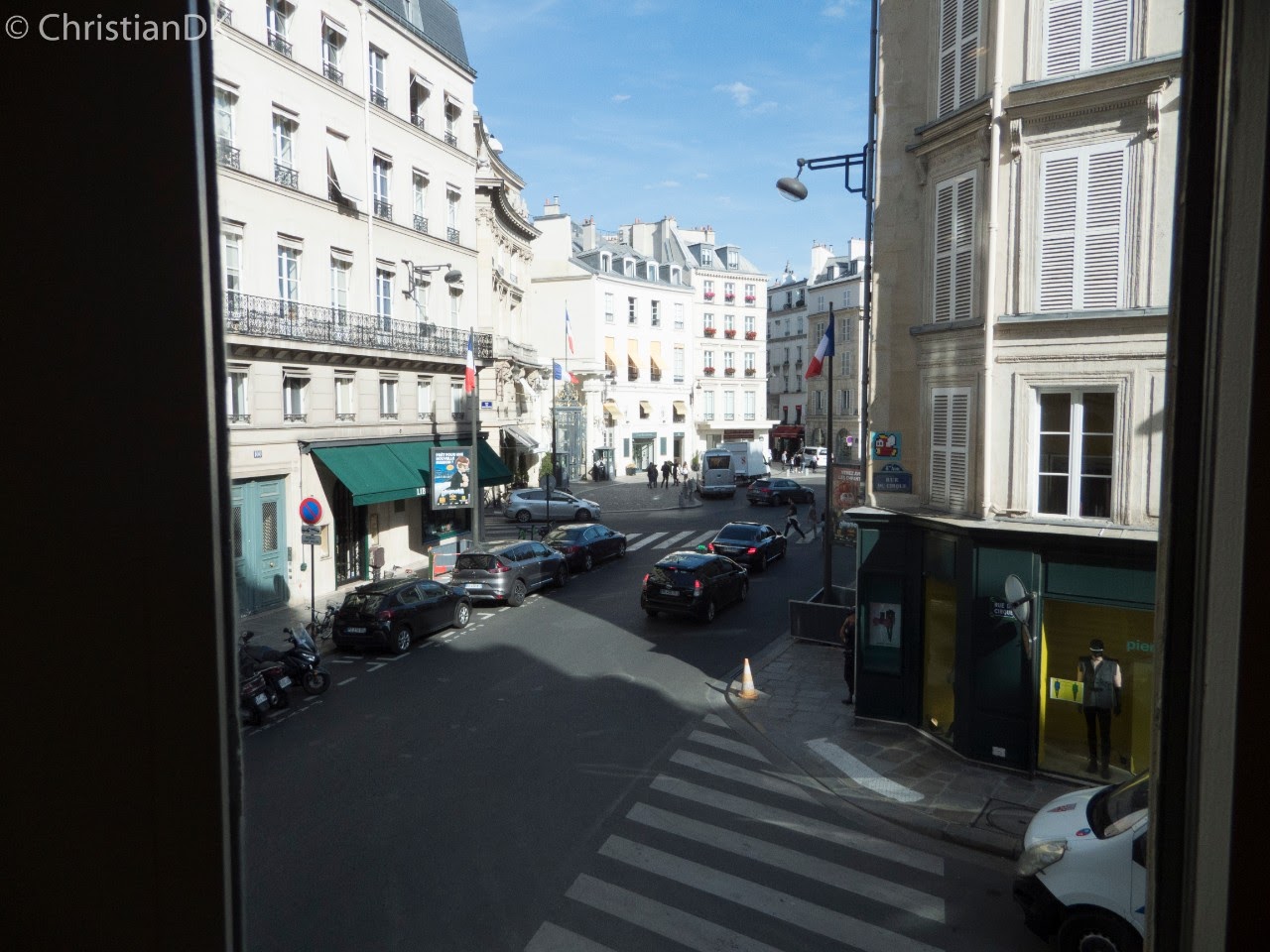 Wall clock décor. An Octa reserve de Marche.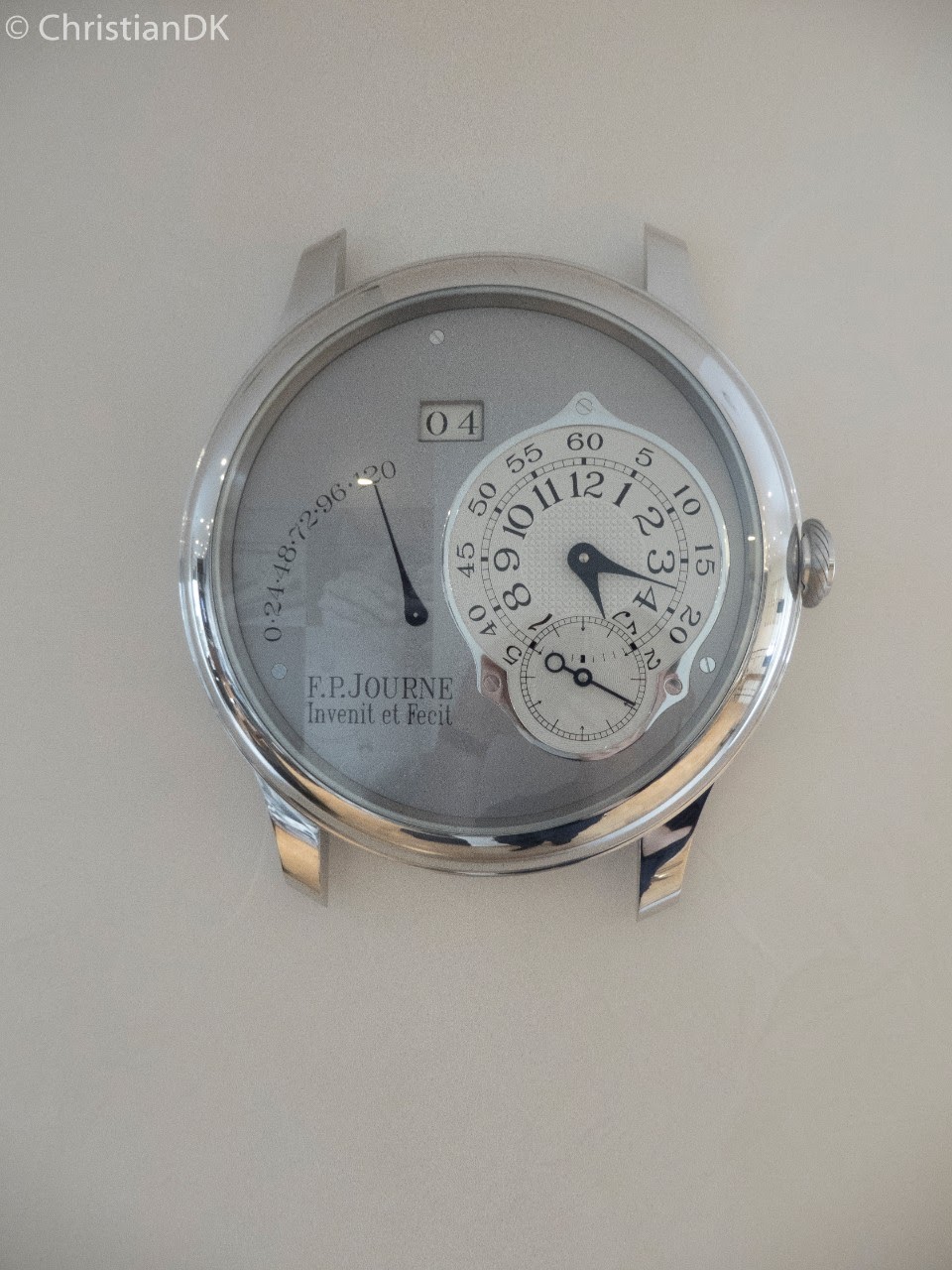 The well connected spaces are brilliant for hosting events and exhibitions.
I hope you enjoyed the small virtual tour.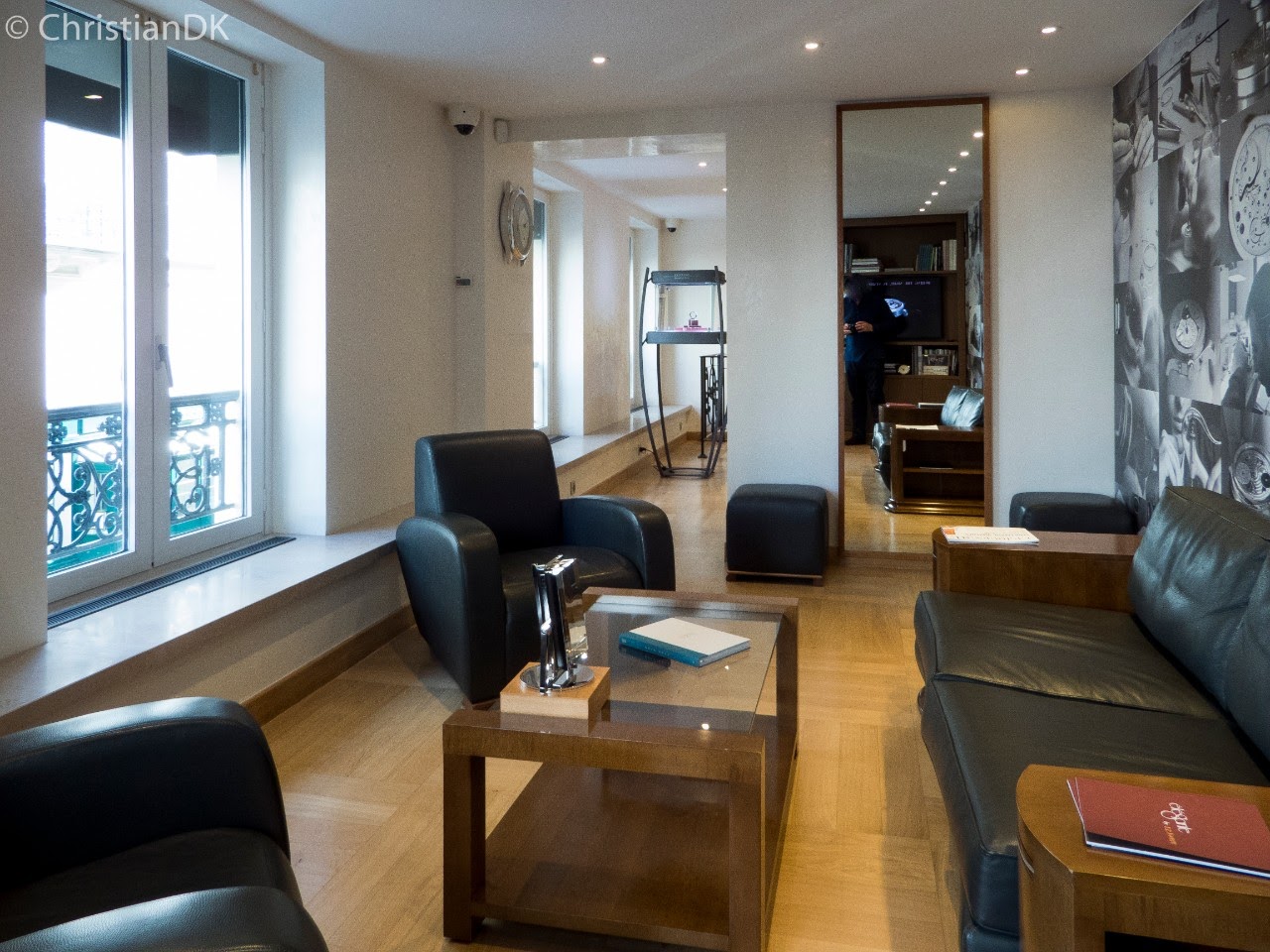 I asked Mr. Pouedras, Director for France if we could see some boutique pieces since the boutique was the theme of this post.
Just before my visit, we had a forum post discussing Boutique Editions and Black Label pieces. Therefore, I also asked him to explain how these collections are limited. Here is his explanation:
Boutique Editions are made with rose gold cases and black dial. These can only be purchased at the FPJ boutiques. There is not an official cap on how many of these can be produced but in reality, these are quite rare. This collection was discontinued at the beginning of 2019.
Collection Nacre are made with rose gold or platinum cases and a dial that is partially made of cut mother of pearl. These can only be purchased at the FPJ boutiques. This collection was also discontinued at the beginning of 2019.
Black Label are platinum cases with black dial. To buy these you have to already be a FPJ costumer. The production cap on these areA">: 2 pieces of each model can be ordered pr year at each bouique. Since there are 9 boutiques there could theoretically be 18 pieces of this model pr year. I was told that this is only in theory. In reality there are much, much less of each. I was also told that they are quite transparent about the numbers if you are an owner of these. You are welcome to contact a boutique and ask them the number produced your for your model, and they could find out for you.
Now, let's see some watches.
Octa Automatique Lune - Black Label 40 mm.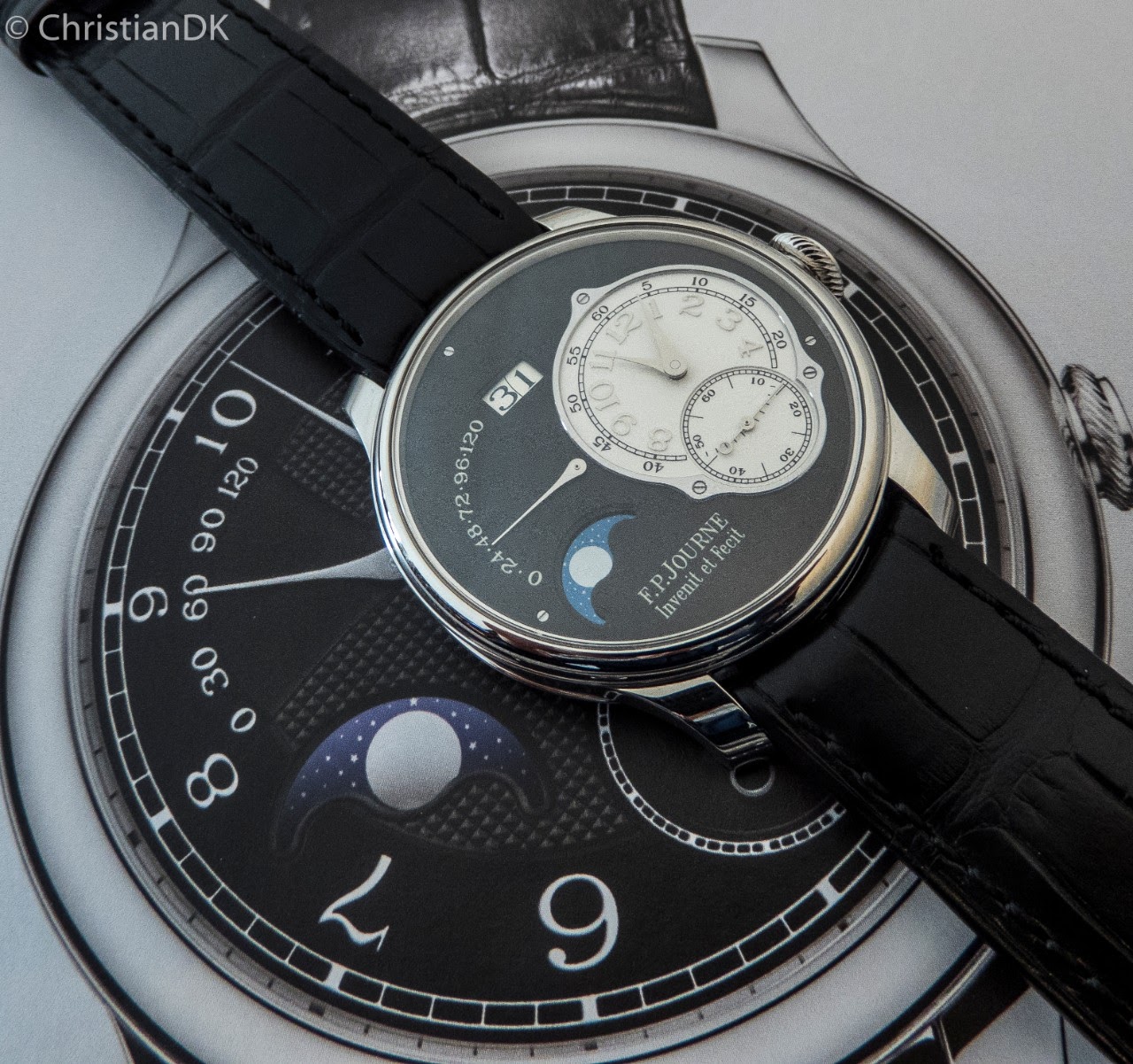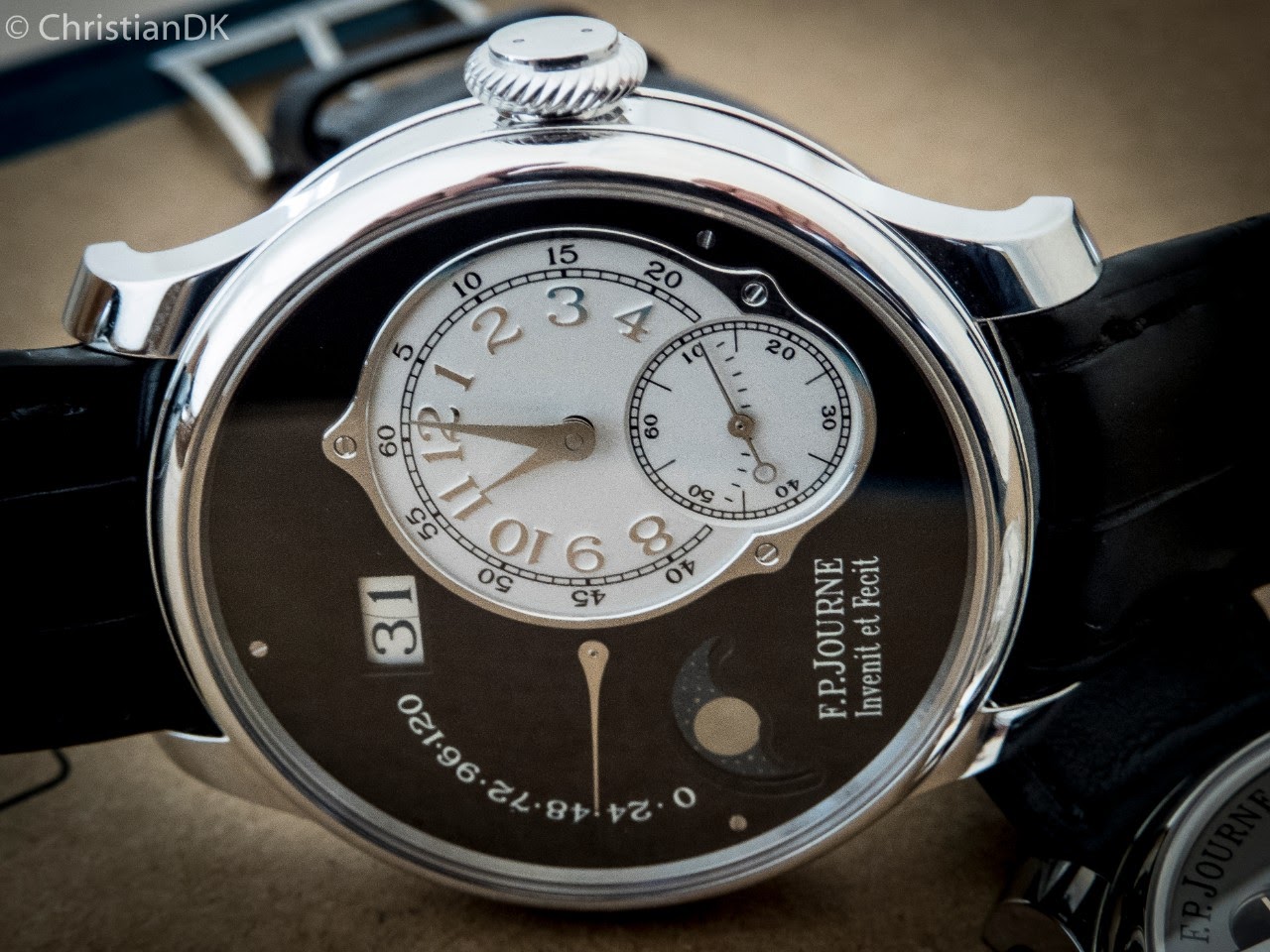 The wristshot in daylight. The black dial and the uncoated glass makes it super reflective and hard to difficult to photograph.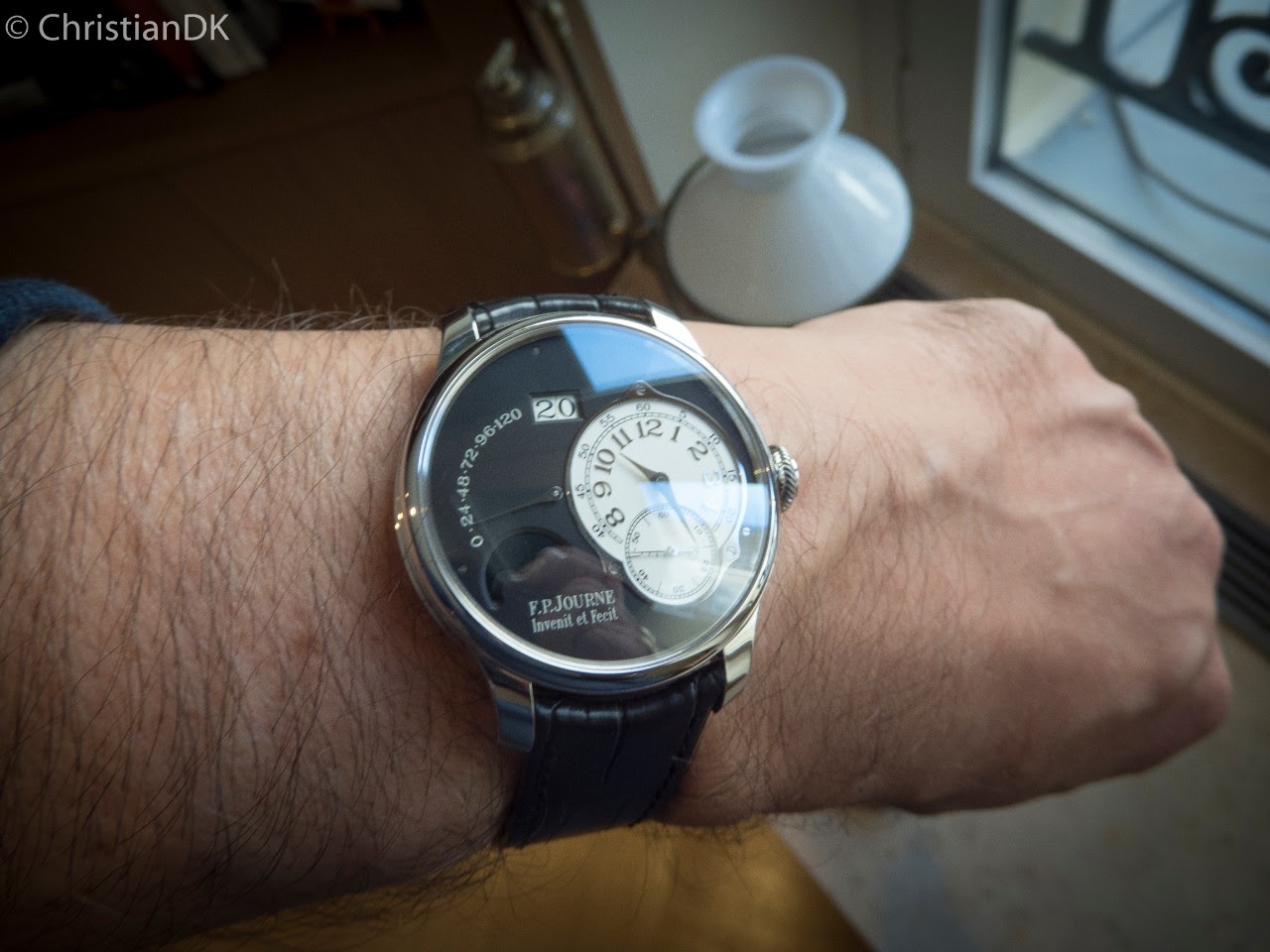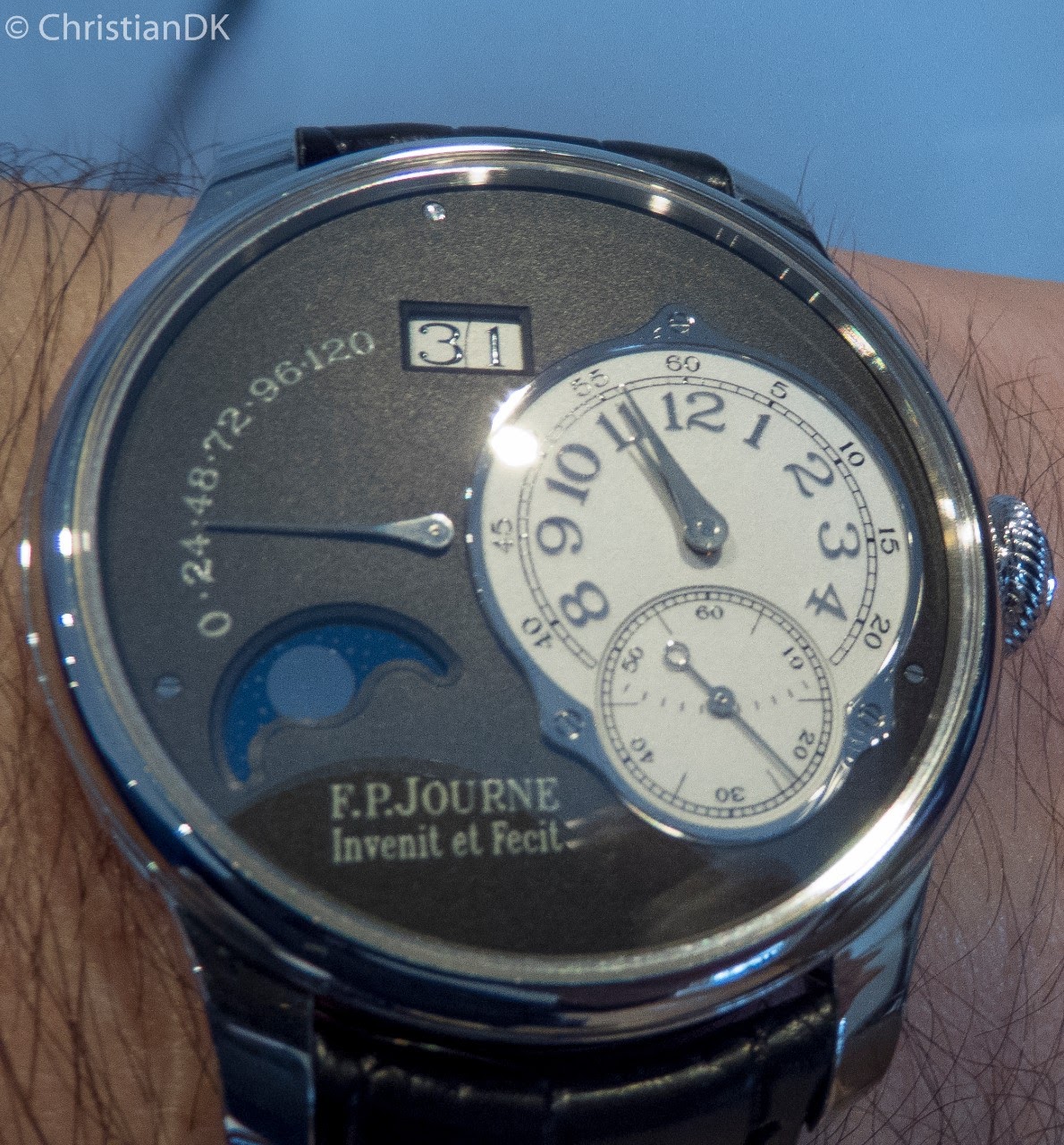 A picture together with a Chronometre Optimum for comparison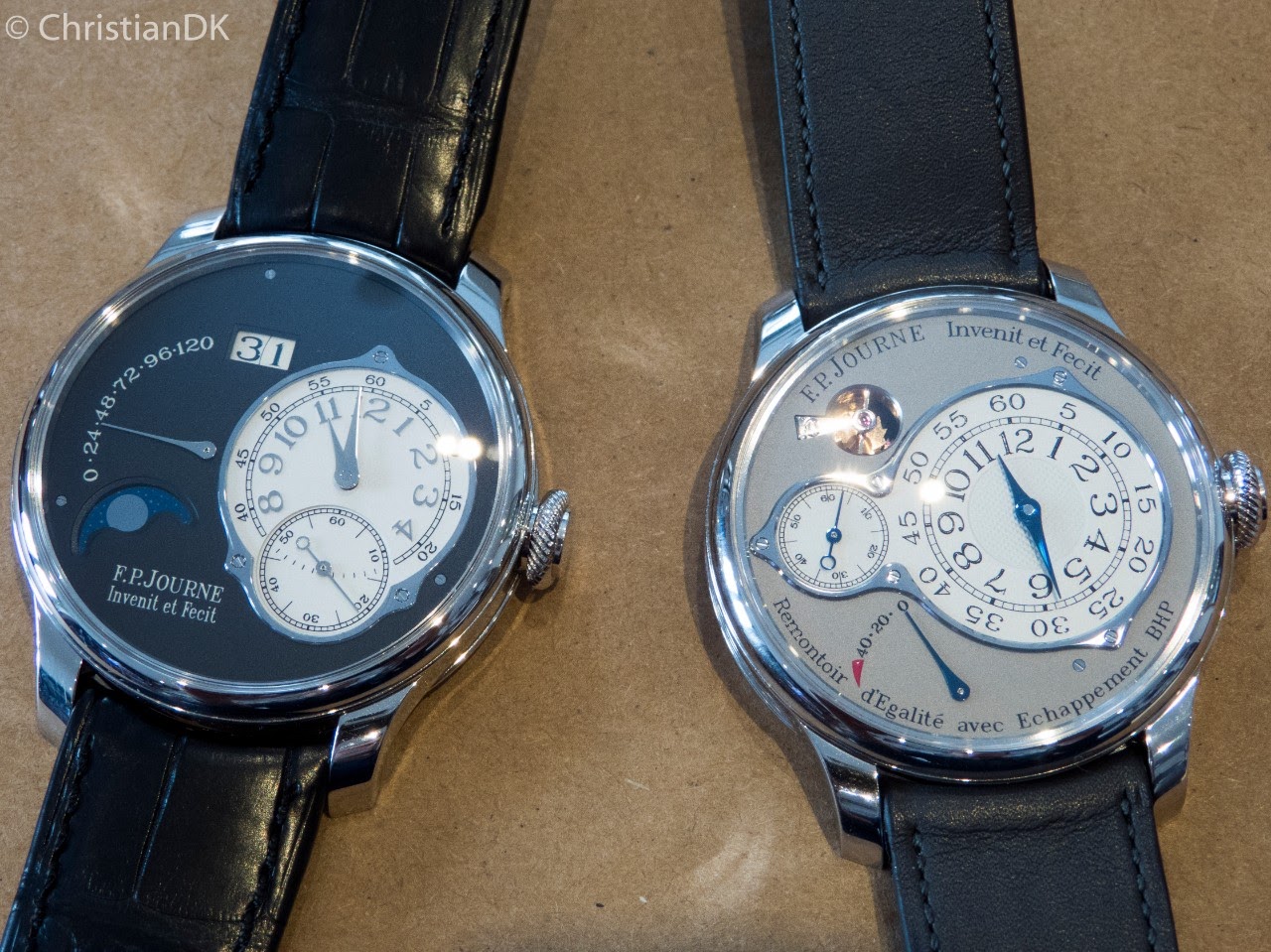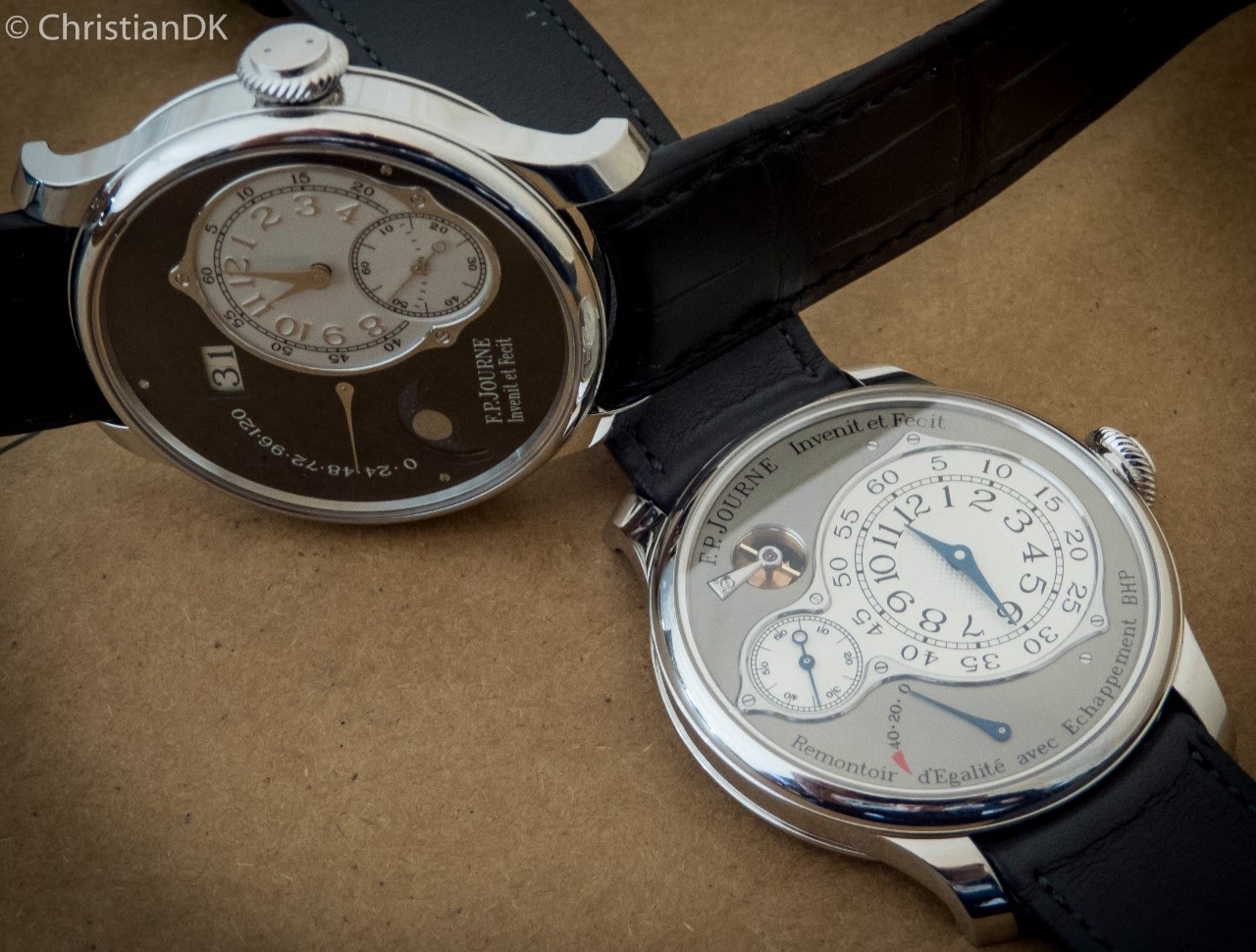 Chronometre Souverain Collection Nacre
This piece I find very appealing. The Blue print with the "Bombé" effect on top of the mother of pearl, which has a kind of transparency to the surface, really sings when you see it up close.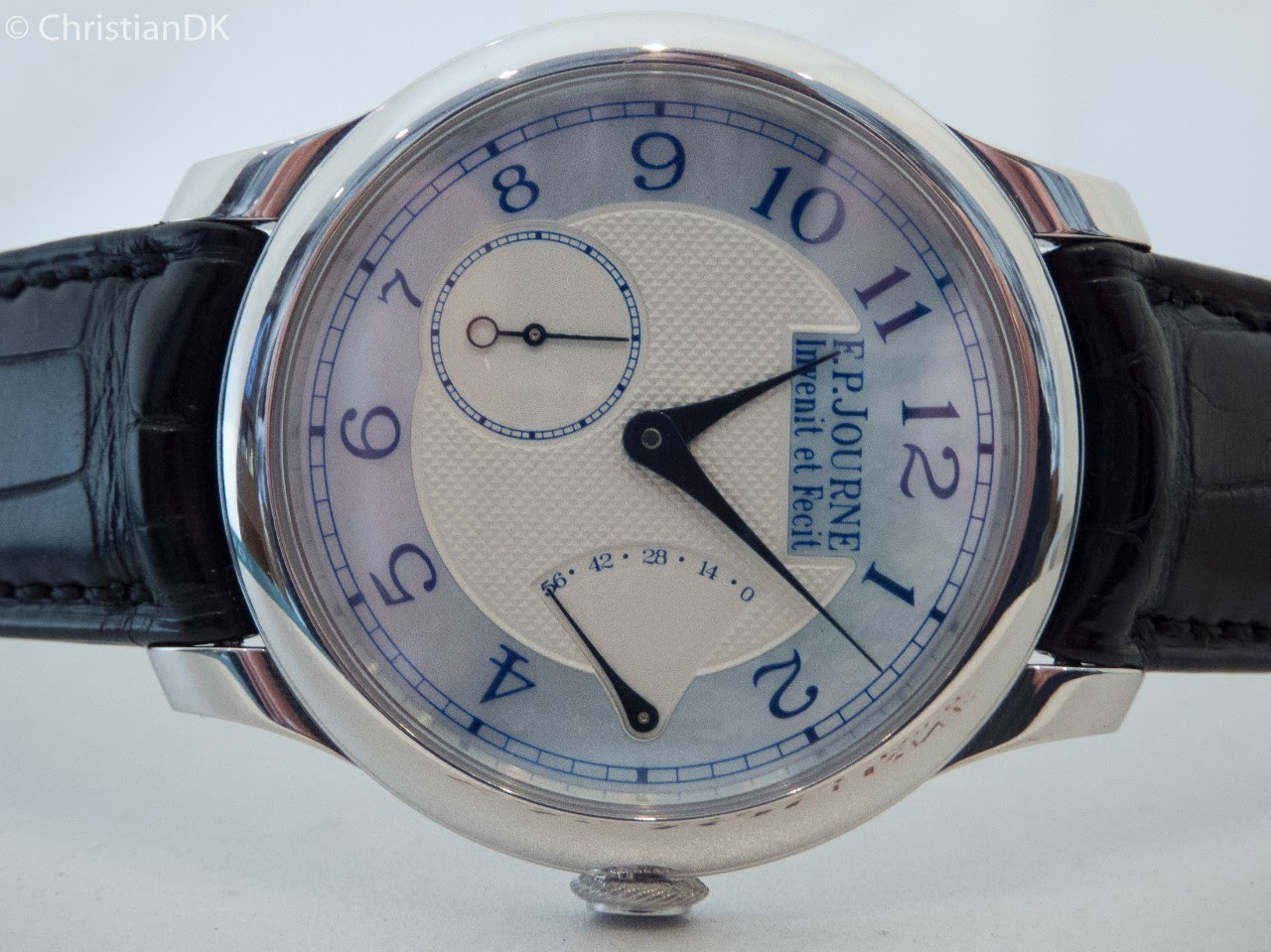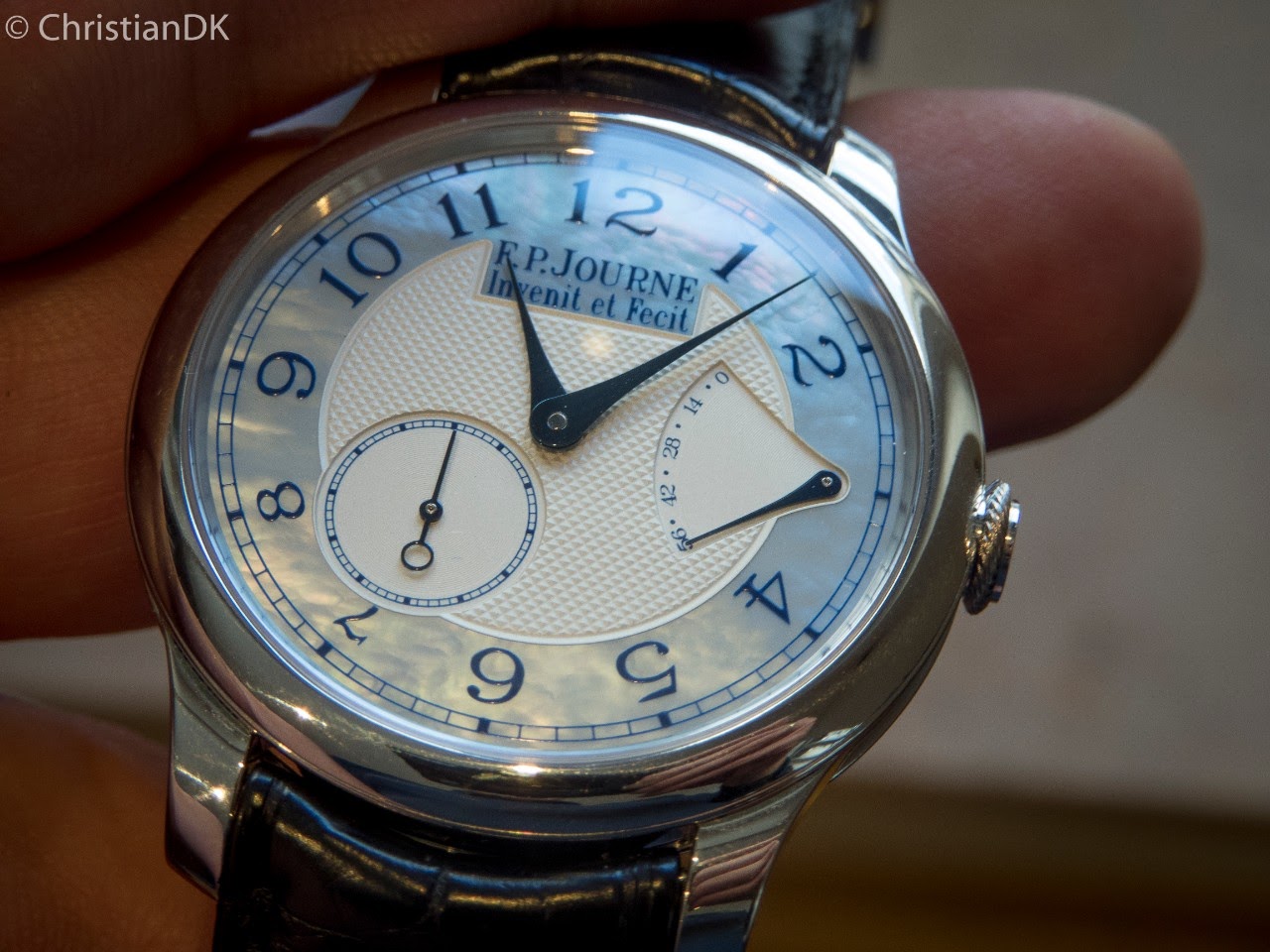 The MOP catches the daylight and changes from almost white to magnificent hues of blue. I have to say I was quite smitten with this piece.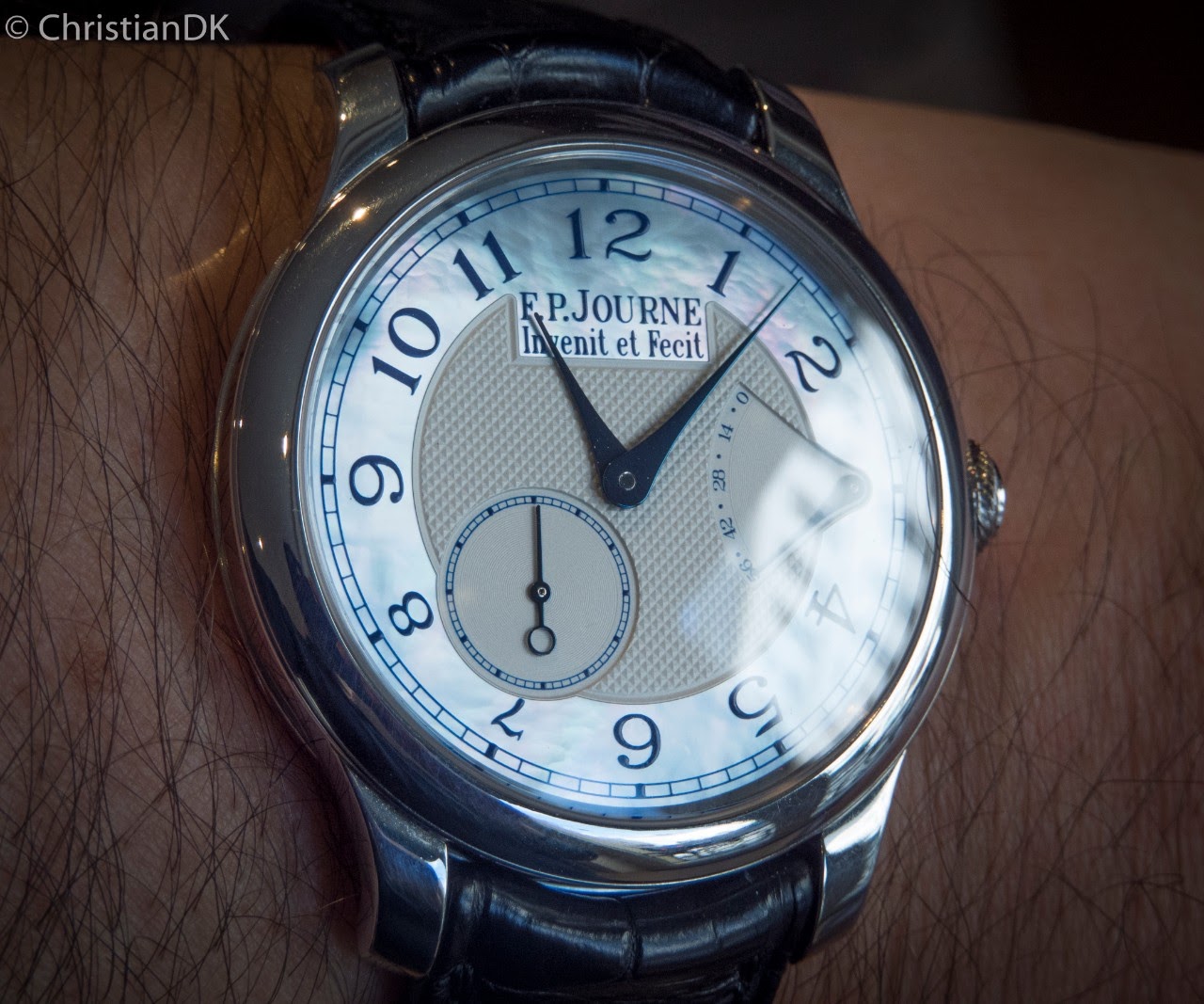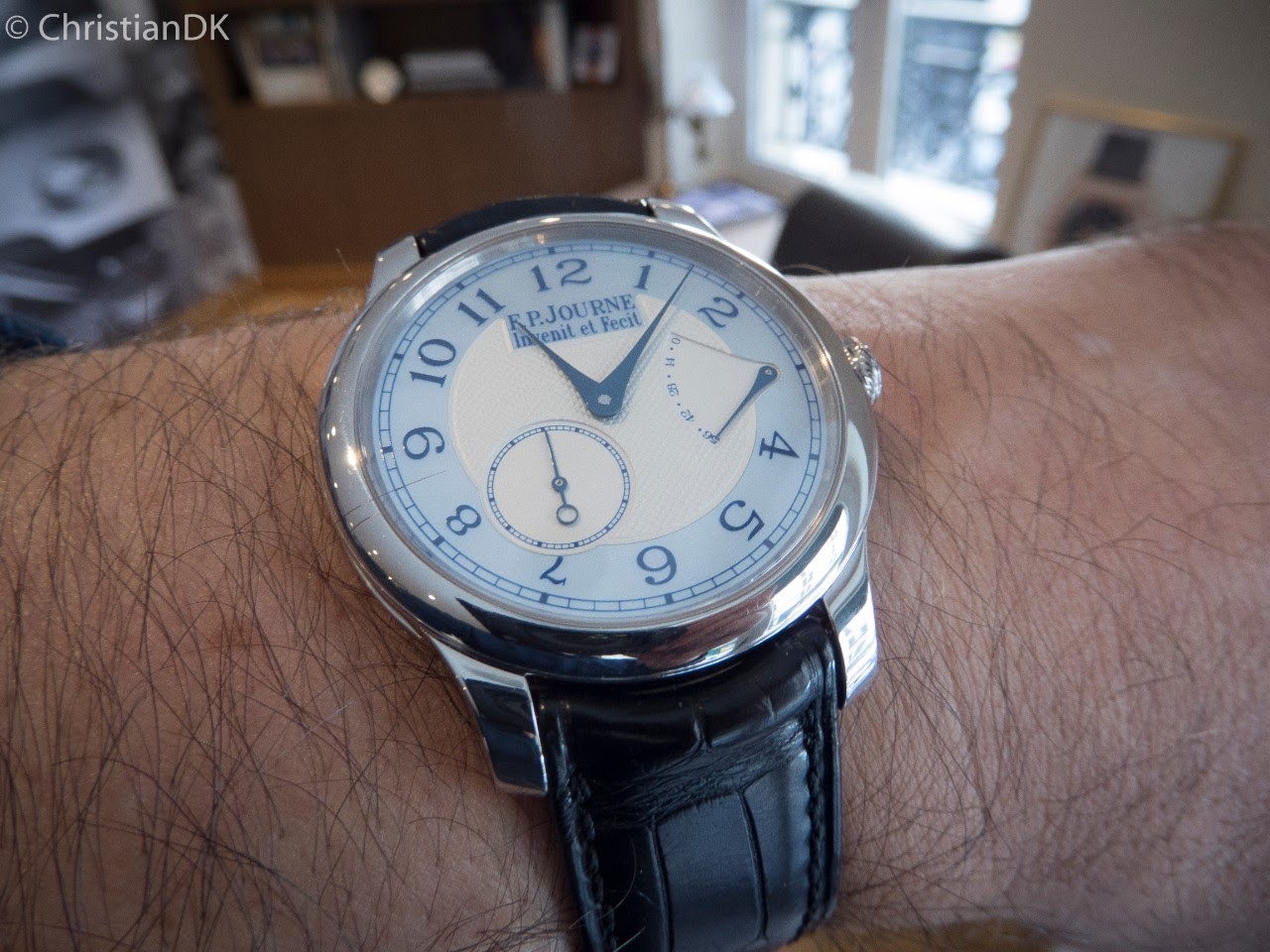 Centigraphe Souveraine Black Label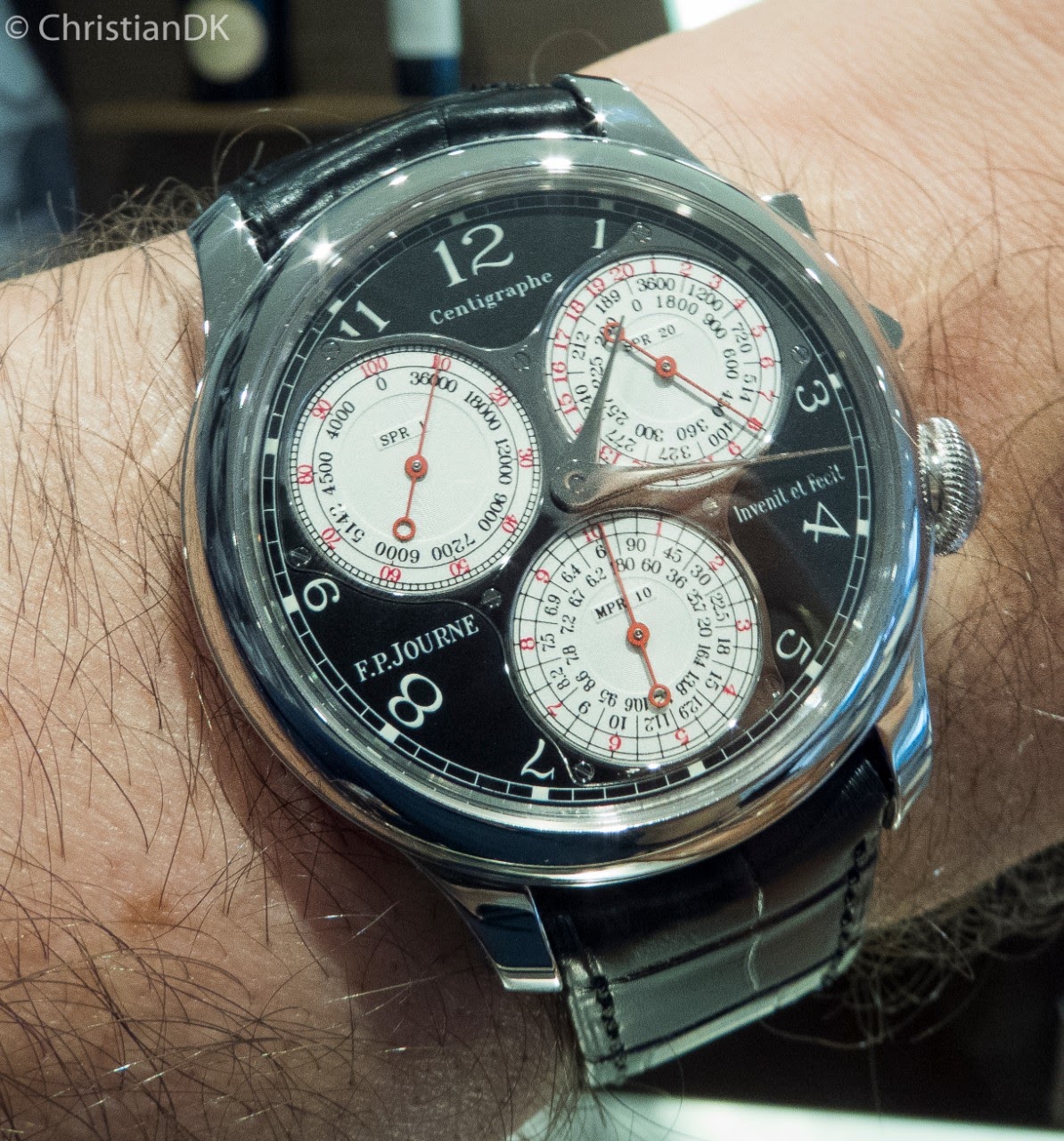 What a beauty. I sometimes find the contrast of BL too hard, but on this dial, it works really well, to my eyes. The black somehow matches the sport theme of a chronograph well. A small drawback can be that the silver hands, at certain angles, could be difficult to read at an instant when they are over the subdials.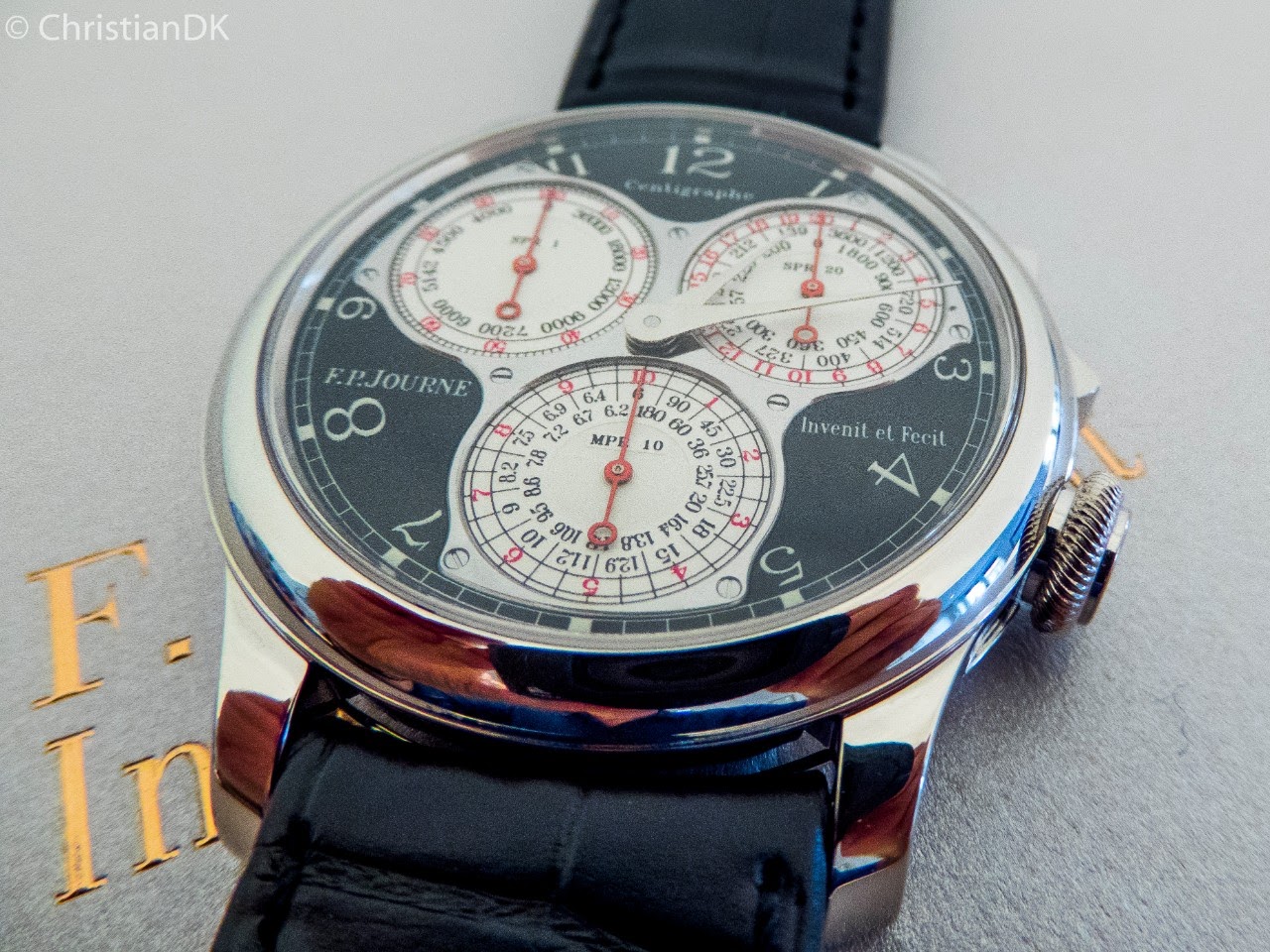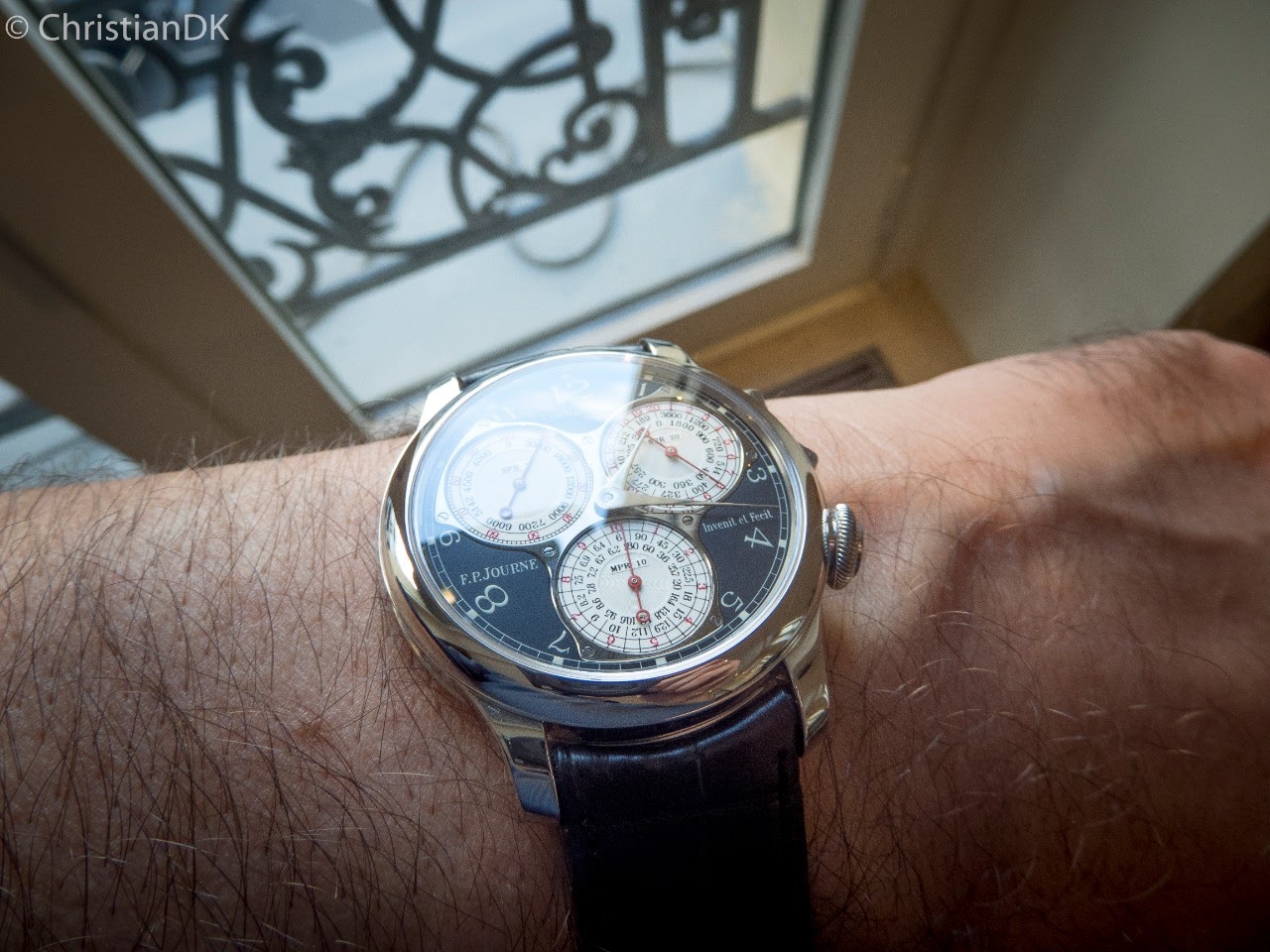 Notice the very large crown. Next to it, "rocker" switch that operates the chronograph.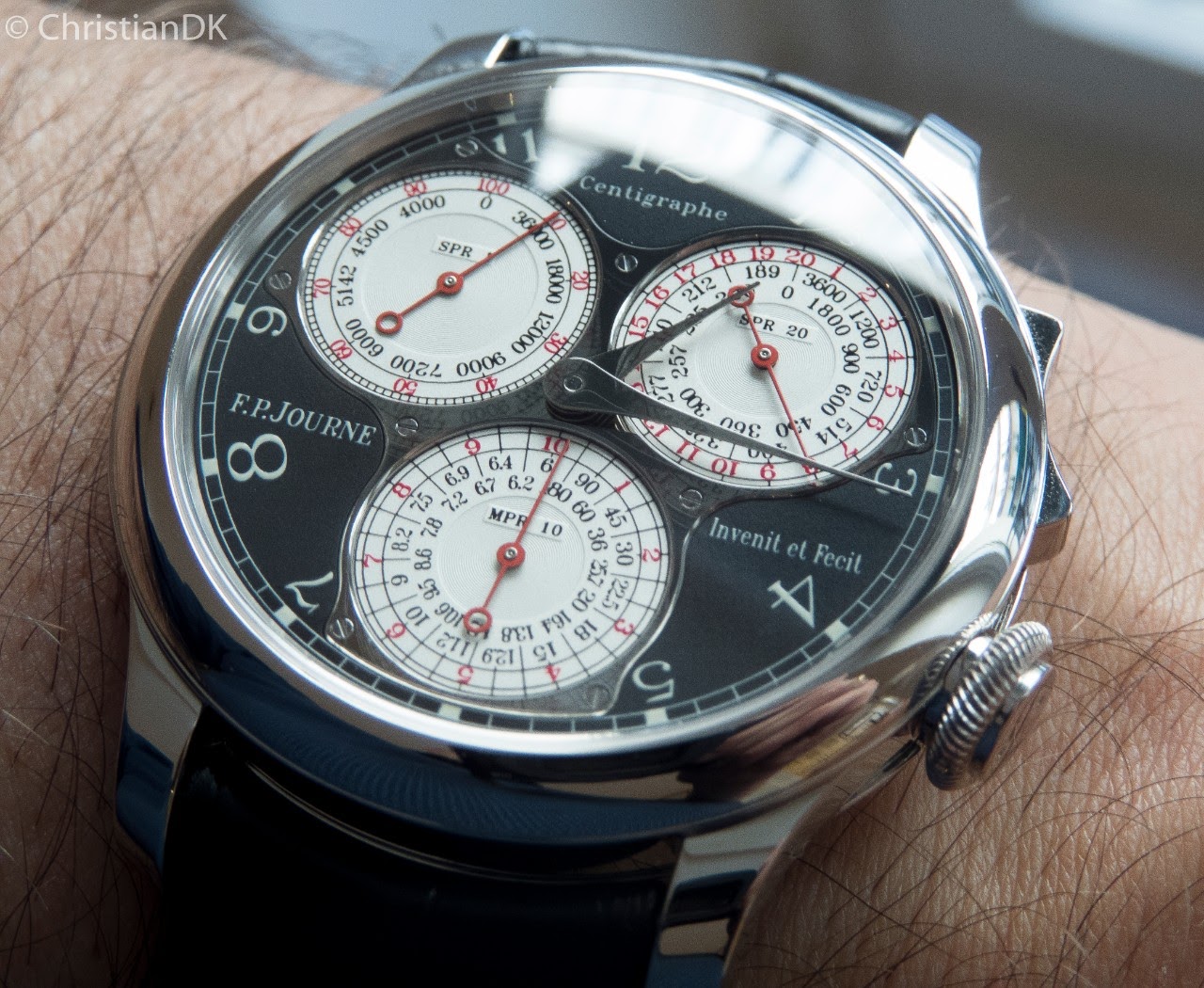 On the wrist, overlooking Rue Faubourg St Honore. It makes me feel on top of the world.
Thank you so much to the entire wonderful staff at the FP Journe Boutique in Paris letting us visit you.