mirrors the pure essence of the Saxon brand. In a german no-nonsense style, the 40mm timepiece looks unassuming at the first view. Getting closer and taking a second look, its refined detailwork becomes apparent. A slim case with the archetypical Senator stepped bezel, great legibility and fantastic dials made in
.
And as a final delicacy, the watch (in steel) will cost € 8,600.
A few weeks ago in Berlin, PuristSPro already had a chance to lay its eager hands on this new timepiece!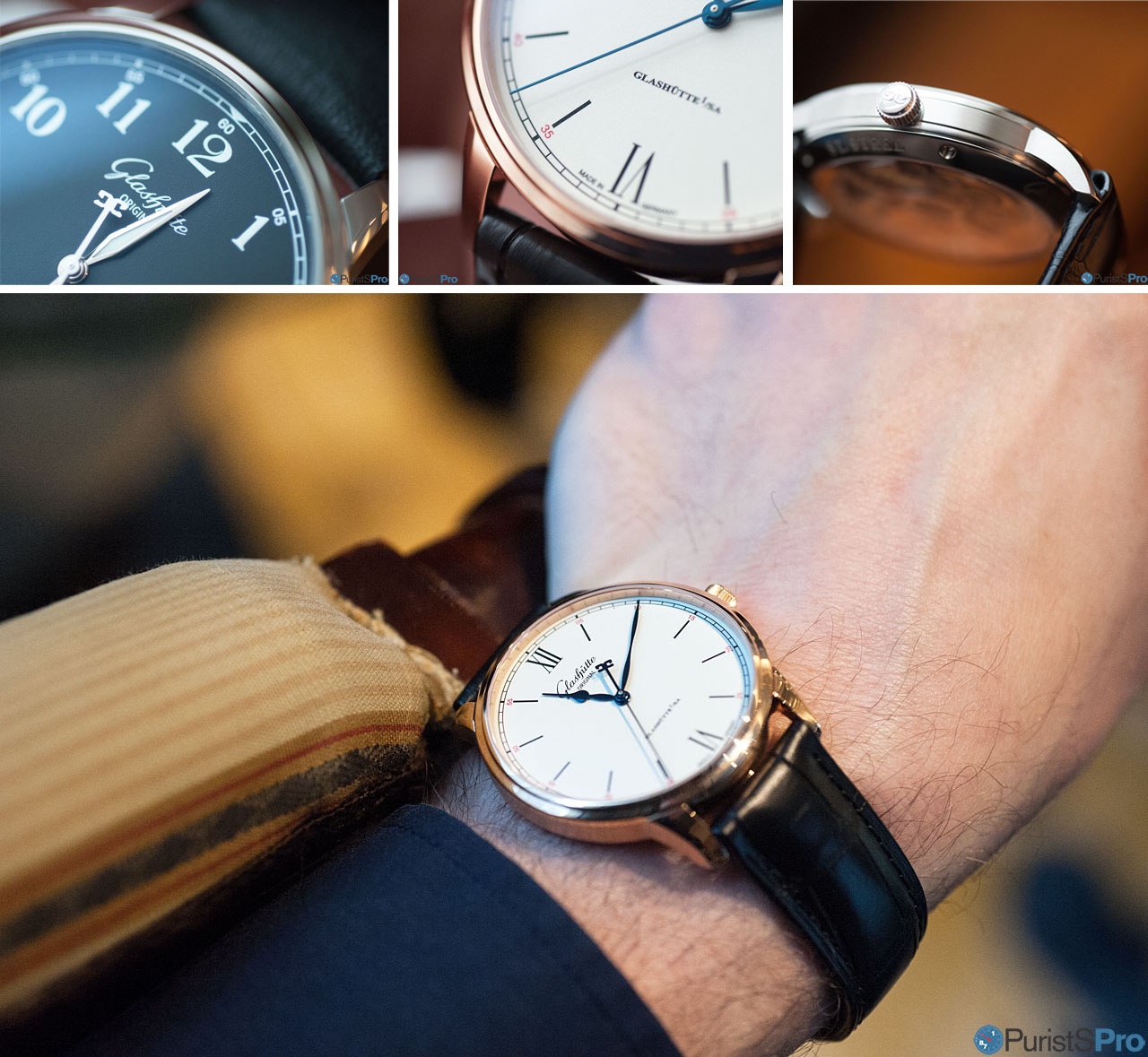 The new Senator Excellence collection may be simple in conception but it represents all the capabilities the manufacture has integrated. The elegant but refined design is meant to serve as a stage not only for the in-house watchmaking excellence, but moreover also to feature the art of fine dial craftsmanship. Thus, GO offers three versions right from the start:
Stainless steel with white silver-grained dial, engraved and galvanised indexes
Red gold with egg-shell coloured silver-grained dial, red printed minute numbers
Stainless steel with an 'observation' type, black lacquered dial, numerals and indices in Super-Luminova, and white gold hands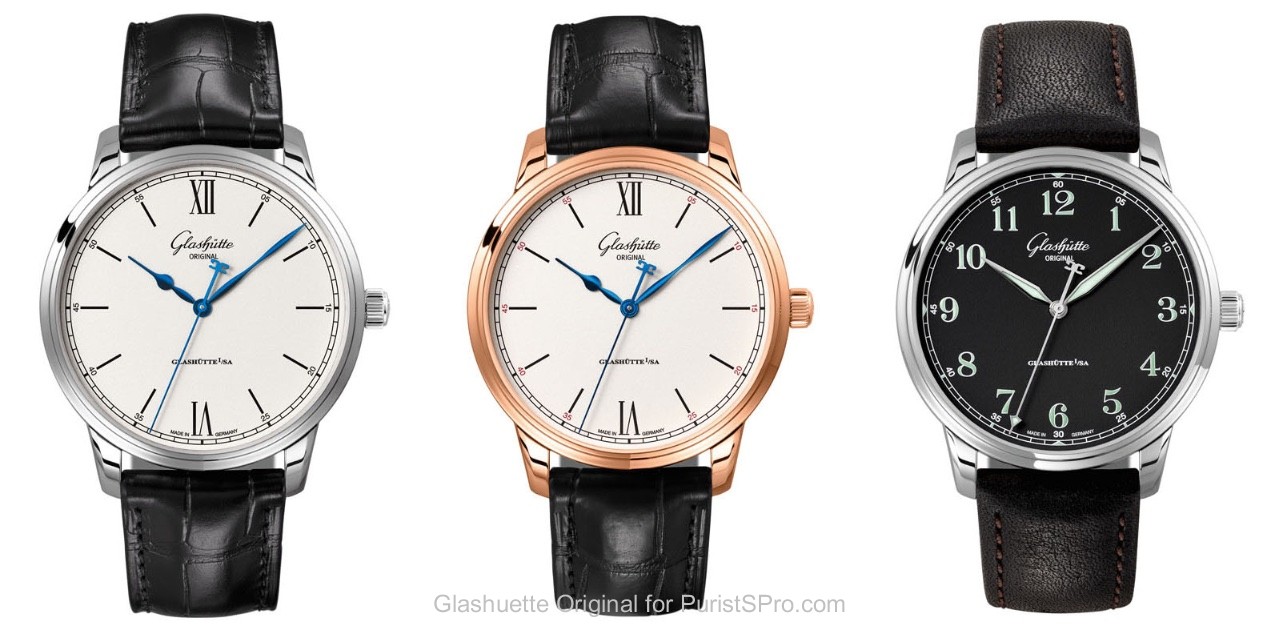 Much attention has been given to the dial. In the red gold and steel versions with light coloured dial, a minimalist design is achieved with a finely silver-grained varnish and laser-engraved and then galvanised indexes and railroad track above which the hand-blued steel hands turn. The black military-themed version highlights legibility with stark contrast, and the well-received GO Super-Luminova dial design. For this version, the hands are by the way made of white gold.
Allow me to quickly present you a few live images of all 3 varieties:
1.) Stainless steel with white silver-grained dial: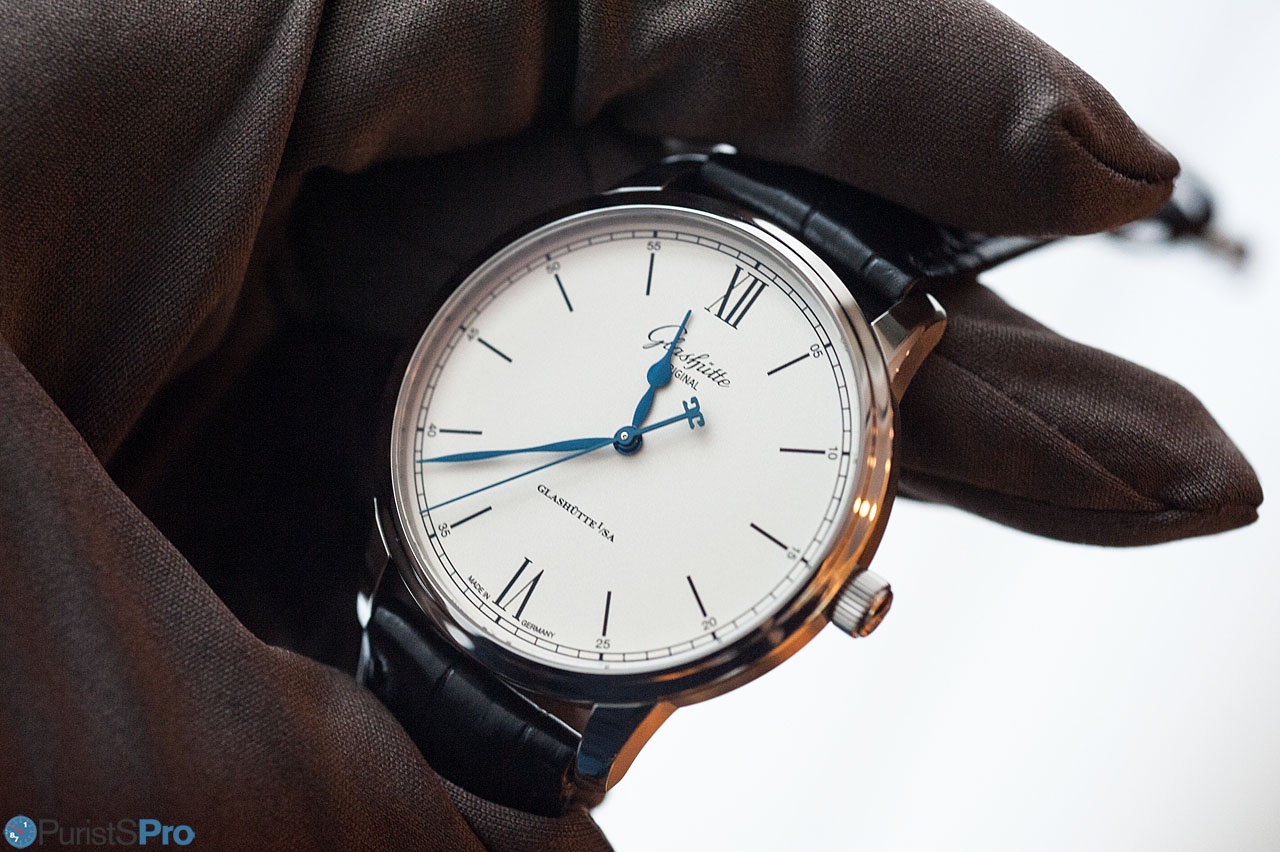 This is probably the version to get if one values watchmaking and dialmaking excellence. It is particularly the dial with sets this piece apart. The base plate is carefully finished with a silver-grain lacquer.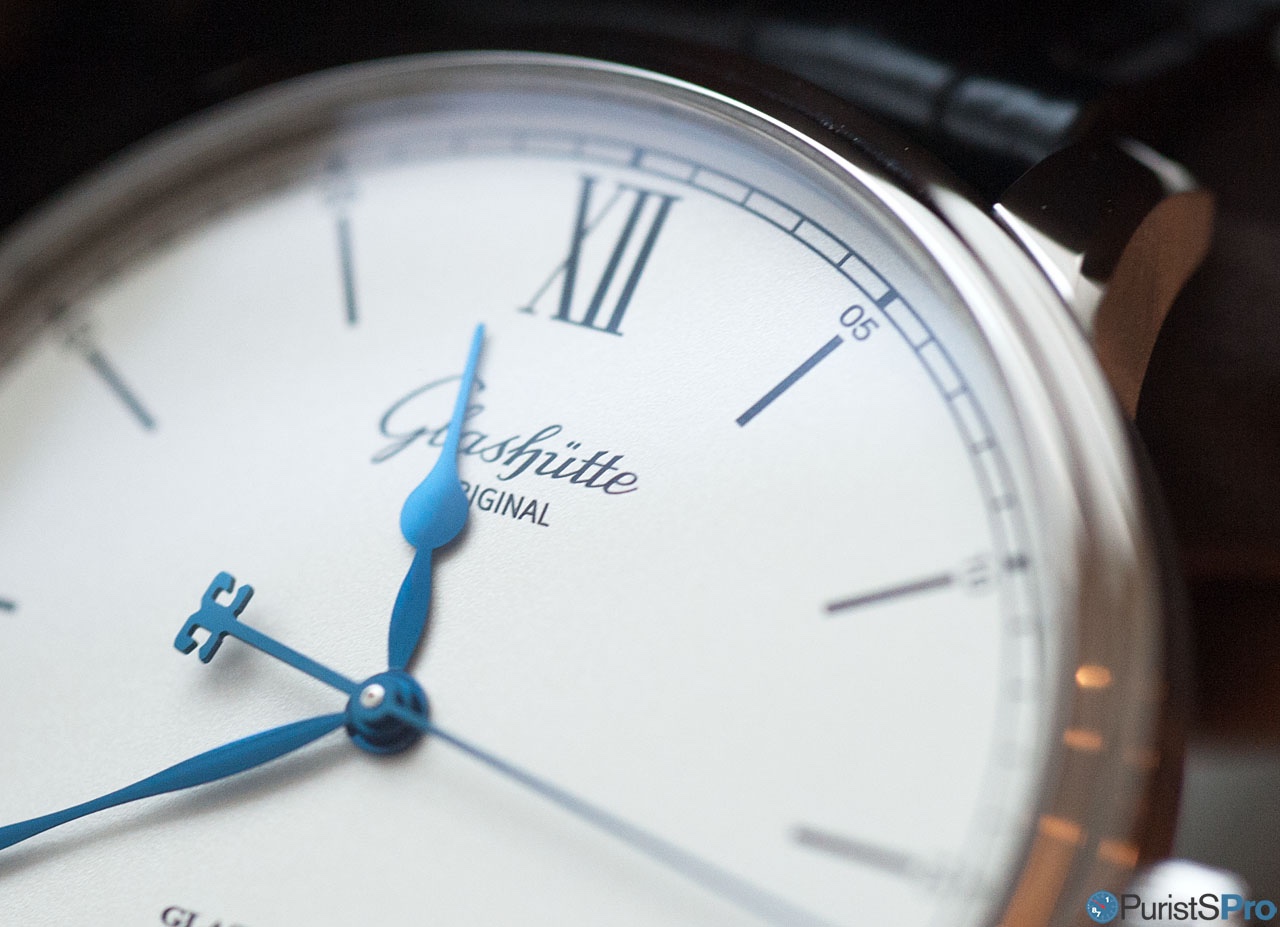 The indexes and scales are not simply printed, they are sumptuously laser engraved and subsequently black galvanised. If you look close you might see that theses elements reside indeed a (tiny) bit lower than their suroundings. The white steel version is the only one where all indices, scales and numerals are crafted in this time-intensive method.
The hands are heat-blued and add much life to the watch face.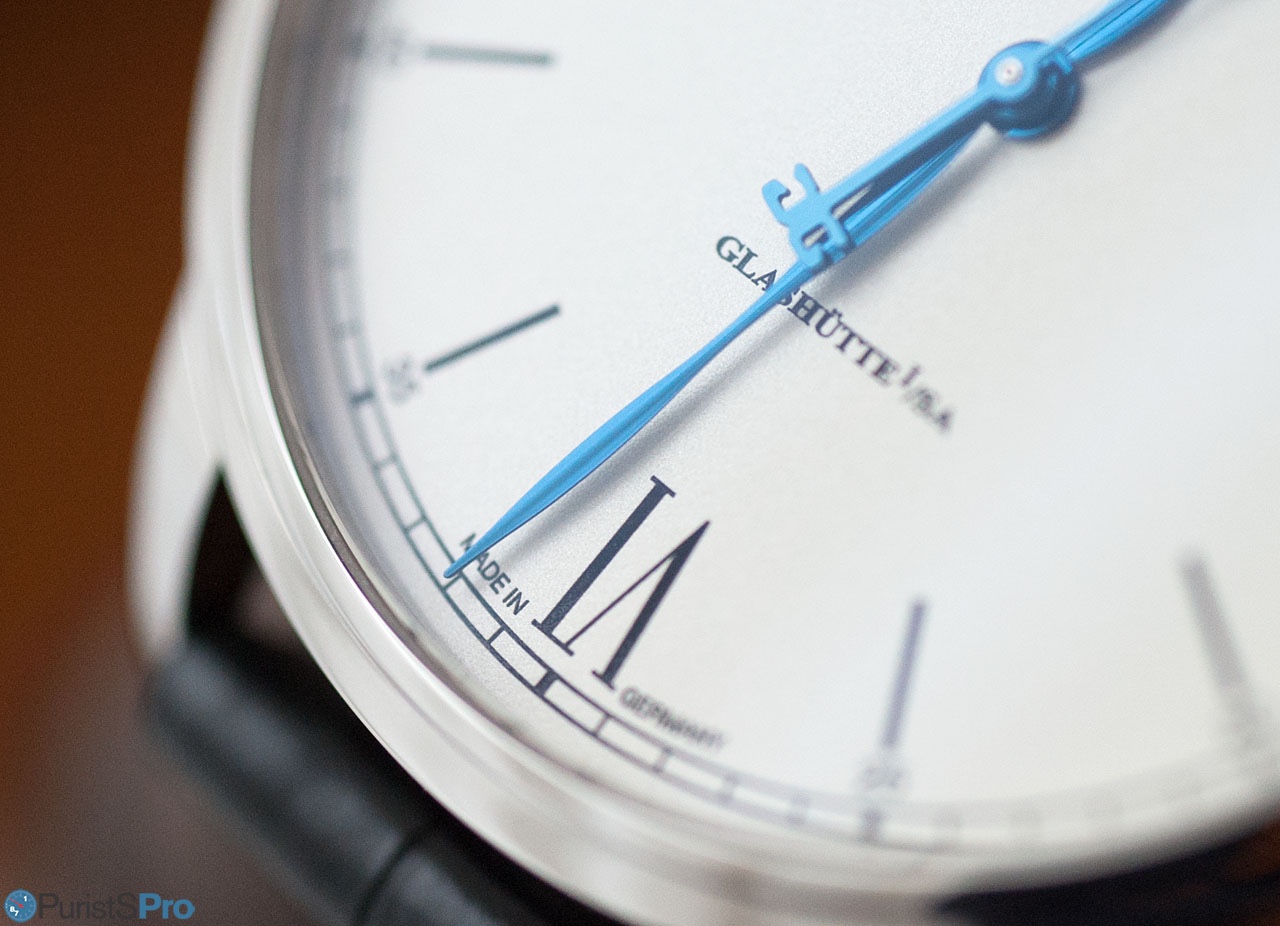 The case band is fairly slim and horizontally brushed, which emphasises its slender profile. The case quality is very precise and a joy to behold. The overall thickness of the watch is exactly 10mm.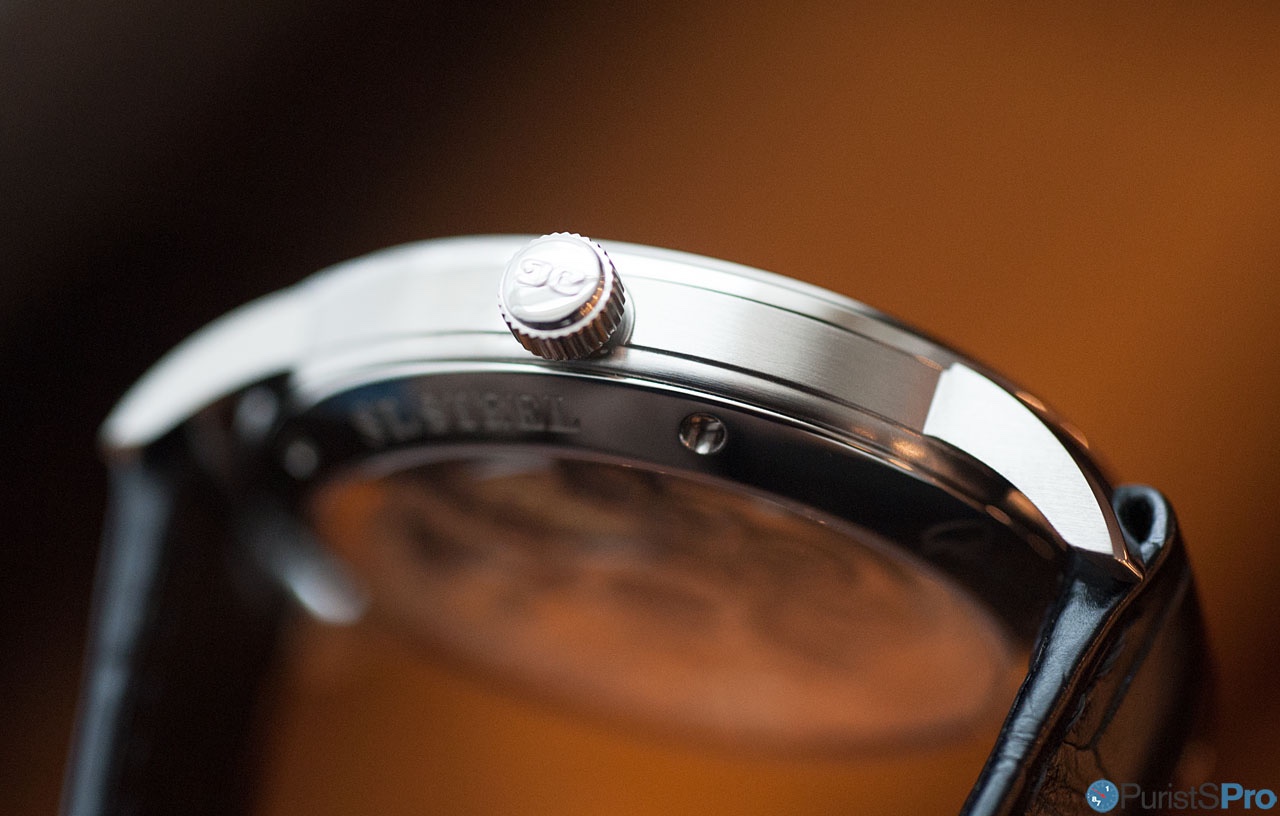 The back of course is equipped with a display back to allow you to admire the new
Cal. 36
(see separate post here!). This new movement is a major achievement of the brand and is designed to offer excellent chronometry, stability and - last but not least - pleasing aesthetics. A 100h power reserve at 4Hz, a free-sprung silicon balance spring and, finally, a 3/4 quarter main plate are only the most obvious technical details.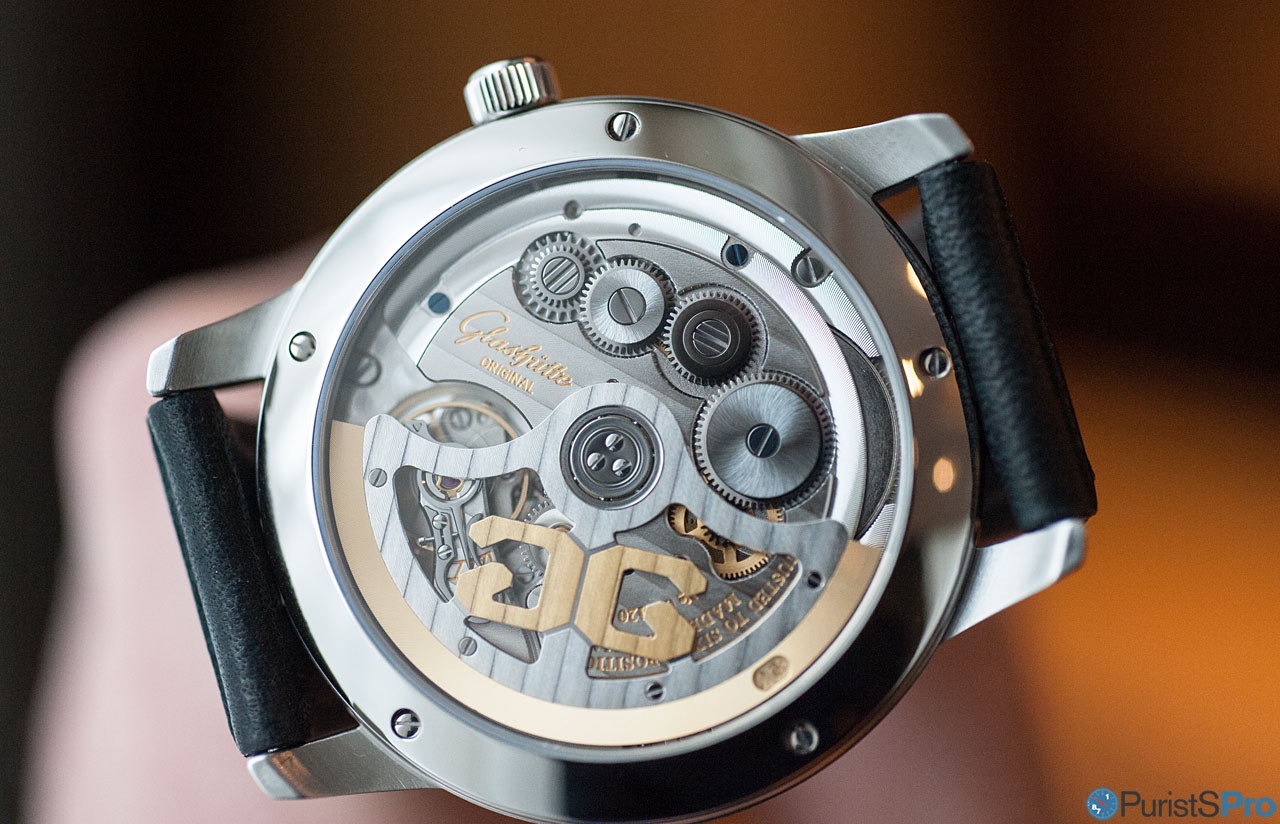 On the wrist, a bit too baroque for my personal tastes. As a classic watch, however, it will certainly appeal to many collectors.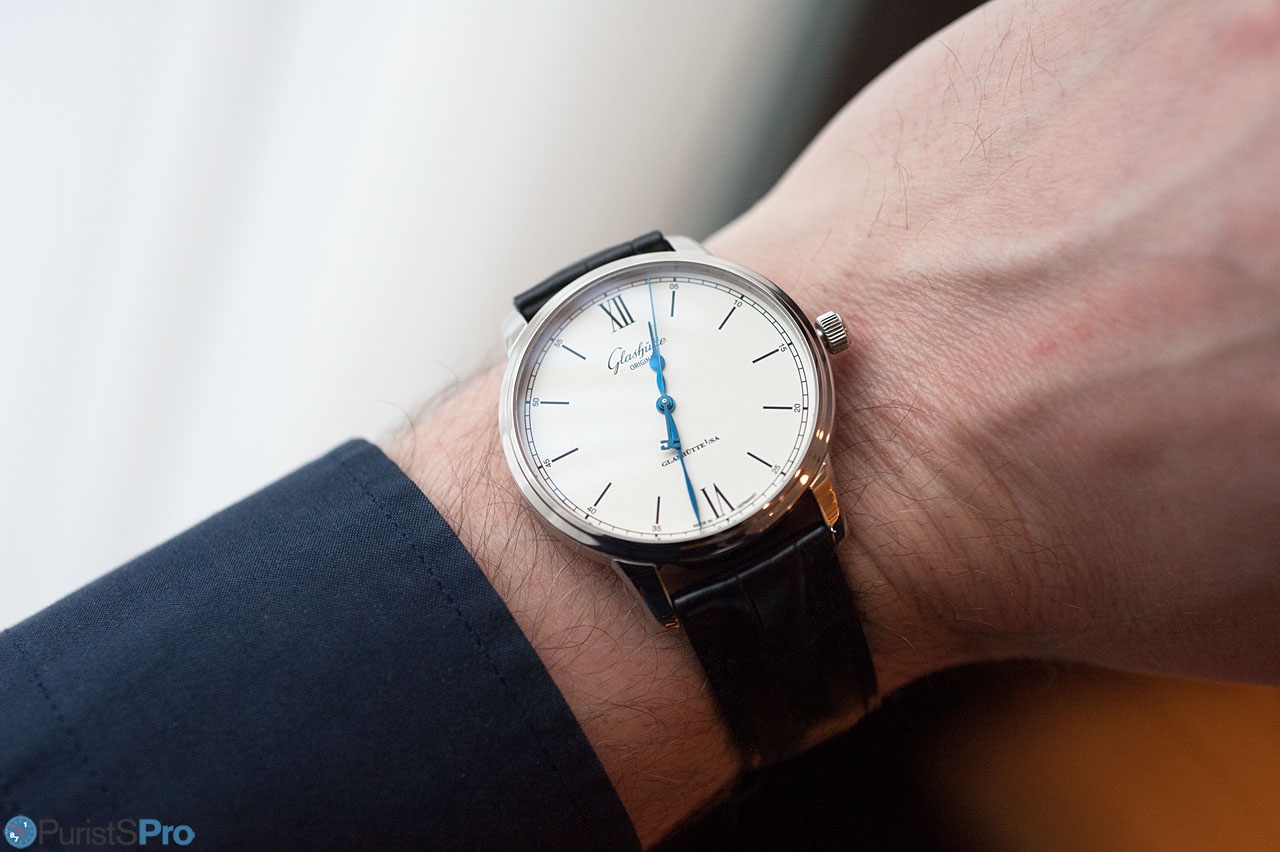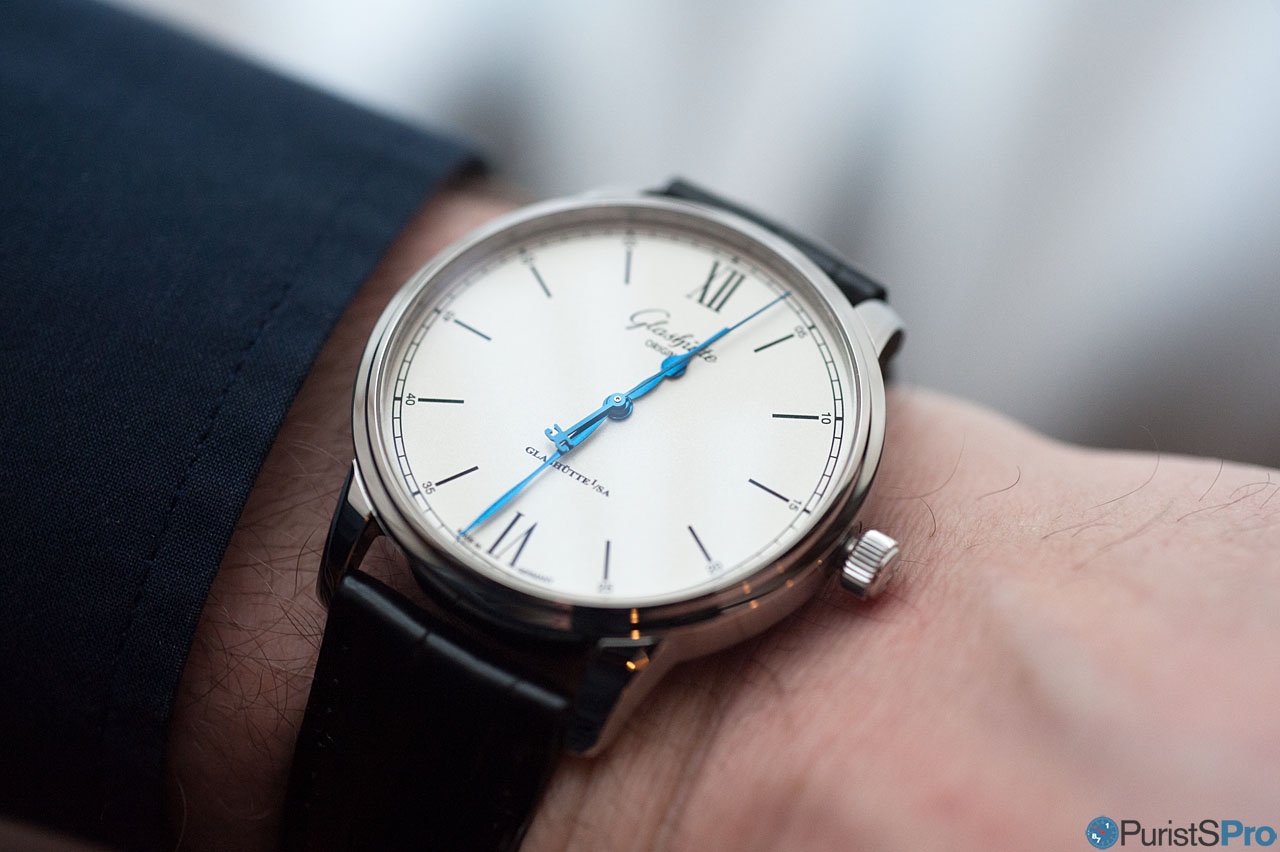 2.) Red gold with egg-shell coloured silver-grained dial: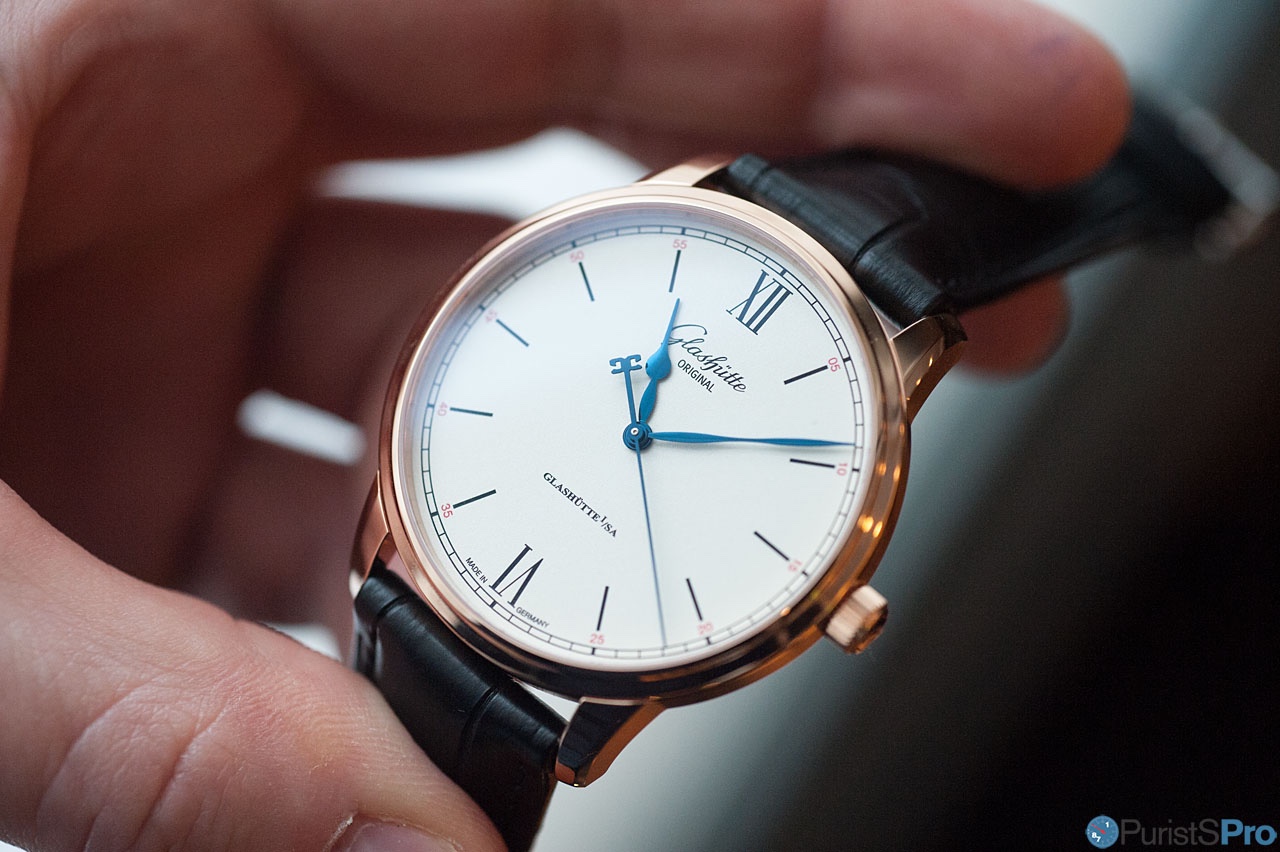 The same watch as above, but with a red gold case. The dial has a more off-white or egg-shell hue, but the devil is in the detail, once more. Nore the red minute numbers. In contrast to the steel version they are here not laser-engraved and then galvanised. Instread, they are printed driectly on the dial.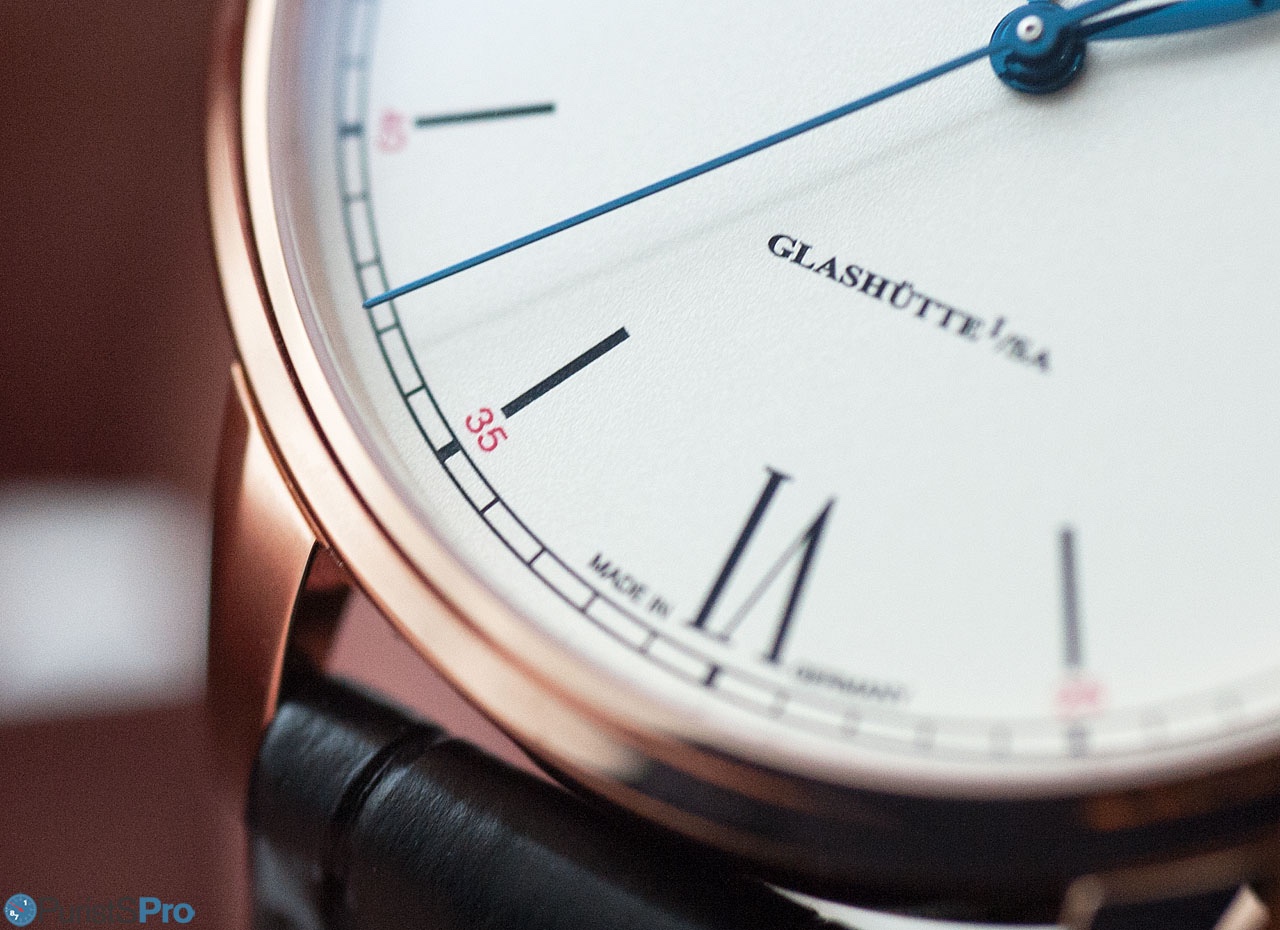 Voilà! With the red gold case my initial concerns about the baroqueness of the watch vanished instantly. It is like the case has a stronger standing on its own and thus nicely balances against hands and the two indices at 12 and 6 o'clock, respectively.
Almost a
Friday-night-in-front-of-the-fireplace
watch ('almost' because for that a hand-wound watch is
mandatory
)!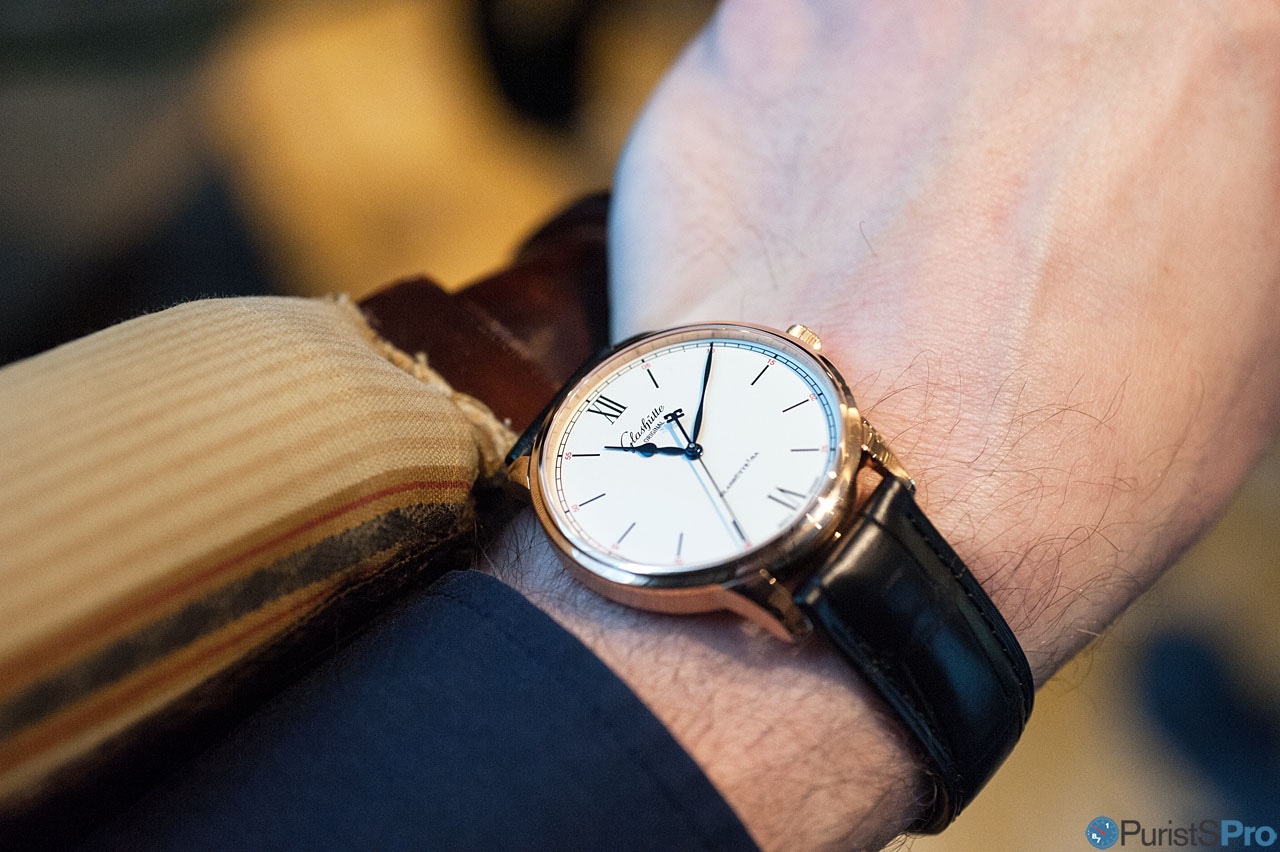 3.) Stainless steel with an 'observation' black dial: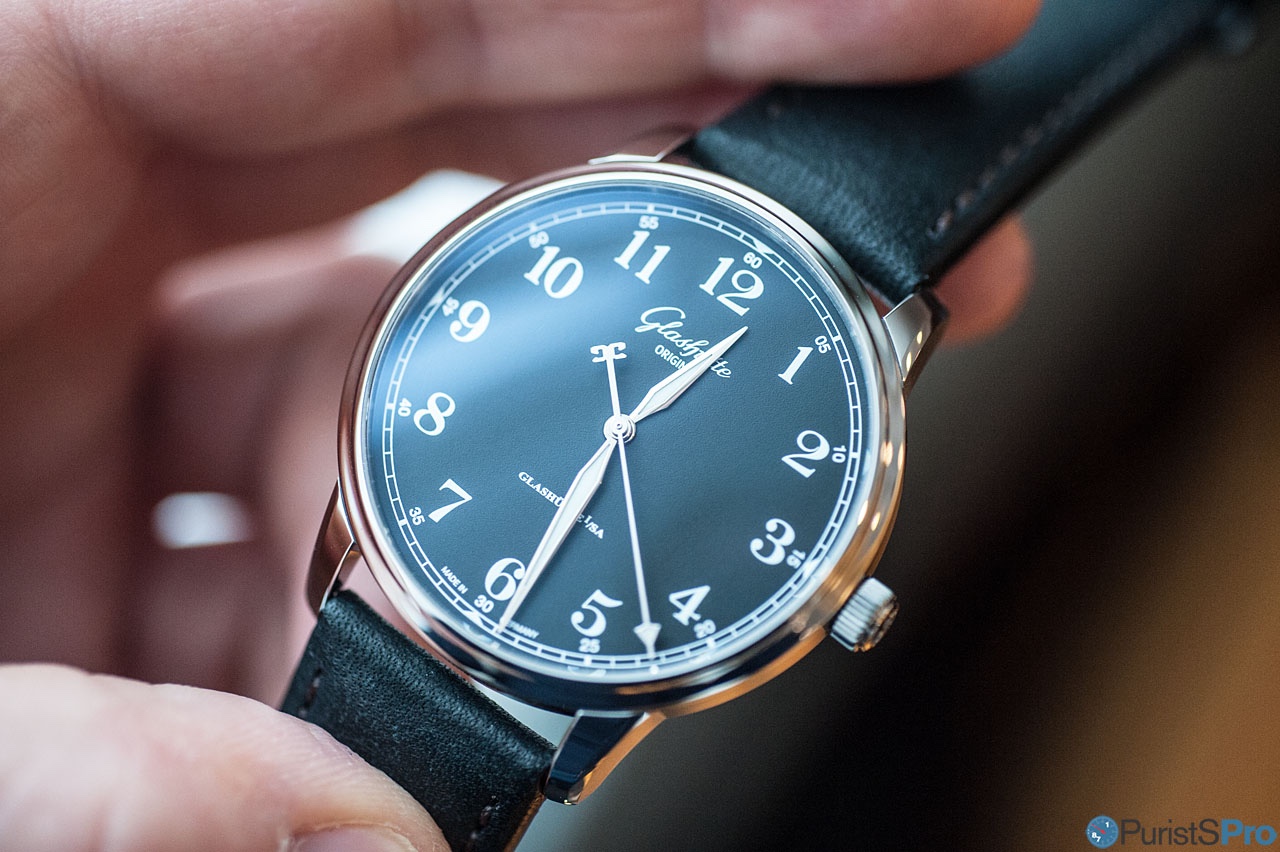 I could barely controly myself when the GO team showed me this version first time. Simply adorable. It continues on the successful 'observation' type theme introduced with the Senator Observer last year.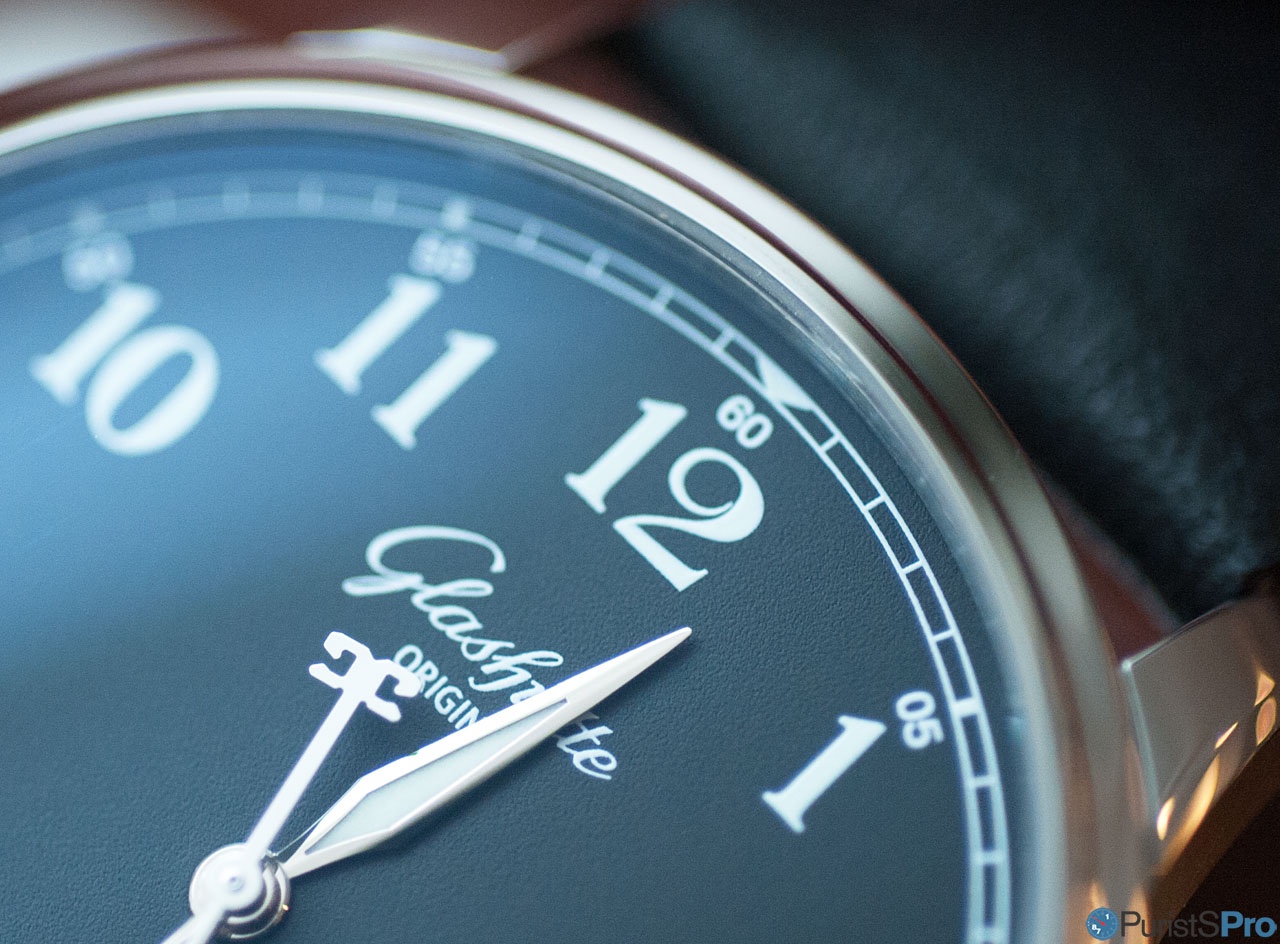 The dial is lacquered and all indices are printed. No galvanisation here. The hands are made of white gold and wonderfully legible. Also their respective length is spot on matching their corresponding index.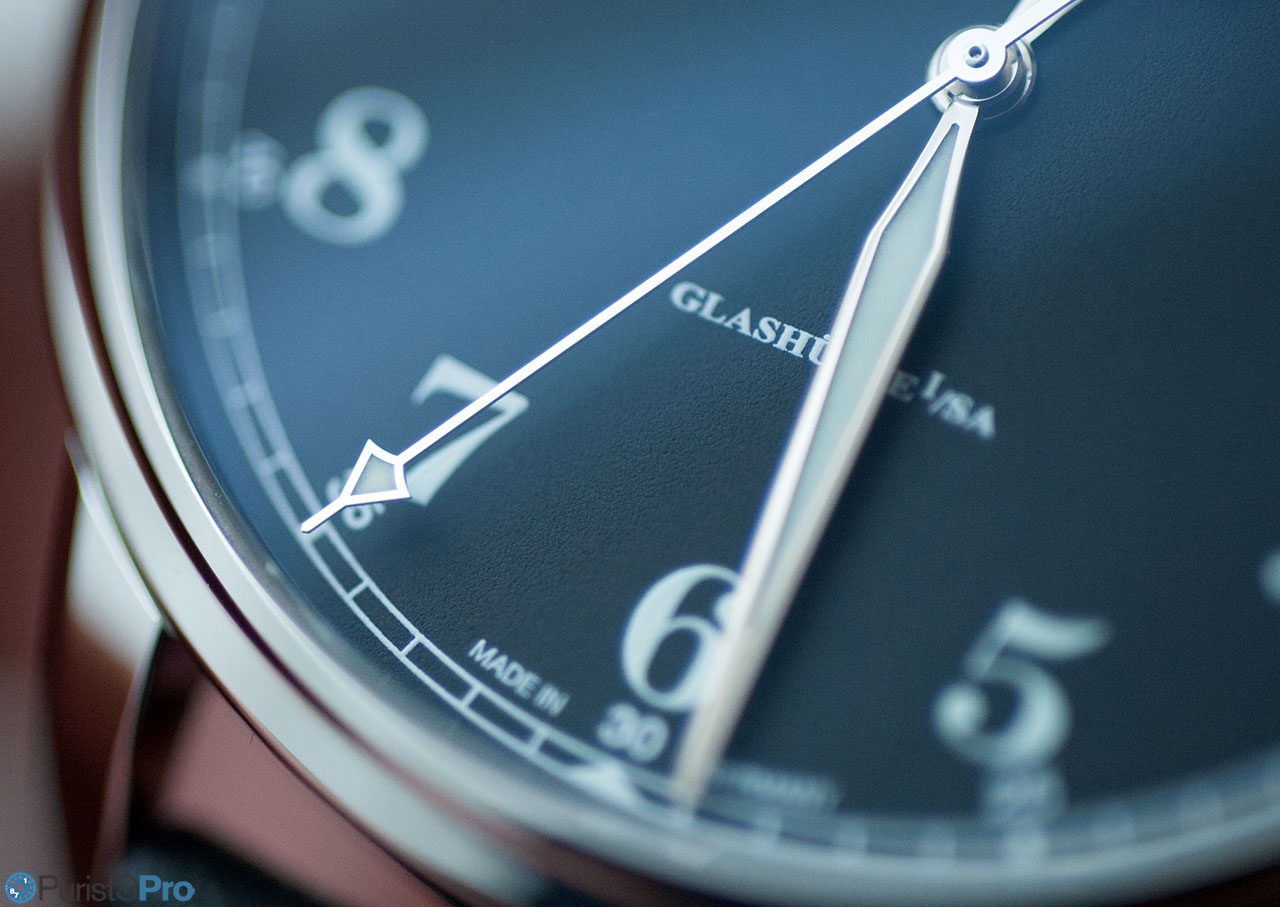 GO made generous use of Super-Luminova, and this includes the arrow-head seconds hand (what a lovely detail!).
The watch is almost too sexy to wear: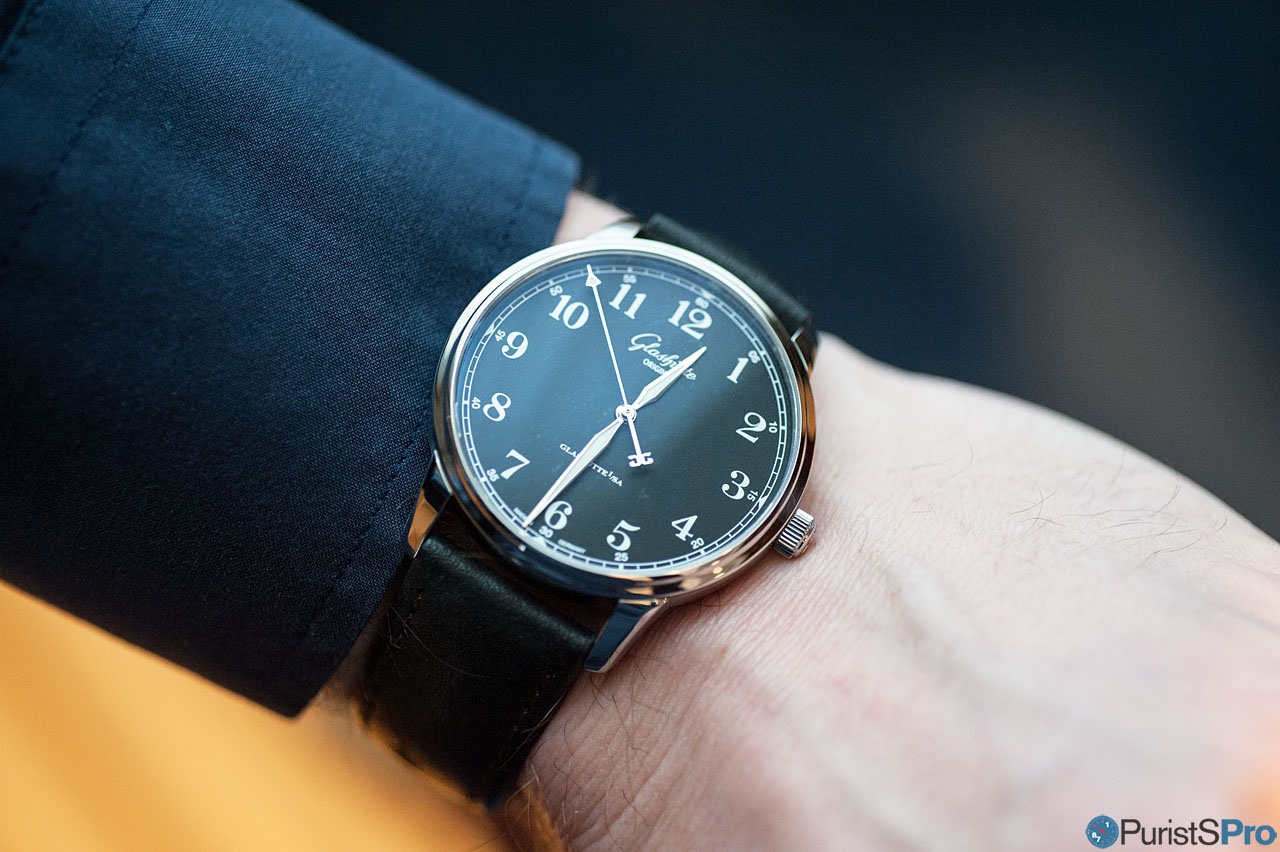 Once again, this image illustrates nicely how temptingly flat this watch is without giving a fragile impression. I would change the strap though, but this is a personal matter of taste.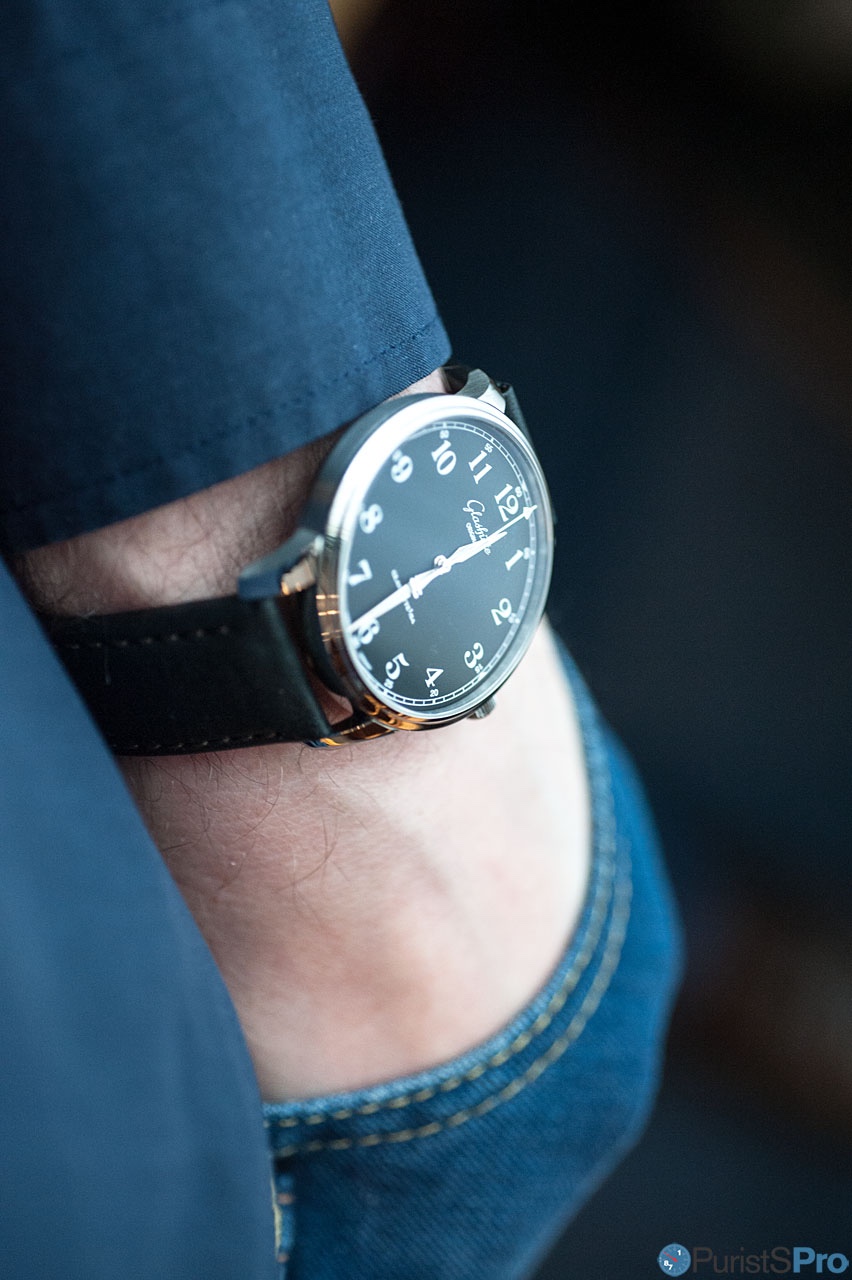 As mentioned, luminosity is an important aspect of this watch, almost its
raison d'être
. The conditions in Berlin were not conducive for perfect luminous shots nor was the dial in its final version. I tried it still, and I already liked what I saw: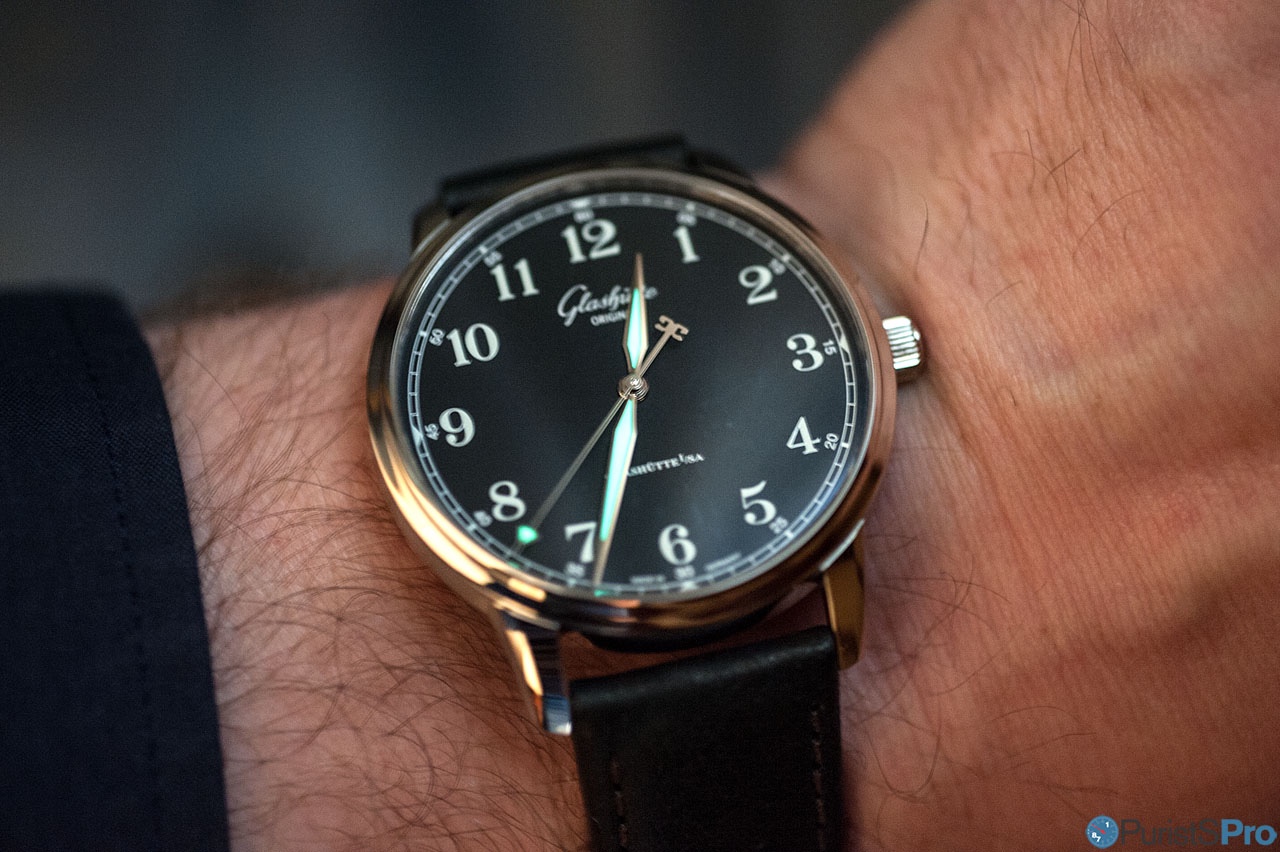 So, to sum up, the original Glashütte manufactory has chosen an extremely appropriate way to present its new base movement - with a dedicated collection. Their name, 'Senator Excellence' is a commitment at the same time.
The manufacture has invested all its knowledge and
savoir-faire
to create a timepiece which lives up to the name. Indeed, the Senator Excellence delivers finest case- and dial-making combined with extremely competent horology. For GO it brings a never-before-seen concentration of delicious watchmaking details (in terms of aesthetics as well as technology) into the lower quartile of the company's product range.
With this new watch GO found a very compelling answer for the difficult economic landscape these days. Sure, the watch is still not cheap, but its value proposition is extremely competitive.
Furthermore, the new Cal. 36 which drives this watch will serve as a cornerstone for the brand. Thus it comes as no surprise that both, the movement as well as the Excellence collection, will expand at a fast pace. I heard that already autumn will again be a hot time this year.
Really interesting times. Kudos to the GO team, and good luck for the new collection!
Thanks for reading,