I was really lucky to come upon this Timex Marlin Snoopy completely by chance. It is not that it is rare. But its production is truly limited. And it's hard to know in advance when Timex makes it available on its website. Whenever it shows up, it becomes sold out in a very short time. The only thing to do then is to hope to be in front of the screen at the right time when the next availability comes...
However, there is another possibility: it can be found in a physical store and this watch had been in the shop window of the point of sale for more than one month when I found it. It's always funny to see the gap that can exist between Internet business and the traditional one. To make a long story short, after having paid 250 euros, I became the proud owner of this beautiful watch. Needless to say, I don't regret this purchase. Admittedly, it is not a watchmaking masterpiece. But this Timex Marlin Snoopy is very nice and charming.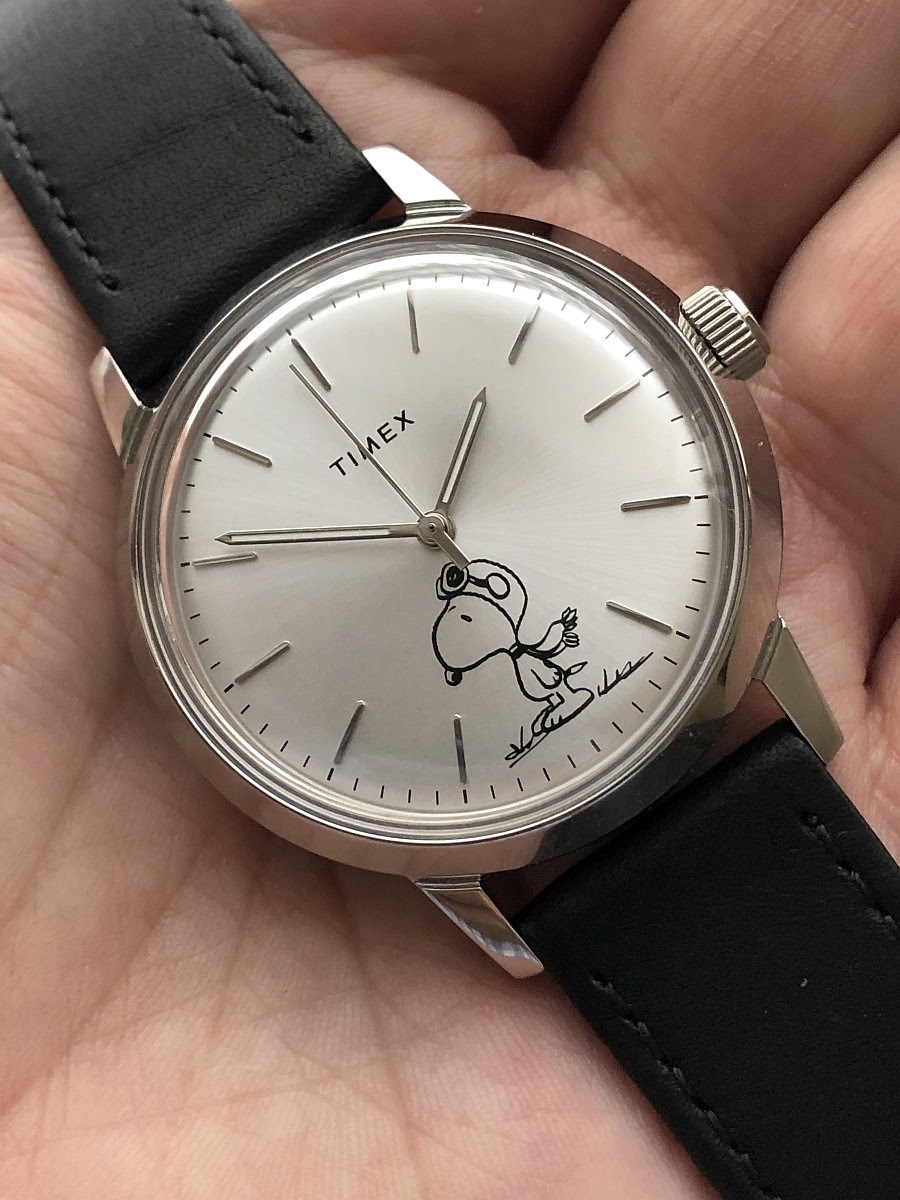 First of all, Timex and Snoopy have had a long story together that started in the 60s. So it brings a certain legitimacy to the watch. Then this watch has the great virtue of being automatic. It is indeed animated by a caliber Miyota 8215, a real tractor with a power reserve of forty hours. And finally, it doesn't lack charm. The silver dial with sunrays finishes, fortunately without any date window, is well done and Snoopy is drawn on it carefully and accurately. The 40mm diameter steel case is also nicely finished with a polished and brushed alternation and the domed shape of the acrylic glass gives a pleasant visual effect and reinforces the retro style of the watch.
I'll be clear: everything is not perfect either. I think a solid caseback would have been more suitable because the caliber Miyota is really not nice to see, especially with some spots on the winding mass. The watch is then relatively thick (13mm) but given its diameter, this defect fades. Finally, the hands (especially the second hand) are too short. You have to save money somewhere! Nothing serious for the price but you must be aware of these flaws.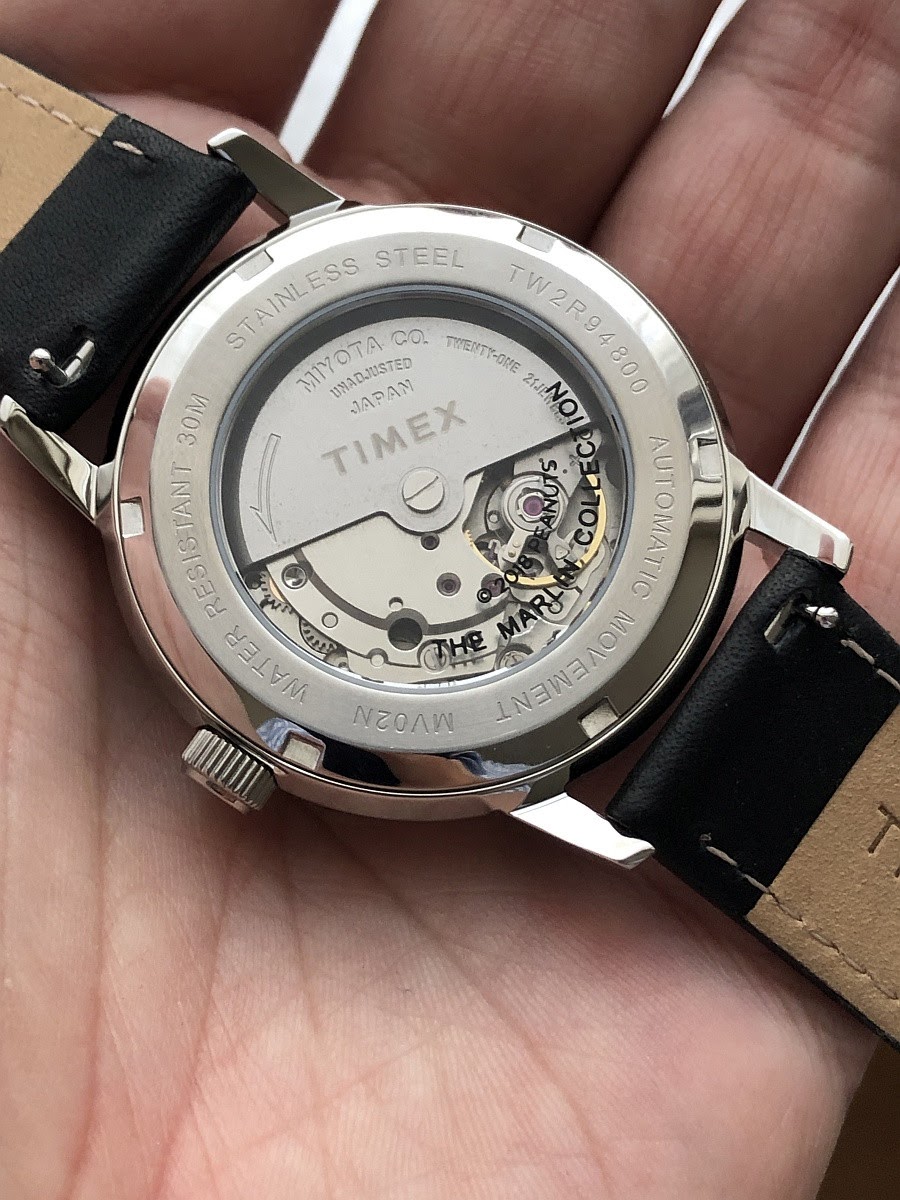 The strap is not wonderful either and definitely too long for my wrist. But it can be changed easily. And it is even recommended to improve the perceived quality of the watch. Timex has planned this will from the customers: the original strap is equipped with a quick change system!
All this in the end weighs little compared to the pleasure provided by the Timex Marlin Snoopy. It is very comfortable to wear and it offers very nice light reflections on its dial. I would have liked that Snoopy comes alive but in this case, it is condemned to remain still despite its pilot's attire (the models with moving arms are unfortunately quartz powered).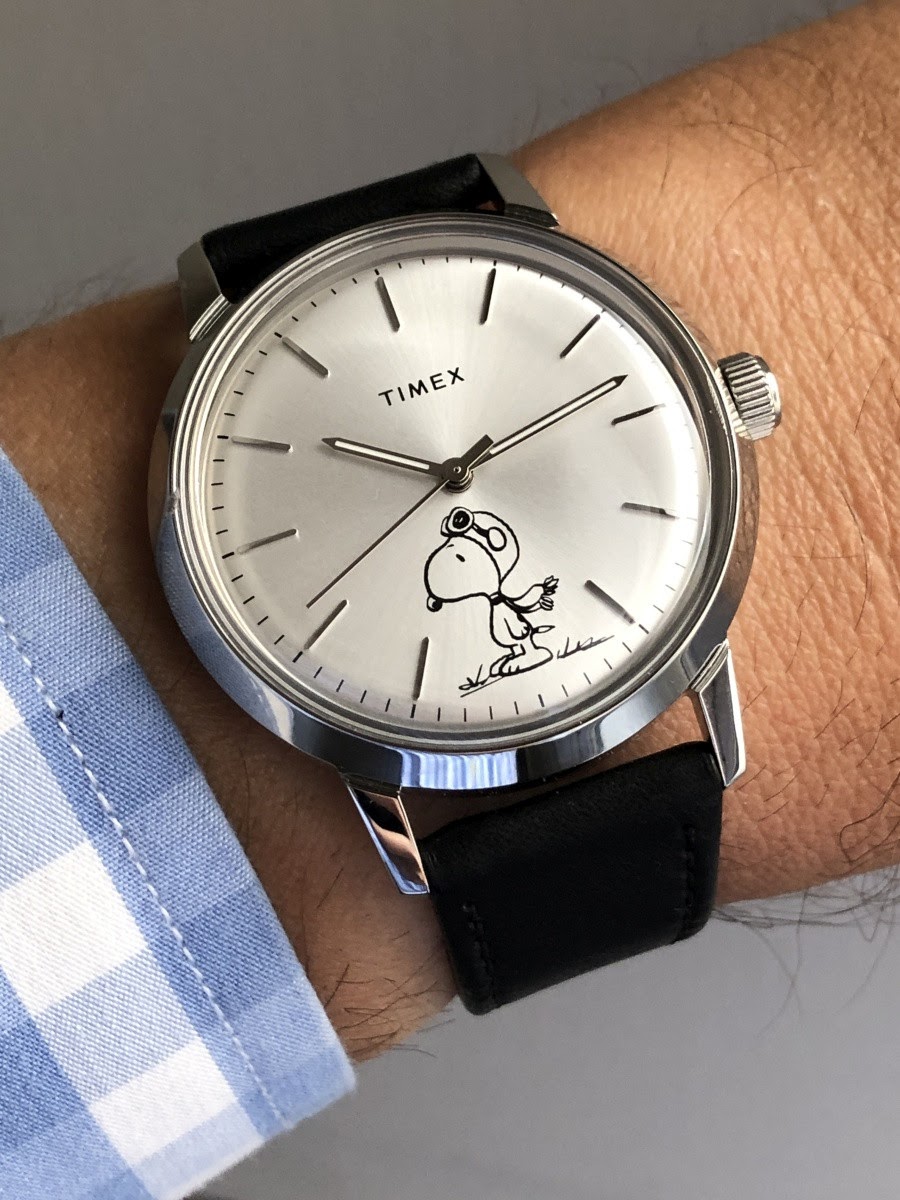 In any case, this watch symbolizes the return to the forefront of Timex which plays the card of nostalgia to support its strategy. For example, the brand has reissued its Q Timex model of the 70s, with a quartz movement and a pepsi bezel. This approach is the right one: such a watch causes a good exposure in the small world of the horological media what allows to put a spotlight on the whole collection or at least replaces Timex among the players who count in the entry level segment.
Pros:
+ the finishes of the dial and the case
+ the shape of the acrylic glass
+ no date
+ the robustness of the movement
Cons:
- a solid caseback would have been more suitable
- the hands, especially the second hand, are too short