What's better than a Split Seconds Chronograph? The new MB&F Sequential EVO Chronograph! I had the distinct pleasure of seeing this watch last week in Geneva and all I can say... This is REVOLUTIONARY. An ALL NEW Chronograph Concept! A truly great contribution to Horology!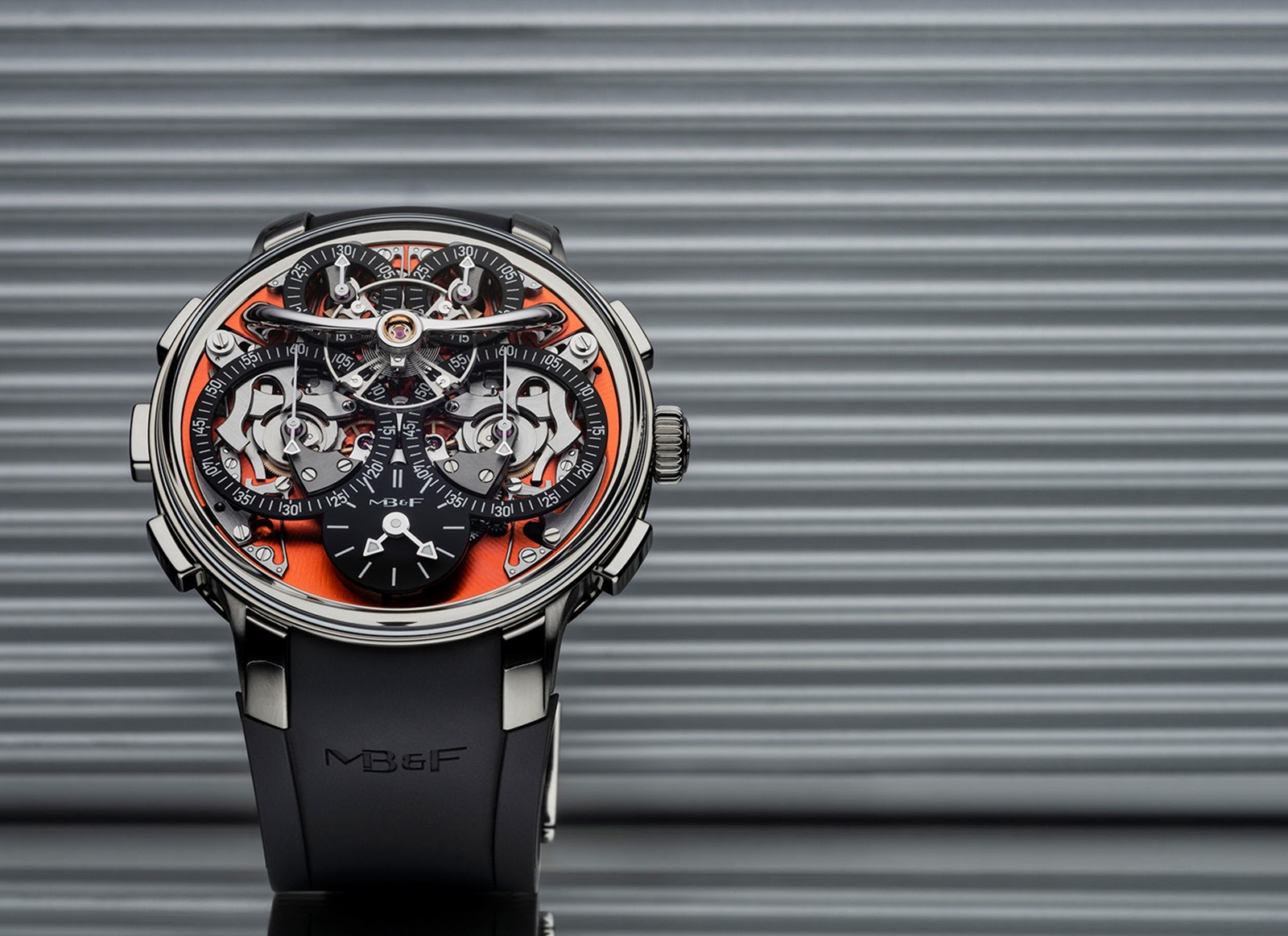 What makes this watch special?

Yes, you can see that there are two seemingly independent chronographs. But what is that button at the 9 o'clock position? Here is where the magic happens. The MB&F website describes it better than I can... "The LM Sequential EVO movement incorporates two column-wheel chronographs and a revolutionary "Twinverter" binary switch, allowing multiple timing modes: independent timing, split-second, sequential (lap timer), and even a cumulative "chess match" mode – a combination never seen before in any previous wristwatch."
The Twinverter here is magical. And this concept makes it better and more useful than any traditional split seconds chronograph. Even the Double Split! Or Triple Split!

When I saw and handled this watch last week in Geneva, I was astounded. It was true horological history in the making! I could barely contain myself. I had to wait a whole week due to the embargo on this news! I didn't mention it to a soul.

Basically it works like this; you have three timing modes:
Sequential Mode Lap Timer: Time one race horse, every time it passes a checkpoint, you press the "twinverter" button and this will display the time on the display, so you can record it on a piece of paper, chronograph continues running, you can repeat this any number of times for multiple checkpoints.

Simultaneous Mode Split Seconds: Start timing two race horses. Press the Twinverter button, both chronographs start. When Tortoise passes the line, you stop Chronograph #1. When Hare passes the line, you stop Chronograph #2.

Independent Mode: Time two completely unrelated things. For instance, the cooking time of two different meats on the grill.

Here's a short video of gorgeous people using this gorgeous-er watch:

Now, I know my readers (i.e. YOU) would rather get it from the horse's mouth than from my keyboard. So without further ado, here's the press preview they launched. You can hear Mr. Busser and Mr. McDonnell describe their creation.

This is AMAZING. It's amazing that a small independent brand and Stephen McDonnell came up with these incredible inventions. Whereas established legacy brands create only further interpretations of the classic century old split seconds chronograph. This wasn't created by Rolex, nor Vacheron Constantin, nor Breguet, nor chronograph expert Zenith, nor chronograph expert Minerva, but a tiny brand that sells only a small amount of watches a year, and has only around 30 million Swiss Francs in revenue a year... Wow... Small independent watchmaking at its finest.

It is my great pleasure to introduce this amazing timepiece to you. Now... MB&F, you really ought to loan me one of these watches so I can write a full review! Too bad, this watch will surely sell very well (some of you will be sending emails to your dealer soon) and thus they won't have an extra one to loan me!

I can only beg our WatchProSite members to share with us their impressions! As an owner of a traditional split seconds chronograph, I am SUPER IMPRESSED! Well done Mr. McDonnell and Mr. Busser! Well done the whole team at MB&F! Bravo!