C'est le weekend! It's the weekend! Time to shrug off the work week, and now focus on the weekend and what we personally like and enjoy!
With W&W recently past us, we're all focusing on the new things... Focusing on what to call our favorite ADs, and beg them for a watch that we will add to our collections and probably only wear once or twice a year.

Few pieces this year inspired me tremendously at W&W, so I find myself looking into the past... The things that got away... I always liked spaceship designs and science fiction books. Growing up with Star Trek and Star Wars was definitely an influence - whether or not I want to admit it or not...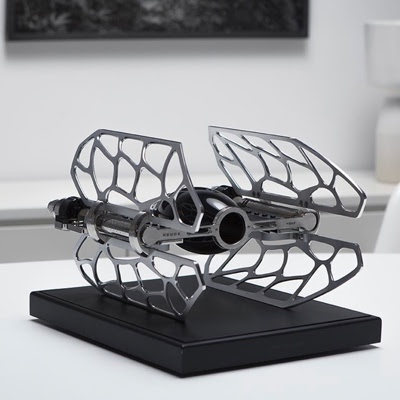 MB&F, JMC Lutherie, and Reuge made 99 of these spaceship music boxes. 33 in chrome, black, and white. My favorite color was the chrome and black one. Since this spaceship resembled a TIE fighter, the space ship used by the antagonist in the Star Wars space opera, one had to have the more black looking one - it looked more sinister. Sadly, I underestimated the popularity of this piece in black and chrome as it sold out much faster than I expected. It came out in 2015!

This spaceship music box was amazing. It plays 6 different songs. Three songs per barrel. There are two barrels, one on each wing. Both barrels are attached to its own mechanism and its own 72 note comb. Since the structure was rigid steel, there was a problem with sound transmission. Thus, because it was mounted on a very special spruce wood base that was suspended in a way that promoted full resonance, the sound transmission is nothing short of incredible with this piece. The wood base was engineered by JMC Lutherie and really showed a lot of engineering went behind this piece. JMC Lutherie makes special soundboards for watch companies with striking watches. If you were to put the device on a table and not use the resonant sound board, you would hardly hear the sound of the music box. But if you were to put it on the resonance board, the music box makes music that would fill a normally sized living room.

Despite a lofty price back in the day, it's likely MB&F made very little profit on these pieces, once you factor in the high cost of production, the partnership with Reuge, the consultancy with JMC Lutherie, all the fixed costs amortized over only 99 pieces, and retail partners' margins. Imagine you make three prototypes, your prototype costs are already 3% of your total costs. By today's standards and the inflation we see on luxury goods, the original Retail Price was probably a bargain! And these pieces have continued to appreciate and are now very difficult to obtain, as they were bought by true collectors back in the day, rather than investor-collectors and resellers that seem to dominate the market today.

I'm embarrassed to admit, I once tried to suggest to the MB&F team to make a small run of a "grey" colored version, and I was told this wasn't possible as this would compromise their integrity among their existing clients. A year later I practically begged another MB&F executive to make a "spaceship grey" colored version, and again was told it wasn't possible as this would compromise their integrity amongst the existing 99 owners along with the fact that production line set up costs to make a small run would come with astronomical costs... In both cases, I knew they wouldn't likely fulfill my request (emphatically speaking, if I were in their shoes, I wouldn't do it neither), but I wanted a grey spaceship music box so badly, that I had to ask! Most independent watchmakers would consider my request, because back in those days, independents were very flexible and weren't very strict about their limited editions.

Evidently, the team at MB&F is fastidiously grounded. There is no greed. They are a happy tortoise, happy to walk slowly and bring their house/shell on their back, and like the long-lived animal, MB&F takes a very long-term approach to things. MB&F has a true desire to be fair to existing customers, even at the expense of short-term revenue. And a true desire to behave ethically is somewhat unusual, especially back in 2017. The 2017 era was a time when small independent watchmakers were somewhat fast and loose, and "limited edition" quantities weren't always strictly followed. Sold out versions could be ordered if you wanted an unusual dial or made a major change.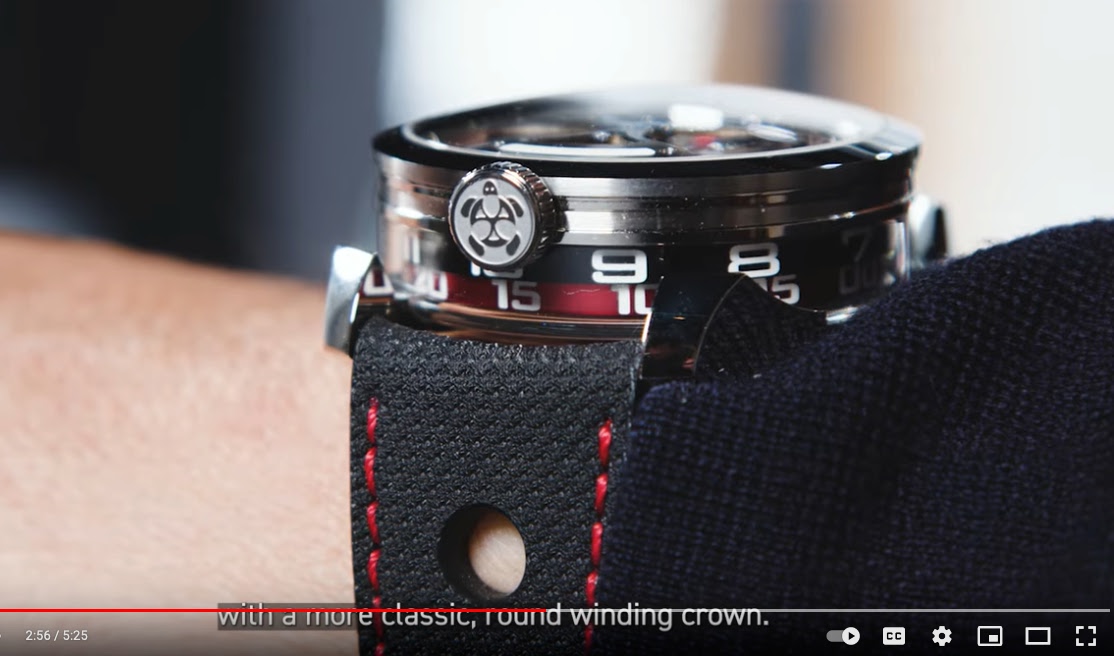 Notice the turtle on the crown of the M.A.D. 1 Red Edition! M.A.D. is a sub-brand of MB&F.

I interviewed Max Busser, the eponymous Creative Director and Co-Founder of MB&F, in November 2021 during Dubai Watch Week; during that interview, I posed a question about Non-Fungible-Tokens and if MB&F was planning to adopt them. I cited Louis Vuitton and other luxury brands were dedicating large amounts of personnel, time, and financial investment into NFTs. Busser's response (I'm paraphrasing) was calmly, "I have been approached [with the NFT idea] many times," and "I don't see how NFTs adds value to my customer." As an aspiring customer and a Silicon Valley native (arguably one of the places where the NFT idea was born), I couldn't disagree, as I still don't see major benefits of NFTs applied to luxury goods. I interpreted Busser's response that he's not all about the trendiest marketing buzzwords, and that he's all about creating value for his end-user.

I will have to say... I'm a little sad that I don't have my "Spaceship Grey" Music Box! But I'm so pleased that there is a wonderful brand out there for me to support. And while I cannot afford most of their incredible Horological Machines, I can at least enjoy them from afar.

I know this article is coming off very pro-MB&F, so let me balance it with the fact that I wished MB&F mass produced watches and that they sold them at a lower price. But nevertheless, as an individual trained in business and economics, I realize that may not be feasible economically for a small firm of only about twenty or so employees and the initial cash-outlay requirements. But it's evident, the team at MB&F strongly believe in the tortoise-approach. "Slow and steady wins the race."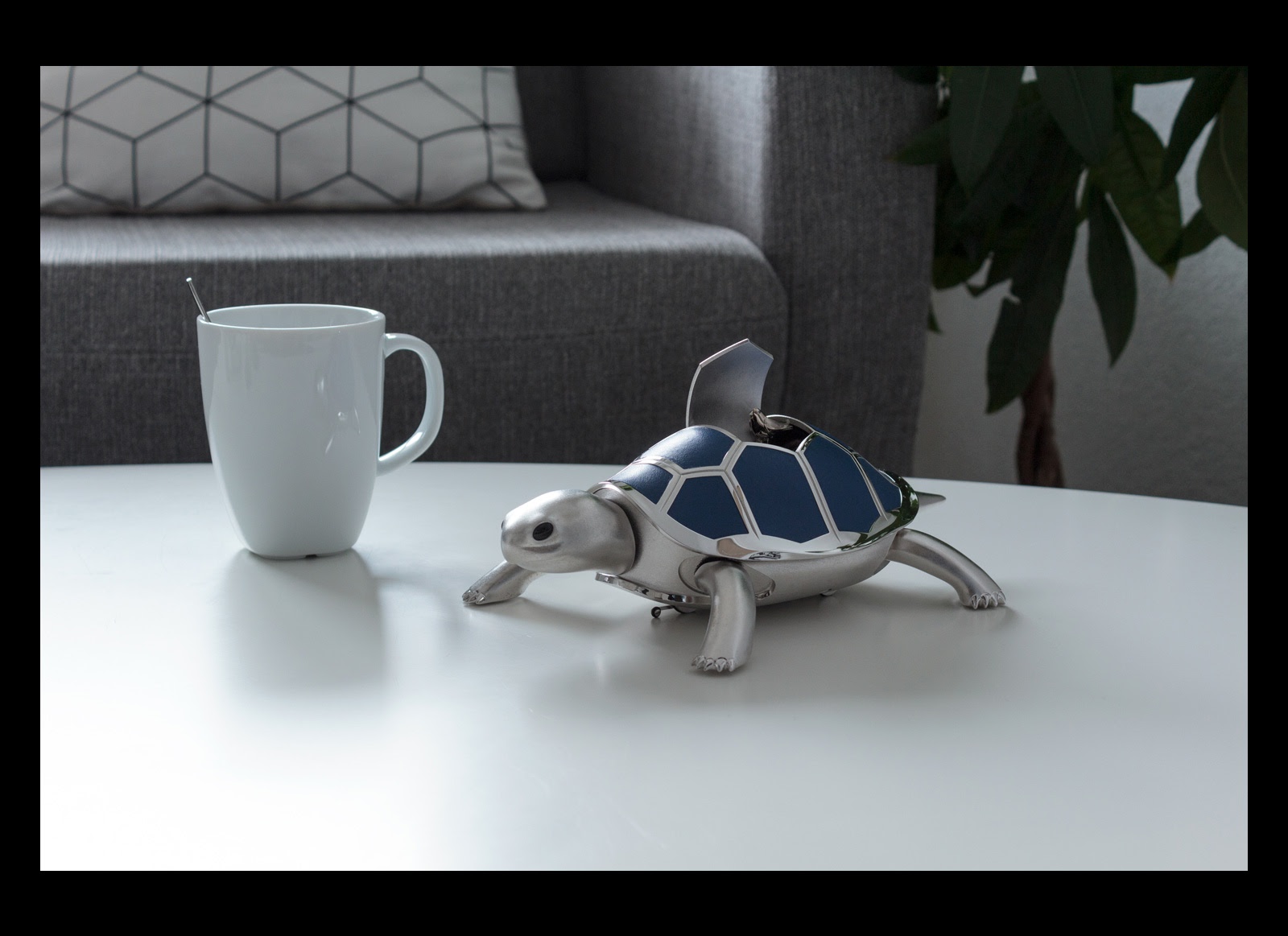 Kelys and Chirp. Another tortoise creation by MB&F and Reuge.
I hope you liked this article. And I hope it reminded you about ethics. As we're now navigating a very different world. It's amazing how much changes in just a few years. And it's amazing how much we took for granted only a few years ago! Hopefully the slow and the steady will continue to win the race in the future!

As always, I look forward to your comments.

Full Moderator Disclosure; I received no favors from the MB&F brand for writing this article and I am not an investor in MB&F.