Moderator Patrick_y interviews rising star independent watchmaker Vincent Deprez. A watchmaking prodigy who started working at Vacheron Constantin at the age of 15, to determine how thoroughly Vincent Deprez makes his watches on his own.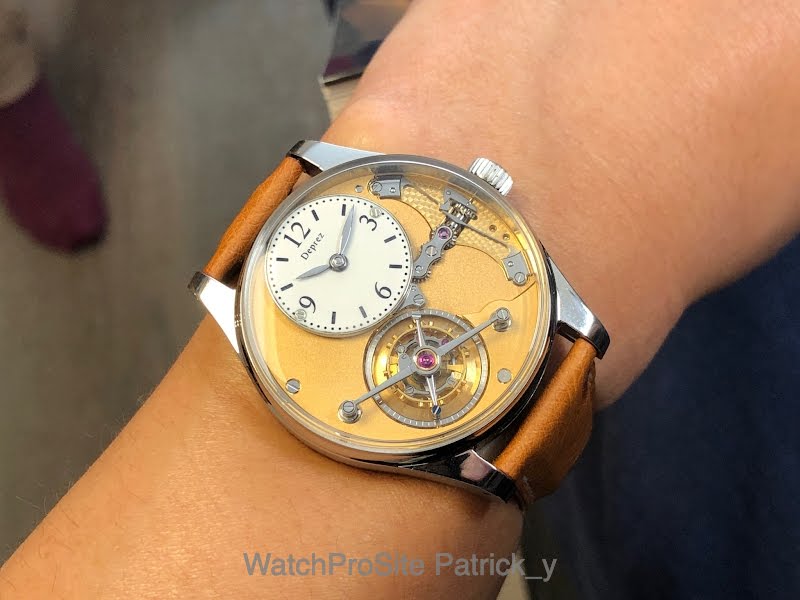 Would I make a nice wrist model? I think so. I'm enjoying a lovely Vincent Deprez timepiece on my wrist. Hopefully not for the last time.

A personal friend of mine and a true patron of fine horology with an eye for fine finishing insisted that I visit the workshop of Vincent Deprez. He stated that since I appreciate fine anglage so much, that I would be impressed with Vincent Deprez.
BACKGROUND and INDEPENDENCE
When I visited Deprez's workshops in Carouges about 40 minutes outside of Geneva, it was a quiet and peaceful countryside. In fact, at first I was afraid I had the wrong address, as it seemed to be too quiet and peaceful. Thankfully, when I knocked on the door, I was told I was at the right place. It became clear that Vincent Deprez was a young man with a lot of energy. Deprez's history already precedes him, he was a young watchmaking prodigy, a Mozart in the watch world who started his watch career at the age of 15, working at Vacheron Constantin. He then worked for Patek Philippe and today is in his early 30s.
Noticing Deprez's young age, I asked if he had any investors. "Non!" was the reply. Deprez informed me that he didn't want any outside influencers. So he has no business partners, no investors, and that any normal and sane investor wouldn't be pleased with the rate of return, so he wouldn't be able to find an investor anyways. I agreed – with a production rate of only 2-4 watches a year, there's not enough profit to satisfy an investor.
I then complimented Deprez's collection of production machinery and I asked him how he could afford all of this machinery without an outside investor. There were big industrial lathes, a dial stamper, even an enamel oven. Surely this equipment was all very expensive. Deprez informed he carefully assembled the collection of machines over the years at minimal costs – he bought some of the machines used. He used up all of his savings to buy machines. He even sold his prized Land Rover Defender vehicle – a vehicle that he enjoyed immensely, to purchase the machines. I consoled him, telling him the money went to a good place – and that I too liked big jeeps.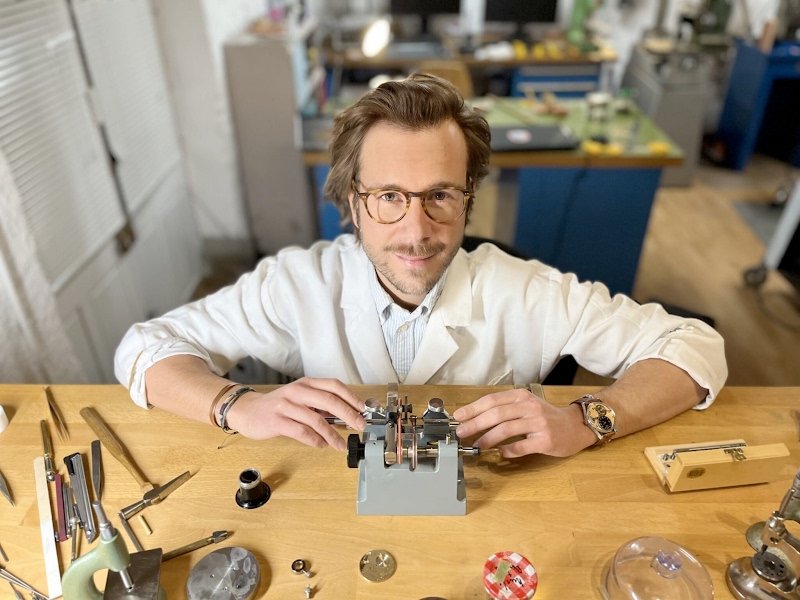 Photo Credit: Vincent Deprez Website

HE REALLY MAKES EVERYTHING IN-HOUSE
As an individual who has worked in the manufacturing space professionally, I have an understanding about economies of scale, costs, and more. To make everything in house, the costs skyrocket. As there is no economies of scale and Deprez has to own multiple specialized machines to make certain small components. Despite this, Deprez really does make almost all of his watch's components. After a lot of prodding and inquiries, I think I got the complete list of components he sources externally…
1. Screws – actually Deprez makes most of his own screws to my amazement. But there were some unusual sized screws that he told me he sources externally.
2. One unusually large and complicated gear is externally supplied. He doesn't have the machine to make this gear and thus, it has to be externally supplied.
3. One crown gear is externally supplied.
4. Strap and buckle are externally supplied – he doesn't sew his own straps nor tan his own leather.
5. Jewels are externally supplied.
6. Engravings on the movement are done externally.
7. Sapphire crystal is supplied externally.

But look at the amazing things that he does in-house. The case is almost entirely done in house (it gets sent out for some machining) and the case back is not a typical case back, it's a special design that has to sit flush with the rest of the case. Deprez has to micro-polish 1/10th of a millimeter at a time to make the pieces sit flush with one another.
The movement architecture is amazing and beautiful. Just about everything is made with Deprez's own hands. Even the dial is made in house. Deprez shows me cabinets of enamel powders, his enamel oven, and even his dial stamp. He really does it all in-house. Imagine the investment here, just to make 2-4 dials for 2-4 watches a year! These are probably some of the most underutilized tools in all of Geneva!
Furthermore, Deprez has no assistants. No apprentices. He already knows that he needs to back up his words with me, so he cites that he doesn't have the budget for headcount and that since he's not a famous brand, students find it more strategic to intern at a large brand. He responds to the emails himself, and he makes the entire watch virtually all by himself.
Patrick_y: Your finishing is marvelous. Can you show me your anglage technique?
Vincent Deprez: There are 8 interior angles on the back side and 6 interior angles on the front side. Teeth of steel gears are polished by hand. I perform anglage in the traditional way using metal files and diamond sandpaper. I enjoy anglage, as it is calming. I can sometimes do this for hours while listening to music.
Patrick_y: Tell me more about your dial design.
Vincent Deprez: The front of the movement includes the dial and the exposed movement. Dial enamel firing is done right here by me in this atelier using this oven. The dial is solid silver. The metal color of the movement is between yellow gold and rose gold. The plating treatment is done externally, as I do not have the electro-plating machine nor chemicals to achieve this.
Patrick_y: Why so few jewels? Only 15 jewels for your entire movement? Most watches have at least 17 jewels and some countries customs declarations require at least 17 jewels for importation tax benefits!

Vincent Deprez: Most consumers are under the impression that the more jewels, the better the watch. This isn't entirely true. The architecture of this movement was designed with simplicity and reliability in mind. Boiling the movement down to the essentials. Thus, through efficient design, only 15 jewels are needed. More could be added but there would be no practical purpose.
Patrick_y: How many watches can you produce?
Vincent Deprez: Currently, I'm still producing my first watch to be sold. This watch has taken over six months to produce. I haven't started on the second watch. I'm hoping this year I will be able to produce two watches. I feel that I can likely produce a maximum of four watches a year once I've gained more experience and optimized my production.
Patrick_y: Any plans to hire assistants or apprentices?
Vincent Deprez: To get good assistants you either have to promise a career path or pay a lot. I cannot pay a large wage. Thus, any good watchmaking assistant would want to cut their teeth at a large brand.
Patrick_y: Any plans to work with retailers or agents?
Vincent Deprez: At this time I have no plans to work with retailers nor agents. I will represent my work on my own for now. (Sidenote: I find this agreeable, as there's not enough margin for Deprez to give to a retailer nor an agent).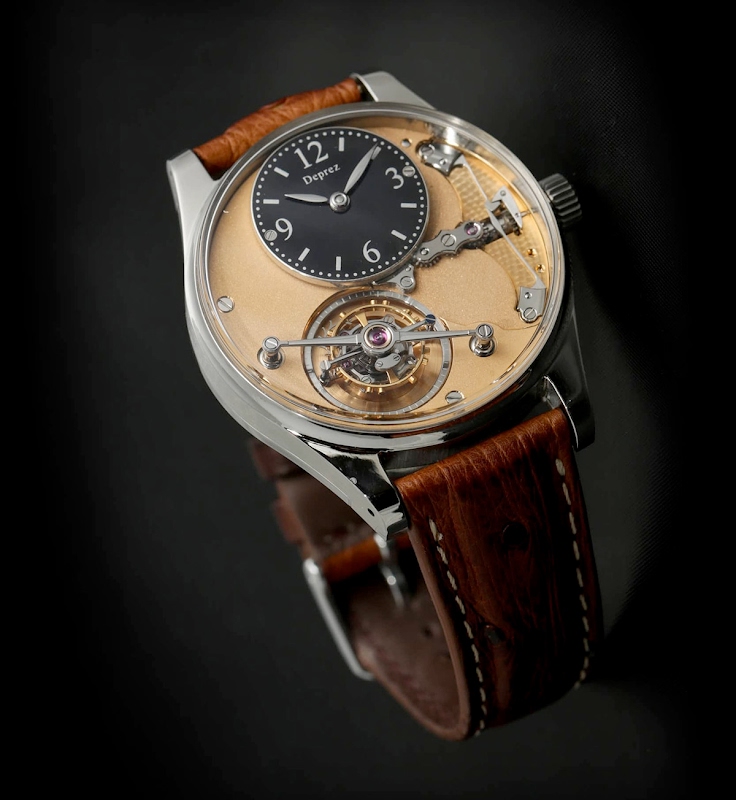 Photo Credit: Vincent Deprez website. This is the blue dial variant. It's a deep dark blue color. It almost looks grey/black.

FINAL THOUGHTS
It's very difficult to put into words the amazement I saw that afternoon in Carouges. I spent about 90 minutes to travel to see Deprez, but I wouldn't have regretted making a dedicated trip and flying half-way around the world to see him. I was staying in Lausanne that night, and was trembling throughout the 90 minute journey at the greatness I had just witnessed. I am convinced Vincent Deprez will be one of the future great watchmakers. And even as I type this report in San Francisco, 5000+ miles from Geneva, I still get a trembling feeling when I recall my very thorough and nearly four-hour-long interview with Vincent Deprez. Finally, a true one-man-show who really does just about everything in-house. The work is exquisite and it's truly almost entirely done in-house. Bravo Vincent Deprez. Bravo. And the fact that Deprez debuted with a Tourbillon is all the more astounding. Beyond Bravo!

Pricing starts at 89,500 CHF. For technical details and inquiries, please go to