The internet is a wonderful information source when looking for details on subjects not covered by main stream publishing. About two years ago I spent some time to gather information on independent master watchmakers from websites, particularly reports about atelier visits (to copy and print for more convenient access when researching, or for reading at a convivial place). It looks like a good move, because in the meantime many photos on the web are no longer accessible since Photobucket has changed licencing policies, taking crucial information from these articles. And the articles on the original Purists website seem likewise to have vanished, or are no longer or not yet again to be enjoyed.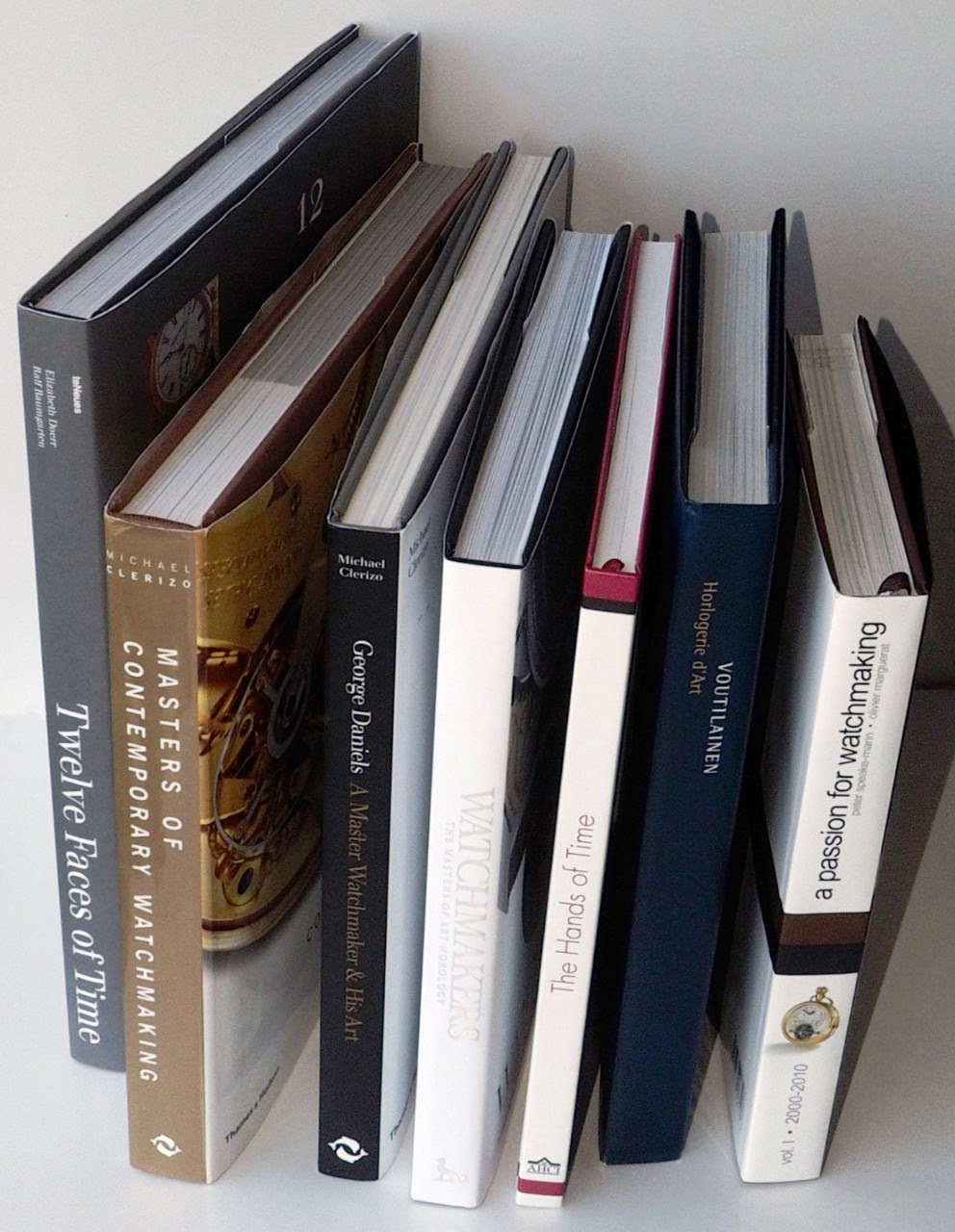 Therefore, the printed books are for me still the medium to save knowledge in the longer term. What is published on independent watchmakers is in any case irresistible to me. The following listing/review helps perhaps a bit to decide if it is worthwhile to look for any of these books to add to the home library. Availability and current prices can be checked through the sources listed at the end.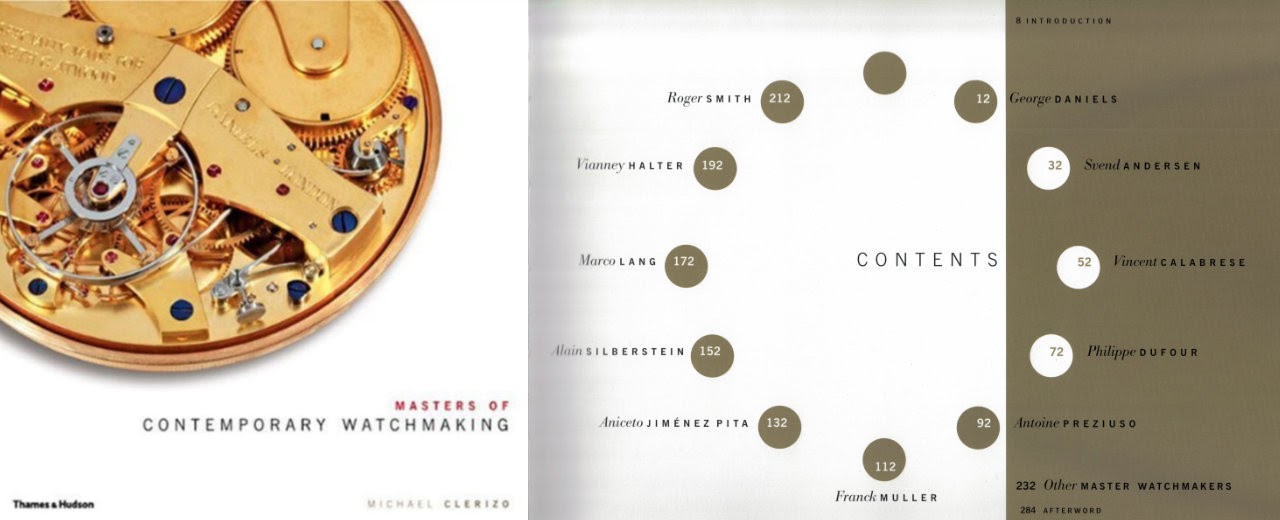 Clerizo
, Michael. Masters of Contemporary Watchmaking. London: Thames & Hudson, 2009.

ISBN 978-0-500-51485-6.

302x302. Hardback with dust jacket.

292 pages.

Colour and black & white photos.

Glossary.

Index.

English.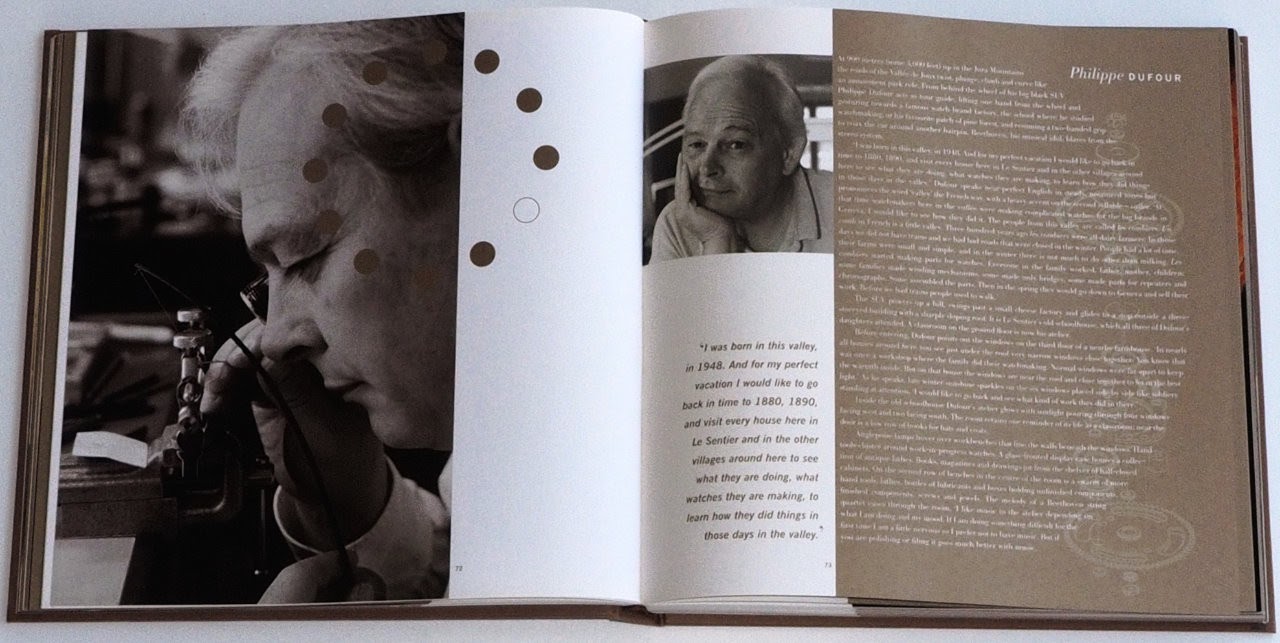 The book covers in detail: George Daniels, Svend Andersen, Vincent Calabrese, Philippe Dufour, Antoine Preziuso, Franck Muller, Ancieto Jiménez Pita, Alain Silberstein, Marco Lang, Vianney Halter, and Roger Smith. Shorter entries (in the chapter "Other Master Watchmakers", without extensive text) show the work of Felix Baumgartner/Urwerk, Aaron Becsei, Nicolas Delaloye, Romain Gauthier, Paul Gerber, Greubel Forsey, Richard Habring, Beat Haldimann, John and Stephen McGonigle, Rainer Nienaber, Thomas Prescher, Daniel Roth, Stepan Sarpaneva, Peter Speake-Marin, Andreas Strehler, Christiaan van der Klaauw, Kari Voutilainen, and Volker Vyskocil.
For an enthusiast, who considers adding a watch by an independent watchmaker to the collection for the first time, this book could be the best source due to its wide scope combined with an abundance of excellent colour photos presented in a big format. The size of the book (including its weight) and text arranged in a gimmicky way to fit into a round shape (round as a watch…), printed in white on a gold coloured background, makes it almost unavoidable to sit at a table or desk with good lighting to study the information offered.
Technical information to go with the watches shown is limited to describing captions adjoining the photographs. The photographs themselves give an overview of the oeuvre of the watchmakers, showing also watches made early in their careers (what is particularly interesting with masters like Franck Muller, whose name is nowadays associated with completely different watches). The coverage of the "Other Master Watchmakers" is limited to this presentation of the watches (plus a portrait photo) through colour photos on glossy paper. This abbreviated presentation is still rather helpful, since information on, e.g., Aaron Becsei, Nicolas Delaloye, Paul Gerber, or Volker Vyskocil is not often found.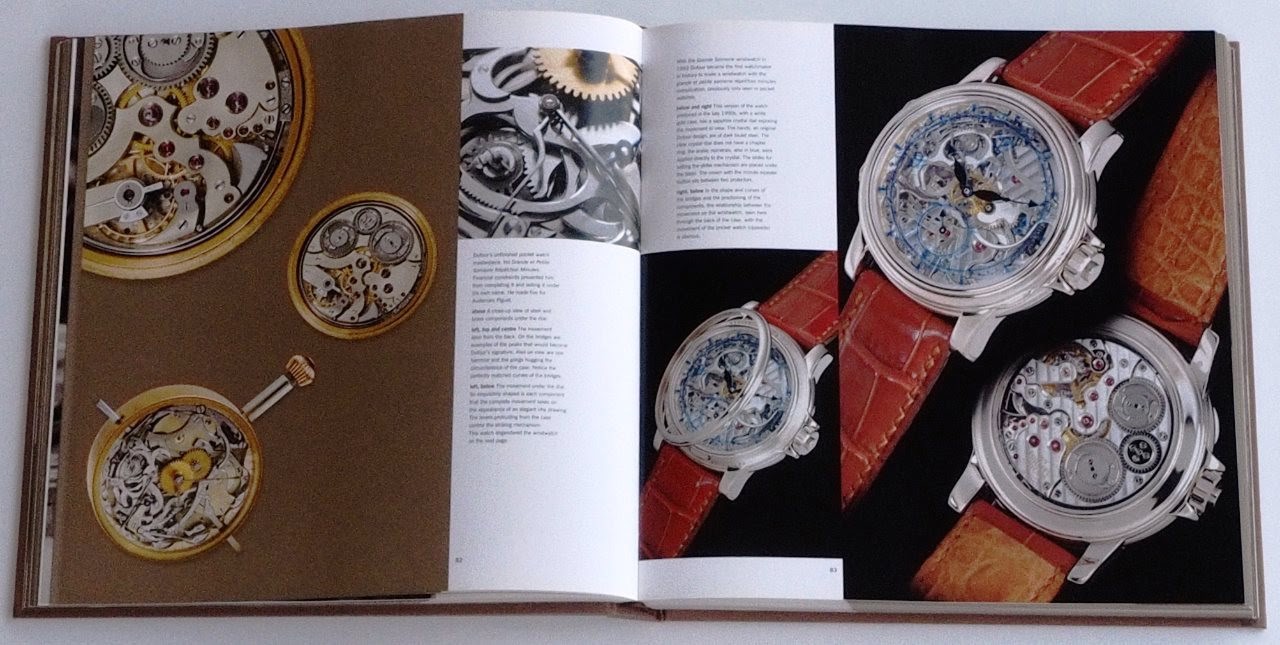 Michael Clerizo states correctly right at the beginning of his Introduction that the book is "about people". "I wrote this book to record the struggles and successes in the lives and work of eleven people.", which relates to the group of master watchmakers more extensively featured.
To read the eight pages (of text) each on these watchmakers feels like sitting there and personally listening to them. This is a trick of Clerizo's writing style: The majority of text is direct quotes of the presented persons, strung together and arranged into a "flowing" speech. In these "connecting" words Clerizo describes the location (like the atelier) where he met for the interviews, and gestures of the masters. For the reader the frustration of Clerizo to get something meaningful out of Franck Muller, for example, becomes palpable.
The professional history of the interviewees is recorded, catching as well the characters and the different philosophies (showing up in the watches too). This is laboursome reporting. In an interview Clerizo told to have spent usually eight hours, often stretching over two days, with the masters for these portraits. And this in addition to communications via telephone and email. All these efforts paid off, because the reader learns now about "the inspirations and methods of these master watchmakers, but also the why and the how of their watchmaking". The book is therefore something completely different to what you get usually with all these brand sponsored watch books full of marketing speak, without the details I love so much and which I found in every sentence of Clerizo's text.
After reading

Clerizo's

book, I felt to know the watchmakers, even when I had not yet met them personally. To add the technical specifications of their watches to this knowledge, you can indeed help yourself (as

Clerizo

suggests) by consulting the Internet.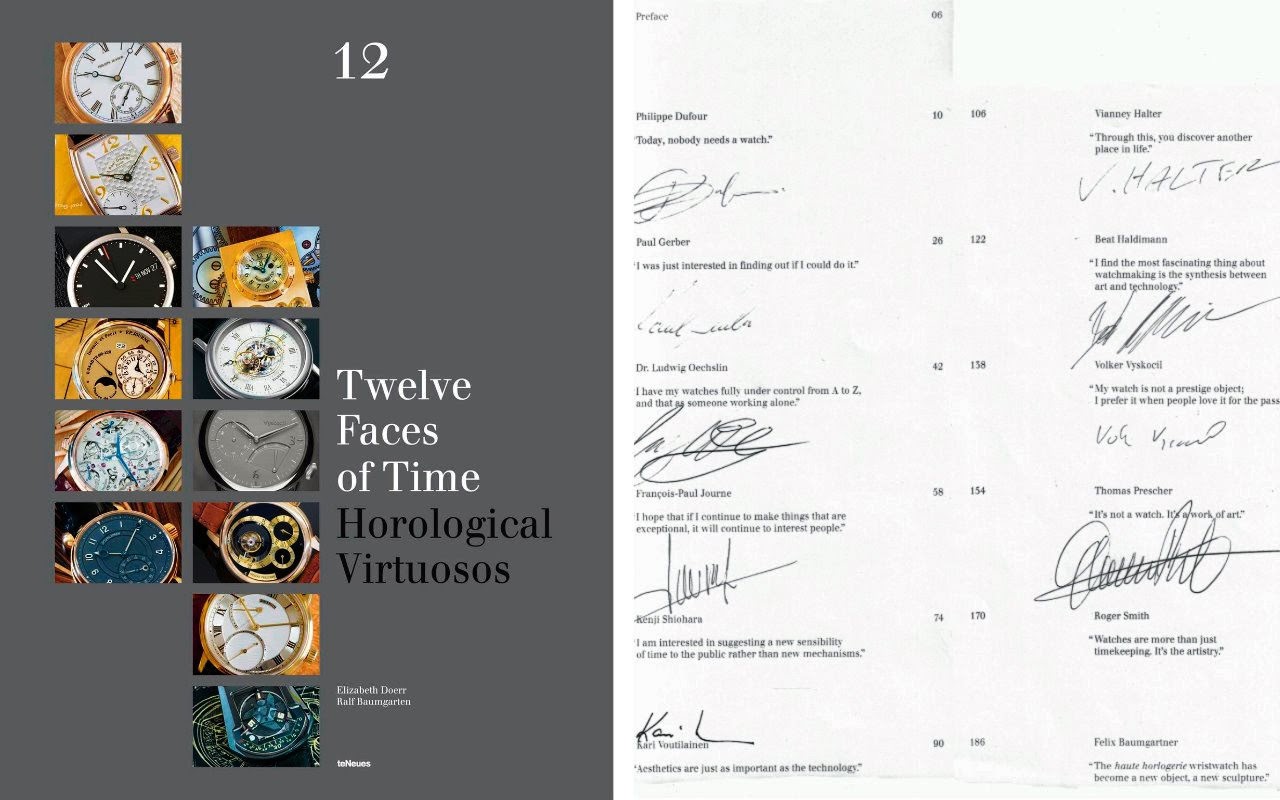 Doerr, Elizabeth, and Ralf

Baumgarten

.
Twelve Faces of Time: Horological Virtuosos.

Kempen

:

teNeues

, 2010.

ISBN 978-3-8327-9373-9.

265x347. Hardback with dust jacket.

207 pages.

"Colour" photos.

English.
This book features Philippe Dufour, Paul Gerber, Ludwig Oechslin, François-Paul Journe, Kenji Shiohara, Kari Voutilainen, Vianney Halter, Beat Haldimann, Volker Vyskocil, Thomas Prescher, Roger Smith, and Felix Baumgartner.
Elizabeth Doerr gives in a "Preface" of four pages a short historical introduction (describing where the portrayed watchmakers advanced the art with their watches), highlighting also the AHCI as a "tool" to draw more attention to these master watchmakers. Part of this preface are brief paragraphs discussing for what the featured watchmakers are best known, in a way explaining why they are in the book. Doerr mentioned to have chosen the horological artists featured in the book "to show a broad spectrum of what it means to be an independent artist: geography, experience, age, and approach were all factors".
This is followed by 192 pages, the main body of the book, with the photos of Ralf

Baumgarten

getting prominence. While his atmospheric photos are so much reduced in colour to appear as black and white, they are an interesting mix of portraits, some glimpses into the ateliers or the area the watchmakers live. Now and then some watch parts or tools slip in. Though, only one finished watch of each watchmaker is shown.

Baumgarten

was of the opinion that the focus should be on the watchmakers themselves rather than their products. The print on matte paper is thus fitting, because the book is not read to find out about all the tiny details on the watches, for which full colour photos on coated paper would be preferred.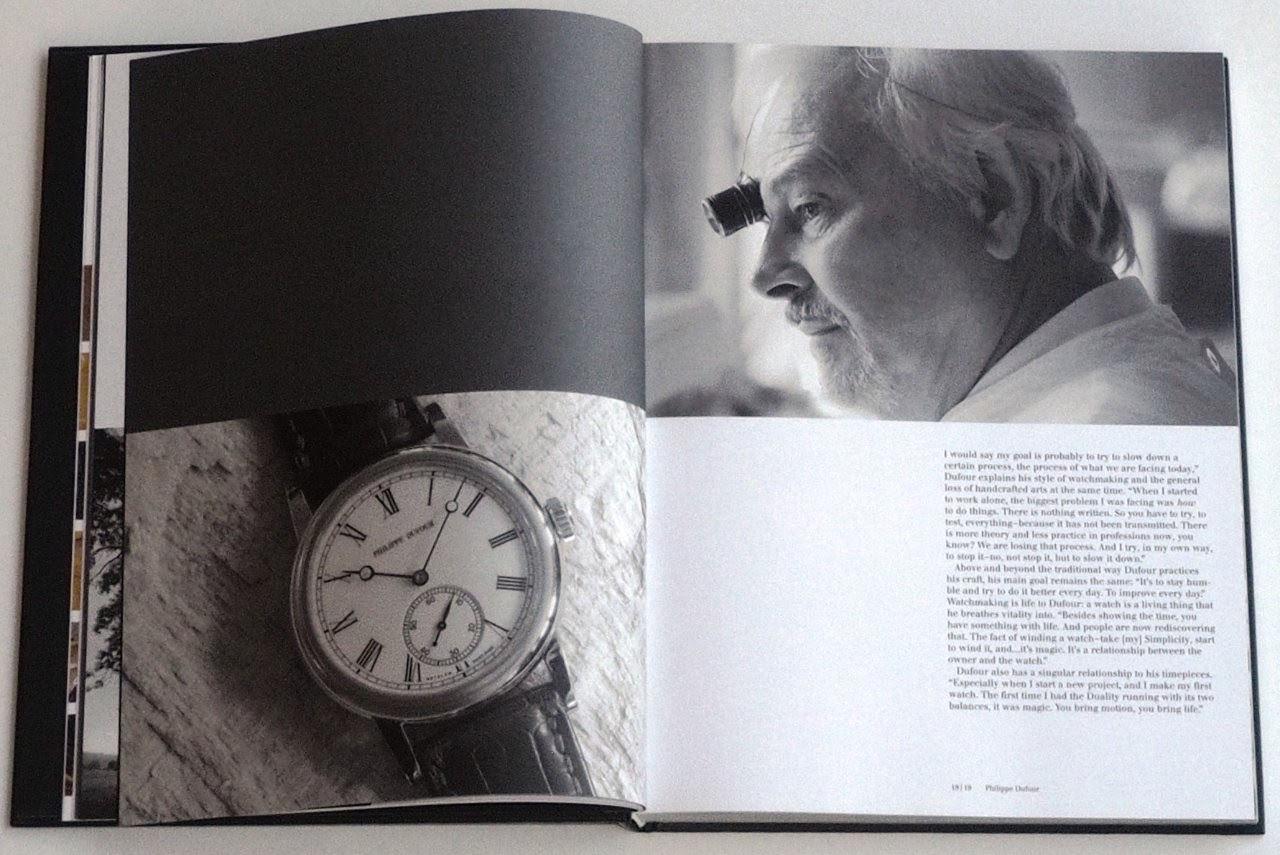 The stylish layout of the large format pages (the book won an IF design award) leaves a lot of "white" spaces, interspaced with relatively short texts that consists mainly of quotes. Through these the watchmakers explain in their own words the philosophies applied to life and the watches they make.
Checking the concise texts against my own experiences with some of the masters showed that the few words distil the essence of their characters. The book is not an extensive treatise about the life and work of the watchmakers covered. It does not feature their watches, either by detailed photos or by explaining texts. Doerr remarked, "the goal here was not to become an encyclopedia or compendium." This publication, though, manages to create a wonderful atmosphere, and I got the feeling, the masters were found relaxed and in love with their work in the ateliers (photographer and author travelled mostly together to visit each of these artisans). The approach resulted in very personal statements, even giving deep insights about struggles and disappointments in the watchmaker's professional life. When talking about the philosophies applied to their watchmaking, the reader is treated to very concrete views. Like the one of Dufour: "I would say I don't reject any technology. […] If you have a component, for example, coming from a CNC machine, it's what you do to that component, you know? And, in fact, the value of the product is – beside the cost of the platinum case, say – what we add, in time and to make things perfect; the bevelling, the edges, the sinks around the jewels, everything." The photos reveal other interests of the masters, for example Paul Gerber's love for the Fiat Multipla cars. The reader can therefore learn a lot by reading the text attentively and taking the time to look for details in the photos. Doerr mentioned that writing texts distilling the lives and philosophies of the watchmakers down to about 1'000 words each, is much harder than it might appear.
The CVs, awards won and the model names of the watches in the masters' oeuvre are presented at the end of the book in tabled form. "I satisfied my own need for completeness by adding a catalogue-like section in which I listed all the artists' watches and accomplishments", explained Doerr.
The book wants to "appeal to both people already experienced in the world of watches and people just getting into watches and maybe looking for something different: watchmakers with very personal stories to tell". I believe that a collector who wants to get more "into" a watch already in the collection will enjoy it most, because the personal stories and atmospheric photos help to relate with the watch. On the other hand, an enthusiast looking to enter the world of independent watchmaking for the first time will likely not find enough details to decide in which direction to go, not the least because there is no selection of watches presented in a way to help find a design that fits one's own taste.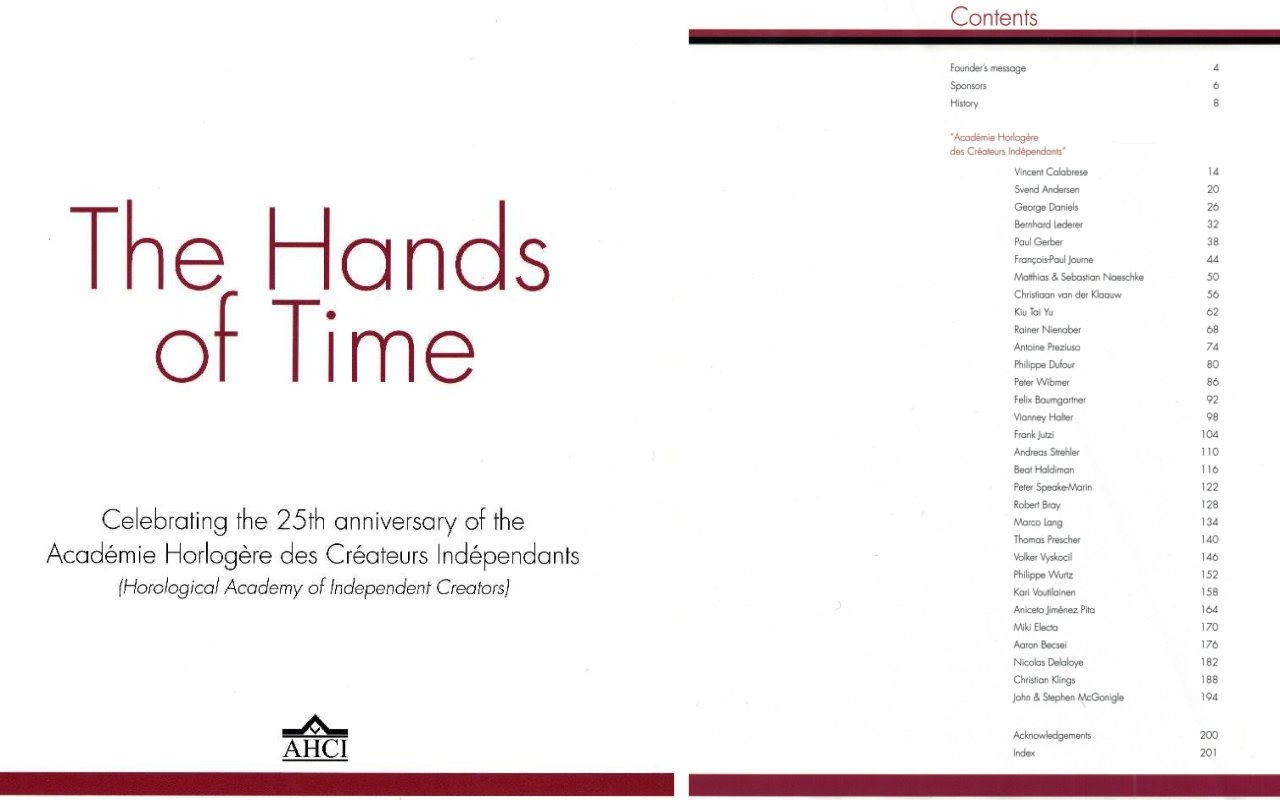 Skellern
, Ian. The Hands of Time: Celebrating the 25th anniversary of the

Académie

Horlogère

des

Créateurs

Indépendants

(Horological Academy of Independent Creators).

AHCI, 2010.

ISBN 978-2-8399-0628-9.

246x295. Laminated boards.

201 pages.

Colour photos.

Index.

English.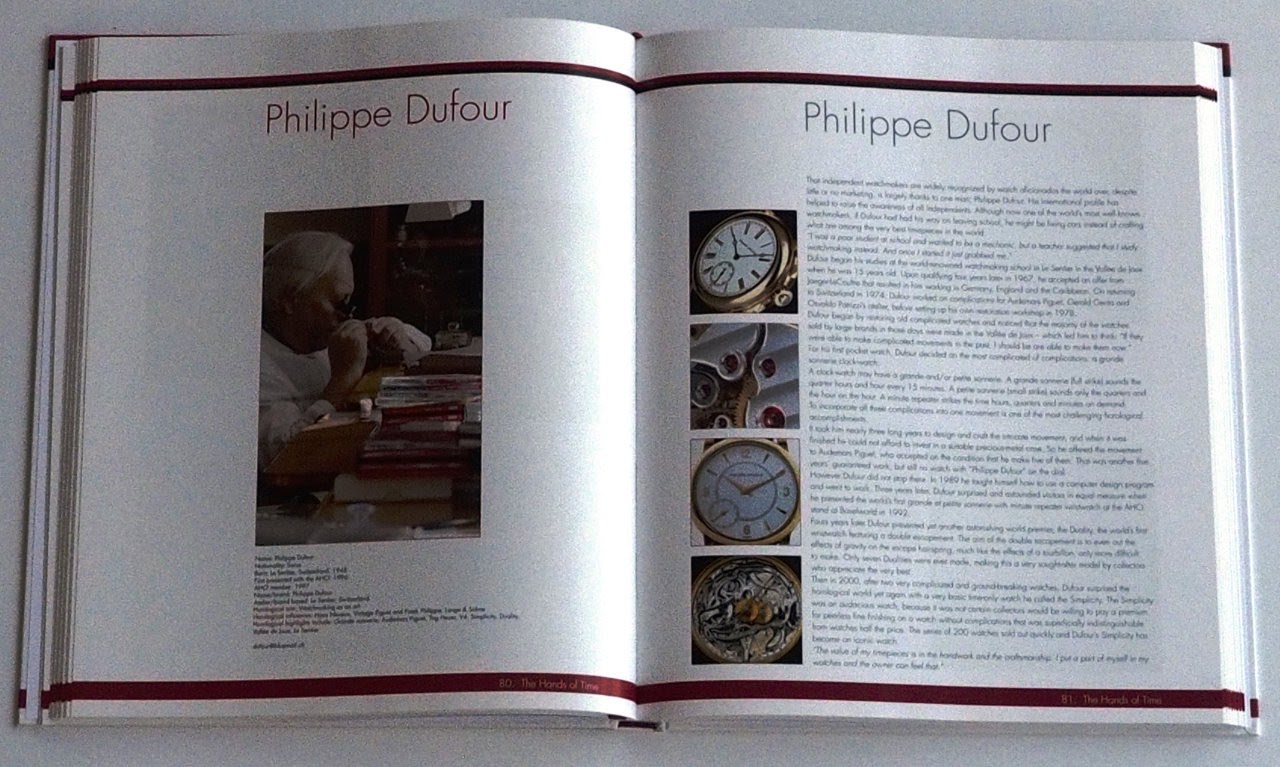 The book is about the master watchmakers being members of the AHCI at the time of its publishing. This includes rarely featured creators of wristwatches, like Bernhard Lederer, Christiaan van der Klaauw, Kiu Tai Yu, Volker Vyskocil, Nicolas Delaloye, and Christian Klings. The full list is on the Contents page (shown above).
On eight pages (including prefaces by Vincent Calabrese and Svend Andersen) the history of the AHCI is told, illustrating the commercial background for independent watchmakers in the early 1980s, namely the problem to finance or get publicity before the age of the Internet. This is followed by a presentation of the 31 AHCI members, each one getting six pages of the book. The texts are limited to one page each, charting the professional career of the watchmakers chronologically. Only a few quotes are used, though, they can be quite revealing how the AHCI member ticks, like the one of Svend Andersen: "Ninety per cent of my inspiration comes from people asking if something is possible. I never say no, I will always think about it." The portrayed masters were all asked to fill in the following questions: Horological aim; Horological influences, Horological highlights include… Predictably,

Breguet

and

Janvier

are mentioned regularly as influencers; the answers to "Horological aim" added more to my knowledge. So, the reader can get quite some insight into the philosophies and the ideas of these watchmakers through just a few words.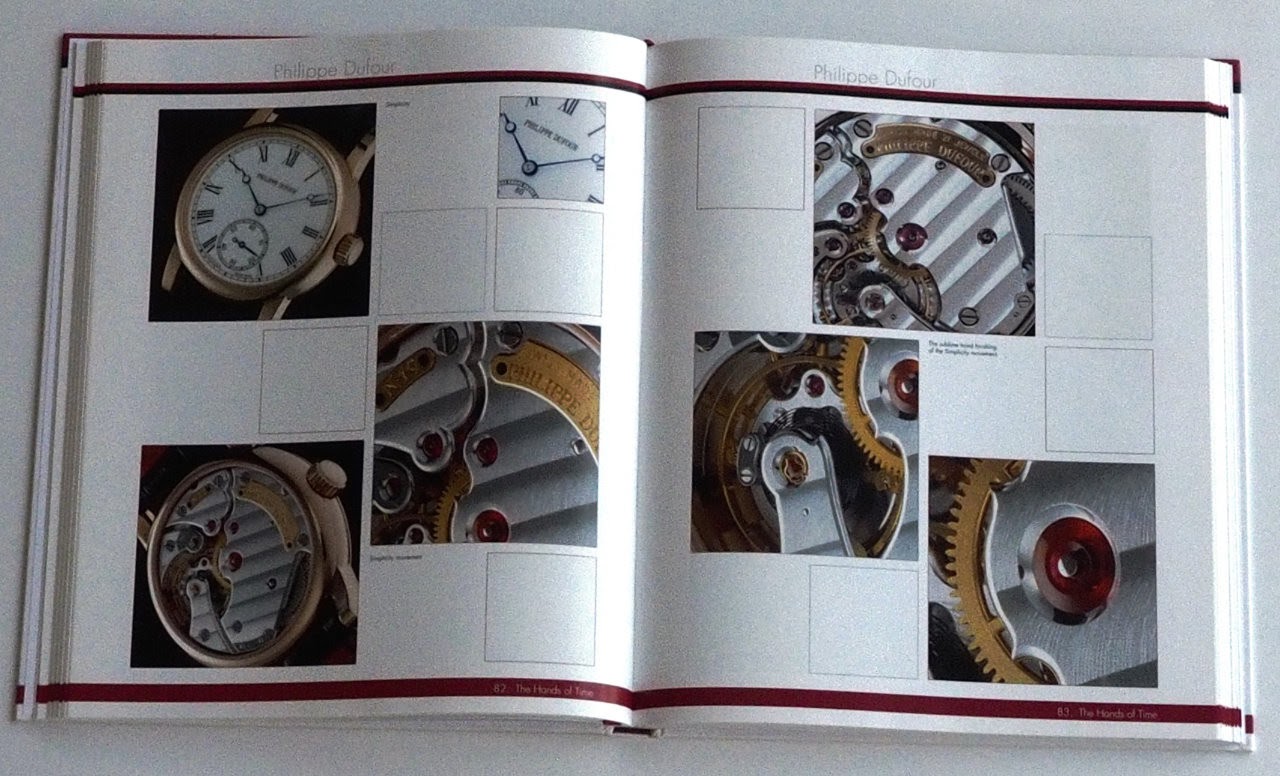 The further five pages dedicated to each watchmaker are used to show a selection of his watches. This parade goes back to the first watches or clocks created, what is more interesting for me than just to seeing the current models.
The book is printed on coated paper, giving an excellent basis for colour photographs. The watches and details of them are shown with photos of a good

size,

however, the captions give only the absolute basics (like the model name of the watch). In view of the remaining white spaces on the pages this seems a pity. The book would offer so much more if detailed captions had brought a technical element into the book. The photos themselves (a mixture of those made for the press and others taken by Ian

Skellern

) show the offerings of the masters well. For this alone, I regard the book as a helpful reference. Enthusiasts could familiarize themselves with the different styles of the creations and see how the collections evolved. With a publishing date of 2010, the use of the book as a catalogue will ask for an update about the current collections via the websites of these masters.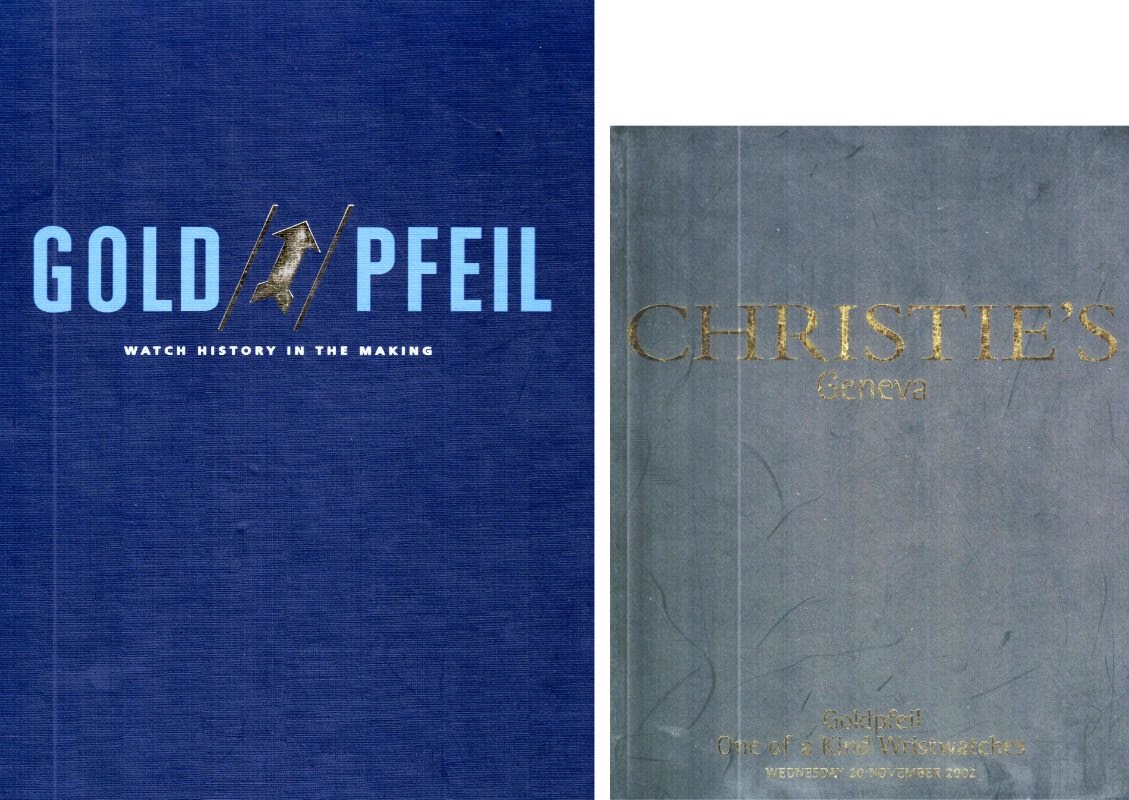 Jacquet
, Susan. Goldpfeil : Watch History in the Making.

Goldpfeil
, 2011.
247x325. Laminated boards.
150 pages, Colour and black & white photos.
English.
Included: film DVD (30 minutes)
Christie's.
Goldpfeil : One of a Kinder Wristwatches – Wednesday, 20 November 2002.

Auction Catalogue.

211x267. Paperback.

54 pages (30 pages relating to watchmakers and their watches). Colour photos.

English.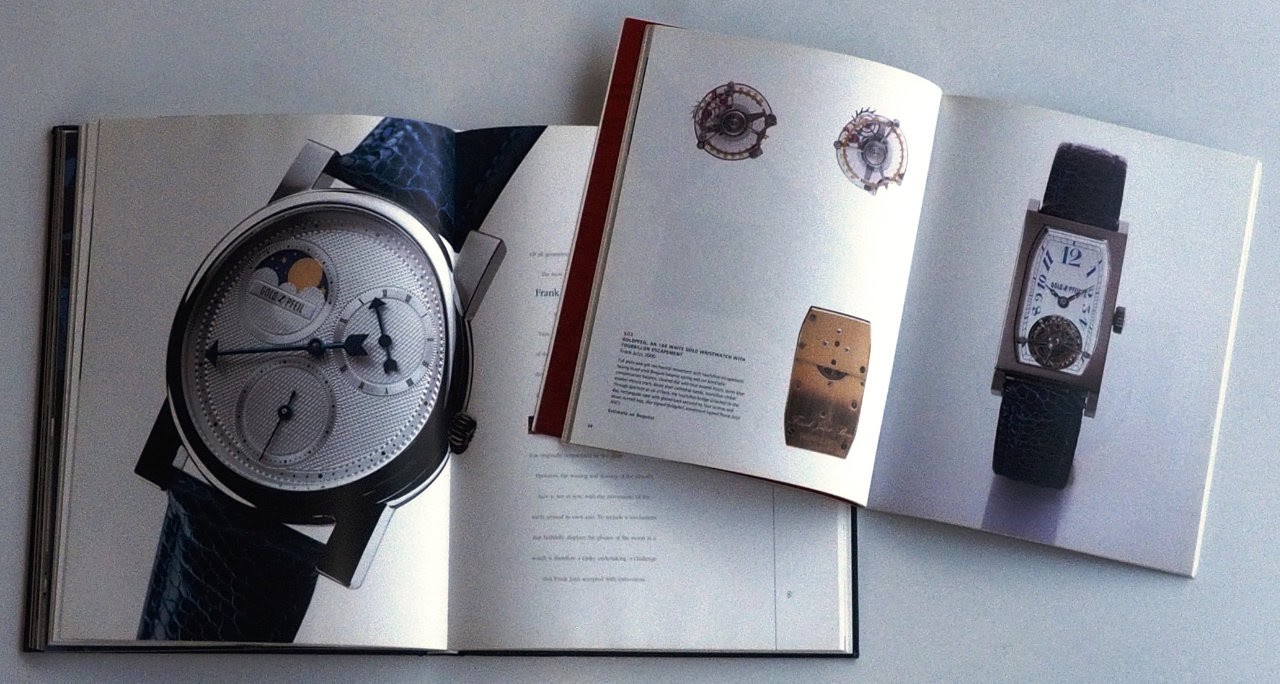 The book portrays: Svend Andersen, Thomas and Felix Baumgartner/Martin Frei, Vincent Calabrese, Vianney Halter, Frank Jutzi, Bernhard Lederer, and Antoine Preziuso.
This project started in 2000. Seven AHCI members were hired by Goldpfeil-Egana respectively "had agreed to rise to the two-fold challenge". The "twin-commission involved each watchmaker developing and crafting a one-a-kind watch featuring a level of aesthetic and technical sophistication worth to be part of a unique collection that would tour the world before being auctioned, as well as an exclusive watch specially created and jointly bearing the watchmaker's signature and the Goldpfeil name". Goldpfeil wanted to make a name in haute horlogerie with this project.
Each of the participating watchmaker gets first six pages describing the watchmaking career with many details. In this part of the book key watches in collections are mentioned without elaborating on technical details. Again, the philosophies these masters build on when creating watches are well described. There was real effort put into offering useful and interesting information, and not just some rambling to promote the commissioned watches. The presentation of Goldpfeil as sponsor is limited to six pages of factual text.
All of the "one-a-kind" watches are then presented on four pages each with a couple of big photos (including some details) together with a description. In this part the ideas behind the creations are briefly described. The limited edition watches get six pages each, with the same presentation form.
The main texts in Christie's auction catalogue are extracts of the book; on the other hand, the photos of the unique pieces are different ones, showing in addition the backside and details not illustrated in the book.
The auction staged in Geneva was a complete disaster, only Frank Jutzi's Tourbillon watch selling. After touring the world with the collection for two years, the auction came at the end of (another) watch boom. "Goldpfeil" was deemed to be a no-name in the world of complicated horology when the buyers moved back to established brands.
The book is printed on coated art paper for an excellent reproduction of the photos. It is a quality production (also content wise), which gives the conviction that the intentions of Goldpfeil were earnest but coming at the wrong time.
For me (who likes to work together with watchmakers on commissions), this book and auction catalogue are excellent documentations of a fascinating project, even though I got the impression that some of the watchmakers involved were perhaps looking a bit for an easy way to submit their contributions. I found it for this documentation worthwhile to track down the publications to add to my reference library on independent watchmaking.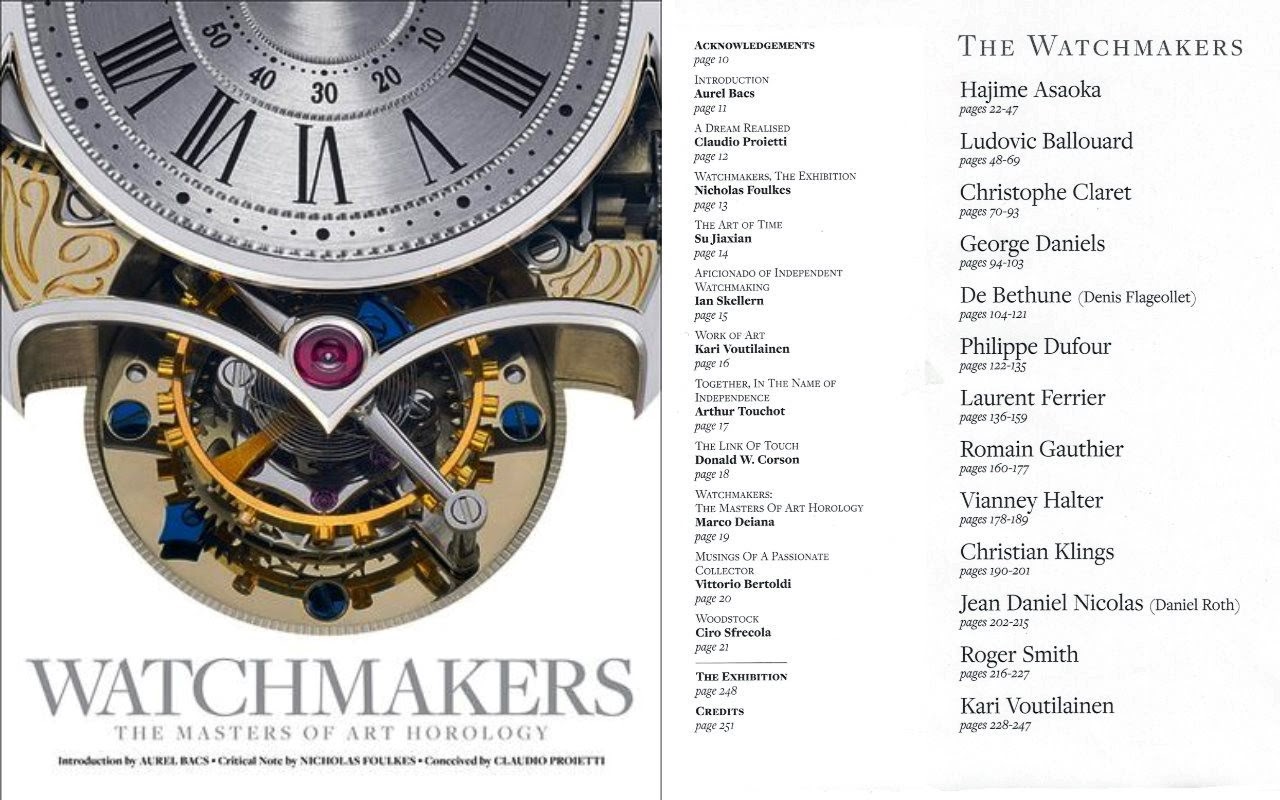 Maxima Gallery.
Watchmakers: The Masters of Art Horology. New York: ACC Art Books, 2018.

ISBN 978-1-85149-907-6.

252x296. Hardcover with dust jacket.

252 pages.

Colour photos. English.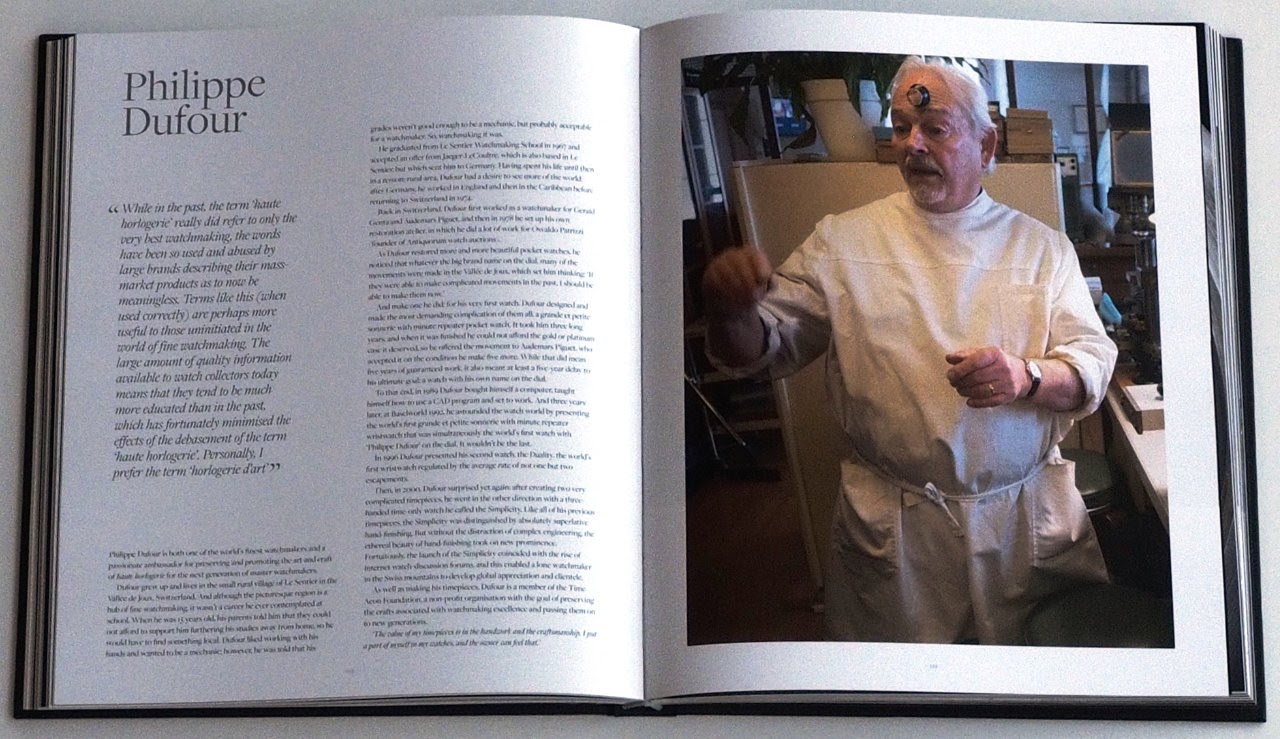 Participating in the travelling exhibition of 2018 organised by Maxima Gallery of Rome are the 12 living watchmakers as per contents list (shown above), plus George Daniels represented by one of his watches. The book was commissioned to accompany this show, the highlight being the colour photos of Guy Lucas de Peslouan (the Dufour Simplicity is photographed by Gary Getz). This photographer is well known in the watch industry, with more photos of him accessible, e.g., on the website "The Naked Watchmaker" of Peter Speake-Marin. De Peslouan is seeking perfection, what sometimes leads for me to an almost sterile presentation, making it difficult to imagine how the watches might look like on the wrist. Though, they show every detail in full focus and are not "arty" in the sense of creating an atmospheric shot not showing a lot of the watch itself. The print on glossy art paper is superb. It is easy to fold up the book to enjoy the large format photos, because the thick paper it not stiff.
Aurel
Bacs writes in the Introduction about the independent watchmakers: "Their reputations are on the line with every watch they produce. […] In return, they have given collectors the greatest of luxuries, the gift of choice." The organising gallerist Claudio

Proietti

, together with horological author Nick Foulkes, Kari Voutilainen and other enthusiasts (like this forum's Don Corson), offer their personal views on one page each to introduce the theme of independent and artisanal watchmaking. Nick Foulkes, who is usually writing about the bigger brands, voices a succinct opinion on independent compared to mainstream watchmaking: "What I prize about this sort of watchmaking is its character. The dictates of contemporary commerce seem to demand that products are, in the argot of modern marketing, as un-segmenting as possible, while still retaining some of the character of the brand whose name they are made under. It may be overly cynical, but I sometimes wonder whether there is a sort of diabolical mathematics at work, a formula that evaluates the removal of character against sales numbers and manufacturing costs. By contrast, these watches by artist-makers […] burst with character and interest." Just the reason to check out what the independents can offer!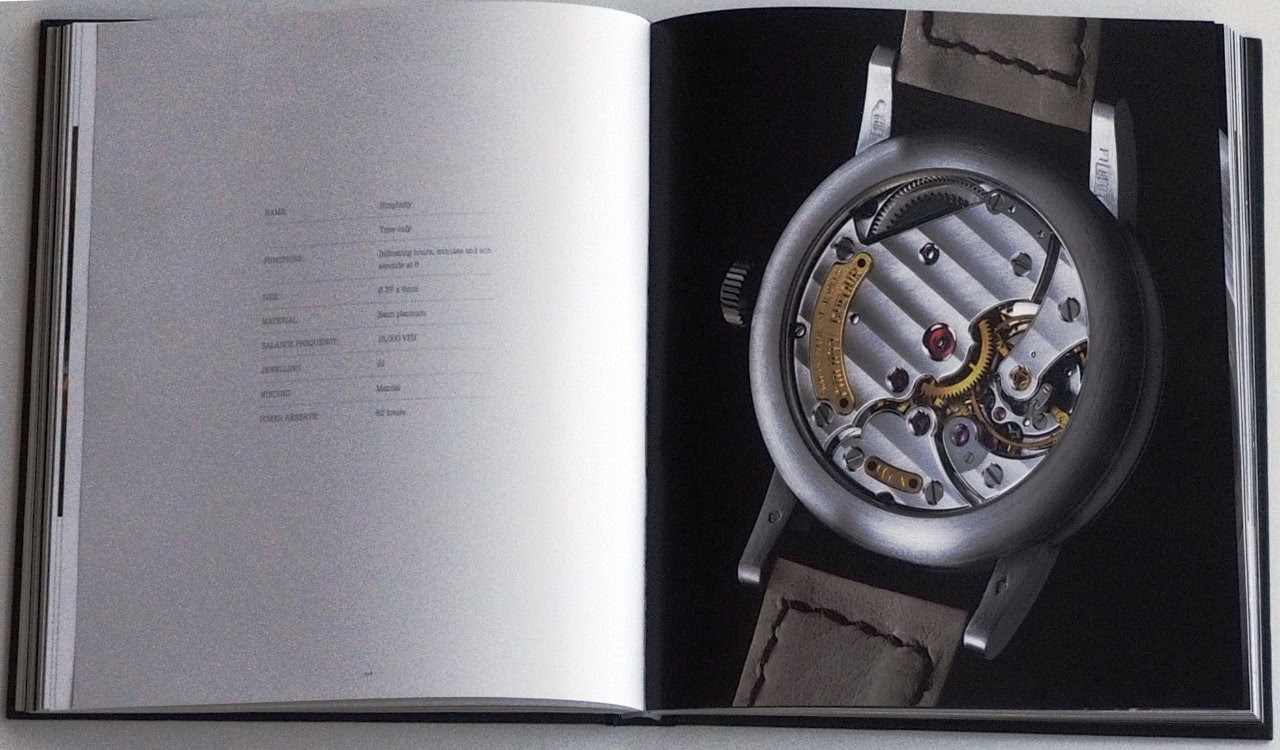 The other texts in this part of the book preceding the individual portraits of watchmakers and their watches are also quite interesting to read, because personal views are given. The subsequent chapters on the watchmakers in the show are 20 to 26 pages long each (Daniels only 10), with one page of text, providing details of their career, their watchmaking philosophies or creation procedures; some of the watch models get then a few lines of text. These texts are rather diverse: Some are most interesting, offering a lot of insight (like those on Asaoka or Flageollet), others are rather sparse and could have been taken from a press release (like the one on Ferrier). The rest of these individual chapters are made up with photos taken in the ateliers (1 to 4 photos each) and, mainly, studio photos of the watches on show in the exhibition (1 to 3 models, depending on watchmaker), including macros of movements. The only texts to go with these watch presentations are very basic specifications plus some additional quotes from the watchmakers used as a graphic element in the layout.
The book is not an exhaustive treatise of independent watchmaking due to the limitation of the portraits to only 13 masters. Yet, I love the book for its superb production, as one is more accustomed to publications on art themes. So it might be worthwhile to get a copy just to drool from time to time in an idle moment.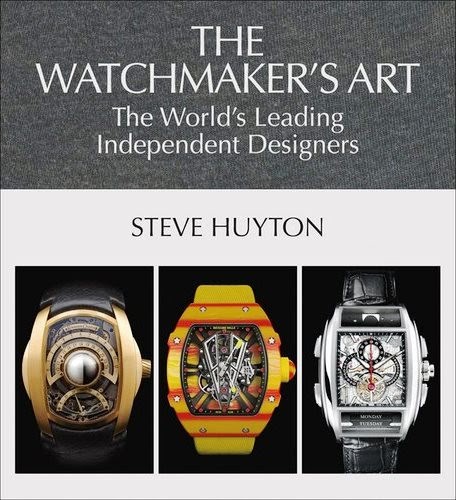 Huyton, Steve. The Watchmaker's Art: The World's Leading Independent Designers. New York: ACC Art Books, 2019. ISBN 978-1-85149-898-7. 235x260. Hardcover. 240 pages. Colour photos. English.
How is the saying? E-CH" lang="EN-GB">You wait ages for a bus… Publisher ACC Art Books has already announced the next title on independent watchmaking for April 2019!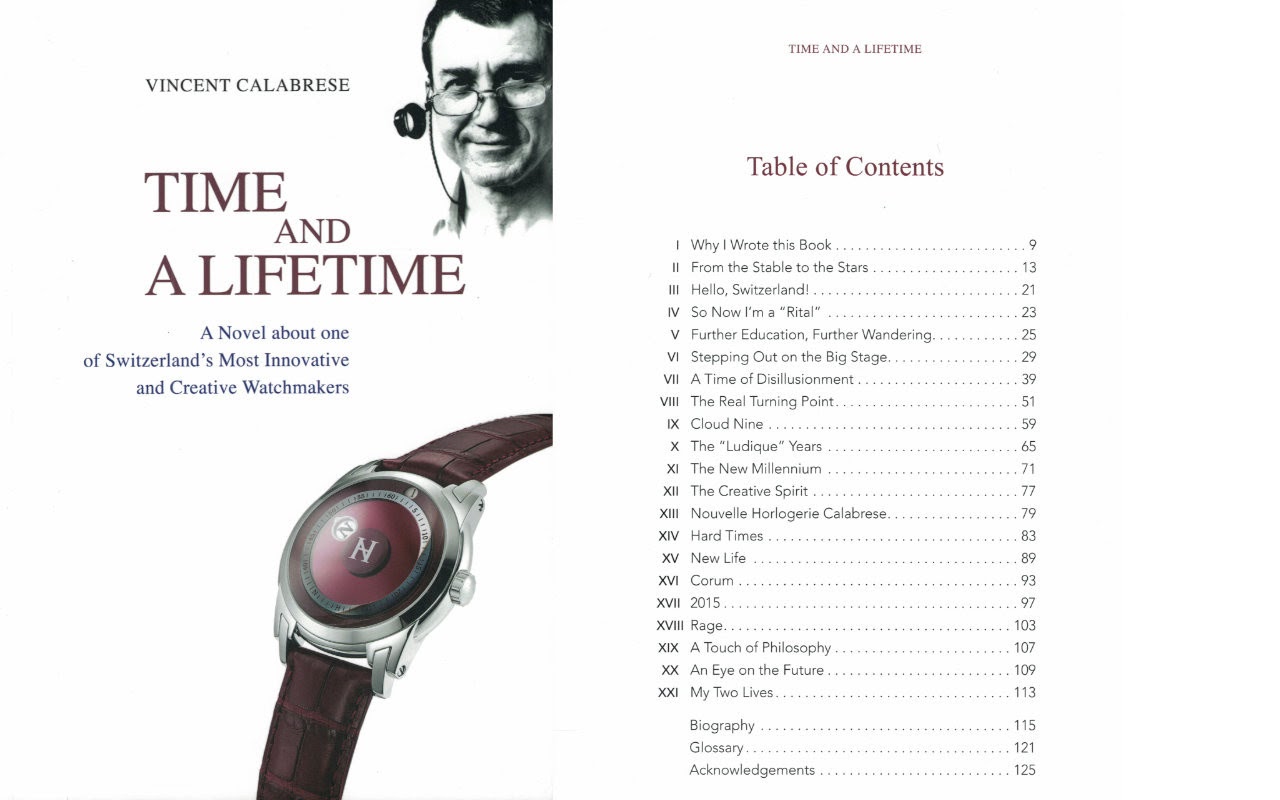 Calabrese, Vincent. Time and A Lifetime: A Novel about one of Switzerland's Most Innovative and Creative Watchmakers. La Croix/

Lutry

: Watchprint.com , 2017.

ISBN 978-2-940506-18-7.

165x235. Paperback.

126 pages.

Colour and black & white photos.

Glossary.

English.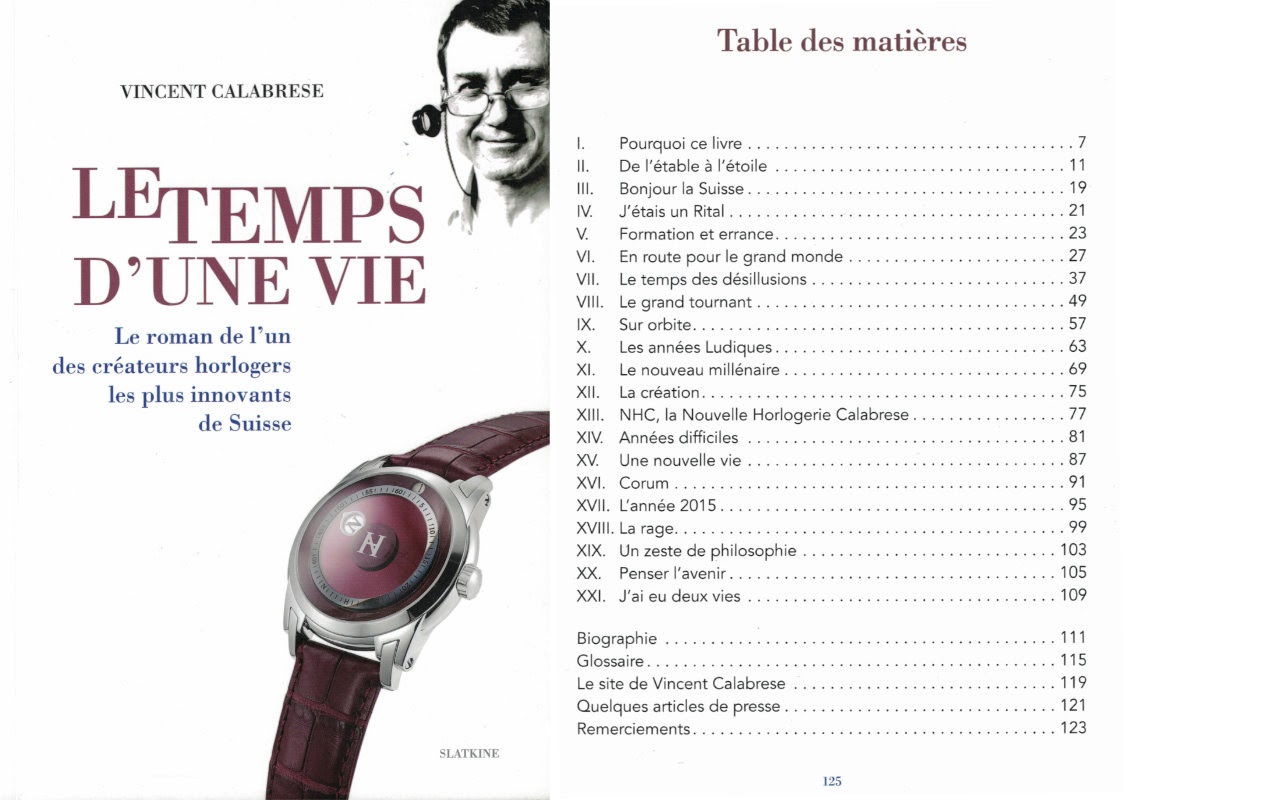 Calabrese, Vincent. Le Temps D'Une Vie: Le roman de l'un des créateurs horlogers les plus innovants de Suisse . Genève: Editions Slatkine, 2016. ISBN 978-2-8321-0780-5. 165x235. Paperback. 125 pages. Colour photos. Glossary. French.
The original text is in French. There are a couple of extra photos in the English edition, and the pictures showing the watches are printed slightly bigger. These improvements for the English edition do not up-lift the character of the small format book in a meaningful way.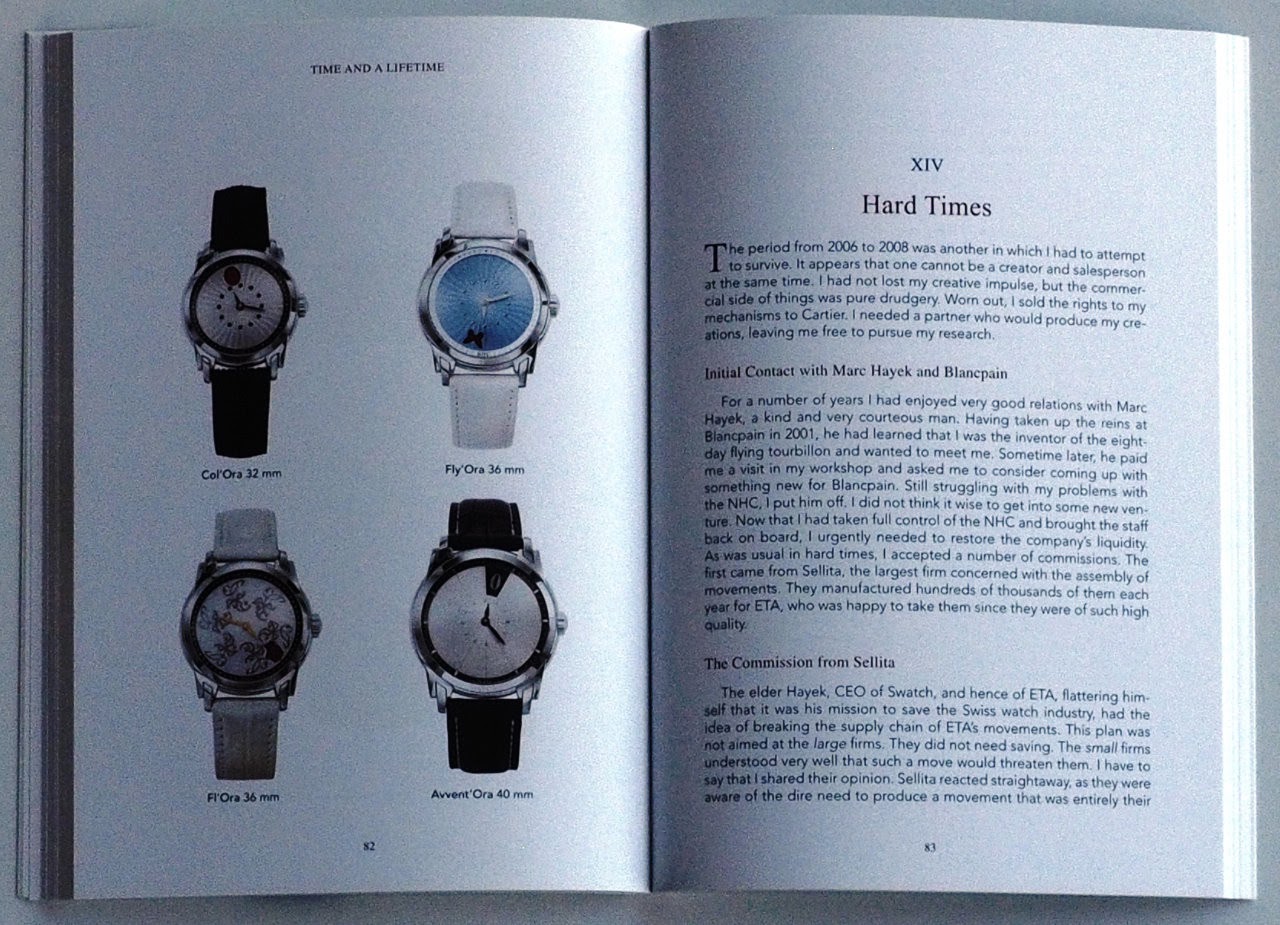 Here we gave an honest autobiography of a pioneer of independent watchmaking, with the story starting with his birth in Naples, Italy, and ending in 2016 with the Kronos model, made together with Japanese surrealist painter Shinji Himeno. 2015 is declared as "one of my best years". The ups and downs (including continuous job changes within a short time, dissolving of partnerships, bankruptcy etc.) are told chronologically, and with this the reader learns a lot about developments within the Swiss watch industry after the Quartz Crisis. Calabrese mentions his collaborations with the big brands, particularly patents sold to them, including working for Blancpain.
Calabrese is a self-taught watchmaker (and jeweller, according to him). While he never got a diploma to testify success in formal training, in 1996 he received the Prix Gaïa to honour his work in the category "Artisanat-creation". This recognition must have been very important for him: The red thread running through his story is lamenting the lack of appreciation for his work. Unfortunately, an autobiography does not leave room for the reader to learn what customers or partners have to say about working together with Calabrese. When he titles a chapter "Rage" or mentions to have got a "desire for revenge" when a well-off customer decided to have only the case of a pocket watch restored but not the movement, thus giving him a "sense of meaningless", you really start to wonder if his view is not a bit one-sided. At least he admits not to be suitable for restoration work because of his urge "to improve after my own fashion" (so I wondered how much respect he offers for the work of others). Such honest reporting makes asking third parties about their views superfluous…
The technically interested reader, on the other hand, is neglected. All the different model ranges made ( from the Spatiale watch, the Golden Bridge, the Philosophique watches, the Technique collection to the Ottica/Kronos) are briefly described and shown in rather small photos (well printed on glossy paper), with no technical details given, nor a creation process described in a way the reader can follow. Calabrese created the Golden Bridge movement still being built by Corum, a tourbillon construction brought him together with Blancpain, and later he developed very interesting complications and displays based on ETA movements. When discussing training courses attended (at Rolex and Patek Philippe), he again refuses technical descriptions as being too complicated to explain, "but watchmakers would understand". Well, the book is likely meant for enthusiasts, so they would perhaps have enjoyed a bit of patience when you want to seduce them for your work!
Even so, for enthusiasts of independent watchmaking, this book is an excellent source to look a bit behind the curtains. Calabrese mentions figures, how he struggled until 45 to support a family financially, and how often he ran into a "cul-de-sac" with projects stalling or patents not being used. With 80% of his production going to Japan at one time, the consequences of such sales politics are mentioned too. In a word, the impression I got from reading the book: You need stamina and a big love for watchmaking to be in business as an independent watchmaker. With the pocket book size format and the type size chosen, the reader can get well immersed into this world lying on a deck chair or in bed.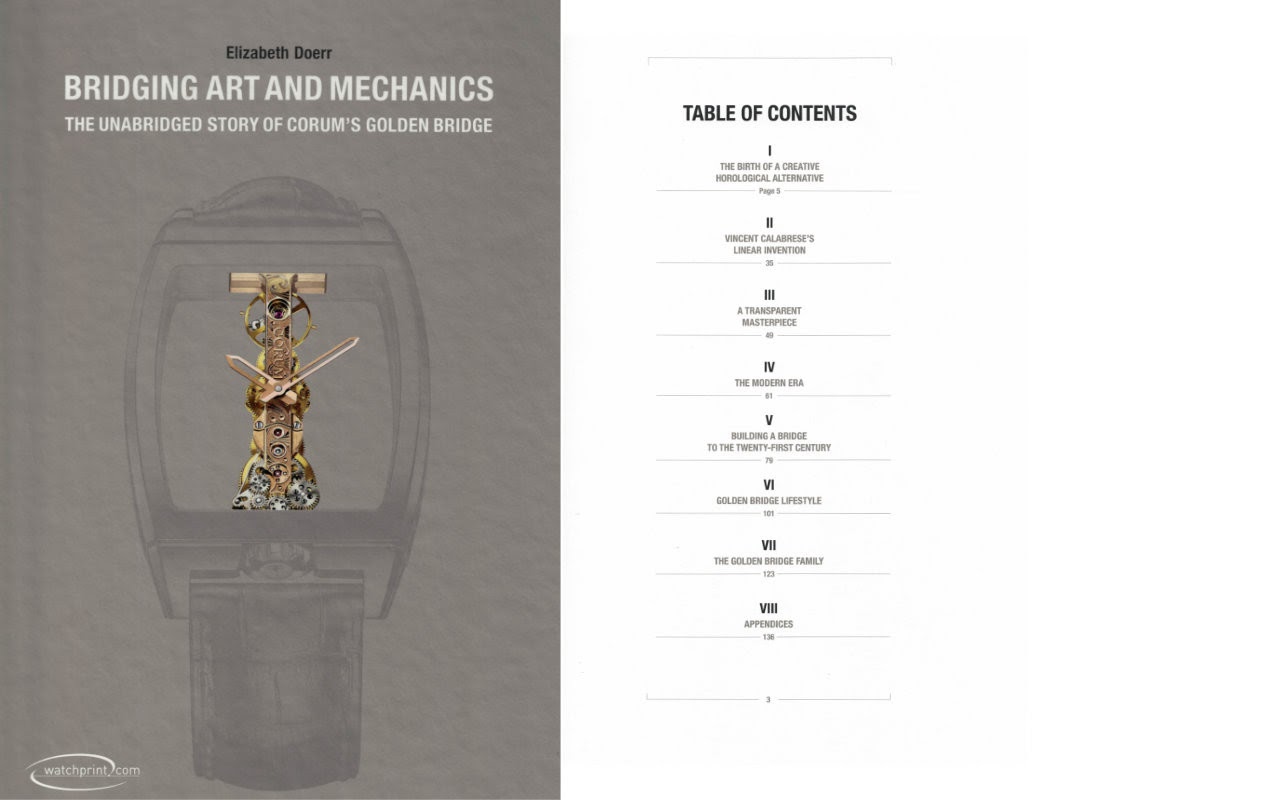 Doerr, Elizabeth. Bridging Art and Mechanics: The Unabridged Story of

Corum's

Golden Bridge. La Croix sur

Lutry

: Watchprint.com , 2015.

ISBN 978-2-940506-08-8.

225x315. Laminated boards.

140 pages.

Colour and black & white photos.

English.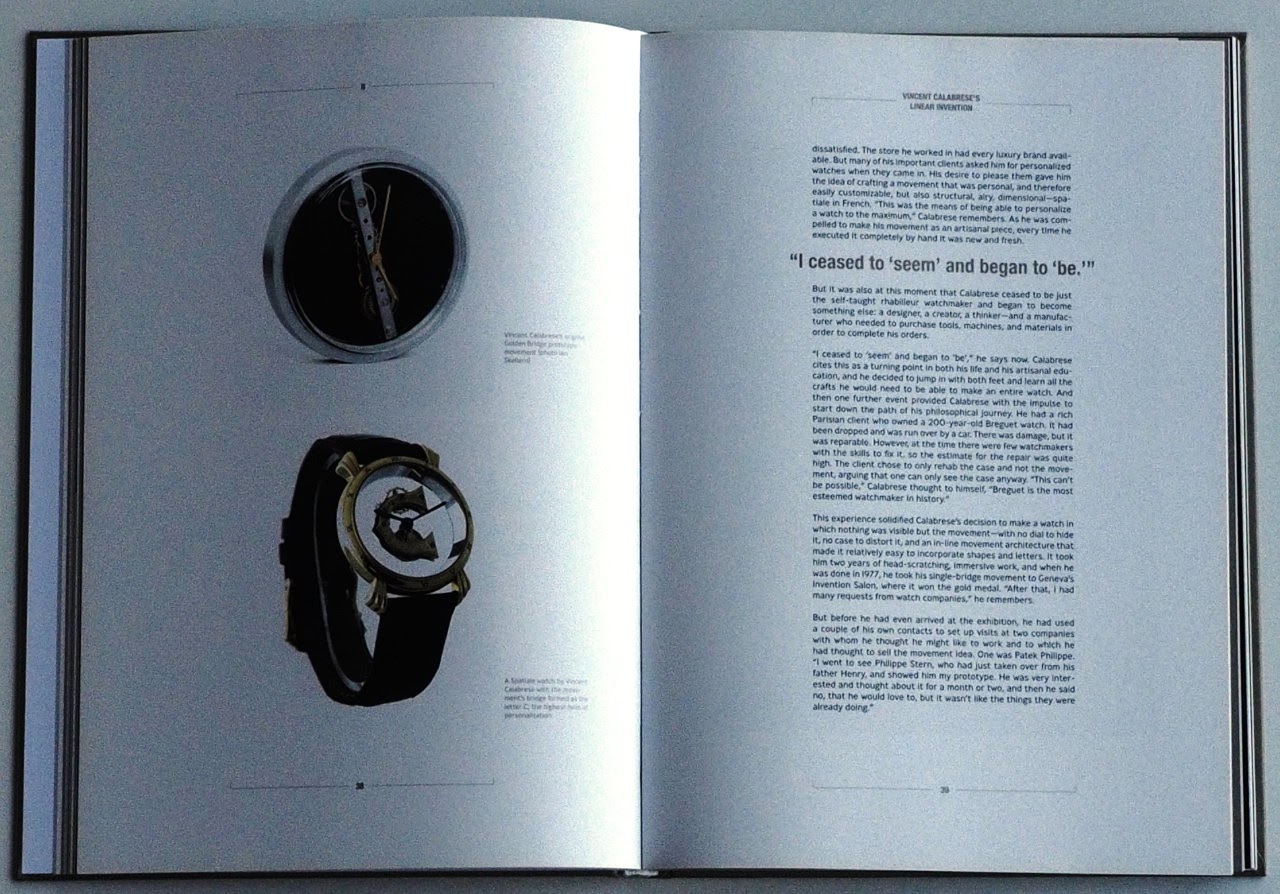 Vincent Calabrese is the inventor of the Golden Bridge movement design. However, this book is dedicated to the memory of René Bannwart. He was a pioneer in the Swiss watch industry in 1940s by establishing a novel way of creating wristwatches when hiring "designers in the modern sense of the world" was yet unheard. The results of this courage for something new were, e.g., the coin watches or wristwatches in the form of a Rolls-Royce radiator grill. According to Doerr "the goal [was] therefore to highlight Corum's history as an artistic tour de force, the independent watchmaker whose creative movement was the base of the watch, and how the two came together to create one of the most artistic and beautiful timepieces".
With the Golden Bridge model Corum became a real manufacture and entered the haute horlogerie. Vincent Calabrese had come up with the idea of the linear arrangement of the gear train for his "Spatiale movement". The idea behind it was gaining flexibility in creating movements in the form of letters etc. for custom made pieces. Calabrese sold his patent to Corum; he had not the facilities to produce this movement in series.
Calabrese's part of the story is told on about eight pages, but then he had also not offered more details about the development of this movement with the unusual layout in his own book. On the other hand, Corum was very generous, granting Doerr full access to all archives, all ledgers and filing cabinets, and even facilitated interviews with Vaucher, who re-engineered the Golden Brigde movement at the turn of the millennium. For the reader, the result of this extensive research is a wonderful insight about the market risks the Bannwart family was then prepared to take and the innovations they brought to the watch market by Corum (like a sapphire case already in 1980!). You also learn that good ideas of independent watchmakers can need a lot of additional engineering to make series production of a movement viable, as in this case. Supported by many colour (press) photos on matte coated quality paper, the story of the Golden Bridge can also be followed visually.
Of particular interest (even if not concerning the work of independent master watchmakers) is all the background information about the creation of the sapphire case, a real adventure in the 1980s.
I enjoyed learning more about the Swiss watch industry in the 1980s through this book. It gives (in addition to the history of the Golden Bridge movement) a good background to understand in what business environment the independent watchmakers had to operate at the time immediately after the Quartz Crisis.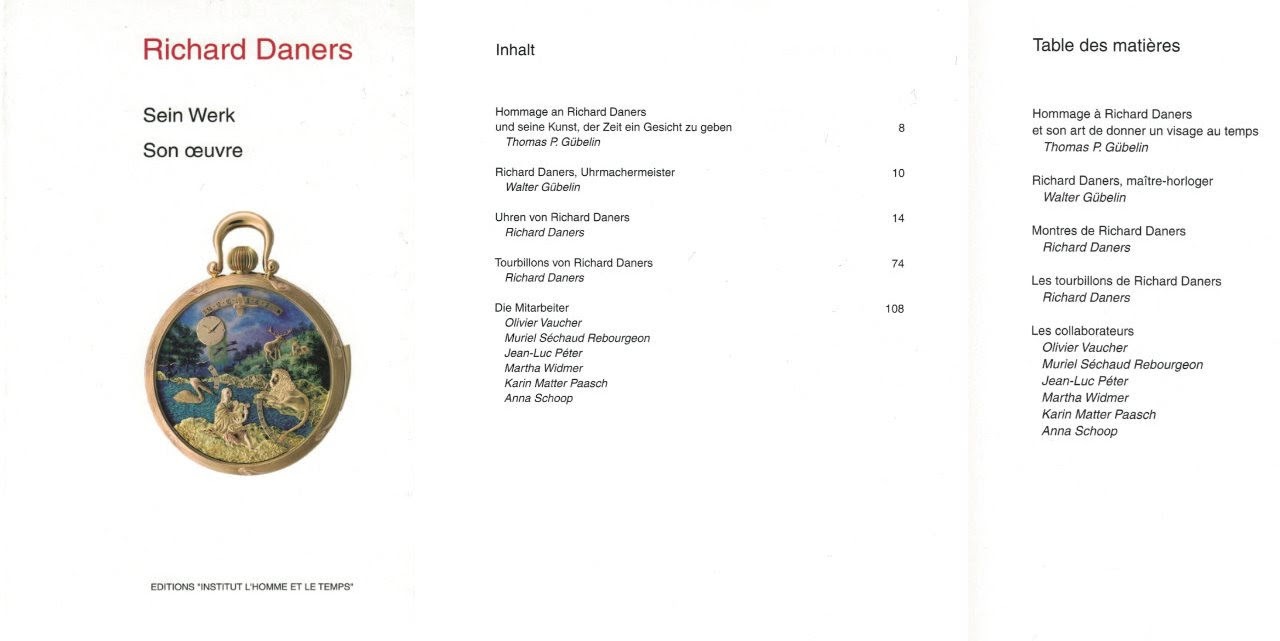 Daners
, Richard, and Thomas P.

Gübelin

, Walter

Gübelin

, et al. Richard

Daners

: Sein

Werk

– Son oeuvre.
La Chaux-de-Fonds: Editions Institut l'homme et le temps, 2007. ISBN 978-2-940088-23-2. 195x285.

Laminated

boards

. 127 pages.

Colour

photos.

German

, French.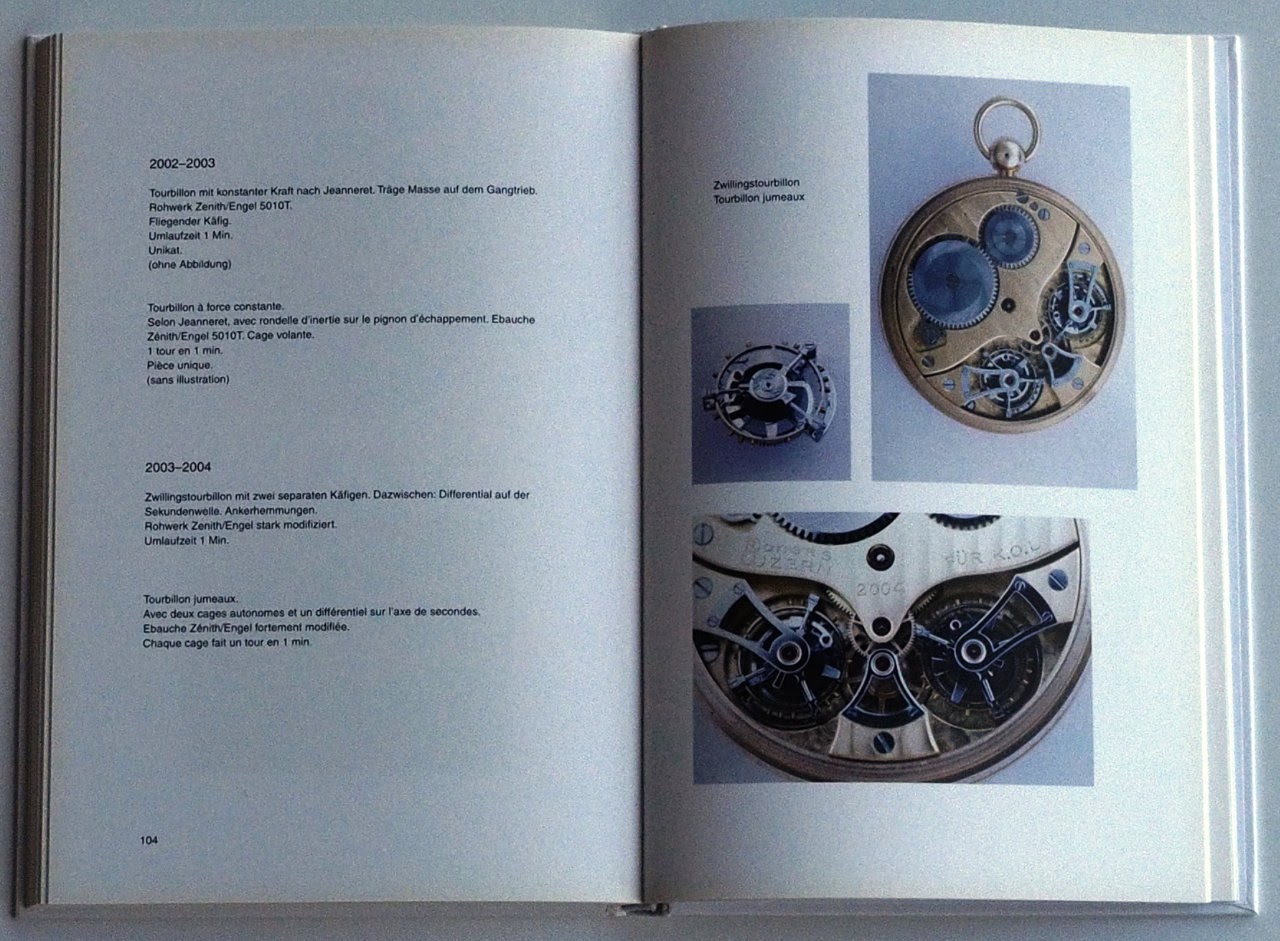 The book accompanied an exhibition to honour Richard Daners as "horloger d'exeption" (exceptional watchmaker), staged in the Musée International d'Horlogerie in La Chaux-de-Fonds from 20 September to 16 December 2007. Jeweller and watch retailer Gübelin supported the publication, and since Richard Daners spent his whole career in the employ of Gübelin, information for the book seems to have come exclusively from this source.
Thomas P. Gübelin contributed the first text titled "Homage to Richard Daners". You learn that Richard Daners was keen to (and successful in) solving complicated tasks in the simplest way. Unfortunately nothing is said about the skills he mastered to achieve this, nor anything about his methods. Walter Gübelin then contributes a purely factual and strictly chronological CV of Richard Daners, of the type "he was born in … and finished his apprenticeship in the year…". The texts in the chapter "Die Mitarbeiter" (The Collaborators) tell us something about the work of these specialists (engravers, enamelers, designers etc.), but barely a word about Richard Daners, nothing about his work methods, nothing about his character, nothing about what was important to him in such collaborations. This all gives the impression that no enthusiastic and experienced editor was hired, with the consequence that the story of Richard Daners is not really told.
Of more interest is the catalogue raisonné of the pocket and wrist watches built by Richard Daners (about 50, made from 1979 to 2006), most of them as unique pieces for private collectors, or in very limited series of a maximum of 10 pieces. The colour photos (of workmanlike quality) show mostly frontal views, with pictures of movement and some details added for the Tourbillon models. Captions give the specifications of these watches. These captions are written by Richard Daners; he, being one of these very humble masters, does not elaborate about what masterpieces they are. He rather refers to issues of "Chronométrophilia" magazine, where he had written detailed articles, explaining his watches. This is a pity, because these magazines are not easily accessible.
Through the photos and the captions the book gives an overview of Richard

Daners

' oeuvre. I live in the hope that one day a compilation about Richard

Daners

and his achievements gets published, of comparable quality to the one Derek Pratt was honoured with

posthum

. This would certainly provide a most interesting publication for enthusiasts, because Richard

Daners

' specialities were "bras

en

l'air

" time displays, triple-axis tourbillons, constant force tourbillons,

astrolabiums

, or ultra-complicated watches like "La

Fabuleuse

" or a minute repeater combined with automatons (animals) displaying the time according to the principle of bras

en

l'air

(pictured on the cover of the book). While often using a base movement for complications, he was able to build complete watches from A-Z, including the tourbillon and the cases. And this all with the most simple hand tools and a

Schaublin

70 lathe. This book gives at least a glimpse of these masterpieces and his skills by means of the photos.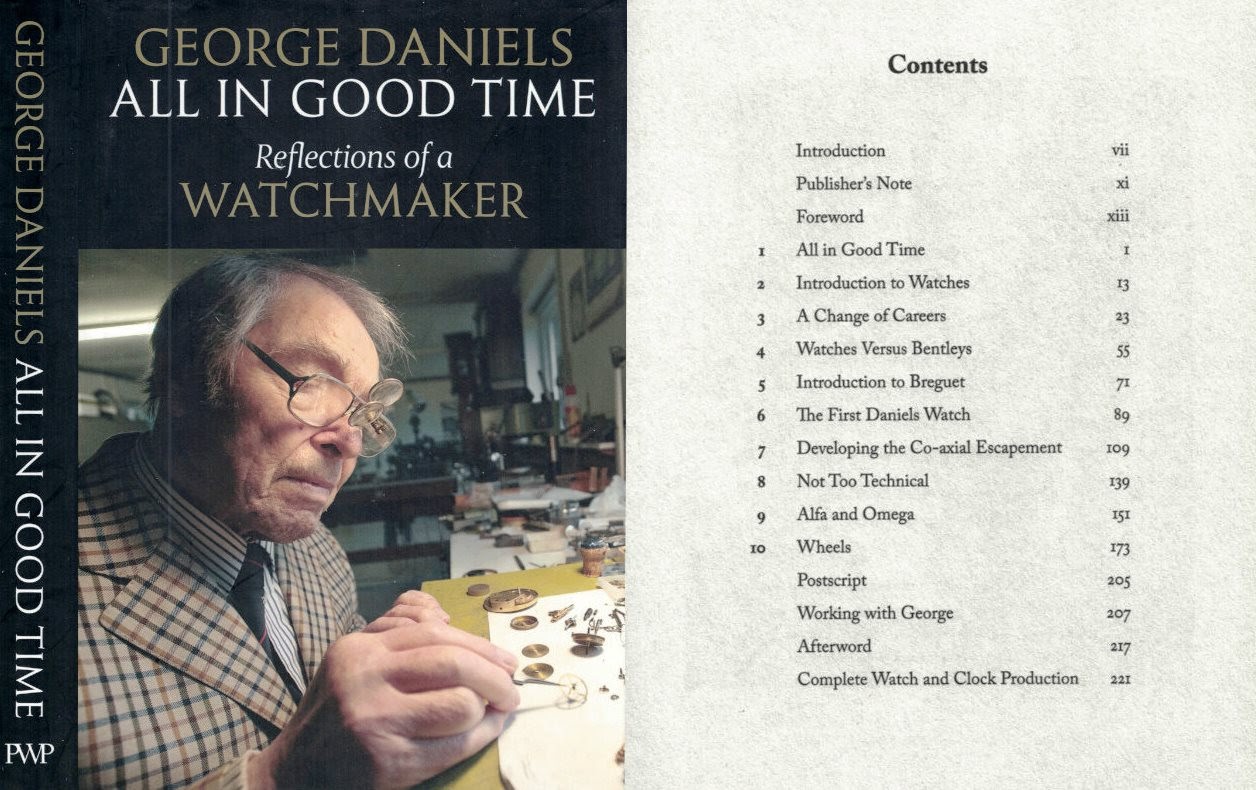 Daniels, George. All in Good Time: Reflections of a Watchmaker. London: Philip Wilson Publishers, 2013 [new expanded edition].

ISBN 978-0-85667-680-2.

163x233. Hardcover with dust jacket.

xiv/224

pages.

Colour and black & white photos.

Text drawings.

English.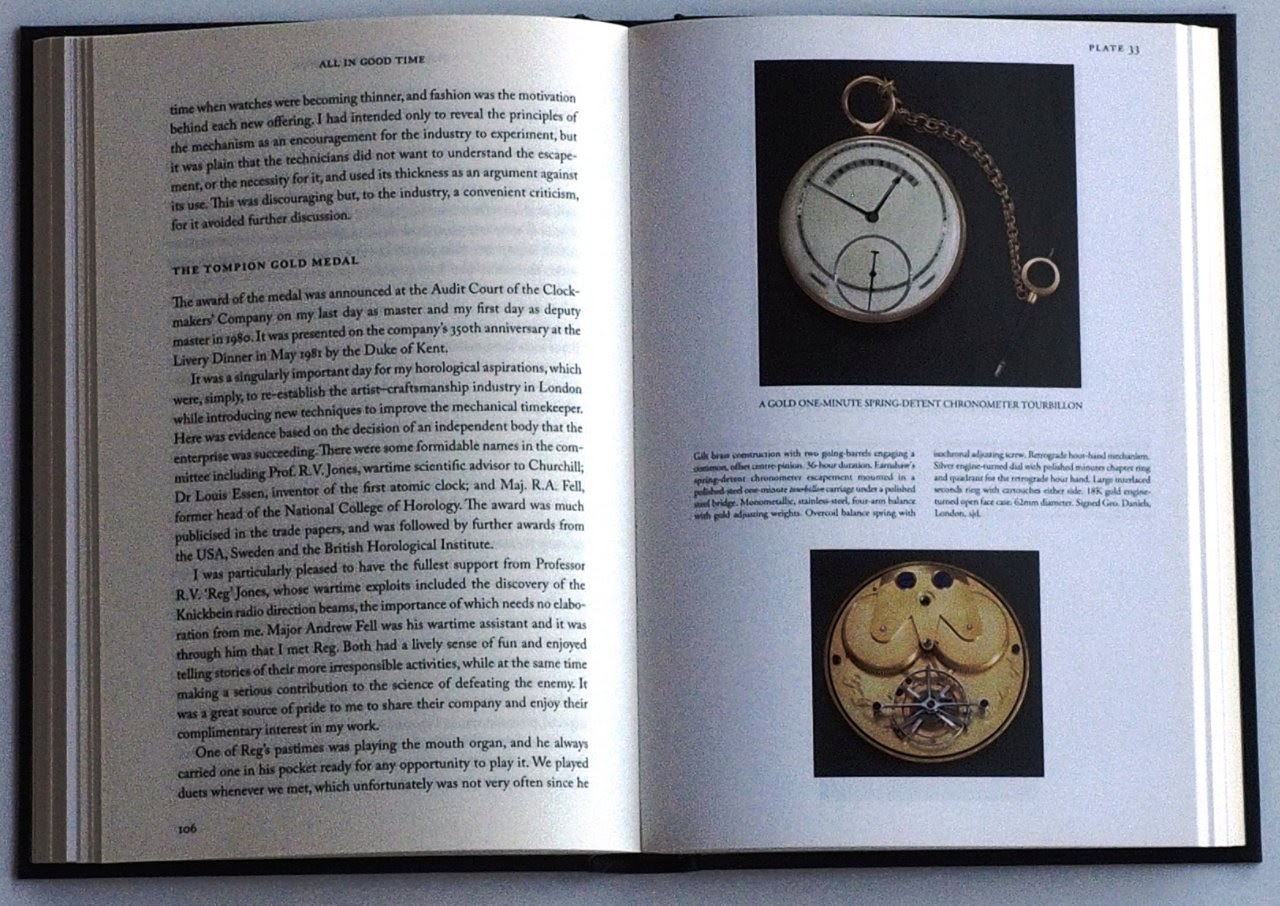 The first edition of this autobiography was published in 2000 as a softcover book with 159 pages and numerous plates. If not looking for a first edition as a book collector, this expanded edition is the better book. In addition to a hardcover binding, the photo plate section has been much expanded (to now a total of 80 pages of photographs printed separately of the text on glossy paper). Furthermore, there is much valuable additional text: 10 pages by Roger Smith ("Working with George"), an Afterword by David Newman about the unfulfilled plans he had together with Daniels (3 pages), and, of particular interest, a "Complete Watch and Clock Production" list. The main text of the book by Daniels is unchanged from earlier editions.
Daniels had a very bad childhood and youth, what is extensively described in his book. Living in poverty, all his watchmaking education had to be acquired self-taught. Having to fight for recognition almost all your life might explain why not everybody found it easy to communicate or deal with Daniels. Developing the co-axial escapement and struggling to interest the Swiss watch industry has got centre stage in the book. Many pages are devoted to the other interest of Daniels, vintage cars, especially Bentleys (a substantial part of his later wealth came from dealing in these cars). And one chapter is devoted to Breguet; Daniels has also written book on this theme, still widely regarded to be the best on the subject.
The reader looking mainly for details about the watches Daniels built himself might not find a lot, because only "The First Daniels Watch" gets a chapter.
I found the book interesting for its background information to better understand Daniels' watches and his attitude towards some customers (like refusing to build a watch for collector Peter

Baumberger

who later revived Urban

Jürgensen

, working instead with Derek Pratt to get what he wanted). Though, there is one proviso:

Clerizo's

book "A Master Watchmaker & His Art" builds on such extensive quotes from Daniels' autobiography that it is almost superfluous to read the latter separately; with

Clerizo

you get the relevant passages integrated in a chronological story and with additional explanations, so it is much easier to digest the information.
Daniels, George. Watchmaking. London/New York: Philip Wilson Publishers, rev. (3rd) ed. 2011,

repr

. 2017. ISBN 978-0-85667-704-5. 198x269. Hardcover with dust

jacket.xvii

/420 pages.

24 plates.

Colour photos.

Text drawings.

Index.

English.

(Watchprint.com has published a French edition: La

montre

:

principes
et methods de fabrication.
ISBN 978-2-9700656-6-1)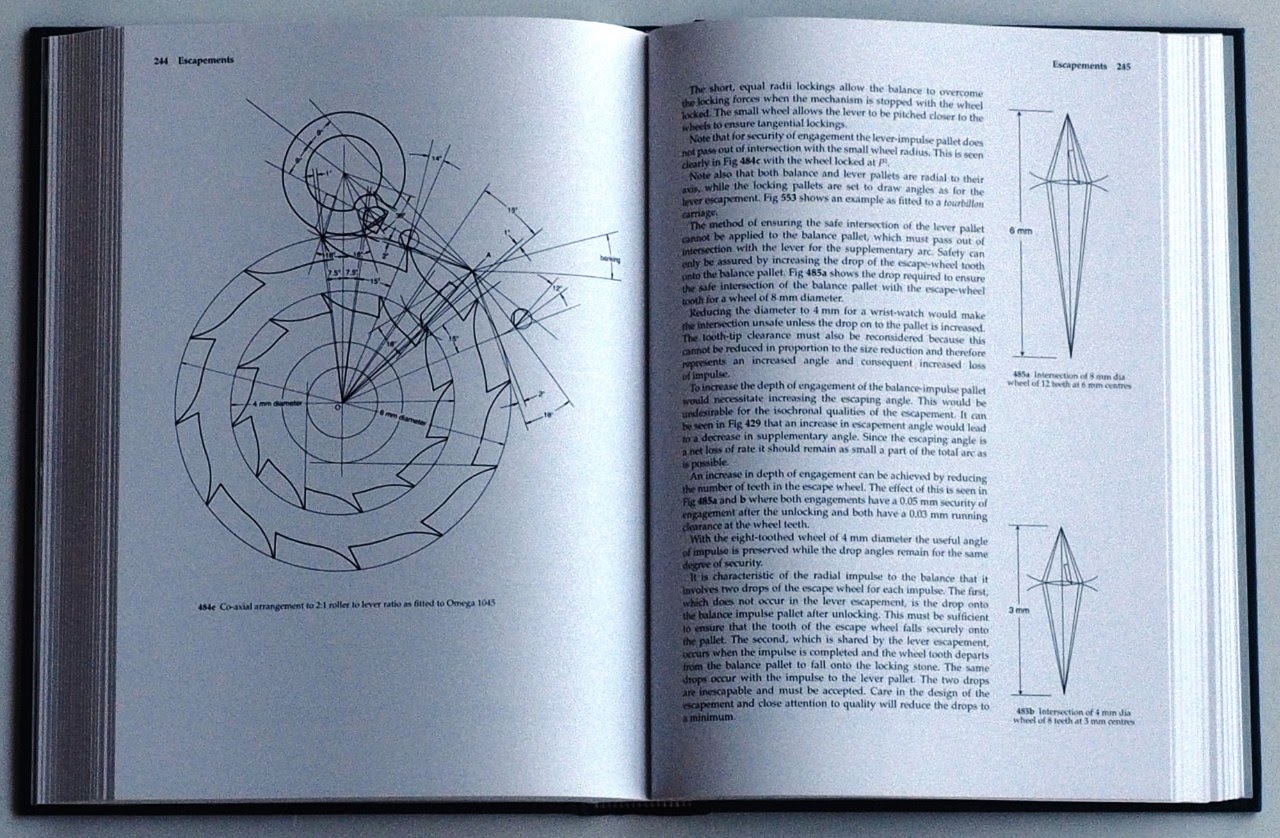 Whenever you visit an atelier, with almost certainty, this book is seen somewhere in a cupboard. I bought the famous treatise (continuously reprinted due to huge demand) with the intention to finally get a better understanding of movements. But it is not a book for a layman lacking in technical understanding. Daniels wrote it "to inspire and encourage the art of watchmaking, especially among a new generation of enthusiasts". When Daniels states he has taken "great care […] to ensure the text is easy to follow and to avoid complicated technical descriptions", he still demands a basic understanding of the techniques of watches from the reader. The contents pages (shown above) give already an idea what knowledge and skills a watchmaker needs to build a watch from scratch.
I enjoyed the 24 plates of colour photos at the front of the book showing Daniels' workshop/atelier and a good selection of his watches. Some of these watches are even shown deconstructed into all their parts. The following text pages use no photos to better explain the intricate details, rather a large quantity of David Penney's line drawings. With these drawings, tools and working procedures can be much better illustrated than with photos because often only sectional drawings can make the point. Nonetheless, chapters like on "Wheels and Pinions" with the formulas discussed or on "Escapements" with a lecturing about all the angles in between components completely overwhelmed me and I stopped reading. I even gave up on the chapters "Hand Tools" and "Engine-Turned Cases and Dials", for example, where I thought to be able to relate to what is discussed. The writing is very precise and logical. But every sentence is so crammed full of details (like in what angle the tool has to be sharpened, how to set it on the workpiece etc.) that my mind just boggled to see what skills and practical knowledge a watchmaker must have to really create a watch by hand respectively with hand tools. What Daniels describes is the "manufacturing" of parts from an engineer's view, to get quality parts for specific functions. For an enthusiast, the superficial quality given a part by applying the best decoration technique is usually almost of more importance, and likely the only criteria that can be judged.
So, for me it is a "nice-to-have"-book because of its status in transferring knowledge to new watchmakers. On the other hand, it is not a title I pick up to stimulate myself intellectually for the next commission.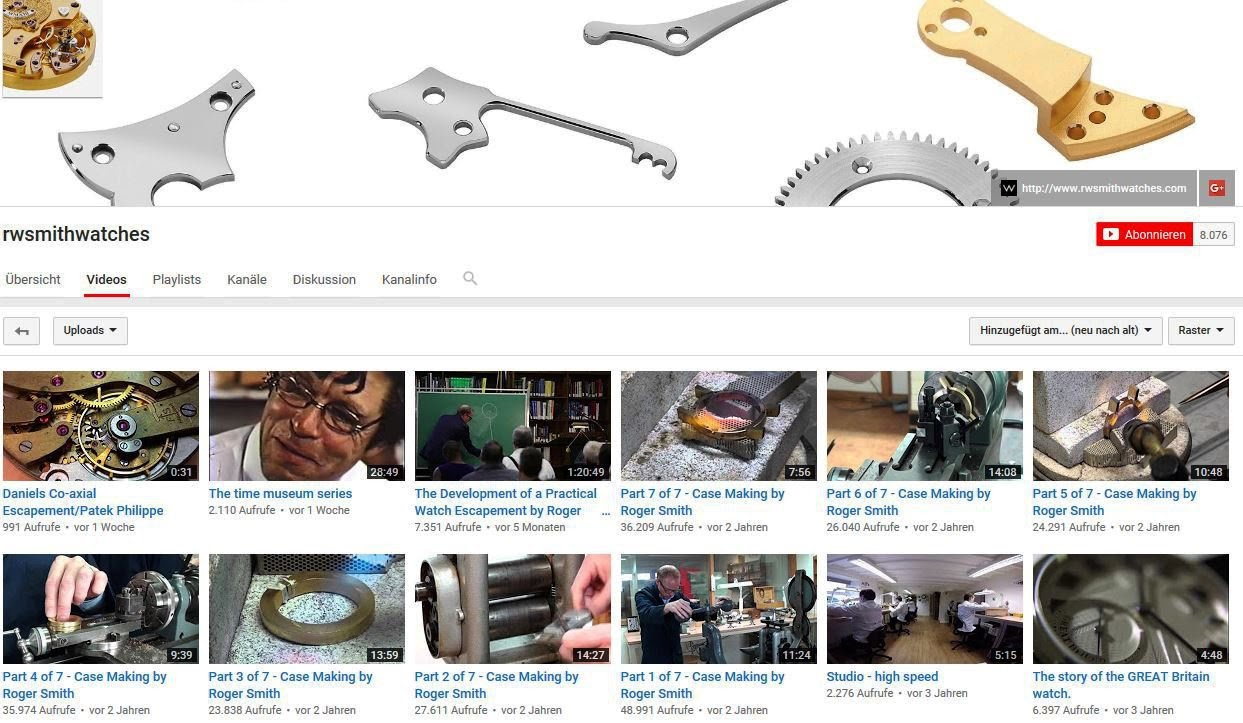 Though, help is at hand: Roger Smith has produced a series of most instructive videos on case making, guilloche engraving, making of hand etc. which can be found on his Youtube channel. In my opinion, a "mere" enthusiast can get far more about "The Daniels Method" of watchmaking from these films than trying to work through Daniels' book. Have a look here, if interested: https://bit.ly/2HMw2JN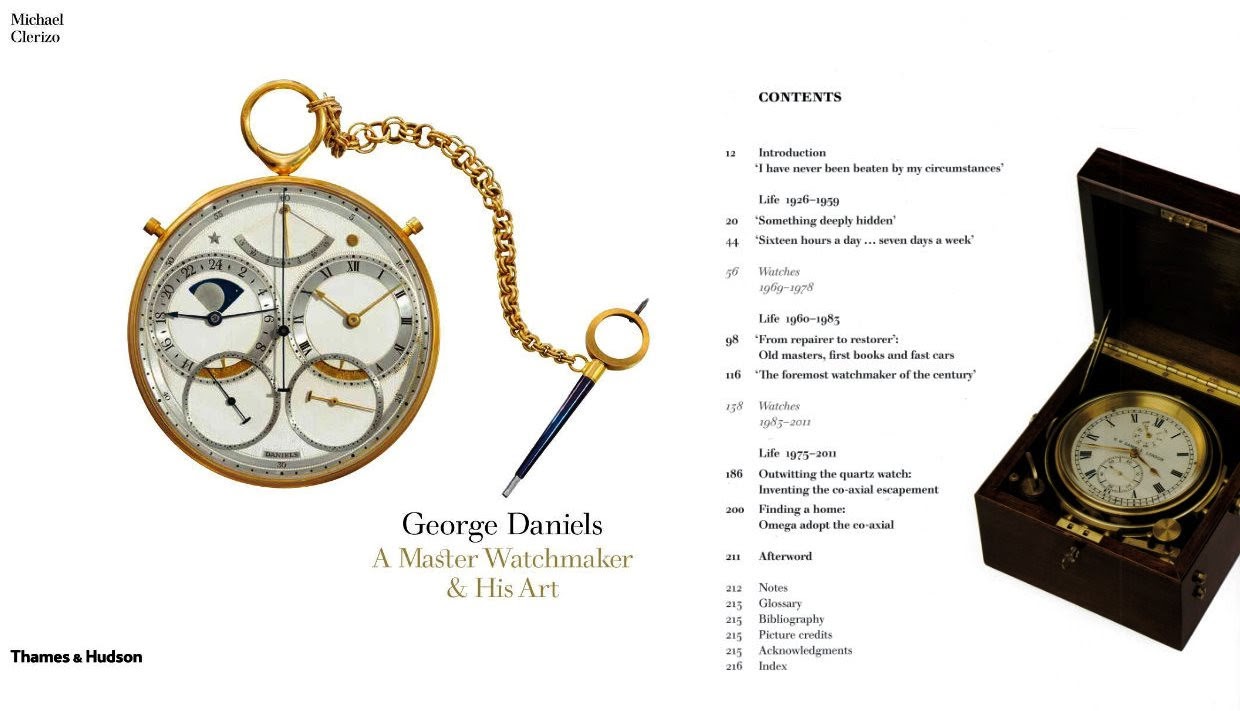 Clerizo
, Michael. George Daniels: A Master Watchmaker & His Art – The story of the man who invented the co-axial escapement. London: Thames & Hudson, 2013.

ISBN 978-0-500-51636-2.

301x301. Hardcover with dust jacket.

216 pages.

Colour and black & white photos.

Glossary.

Index.

English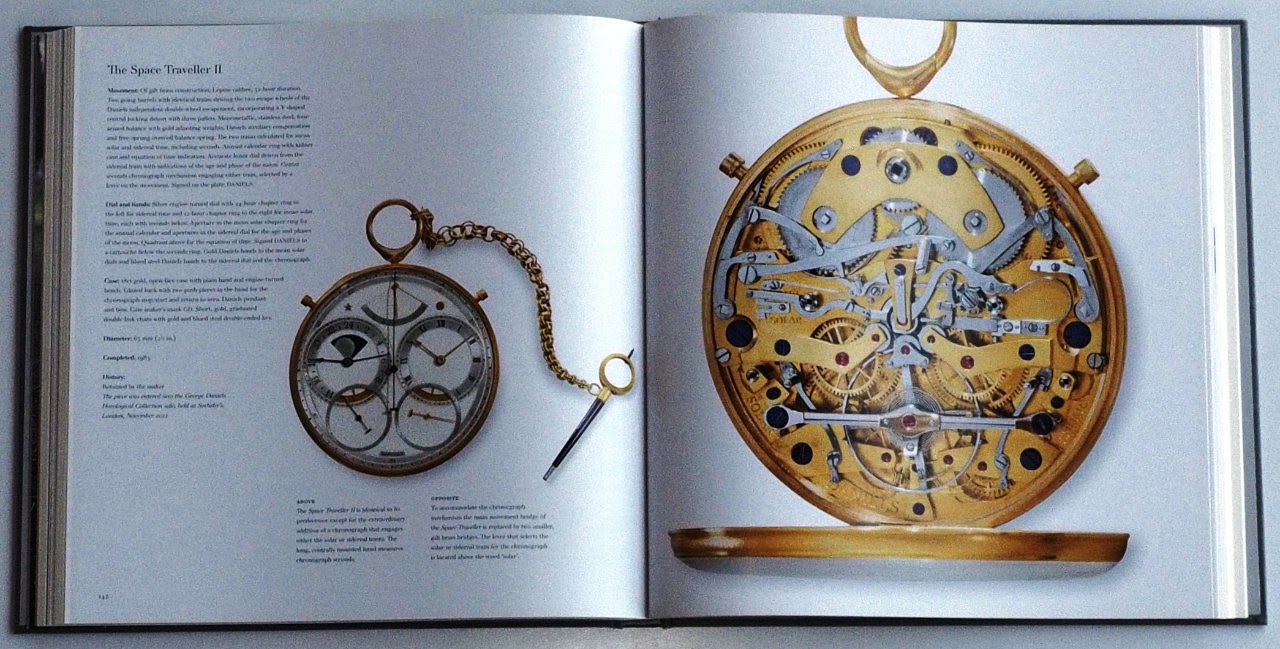 George Daniels (1926-2011) made only 27 watches in his lifetime (with a further 59 Millennium wristwatches built with Roger Smith), but for the guild of independent watchmakers he was one of the most influential persons. Daniels was a polarizing person. Michael Clerizo has obviously got along well with him; he describes Daniels as "always kind, patient and generous" to him. This could have something to do with the way Clerizo goes about when writing books: He tries as much as possible to use Daniels' voice to tell the story instead of forcing his own view of things on the reader. He quotes not only single sentences, but longer passages are used in a non-ambiguous context, based on interviews (gathered by accompanying Daniels for many years) and published primary material (interviews and talks given by Daniels, along with his own books). When long passages of Daniels' books are reproduced, the first impression could be of laziness. Though, it is much more time consuming to create in this way a coherent and easy to follow story that avoids becoming an opinion piece with non-verifiable fact presentation.
I find the writing style of Clerizo masterful, being literally drawn into the story as reader. In a way it feels like Daniels talking directly to you. Clerizo manages to re-create an atmosphere and place where all this happens by reporting about his observations when being together with Daniels.
The book is structured into three periods. Within these sections the private life of Daniels, his watchmaking, his love for vintage cars, the development of his escapement and his struggles for recognition are all brought into context with each other. For the reader, this is much more convenient than the organization Daniels has chosen for his own autobiography.
The text printed on matte paper includes some black & white photos. Daniels' watches are presented in four sections on glossy art paper in between the chapters. The large format colour photos are absolutely superb, showing every detail (sometimes including single parts), enriched with reproductions of Daniels' notes and drawings relating to the watches. The detailed captions are credited to Roger Smith, so accuracy should be assured. These captions are essentially the only "technical" part of the book, even the quotes used from Daniels' "Watchmaking" have not the purpose to explain technical details, rather working methods and philosophies favoured by Daniels are highlighted with them.
The large format book is (for my taste) well designed, with the text in three columns. With the type chosen and the text printed on matte paper, the angle of view when reading is not critical. However, the book is likely too big to enjoy it by reading in a lying position. Though, I found the effort to sit properly on a chair to read it well worthwhile. For me, it is a model of a biography, with the extensive quotes used giving the impression to receive the full story and not to have to look also elsewhere for the real picture. Having read

Clerizo's

book, you know Daniels as a person and his watches. You can't ask for more.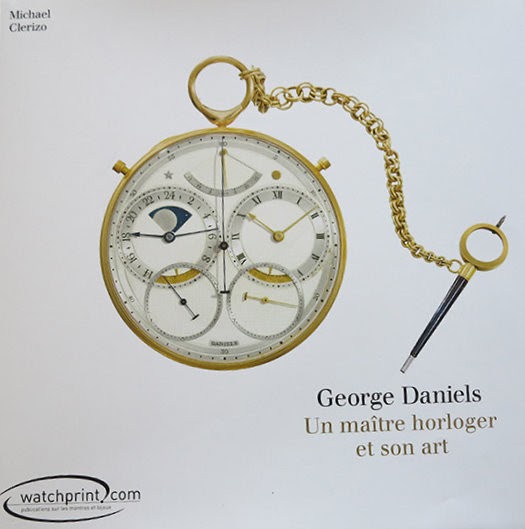 Clerizo, Michael. George Daniels: Un maître horloger et son art . La Croix s. Lutry: Watchprint.com , 2013. ISBN 978-2-940506-00-2. 295x295. Dust jacket. 216 pages. Colour and black & white photos. Glossary. Index. French
Watchprint.com
has published this book in French. It is a translation of the English text, otherwise identical to the original book by Thames & Hudson.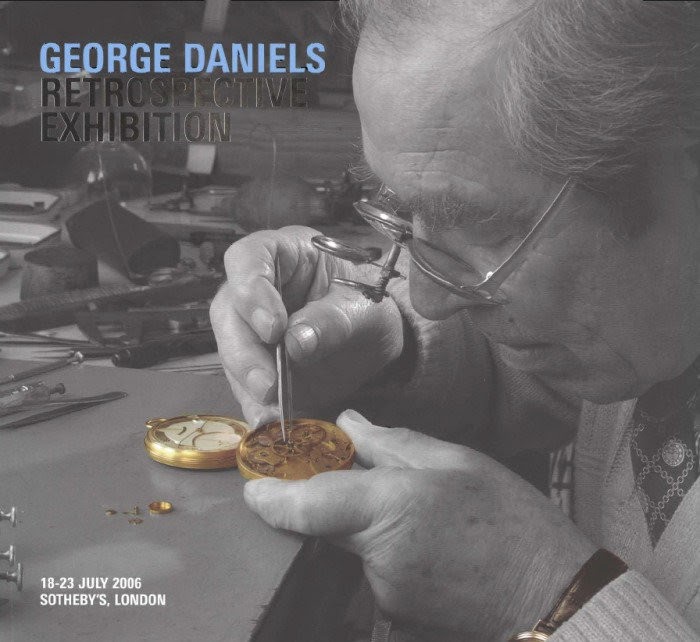 Sotheby's.
George Daniels: Retrospective Exhibition – 18-23 July 2006, Sotheby's London. London: Sotheby's, 2006.

240x220. Paperback.

92 pages.

Colour photos. English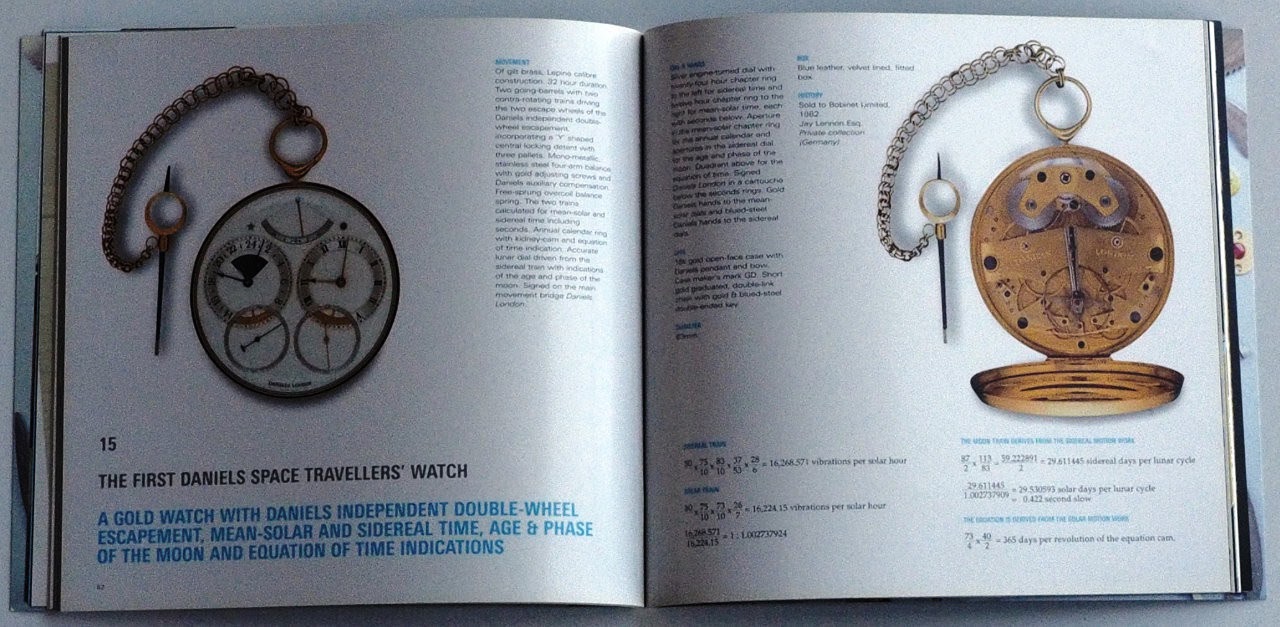 36 watches made or modified (including, e.g., a Patek Philippe Nautilus customised by Daniels to use a slim co-axial escapement) are shown, including movement views. All the watches and movements are described with detailed captions.
The other texts in the book respectively exhibition catalogue are a Preface by Sebastian Whitestone, a Foreword by Tina Millar and 12 pages of Introduction by Andrew

Crisford

. These words describe the life and person of Daniels, including his watchmaking philosophies. For the book collector, this publication might be interesting; the enthusiast wanting to learn more about Daniels and his watches is obviously better served with

Clerizo's

book. The photos of Daniels' watches in this exhibition catalogue add not much because

Clerizo

shows them (and more) in a bigger format in his book (he has sourced them from Sotheby's).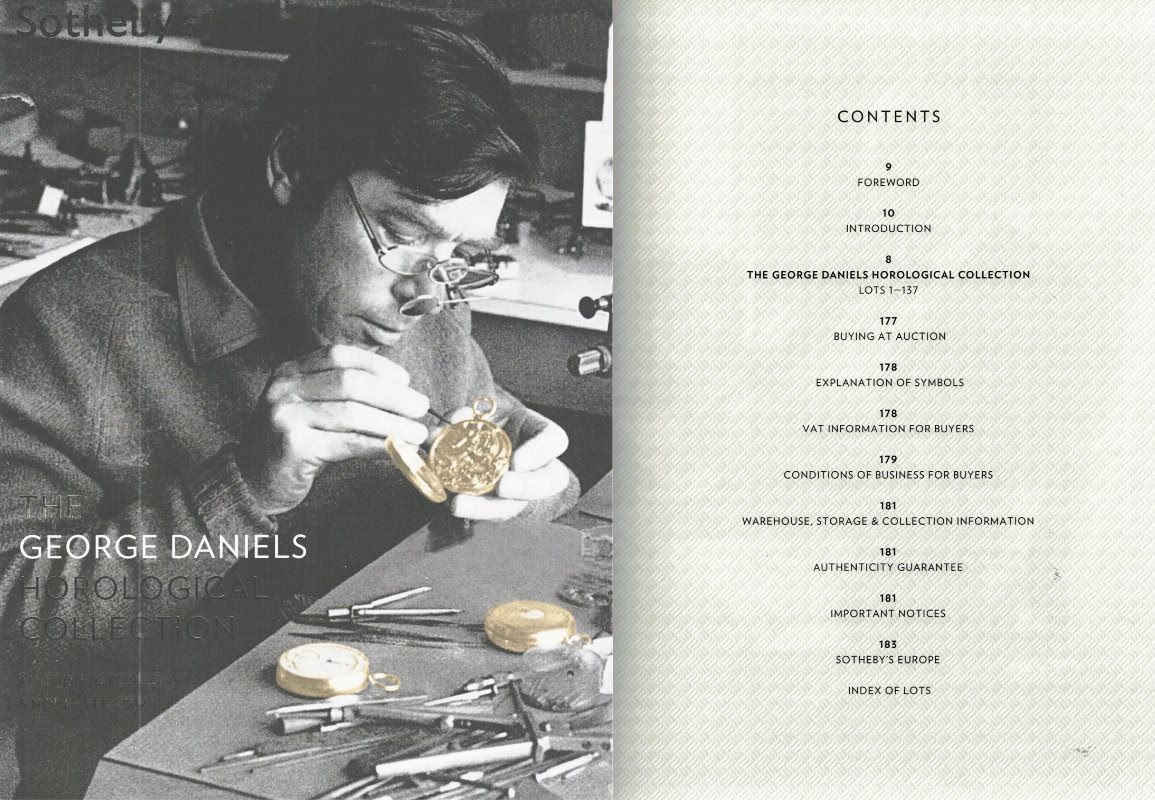 Sotheby's.
The George Daniels Horological Collection: Auction in London Tuesday 6 November 2012. London: Sotheby's, 2012.

210x270. Paperback.

186 pages.

Colour and black & white photos.

English.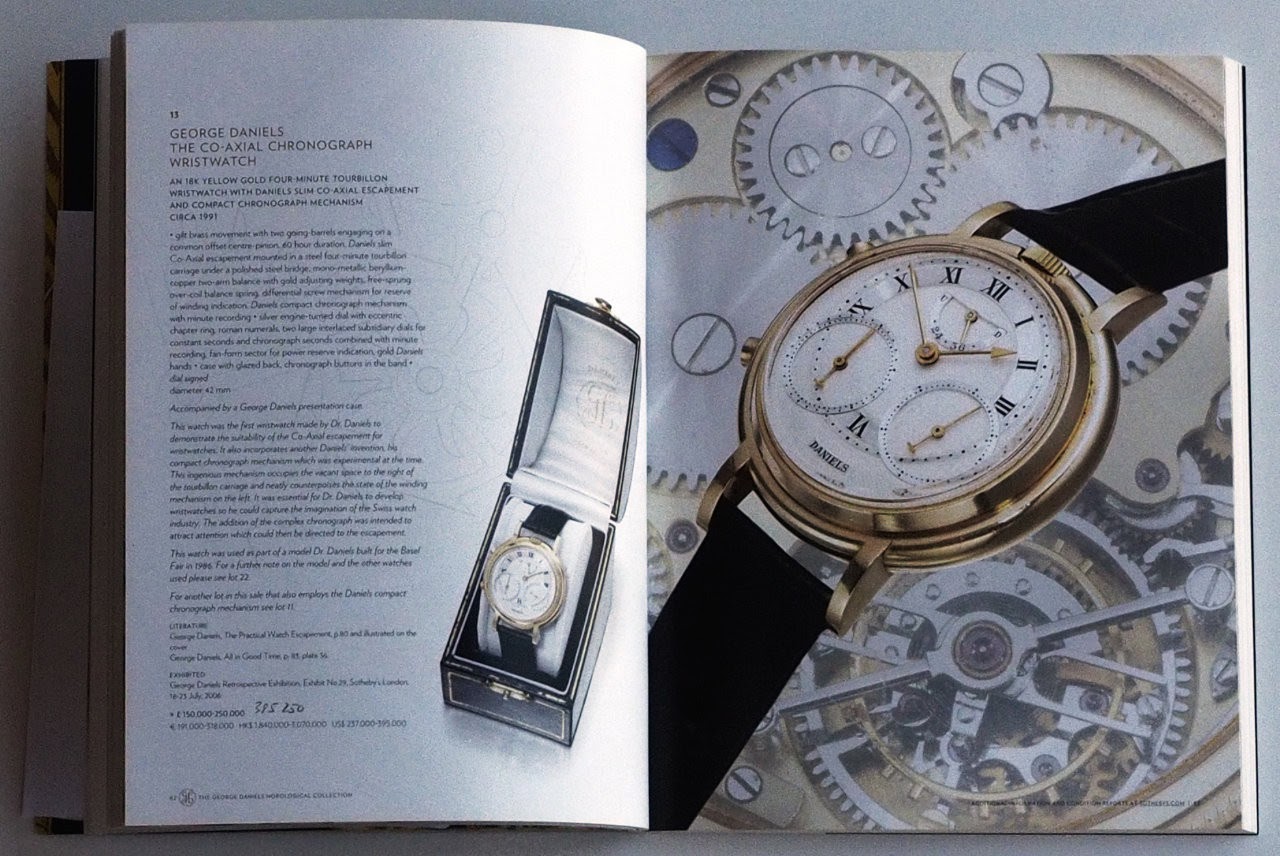 On his death George Daniels gave instructions to establish a charity to be known as "The George Daniels Educational Trust". The aim of this charity is the higher education of pupils studying or intending to study the disciplines of Horology, Engineering, Medicine or Building Construction. The proceeds of the sale of Daniels' personal collection and clocks provided part of the initial funding of this Trust.
Six pages of Introduction by Andrew Crisford chart the watchmaking biography of Daniels, with an emphasis on the 34 trades which, according to Abraham Rees, have to contribute skills to make a watch. Daniels said to have mastered 32 of these trades. The watches he has made and the story of his new escapement sold eventually to Omega are presented in this chapter. In a Tribute (1 page) Michael Clerizo tells how influential Daniels was for the later generations of master watchmakers (referring to statements given in the book "The Hands of Time"). Part of the text is the Foreword provided by Tina Miller (2 pages); these are interesting personal recollections of working together with Daniels as consultant of Sotheby's. Further Tributes are paid by Stephen Forsey, Michael Turner, Roger Smith, Stephen Urquart, Emmanuel Breguet, François-Paul Journe and Alan Banbery.
Perhaps of more interest than these texts (with the information therein mostly available in more detail in the books listed above) are the watches, clocks, books, tools and bronzes by Eduardo Paolozzi from the collection of George Daniels. They are all shown with excellent colour photos and described in detail. There are not only antique watches and clocks, but also a Journe Chronomètre Souveraine, or watches from Bulova, Chopard, and others. Highlights are the photos and descriptions of nine of his watches Daniels had retained. Among them are the Space Traveller and the Grand Complication pocket watches.
Personally, I love publications on specific collections, because they always reveal a bit of the personality and the interests of the collector. On the other hand, there might be not much use of this auction catalogue as a reference publication;

Clerizo's

book fulfils this purpose.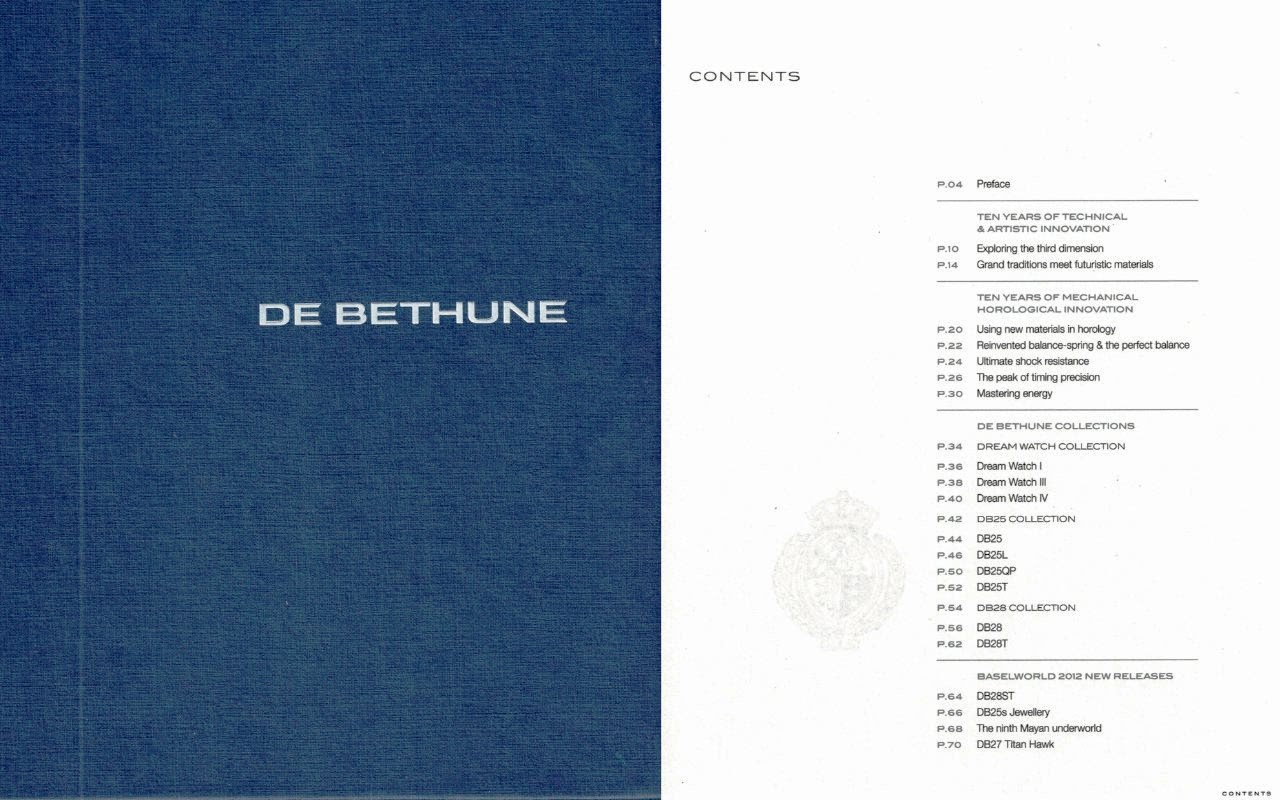 De Bethune . N.p .: De Bethune SA, 2012. 195x235. Hardback. 72 pages. Colour photos. English.
40 pages show on glossy paper the 2012 collection, with the specifications given as photo captions. In addition to the well-known press photos, excellent macro photos are employed to show details.
The book is opened with a Preface by Osvaldo Patrizzi, appreciating what Denis Flageollet and David Zanetta have achieved with De Bethune in the first ten years. This is followed by 24 pages highlighting the technical and artistic innovation. Detail colour photos are an additional help to understand the factually written text describing these innovations. This part of the book is printed on matte paper, what I like, since it contributes to lessen the impression of a product brochure.
The small format book has an elegant, stylish layout. While this kind of publication replaces not "classic" books, it at least underlines the technical know-how available within the company and its drive by watchmaking prowess, and not by marketing palaver.

Cappelletti, Mara. De Bethune. Milan: 24 ORE Cultura, 2013. 197x217. Laminated boards. 128 pages. Colour photos. Glossary. English.
Cappelletti, Mara. De Bethune: I Maestri Del Tempo . Milan: 24 ORE Cultura, 2013. 197x216. Laminated boards. 120 pages. Colour and black & white photos. Glossary. Italian.
Preceded by a company chronology shown as a timeline, the then current collection is presented on 58 glossy pages using the well-known press photos with captions for the explanations. With the title "The technique", 16 pages follow, giving more insight into the specialities of De Bethune (like titanium parts and silicon tourbillon, 3D-moon etc.).
The introducing text (24 pages) provides an introduction to the philosophy of the founders (

Flageollet

,

Zanetta

and Jacques). This is far from a company history, with none of the earlier models in the (then) 10 year old history of the manufacturer presented. Since the book is essentially a brochure, this surprises not, yet an enthusiast would certainly like to learn how the model range evolved. I enjoy these promotional publications in my library; they show the models in a more comprehensive way than the watch catalogues published annually by some magazines.

Furukawa, Naomasa, ed., and Kazuyuki Takahashi, photos.
Les

créateurs

du temps [Daniel Roth and Philippe

Dufour

].

Shellman

Co. Ltd., 2004.

302x216. Dust jacket.

Not paginated [128 pages].

Black & white photographs.

Index with photograph titles.

Japanese, some text in English.

Yoshihide Isogai of Shellman Co. Ltd. supported independent watchmakers by representing them in Japan, besides creating limited editions of watches together with them. With this book he pays tribute to Philippe Dufour and Daniel Roth, both of them representing the Lac de Joux region of fine watchmaking (Shellman was their official distributor).
There is an introducing text of four pages by the editor Naomasa Furukawa (only in Japanese) and some sort of "making-of" resumé by the commissioned photographer Kazuyuki Takahashi, two pages each in Japanese and English. Here he describes how different the characters of the two watchmakers are. He mentions his task: Portraying the two master watchmakers in daily life, bringing the human side of the two men to the reader. A tough task with Daniel Roth, because the photographer was first not accepted by him.
The 123 black & white photos show therefore mostly the two watchmakers in their ateliers, at home and outdoors, or

Dufour

at the dentist. The intention (according to

Shellman

) was to present "their real style of watch making". Only a few pictures show some watch parts. With no captions and only titles given to the photos by the photographer (listed in an index), the book provides me not with enough information I can grasp. On the other hand, the print is excellent on coated paper, so keen photographers might get more from it, but I am not qualified to judge the artistic merit of the photos.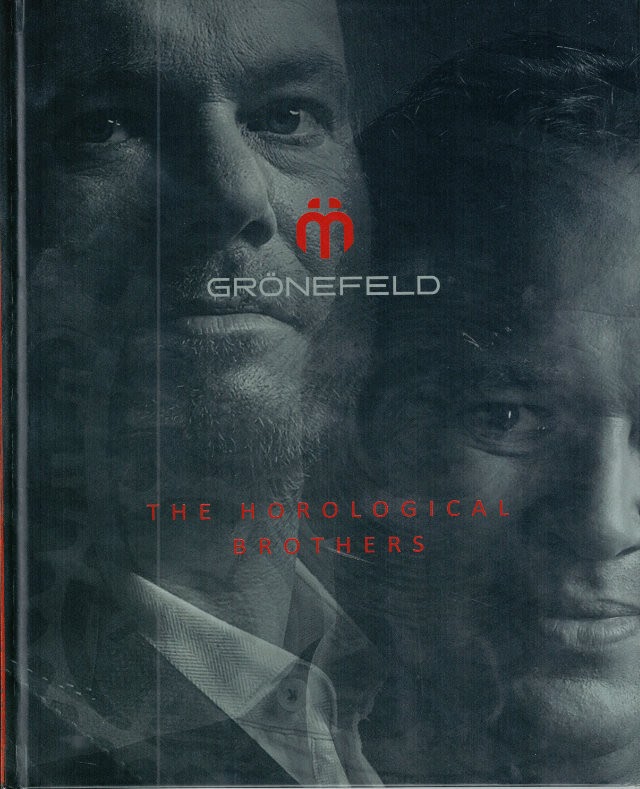 Grönefeld
: The Horological Brothers
. No date. 205x254. Laminated boards.

148 pages.

Colour and black & white photos.

English.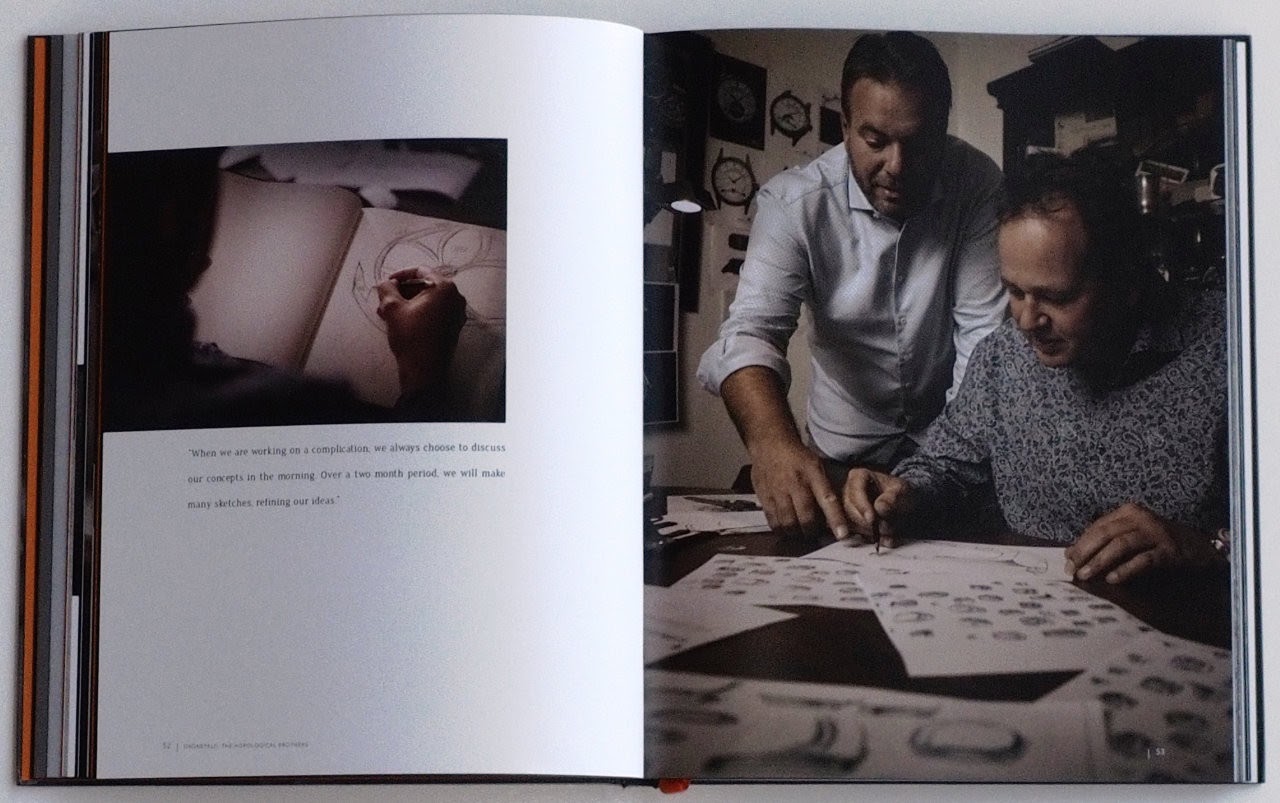 This is a well-designed promotional book. The text is sparse, the book living through its superb photos. In the chapter "History" (29 pages) the reader learns about the three generations of watchmakers, the passed-on task to maintain the clock of the local basilica, the professional career of the two Brothers, and awards received. More in depth goes the chapter "The Horological Brothers" (67 pages), where one can learn about their mission, watchmaking philosophies and sources for inspirations. Finally, the current collection is presented (31 pages; Parallax Tourbillon 1912, One Hertz, 1941 Remontoire; the Comblémine dials are not yet covered), including the movements. Here, ideas behind the creation and design are revealed, along with the implications for the final product. The functions and technical features of the watches are described in a clear language and to the point. This agreeably factual (but still elegant) text in combination with a stylish presentation emphasizes the impression of a down-to-earth attitude, committed to provide the best possible craftsmanship. What a relief from the bla-bla-communication still practiced by many brands and transferred into their brochures!
I only missed coverage of limited edition models like the GTM-06 Tourbillon Minute Repeater, or editions of the One Hertz with a special design like the open-dial Techniek or Contemporary. Since these early watches did not yet have the consistent design language of today's offerings, it is understandable if they would not have been included in the history part of the book for this reason. Enthusiasts can still get all such details on earlier models on Grönefeld's website (downloadable press releases and hi-resolution photos).
This publication is not available in bookshops. You will have to ask the

Grönefeld

Brothers nicely for one…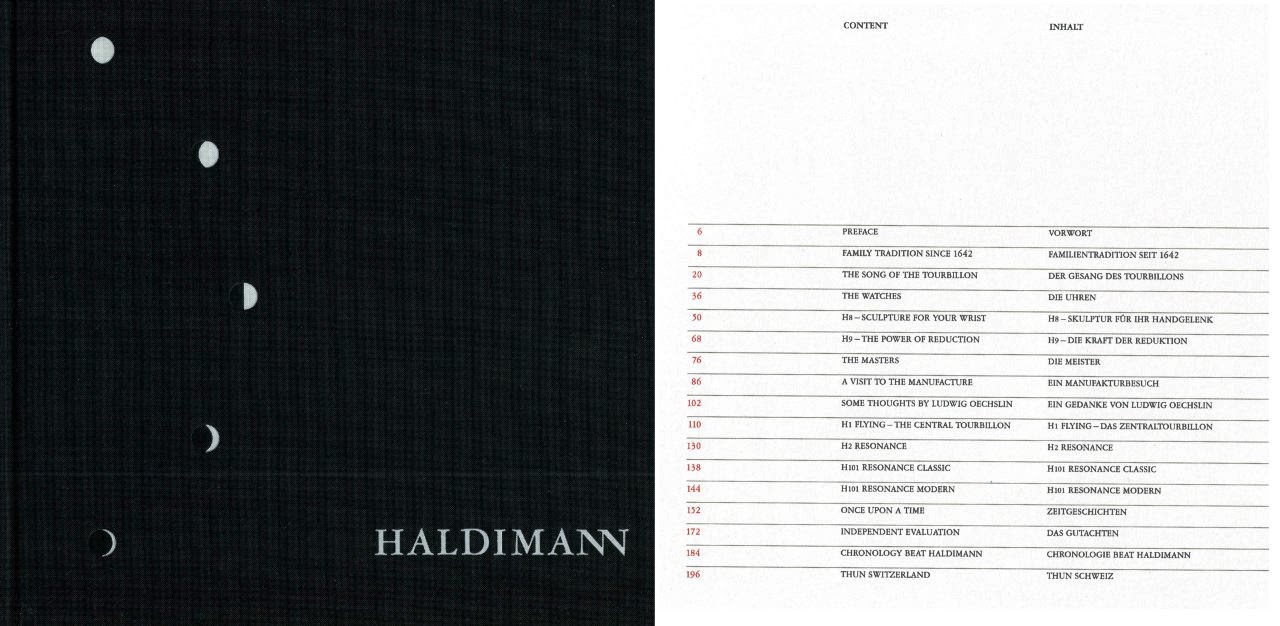 Haldimann
, Beat, ed.
Haldimann
Horology
. Bern:
Stämpfli
Verlag, 2012.
ISBN 978-3-7272-1147-8.
215x215. Publisher's cloth, slipcase.
203 pages.
Colour and black & white photos.
Line drawings.
German and English.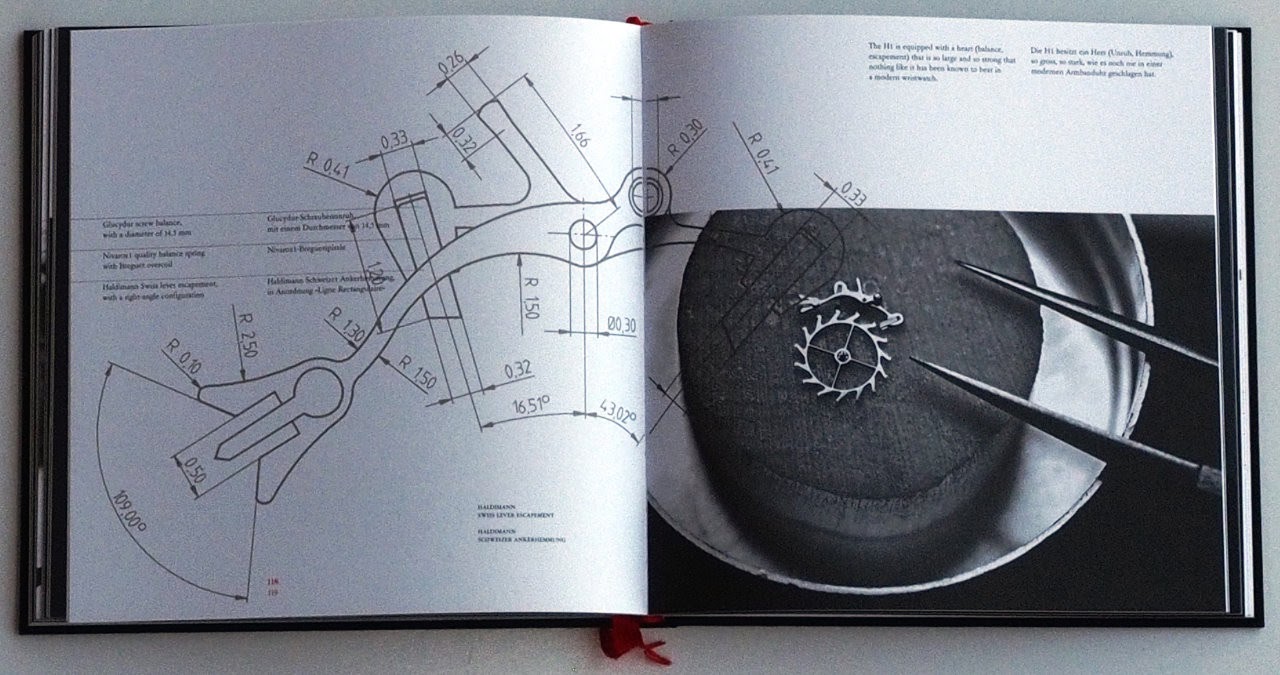 The book is printed on quite soft uncoated paper. It has been designed by Baumann + Baumann, and many of the photos are by Ralf Baumgarten (his photos illustrate also Kari Voutilainen's und Doerr's books). Ludwig Oechslin (a fan of Haldimann's H1 Tourbillon wristwatch) contributed a short chapter about the history of the Tourbillon, stating that Haldimann has "significantly advanced the tradition of artistic hand-made tourbillons as he developed his own ideas into an original solution", what opinion is substantiated. A detailed technical description with drawings of the H1 Flying Central Tourbillon is offered by Volker Vyskocil. Another chapter is a comprehensive assessment by Herbert Dittrich of Haldimann's escapement for precision pendulum clocks. For me it would be a superb book if the rest of it had been done in the same factual and educating style.
The watches and clocks of Haldimann (bar the latest H11 and H12) are presented in the book, but these further texts are just too superficial for me, not offering enough facts or explanations. There is "story-telling" and "philosophical musing". The manufacturing process, e.g., is not shown or properly explained, with the few photos in the chapter "manufactory visit" not at all self-explaining.
My disappointment has a lot to do with the specific (factual) writing style I prefer, and looking at it, I see what superb publication it could be with the design efforts that went into it: It has the foundation to be a proper book with an in-depth content, and still work as a convincing brochure for this kind of watches at the top end.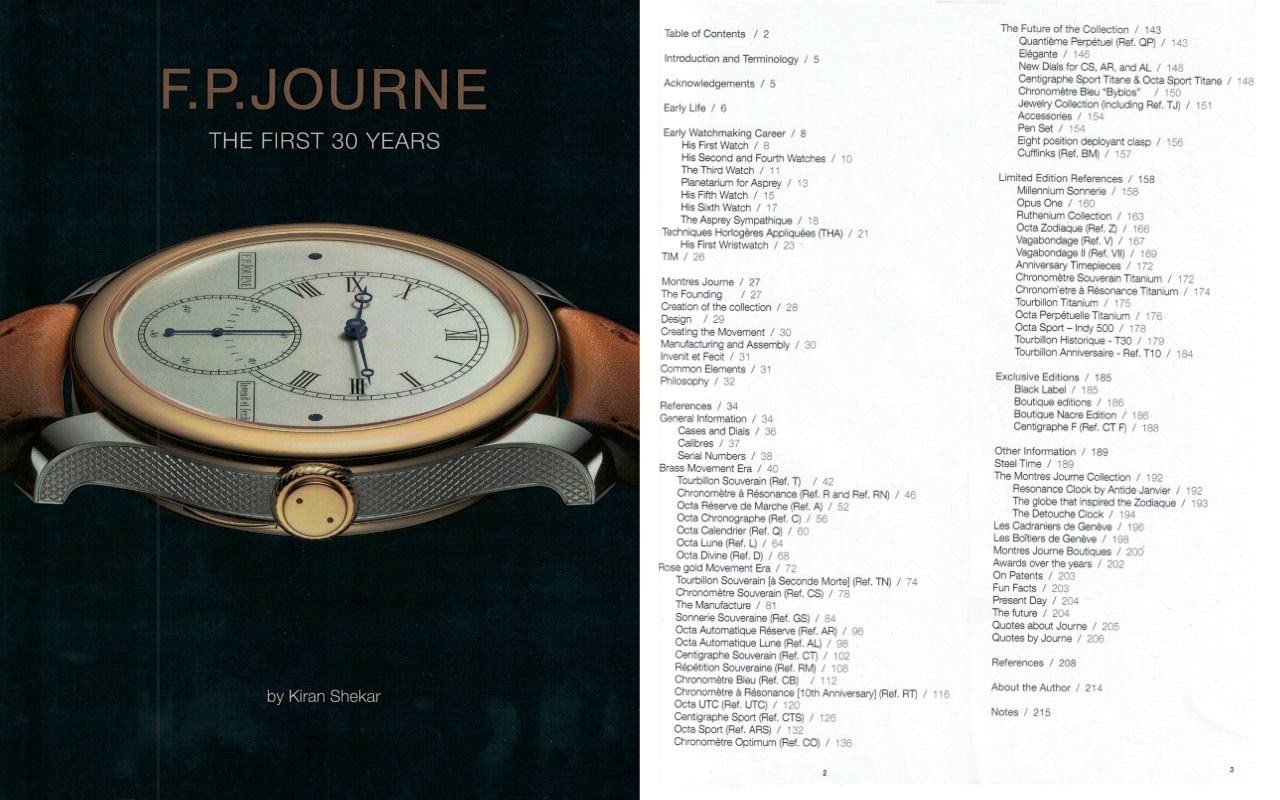 Shekar, Kiran. F.P. Journe: The First 30 Years. N.p.: Kiran Shekar, 2014. ISBN 978-0-692-29454-3. 224x287. Laminated boards. 214 pages. English.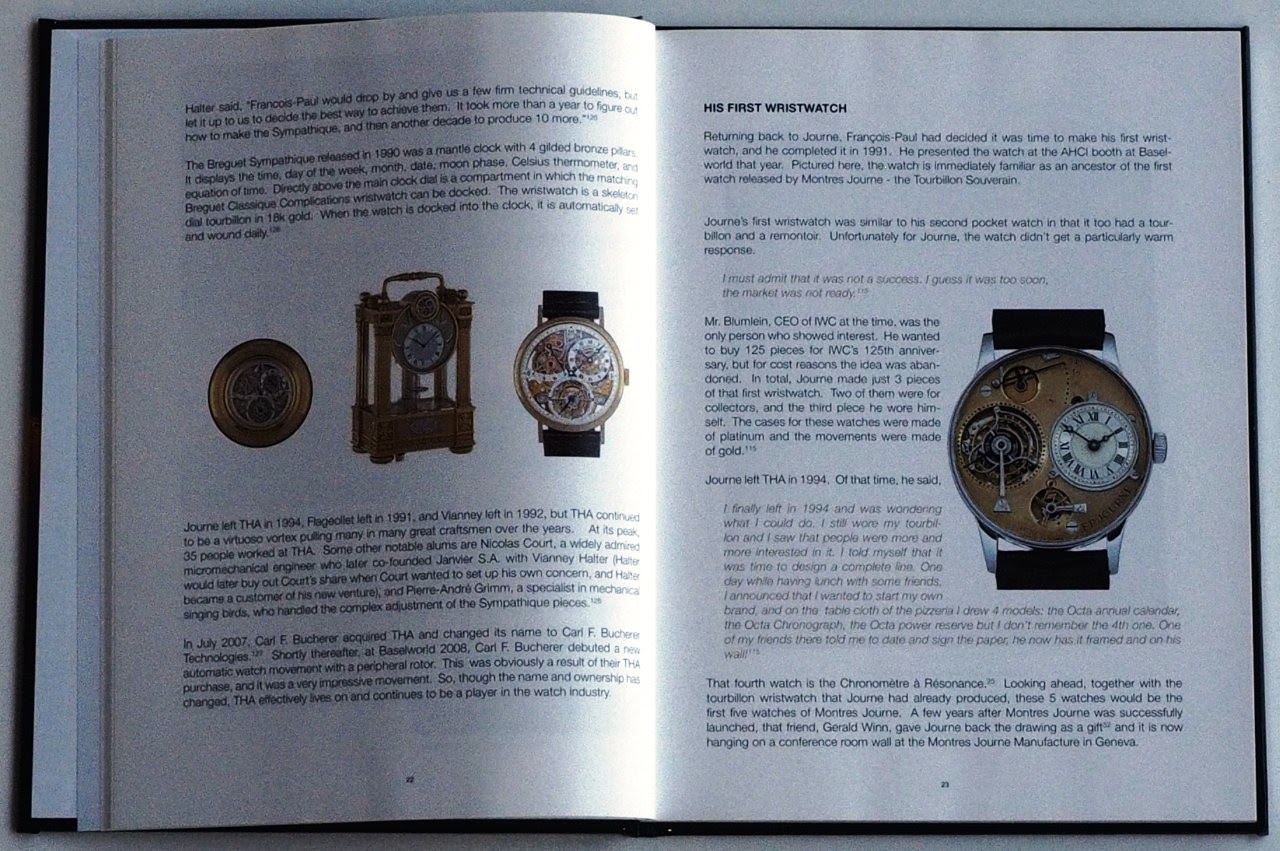 The author mentions in the Introduction to have collected notes about Journe watches for many years because he likes and collects them. Being frustrated about the non-accurate information circulating on the smaller brands, he decided to create a resource on Journe watches, where details about technical aspects are not neglected. To fill in gaps, Shekar got the support of Pierre Halimi (head of F.P. Journe America). It is a self-published book with a straightforward, simple layout, feeling a bit like a printed photobook you can create nowadays online. The consequence of such a small scale production is quite a high price ($ 200.00).
Despite these limitations the book is a superb source to learn more about François-Paul Journe and his watches. Especially commendable are the efforts to bring together good colour photos of the very early Journe watches, and even photos showing the Man in his childhood and his first atelier. The texts (presented in chronological order) are created in the same meticulous way: Whenever possible, quotes by François-Paul Journe taken from interviews are used to underline the presented facts. Extensive reference listings conclude the book, with the sources of the information used in the book revealed.
To illustrate the chapters on the production watches, press photos are used. Accessories offered by Journe are likewise presented, i.e. the pen set, an elaborate deployant clasp and cufflinks. To really include everything that has something to do with Journe, even clocks in his collection (on show at the manufactory) are shown. Here it is the first time I could read about the dial and case factories run by Montres Journe.
The most fascinating part for me is the tracing and presentation of the earliest watches made by F.-P. Journe for collectors at the beginning of his career. I found this book furthermore helpful in sorting from when to when and with what specifications, for example, the Resonance model has been built. The boutique and limited editions (including the Harry Winston version in the Opus series) can all be found clearly described in separate chapters, so that no facts get mixed up.
The extensive table of Contents shows the scope of this publication, crammed full of facts, without the "padding" all too often found in watch books. For an enthusiast who has taken an interest in Journe watches and is now lusting to buy an earlier model, this book is a treasure trove and (in my view) indispensable. I trust the information, because everything is clearly laid out and sources named. In a way, the books created by keen enthusiasts are often the most useful ones, and this one is a prime example.
Asked where this book can be bought without undue problems (as it was so far), Shekar mentioned "currently trying to come up with a good strategy for selling the book".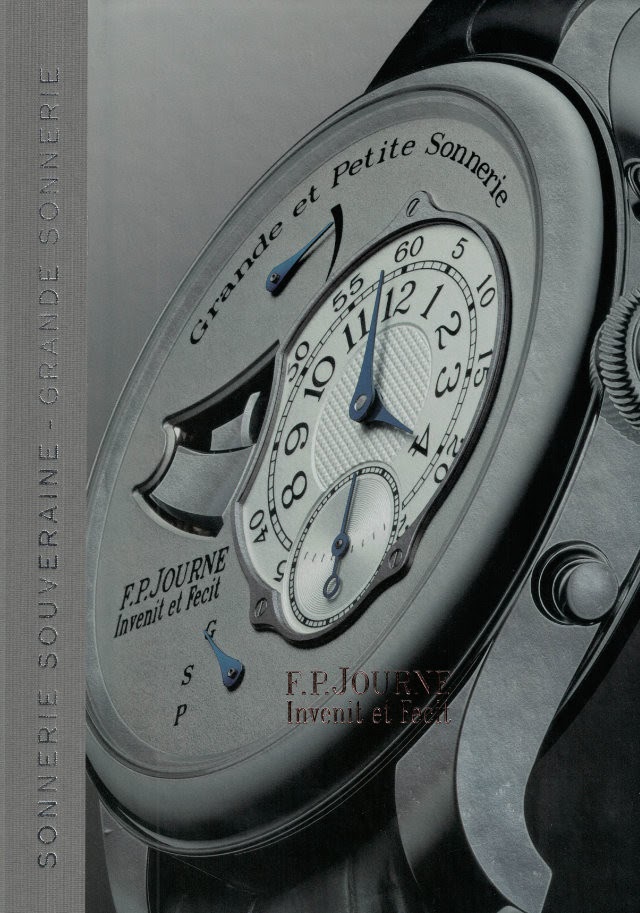 Sabrier, Jean-Claude, and Vincent Daveau. Sonnerie Souveraine – Grande Sonnerie . N.p.: Montres Journe SA, n.d. ISBN 978-3-906124-12-4. 228x302. Laminated boards. 90 pages. Colour photos. Colour illustrations. English. (This standard edition is also available in French)
A deluxe version of this book was available from the

Journe

Boutiques only. It came in a presentation box which included an audio system to play the chimes of the watch.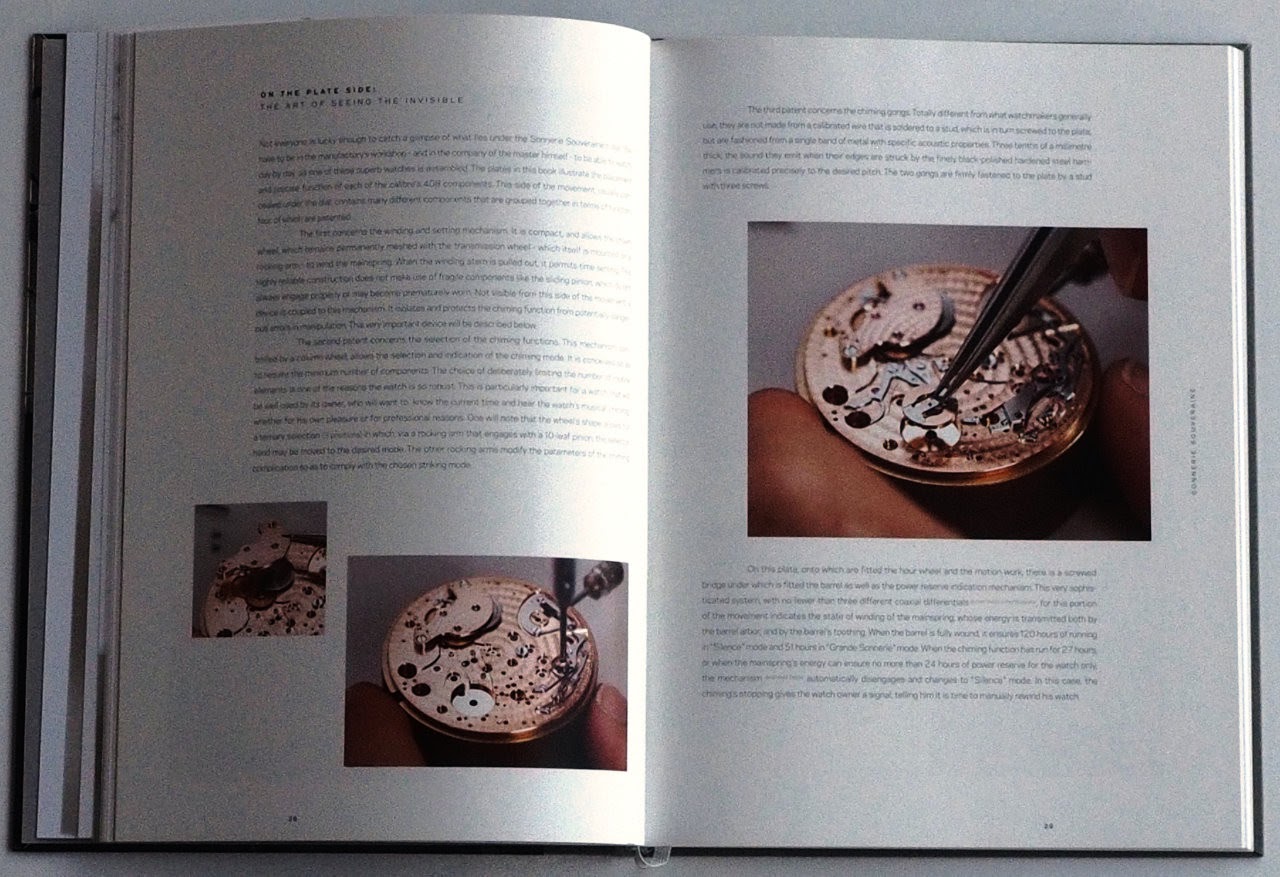 In the foreword with the title "The Himalaya of Horology" François-Paul Journe states: "Until now, wearing a Grande Sonnerie wristwatch always involved a certain amount of risk. The smallest error – for example, adjusting the time during striking – could seriously damage the delicate and costly mechanism. Therefore, the first challenge I set myself in creating this watch was as follows: 'to make sure a child of eight can operate it without damaging the mechanism.' I must say that this challenge has been the most difficult of my entire career!"
Historian, watchmaker and journalist Vincent Daveau explains then in great detail and supported with excellent photos (printed big enough for marvelling at the intricate mechanisms) the principal thoughts for the design, the musical devices, their orchestration, and the construction to attain the security in the functions. There are separate chapters to explain this all. This is followed with magnified detail views of calibre 1505 (colour photos and colour illustrations). Acetate sheets allow studying the different levels of the movement's construction. The ten patents are separately explained, supported by colour illustrations. One page explains how to set the watch, to conclude the book. The declared purpose of the book is: "Not everyone is lucky enough to catch a glimpse of what lies under the Sonnerie Souveraine's dial. You have to be in the manufactory's workshop – and in the company of the master himself – to be able to watch, day by day, as one of these superb watches is assembled. The plates in this book illustrate the placement and precise function of each of the calibre's 408 components." This quote is, by the way, a typical sample of the writing style employed.
The layout of the book is at the same time elegant and easy to read. I particularly like the mix of coated glossy paper (to show the photographs best) with uncoated paper to present some text and the illustrations. Though, in view of the price, the book is rather slim with 90 pages. It has for me a bit the touch of a well-made brochure for this model. My slight disappointment stems from the chapter "History", written by Jean-Claude Sabrier. With 10 photos of historical watches and clocks with a Grande Sonnerie function, combined with roughly a page of well spaced-out text, the introduction to this high-complication is very basic at best. For me it would have been interesting to read an assessment by François-Paul Journe, what he judges as main problems (or good solutions) on these earlier constructions: Elsewhere in the book it is stated that he is so well capable "to distil and perfect the finest work of past masters". And referring to Journe's own history, I would have enjoyed even more to learn something about the unique piece Sonnerie Souveraine he had built, or the Sonnerie for Piaget. If you went out to create the best possible construction for this complication in a wristwatch, the result you are proud of is likely the only thing that is important. So, what was before loses perhaps all interest for a watch engineer.
Still, the book is an excellent source to learn the intricacies of such a complicated mechanism; the generous use of photos and illustrations made it all comprehensible, even to someone like me, who is a bit "thick" when technical matters have to be explained. It therefore fulfils the stated purpose well.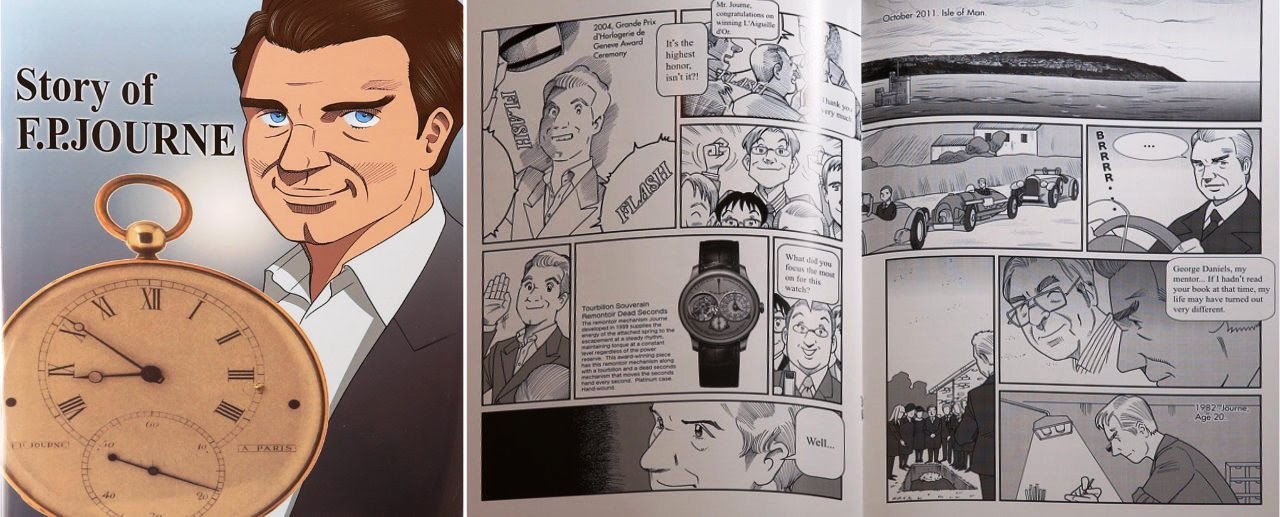 Story of F.P. Journe . Manga style story in magazine format.
In 2014 this magazine was available from the

Journe

Boutiques. It is an adaption of a previous Manga made for F.P.

Journe

by the Japanese watch magazine "Tokei Begin" in 2005. So far I have not found a copy of either of these publications. They are likely only of interest to the most enthusiastic

Journe

collectors.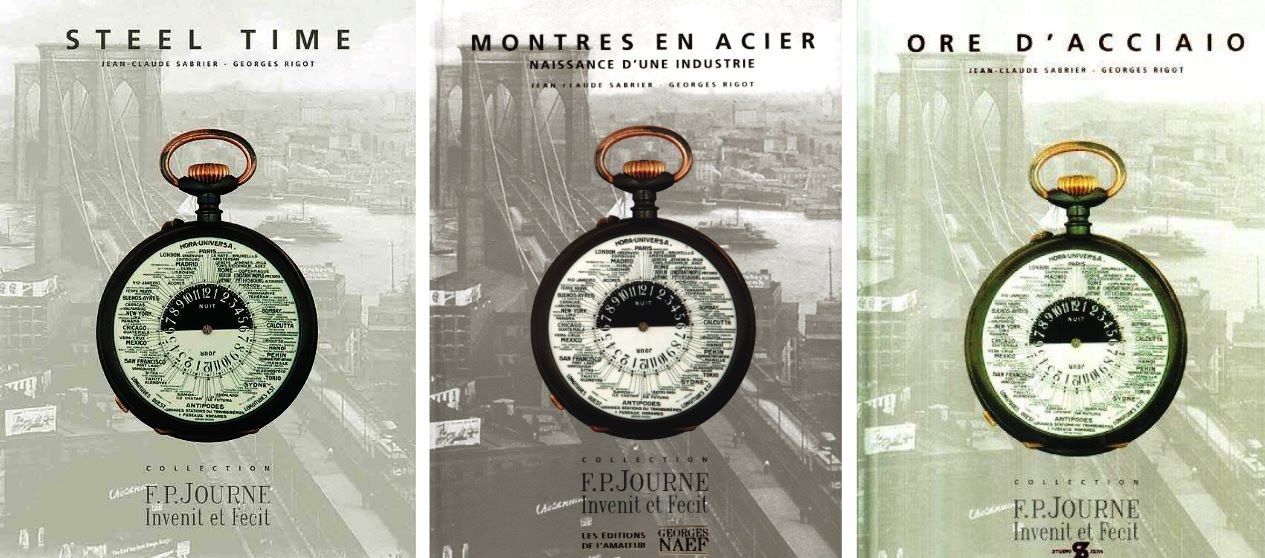 François-Paul

Journe

has commissioned a book on the historic gunmetal watches he has collected respectively bought for

Montres

Journe

SA from a collector. This world's largest collection of gunmetal watches (more than 220) is presented through texts written by Jean Claude

Sabrier

and Georges Riot. The chapters are structured by functions or complications of the pocket watches (e.g., Regulators, Repeaters etc.). In the chapter "Les

Montres

à

Heures

Universelles

" (world time watches), for example, you find a rather "thin" text about this category of watches, with the appropriate watches in the collection shown by a frontal colour photo and a caption that often gives not even the manufacturer's name.

Journe

contributes the preface, but otherwise there are no anecdotes about the acquisition of the watches or the collector they have been bought from. Consequently, the reader learns nothing about the master watchmaker turned collector from this book, nor is specific information about the watches in the collection to be found.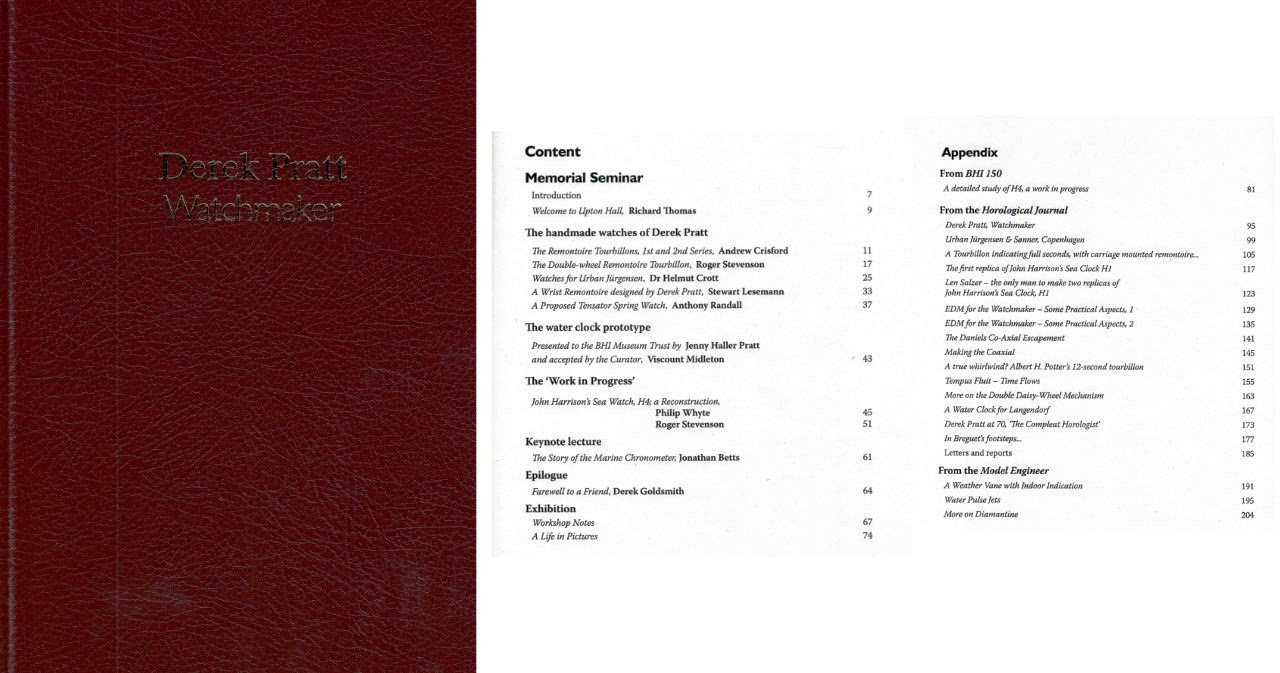 Treffry
,

Tymothy

, ed. Derek Pratt FBHI – Watchmaker: Proceedings of a Memorial Seminar, British Horological Institute, Upton Hall, September 18th 2011. Together with Workshop Notes, 'A Life in Pictures' and articles written by Derek Pratt. Upton: The British Horological Institute, 2012.

ISBN 978-0-9509621-9-1.

212x300. Hardback.

205 pages.

Colour and black & white photos.

Illustrations. English.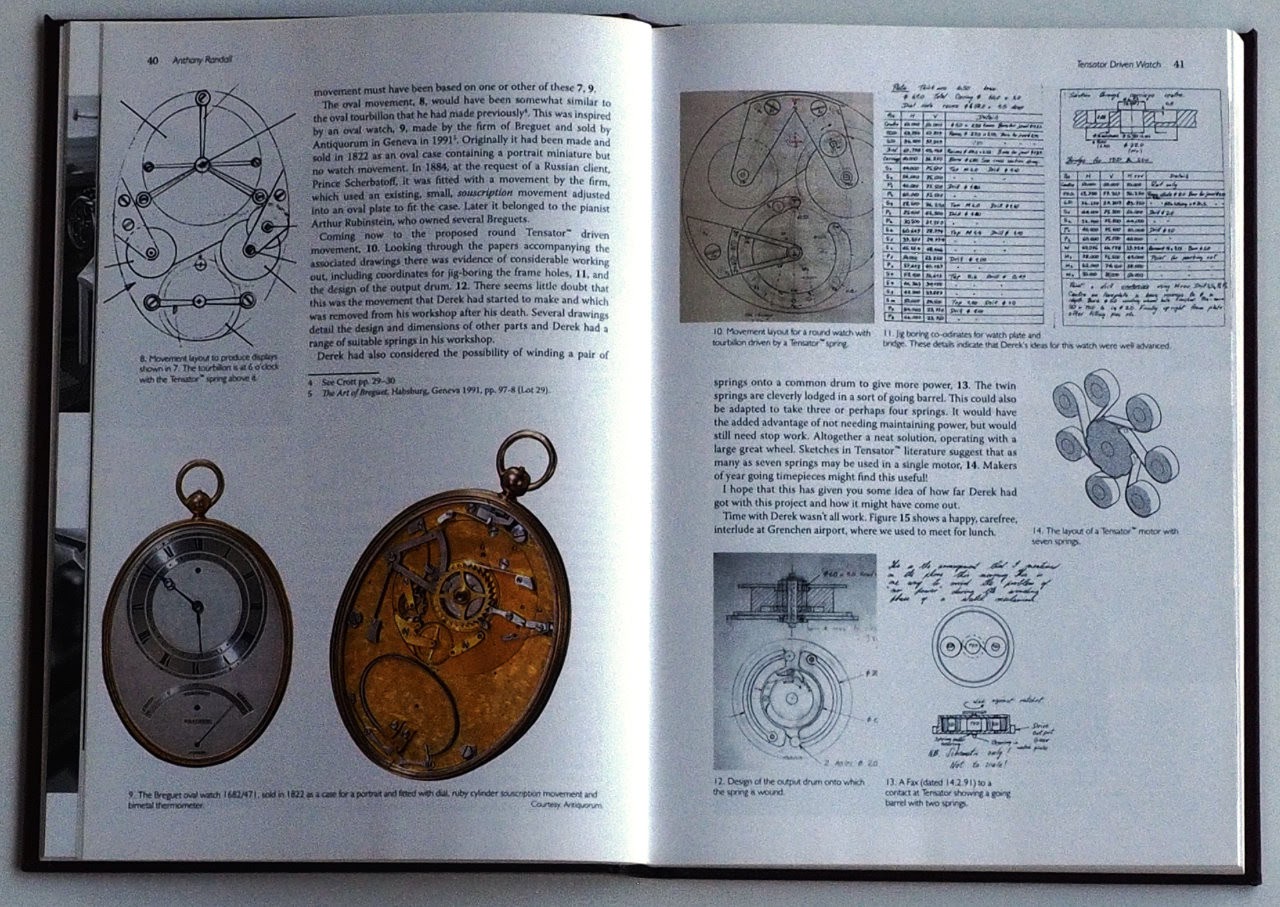 Derek Pratt (1926-2011) was one of the very few watchmakers able to make a watch from scratch. Unlike George Daniels, who was an excellent promoter, Derek Pratt is almost unknown. He worked alone (from 1965 in Switzerland), and he was known as a perfectionist. He wrote about his work in the "Horological Journal", a publication perhaps not widely read in the ranks of wristwatch enthusiasts. Though, Pratt was crucial for the revival of Urban Jürgensen.
Timothy Treffry (at the time curator/librarian of the British Horological Institute) took it on him to organise a Memorial Seminar on 18 September 2011, inviting a dozen horological luminaries to pay tribute to Pratt's professional life as well as staging an exhibition to represent his oeuvre. With the title "Proceedings of a Memorial Seminar" Timothy Treffry edited this book, making sure that the reminiscences and papers presented became accessible.
On glossy paper, enriched by many colour photos, illustrations and drawings, Remontoire Tourbillons, the watches for Urban Jürgensen, a proposed Tensator Spring watch, a water clock prototype and the unfinished Harrison H4 reproduction are presented by various authors. Even though these "chapters" are each limited to four to eight pages, what is told in them gives a good idea about Pratt's work. Written by knowledgeable horologists and well edited by Teffry, you don't have to be a watchmaker to understand the text, with the generous quantity of illustrations providing additional help. The chapter by Helmut Crott about the revival of Urban Jürgensen und Sonner was of particular interest to me. A photo shows Pratt's workshop, full of hand-operated machines, which increased my estimation further for the beautifully hand-detailed UJS watches produced when Peter Baumberger owned the brand.
Reprints of articles by and about Pratt, published originally in the "Horological Journal", take most pages of the book. These "reprints" are not low quality copy reproductions from magazines, but newly laid out articles with excellent colour and black & white photo reproduction. As a "bonus package", Workshop Notes by Pratt are reproduced.
For me, this is a model of a publication, showing how well the oeuvre of a master watchmaker can be presented when it might be difficult to finance an author and the printing of a monograph. It needs an enthusiastic individual with the skills and connections of

Treffry

to create such worthwhile reading matter

posthum

on an interesting watchmaker.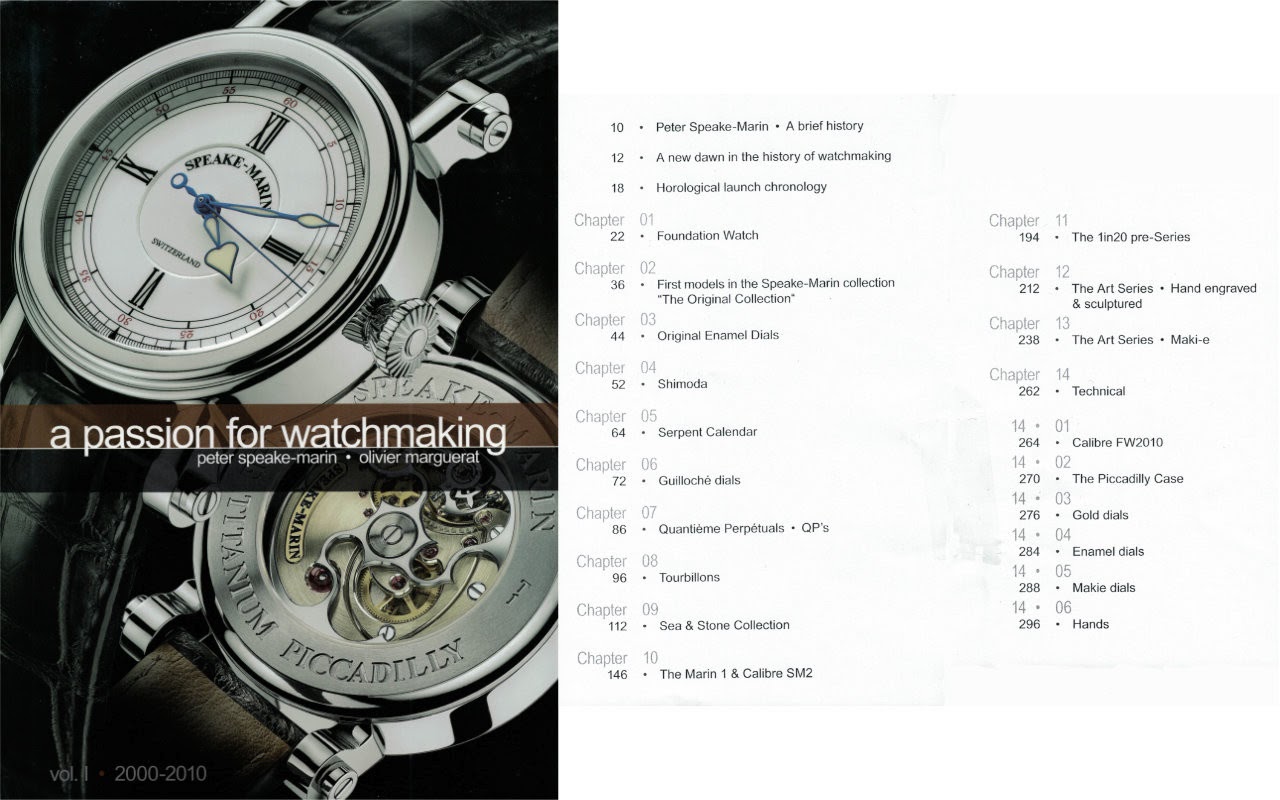 Speake-Marin, Peter, ed. , and Olivier

Marguerat

. A Passion for Watchmaking: Vol. I – 2000-2010. Rolle: Speake-Marin SA, 2010.

ISBN 978-2-8399-0654-8.

191x276. Hardback with dust jacket.

304 pages.

Colour photos.

English.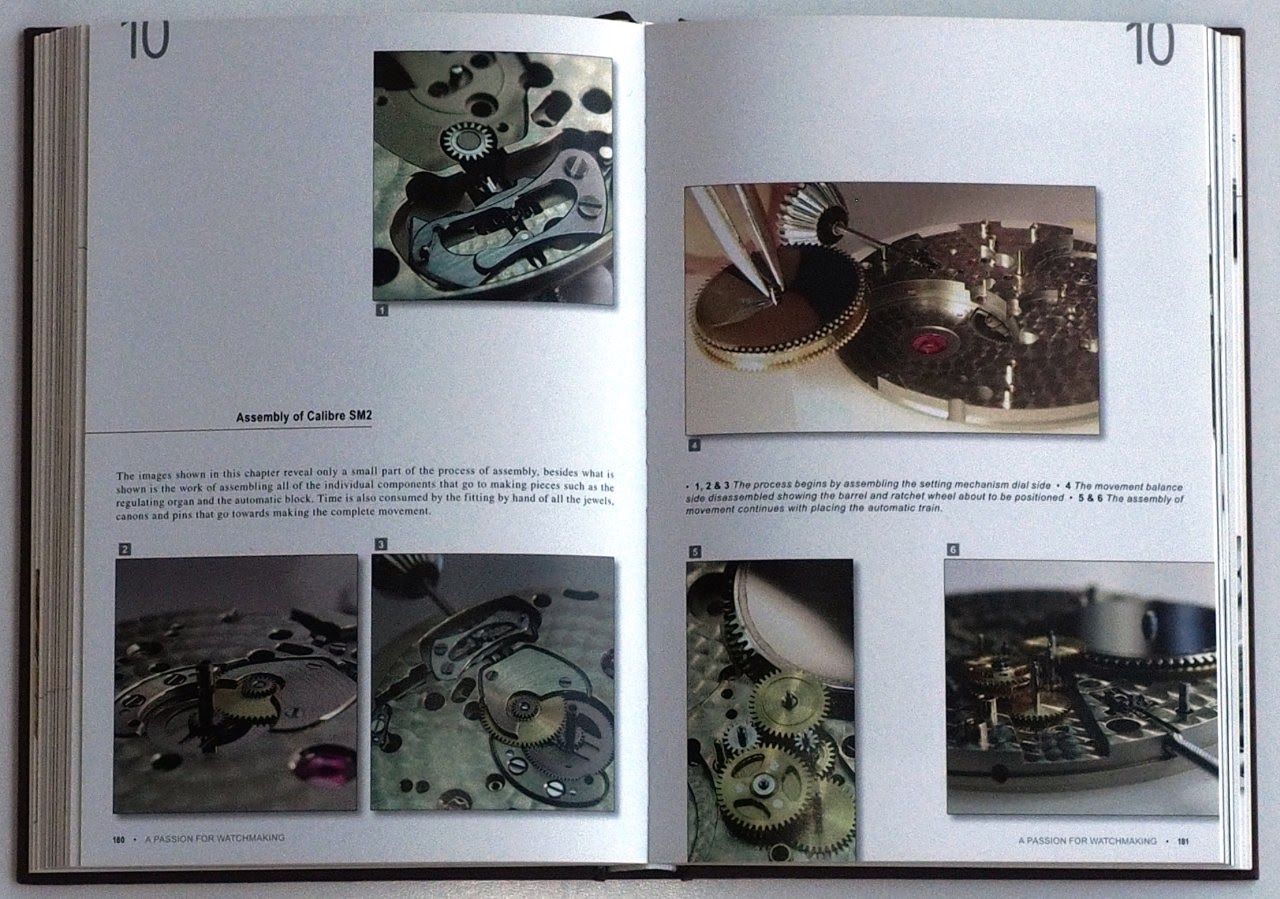 On the dust cover flap as well as in the introducing text of the book, Peter Speake-Marin voices his view on watchmaking: "Some companies make products which tell the time and have various unique selling points which can be linked with design or innovation of some form. Then there are those watchmakers that make watches that are representation of who they are. These individuals make authentic watches because their drive is born from the soul rather than simply from a cash incentive. […] I believe there are few modern watchmakers that have created an original style, adhered to an underlying philosophy of constant improvement, longevity, beauty and quality which will live beyond their own time. My goal is that in years to come I will be considered as one of them."
The book has "Vol. I" in its subtitle and I looked already forward to "Vol. II" to cover the second decade of Peter Speake-Marin's oeuvre. As we all know, business realities do not always allow maintaining ideals rigorously for longer periods. Through published interviews it is known that Peter Speake-Marin took an investor on board in 2009 and he left the company still carrying his name definitely in 2017. There are likely more enthusiasts than just me who believe that the brand has gradually fallen into the trap Peter Speake-Marin described so well eight years ago in his book.
This book has therefore become a wonderful catalogue raisonné of Peter Speake-Marin's production still embodying his ideals. He is listed as "editor" of the book, but he has obviously provided the texts, in the style we find nowadays on his website "The Naked Watchmaker". In a foreword, he briefly (2 pages) describes his career, starting with restoration work in England and then quickly leading to Renaud & Papi in Switzerland before becoming self-employed. In an introducing chapter "A new dawn in the History of Watchmaking" (6 pages) the creation of new brands after the Quartz Crisis by master watchmakers is sketched. A brief description of his philosophy for watchmaking is also given.
The remainder of the book is a showcase of his watches (starting with the Foundation Watch, a Tourbillon pocket watch built from scratch) through the Marin 1 of 2010. The in-house movement SM2 of the Marin 1 was based on ideas already realized with the Foundation Watch. This calibre SM2 is presented in detail in its own chapter (38 pages). Less extensively, yet still in detail, calibre FW2012 (highly modified ETA 2824), Piccadilly case and the different dial decoration techniques of the Art Series watches are shown with many beautiful professional colour photos, brilliantly reproduced on coated quality paper. The text to go with these photos is essentially in the form of detailed captions, with a preceding short introduction. These texts are to the point and highly informative. This is all part of a clever layout of the book (elsewhere described as a "coffee table book", which seems not correct to me when such a lot of substance is offered): Stylish and elegant, the design is not hindering the consummation of the information offered. The book is a treasure trove for fans of Peter Speake-Marin's early work which still bears his handwriting. With the many unique pieces and small series of limited editions he has made then and portrayed in the book, it is an ideal catalogue for deciding which models might be of interest to be hunted down.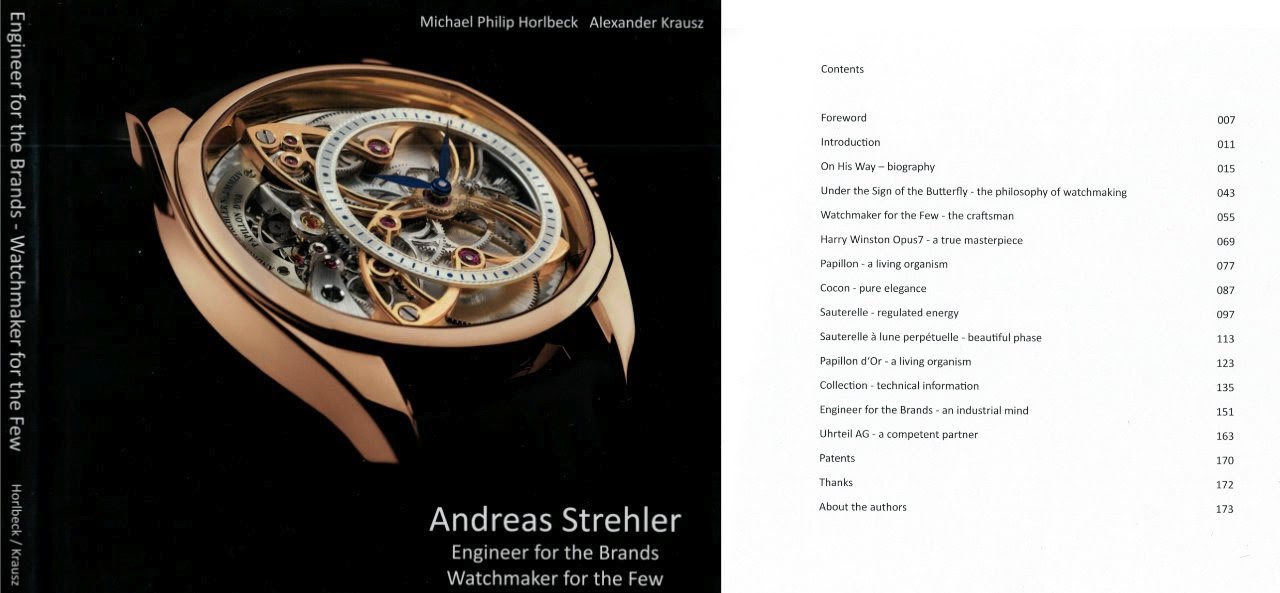 Horlbeck
, Michael Philip, and Alexander

Krausz

.
Andreas Strehler: Engineer for the Brands – Watchmaker for the Few.

Sirnach

: House of Time Books, 2015.

ISBN 978-3-941539-89-1.

235x216. Hardback with dust jacket.

174 pages.

Colour and black & white photos.

Colour illustrations. English.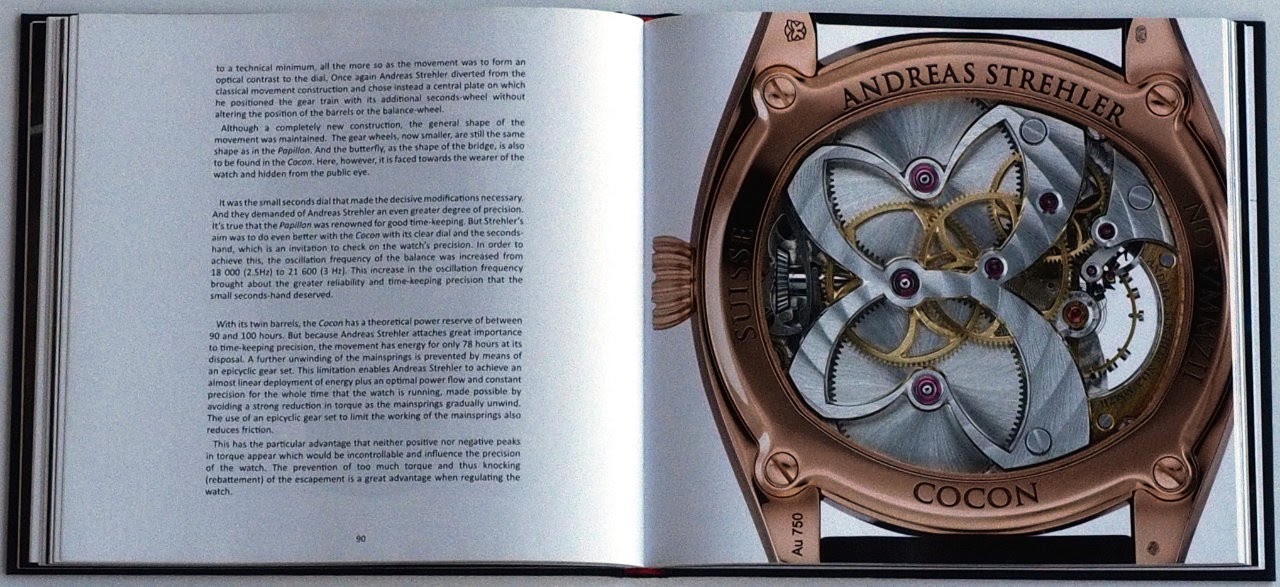 Andreas Strehler is recognized as one of the best movement engineers in the watch industry. His main work is development and parts fabrication for third parties (it is known, e.g., that he has developed 10 movements for H. Moser & Cie. alone; other customers are kept secret, even his employees of Uhrteil AG do not know anything, because all contract work gets the name of a comic figure which is exclusively used for internal communication). His slogan is 'Engineer for the Brands – Watchmaker for the Few'. The "Few" are about 10 collectors per year, because he is not producing more of the watches bearing his own name. I have the feeling, he is himself still a "trade secret", considering how rarely his masterpieces show up in blogs and forums.
In 2015 Strehler was already in independent watchmaking for 20 years. This was the occasion to self-publish this book, written by two of his friends (Michael Horlbeck, an author of several books on watches; Alexander Krausz, a lawyer practising for the watch industry). The smaller format book is printed on glossy paper, reproducing the colour photos well. The layout is straightforward, nothing stylish. But then Strehler calls himself simply "watchmaker", without "art" or anything further on his letterhead.
40 pages present his professional career and watchmaking philosophy well. Told in a plain and factual language with all the required details, I found this part very helpful to better understand Strehler's watches. It refers to his mentor Giulio Papi, who told him not to read books about watchmaking, because he felt that this limits the creativity. Strehler did not heed this advice and devoured books on watchmaking. For him it is inefficient to "re-invent the wheel", particularly in watchmaking where enough energies are required to improve and further develop basic constructions already known since ages. Strehler did indeed then present a Tischkalender (table calendar clock) with inserted pocket watch (building on Breguet's Sympatique clock) when applying for membership to the AHCI. Hardly anybody took an interest in this work (and neither in the pocket watch "Die Zwei" with a switchable display presented later on), because Strehler's thinking was so much out of the box (when everybody else was presenting Tourbillons as their masterpieces).
For his own watches Strehler adheres to the principles of traditional craftsmanship. The reader has to do with 10 full page macro photos to comprehend the superior detailing, because there are unfortunately only some basic captions as explanations offered in the chapter "The Craftsman", without describing the techniques employed.
On the following 66 pages, though, all the models (starting with the Opus 7 for Harry Winston through the Papillon d'Or) get separate chapters, describing the technical side in an easy to understand way, presenting the ideas of Strehler behind the solutions (and the models) too. The (for me a bit "clinical") press photos of Olaf Köster are used together with 3D-illustrations to show the watches with their technical details, like the micro differential gear and other specialities of Strehler.
The book is then concluded with the specifications of his models and two chapters about Strehler's work for the industry (through Uhrteil AG).
The formal presentation of all this detailed information is workmanlike rather than embedded in an elegant design, as with other publications, like the following one about Kari Voutilainen. In a way it is befitting Strehler who is never boasting about his enormous skills. Only the facts are important, and these can certainly be found in abundance in this book. Detailed articles about Strehler and his work are rarely found in magazines and on blogs, so the book is almost indispensable for the enthusiast of independent watchmaking at the top end to learn more about him.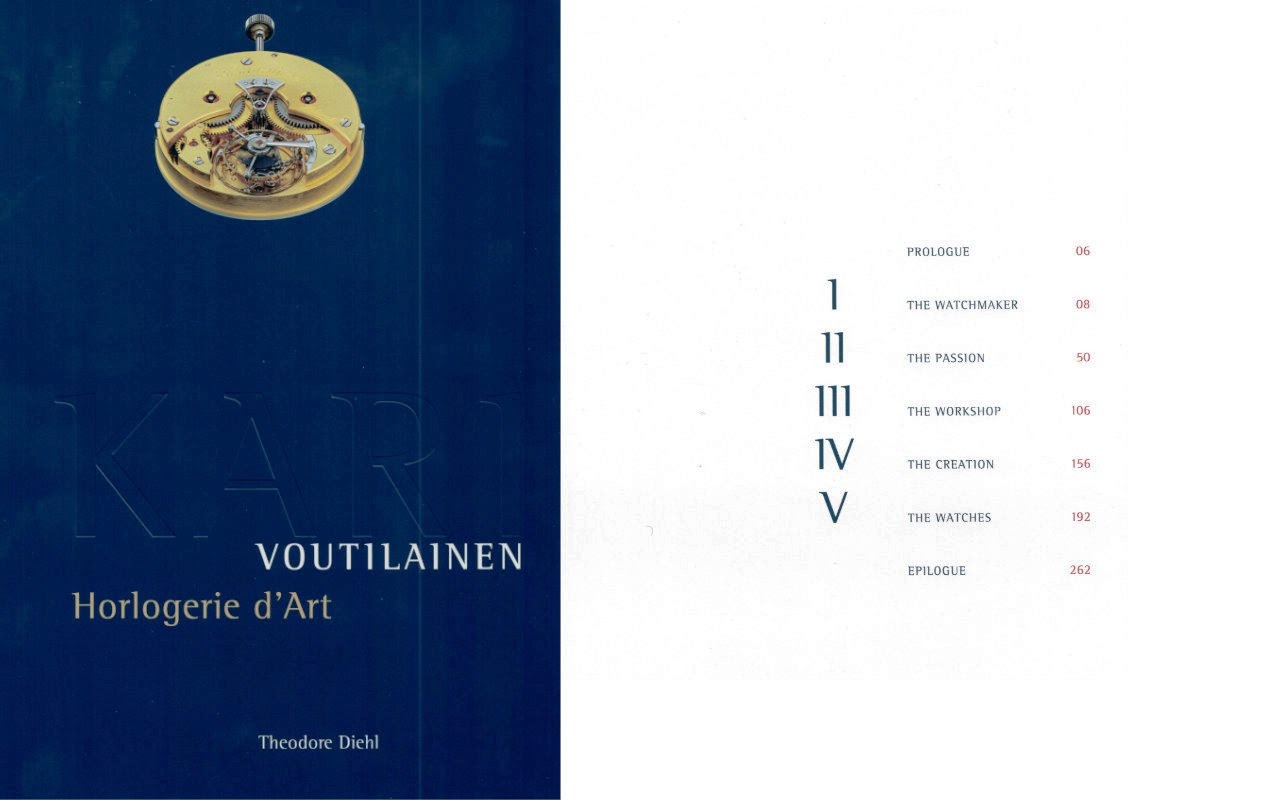 Diehl, Theodore. Voutilainen:

Horlogerie

d'Art

.

Môtiers

: Kari Voutilainen, 2013.

ISBN 978-2-9700731-4-7.

216x301. Hardback with dust jacket.

272 pages.

Colour photos.

English.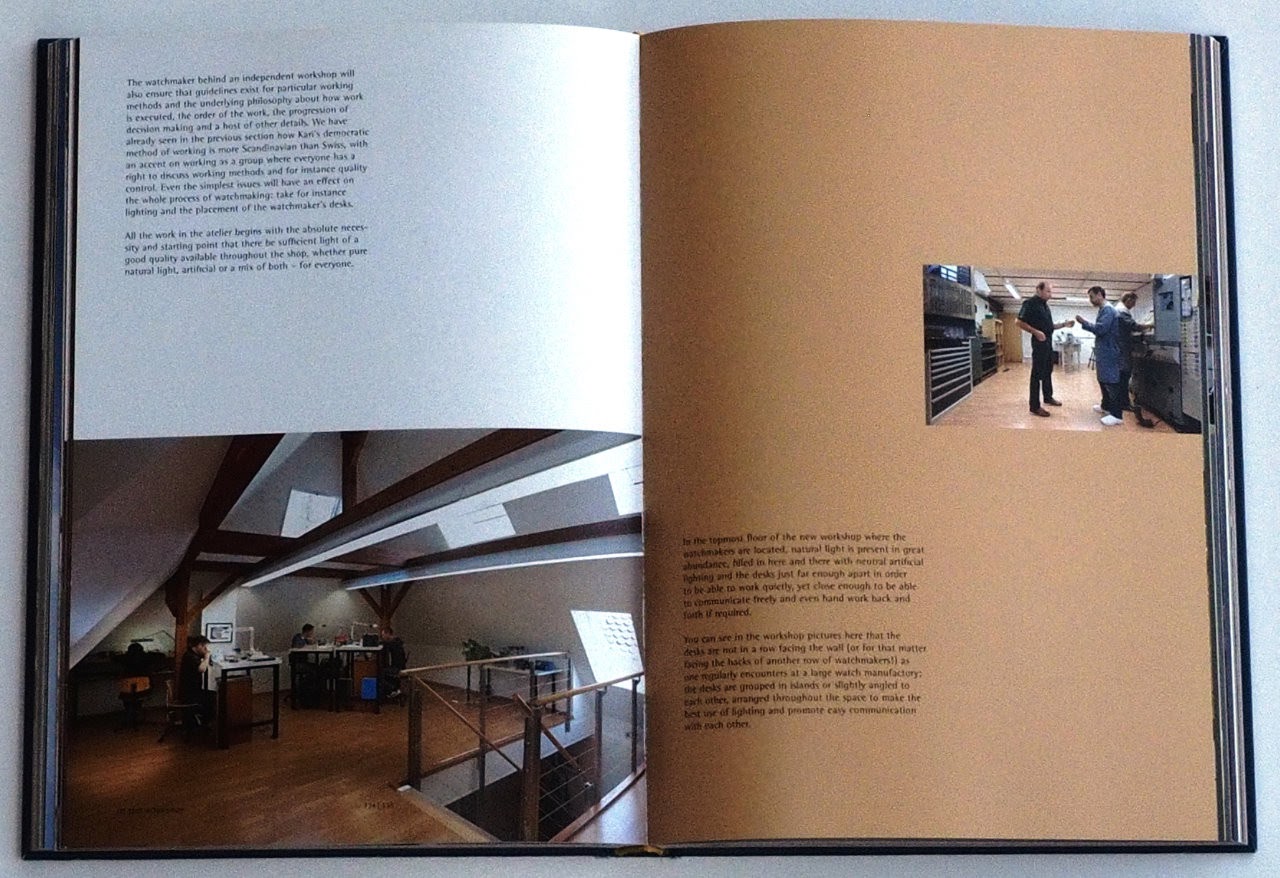 If "Horlogerie d'Art" is a by-line on your letterhead as well as on the book's cover, you expect this to reflect in the presentation of the goods. Kari Voutilainen ensured this by hiring a professional writer (Theodore Diehl), a top photographer (Ralf Baumgarten) and well-known art book designers (Baumann + Baumann).
Theodore Diehl mentions in the "Prologue" to have followed Kari Voutilainen's career since the beginning as a friend. The book, "commemorating the first ten years of his atelier's existence", should therefore present a real insider's view. The first chapter "The Watchmaker" follows a timeline, but the biography is not told year by year; key years are picked-out, to relate the furthering of the career to important events or experiences. In between, quotes of Voutilainen tell more about the person and the philosophies brought to watchmaking. The chapter "Passion" is fortunately devoid of platitudes and rather presents the problems that must be overcome to succeed as an independent watchmaker at the top end of the market. Visually the text is served in easy "bites". The efforts to write "nice" and the stylish design of the book with many atmospheric photos were first a bit distracting for me. Only when I read the book the second time I realised that all is there, with a lot of interesting details that make it better understandable what is involved in watchmaking at this level.
The chapters "The Workshop" and "The Creation" explain in detail what is important to Voutilainen, be it the organisation of the workshop, the relationship with the employees, or how and for what all the machines are used. What Voutilainen might tell you at an atelier visit, can be read here at home, if there is no opportunity for a personal meeting.
The chapter "The Watches" cannot be a catalogue raisonné of the ten year's production; with all the unique pieces Voutilainen is manufacturing, this would simply not be possible. Therefore, only the main models from 1994 to 2013 are presented with one or two photos each, the specifications and explaining text, often as a quote in Voutilainen's own words.
Cover and binding of the book would have deserved a better quality to reflect the quality of

Voutilainen's

watches. The real Voutilainen enthusiast will possibly take it to a custom bookbinder for a bespoke cover. The content certainly deserves it. Voutilainen uses often the expression "elegant" when describing his watches or a particular decoration. The book's design can also claim this attribute, inclusive of the substance his watches offer too. Acting as publisher of the book, Voutilainen shows to be prepared to invest in his image and takes the reputation not for granted.

F.P. Journe issues hardback brochures from time to time. I like them for their lively and elegant layout. The movements are shown outside the cases. The texts are free of marketing superlatives; instead the technique of the movements is properly explained. They are nonetheless brochures, so no reviews are included here. These catalogues can be downloaded for free as PDF files from the manufacturer's website, by the way: https://bit.ly/2Jl2Izy

Harry Winston, too, has produced beautiful hardback brochure books for the Opus model range, the watches created by independent master watchmakers when Max Büsser was in charge. The one on Vianney Halter's Opus 3 is particularly beautiful, with three separate books in a slipcase, discussing the creation process and the technique of the watch.
Amazon or the local book shop might be the first source to buy titles. Many of these publications could be too niche to offer them to a wider audience. Specialised book dealers might therefore be a more efficient source.
This is a convenient platform to look for out-of-print titles. The adverts are mostly by professional dealers, so there is a good overview of what is available on the market.
I use the following suppliers since quite a few years, and I have always been very happy with all transactions with all of them so far: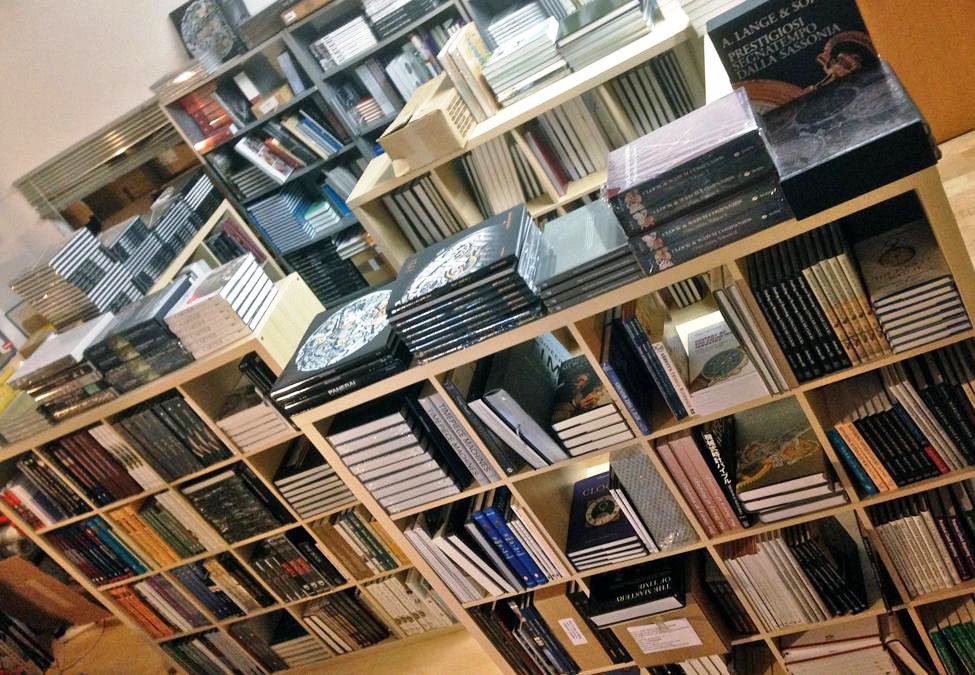 formby-clocks.co.uk (GB):
Jeff Formby is a professional dealer in England. At least a part of his books is offered through Abebooks. He has his own searchable website, being specialised in out-of-print titles. He is not the cheapest, but the quality (condition) of his offerings is excellent (and correctly described on the website). The mail order transactions are very professional, including careful packing of the books to avoid damages in transit.
Watchprint.com (CH):
Susanne Wettstein and Fabrice Mugnier are dealers as well as publishers of important watch books (e.g. Omega Moonbook Only etc.). International mail order from Switzerland is offered, and they can be found with a booth at many watch shows around the world. Likely any in-print book on watches and jewellery can be supplied. Their website is searchable. The more exotic titles with only the odd copy available from them (like the Journe book by Kiran Shekar) are not advertised on the website, so it is always worthwhile to ask when a title is not found in their listing.
BookSimonin.ch (CH):
Antoine Simonin is a publisher of watch books. He runs also a shop and is doing retail mail order from Switzerland. In addition to the in-print titles he offers a good stock of out-of-print books (even antique rarities) that are mostly listed on his website (with search function).
With books you expect that the author has done a deep research of the presented theme for the reader. If the convenience of such previously done work is not available, there is one fantastic source for your own research on a subject of interest: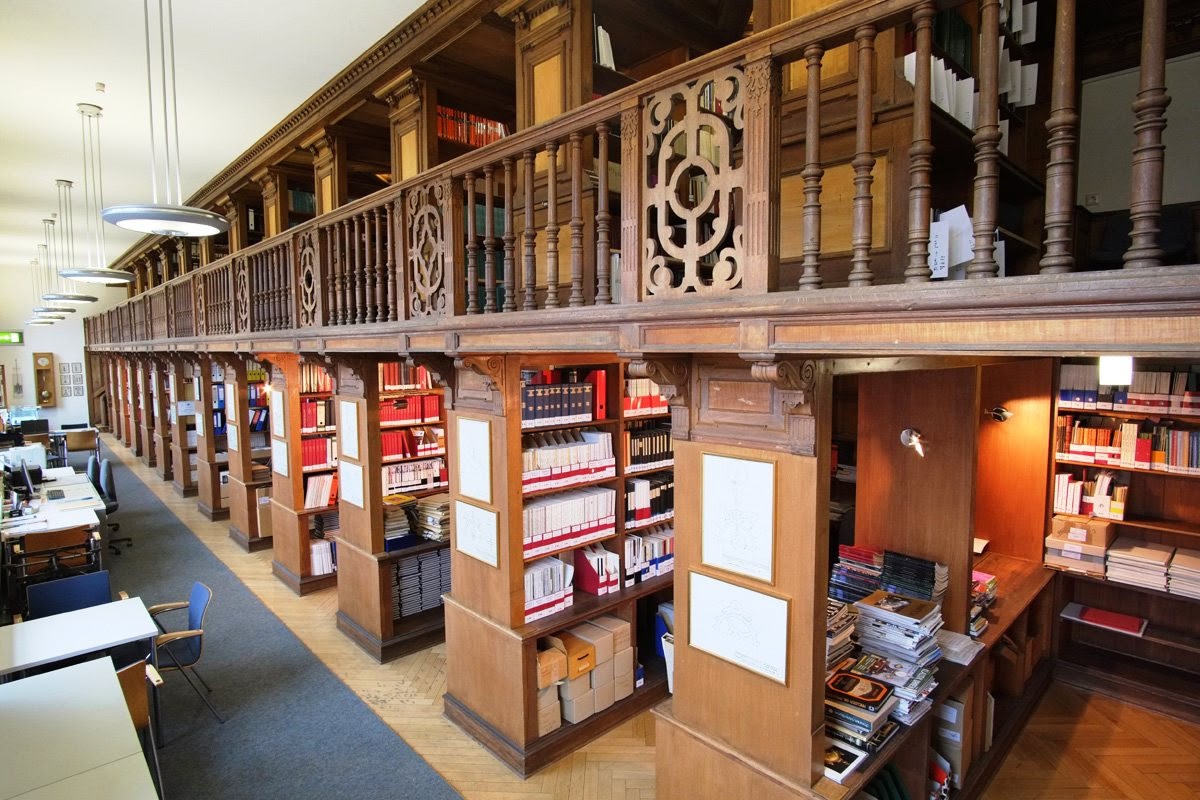 dg-chrono.de (D):
The German "Deutsche Gesellschaft für Chronometrie" (German Society for Chronometry) is running an incredible library of watch literature in Nürnberg, Germany, the biggest collection of printed time measuring know-how in Europe. They are in the course of scanning the watch and clock auction catalogues of the main auction houses (more than 5'900 so far). About 120 different titles of watch newspapers and magazines back to the year 1855 (more than 2'200 annual volumes, though, not yet complete regarding the most recent years, when the title is still published) are already scanned. Part of the collection is the extensive archive of watch historian Jürgen Abeler. They sell searchable quality PDF scans at very reasonable prices. Copies of single articles (with orders based on the web published content lists) or complete editions of these publications are available. Nothing beats research at home at your convenience!
Björn
This message has been edited by KMII on 2018-07-11 12:48:42