As per the announcement, the Watchmakers "The Masters of Art Horology" Exhibition [CLICK] started its run in London from 18 - 26 June 2018.
As media partners, PuristSPro was there to check it out.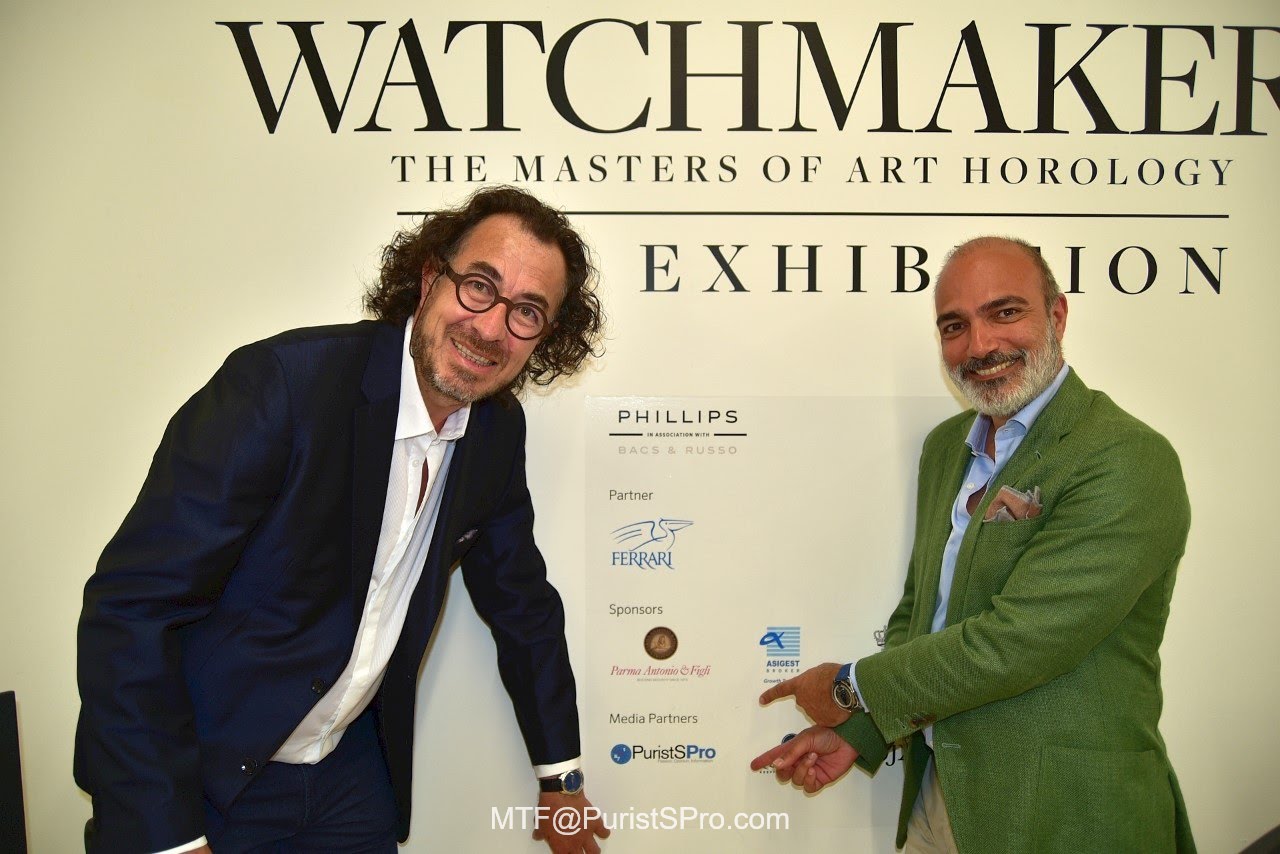 PuristS Ludovic Ballouard and Alex Ghotbi
Claudio Proietti and Maxima Gallery of Rome

Conceived by Maxima Gallery founder, Claudio Proietti, the final stop of the exhibition global tour is London.
Claudio welcomed the watchmakers and guests to the reception and panel discussion as well as thanking various sponsors and partners, especially Phillips Auctions.
Irene translated.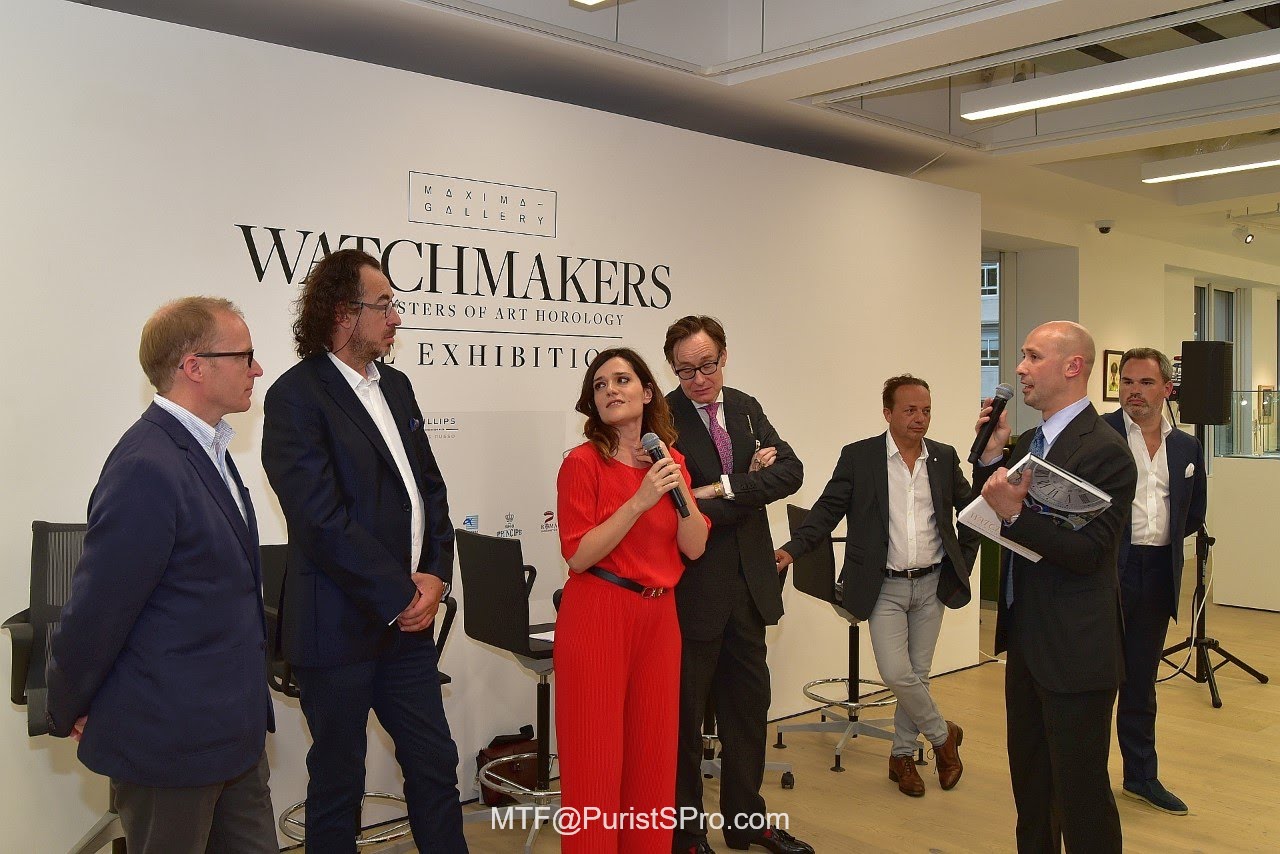 Claudio, Irene and Watchmakers Panel
On 20th June 2018, a Panel Discussion was held at Phillips Auction House with Roger Smith, Ludovic Ballouard and Christophe Claret representing independent watchmakers.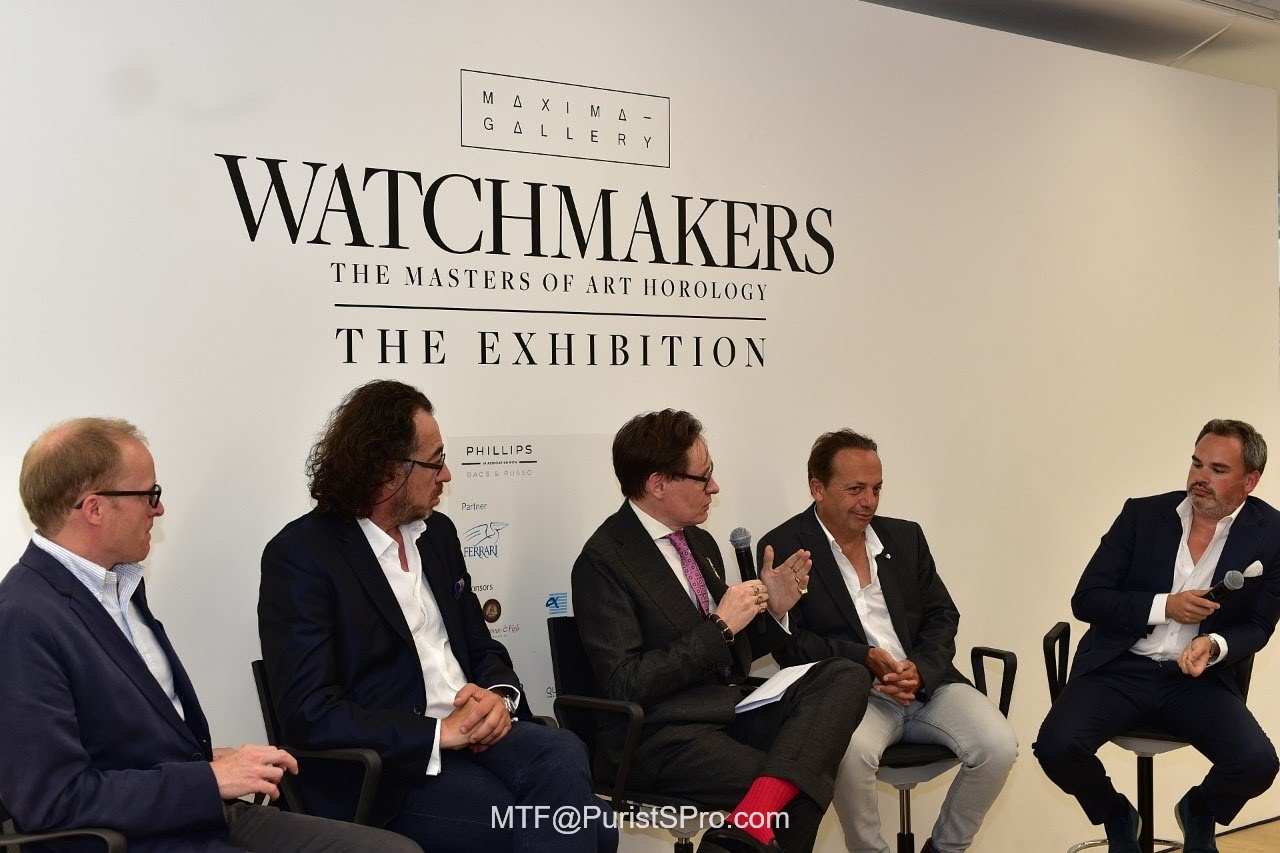 Roger Smith, Ludovic Ballouard, Nicholas Foulkes, Christophe Claret and James Marks
It was moderated by author Nicholas Foulkes.
James Marks, Phillips Auctions' newly appointed International Specialist for Watches made up the final member of the panel.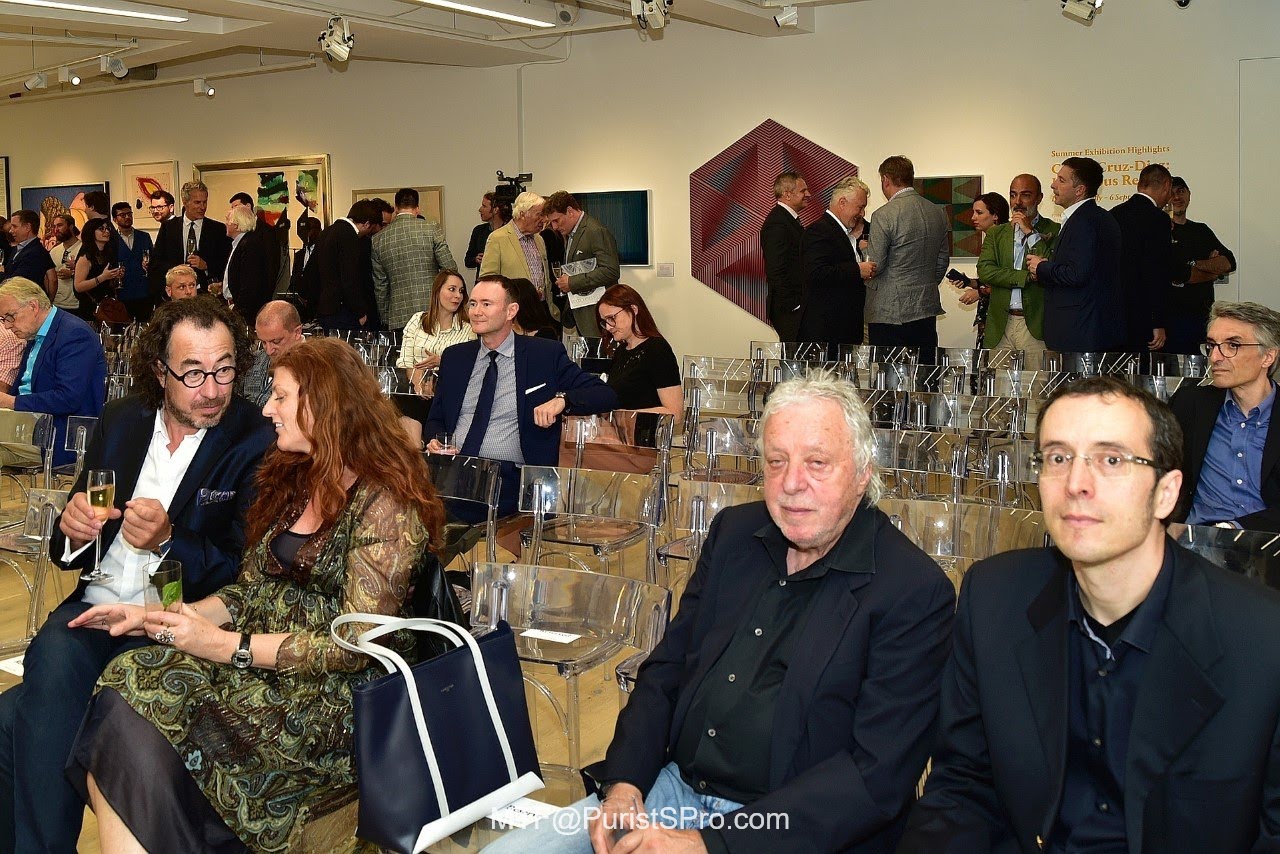 Mr and Mrs Ballouard, Daniel and Jean Roth

Amongst the audience of watch collectors and art aficionados were many PuristS and three more renown watchmakers - Stephen Forsey and Daniel & Jean Roth.
We even spotted Mrs Smith, Mrs Ballouard, Mrs Claret and Mrs Forsey; an unprecedented experience for me!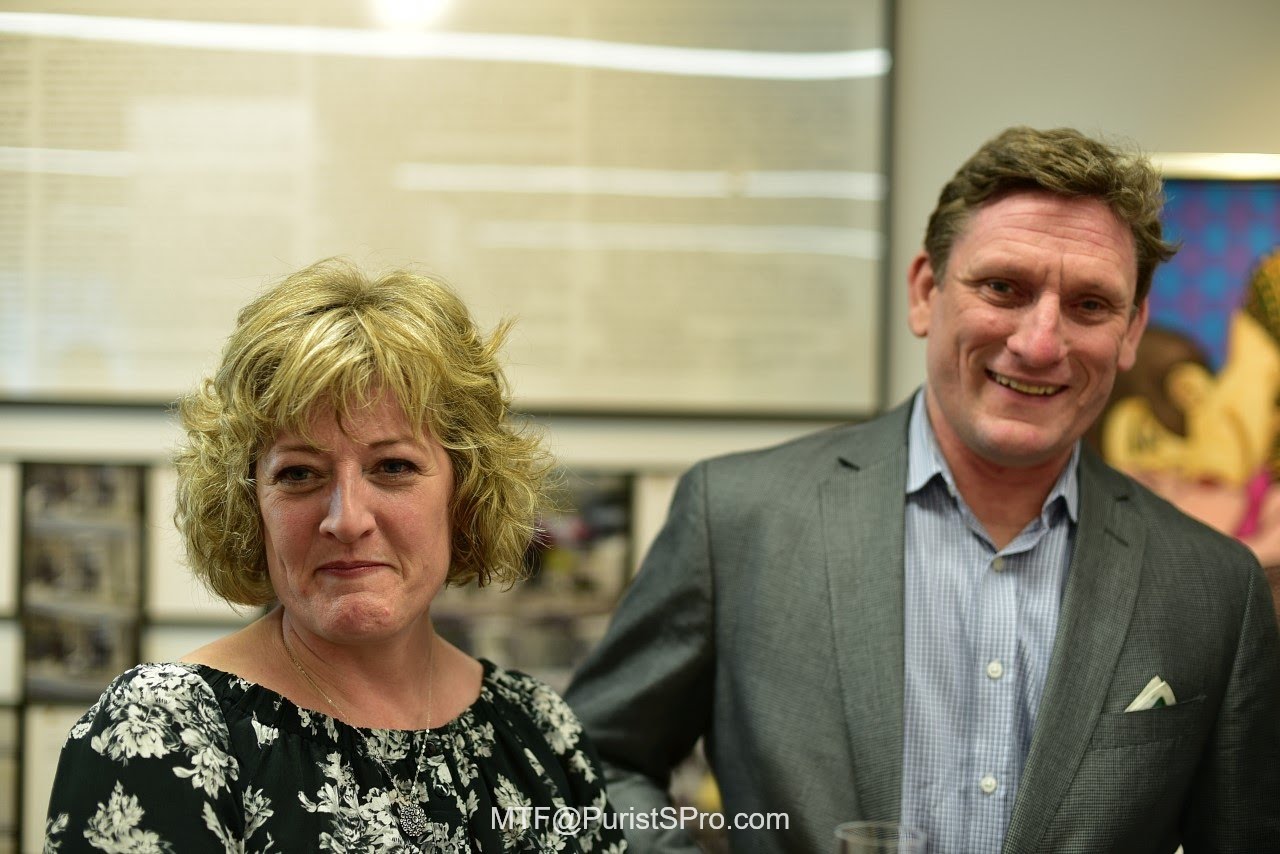 Mr and Mrs Forsey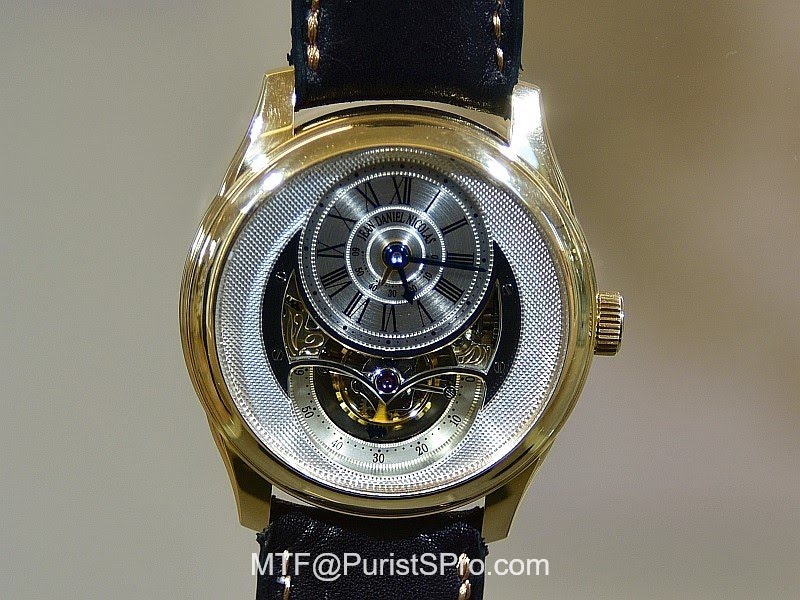 Jean Daniel Nicholas Tourbillon Two Minutes

Panel Discussion
One of the points mentioned was the "lonely independent watchmaker" as Roger Smith noted that he had not seen Ludovic Ballouard for at least 7 years, being isolated on the Isle of Manx.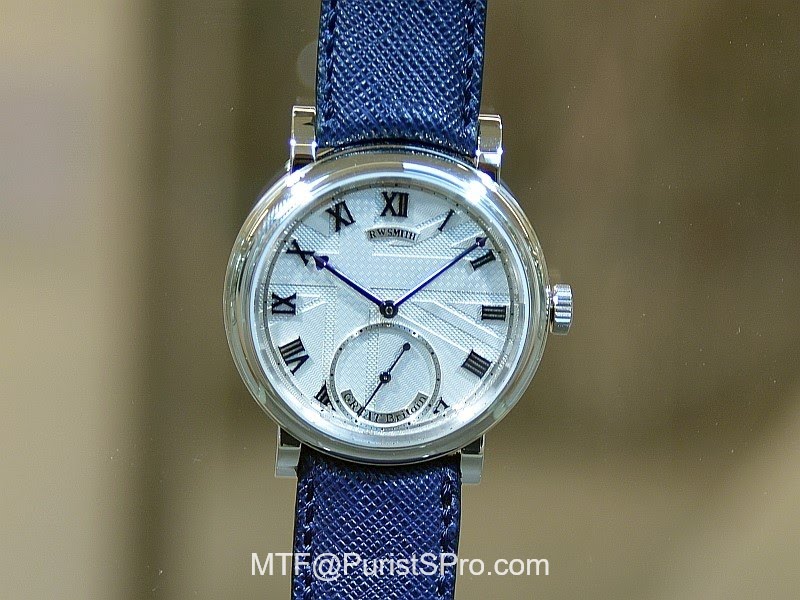 Roger Smith The Great Britain
This was a segue way from the question posed by Foulkes to all the watchmakers:
What is it like being an 'independent' watchmaker and what attracts you to do it?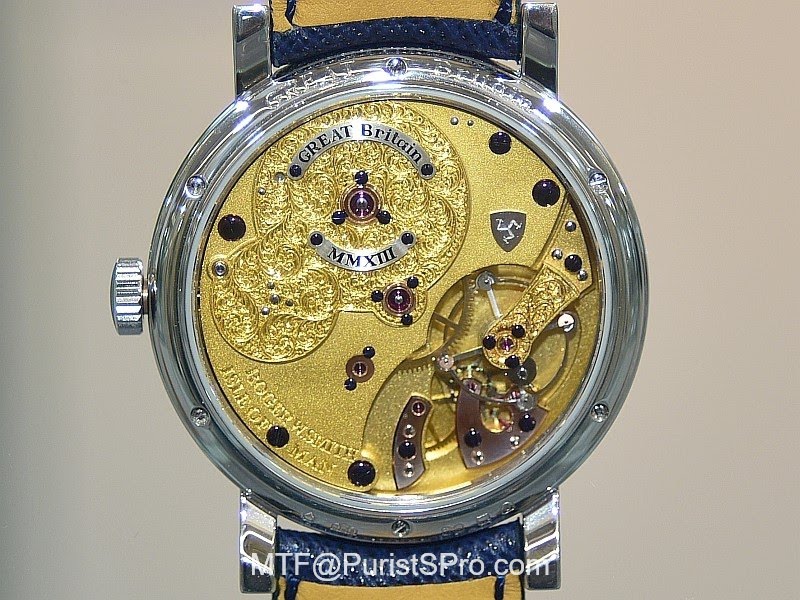 Roger Smith The Great Britain movement
Roger Smith O.B.E. is still fascinated by improvements to the coaxial escapement he inherited from his mentor, the Late George Daniels C.B.E., and continues to refine. He also likes to work on horology ideas to his own timetable with only one boss -- Mrs Smith!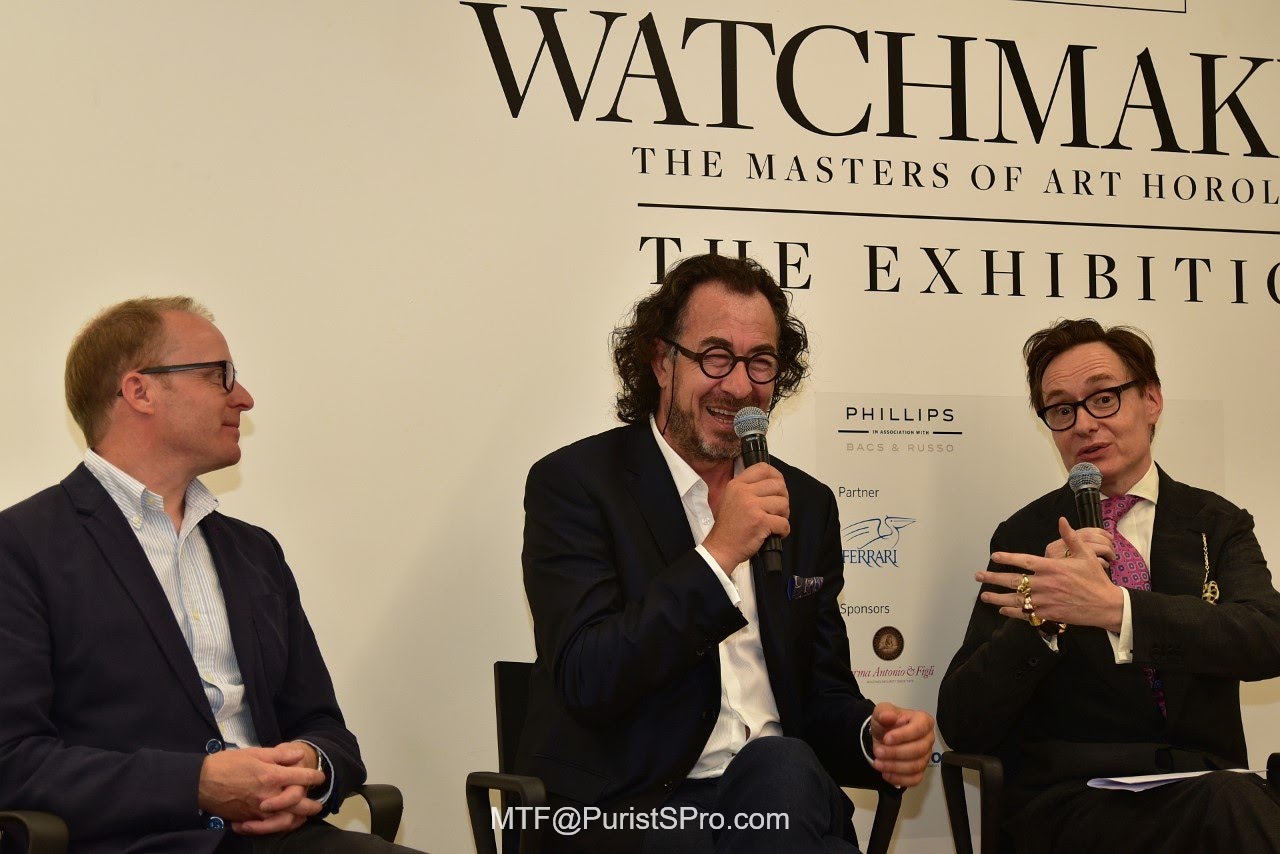 Inspirations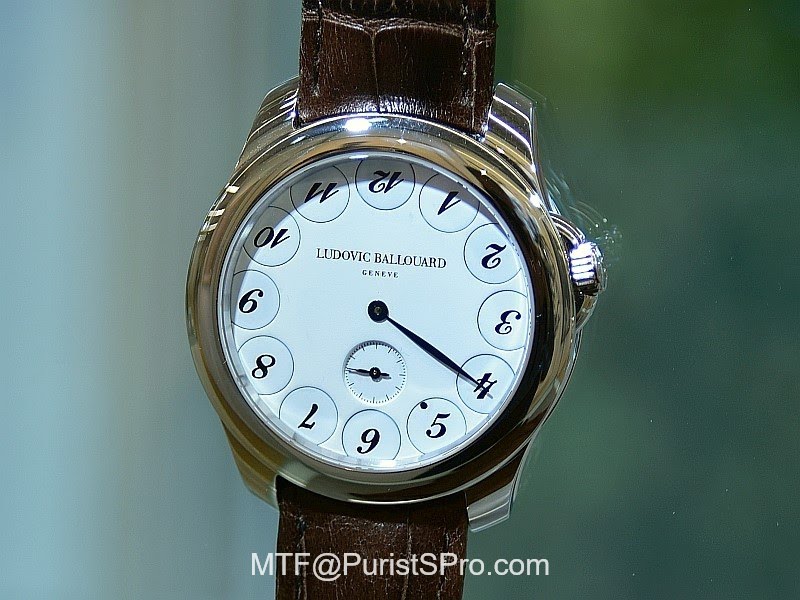 Ludovic Ballouard Upside Down Pt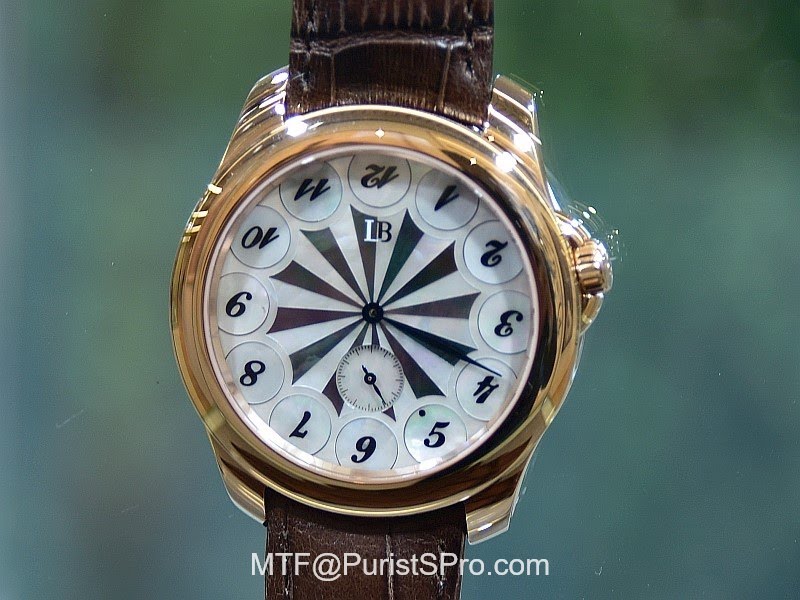 Ludovic Ballouard Upside Down RG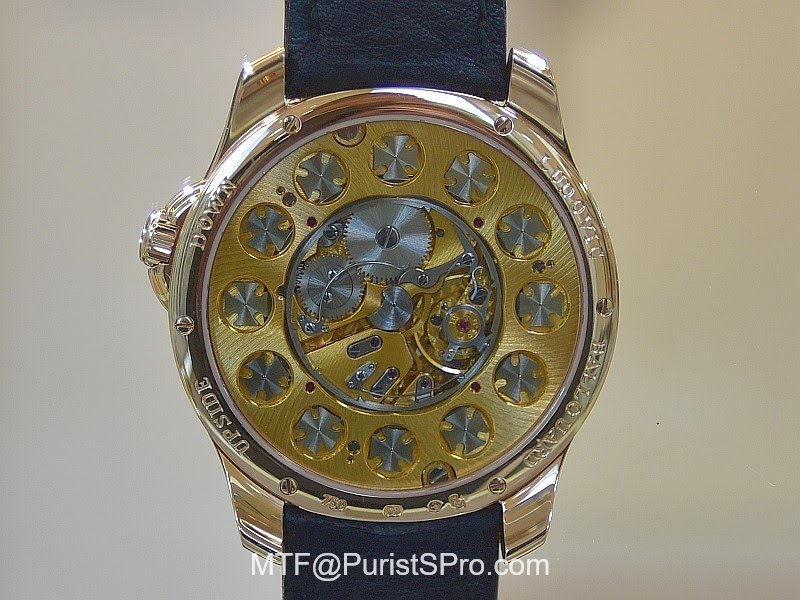 Ludovic Ballouard Upside Down movement
Ludovic Ballouard has worked for other brands before but found the experience different with his own brand because he enjoys seeing the fun and joy his watches give to individual collectors. His inspiration is to make quirky mechanical movements and his favourite clockmaker was John Harrison (1693-1776).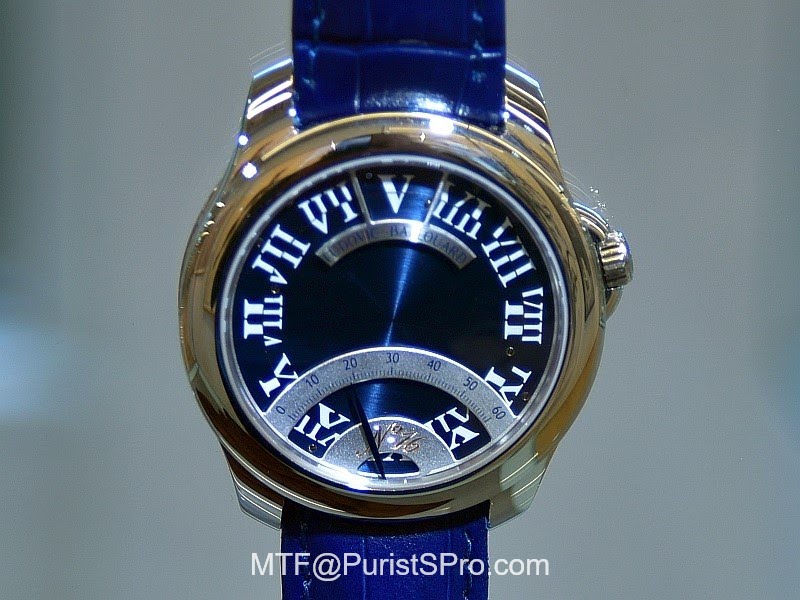 Ludovic Ballouard Half Time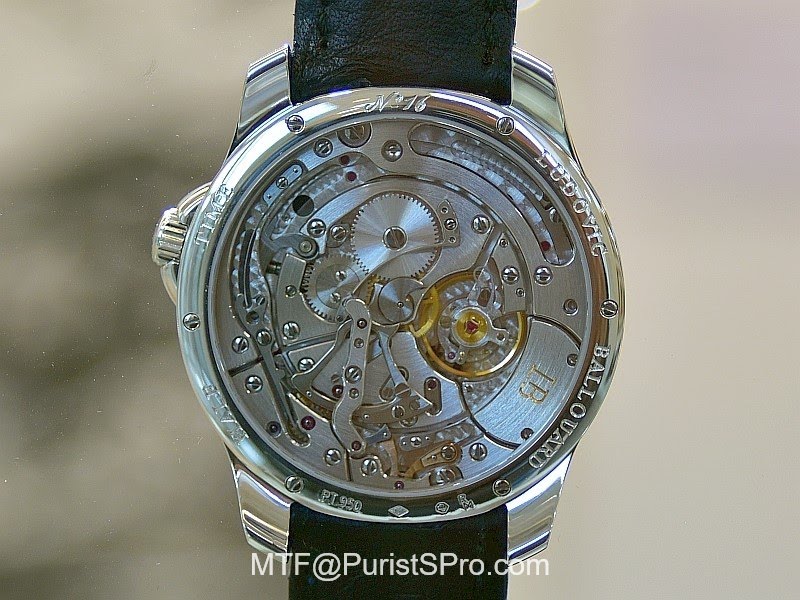 Ludovic Ballouard Half Time movement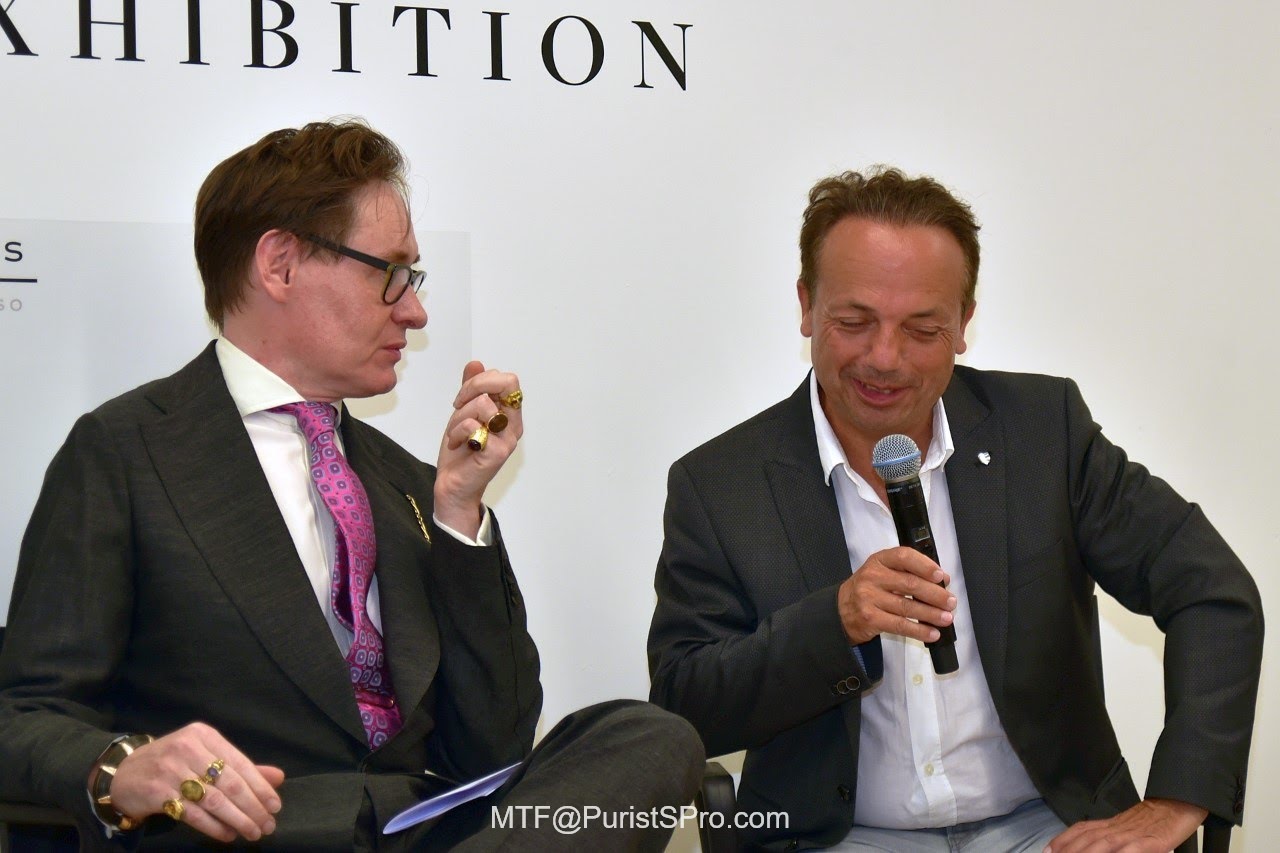 Drivers
Christophe Claret has invented and made hundreds of different movements, mainly for other brands but since starting to make watches with his own name on the dial, has been inspired by the "bright eyes" of the collectors when they play with his watches.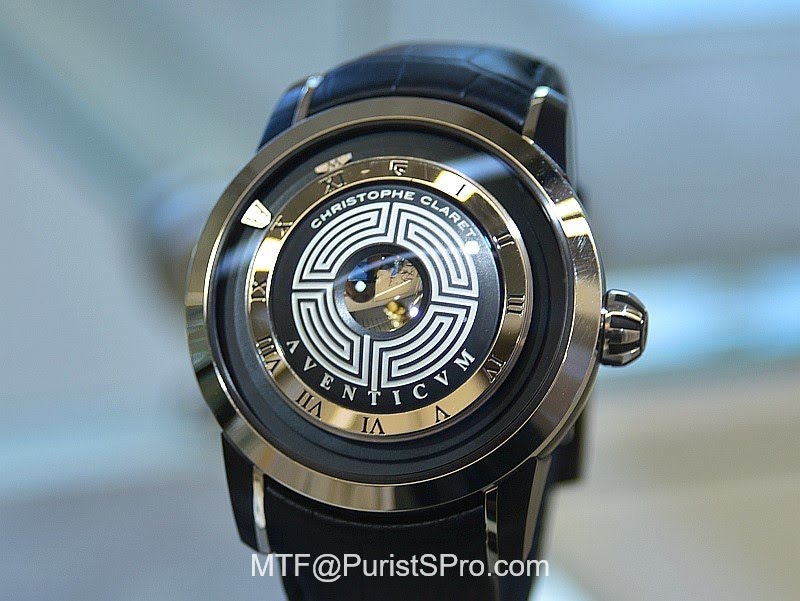 Christophe Claret Aventicum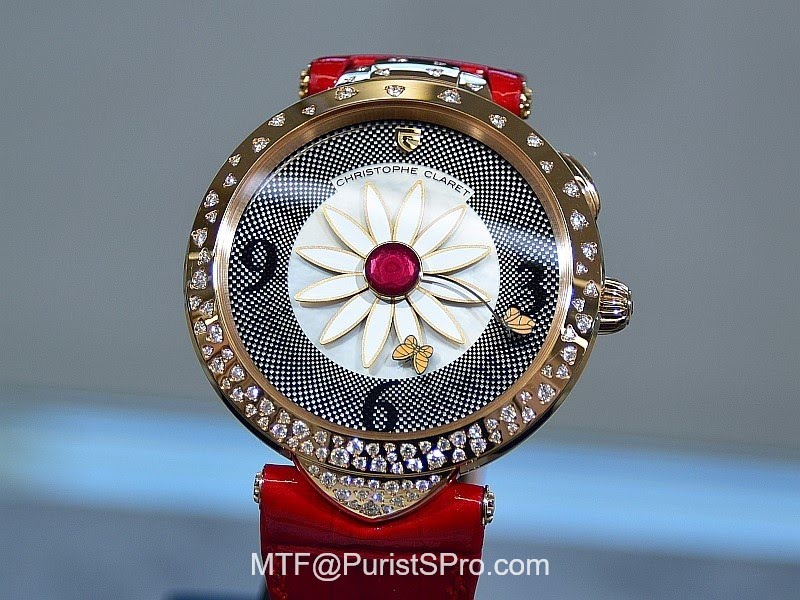 Christophe Claret Marguerite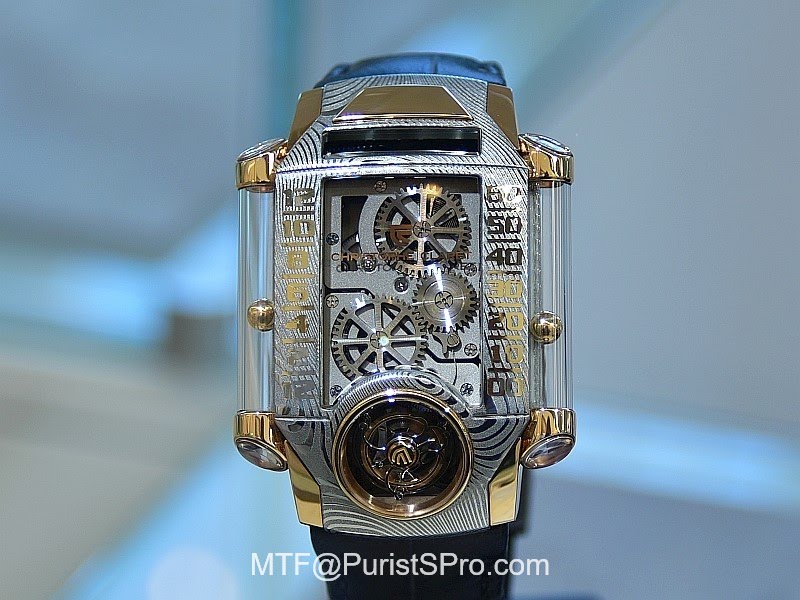 Christophe Claret X-Trem-1
Each watch must present time in a different way. Since childhood, Christophe has been driven by the goal of perfectionism, much to the annoyance of his mother! That is still a driver in his watchmaking life but his inspiration comes from fields outside watchmaking like art or cars.
Other Discussions
There was some discussion about whether watches from low production independent watchmakers could be considered art pieces and the reasons for their collectability.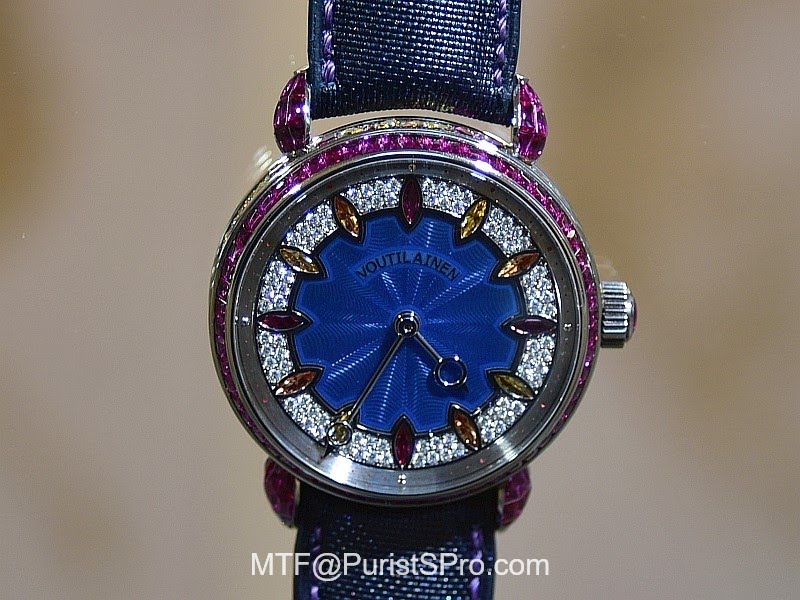 Kari Voutilainen Scintillante
The panel fielded questions from the audience about mechanical servicing during the lifetime of the creators and afterwards.
The general consensus was that there will always be talented and skilled people able to restore and repair mechanical watches constructed from traditional materials.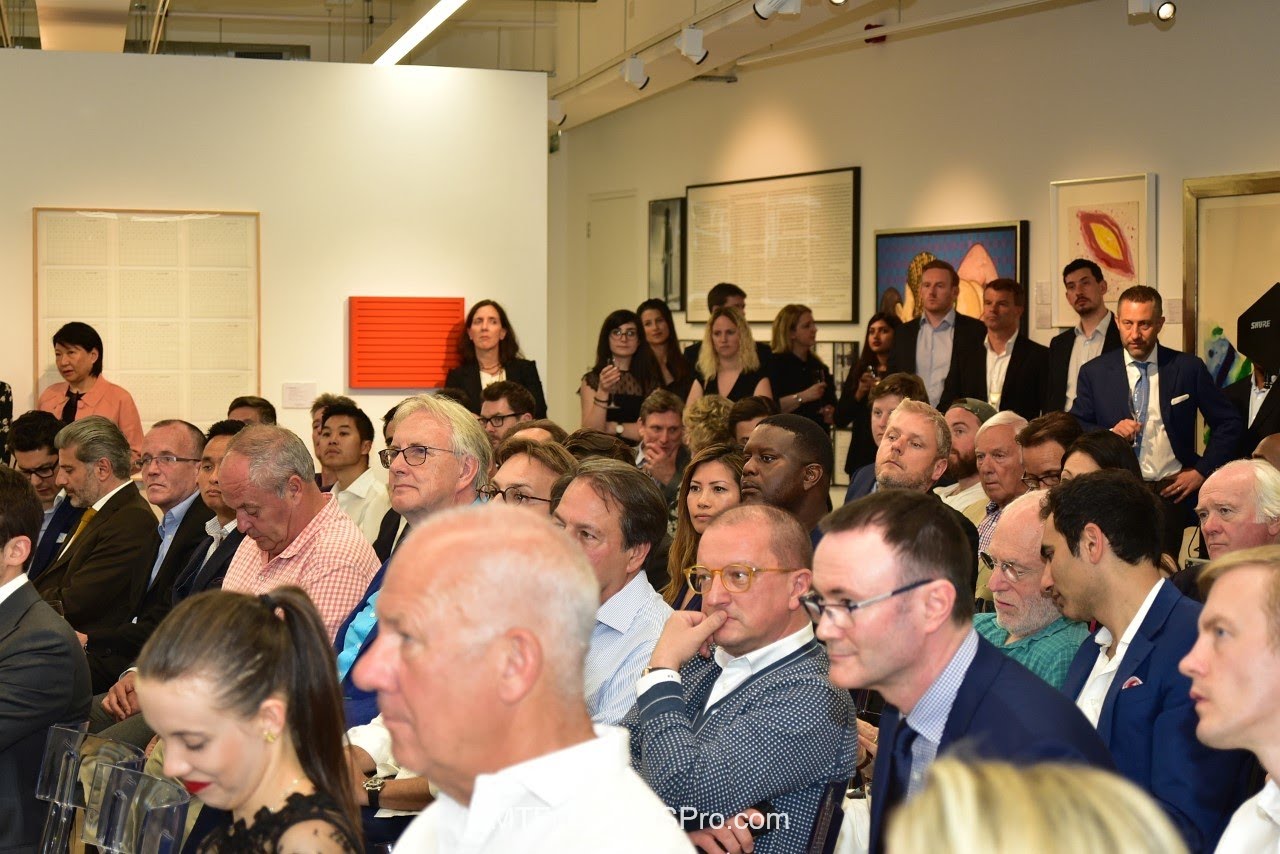 Audience included Aurel Bacs and Stephen Forsey at the back of the room
After the panel discussion, there was opportunity for networking and deep discussions amongst the attendees, mostly about watches, lubricated with delicious cool beverages and champagne.
The Book
I also commend the 252 page hardcover book that accompanied the exhibition that can be ordered from Maxima Gallery [CLICK] for €70 or £85.
Or Directly from reception desk at Phillips entrance.
It contains critical essays from the curator, Aurel Bacs, Kari Voutilainen and commentators including our own Don Corson with interviews and biographies of the watchmakers and portraits and studio images of the watches.
Regards,
MTF