WatchProSite Moderator Patrick_y reviews the Graf Von Faber Castell Perfect Pencil Magnum – an incredibly decadent gift for the man or woman who has everything!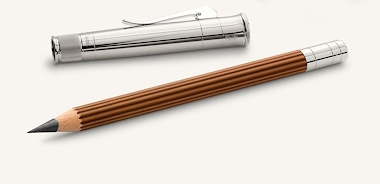 We have some of the top watch collectors in the world on WatchProSite and we have some of the most significant fountain pen collectors in the world on WatchProSite. We've seen some amazing pieces too – top models from both categories. The most decadent models of watches and fountain pens. But, what about the top wooden pencil in the world?
A LITTLE HISTORY...
Graf Von Faber-Castell is the luxury arm of Faber-Castell, the world renowned stationary supplier with a long history in pencils. Even today, Graf Von Faber-Castell is a family run business. The history in pencil manufacturing started 250+ years ago when the Faber family started a pencil factory.
Introducing The Faber family - the founder of a modern pencil factory in Stein, a town near Nuremberg, Germany. In 1761, Patriarch Caspar Faber starts a pencil factory, his wife Maria and his son Anton help run the pencil factory.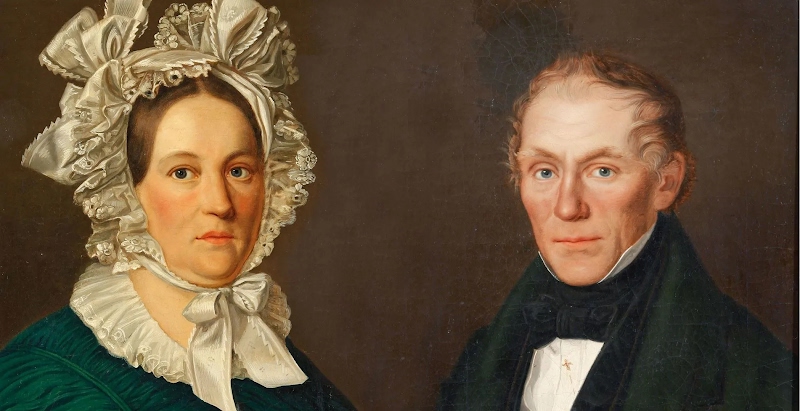 Since the founding of the company was over 250 years ago, photographs didn't exist yet and paintings of the founders were lost during the war before they could be digitally recorded. This is a painting of Anton's son, Georg Leonhard Faber and his wife Albertine Faber - the third generation involved in the business. Photo credit: Faber Castell website.

But how did the "Castell" become added into "Faber-Castell" – the brand we know today? In 1896, Lothar Von Faber passed away unexpectedly at the age of 42. Upon his last days, he instructed his wife, that his surname must be retained by their daughter when she married – as the family business had to remain with a Faber. His daughter, Tilly Von Faber, honoring her father's last wish, asked her husband Count Alexander Castell-Rudenhausen to permit her to keep her maiden surname. Count Alexander agrees, and the two married in 1898. Their children are christened "Faber-Castell" as their surname. The couple love each other very much, but due to the many stresses of the Great War, they eventually separate and divorce. Photo credit: Faber Castell website.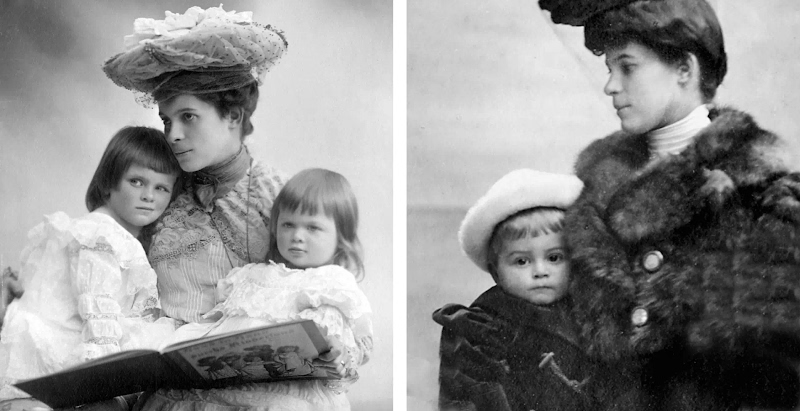 Their son, Count Roland Faber-Castell, continued the work at the family business and eventually renamed the business as Faber-Castell. Count Roland Faber-Castell (wearing a dark coat and a white hat) is photographed with his mother, he was the youngest of three, his two sisters are in the left photograph. Photo credit: Faber Castell website.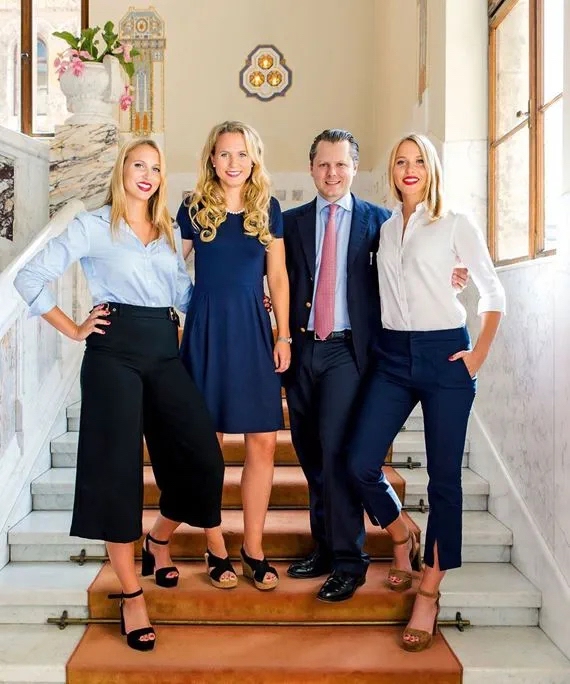 Today, the family business is run by the 9th generation of Faber-Castells; Count Charles, Countess Katharina, Countess Victora, and Countess Sarah run the business with a board of directors. Photo credit: Faber Castell website.
The family-run-business story is somewhat similar to the watch brand Patek Philippe – and the top executives at each brand share a mutual respect for one another. Thierry Stern even gifted top Patek Philippe clients a Graf Von Faber-Castell pen several years ago. Count Charles Faber-Castell also enjoys fine timepieces and undoubtedly has a few nice timepieces - we should extend him an invitation to join us on WatchProSite!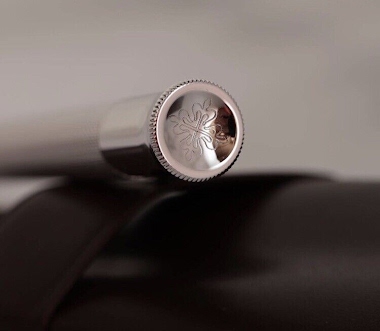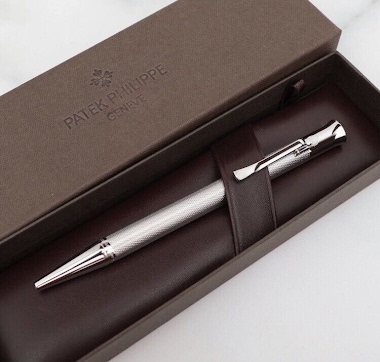 These were the Patek Philippe pens from Graf von Faber Castell. If it's good enough for Patek Philippe.... Photo credit: eBay
While the brand Graf Von Faber Castell makes amazing products (I adore the Samurai Fountain Pen, see my review of that pen here... www.watchprosite.com &nbsp

, their most iconic model is their "Perfect Pencil" and today we look at the "Perfect Pencil Magnum" which is their thicker version of the Perfect Pencil that is intended for sketching.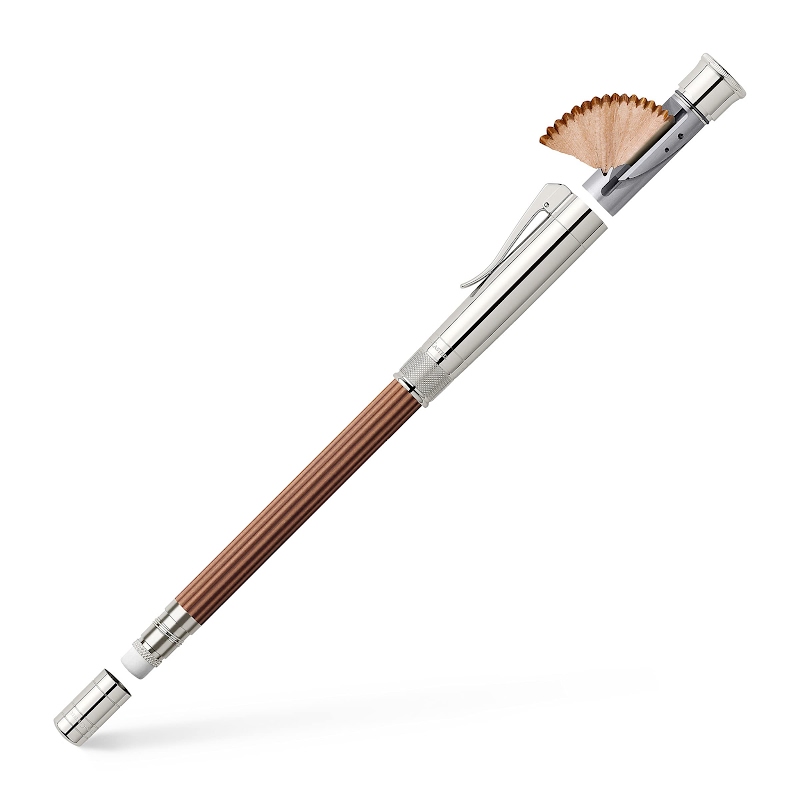 This is the pencil in an exploded photograph. You've got the pencil cap which conceals a hidden sharpener! On the back of the pencil, you have an eraser (covered eraser, of course), and a platinum plated cap. You can post the cap at the end of the pencil to extend the pencil and to give it more weight!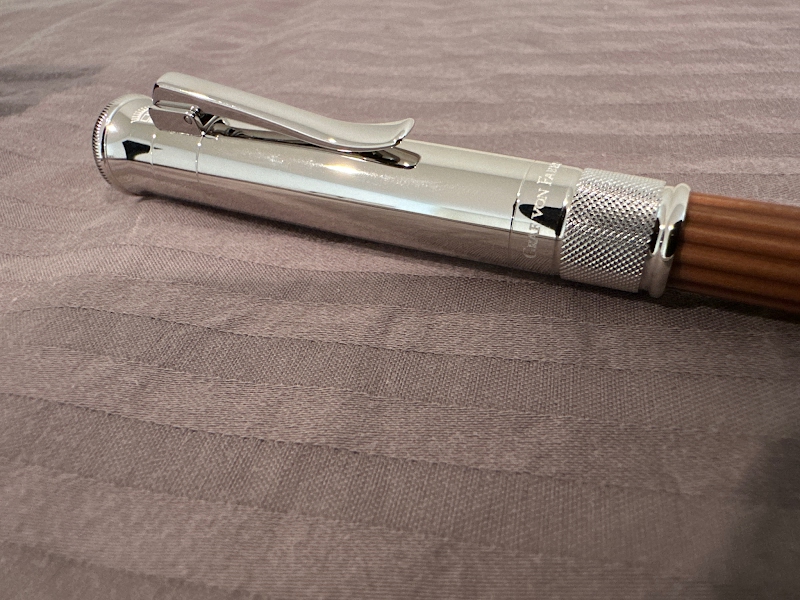 The clip is perfect. Hinged and sprung with just the right amount of tension, that ski-slope clip is perfect - and won't damage nice shirts, delicate wool pants, nor jackets - not even the finest cashmere sweaters. Oh boy... I've typed the word "perfect" too many times today.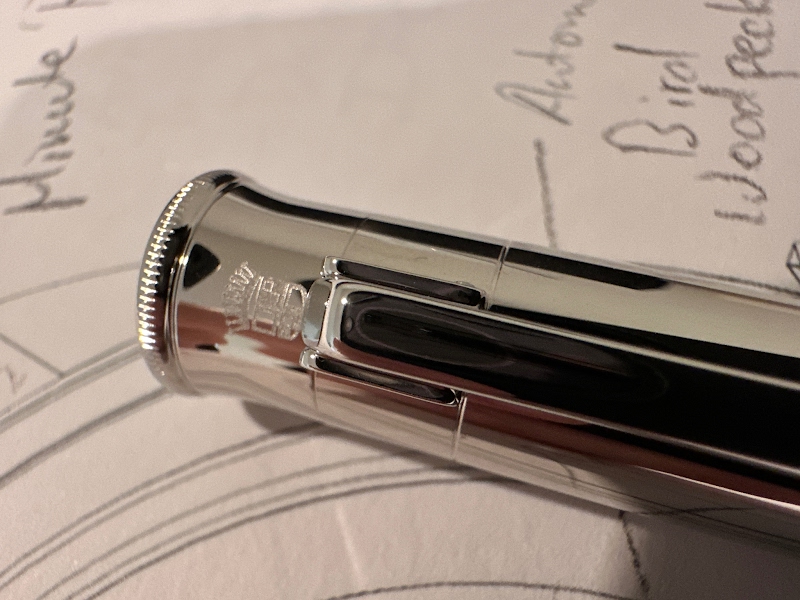 The finial is flared out and shaped like a trumpet. The clip prevents the cap from rolling down a table. The grooves on the pencil also prevent the pencil from rolling away too.
The pencil mechanically is a beautiful work of art. A work of art used to make more work of art! And no, I'm not referring to my scribbles and sketches as a work of art.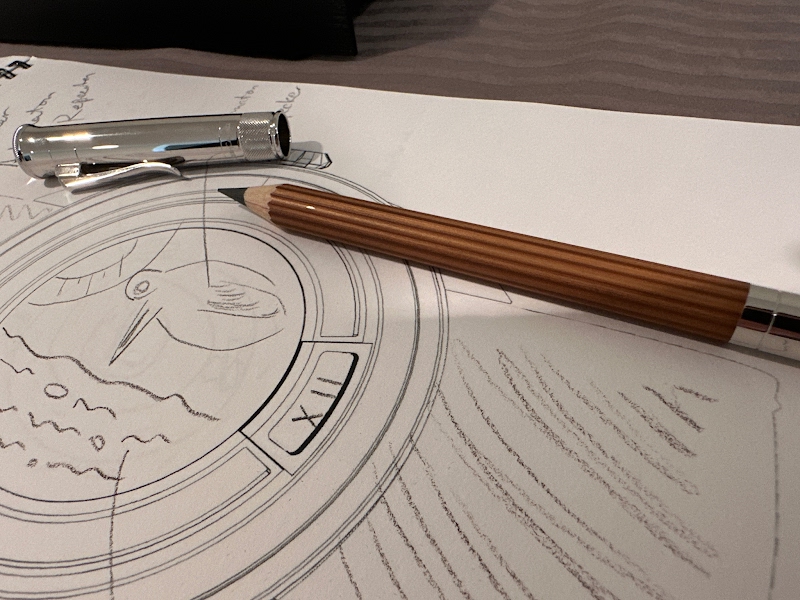 With this wonderful tool – I find that I want to sketch things more often. I want to use the pencil to translate my thoughts to paper. And the thoughts flow quickly out of my mind, through my hand, and onto paper via this pencil.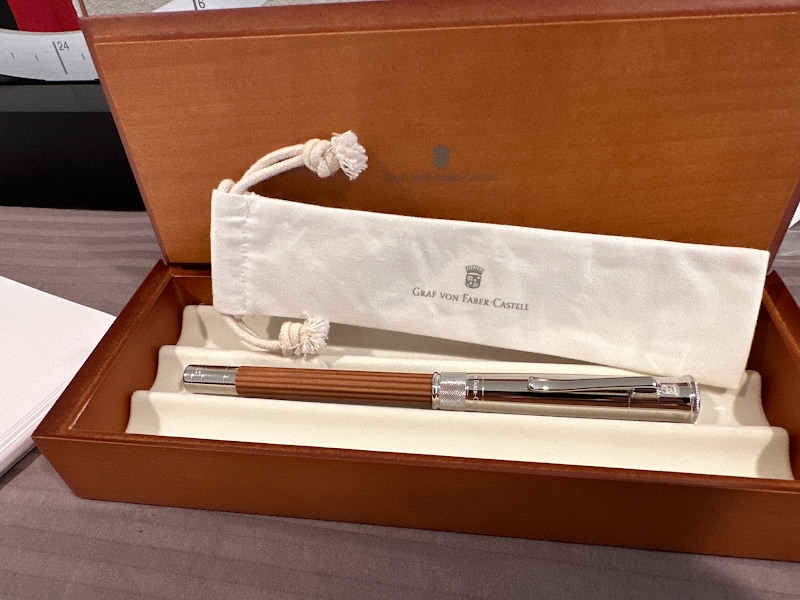 Comes packaged in a nice pencil case! Also comes with its own travel pouch!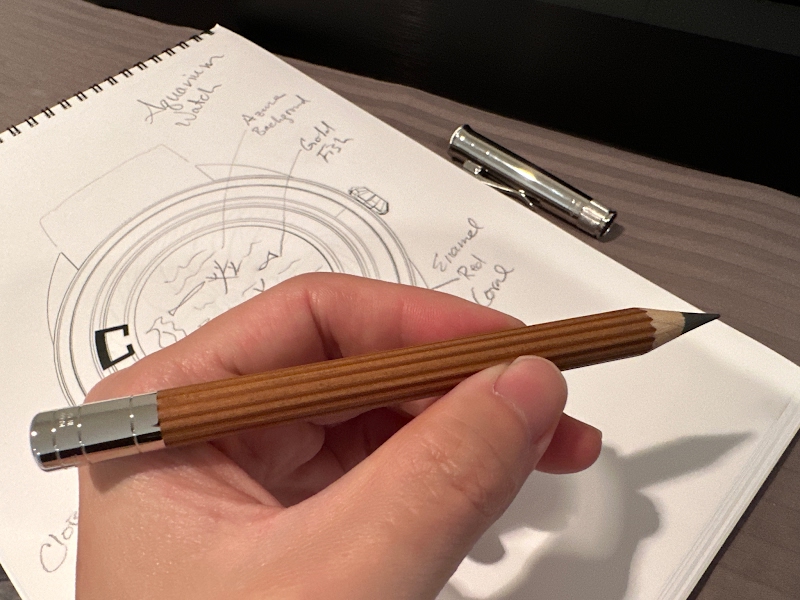 Equipped with super soft 4B lead, this pencil is an amazing tool for sketching. The wood is fluted and made from cedar wood. This writing instrument is great for anyone who likes to express their thoughts visually.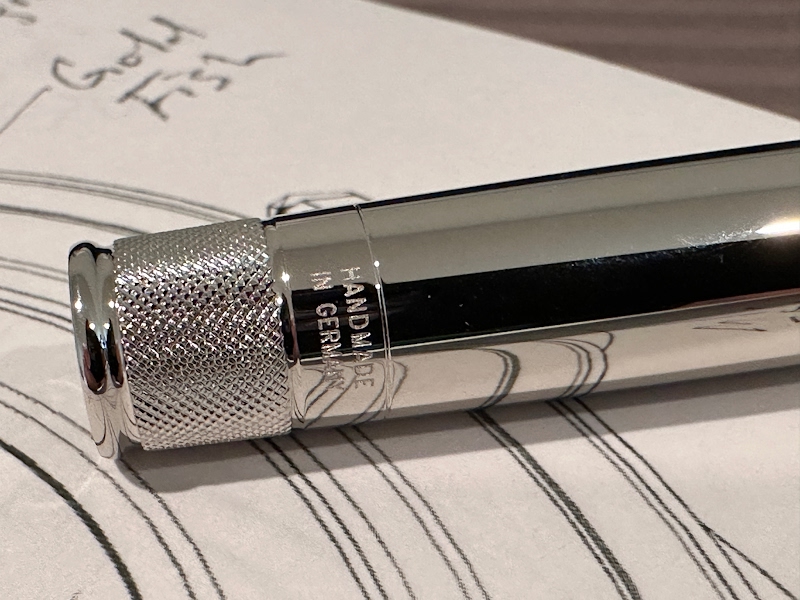 Made of solid brass, the platinum plated Perfect Pencil is handmade in Germany. Notice the beautifully knurled part of the cap. The details really make this (for lack of a better word) the perfect pencil.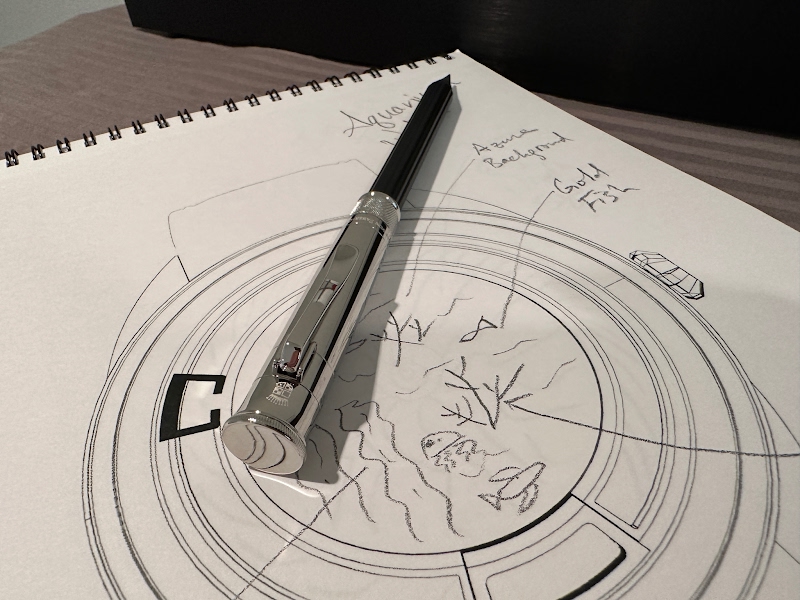 When your pencil gets a little short, you can post the cap onto the end of the pencil to extend the
pencil.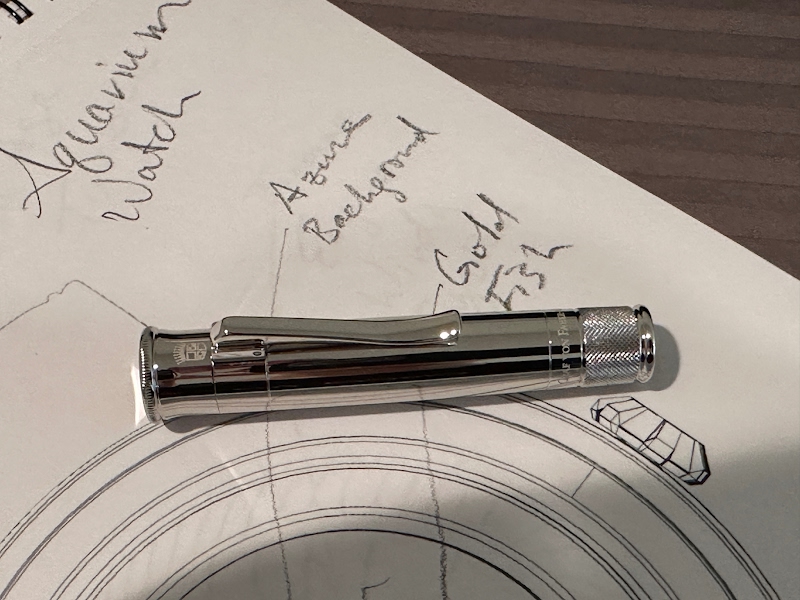 It's a nice pencil - a really nice pencil. And with this cap and clip, you can take this pencil everywhere with you! There's even a sharpener hidden in the cap - you won't be caught unprepared!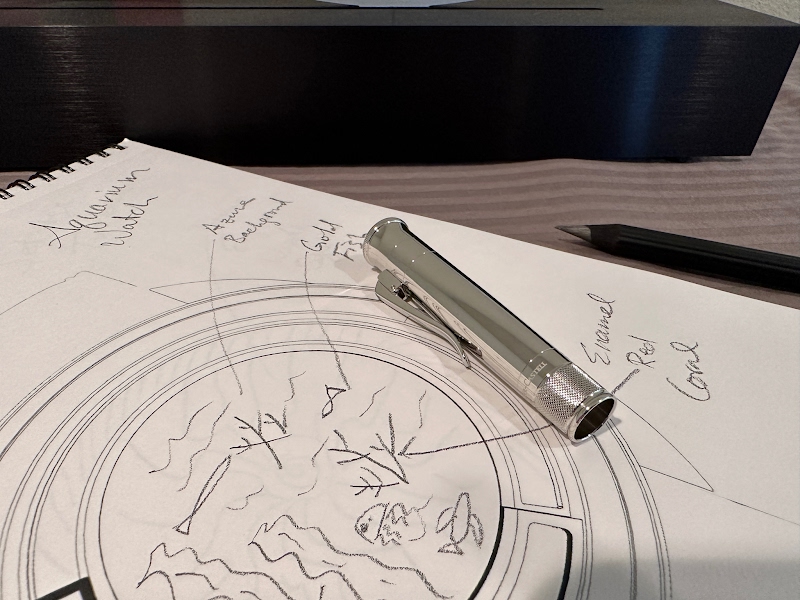 More scribbles, more thoughts.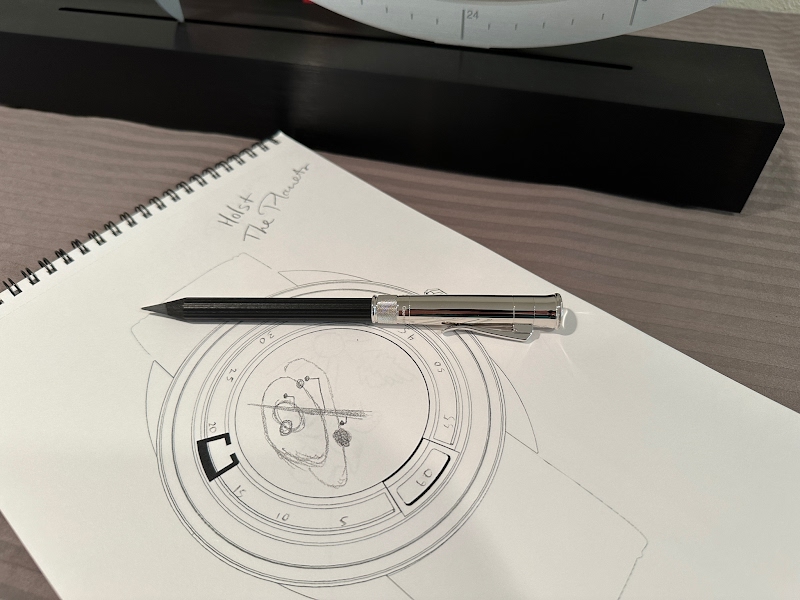 Not all of my scribbles are very good. Sometimes the ideas flow out faster than I can draw them! But that's okay, there's an eraser on the back of this pencil!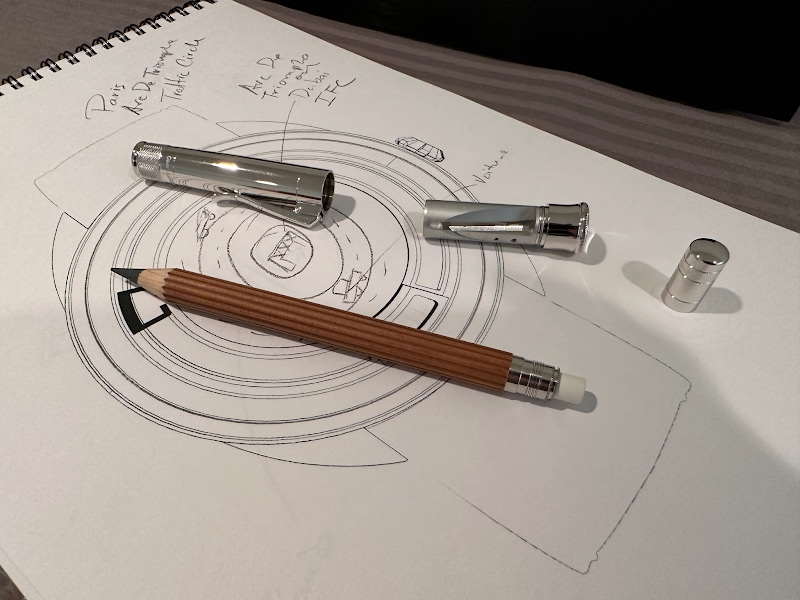 Another exploded view showing all the components... It's really a great design!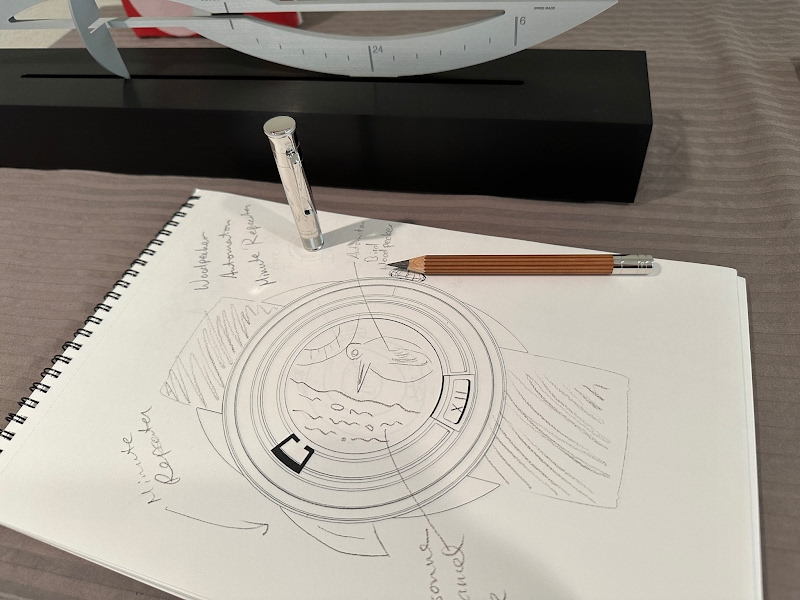 It's just a joy to use. Every detail has been thoughtfully made. It's perfect! (Oh! I used that word "perfect" again!)
THE VARIANTS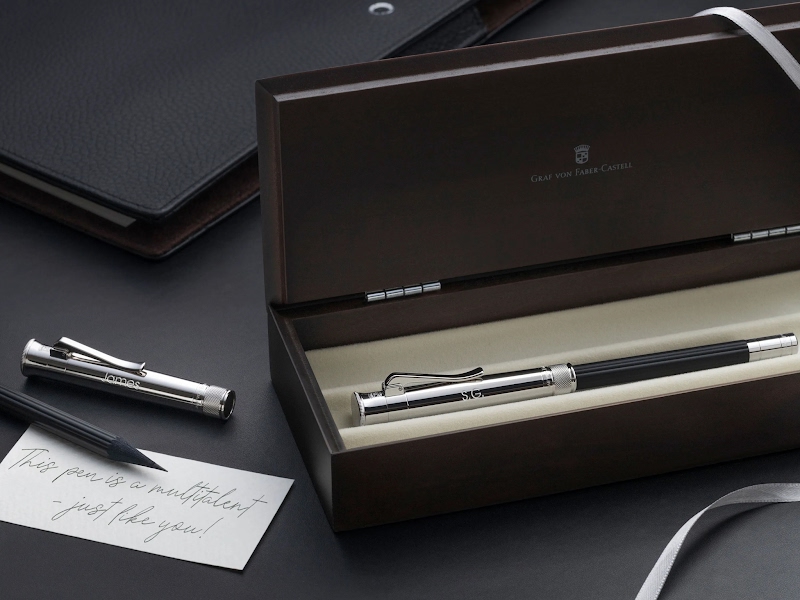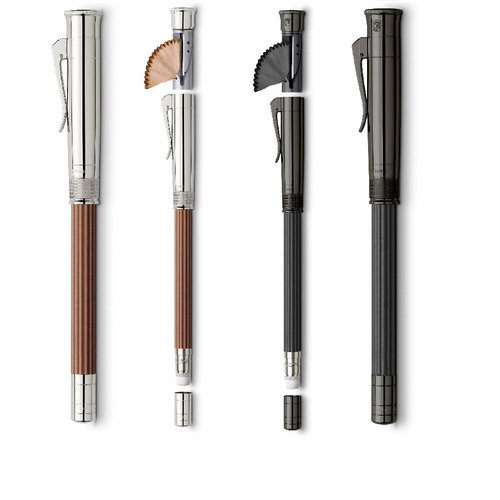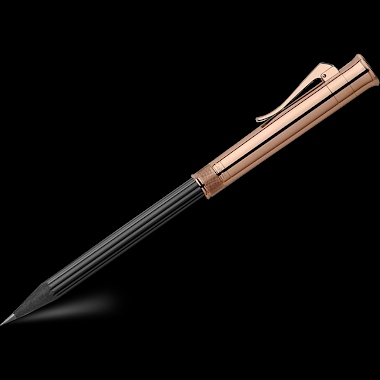 Multiple models exist; Perfect Pencil Magnum platinum plated brown pencil, Perfect Pencil platinum plated brown pencil, Perfect Pencil Magnum Black Edition (titanium PVD coated) black pencil, and Perfect Pencil Black Edition (titanium PVD coated). More models exist, an unpictured edition is the Perfect Pencil sterling silver supplied with a brown pencil (I'll probably add this to my collection someday). There is also a rose gold version as well.
The standard pencils are of a 7mm diameter and are of the "B" (medium hardness) lead variety. The Magnum pencils have a thicker diameter of 10mm, have a thicker lead core, and the lead is of the 4B (extra soft) variety. All the pencils, regardless of color, are made in California Cedar wood. I chose the Magnum mainly to use as a tool for sketching. And now I'm thinking of adding a standard pencil with the sterling silver cap! I'd probably still use the Magnum more often - as I don't really use standard pencils very often anymore - but I just find this product so pleasing that it doesn't hurt to own both sizes.
IN CONCLUSION
Nobody needs a pencil that is this good - nobody needs a perfect pencil. And the Perfect Pencil Magnum by Graf von Faber Castell is beyond perfect - it's decadent. Truly decadent. Beyond decadent.
Fit for a King!
The price may seem expensive at first, but actually I find it somewhat reasonably priced now after using it. At $275 US dollars for the standard pencil - it's pricy. The reviewed Magnum version starts at $340 for the platinum plated version and $435 for the Black Edition with black PVD coating. And topping out at $475 US dollars for the most valuable solid sterling silver version (this is the version I want most), it is a wonderful way to spoil yourself - and it's also a decadent gift for the man who has everything (he probably won't have this). But think about it this way, this pencil, like your watch, will be passed onto your children and used by posterity for generations - this is the Patek Philippe of pencils!
I hope you enjoyed this review about the Graf von Faber Castell Perfect Pencil Magnum! It's a delightful instrument that's great for sketches! It actually helps me extract my thoughts out of my head and helps me put those thoughts on paper! And that's priceless! I look forward to reading your comments below!
Please visit the review of the Graf von Faber Castell Samurai Fountain Pen here:
www.watchprosite.com