I already reviewed that watch, some years ago.
For those who are interested to learn more about it, please click here:
As I often do, I am hunting several informations, here and there, and at the Manufacture, to try to better know a watch.
One fact: There is almost no literature on this vintage Chronograph, nor many pictures, either. Try to do a search via Google, you will see.
This Chronograph doesn't have the prestige of its illustrious brothers or sisters, the Geophysic, the Reverso, the Polaris, Deep Sea Alarm, Triple Calendar or Military watches ( Mark 7, Mark 7 Seems, Mark 11 ) and a few others.
Still, it doesn't lack interest.
A 40 mm steel case, screw-in case back, Valjoux 72 movement are the main characteristics of this watch.
These characteristics are massively shared by a lot of chronographs. Ok, the size may differ, but you have a lot of watches with steel cases, screw in case back and Valjoux 72. The most famous one is certainly the vintage Rolex Daytona, which has a smaller case ( 37 mm ).
The three sub dial configuration is not really special, either.
But this is the watch as a whole which is appealing.
The traditional configuration is panda: Three grey blue sub dials.
The more common configuration is lacking the Swiss Made mention. While the " Made In France " writing is pretty rare. Swiss Made mention have been seen, but rarely.
There is another very rare configuration: the All White dial ( counters and dial ).
The Made in France has been seen by myself two times, only, and I only saw the All White once, in picture.
The All White: ( Credit picture: A collected man )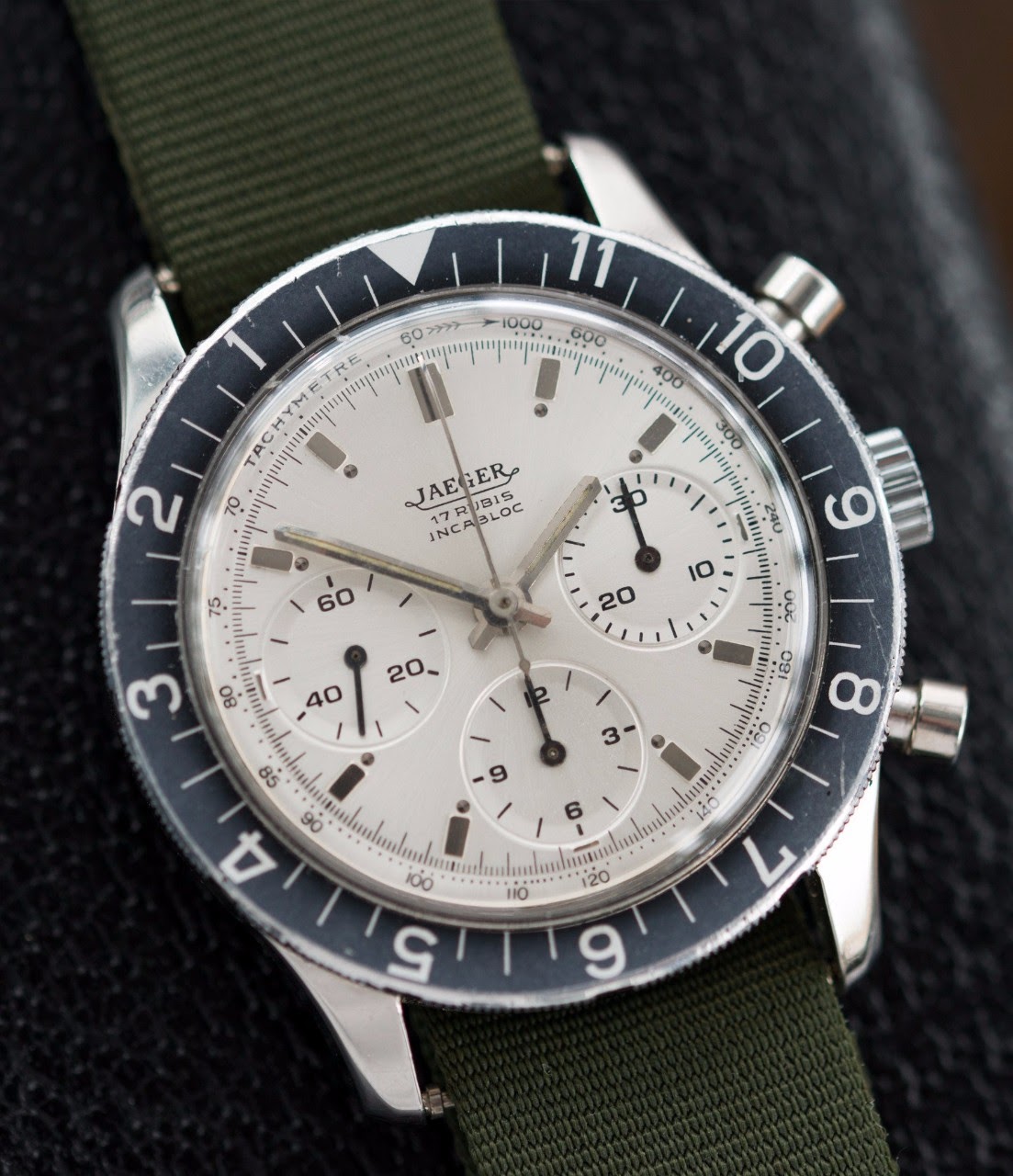 The Made in France: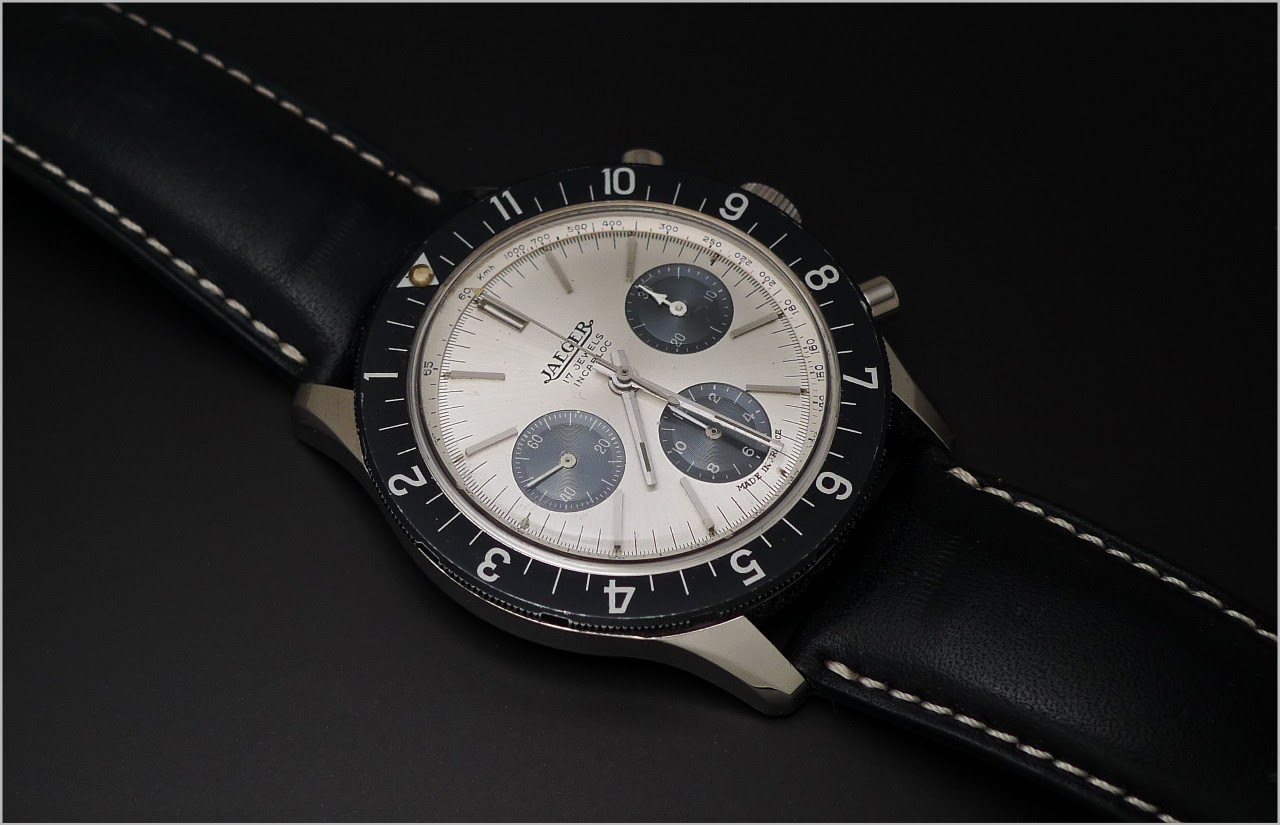 The Swiss Made: ( Credit picture unknown )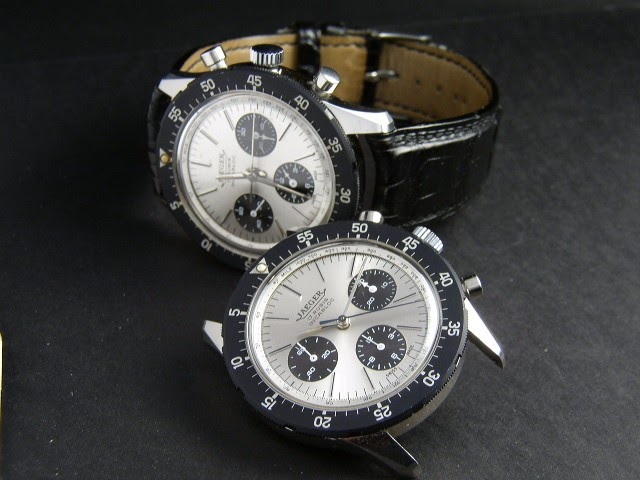 The No Swiss Made: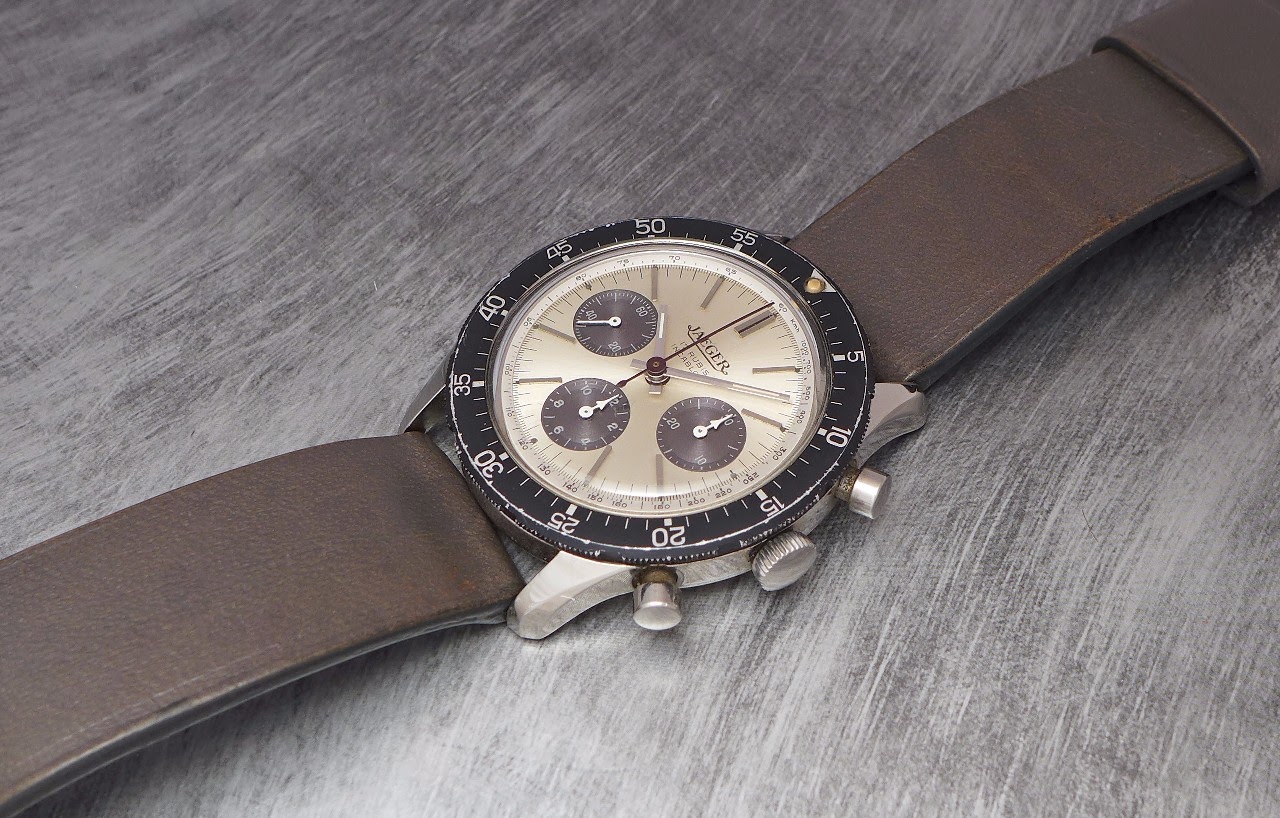 You will also observe that there are three kind of bezels: Retrograde Hours, Retrograde Minutes, and normal minutes.
If there are some variations on the mentions on the dial, there is one constant fact: The case back is not signed outside nor inside, the movement isn't, either.
The case number is engraved on the case back. This way, I could find that all the specimens I saw in the real or on the pictures had a serial number starting with 442.
The E 13001 case back ( on the right ):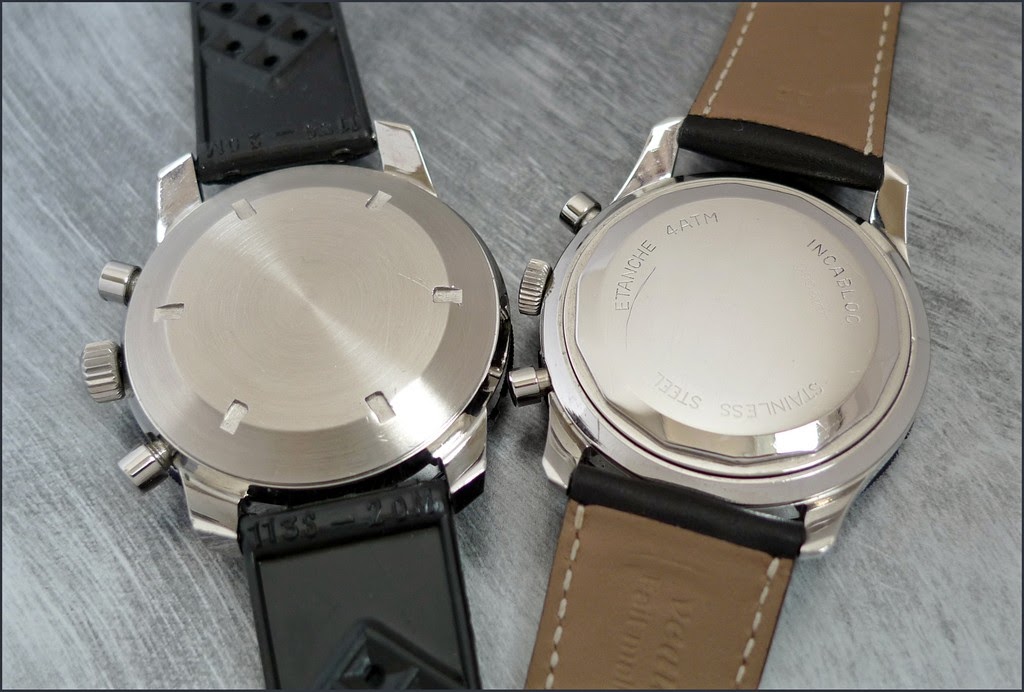 So I found the: 442 089, 442 468, 442 642 and 442 745.
Mine has a special number... 442 666, you cannot fight against your reputation.
So, why don't you more often see this watch?
It was produced for three years, from 1968 to 1971. Some other watches had a shorter life, and are more famous: Geophysic and Deep Sea Alarm are two good examples.
The production numbers may well be the explanation: It is hard to say how many were made. The manufacture couldn't tell me. So we have to guess estimate the number of pieces made. I would say somewhere between 300 and 500. It is true that we don"t often see the 4 ATM, discussed or for sale, but that doesn't mean nothing.
For instance, I only saw less than 10 Polaris 1965 during years and years, and since 4 or 5 years, I see much more.
A new legend to become?
At least a very cool watch.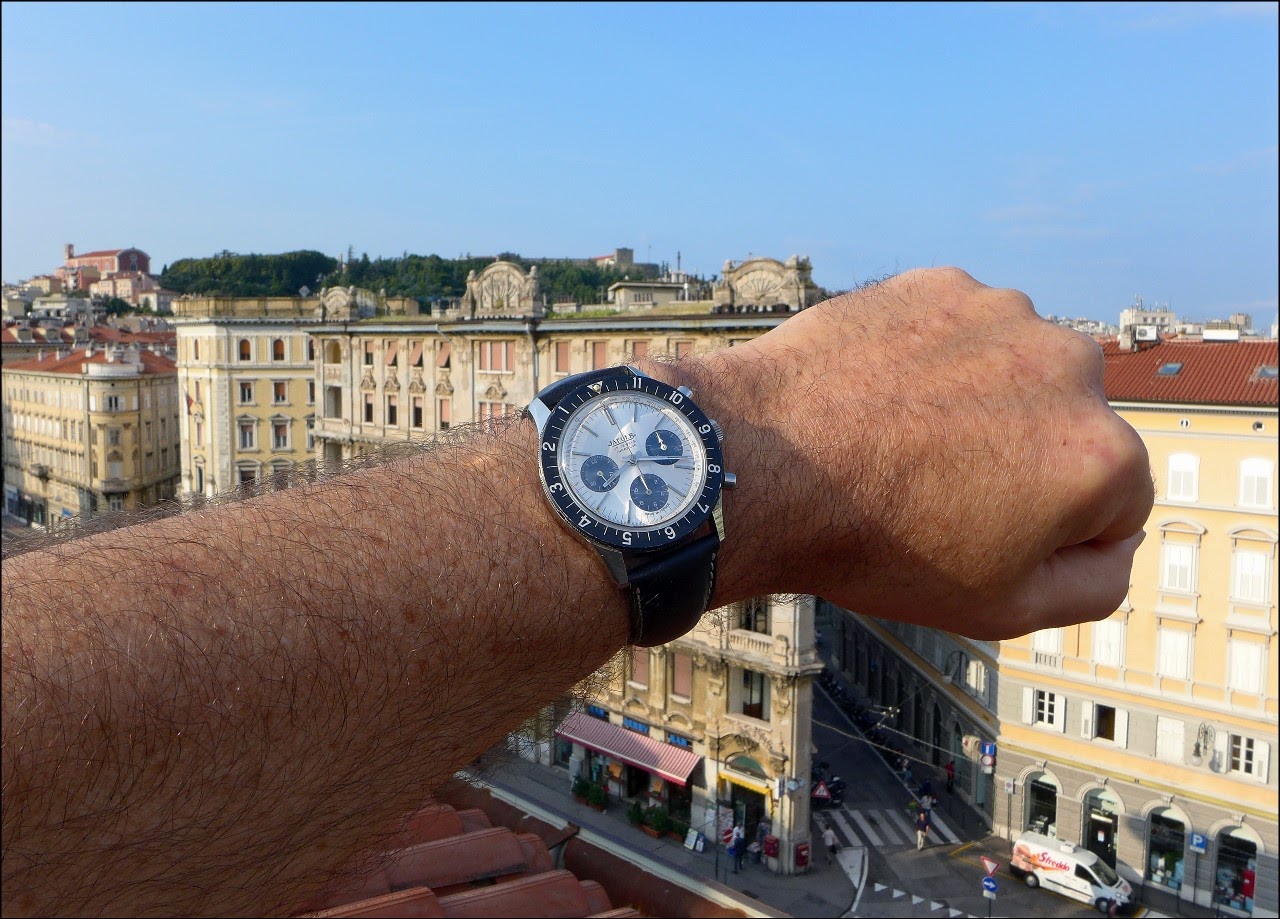 Best,
Nicolas