Some pictures I could take thanks to our friend Holdemchamp I had the pleasure to meet after so many years exchanging points of view on the net!
Bruce came with his Duometre à Chronographe, in platinum, which comes with an original grained grey dial, made in... Platinum, and a superb custom made blue strap, much better looking than the original black crocodile strap.
The platinum Duometre à Chronographe is an old love for me, as I owned one like this with a different dial, though as mine was white grained which came in a very short batch ( 50 pieces, according to Jaeger Lecoultre ).
My Ex: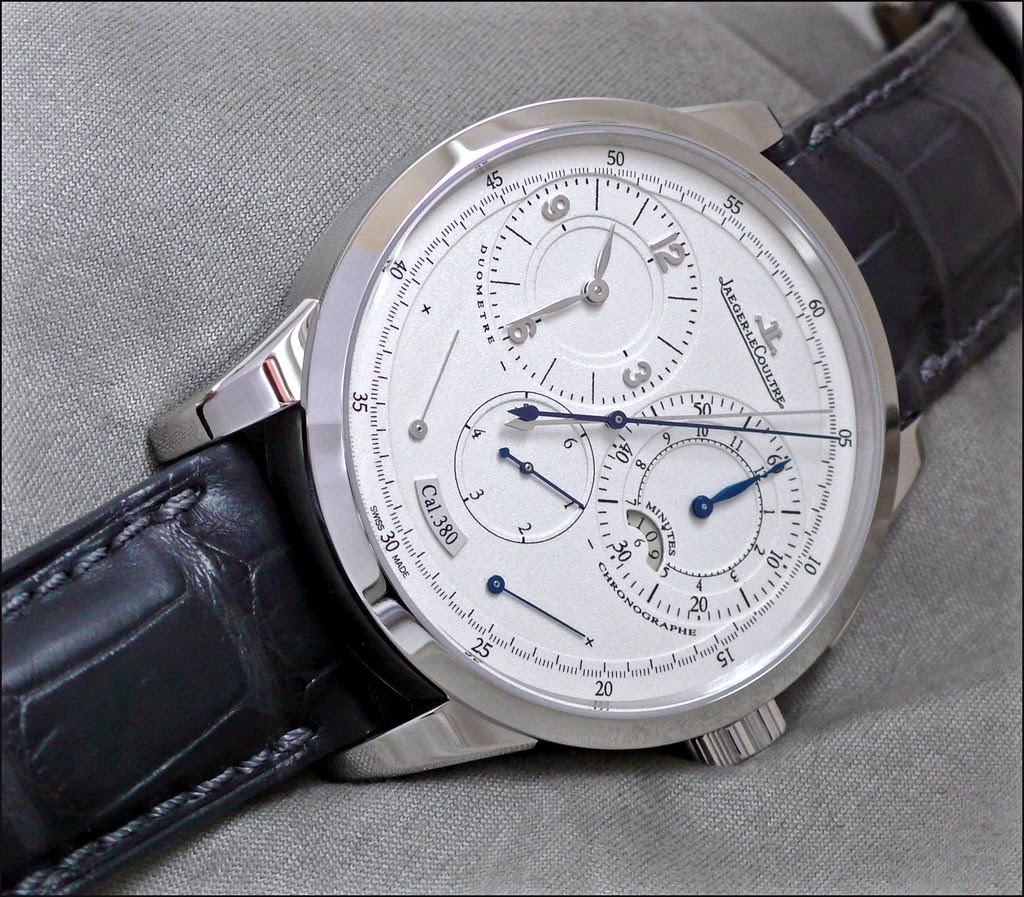 And a close up of this white dial: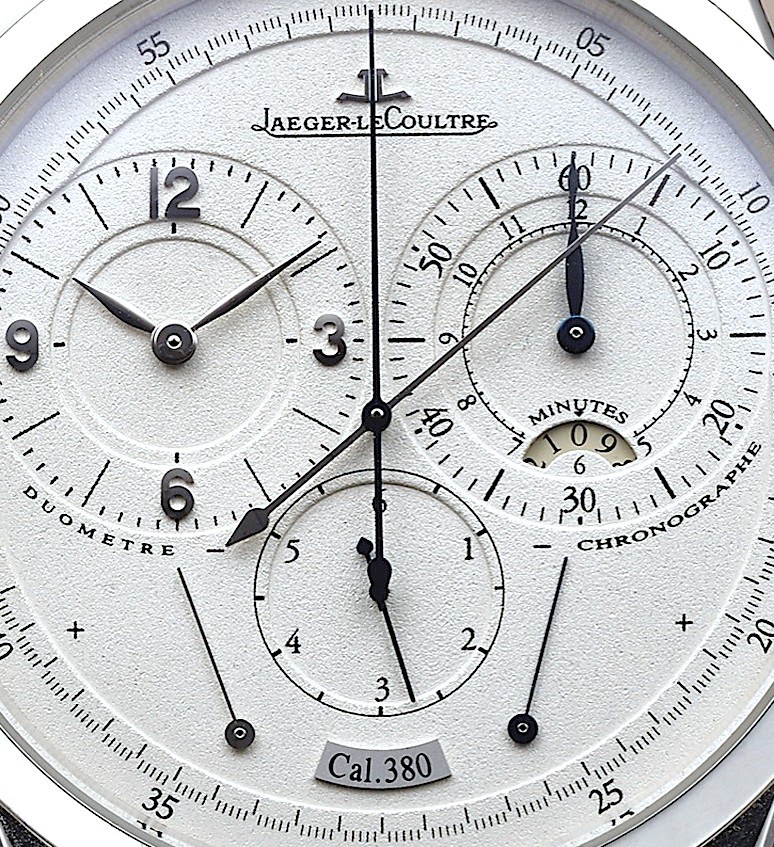 White or grey, the platinum version looks much classic and a tad more elegant than the white gold version with its black dial.
Here are some pictures, showing the grained grey dial in all its splendor.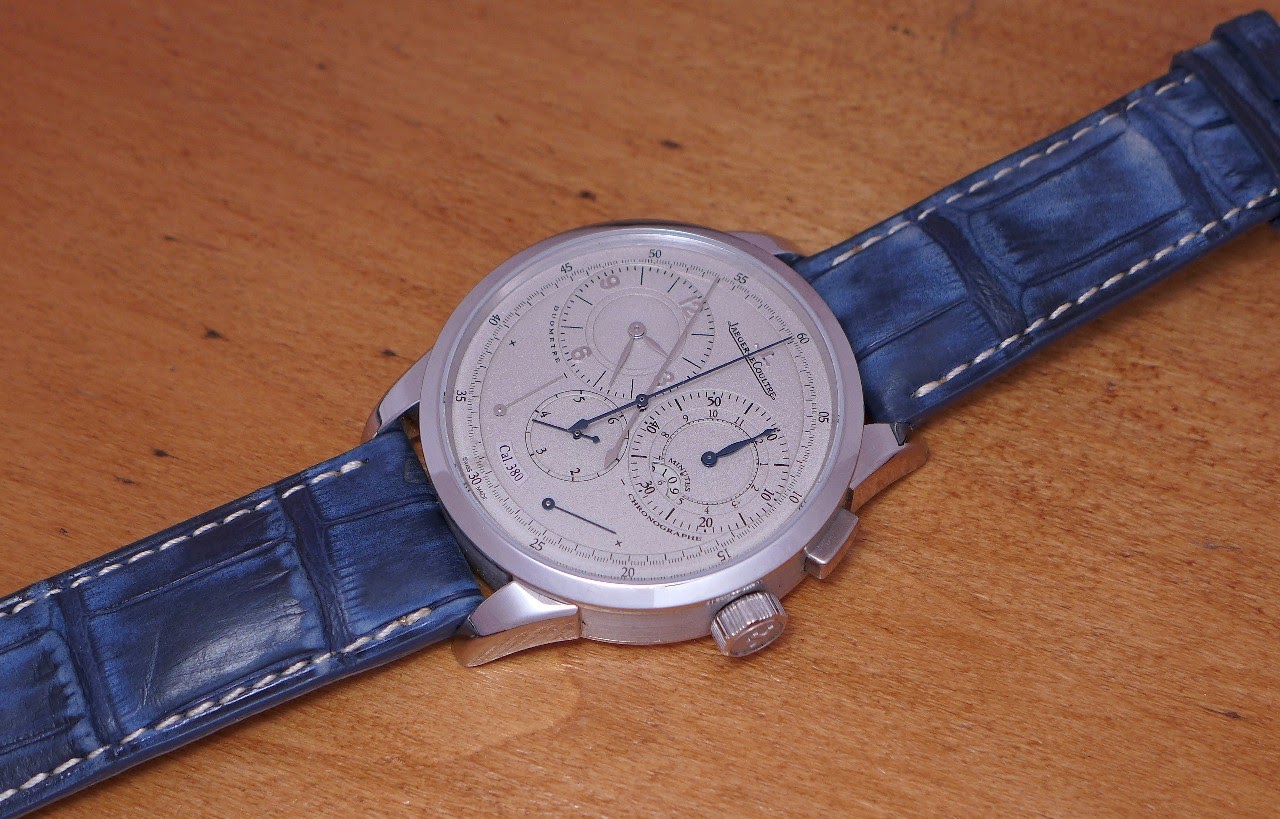 The outcome is a bit cold, but very appealing, too.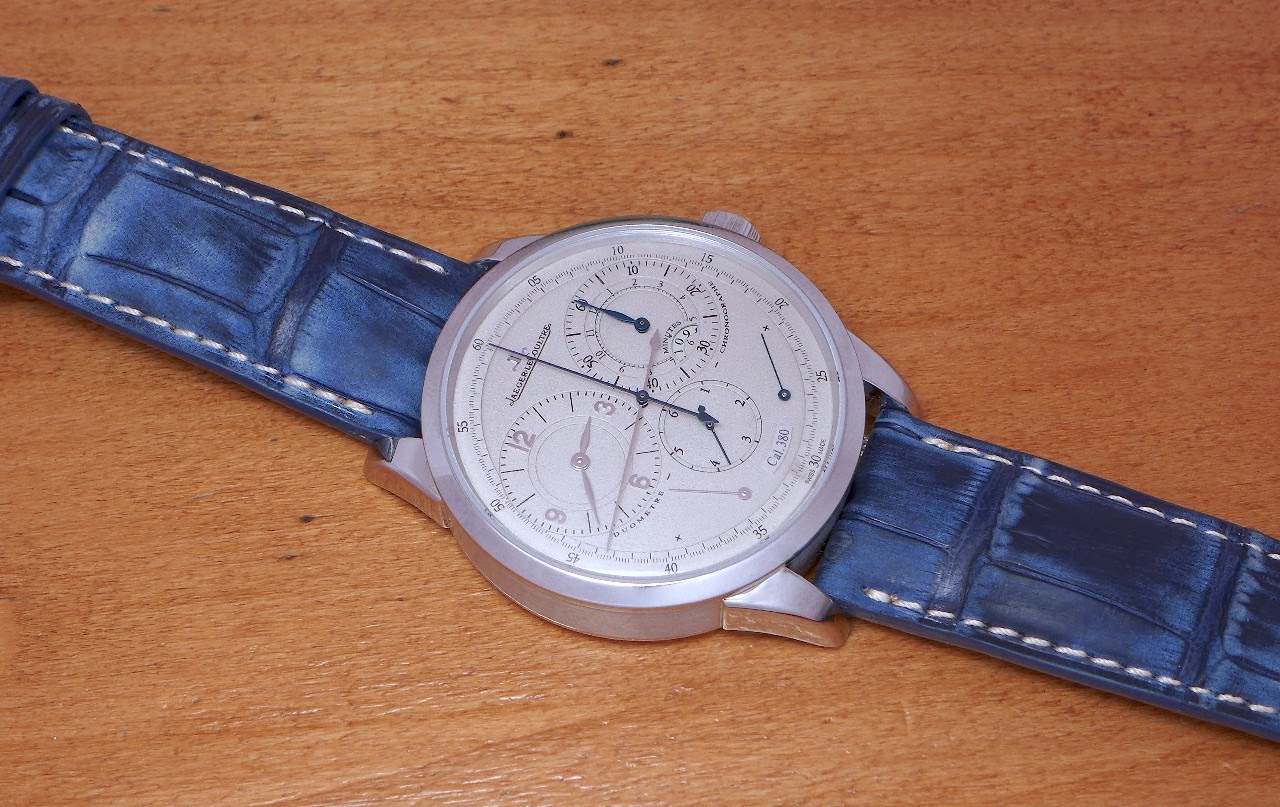 To illustrate my point of view, I could take a side by side picture of both of them: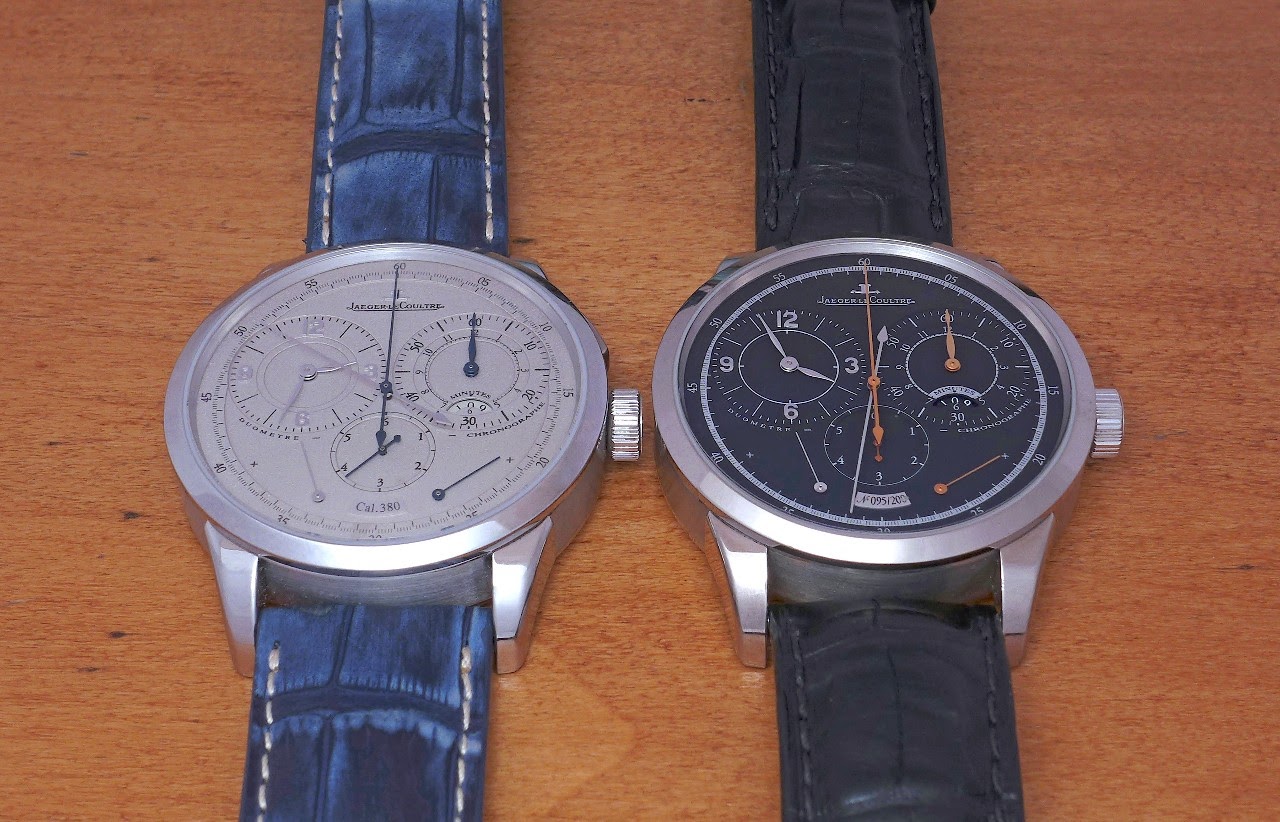 More intellectual, the Platinum " Grey "? Maybe.
While the Platinum " White " was somewhere between the Grey and the Black.
The platinum " Grey " has a big asset: Its dial, made in... Platinum, which has a weight of 12 grams. The only dial among these three which is in platinum. Its flaw? A limited legibility, the hands of the Time which are not contrasting that much with the dial.
And, of course, let's not forget that the interest of every Duometre, à Chronographe or not, lies in the concept of the movement, the dual wind system, with its 2 barrels and their gear train. Add the finishing and the decoration of these movements, and you will understand why the Duometre is one of the most interesting modern Jaeger Lecoultre line of watches.
The Cal 380 in all its beauty: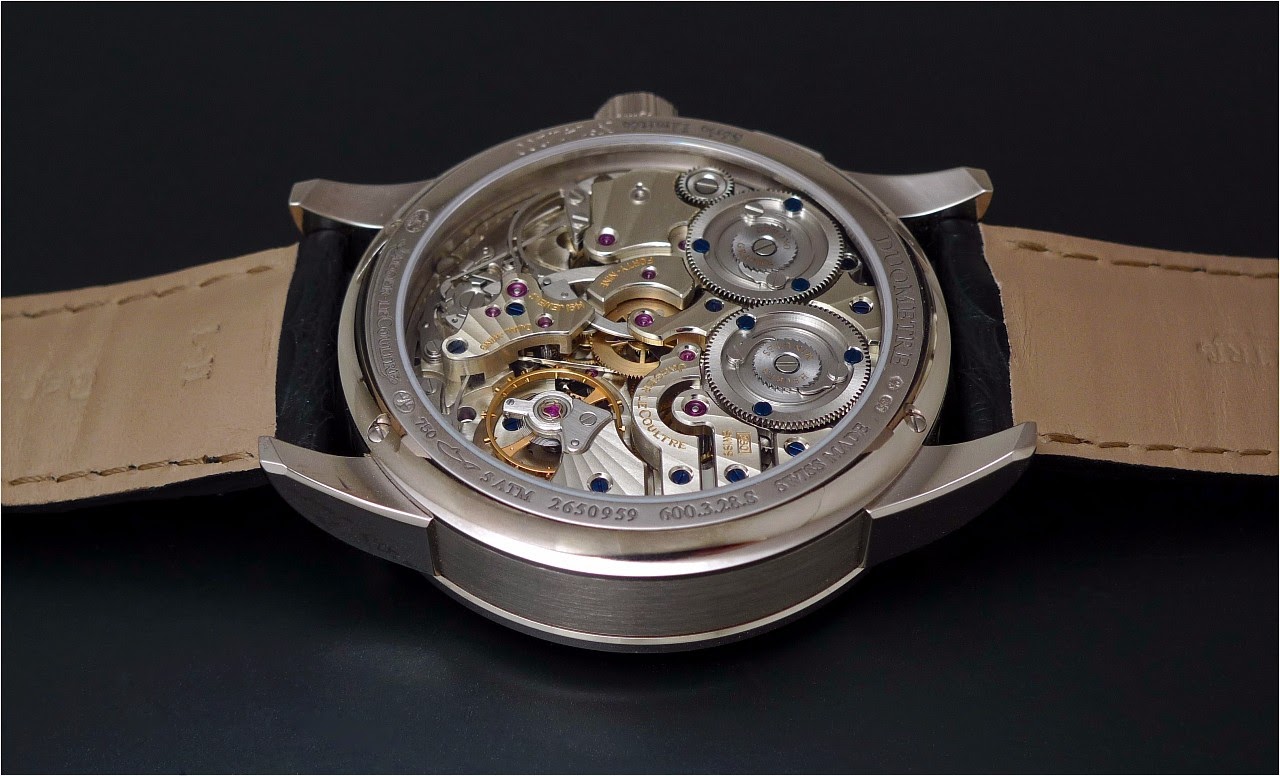 It's been almost two years that I own the White Gold Black Duometre, and I am very happy with it. But seeing Bruce's specimen made me come back to 2007 and my first feelings on that watch. Love, passion and admiration.
With, suddenly, one question: Would it be worth considering getting a second Duomètre à Chronographe, in platinum, this time, in addition to my white gold one?
Best,
Nicolas