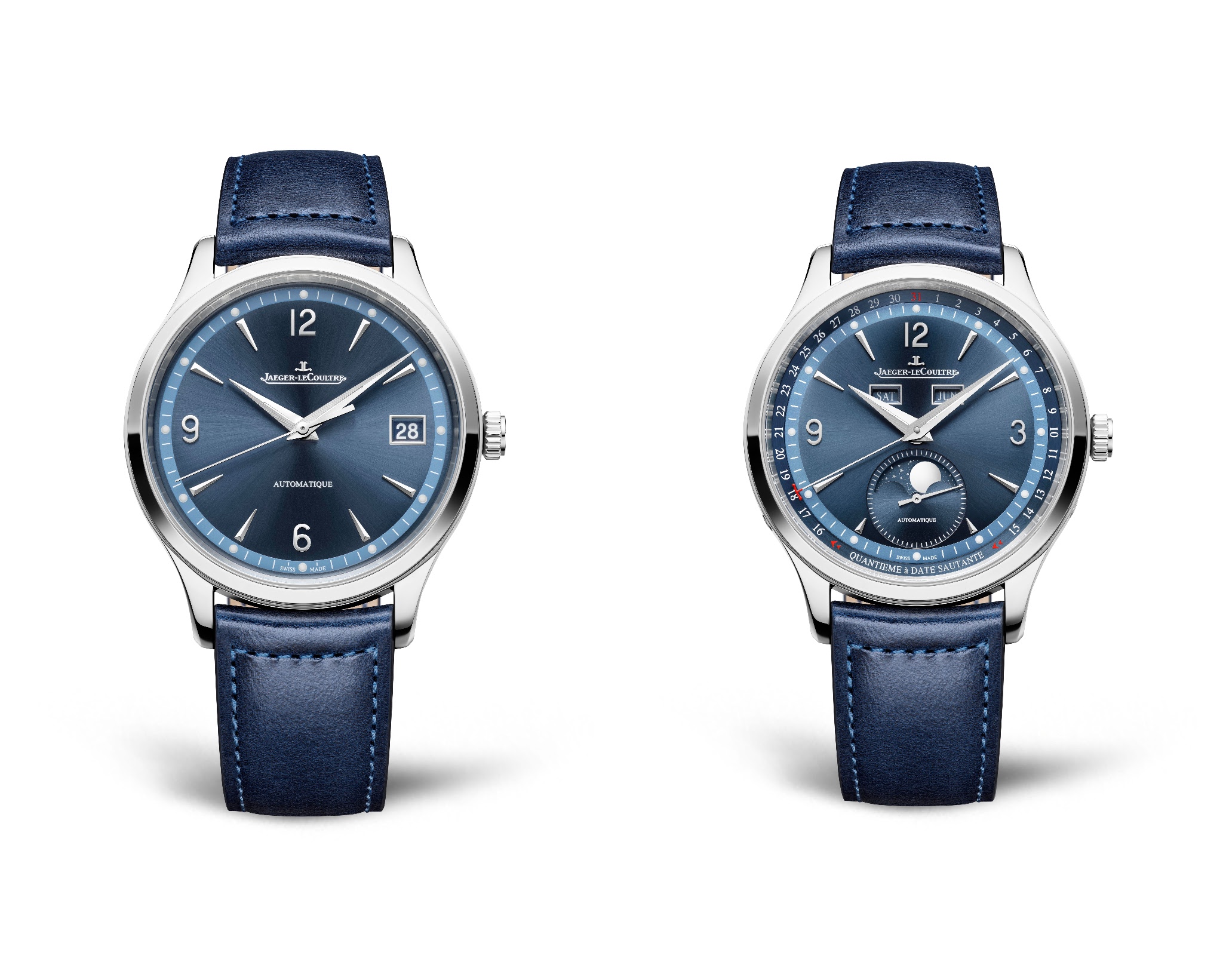 You certainly kept in mind that when we saw the new Master Control Line in 2020, we were hoping that, one day, a colored version would come.
Some thought, logically, that a black dial would " land ". Logically as for more than 20 years, steel cases were associated to black dials, and we have in mind the " Black Series " from the late 90's, early 2000's, such as the Master Perpetual Calendar, Memovox, Ultra Thin 34, Geographic and so on.
In that vein, we had a more recent wave of Master in Steel with black dial: The Master Control Date, Perpetual Calendar, Géographique and the Master ultra Thin Moon were all striking versions of their silver siblings.
Jaeger Lecoultre opted for a different and surprising way this year, with the choice of a blue dial for both the Master Control Date and Master Control Calendar.
Let's discover them now.
1/ THE MASTER CONTROL DATE.
I will write a bit more about this one, as I couldn't review it previously.
As you know, the Master Control is a very important watch for Jaeger Lecoultre. Indeed, we can consider it like the heir of the Geomatic, aesthetically and mechanically, a serious, well made watch.
It is also an entry level model for the brand. And the demonstration that a good watch can be affordable.
In 2020, Jaeger Lecoultre totally revisited the Master Control case. It was about time! And the outcome is very satisfactory, in my opinion. The lugs are sweeter, the case and bezel are more refined, the proportions (40 mm big / 8, 78 mm high ) are convincing and pleasant. Yes, they did a good job on that matter.
They also revisited their historical automatic movement, the Cal 899:
I
t received a new silicon escapement and pallet, a redesigned barrel, and new oils have been used, among a few other things, to gain a much longer power reserve, 70 hours, now, rather than the former 40-ish.
They also redesigned the dial, in a very subtle way with more centered applied 6 / 9 / 12 hours markers.
Here is the 2020 version I could recently took in photo: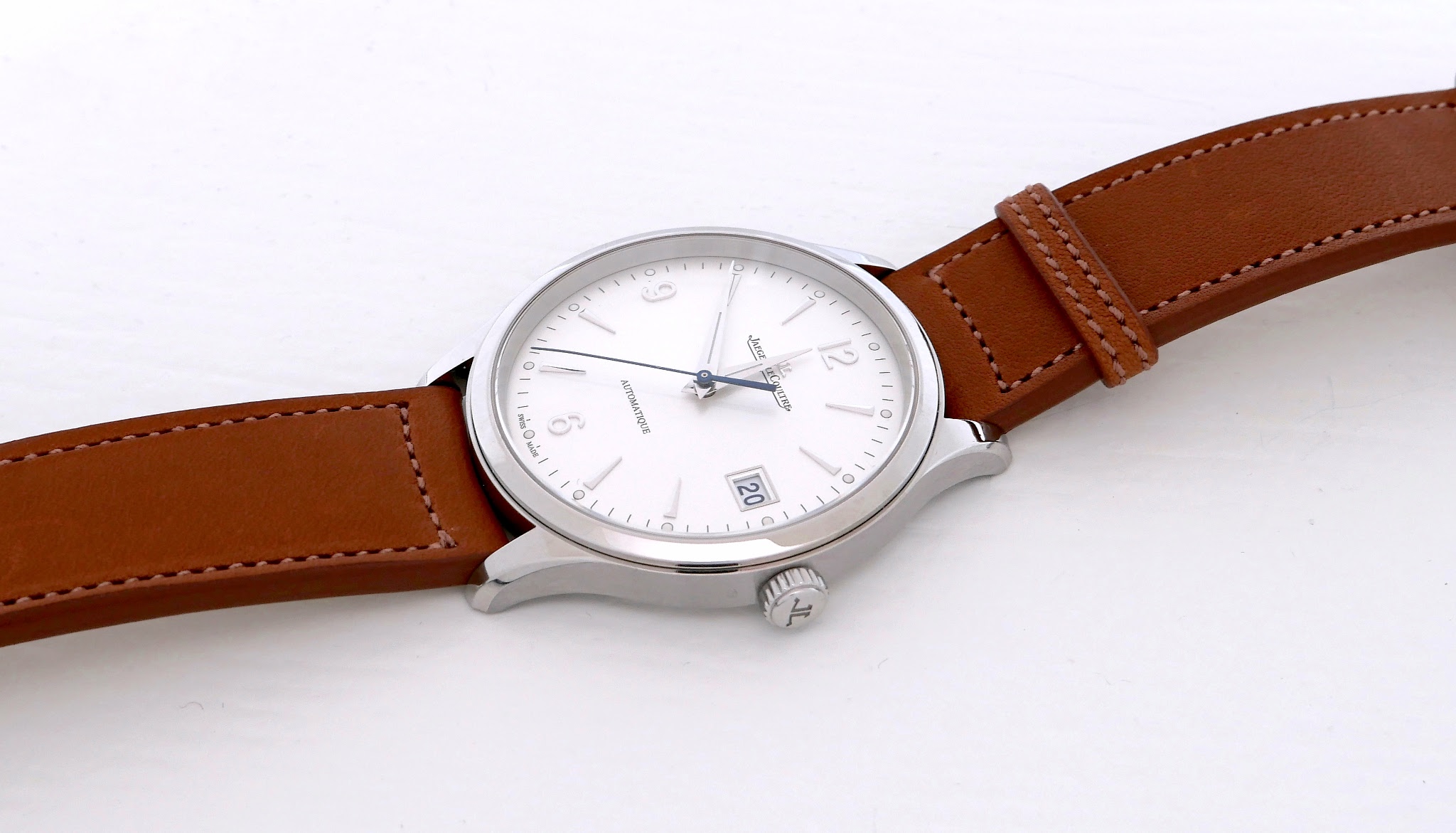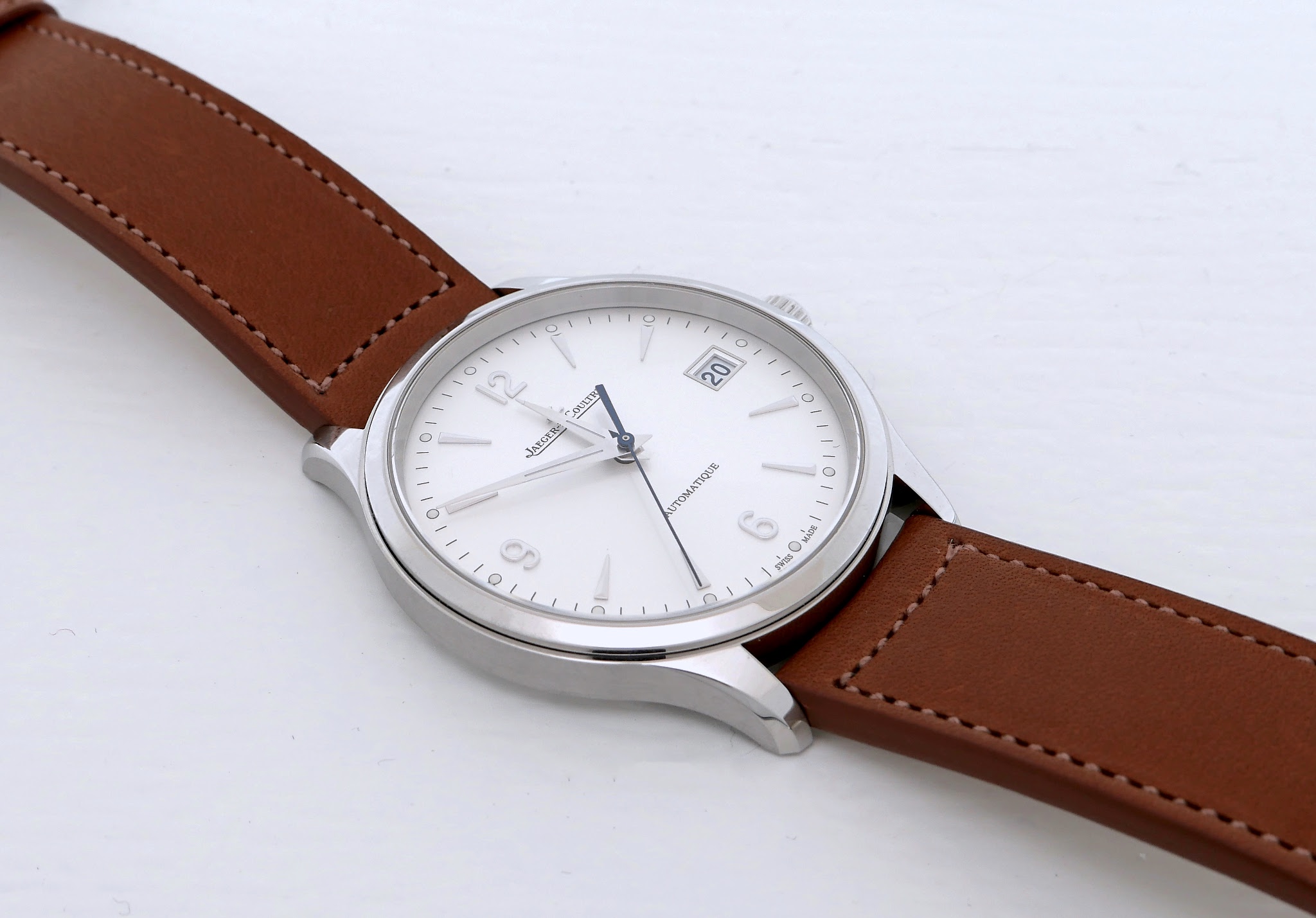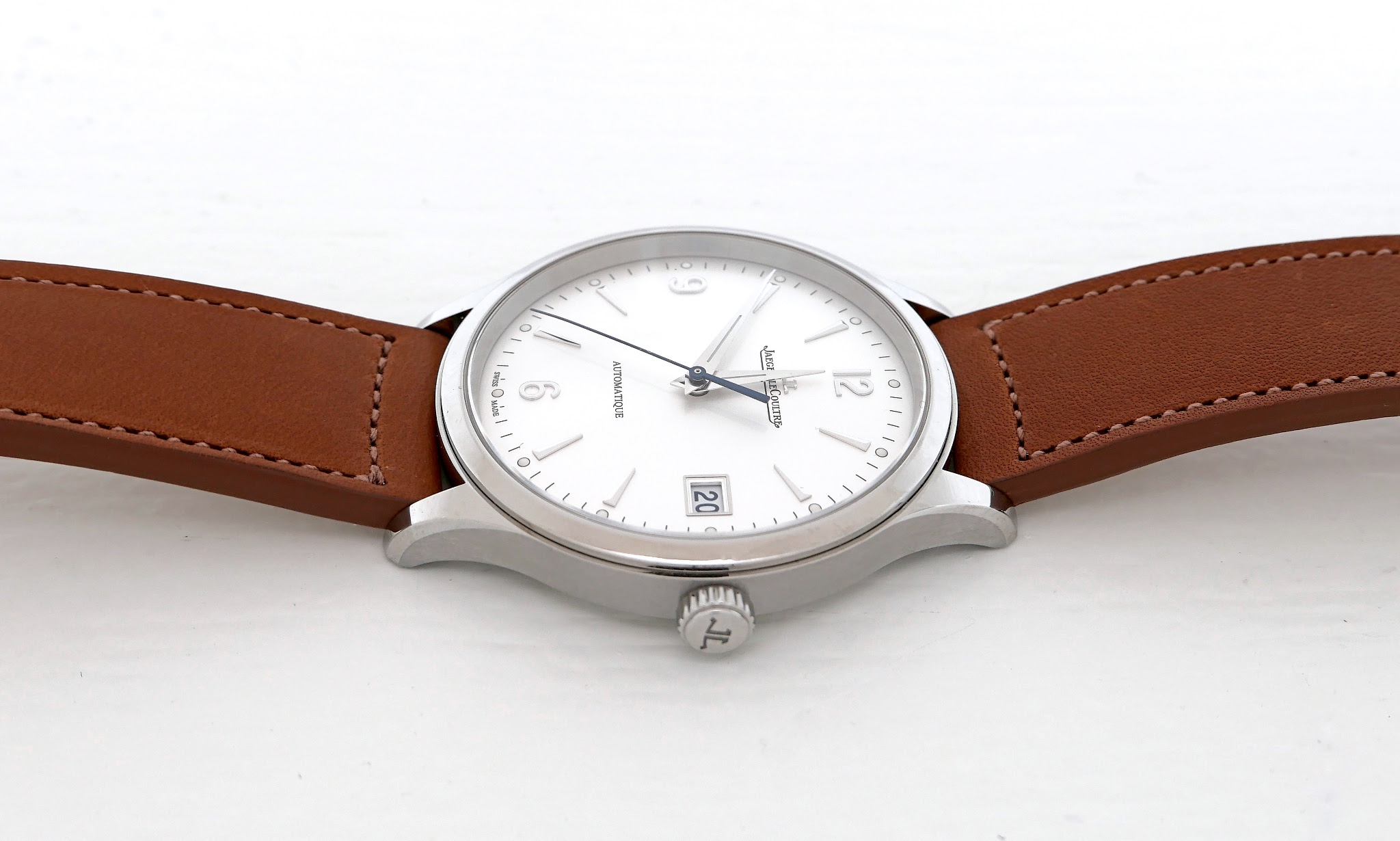 I must confess I am totally convinced and seduced by this new case. As for the dial, I find it very serious, not to say austere, which is not necessarily a bad thing. Some will say timeless and class, and yes, they will also be correct.
There are still two details which are disturbing me: The JL Logo and signature which I find a tad too low on the dial, and most importantly, the " automatic " mention, which is not automatically necessary, if you allow me this poor pun.
Indeed, Jaeger Lecoultre, on the former generation, didn't print this mention on the dial, and without, it doesn't look much better.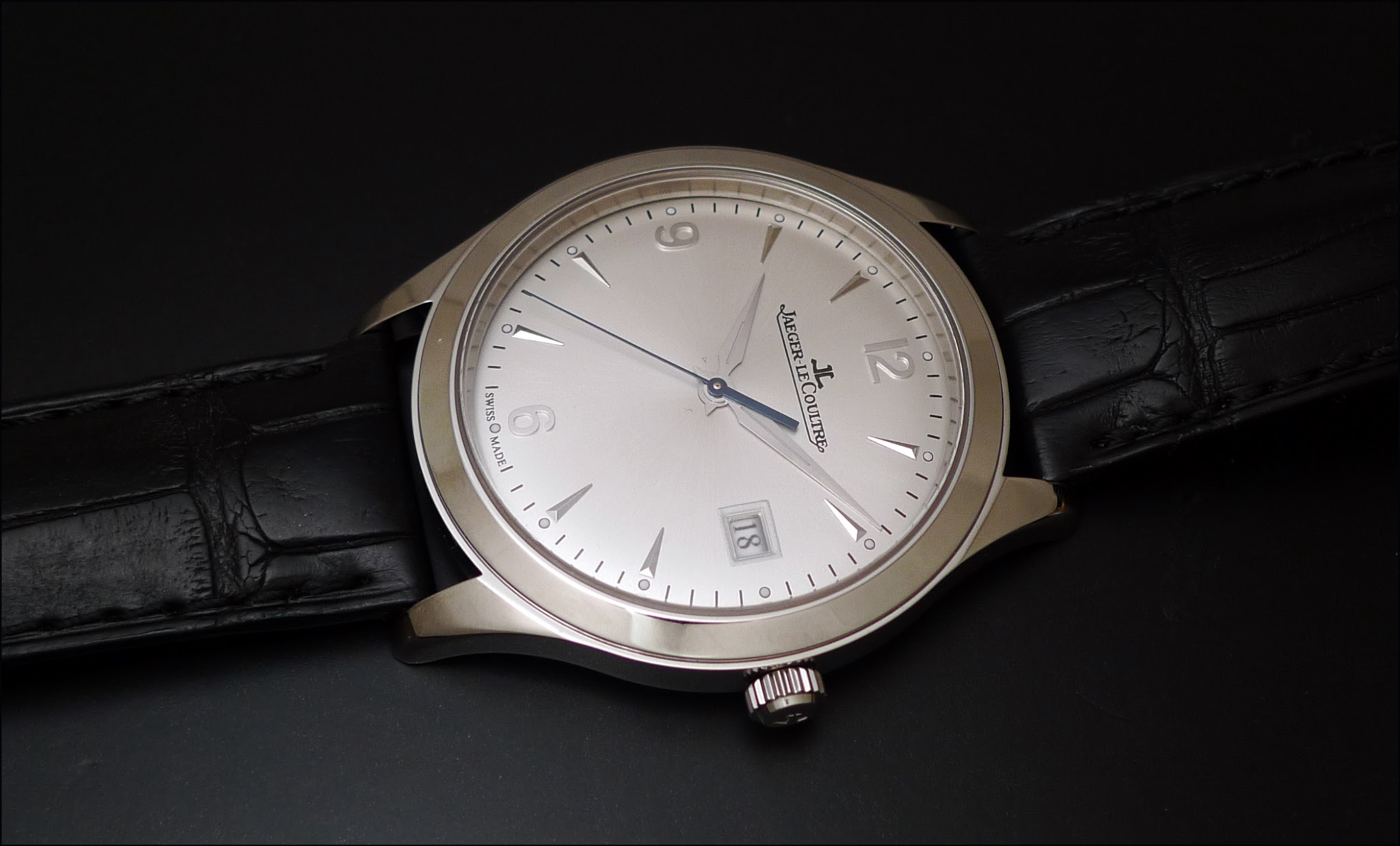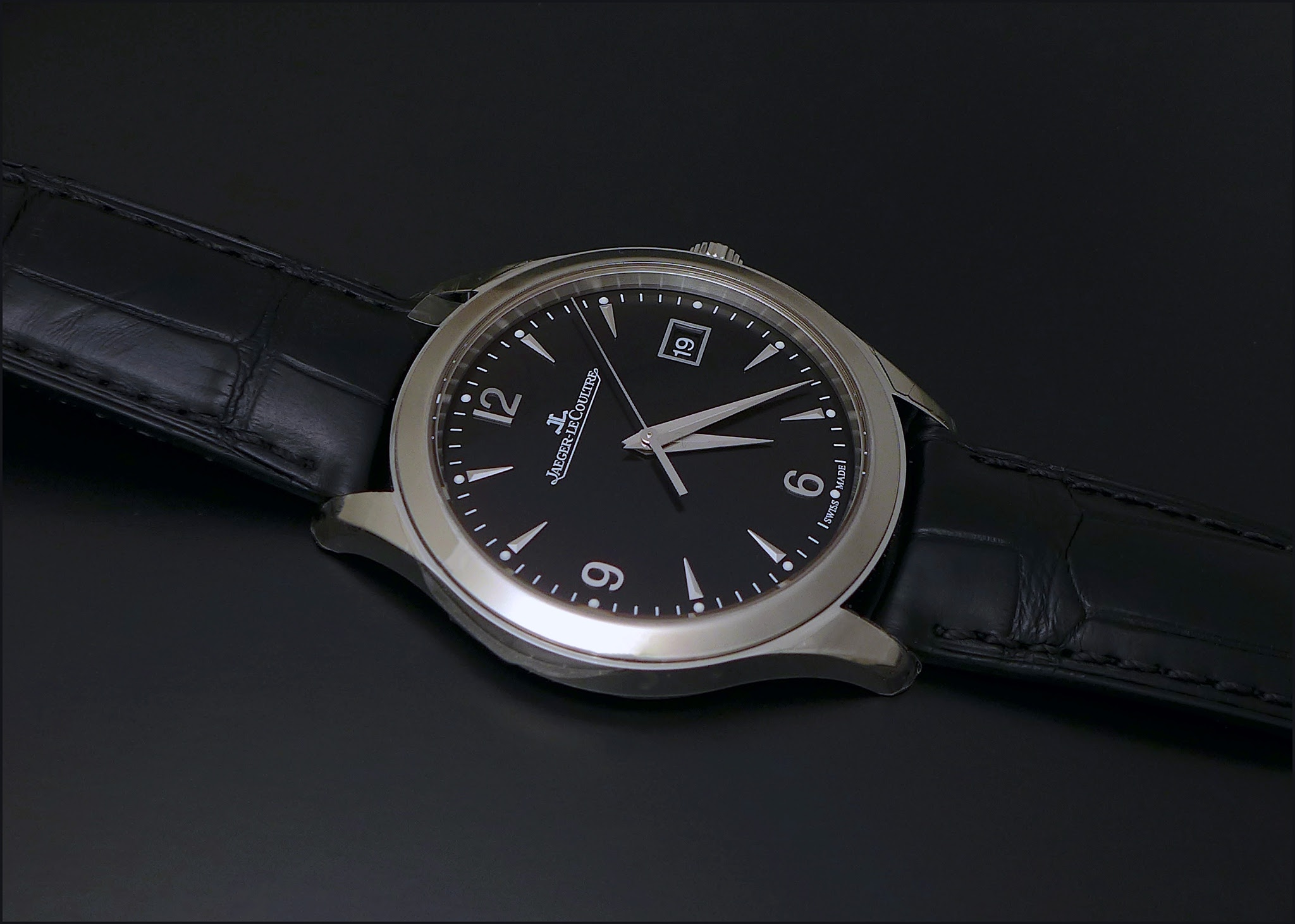 As often... " Less is more... And better ".
This year's novelty is the color of the dial, this is the only change, but an important one.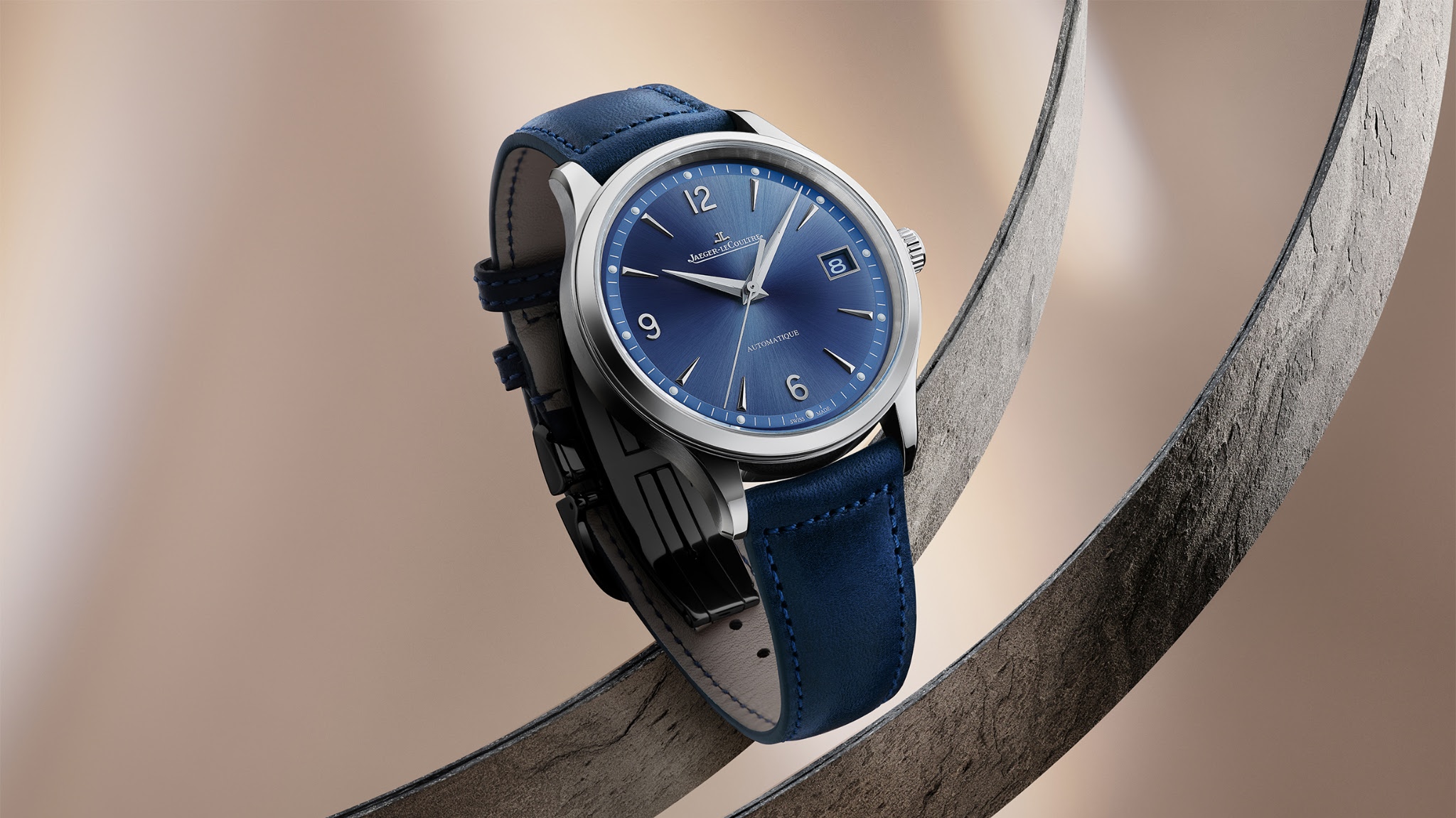 This Master control Date is still an elegant watch, but with an extra cool factor, now. Here we have a sunburst blue dial, with a lighter blue minute ring and a matching date background.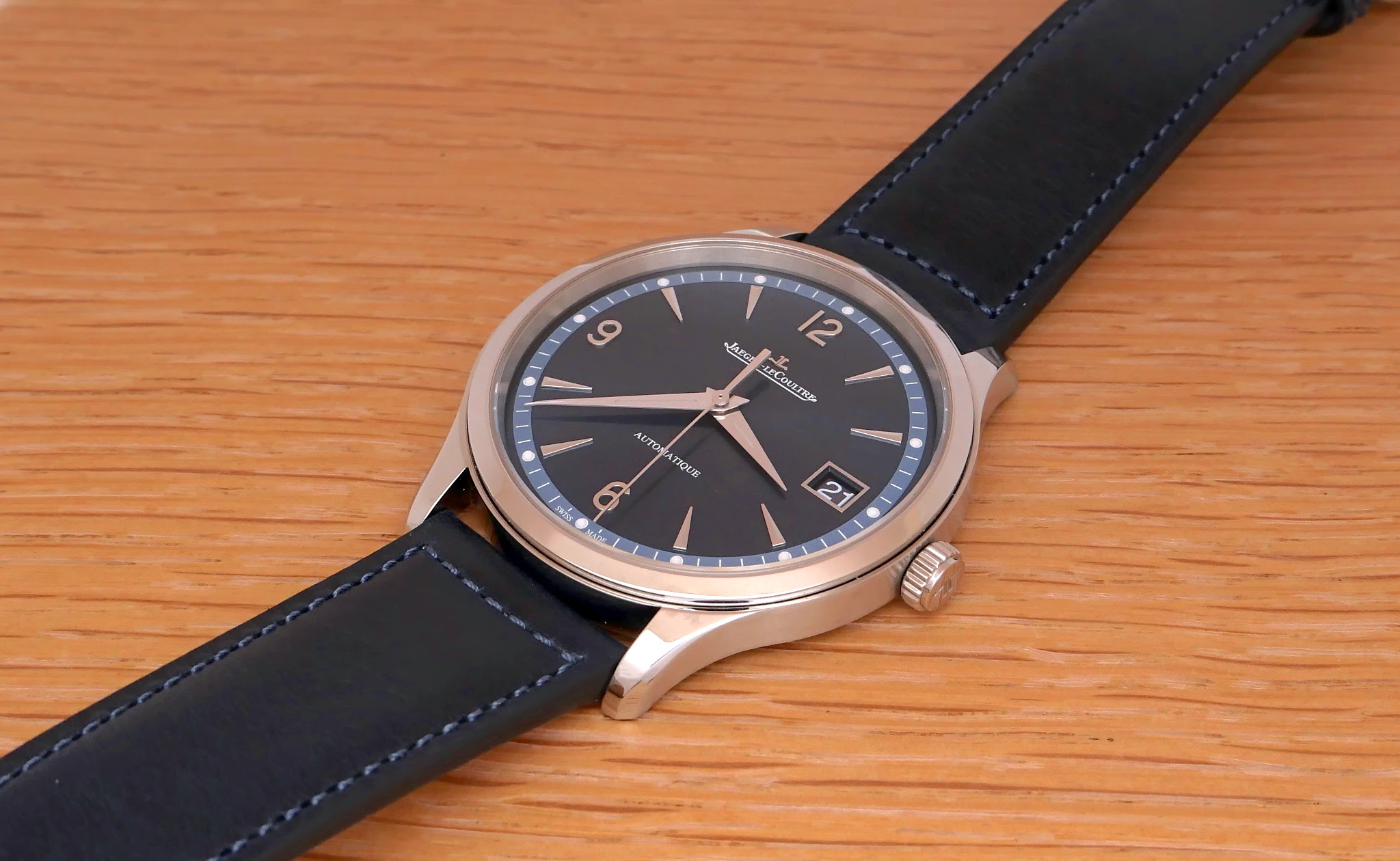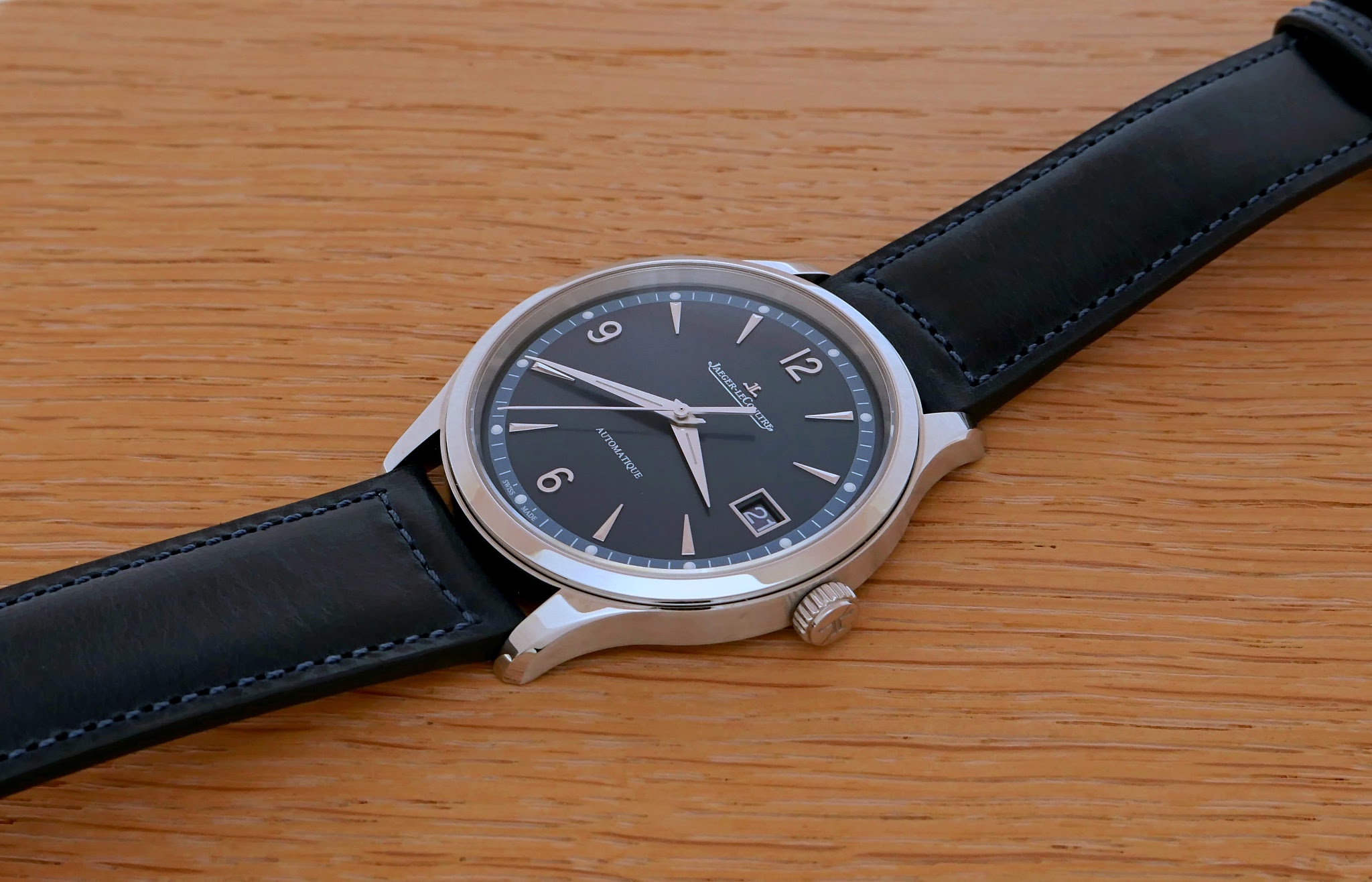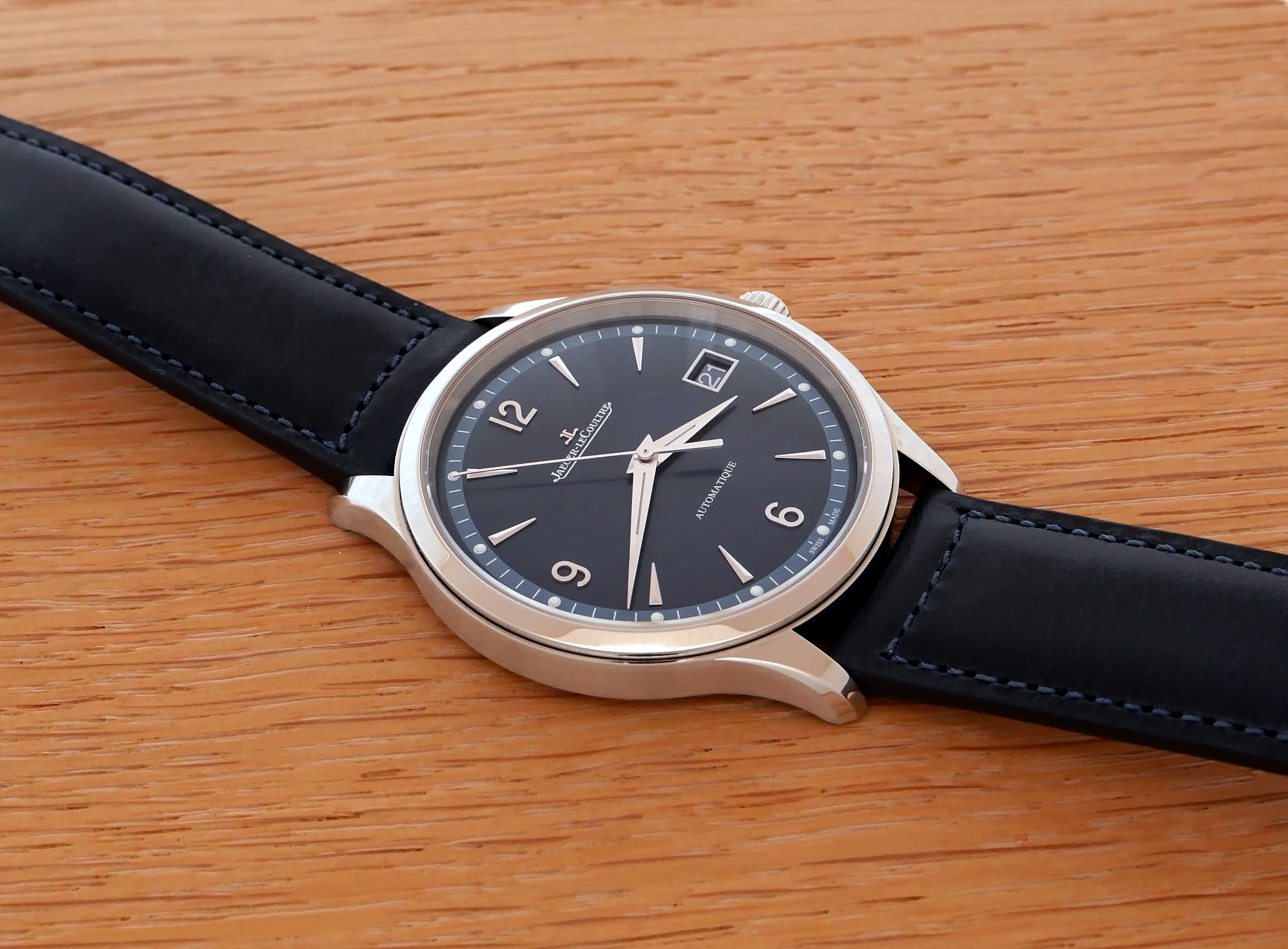 You will better see the true hue of the dial here, on these photos taken with a natural light: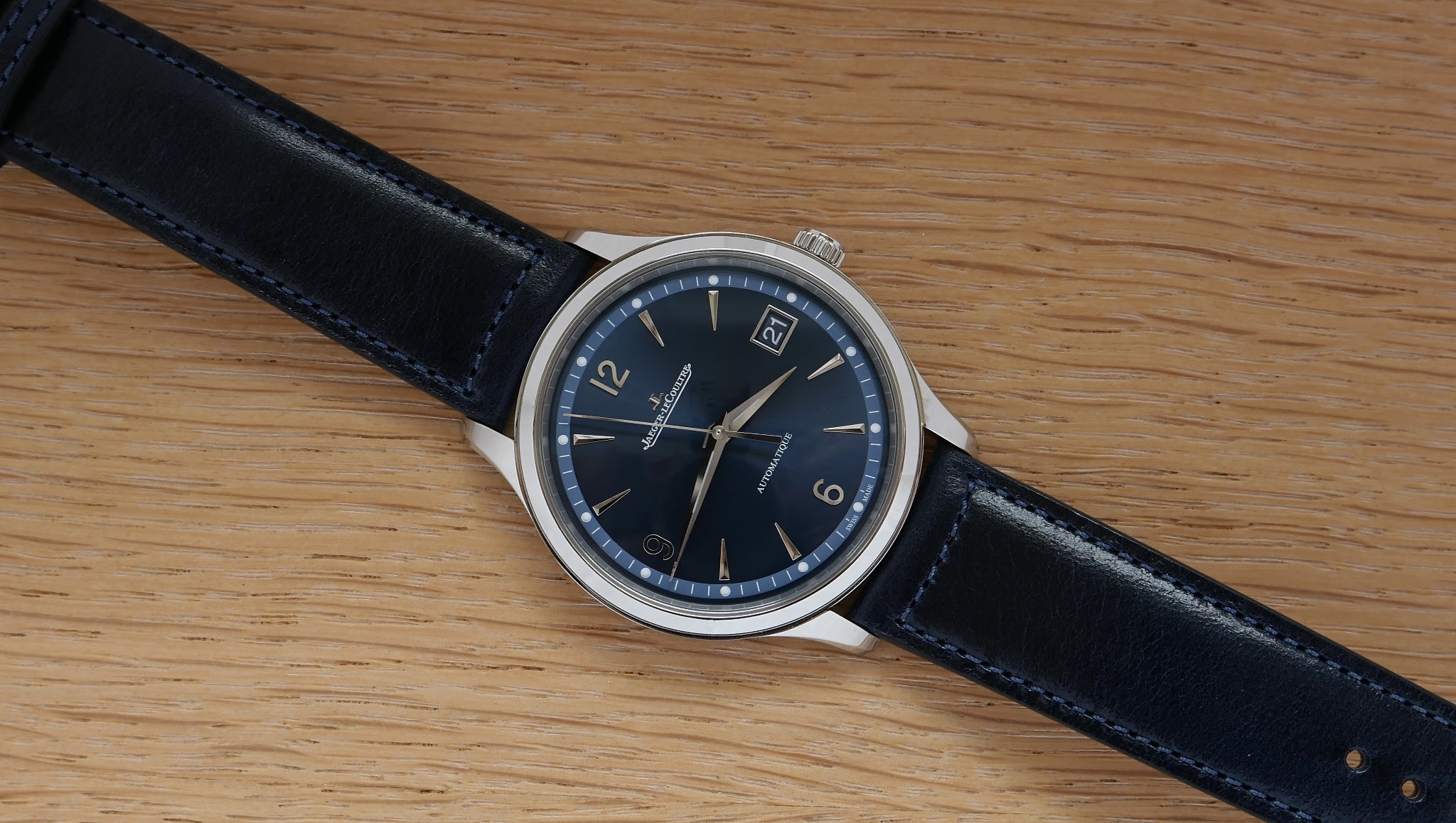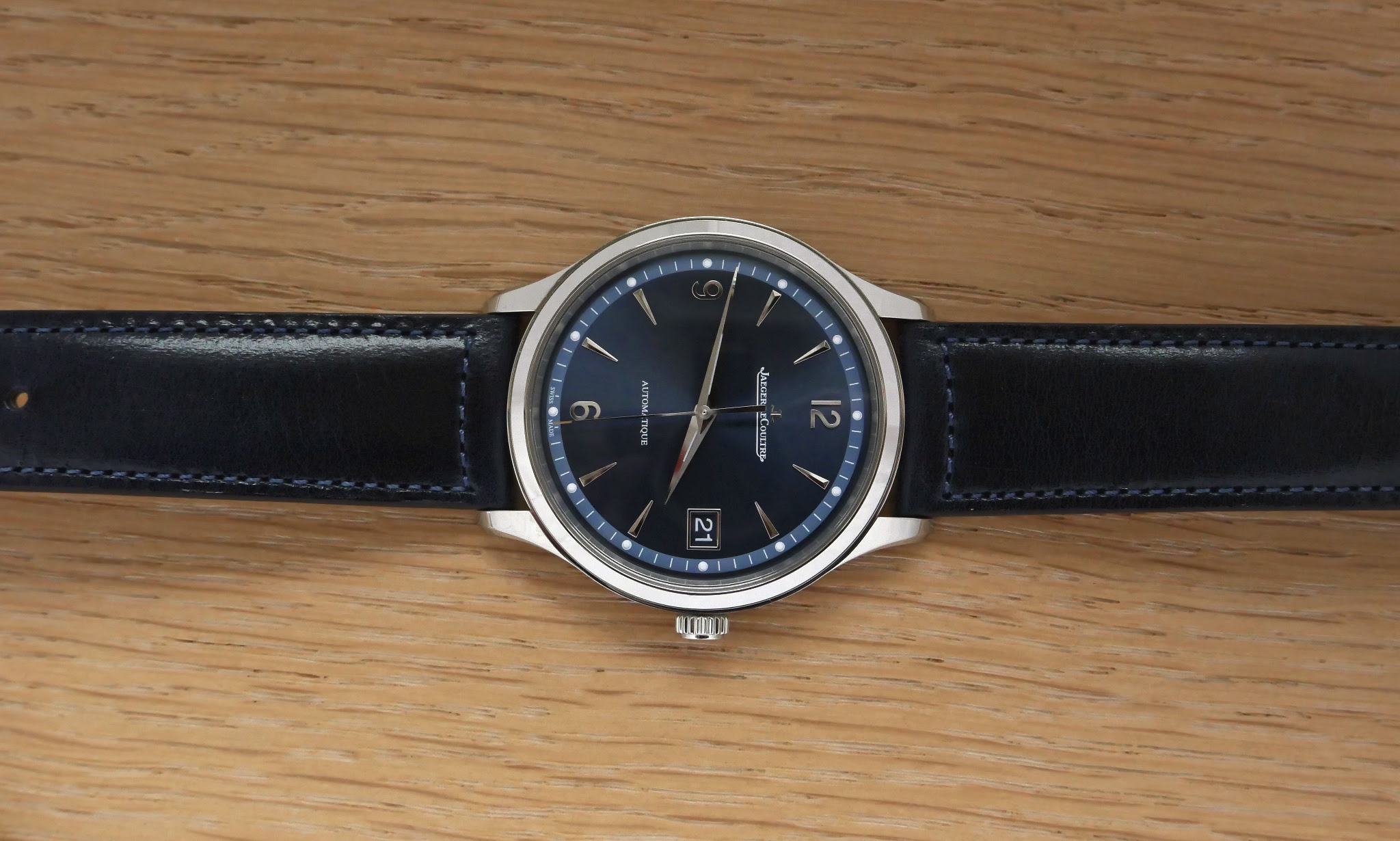 To be complete, the case is water resistant to 50 meters, which allows you to wear it in most life circumstances. It does have a see through case back, which is not mandatory for me. The other great feature is the superb blue calf strap, offering a nice looking combination to this watch.
I must say that I find this version very cool. I just regret the " Automatic " mention which spoils the purity of this dial, a bit.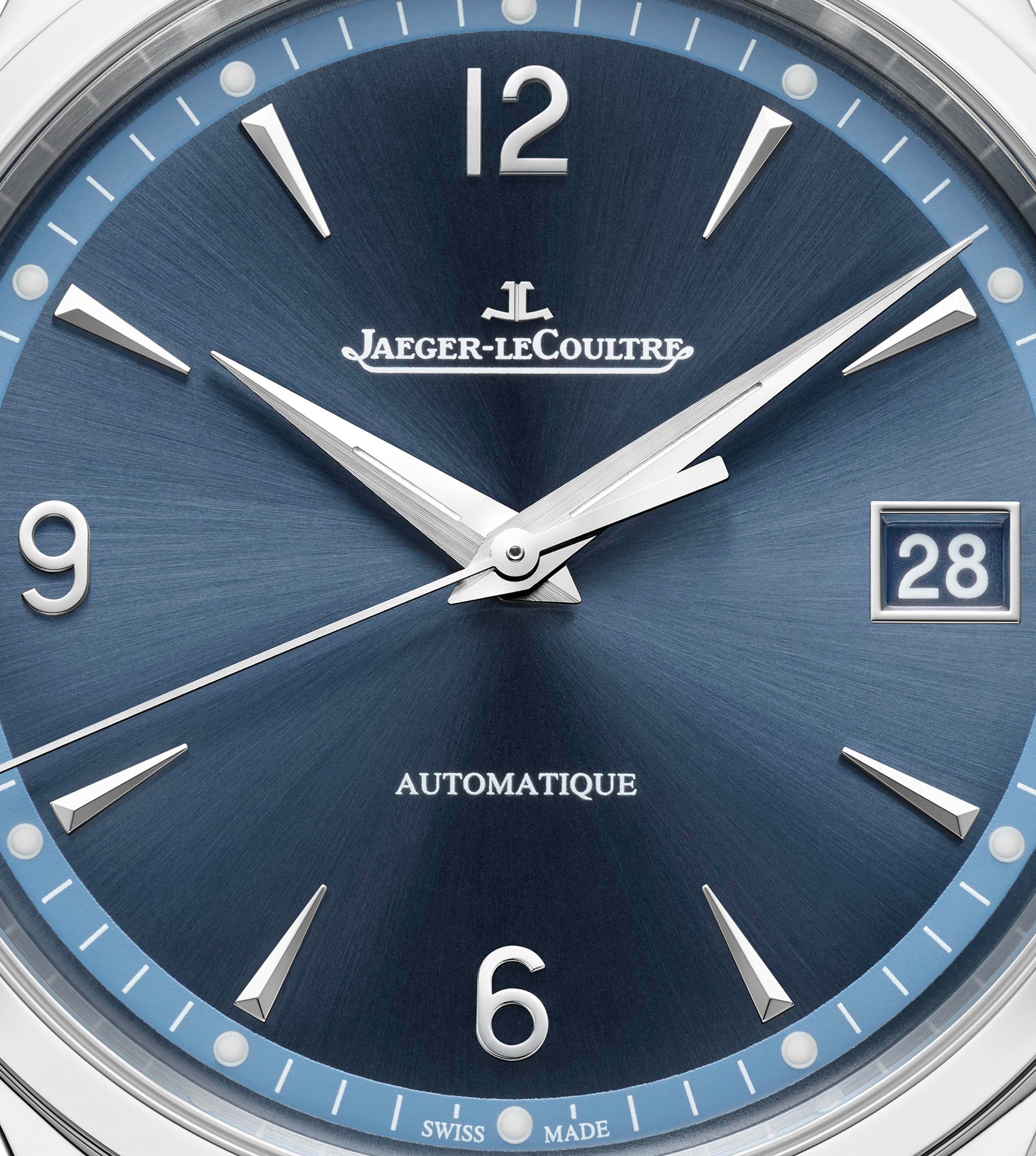 2/ THE MASTER CONTROL CALENDAR: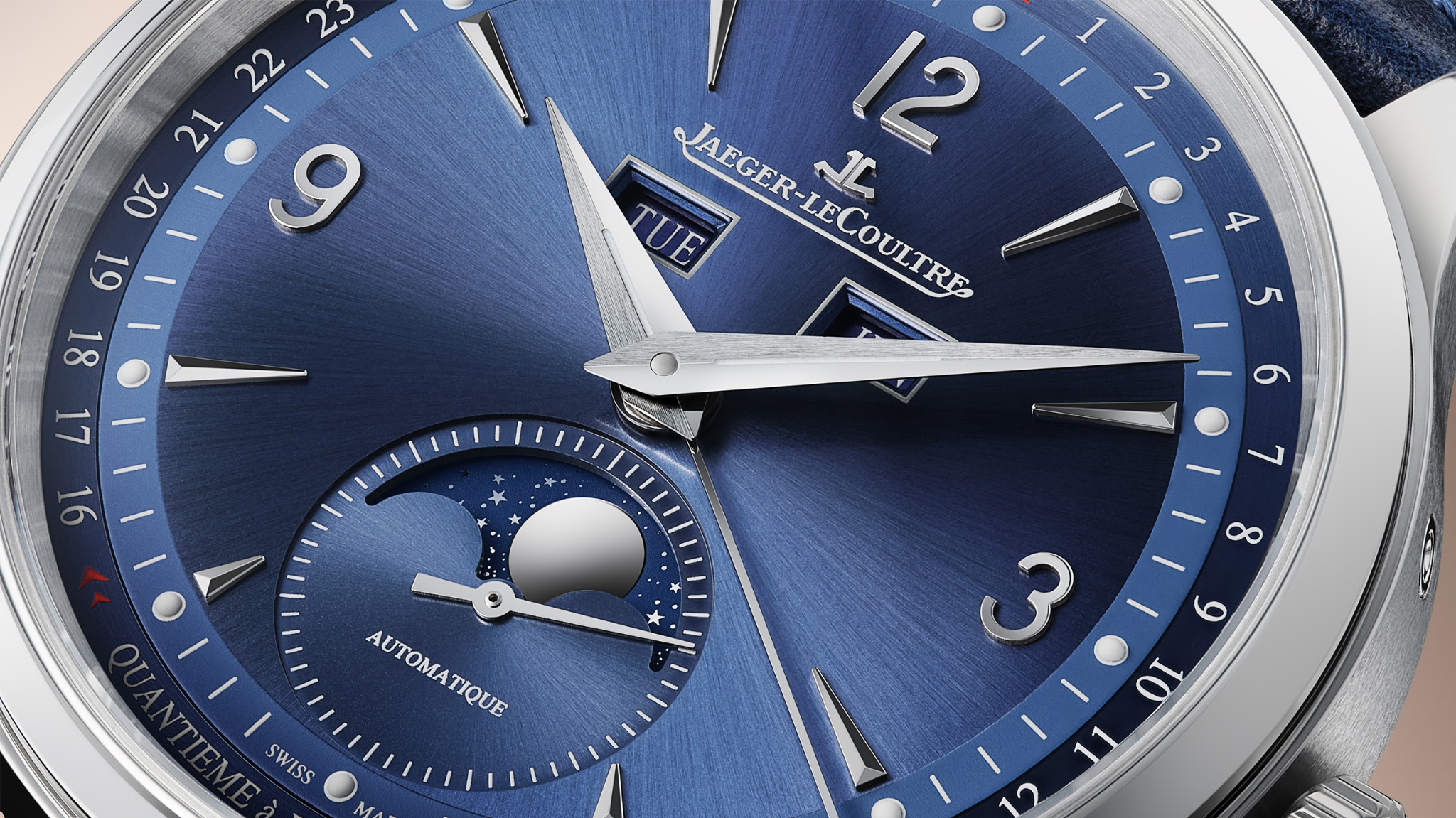 We can objectively say that the 2020 Edition of the Master Control Calendar is a success, or, said in a more appropriate and meaningful way, an Instant Classic revisited decades after decades.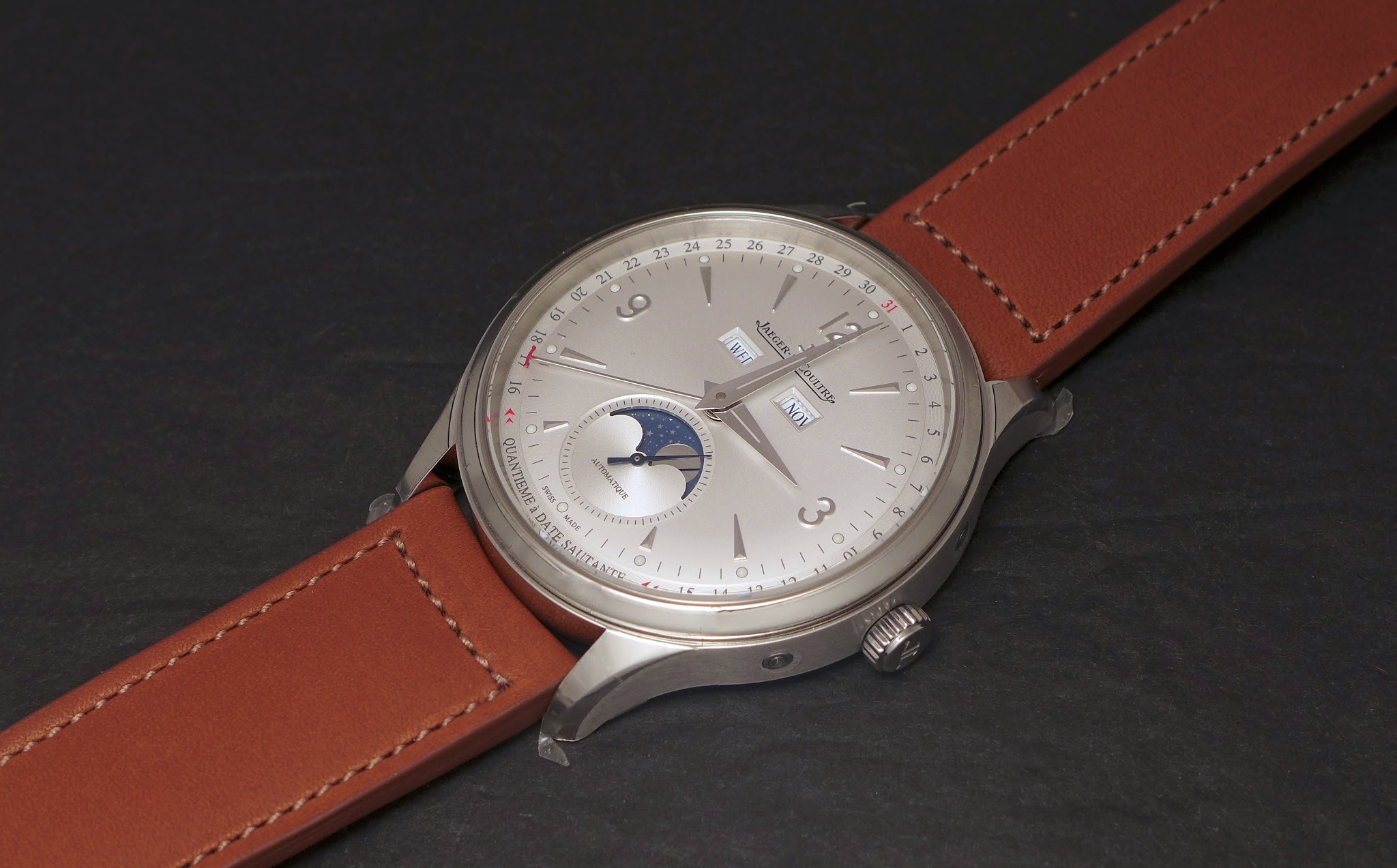 As for the Master Control Date, the Master Control Calendar has the same steel case ( 40 mm big / 10, 95 mm high ), see-through case back, movement ( Cal 866 ) which also enjoys a longer power reserve ( 70 hours ) and the blue calf strap. The only change is the color of the dial, sunburst blue with this lighter minute ring, which I find sublime, even more elegant than the new Master Control Date Blue.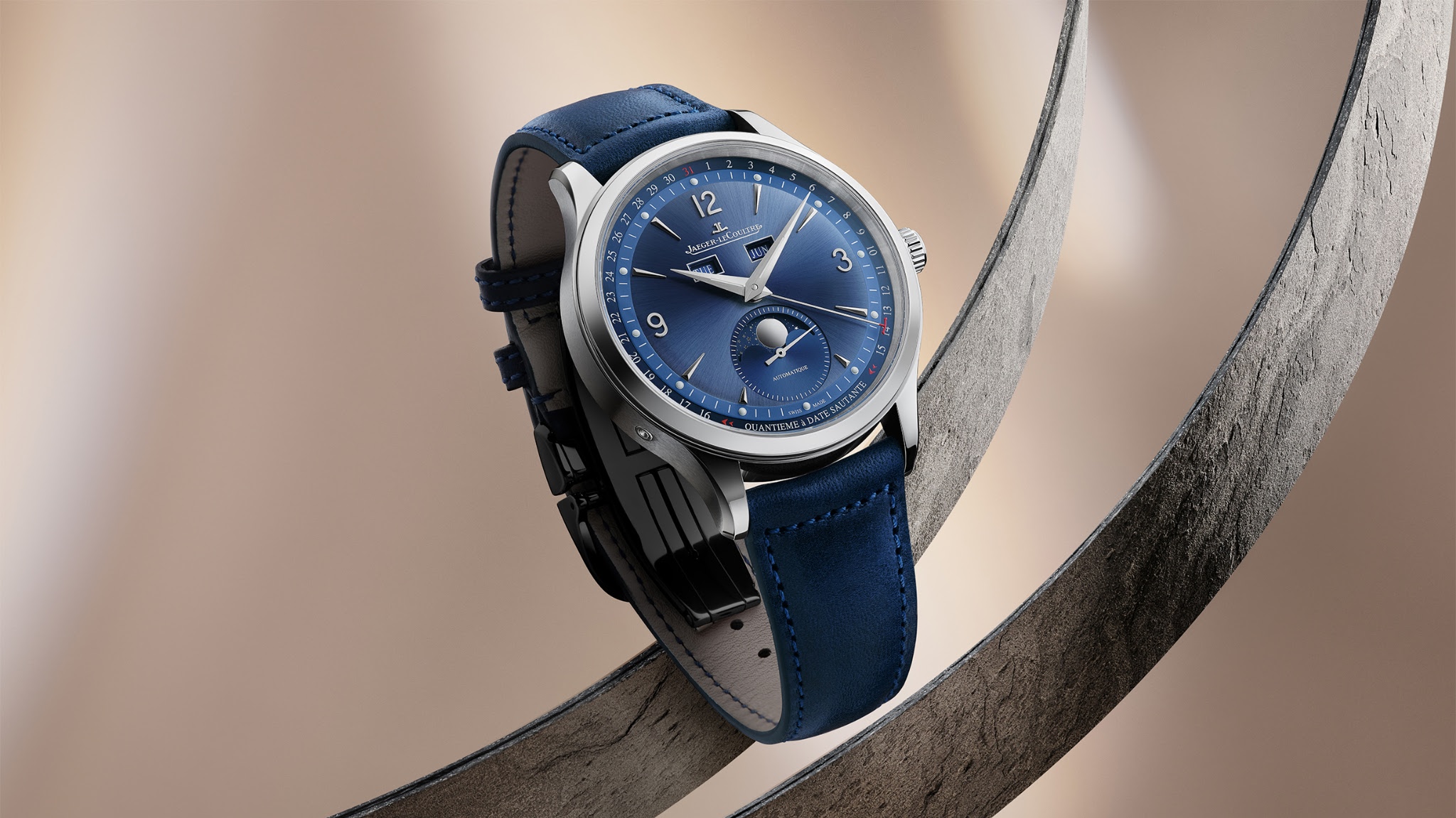 By the way, this sunburst blue dial and its lighter blue minute ring should remind you of something, as it is not the first time we see it in a Jaeger Lecoultre watch...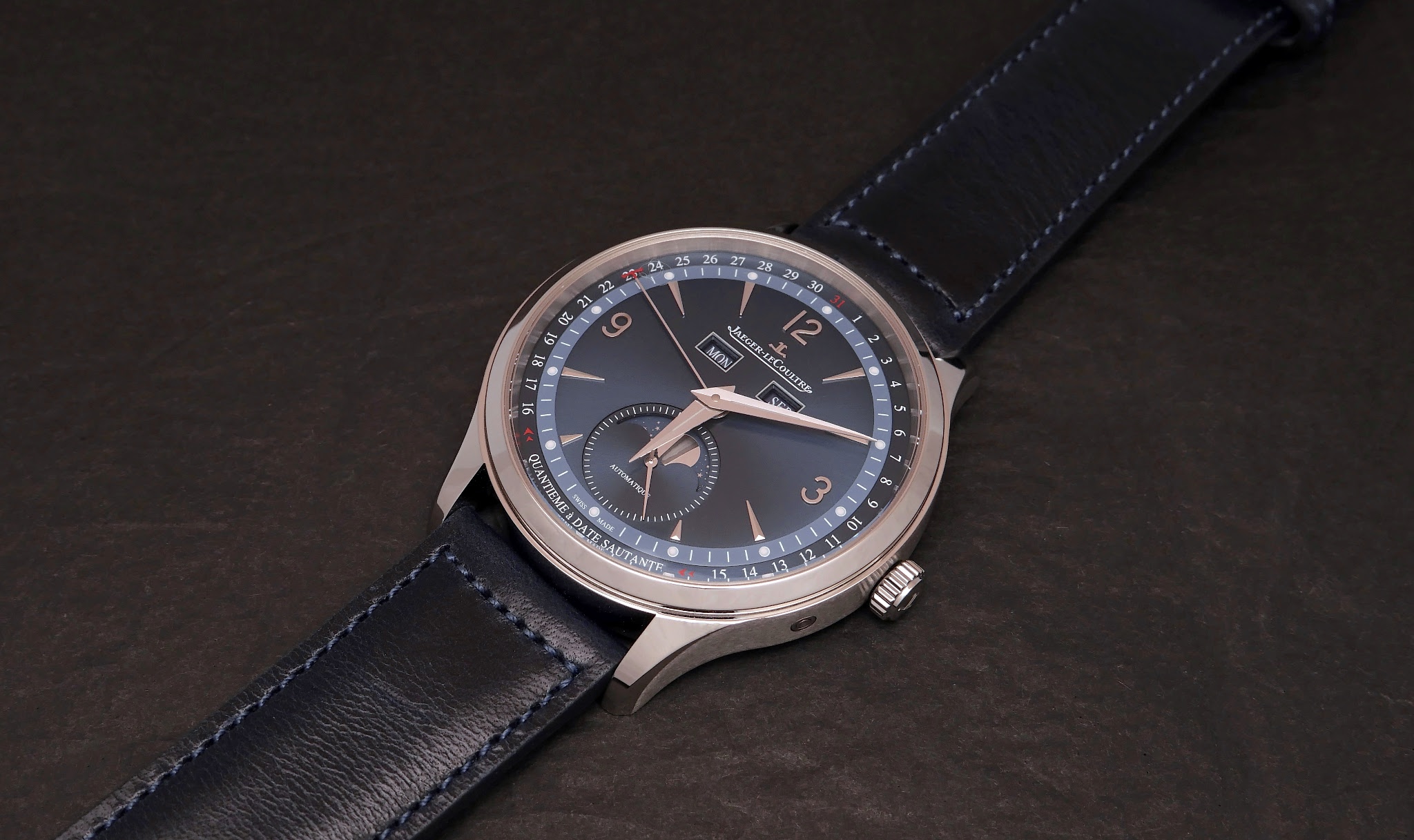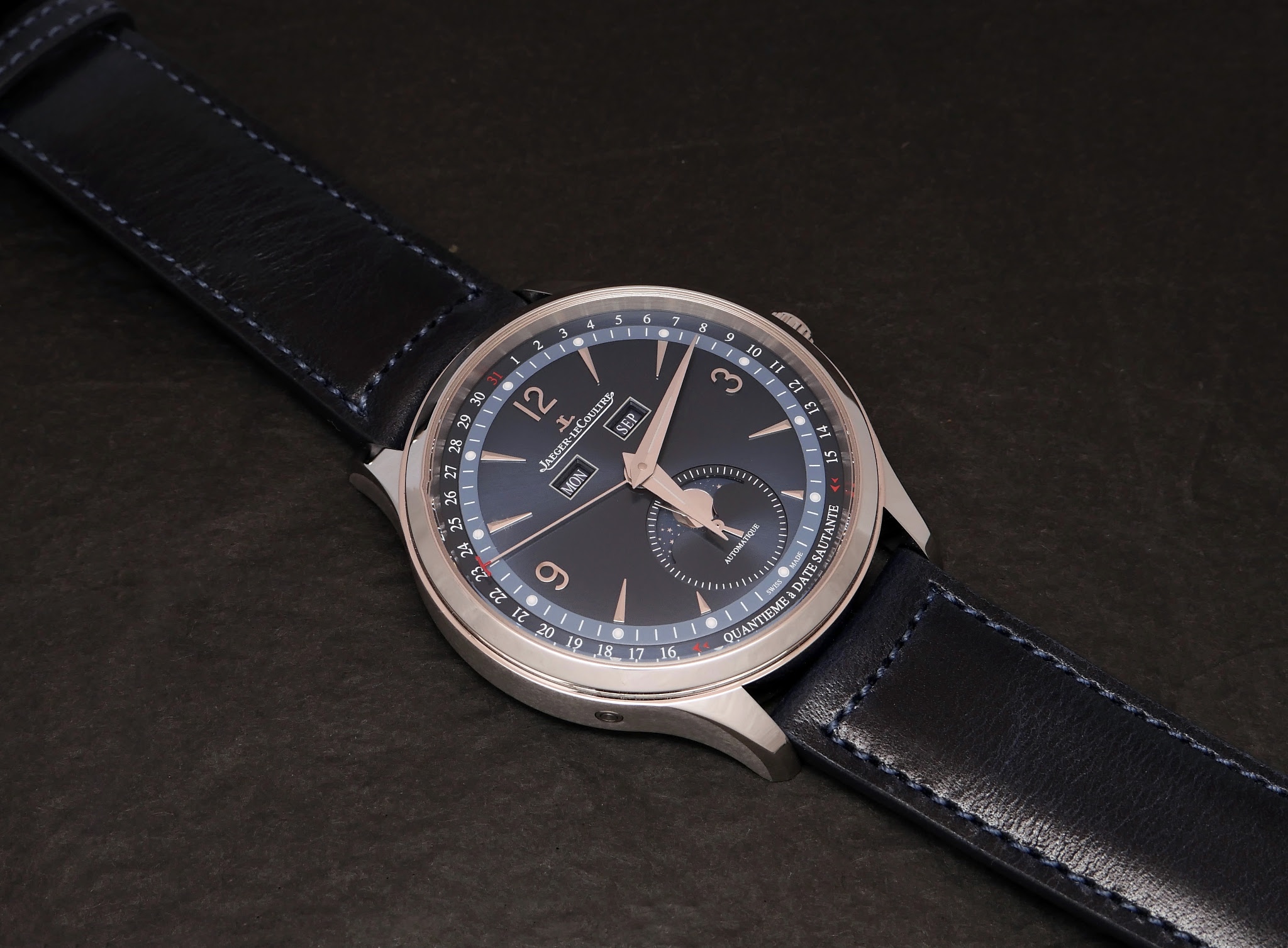 Indeed, Jaeger Lecoultre used it for the first time in 2016, in the Master Memovox Boutique Edition!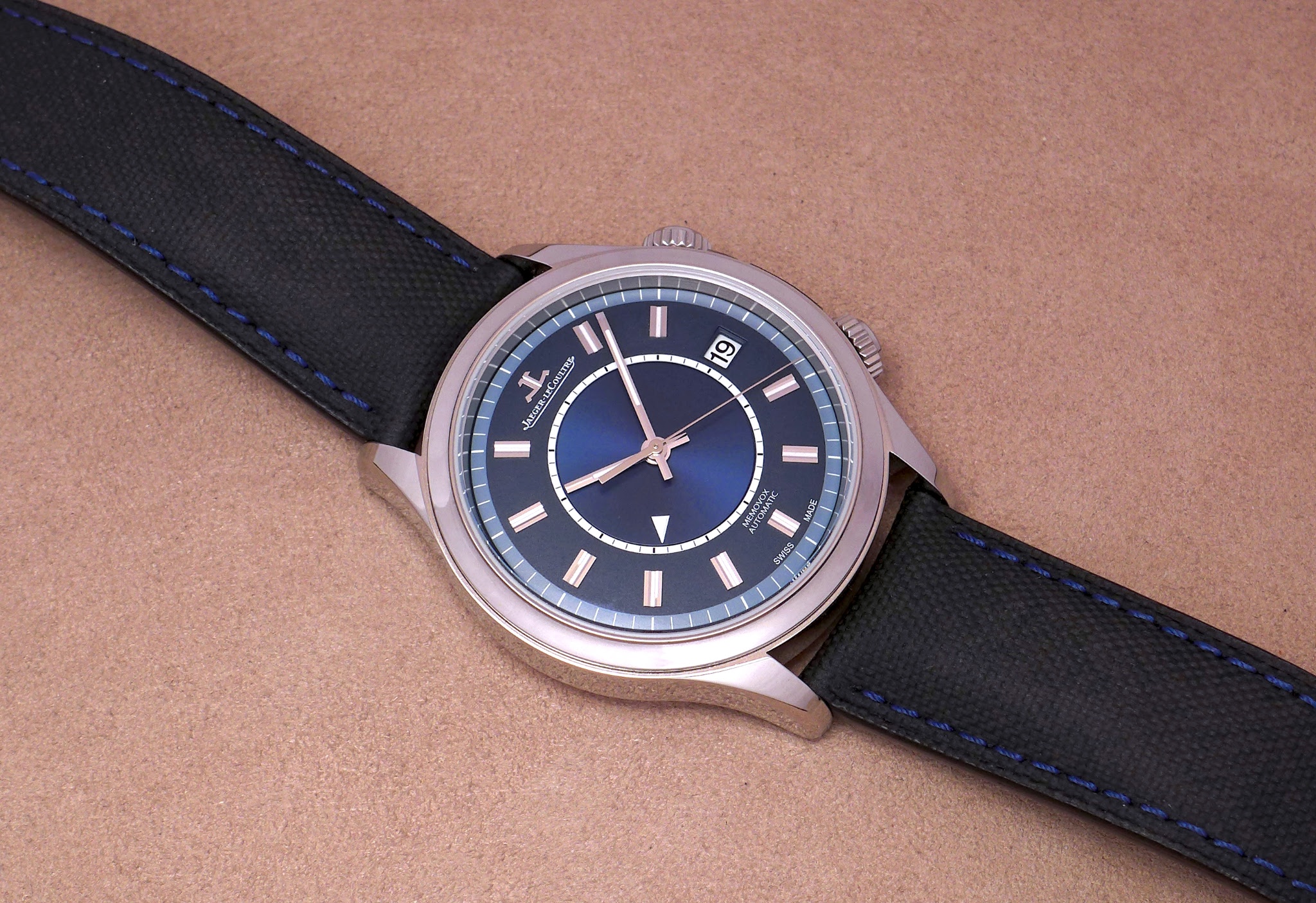 And, in 2021, the Master Memovox Timer, too: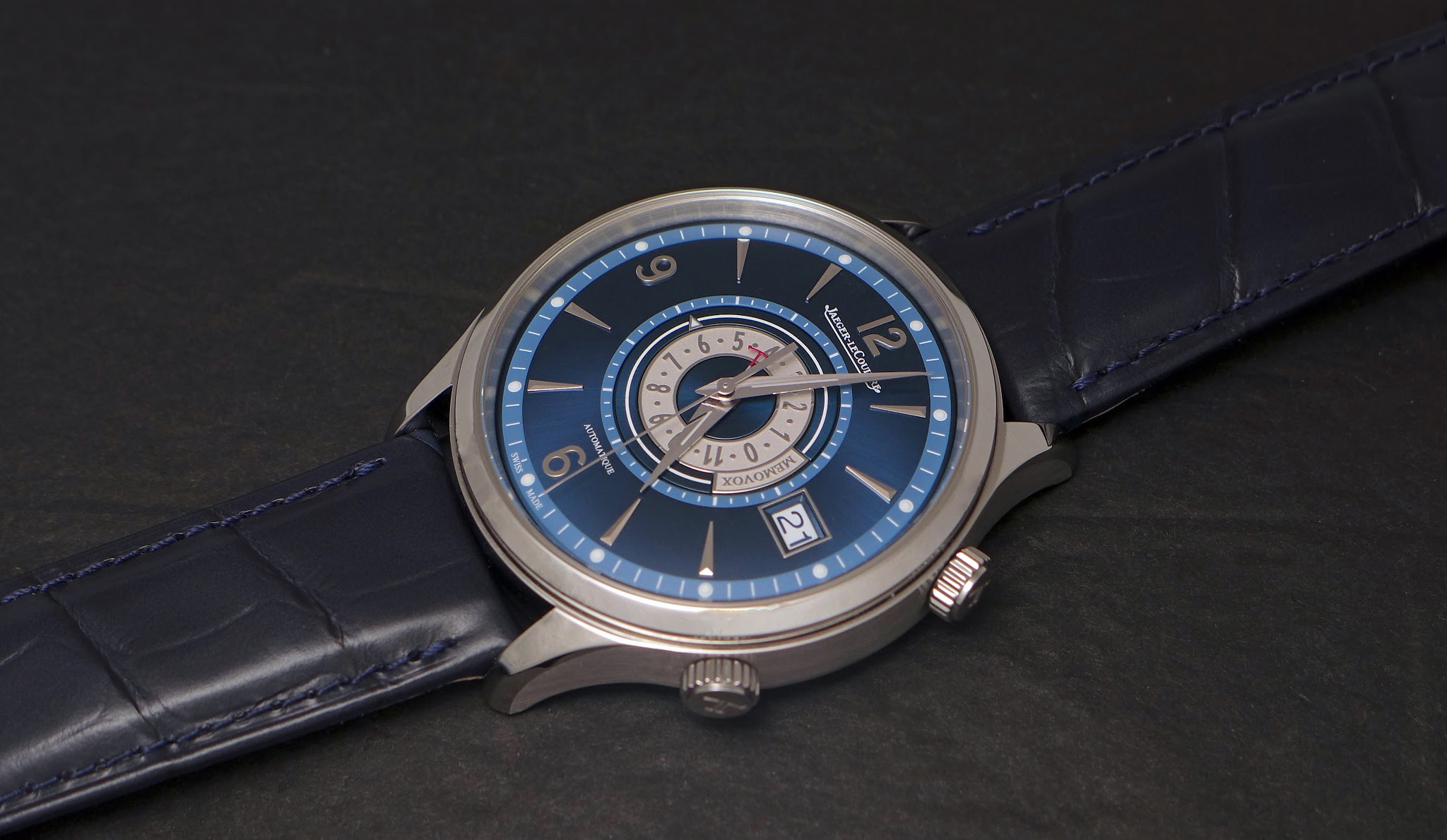 Here again, the " automatic " mention, even though it is more discreet than in the Master Control Date, was not mandatory...
It is also 2 mm thicker than the Master Control Date, which is something you will notice when you have both of them side by side.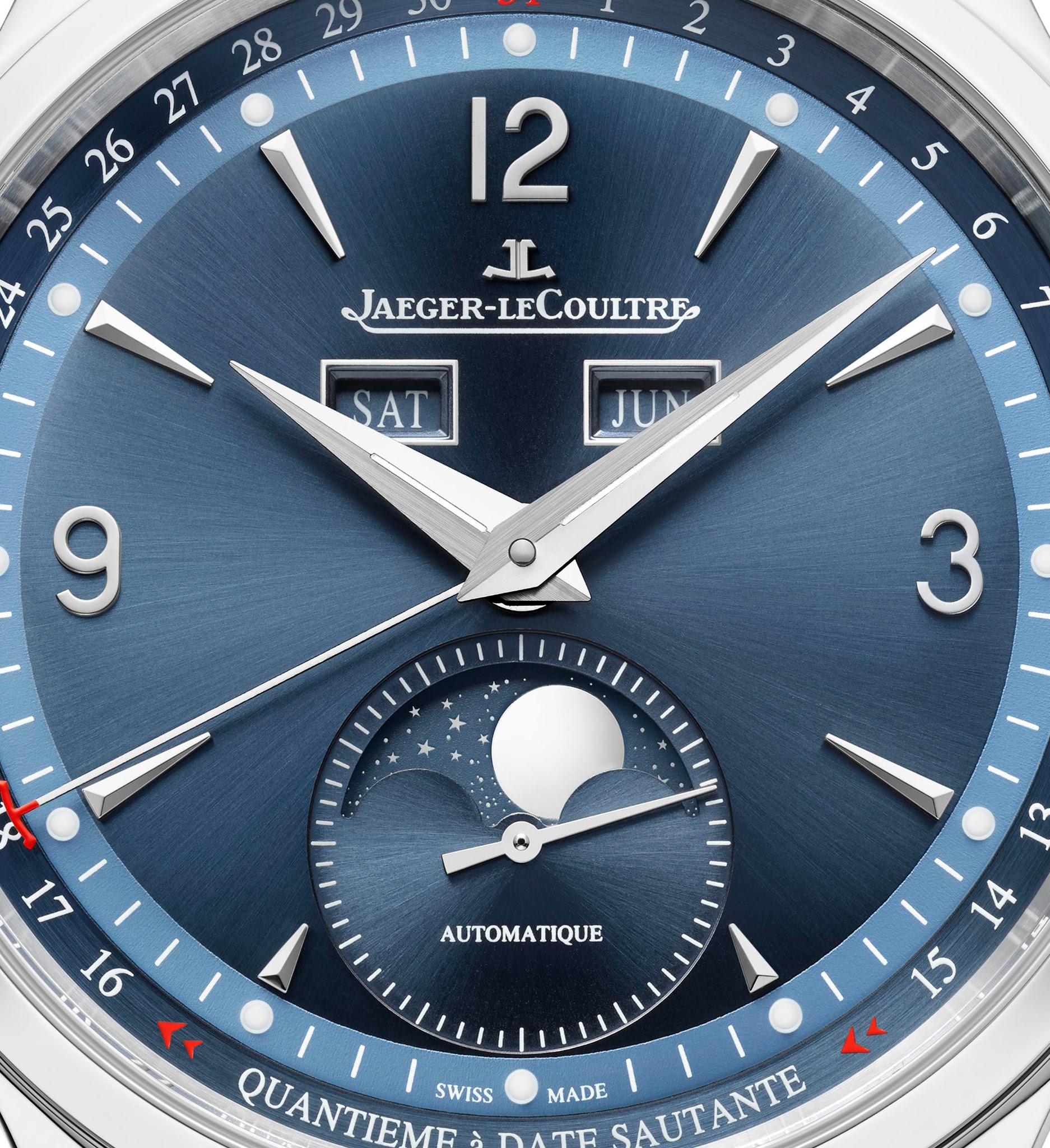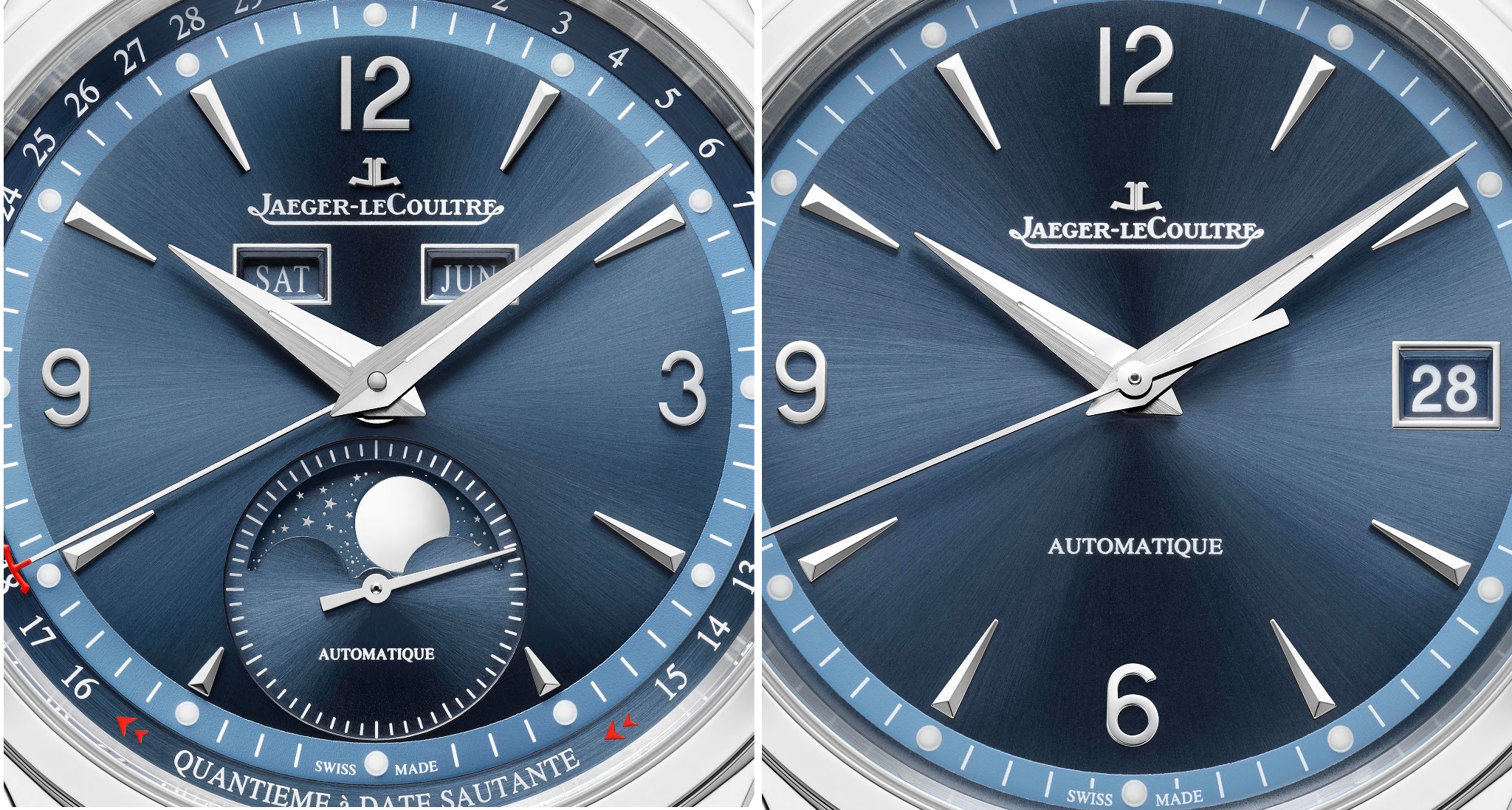 I find it a tad too high. Maybe 1 / 1, 5 mm thinner would have been perfect?
Anyway, I guess it will receive a warm welcome, as it is, in my opinion, an eye-catching piece.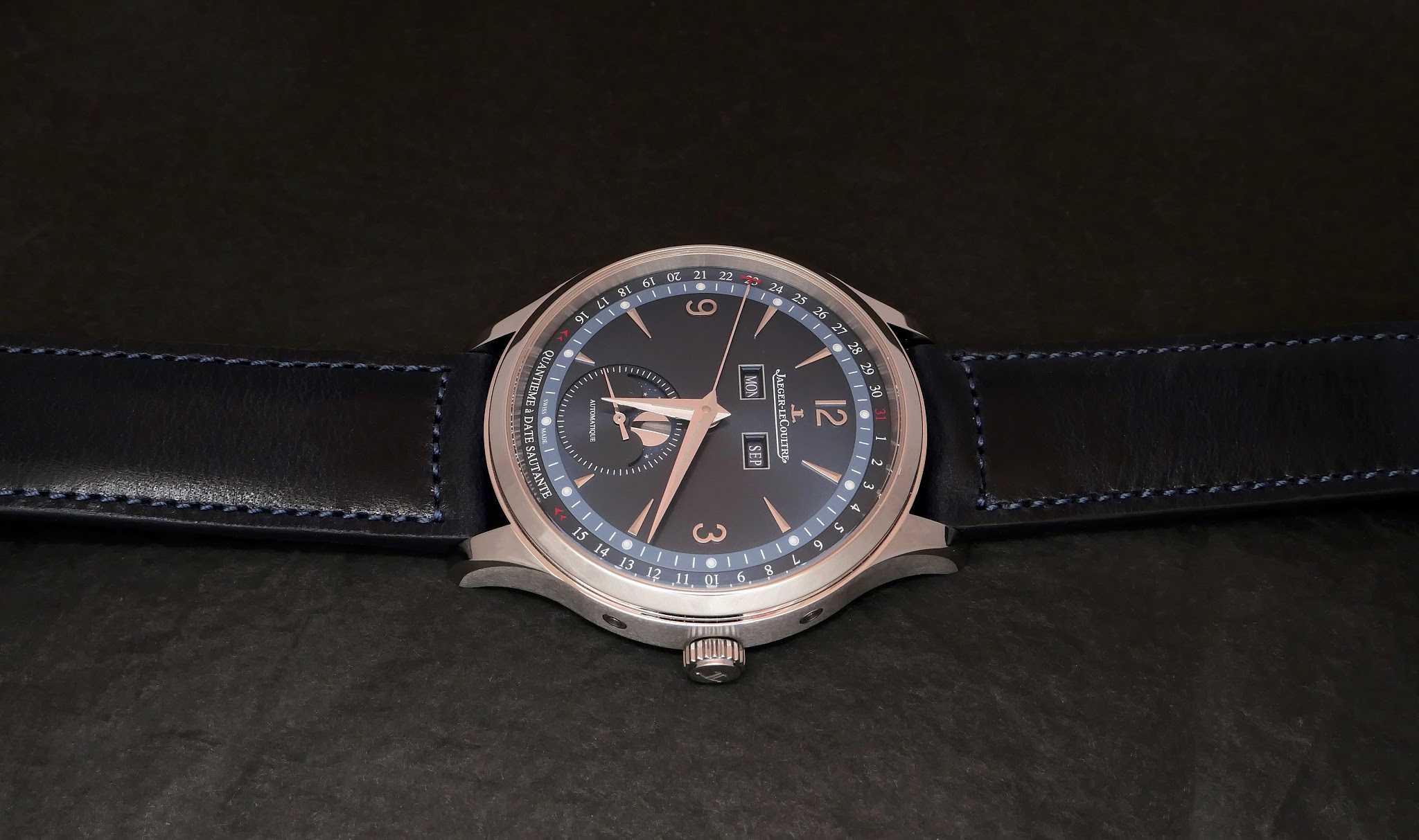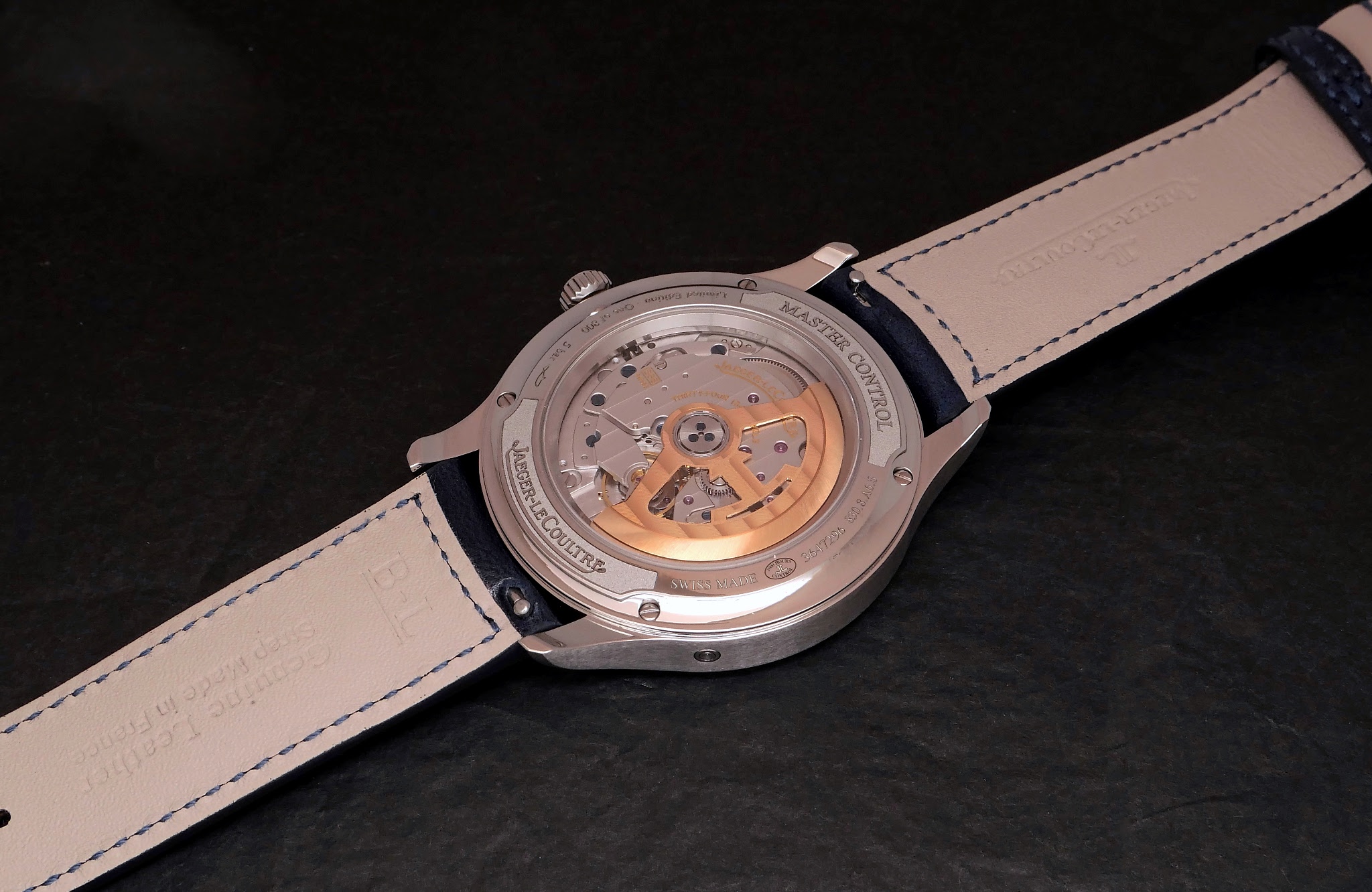 Both of these watches are limited to 800 pieces.
It is funny to see that Jaeger Lecoultre decided to wait till 2022 to unveil these two Master Control " Blue Editions "... Is it just a coincidence, or should we see that as an Anniversary Edition? Indeed, the first Master Control was born in... 1992. So, this year, it is its 30th Anniversary and a pleasant way to celebrate it!
I just wish we'll see some dial variations on the other Master Control watches such as the Chrono Calendar, the Geographique and the Memovox.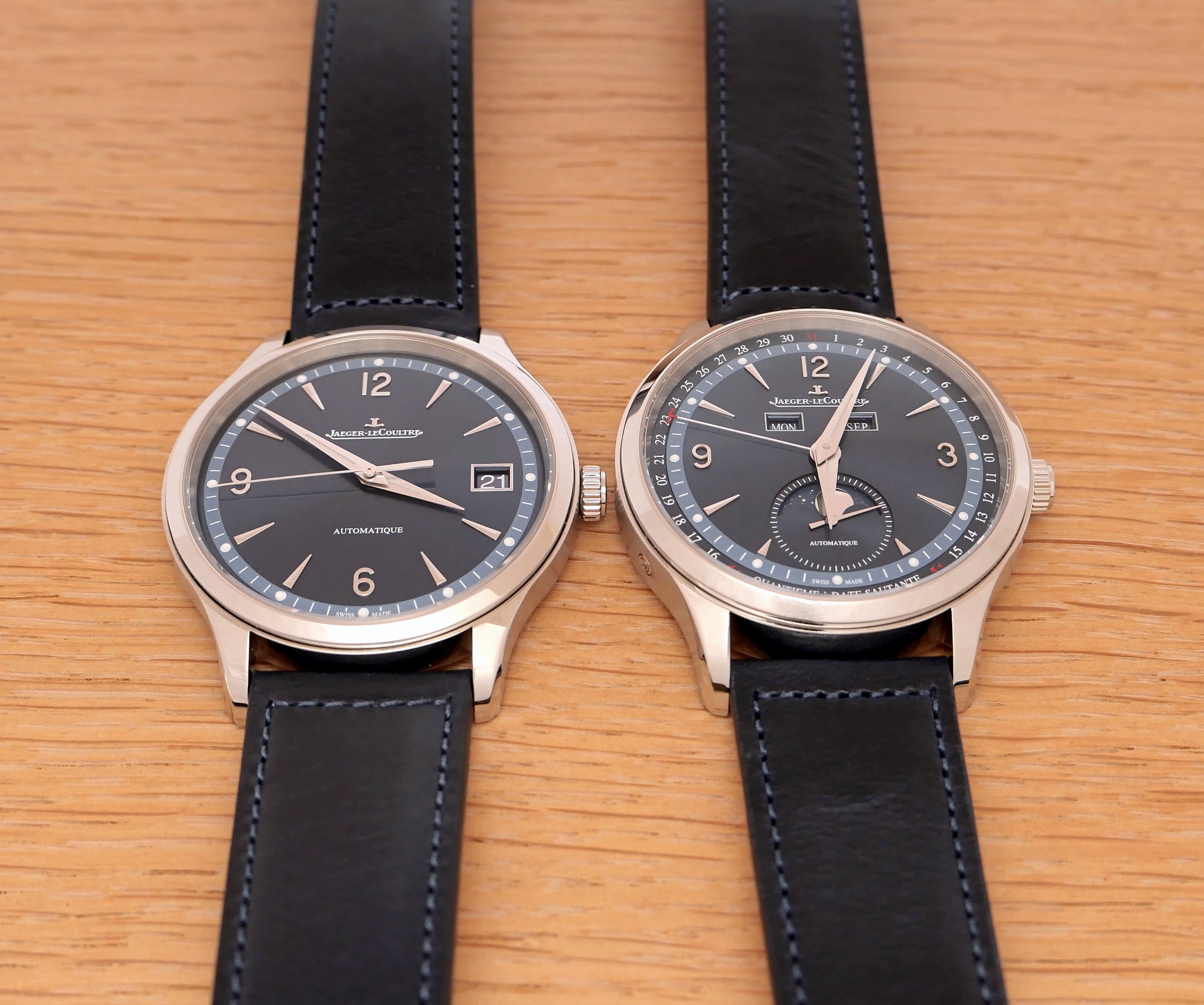 Looking forward to reading your comments and thoughts,