reposted - had share Bill
Hi everyone,
Baselworld 2016 will be showing its nose in a month or so and, as it is also an important year for the Nautilus line, I thought it would be interesting to have a look back and discuss what we would like to see this year.
First, let me be clear that I don't know if the event/new watch/limited edition will happen during Baselworld or later in the year.
However, this important reference for the brand is something that has been evolving by very clever and balanced small touches to become the icon it is today and I think it is worth discussing before Basel... just in case!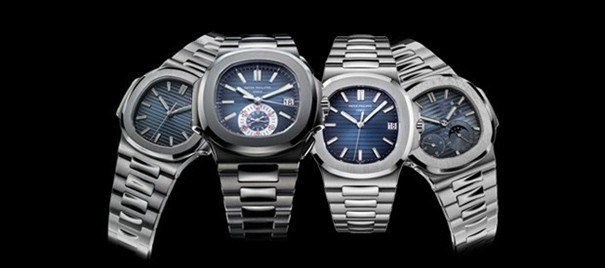 A LITTLE HISTORY
The adventure started with the 3700/1A (120m waterproof), which was designed by Gerald Genta in 1972 and was produced from 1976 until 1990. It was equipped with a sapphire glass, screw-down crown and plain caseback (4 screws to ensure water impermeability) and the 28-255 caliber (JLC based).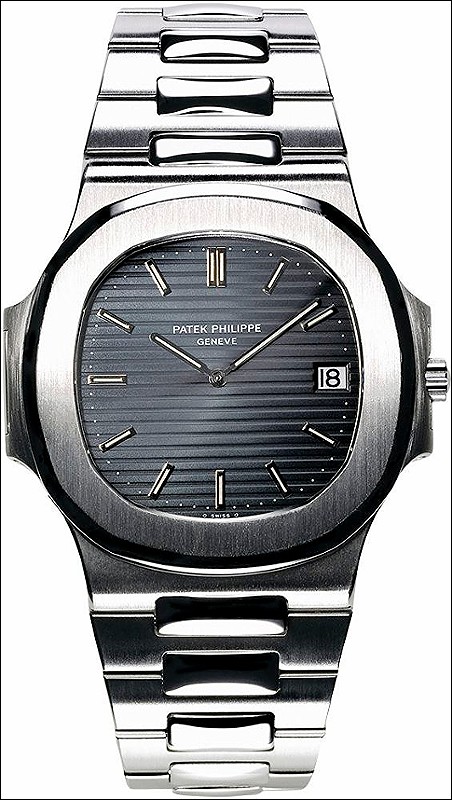 It was a very thin (7.6mm) but wide (42x38mm, hence the "Jumbo" name as most watches then were below 37mm) steel model that was designed to be an elegant and strong watch that could be worn everyday and even for sportier activities. This was very unusual for that time (when Quartz was spreading over the watchmaking world, changing the way people were wearing watches) as you could mostly choose between tool-watches or dressy ones (mostly in gold). We must not forget that the watchmaking world was quite skeptical about this bold move by Patek. The sales performance was terrible at the beginning as it was too large, difficult and expensive to produce and that the blue dial we love today wasn't that successful then.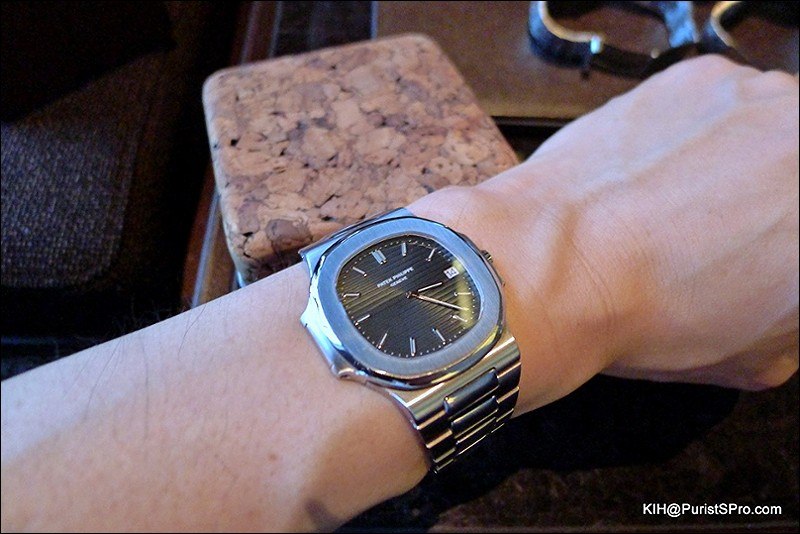 What was also particularly unique was the price tag, taking into account it was made of steel and not from gold. At that time, luxury watches were mostly made of precious metal, sometimes with a bracelet and even with a diamond-set dial (more than today).
However, there happened to exist clients willing to find this specific combination of attributes in their watch. Indeed, the 1970's were years when lifestyle or way of life changed a lot the customers' profile and what they needed. The more classical and more fragile gold watches, subject to scratches, were not relevant for sportier activities. Customers could be at their office during the day and going on doing all kind of sports at the end of the afternoon or on week-ends. The usual dressy watches were made for dinners rather than meeting an exciting and younger lifestyle. This also aimed at reaching a younger clientele.
Here are some of the old adverts from Patek's campaign about the Nautilus. The following one was quite famous and matches the sporty style to the dressier spirit in a quite daring move...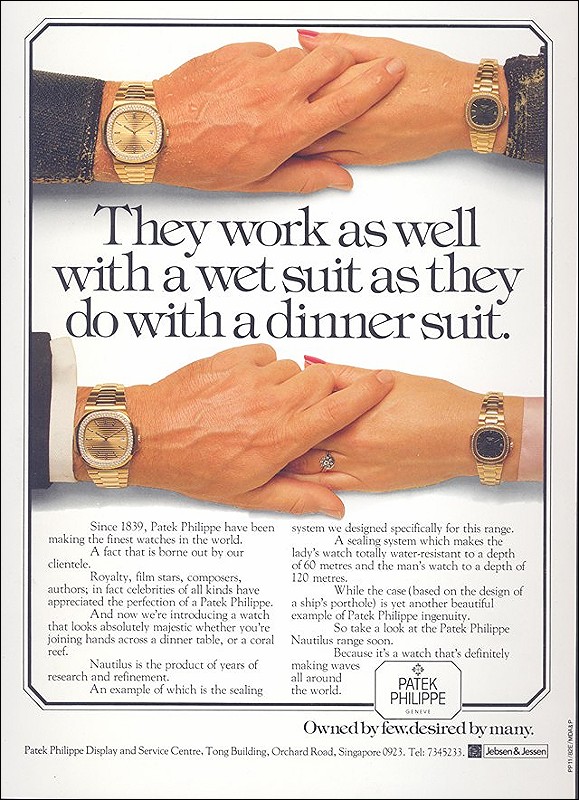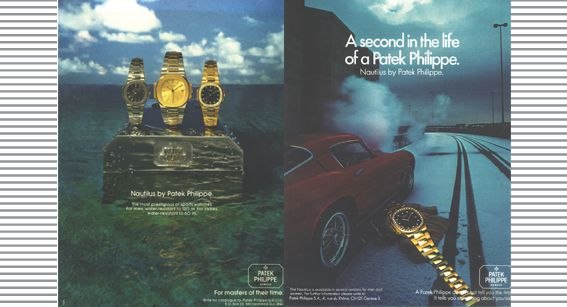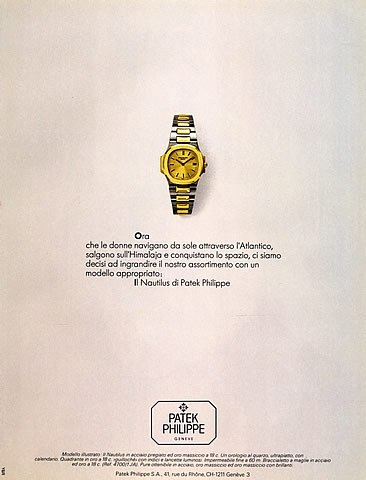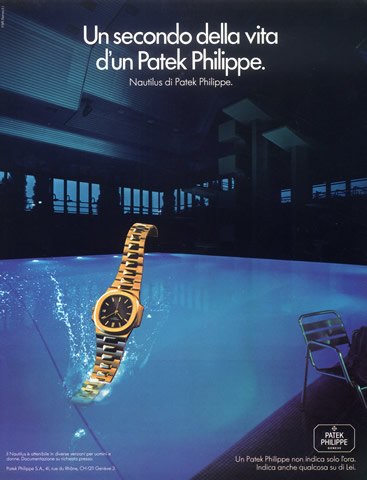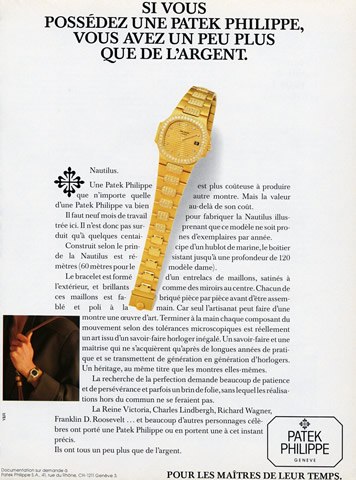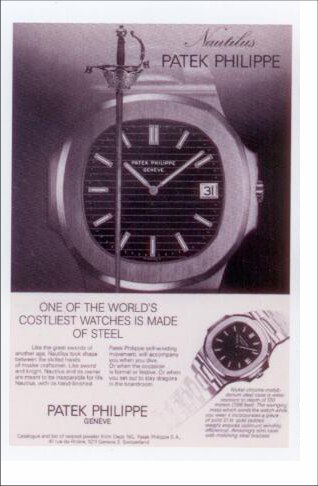 Thanks to the vision of the designer and Patek Philippe's President, the Nautilus ended as an icon among watch fans and collectors. The line-up's History was on the move.
Following this first reference, from 1981 to 2006, the smaller 3800/1A (37.5mm) perpetuated the very successful line-up. The previous movement was replaced by the 335 SC caliber which was Patek Philippe's own slim movement. By the way, a desire for Patek to make their own movements led to today where the brand is offering in-house made and designed movements only.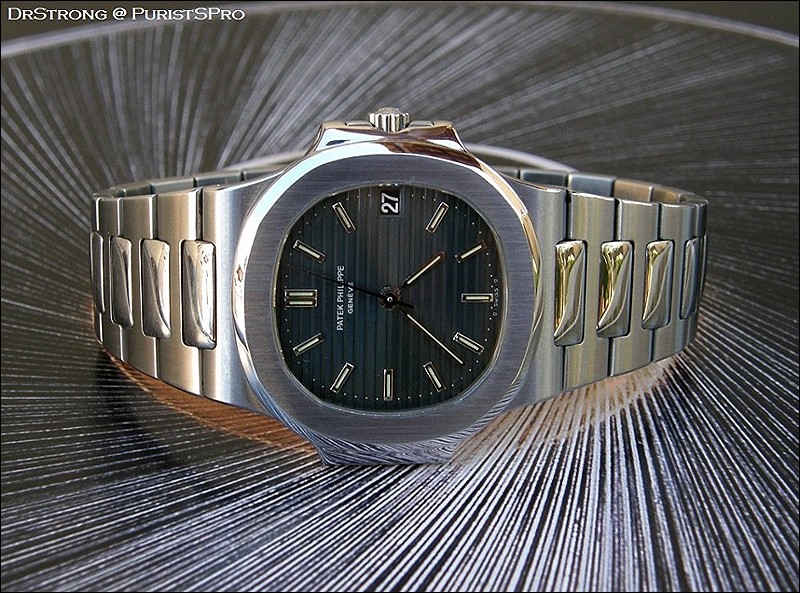 In 1998, the 3710/1A announced the return of the "Jumbo" size. The most visible details were the introduction of Roman numerals on a plain black dial (not striped) and its newest development: a patented power reserve indicator. It was equipped with the 330 SC IZR caliber and was discontinued in 2006.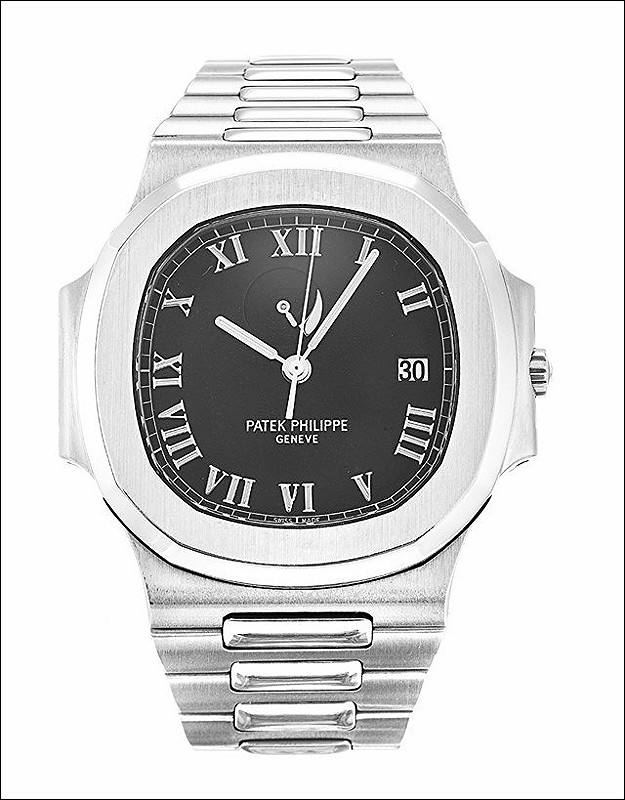 The 3712/1A (42x8.37mm) was launched in 2005, discontinued one year later and was a more complicated model than the previous references (still using the 2-parts case construction) and an older version of the 240 caliber (remaining below 4mm thick) which was, this time, visible thanks to a see-through caseback.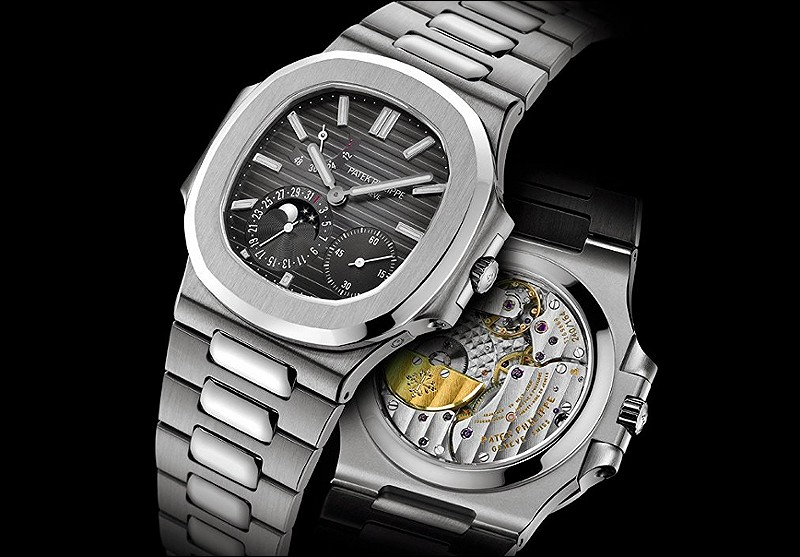 A significant change in the family developement
In 2006, for the 30th anniversary, a new whole collection was unveiled consisting of the 5711, 5712 (both in 43mm, thus +1mm) and 5980 references. You can recognize in a glance the new case shape with the lightly curved ears compared to their ancestors (straight sides), the case construction was made of 3 different parts and the crown was a little bigger. The 5712 received several additional changes as the power reserve's red dots number, the 6-8 o'clock applied markers or the sub date numbers' orientation.
The 5711 first...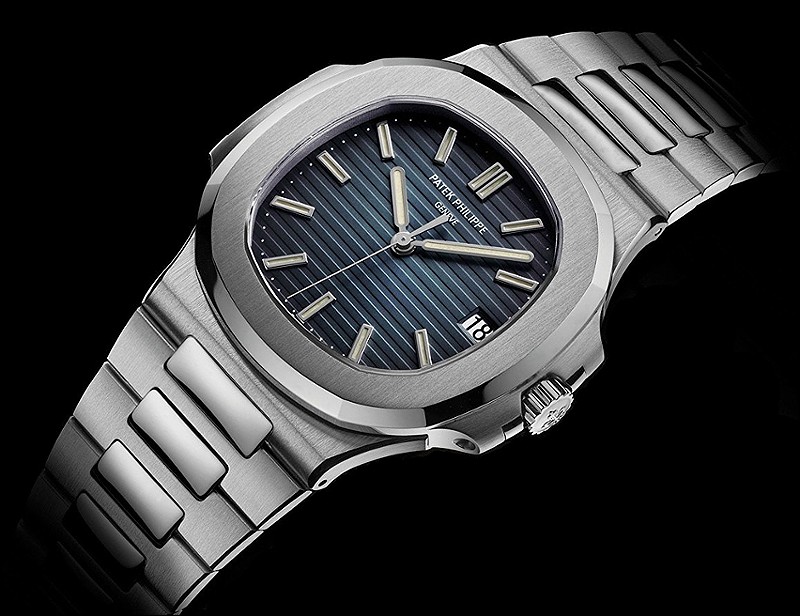 With its new case construction...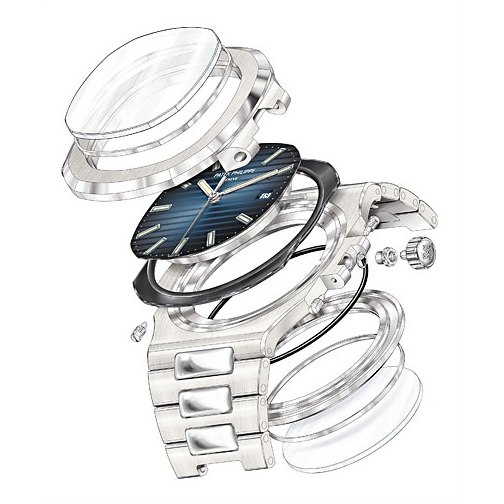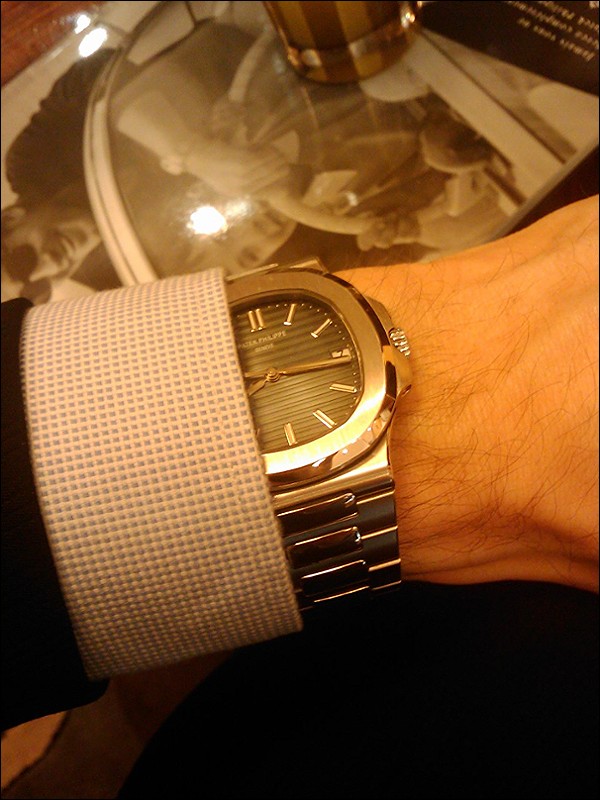 Here is the latest rose gold version, to fit a different wearing style...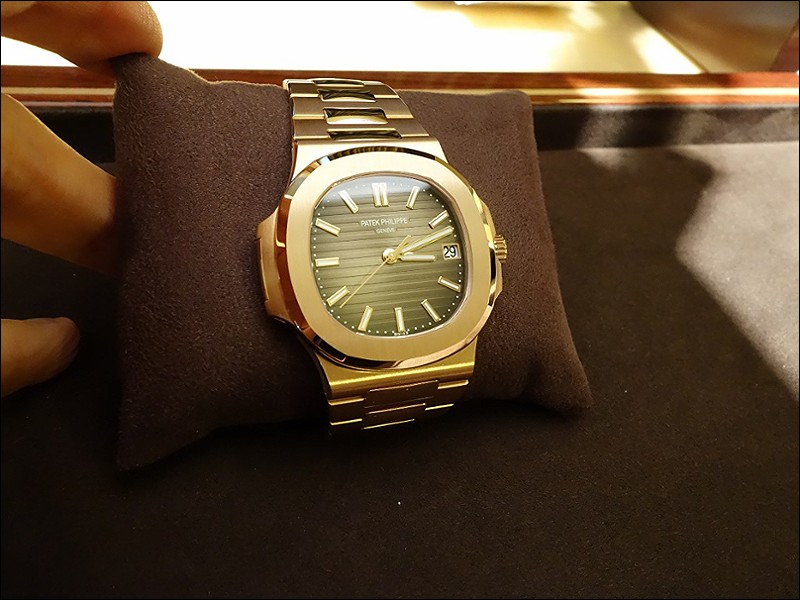 And again, here are some more recent examples of the Nautilus advertizing campaign...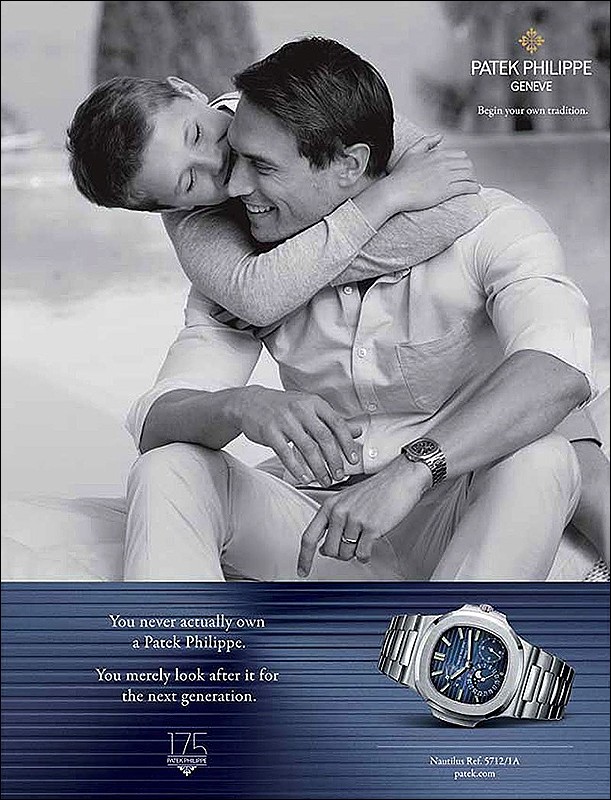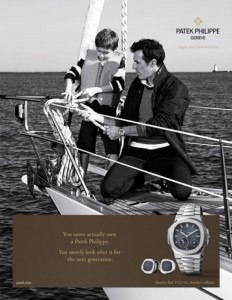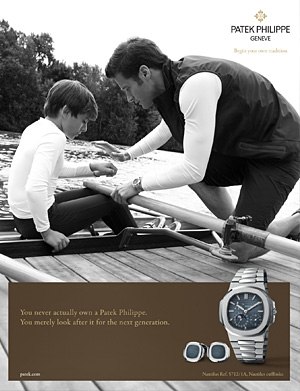 Then, illustrations of the 5712 and its great 240 caliber...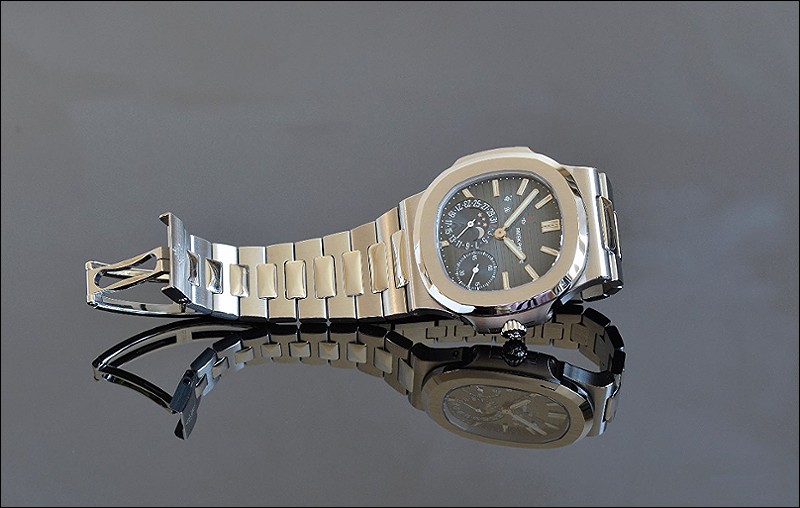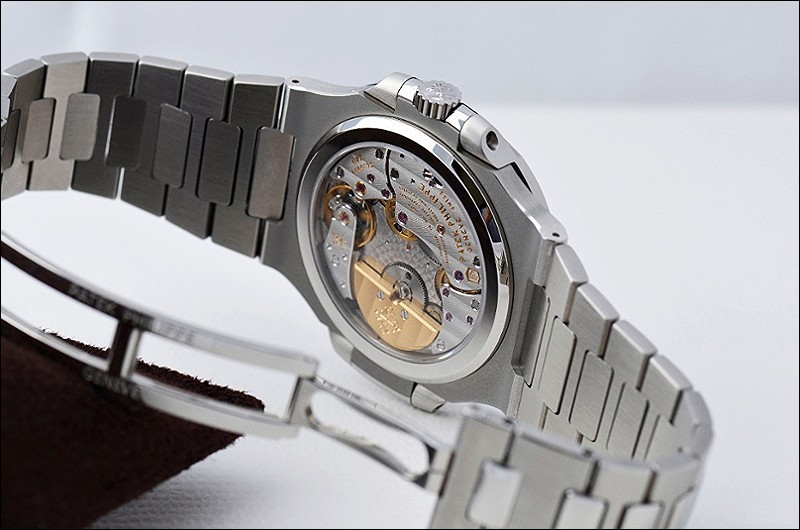 And finally, the
5980
Chronograph...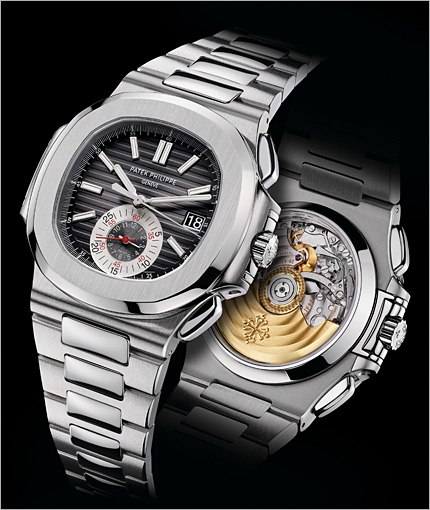 ...and its construction scheme...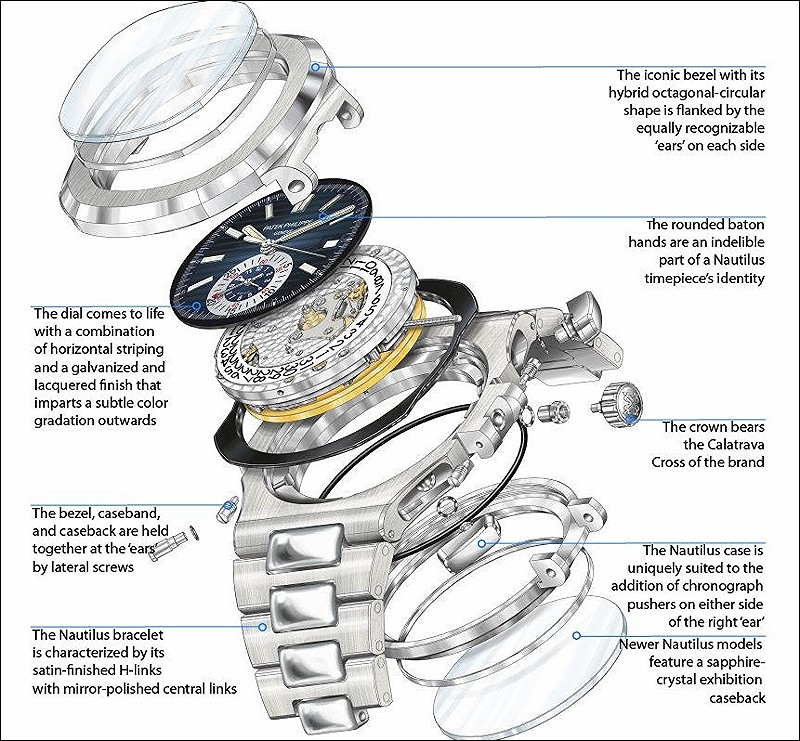 ...with pictures of different versions from purists (the white dial may be my favorite one)...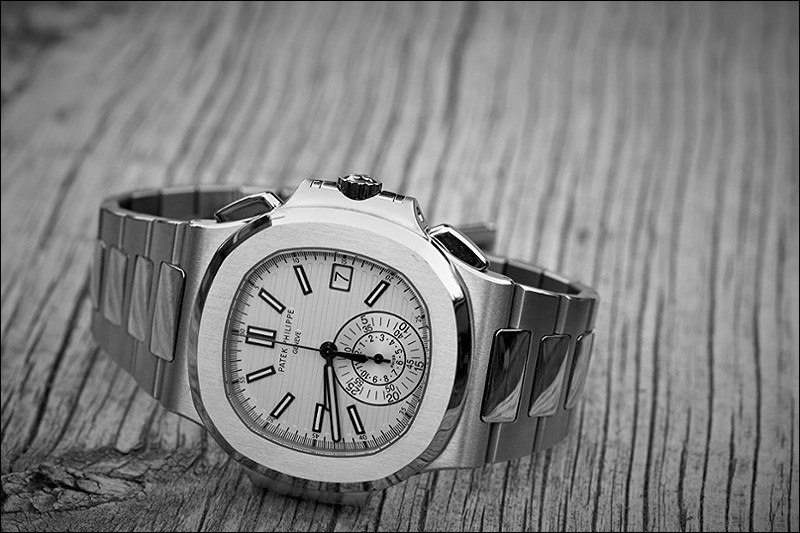 Credit: Alex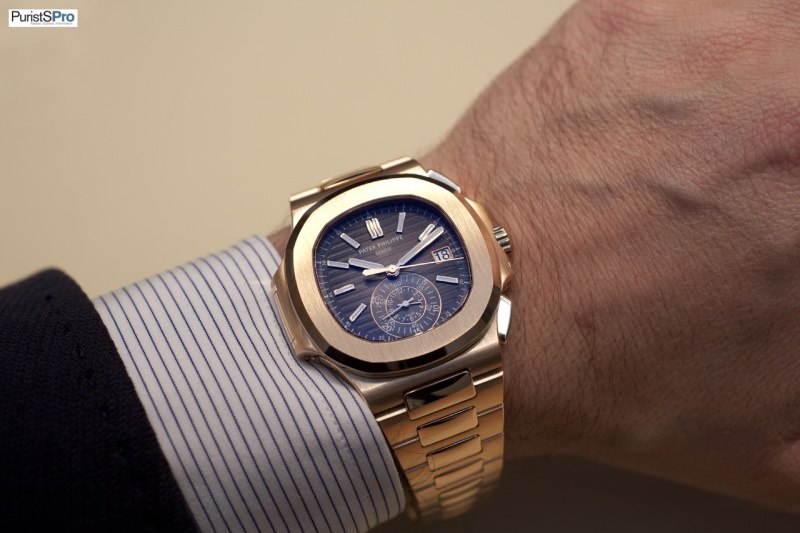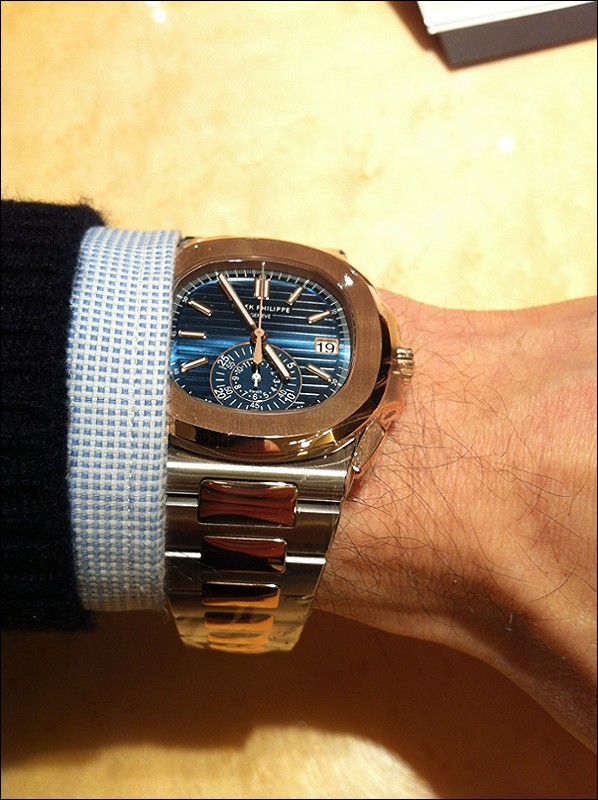 Less famous, a smaller 5800 reference for smaller wrists (unisex in fact) was unveiled in the mean time in a 38.4mm case (the 3800 was 37.5mm) and housed the 330 SC caliber. You can find TonyR's review here : www.watchprosite.com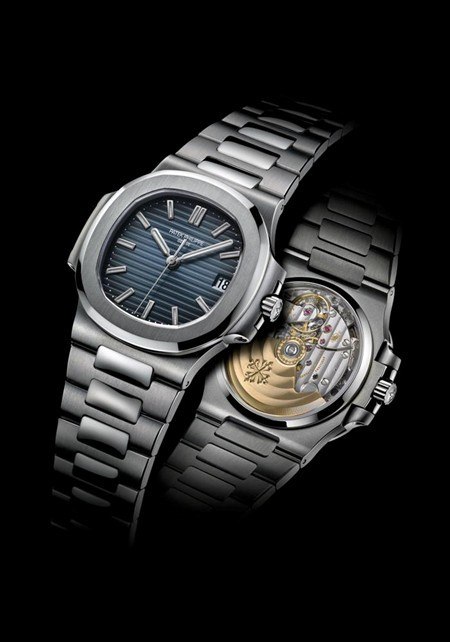 Here is the video of the 30th anniversary's video Patek Philippe made for the occasion:


The 5726 with its clever and useful Annual Calendar was unveiled in 2010 and is a reference I like a lot (even if I prefer thinner cases Nautiluses).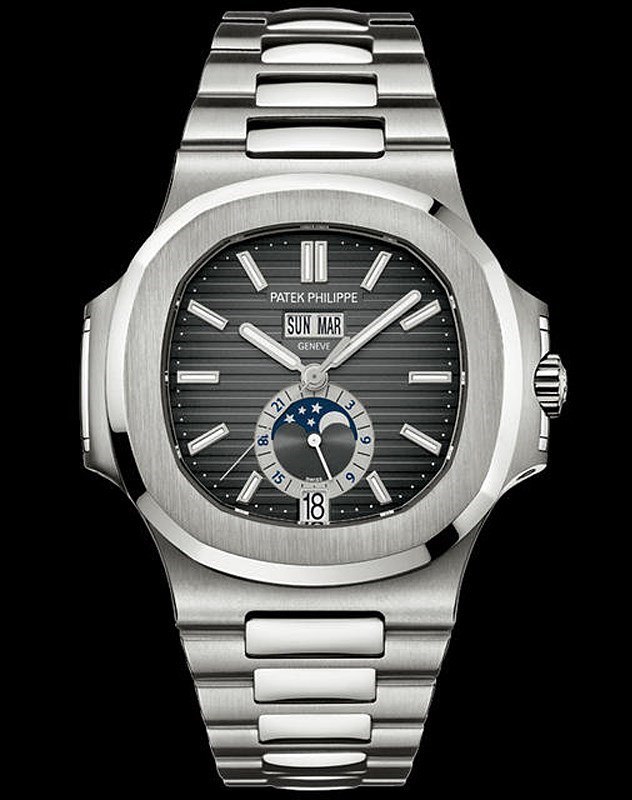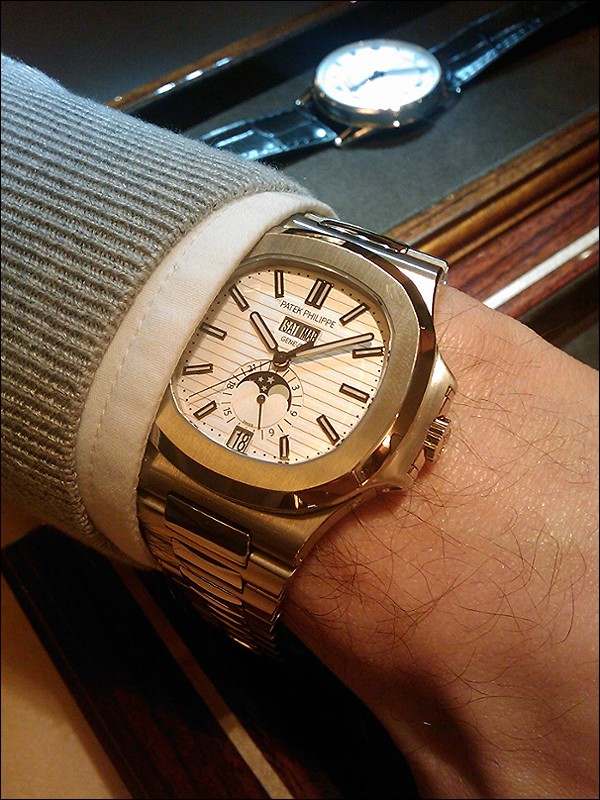 Finally, in 2014, the steel 5980 was discontinued and the 5990 reference made its entry into the family combining the Chronograph and the Dual Time complications.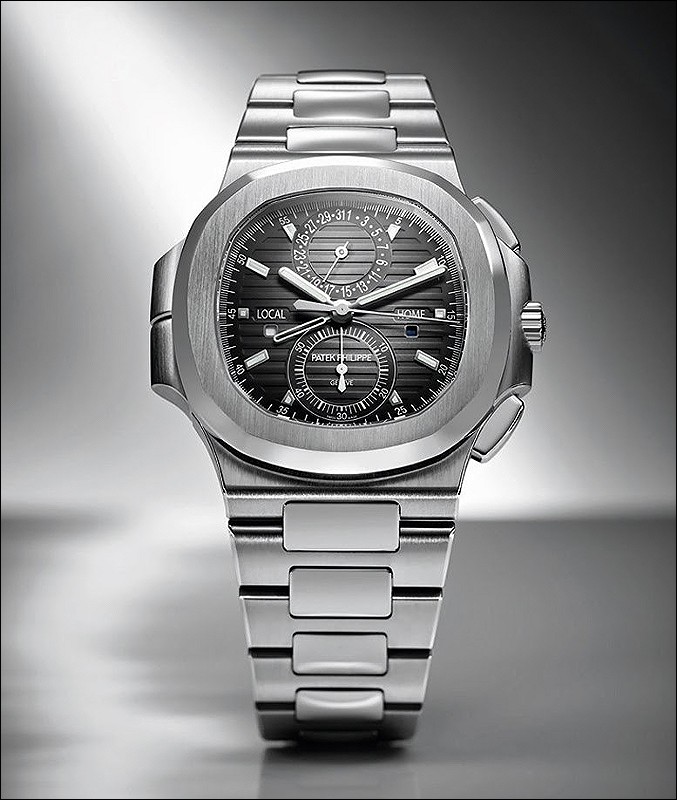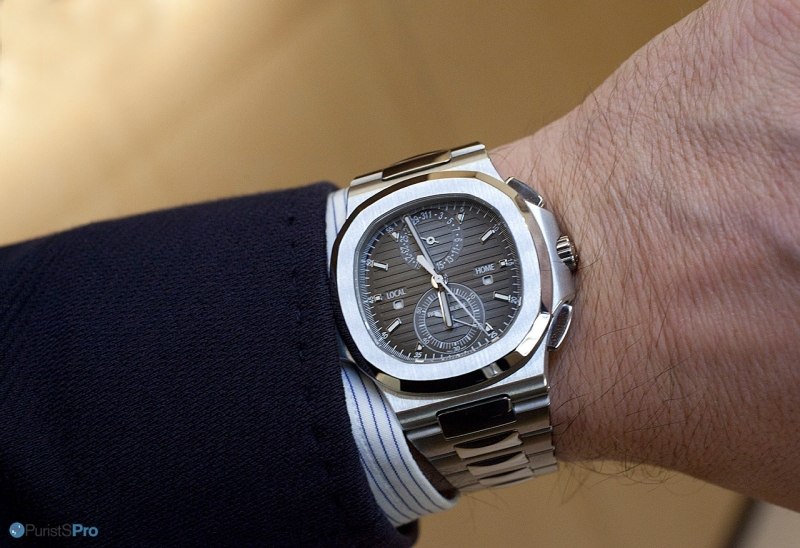 The 28-520 caliber used in the 5990: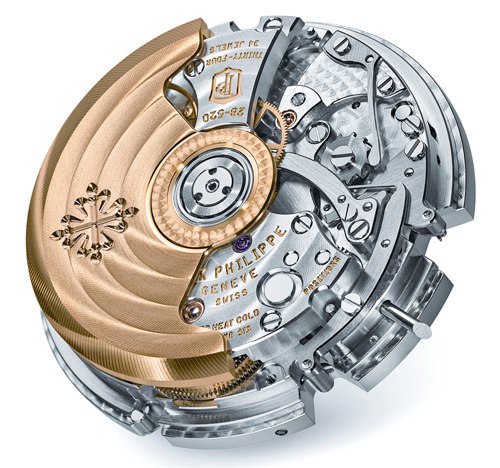 ABOUT THE FORTHCOMING 40th ANNIVERSARY
Now, for this year, the 40th anniversary is another decade step for the line-up and may deserve something special. The 30th anniversary collection saw the introduction of new references in the context of the build-up of a brand new family around the 3700's legacy and the fresh born 3712. Now that this collection has settled strongly into Patek Philippe's history, it is not likely IMHO that the brand shuffles the cards entirely again and replaces all the references available today.
This being said, what are the possibilities that remain possible? Here are my guesses/wishes.
To begin with, let's open with the possible discontinued references: trying to guess is very difficult as all the existing models can still remain classic standards for a while. But hey, didn't they replace the 5980? Not forgetting that they can also decide not to add any additional references or aesthetic evolutions and just organize a celebration event with the introduction of several new material/dial color combinations (more unlikely in my opinion)
Anyway, if they went for a more significant change, what would they add today? A new model or an aesthetic evolution of an existing model only? If it is an aesthetic evolution, it could touch one or several references but I don't think all the Nautilus line will as the 5990 is very recent and that it would imply quite massive an investment so as production transformations for the 5 families.
In the end, there are too many possibilities so I'll just say what I would love to get if I was a potential owner with a budget.
I don't know if it will be a limited edition watch or a standard reference included in the current catalogue. The problem concerning limited editions from Patek is that they are so rare that the brand has to cope with all the customers (sometimes even longtime faithful ones) who can't get one of the pieces because of the high demand. The standard novelty would please any fan of the brand, without leaving people on the side of the road.
Now which one for me? Well, I guess one of these:
A new thinner 5711 (let's call it "5700" for now) with the 31-260 caliber would be fantastic. However, the problem is that this caliber is designed as a completely integrated movement: the Annual Calendar complication is not a module but totally integrated in the whole picture, a move which by the way remains quite rare nowadays when dealing with traditional brands. It will then imply to make a significantly different caliber and not just an adjustment on the basis of the existing one. Of course, I imagine that Patek has planned to use this base in more than just one reference (5235G today), otherwise it would be a little too expensive. The addition of a small second is also something very different from the micro-rotor it has today (considering where it is placed currently). However, the 240 would also be perfect in that project. This is my first choice as thinness is a very important asset to me when considering a nautilus model.
=> Would be great but quite unlikely (unless they remove the 5711).
Many here are wishing a Perpetual Calendar complication. As the Annual Calendar exists, I imagine it is possible (maybe together with the discontinuation of the 5726?). I'd like that even if I think I would prefer a PC in a round classical Calatrava case (just my own feeling). The 3 date elements could be placed as in the 5205 for instance (i.e. windows at 10, 12 and 2 o'clock), a layout I would much prefer compared to a subdials version. Personally, I hope it won't look too thick (something they can do from the 5140/3940 experience).
=> A Perpetual Calendar Nautilus is very plausible.
An existing model in a more exotic material? Certainly not Titanium but Platinum or white gold maybe? I think the bracelet crafting from such a tough material (Platinum) is causing so much troubles that it is hard to believe they can make several hundreds of them.
=> Would be fantastic but very unlikely to me.
SUMMARY
Well, a lot of elements to consider but how exciting it is to play such guessing game, knowing how a wonderful line the Nautilus is today, not only for Patek Philippe collectors and admirers but also for watch lovers.
A 40-years history, for me the most elegant and refined Sport-Chic bracelet watch, a bracelet craftsmanship, design and finishing that make it beautiful and one of the most comfortable in the market, a potential for coping with tougher activities, a gorgeous dial decoration (colors, markers, striped dial) and a nicely finished array of movements: this is why it is such a successful line today and, more personally, why I started admiring the brand.
Now, I'd be very curious to know what your expectations are!
Cheers, Mark
_________________________________
This message has been edited by Mark in Paris on 2016-02-23 05:12:58