A quick overview of this years novelties.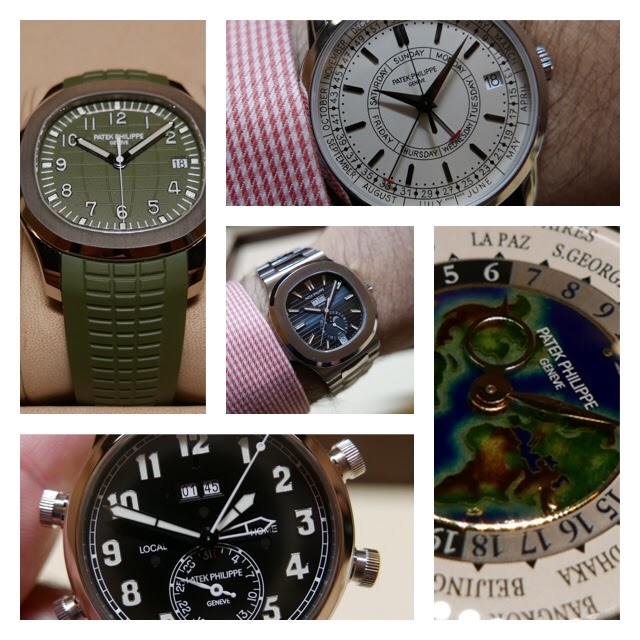 Ref. 5520P-001 Alarm Travel Time
The quintessential timepiece for frequent travellers
An imposing piece!
The new Pilot travel time alarm in platinum comes in a substantial 42.2mm platinum case.
It's a real behemoth of a watch!
A beautiful sunburst ebony black dial displays both local and home time as well as the alarm feature.
The alarm is truly an amazing application: it's not like any alarm you have ever heard because it's based on a minute repeater gong and hammer.
It's also very practical featuring four new patents:
4 patent applications dedicated to the alarm
- Anti-backlash mechanism for programming the alarm time - Alarm logic functions
- Digital alarm display
- Alarm winding deactivation
The whole package is completed by a beautiful black calf strap.
Essential features:
Diameter: 42.2 mm
Height (crystal to display back): 11.6 mm Height (crystal to lugs): 11.95
Width between lugs: 21 mm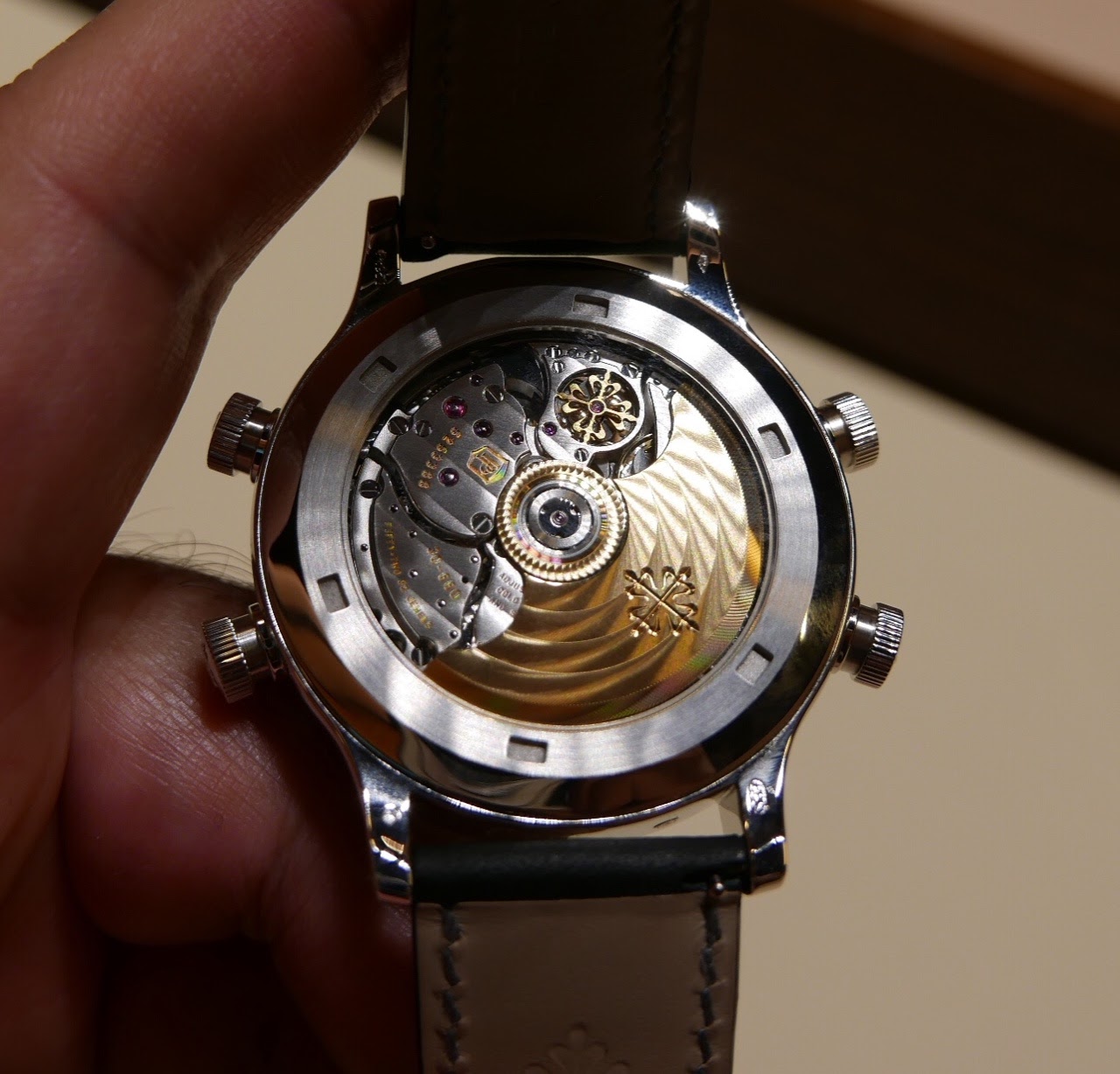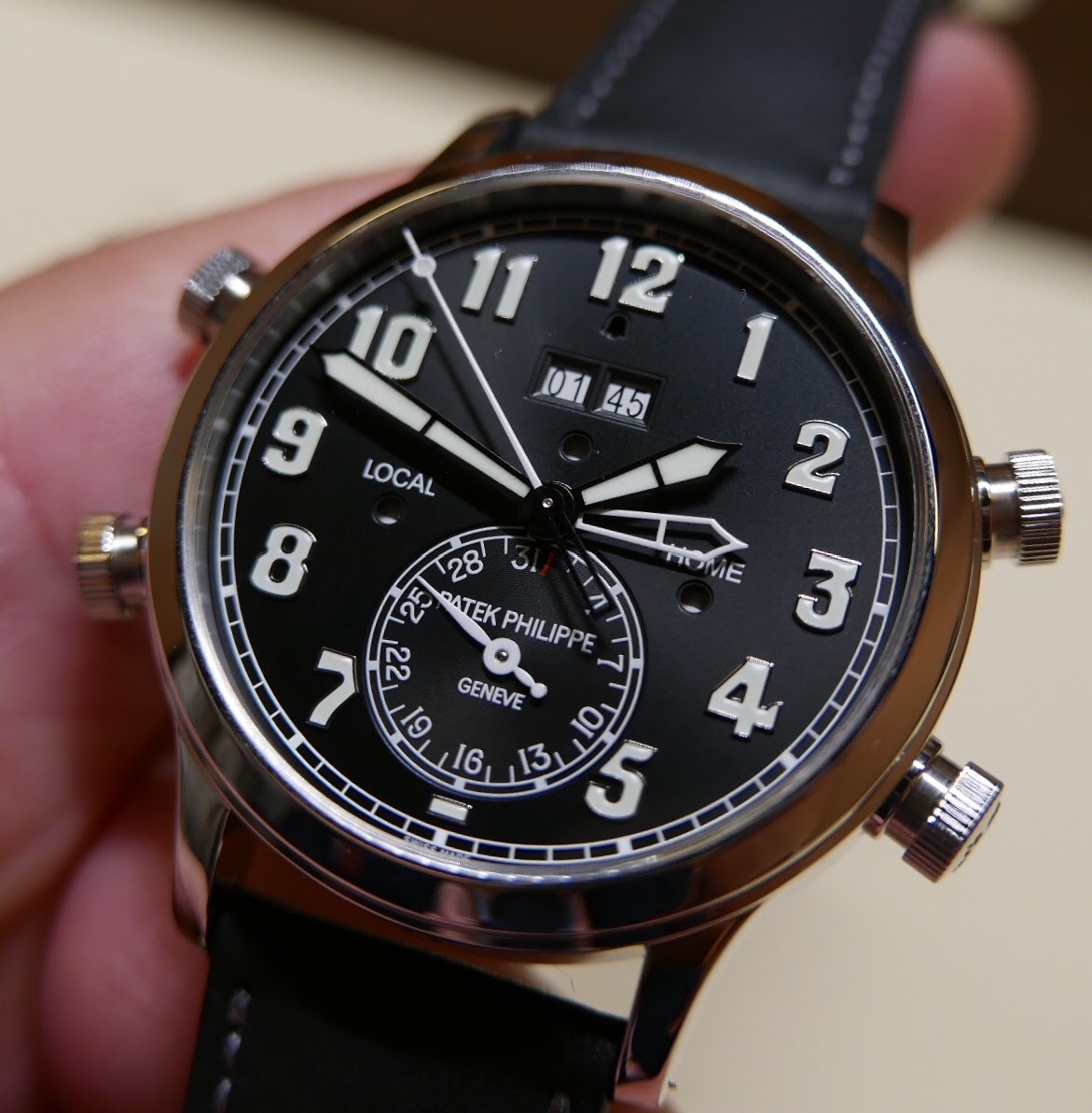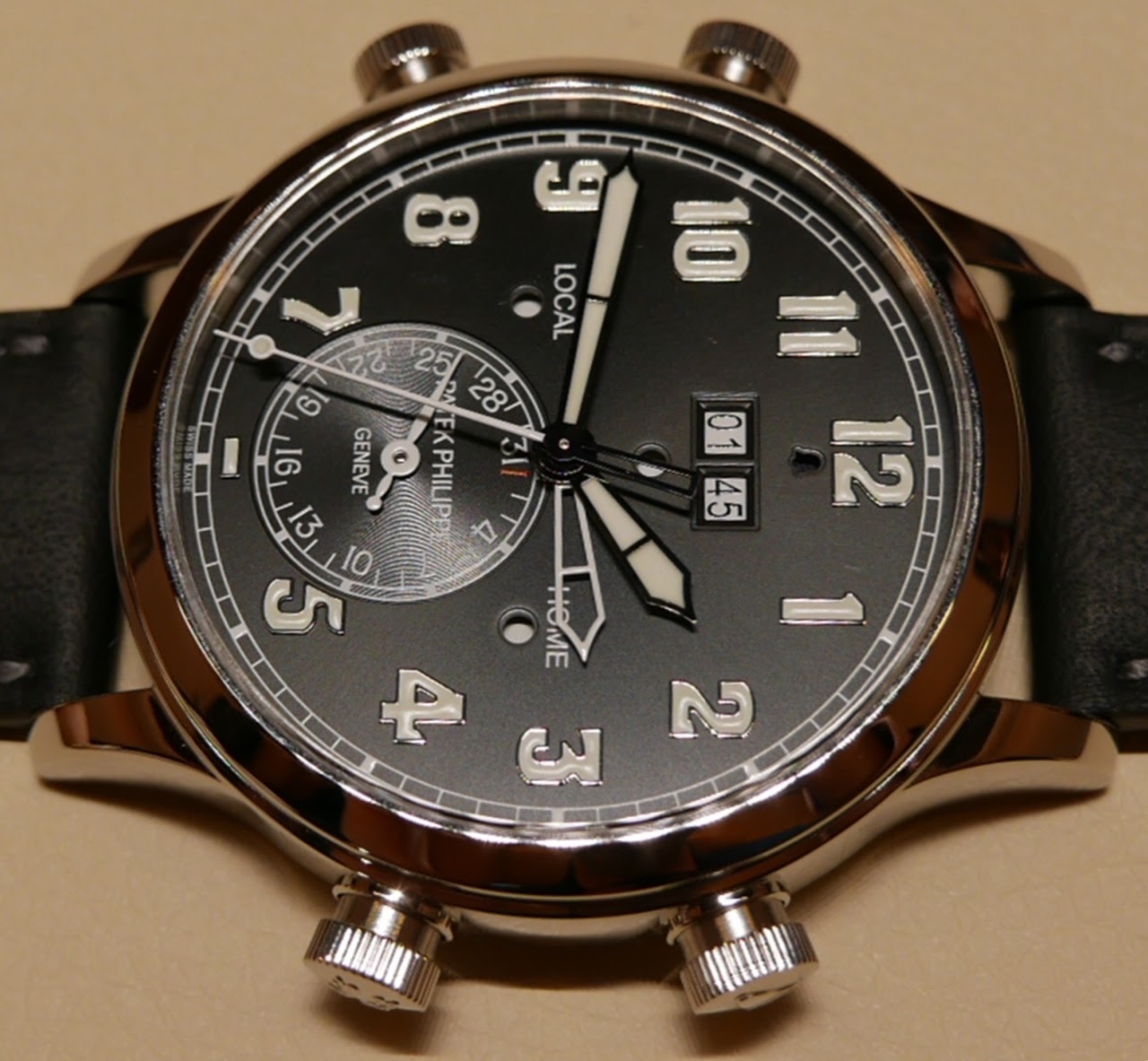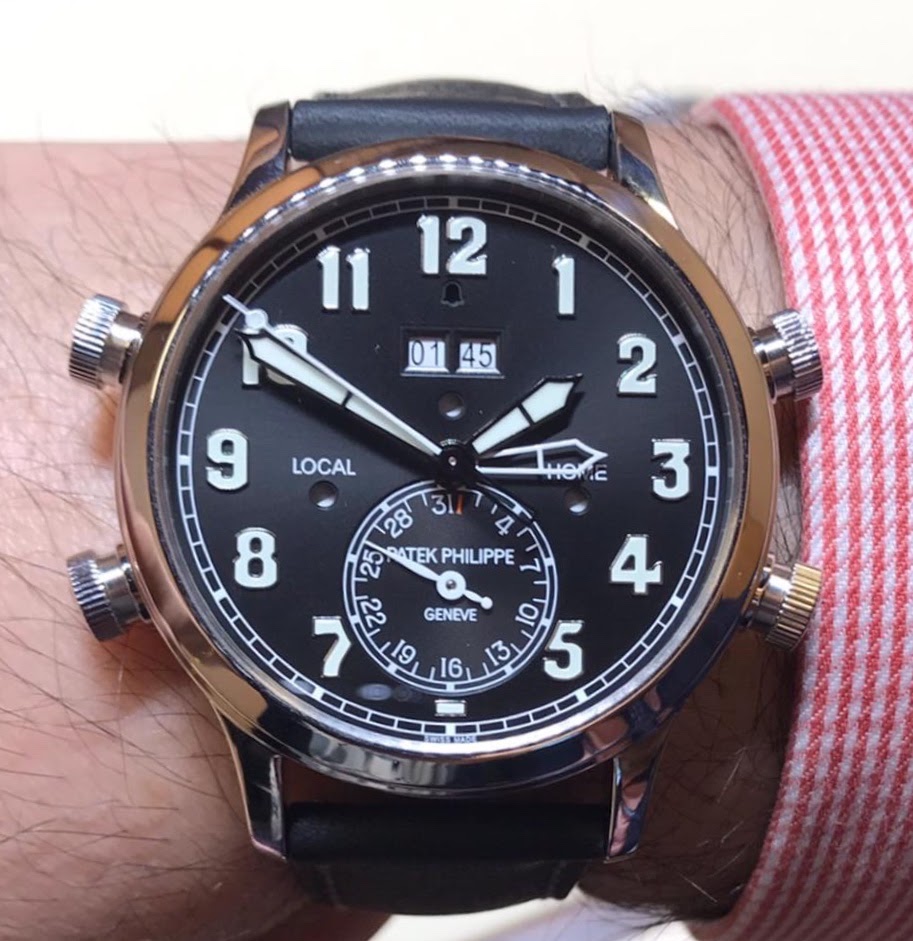 Patek Philippe ref 5520P
Ref. 5212A-001 Calatrava Weekly Calendar
A new complicated wristwatch with a steel case
Finally a steel Calatrava!
But not just any Calatrava: we have a unique calendar mechanism which not only displays the traditional date and day but also the week number: a useful function for certain business people, eg the watch industry!
It's another impressive piece in a 40mm case but still boasting a reasonable thickness.
The dial is a beautiful silvery opaline with blackened batons and hands and black script for a stunning contrast.
It's a very cool young watch, and comes a beautiful calf tan strap.
Its a great piece equally home with jeans or a fine suit!
Essential features:
Diameter: 40 mm
Height (crystal to display back): 10.79 mm Height (crystal to lugs): 11.18 mm
Width between lugs: 20 mm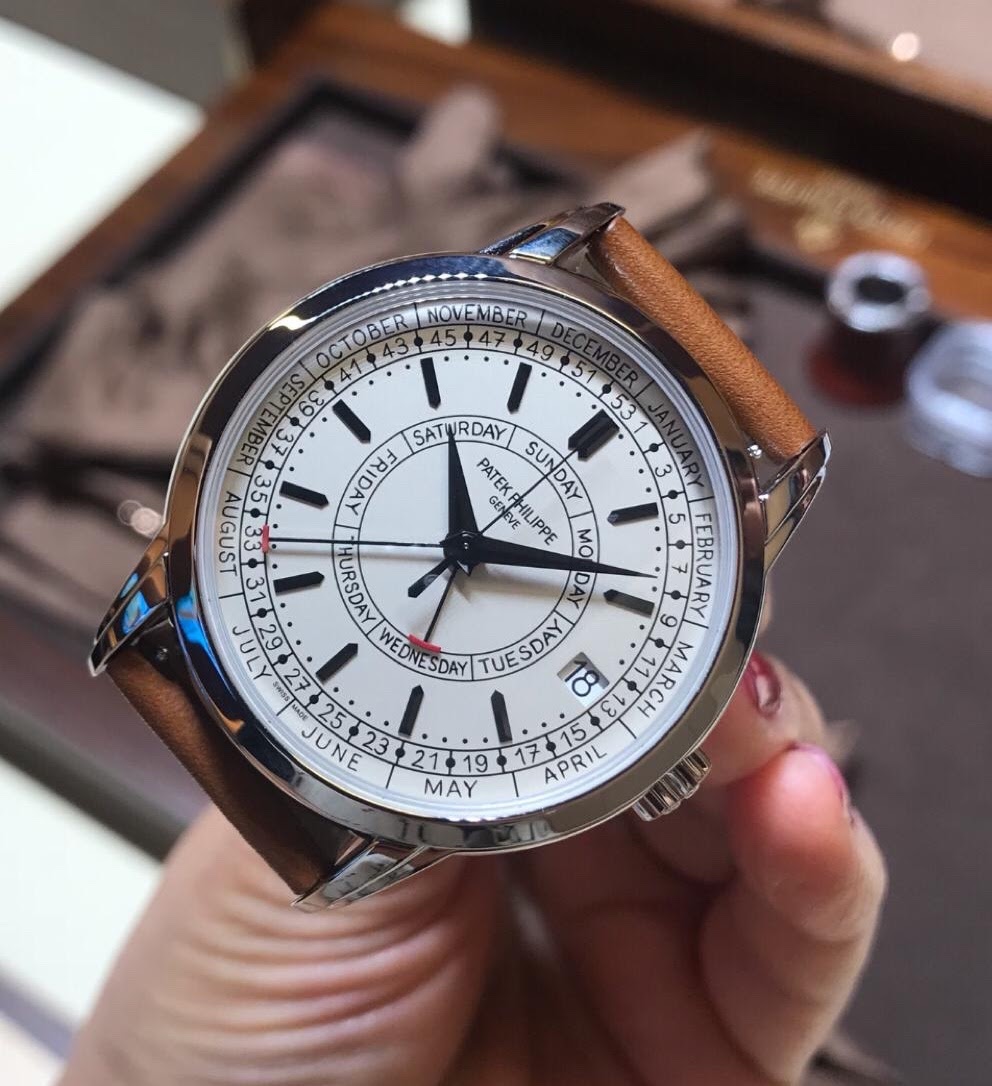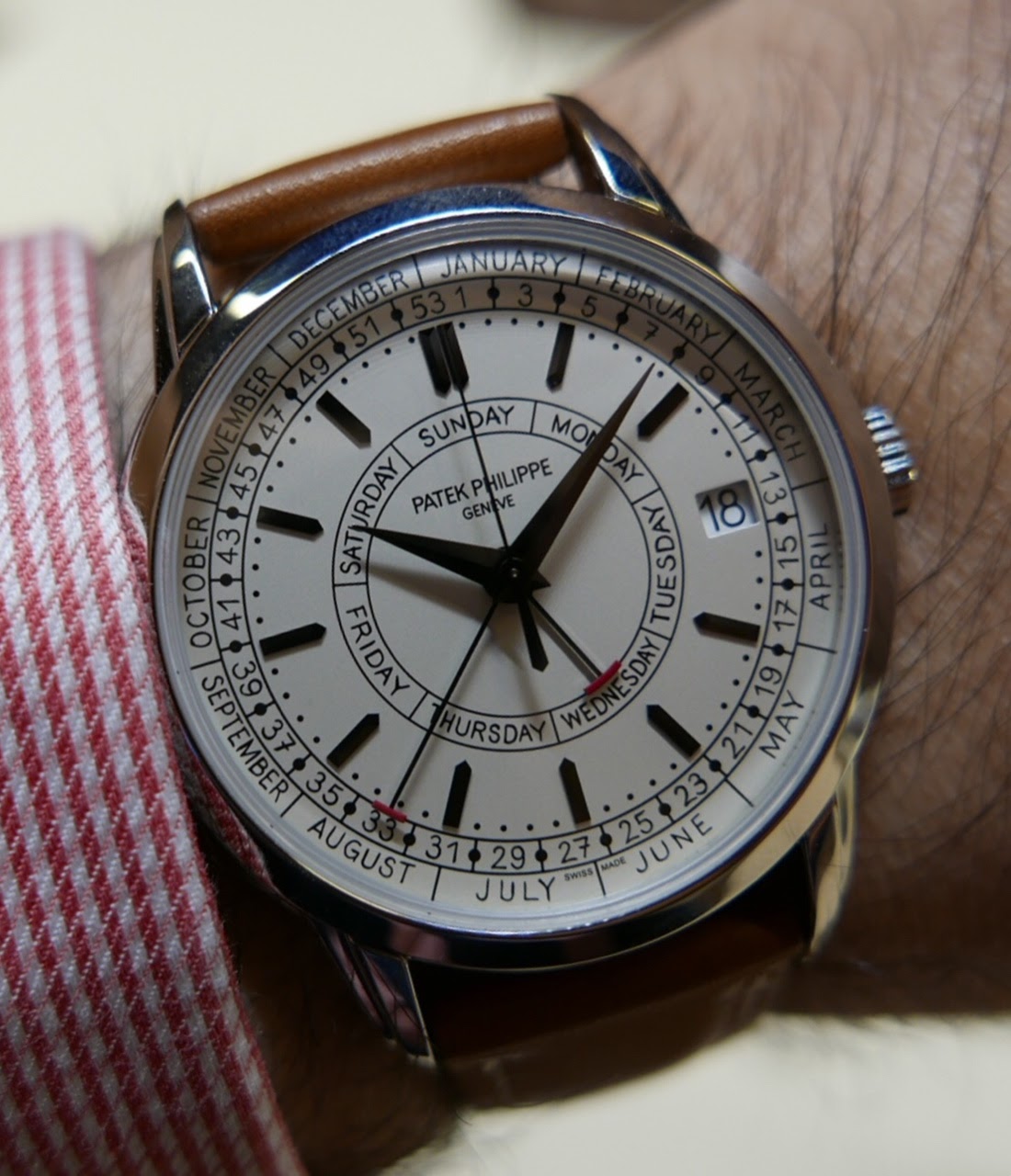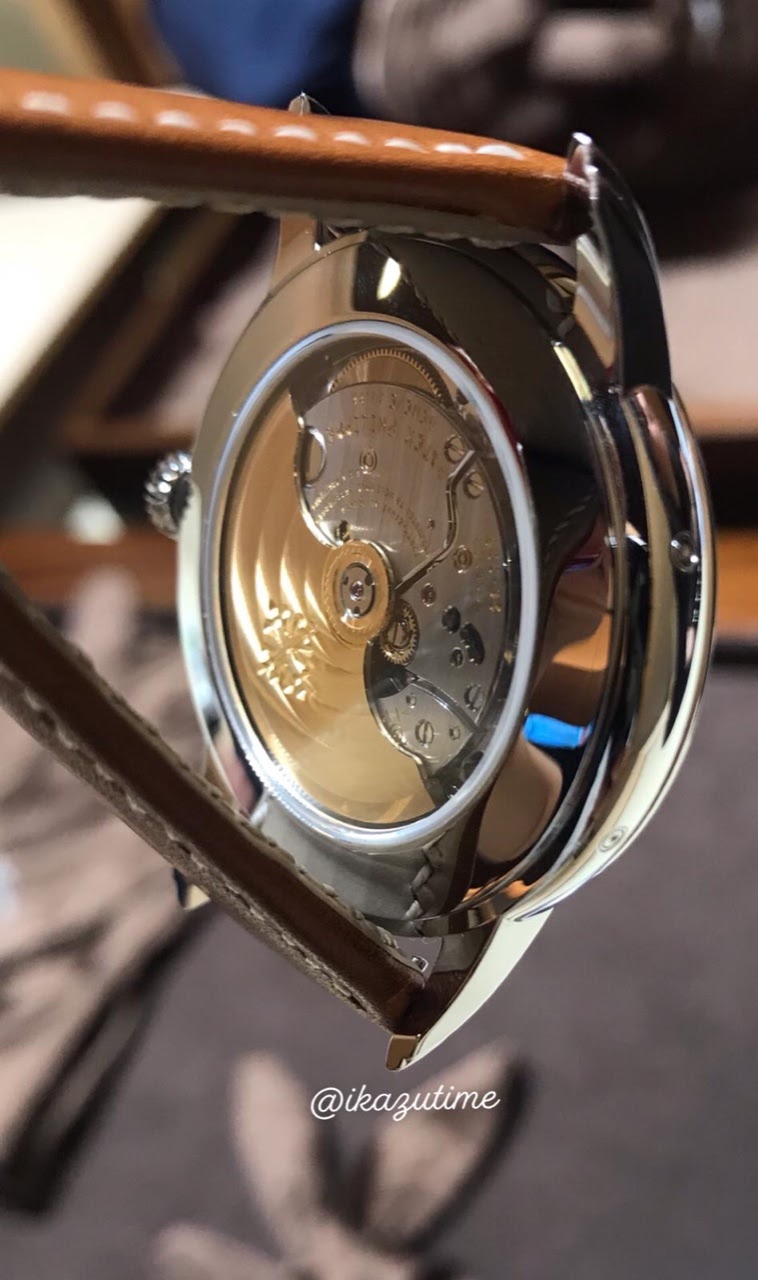 Patek Philippe reference:5235/50R
ANNUAL CALENDAR, REGULATOR STYLE DISPLAY.
A new version of the original white gold 5235G but now in rose gold with an absolutely stunning two-tone graphite and black dial- with a vertical satin finish-it really pops! It's just so gorgeous!
The whole watch had been transformed.
Rose gold. Sapphire-crystal case back. Water resistant to 30 m. Diameter: 40.5 mm. Height: 10 mm.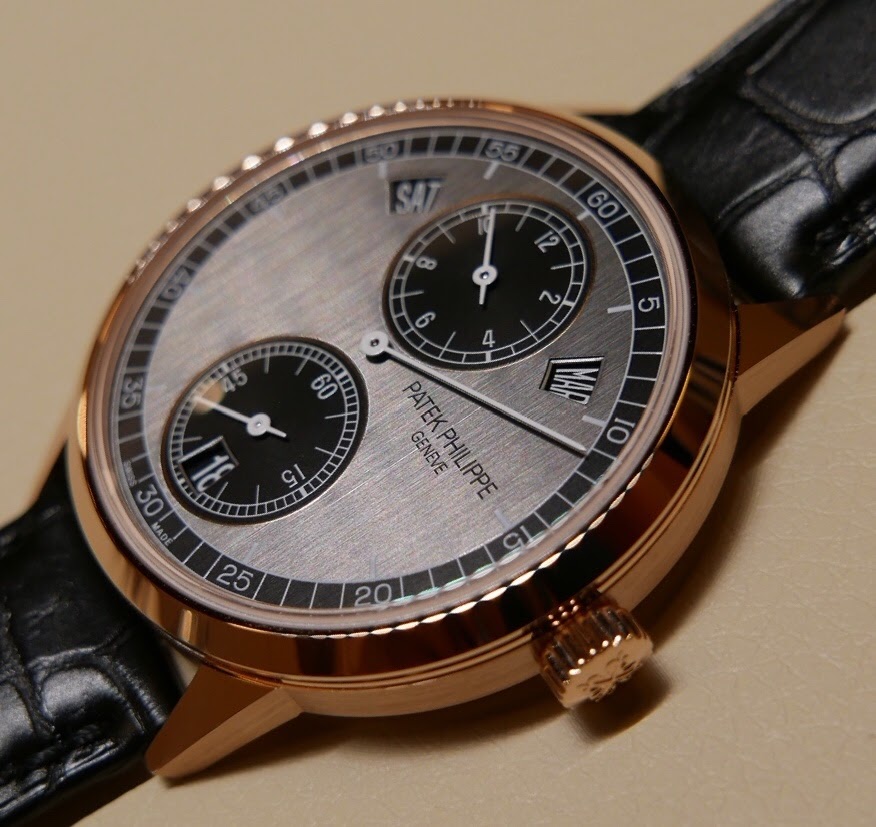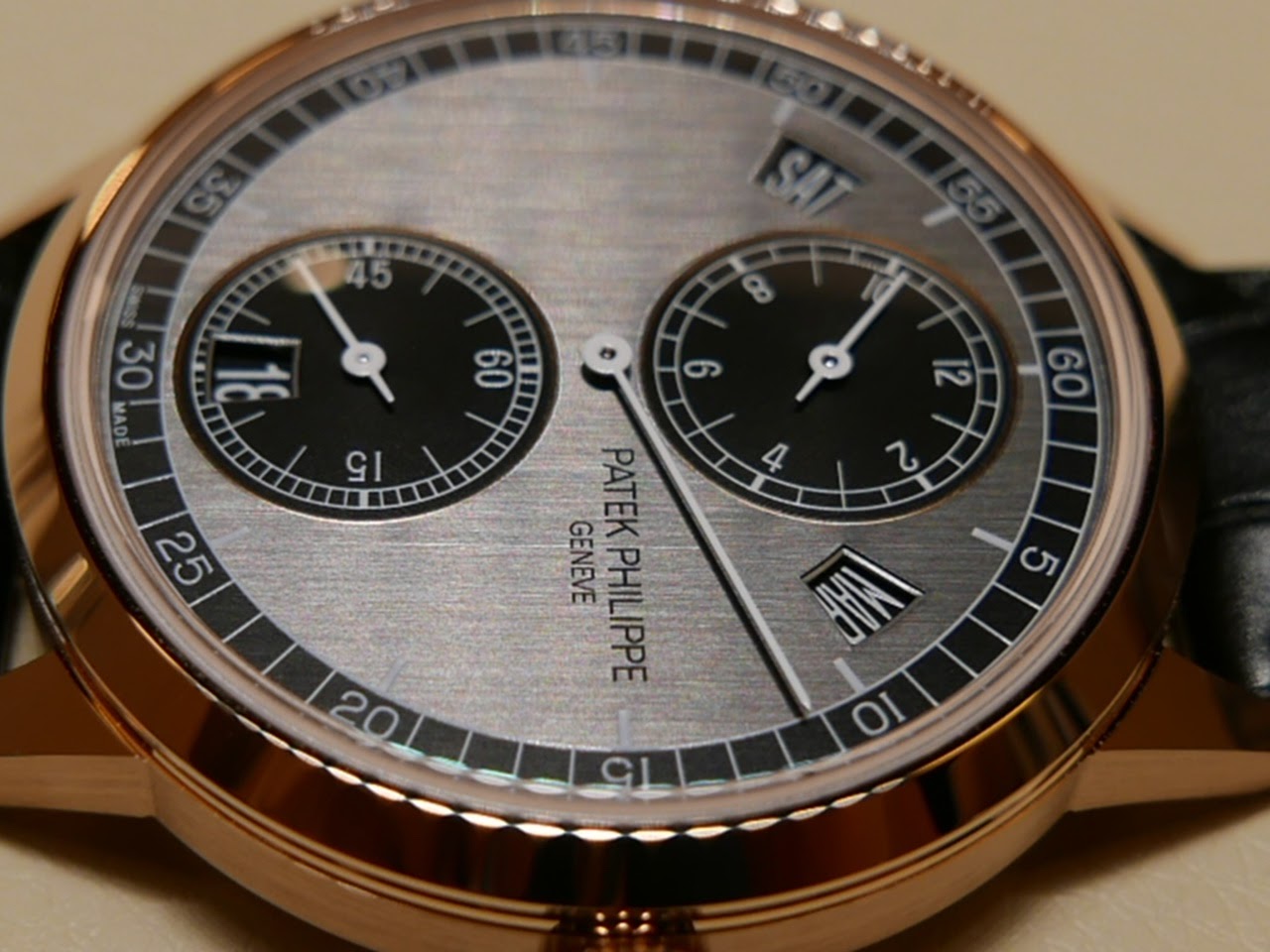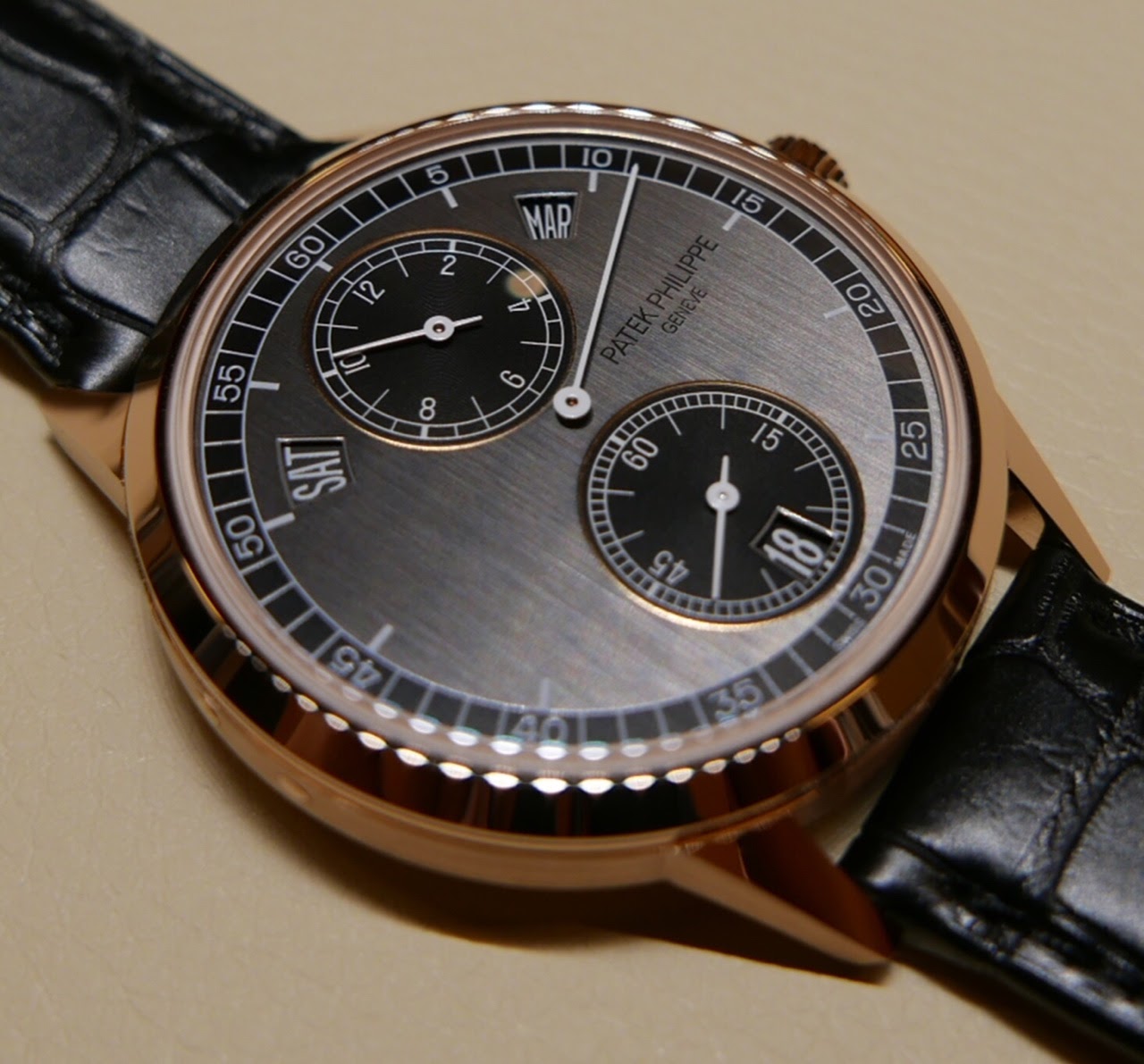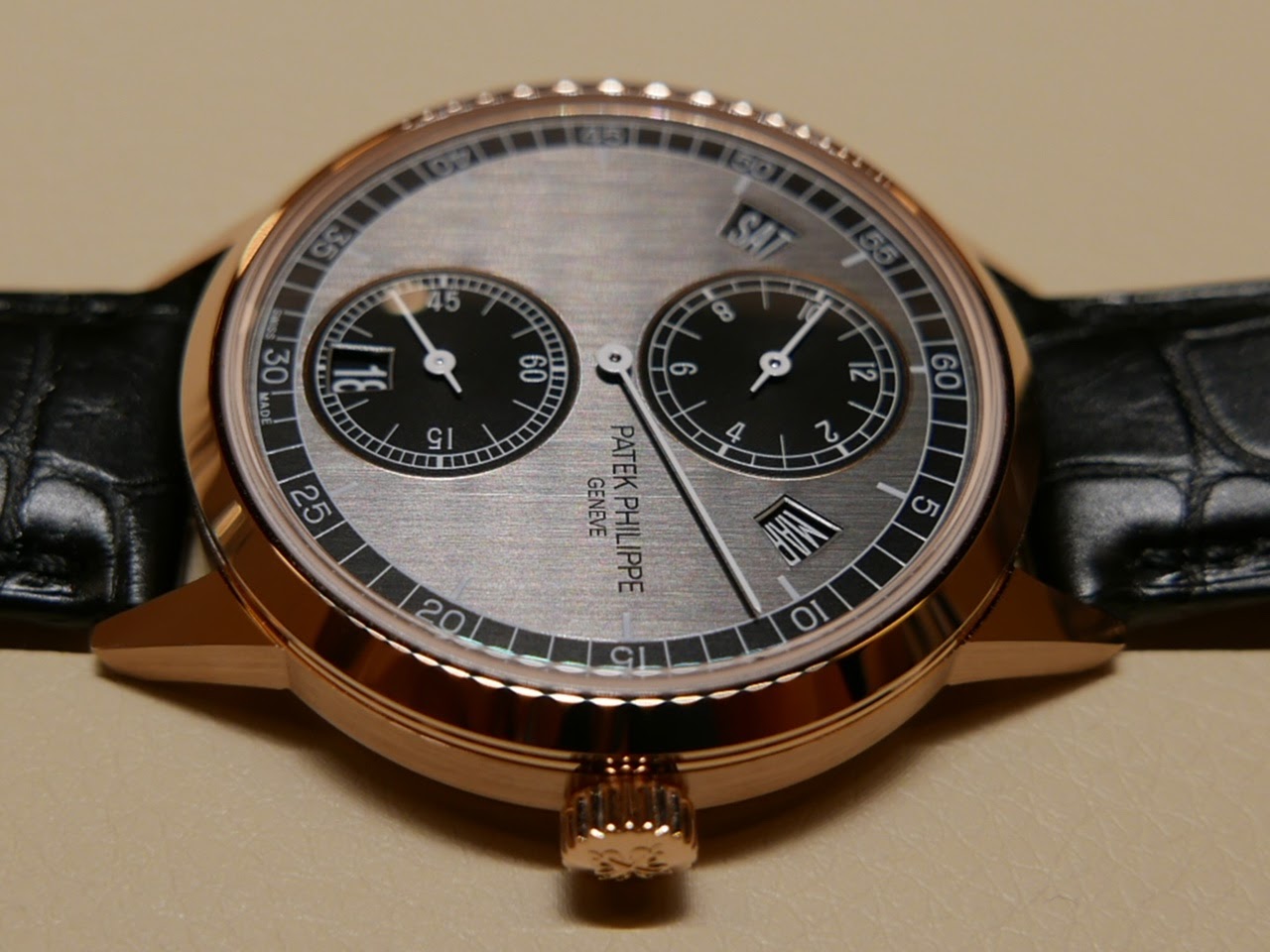 5172G
Chronograph:
MANUAL WINDING
The new chronograph is at just another level: it so casual yet totally elegant, modern yet quintessentially vintage in its DNA.
The blue dial with luminova arabic numbers an syringe hands compliments the vintage inspired case perfectly. The case just like the ref. 5320 features those gorgeous three tier lugs and step sides.
Finising it all off is the sapphire-crystal "box" glass.
Its in my opinion the best classical chronograph froma high end manufacture- as whole packaging of movement and aesthetics.
White gold. Sapphire-crystal case back. Water resistant to 30 m. Diameter: 41 mm. Height: 11.45 mm.
STRAP
Calfskin, hand-stitched, navy blue. Fold-over clasp.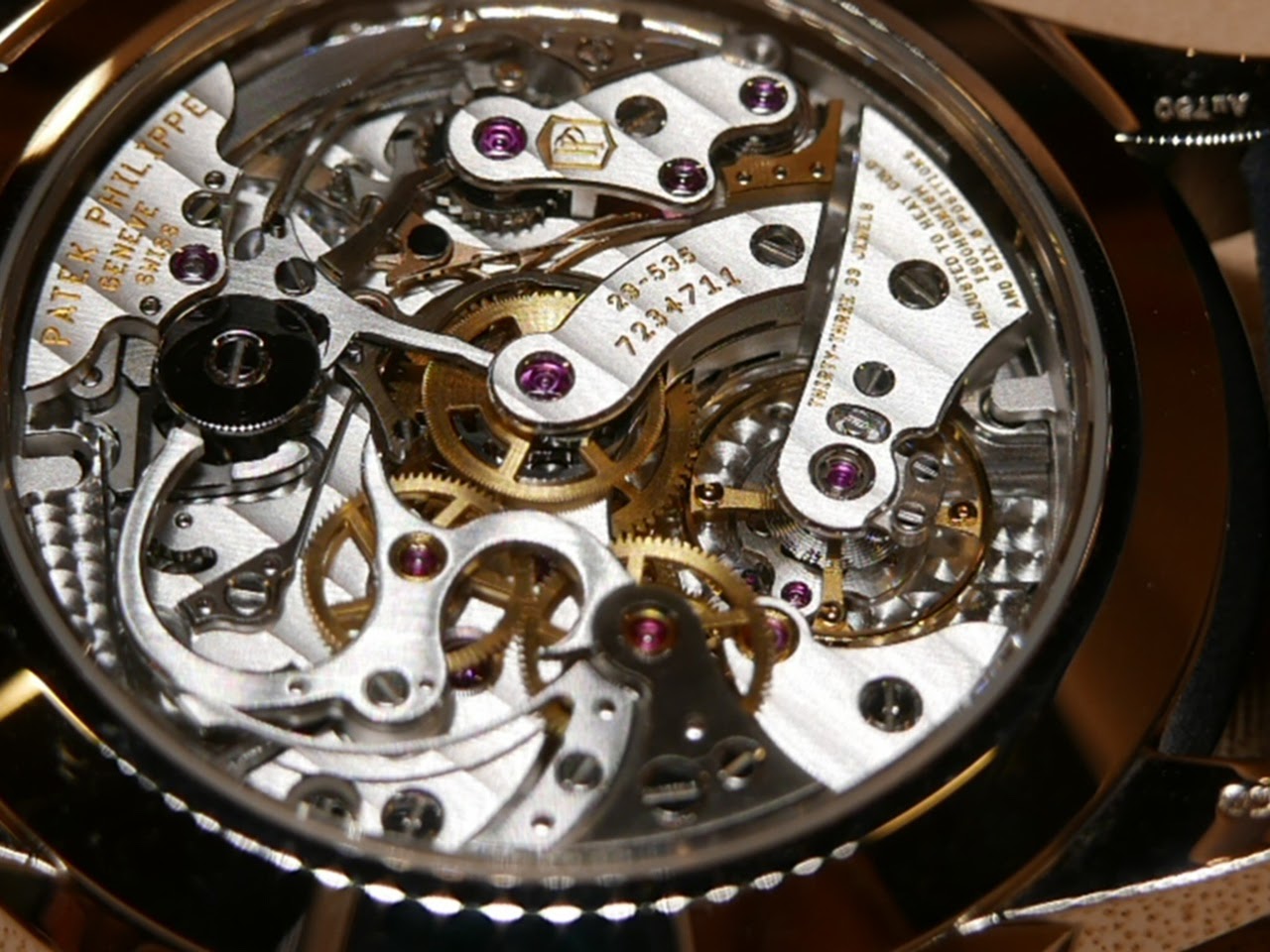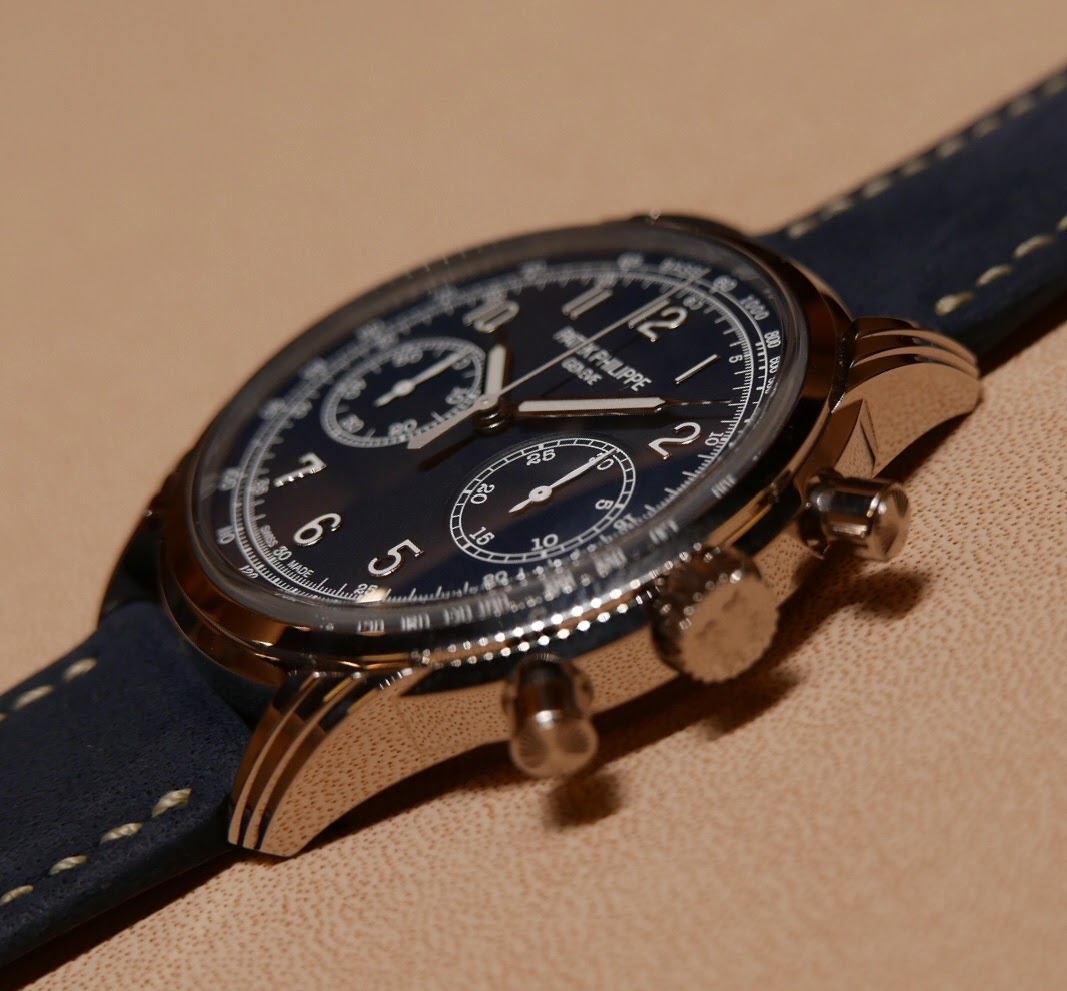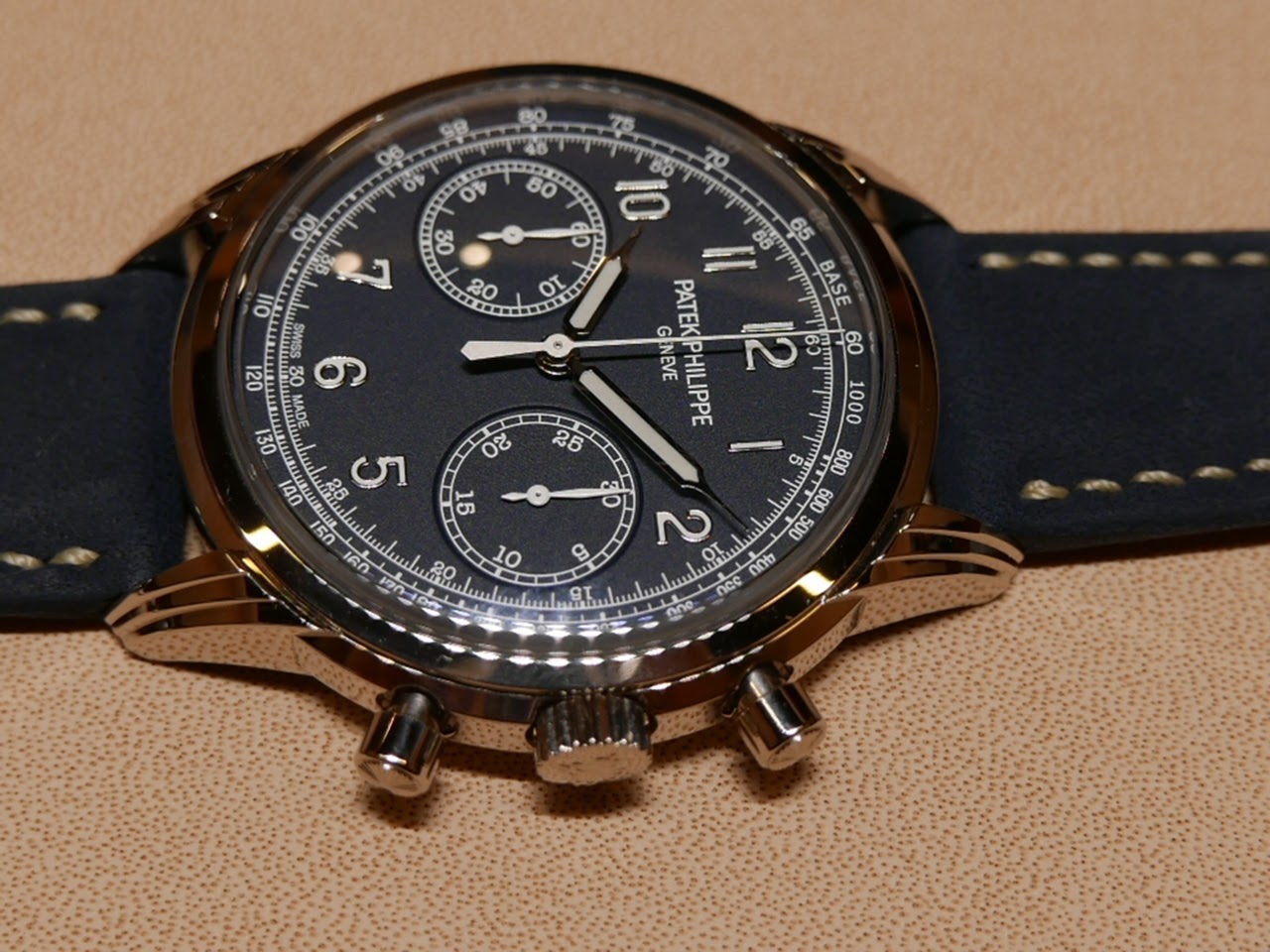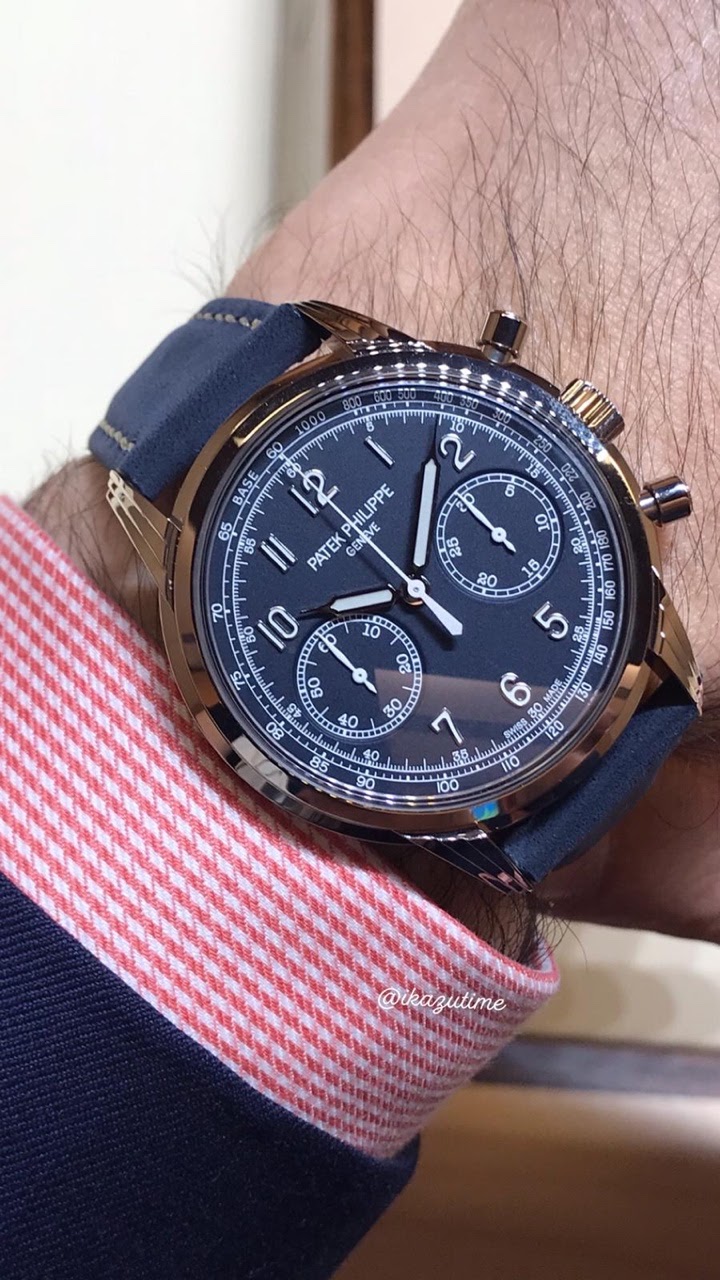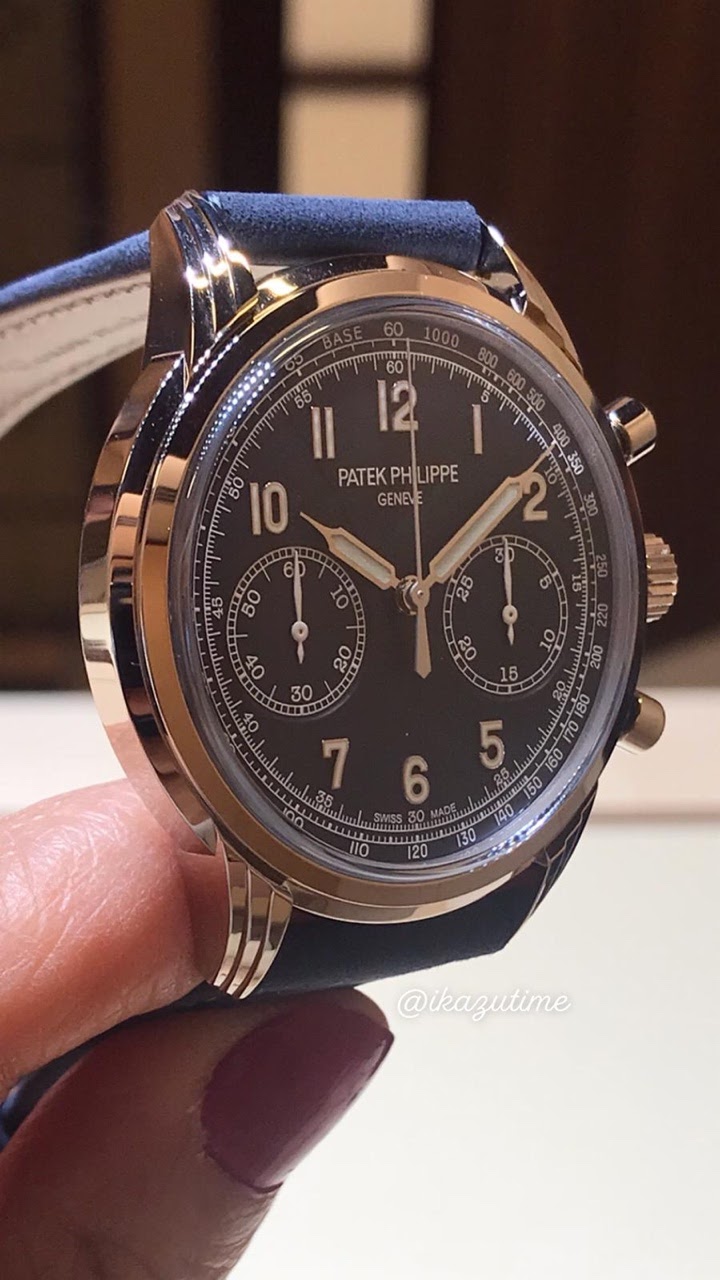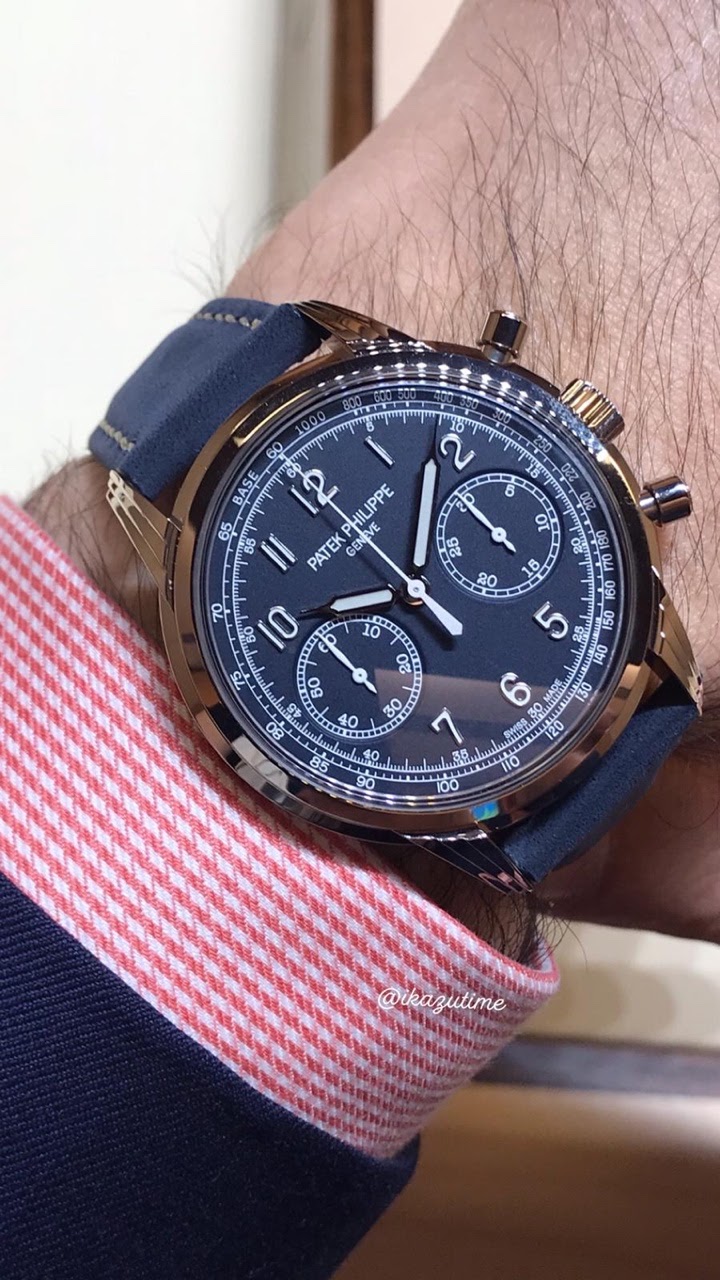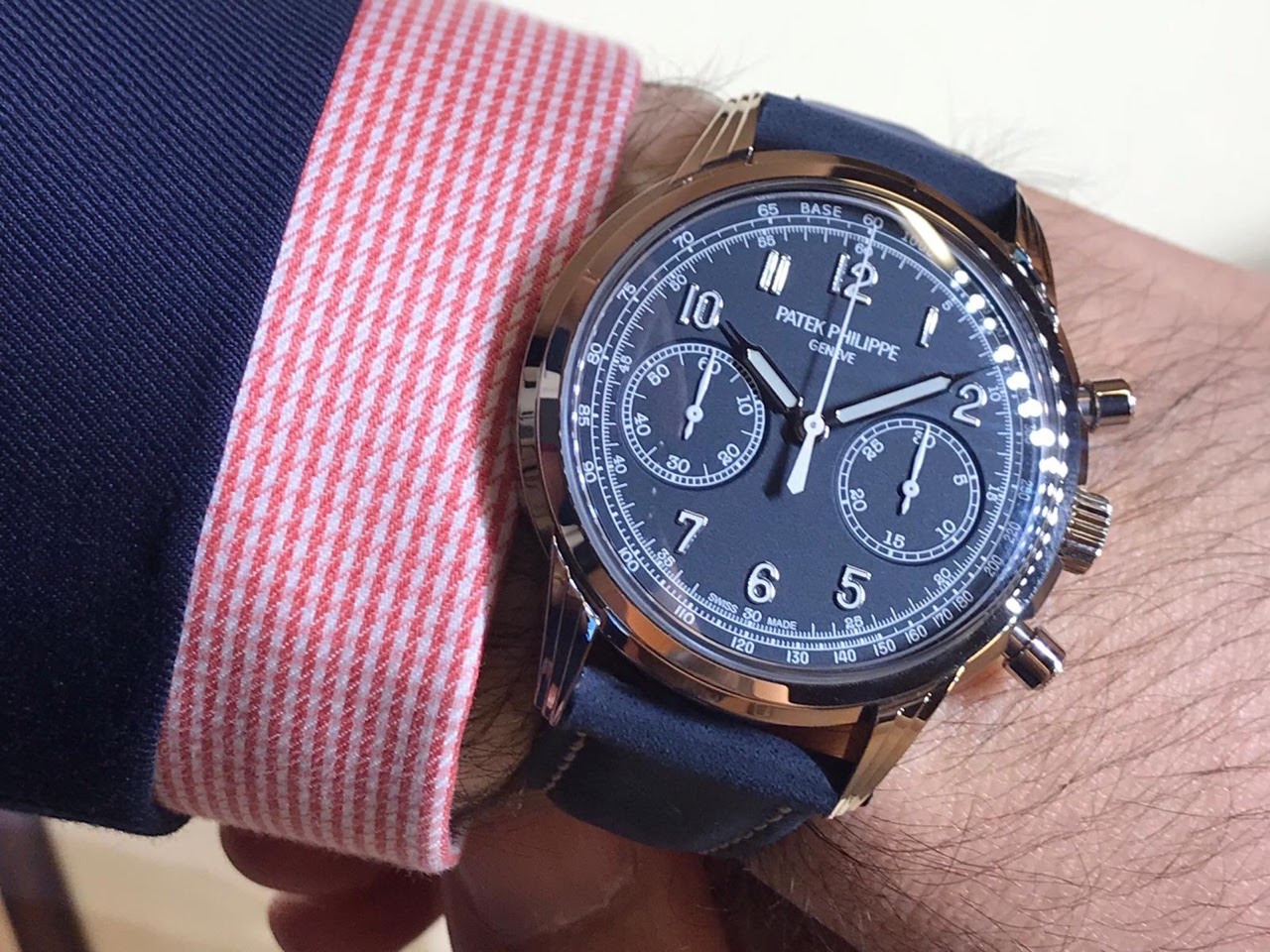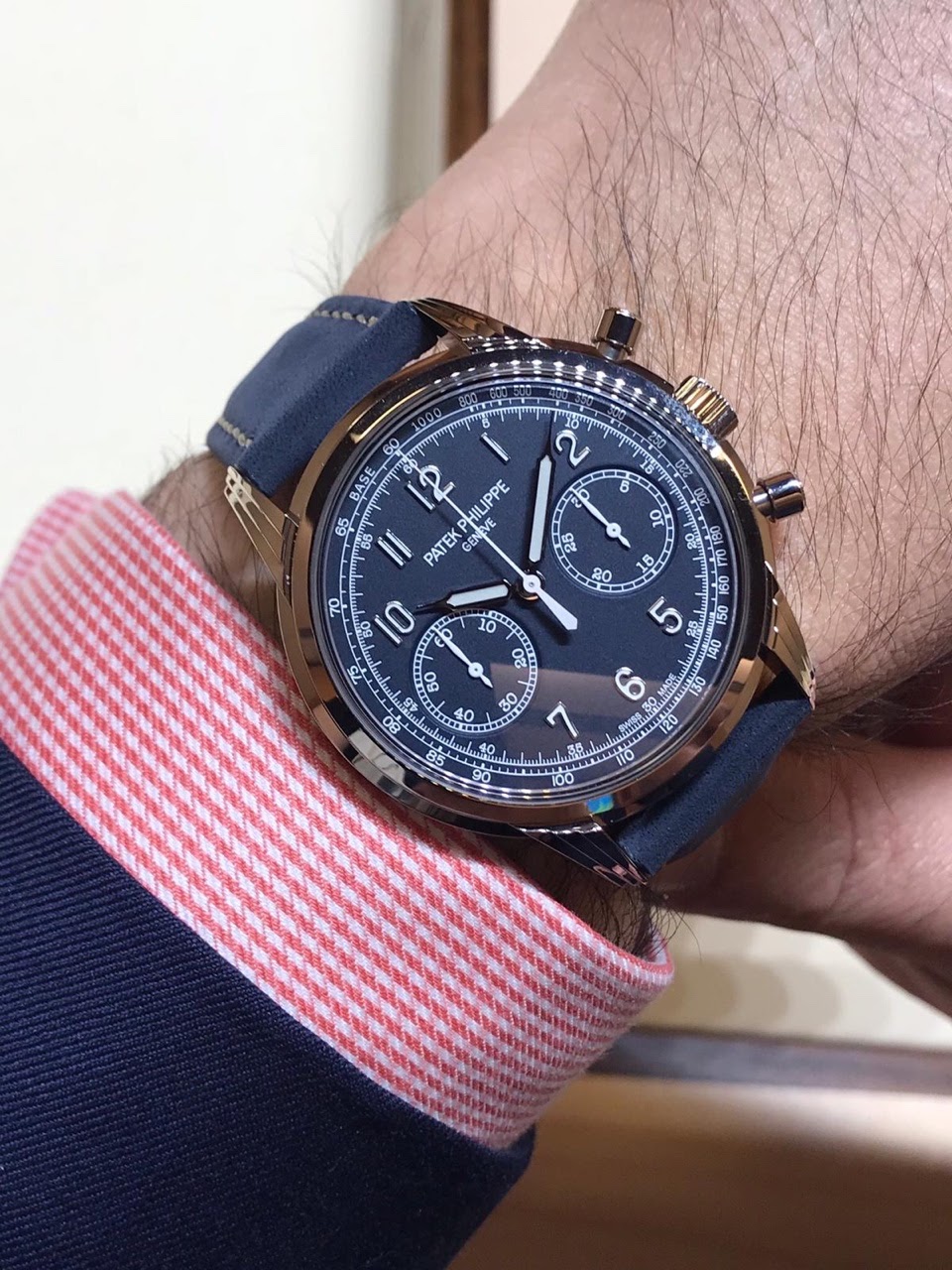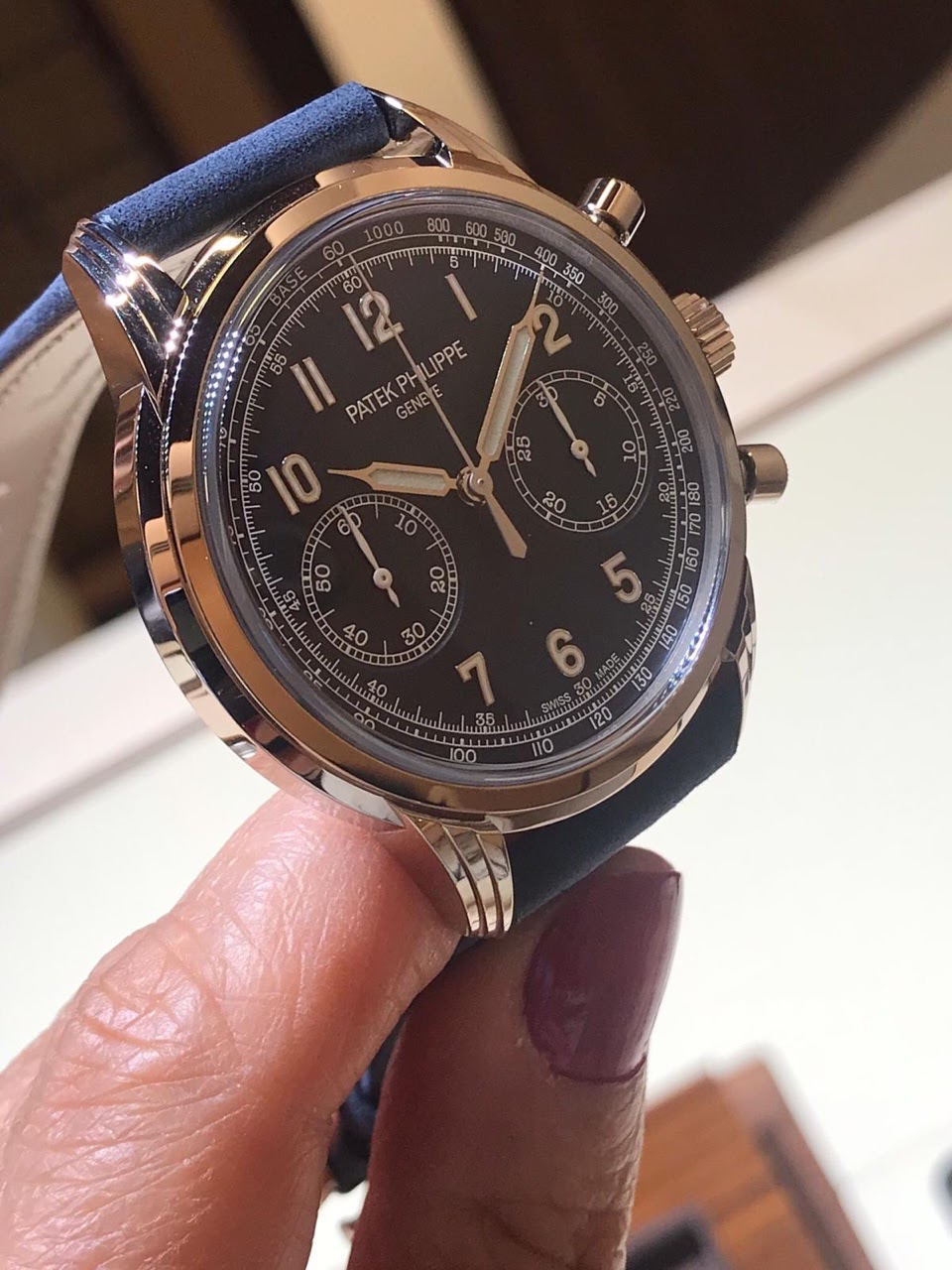 Patek Philippe ref:5231J Rare hand crafts world time with cloisonné enamel dial .
This year the ref 5230 has finally progressed to the cloisonné enamel ref. 5231
And it is truly breathtaking.
The cloisonné features the world map and for the first time in the 5230/5231 series we see a version in yellow gold- further enhancing its vintage appeal.
The signature of Patek Philippe is now on the dial and not engraved on the bezel.
I adored this piece its vintage DNA just shines through with its vintage inspired case with winglet lugs.
CASE
Yellow gold. Sapphire-crystal case back. Water resistant to 30 m. Diameter: 38.5 mm. Height: 10.23 mm.
DIAL
Cloisonné enamel center: Europe, Africa, Americas, 4 yellow gold spangles. 18K gold dial plate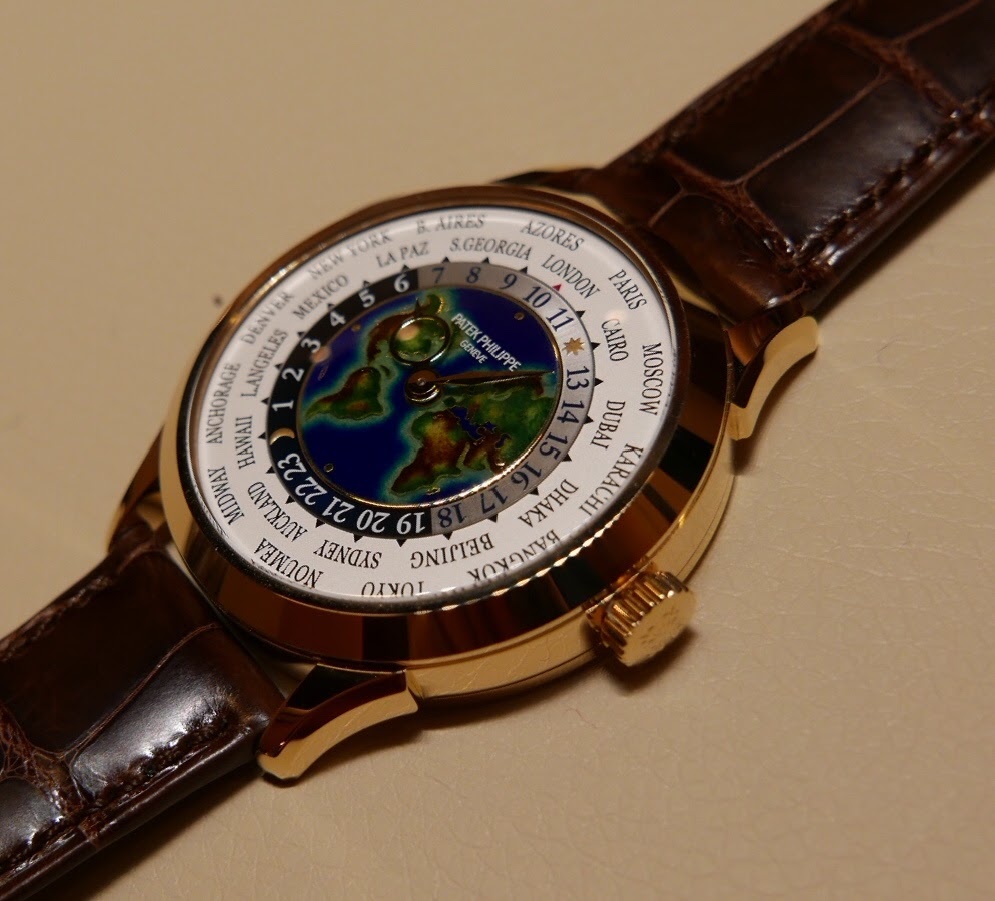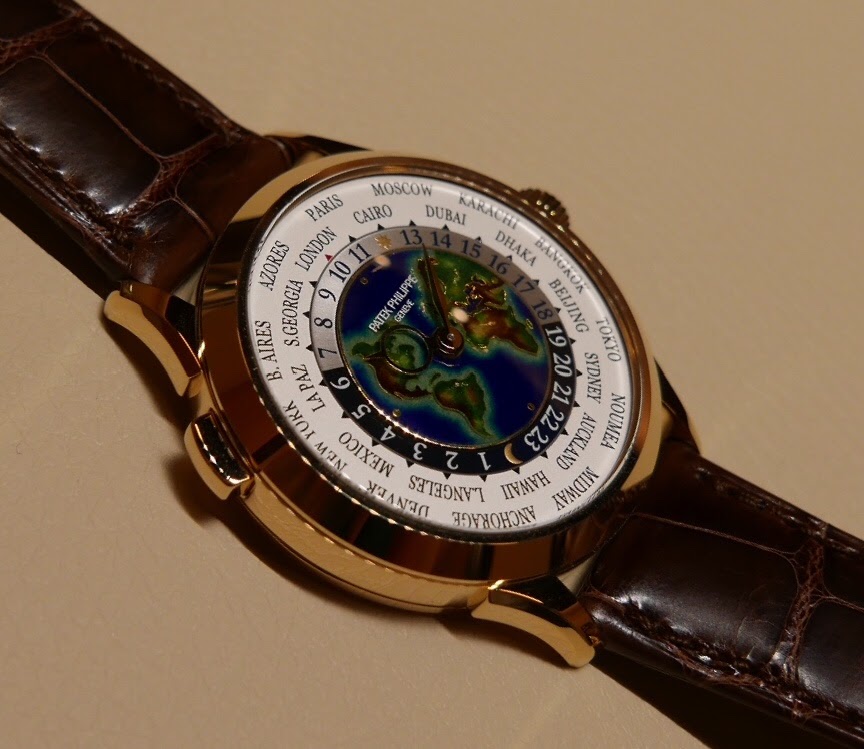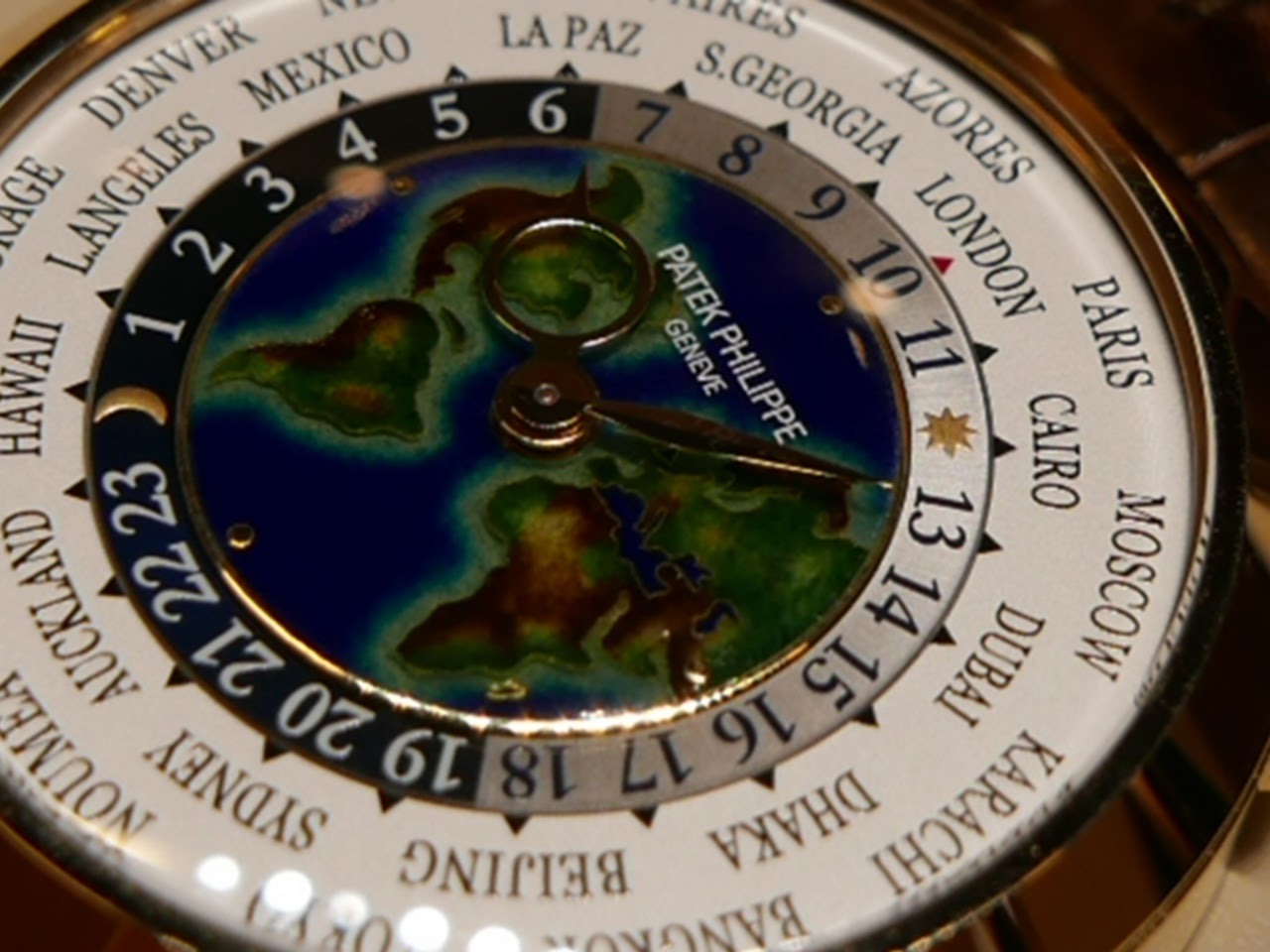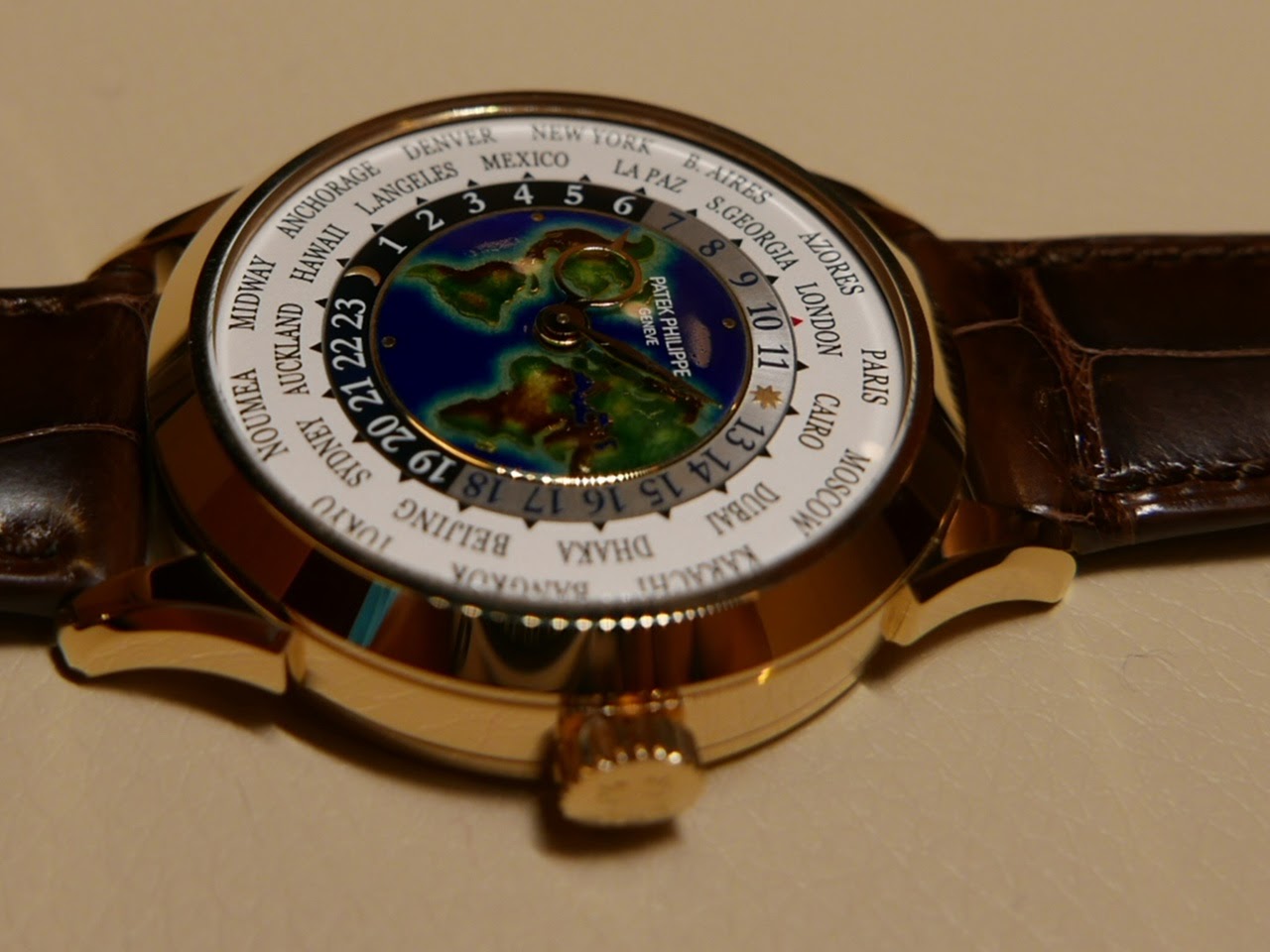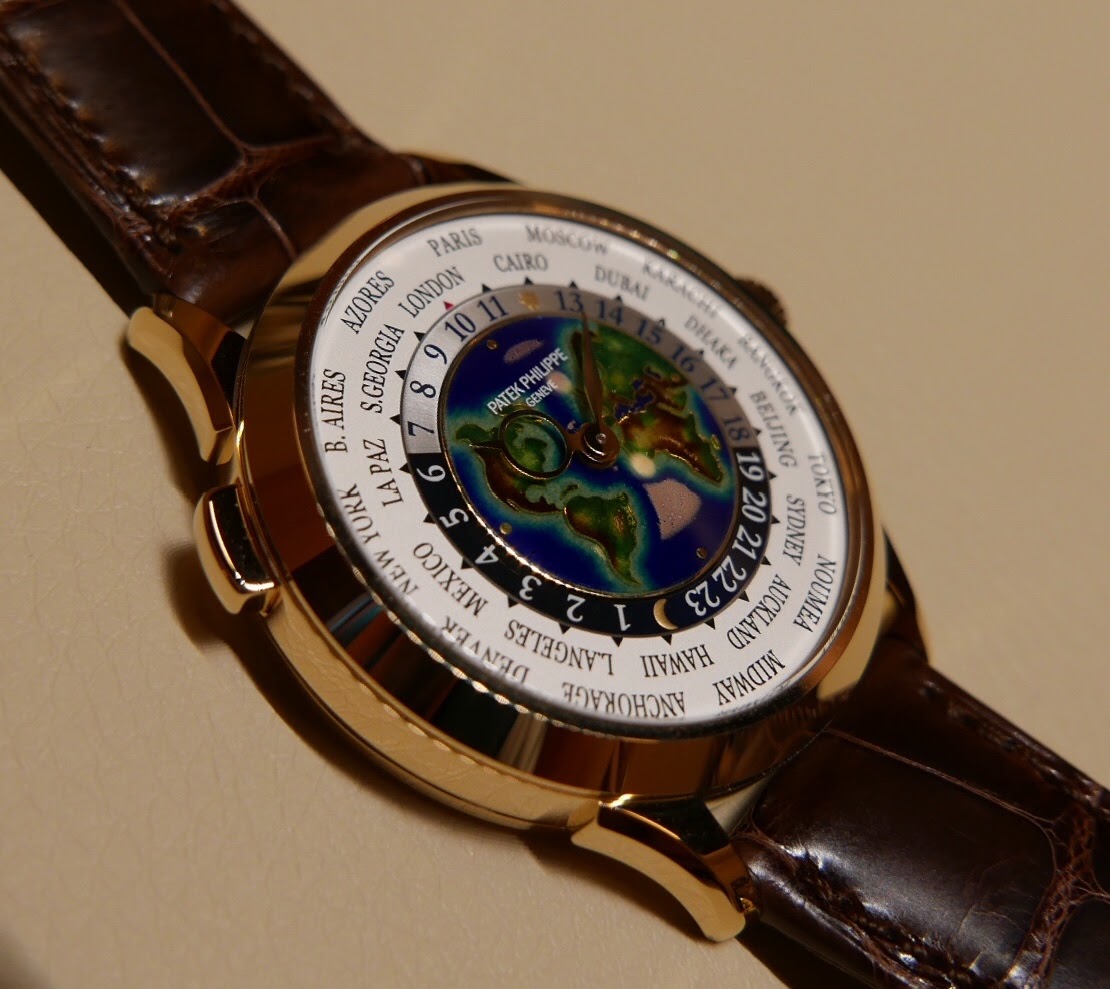 Patek Philippe ref.5726/1A
NAUTILUS
With both the grey dial and white dial bracelet models being discontinued- a more than adequate replacement hits the shores: yes, a stunning blue- black graduation dial.
This piece is going to be HOT, on fire.
The simple change to a blue- black dial just takes the least loved Nautilus to a whole new level.
I see this as one of the hottest Nautilus now.
The case is slightly larger than the regular 5711 and with the obvious gain in thickness from the additional complications the bracelet is also slightly thicker.
CASE
Steel. Screw-down crown. Sapphire-crystal case back. Water resistant to 120 m. Case diameter (10-4 o'clock): 40.5 mm. Height: 11.3 mm.
DIAL
Blue, black gradated, gold applied hour markers with luminescent coating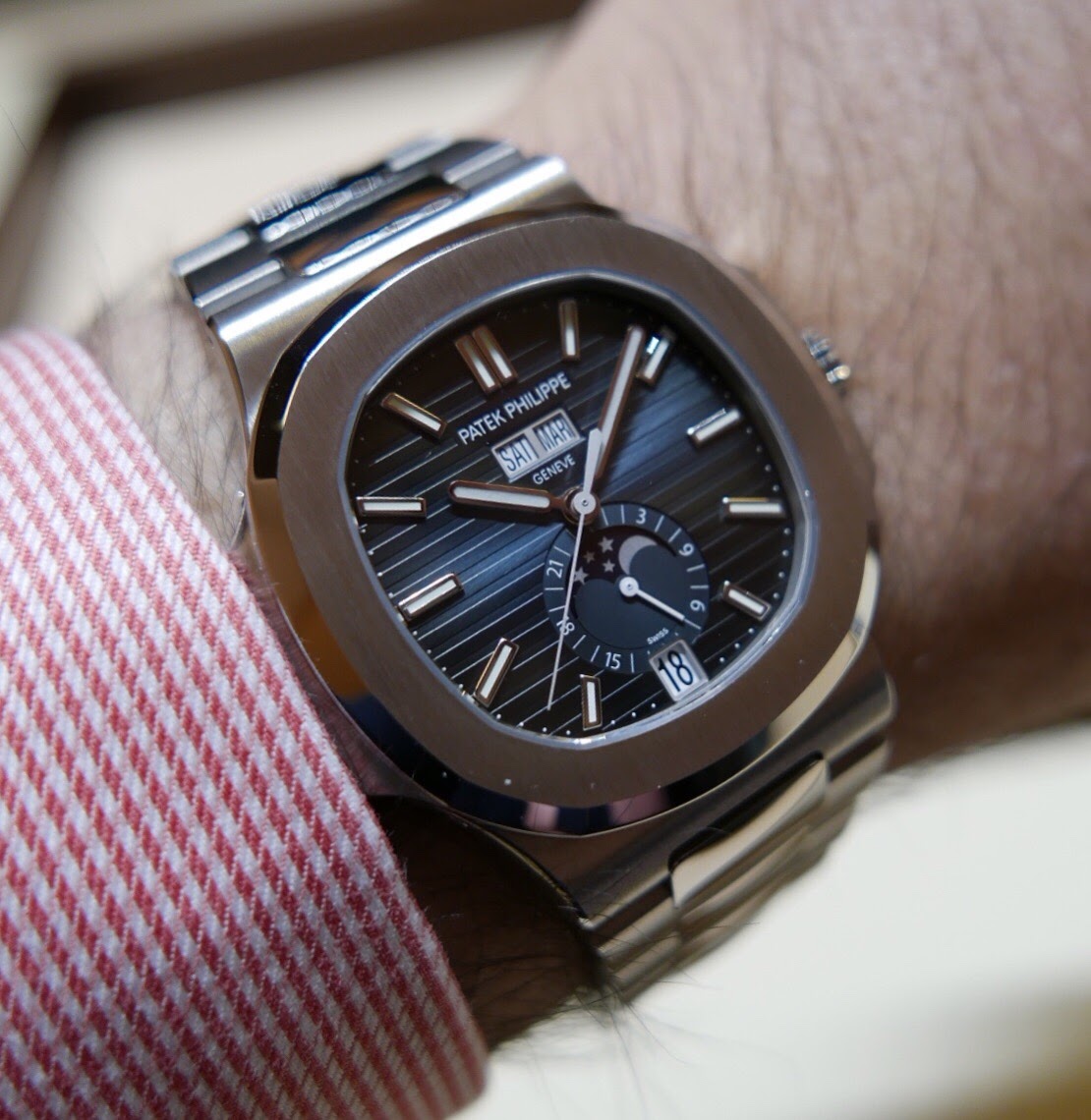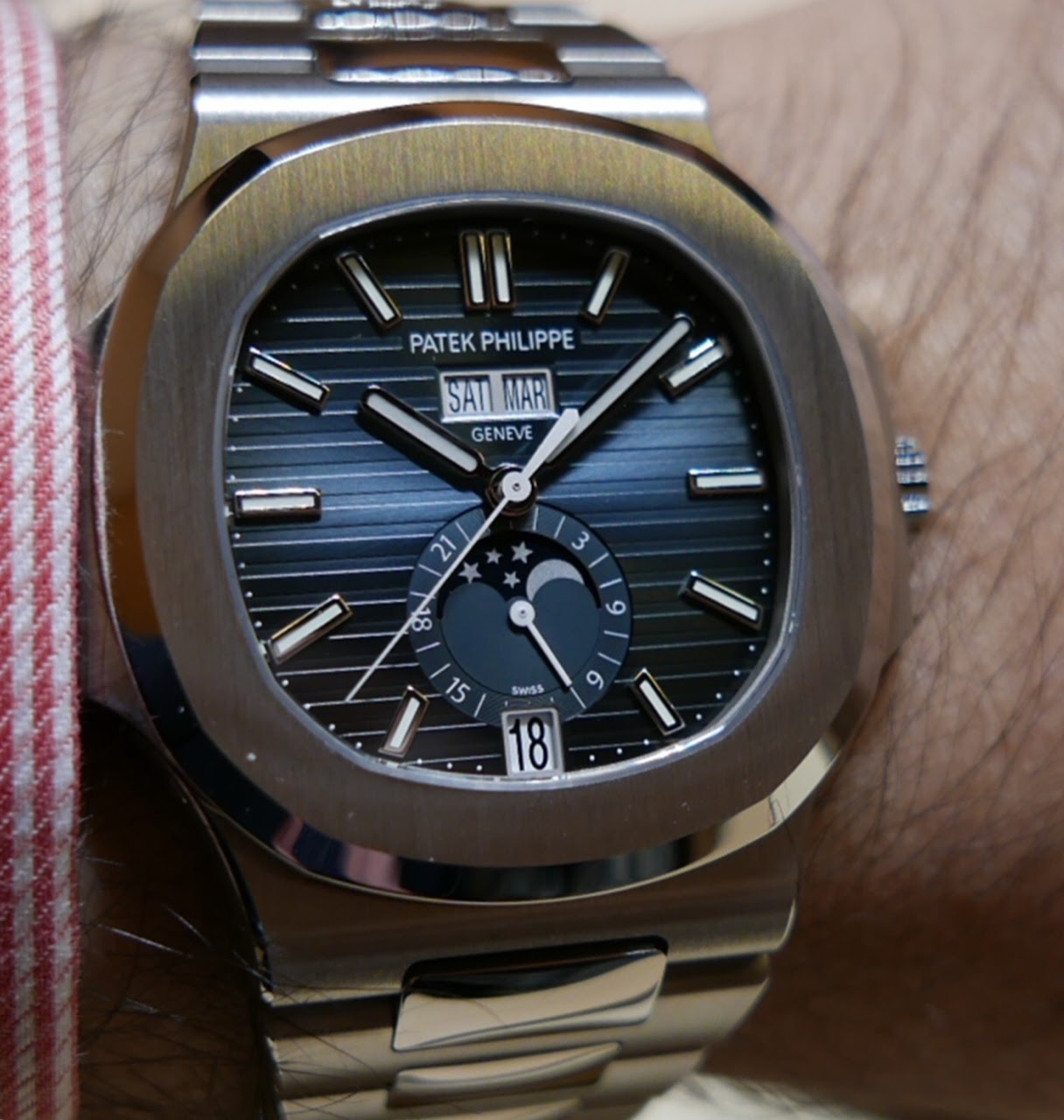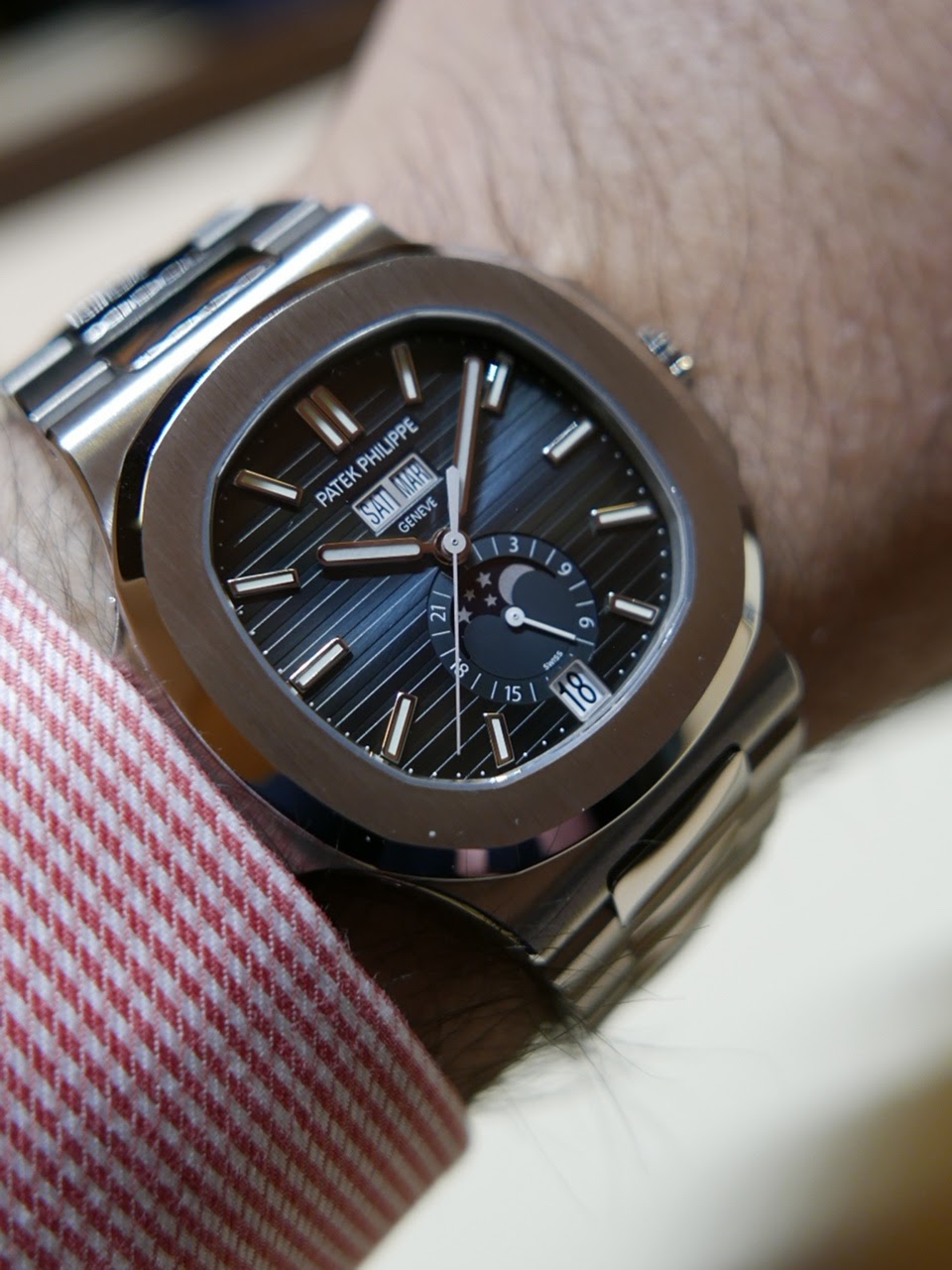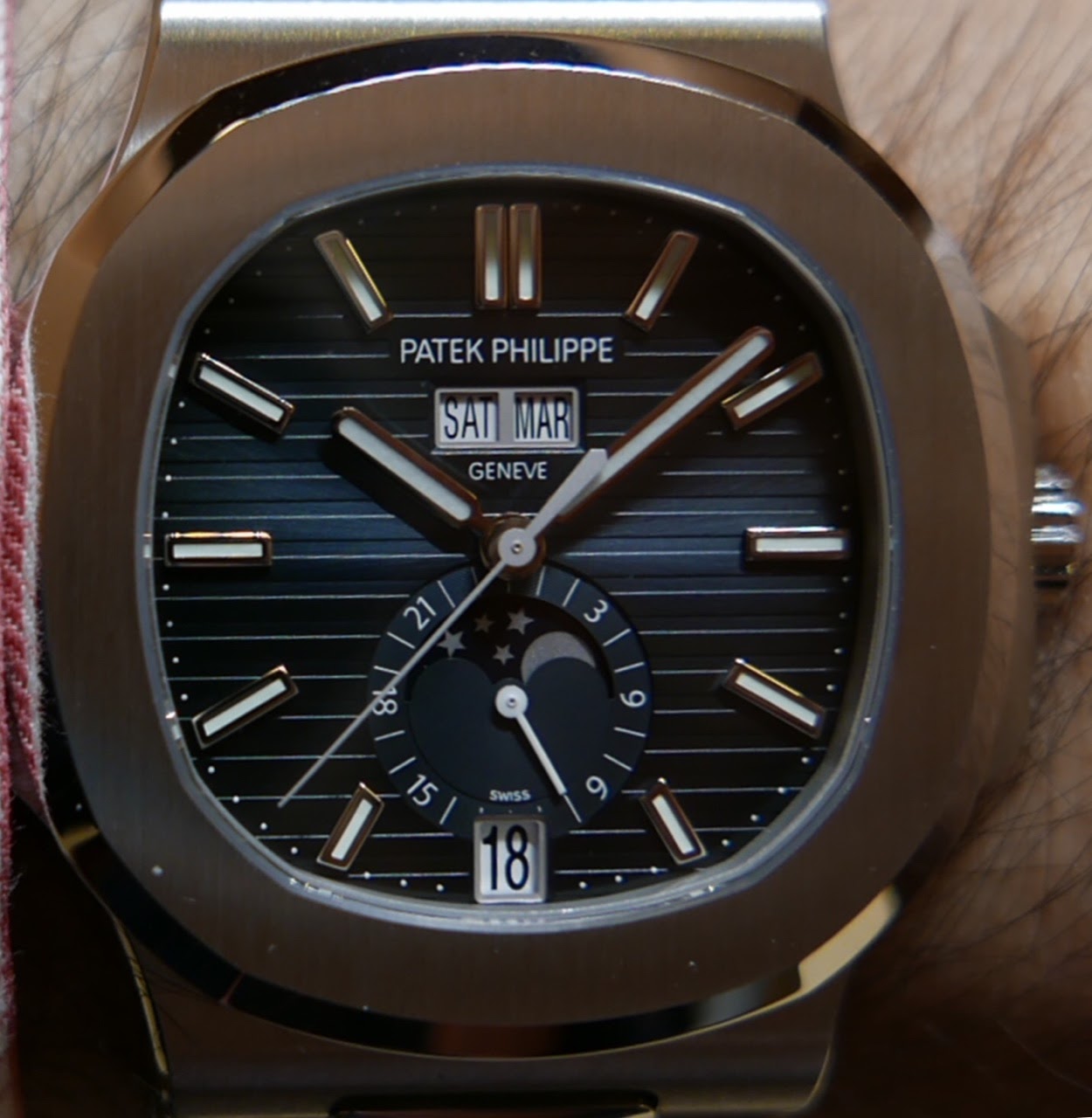 Patek Philippe ref: 5168G
AQUANAUT Khaki Green dial
Complimenting the 42mm white gold Aquanaut with blue dial is this new version with a "camo" khaki green dial and khaki-green strap.
The colour is similar to the extremely limited steel version that was made in approximately 12 pieces for the mid east market.
I think the new colour works really well with the oversized aesthetic of the the Jumbo Aquanaut.
CASE
White gold. Screw-down crown. Sapphire-crystal case back. Water resistant to 120 m. Diameter (10 - 4 o'clock): 42.2 mm. Height: 8.25 mm.
DIAL
Khaki green embossed, gold applied numerals with luminescent coating.
STRAP
Composite material, khaki green. Aquanaut fold-over clas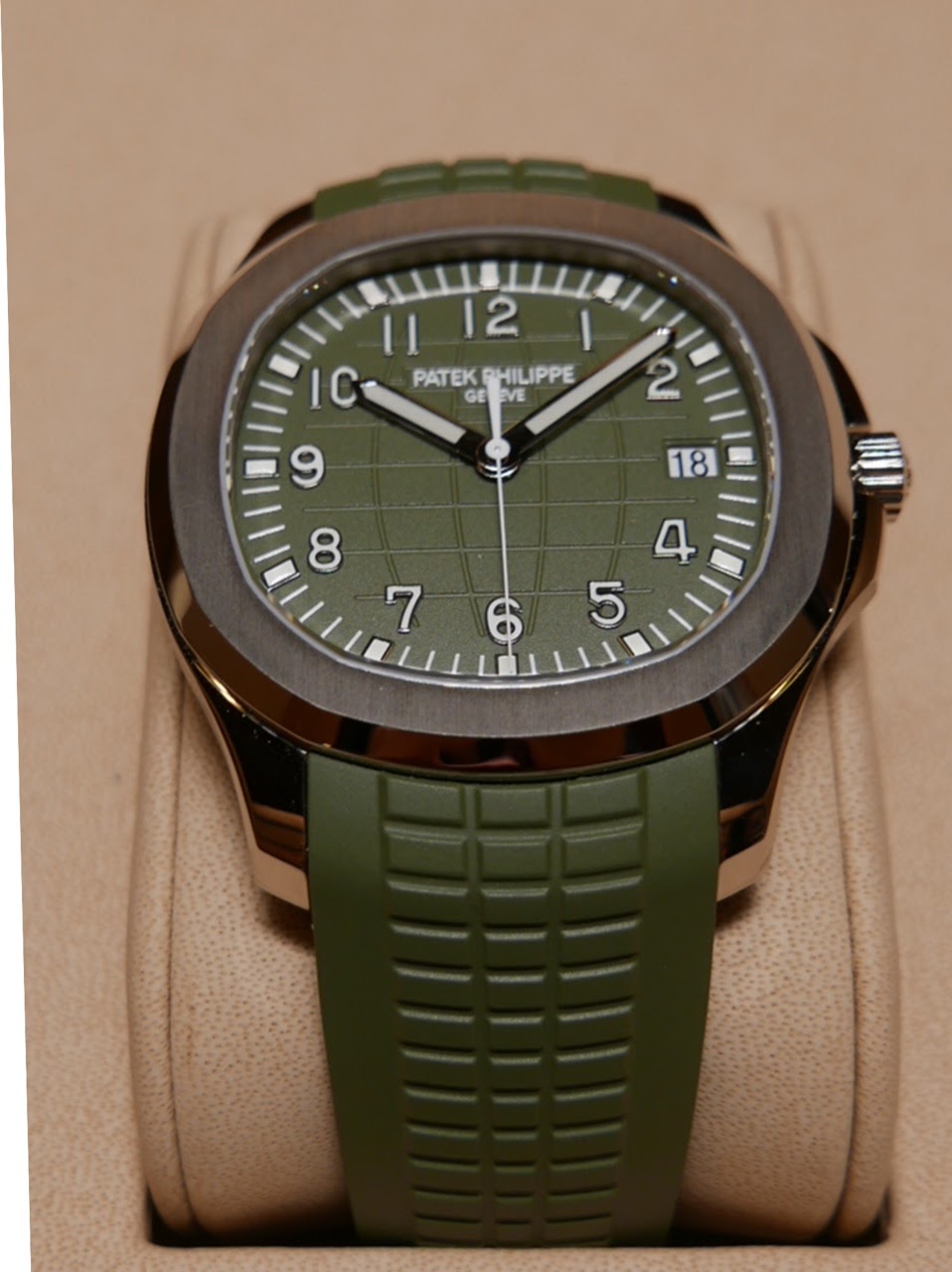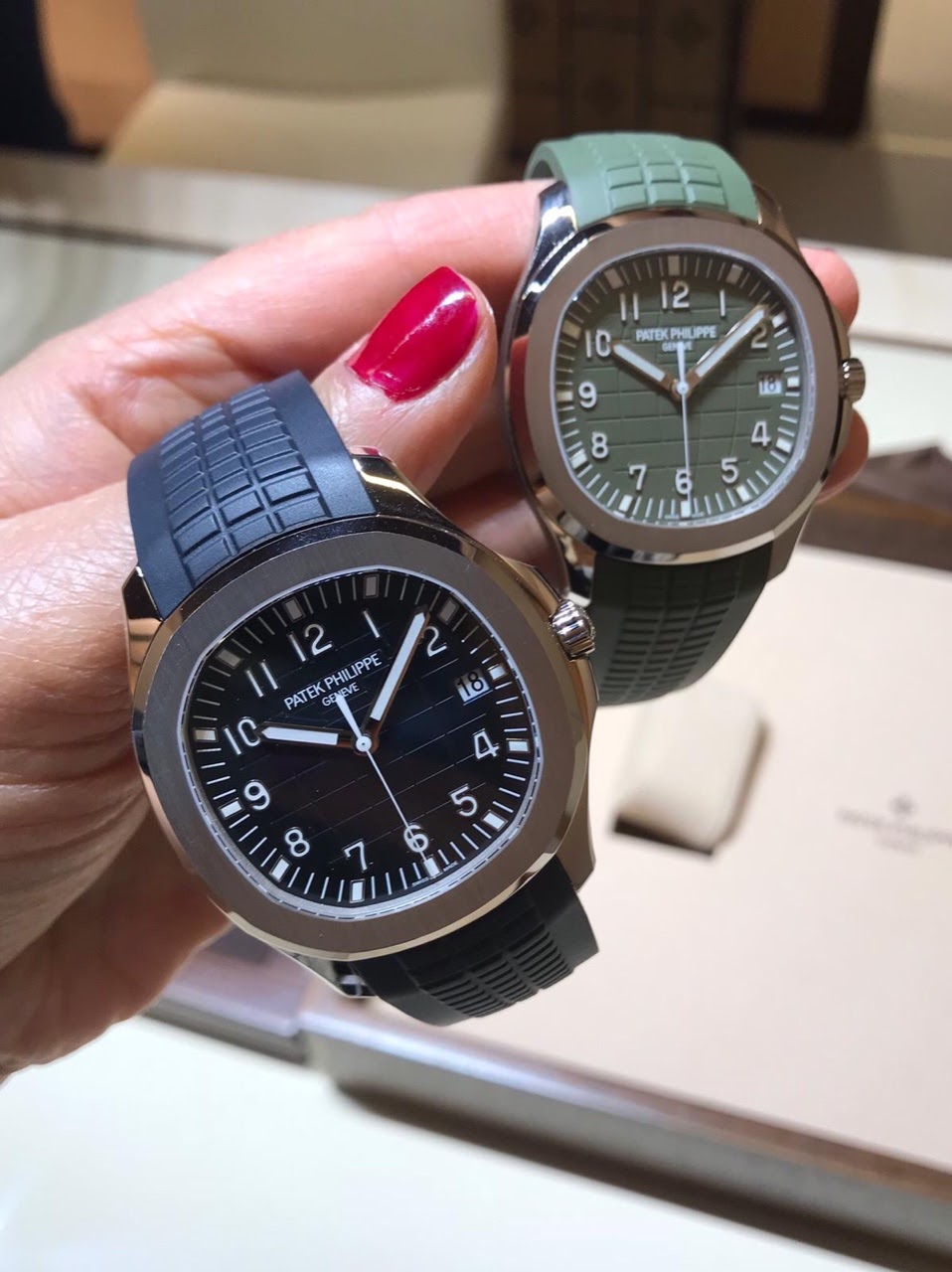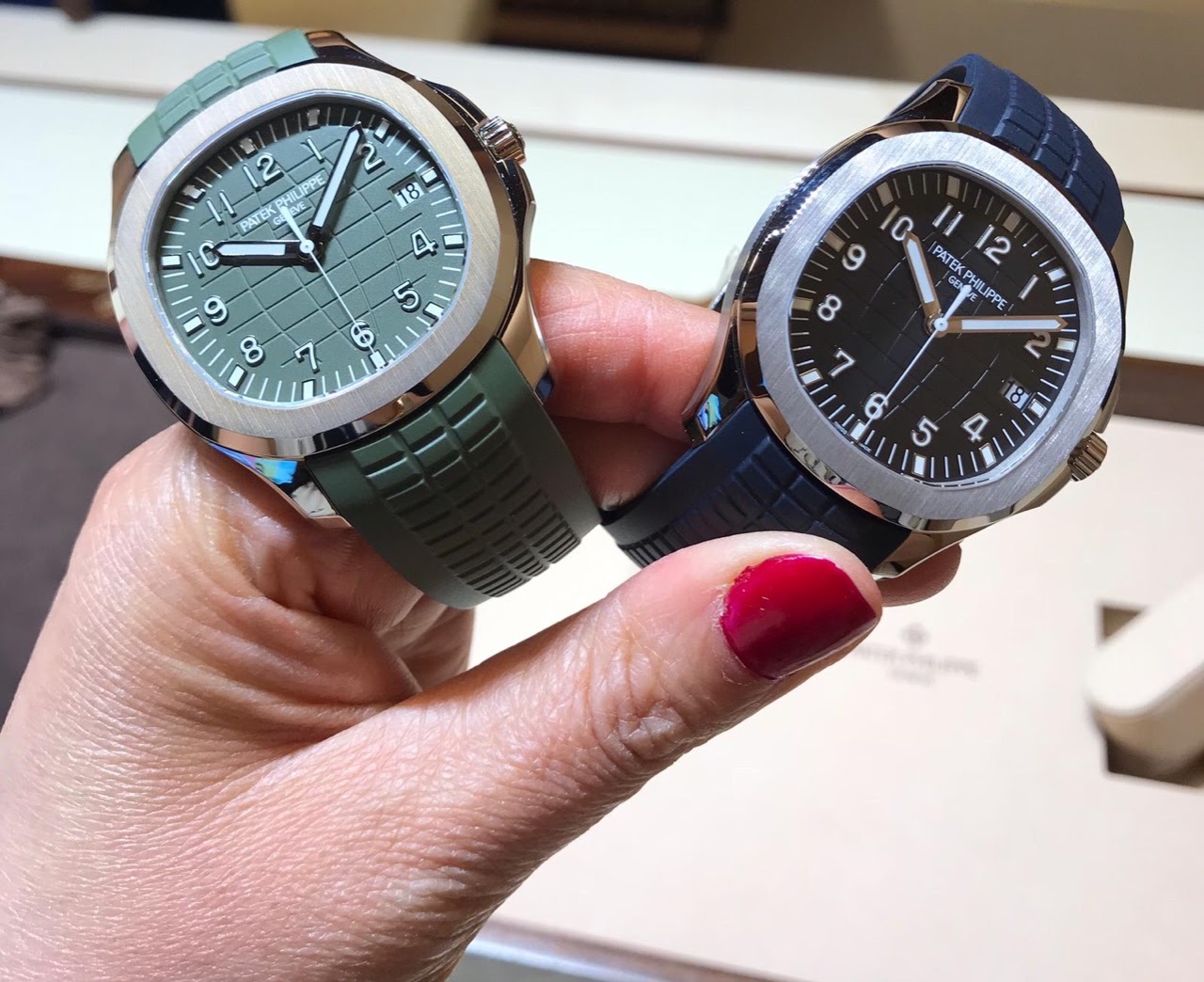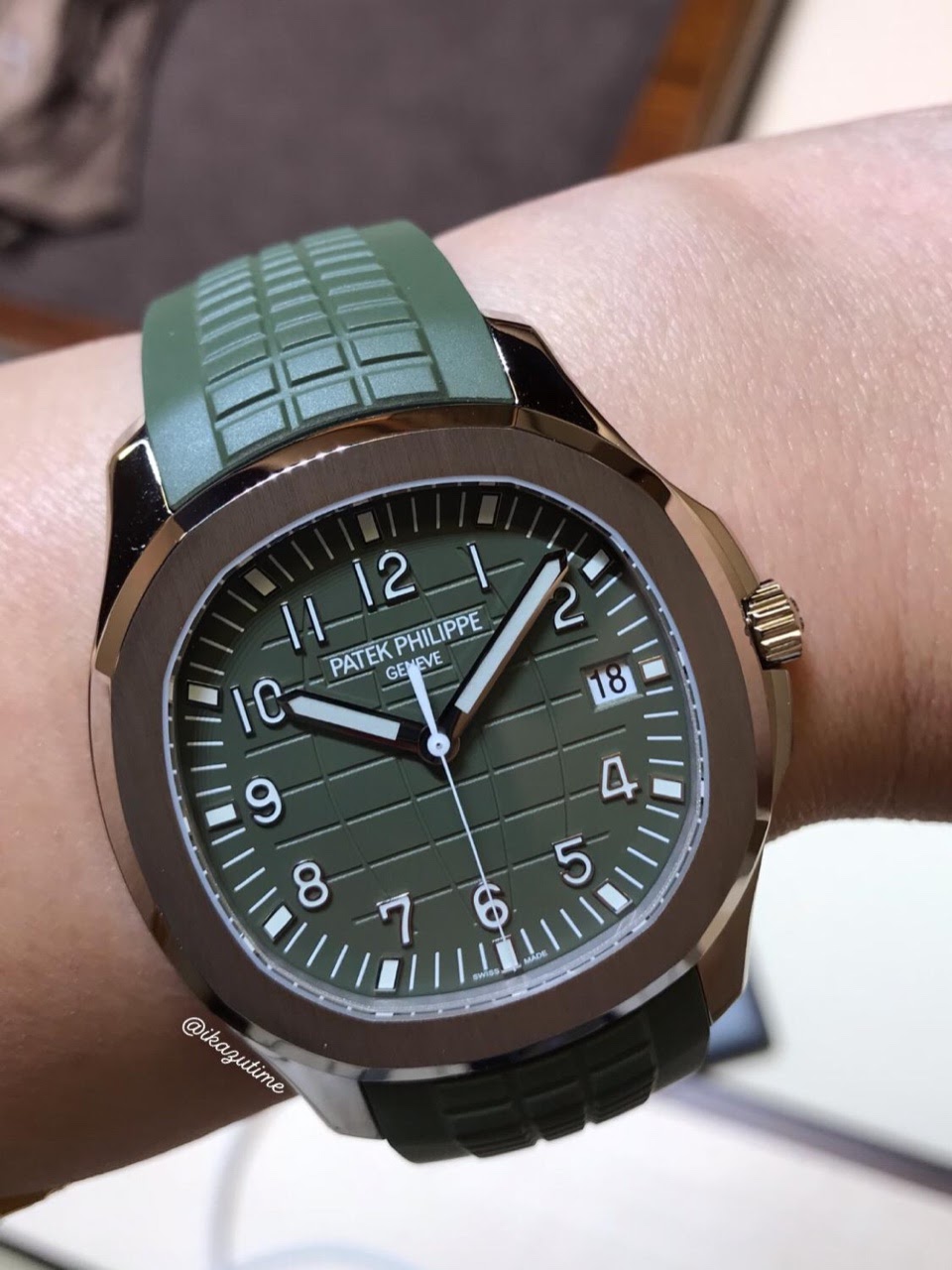 Patek Philippe ref: 4978/400G
DIAMOND RIBBON JOAILLERIE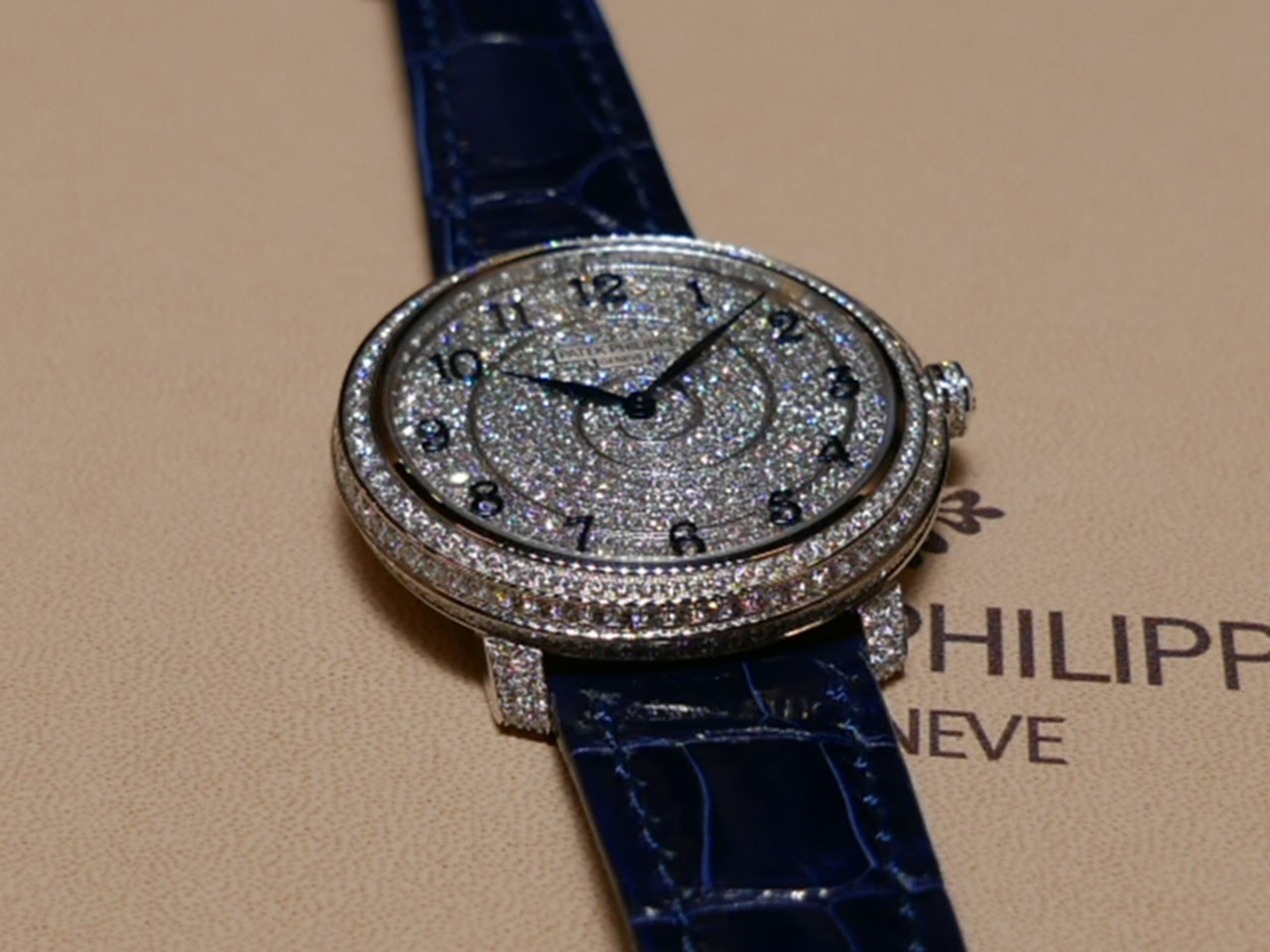 Now in 36.5mm version the distinctive diamond embellishments orbiting the case like gymnasts' twirling ribbons and the spiraling circles of graduated diamonds adorning the dial make an even greater impression.
CASE
White gold. Sapphire-crystal case back. Water resistant to 30 m. Diameter: 36.5 mm. Height: 8.23 mm.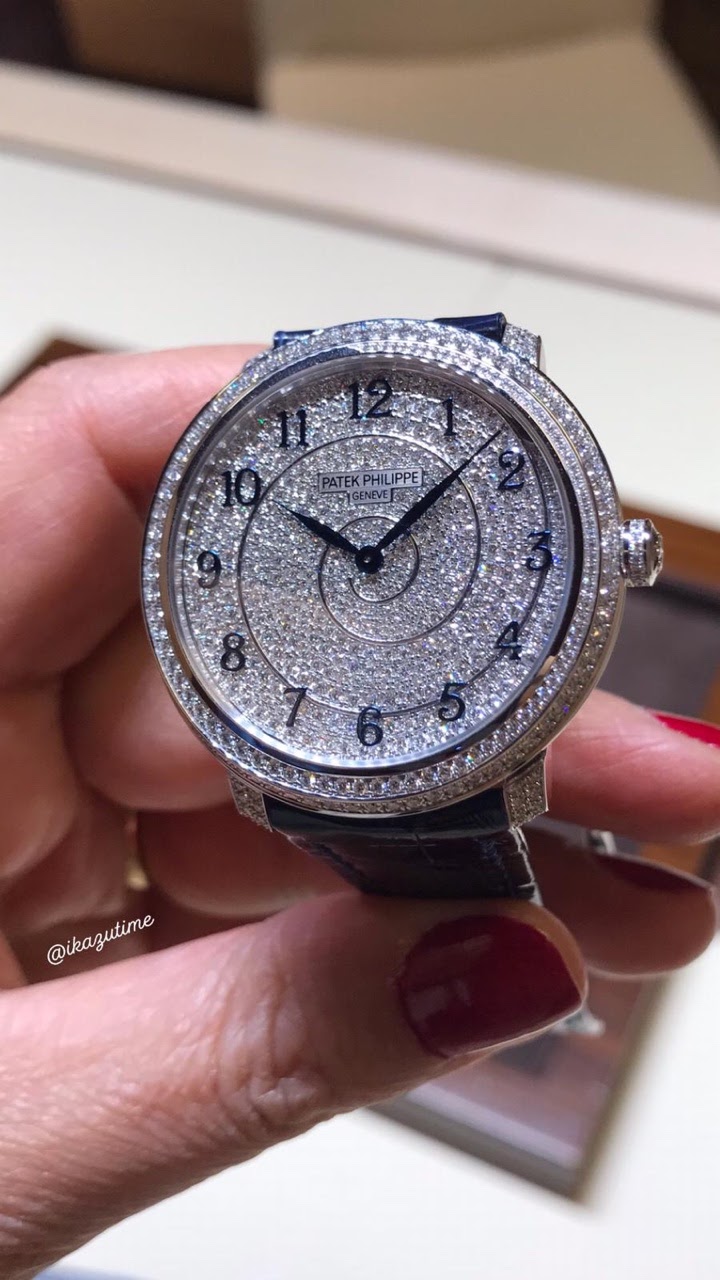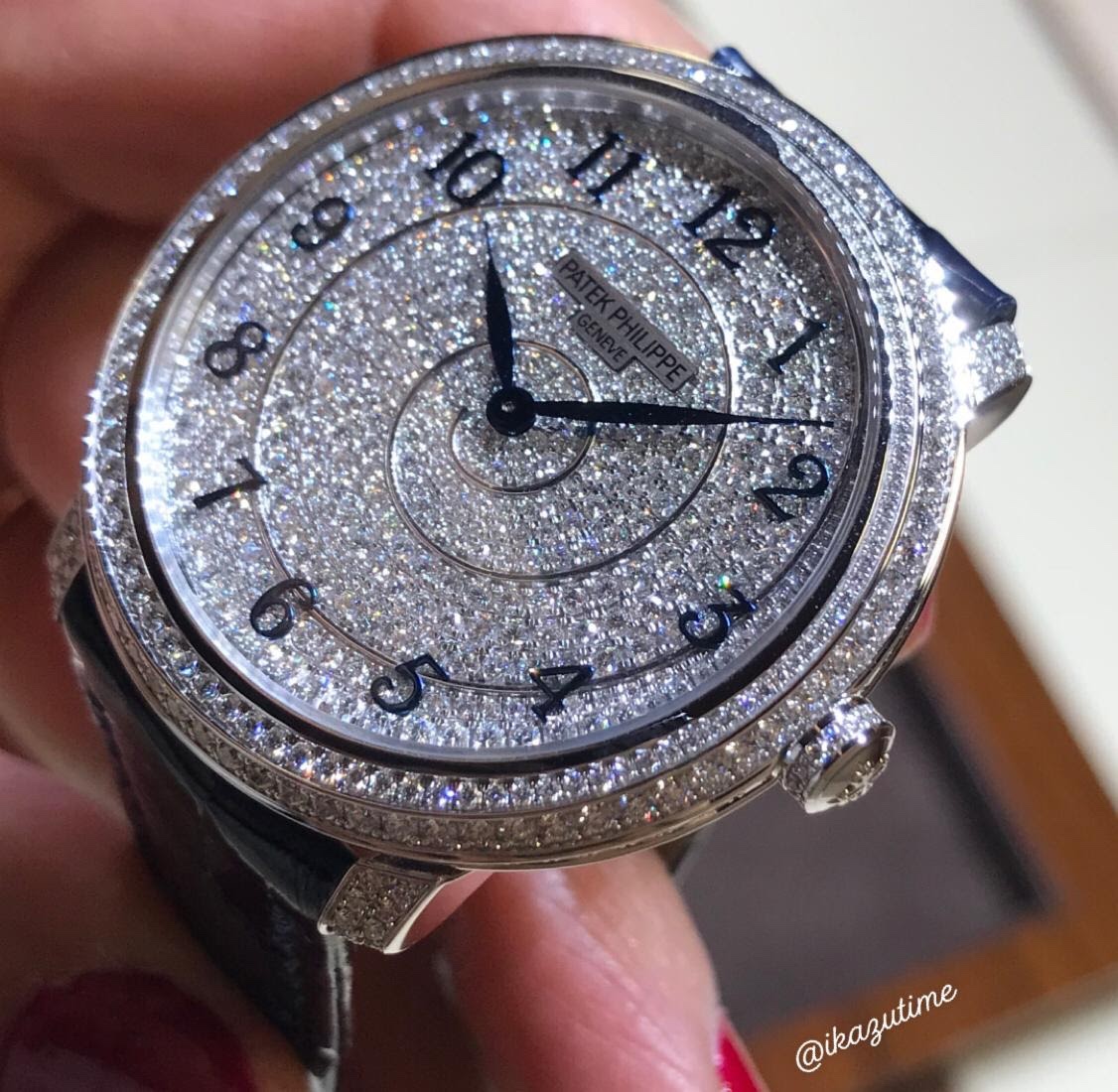 Patek Philippe ref 7118/1200A
NAUTILUS
The Ladies Automatic Nautilus in steel with diamond-set bezel asserts its presence on the wrist with a slightly larger diameter (35.2 mm instead of 33.6 mm). Patek Philippe has also revised its range of dial colors, introducing blue opaline, silvery opaline or gray opaline, grading to black at the periphery.
The steel bracelet comes with a fold-over clasp, endowed with a new adjustment system, providing the wearer with between 2 and 4 mm of extra bracelet length for increased comfort.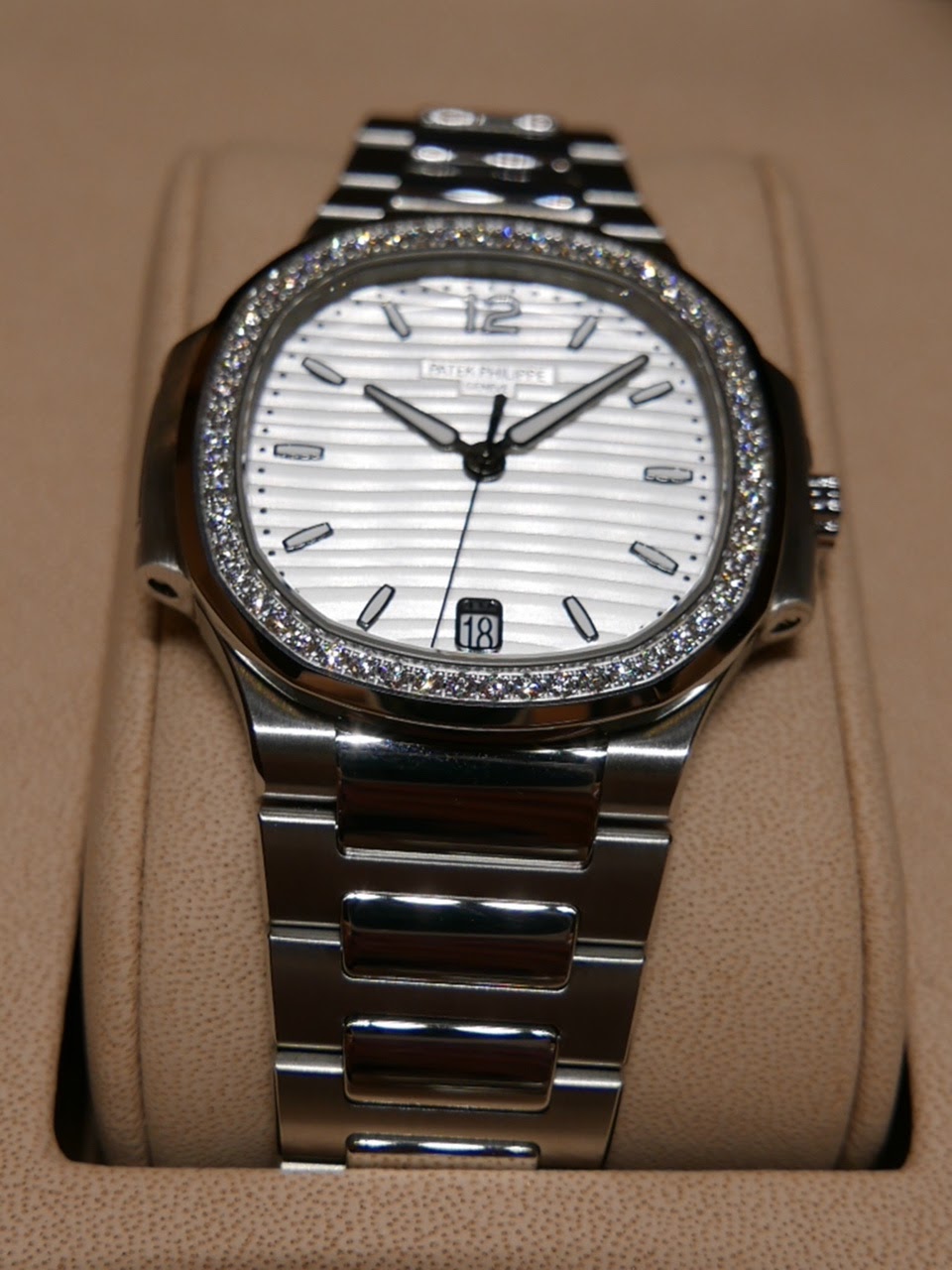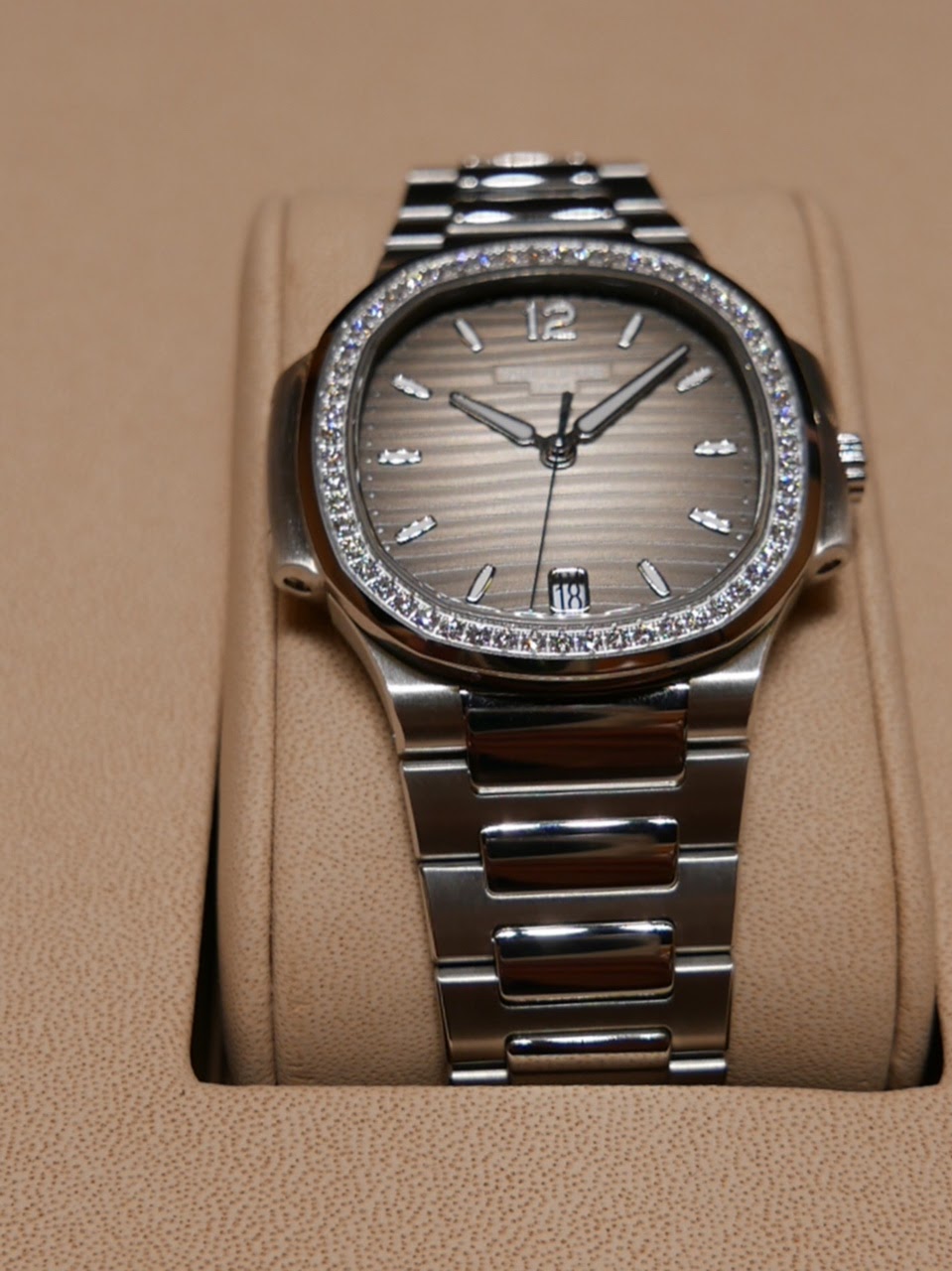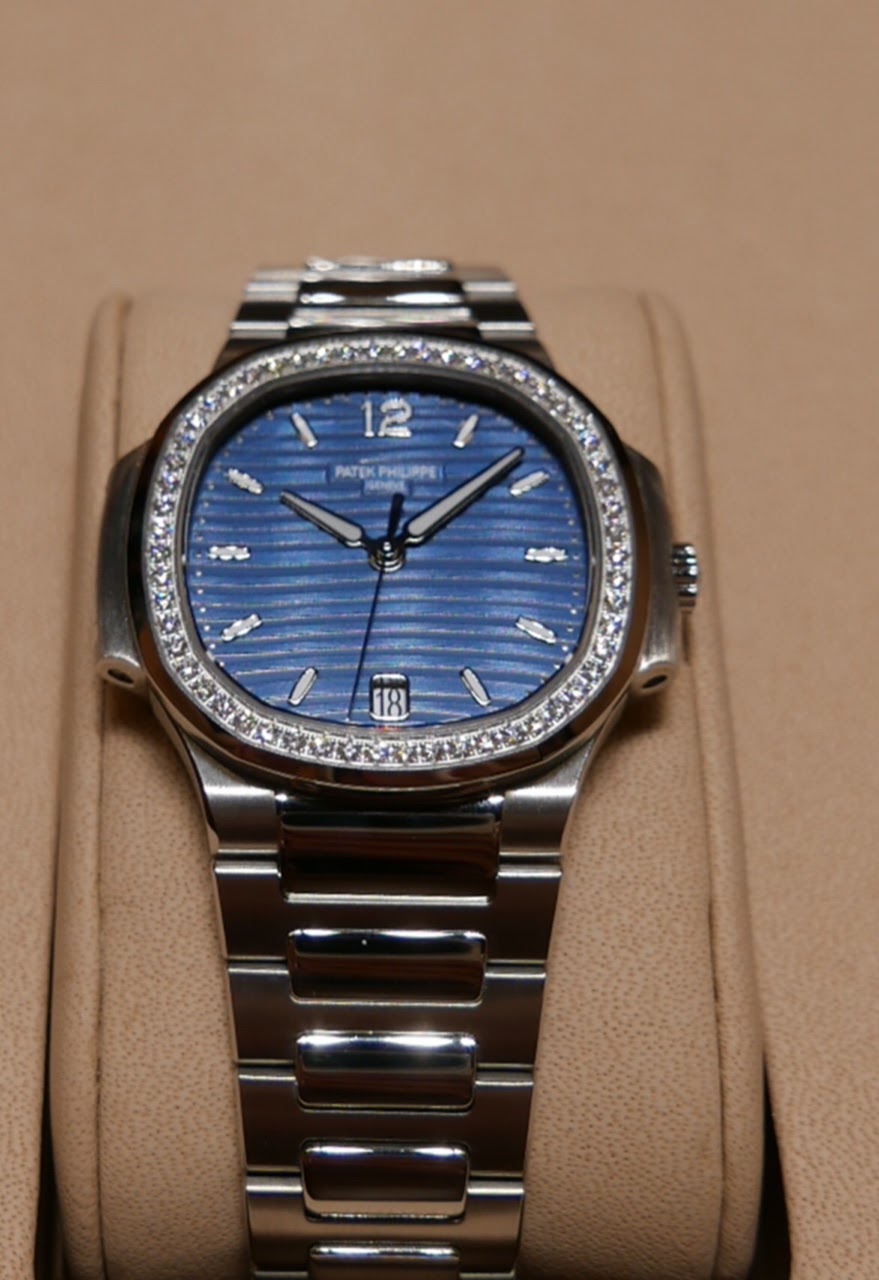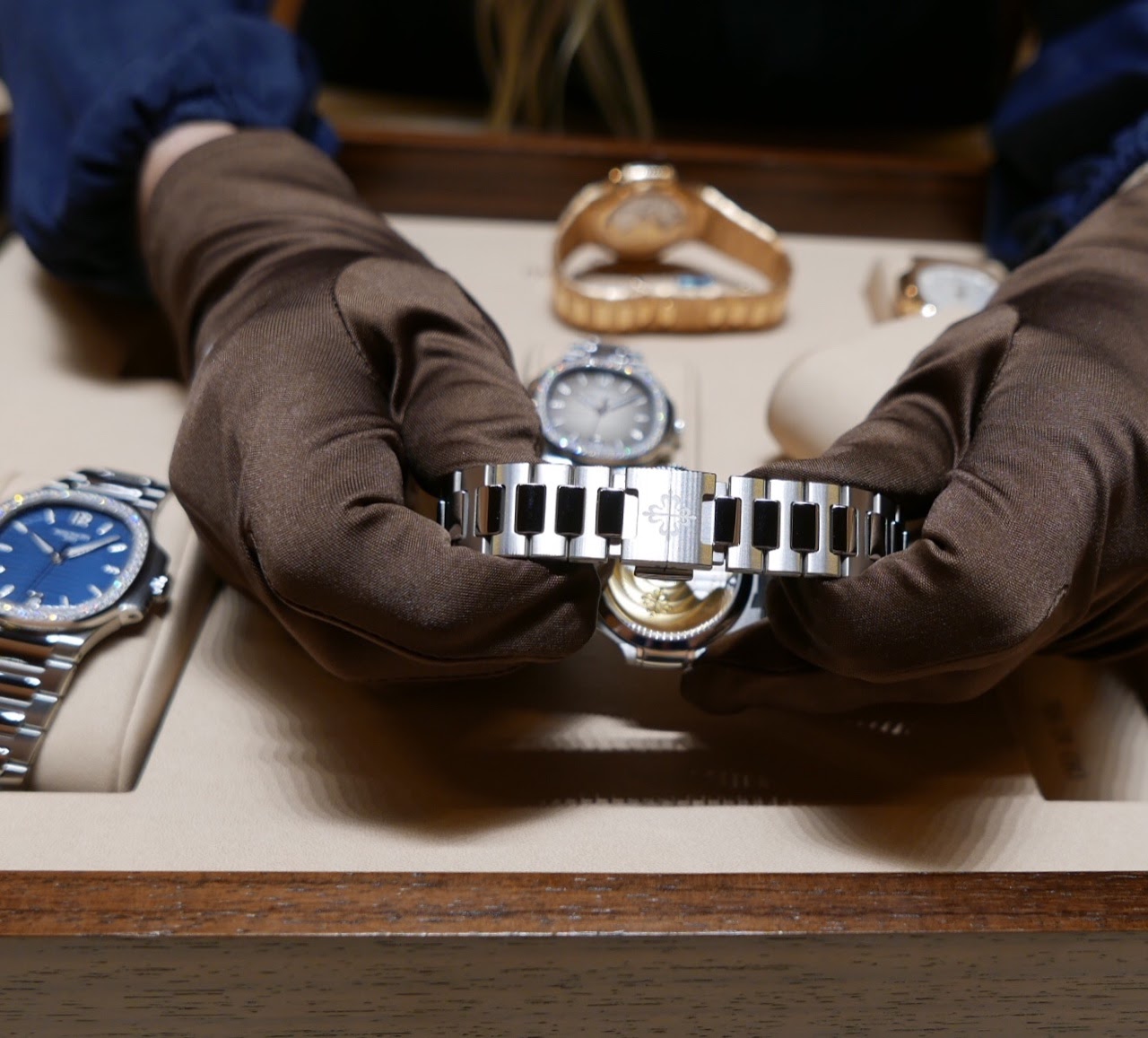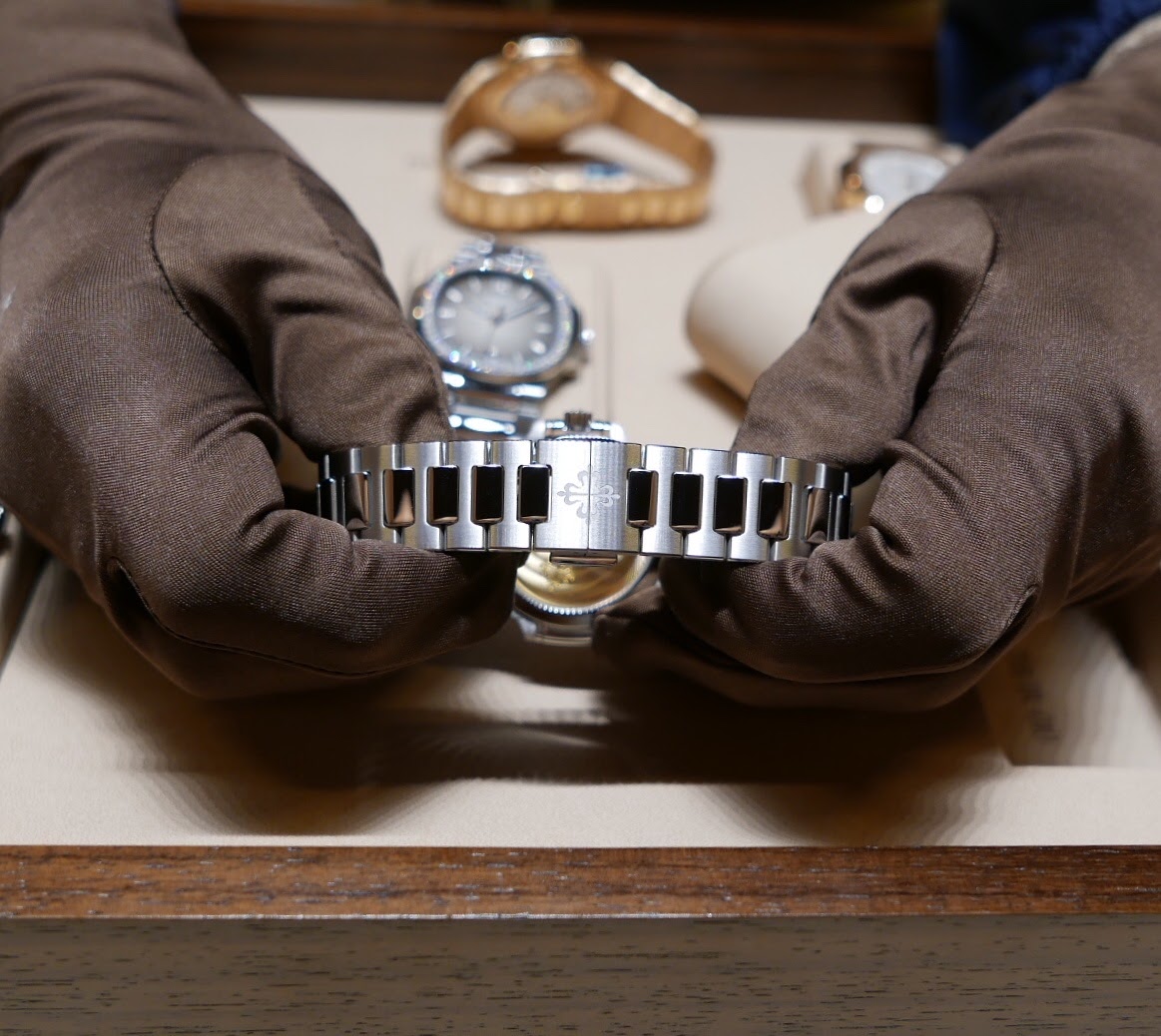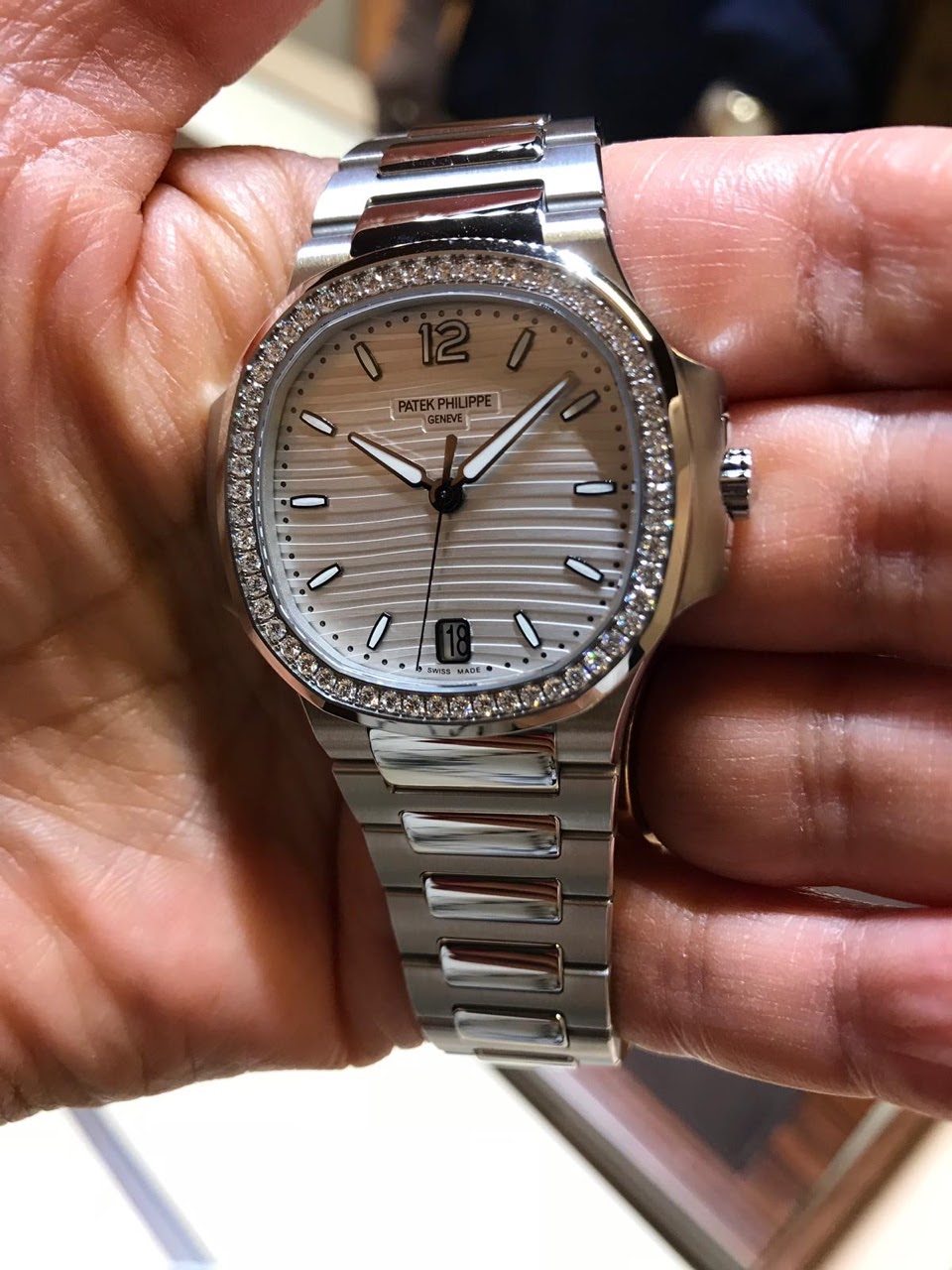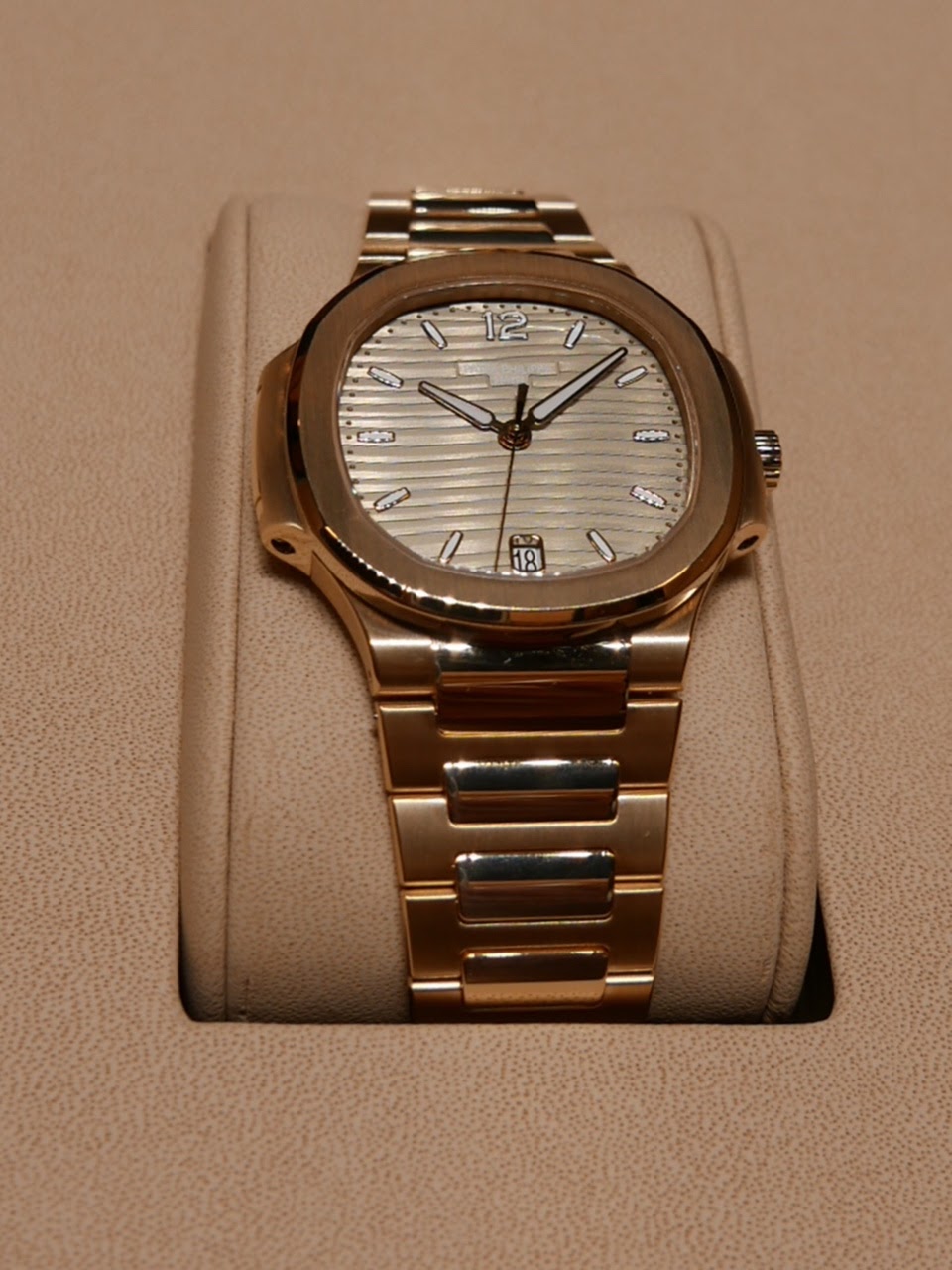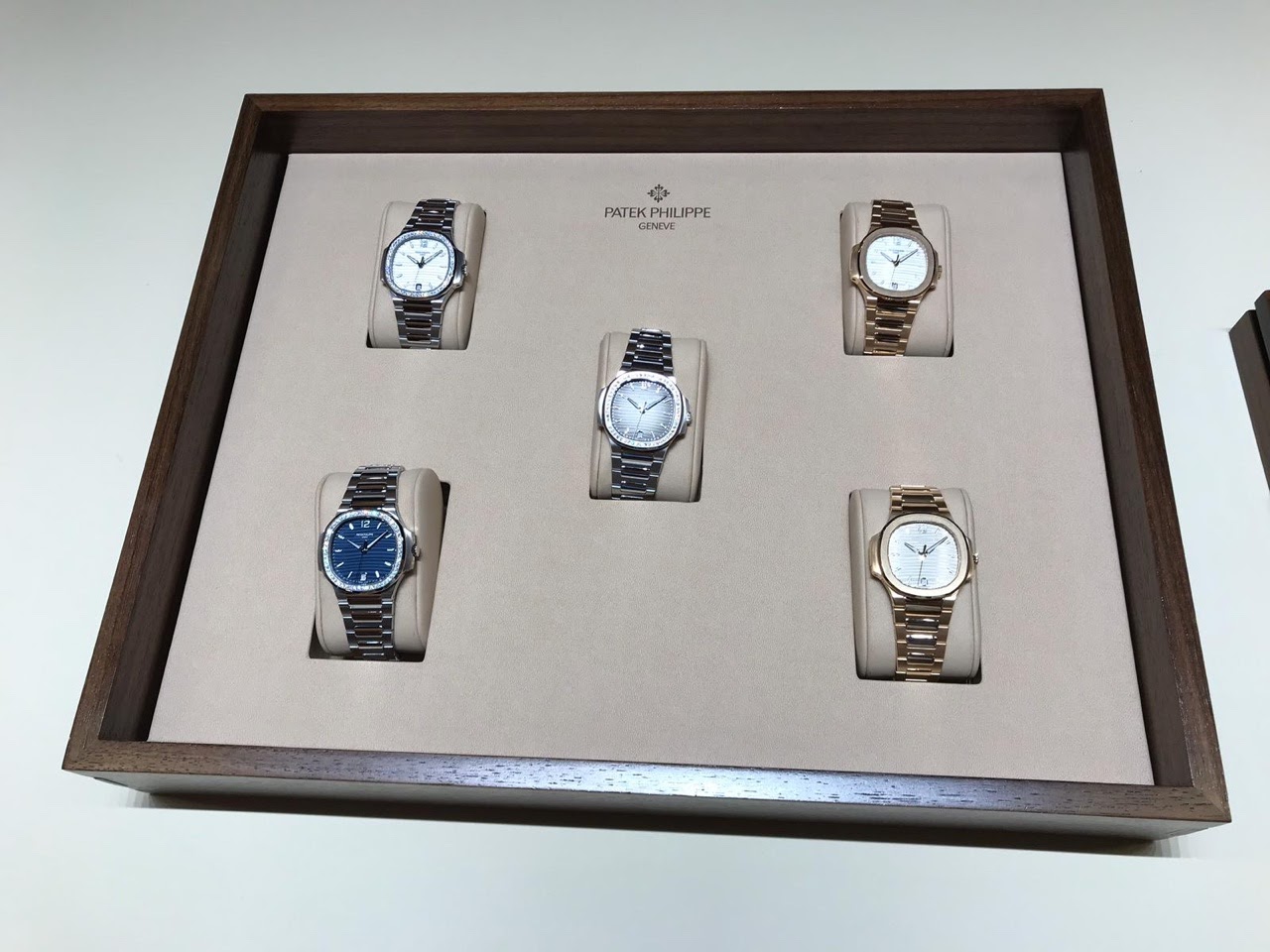 Full report to come on individual references.
Hope you enjoyed this overview.
Grateful thanks to my wife @ikazutime for her help and support!
Best
Imran