After yet another disappointment for me this year with the new releases I have had time to reflect. I have known for a while that there was a chance that a Salmon dial 5270 was on its way.
I have had many many emails and messages regarding the launch of this watch and my thoughts on it. I have to say I have had overwhelming comments pro 5970 with very few negative ones apart from one dealer individual who has been trying to buy my watch off me for several months who thinks that my watch is almost worthless now.
I will always massively prefer any 5970 over the 5270 for all the reasons we have gone over and over.
I have to say when I saw the 5270p I was so relieved. If the dial had been perfect then I would have a dilemma of do I buy one???
For me and many others that have communicated with me the Arabic numerals and colour of these along with the hands colour have spoilt this piece. Had they used Breguet numerals and Platinum hands this would have been much more appealing to me.
I am very disappointed in Patek though. I fell in love with a company many years ago that did their own thing and were not driven or directed by market trends. I know Patek now are a different company and are driven by revenue and profit whilst still trying to keep as many of their traditions and values as they can.
For me what they did with the Anniversary of the Nautilus was an example of what they represent these days. The company I thought they were would not have done this. They made a fortune and sold every one produced I'm sure but still for me is not the way I would have liked Patek Philippe to celebrate 40 years of the Nautilus. It would have been so nice to have produced something really special.
So back to the 5270. With the forum rules at the front of my mind my opinion (and many others )is that the 5270 has not been a very successful replacement of the 5970. I've been told this by a few AD's who should know and as an attempt to bring its popularity up to the 5970 they had to pull something special out the bag. They have used a dial colour that has only been used in the past very sparingly on either special or "limited " pieces. They have now changed this by in the last couple of years putting it on "regular " production Watches. Is this selling their soles to the devil???? For me it is. They knew how popular Salmon dials have become so have cashed in on this demand on the 5270p
Whilst I love the brand still they have definitely slipped off their pedestal slightly.
Would I swap my 5970 Salmon for a 5270p Any time soon????? NO WAY.
As a parting note and before all the 5270 "new engines" fans shoot me down in flames I say this which is interesting and again just my opinion.
The article in the Patek magazine on the 5970 makes it perfectly clear what they think of the watch. The retail price of my 5970g 4 years ago was significantly higher than the current retail price of the new 5270p. To me this speaks volumes or was it just another example of a company extracting as much as they could from a passionate collector like me???
Has the release made the 5970g's with Salmon dial less desired or less valuable ??? I firmly believe that it has done the exact opposite and the feedback I've had would back this up and the release of the 5270p Salmon has firmly put the 5970's on the Map.
One thing I will say though is that I am truly happy that there will be a few hundred people that will be made very happy by owning this Salmon 5270p and that can only be a good thing as we need all the happy people we can get in this mad world of ours.
Hope this came across as I meant it to
Miles.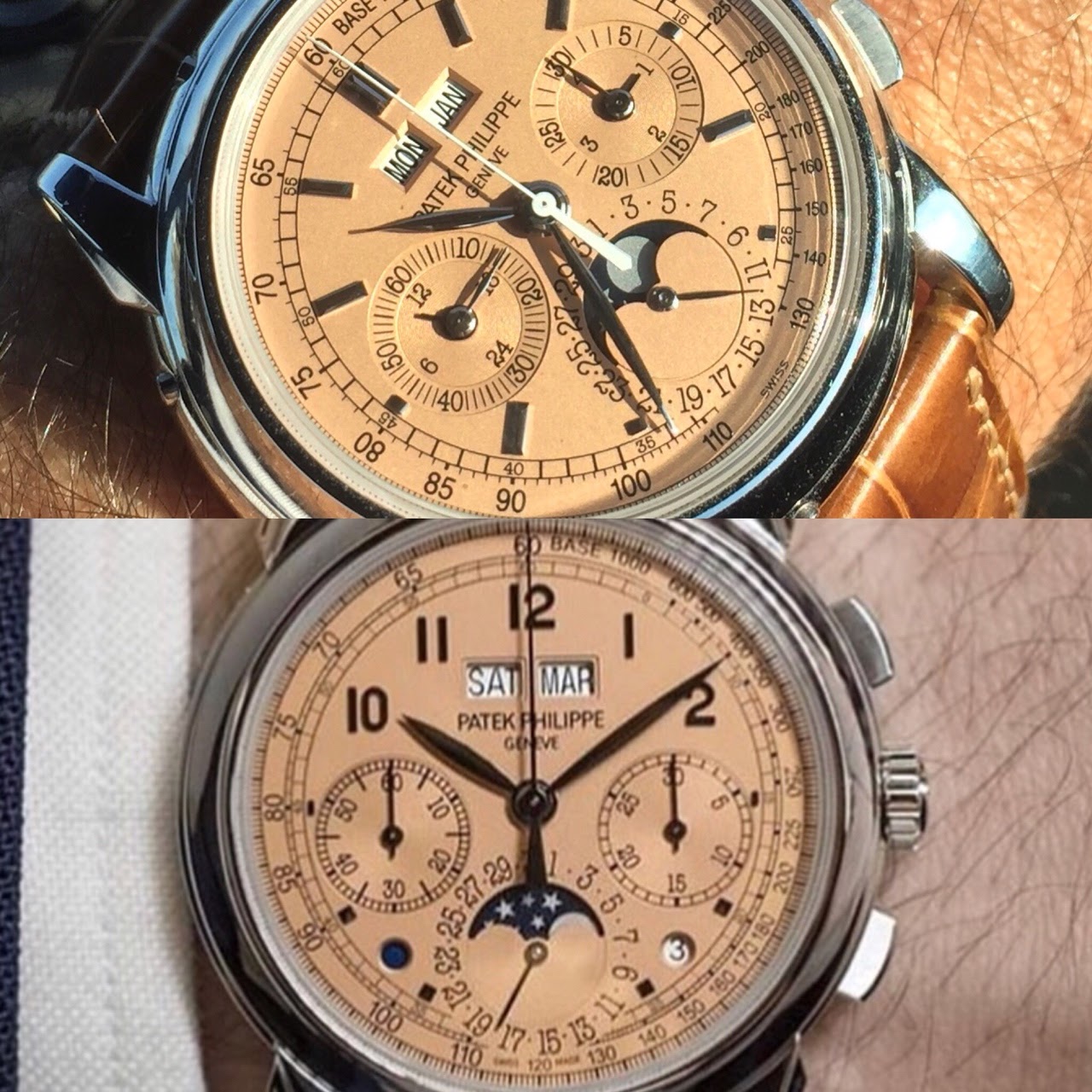 This message has been edited by Baron - Mr Red on 2018-04-05 07:18:31
This message has been edited by pingtsai on 2018-04-07 11:01:17