Roger Dubuis is getting into high gear in Tokyo. The venue was unique; an area which used to be the "warehouse" district where the population at night is almost ZERO. Maybe these areas are getting hip like New York's Hudson Yard. You must take a bus or cab from the nearest station but for this event, a special van transported guests back and forth from Shinagawa station.
A big sign in front of the warehouse denoted it as the event space, which used to be a warehouse (still owned by the same warehouse company). I still think that this is where my stuff was stored during my absence as an expatriate in New York for 17 years!

.
In front of the big picture is, of course, a Lamborghini.....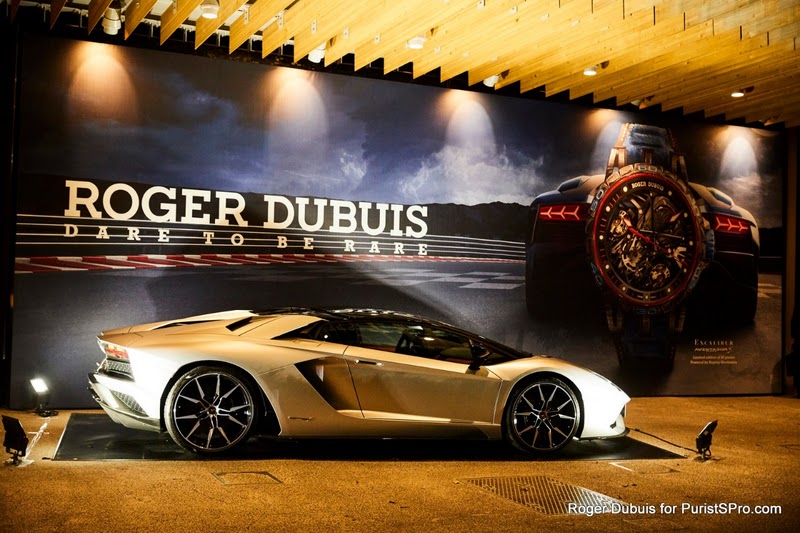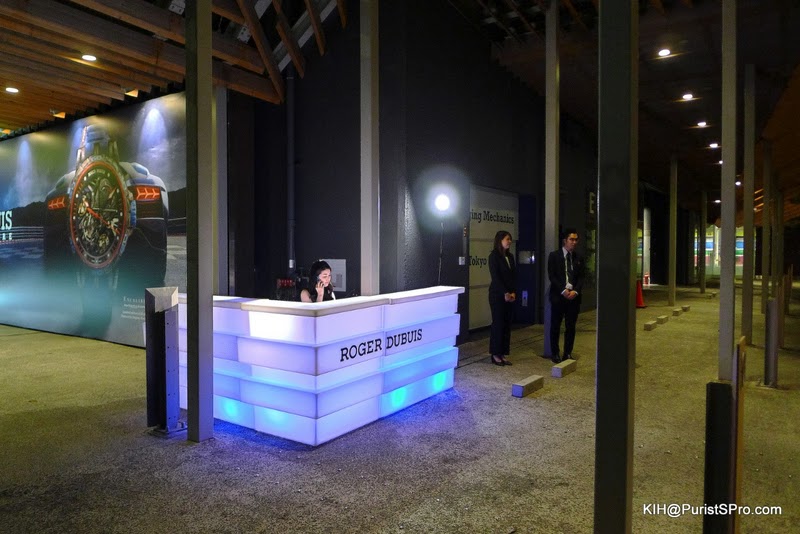 Access to the 2nd floor is by an elevator that can lift a cargo truck!
You are welcomed by a big 3D Roger Dubuis 'watch'.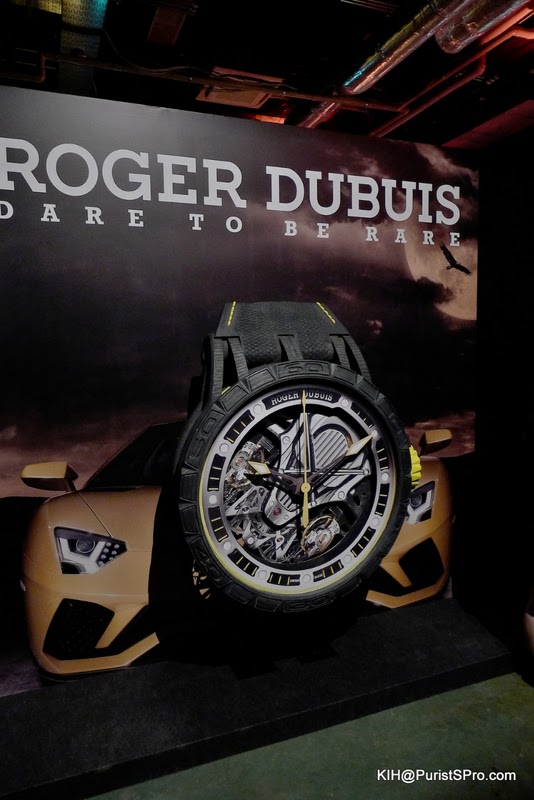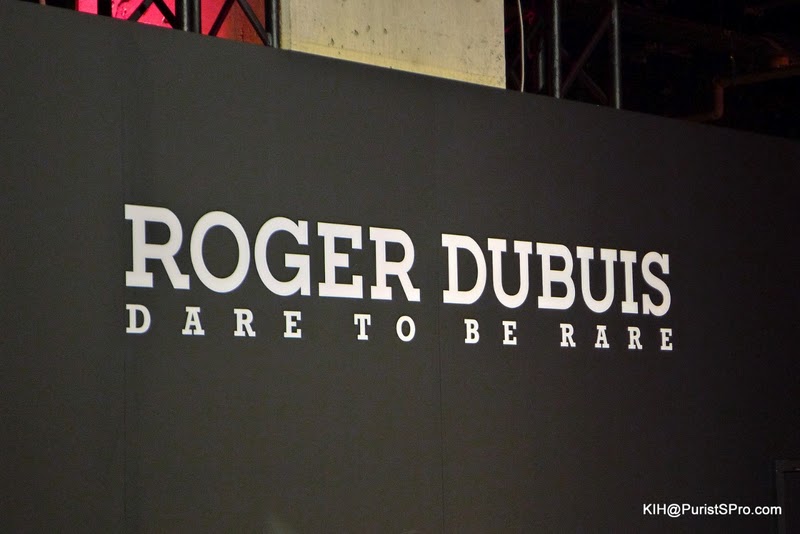 Inside the space
Surely looks like a formerly warehouse but very well decorated for the event.
There are so many guests from ordinary people like me to professional watch journalists, life style magazine writers, models, other types of celebrities, and so-called "influencers".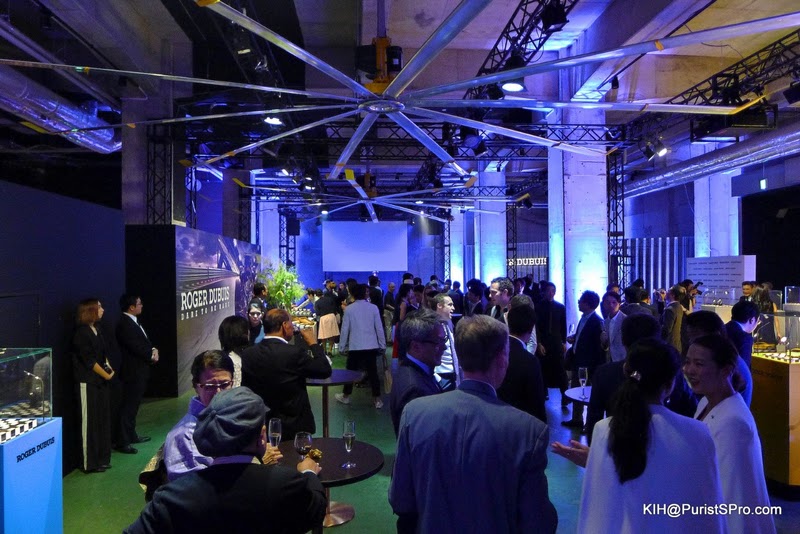 A few more Lambos are located inside (2nd floor of the former warehouse).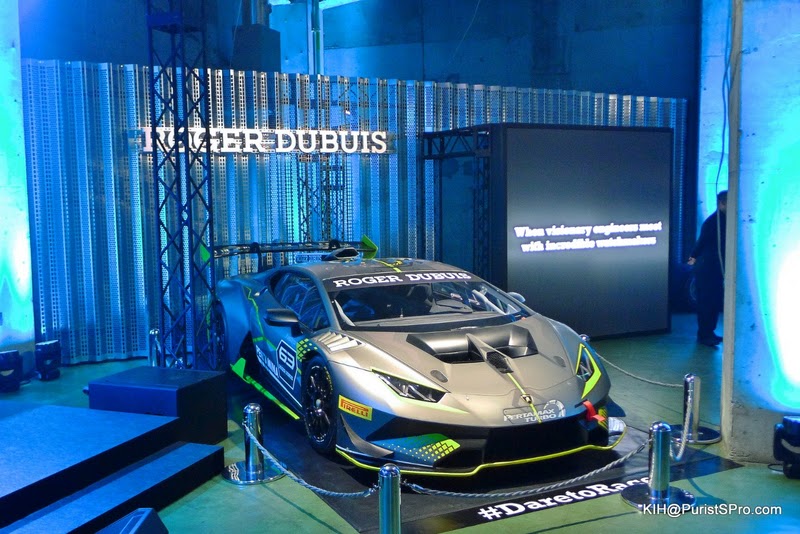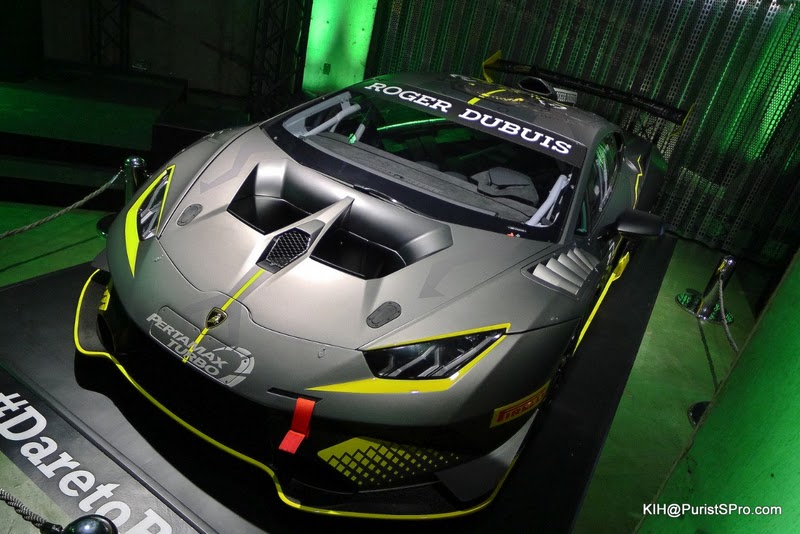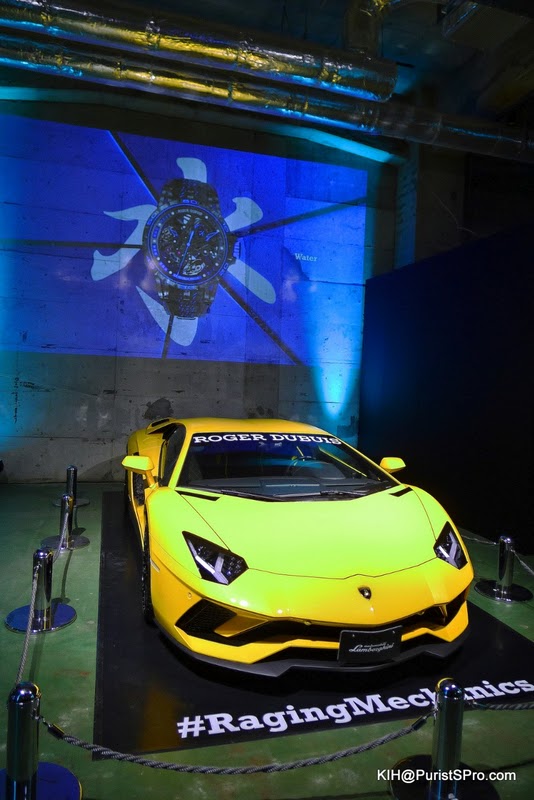 Food
This is the buffet area.
Made by a Japanese chef, brought in from Paris, only for this occasion.
Why? Because....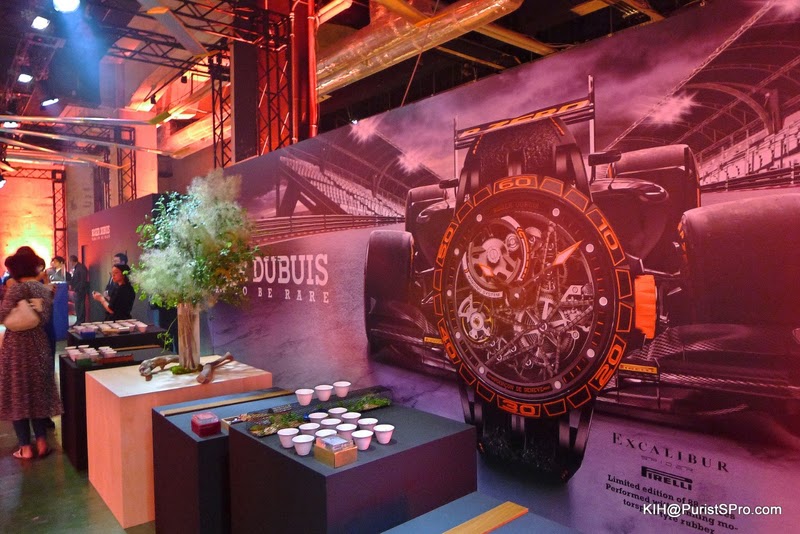 ... all the dishes are made for the theme of the new models - 5 elements.
#1 - Earth.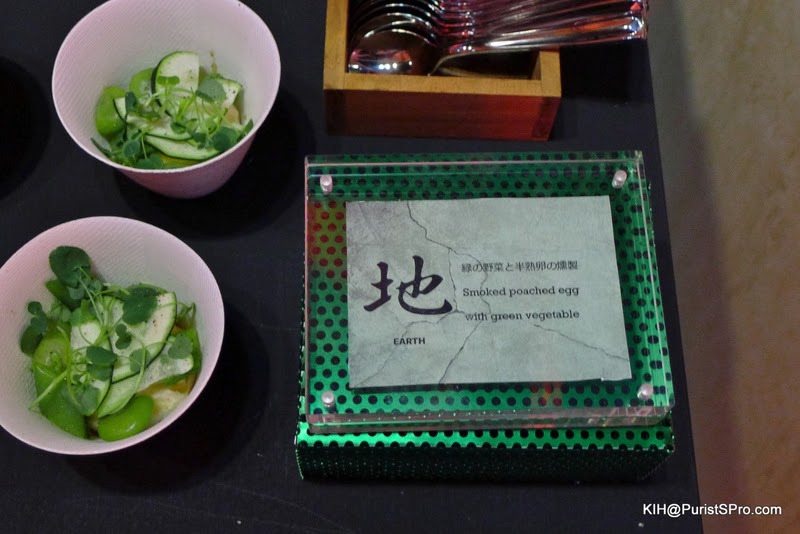 #2 - Sky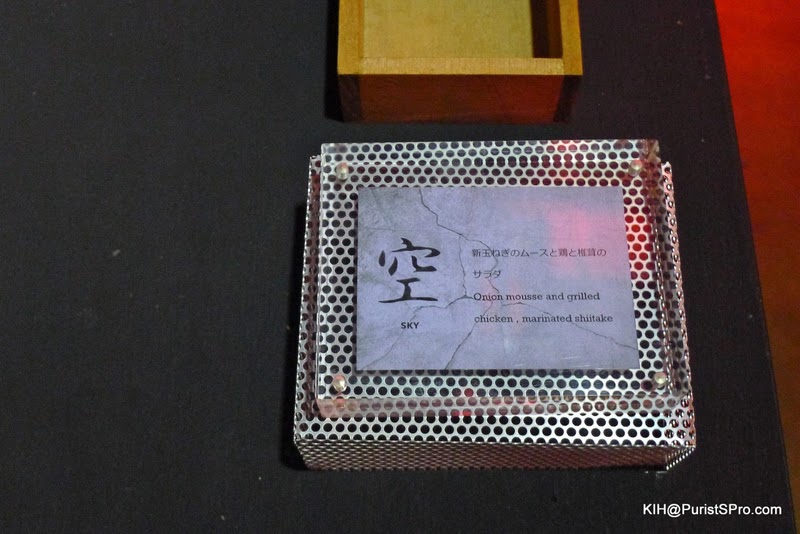 #3 - Fire
: a DJ playing music in front of the screen which shows the video for this new series.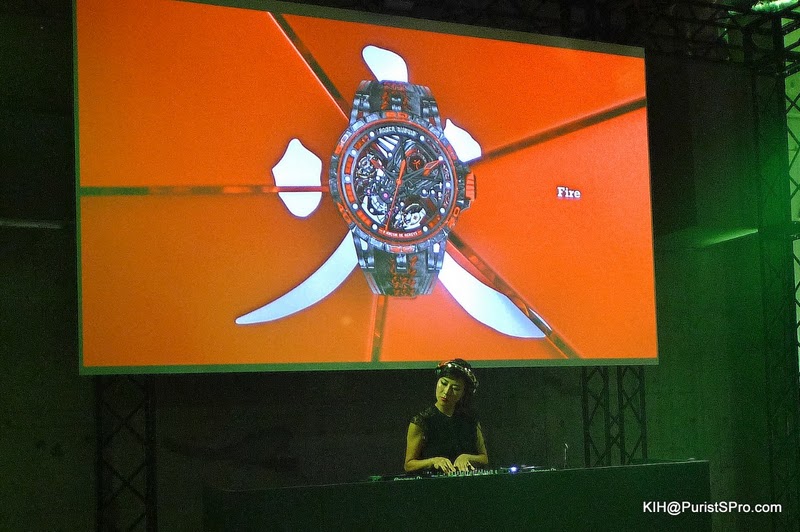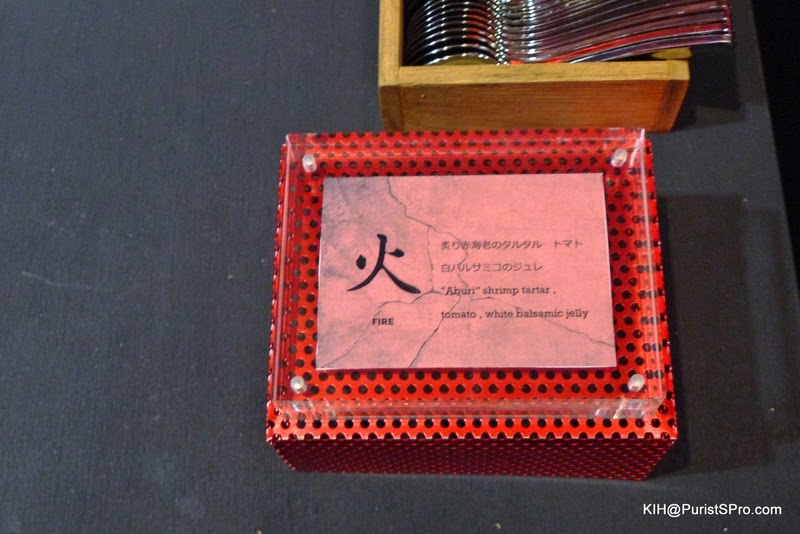 #4 - Water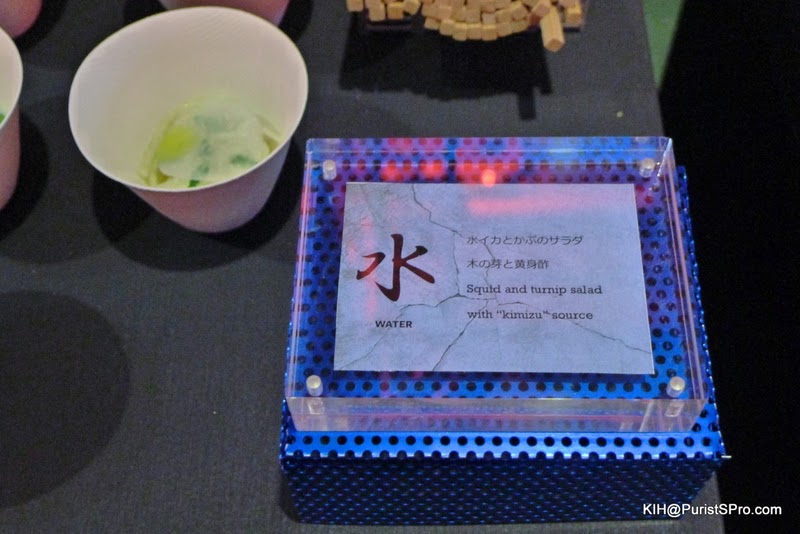 and,
#5 - Wind
("Air" must be a mistake).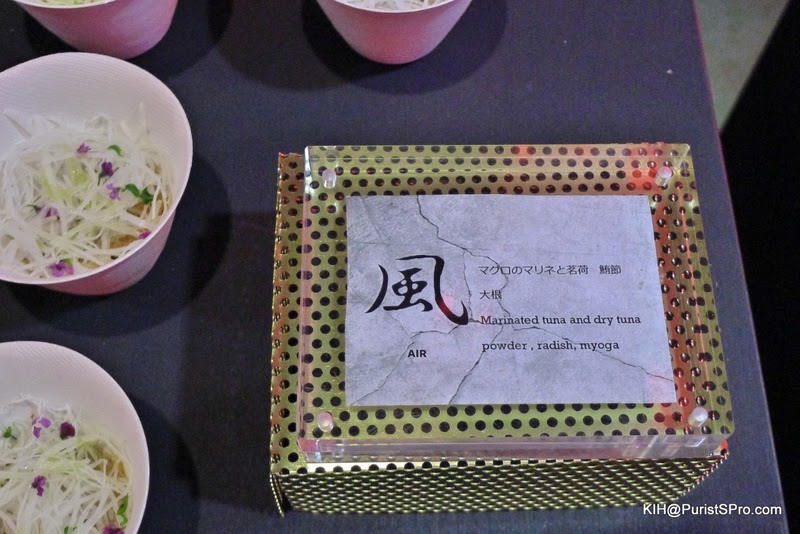 I had an opportunity to interview Ms. Dorothee Henrio, International Marketing Director of Roger Dubuis, Switzerland.
(I could not find a good lighting place for portrait inside the venue, so I asked for her official photo)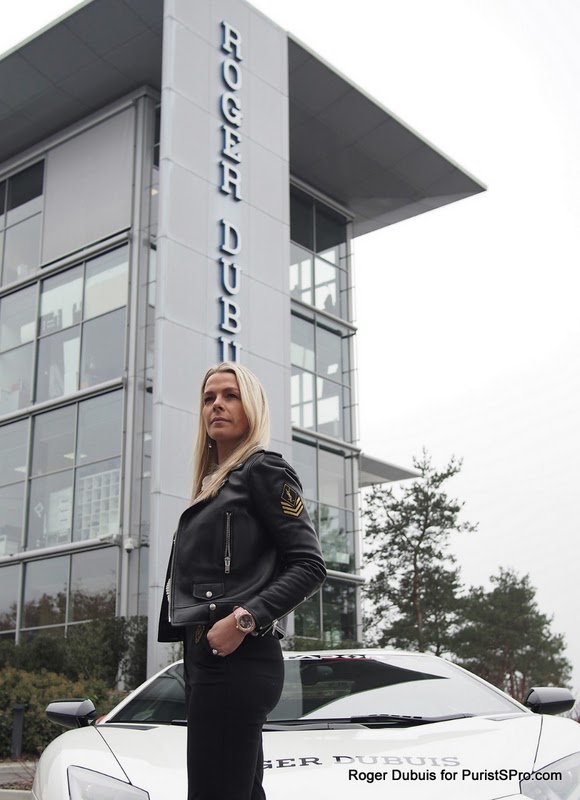 But before the interview, let's look at the video for this new series:






Cool, eh?

PPro: Would you talk a bit about the concept of this event?
Ms. Dorothee Henrio (DH): We have been partnering with Lamborghini Squadra Corse for a year. A very successful partnership. It is the one year anniversary so hat is the excuse to have a party tonight.
DH: Also, we have launched a new model, Roger Dubuis Excalibur Aventador S, with Double Sprung Balances with differential. We put in the image of V12 engine and the case is the same carbon as used in the body of a Lamborghini Aventador (C-SMC Carbon) which is very difficult to machine into the shape of the case. Very light and tough.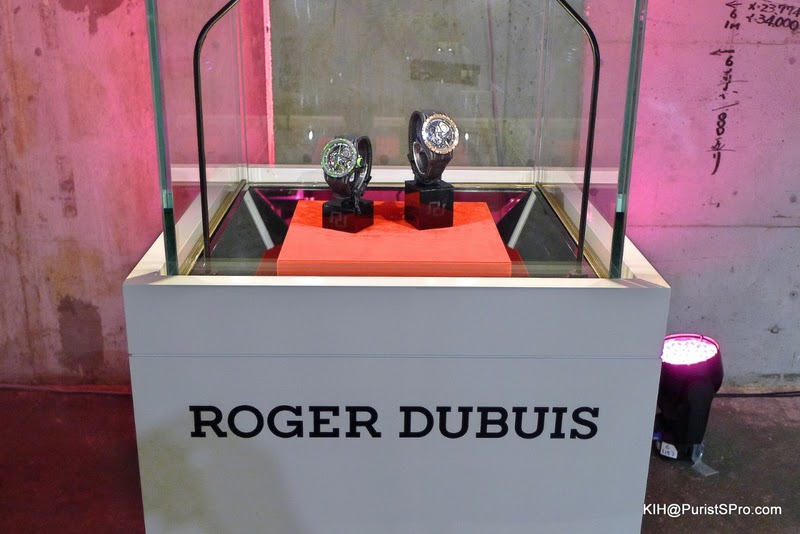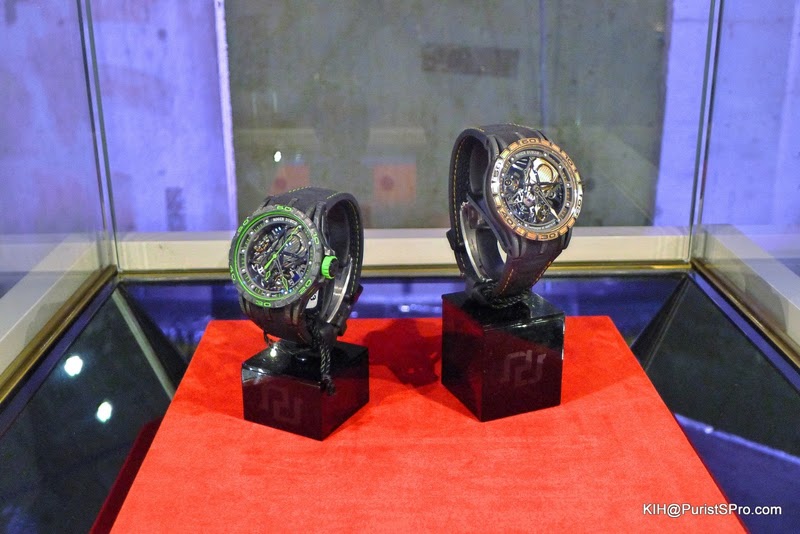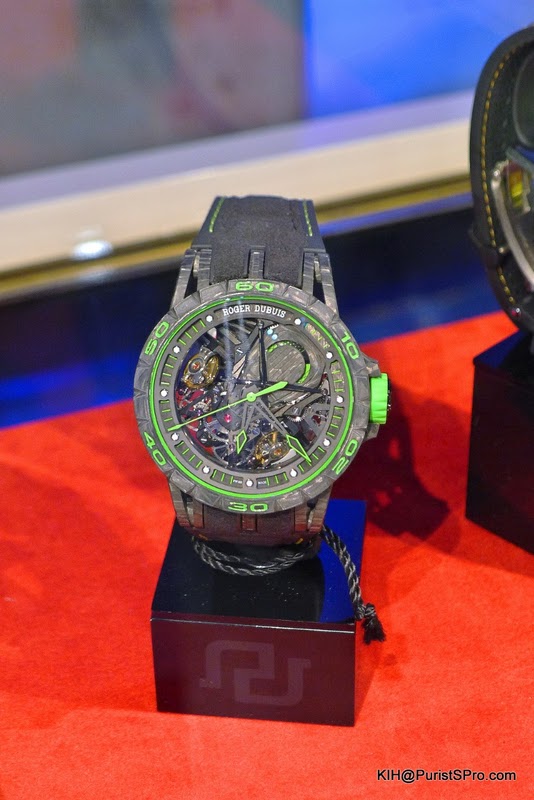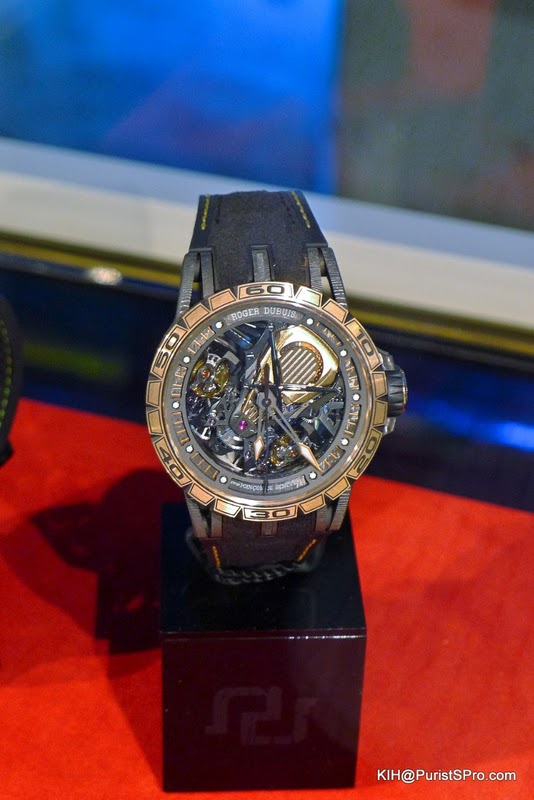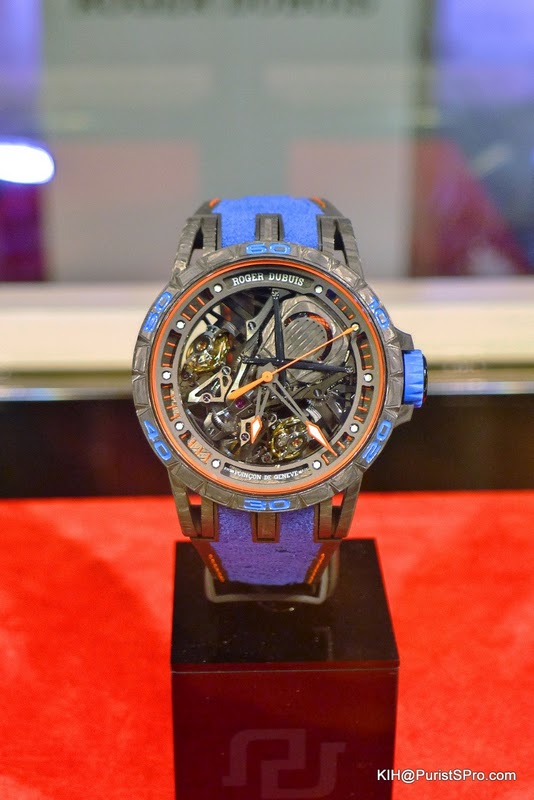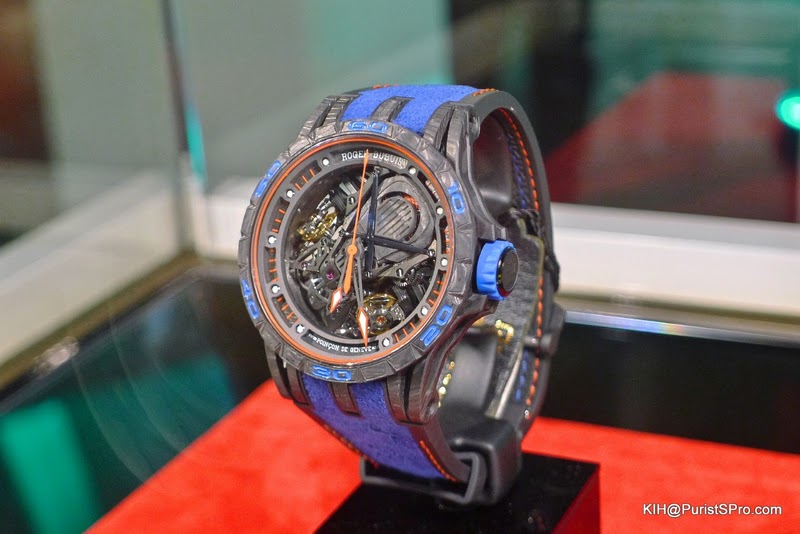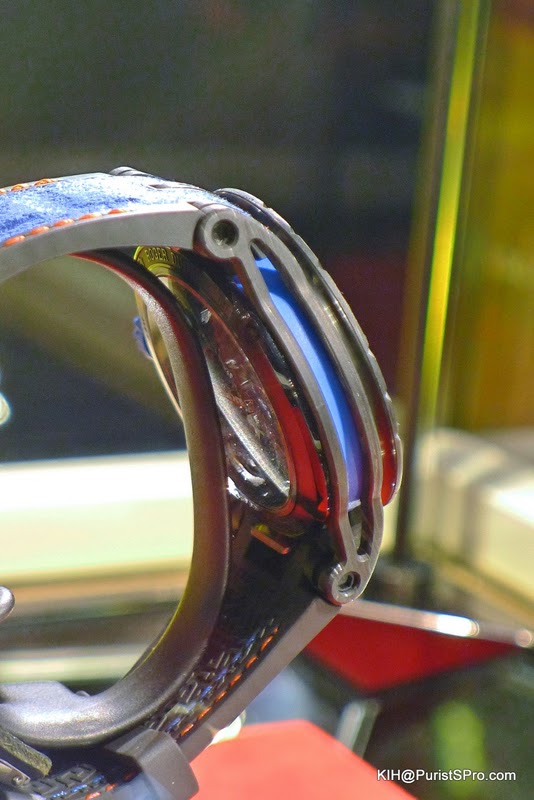 DH: Further, for this day, we have launched special edition of this Aventador S, inspired by the 5 elements in Japan, Earth, Sky, Fire, Water, and Wind
Earth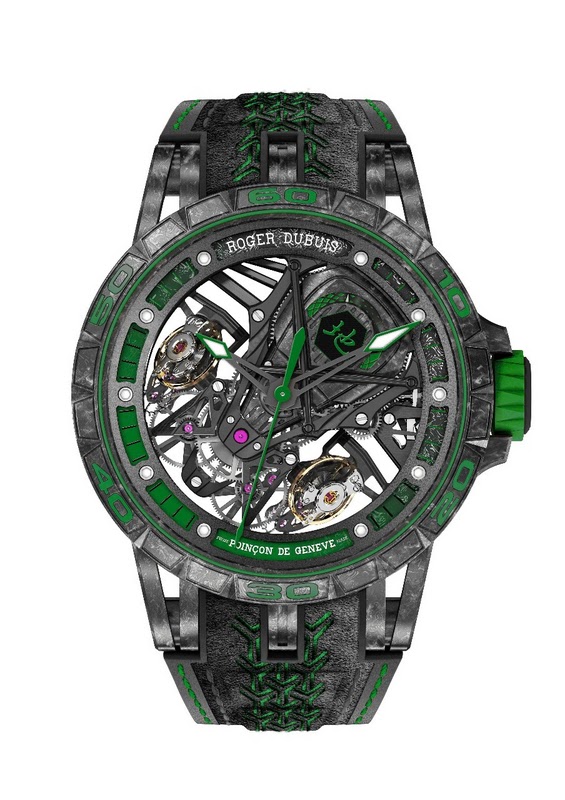 Sky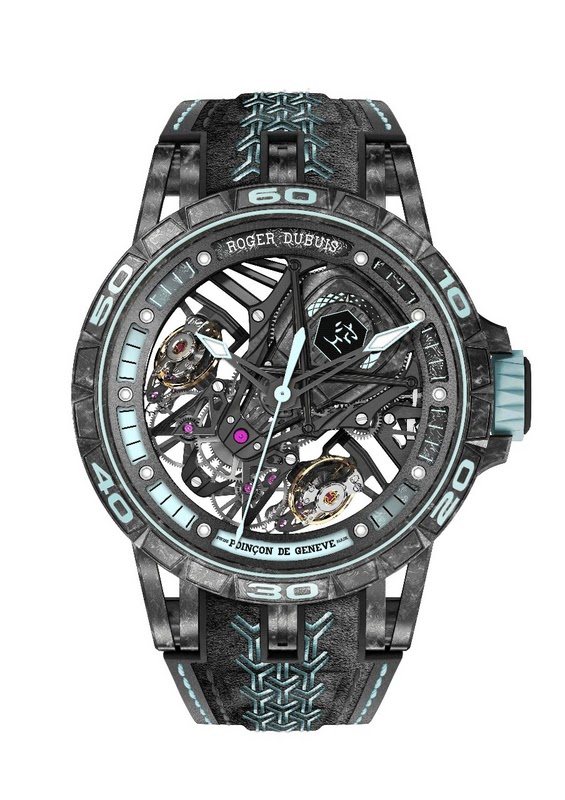 Fire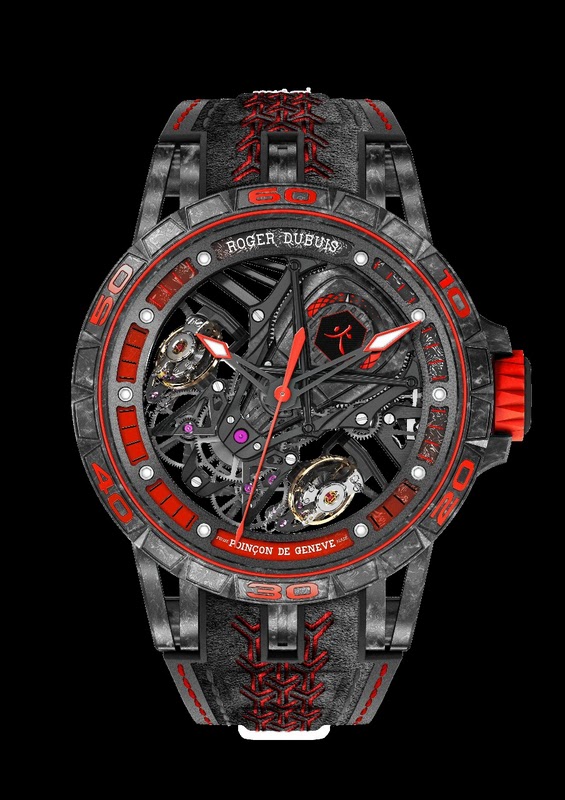 Water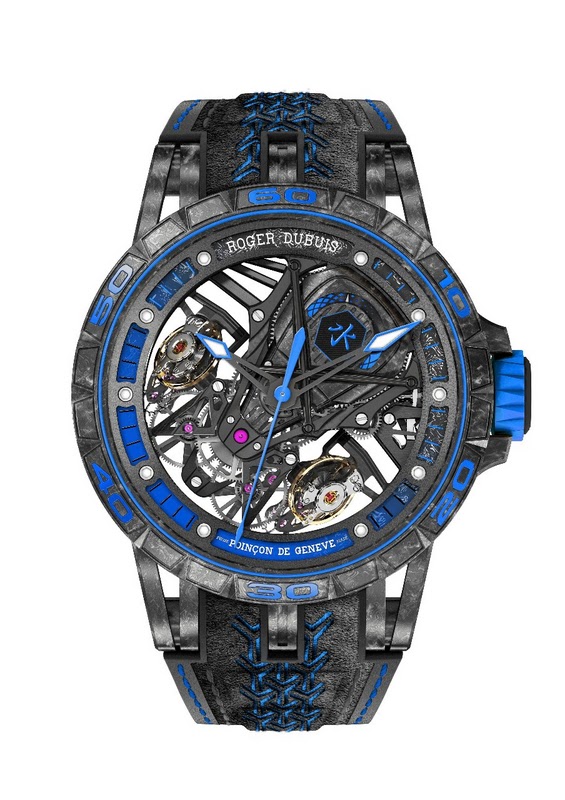 Wind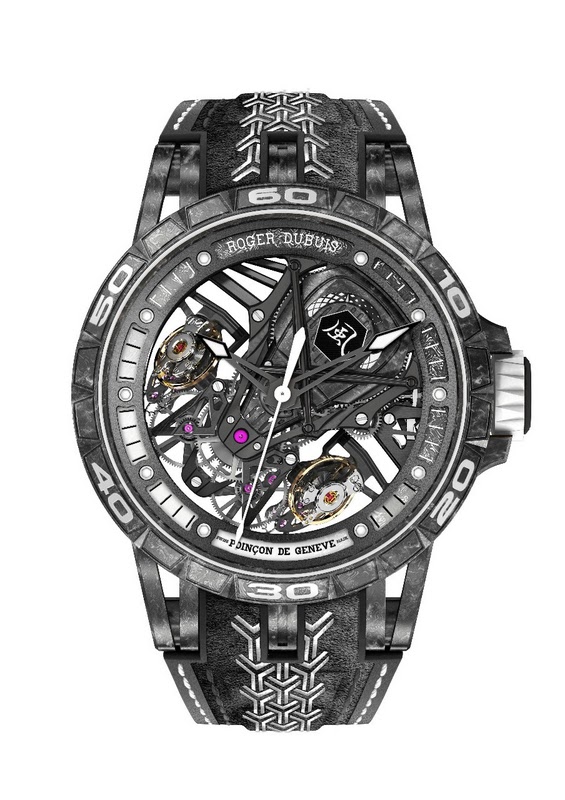 DH: We have also launched Japan's special edition Excalibur Automatic Skeleton in white ceramic, now being delivered.
Japan is a quite different market. We opened our boutique one and a half years ago in Ginza, and now have 18 points of sales. We have been here a long time and many Japanese are watch connoisseurs. That's why we have to do something different.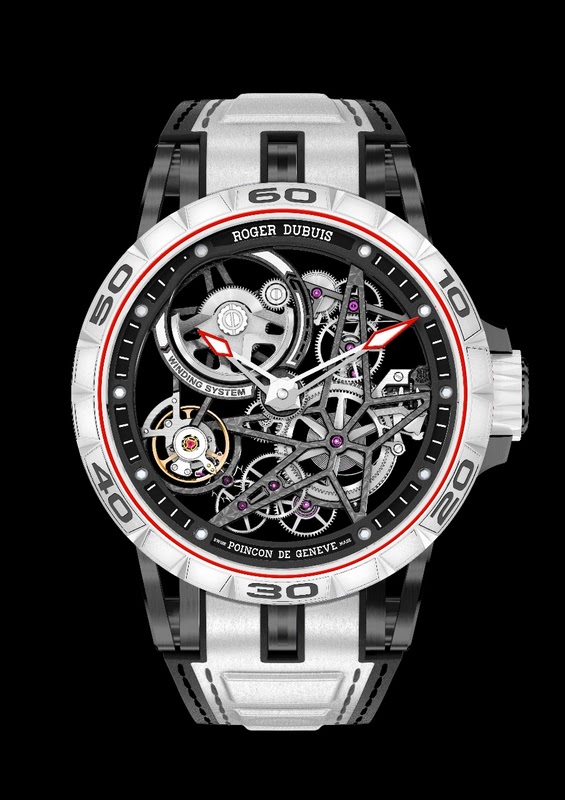 PPro: What are the biggest differences from the competitors? There are some brands which associate themselves with automobile brands.
DH: We have many calibers, 32 calibers to be exact today. They all have stories and are high end calibers, and limited in availability.
PPro: I have loved Mr. Roger Dubuis' watches for a very long time. A legendary figure for many. I understand that he recently passed away, a loss to the whole industry, what did he leave the brand?
DH: His passing is a tremendous loss. He was working to make sure that this brand keeps his spirit, philosophy or DNA in the manufacturer. We will remain that way forever. He was not a classic type. He was a very advanced thinking watchmaker. I know that there a lot of his fans in Japan. As you may know, his watches are all limited edition of 8 or 28 or at most 88. We still keep his way in that regards, as well, going forward. Also, his design is not only for men, but for women, too. He put a lot of effort into women's watches, some of which you can see today.
PPro: So, who are the attendees today?
DH: We have invited Press, influencers, celebrities and such. Today is the best day. We have a three-day event. Tomorrow we will have clients' dinner, and opera. We have brought an Italian opera singer, who will sing later on the stage, and it gives some "Italian touch". We always do things opposite to "boring", always try to be "disruptive". We wanted to surprise you tonight by the celebration of Excalibur Aventador S 5 elements edition.
I kinda hoped she would talk with me a bit longer, but she seemed to be so busy!
So, I walked around the space.
Here is the racing game with Lamborghini running around the course. You control the speed to avoid jumping off the corner.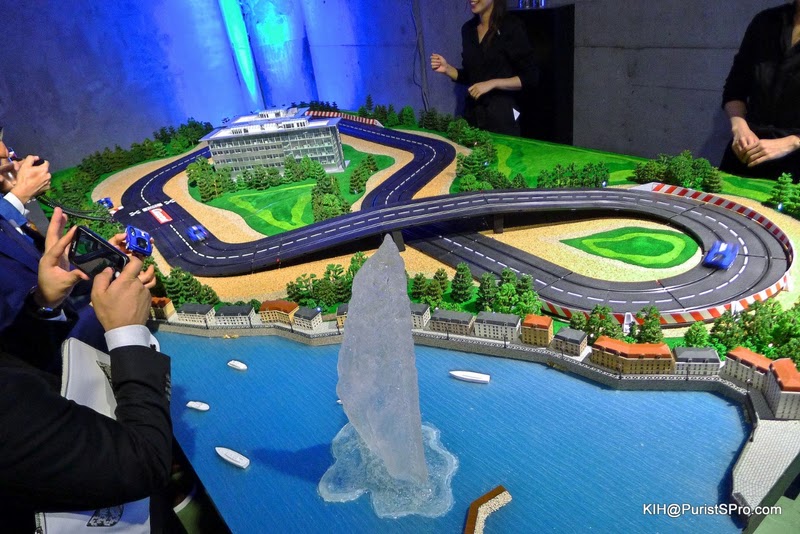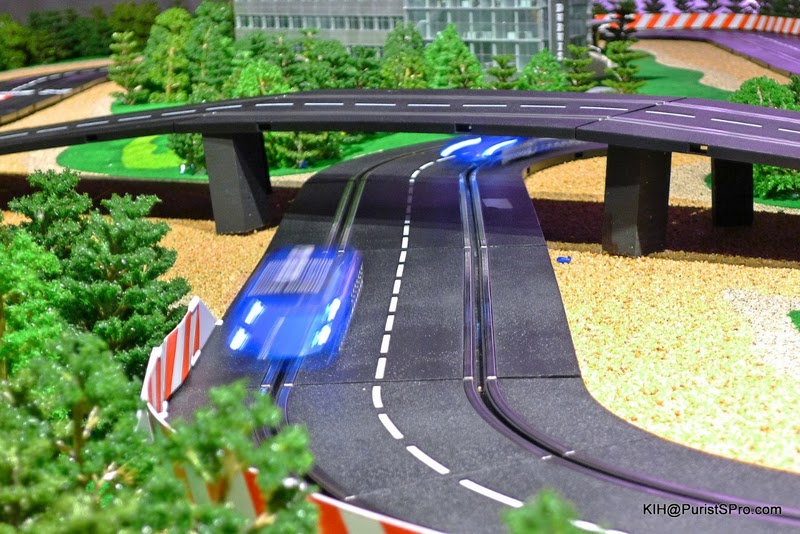 And here are other watches....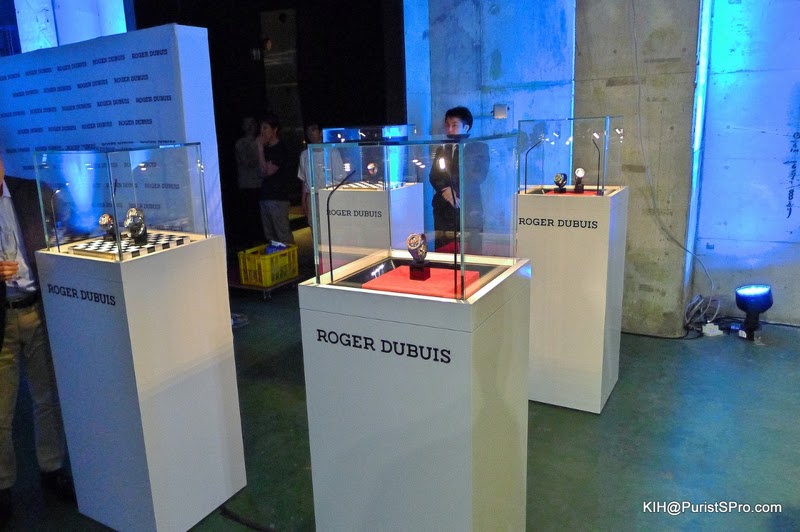 Excalibur Spider Skeleton Flying Tourbillon.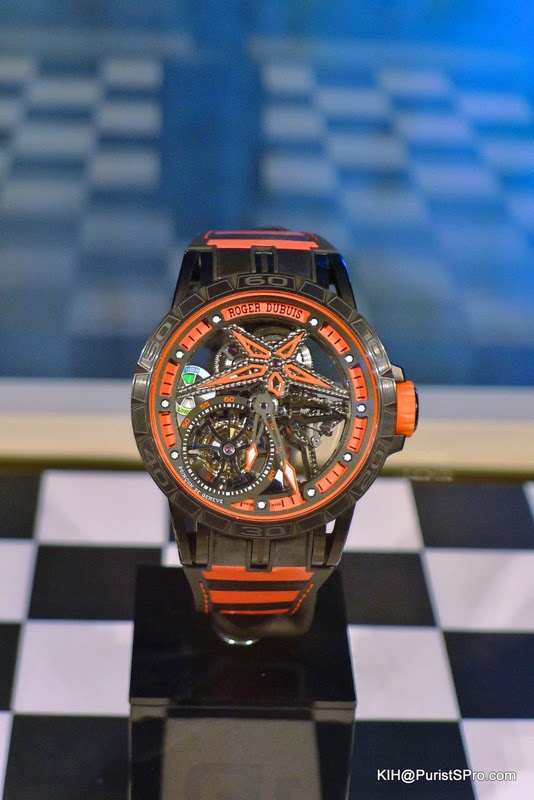 Excalibur Spider Pirelli - Automatic Skeleton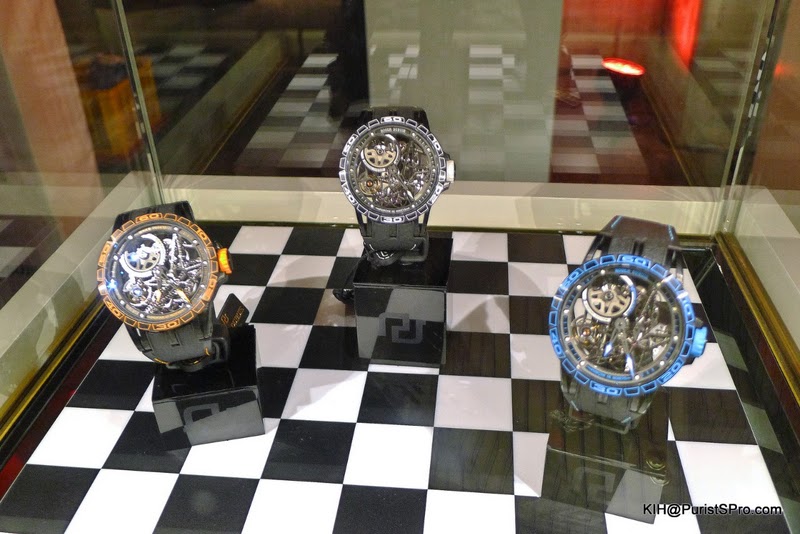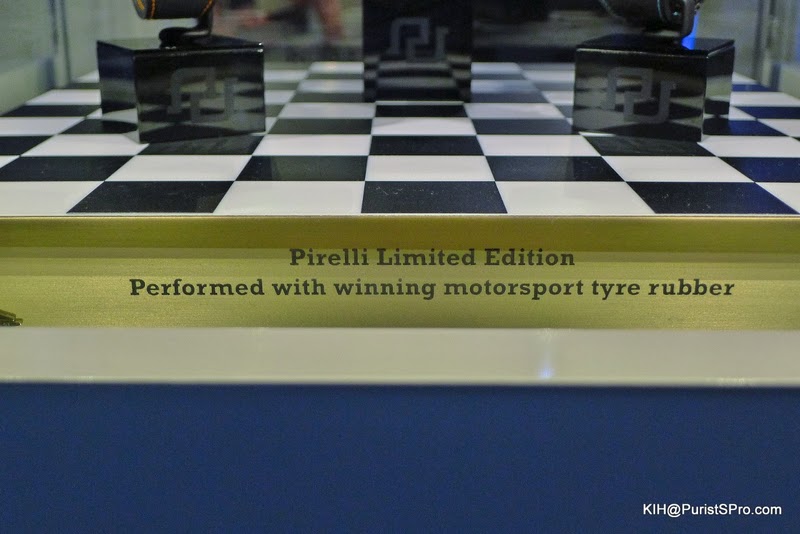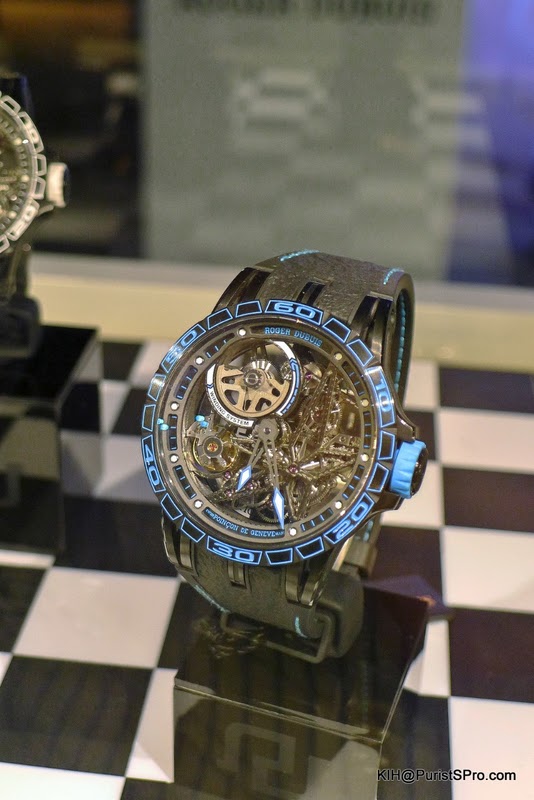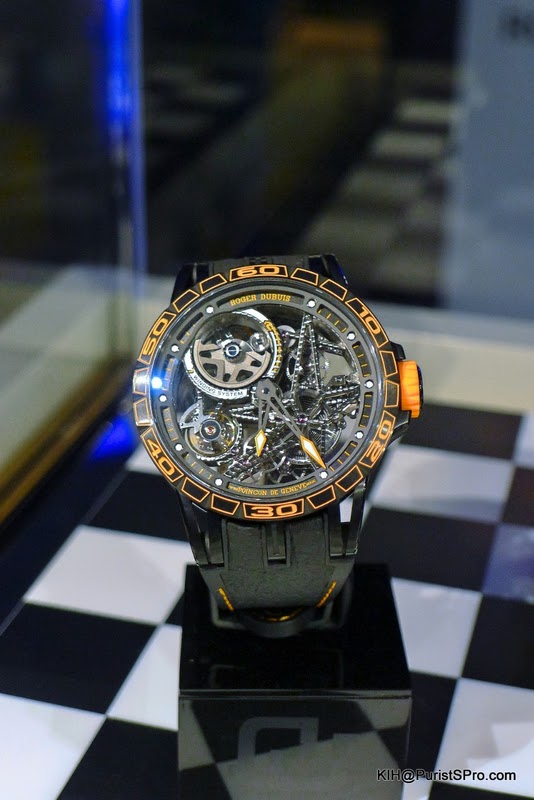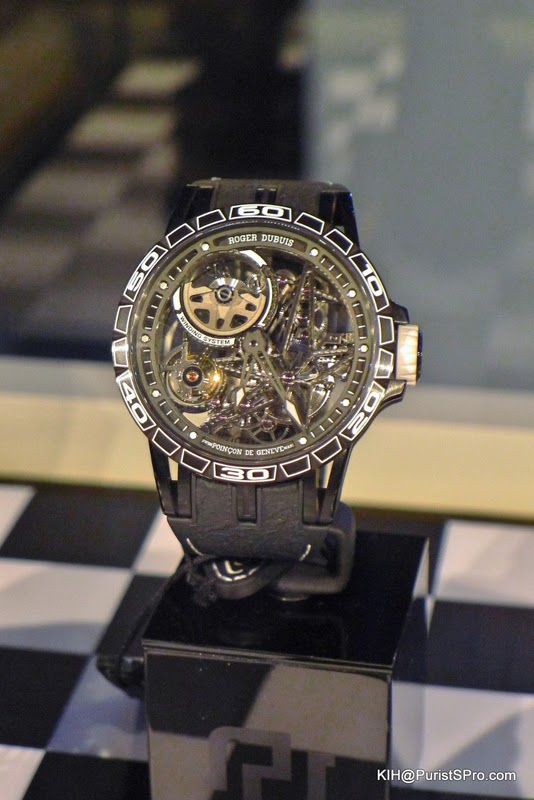 Excalibur - The Knights of the Round Table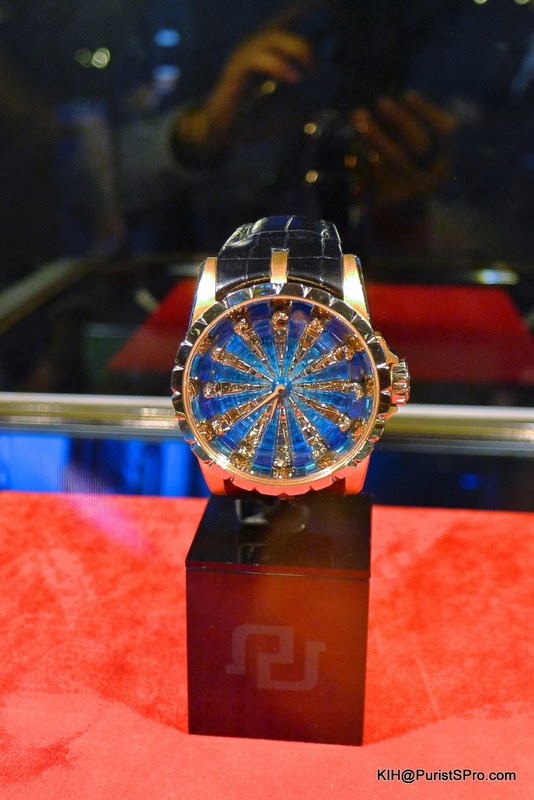 Now, finally, the wrist time!
Excalibur Spider Pirelli Automatic Skeleton Limited Edition.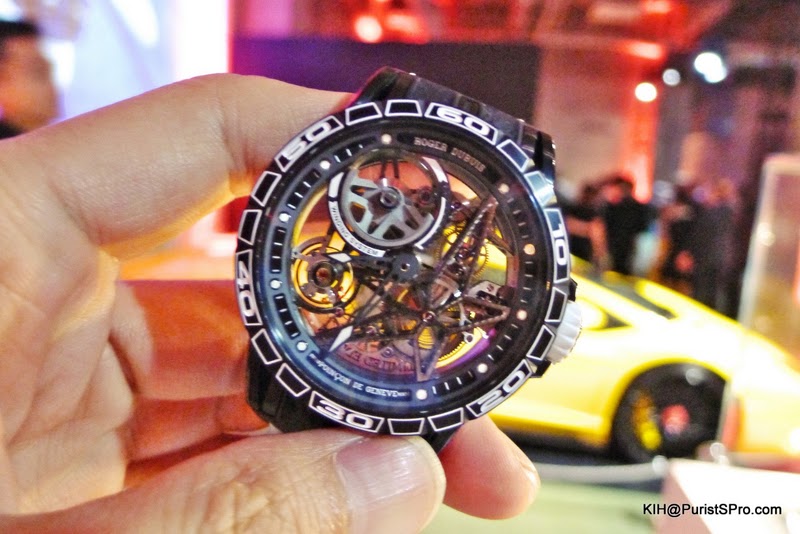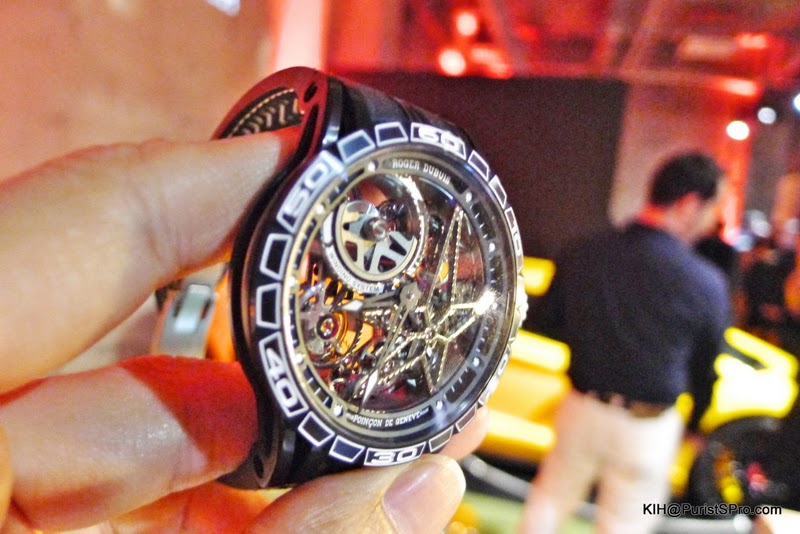 Black DLC Skeleton case, 45mm. But it is not as big on-the-wrist as the specifications says.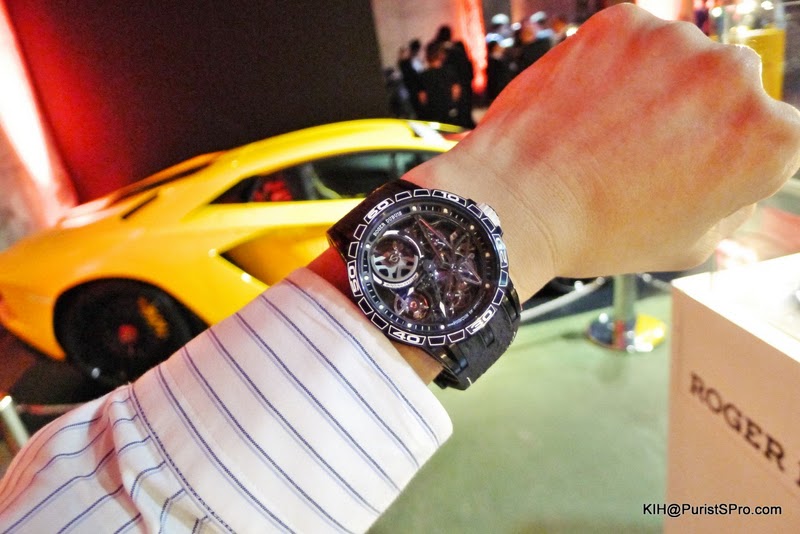 By cooperation with Pirelli, "bi-material" strap - with tyre rubber.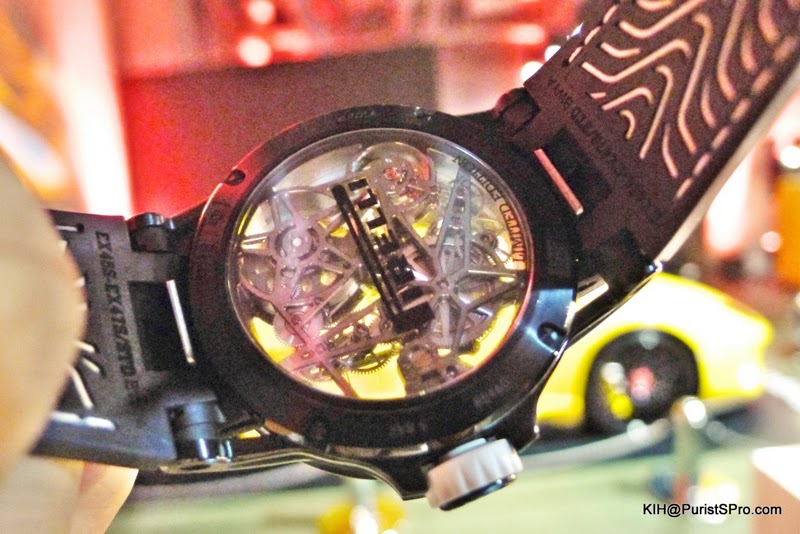 Titanium Black DLC Skeletonized, completely skeletonized with the signature Astral Skeleton structure.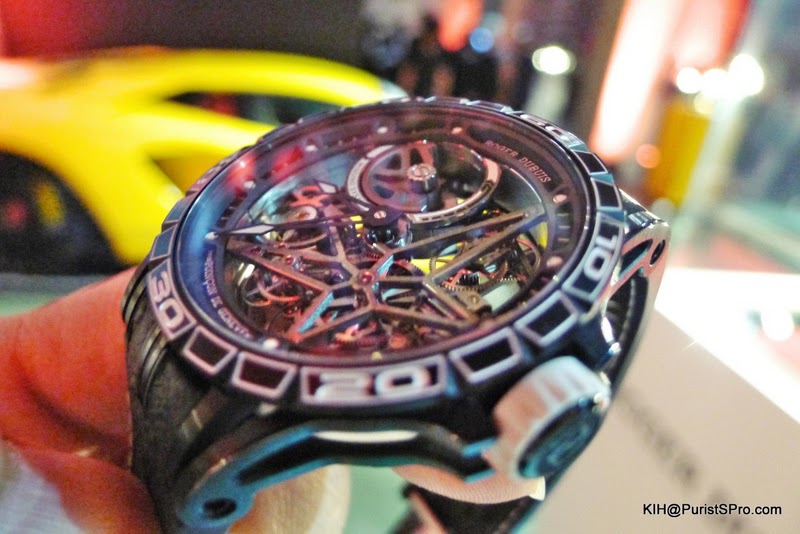 Micro-rotor, with single-direction big oscillating weight.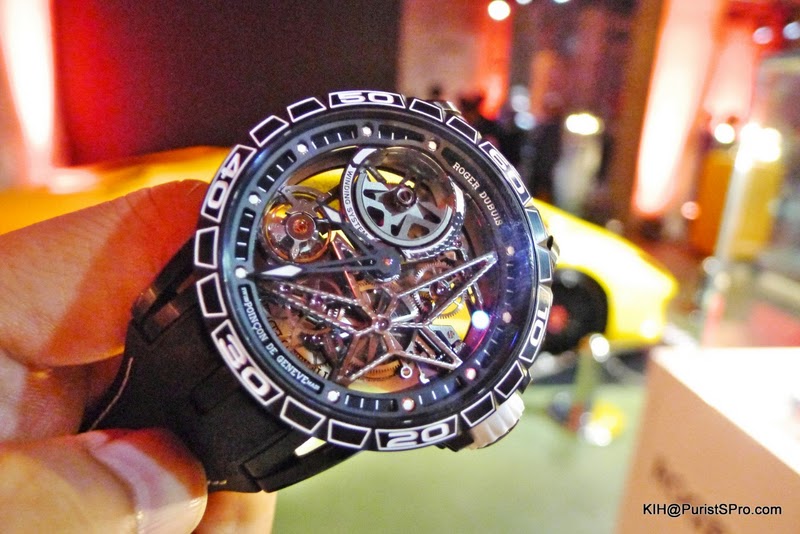 And this is the ONLY one brought in out of FIVE series of Excalibur Aventador S - Five Elements (Water)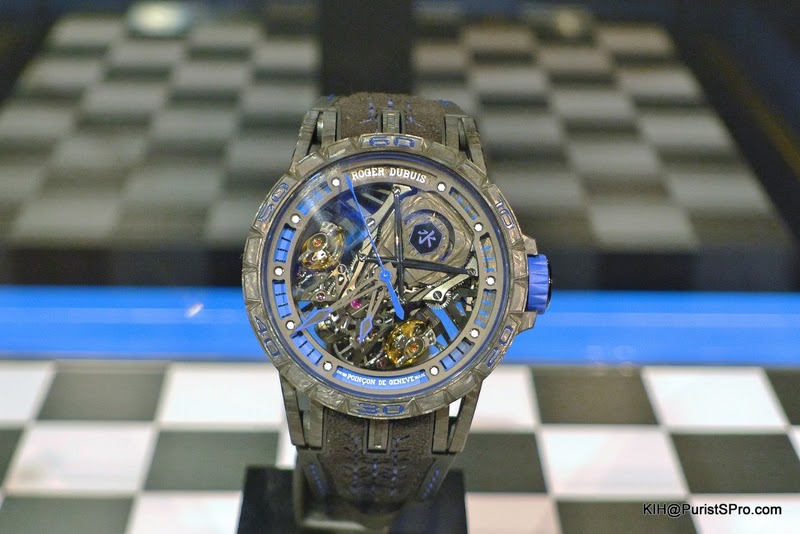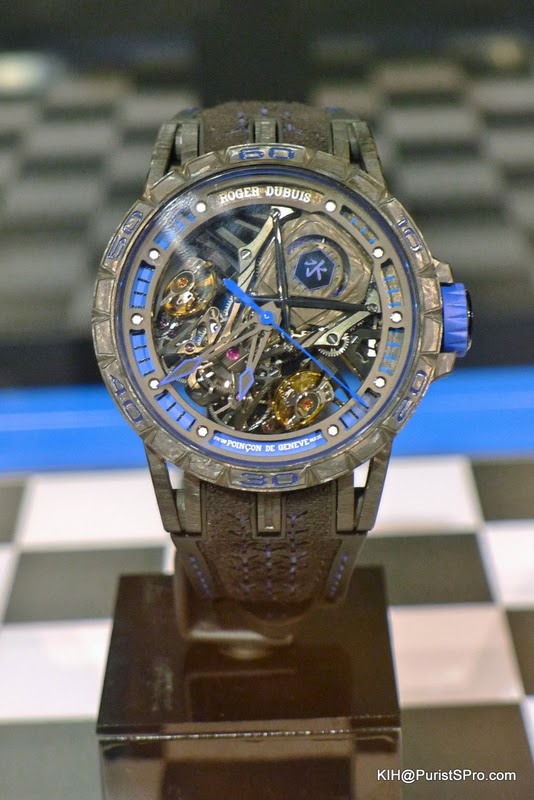 =================================================================================
Here is the press release:
Five elements rule for the Raging Mechanics Japan launch
Excalibur Aventador S - Water
In 2018, Roger Dubuis celebrates the official Japanese launch of the "Powered by Raging Mechanics" partnership between the iconoclastic Geneva watchmaker and iconic super car manufacturer Lamborghini Squadra Corse. Inspired by the latter's 2017 rapprochement with Japanese culture that led to the launch of a unique one-off roadster, the incredible watchmaker takes up the most recent challenge posed by visionary engineers and pays tribute to the five natural elements in Nihon culture with a unique limited-edition series of the partnership's Excalibur Aventador S watch.
For Roger Dubuis, Japan was both a logical and instinctive choice of location in which to celebrate its partnership with Lamborghini Squadra Corse. It represents a key region for the Manufacture, which holds a deep respect for this age-old yet consistently cutting-edge culture. Among other aspects, it has been deeply impressed by the natural elements (water, earth, wind, fire and sky) so powerfully present in the essence of this fascinating land.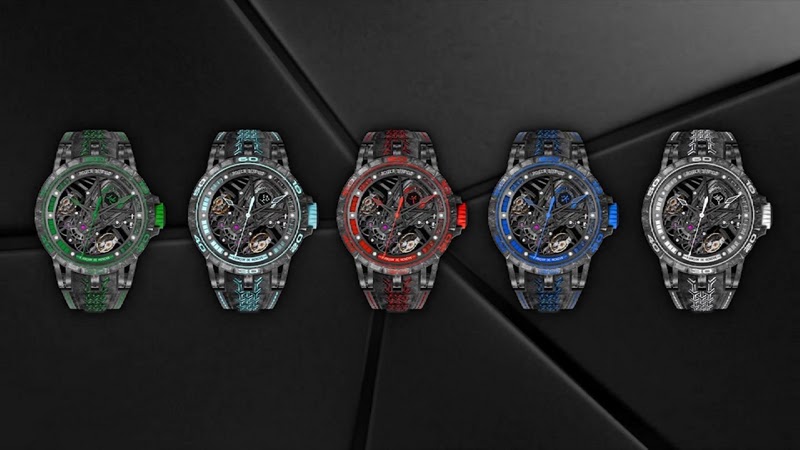 The spirit of five unique cars reincarnated in five outstanding collectors' timepieces. Late 2017, Lamborghini Squadra Corse toasted its 50th anniversary in Tokyo with the launch of the Aventador S Roadster 50th Anniversary Japan: a limited series of five unique cars representing the five elements. The first is a dark blue shaded version linked with water, and the others will be presented in November. Each is one-of-a-kind. In 2018, Roger Dubuis joins with Lamborghini Squadra Corse in celebrating Japanese culture and its key values of respect and strength through the introduction of five spectacular watches likewise inspired by the five elements.
Fusion takes on a whole new meaning. Roger Dubuis' track record for providing unique customer experiences takes a lot of beating. The three-day Japanese launch event will see all the brand's legendary disruptive force being brought to bear and adrenalin levels reaching new heights as Roger Dubuis once again outdoes even itself. Taking place from June 1st to 3rd 2018, the typically atypical blast-off for this explosive limited series is being staged in Tokyo's underground Terrada Space, a venue in stark contrast to the sleek design of the Lamborghini Squadra Corse and the Excalibur Aventador S timepieces themselves. Here, in the heart of this rough, raw and virile setting enhanced by motorsports-inspired design elements, a lucky few will sit down to dinner surrounded by the ultimate Lamborghini supercars, including the Huracan Super Trofeo Evo. The original and varied entertainment will include an incredible display of light painting merging guests with their favourite elements, as well as a performance by a soprano freshly flown in from Rome to provide the ultimate Italian touch.
Five patents. Powered by a brand-new calibre co-developed with Lamborghini Squadra Corse, and dedicated to this collection only, this latest world premiere in the Excalibur Aventador S line-up is the proud bearer of no less than five patents inspired by motorsports. The robust 45 mm C-SMC carbon cases of each model feature design cues drawn from Japanese culture and the inspiration it also provided to Roger Dubuis' Raging Mechanics partner. This approach involved a powerful personalization element which presented a similar set of daunting technical challenges for both watchmaking and automobile engineering. In addition, all the straps reminiscent of Lamborghini Squadra Corse upholstery feature Nero Ade black leather and black Nero Cosmus Alcantara, as well as the Y symbol for bamboo in Japanese culture and stitching matching the colour of the exterior. Just as on the cars, the calibre is characterised by a hexagonal carbon plate with the calligraphed Japanese symbol of its elemental namesake.
Packed with the usual Roger Dubuis cocktail of world premieres, exceptional locations and unique experiences, this time coupled with a savvy infusion of Japanese subtlety, the launch of the latest Excalibur Aventador S promises to be yet another unprecedented victory roll.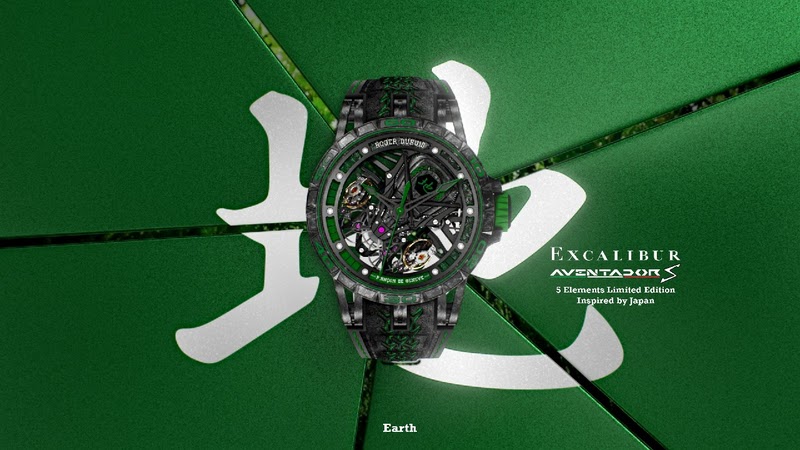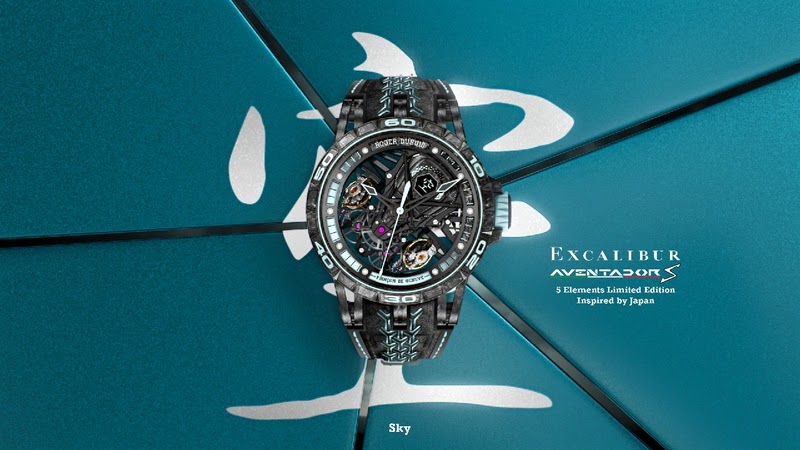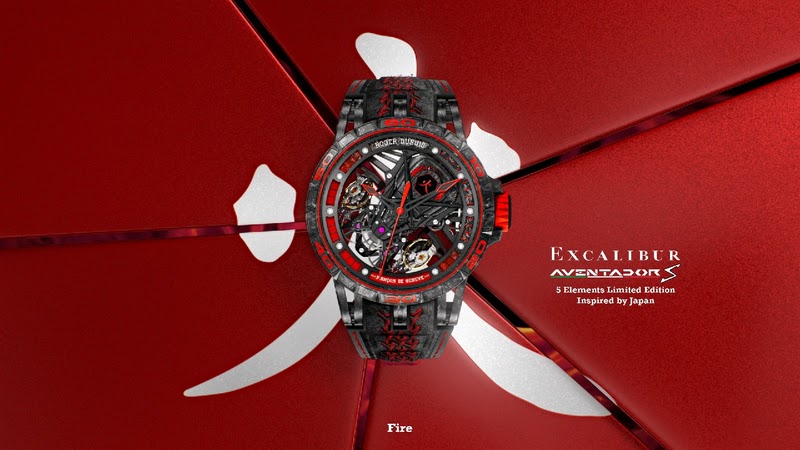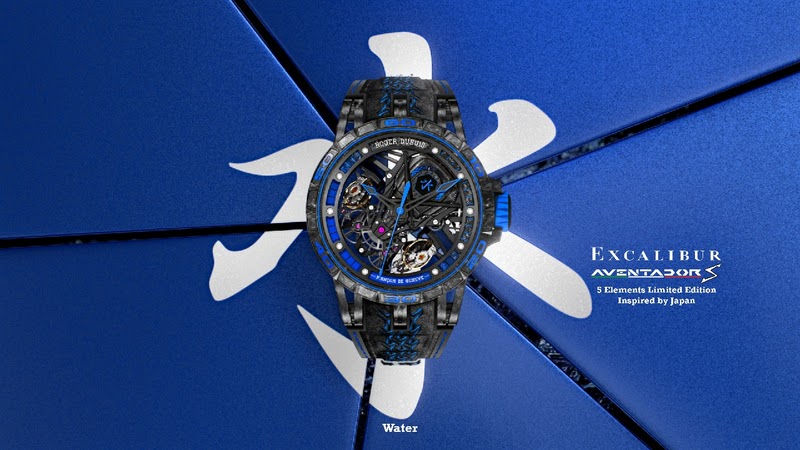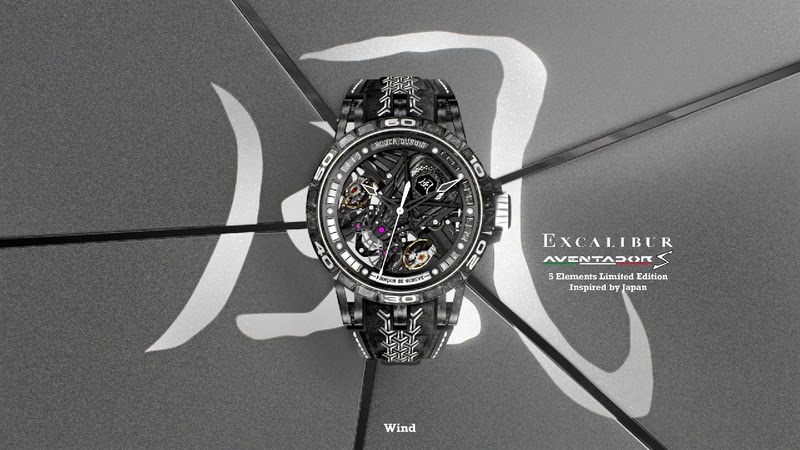 About Roger Dubuis
Roger Dubuis has been at the forefront of contemporary Haute Horlogerie since 1995. Its audacious creations, firmly anchored in the 21st century, embody substantial expertise expressed through the finest watchmaking mechanisms combined with powerful and daring designs. Boldness and extravagance are the brand's signatures, and determination its driving force.
The Roger Dubuis Excalibur and Velvet collections are distributed worldwide through an exclusive sales network and boutiques. The quest for excellence, the long search for the right gesture, as well as the development of unique skills are all defining characteristics of the Geneva-based Swiss Maison.
=========================================================================
... and, again, this is Japan Only Model, Excalibur Automatic Skeleton in White Ceramic Case.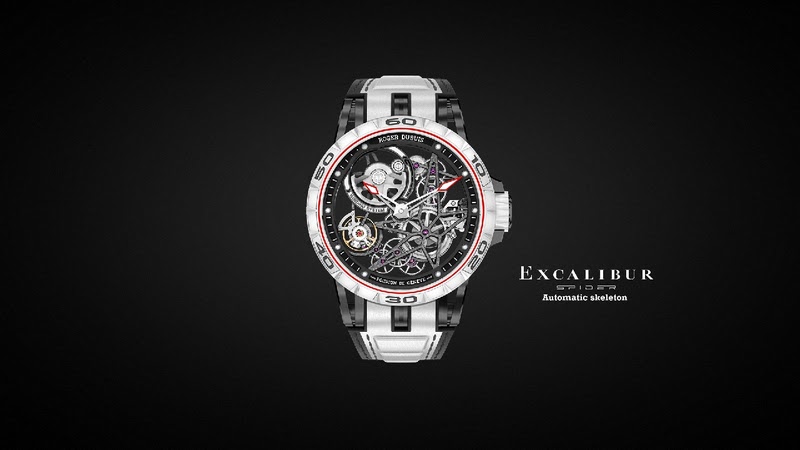 Lastly, thank you very much invitation:
Ms. Dorothee Henrio - International Marketing Director, Roger Dubuis (Switzerland)
Ms. Naoko Ito - Empire Entertainment (PR Agent for Roger Dubuis)
Thanks for reading.
Ken