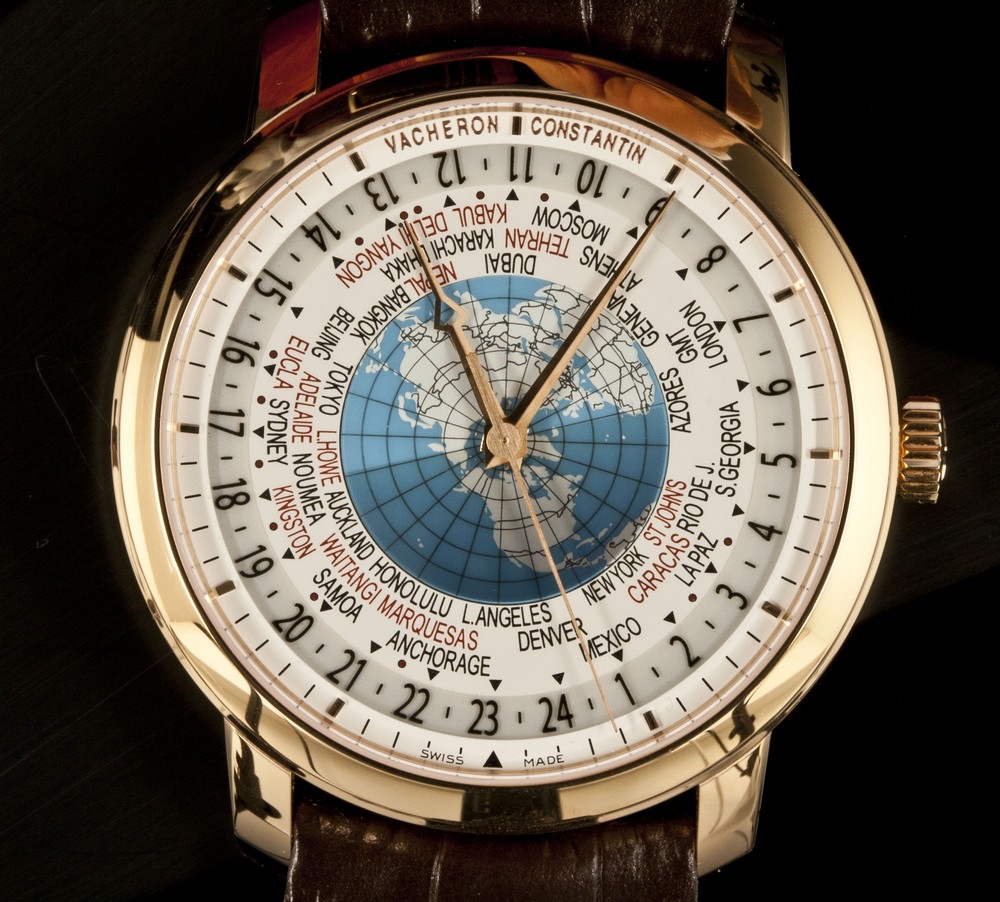 Sir Sandford Fleming (1827 - 1915) Canadian Engineer and Inventor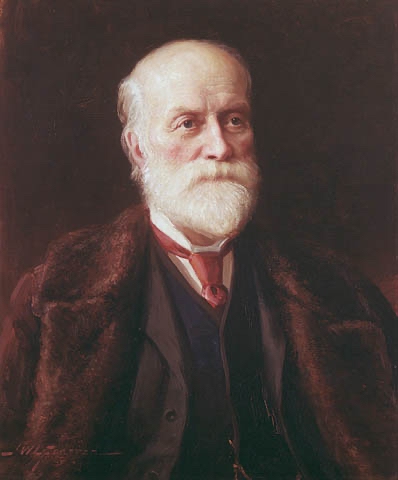 Scottish-born, Fleming moved to Canada at the age of 18 where made his mark as a railway engineer and prolific inventor. He was instrumental in defining the beaver as Canada's national symbol when he successfully advocated for this creature to adorn Canada's first stamp and thus broke with British tradition to feature the current monarch.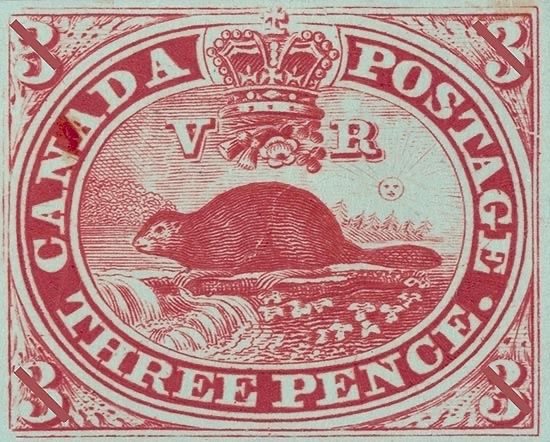 historymuseum.ca
Up until the 1880s most countries had their own time zone but, in fact, many towns set their local time based on the sun. This was most practical as anyone could easily mark high noon and adjust their watch accordingly. Of course this meant that the local time varied from town to town, city to city.
This image of Vacheron & Constantin's iconic Tour de l'Ile from 1871 reveals three clocks for the time in Paris, Geneva, and Bern.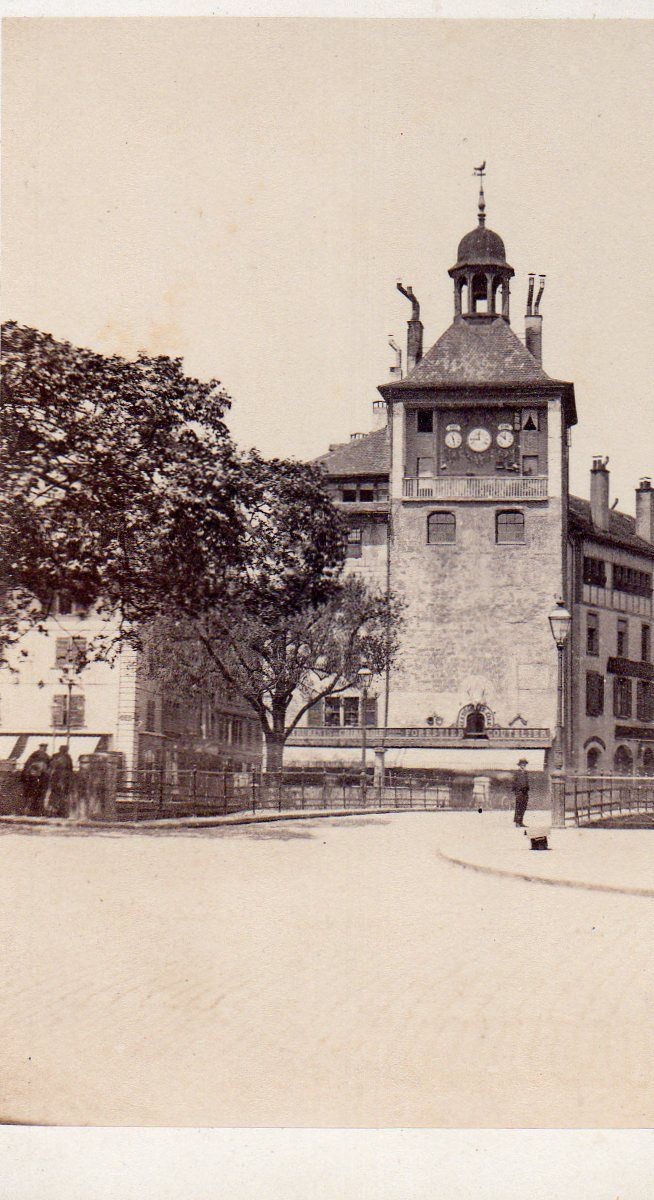 Tick Talk image

Alex Ghotbi takes up the story; "We could have been fine with this if it was not for the urge for mankind to travel via rail (the 1st official railroad was inaugurated in 1825). In fact this didn't seem too much of an issue at first as the distances were short, but the mapping out of Canada's first long-distance railway lines which fell to Scottish-born engineer, Sir Sandford Fleming posed whole new problems. In 1880, Canada embarked on the construction of the future Canadian Pacific Railway, and Sir Sandford observed that keeping track of time over such a great distance was nothing if not confusing (there are now six time zones from Newfoundland to the Pacific), making it virtually impossible to draw up reliable timetables and most importantly to prevent collisions between trains. Fleming was not the first to recognize that this dilemma, stemming from the ever-increasing number of trains crucial to feeding the industrial revolution, was a problem, but Sir Sandford would be the first to do something about it.

Legend has it that it was in 1876 after missing a train in Ireland that Fleming began to look for a way to standardize time. Speaking before the Royal Canadian Institute in Toronto in 1879, he proposed to divide the Earth into 24 time zones of 15° one hour apart with a universal time for each individual zone.

However, as with most revelations that threaten to change the world, his idea was met with considerable resistance from the governments and the scientific communities. At last, Fleming's persistence paid off and his idea was finally adopted in 1884 in Washington, when the 25 nations taking part in the International Meridian Conference decided that the prime meridian of 0° longitude would pass through Greenwich, England.

But why Greenwich, which is after all nothing more than a London suburb? Firstly, because the town had long been in possession of a renowned observatory, and secondly, because this was a time when Britannia ruled an Empire over which the sun would never set and the laws of the British Empire were observed all around the world.

Obviously les français could not accept to have the laws of a population with such bad eating habits apply to them and until 1891 French towns continued to calculate their own time based on the position of the sun at noon, or solar time. Except that the sun rises 50 minutes earlier in Strasbourg than in Brest which, in the railroad era, proved slightly inconvenient. In 1891 the French government therefore adopted Paris time for the whole country, despite a difference of 9 minutes and 21 seconds with the time in the majority of western States.

Legend has it that the British lead the French to believe that if they adopted the GMT standard in return they would adopt the Metric system… a French invention of the late 18th Century! The British didn't adopt the Metric system and France continued to refer to Paris time for 20 years before finally passing a law that adopted international time zones in 1911.

One bizarre quality associated with the original GMT standard was that according to British tradition hour zero started at noon and not midnight. This changed in 1925 so that a new day would start at midnight, at the same time the term GMT was replaced by Universal Time.

Fleming's contribution to the creation of the World Time watch does not stop with the creation of the world's first system of standardized time, Sir Sandford went further than that. In 1880, Fleming commissioned a watch manufacturer in London to construct a unique pocket watch that would accurately reflect his proposal, and so was born the "Cosmic Time" pocket watch. The times for each of the 24 "zones" in Fleming's system were depicted on a single dial, making his "Cosmic Time" pocket watch the world's first World Time watch as we know it."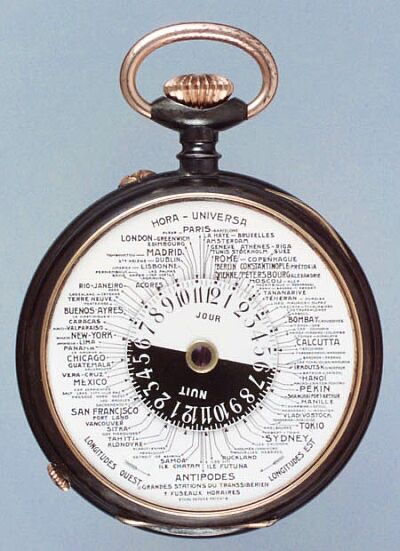 Prior to the acceptance of time zones, Swiss watchmakers had created timepieces which marked local time at multiple locations. One from 1780 attributed to Rouzier et Melley of Geneva indicated the time in 53 locations!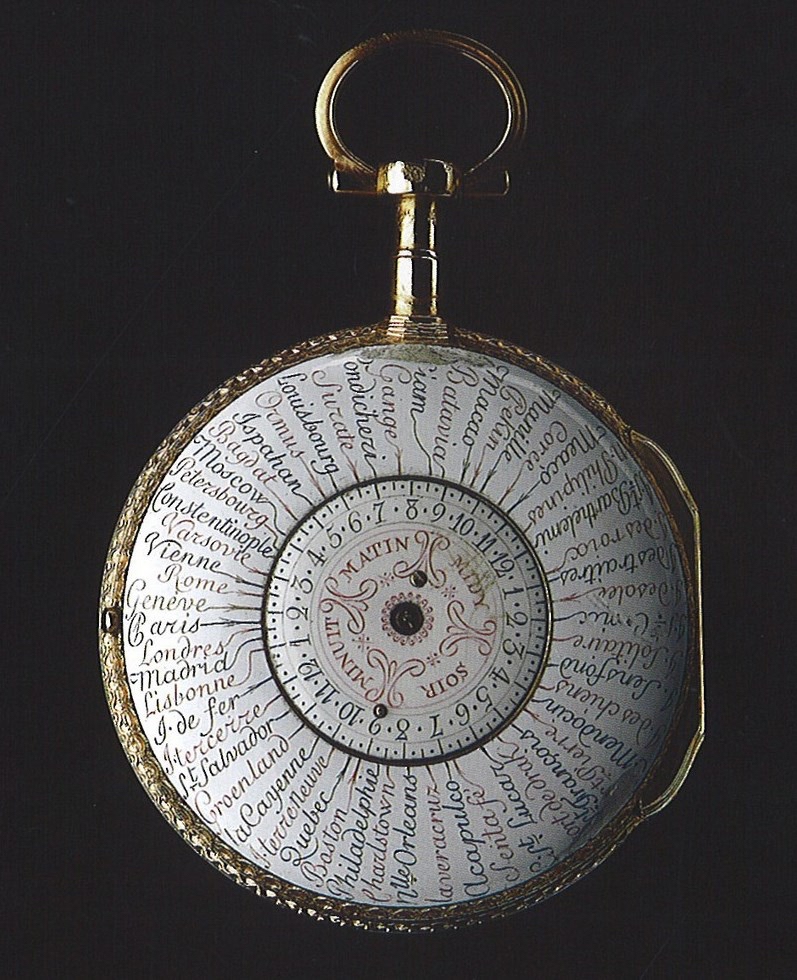 Circa 1880, a two-sided World Time watch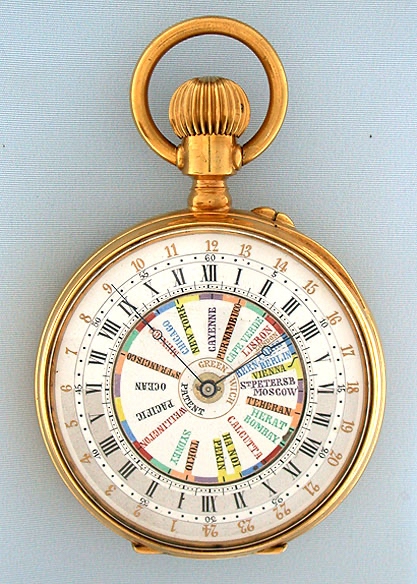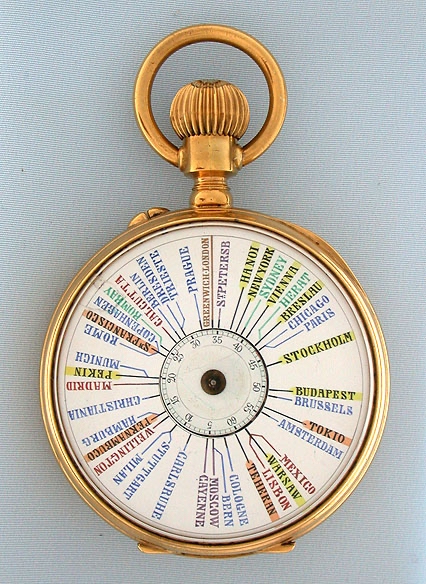 Circa 1900, this watch by Achille Hirsch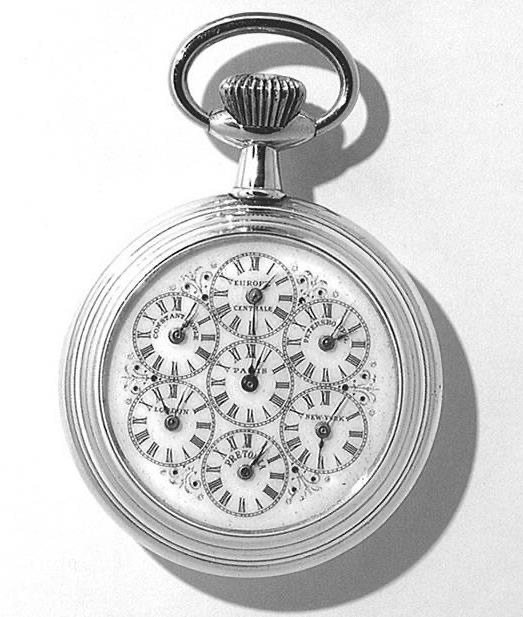 Again, Alex Ghotbi describes the situation; "
However, surprisingly watchmakers did not plunge right away into this new opportunity by creating world time watches based on the 24hour time zones set up by the International Meridian Conference. Was this due to the complexity of the mechanism, the lack of demand, or the national issues with the exact division of the time zones or the legendary Swiss neutrality (not wanting to put forward one nation by having its capital be the city of reference for that time zone)? Whatever the answer, world time watches as we know them today remained off the radar until the early 1930s and an invention by a genius watchmaker: Louis Cottier."
Louis Cottier was the son of a watchmaker in Carouge who had created automatons and clocks for Vacheron & Constantin, so it was natural for his son to also work with the Maison. In fact, Louis wrote to V&C in 1930, asking for a job. Unfortunately the economic depression had affected Vacheron & Constantin, as everyone else, and they were unable to hire him but nevertheless worked closely in developing his new invention. That same year Cottier had designed a new system of showing time across multiple time zones via an outer 24-hour ring that automatically rotated counter-clockwise from the central hands, which marked local time. The timepiece would, on a single dial, display the correct time in relation to the user's home time for all zones around the world.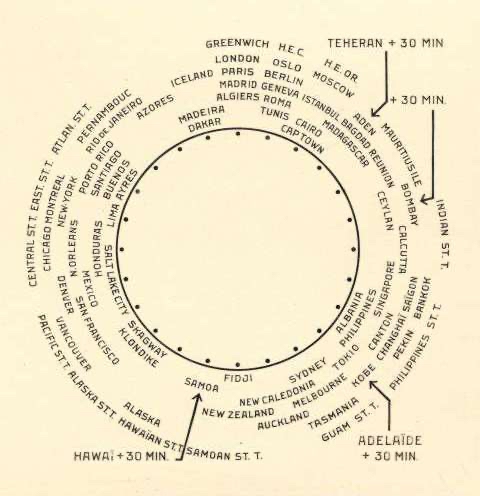 Cottier's diagram of a world time dial
To further Cottier's project, Vacheron & Constantin provided him with a Calibre VNP movement of 17-lignes in December of 1932, to which he added his world time mechanism and thus created his first commercial world timer. It must be noted, however, that Louis Cottier provided a one-off timepiece with the new system to the Carouge jeweller Beszanger in 1931 (ed. likely also using a V&C calibre).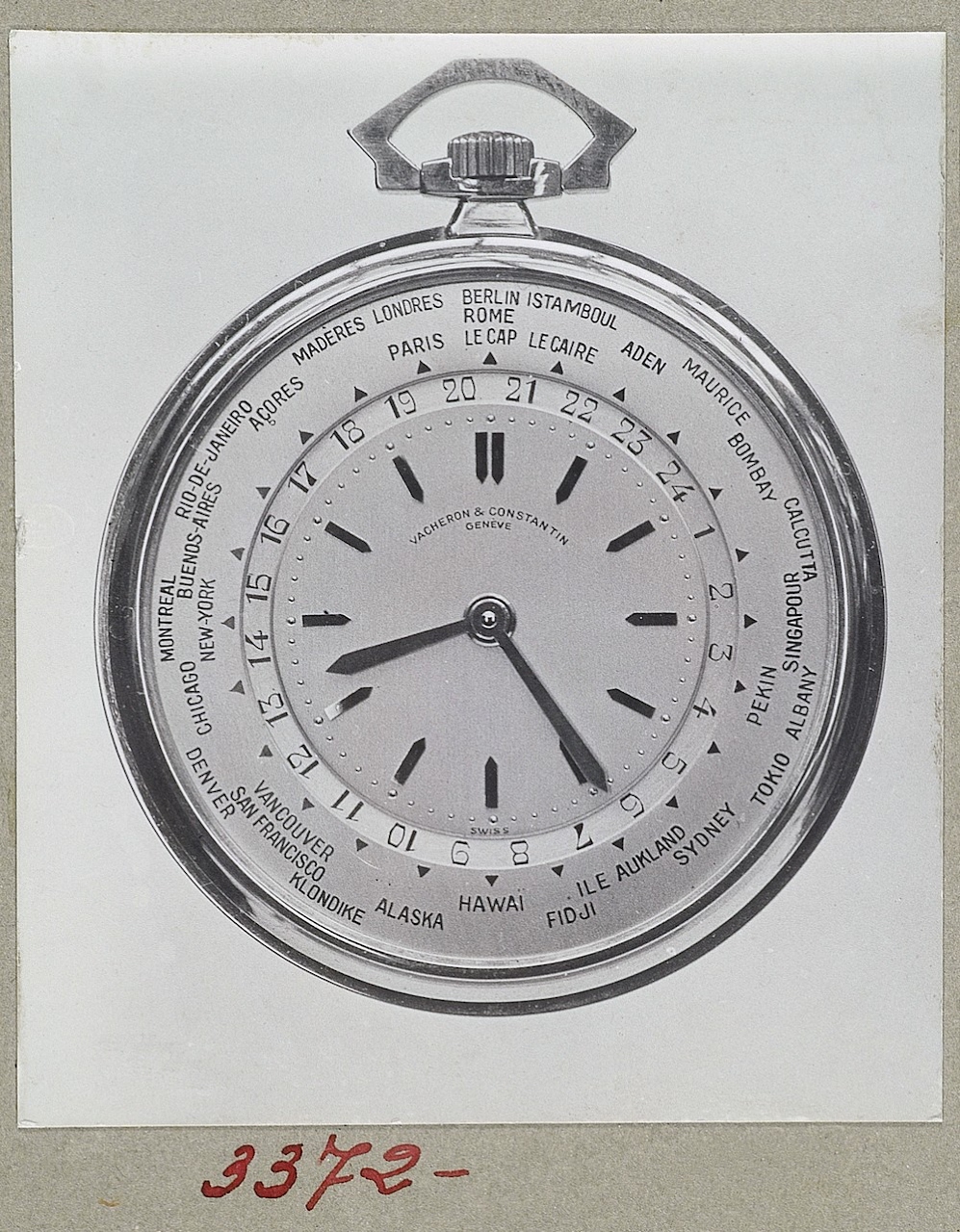 When Vacheron & Constantin received the modified movement back from Cottier, they encased it in white gold and entered it into their reference catalogue as photo 3372. This first piece featured 31 cities with Berlin and Rome as home but, at the time of order, each customer would provide their choice of reference city to be featured at 12 o'clock.
Five years later, in 1937, Patek Philippe would introduce their Cottier system world time watch.
In 1936 V&C presented two more Cottier World Timers; one in yellow gold with 31 cities and another in pink gold with 30 cities (omitting Cairo). Photo reference 3638 remained in V&C's catalogue until 1941.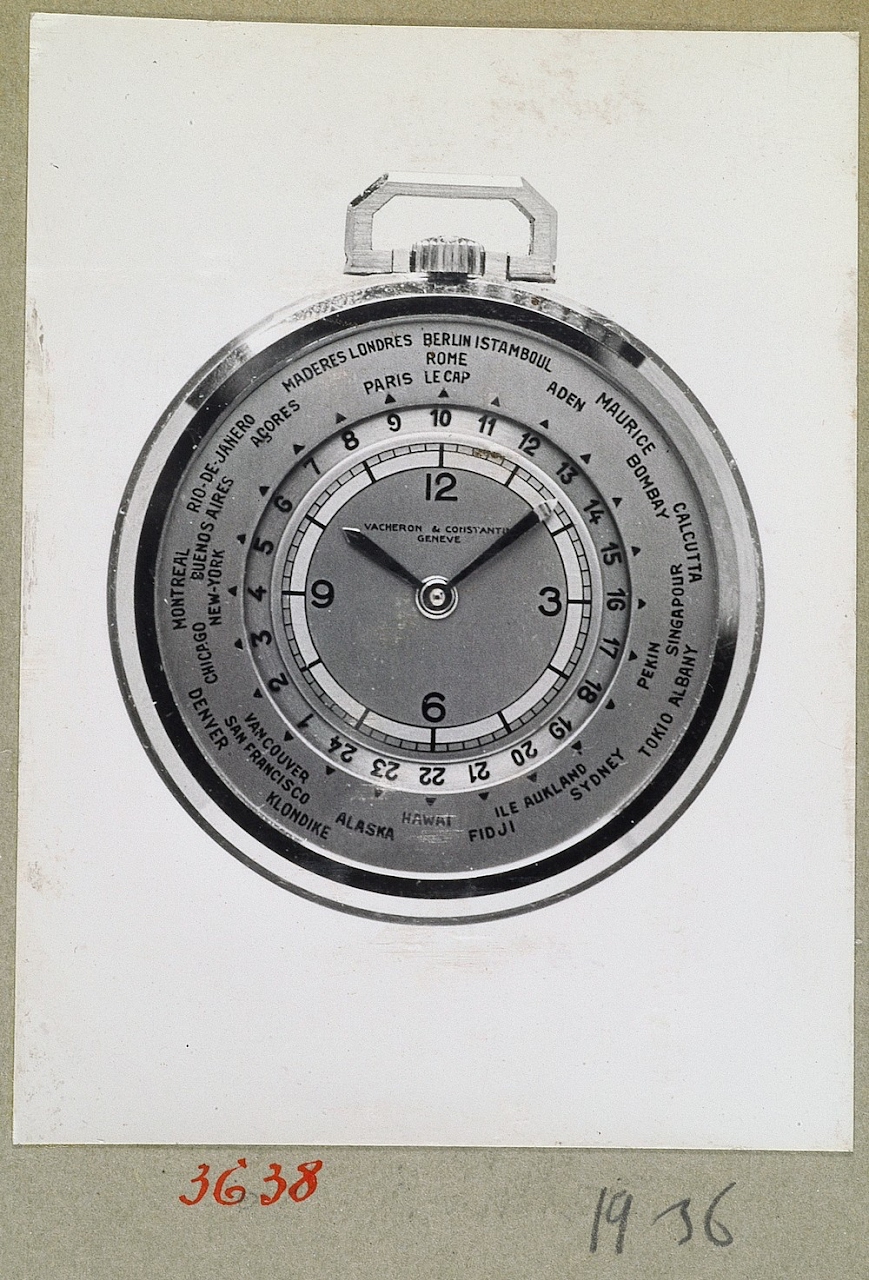 In 1937-38, V&C also produced six world time table clocks with Calibre VLT of 22-lignes, featuring an impressive 67 cities and daylight-savings for Paris.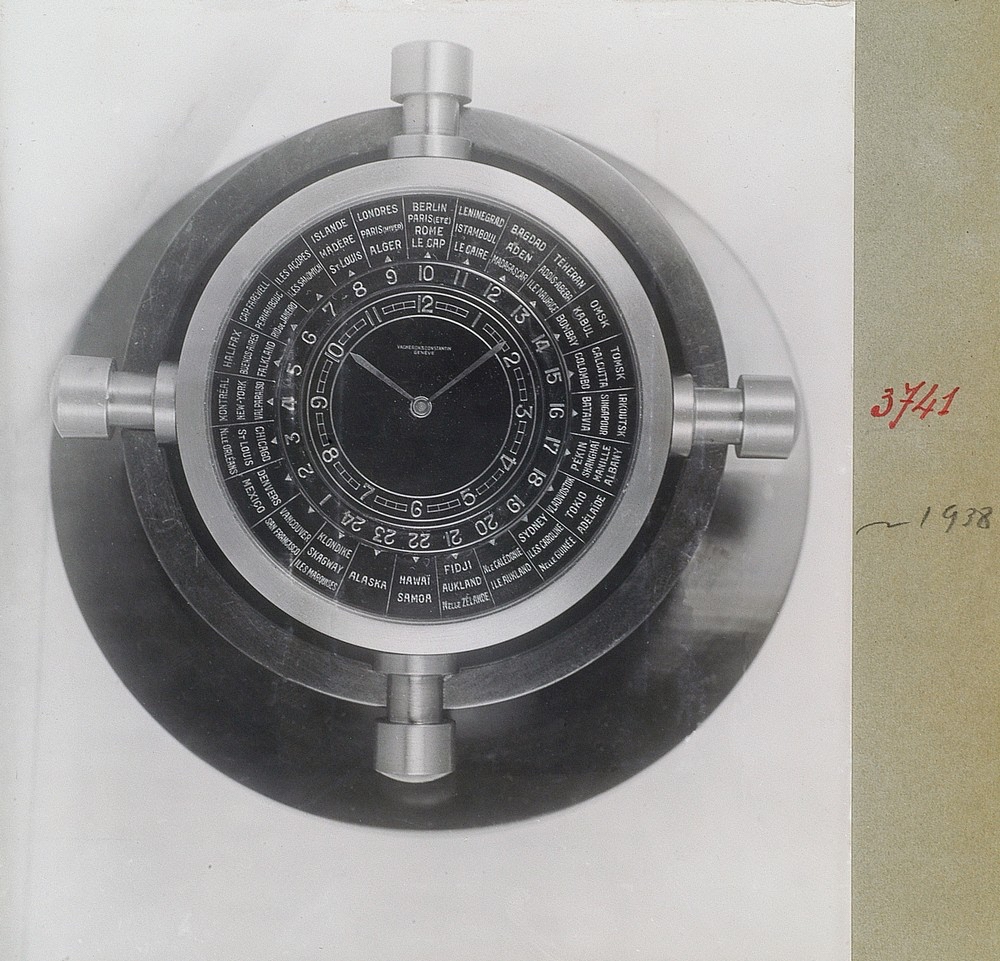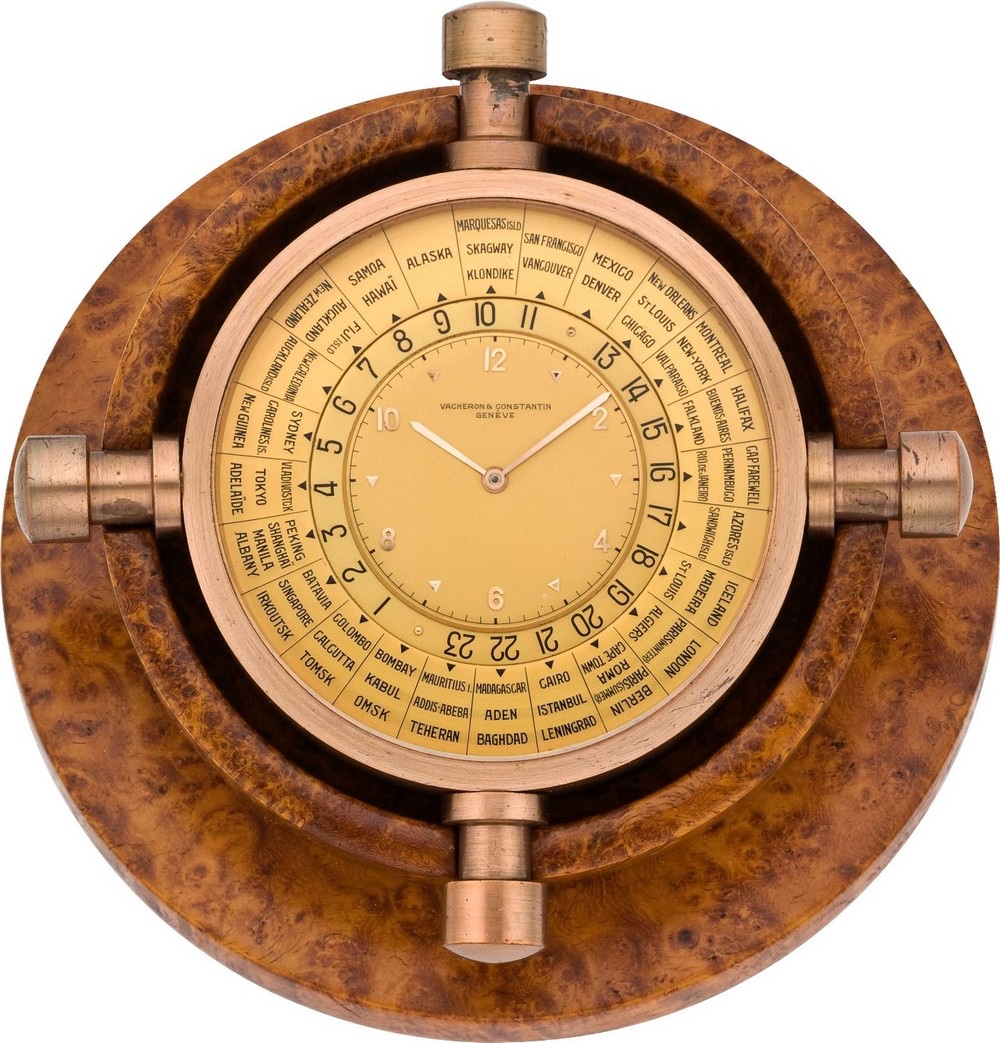 Following 1938, Vacheron & Constantin changed to model reference numbers and the world time watch was designated as Reference 4414, now with 41 cities. King Farouk ordered one, as did US Foreign Secretary Foster Dulles. Ironically, he ordered his with New York as home city and not Washington D.C. Some versions also highlighted day and night sections for easier visual reference.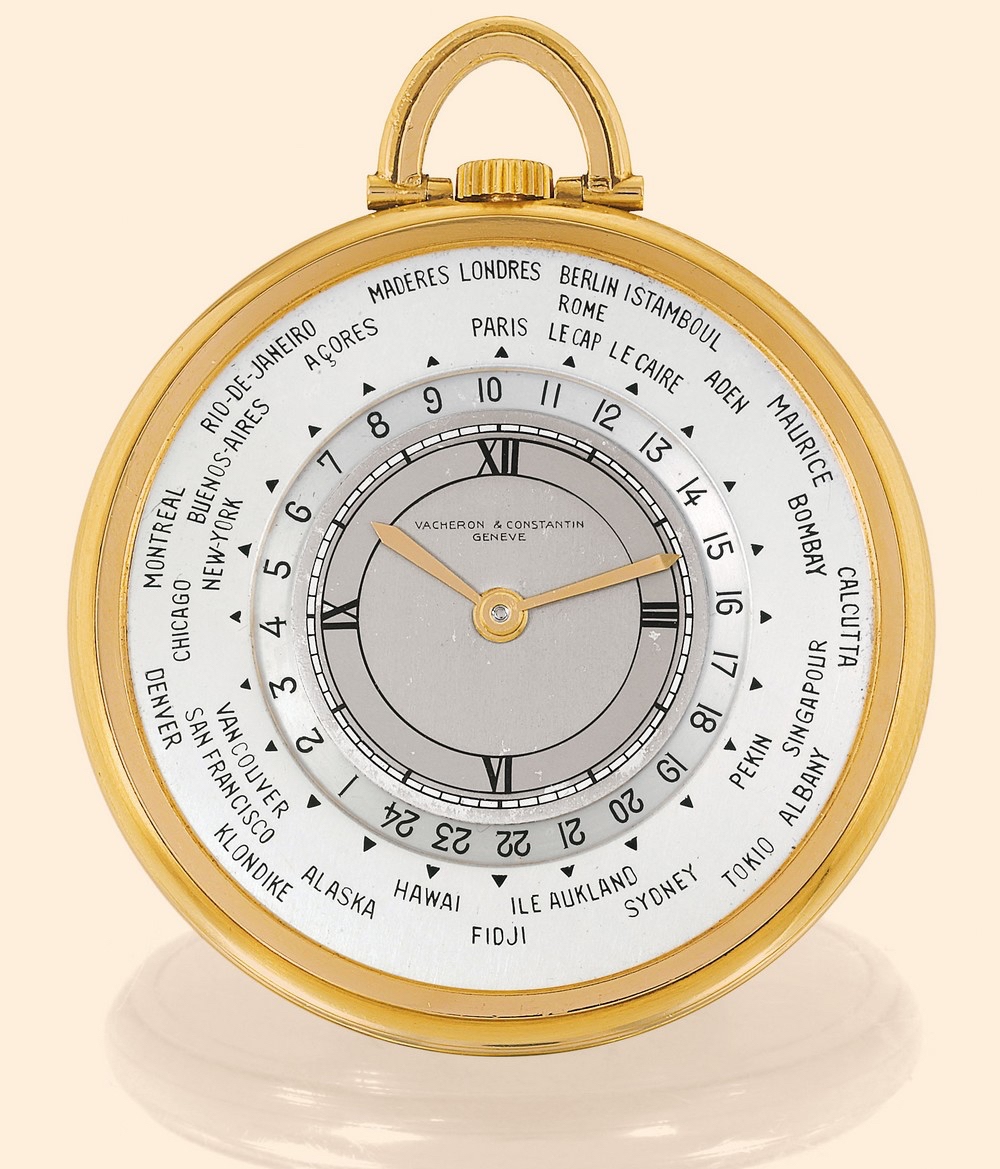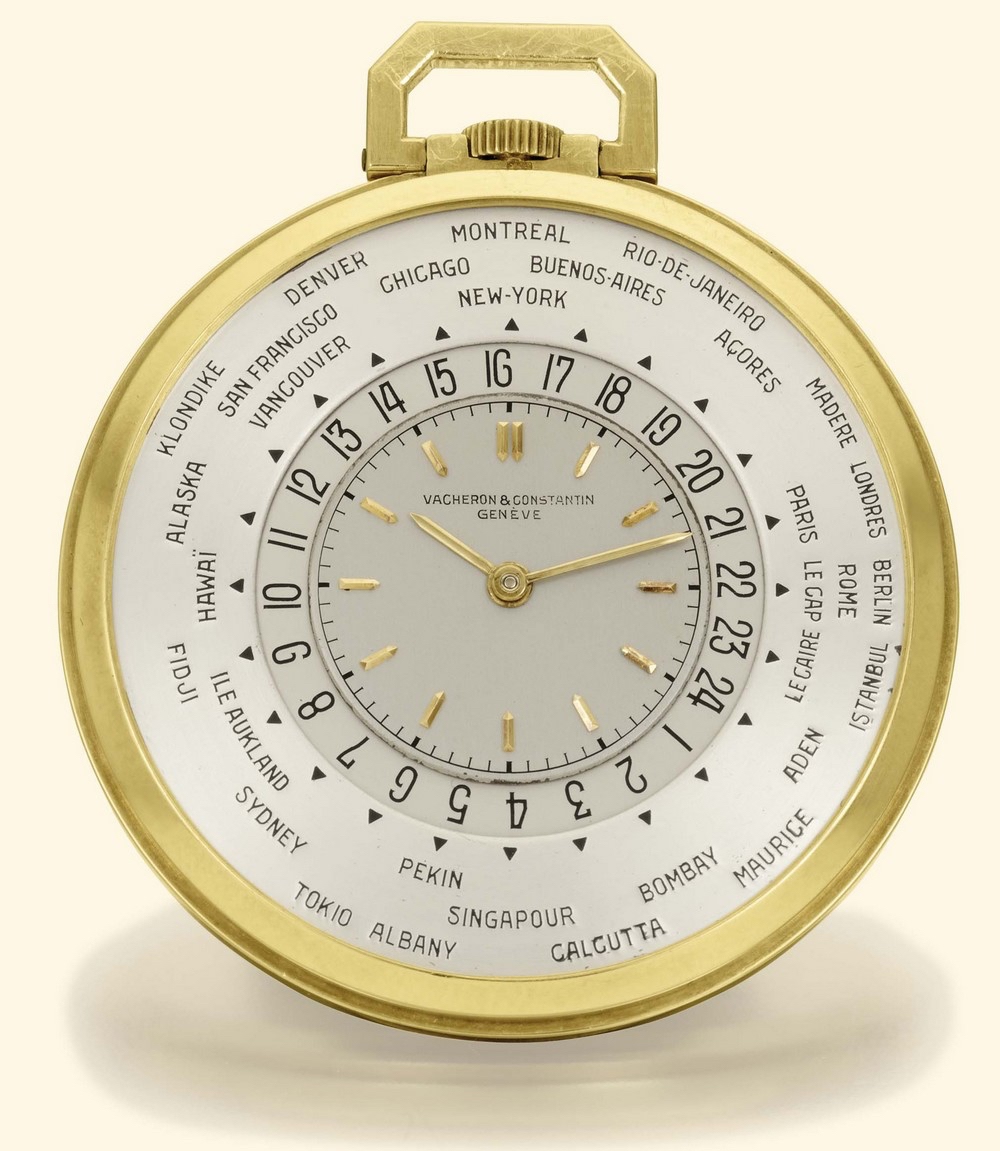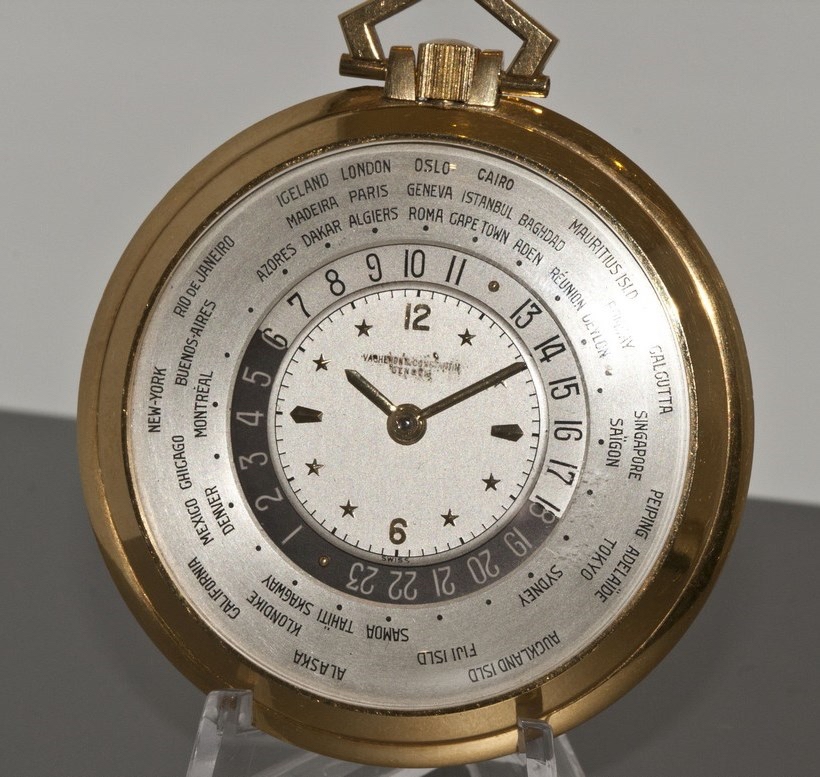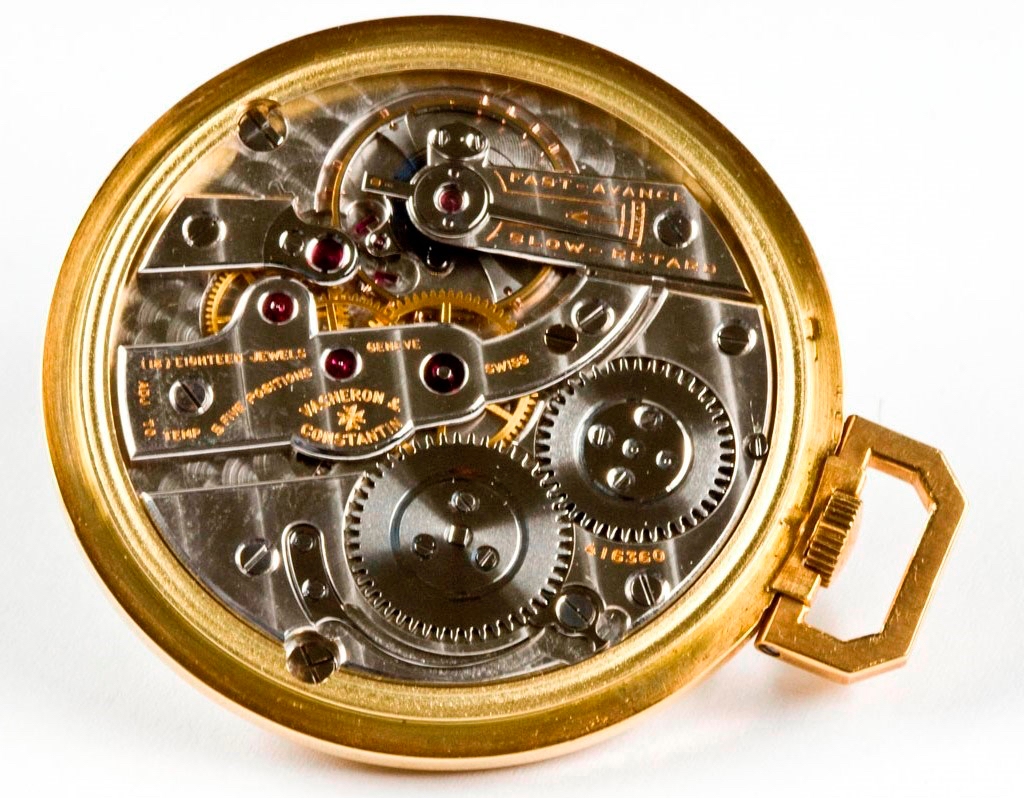 It was a special commission from an Egyptian dignitary in the 1950s that motivated V&C's first wrist watch world timer. Delivered in 1957 as Reference 6213, this watch featured a largish 40 mm case in yellow gold motivated by the 1019 automatic calibre. Distinct from the Cottier pocket watches, this wrist watch allowed the user to rotate the cities dial via a pusher at 9 o'clock, allowing the home city to be changed at will.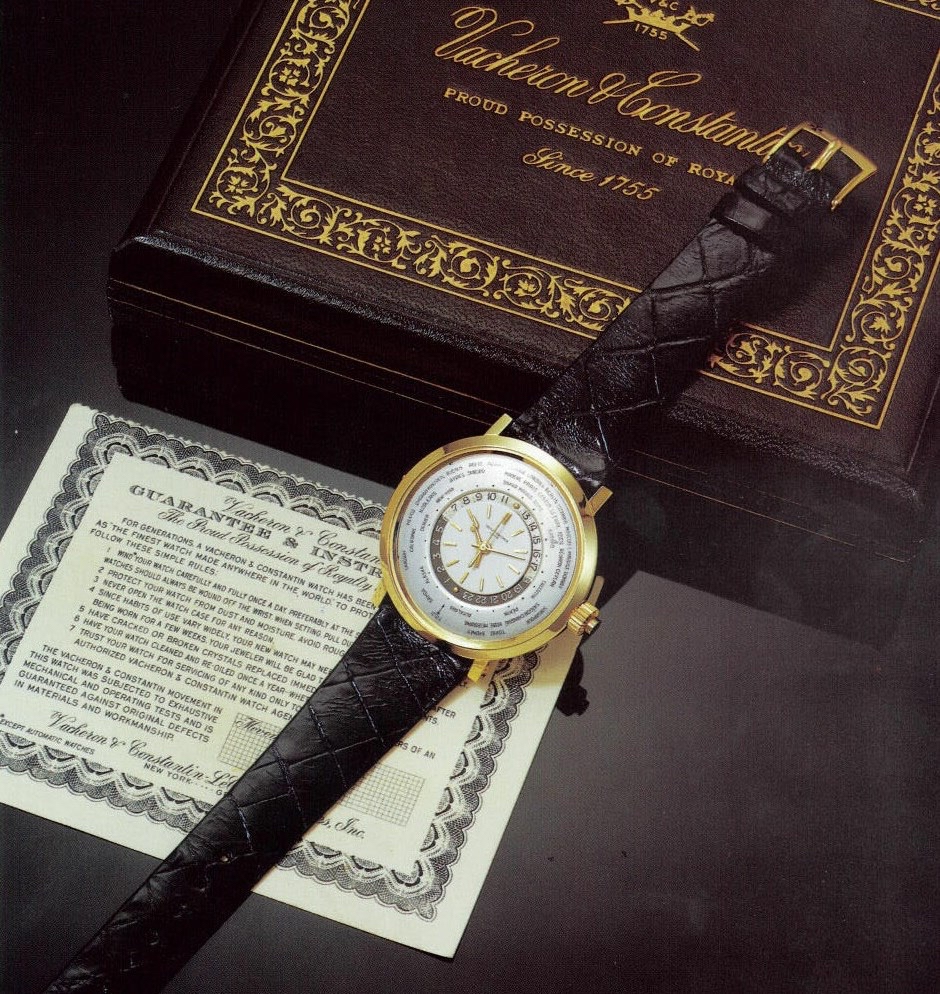 Antiquorum image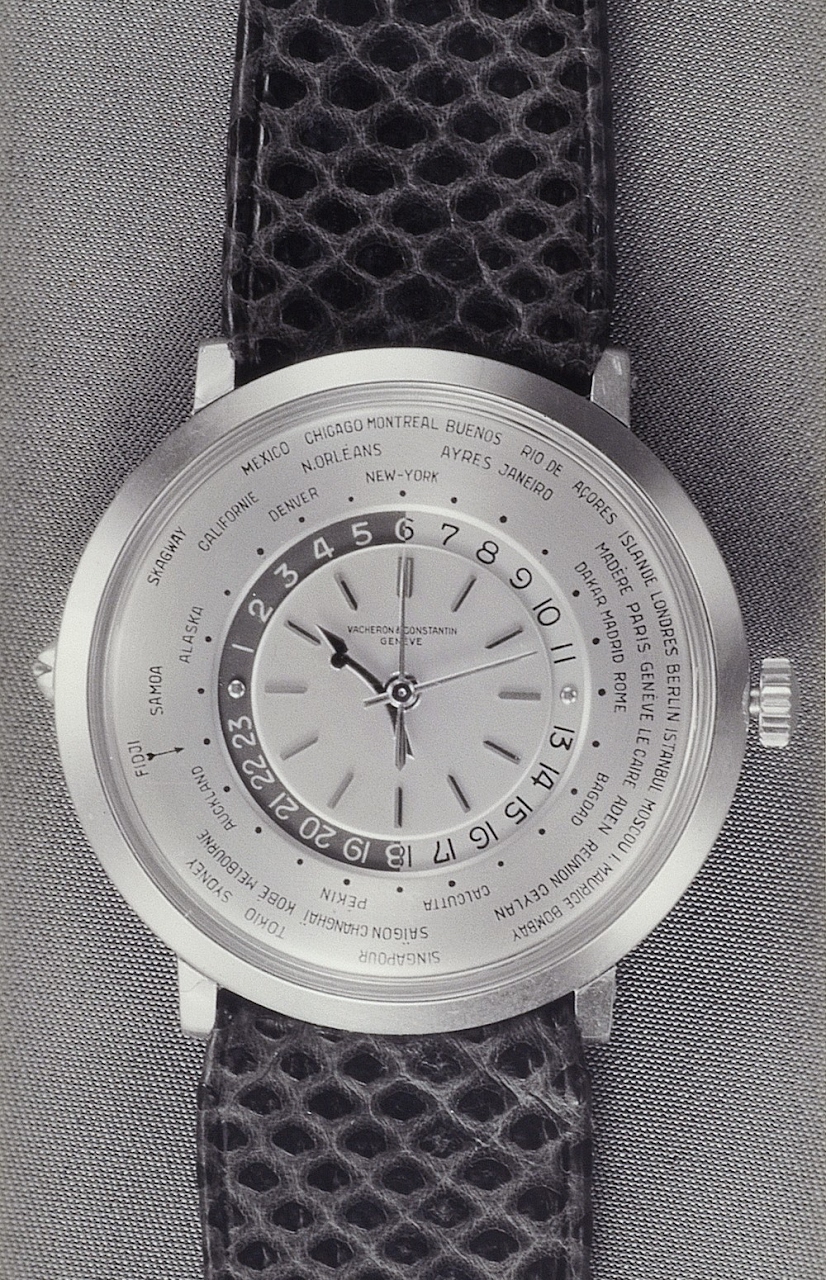 The mobile city ring continued to be used with the Reference 6382 pocket watch introduced in 1960.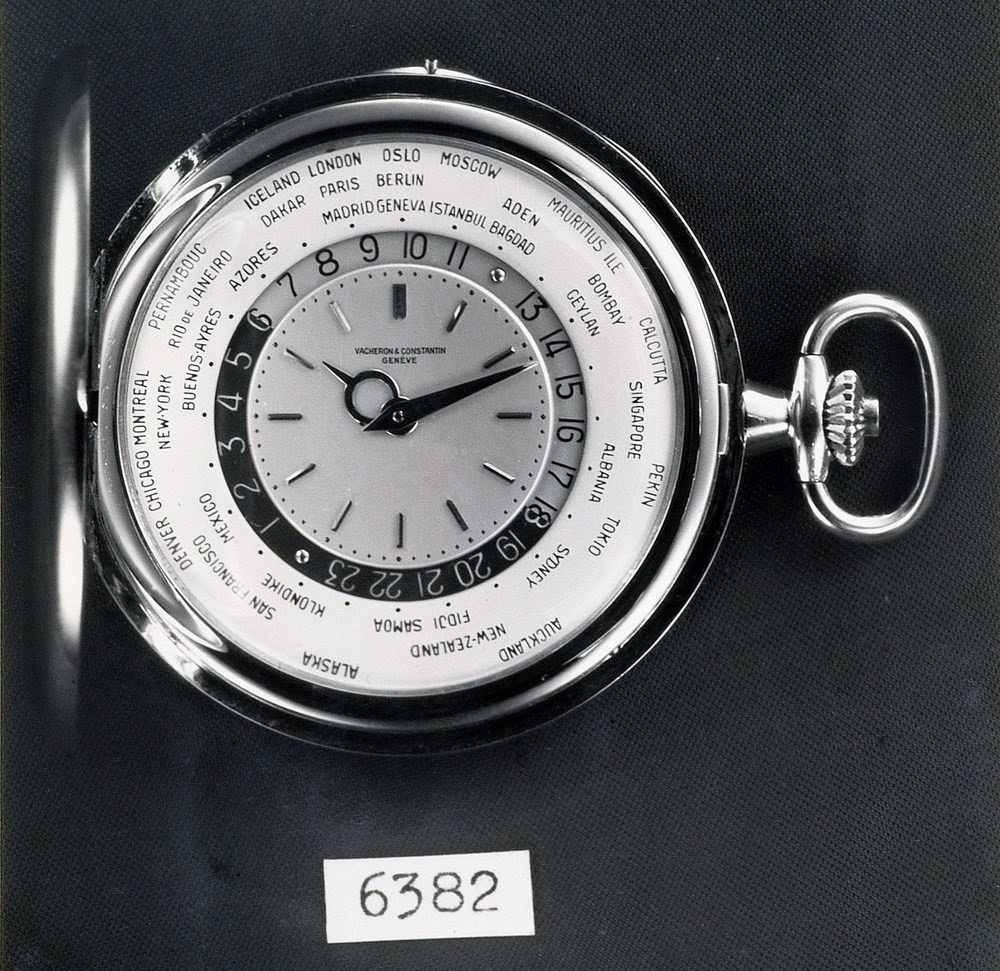 In 1992 the Reference 48200 was introduced in the Phidias line, available in yellow gold or two-tone gold and steel. This version was discontinued in 1996 to be replaced in 2001 with the Reference 48250 Evasion watch, exclusive to the Japanese market in 100 pieces and followed in 2003 with a further 100 pieces in rose gold. These watches did not follow the Cottier system as the home city had to be set manually by rotating the outer bezel and the inner 24-hour rotating disc adjusted accordingly. These were much simplified in comparison with previous world time watches; sort of Cottier Light...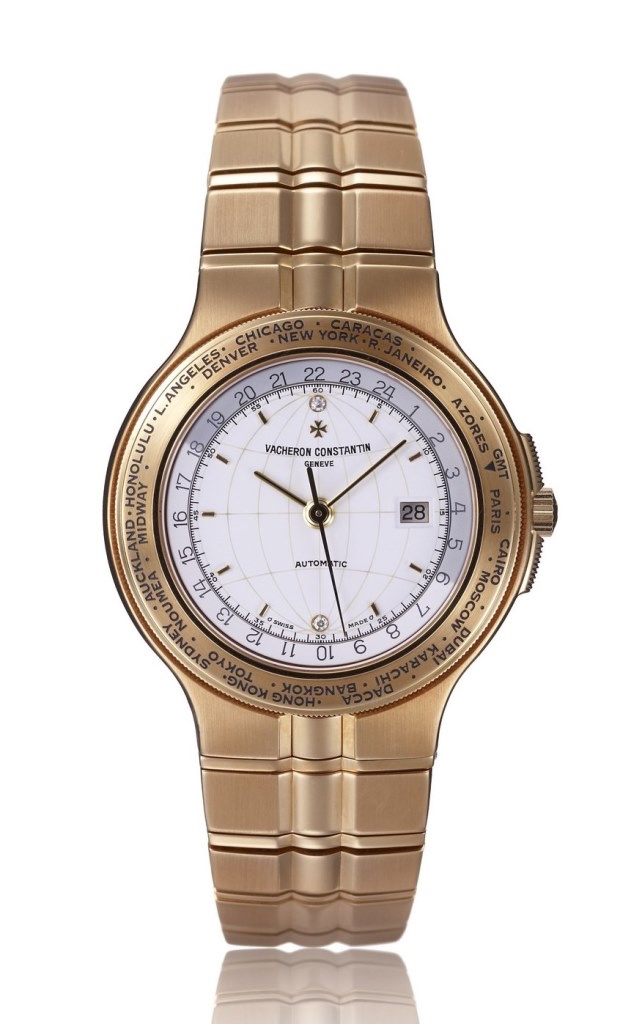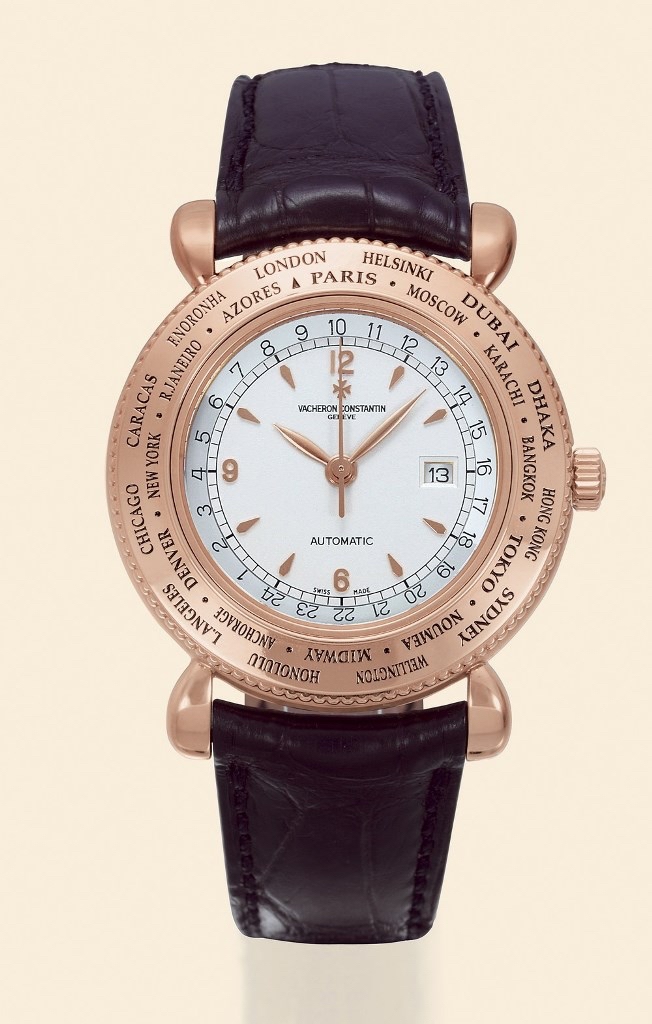 Leap forward to 2011 and Vacheron Constantin launches the Patrimony Traditionnelle World Time, now featuring half and quarter-hour time zone deviations for 37 time zones. Added to the traditional list of locations were Tehran, Delhi, Kabul, Yangoon, Eucla, Adelaide, Caracas, Kingston, Marqueseas, Waitangi, L. Howe St. John's, and Nepal.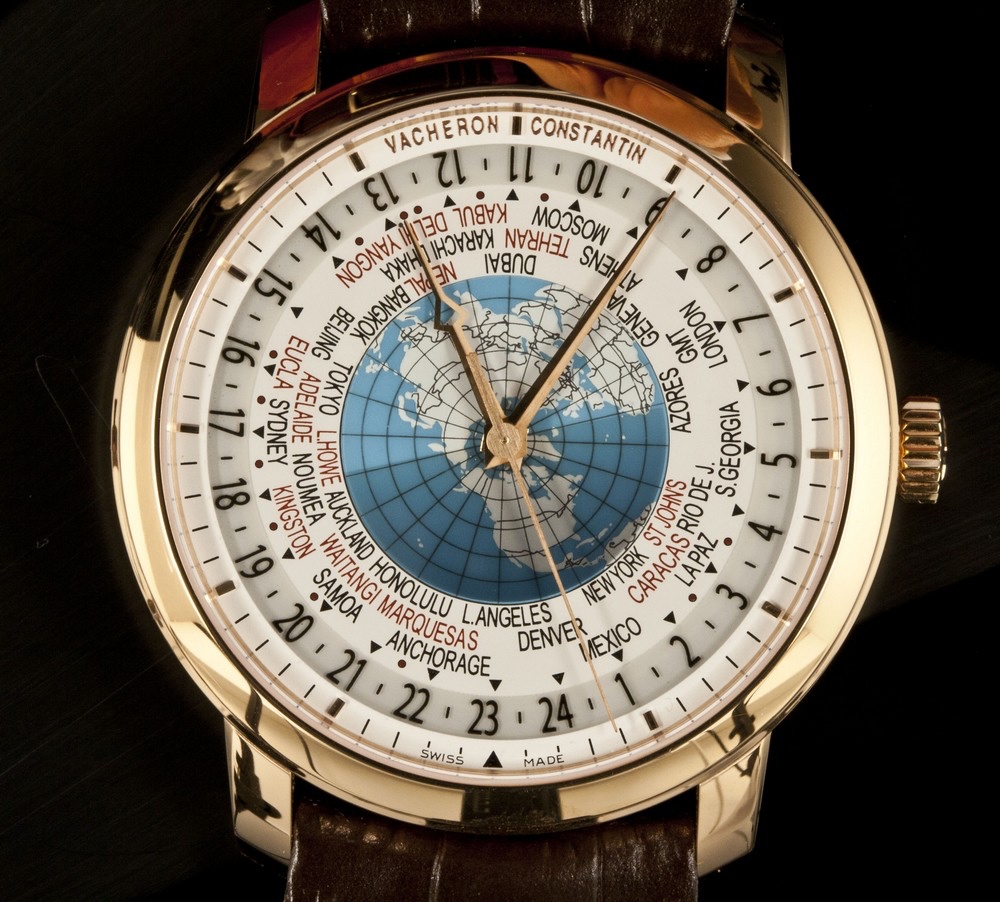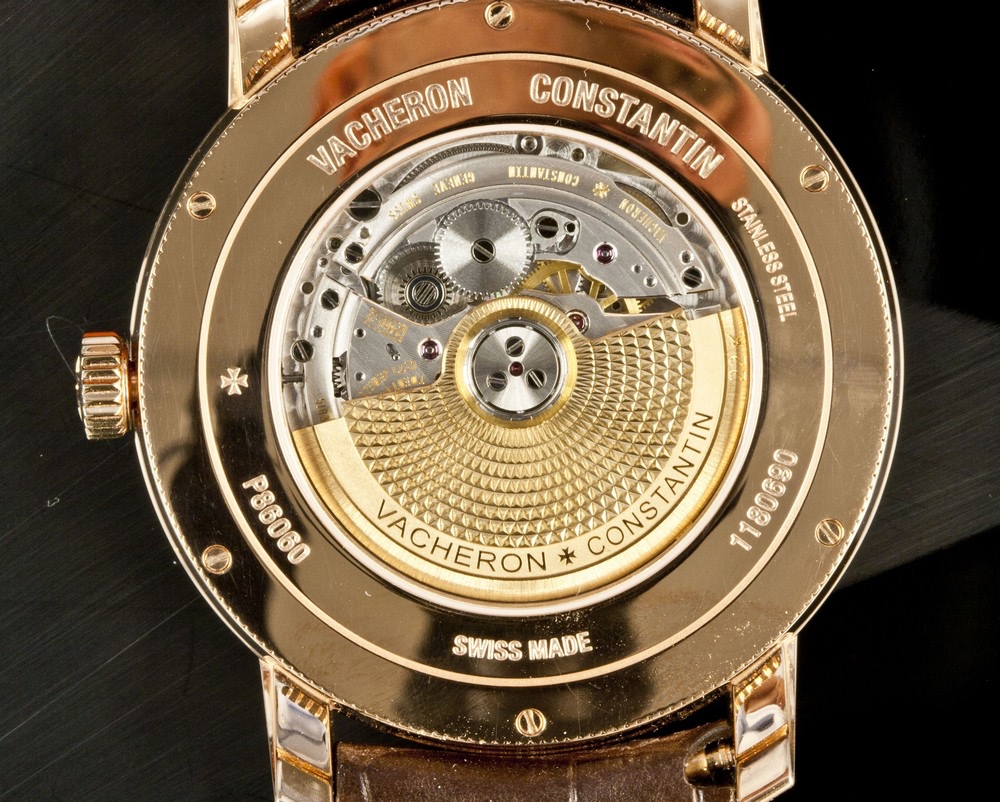 The movement was three years in development to create a system of pawls which follow a toothed outer ring to determine if a chosen time zone is a full hour or a partially-offset time zone. To accommodate the possibility of future changes in political time zones, both the toothed ring and cities disc on the dial can be changed out.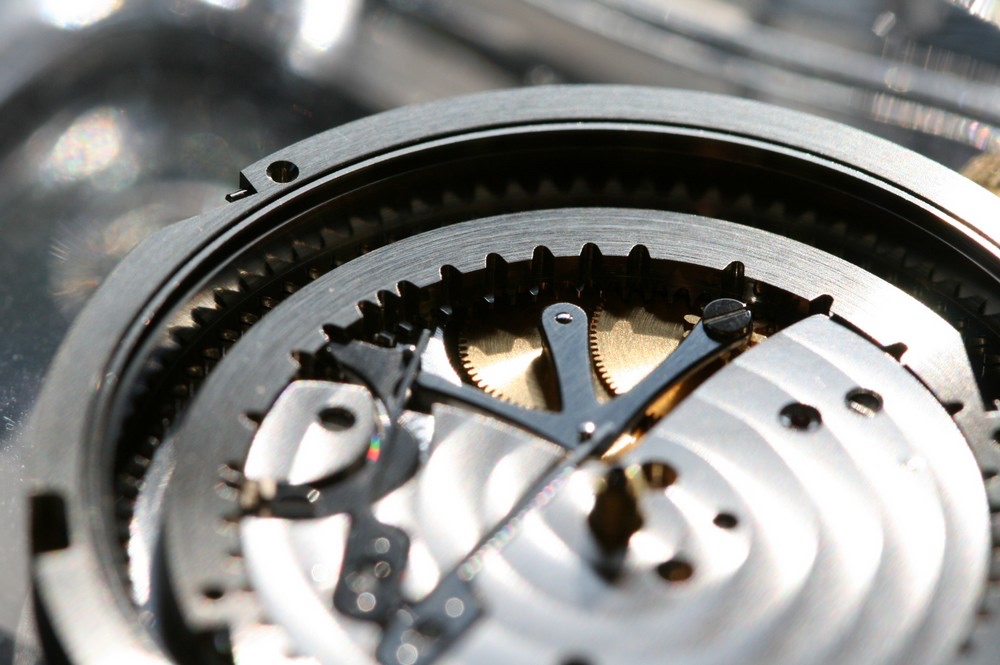 This new movement has been designated Calibre 2460 WT and all indications are adjusted by the crown, without use of additional push pieces. The user selects their reference time and places it opposite the black triangle at 6 o'clock. The time in the reference location can then be read off the hour and minute hands while time in the other zones is also simultaneously readable.
At photos credit Vacheron Constantin unless otherwise noted.
References:
It's A Small World: The story behind Vacheron Constantin's World Timers by Alex Ghotbi, Vacheron Constantin Community & Social Media Manager, The Hour Lounge internet forum 7 April 2011.
This message has been edited by FabR on 2021-11-06 02:33:14