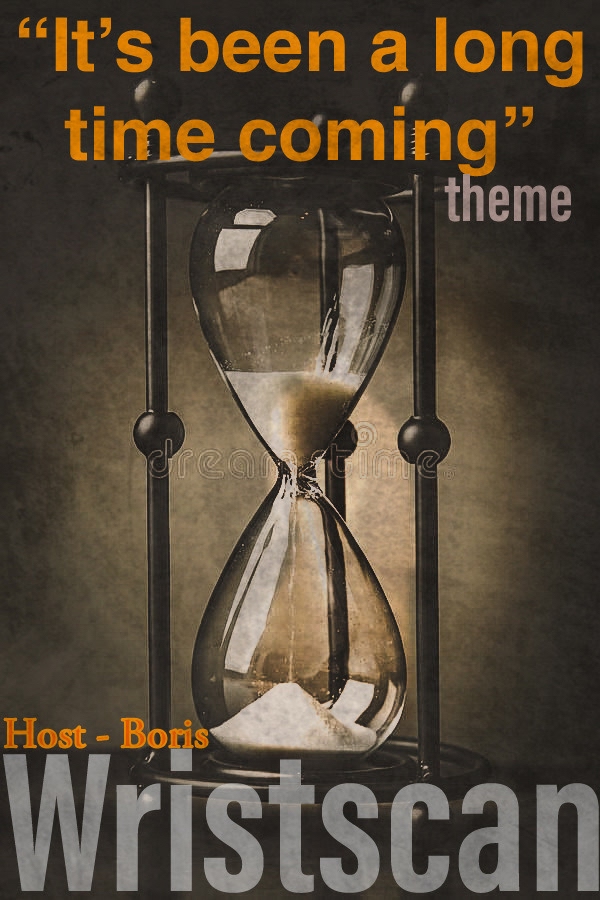 I actually have two stories to share regarding watches it took me forever to acquire, in spite of my fondness for them.
The first one is this Minerva Pythagore Grande (38mm):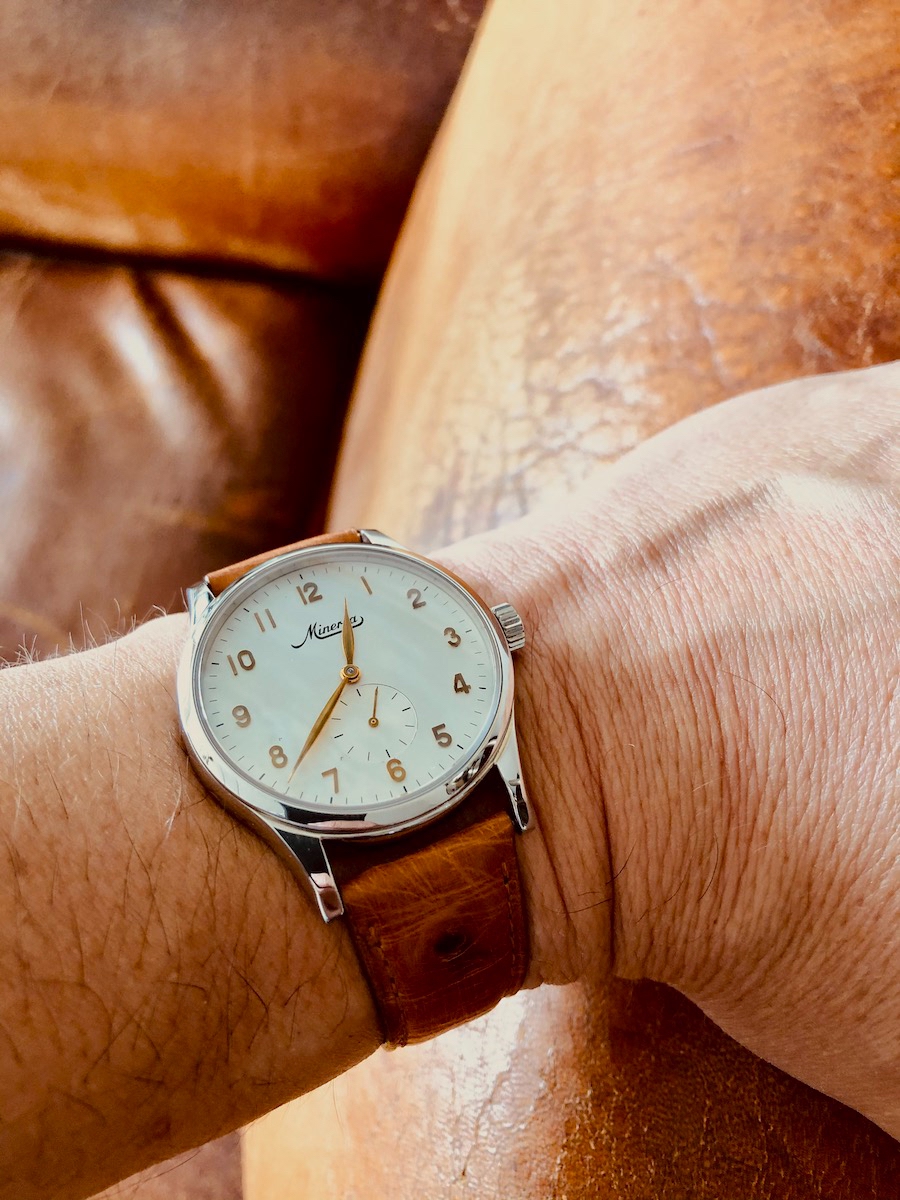 I first came across it back in September 1998, just about the time I really caught the watch bug. Back then, my only good watch was a Tag Heuer diver, which I had acquired in 1996 after saving from my pay during my French National Service in Saigon. It was a sporty watch on a metal bracelet, and now that I was back in Paris and starting my career as a financial auditor, I felt I needed something more classic, on a leather strap, to wear with a suit. I went to this great watch shop, Les Montres, rue Bonaparte in the 6th arrondissement. I explained what I wanted to the Shop Manager, who sized me up and told me: "I think I know exactly the watch for you, Sir." And proceeded to show me a beautiful Minerva on ostrich strap, with its creamy white dial, golden applique numerals and leaf shaped hands known as the "Anniversary" version. It struck me as very beautiful, and its size suited my wrist perfectly. I came very close to pulling the trigger that day.
The only slight issue was price, as it was around FRF 6,500 (about EUR 1,000), and I wasn't exactly flush, being only a couple of years into my career. Plus, my other big passion at the time was high quality shoes, and I was lusting for a pair of John Lobb brogues. As I was pondering the investment, my eyes caught the display case of Oris, and there was a watch seemingly identical to the Minerva: white dial, golden applique numeral, light brown leather strap. The minor differences were the presence of a date at 6 o'clock, a central second hand and an automatic movement instead of hand wound. I asked how much this one was. FRF 3,500, the answer came. Seeing that the Lobb's were about FRF 3,000, I thought "Great, I can get that Oris, plus the Lobb's, for the same price as the Minerva" and thus bought the Oris and the shoes later that afternoon. Much to the chagrin to the chagrin of the Shop Manager, who ushered something to the tune of "Nothing wrong with the Oris, Sir. But the Minerva is objectively a better watch, with a great movement, it's a family owned business and it's a shame they don't get the commercial success their products deserve."Needless to say, I knew zilch about the caliber 48, or the difference between an in-house or generic movement, and was happy with my purchase at the time.
Fast forward a few years, in the early to mid 2000's, and I was knee deep into watches, learning as much as I could from various forums, and occasionally seeing pictures of a Pythagore being posted. Every time, the same reaction: "Lovely watch, I was really a bit daft not getting it that day of 1998". But by then, they were almost impossible to find, at least new. The few dealers who were distributing them in Paris had stopped doing so after the family Frey had sold the manufacture and the brand to an Italian investor, who was trying to reposition it at a much higher end of the spectrum. So, years went by, and every now and then this regret was being revived.
Until October 2018, when I decided, out of curiosity, to see if there wasn't one for sale second hand by any chance. I went to a well-known online platform, started browsing and, lo and behold, among dozens of Minerva chronographs, there was ONE Pythagore Grande Anniversary. The watch was located in New York, and I proceeded to contact the seller to make an offer. To my great surprise the seller was none other than William Massena, who I trust a number of people here would know from his involvement in Timezone and Antiquorum. I had met, and had dinner with, William around 2003 in New York, so it was a nice surprise to reconnect with him. Small world indeed.
A couple of weeks later, I had the watch on my wrist and, more importantly, the warm feeling of knowing a wrong had finally been redressed. Mind you, it took its sweet time: 20 years, almost to the day.
The second watch I'd like to talk about is the Omega Speedmaster. If you've been following my posts over the past couple of months, you've noticed that I just purchased a new Speedmaster, with the caliber 3861 and a hesalite crystal. This one: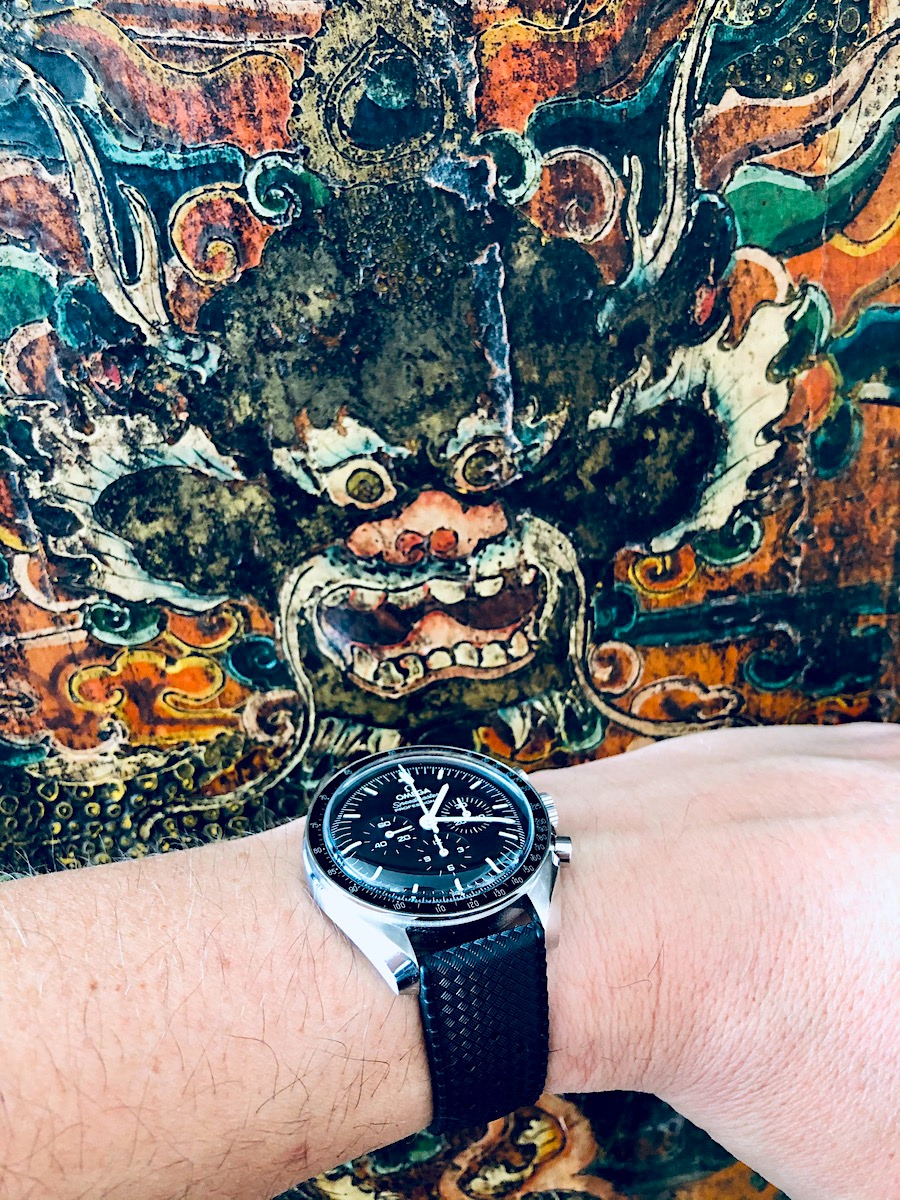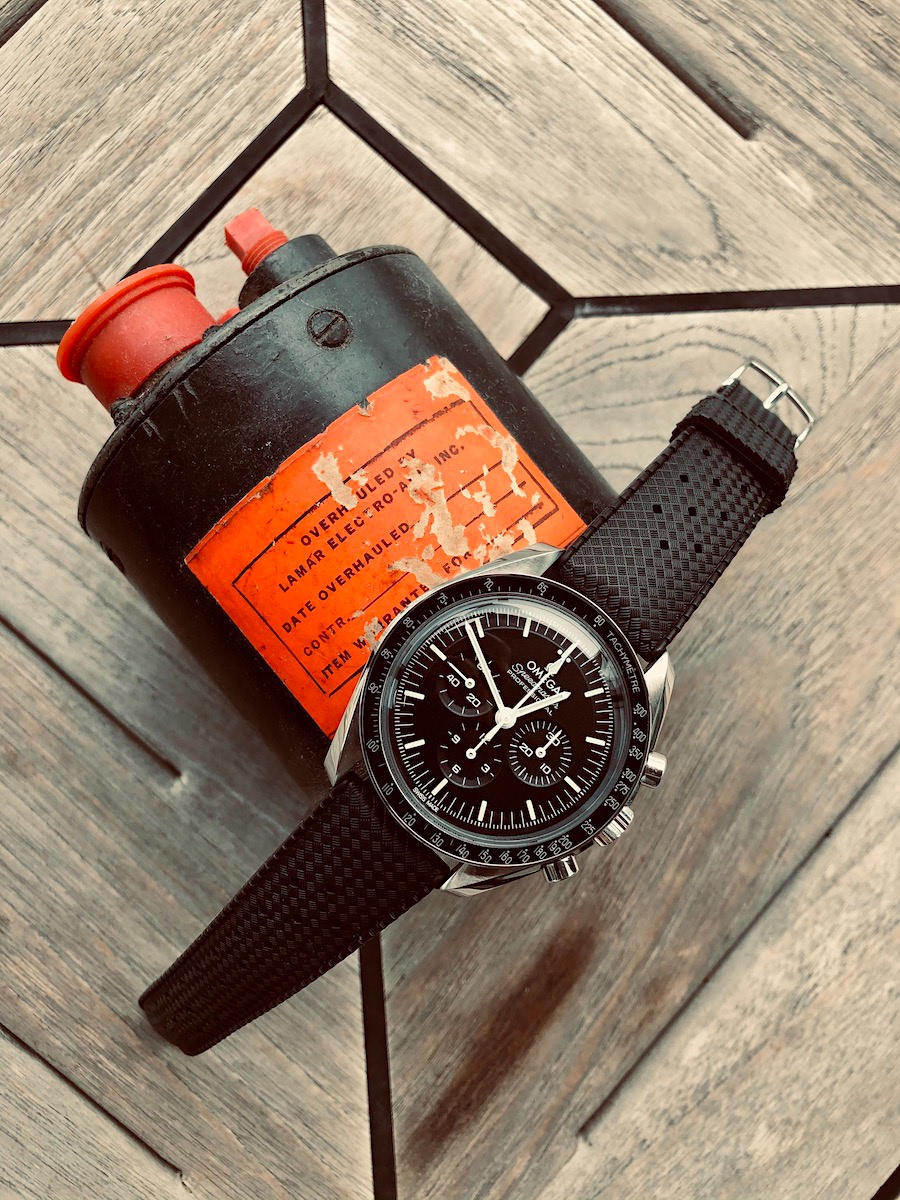 To cut a long story short: this is my first Omega in almost 25 years of being interested in watches. Which is almost inconceivable, as I have been attracted to the Speedmaster design for as long as I can remember. But there was always something getting in the way. I've tried the previous version with the caliber 1861 numerous times, but always recoiled at how large it wore on my wrist, with that oyster style bracelet. Plus, I found it a bit thick to fit comfortably under a shirt. Every time I picked one in a shop, I ended up putting it back down.
At some stage around 2004, I was thinking about getting a vintage version, reference 145.012. But this was a time when I wanted my vintage sports watches to be able to be used for sporting activities. I knew I wouldn't have any issue with a well serviced Rolex Submariner 5513 (the oyster case is a great design), but didn't have the same confidence about a vintage Omega, much less a 35-year-old chronograph.
Fast forward to 2021, and I finally made the leap, as the new version pretty much alleviates all my qualms: the new bracelet is far more comfortable, and the slightly reduced lug to lug and thickness make it noticeably more wearable in office attire. Plus, the METAS certification means it's a bona fide sports watch, and while I wouldn't subject it to the same activities and abuse as my Sinn U50, I'd feel comfortable wearing it at the gym and passing it under running water to eliminate the sweat. It's quite versatile, if one excludes strictly nautical activities it was not designed for. Anyway, I am extremely pleased with this acquisition.
Here they are together, the two watches that almost never made it to me. They certainly took a very, very long detour before making it to my wrist.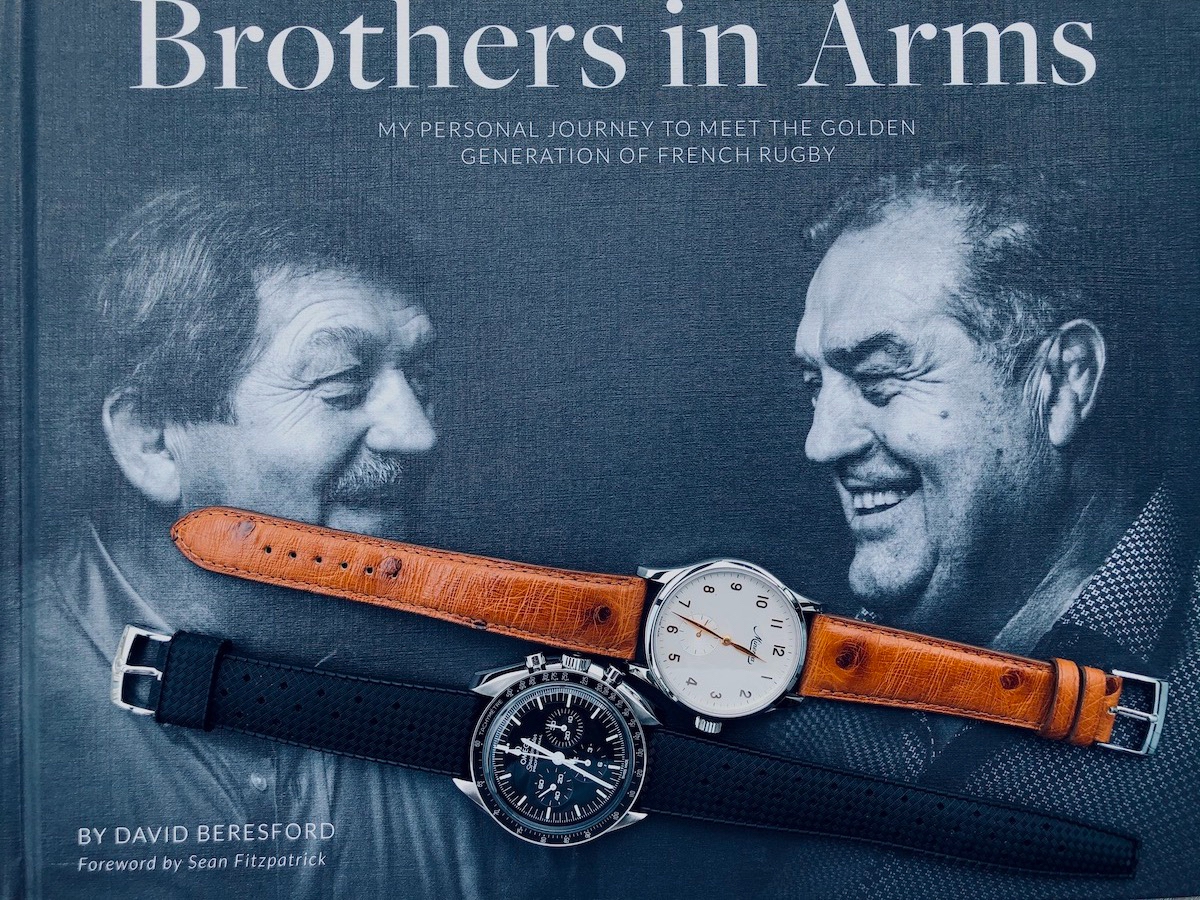 Thanks for reading this very long and verbose introduction. The floor is now yours.
Happy weekend.
This message has been edited by Cpt Scarlet on 2021-05-07 20:15:56