Patrick_y shares his very favorable thoughts on the new Tesla Model 3 Long Range RWD and Performance AWD with Performance Upgrade Package on PuristSPro.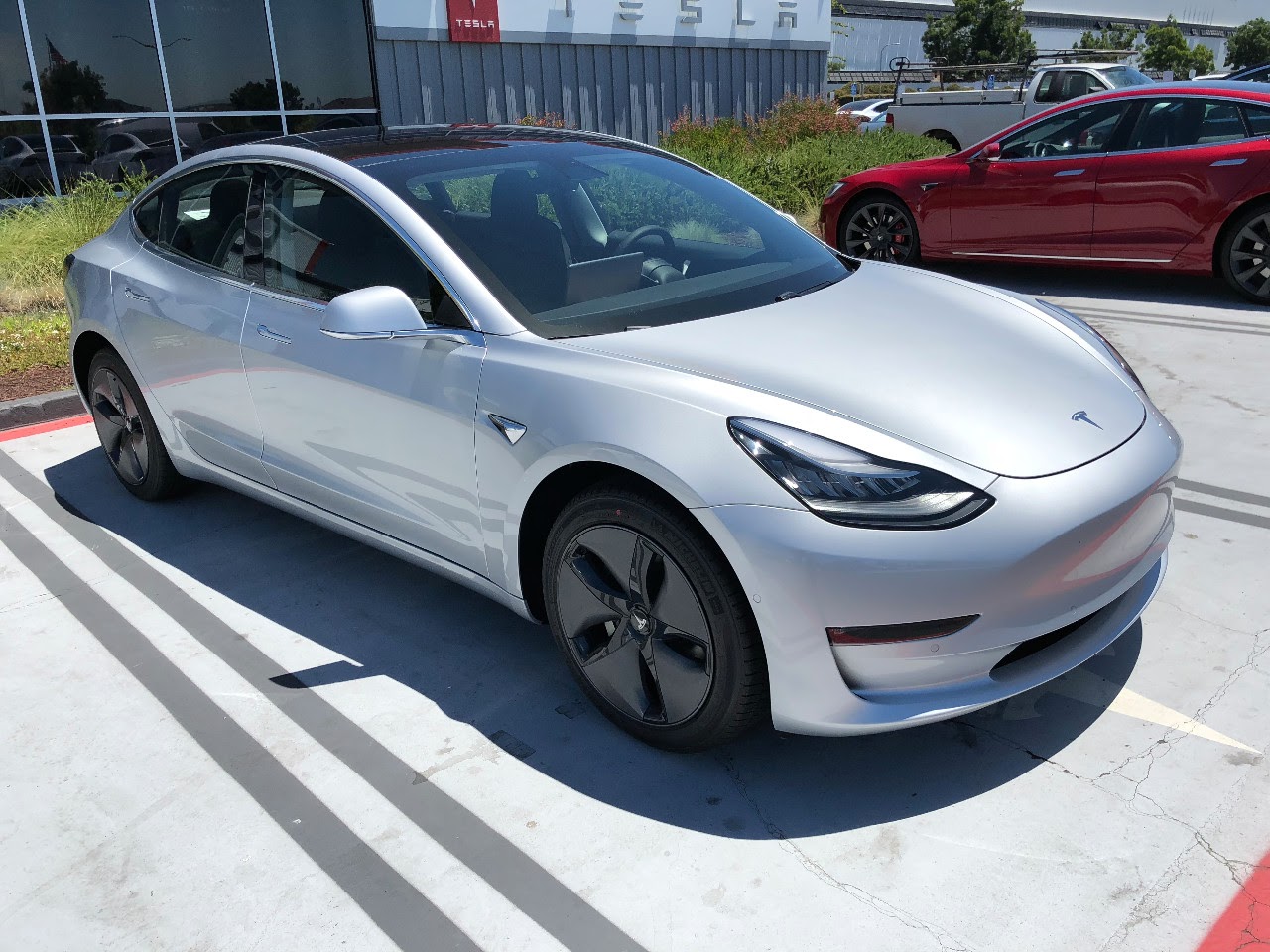 Tesla Model 3 Long Range in optional Silver Metallic with standard 18 Inch Aero Wheel

Living in San Francisco, California is a wonderful place. In addition to the natural beauty, great food (but still lots of room for improvement), and fantastic weather; it's also home to TESLA, amazing technology company that also happens to be a car company. Imagine having Ferrari's HQ and factory in backyard.
I first reported my test drive of the expensive Tesla Roadster back in March of 2009! Nine years later, it's amazing to finally get to experience the Tesla car for the masses, their Model 3.
I am also a fan of the BMW i3 electric car…
Here is a summary of the Tesla Model 3. I drove two different Model 3s on two separate dates both at the Fremont, California factory:
1. Tesla Model 3 Long Range Rear Wheel Drive on 18 inch wheels with Premium Package and Enhanced Autopilot
2. Tesla Model 3 Long Range Performance All Wheel Drive with Performance Upgrade package with Premium Package and Enhanced Autopilot
HANDLING: The car corners well and handles well, likely due to the low center of gravity because the heavy batteries are all in the floorpan at the lowest point of the car. While the test drive I had didn't include any windy mountain roads, I'm almost certain the Tesla Model 3 would do much better than other cars of similar weight due to the positioning of the battery.
I drove the Long Range Rear wheel drive version and the High Performance All-wheel-drive version with the "Performance Upgrade" option, the latter has a lowered suspension and stickier tires. Driving in the suburban roads of Fremont, California (that are mostly straight and in good condition); one cannot tell if there was a substantial difference between the two, but I understand in a windy mountain road the lowered suspension results in noticeable improvement to vehicle dynamics. Both vehicles had very nice handling dynamics.

STEERING: I was expecting the AWD variant to have numb steering. But both the RWD and AWD have equally numb steering. I like to have both steering racks in the SPORT mode, which makes it a bit heavier and complements the handling characteristics of the car; the build up of resistance is in line with the car's turning. I normally prefer RWD steering, but on this car I have no qualms with the AWD steering of the Performance model.
BRAKING: Slowing and stopping is always interesting in electric cars due to the strong regeneration on them. Tesla Model S/X/3 have adjustable regeneration; normal regeneration for maximum regeneration, the car will slow down a fair amount to the point that you're hardly using the brakes (don't worry, the brake lamps do turn on); and reduced regeneration so the car drives in a fashion that resembles a traditional vehicle. I'd keep it in the more aggressive "normal" regeneration mode as I enjoy the one-pedal driving experience. I hardly ever have to hit the service brakes! Regeneration also helps recharge the battery a small amount, so it's definitely more beneficial to have more of it.
Despite the aggressive regeneration, I did take a look at the actual brake pad of the Tesla Model 3 and I wasn't very happy with what I found. Unfortunately, the Model 3 has very thin brake pads unless you get the Performance AWD version with Performance Upgrade package. The brake pads on my car come with 10-12mm of pad material. The warning light should come on at around 3-4mm. And they should definitely be replaced before they hit 2mm. The Tesla Model 3 brake pad seems to come with only 6-8mm (a visual estimation done with my eyes); this is because Tesla expects you to rarely replace your brakes due to the regeneration of the vehicle. For those of you Aston Martin Rapide owners, you'll notice that your Aston Martin Rapide brake pads are shockingly thin. While no official Aston Martin employee will readily admit it, the thin brake pads was chosen so that way you'd have to service it more often! Caveat emptor!
The Performance AWD version with Performance Upgrade does come with larger two-piece rotors, a bigger/stiffer brake caliper, a fixed rear caliper (standard on all models is sliding on the rear), and much thicker brake pads! But since so much of the braking is done through the regeneration that I imagine little of the standard pads would be used. A good percentage of Teslas will never see a brake pad nor rotor change in their lifetime!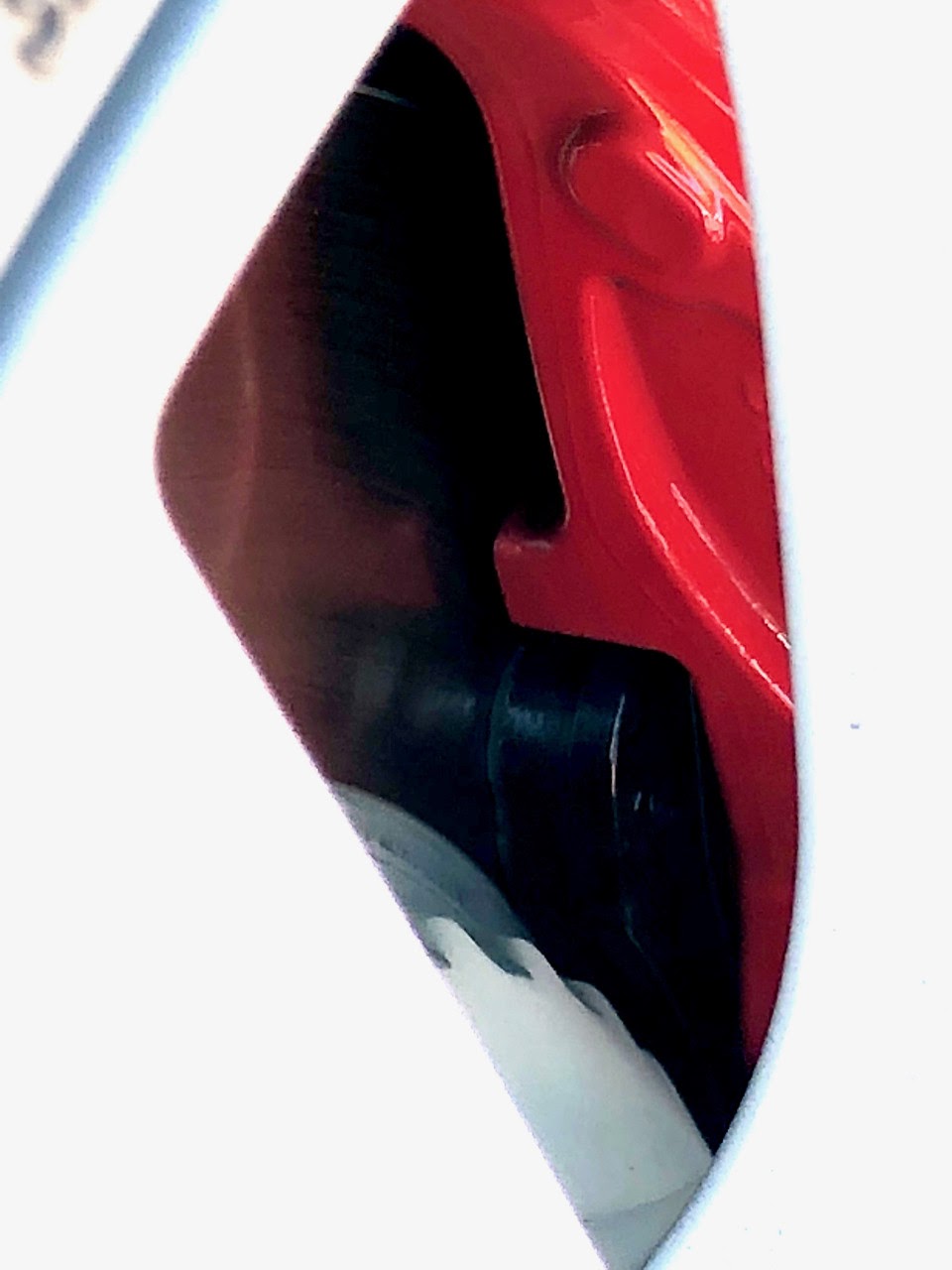 Performance Upgrade Package brakes have larger two-piece rotors, larger and more rigid calipers, fixed calipers both front and back, and thicker pads.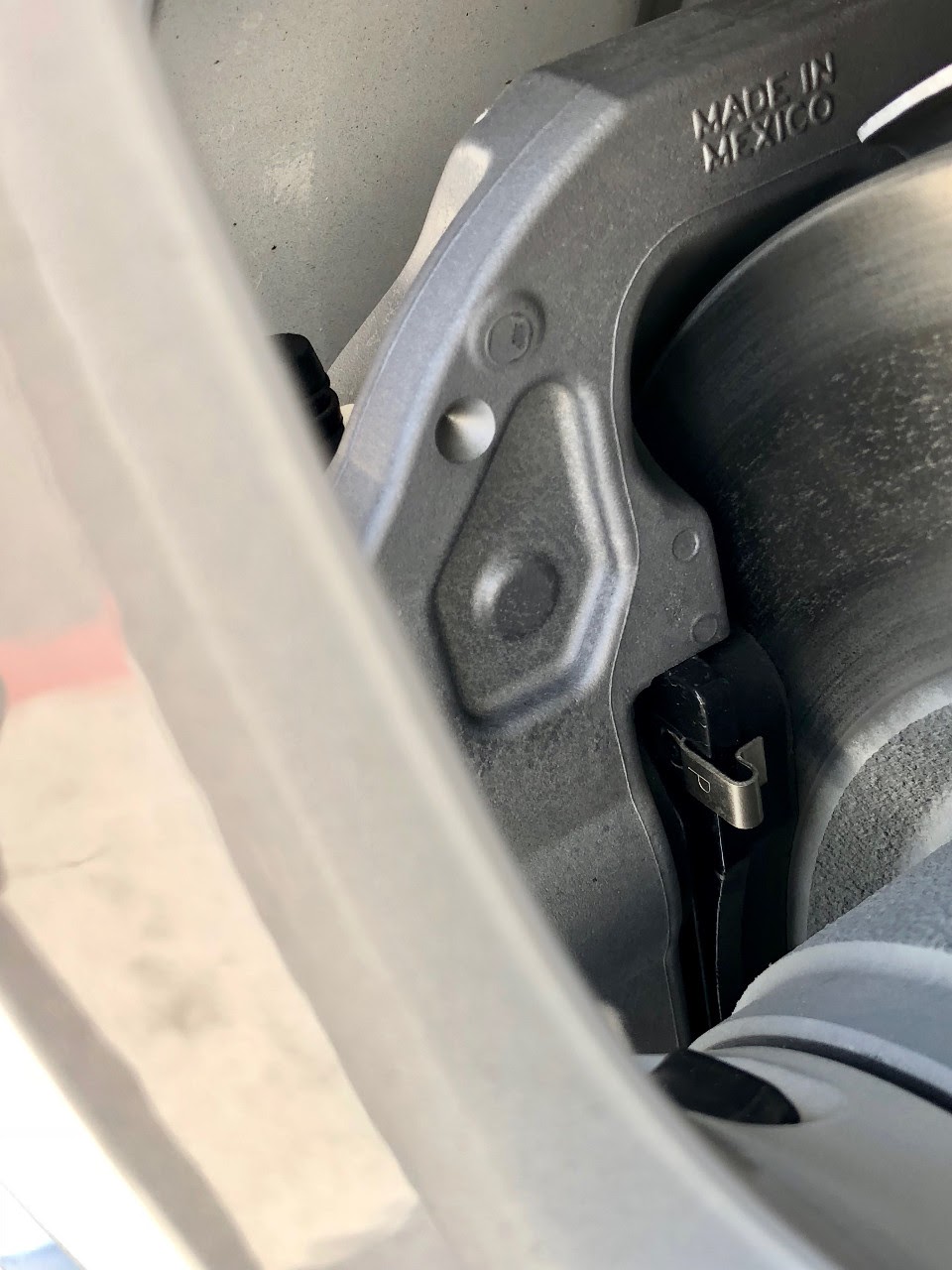 Standard brakes have a small fixed caliper front brake with a small rotor; combined with a sliding caliper in the rear. Notice how thin the front brake pads are!
SUSPENSION and WHEELS: The suspension on both Model 3 vehicles seem to be on the firm side. The Performance Long Range AWD with the Performance Upgrade has 20 inch wheels, significantly larger than the standard 18 inch wheels, which means a stiffer sidewall tire. The test drive route has very good condition roads, but I feel that I'd be happier with the 18 inch wheels which should offer a slightly smoother ride. From a handling standpoint, the 18 inch wheel and tire combo is significantly lighter than the 19 inch and 20 inch.
ACCELERATION: Electric cars are still assumed to be slower than gasoline cars. This is not the case when it comes to Tesla vehicles. The Model 3 accelerates from 0-60 in supposedly 5.1 seconds. In the car I test drove, I noticed the car had very strong acceleration from 0-60 miles per hour, then it seemed the car had computerized restraint as it exhibited a MUCH SLOWER rate of acceleration over 60 MPH. I'd also like to point out, many of the professional reviewers for major automotive magazines have not noticed this nor mentioned the sharp change in acceleration rate at speeds higher than 60mph. The 5.1 second time seems accurate, possibly a bit conservative.
The Performance AWD version doesn't suffer from the dip in torque at speeds above 60mph and has much stronger and more fluid acceleration. Acceleration is a swift 3.5 seconds 0-60 and it will continue with aplomb. This Performance AWD version is definitely the one to get if you're not bothered by the $15K premium. If you like big brakes, big wheels, and a spoiler then add the $5K to get the Performance Upgrade package. Is a $20K premium reasonable? It is reasonable if you look at it from the top down (compare the Model 3 to other BMW M3s and Mercedes AMGs), but it's definitely pricey if you're looking from the bottom up! Pay $20K and you can get a car that has Porsche levels of performance. This Performance AWD version sizzles! Definitely worth the money! Definitely worth considering! It's very very fast!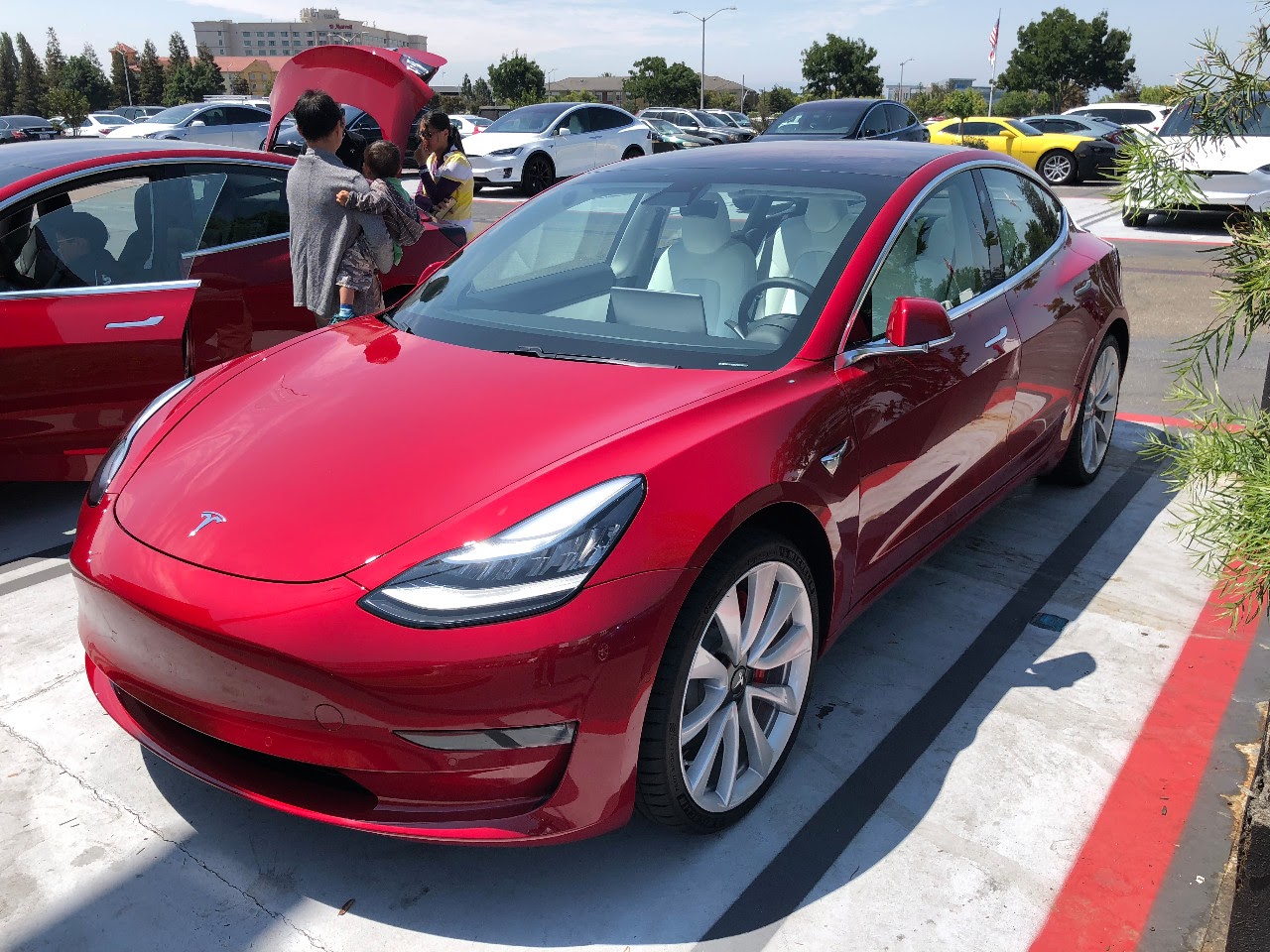 This is the Performance version with Long Range battery, The Performance Upgrade Package consists of 20 inch wheels, Michelin Pilot Sport 4S tires, Bigger brakes (larger diameter two piece front rotors, larger fixed calipers front and rear, bigger brake pads, and calipers are painted red), a spoiler, and metal pedals. It's definitely worth the premium!


My personal daily car has a 5+ liter V8 engine with a manufacture rated 4.5 second 0-60 time, so I'm accustomed to decently fast machines; but I'm confident the standard Model 3 would be more than adequate to meet my needs. The Performance AWD version definitely has a luxurious overdose of power that would be highly enjoyable!
DESIGN: The vehicle has a plan front face, a great side profile, and a seductive rear profile. Overall, it's an okay looking car, but the front seems a little plain to me with a slight resemblance to a platypus. The interior design is very Scandinavian and simple. Materials on the inside are mostly pleasing, but it appears that Tesla might not be using the Alcantara material on future vehicles (it's a more expensive material) and will be using a more generic nylon material on the pillars and ceiling. The glass roof does not open.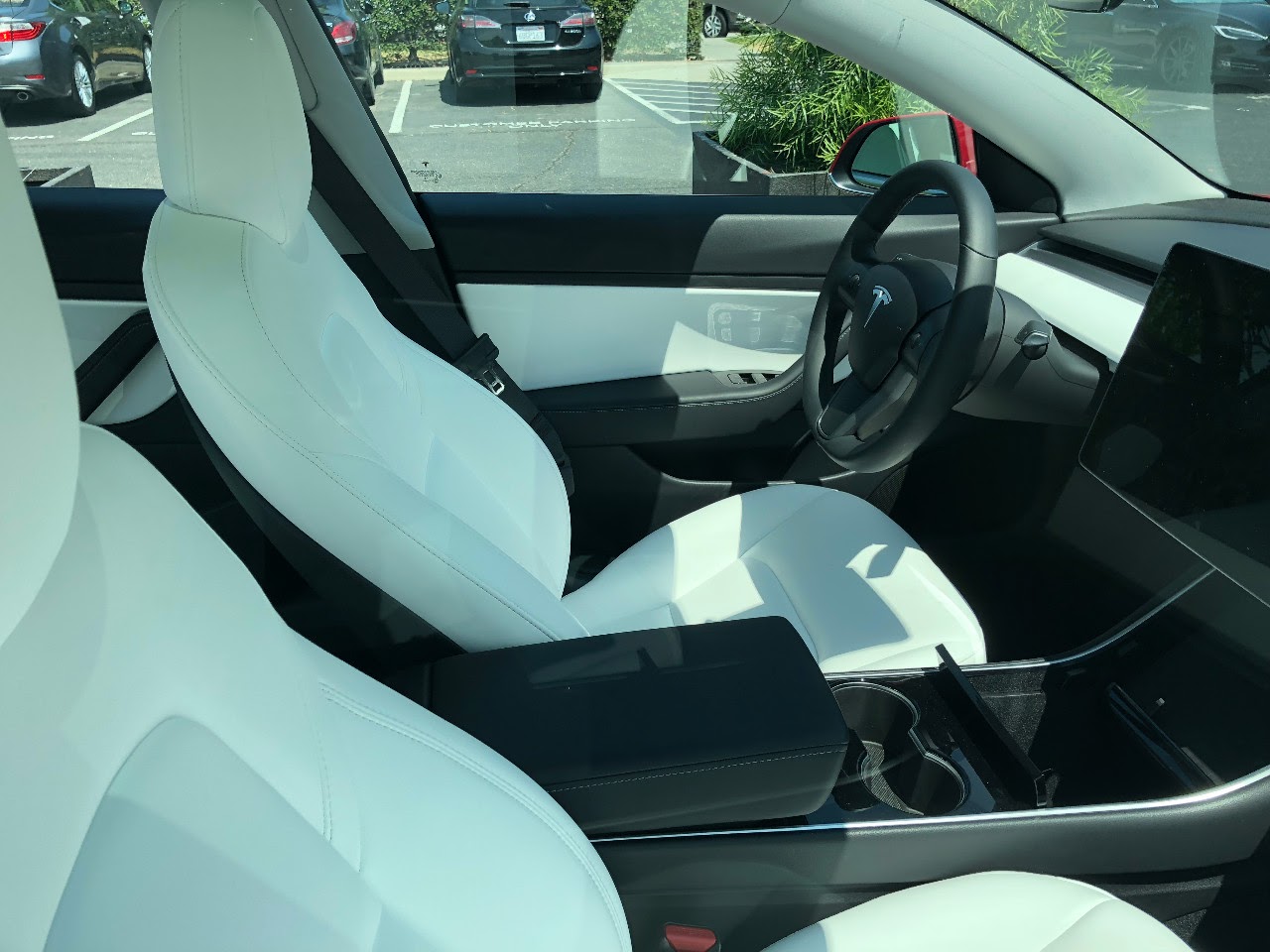 The white interior is lovely!
TECHNOLOGY: Internet of Things has now reached your home and your car. The Model 3's gigantic touchscreen does work fairly well, but will take some getting used to. The overall UI (user interface) is very intuitive and most features are well laid out. Some things can be a little frustrating; if you want to change from the navigation to manually turning on your lights for a windy road (it's legally required to have your headlamps on for a windy road in California), you'd have to press SETTINGS to get out of the navigation menu and into the settings menu, choose what you want from a settings sub menu, such as Lighting, and then turn the lights on manually. A few taps are required to do certain things. Sometimes a knob would be better and you'd have your eyes on the road more of the time. I wear gloves when I drive and I'm pleased to report that the touch screen and steering wheel buttons work well with gloved hands! I also wear polarized sunglasses (the polarization can affect your depth perception, be aware, race car drivers do not have polarization on their visors for this reason) and I'm pleased to say the screen works well with polarized sunglasses (BMW's radio display on E9X models appear black with polarized sunglasses).
ENHANCED AUTOPILOT: Mainly for freeway cruising, this is basically a very advanced cruise control feature. It can even change lanes for you and keep you centered in the lane. But the driver still needs to remain aware of the situation. Some Tesla owners love the feature, some aren't enamored with it; I fall in the latter camp as my test drives were short and didn't have a large amount of freeway mileage to utilize this feature. I can imagine someone who takes very long trips would enjoy the benefits of this system as it can offload the driver somewhat. But I can also see a lot of Tesla drivers becoming complacent in the system and over reliant. I'm just not keen on the whole idea, so I'd rather drive myself, I'd do without it.
LONG TERM RELIABILITY: I like to keep my cars long term, I don't need to always constantly change. I also live in the San Francisco Bay Area which is a fairly large town, so there's a large potential for 20+ mile trips. So far, Tesla's reliability is a bit inconsistent; but generally mileage isn't a major issue, it's the electronics that present the biggest issues. There are Tesla vehicles used as shuttles and corporate cars with over 300,000 miles racked up in short order that had very few problems; 12 days total for servicing and only $11,000 in maintenance and running costs. The company estimated a comparable combustion engine vehicle would likely need around $70,000 in maintenance and running costs and around 100 days total for servicing.
DETAILS:
1. The Tesla Model 3 will eventually have an annual subscription service that costs around $100 per annum. This used to be included in the cost of the Model S/X, but will now be billed separately in the future. This will provide data service for the car so the car can download updates, data service to communicate with the Tesla App on the user's smart phone, have internet radio, navigation, traffic information for the navigation, and a host of other services.
2. The four doors have an electronic button for interior passengers to open the door electronically. The front doors have mechanical door releases too, in case of emergency. The rear doors do not have mechanical door releases, so in emergencies where the electronic door release doesn't work, rear passengers will have to climb to the front.
3. Door lock control is in the center screen. Hazard flasher button is on the ceiling!
4. The black interior has a wood trim. The white interior has no wood trim, just a piece of white plastic.
5. Rear seats are not very comfortable. The floor pan is not very deep since there's still a layer of batteries underneath the floor. Thus, your seat is a little low relative to the high floor and your knees are in the air and there isn't enough thigh support. Your rear passengers won't be happy on long drives.
6. Range: Long range AWD and RWD is estimated to be around 310 miles. Tesla does state that the 19 inch and 20 inch wheels may have a slight range loss of around 5% compared to the standard 18 inch wheel.

THE VERDICT: The ultimate verdict is whether or not I would buy a Tesla with my own money. The answer is a wholehearted YES! The Tesla Model 3 Long Range Performance AWD with Performance Upgrade seems to have a flawless driving experience, no faults and genuine performance. At a cost of $20,000 more, it is substantially more expensive than a Model 3 Long Range RWD, but it's definitely worth it if you want performance. I'd drive the Tesla substantially and consider keeping the car long term.
I'd consider configuring it one of two ways:
1. Model 3 Long Range Performance AWD ($64,000) with Performance Upgrade ($5,000 gets you bigger brakes and wheels), without Enhanced Autopilot (which would've added $5,000), white exterior paint ($1,500), white interior ($1,500) for a total of $72,000.
2. Model 3 Long Range RWD ($44,000), with Premium Package ($5,000), silver exterior ($1,000), 18 inch wheels ($0), and black interior (only choice). Total comes out to $50,000.
Off The Menu:
3. I'd consider the shorter range variant if I could (the shorter range variant isn't for sale yet) and it should be around $9,000 less than the car in bullet 2. The shorter range variant has less batteries, which will likely make the vehicle have better handling. Tesla will be allowing orders of the shorter range variant in early 2019 supposedly. Judging from the Model S and X, Tesla will not likely make a high performance variant of the shorter range version.
Many PuristSPro members have Teslas. Share your thoughts about your Tesla and the new Model 3. I hope you enjoyed reading this review about the new Tesla Model 3. It's awesome! The electric future looks bright! And think about this; you have a Tesla Model 3 electric sedan that can accelerate to 60 in the same time as the new Ferrari Portofino... Technology is amazing! Tesla is an amazing trailblazing company creating amazing products and a wonderful supercharged ecosystem to support their products (notice other brands haven't created their own charging ecosystem). Keep up the good work Tesla!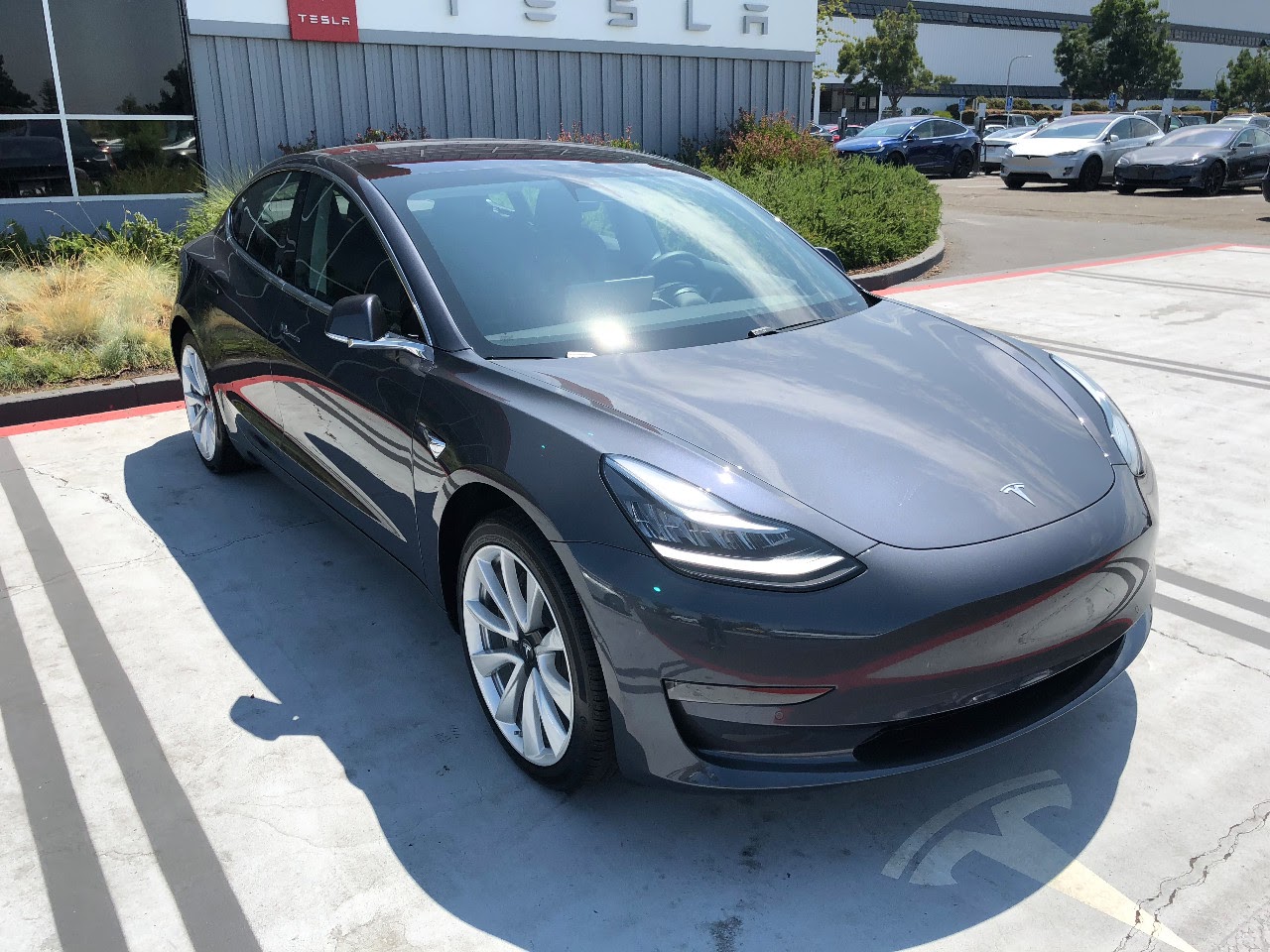 This is a Long Range RWD with 19 inch wheels. I did not drive this vehicle.

DISCLOSURES: I wrote this article and did not receive any benefits from Tesla. Tesla did not know that I was going to write this article. I am a current Tesla stockholder. All photos were taken by the author.