Friends,
Let's continue with Part IV of our series of hidden Girard-Perregaux gems from the 90s. If you have missed the previous Parts, go check them out, links are at the bottom of this report.
Last time, we looked at the "Vintage 1996" a chronograph from the 90s and today we look again at a "Vintage" line model. We actually go back 2 years to 1994 and hence the name "Vintage 1994".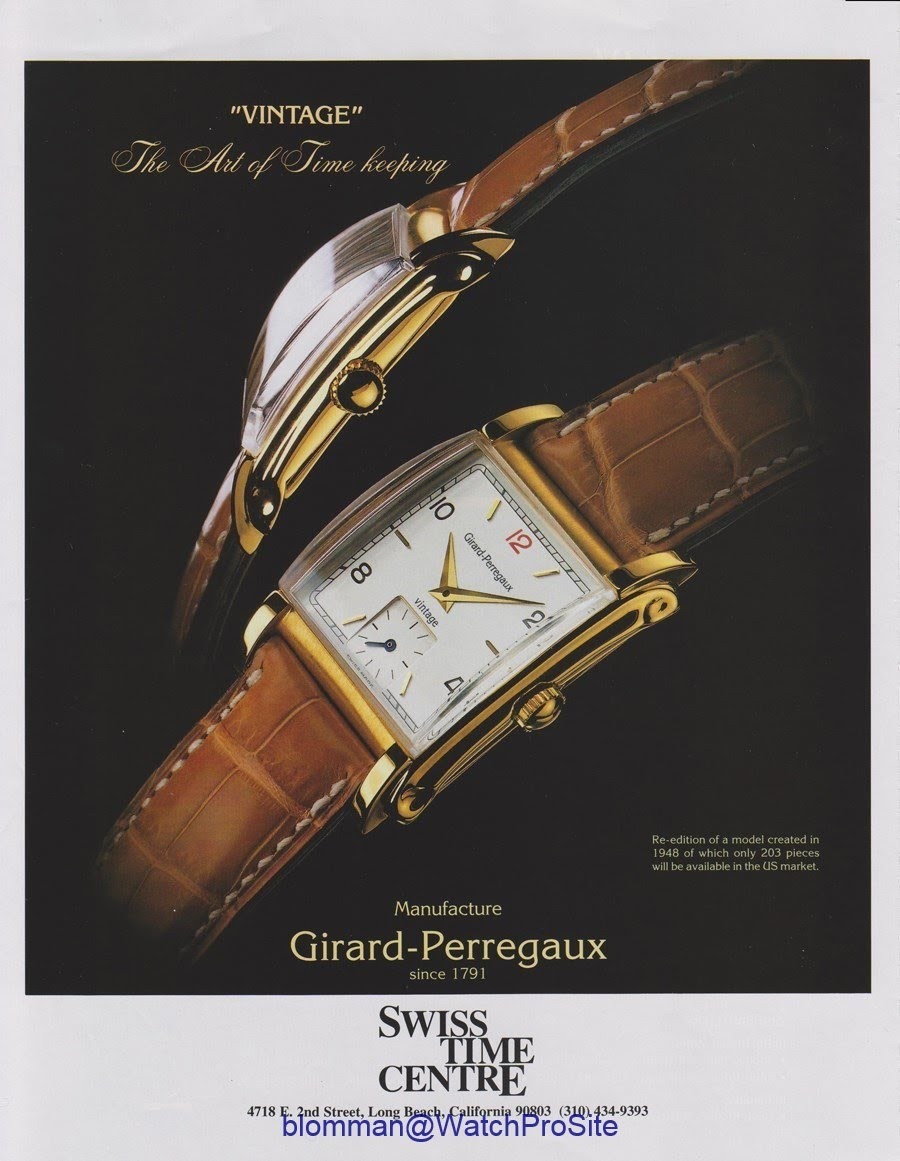 photo credit Blomman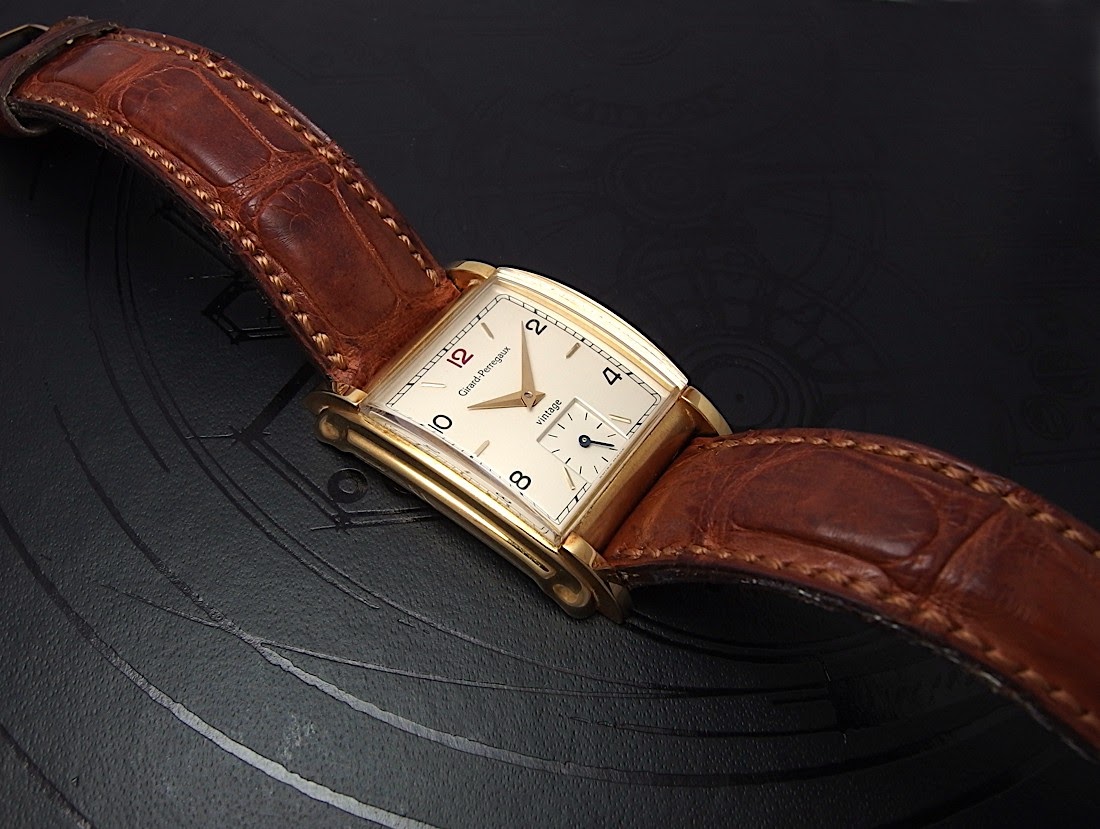 The reason why we jumped the timeline a bit is because I had the opportunity to get to the roots of the Vintage 94 model, but more on that later.
The Vintage 94, Ref 2550 is no stranger to our forum. I'm owning two of them a few years now and posted about them now and then and our friend Blomman also owns a 2550 (of which I'm not guiltless of) and you can find several posts by both of us.
So while it may not be totally underappreciated or a discovery, it just had to belong to this series. Let me explain why.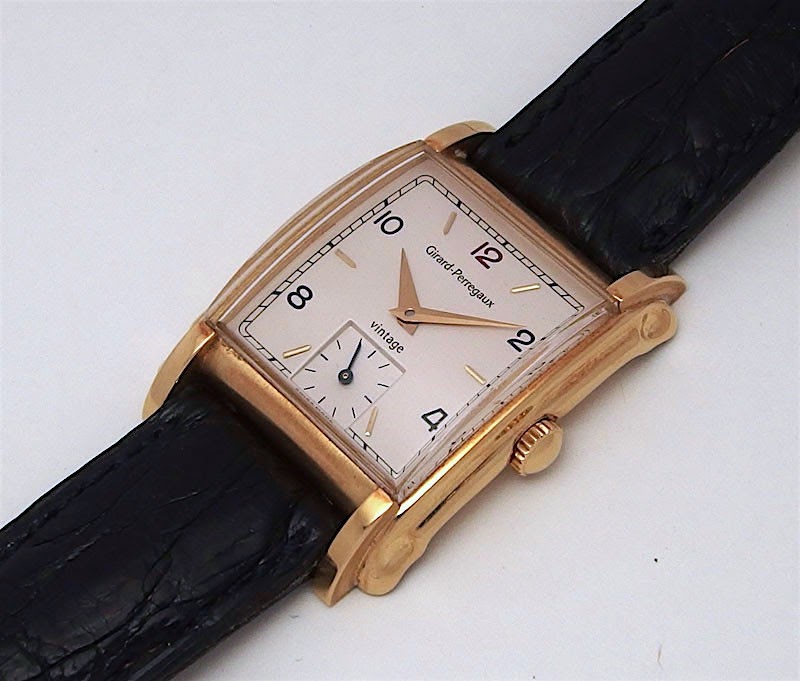 The Ref 2550, "Vintage94" is a bit of a turning point for GP. After Luigi Macaluso took the reigns at GP, there was a clear direction to go back to the rich history and heritage of the brand and revive classic designs and outstanding horological achievements. The Laureato 8010 we already reported on and the "Vintage" lines 1945 and 1966 are a cornerstone of the brand since the 90s all the way through to today.
The "Vintage 94" was the first watch released in the "Vintage" series, which makes it so special. As reported before, the "Vintage" series was to take historical museum pieces, rejuvenate them and release them as limited editions or at least limited production. They were also testing the water of the market to see what design could live on in the collection. We all know that the second attempt in 1995 already hit a sweet spot and brought us the "Vintage 1945" collection.
In addition, there is another story around that watch that gives it a lot of charm. It goes that the American distributor found in storage a number of NOS Peseux 7000 movements from the 70s that in those days were used a lot in GP manual wind watches. That kind of gave an opportunity to release a heritage or vintage-inspired model using a manual movement without needing to source or develop a new caliber. So the movements were shipped to La Chaux-de-Fonds and reworked and redecorated and made their way into Ref 2550 and also a year later into the Vintage 1945, Ref 2595. It fitted perfectly the vintage designs of manual wind, time only with small seconds layout.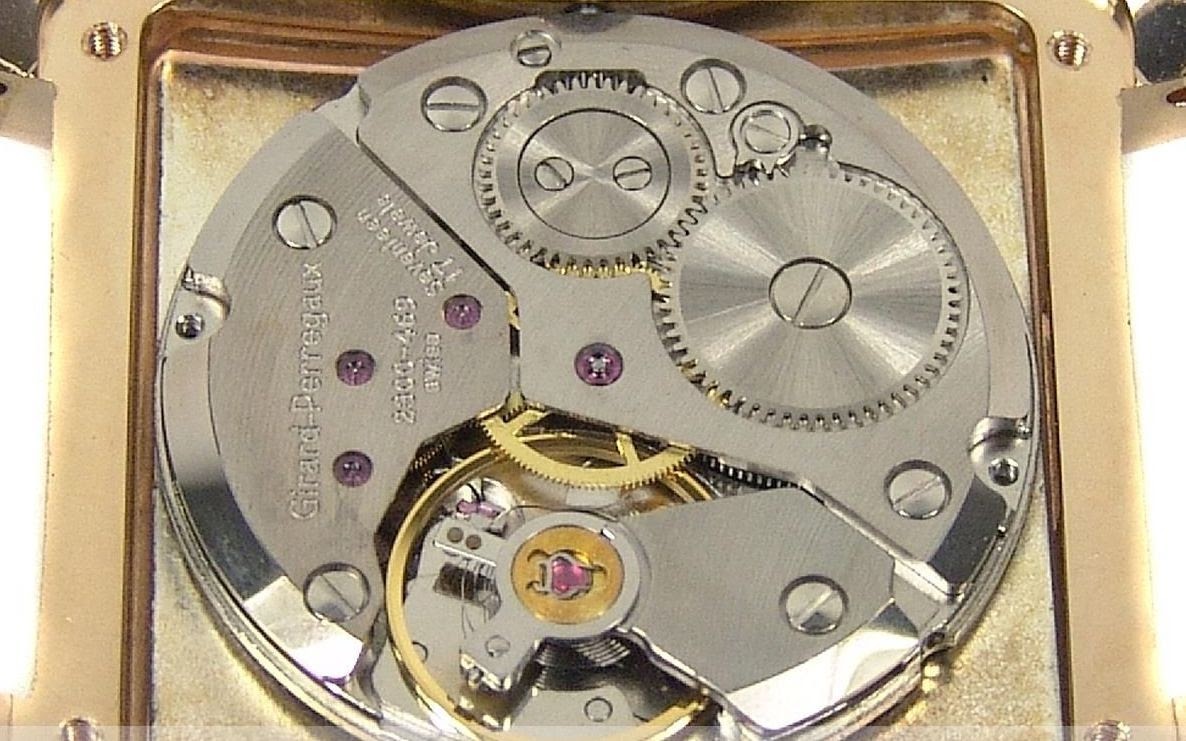 Photo Credit Zeitauktion
So GP then went into its own museum and found some interesting models from the 1940s, among them something similar to that: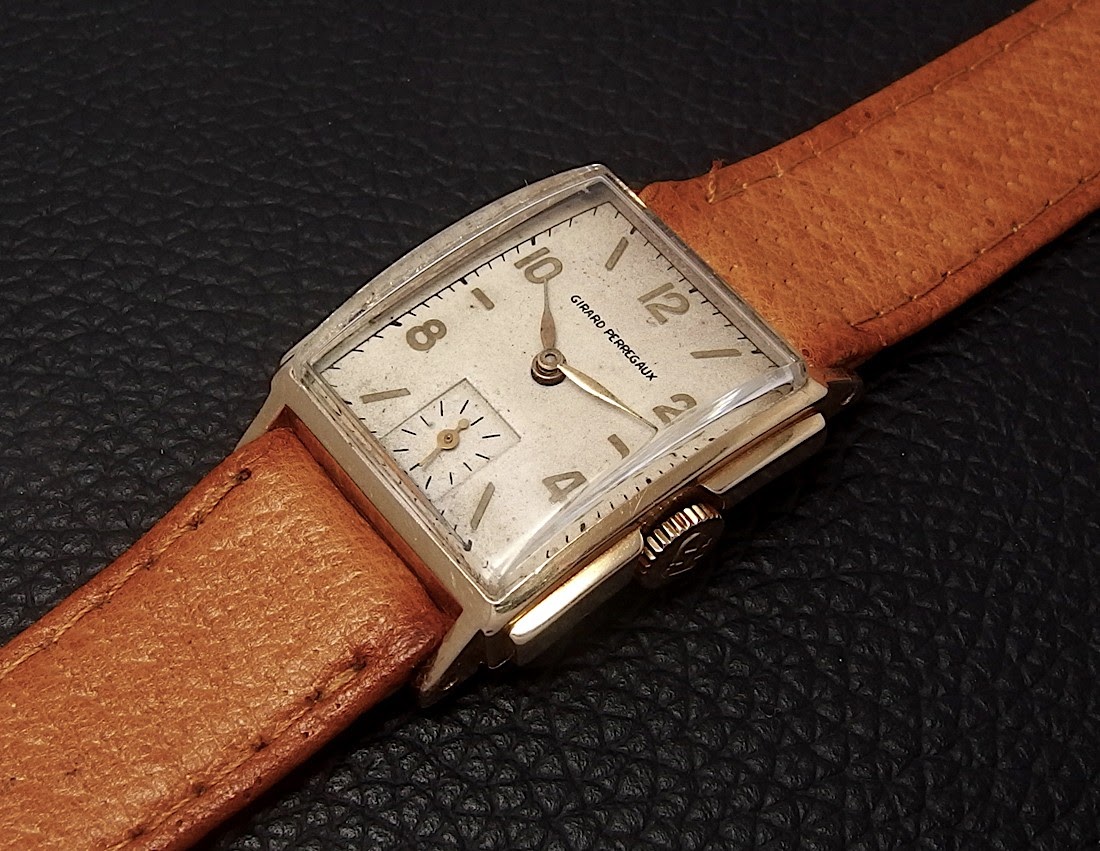 And here you also have the delay of the post, as I just recently found this 1940s model that surely was an inspiration for the modern Vintage 94. What is interesting, GP never just produced a "copy" of the vintage watch. The whole process was to redesign the watch for modern taste while clearly showing its historic roots in the vintage model.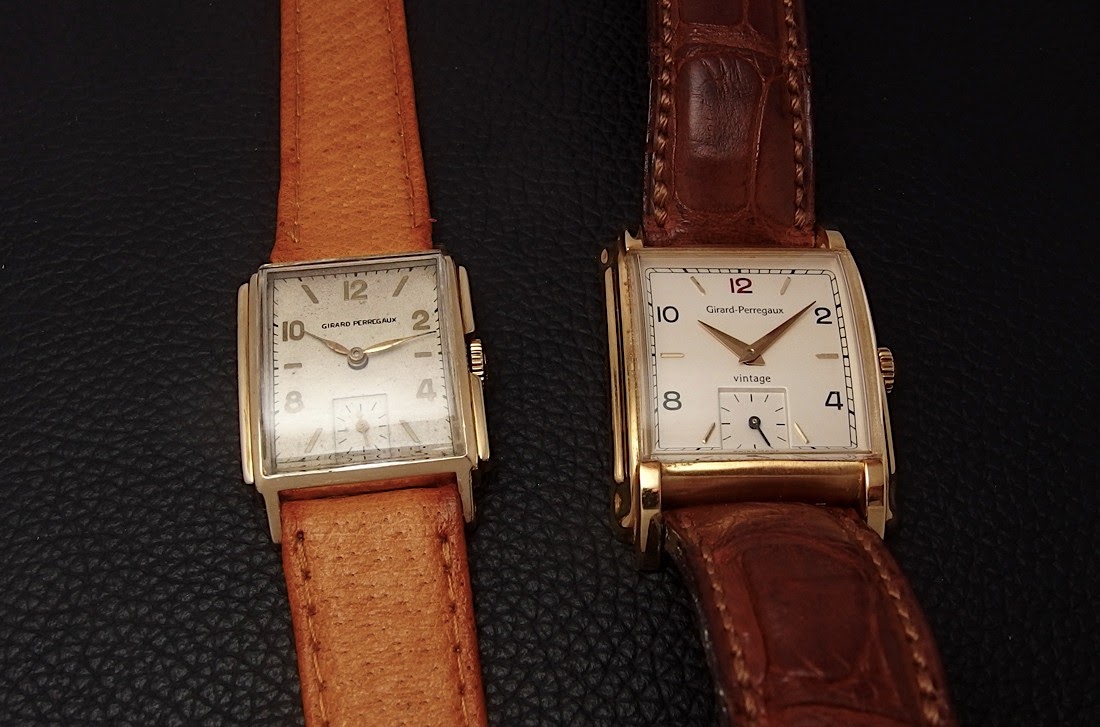 For the Vintage 94, GP had to take a decision on the glass. By that time, sapphire was the only glass used in production for its better scratch-resistance, but for this particular model, GP opted to go back to acrylic plexi. It just underlines the curved and complex shape of the crystal and gives the watch even more of a vintage look.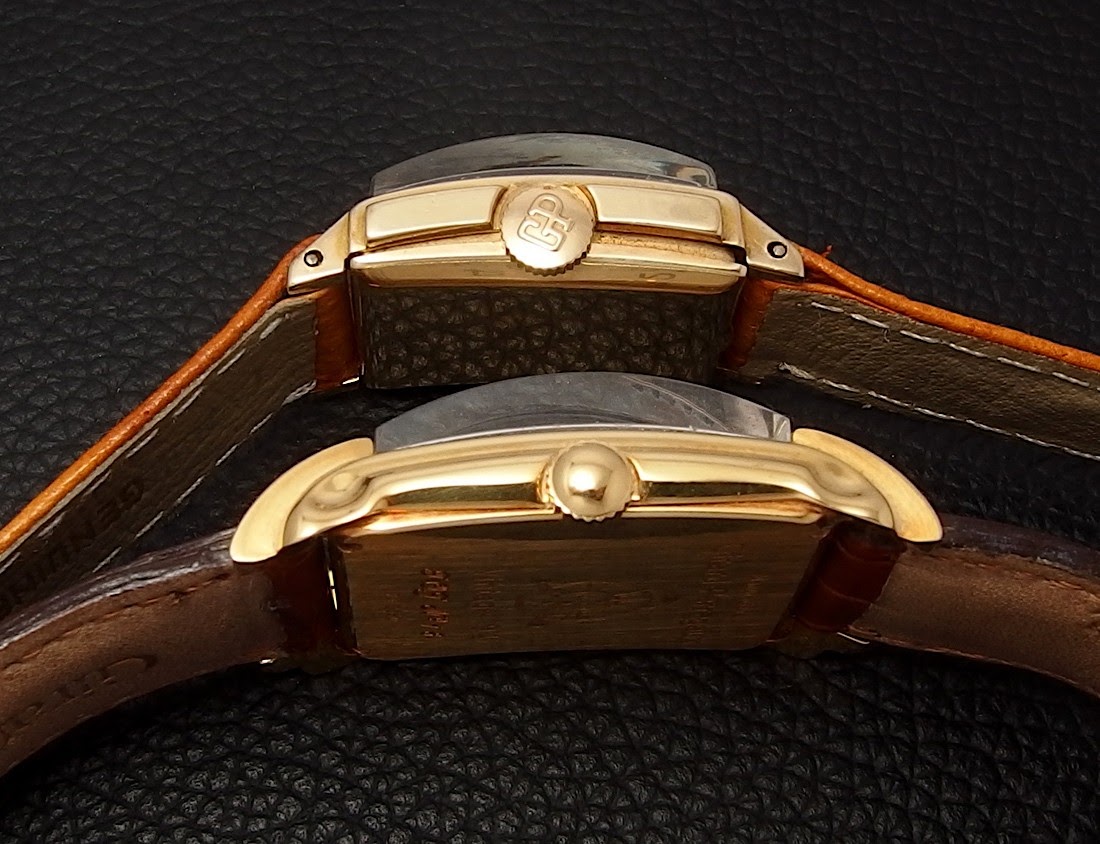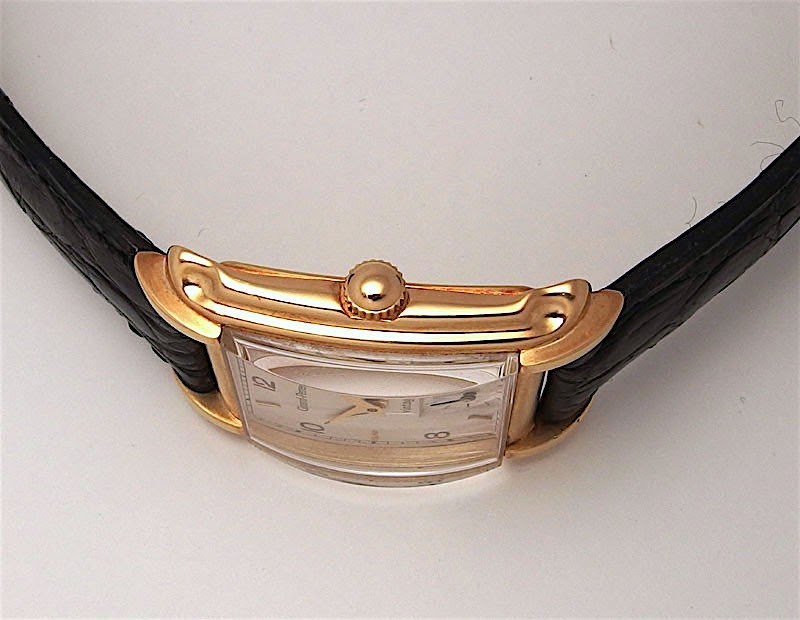 The Case was slightly enlarged, but remained on the small side to keep with the historic model. A lot of thought went into the case sides. This is one of the most complex cases I have seen (not counting engraved cases, which I don't really like). There is a great mix of polished and brushed surfaces and the shape of the sides is just gorgeous. Combined with the towering curved plexi, this watch has a lot of character.
Another added spice that was brought to the modern version of the watch, is the red 12. Throughout all metal and dial versions, the red 12 is always there and it works so well.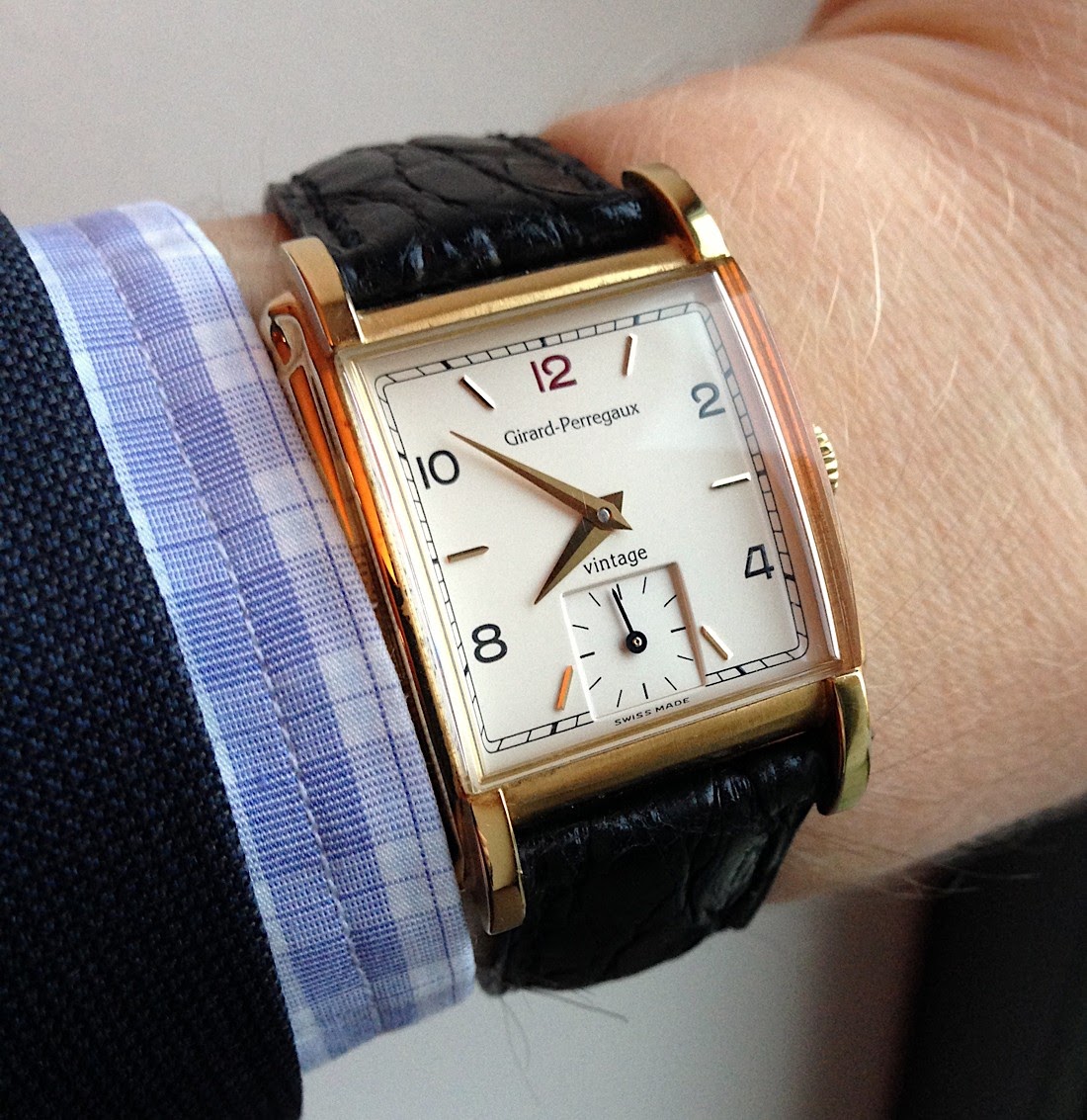 Let's have a closer look at all variants. Ref 2550 was a Limited Edition of only 203 watches ever made. Not 203 special dial or case versions of a larger production run, no, really only 203 in total, period.
203 sounds like an odd number but it works in two ways very well. For one, 1994 was the 203rd anniversary of GP (1791) and 203 allowed them to make a nice split of production numbers by case material.
In total there were:
100 made in Yellow Gold
50 made in Pink Gold
50 made in White Gold
3 made in Platinum
Well, I admit, I NEVER saw the Platinum, no photo, none for sale, no nothing. With only 3 pieces that may not be a big surprise, but still, they should be out there somewhere.
I'm also aware of 3 different dial versions and possibly some sub-versions:
A cream dial with gold markers and hands, typically found in YG or RG cases
A silver dial with white metal markers and hands, typically found in the WG case
A silver dial (maybe cream) with coloured gold markers and hands, seen in a WG case
A black dial seen in all three YG, RG and WG cases.
No idea what dial the Platinum would have used, but I could imagine either silver or black would fit well.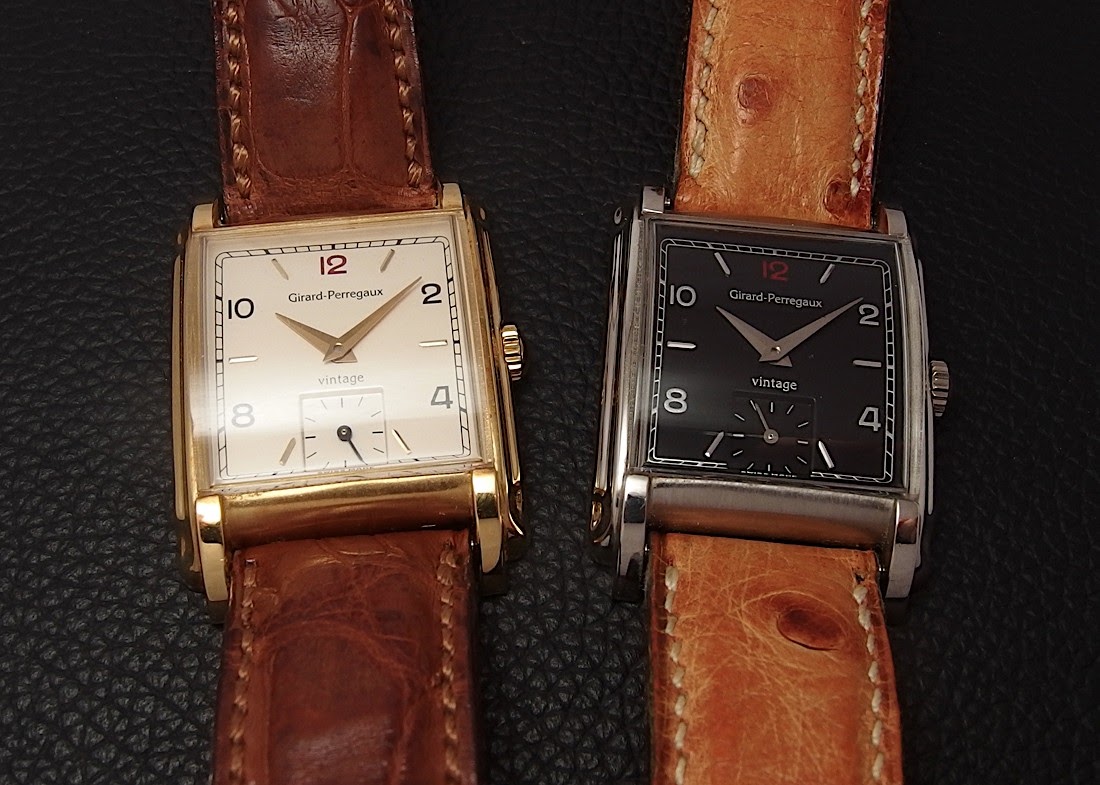 Yellow Gold and White Gold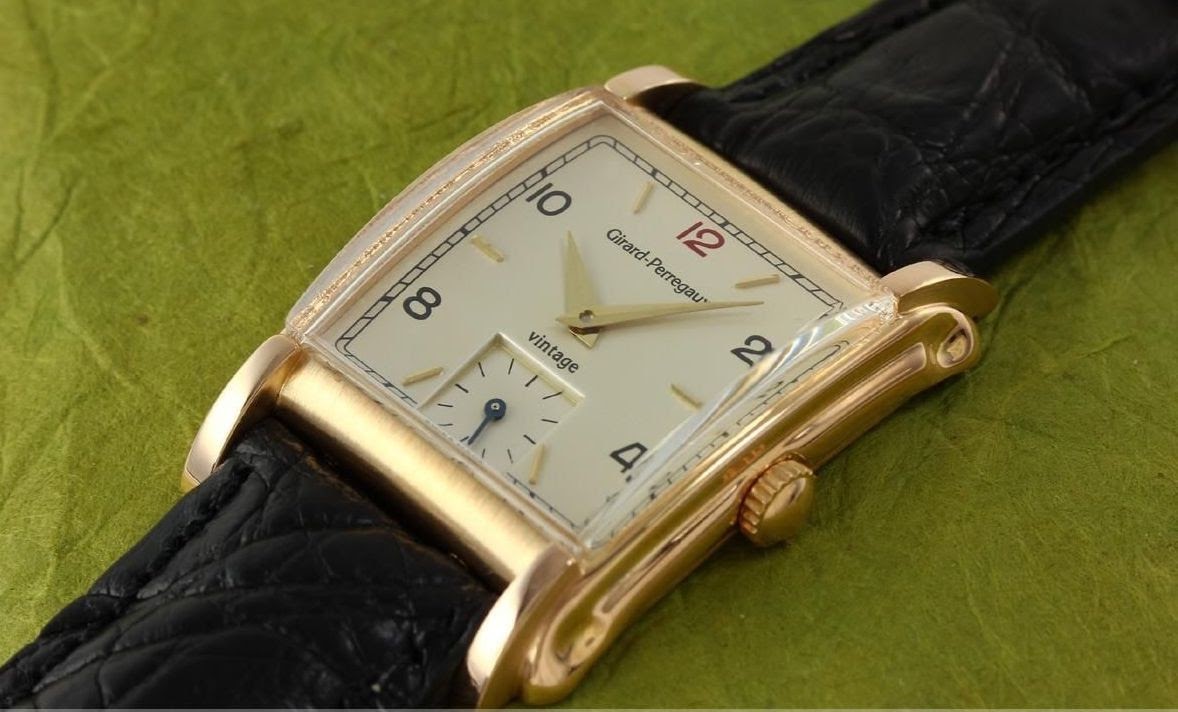 Pink Gold: photo credit Zeitauktion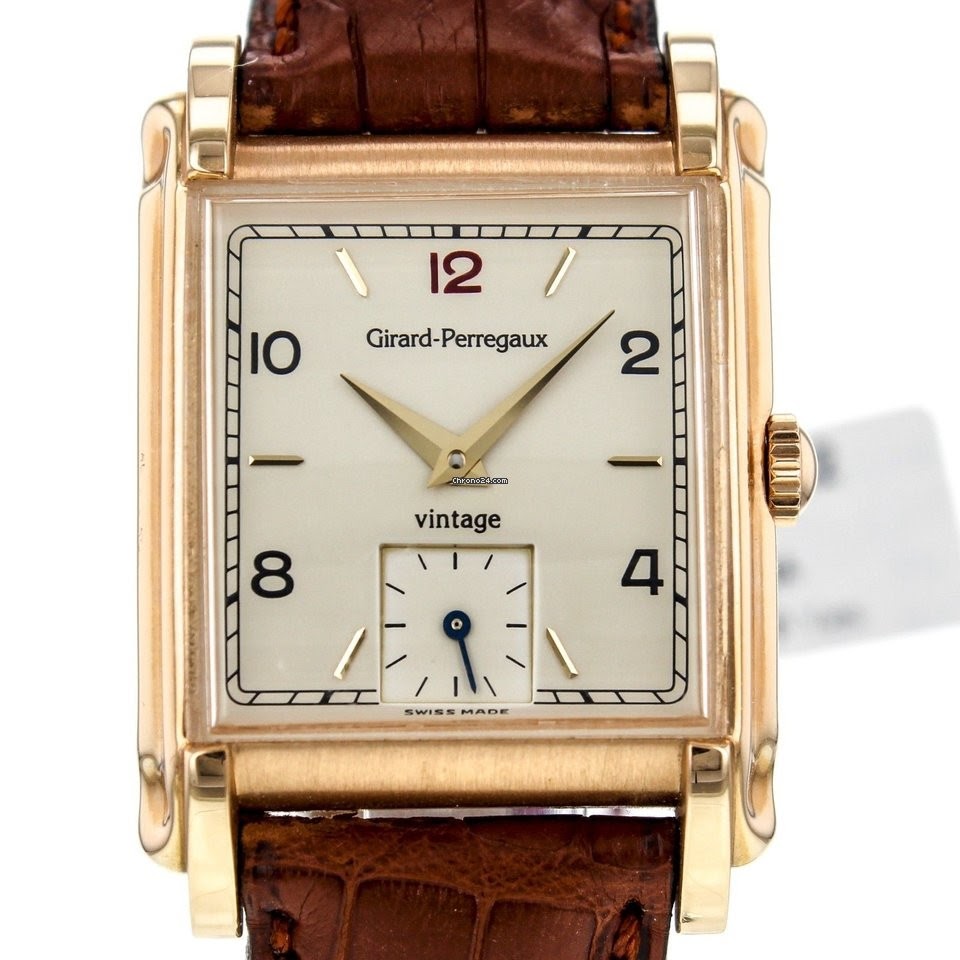 Another Pink Gold with cream dial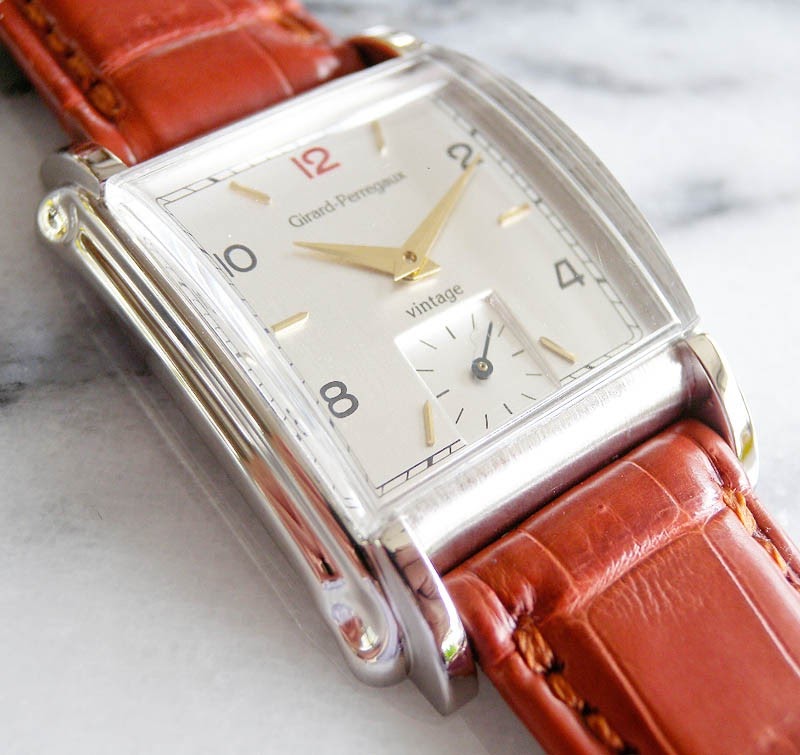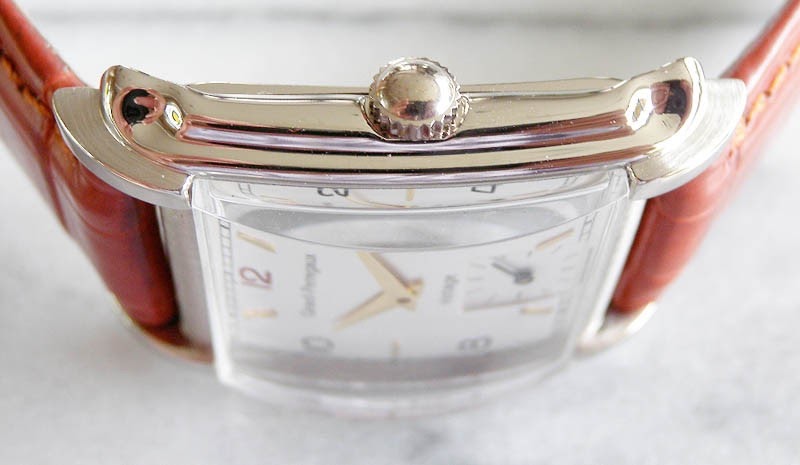 White Gold with golden hands, photo credit Timetunnel Japan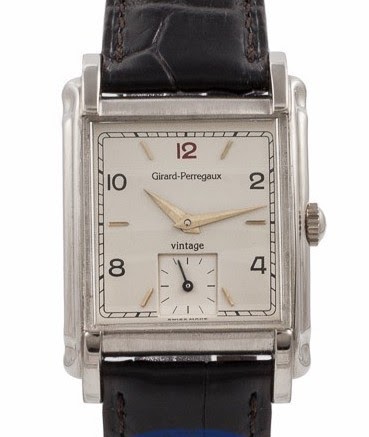 White Gold, Silver Dial: photo credit Internet
All watches came with matching alligator straps of the highest quality and matching metal pin buckle. Straps are 18/16mm. With 29 mm by 27 mm it is a small watch, but due to its curves and complex case design it still has a lot of presence on the wrist. The white gold has a nice warm hue and impeccable shine that only precious metal can have.
The case back reveals another beautiful side. It is secured by 4 screws and comes with a Tourbillon cage engraving. The serial numbers do not follow a system (like 0-100=YG) and are all over the place but from 1-203/203 numbered.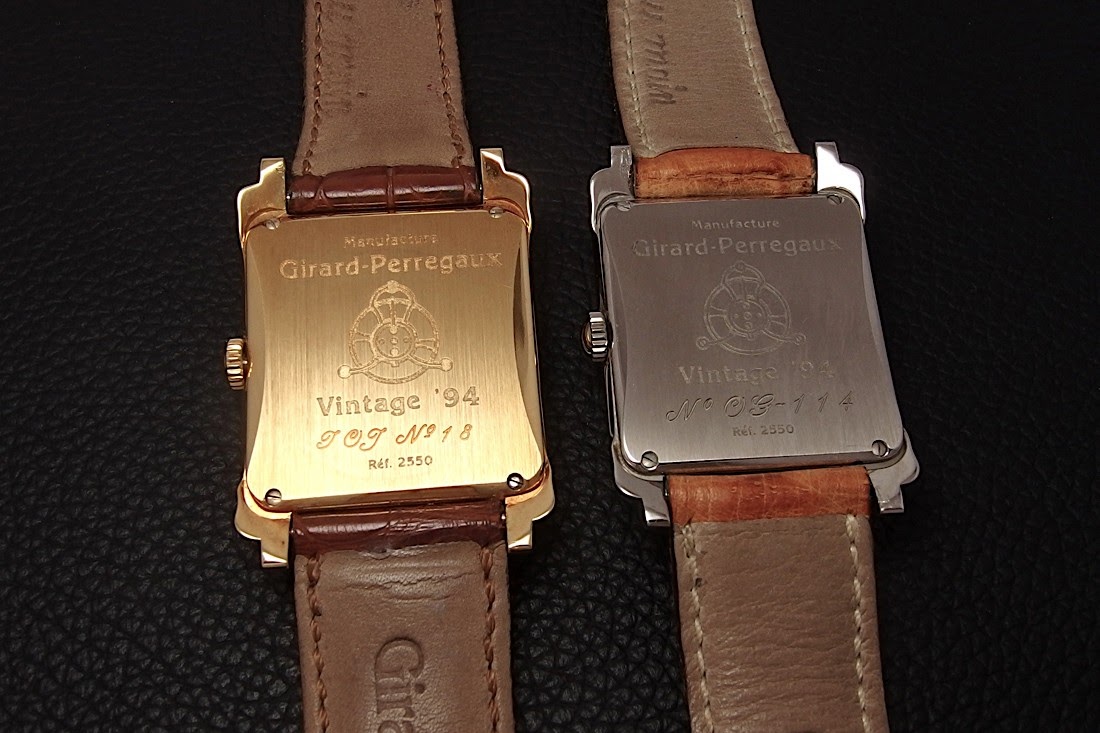 It also came with a special box that included a polished plate with the serial number. I have only one from my WG version and mine is missing the original cushion.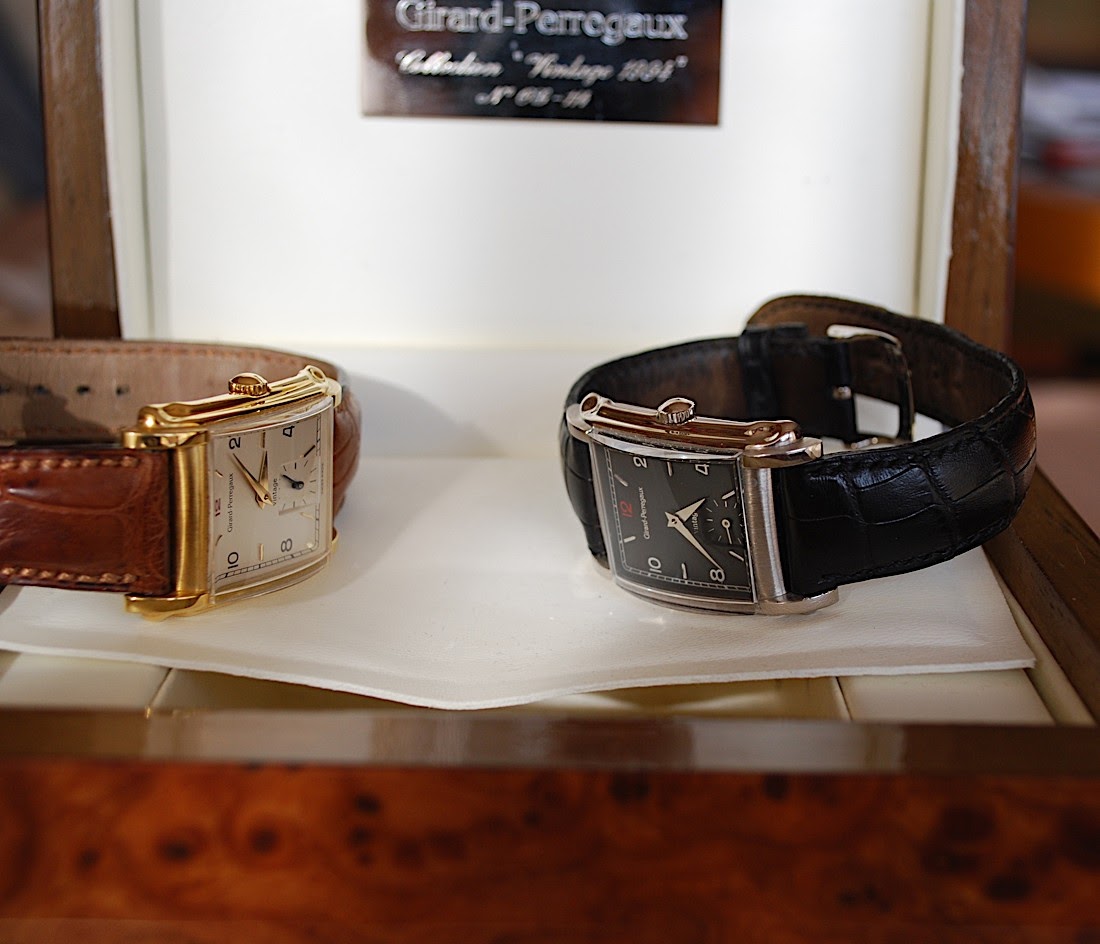 So let's conclude with a few wristshots.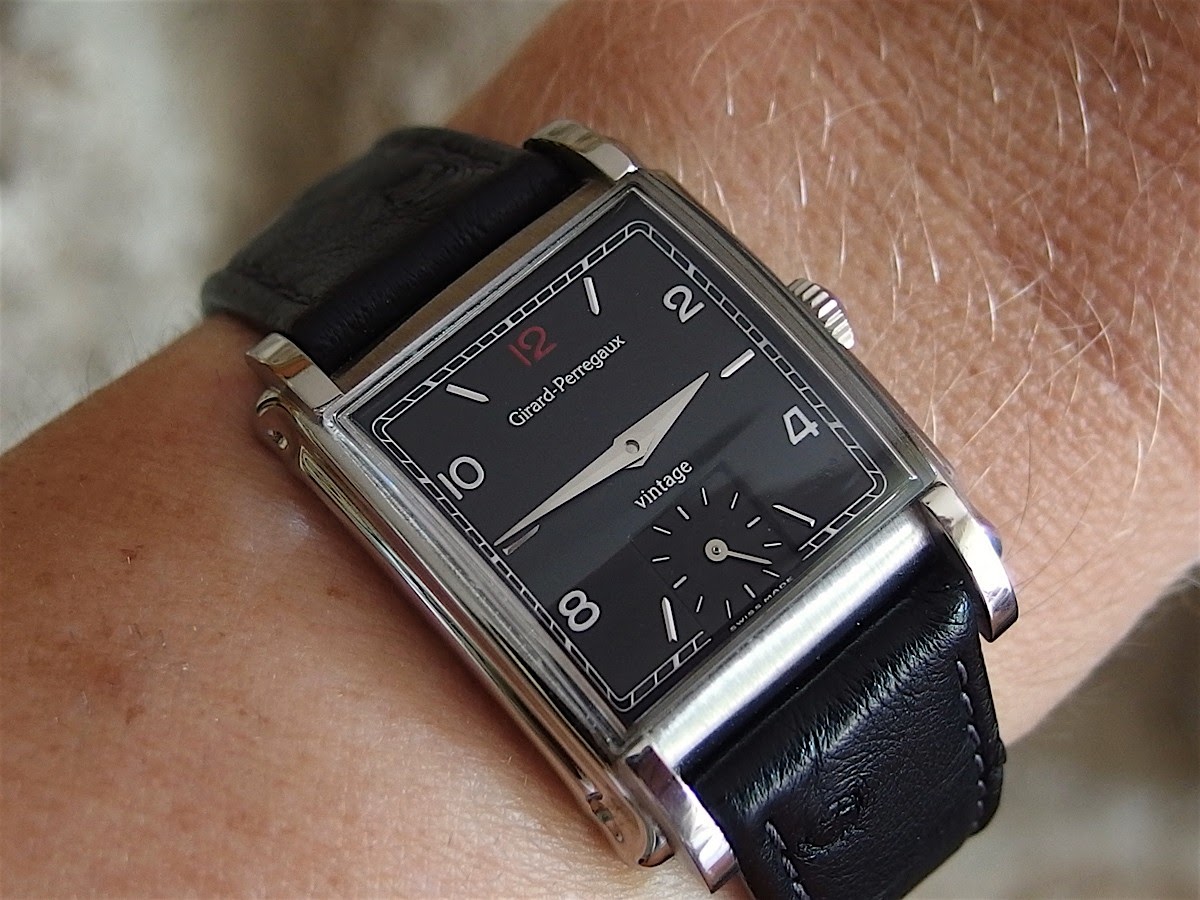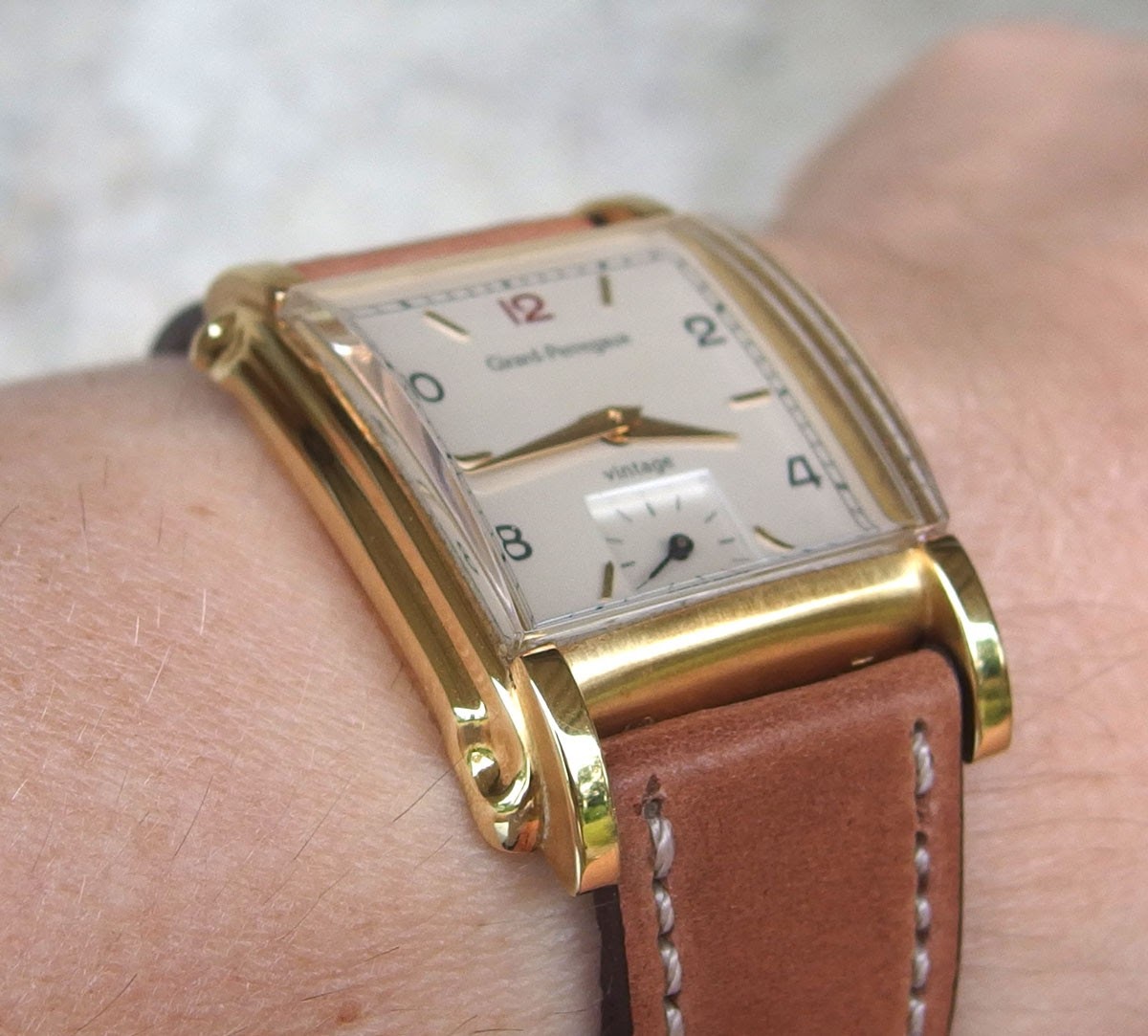 As mentioned although the watch is small, it still has a good presence on the wrist. In general, I think rectangular watches appear bigger than round watches, but of course, if your usual watch size is 46mm and up, you may want to try if this is for you.
In Part V we will conclude this series and will end the Millenium with another highlight…possibly staying within the "Vintage" theme.
Part III: Vintage 1996 Chronograph:
Part II: Laureato 8010:
Part I: GP 7000:
CC