I truly believe the Bulgari Octo Finissimo Automatic Timepiece is tone of the best timepieces in existence today and my top pick for anyone considering a watch around 10,000 Euros. It has got a sporty modernity with a classic look that will stand the test of time. The design is inspired by a 1970s Genta design, sporty, with an integrated bracelet, but now fitted with an elegant slim movement. In Part I we explored the factory in Saignelégier, where the dials and cases were painstakingly crafted. In Part II, I will show you the sights at Le Sentier where the movements are made in the original Gerald Genta & Daniel Roth manufactory which has been further expanded by Bulgari. Bulgari creates all of the high-end movements here in Le Sentier.
Here is a link to Part I: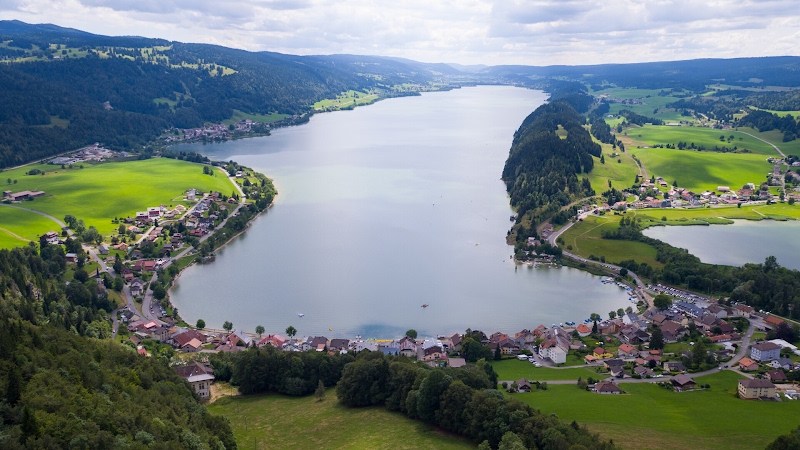 The Vallée de Joux a serene and peaceful place, where watchmakers assemble watches in the countryside, far away from the bustle of the city. I have personally eaten fish from this very lake. Delicious! Photo Credit; Vallée De Joux 360 Commerce Website.
A SENSE OF PLACE
Le Sentier is located in the Vallée de Joux which is a powerhouse in the Swiss Watch industry; just about every high-end brand has a presence here (Vacheron Constantin and Patek Philippe both have offices here). The Vallée de Joux is also sometimes referred to as the cradle of Swiss Watchmaking - history suggests that a couple hundred years ago the brutal winters led many people to create clocks and watches to pass the time indoors. Some brands - like Jaeger-LeCoultre, Blancpain, Audemars Piguet, and many more have operations in the Vallée de Joux. The Vallée de Joux is a small valley with multiple villages within it - the villages that are most familiar to you are Le Sentier and Le Brassus - two adjacent villages. A small operation that goes by the name Philippe Dufour is also based in Le Sentier very close to Bulgari.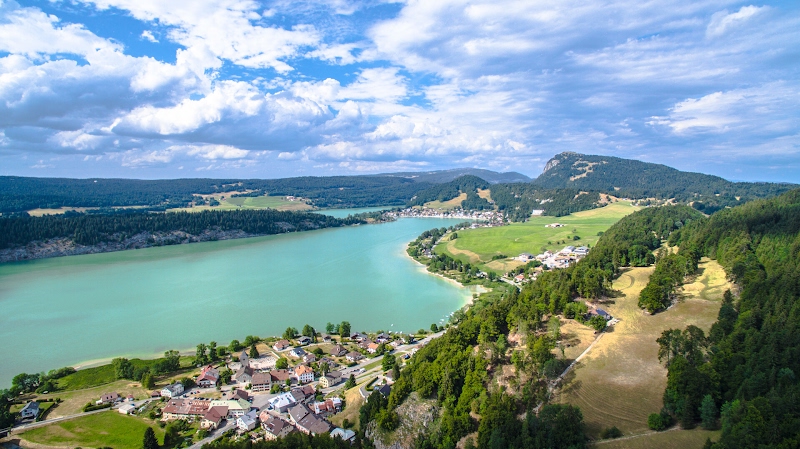 The Vallée is a peaceful and rural place where time slows and people are more relaxed. Bordering France, some watch company employees technically live in France and not Switzerland. Photo Credit: Vallée De Joux 360 Commerce website.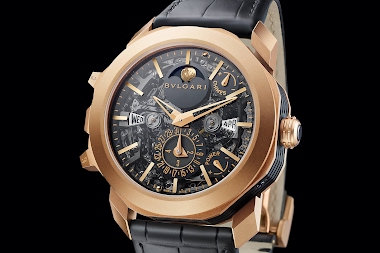 This is a Bulgari Octo Grand Sonnerie. Photo Credit: Bulgari
The Vallée de Joux is a significant 90 minute drive from Geneva in the Canton of Vaud. Since it is outside of the Canton of Geneva, none of the watches produced here can qualify for the Geneva Seal. Despite this, watches from the Vallée de Joux often represent the pinnacle of watchmaking in the world. The Bulgari factory in Le Sentier is where the "special" Bulgari movements are made; such as the ultra-slim calibers, perpetual calendars, tourbillons, two different minute repeater calibers, and three different calibers of Grand Sonneries - many with four gongs! A quick reminder: Bulgari has a total of three watch factories; in addition to the factory that produced cases, dials, and bracelets in Saignelégier which we explored in Part I, Bulgari has two movement factories; one for standard movements in Neuchatel and one for high horology movements in Le Sentier. Today we're exploring the Le Sentier factory.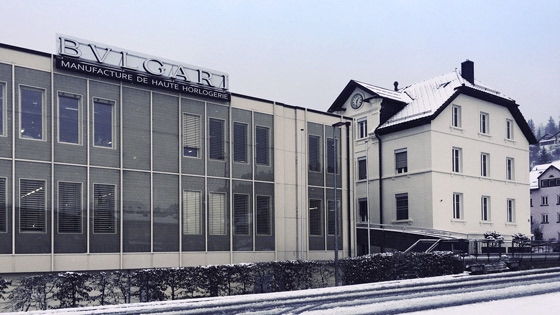 Photo by FHS. Shows both the new structure and the historic structure of the Bulgari Le Sentier factory.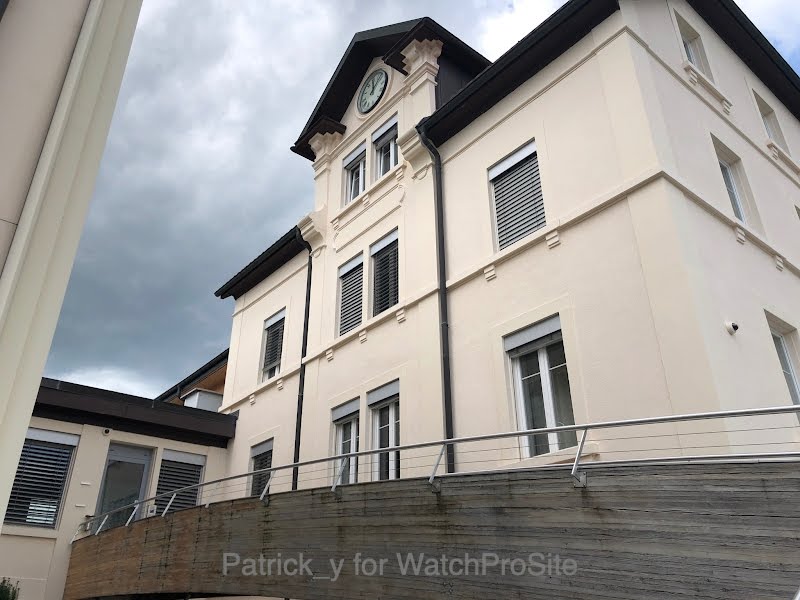 Bulgari and I welcome you! Let's enter the magical world of Bulgari's Le Sentier factory. This bridge brings you to the center of the factory - the centerpoint that connects the historic structure with the new modern structure. Photo by the author.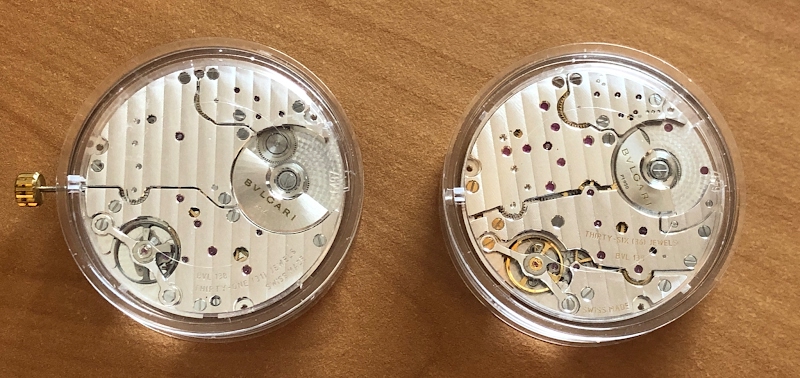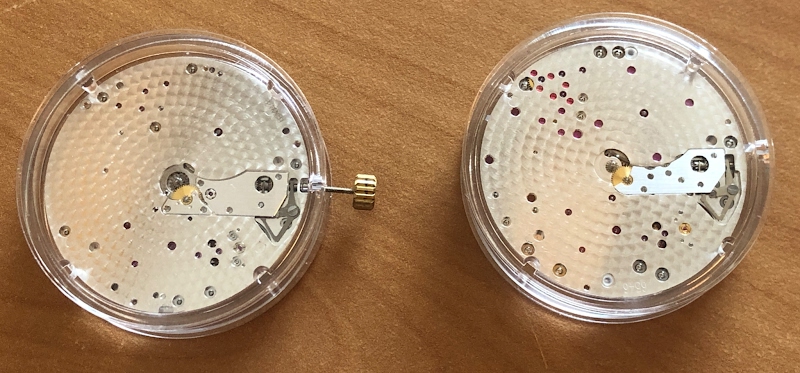 The BVL 138 movement. V2 is on the left, while V1 is on the right. Top photo shows the movement backside. Bottom photo shows movement dial-side. Notice V1 has a lot more jewels. Which one do you like more? Photos by the author.
THE BVL 138 MOVEMENT
Many of our eagle-eyed readers noticed that Bulgari changed the BVL 138 movement and did so quietly. The original movement was an aesthetically pleasing movement with nice yellow gold lettering contrasting on rhodium bridges, a high jewel count of 36 jewels, a total of four major plates covering the movement and seven interior angles that look like they need some extra human attention for anglgage detail. The latest movement has a more modern look to it; 31 jewels, no gold lettering, a total of three plates covering the movement, and only two interior angles that look like they need extra attention. Many of our eagle-eyed readers wondered; was Bulgari trying to cut costs on the movement? Was there a reduction in finishing standards? What was going on?
I spoke with the head of watch movement design. He leads an eight person team of five individuals in the technical office and three more persons in the laboratory - naturally he knows everything about the movement. He assured me that the movement is finished to the same technical requirement, the same control criteria, and that only the aesthetic requirements have changed. For instance, the change away from gold letters to rhodium letters was purely an aesthetic choice, coming from Fabrizio Buonmassa Stigliani, the design lead for Bulgari Timepieces who preferred a tone-on-tone look.
The reduction in interior angles were because they weren't needed anymore; in one case the jewel that was between two interior angles was completely eliminated. In another case a pair of interior angles were not a possibility because two plates were integrated into one larger plate so the separation line of those two plates completely went away. I kept calling the new movement a "redesign" and I kept on getting resistance for using this world. Bulgari looks at it as an evolution, or an optimization. Not an entire redesign.
The department head tells me from a raw materials standpoint, the new version doesn't cost less to produce. It does take slightly less time to adjust V2 compared to V1 and it takes significantly less time to do the main assembly. "Aha! It does reduce costs," I exclaimed. "But the optimization was about improving performance - some areas have actual increased costs and complexity too," countered the movement expert. He explains in detail; "for instance look at the winding system..." Bulgari had some complaints from multiple users that the winding system didn't fully wind the watch sometimes. I've personally experienced this - I had an active day walking over 20,000 steps and yet when I put the watch down at night, the watch stopped at 3AM in the middle of my sleep. The movement expert explained to me that the winding system in V1 had a slightly smaller platinum winding rotor and 7 ball bearings. For V2 Bulgari increased the size of the platinum rotor (more platinum, slightly higher costs) and put in 22 tiny ball bearings (significantly greater costs). The ball bearings absorb more shock too, so movement shocks are better absorbed and transferred into energy for the mainspring.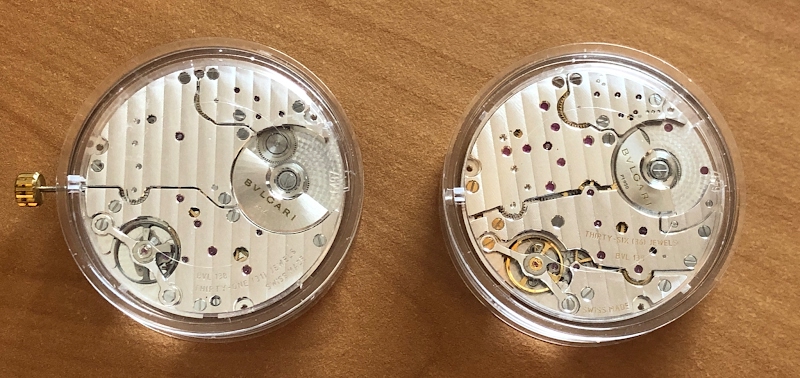 Here's a quick list of all the major changes:
1. Fewer jewels: V1 had 36 jewels, V2 has 31. Many of the jewels that were eliminated were "spacer jewels" that are employed to keep two plates apart, not the traditional jewels with pinions or pivots in them. V2 has fewer of these spacer jewels because Bulgari's watchmakers were able to adjust the manufacturing process in a way that eliminated the need to work with these spacer jewels. Benefit: Bulgari benefits by investing more upfront, but will save costs in the long term as this improved method is easier to manufacture, reduces costs in the long run, should be easier to service, and lowers the risk of contact and friction within the movement. Consumers however see less jewels and consumers have been incorrectly programed that higher jewel counts equal to a more accurate movement.
2. Balance Wheel Size Increase: The V1 movement has a 4 arm balance wheel that is 8mm in diameter. V2 is now a 2-arm design with an 8.7mm diameter. Larger balance wheels equal greater inertial (or the potential to have the same inertia with lower mass). This translates to greater shock resistance and higher accuracy. This benefits mainly the consumer as accuracy performance is increased, although Bulgari benefits as well as this system allows their watchmakers to make fine adjustments more easily and further optimizes the amplitudes between the horizontal and vertical positions.
3. Winding System: V2 benefits with a significant performance increase in winding system due to a larger platinum rotor and 3x as many ball bearings. This improvement
has significant costs to Bulgari, much more assembly time is now required for the winding system (putting in 22 tiny ball bearings into a jigsaw puzzle is much harder
than putting in seven larger ball bearings), plus significantly higher material costs. This is definitely a big win for the consumer at a large cost to Bulgari, but the consumer cannot aesthetically appreciate these improvements since they're not visible to the consumer. The higher ball bearing count increases the shock resistance which translates to an even lower need for a bridge to cover the winding rotor - which is never my first choice from an aesthetic standpoint - but earlier micro-rotor movements from the 1970s required these bridges.
4. Barrel: A closed barrel in V2 helps with movement stability. The closed barrel allowed Bulgari to remove the support jewels from the clearance/shake and greatly contributes to the stability of the transmission of the barrel.
5. Interior Angle Reduction: Many consumers will assume that the significant reduction of interior angles means easier anglgage work. And while this is true, the reason behind this interior angle reduction is really due to the new plate design. In V1 there were four large plates and one tiny plate; and V2 only has three large plates; so this interior angle reduction comes naturally. Some of the reasoning for the reduction in plates has to do with the improved winding system that took a high priority in this optimization. Eagle-eyed consumers will be quick to draw assumptions that Bulgari is deliberately reducing costs - but the rationale for this reduction in interior angles is reasonable. Furthermore, Bulgari was also able to add rigidity to the movement with the lower plate count and further add rigidity by adding another fixing screw for the bridge. The added rigidity improves movement accuracy.
6. Colors: the text of V2 is in rhodium whereas in V1 it's in gold. The balance wheel of V2 has a ruthenium look whereas the smaller balance wheel in V1 is plated in gold. These were all aesthetic choices.
I definitely tried my best to get a thorough understanding of the new movement. After my extensive questions, I definitely believe that Bulgari has truly optimized the BVL 138 V2 movement for performance and customer satisfaction. The new BVL 138 will benefit consumers more than Bulgari's own production line. I'm really looking forward to my next Bulgari Octo Finissimo with the new movement inside!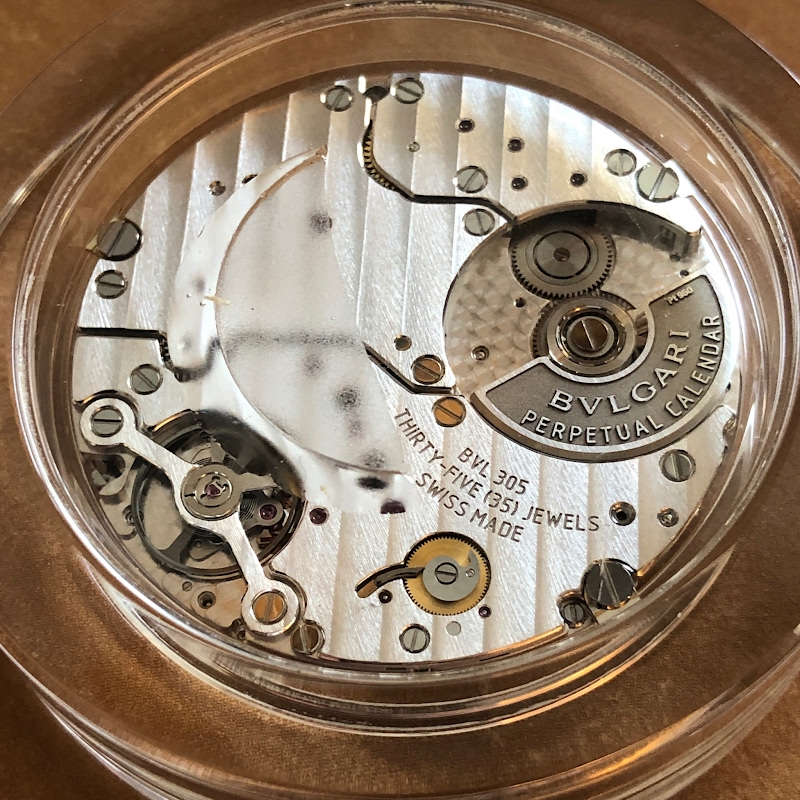 The BVL 138 benefits from improvements from the winding system and other technological enhancements that were developed in the perpetual calendar movement. Some will notice that there are a lot of similarities between the new BVL 138 and the Perpetual Calendar movement!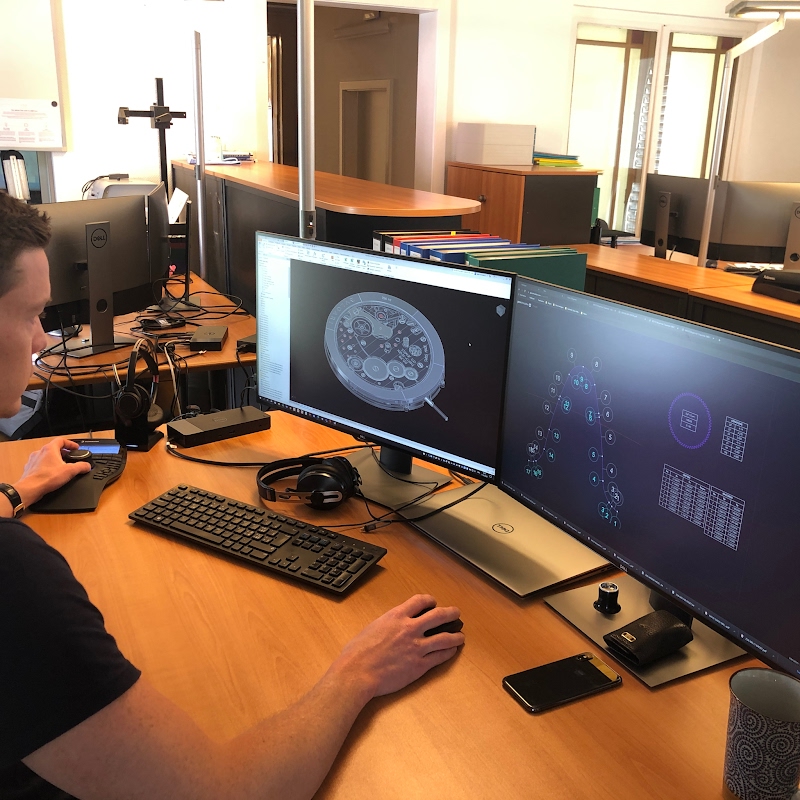 Here a Bulgari employee is showing me the new chronograph movement on the computer. The left screen shows the movement, the right screen shows the profile of one of the gears.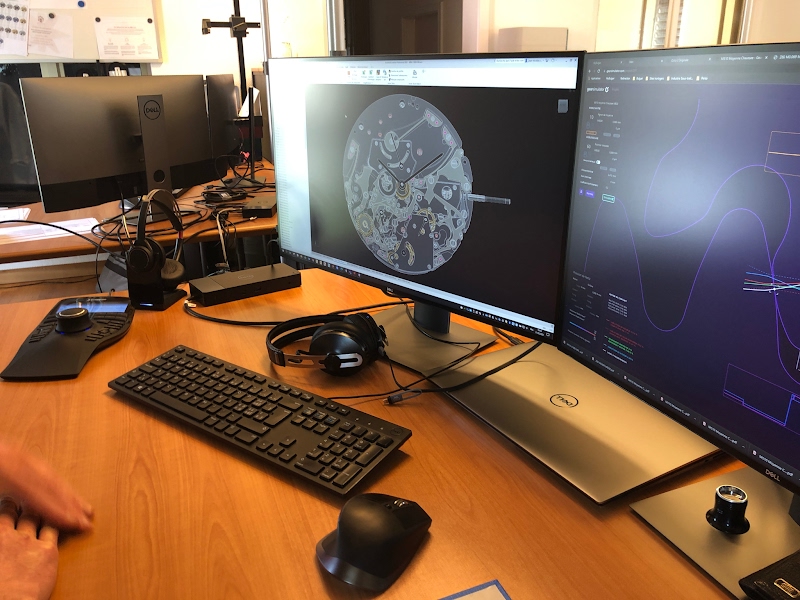 The same employee is now explaining to me details about the chronograph movement. The right screen shows details about the gear teeth meeting each other.
While we're here and chatting with the people who make the movements, let's take a look at some of the amazing movements currently in production here at Bulgari Le Sentier!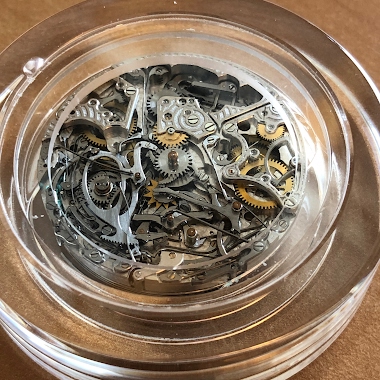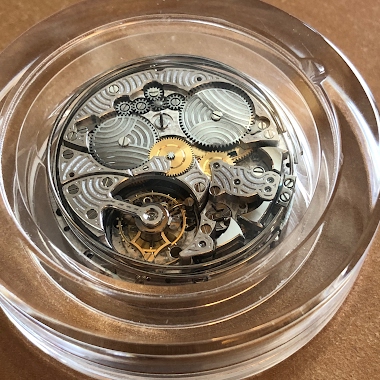 This is the BIG ONE! This is a Grand Sonnerie with 4 hammers and gongs! Only three hammers are visible, but the fourth is hidden underneath one of the hammers.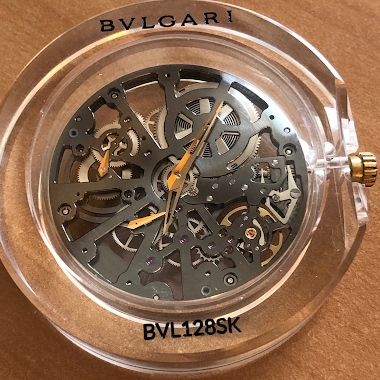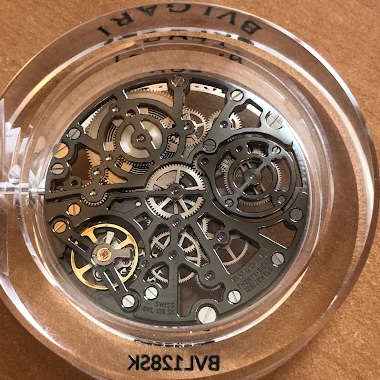 BVL 128 SK is the skeleton version of the BVL 128. Rigidity is important in a movement as it promotes accuracy. Skeletonization is more than an art, when done correctly it is also a scientific approach where removing material has to be done in a way that doesn't compromise the rigidity of the movement.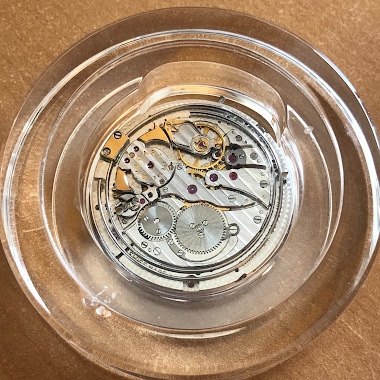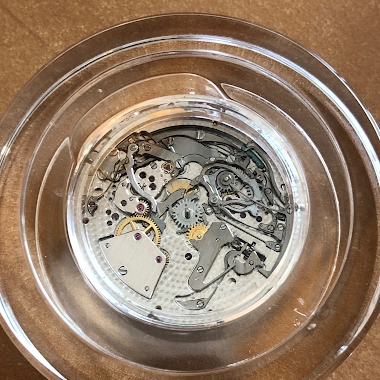 The Vallée de Joux is no stranger to chiming watches. The entire world produces less than 200 minute repeaters and grand sonneries combined each year! A large percentage of that is produced in the Vallée de Joux, and several percent of that is produced right here in Bulgari's Le Sentier factory! This is the slimmest minute repeater in the world.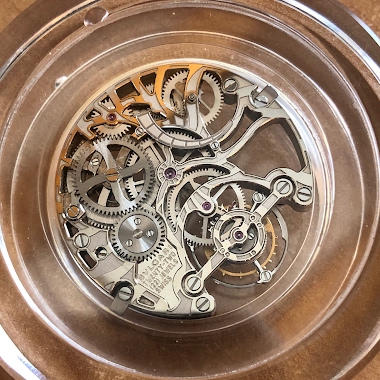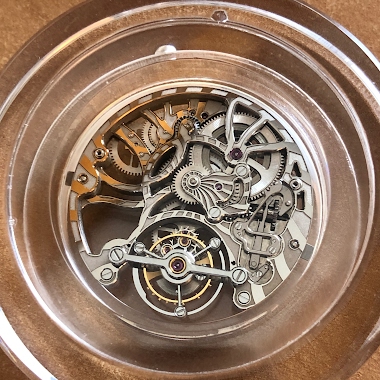 The Le Sentier factory produces all of Bulgari's high horology movements, including movements that don't go into the Octo line. This beautiful skeletonized Tourbillon movement is generally installed in a ladies' model.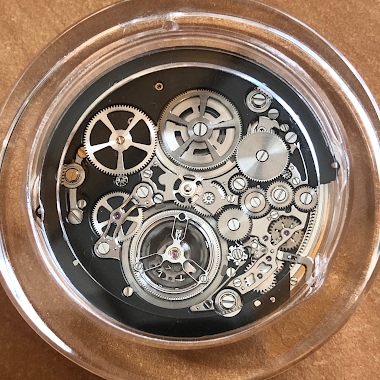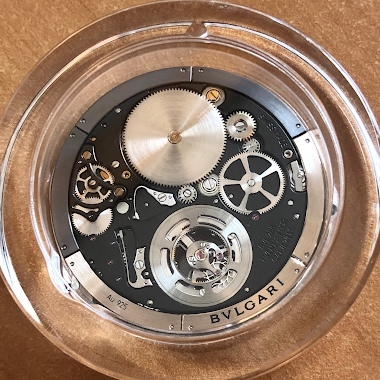 This Tourbillon model is very elegant and beautiful. And can come in a skeletonized version too. Notice, this is a flying Tourbillon as there is no bridge covering the Tourbillon. Breguet's factory is down the road less than half a kilometer away. I bet even the team at Breguet are impressed with this ultra slim
flying Tourbillon since their ultra-slim model has two bridges (front and back). Bridges add rigidity to the Tourbillon, rigidity improves accuracy. It's a technical achievement to make a flying Tourbillon that's reasonably accurate - especially one so thin. Also, notice Bulgari employed a peripheral rotor which wouldn't block the view of the Tourbillon in the skeletonized version.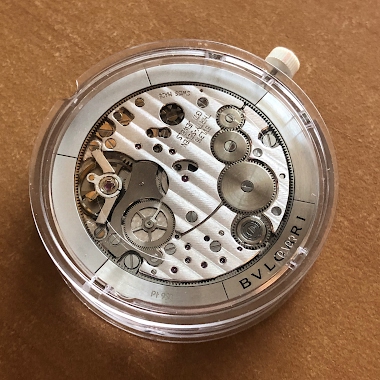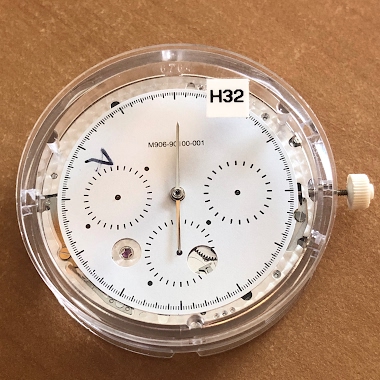 Bulgari is proud of their ultra slim-chronograph movement which is endowed with a peripheral rotor. They also made an ultra-slim Chronograph movement with a Tourbillon as well!

Tourbillon, Minute Repeater, Automatic, Flying Tourbillon, Chronograph, Tourbillon Chronograph, and Perpetual Calendar. All ultra-slim designs. All world-record setting. An incredible Collection of High Horology!
Wow... Just wow. I could spend the entire day just talking to the movement makers. But my host at Bulgari reminds me that the movement team does need to go to a meeting and that I've already made them very late for their meeting. So let's say Au Revoir to the movement team and continue our exploration of the factory!
PARTS PRODUCTION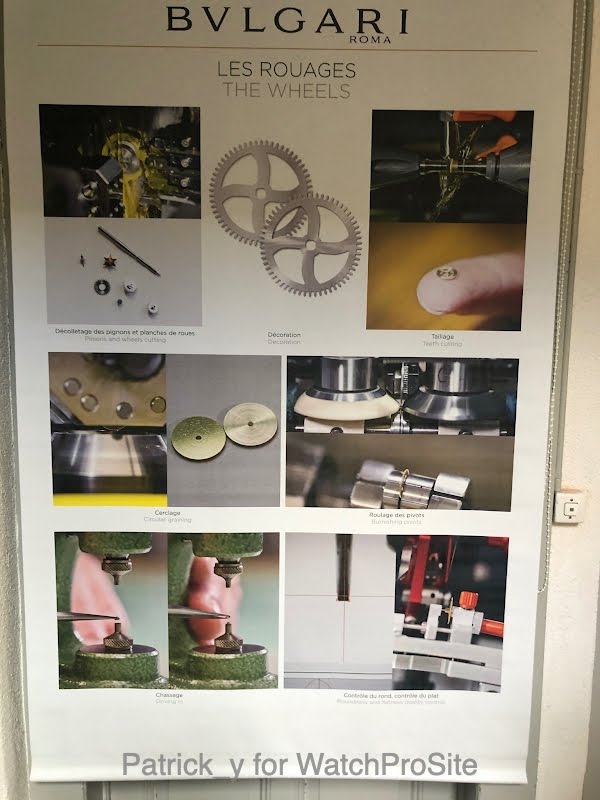 Every watch needs wheels and gears. Lots of them. Let's see how these are made at Bulgari Le Sentier!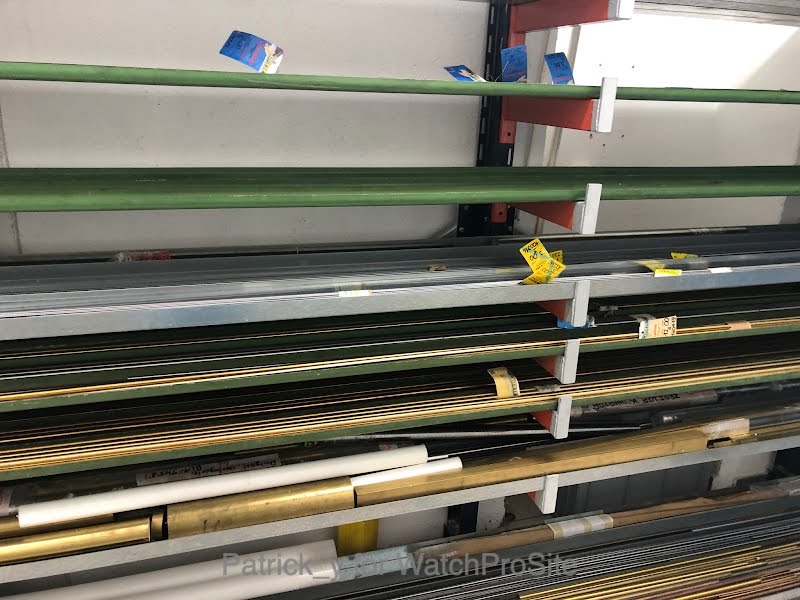 These are bars of steel and brass. Basically these are raw materials in bar form that are later turned into brass gears or steel gears!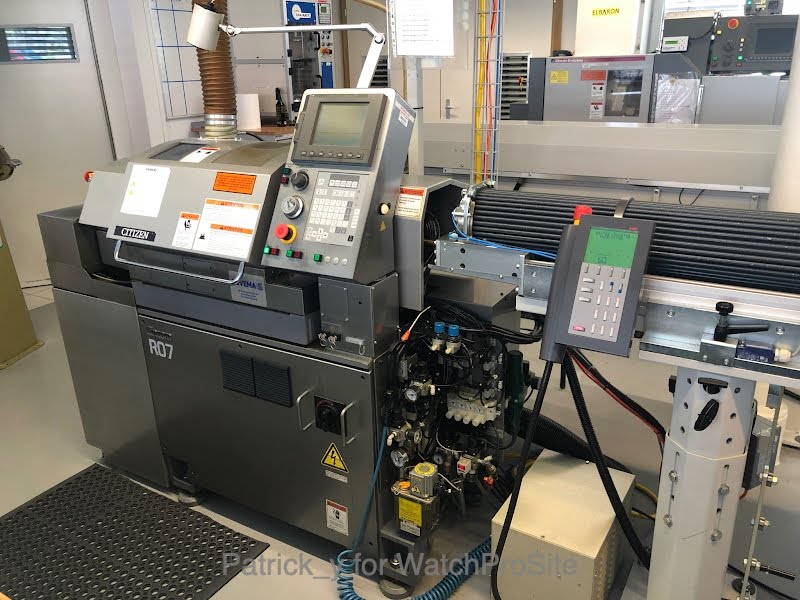 This machine mills out the tiny components from the bars of steel and brass.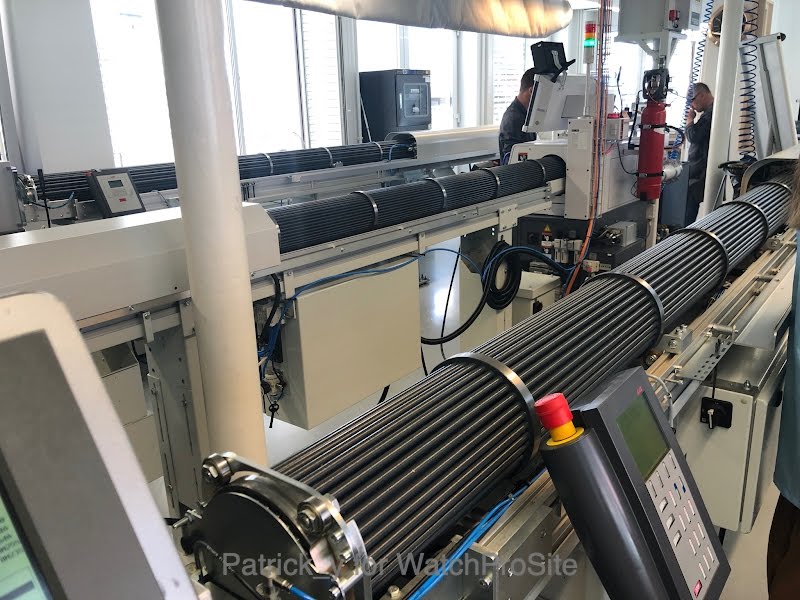 The bars of material are fed into these tubes. The machine can make multiple different types of gears from different materials.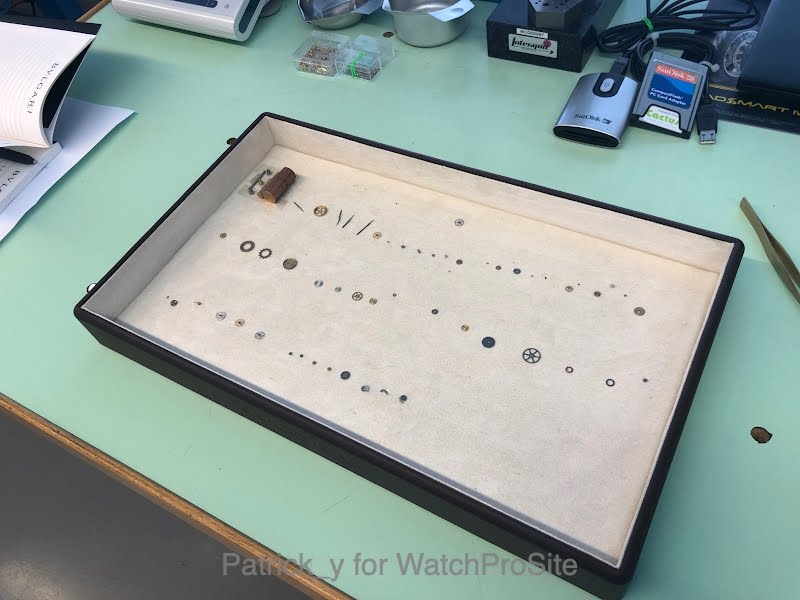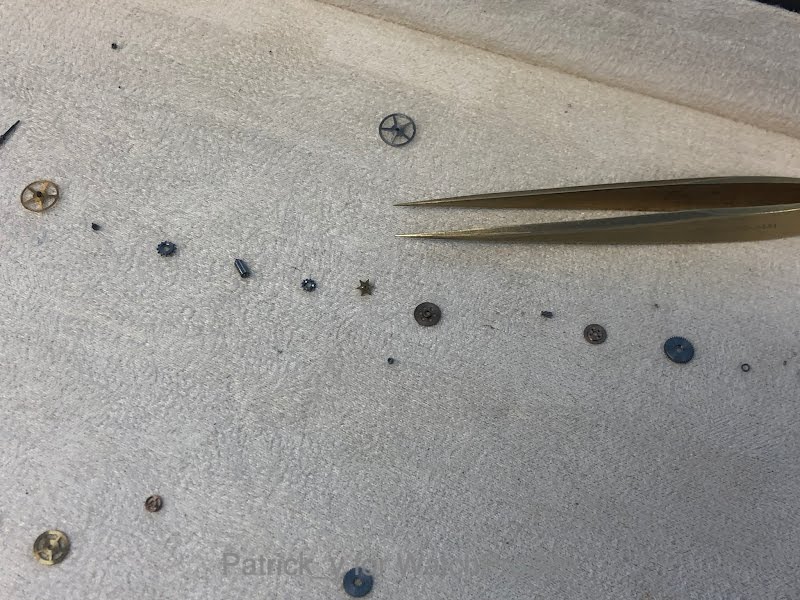 Look at all of these gears. Some of them are tiny! Some of them are so small they're almost invisible!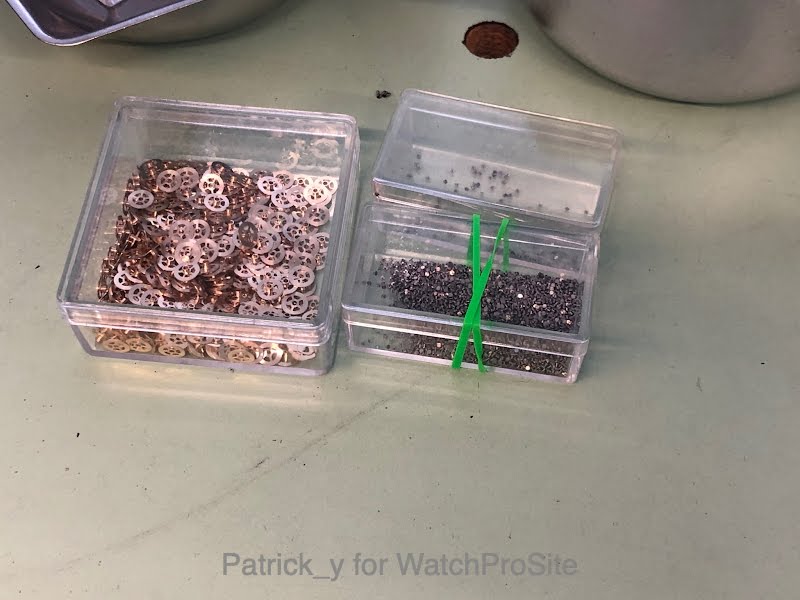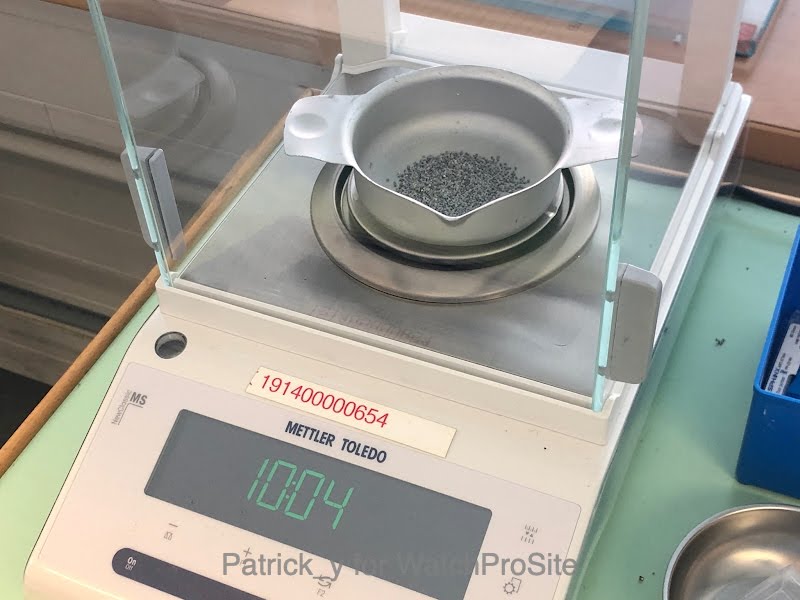 The machine makes a lot of parts all at once for economies of scale. These parts are stored in bins. Thousands of tiny parts sometimes only weigh a few grams.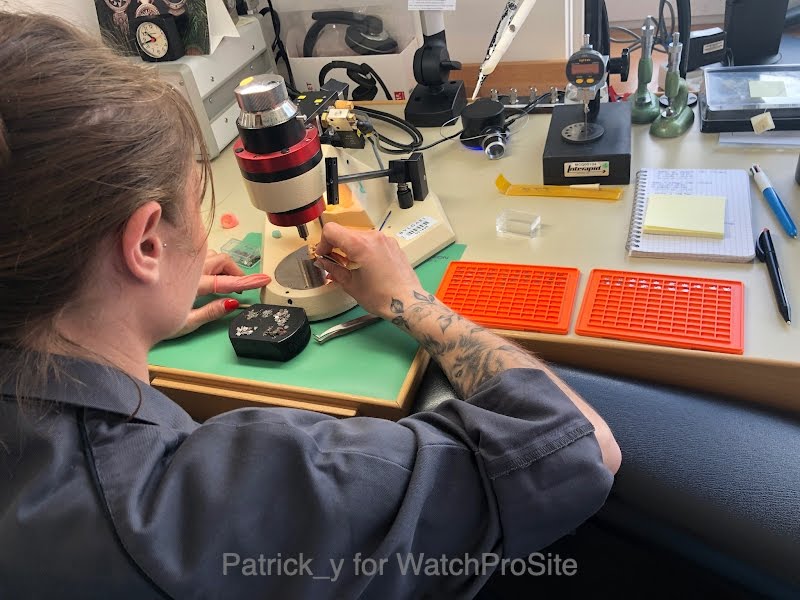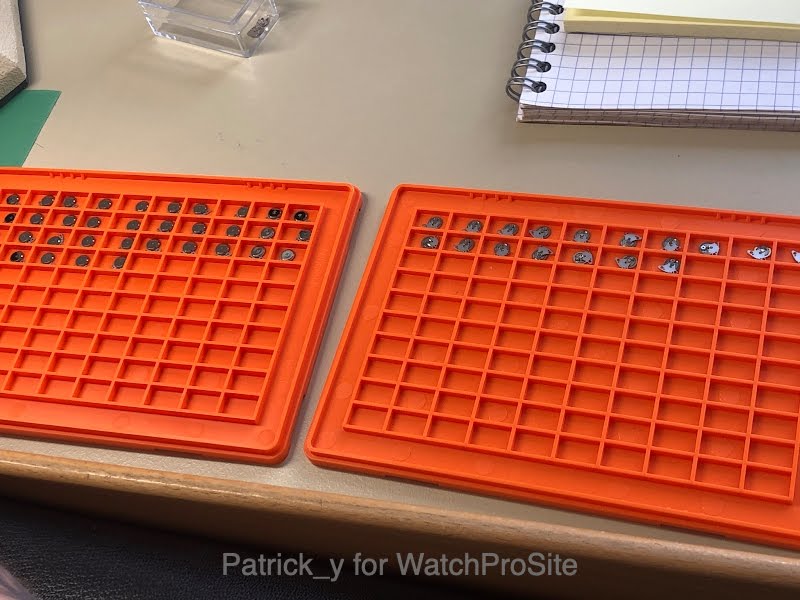 Some of the parts are so small that they'd get lost if they were moved. So these parts are made into larger sub-assemblies here.
MACHINING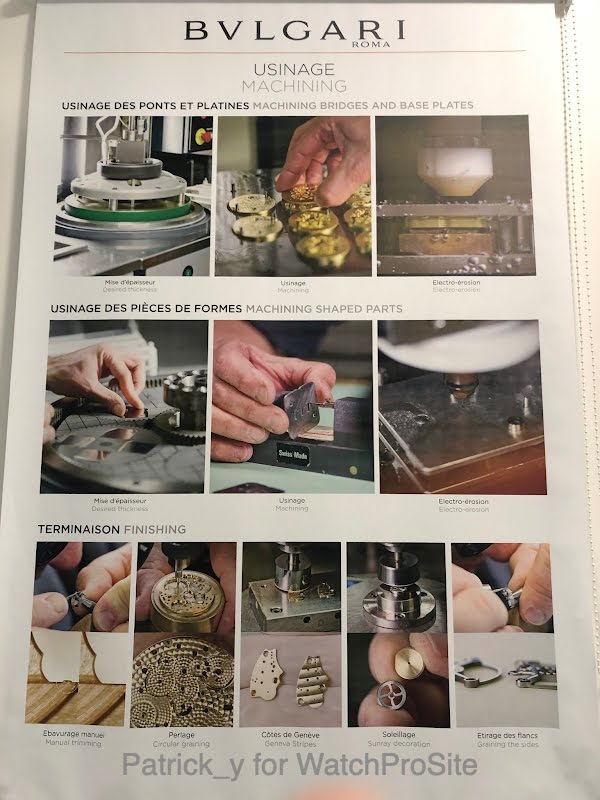 Here comes the favorite part for many people. Machining and finishing! But I promise you there's a surprise bonus section later!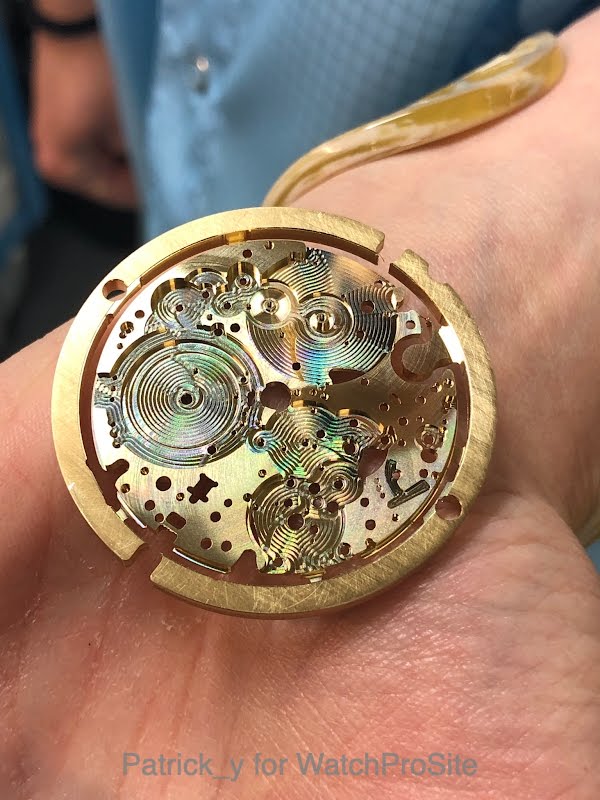 Machining the plates is a lot of important work. This is primarily handled by gigantic CNC machines as seen below.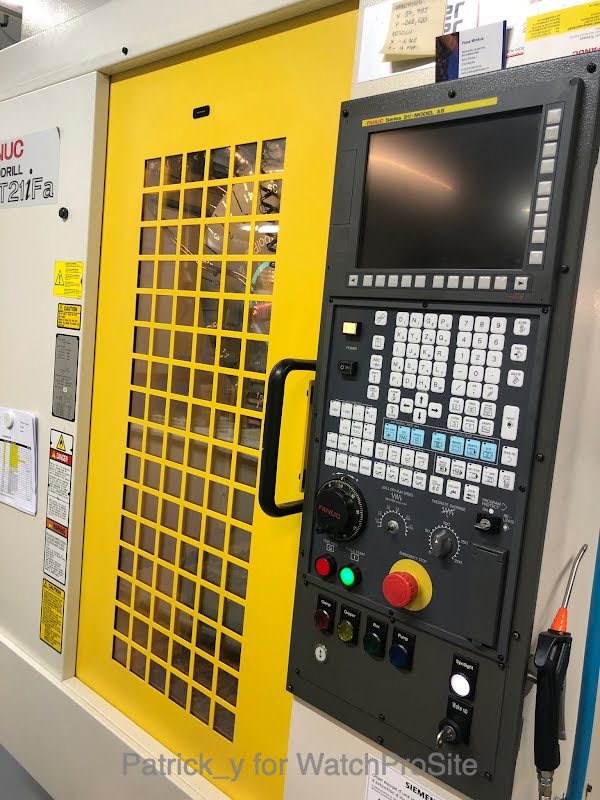 This is a gigantic CNC machine. CNC stands for Computerized Numerical Control. About the size of a small van, these machines are super important to the watch industry as they employ tiny drills to drill out metal plates with critical designs. The machines are uploaded with computer programs that tell the machine what tools to use (it has an arsenal of tools and drill bits) and how to drill out holes and recesses into metal plates. The machine is programed with every detail in mind, the size of the tool, the speed of the tool, what direction to come from, etc.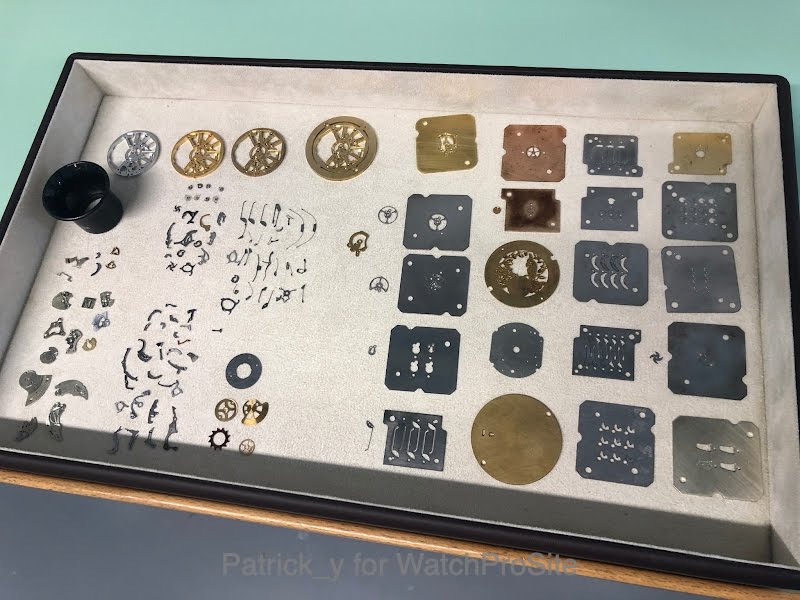 These parts are not made by CNC machines. Do you know what machine makes these parts?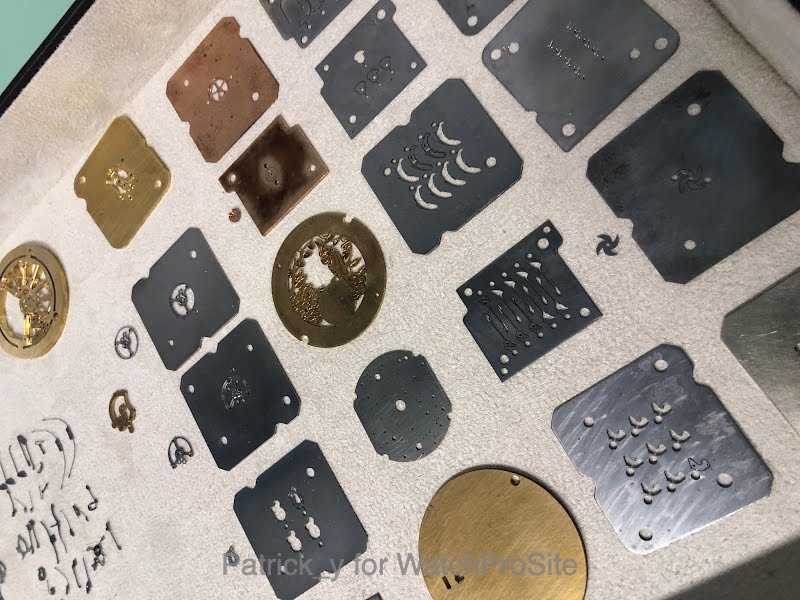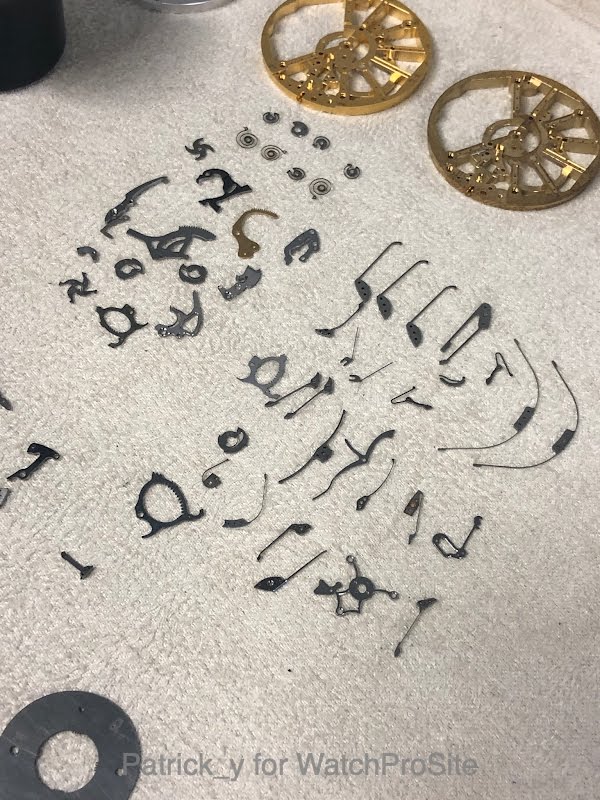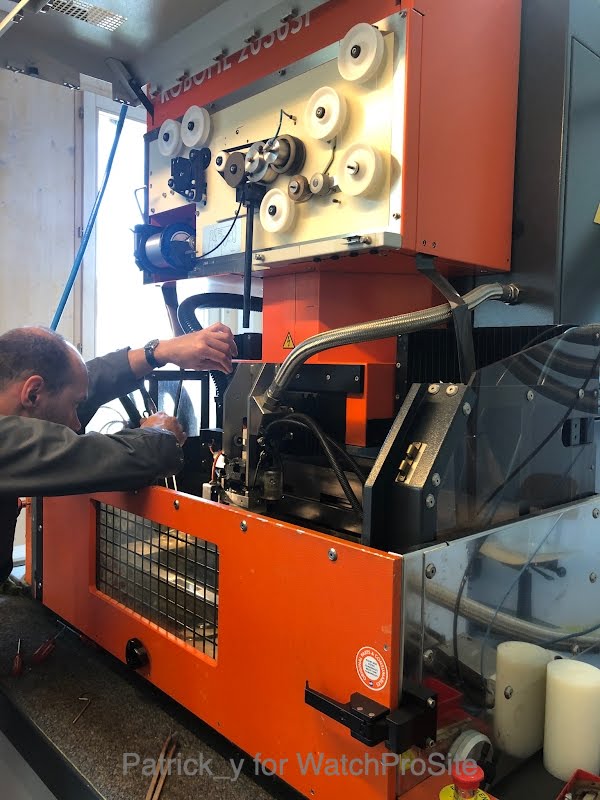 This is another super special machine. This is a wire spark erosion machine. A tiny wire made of tungsten carbide is electrified and continuously fed in a loop. This spinning electric wire acts as a saw and literally cuts through metal plates. It can even cut
through multiple thin metal plates to create several multiple pieces per cut.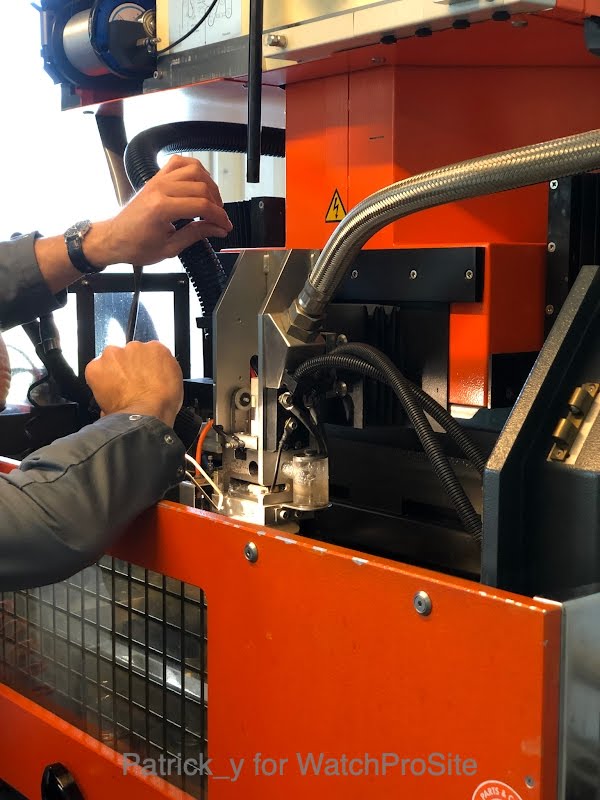 Here the technician is holding the wire in his hand, it's so thin that you can't even see it!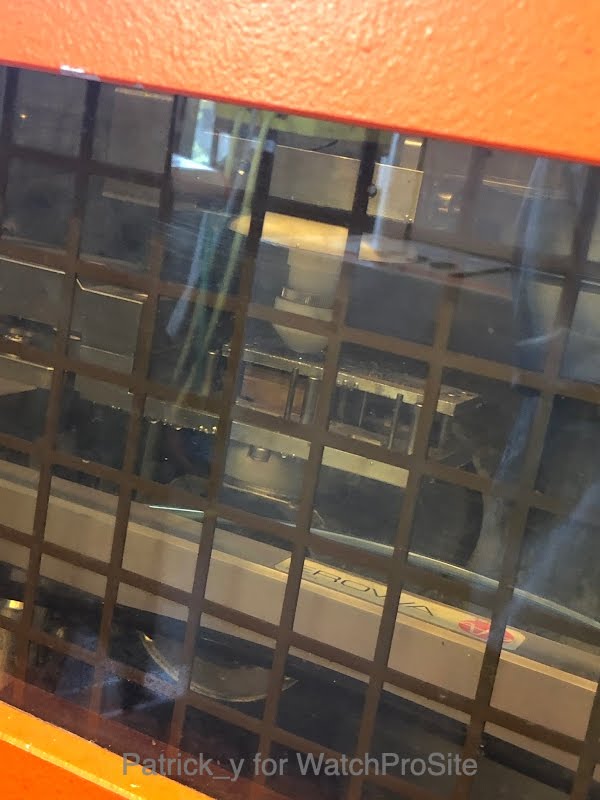 Here's another cool fact, the cutting is done under liquid immersion. The liquid cools the wire and allows for more precise cuts.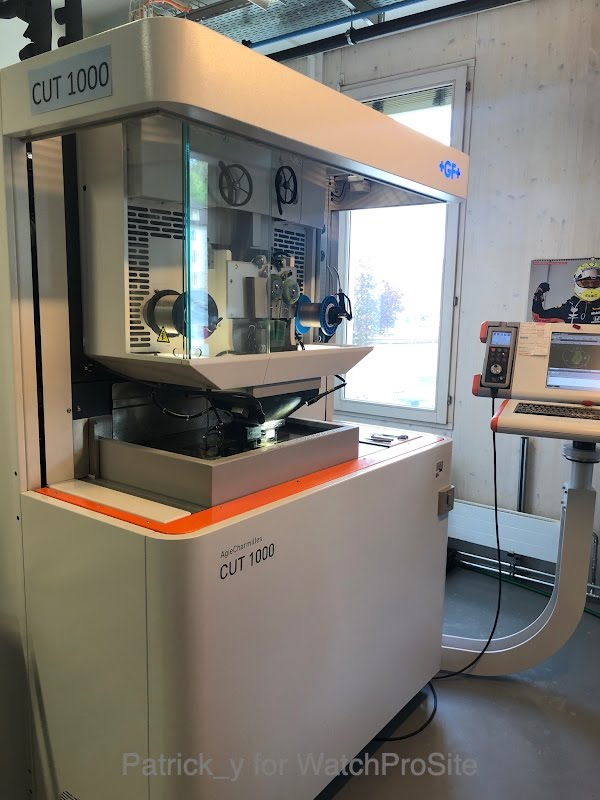 This is the latest generation of wire spark erosion machine!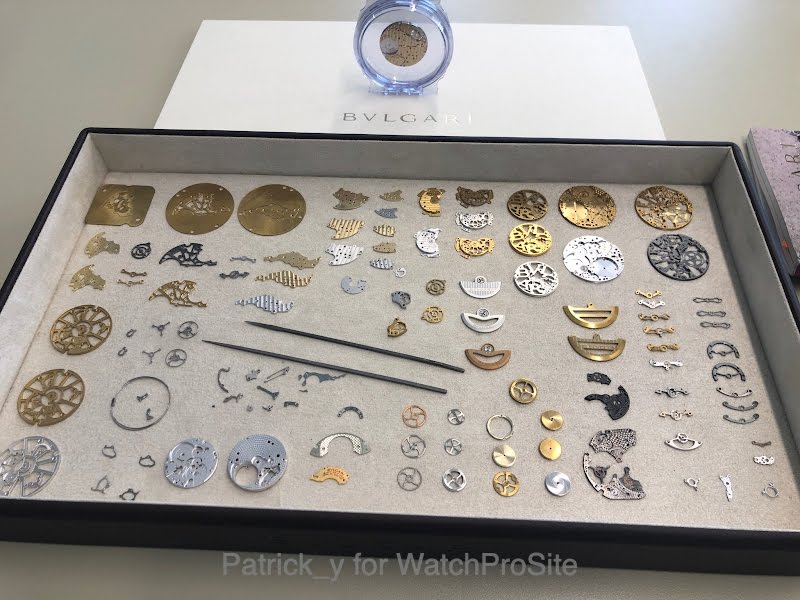 Various parts made in the machining department.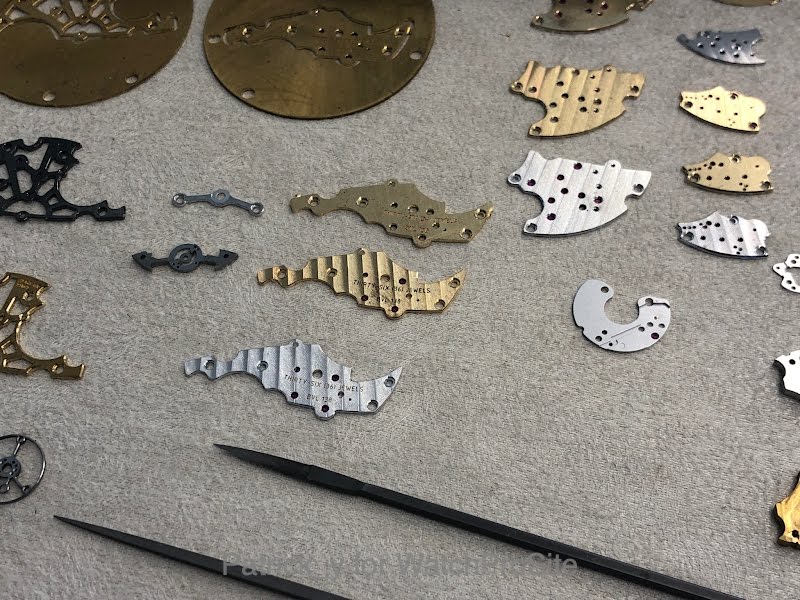 Notice there are three of the same parts; they start as brass parts, then they receive their ribbing or stripes, and in the final iteration they have their gold and rhodium plating.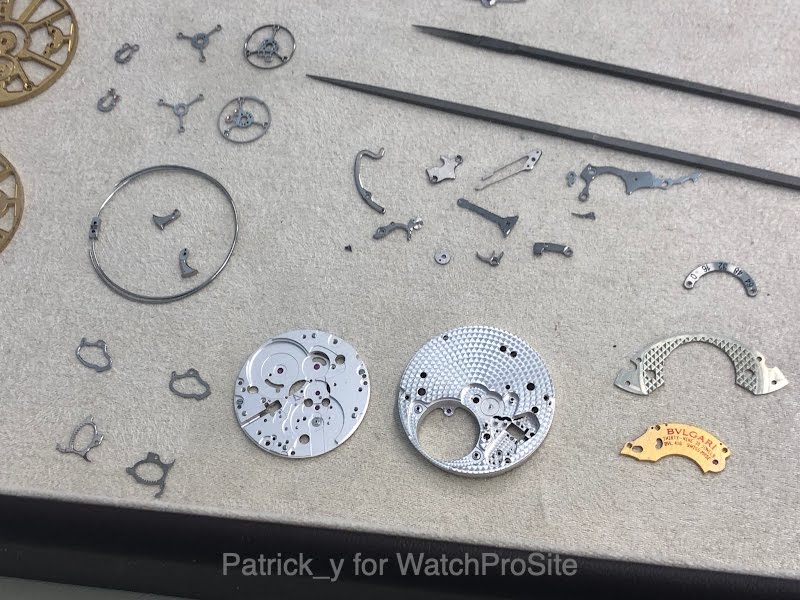 Now notice the files, these are two small and fine metal files that are used for anglage of the metal parts! This procedure was necessary because over a century ago, metal technology and metal cutting technology wasn't as fine as it is today. Thus, when metal was cut, there'd be little fibers or burs of metal sticking out. That can seriously affect a watch's accuracy. So back then it was important to file all of these metal burs down. Today, metal technology has improved so much that it's no longer necessary.
Also, notice there are plates with perlage or tiny circles. This was also done for similar reasons. Also, for centuries, watch parts could sometimes be made by multiple people and assembled at a big factory. Thus, at these big factories, the receiver of incoming parts could look at the anglage and perlage and quickly determine the quality level of those parts.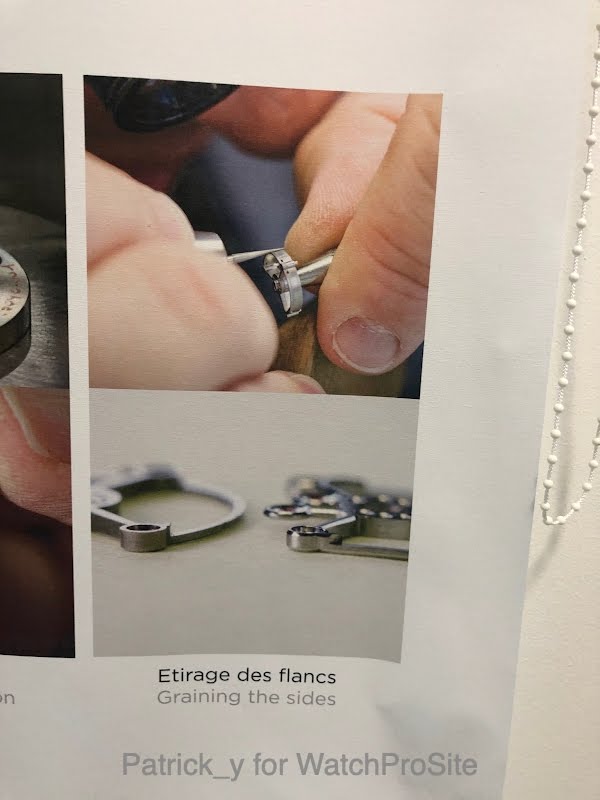 Notice the tool in the photo above. I incorrectly refer to it as a dentist drill machine. It can sometimes help speed up the anglage process.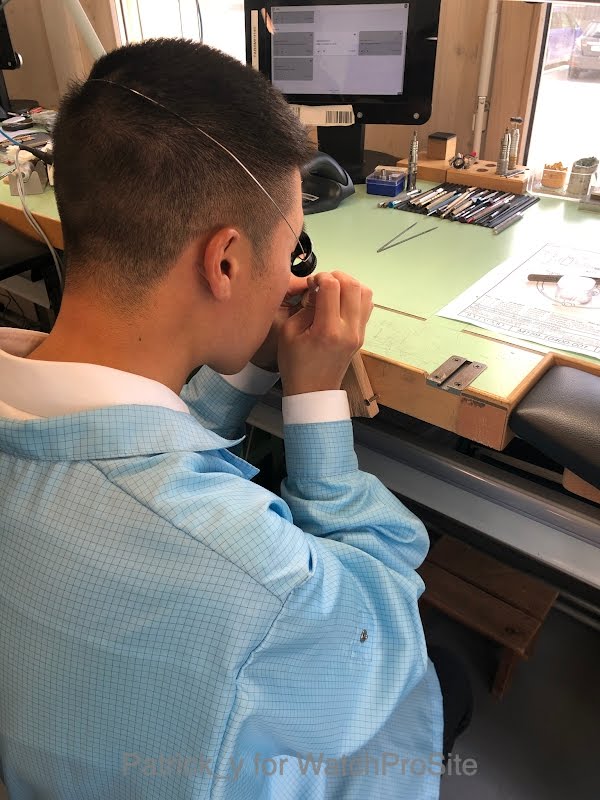 Here, yours truly is hard at work trying his skill at anglage. It's not easy. First, there are two different files (one fine and one even finer), after this, there are 3 more progressively finer files made from diamond sandpaper! Hand anglage can take a long time! There are some short cuts, such as little machines that look like dentist drills that help speed up anglage (as mentioned in the prior photo). But this machine is too big for sharp concave corners also known as "interior angles" as we discussed above.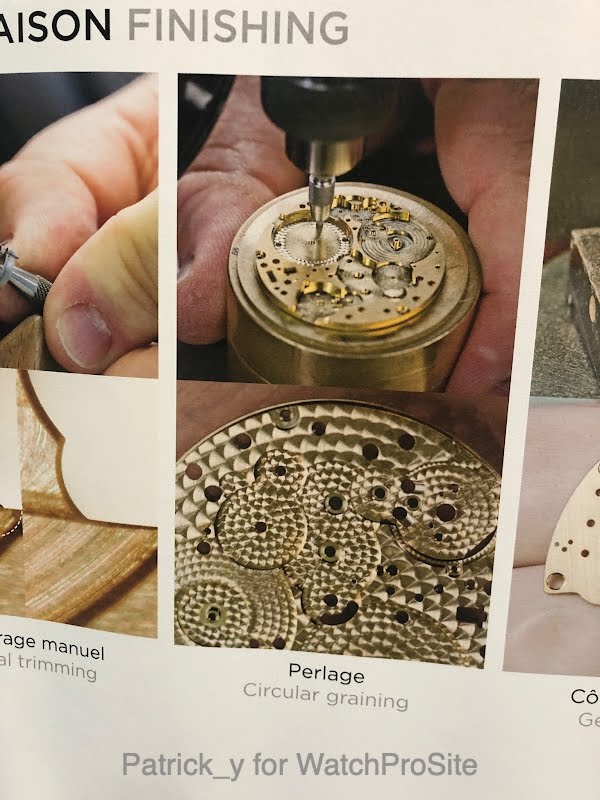 People really like to see Perlage. But most people don't realize how it is done.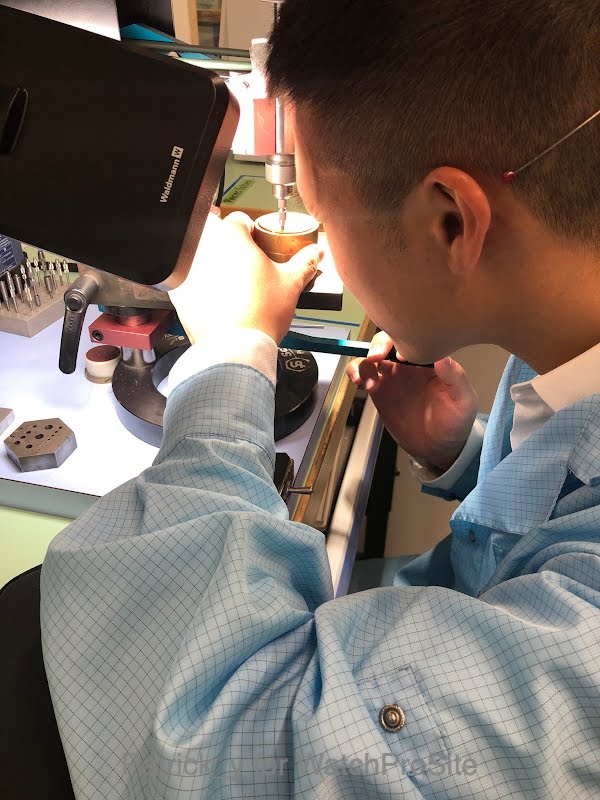 Well, it's not easy. But it's not as hard as anglage. Basically a machine with a metal and rubber nub spins. With the right hand, one can make the watch part come into contact with this machine. With the left hand, I can rotate the watch part so another portion of the part will come into contact with the machine. The machine can have little nubs of various sizes for different sizes of perlage. The main thing here is to breath steadily
and have a steady hand. Right hand pressure ought to be consistent or the perlage will look different. The left hand needs to turn the consistently same number of degrees too, or else some perlage won't overlap evenly as the ones surrounding it.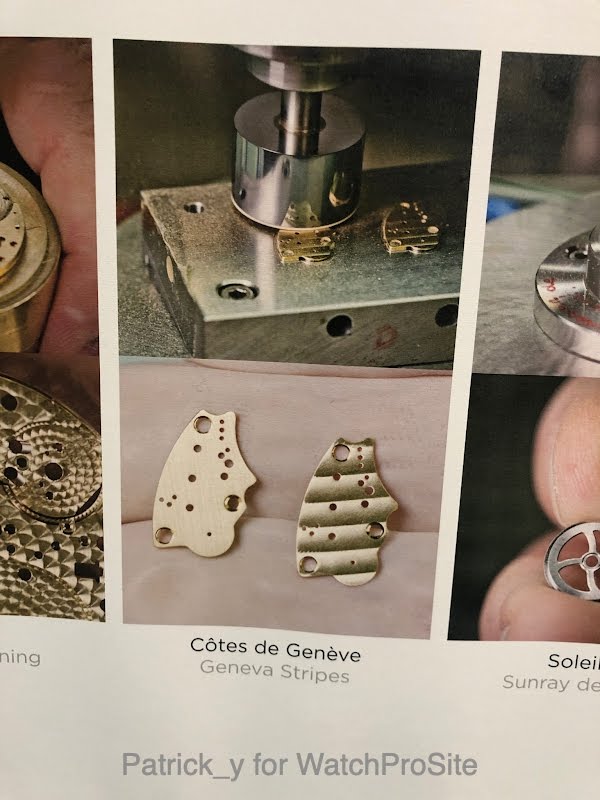 How is that beautiful striping made? Well, it's done by this machine!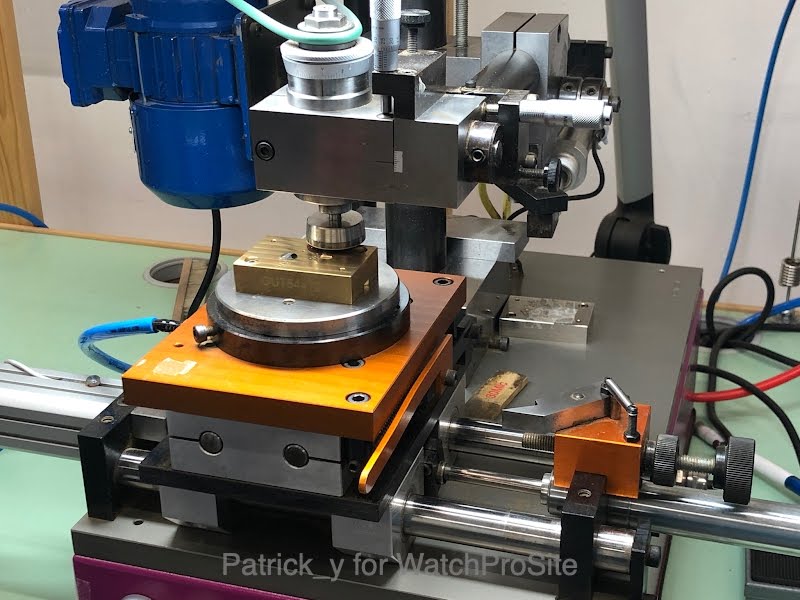 This machine makes those "Geneva Stripes" or "Ribbings." Some of these machines are fully automated too for consistently spaced ribbings!
ASSEMBLY
You've now seen how the parts are made and decorated. Now we've got all our parts, but these beautiful parts aren't quite yet a watch. We still need a watchmaker to put them all together!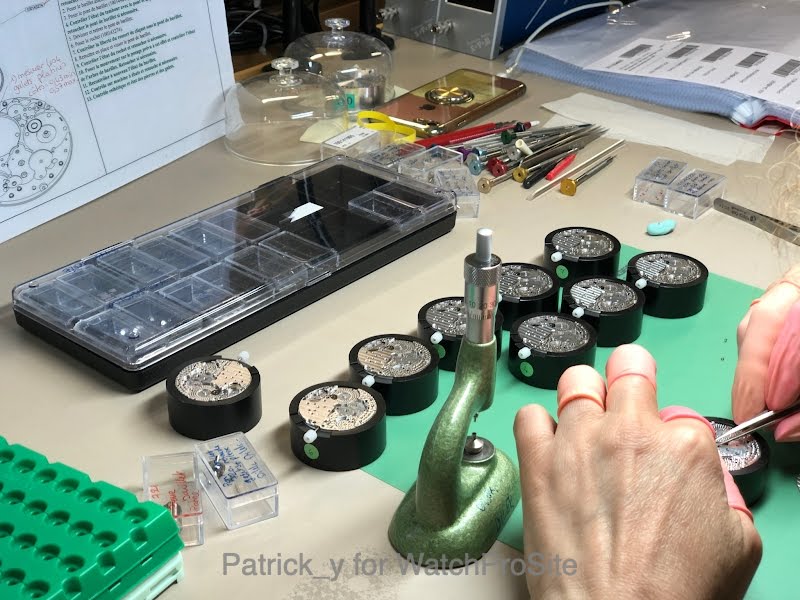 The BVL 138 are assembled partially in an assembly line format. More complex movements are generally assembled by one person from beginning to end. That's why this watchmaker
has ten movements in front of her, she's going to be putting on a module she made onto all ten of these movements. Then all ten movements will go to another watchmaker who will install another module.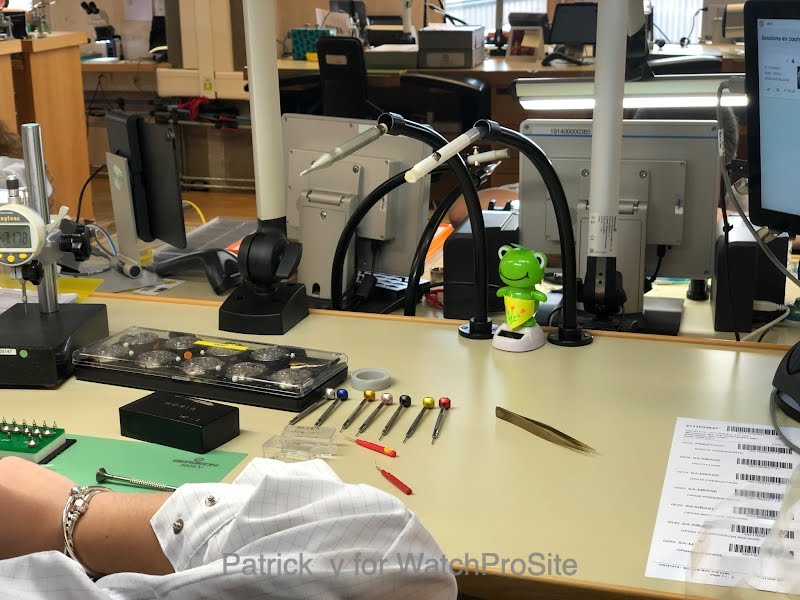 The watchmaker uses a number of tools and different lubricants to assemble the watch.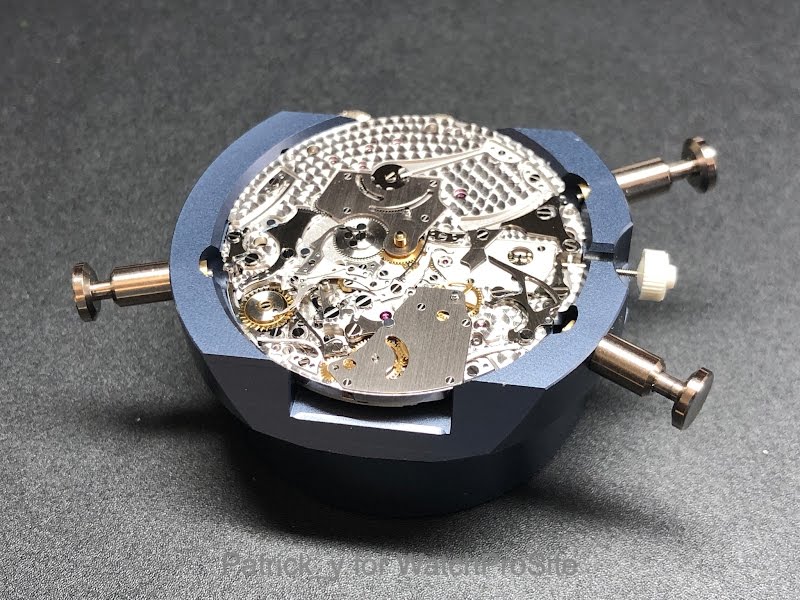 This movement is assembled and is undergoing testing and fine tuning. Fine tuning can sometimes take more time than assembly of the entire movement! Also, assembling an ultra-thin movement is especially difficult, as the parts are finer and not as robust as a traditional movement. Extra care and extra time is necessary.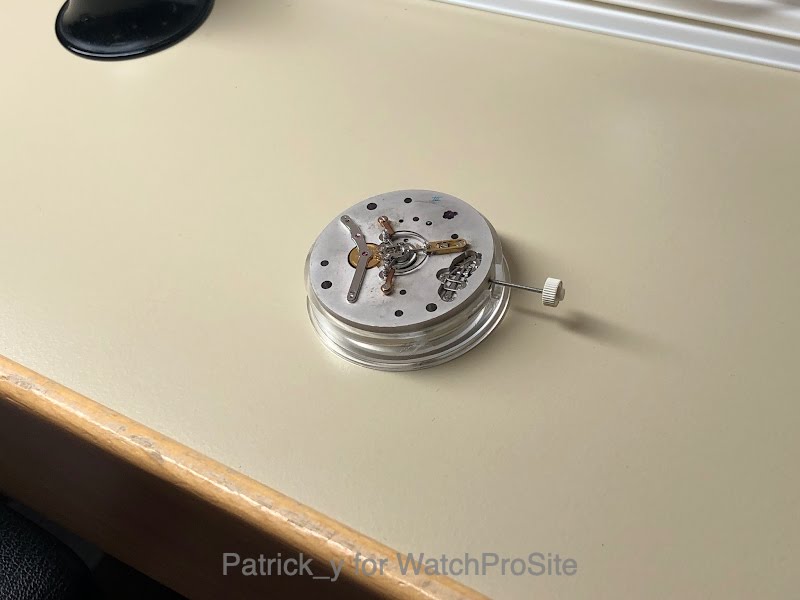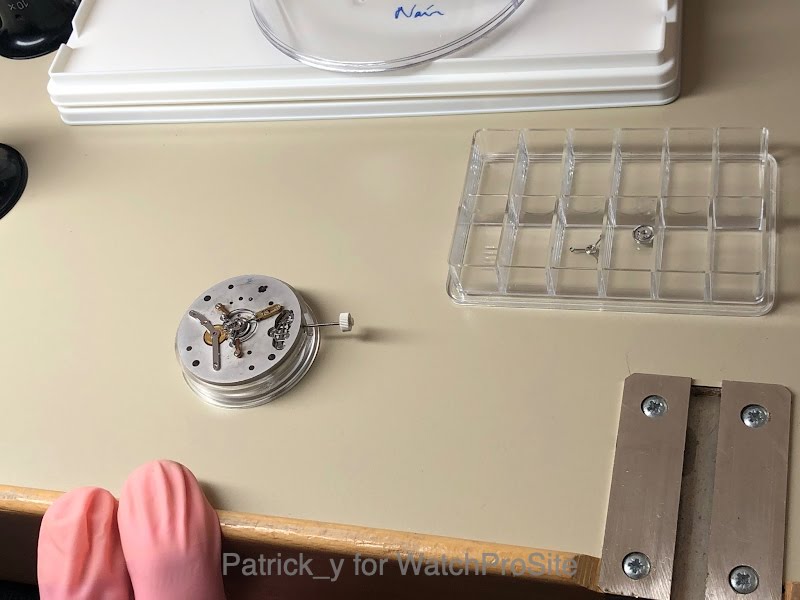 Above you see a Tourbillon
sub assembly. The Tourbillon part is so complex that the watchmaker has to clear the table to focus on it. Once it is assembled, the watch itself is then assembled and the Tourbillon is grafted onto the rest of the movement.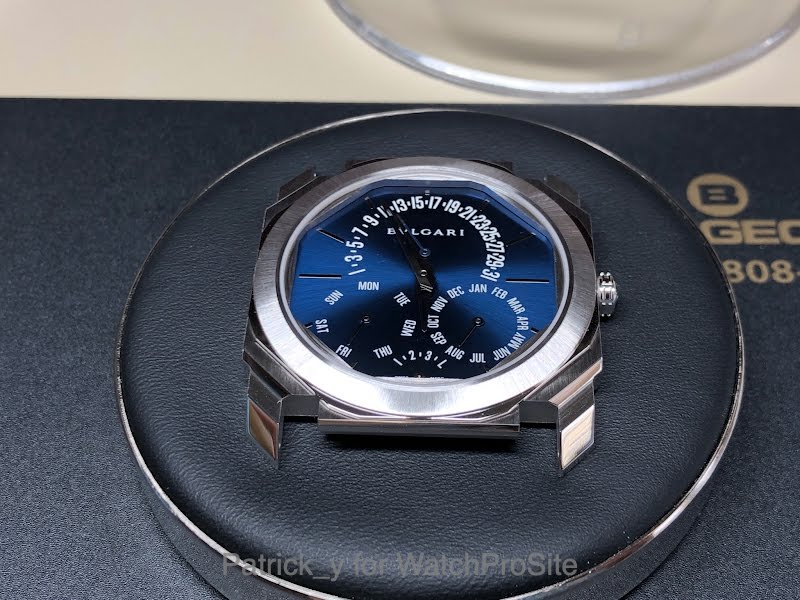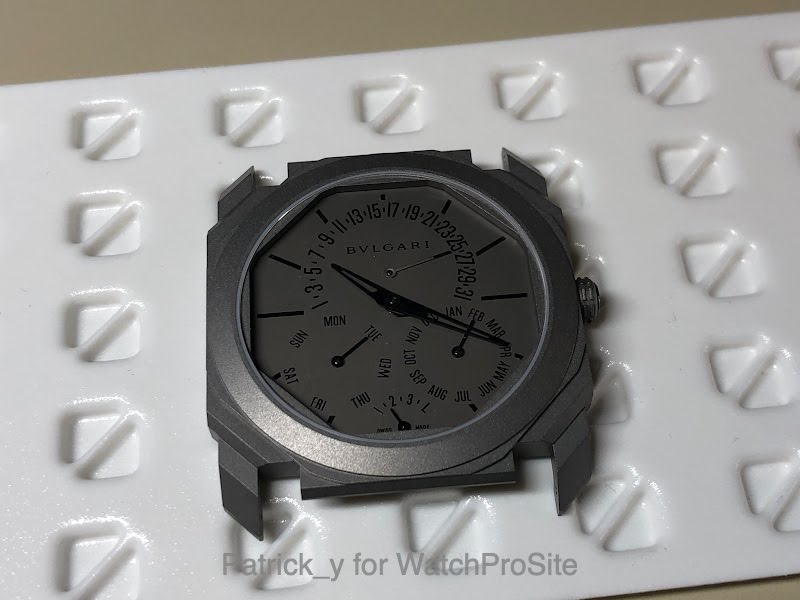 Here we see two perpetual calendars that have just been cased up. The cases are all made in
Saignelégier. The casing is either done here in Le Sentier or in Neuchatel. Depending on the model and capacity.

BONUS SECTION: THE GRAND SONNERIE


Here on WatchProSite, we have some of the world's largest collectors and our readers really like the ultra-special products. Thus, Bulgari let me take a peek into their Grand Sonnerie room. This is a separate room, that's completely separate from the rest of the factory. Contrary to the name "Sonnerie" it is also the room where minute repeaters are assembled. Each watchmaker here only make about two Grand Sonneries a year. Sometimes only one. Sometimes none! Only a single digit number of Grand Sonneries leave the factory per annum. And not many more minute repeaters leave the factory neither. Consider the scale - these pieces are truly hand-made one at a time. Consider the business case - the R&D costs, the amount of time required for each piece, the fact that these are specially trained watchmakers (not every watchmaker can make a chiming watch), minute repeaters and sonneries are more about a brand's expertise and savior faire rather than a strong business case. True, each watch is very expensive, well in the six figure territory. But also consider all the fixed costs and super low volume.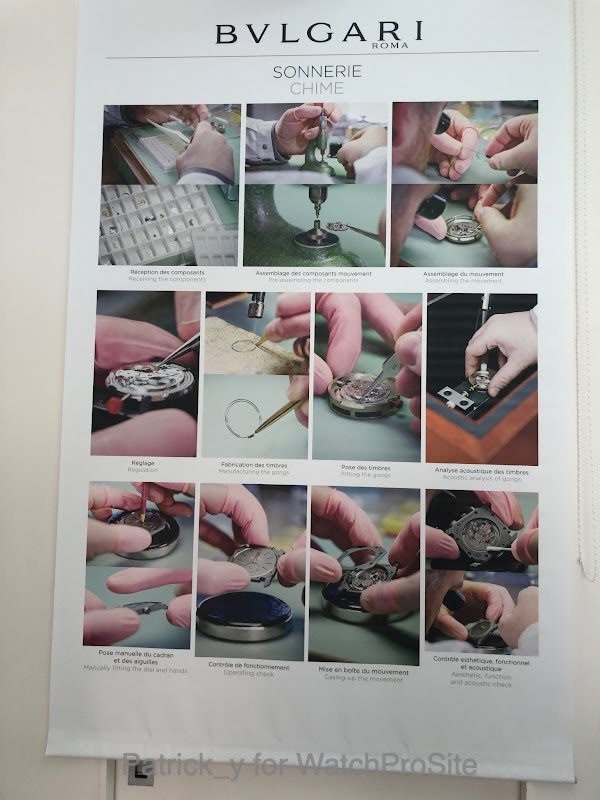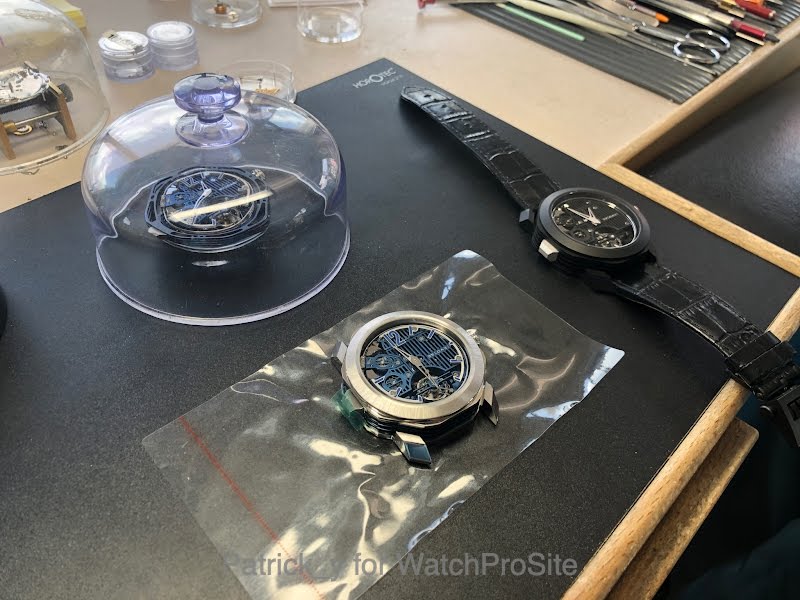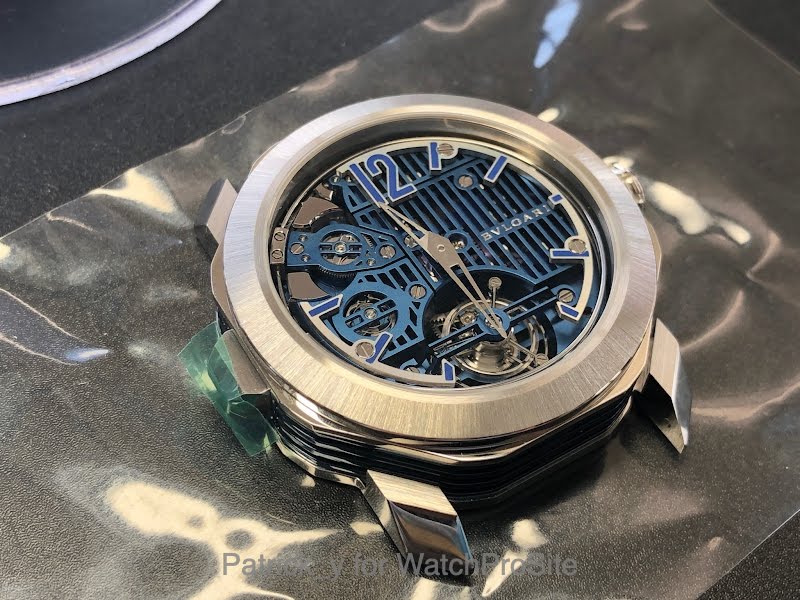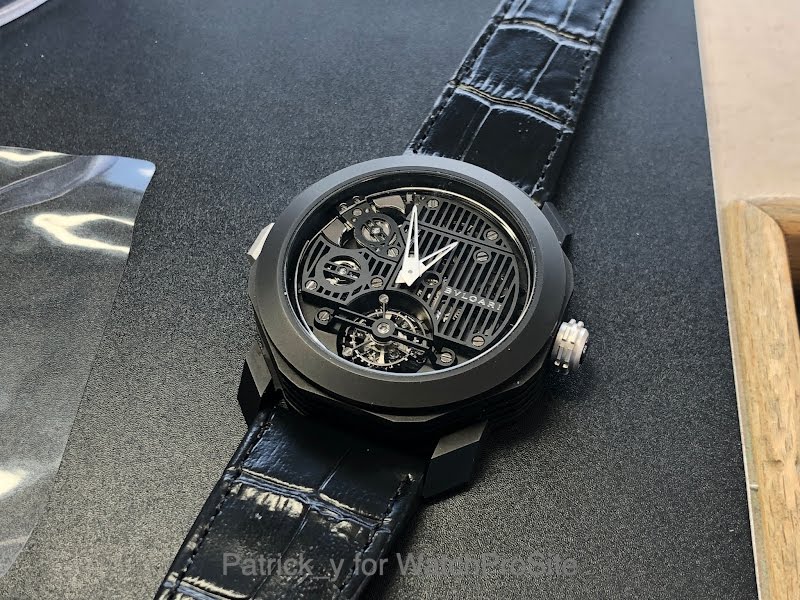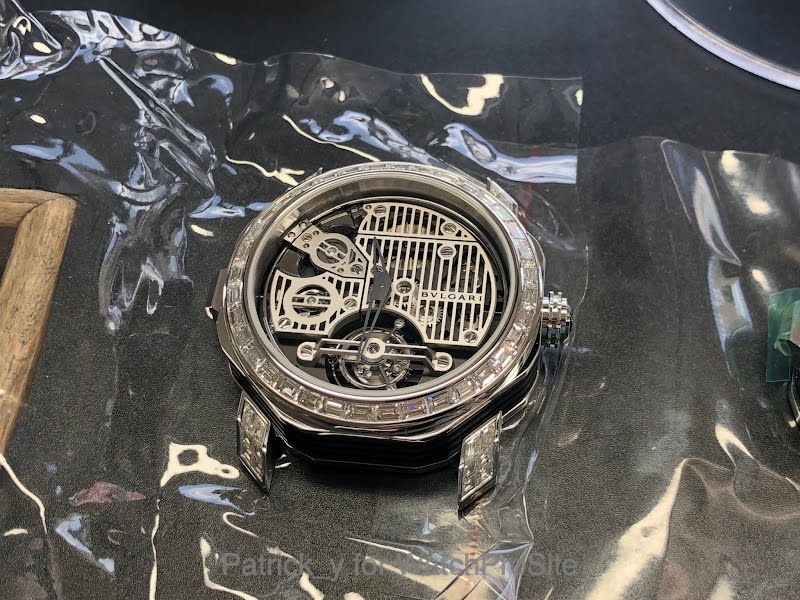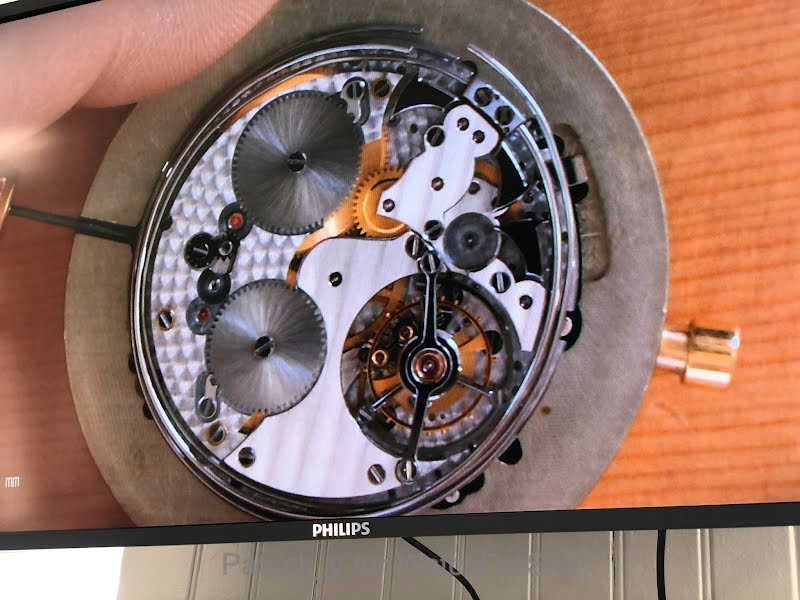 Here the watches are put on a spruce soundboard (made by JMC
Lutherie, I really like their sound boards) and the audio is recorded and the gongs are fine tuned until they sound just right. Historically the gongs used to be heat quenched then shocked in horse urine to achieve the best sound. I don't think they do that anymore, I didn't see any bottles of horse urine.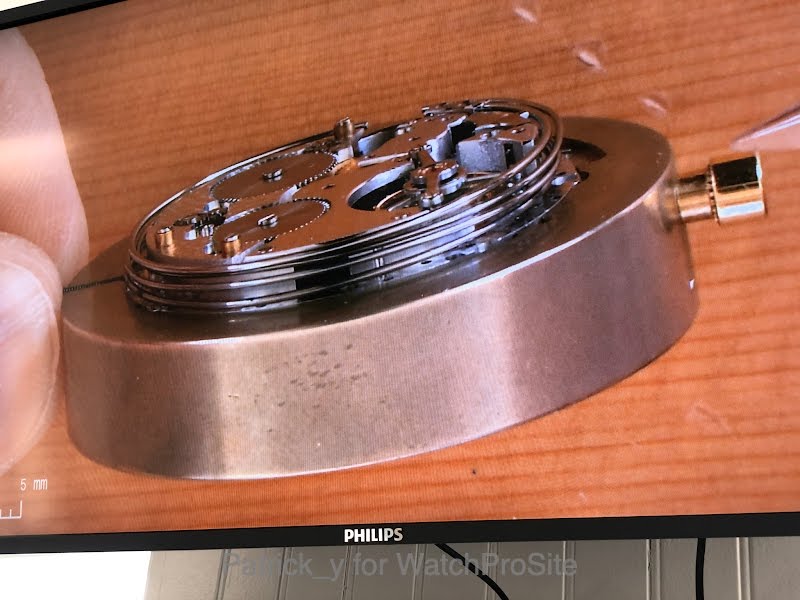 Some sonneries have four hammers and four gongs. Oh my goodness!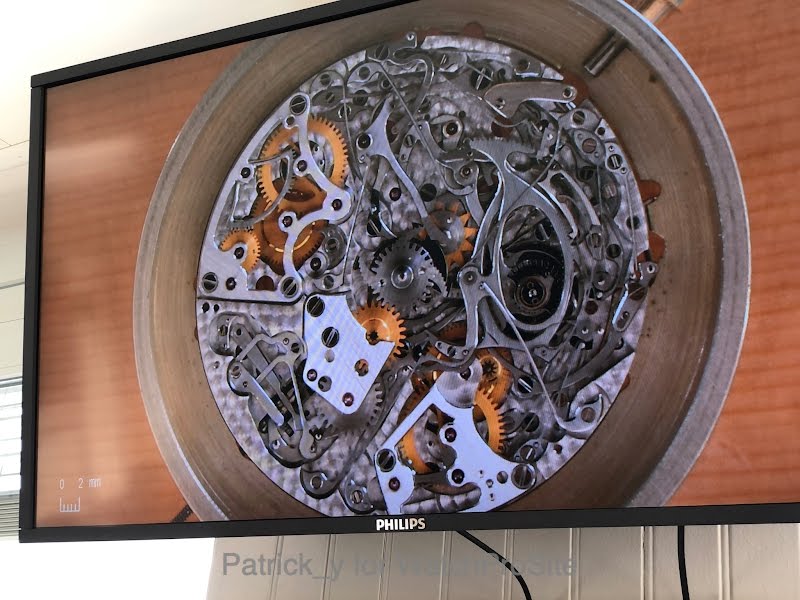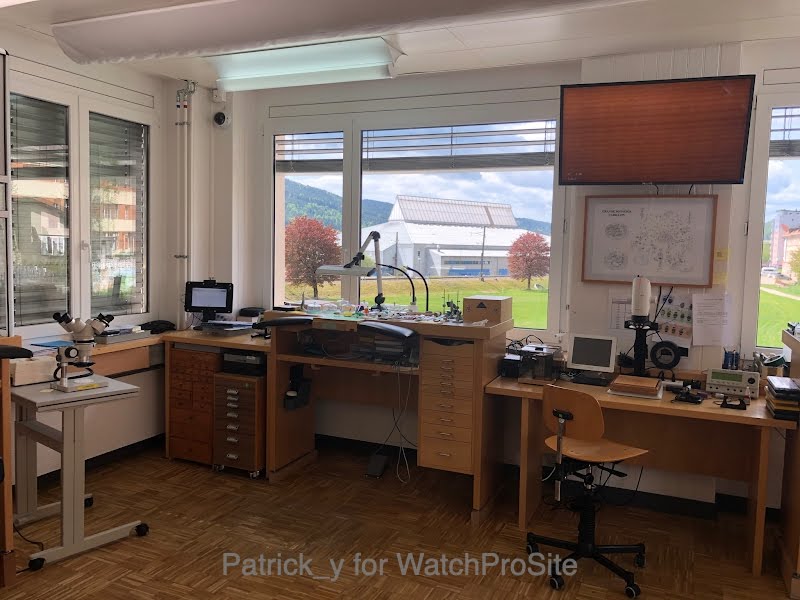 Here you have a peaceful office. Quiet. Except for the sound of some watch gongs every now and then. You have a view of cows and fields out the window. Wouldn't you like to have this as your office? My office is covered in papers!
IN CONCLUSION
The Bulgari Octo Finissimo is a great watch and one that will surely go down in history as one of the most important watches of the past 20 years. I urge you to just go and see one. Try it on. Go for a test drive. That way you'll know if you like it or you don't. It's obvious where I stand, I like it immensely. I really like micro-rotor movements too. I've been enjoying my Octo Finissimo so much that it's become my daily wearer watch. Even my Patek Philippe is getting less wrist time. The Bulgari Octo Finissimo is a great design. It's well made. And the new Version 2 BVL 138 is going to have even better winding performance than the V1 BVL138.
The other amazing part of this watch is the price point. From the low end looking up; Bulgari is selling this watch for only a few thousand more Euros than a Rolex Submariner! The Bulgari is just a couple thousand Euros over 10.000 and the Rolex is just a couple thousand Euros under. This represents an unparalleled value in my eyes as this movement is a high horology movement that is much more difficult to create. The steel case also requires many more operations to first polish the entire case and then later brush the facets individually.
From the high end looking down; Audemars Piguet has similar models of steel sports watches that aren't quite as thin, with somewhat similar finishing and decoration standards, and yet cost double at retail (and even more at market prices). Chopard has a model that's thicker, similar or lower finishing and decoration standards, and costs about the same. This would suggest the Bulgari is a great value no matter how you look at it. These watches are definitely underpriced relative to the market. Haute horlogerie at accessible prices. Fine dining at casual restaurant pricing.
I used to have a snobbish attitude towards watches and I'm probably not alone. When I was young I used to think I would never buy a Cartier watch since Cartier was a jewelry house and not a true watch brand. Well, I've learned to eat my words and be a little more humble. I've also realized you should never use strong words like the word "never" as it only limits yourself. Bulgari here has done something truly amazing. Porsche today makes some of the most capable and best driving SUVs. It's possible for a brand to have two metiers.
What are some of your favorite models? Here are some of mine. Some aren't available anymore, but these are my favorites.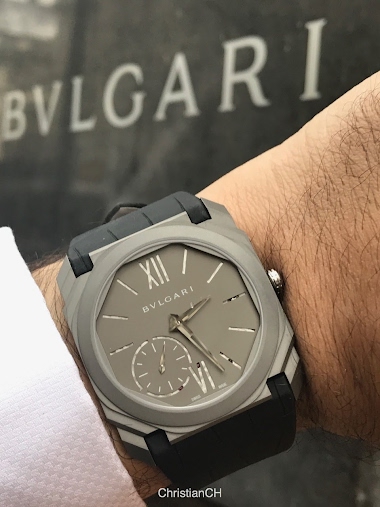 Here we have the Revolution model with the pierced dial. The dial is similar to the minute repeater dial. This photo is by ChristianCH and it's a very rare piece.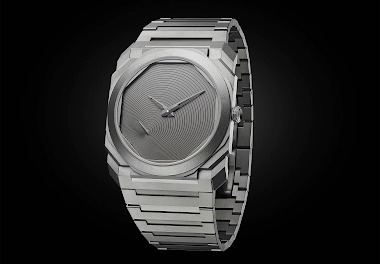 The Tadao Ando special edition is elemental yet quintessential. It is such a great match for Ando's architectural style - concrete blocks - that the titanium watch resembles concrete blocks. This is my personal favorite. With only 200 pieces worldwide, it's also very rare.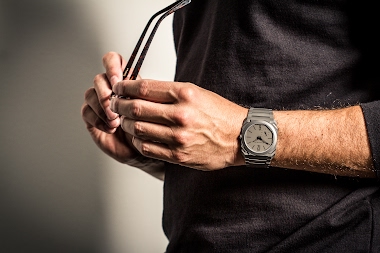 The standard version is simple. Beautiful. And wonderfully restrained.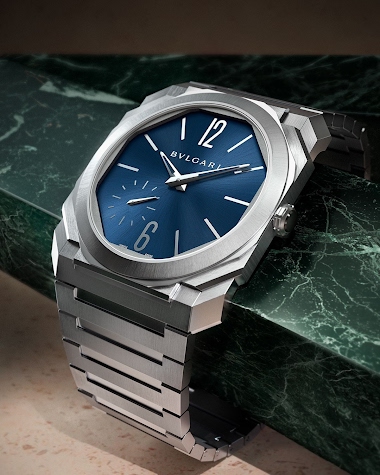 Here is the steel version. 100 meters water resistant. Brushed and polished surfaces. What a great look. Comes in a brushed silver, black, or blue dial! I don't need a minute repeater, I'd be happy with this one!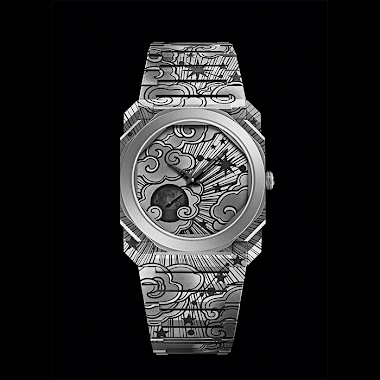 Here we have a special watch designed by our member "Mo" who collaborated with Bulgari to design this watch. This "Tattoo Aria" watch is created using a special laser that etches the design into the titanium case and dial. Brilliant! Very rare, only a small number of these were produced.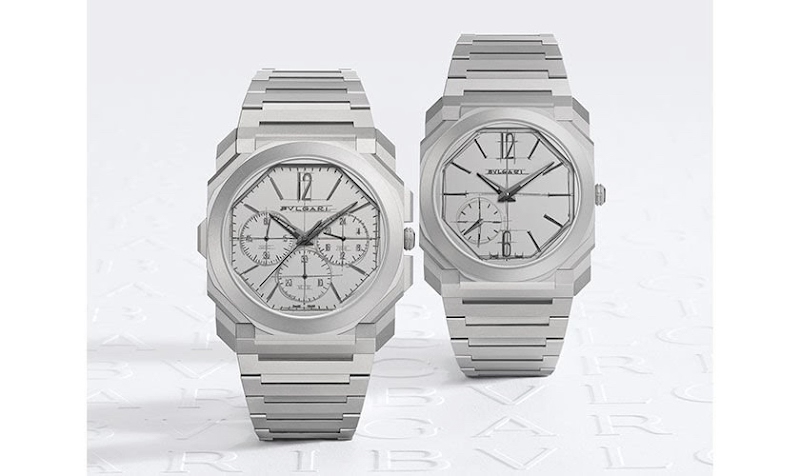 And last but not least, we have the 10th Anniversary "Sketch" dials. Another favorite on our forum. Limited to 200 pieces of each variant. And another great piece. So many great Octo Finissimos.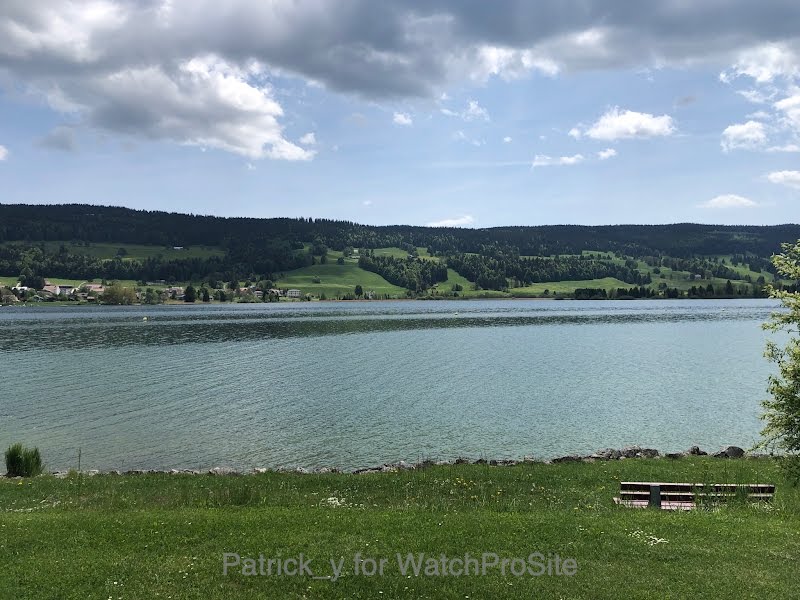 Thank you for reading. This was a long post. Have a rest on this bench right in front of the lake. I need a break myself!
As always, I look forward to reading your comments and questions. Many thanks to the amazing team at Bulgari for helping me put this report together, for graciously allowing me to visit their tremendous factories. Thank you!


Moderator Disclosure: Bulgari did not pay for my flight to visit them. And so far I have paid full price for all of my Bulgari watches. Bulgari did provide a taxi service for me to visit their factories, which I graciously accepted. I took a train back to Geneva from Neuchatel, and I even paid for my own train ticket. All the words I've stated are my own and are free from influence.