Moderator Patrick_y admits why he has acquired very few watches over the years and doles out unsolicited holiday advice… What do you buy after you have a few nice watches?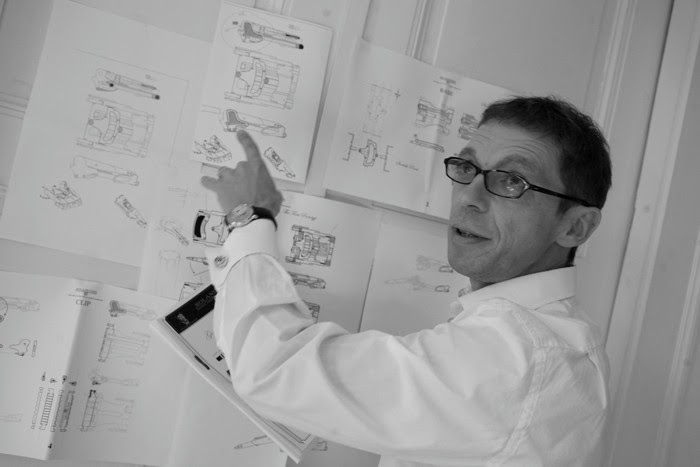 That's Roland Iten. The man is an energetic man who is filled with bright ideas!


I'm a little jaded with watches. Yes, there are some amazing pieces, but who has the time to wear all of them? Amassing a large collection is the definition of "collecting" but as a collector, I feel I'm more of a caretaker, often worrying about my pieces. Most of the pieces sit in the bank's safety deposit box, and you may recall, I don't trust those boxes…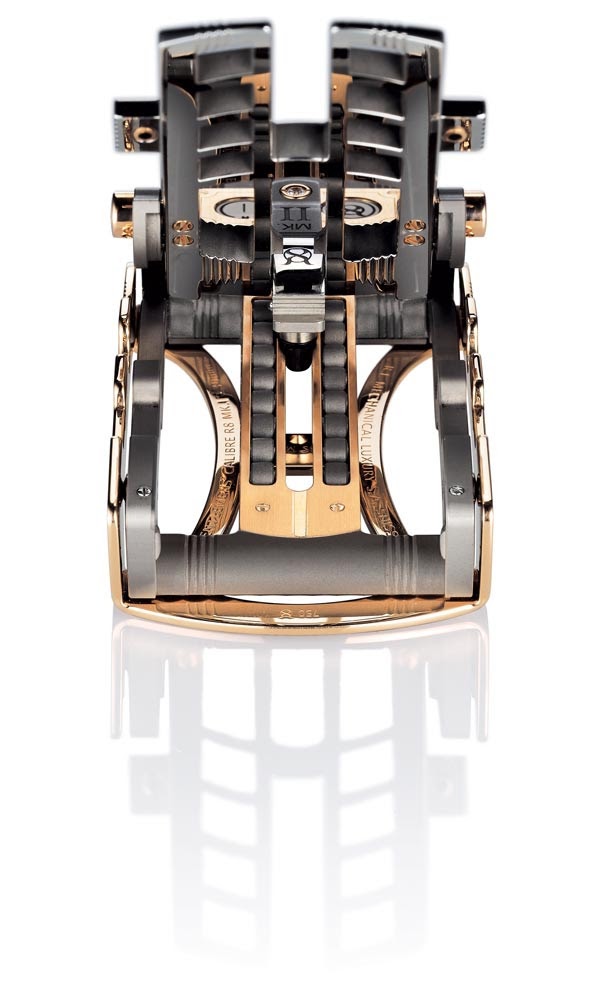 The little rollers on the bottom are titanium on ceramic bearings. These ceramic bearings use no graphite lubricant because graphite dust would eventually stain the trousers of the belt's wearer.
I'm often asked by watch collectors and art collectors what timepieces I recommend as good buys. As many of you know, I'm not the most fond of this question, as I believe if you are in such a position to ask a question, you are probably successful in making your own decisions. So when I'm asked for solicited advice, I really try to get an understanding of what would really improve that person's life. The wearer should tell me what they value, what their hobbies and interests are, what kind of art they like, etc. Want a great watch that's big and a little thick? Look at A. Lange & Soehne. Love mid-century furniture? Consider an elegant and contemporary Piaget or an IWC Portuguese Chronograph. Your watch should be compatible and almost convey/mention a bit about your hobbies and interests. Love classical music and season ticket holder to the Symphony? A Breguet music box watch…
So… Recently, I had a friend who asked me what to buy. He already had bought a dozen super impressive watches in the past few years. Many of them nice pieces; Patek Philippes, Langes; Vacheron Constantins, many Audemars Piguet including a Grand Sonnerie and a Minute Repeater, Jaeger-leCoultre's special pieces, a Breguet Double Tourbillon, a Roger Dubuis double tourbillon, and others. For the man who has everything… What is there left to procure?
Well… (and here comes the unsolicited advice for you, the reader of this article) I would focus on lifestyle. When buying an additional watch yields little utility, you should consider something you don't have that will add a new dimension to your life.
I told my friend; another watch added to your collection will yield little utility, but you should consider a Roland Iten belt buckle. It's just what you need, to integrate high quality mechanical art into your life.
Collector: "Roland Iten? What's that?" he replied.
Patrick_y: "Roland Iten is a man, an inventor, who consults with watchmakers in Switzerland and help them come up with inspiring concepts that are later put into production. The adjustable clasps of some of your watches by Journe and JLC were designed Roland Iten."
Collector: "I love those adjustable clasps, I bought the JLC Extreme LAB partially because I liked the clasp so much."
Patrick_y: I do have to warn you, your initial thoughts will be that these belt buckles are too expensive, but if you think about it, factor in that there are such a few number made, you'll realize, every design only nets a set amount of revenue. Most designs are limited to only a couple dozen pieces. Then, each design has high design fees, production set-up costs, etc. which cannot be amortized over hundreds or thousands of units but only a couple dozen pieces.
Collector: A couple dozen pieces? That's rarer than a Philippe Dufour Simplicity!
Patrick_y: Some pieces are literally single digits. The belt buckle I want, but I can't afford, is the Predator 822 with diamonds. But there are only 3 in the world. And it probably costs a fortune! There's also a belt buckle with a 60-carat diamond! Obviously one-of-a-kind since there is a limited supply of 60-carat diamonds in the world.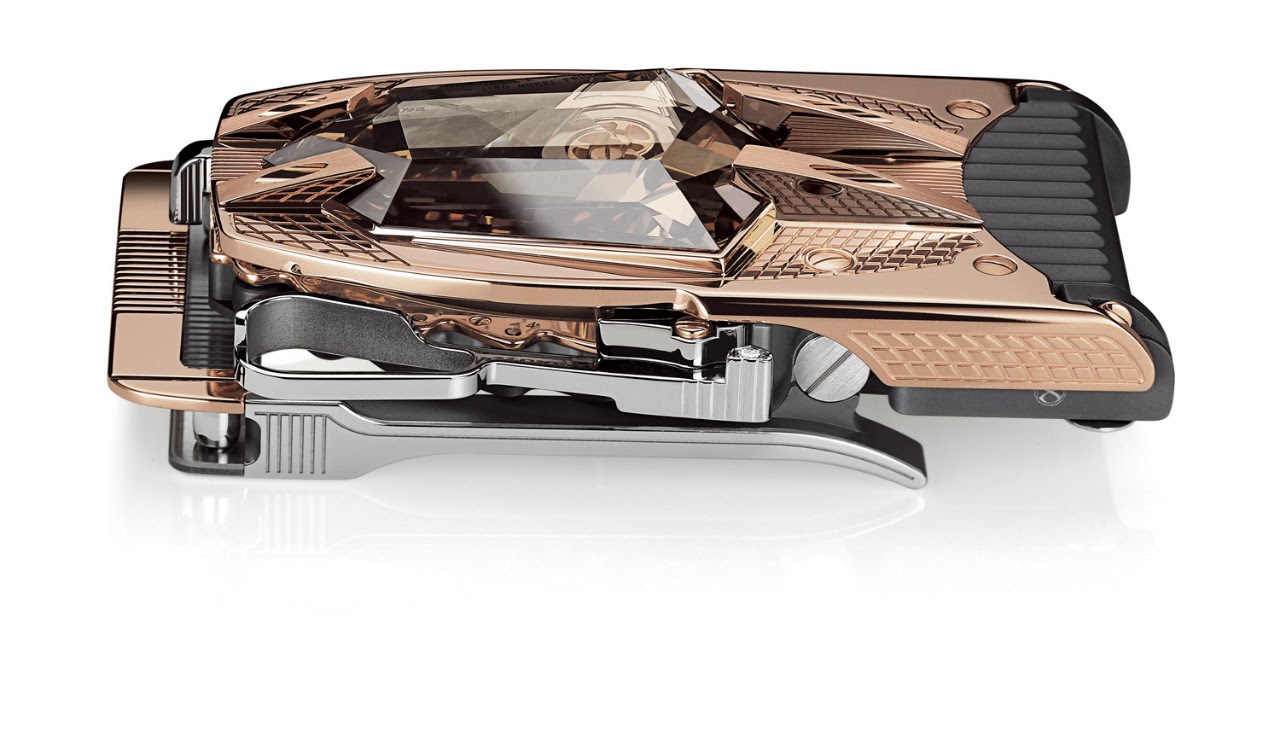 Picture Caption: This is the world's most valuable belt buckle. It has a 60.66 carat diamond on the buckle!

Collector: I'm not in need of diamonds, so I should be able to more easily find a non-diamond version.
Patrick_y: Diamonds aren't a bad thing, they're scratch resistant. Look at the Patek Philippe Nautilus, don't you wish you had gotten the diamond version? The diamond version is much more scratch resistant!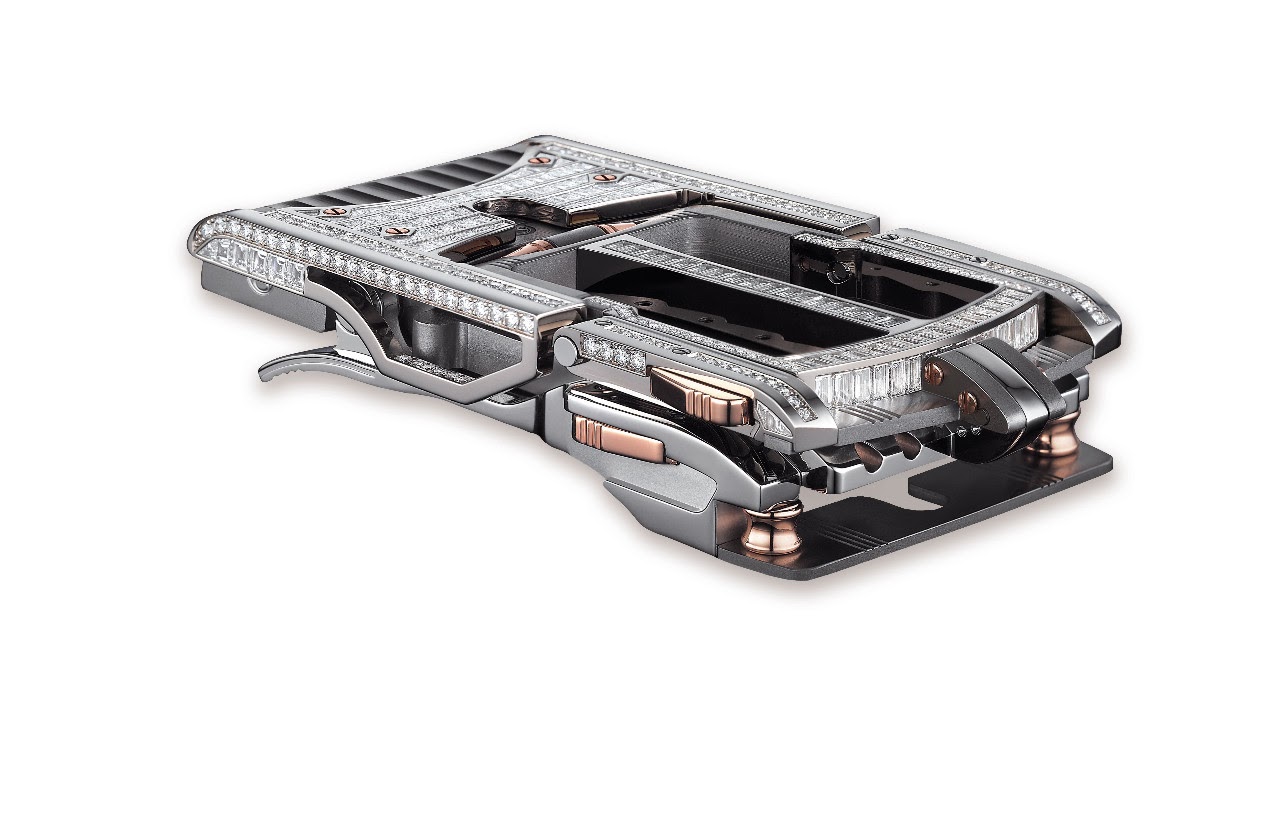 Picture Caption: The Predator belt buckle

Collector: You hang out with too many movie stars with diamond studded watches.
Patrick_y: But it was one jazz musician with a diamond studded Audemars Piguet Millenary who convinced me diamonds were a clumsy man's best friend!

I only know of a few friends who have a Roland Iten belt buckle. They're certainly rare, even among those collectors on PuristSPro! It's been a very well kept secret thus far. I have a feeling that it's meant to be a well kept secret; and apologies to those!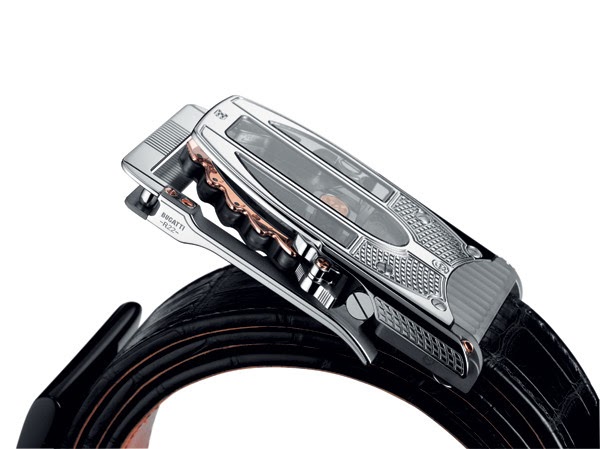 This is the R22 Bugatti model. Notice the rose gold sawtooth? That's the locking points for the six different stop positions where you can rest your belt. Just had a big dinner? Release the belt two notches (each notch is 6mm).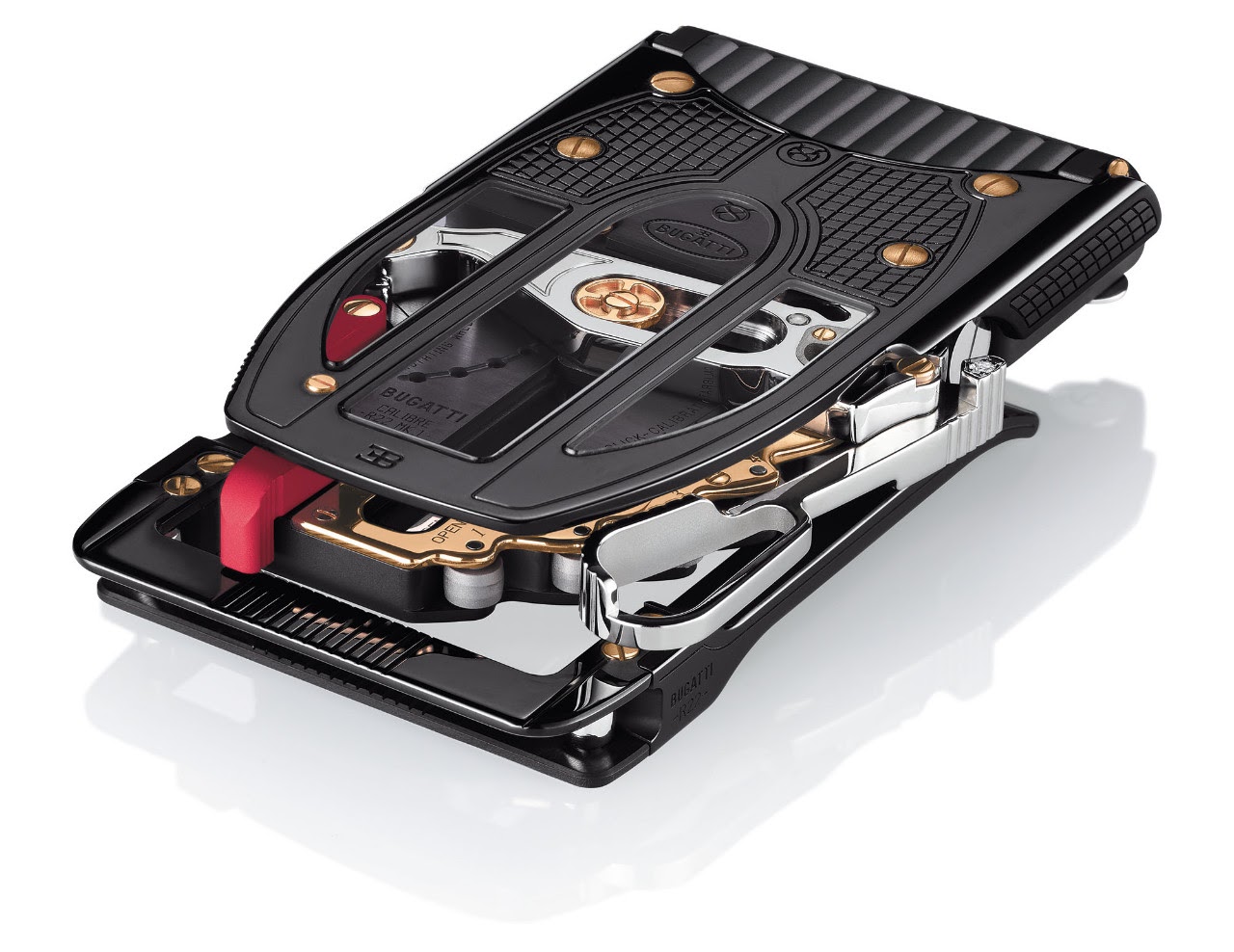 Also available in black, it looks absolutely sinister in black! This "R22" model is my favorite, and the most practical because you have six various locking positions so you can adjust your belt in finer increments.

The biggest caveat here is these belt buckles cost a fortune, but for the man who already has a few timepieces... If you have any questions about Roland Iten, the man, his inventions, etc. please let me know and I'll do my best to answer them or put you in touch with his team if I cannot answer. This is definitely an artist, an inventor, an engineer whom should be on your radar. Thanks for reading, please comment below, and as always; I read and respond to all comments!

Full Disclaimer: Patrick_y is a PuristSPro moderator. Patrick_y wrote this article on his own initiative and without influence from Roland Iten or any vendor mentioned above. Photo Credit: Photos are from Roland Iten.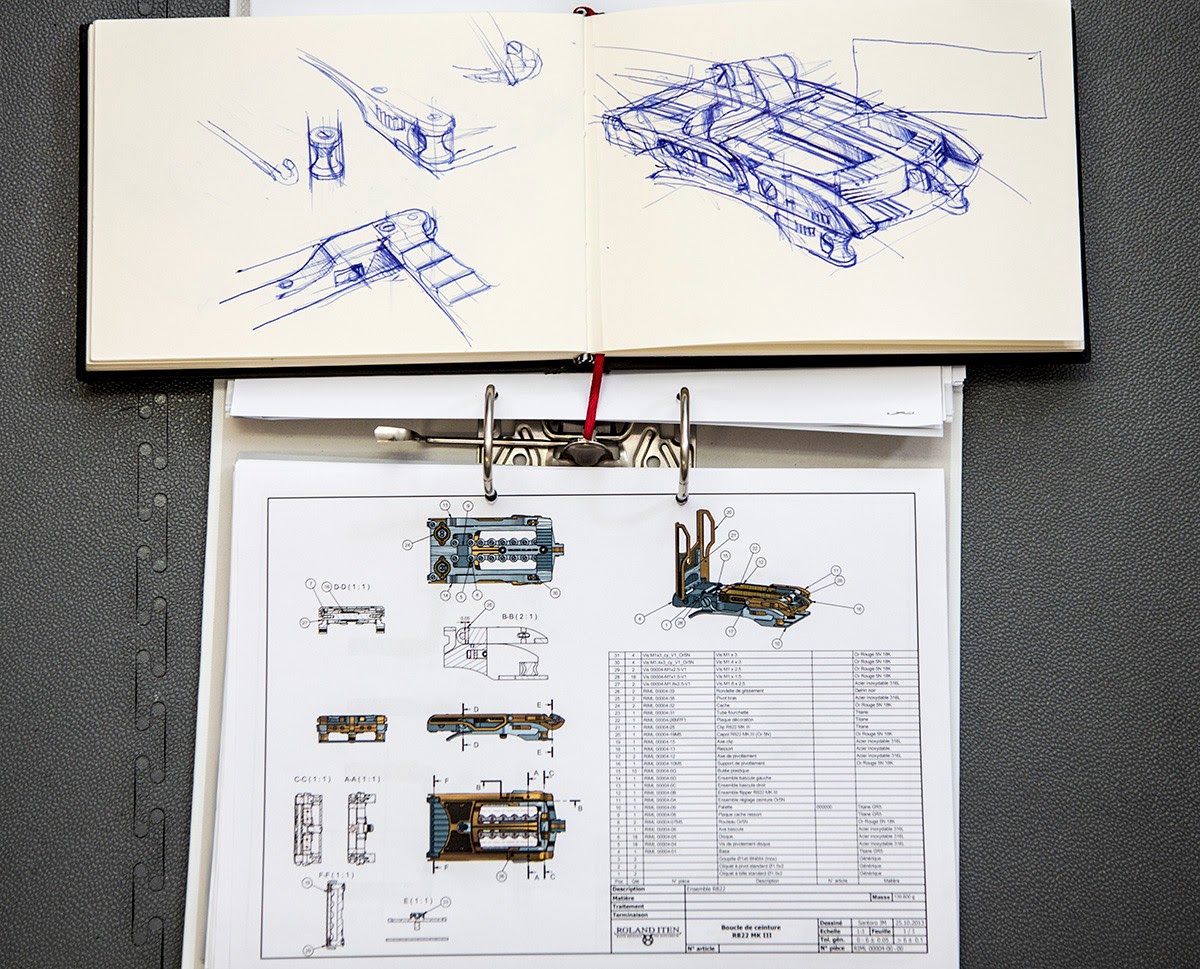 Sketches, computer schematics, and details about how the Roland Iten belt buckles are produced.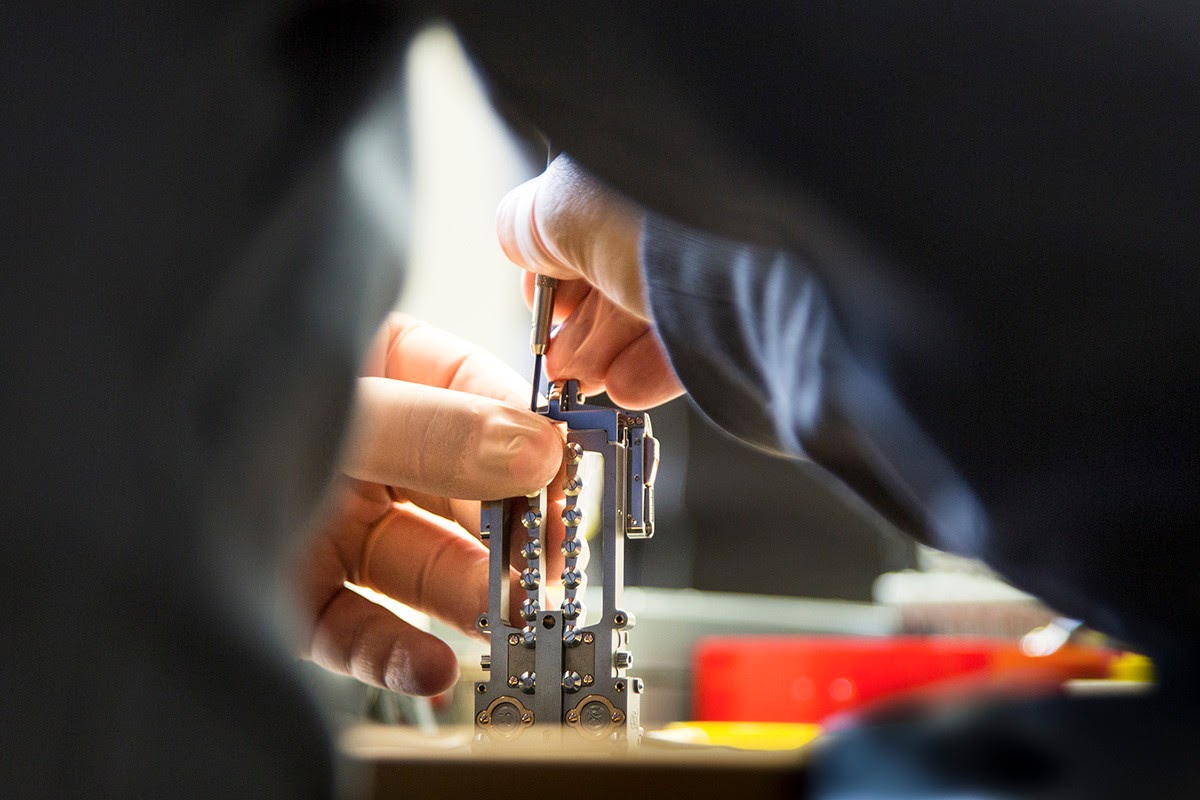 Each belt buckle is assembled from dozens of parts by hand. These parts are all custom designed by Roland Iten and manufactured and decorated in traditional watch methods. There are even perlage decorations.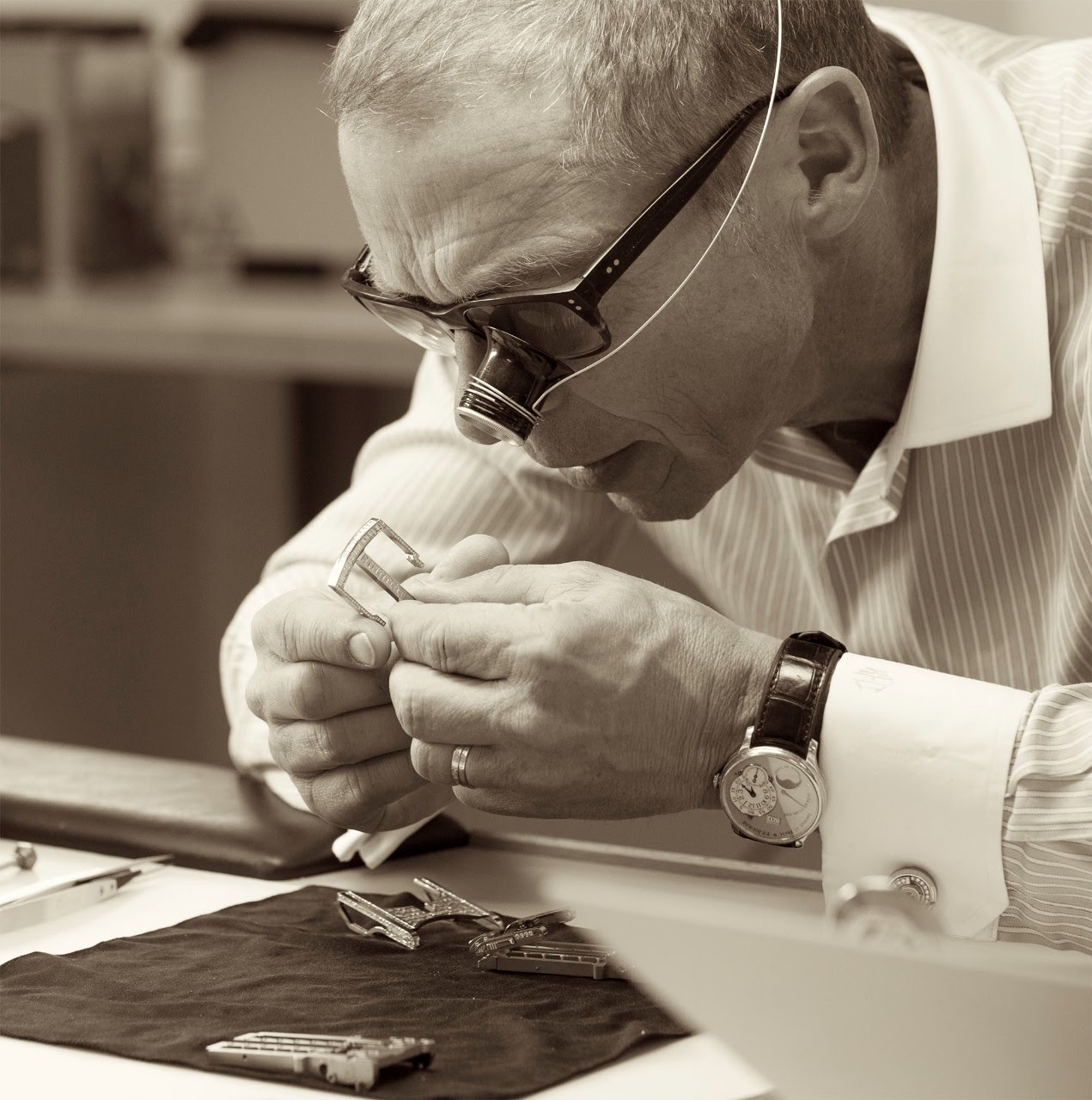 Roland is a man who things at a hundred thoughts a minute, but also can slow down to focus on each piece. He personally inspects every piece that leaves his factory.