WatchProSite Moderator Patrick_y interviews IWC CEO Christoph Grainger-Herr.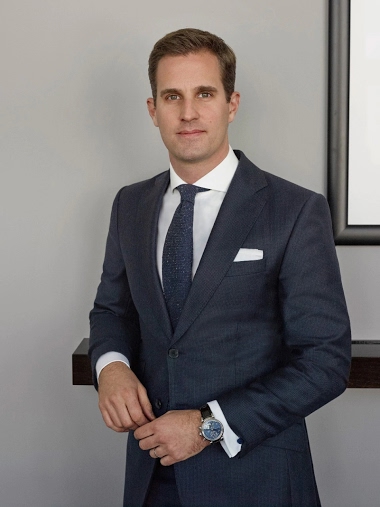 Architects. There's something about architects that just make them an authority when it comes to design, proportions, and so on. If I boil all of that down, the statement I'd be making would be simple; "ARCHITECTS HAVE GOOD TASTE." Since April of 2017, IWC has been helmed by the young CEO Christoph Grainger-Herr, a former architect; at the time he was only 39 years of age. Since his tenure at IWC, the brand has built a beautiful factory, has launched multiple new collections, my favorite being the new line of Pilots watches in 2018.

IWC is no stranger to young leaders; in 1868 its founder F. A. Jones was an American who wanted to establish a watch factory in Switzerland, Jones was still in his twenties when he founded IWC. Pushed out from the French-speaking part of Switzerland where many in the watch industry shunned the idea of a vertically integrated factory (parts at the time were sourced from dozens of individual parts makers mostly working out of their homes/farms before being brought to small watchmaking workshops that assembled these parts), Jones eventually settled into Schaffhausen the German-speaking side of Switzerland, which was more industrialized. Over the years and especially after Richemont's massive investment in the brand, IWC is now recognized as the largest Swiss-German watchbrand.

In the following interview, I tried to get some information from the CEO, he couldn't answer certain top secret questions unfortunately, but I did try my best to ask difficult and engaging questions. There are some difficult questions here about the future of E-Commerce, retail, and how the "luxury experience" is going to be retained. Keep in mind, these CEOs are answering questions broadly and they have to do so in a very politically correct manner, so you can't always expect perfect answers to be published. I hope you enjoy the interview and please send your comments below!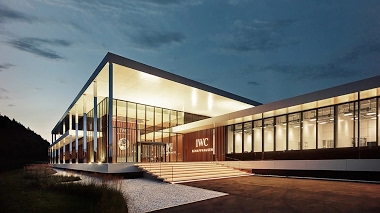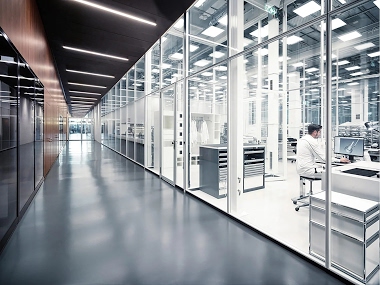 1. Congratulations on the completion of the expansion to the IWC factory with the beautiful new building you are involved with. I recall you have an architectural background. I am hoping to see it one day and give a virtual tour for our readers! I know that the building was logically designed to optimize the flow of watch production. What are you most proud of with the new building?
Christoph Grainger-Herr: When creating our new Manufacturing Centre, we had several objectives and goals. Naturally, the new facility needed to offer optimal conditions for our production and employees. We also wanted to incorporate many elements for a responsible production, provide a unique visitor experience and express the spirit of the IWC brand in a physical form. I was personally involved in the planning and construction phase. What I am most proud of is that we were able to meet all our goals: we managed to improve workflows and manufacturing processes as well as communication between the different teams and departments and implement an integrated quality management system. All these steps have significantly contributed to the longevity, durability and quality of our products, and they were a crucial factor for the extension of the International Limited Warranty from 2 to 8 years which we have recently announced as part of My IWC program. We also created optimal working conditions for our employees with ergonomically designed workplaces and lots of natural light. We integrated numerous elements for sustainable production, such as solar panels on the roof. We also created a visitor experience that is unparalleled in the watch industry, where visitors can experience our manufacture in a never-before-seen way. We created a building that is an architectural statement and perfectly encapsulates the spirit of the IWC brand.
Patrick_y interpretation: coming from an architect, this seems like he's very proud of the building. I definitely hope to be able to get a visit to the IWC factory sometime in the near future! And maybe if I'm really lucky, a man with an architect's eye will give me a tour!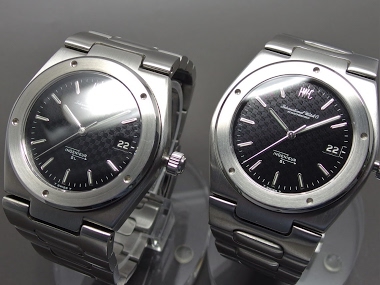 Photo credit: Photo by HSTE, our Omega Moderator

2. Many WatchProSite readers are hoping to see a Genta-esque Ingenieur model around 40mm and under 10mm thick similar to reference 1832 from the 1970s. The last update to the Ingenieur collection was introduced in 2013, did it perform well in the USA market? I know you can't comment too much about future developments, but can we hope to see a successor to the 1832?
Christoph Grainger-Herr: I agree that Reference 1832 is a stunning watch: simple, functional, iconic design. As you rightly mentioned, I can't comment too much about future developments. What I can tell you, however, is that we listen to what collectors say. When designing and developing new products, technical features or complications, we always put the customer first.
Patrick_y interpretation: I see hope! I'm going to keep my fingers crossed!

3. IWC is unique in the industry; it's considered the only large brand operating on the German side of Switzerland. Outside of the obvious difference in case and movement design, what is the biggest fundamental difference between a Swiss French manufacturer and a Swiss German manufacturer? How is this difference captured in IWC's identity?
Christoph Grainger-Herr: To understand this difference, you have to go back to our founding story. In 1868, the American watchmaker and entrepreneur Florentine Ariosto Jones crossed the Atlantic to establish IWC in Schaffhausen. His visionary idea was to combine the advanced manufacturing methods from his homeland with the experience and craftsmanship of Swiss watchmakers. From the onset, the degree of industrialization was high. IWC quickly earned a reputation for robust and highly precise pocket watches. These timepieces soon found their way into domains and applications where robustness, reliability and precision mattered. The company was quickly producing functional tool watches, for example, for navigation in airplanes or on ships. This unique heritage has also defined the DNA of our manufacture. IWC has always had a straightforward approach based on the principle "form follows function". The iconic design in the style of an easy-to-read cockpit instrument of our Pilot's Watches is the result of purely functional engineering to the requirements of military aviation. When we created the Mark 11 navigator's wristwatch for the British Royal Air Force in 1948, easy legibility was an essential requirement from the military. When we engineer complications, we always put a lot of thought into making them practical and easy for our customers to use. A great example is the perpetual calendar, developed by Kurt Klaus during the 1980s. All its many displays are perfectly synchronized and can be operated via a single crown, and it will continue to function without any manual adjustment until 2100.
Patrick_y interpretation: the German mentality is here; straightforward function and robustness definitely seems to be the priority.

4. Luxury is hugely personal, we see brands offering personalization services, how is IWC making strategic shifts to make more personal products? Anything deeper than different colored strap options? Any plans to offer engraved initials on the case back?
Christoph Grainger-Herr: Our customers buy a mechanical watch to celebrate a milestone in their lives. We are continuously looking into ways to make their experience more personal. In our E-Boutique, we offer engravings on selected watches. An engraving makes each watch an unmistakably unique piece; for example, by having your name or initials or the date of your birthday engraved. Of course, we also offer various strap options for many of our popular models like the Portugieser Chronograph or Pilot's Watch Mark XVIII, including calfskin straps, metal bracelets, or textile straps. For our customers in the US, we have designed an extensive personalization option with the "Ingenieur Configurator". This practical online tool enables them to create their own Ingenieur Chronograph by choosing the case material, the color of the dial and the hands, the strap, as well as adding a personalized engraving on the case back. Each watch is then manufactured to order and submitted to an extensive 500-hour test before delivery.
Patrick_y interpretation: The "Configurator" is definitely meaningful, lots of bonus points there! The strap color and engraving is somewhat "low-hanging-fruit" that I expect from every brand these days, so no bonus points there.

5. E-Commerce promises to become a major revenue source and strong luxury brands are delivering more personal products and personal experiences. A luxury French luggage manufacturer allows clients to personalize their luggage with custom hand painted stripes and initials and many are introduced to this service via its website. E-Commerce also allows a business to capture the "long tail" of business and also help expand that long-tail. E-Commerce promises to grow substantially in the future, and this can increase IWC's revenues substantially. But, when it comes to watches, e-commerce is very impersonal and transactional. How can IWC make the E-Commerce experience a personal and luxurious experience?

Christoph Grainger-Herr: Buying a luxury product is never just a simple transaction. For most of our customers, it's the culmination of a long-held dream. Whether you complete your journey with purchasing the watch of your dreams in a physical store or online: we want to make the experience special. In our E-Boutique, customers can shop around the clock without fixed opening hours and benefit from comprehensive delivery options or personalize their favorite IWC with a unique engraving or strap. If you buy the watch as a gift, we deliver it in signature gift-wrapping, and you can complement it with a personalized greeting card. In some countries, we also offer an exclusive personal Concierge Service. If you place your order by telephone, the concierge will give you comprehensive advice and help you find the watch that suits you best. All of these services are designed to make the online shopping experience convenient, secure and memorable.
Patrick_y interpretation: I'm not thrilled with this response. I still don't see how this is extremely memorable, nor personal, nor luxurious. I have a luxurious suggestion, but I'm not sure it's very feasible nor practical. Yes, of course an online store is open all day, this is what we naturally expect from E-Commerce stores.

6. IWC has around 50 of its own stores and around 700 authorized distributors worldwide. How do the commissioned sales teams at the retail level feel about E-Commerce? Why would IWC continue to expand their E-Commerce plans despite their retailers' objections? What's the strategy here to keep everyone happy?

Christoph Grainger-Herr: Our customers should be able to buy their IWC watch where and when they want, without depending on opening times and geographical limitations. We have implemented an omni-channel distribution model, combining IWC Boutiques and retail partners, as well as e-commerce on platforms like iwc.com or WeChat in China. Every new distribution channel contributes to increasing awareness for the IWC brand, and from this heightened awareness, every channel profits. It is never about one channel against another, but to create an environment where the customer has more choices.
Patrick_y interpretation: I still don't see how retailers and commissioned salespeople are kept happy. I don't see a cohesive strategy that has empathy for everyone at every-level. The question here probably cannot be fully answered but it definitely is a difficult and piercing question. On the positive note, one thing is for certain, IWC certainly cares about the customer having a broad range of options to buy an IWC. The brand is definitely client-focused. But at the same time, I'm a client who wants to see the back-of-house operational strategy so I can make my determination if I'll be happy with the brand in the long-term.

7. Watch collectors on WatchProSite are some of the most well informed collectors in the world. When they go into a watch store they often know more about the product than the brand's ambassadors. It's almost a disheartening experience. What can IWC do to nurture these clients?

Christoph Grainger-Herr: We value collectors a lot. With our collector's forum, we offer a platform for them to connect and share their passion for IWC. We also organize events for collectors all over the world regularly. I have attended several of these events myself, and I know many of our most passionate collectors in person. I appreciate exchanging ideas and concepts with collectors because they know so much about the history of our brand and our products, and they often come up with great ideas for things we could improve.
Patrick_y interpretation: I can't wait to get invited to one of these events! I can't wait for Coronavirus to be over! Retail store employee knowledge will always be a problem whenever it involves a complex product. Because of the turnover of sales associates, companies generally have to do constant training for employees. But because these employees in retail don't stay, that very expensive training is often a poor return on investment.

8. Many brands are planning to go into Certified Pre Owned watches. Would this be compatible with the IWC brand culture?
Christoph Grainger-Herr: Throughout its history, IWC has created many iconic designs that are sought after by collectors. If somebody wants to buy an older IWC watch, then why don't we make sure the client can purchase the timepiece from a trusted source? In our IWC Boutiques in London, Munich, Hong Kong and Paris, we have implemented a partnership with Watchfinder, a trusted platform to buy and sell pre-owned luxury watches. Many of our clients have been collecting mechanical watches for several years. Through this partnership, we give them the possibility to trade in a watch they no longer want in our boutique or can assist them in pursuing the vintage IWC watch they have always wanted. Many customers welcome this opportunity.
Patrick_y interpretation: "Trusted platform?" Richemont (IWC's parent company) recently acquired "Watchfinder" but I'm not sure it's going to work. The whole premise of the used watch business model is one of limited margins and volume. Watchfinder has already had a difficult reputation of selling watches that are in poor condition and has been accused for having poor customer service. But the business requires dealing in high volume in order to be profitable and scalable, and watches need to "retain their value" in order to be desirable both new and used. As a seller who's under the impression that watches retain their value well, they won't be happy that they're losing too much money which squeezes Watchfinder's margin because it's difficult to sell a used watch without a substantial discount from new. So let's say hypothetically you buy a watch for $100, sell it to Watchfinder at a loss for $60 (you're not happy), and Watchfinder sells it for $70, Watchfinder only has a 14%-16% margin. With that small margin, there's not a lot of room for operating expenses, overheads, and so on. Especially when you need to deal with a buying public that wants a luxury experience. It's a tough business to keep everyone happy. But all the Vice Presidents of Certified Pre Owned watches are all pushing for this project to be successful (because if it isn't, they'd be out of a job) so we will see what they do to change consumer thought process.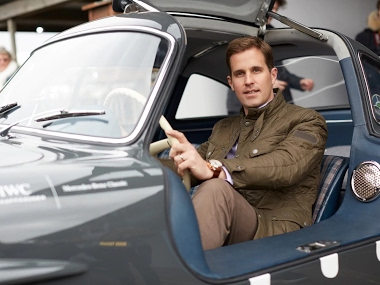 On behalf of WatchProSite I want to thank Christoph Grainger-Herr for a very nice interview. It's a time of transition from brick-and-mortar retail to E-Commerce, and transitional times are always difficult. Nobody really knows what the future has in store for the watch industry. Some of these questions asked are definitely not easy questions; and I'm Christoph Grainger-Herr wants to be as transparent as he can, but at the same time he cannot spill all the company's secrets, so I applaud the CEO's restraint. I see great potential for the IWC brand in the near future and I look forward to future soul stirring product from IWC under the stewardship of its young and bold CEO!

As always, please share your comments below and don't forget to post a picture of your favorite IWC!

Here's mine...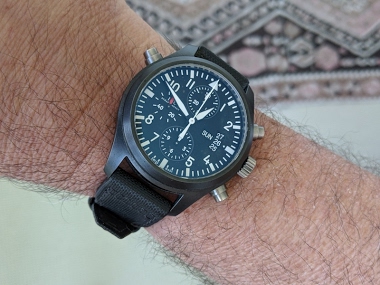 Photo by India Whiskey Charlie, our IWC Moderator.

The split second IWC Doppel Chronograph. Richard Habring, the famous Austrian watchmaker, helped IWC design parts of this movement!

Thank you so much for reading! I look forward to reading your comments!

Photo credit: all photos are from IWC and copyrighted unless otherwise mentioned.