Friends,
Baron's recent series of identifying future Rolex classics from the modern era - see here:
www.watchprosite.com
has led me to think about doing a little research on semi-vintage Girard-Perregaux's from the 1990s and share some still underappreciated models.
Now, let's be clear: GP does not have those small dial variations like Rolex and the community of Rolex collectors is xx-fold larger than those interested in GP, nor will semi-vintage GPs likely get the same hype and value appreciation.
However, I still think there are some classic models out there from the 90s that not only have some potential but that also stand out and bring a lot of quality to the table when looking at watches from that time period.
So with this series, I try to focus on such models from GP and provide some info on which versions are more desirable than others. This will not be based on pure objective metrics like rarity or collectability, but rather be my personal view and taste.
I have identified 5 different References that I will introduce in this series. You would likely have seen reviews or reports on them here before, but I try to go a bit deeper on the available variants and which ones are truly underappreciated.
For Part I we will go right back to the beginning of the 90s even to the end of the 80s, but as most of the watches were produced in the 90s, I stay within my target era. We will slightly cross the border again in Part V but then into the year 2000.
The Girard-Perregaux 7000 series goes back to around 1989. It stayed in production throughout the 90s and has seen a number of sub-references and was one of the GP models with the highest production numbers ever.
So why did I pick the 7000 into this series? The 7000 Chronograph actually was the model that had the most versions and was produced most.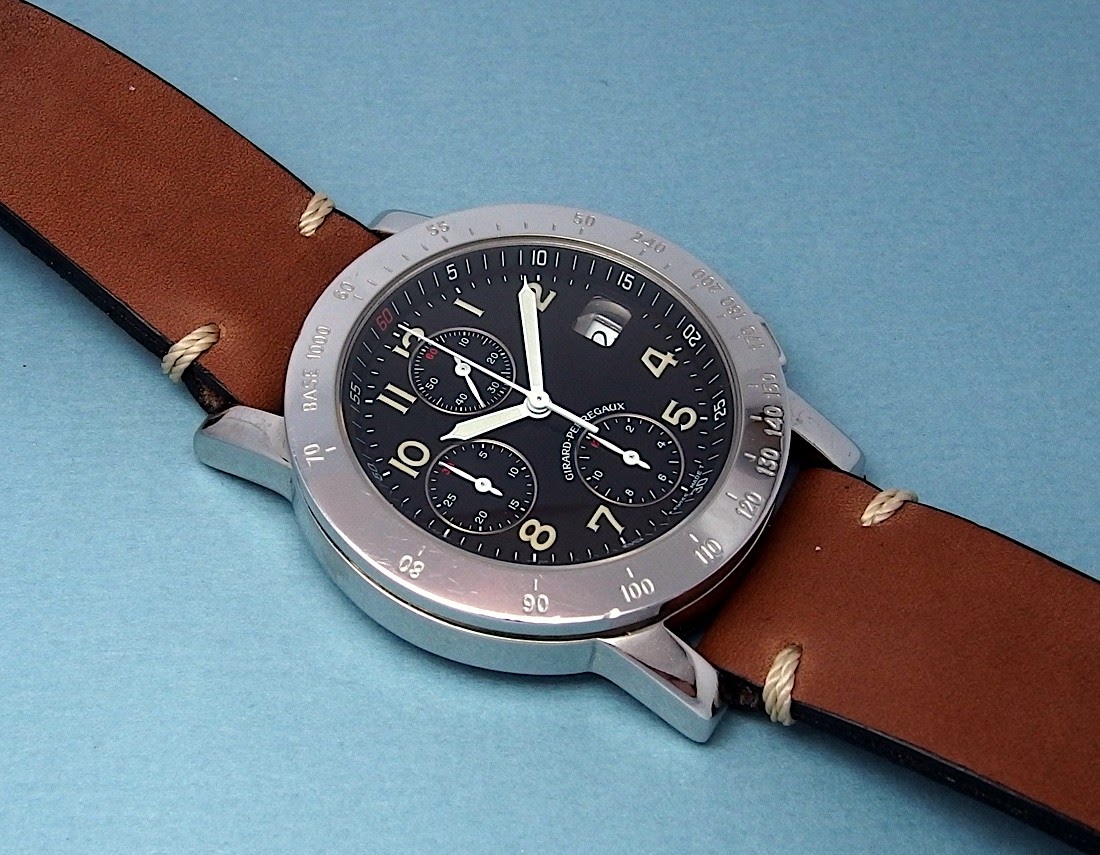 My GP 7000 Chronograph from the mid 90s
While I like the 7000 Chronograph, it probably does not belong into this series. They are available in abundance in all versions and carry forward a 80s design theme not so popular with collectors today.
On the other hand, the 7000 series not only had the Chronograph but two other versions as well and I think both have great potential, are somewhat challenging to find especially in good condition and some dial/case variants are actually quite rare and in my view also very collectible.
Let's start with the Girard-Perregaux Sea Hawk 7100 and voila we are again back at where we started this series…Rolex.
The Rolex Submariner and GMT were arguably the most successful watch designs in the 80s even for Rolex they go back much longer. So is the Sea Hawk a Submariner design rip-off? Maybe. To some extend.
The style of the hands, the bezel do look a bit familiar, but then the case is very different. The Sea Hawk was available in
All Steel
Steel/Gold mix
All solid Gold
And different dial colours in black, white, blue and red.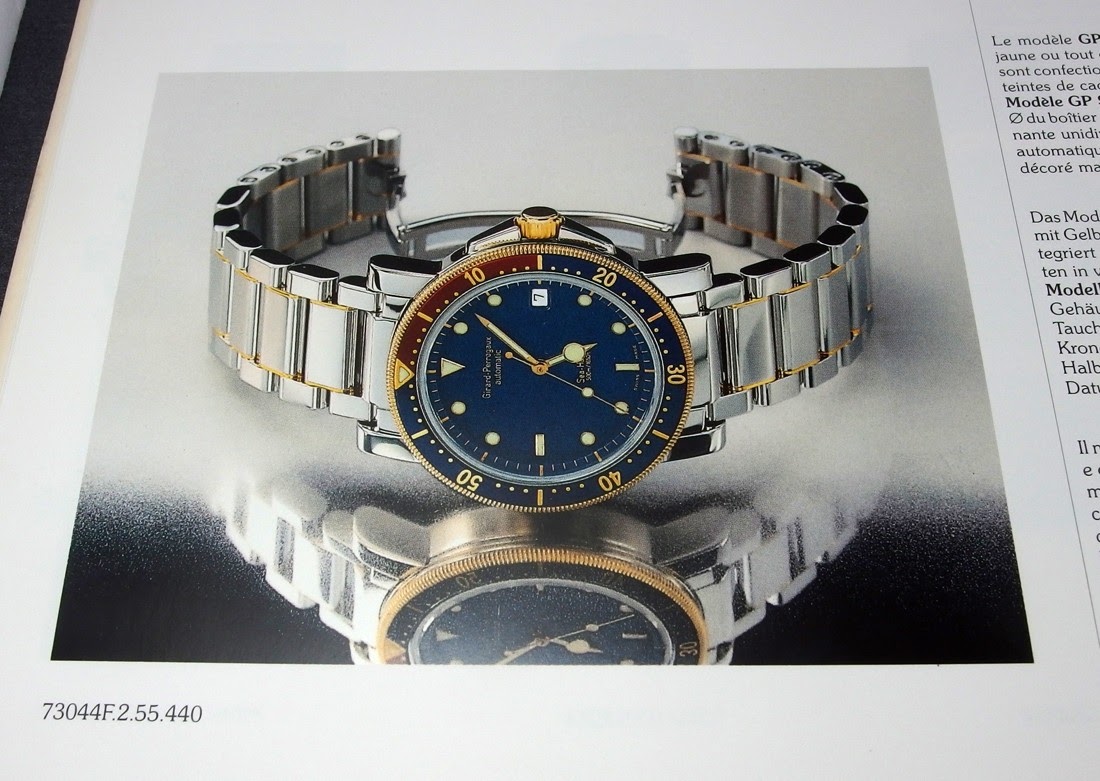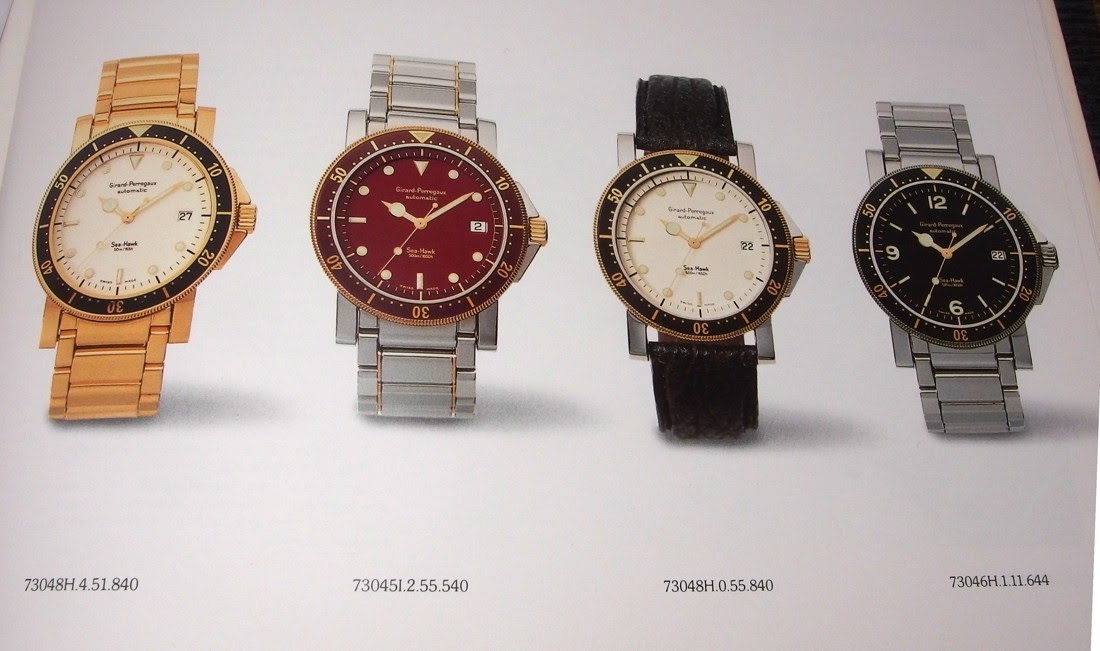 For the Sea Hawk 7100 a few things are to consider when it comes to which one to pick:
1: The original bezel inlay was made from sapphire and hardly one has survived the signs of time without some damage. GP soon started to replace the bezel inlay with aluminum. Watches that had been serviced, had the inlay changed to the more durable aluminum inlay. So one thing to check is to ensure the inlay is already aluminum or a flawless original sapphire, in which case the watch would need to be worn very carefully.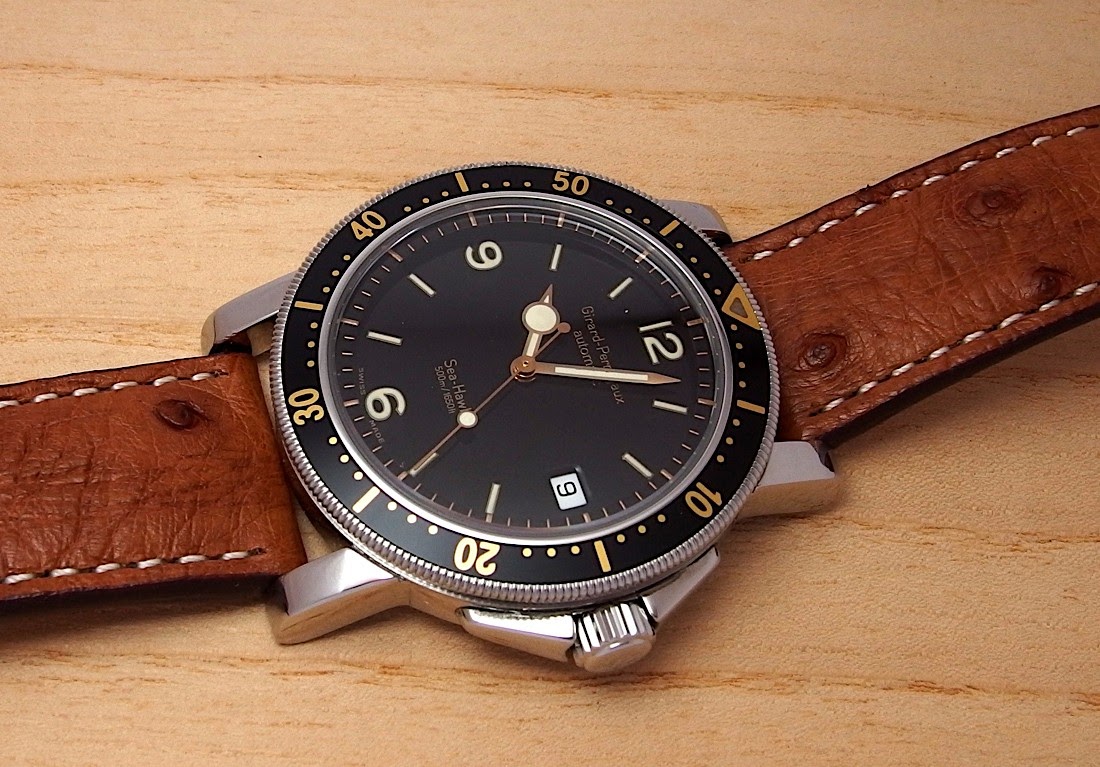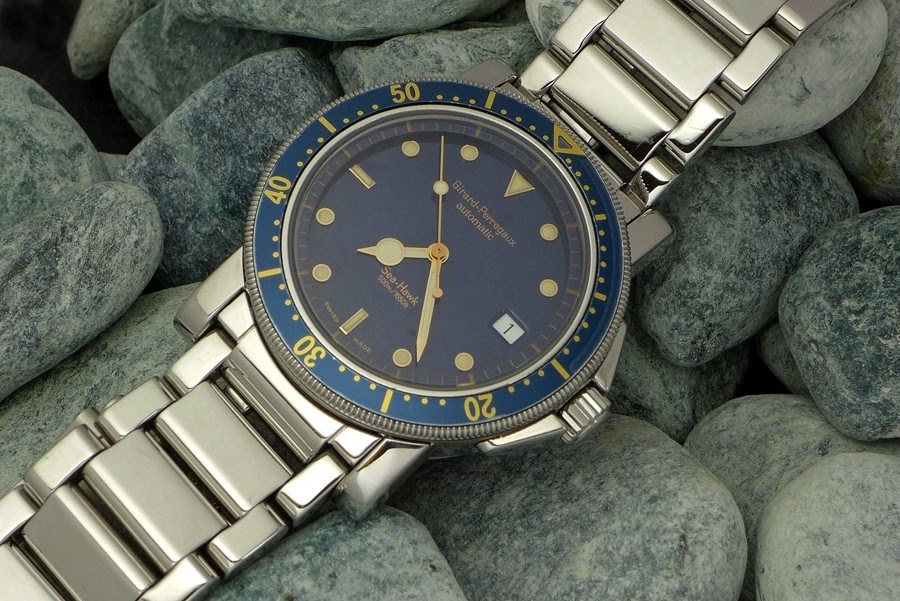 Photo Credit Blomman
2: The Movement: with the exception of approx.. the first 500 Sea Hawks produced, most had Caliber 2200 deployed, which is a very reliable ETA-based movement. The 2200 is a good movement but nothing special, one of the most common. However, the very early Sea Hawks had Caliber 215, which was based on a double-barrel Lemania 8810/Longines 990. If you can find one of those, then you have something very special.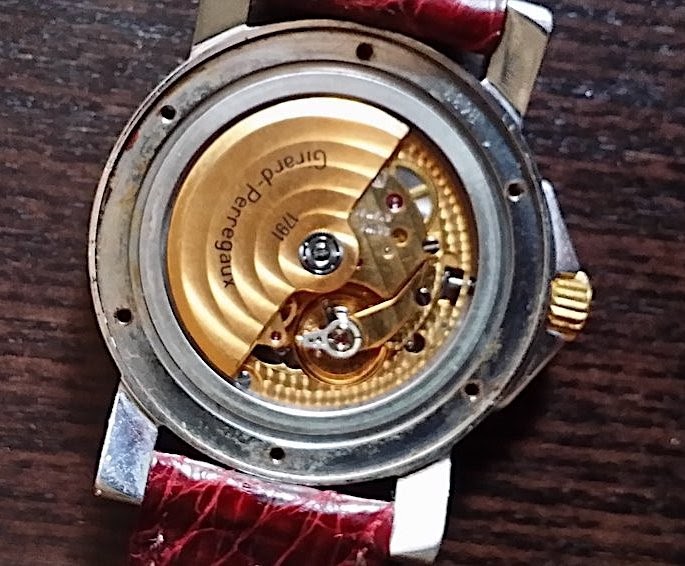 Photo Credit Internet
3. The Case: While the solid gold Sea Hawks are rather rare, I personally don't think those are the most desirable. A Diver watch is a tool watch and tool watch in 18k yellow gold is not a convincing combination. In fact, probably most Sea Hawk 7100 that can be found today had a mix of gold and steel. The case is stainless steel while the bezel and the crown is 18k gold. Those could be a consideration, but I believe what you really would want to look for is the all steel case variant.
4. The Dial: this is very much personal taste. My Sea Hawk I has a black dial with 6/9/12 tritium painted numerals, gilt hands. The black dial is probably the most common but also the version with the most classic look. So an all steel, aluminum inlay and black dial is certainly a version worth considering. Finding one is possible but they are rare nowadays when in good condition.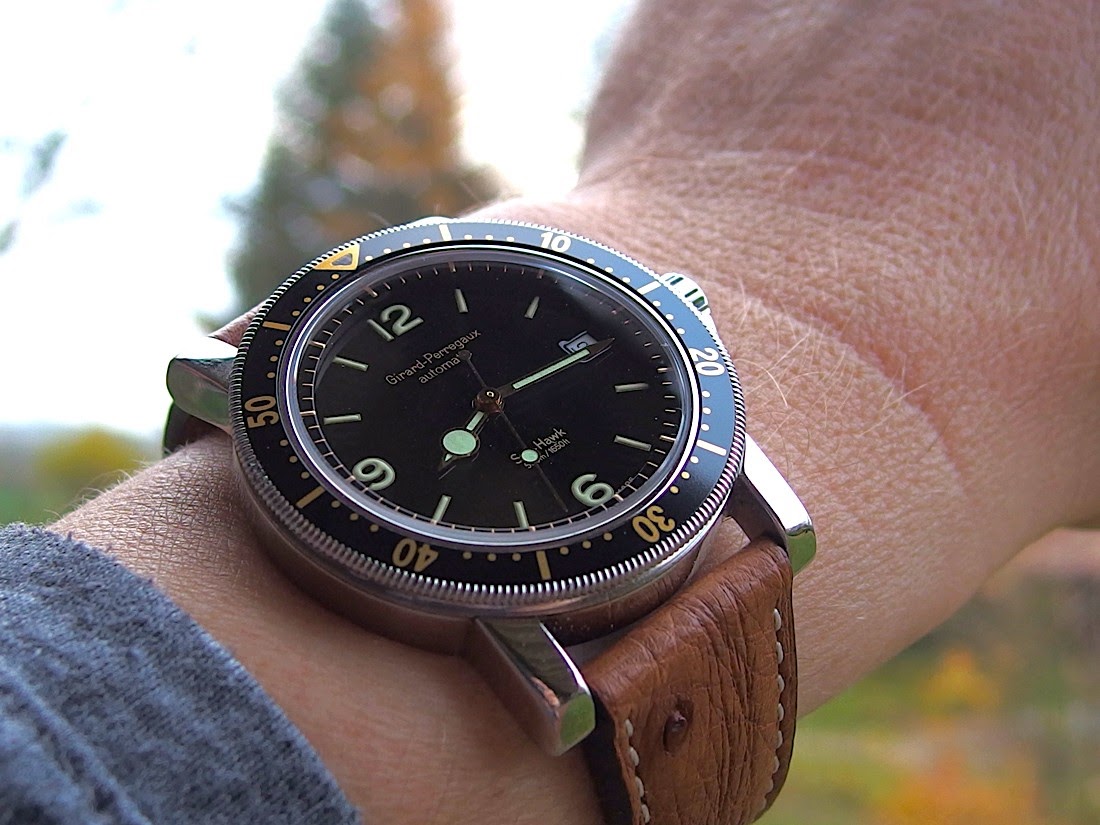 There is however, another one that I think is not only rarer but much more desirable and has a great potential for a future classic. The white dial with tritium dots. All I have seen had wonderful Tritium patina which comes out particularly well on the white dial. The white dial version typically came with a red/blue bezel inlay.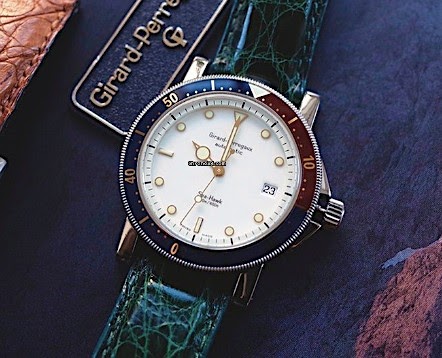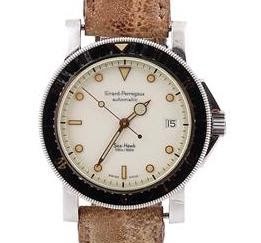 White Dial Sea Hawk: Photo Credit Chrono24 and Internet
So in summary, the ideal Sea Hawk I and most collectible in my view would be an early all Steel case with Caliber 215, white dial with creamy Tritium markers and blue/red bezel in excellent condition.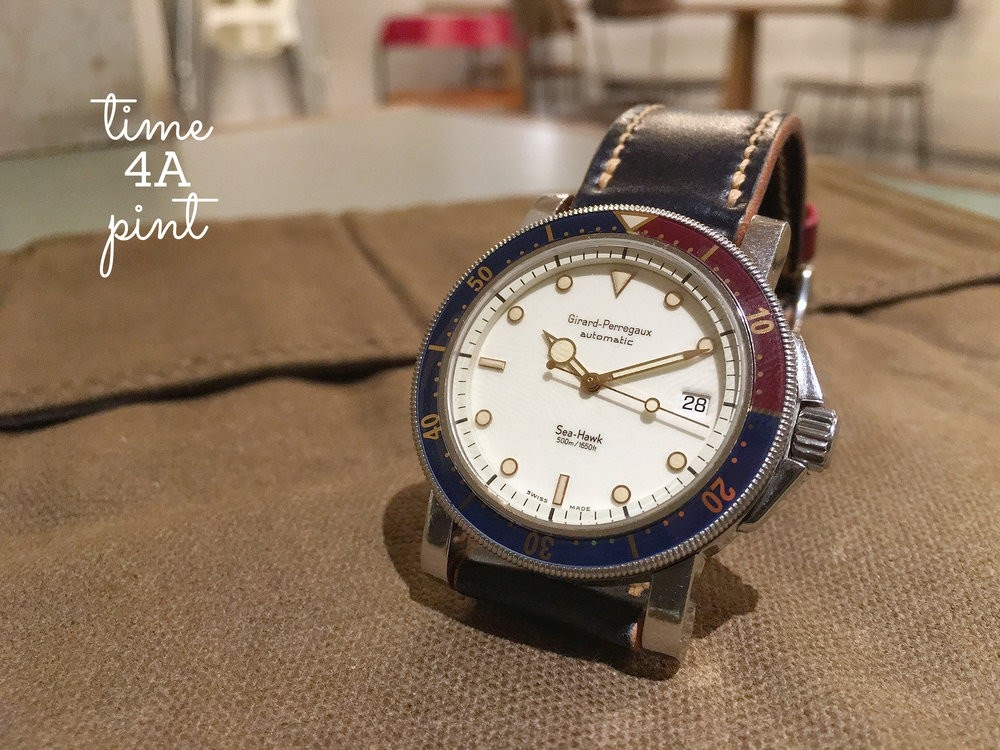 Photo Credit Time 4A Pint
The second version of the 7000 series is the Traveller GMT 7200. As far as I know, the only model from GP that sports the classic GMT design with a 24hour hand and a rotating bezel with 24 time zones. Similar to the Sea Hawk, the Traveller 7200 was available in different materials and dial colours, however compared to the Sea Hawk this Reference is much rarer and harder to find.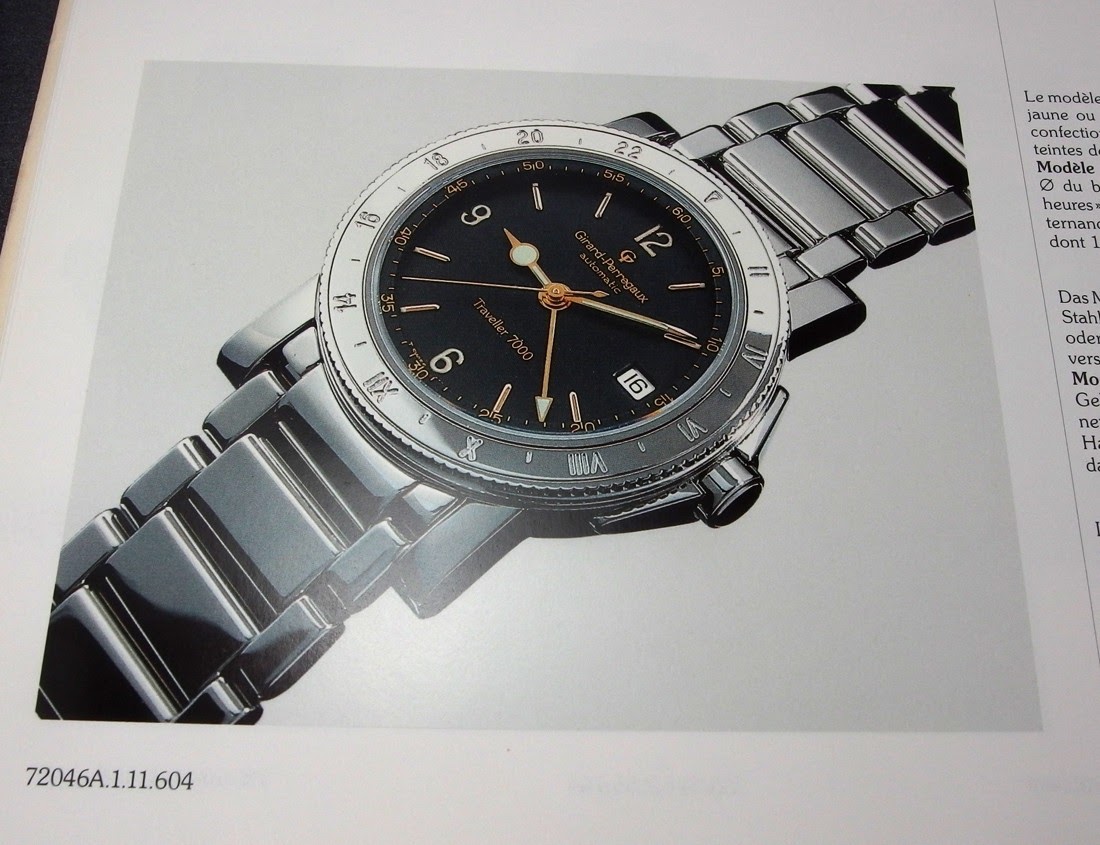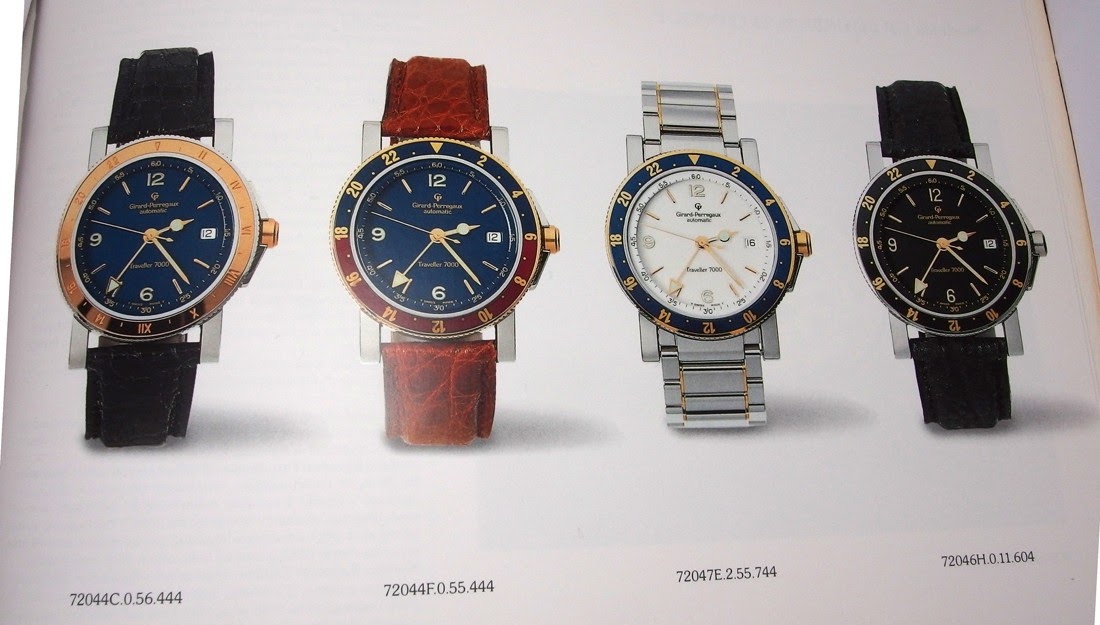 There are few quirks though that are worth watching out for on the GMT. The movement is again a Cal 2200 variant, but here for all GMTs, I'm not aware of any other movement used. What I have however seen are two versions of the GMT hand, one with a broad equilateral triangle and one with a more narrow triangle pointer.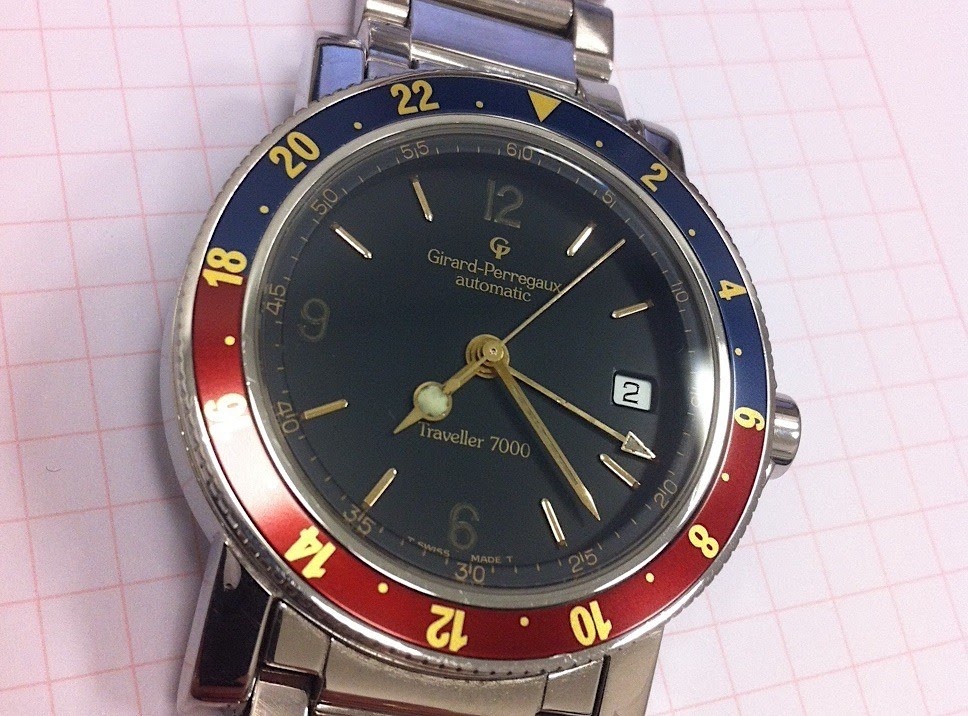 Pepsi Inlay and small arrow, Photo Credit vB uhrforum.de
The other element is the bezel inlay again. Most had a Pepsi style red/blue bezel inlay. A more subtle version is the polished steel bezel inlay which distinguishes AM/PM numbers with Arabic and Roman numbers. Probably not as easy to read, but a more unique implementation and easier on the eye than the Pepsi.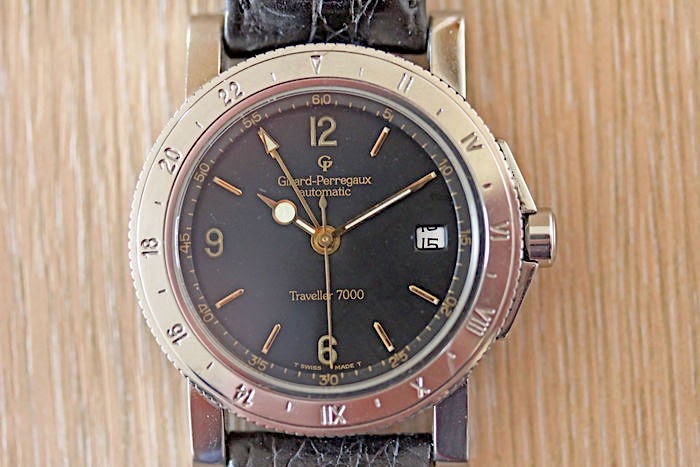 Steel Inlay with small arrow GMT Hand: Photo Credit Internet
So, if I had to pick one Traveller GMT 7200 (actually I picked already), then it would be the all Steel with Steel inlay, matte black dial with gilt hands and broad GMT arrow.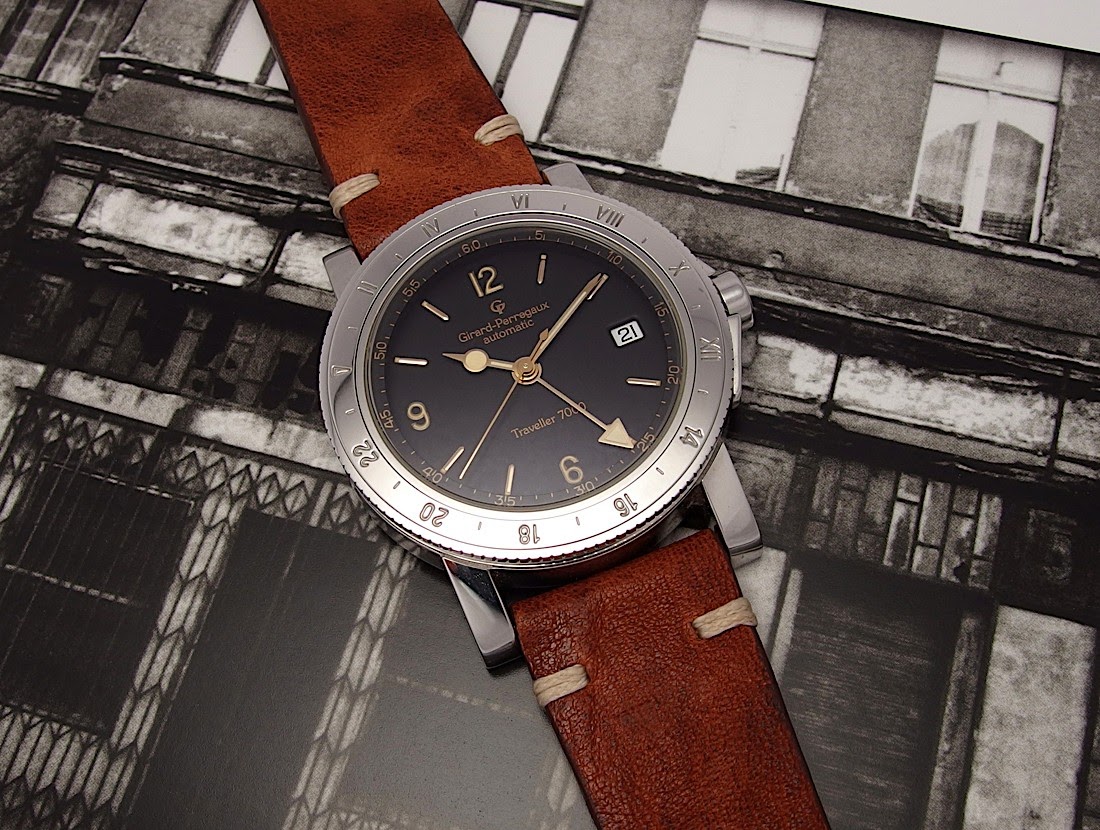 Here again, the Tritium is often nicely aged, the 6/9/12 is also done in Tritium but less pronounced than on the Sea Hawk.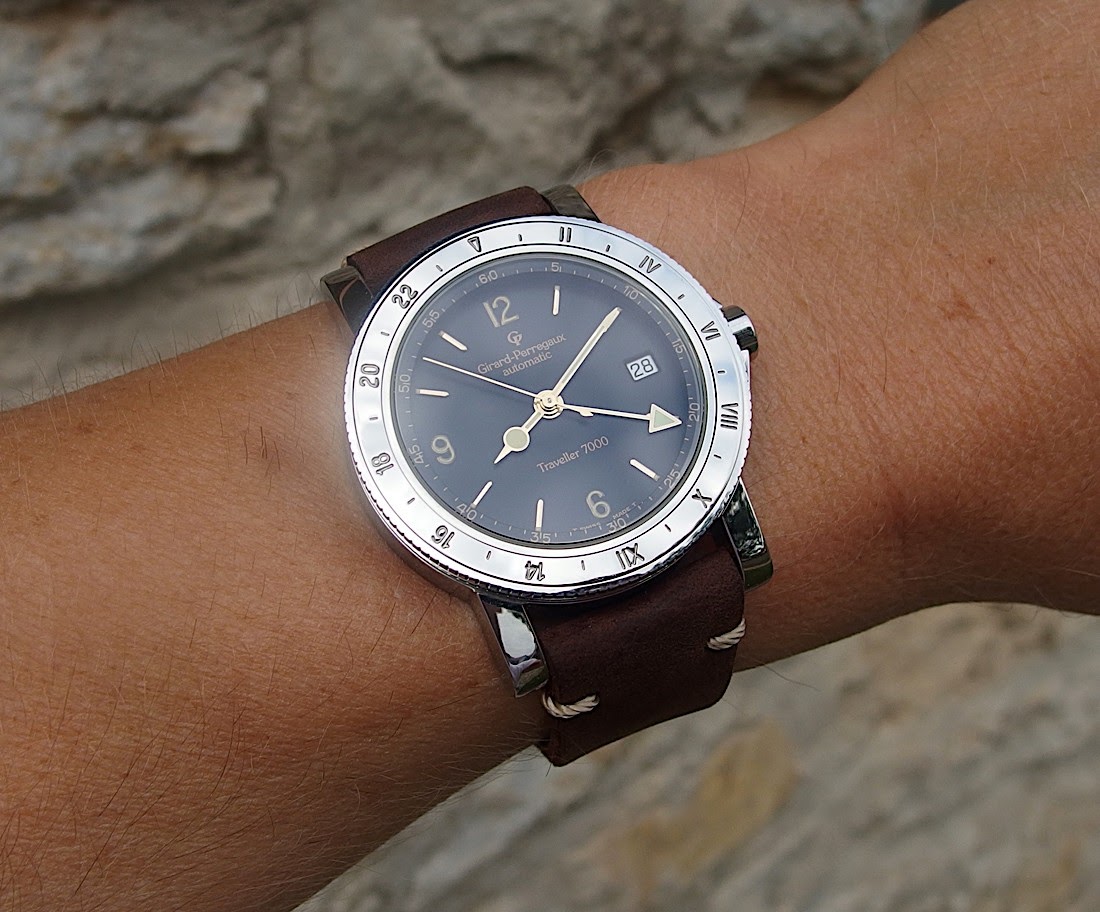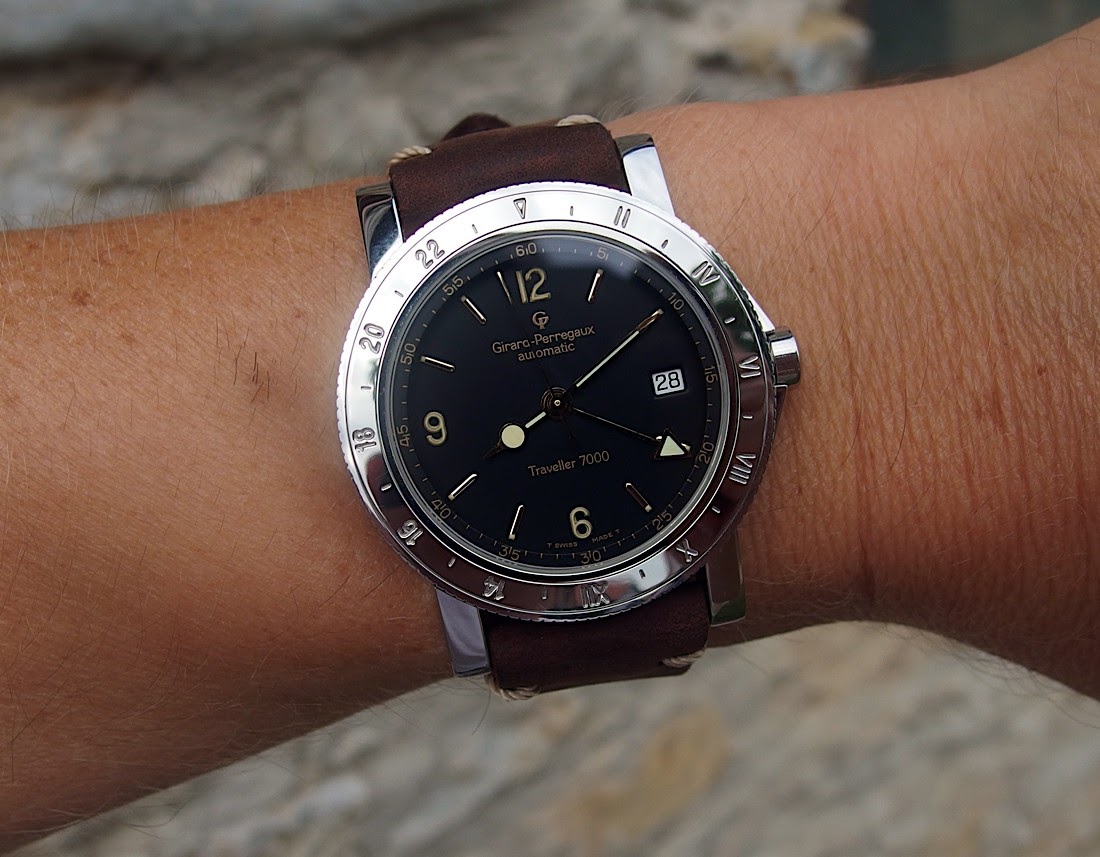 There is also a nice white dial Traveller 7200, but in my view, the black is better suited for the GMT and I never saw a steel inlay on a white dial.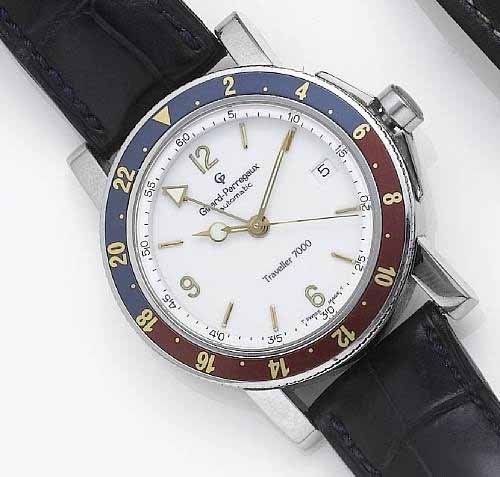 White Dial with Pepsi inlay, Photo Credit Member rb2 from WPS
So, happy hunting!
CC