PuristSPro Moderator Patrick_y tries his best to convey his experience as a guest of the Roger Dubuis and Lamborghini event, hosted by Roger Dubuis for VIP Guests and Press.
A QUICK HISTORY OF THE BRAND
Roger Dubuis was a visionary watchmaker who pioneered new technologies and worked within Patek Philippe for fourteen years in the high complication workshop. He left Patek Philippe in 1980 to start his own workshop which was restoring watches, clocks, and creating concepts for many brands. But his ultimate achievement would come at around 57 years of age... Roger Dubuis started a new brand, bearing his namesake, in 1995 with business partner Carlos Dias. This brand was all about the highest level quality traditional watchmaking, but avant-garde artistic designs, unseen in the time of the conservative mid-1990s. Today, in 2018, we consider watches of this category to be "high horology expressionist timepieces" and the expressionist timepiece category is the hottest in the watch industry. Roger Dubuis retired at around age 65 in 2003; the company was then run primarily by Carlos Dias who was also one of the head designers at the brand. With Dubuis retired, Carlos Dias started to create bolder and unrestrained designs and expanded the factory; the factory became very large and was very vertically integrated, it could even produce its own hair springs and supply hair springs to other brands. In the 2008 global recession, Dias sold his shares of the company to Richemont. Richemont had a majority of the shares and later acquired the remaining shares.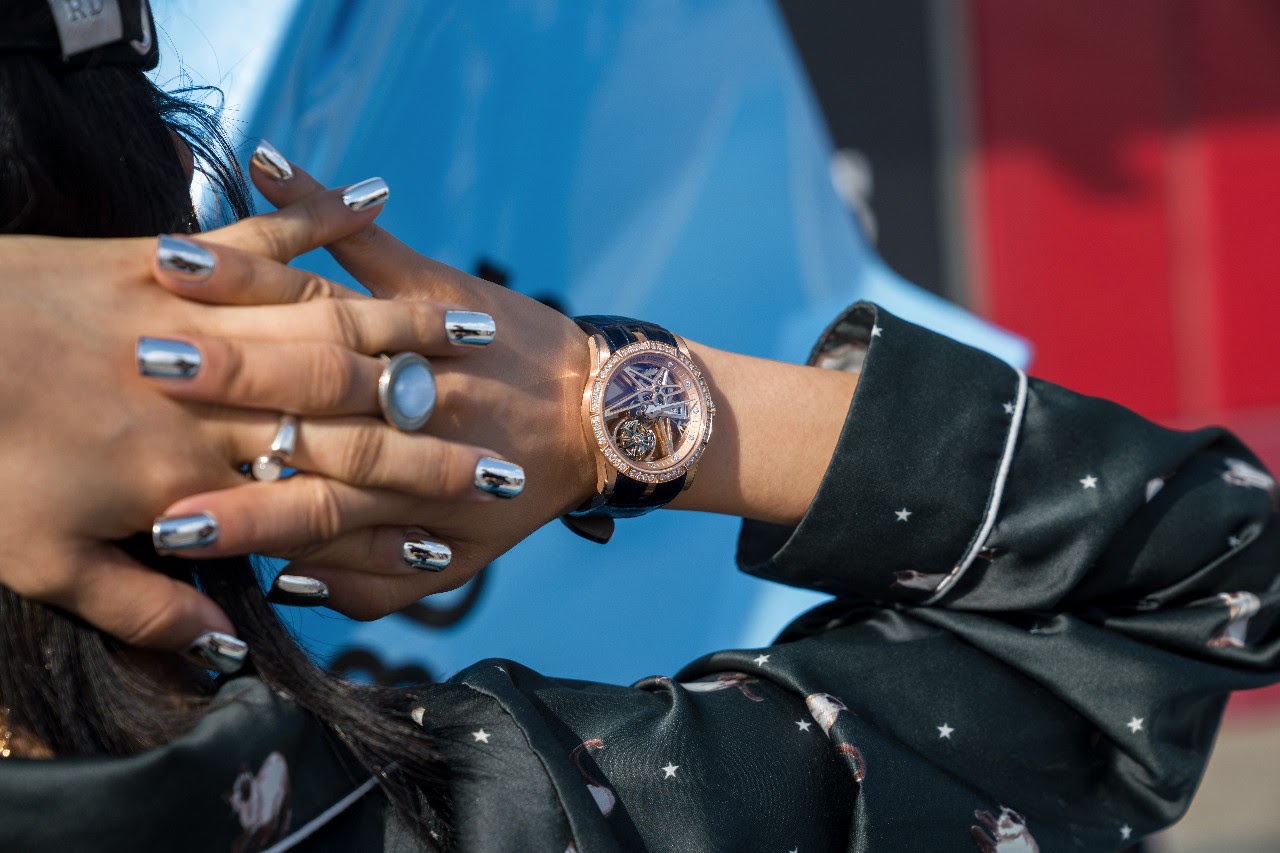 This lady sports a tourbillon. The baby blue backdrop is the door of a Lamborghini Aventador in "Blu Cephus" color.
THE EVENT
The cocktail event was hosted in a special Frank Gehry designed building that embodied the spirit of Roger Dubuis; a modern exterior with an exquisite interior. But during the event, the synergies to the brand was even more apparent; Roger Dubuis invited a Soprano Opera Singer along with a French Beat Box musician. For those who don't know what a beat-box musician does, visit YouTube for a quick video, but basically Beatbox is using one's voice and lips to create sounds that imitate percussion and drums; its origins are urban. But despite its somewhat underground origins, the guests were treated to a delightful duet of Beatbox with an Italian Soprano Opera Singer. This unlikely paradox of Beatbox and Opera is exactly what Roger Dubuis is all about! Roger Dubuis has watches with carbon fiber bridges in the movement; yet, these movements are still surprisingly certified with the Geneva Seal! Blending modern materials with traditional manufacturing techniques to create an impressive final result!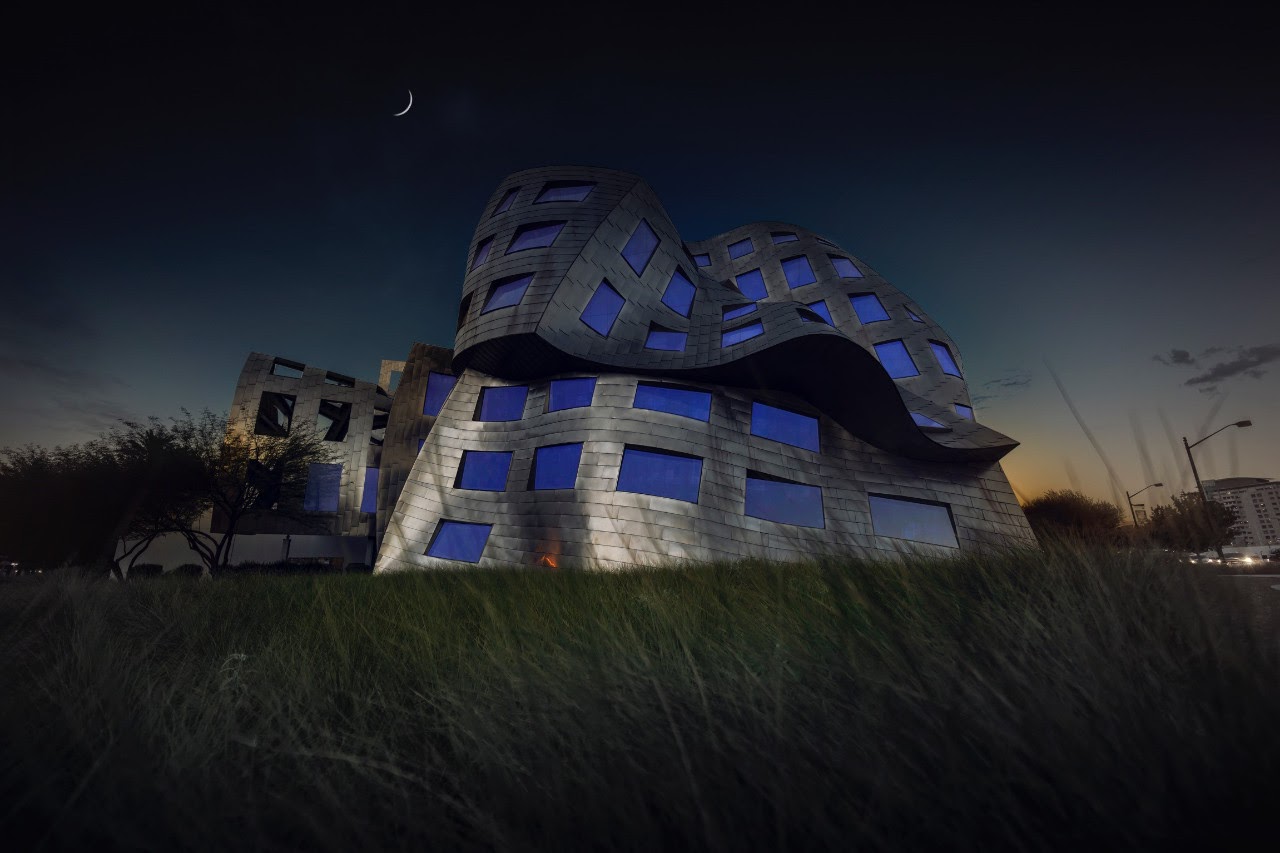 The Frank Gehry Designed Building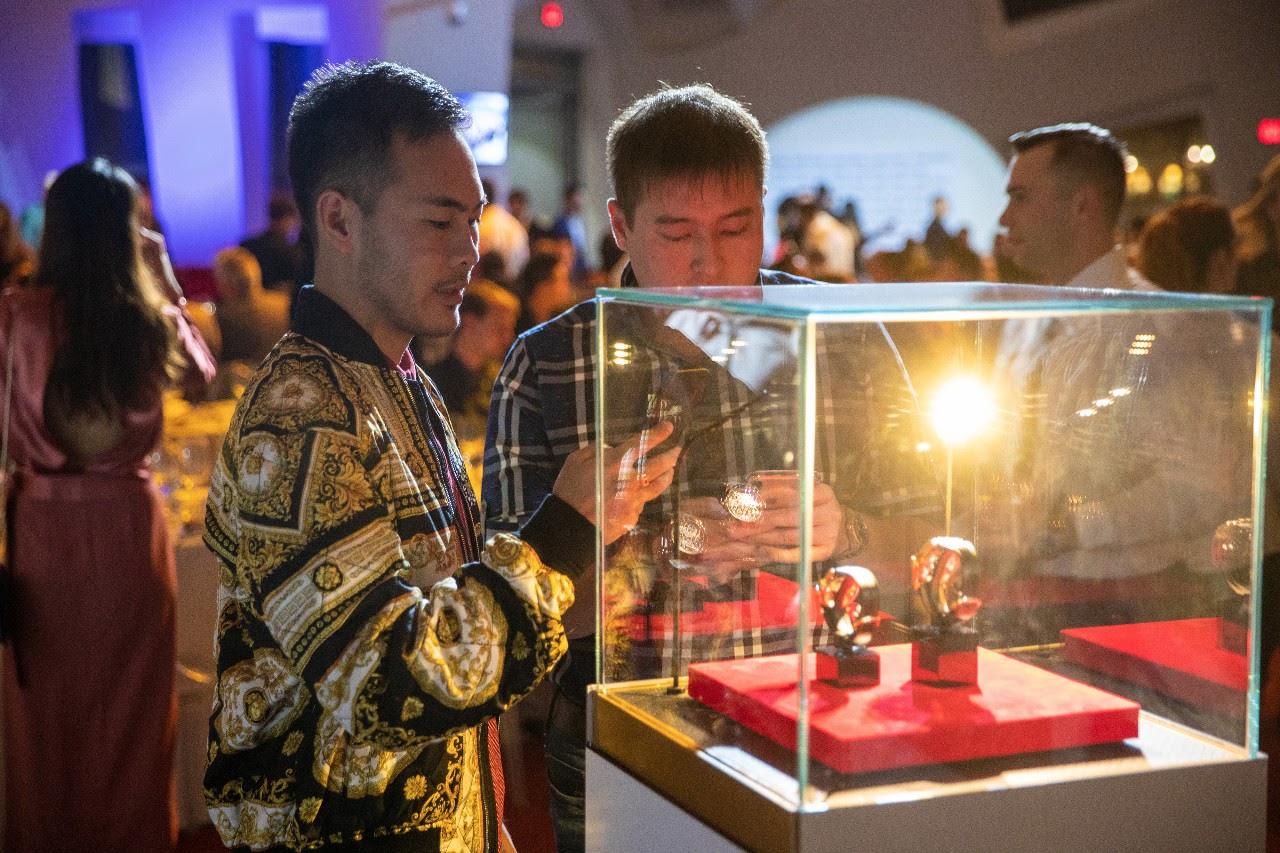 Young watch collectors in attendance.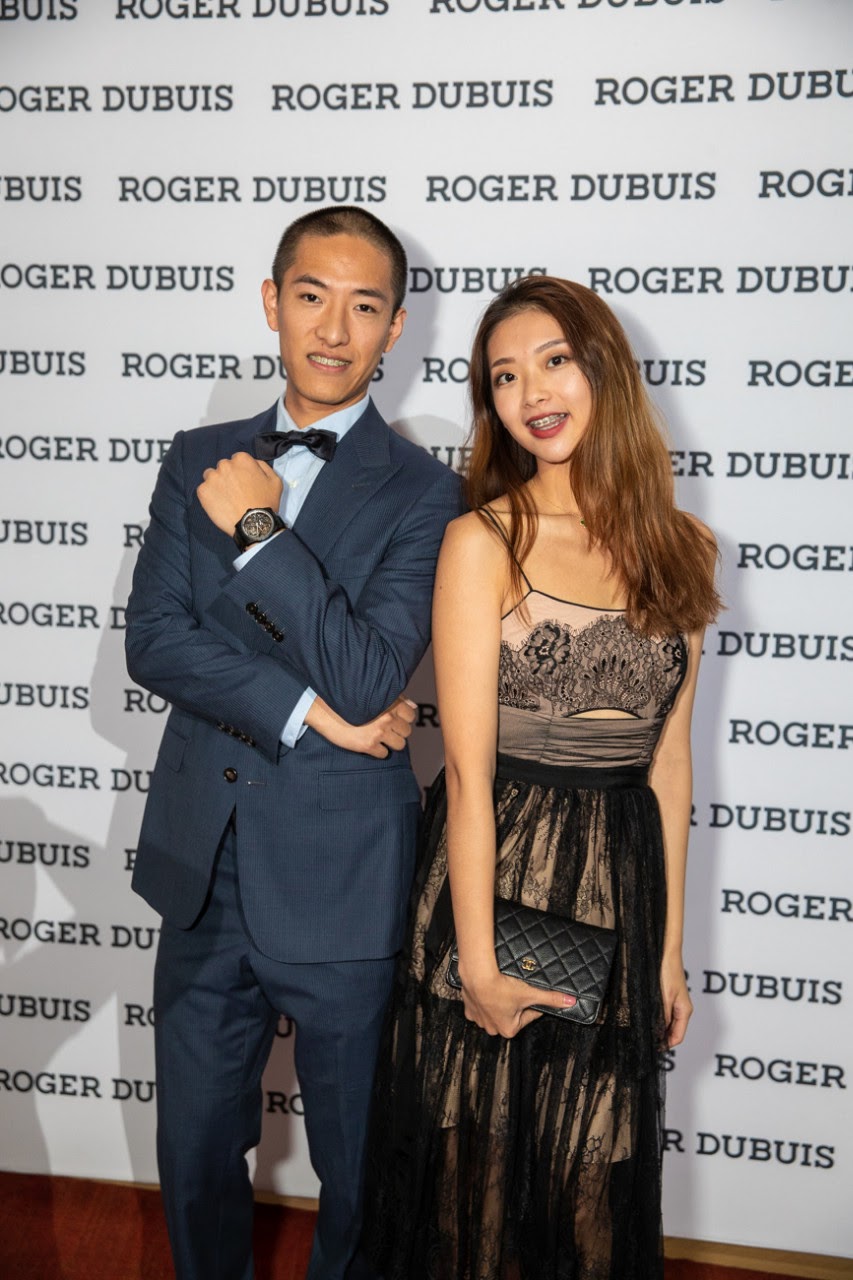 The well dressed crowd was well accessorized with some incredible Roger Dubuis timepieces!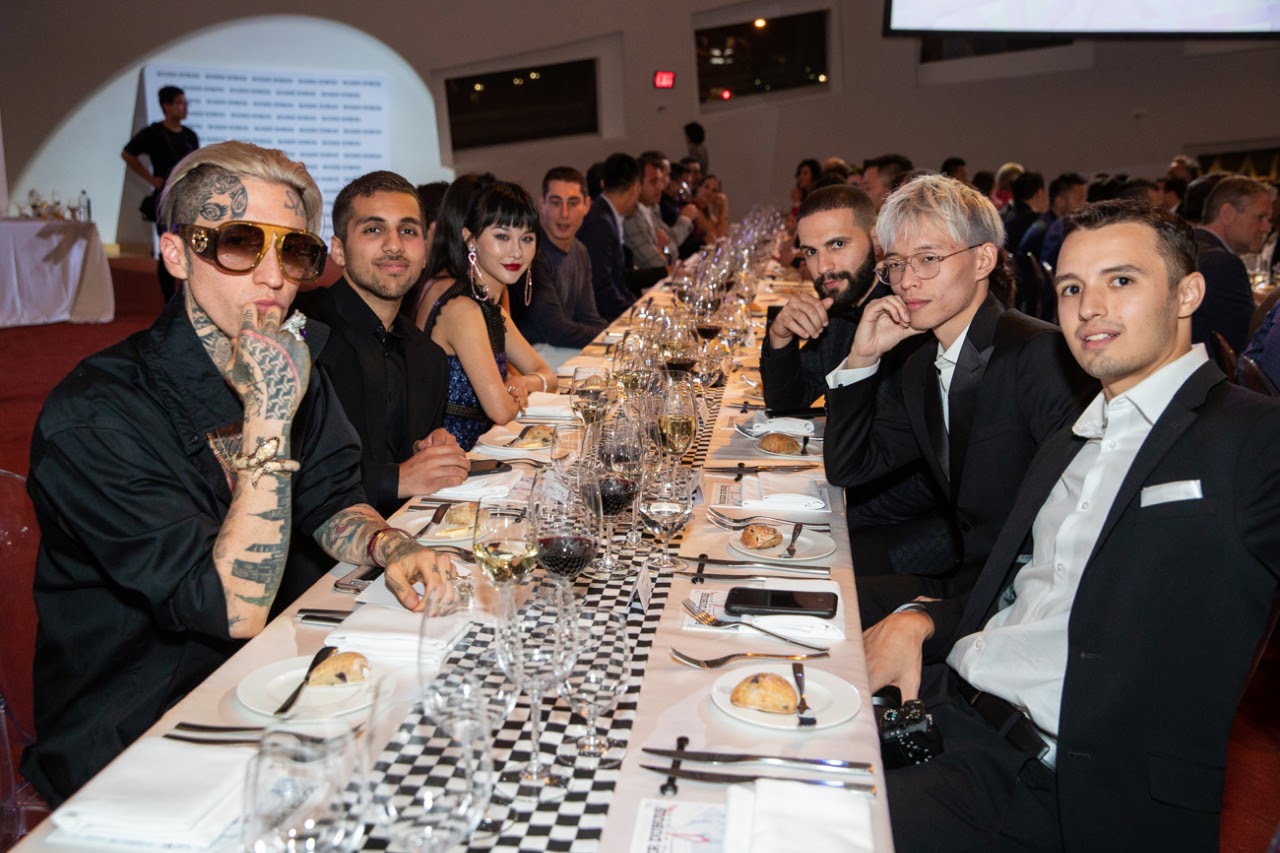 This group here looked like they were too cool for school!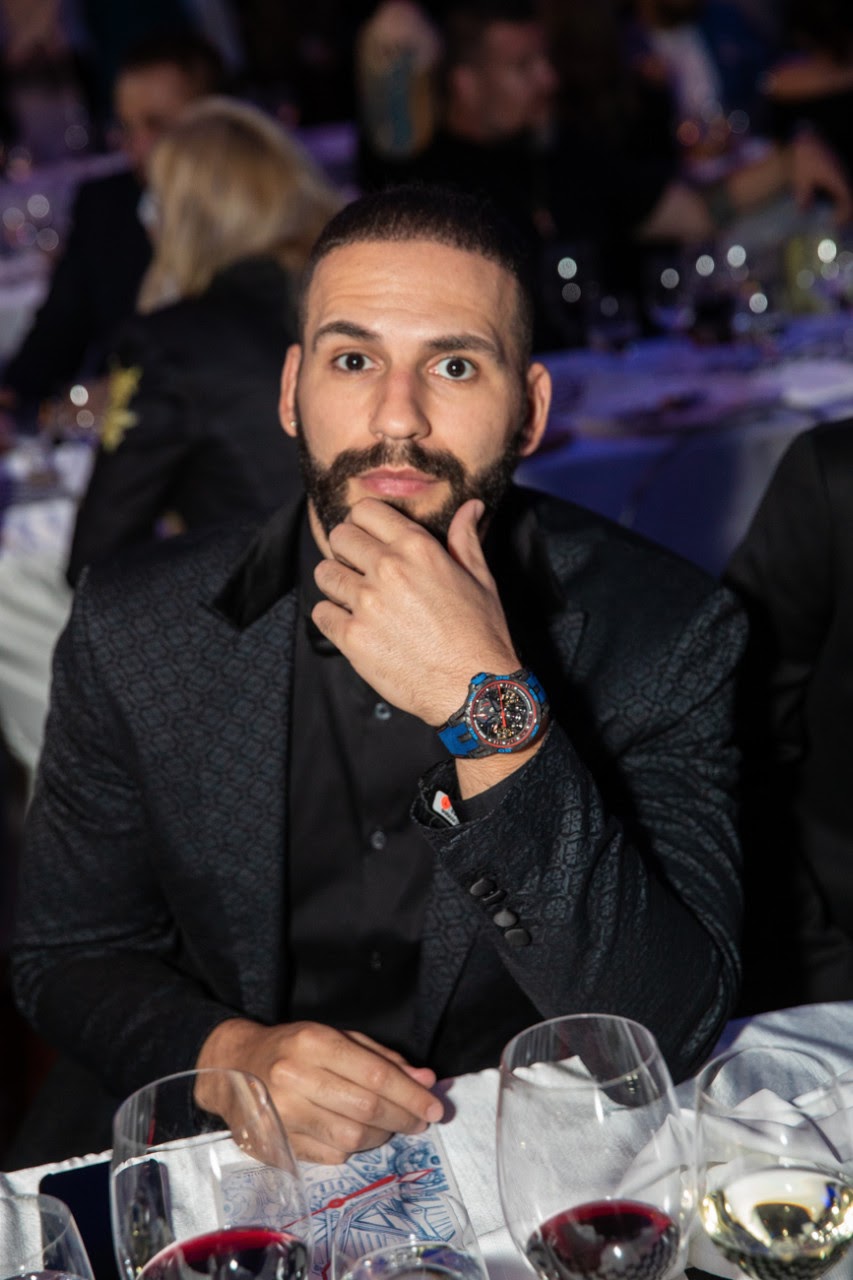 This guest tries out the Roger Dubuis Lamborghini Aventador S watch. The matching car to this watch is right below...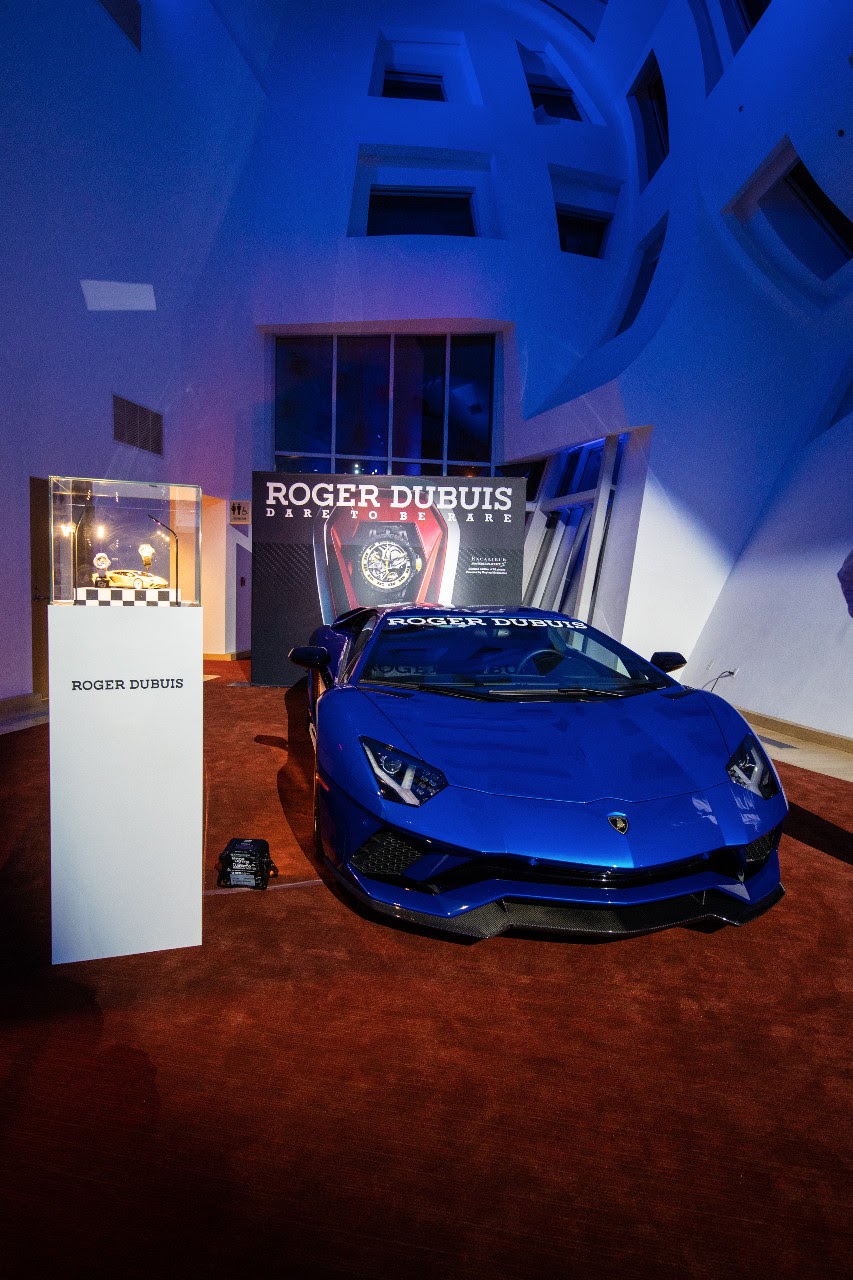 Even a Lamborghini Aventador S showed up to the event! Notice the interior design of the Frank Gehry building.

It's also important to note that the event was filled with a variety of very established watch collectors of a wide range of age groups! There were many Roger Dubuis collectors approaching retirement age, but shockingly, there were also many guests whom were extremely young! These millennial watch collectors whom were very knowledgeable about high horology apparently loved their Roger Dubuis timepieces. I spoke with a few of them and many seemed to enjoy other more traditional brands; many already had Vacheron Constantin, A. Lange & Soehne, and Patek Philippe in their collections; one put it in an elegant way, stating he had to, "start off with traditional watchmaking and later graduate to a Roger Dubuis." Definitely a very keenly aware group of millennial watch enthusiasts. Very different than the usual high horology events I attend where the guests are normally established individuals.
THE LAMBORGHINI PART
Roger Dubuis and Lamborghini co-designed a watch together and will be designing another timepiece together soon. The Lamborghini Aventador S timepiece basically looks like the engine bay of the actual Lamborghini car! It also has two balance springs, the rates of which are averaged to get the final time, like the Philippe Dufour Duality.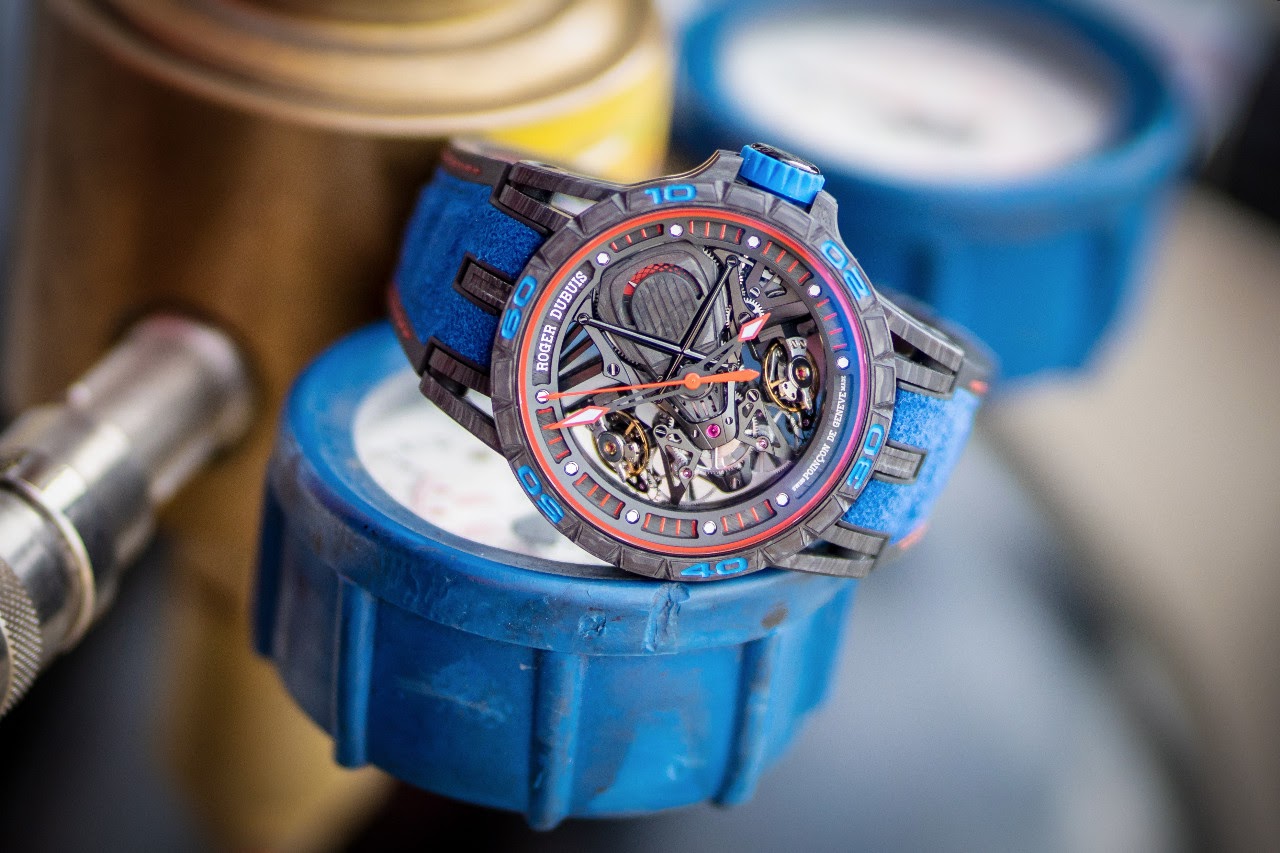 Roger Dubuis and Lamborghini makes a watch together; the watch literally looks like the engine compartment of the car!

Read my review of the Lamborghini Aventador and Huracan here: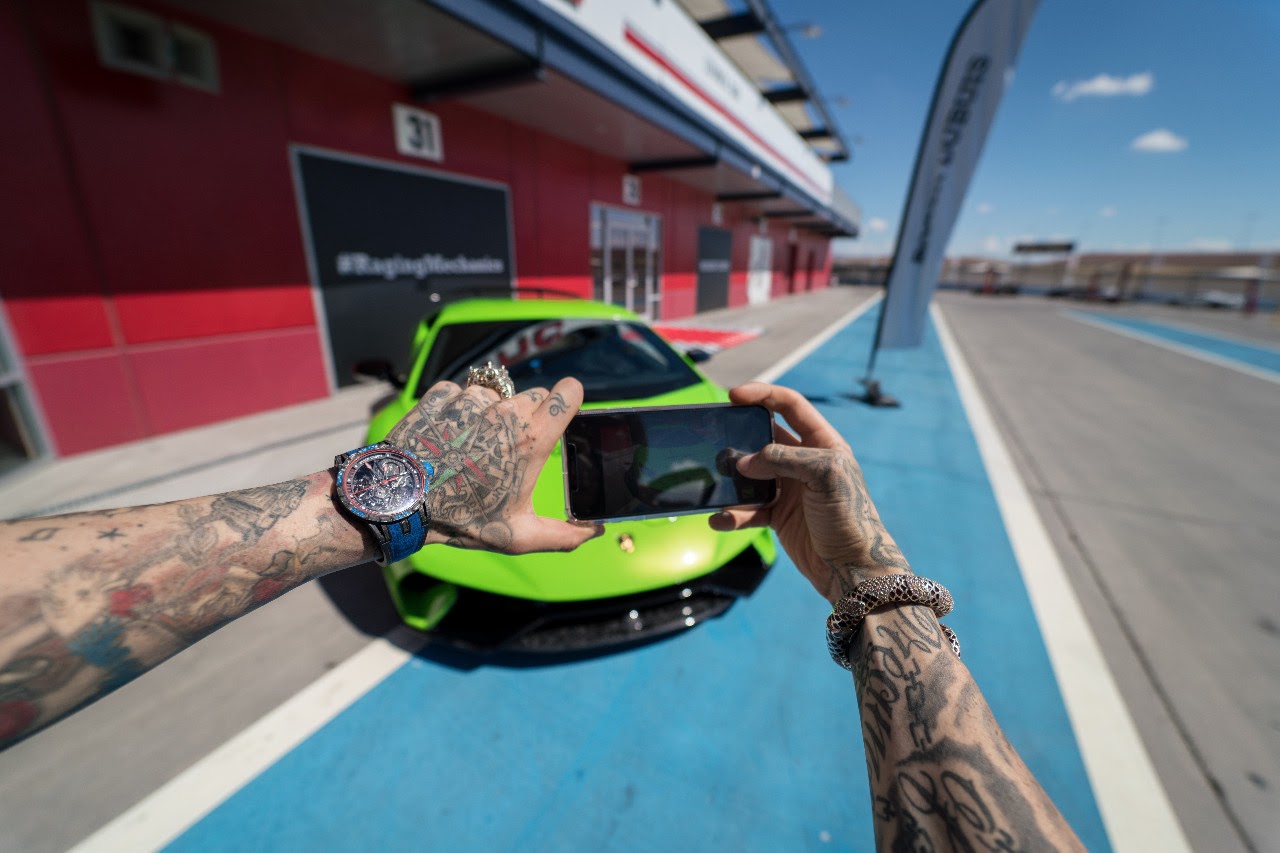 This VIP guest really likes watches (notice the tattoo on the left hand), he also told me he really likes avocado toast!

Roger Dubuis and Lamborghini invited their VIP owners to a special racing event where guests practiced multiple learning techniques all in Lamborghini cars. From changing a tire in a pit stop (my crew and I did it in around 17 seconds), to changing a watch strap to a different colored watch strap in a simulated pit stop. All guests got an unprecedented experience racing a Lamborghini road car and a Lamborghini Super Trofeo race car around a racetrack (the brake pedal hardly moves in a race car),it was an incredible event to remember! Roger Dubuis will be hosting was certainly serious about giving their owners a memorable experience!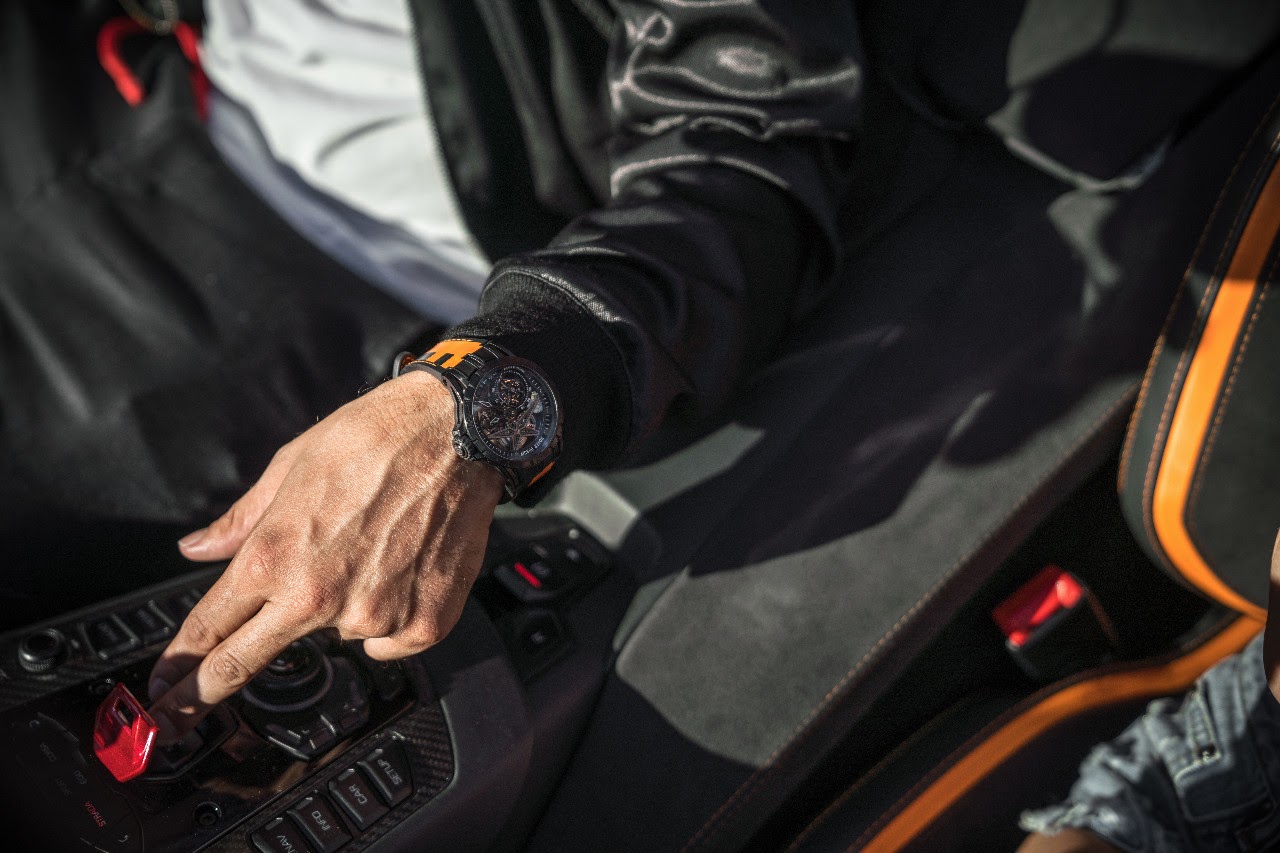 One of the guests happened to find an orange Lamborghini to match his watch strap!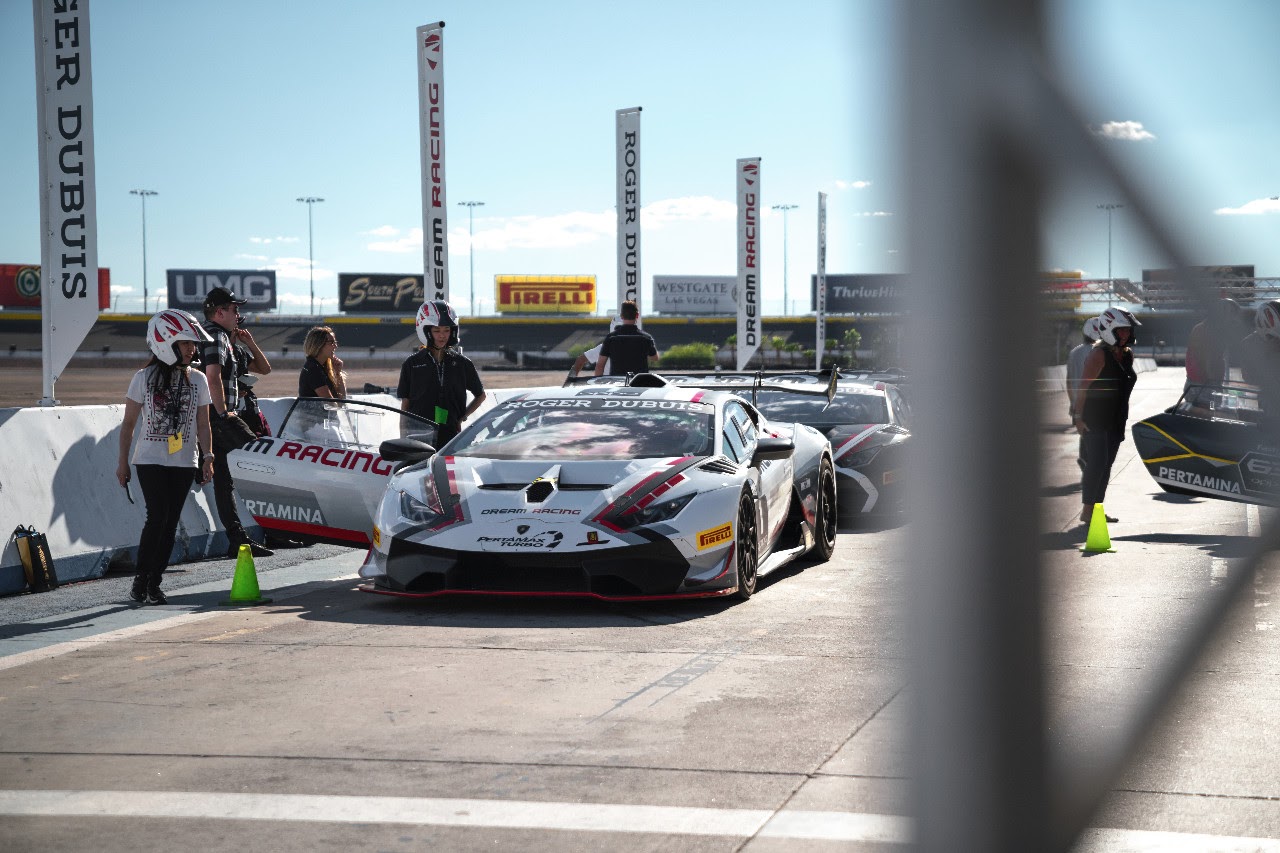 Lamborghini Super Trofeo style race cars await Roger Dubuis guests. First, the guests drove the race cars around the race tracks. Later, a professional race car driver/instructor gave each guest a thrilling experience showcasing what the car could do.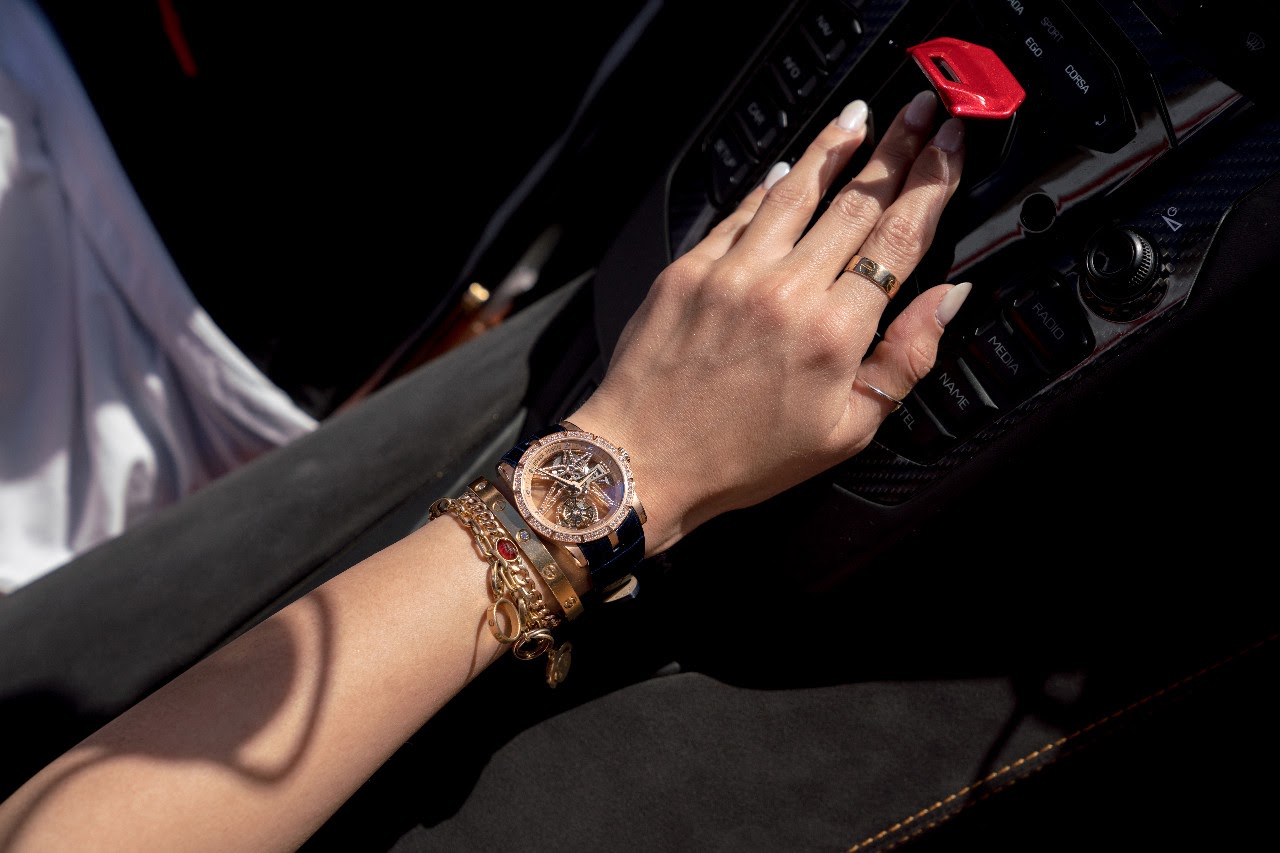 IN CONCLUSION
Most PuristSPro members haven't looked into Roger Dubuis, as many of us are highly focused on more traditional watches, with a traditional aesthetic. And that's fine, a Roger Dubuis is not for everybody. The hashtag is actually #DareToBeRare ironically. But for those fortunate few who discover the Roger Dubuis brand, fall in love with a piece, and discover that this brand is not just a form of blatant self-expression, but a qualified one with real high horology underpinnings (I'm still surprised the canton of Geneva would bestow the Geneva Seal to a watch with movement bridges made of carbon fiber parts; it's a testament to how well made a Roger Dubuis timepiece is finished); those fortunate few will likely be very pleased to join the Roger Dubuis family. The timepieces are also a time capsule into the future; mechanical watches are going to evolve into other special materials… Silicon, carbon fiber, etc. things we consider exotic watchmaking materials today will make it into the watch movements of tomorrow. PuristSPro members should go take a look at Roger Dubuis movements today to get a better understanding of what's to come tomorrow!
All PuristSPro readers are welcome to ask questions below and comment. I read every response! Thank you for reading!

Disclaimers: all photos courtesy of Roger Dubuis, Roger Dubuis wanted to protect their VIP guests' privacy and out of respect, I will avoid publishing my photos where I can. Roger Dubuis invited me as a guest to this event, I did not receive any compensation for my attendance.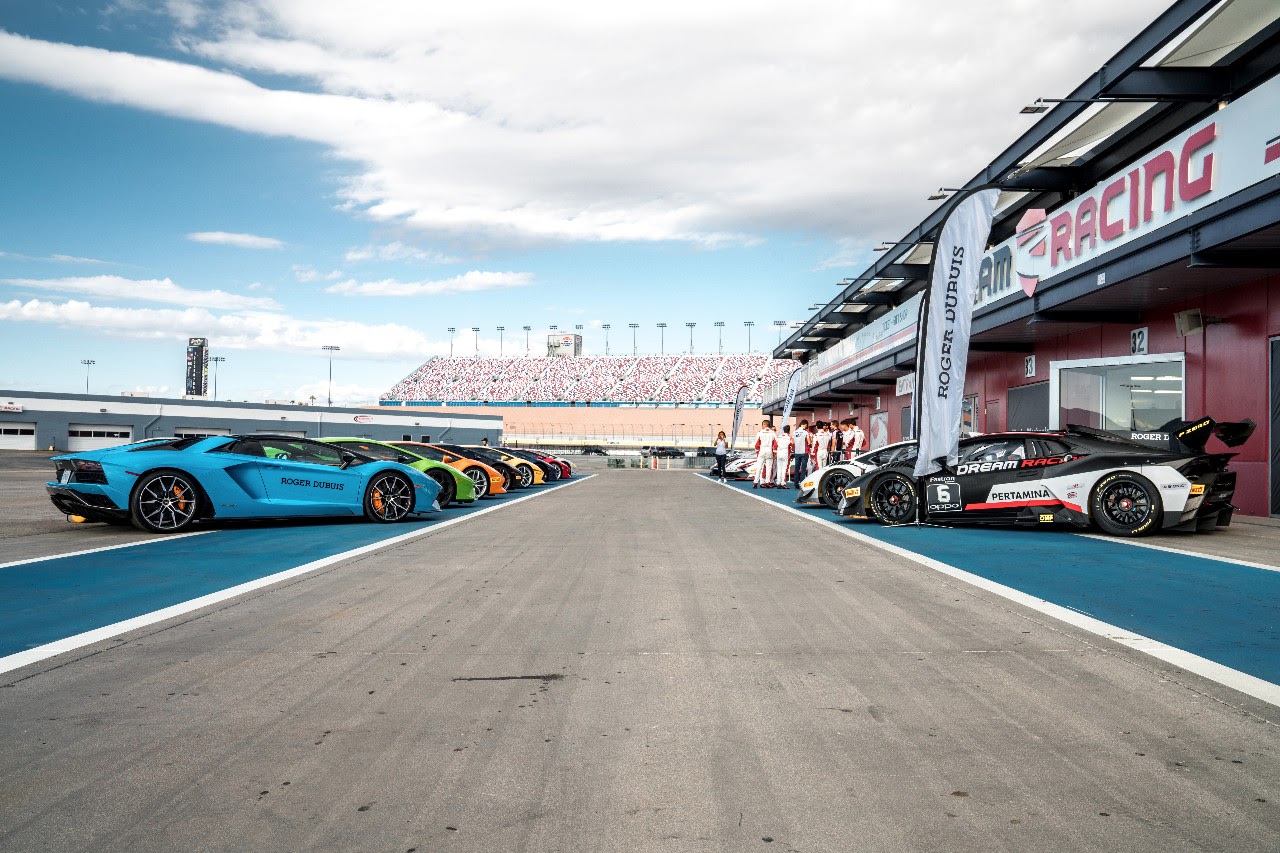 Class, allow me to introduce your instructors for the day...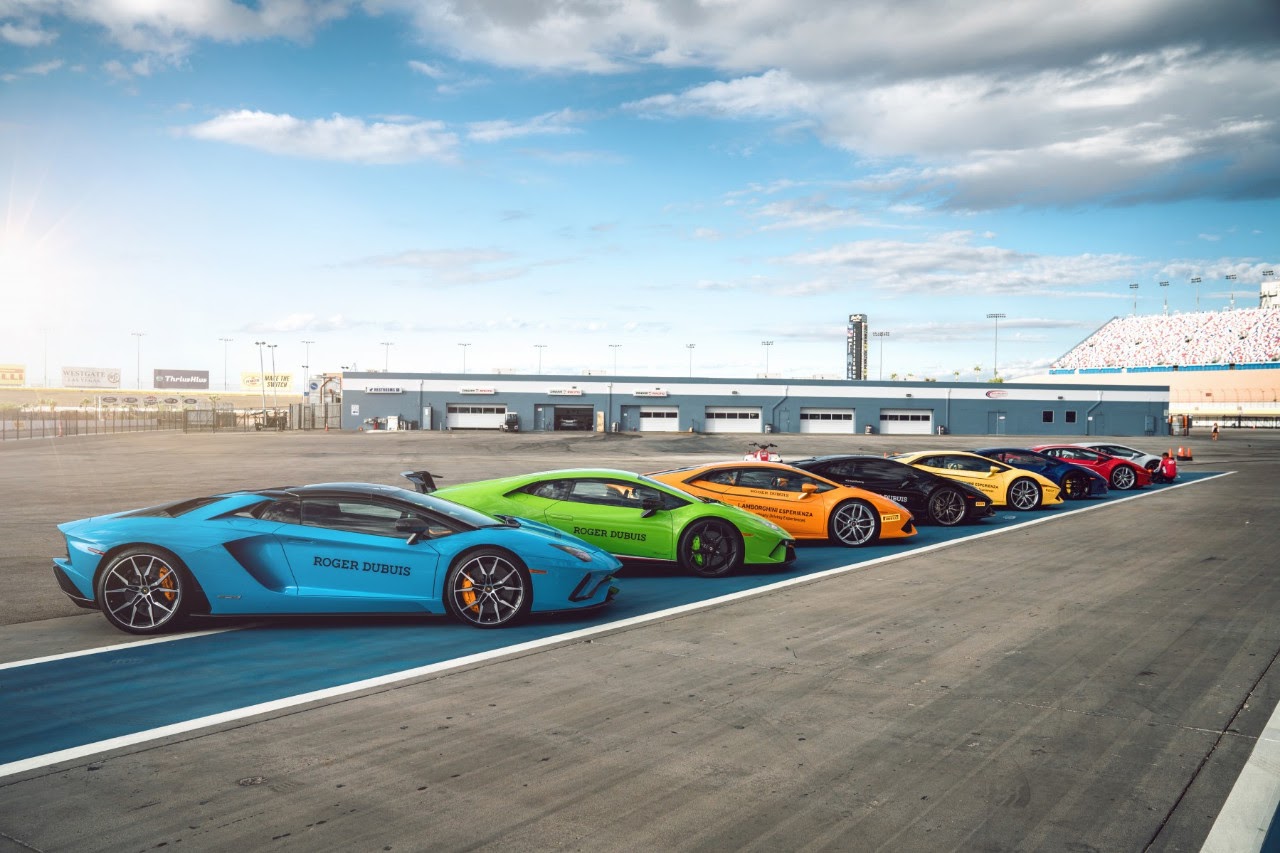 Skittle Candy... Drive the rainbow!

Photo credits: Roger Dubuis.