WatchProSite Moderator Patrick_y recently notices the IWC Portugieser Chronograph now comes with an in-house movement. Time to rediscover IWC and the improvements they've been making.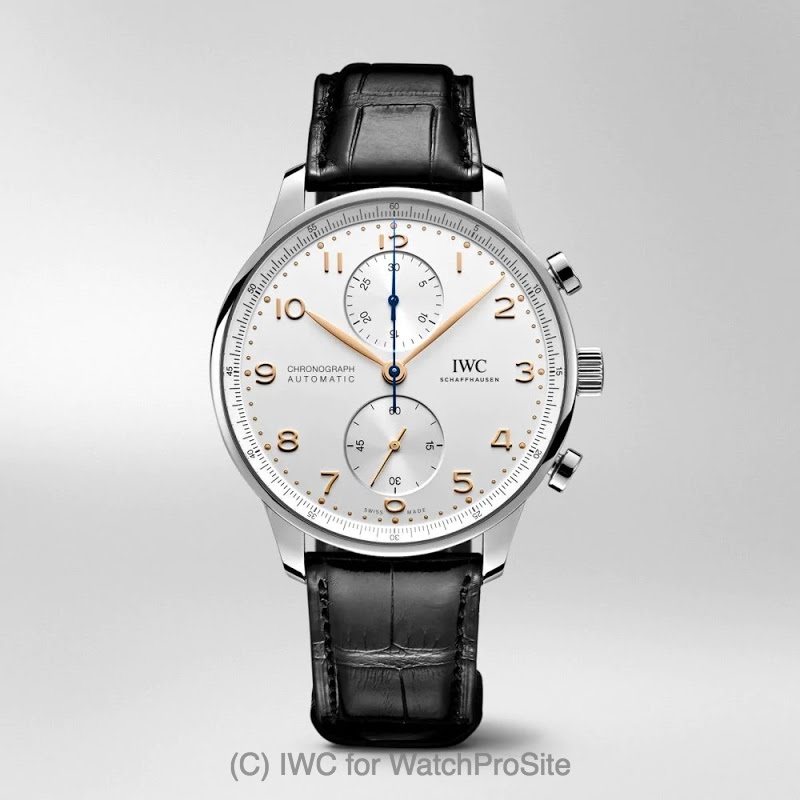 The IWC Portugieser Chronograph is one of my favorite IWC timepieces. It's an incredible aesthetic that seems to be appreciated by many. Over the years I've spotted multiple car designers sporting the watch at Pebble Beach Concours d'Elegance, multiple fashion designers (both men and women) sporting the Portugieser Chronograph, two artists at Art Basel Miami, an architect, a TED-Talk speaker, and dozens of sightings in the wild. Its modern aesthetics and super thin bezel makes it an instantly recognizable timepiece and is one of the great designs at IWC. I personally don't own an IWC Portugieser Chronograph myself (I've always wanted one), but like many others (such as those mentioned above with better taste than I) I have always enjoyed the design!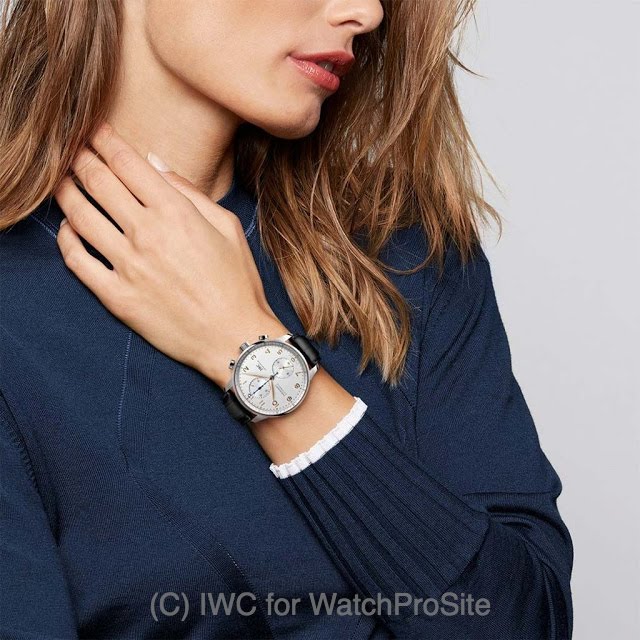 It's not just for men! Elegant women can sport the IWC Portugieser Chronograph too! It's got a healthy 41mm case!

How is IWC Different From Other Swiss Watch Brands?
IWC is very different from traditional watch manufacturers. Almost all the major Swiss watch brands are based in Geneva or in the French side of Switzerland. IWC is one of the few large brands and the largest brand to be based in the German side of Switzerland, in Schaffhausen, near Zurich. In contrast to the Swiss-French maisons that make beautiful and delicate watches that are usually thin and delicate; IWC timepieces generally have a more utilitarian approach, slightly greater thickness, and a sturdy aesthetic design combined with a robust mechanical architecture that make it a hybrid of both Swiss-French timepieces and timepieces made in the village of Glashütte. Some of you who've been following Swiss-German watches for many decades will recall that the late Günter Blümlein was the IWC executive who helped resurrect Glashütte as a watchmaking center with the help of recently departed Walter Lange.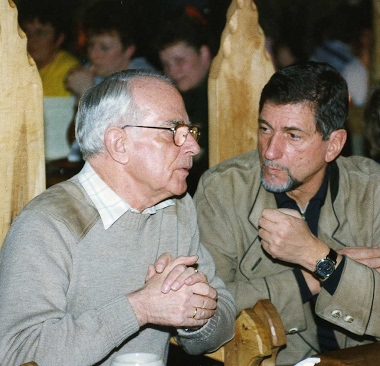 Photo Credit: Peter Chong
Continuous Refinement and Improvement At IWC
I was very pleased when I attended SIHH 2019 where IWC launched its updated Pilot Watch Collection. Not only were the pilots watches well designed aesthetically, I was very pleased to learn that they have been endowed with new IN-HOUSE MOVEMENTS with the silicon components! Almost all the newly released Pilots Watches (a notable exception being the Double Chronograph model, which features a Richard Habring designed split seconds chronograph caliber module) did away with their generic ETA movements and now incorporate an exclusive IWC movement.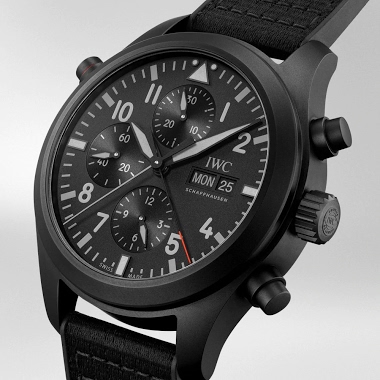 This split seconds watch has a special movement that was designed for IWC by Richard Habring. It's not a true in-house movement because it utilizes a base caliber supplied externally.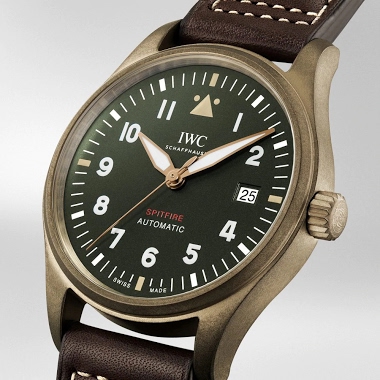 I've had the pleasure of sporting this new bronze IWC Pilots watch that was recently launched at SIHH 2019. It's been a blast! I'll be writing my thoughts about it soon! Photo credit: IWC

You may ask; why does an in-house movement matter? Utilizing those ETA movements required dial designers to compromise, the date disc position couldn't be changed on the movement, so the date would remain small and too close to the center of the dial on some models. Furthermore, an in-house movement is tailor made for the specific watch by the specific brand, so the case and dial design is made in conjunction with the movement design; thus changes can be adapted at an early stage to reduce the need to compromise either designs at a later stage.




The three movements on the left are ETA 2824-2 movements; they can be customized by the brand, such as with branded winding rotors, as you can see we have a Tudor and a Tag Heuer winding rotor. The movement on the right is an IWC in-house movement that replaced the generic movement.
You are probably now wondering, "why do all brands not use in-house movements?" In an ideal world all brands would use in-house movements. But in-house movements are expensive to design and with small production, they cost more as a brand can't scale its production nor amortize the costs over hundreds of thousands of units. It's A LOT cheaper for a brand to buy an off-the-shelf ETA 2824, a generic automatic movement made in the hundreds of thousands, as they're inexpensive, they're reliable, and they get the job done! When a large brand buys an ETA 2824 movement in large quantities, they can get it for probably around $100 USD per unit (possibly less)! An in-house movement costs many multiples more!

IWC has been improving and refining the Portugieser Chrongraph. As mentioned in the prologue, while I was recently browsing the IWC website I was pleased to discover that the Portugieser Chrongraph now has an in-house movement as well! I'm pleased to state that the movement is reasonably well decorated for this type of timepiece, has a column wheel chronograph (as opposed to a cheaper and less precise "cam" system), and is overall a more refined movement that will be easier to service and require less frequent servicing (due to better lubrication design and advanced materials).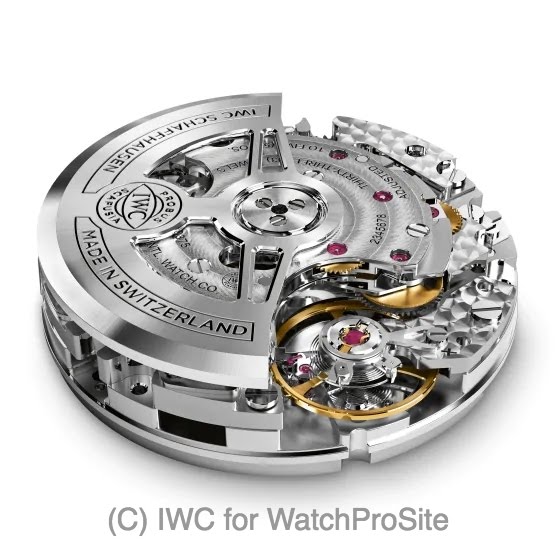 The new IWC 69000 movement features a column wheel control for the chronograph movement. Look at the nice polished anglage on the rotor, this movement is decorated to a higher degree than some others in its class!


Special Invitation: Ask Questions to IWC Management
WatchProSite members are in for a special treat. Multiple executives within IWC Management have invited me to ask them some questions about the IWC Portugeiser. I'd like to extend this opportunity to WatchProSite Readers. I will select several of the questions and forward them to IWC Management and we will have a new post with the answers. Please keep your questions to the point and be aware that IWC Managers may not answer questions that require them to reveal their secret sauce nor their internal business strategy. Please submit your questions by 12:00 AM Pacific Daylight Time April 18, 2020 and I will try to submit your question to the right executive in the right department! I may need to adjust your questions slightly for clarity, apologies in advance!

So please inquire away…
(I'll start us off)
1. In terms of research and development; how many months did the R&D team require to design and test the new 69000-series in-house movement? How big is the R&D team? What aspect of this new design was most difficult to achieve?


2. Is the new 69000 movement an integrated movement or a modular movement? How did IWC arrive at this choice?

Thanks for reading and I am looking forward to your comments and questions below!