Friends,
It is time to conclude the little series of underappreciated Girard-Perregaux watches from the 1990s. In Part V we will go to the end of the decade, century and millennium all the way to 1999/2000.
We have seen in this series quite a number of "Vintage" models, i.e. modern watches that were modelled after vintage museum pieces (Vintage 94 in Part IV and Vintage 1996 in Part III or from the 70s; Laureato 8010 in Part II) so it should be no surprise that we conclude this series with yet another "vintage-inspired" model. This time we look at the most successful line of the "Vintage" release, the Vintage 1945, a line still in the collection today.
However, I decided not to go back again to the original Vintage 1945 time-only released in 1995 as I had covered that before in a report.
Instead, we will look at the first Chronograph of the Vintage 45, the Chronograph Reference 2599. Not only it is a really good-looking Chronograph, but it has an important place in the history, but more on that later.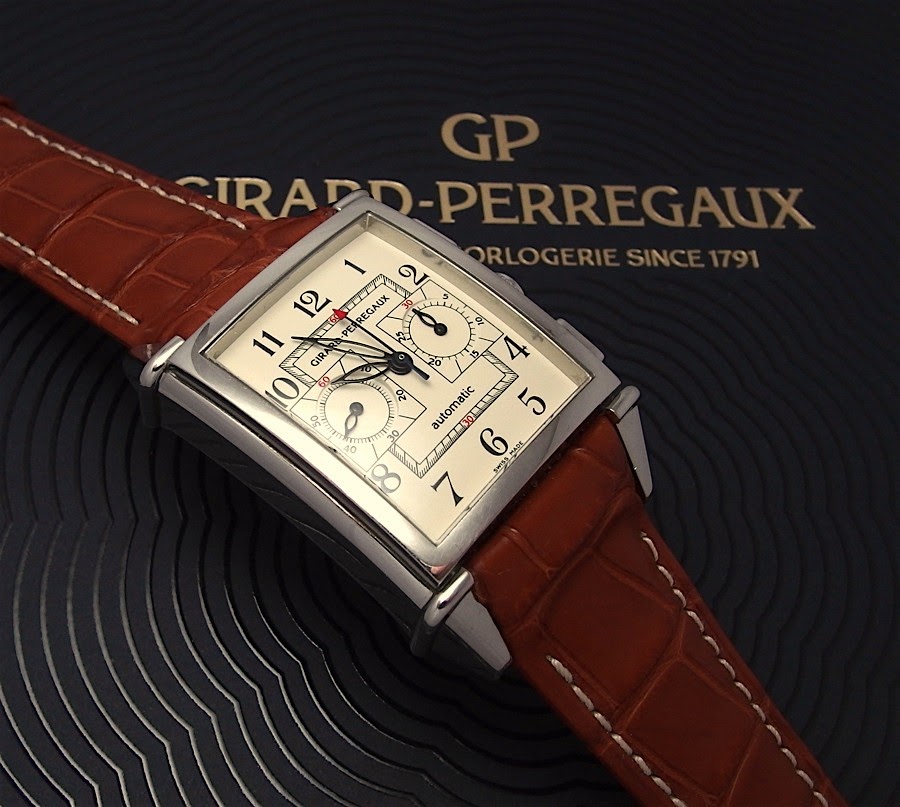 Design/Case/Dimensions/Dial Versions
One of the most prominent characteristic of this Vintage 45 Chronograph is its case design and the dimensions. The case is relatively narrow but has a sizeable thickness. Case dimensions are 31 x 30 x 11 mm and 47 mm lug-to-lug
You may think the thickness is a downside, but quite on the contrary. It adds to the curved case and the elegant lugs found on the Vintage 45. The lugs itself are quite short and hug nicely around the wrist. It does require a special strap to make the look perfect, but please refer to the Strap/Bracelet chapter below.
The pushers are rectangular and stand out from the case quite a bit, which adds to the masculine look. The crown is unsigned and its position gives away that we have a modular Chronograph under the hood. More on the movement again below. The case back was solid snap-on for all 2599 models.
The Case was available in the following materials:
Steel: standard and limited editions
Yellow/White/Pink Gold: with many dial variations
Platinum: with grey ruthenium dial as a limited edition platinum set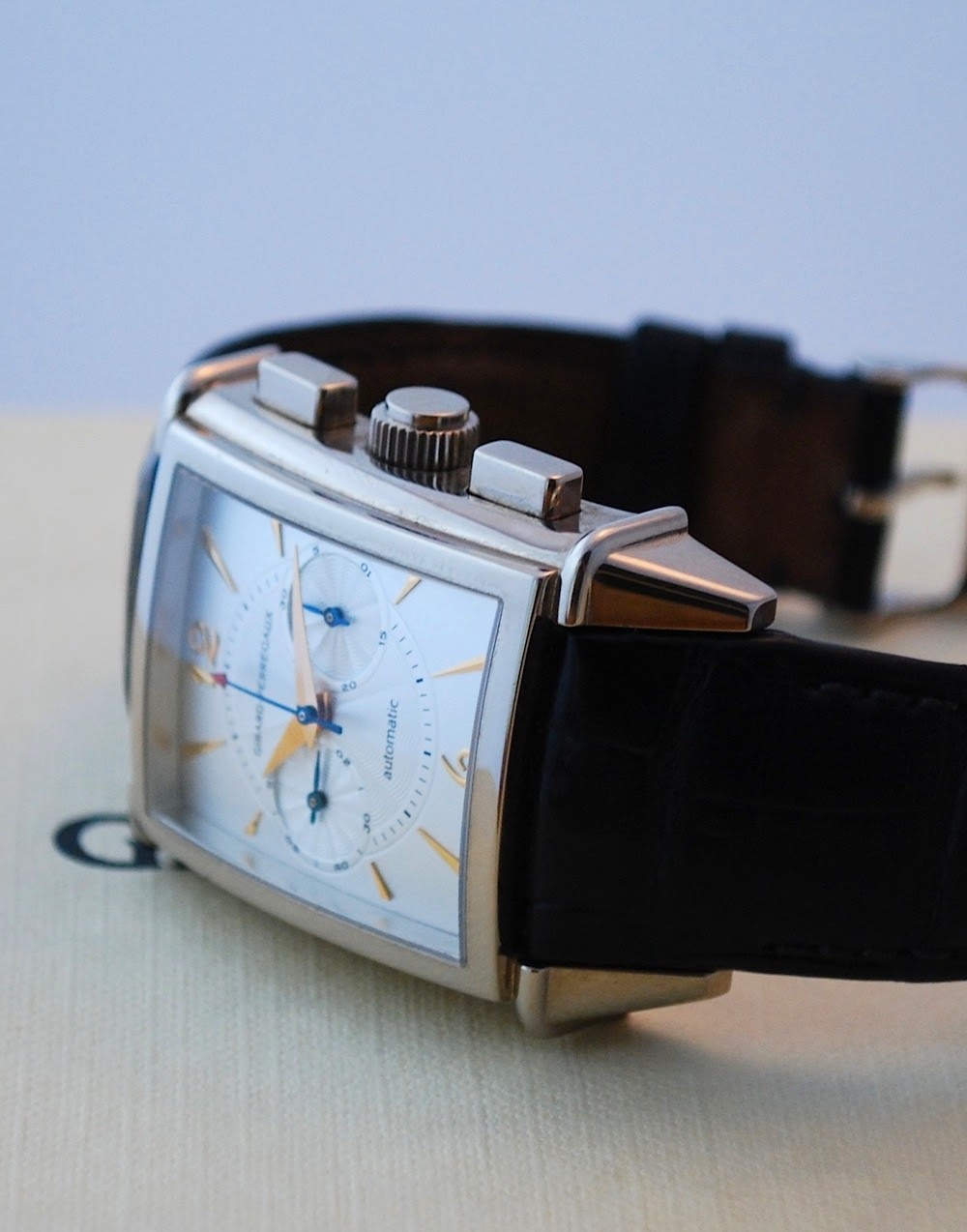 White Gold with Silver Guilloche Dial
The dial as mentioned came in many versions:
Guilloche dial either white, black or salmon
Printed dial with applied numbers in white or black
Printed dial with applied 12/6 in white or black
Printed dial with luminous numbers in white or black
Special edition in either cream or black dial with skeleton hands
Limited edition grey ruthenium dial with applied 12/6 numbers.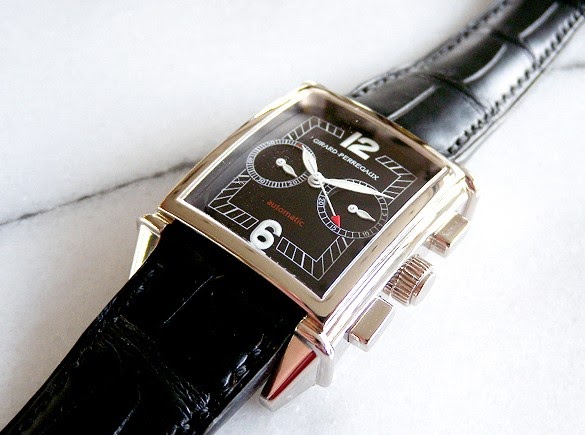 White Gold with black painted dial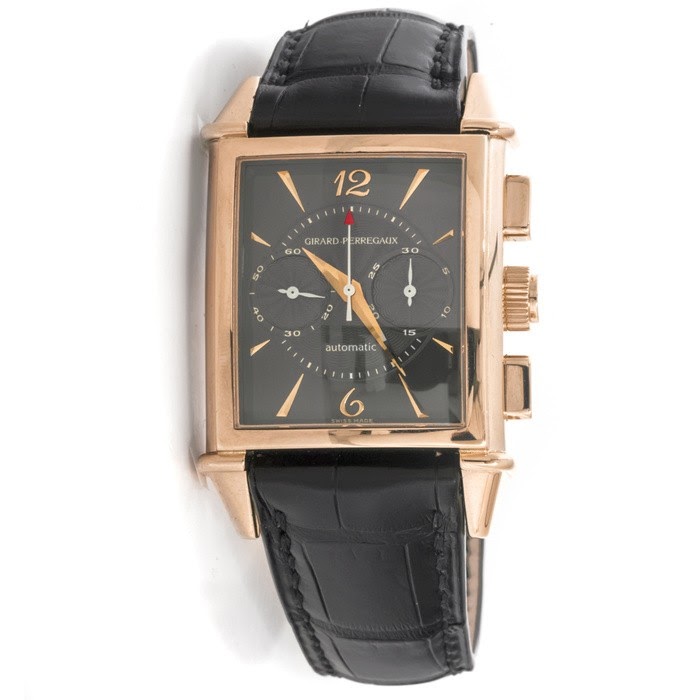 Pink Gold with black Guilloche Dial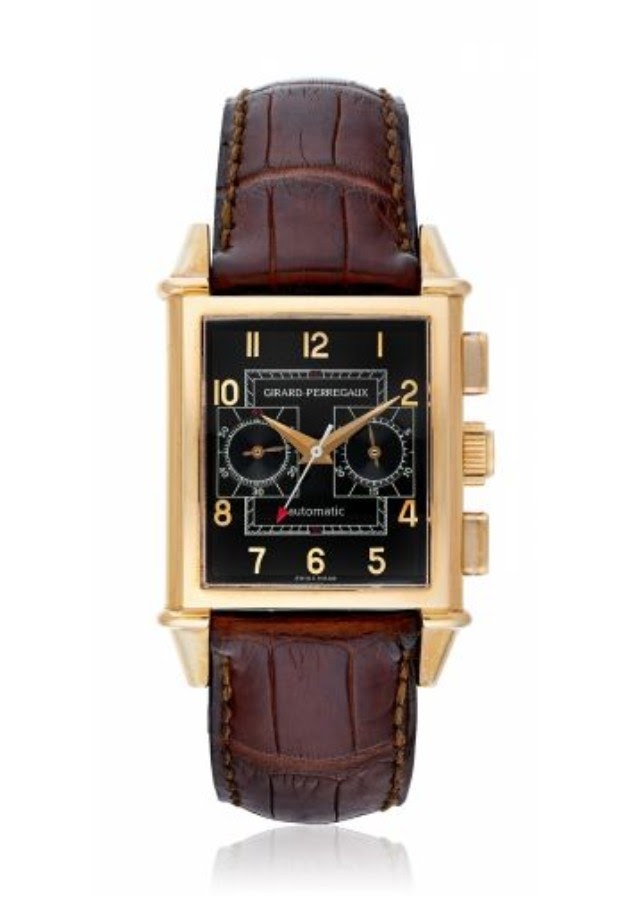 Pink Gold with black dial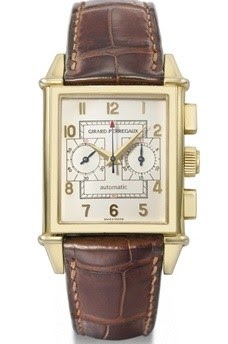 Yellow Gold with silver dial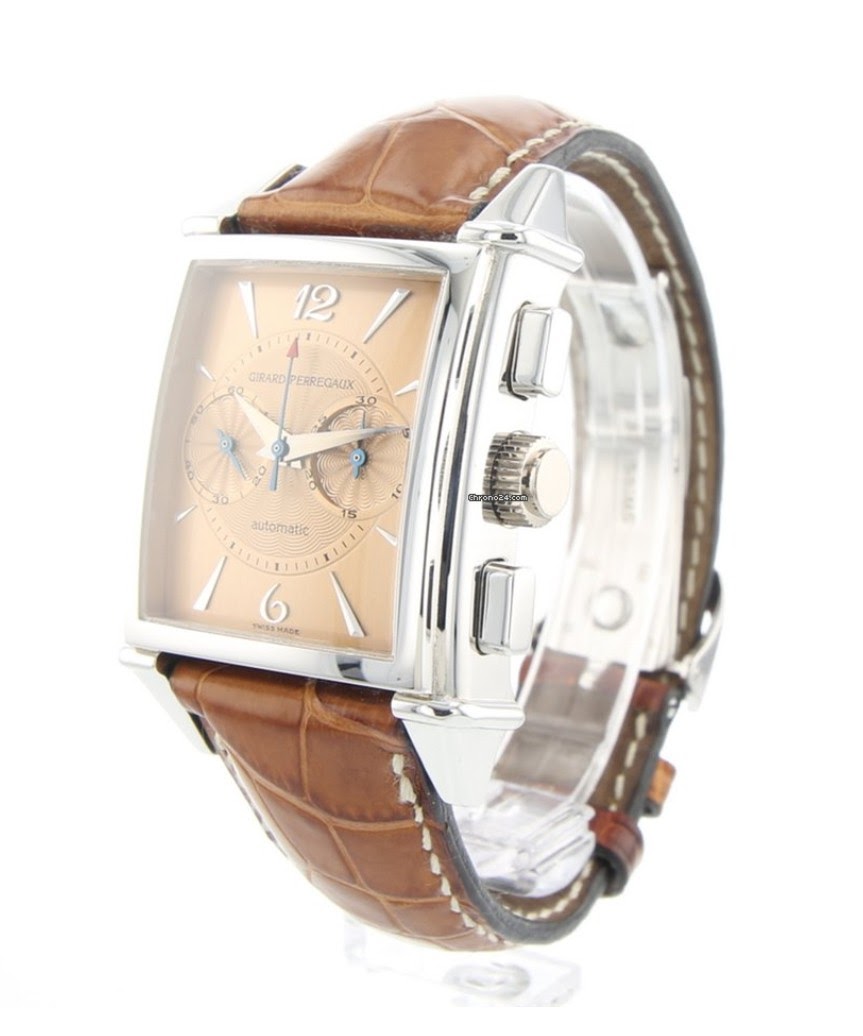 White Gold Salmon dial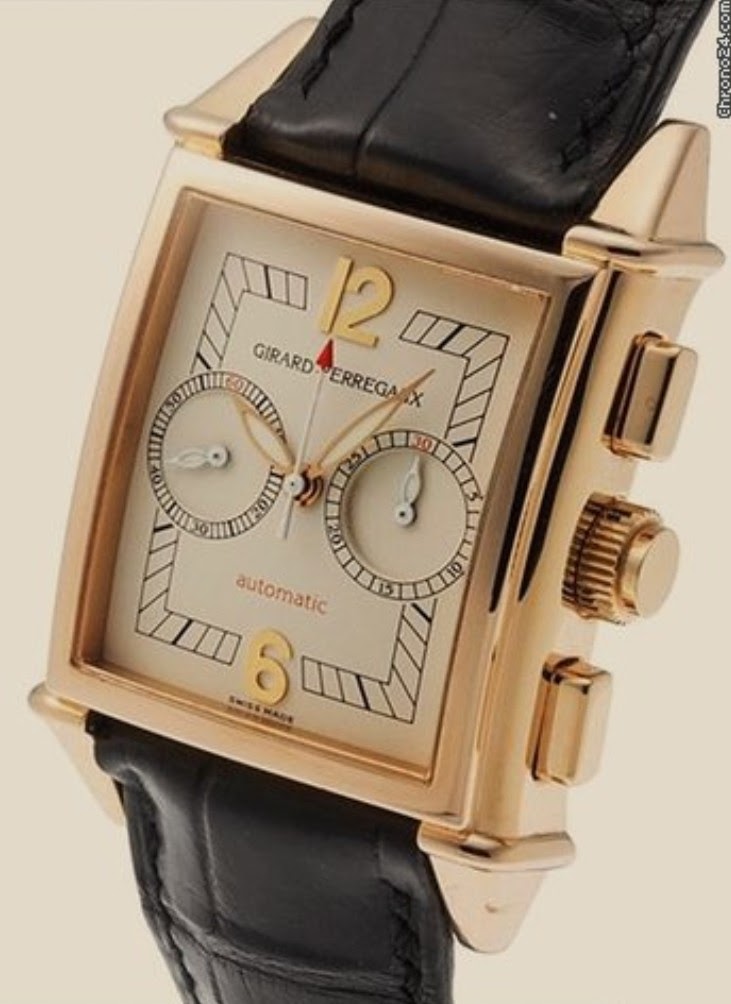 Yellow Gold with applied 12/6
All dials have a common feature such that the dial itself is curved both ways and the subdials are flat, providing a very interesting three-dimensional look that is asymmetric. Something that is up close very appealing.
There is also another sister variant, Reference 2597 which I understand was for the North American market and sported as the only version a sapphire case back but is otherwise identical.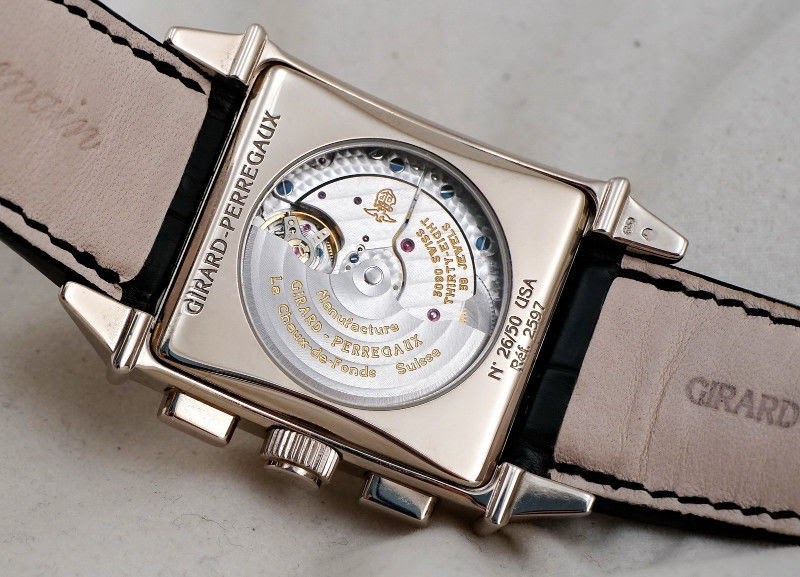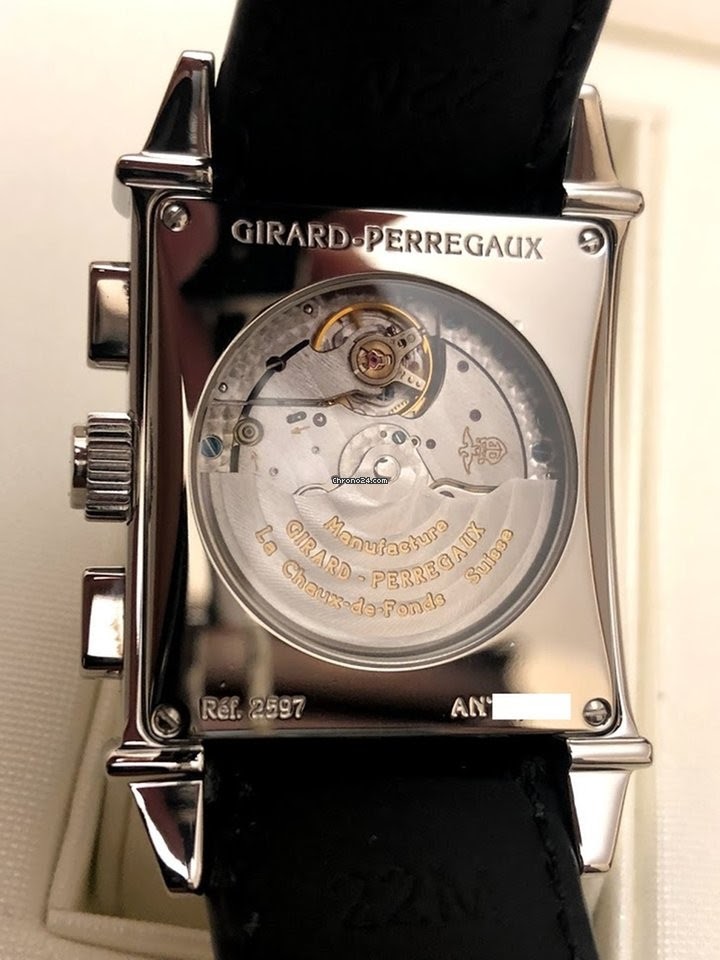 Ref 2597
Special Editions:
The most common special edition of the Vintage 45 Chronograph 2599 was a 2001 pieces edition in the year 2001.
That limited model was available in Steel only with a beautifully painted dial in either cream or with a black dial with golden numbers. They also had special skeleton hands not found on any other Vintage 45 Chronograph. As you may know, the Steel with Cream dial is my personal choice as well.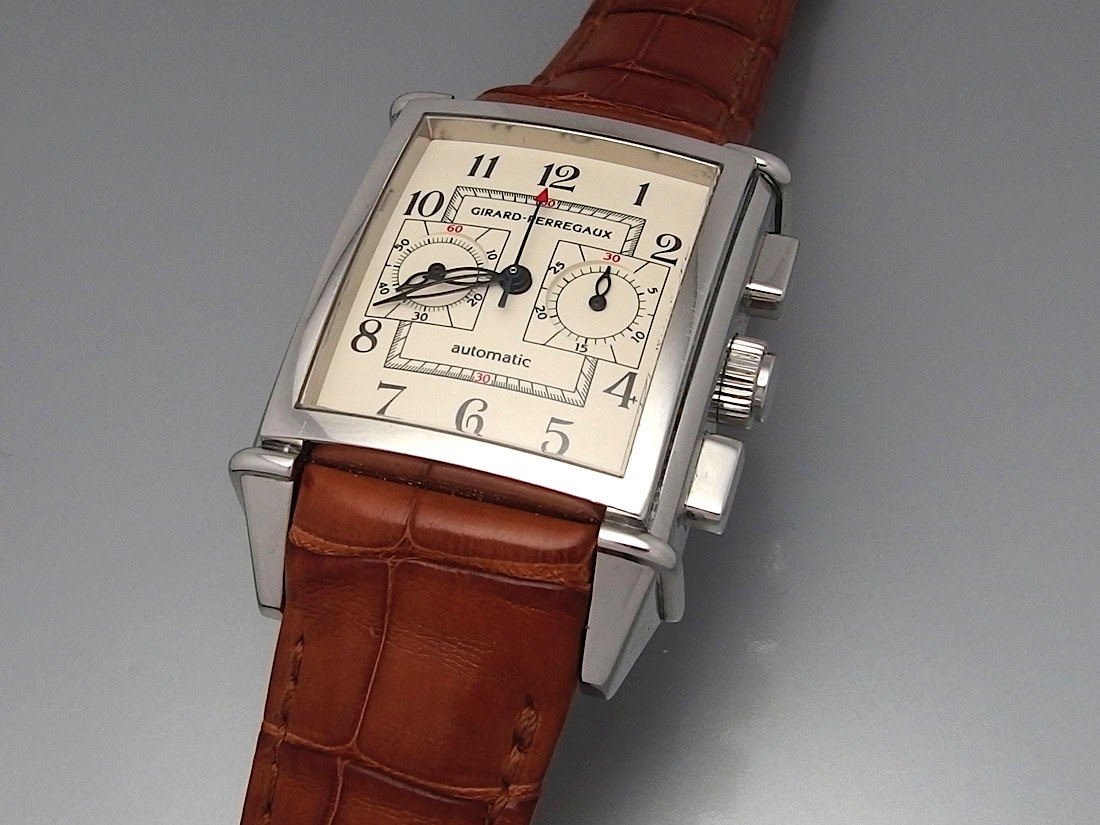 Steel with cream dial limited edition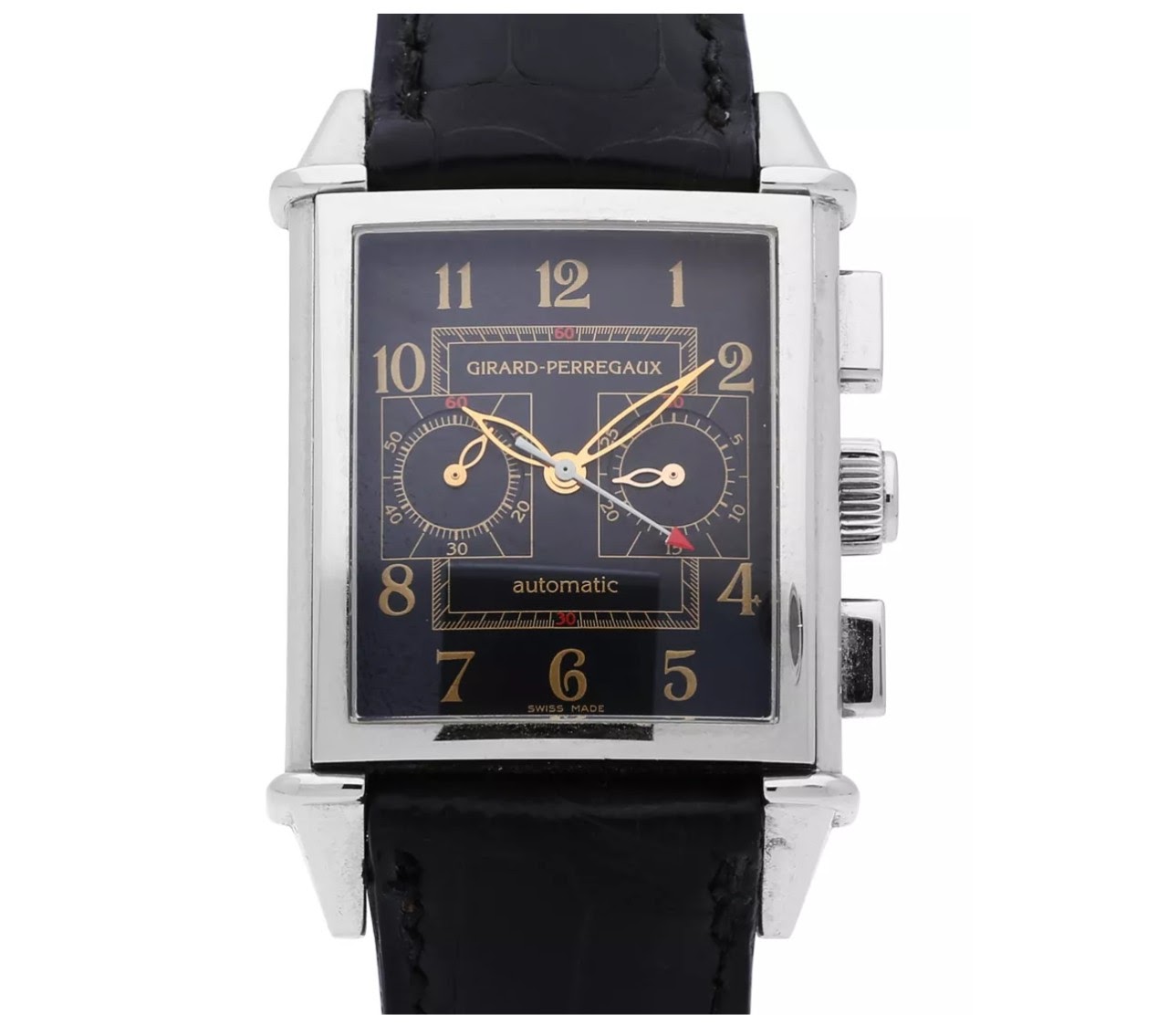 Steel with black dial limited edition
Another Limited edition is the Platinum case with grey ruthenium dial. I have seen this dial as well in a white gold case, but the Platinum version was limited and came in a special set of 3 platinum Vintage 45 watches.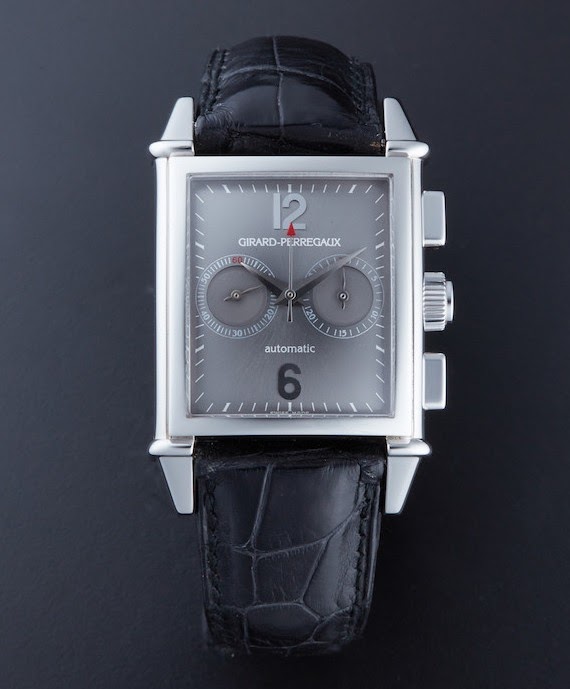 Platinum Case with Ruthenium grey dial
Finally, the most colourful limited edition was a release to celebrate the F1 constructors championship 4 consecutive wins 1999-2002 of Ferrari with the Vintage 45 Chronograph F1 championship with a Ferrari-Red dial, the prancing horse logo in a white gold case, limited to 100 pieces.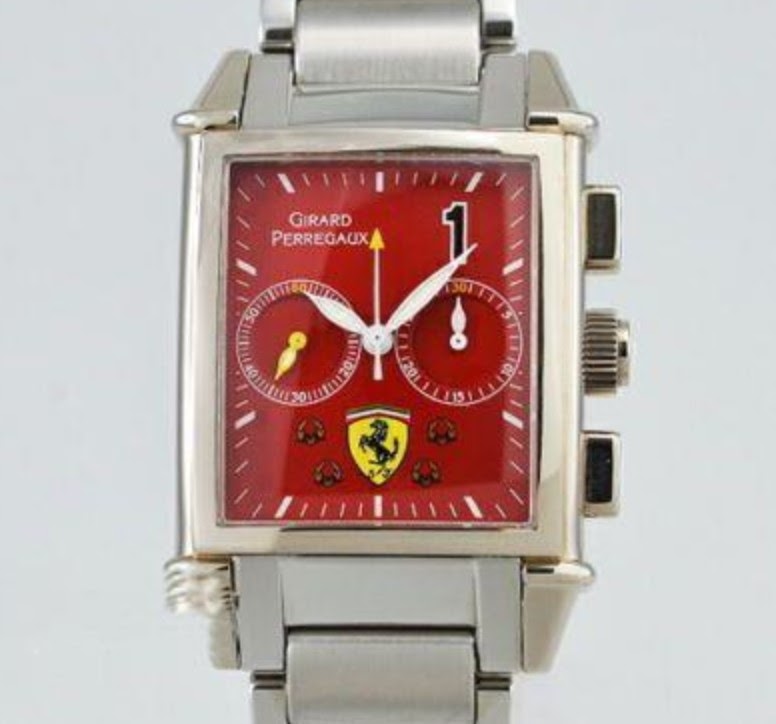 Movement:
One of the highlights of Model 2599 is actually the movement. GP, after it was revived by Luigi Macaluso, worked on its in-house caliber GP 3000/3100, which also made it into the Vintage 45 (Ref 2593). In 1996, GP released two Chronographs based on Caliber 3100 with an added Chronograph module from Dubois-Depraz. That was found in the Laureato Olimpico 8017 and in the Vintage 1996 (4930). Those were 3-register chronographs with date window. GP could have taken the easy route and using the same set-up for the Vintage 45 Chronograph. However, the curved case would have made the overall watch even thicker and also significantly larger/wider as Caliber 3170 has an overall 11 ½ " size.
Instead, GP took the thorny route to develop its own in-house column-wheel chronograph module sitting on the automatic caliber 3000. The full movement caliber 3080 is therefore a fully in-house designed column-wheel chronograph in a modular design. I'm not sure if it is still today, but at that time and for quite a while, caliber 3080 was the smallest column-wheel chronograph with a 10 ½ " size. It also made it into some Ladies GP Chronograph models such as the Small Chronograph 8045 and the Richeville Chronograph 26500.
That small size allowed for the narrow profile of the Vintage 45, Ref 2599 Chronograph. In addition, it allowed GP to concentrate on the essentials. No date and only a 30min Chronograph counter. The Chronograph minute counter also sports a jumping hand mechanism.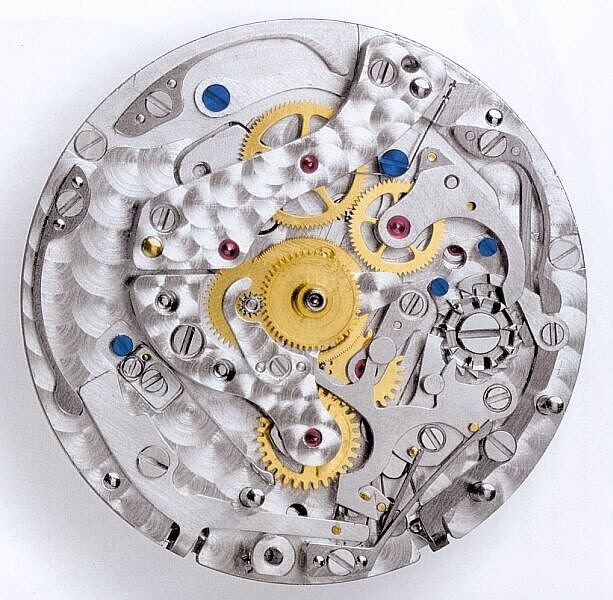 Evolutions/modern versions
The Reference 2599 was quite successful and stayed in production for a number of years. They can be easily found in relatively large numbers with perhaps only some of the more limited versions not seen as often.
The Vintage 45 case later evolved into the so-called King Size case (31.95 x 32 mm) and a Chronograph with 3-registers, date and GMT dial at 12 was released in the King-Size case (Ref 25975).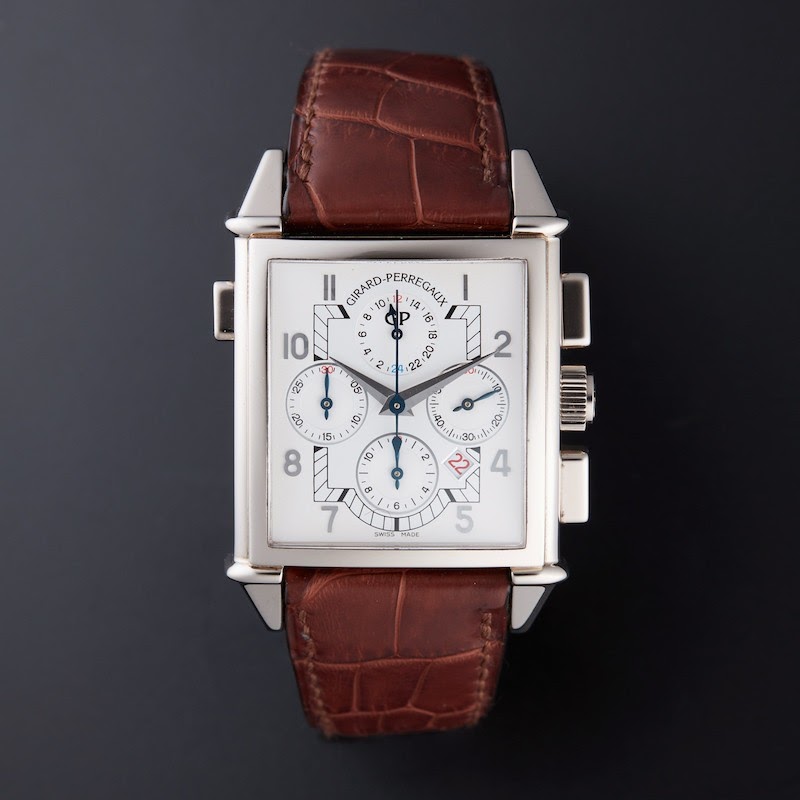 Around the same time, GP also introduced the XXL case which varied its size by small amounts over the years and models.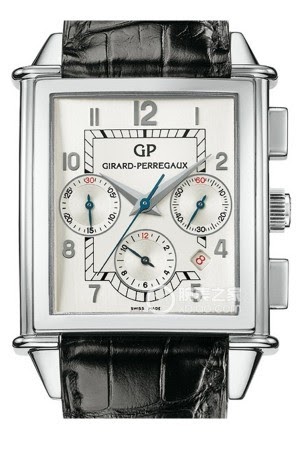 In the XXL Case we have seen a normal 3-register Chronograph (25840), a Chronograph with Perpetual Calendar (90270) and a Chronograph Rattrapante Foudroyante (90210).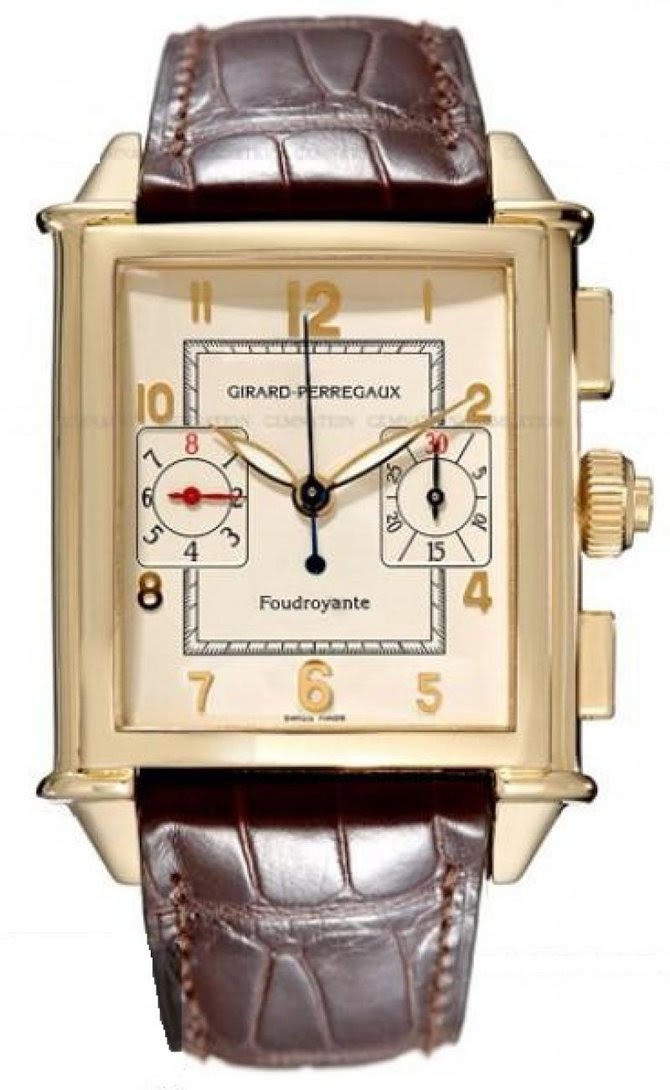 The last available version of the Vintage 45 Chronograph kind of went back to the roots with a 2 register, no date set-up in an XXL case (Ref 25883). That XXL case came in 36.95 x 36 mm and was for my taste just too big to look comfortable on my wrist.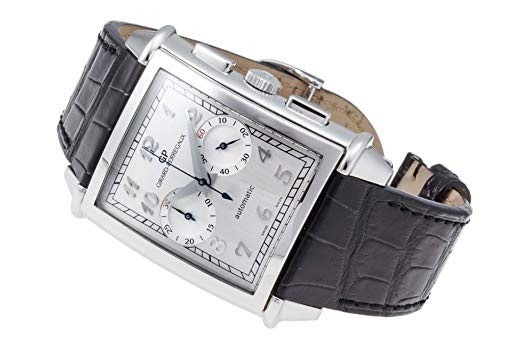 Straps and bracelets
Some words on bracelets and straps. The Ref 2599 was available with either alligator strap or a cloth strap (rarely seen) in 21/16mm. Not only is 21/16 a not so common size, it also had special metal inserts to make the strap sit flush with the case. I have seen two versions, one without opening for the springbars at the back and one with openings for the spring bars. The strap has the same size as the modern Richeville family 276xx and the Richeville strap can be used on the Vintage 45 and actually sits even better on the case.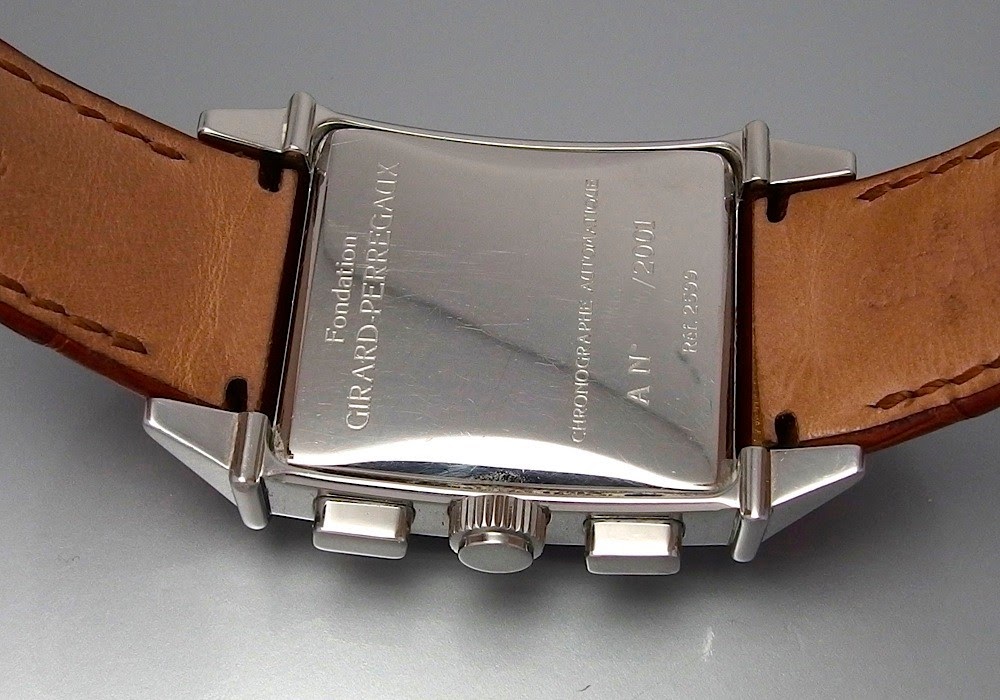 The bracelet for the Vintage 45 is fully polished and hence very shiny. I think this style of bracelet works very well with Ladies (and the 2599 is in fact a good size to be also worn by women) but for men, I very much prefer something less shiny or even better the leather strap option.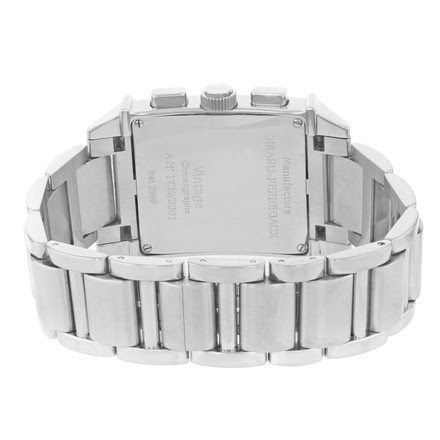 Wishes for the Future
So what are my wishes for the future? As there currently is no Chronograph anymore in the Vintage 45 collection, I first and foremost would like to see a new release of a Chronograph in the Vintage 45. Most welcome would be again a 2-register Chronograph without date. I also would like to see it to pick up the slimmer profile of the 2599, certainly it should be smaller than the last XXL Chronograph.
Wristshots
To finish off Part V and the overall series, here are some Wristshots of my Girard-Perregaux Vintage 1945 Chronograph Limited Edition as well as the watches from the previous posts of that series.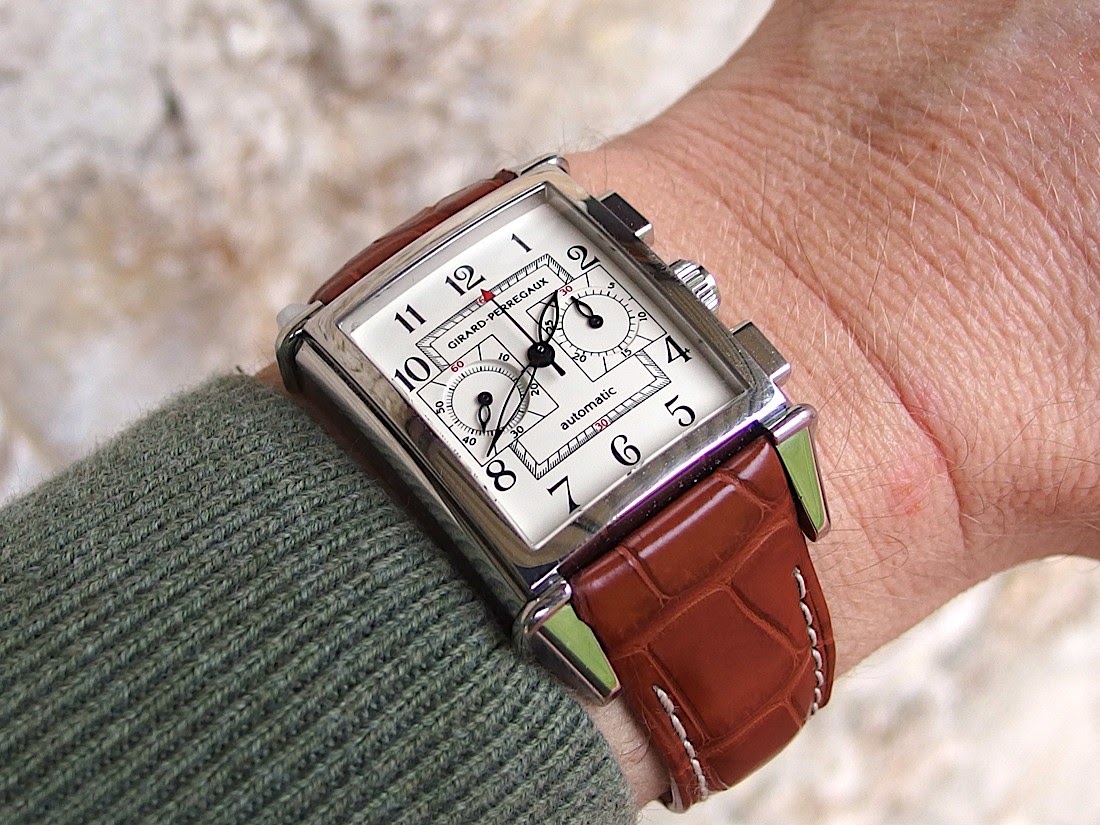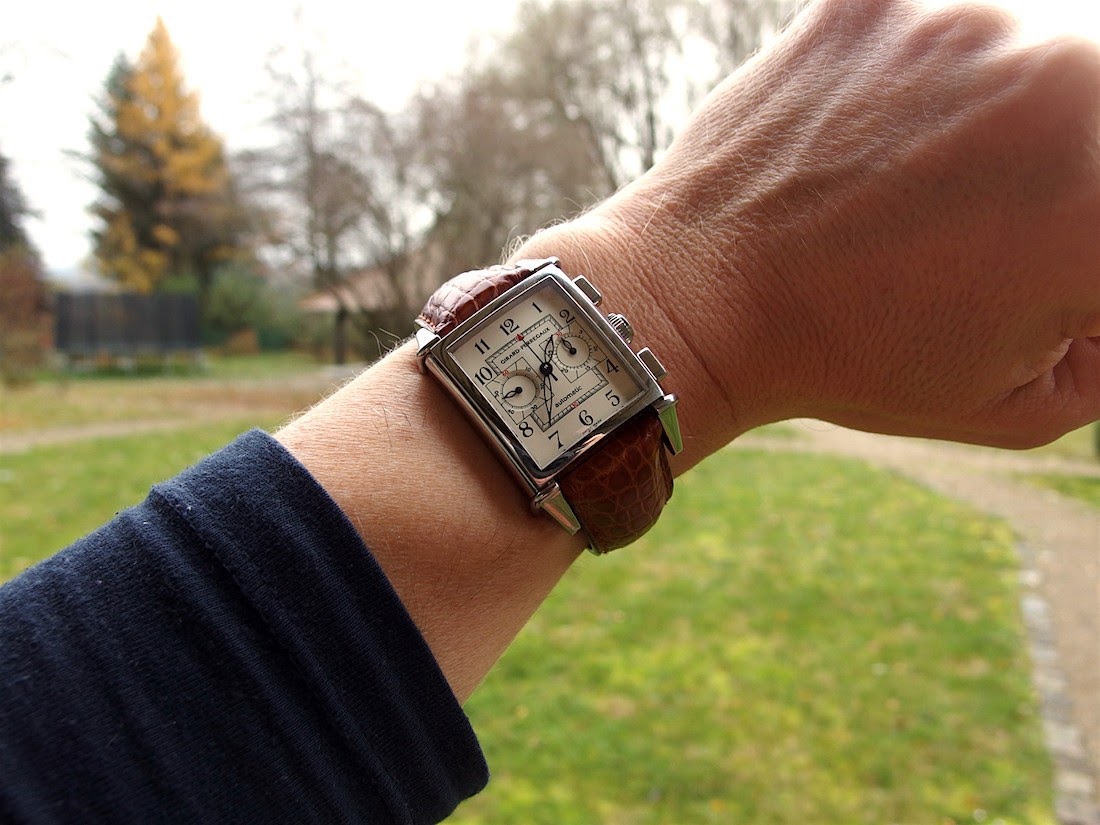 PART IV: Vintage 94
PART III: Chronograph 4930
PART II: Laureato 8010
PART I: GP 7000
Thanks for reading the posts of this series and I hope you have enjoyed this little excursion to the 1990s.
Best,
CC