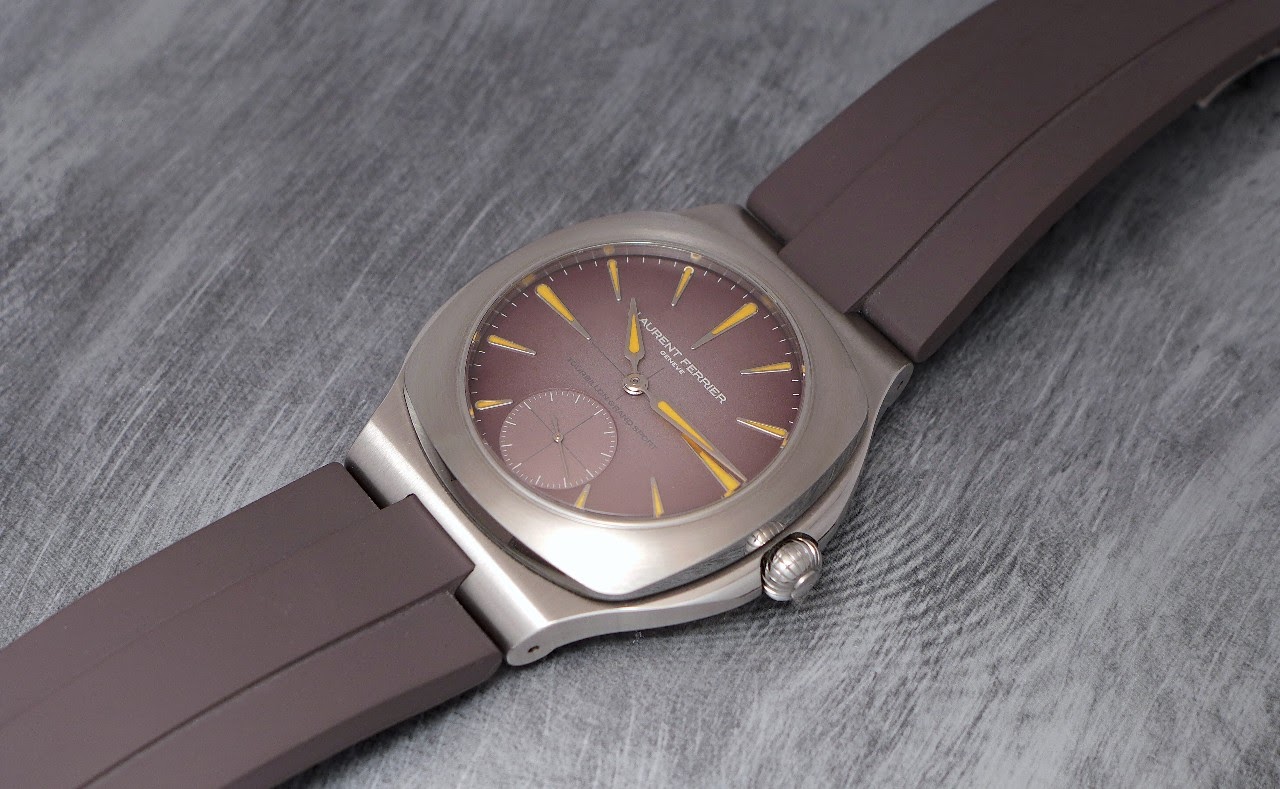 Announced a few weeks ago, I was impatient to discover this new opus from Laurent Ferrier. Could you imagine that one day, Laurent Ferrier could release such a watch?
Why not, after all?
At first sight, this Tourbillon Grand sport disorients the Laurent Ferrier Aficionado who is more used to classic designs with round, cushion or rectangular shapes.
Here we dive right into the Seventies, with a case which makes you think to some Genta Creations, such as the Patek Nautilus, the Audemars Piguet Royal Oak, and Jorg Hysek's opus, the Vacheron 222, all watches which started the trend of luxury and sporty time keepers.
The Laurent Ferrier Tourbillon Grand Sport can be seen as a dign heir of this lineage.
The Tourbillon Grand Sport is, first of all, a blend of different shapes for the case and bezel, which is much more complex than its famous predecessors. Indeed, the case is slightly tonneau shaped, while the bezel has a clear cushion silhouette, with thinner angles than sides. This blend of proportions and shapes give an interesting and original allure to the watch.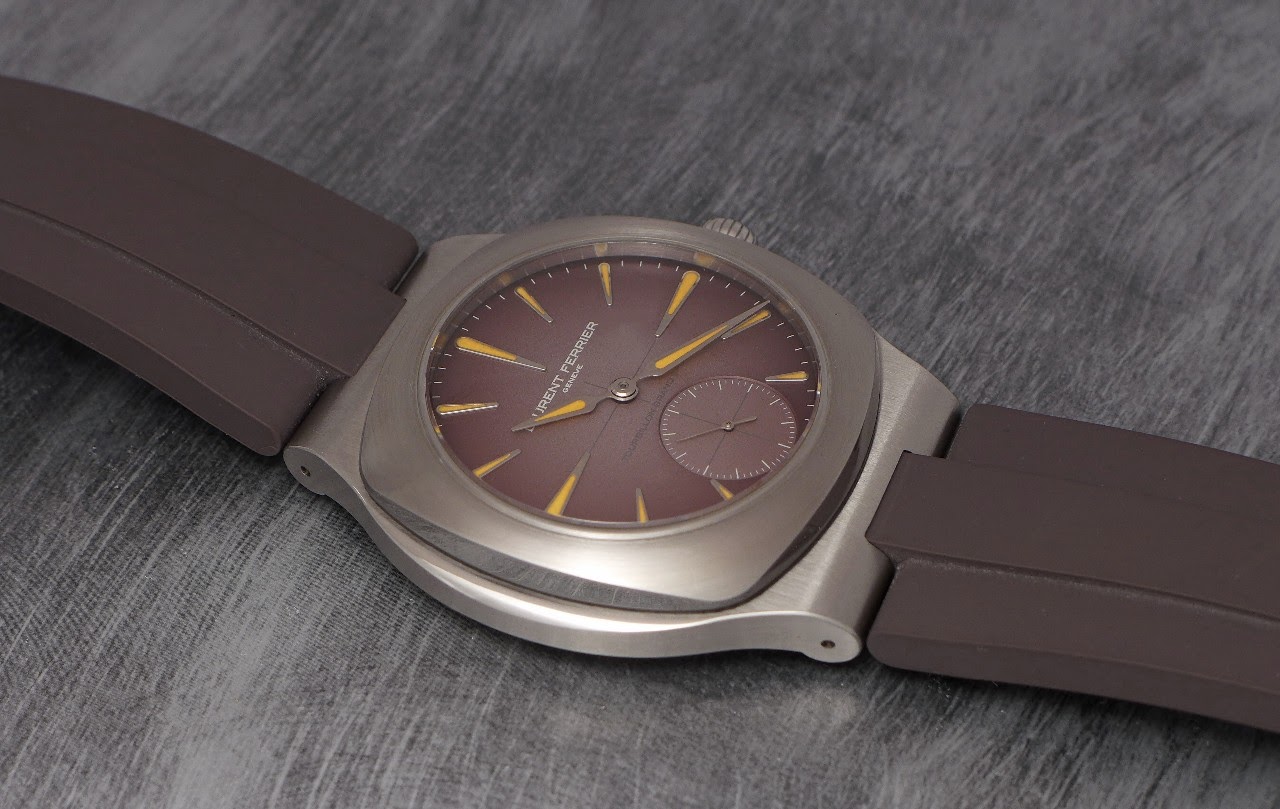 The integrated lugs are also typical from these watches of the Seventies. Some will like, others won't.
A nod to classicism: The crown, which is very classic in such a... How to call it? Slightly funky environment? An intriguing mismatch, or another addition of styles? I will let the reader make it own opinion on that detail.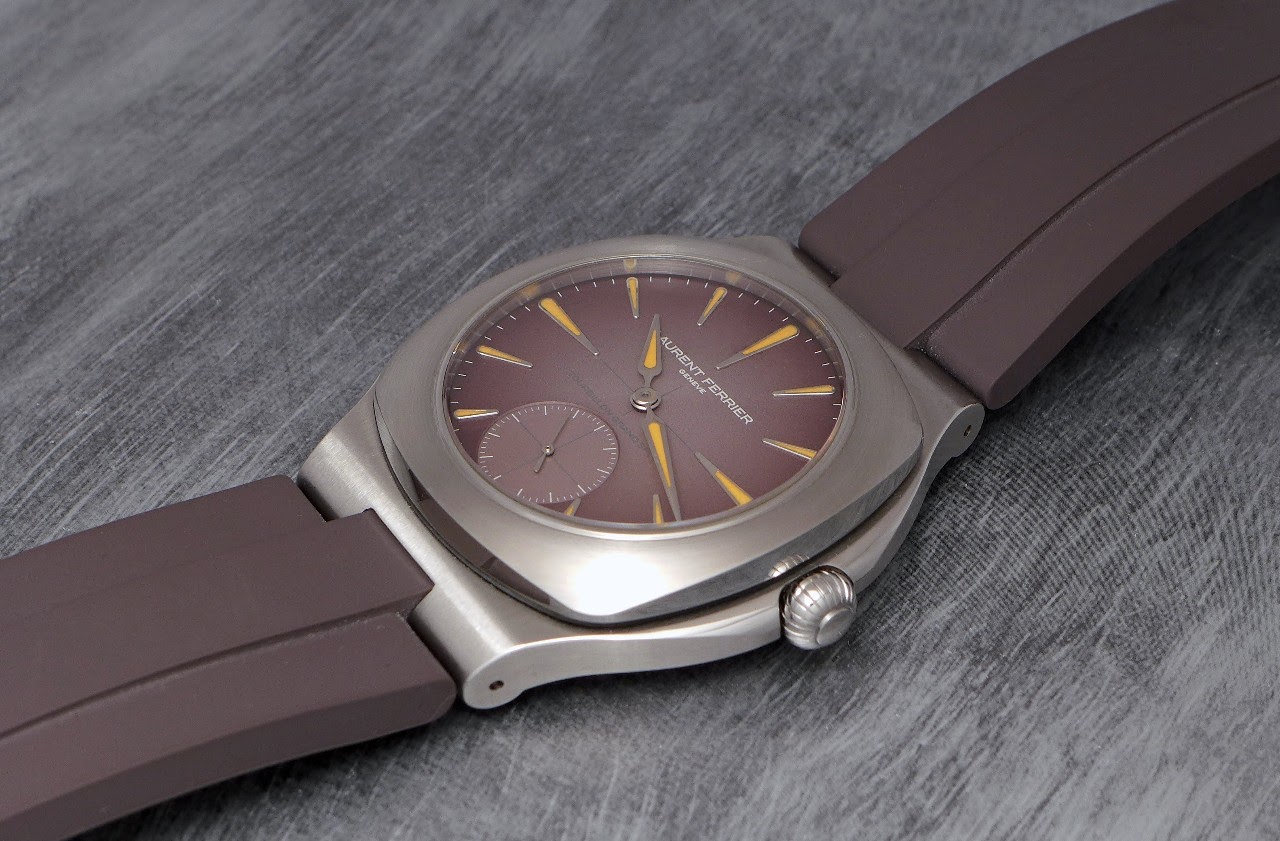 The case is 44 mm big. Yes, it is a big watch, but if you can try it, you will feel that it is, in the reality, a tad smaller, wearing like a 41 / 42 mm watch.
The dial is another important part of the watch. The indices and hands are made of gold, filled with some colored luminova. The color of the lumina is somewhere between dark yellow and orange. Why the choice of this color? Certainly another link to the Seventies, rather than a faux patina which would not make sense in such a creation. Well played, I must say.
You will notice the double crosshairs on the main dial and th sub dial, enhancing the fact that this watch is a chronometer, submitted to the Besançon Observatory.
A striking detail is the color of the dial, which is very special, a kind of smoked taupe. This is indeed something you won't see elsewhere, except, maybe in some heavily patinated Royal Oak 5402.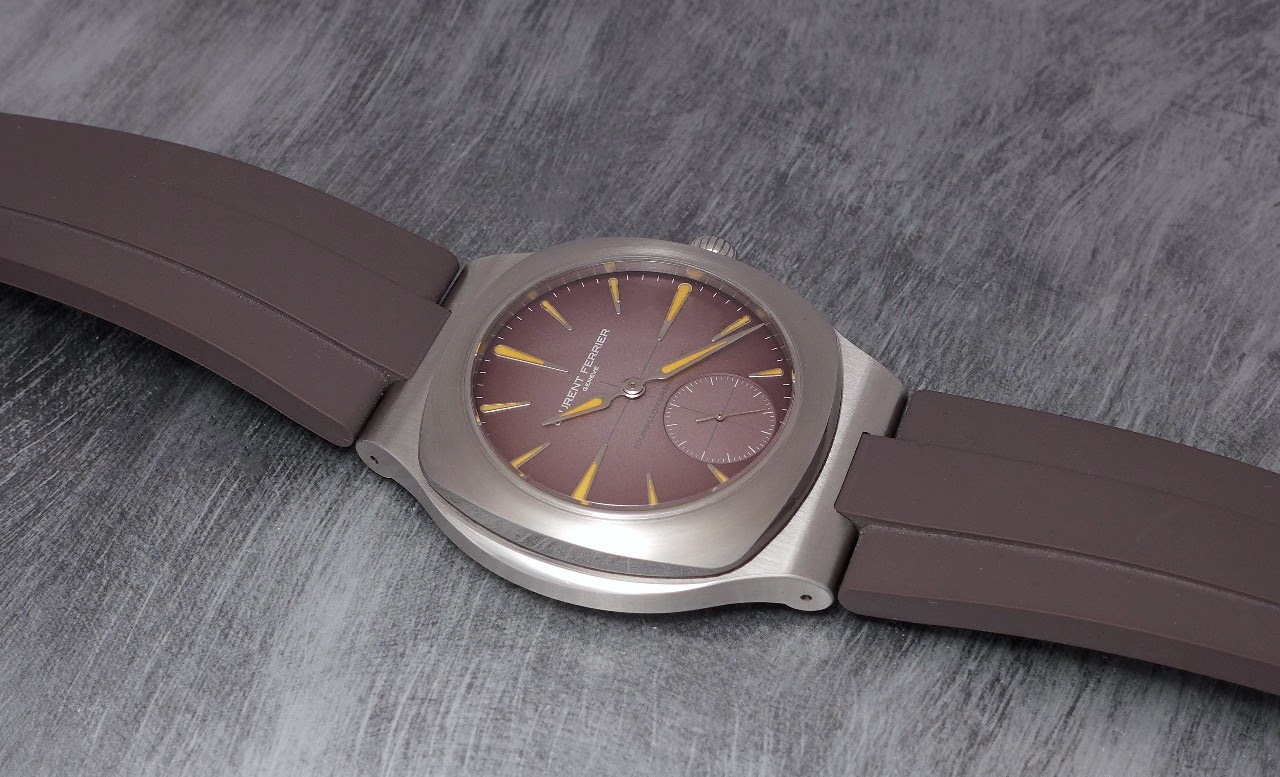 I really like this color.
Now some words on the movement. I will say it straight, it is superb, but does it have its place in a sports watch?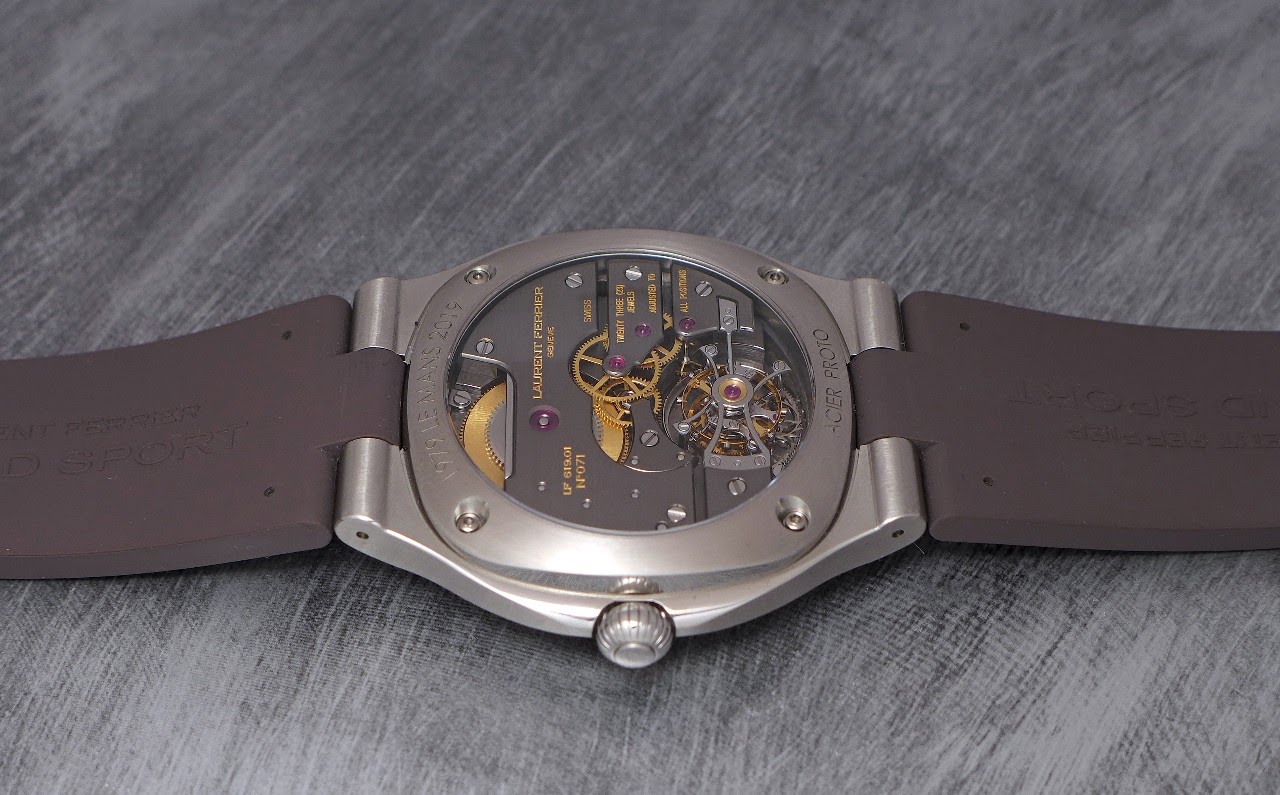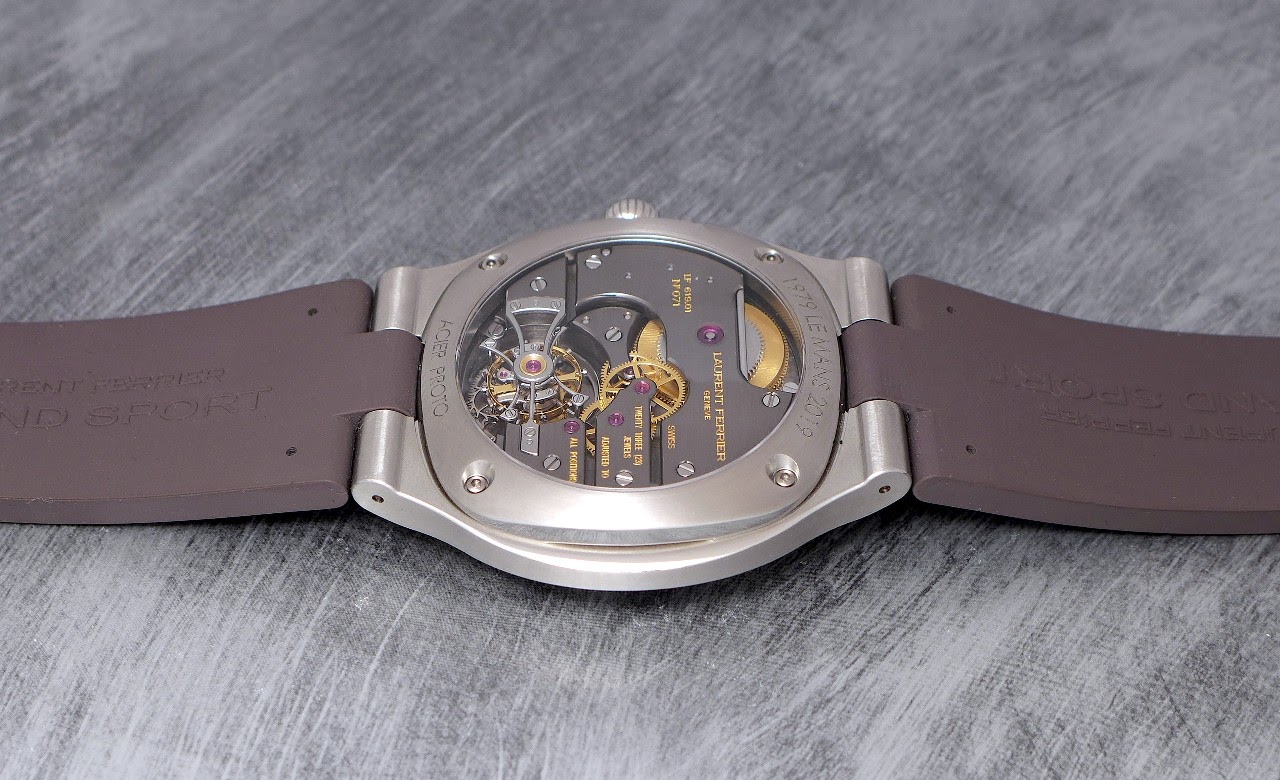 The level of decoration and finishings is excellent, which is something you could or should expect from a Laurent Ferrier creation: Superb bevels, a sublime tourbillon bridge and treatment for the jewels and screws, contrasting with the eye catching ruthenium bridges which make this movement look like a concept watch, and an exquisite one.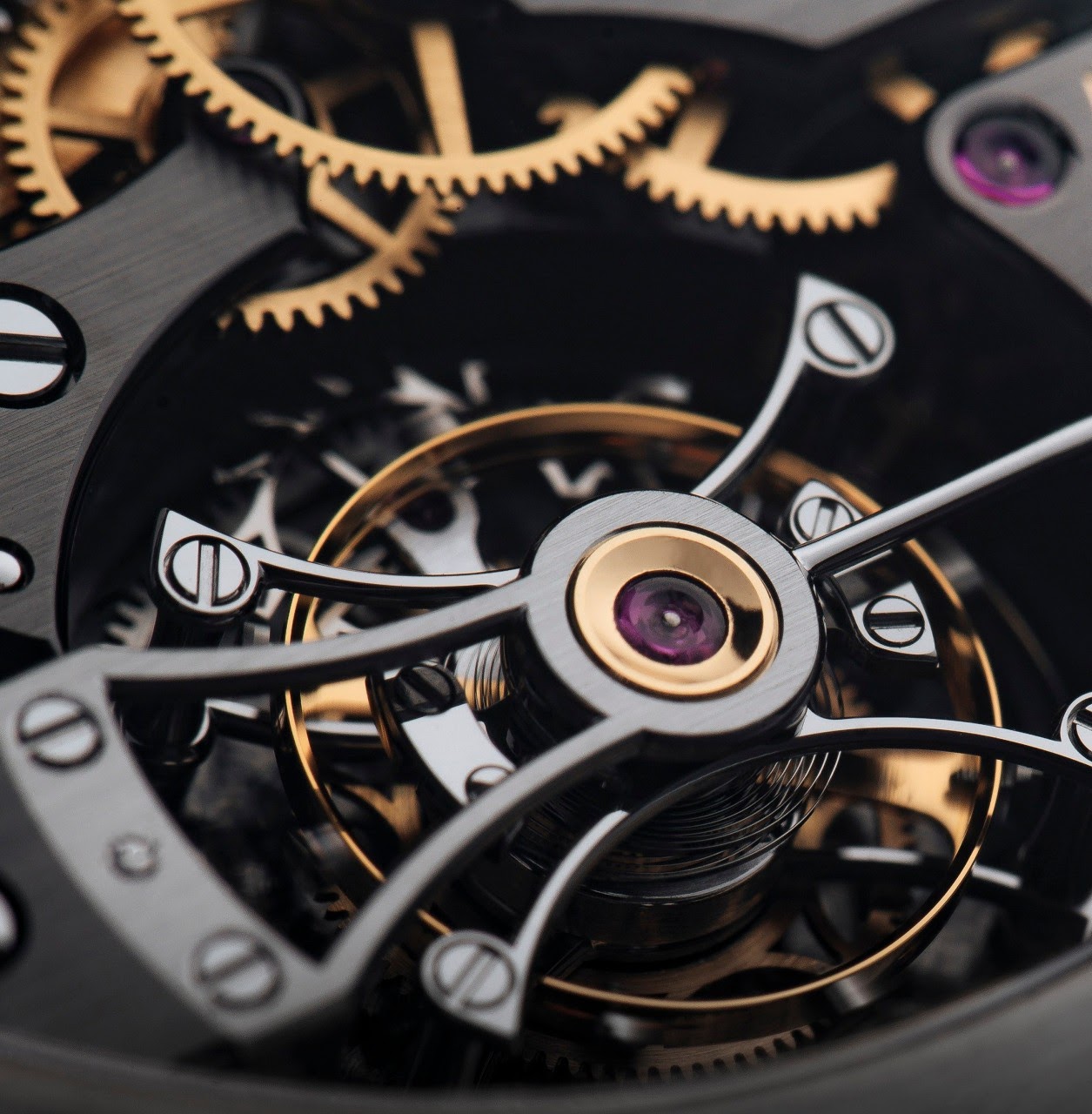 This high end movement justifies the price of such a watch, in my opinion, even if, at this level, the concurrence is strong ( see Girard Perregaux Tourbillon With Gold Bridges, for example ).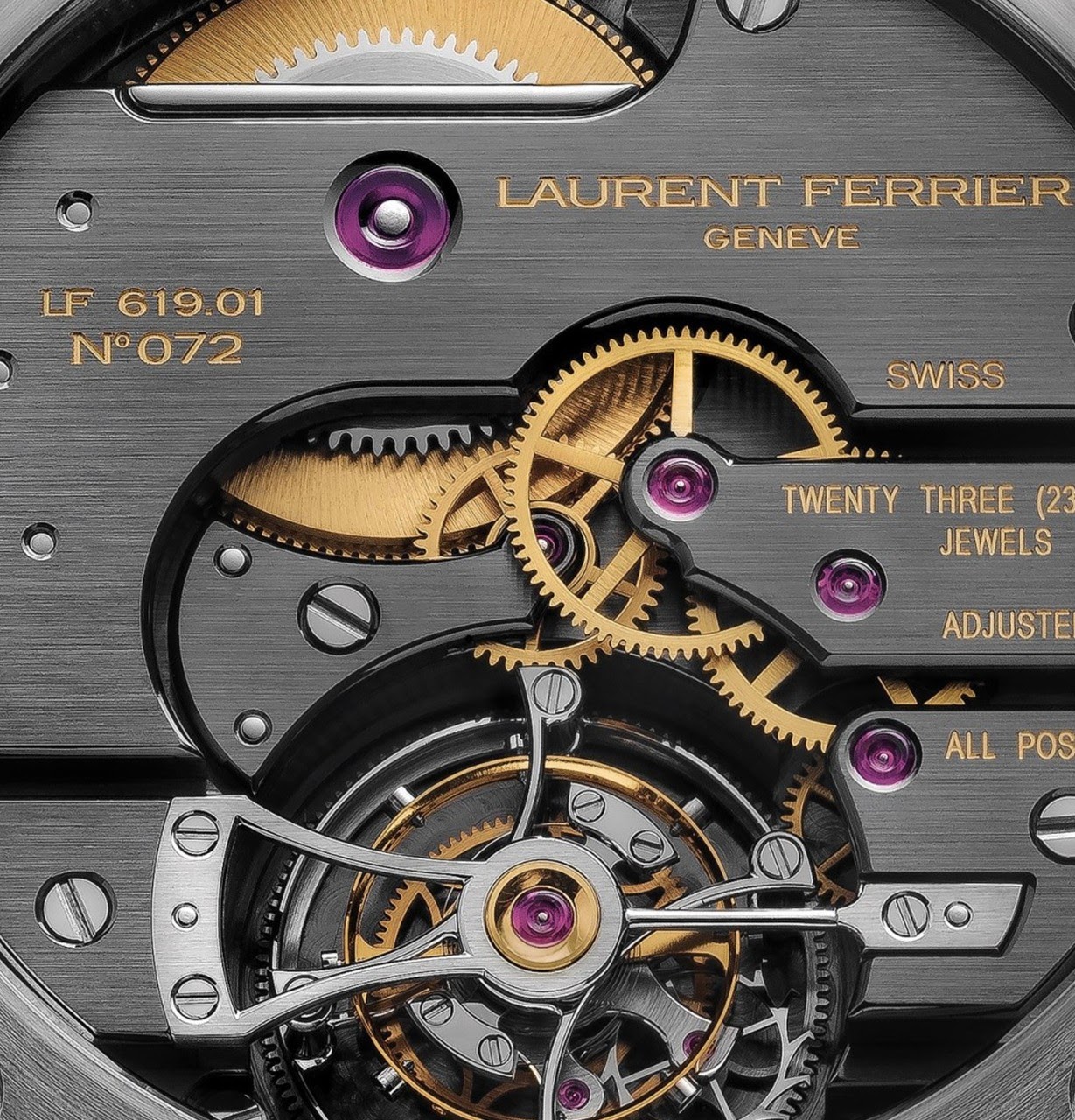 This movement is manual winding, beats at 21, 600 vibrations per hour, it is made of 188 parts and 23 jewels, and offers a power reserve of 80 hours.
It is quite generously sized, with a diameter of 31, 60 mm but not too thick ( 5, 57 mm ).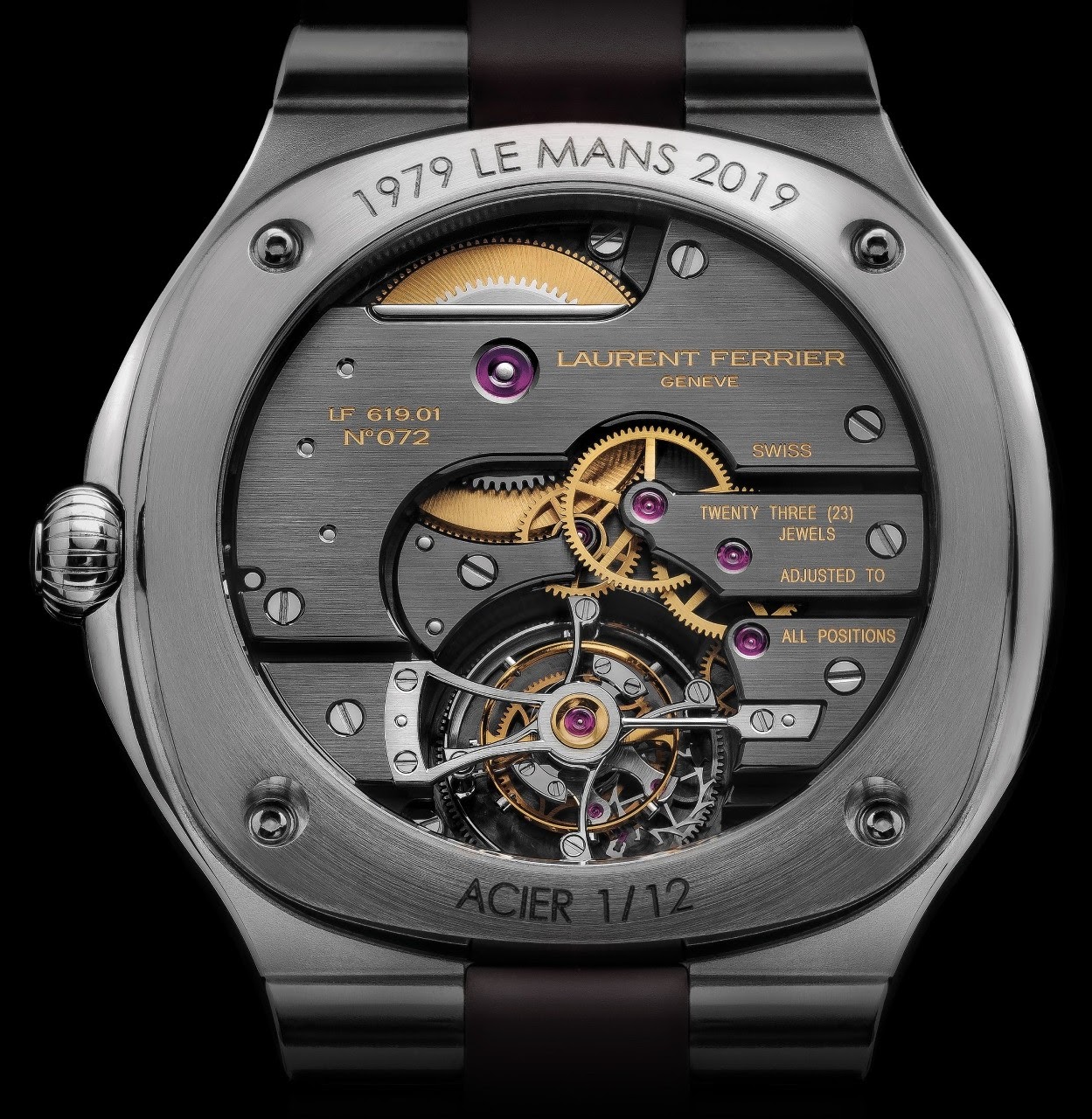 The strap, made of rubber, is matching with the dial, and contribute to the comfort, once on the wrist.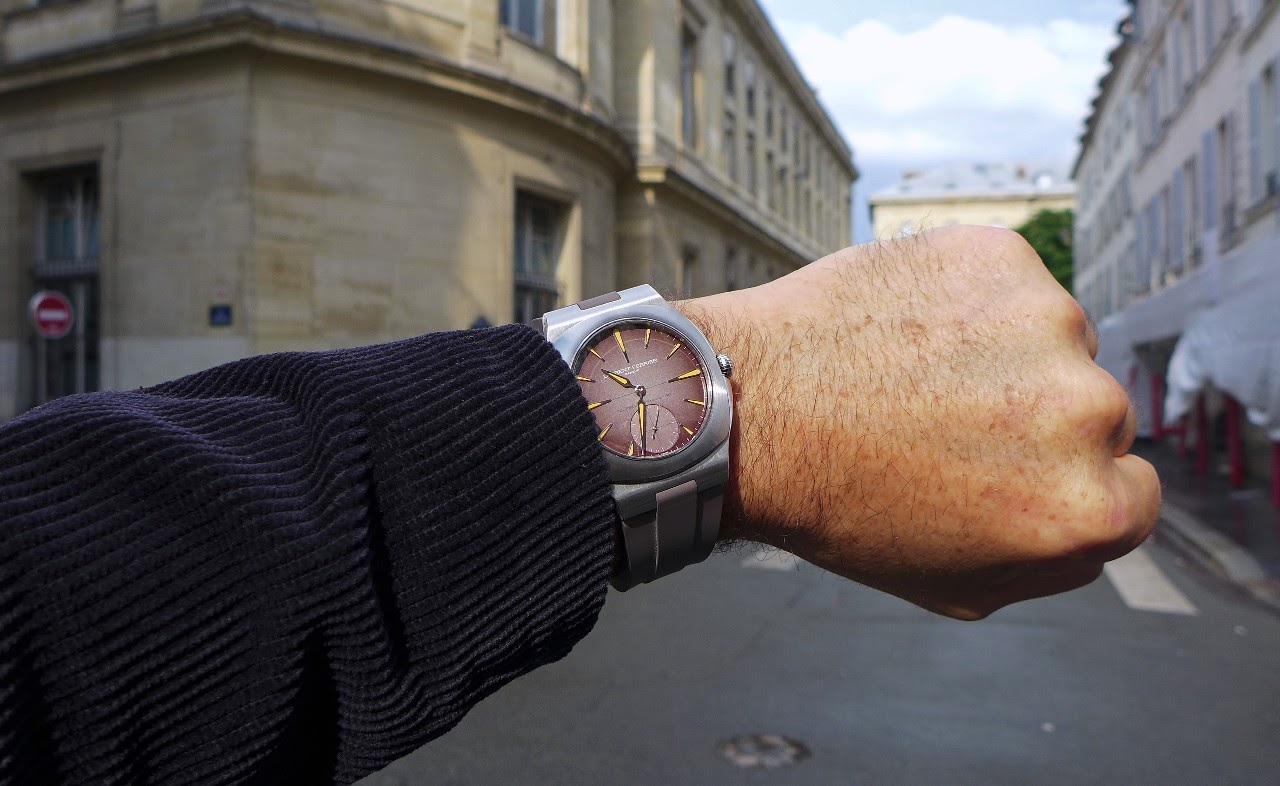 Another wrist shot.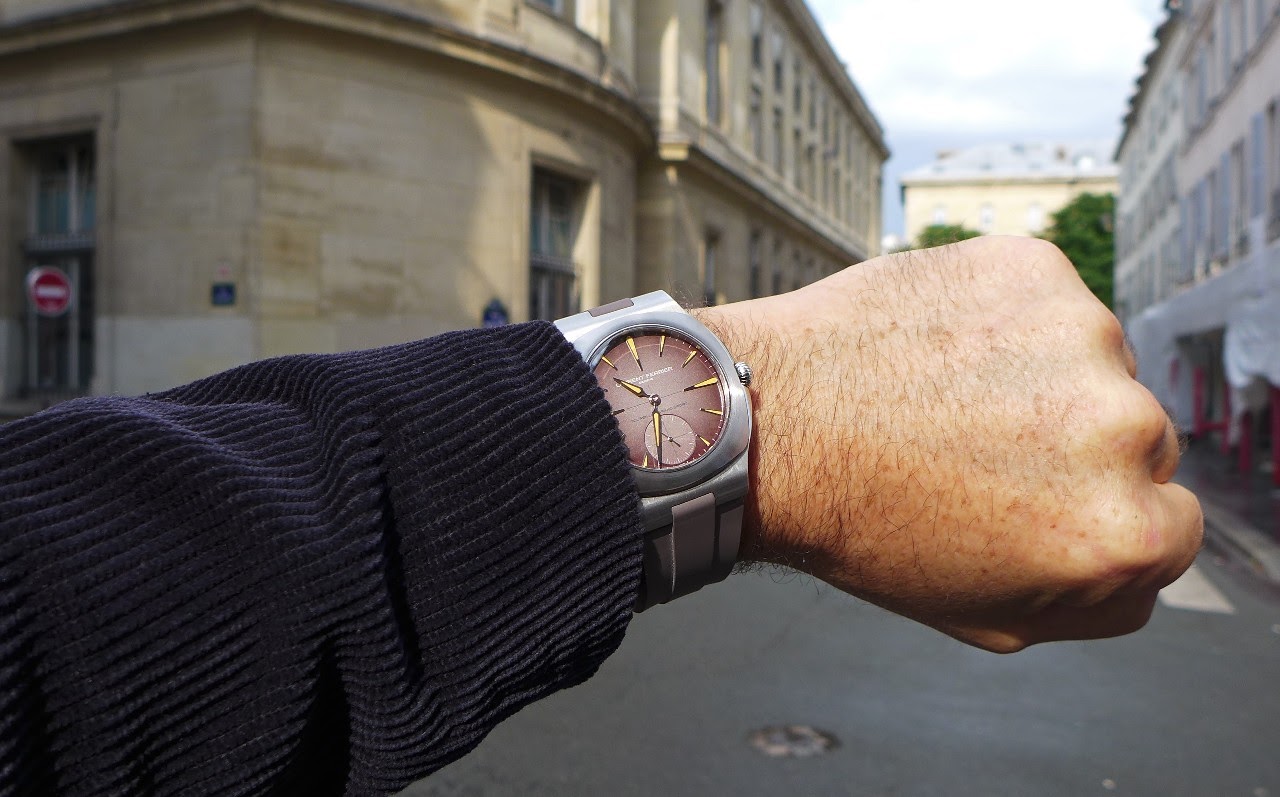 As to give conclusion to this on the wrist review, I would say that it is an awesome creation but I would have preferred a simpler version, without tourbillon, or with a GMT complication, and a more affordable one.
Now, on the other side, why not pushing the limits, the borders of a sports watch in such an elitist way? Having a nice swim in a lake or in the sea with this watch on the wrist, would certainly be such a chic experience, with no fear as it is water resistant to 100 meters.
I have no doubt that this micro edition of 12 pieces will find its adepts.
Looking forward to reading your comments and thoughts,
Best.
Nicolas