On 63 Rue du Faubourg Saint-Honoré, you find one of my favorite watch stores. The F.P. Journe Boutique. I have been coming here for more than ten years and whenever I am in Paris,a visit is always on my list.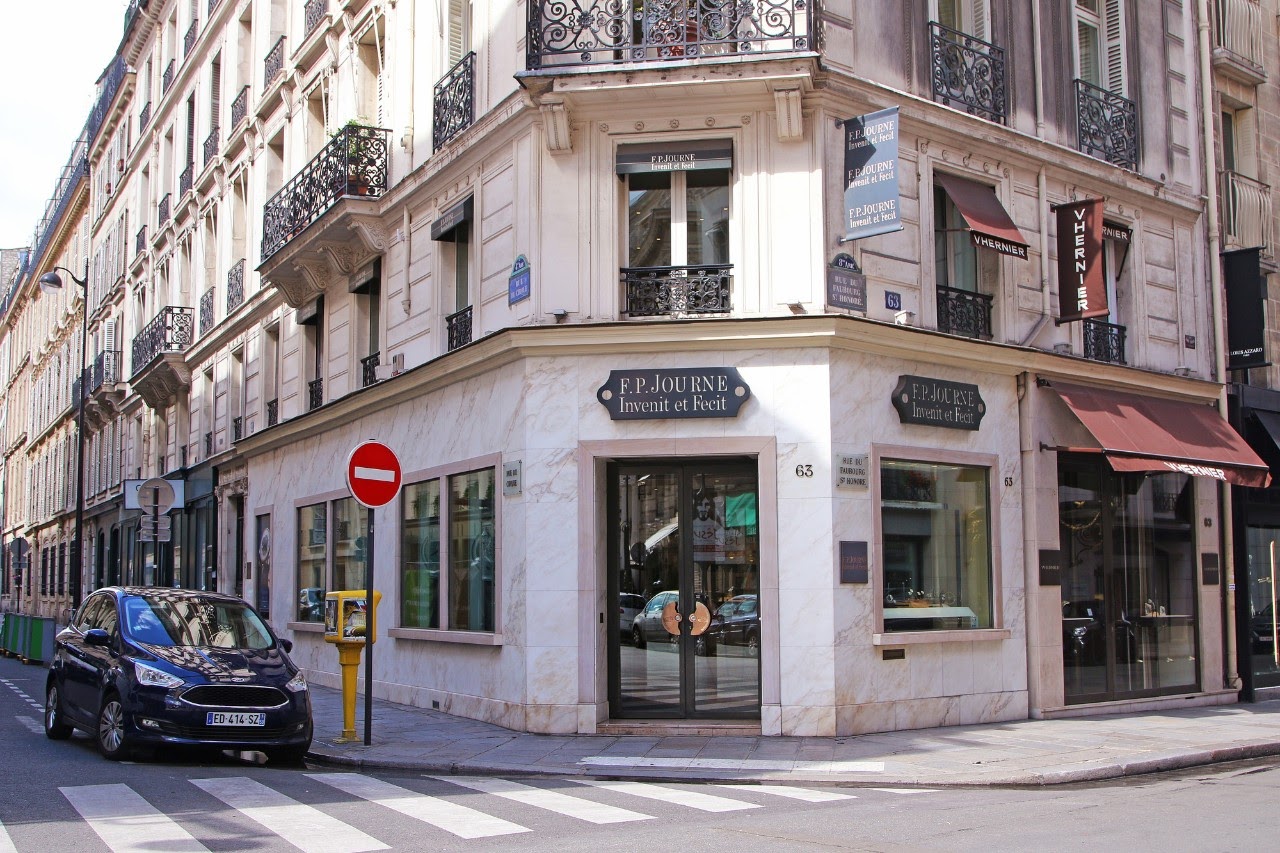 Why a favorite? - Because of the staff there. It has a welcoming and relaxed atmosphere and you can get to see and explore the FPJ universe together with some passionate and authentic people.
Please, let me introduce: Laure who I have known since before the boutique was established when she worked for Gerald Genta - she has a huge experience with high-end watches. Cyril, a newcomer – a dynamic, young man but already with a wealth of knowledge of the brand who came from Richemont but wanted get the hands-on approach you find in a small high-end. Christophe, a very talented watchmaker (former Patek) who can service most of the watches in the collection. Finally but not least, the dear Lucas Pouedras who is Director of France and also the manager of the store for more than ten years now who I have also been fortunate to know since the early days. A very friendly soul who is also extremely professional. Lucas originally came from Patek but was trusted the task of promoting FPJ in France.
For this visit, I had made an appointment with Lucas, so he and Cyril had found some nice pieces to show to us.
Please, Enjoy!
First. Let us begin with something old and something new. The Octa Automatique Lune.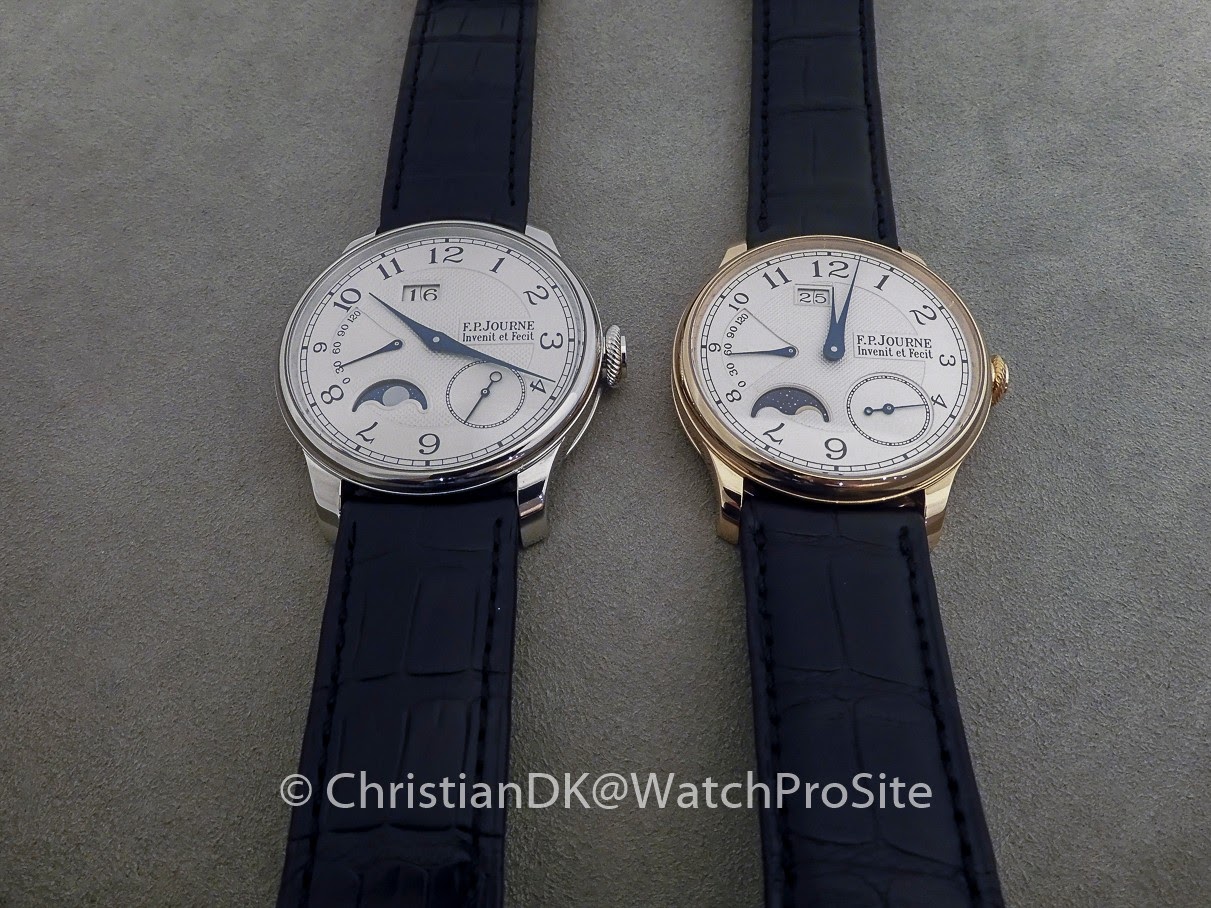 The Piece on right is a 38mm RG with the old dial.
The Piece on the Left is a 40 mm PT with the brand new updated dial.
The differences on the dial are minute. However - notice the narrow bezel on the 40 mm piece. Its similar to the bezel on 38 mm. Interesting, as this has been one of the main complaints against 40mm, that the Bezel was too wide.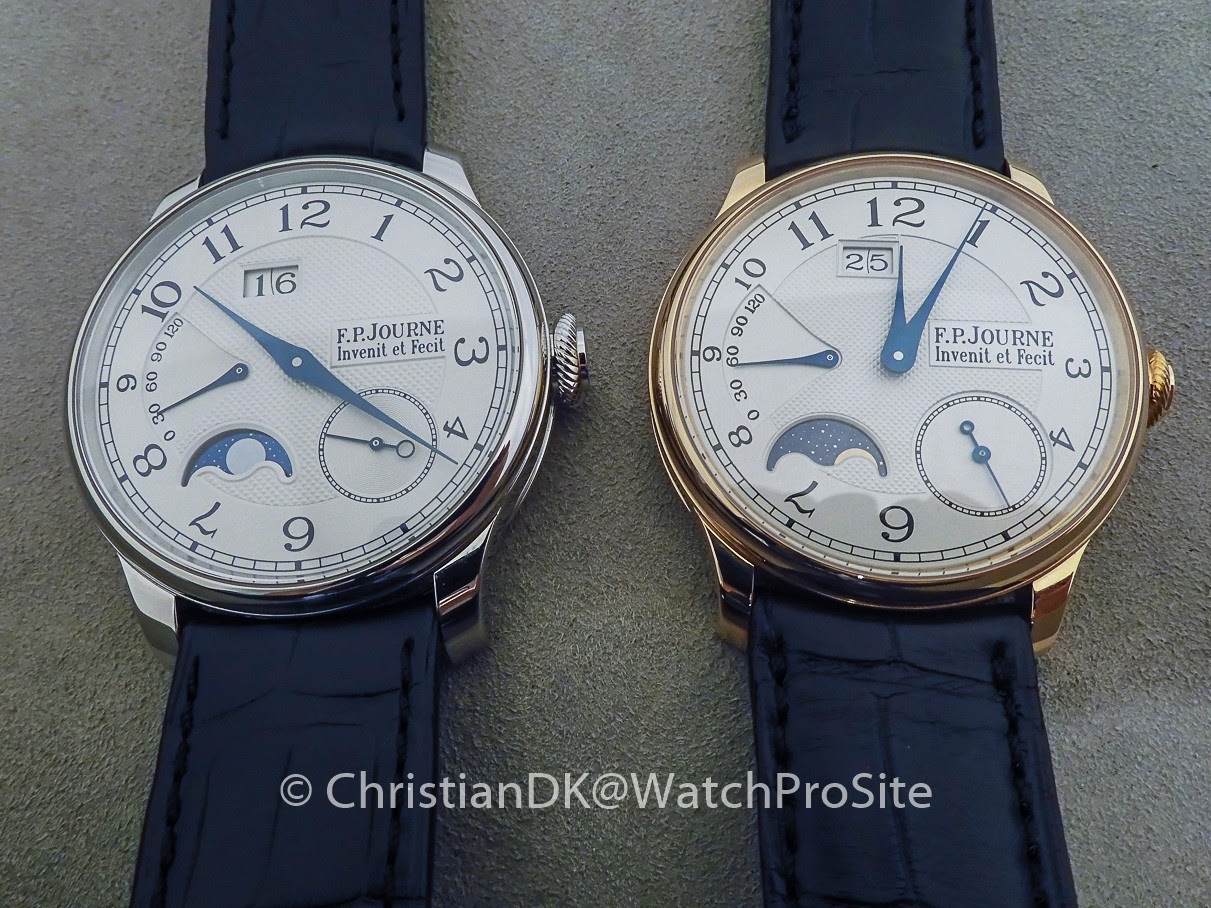 BTW – I discussed the 38 mm cases with Lucas and he informed me, that if you ask at a FPJ Boutique, many of the models can still be made on order in 38 mm. So for all you 38 mm fans – there is maybe a chance to get the piece you want.
The RG in the picture is NOS, so a brand new 38 mm Octa Lune in rose gold is waiting for its lucky owner in Paris.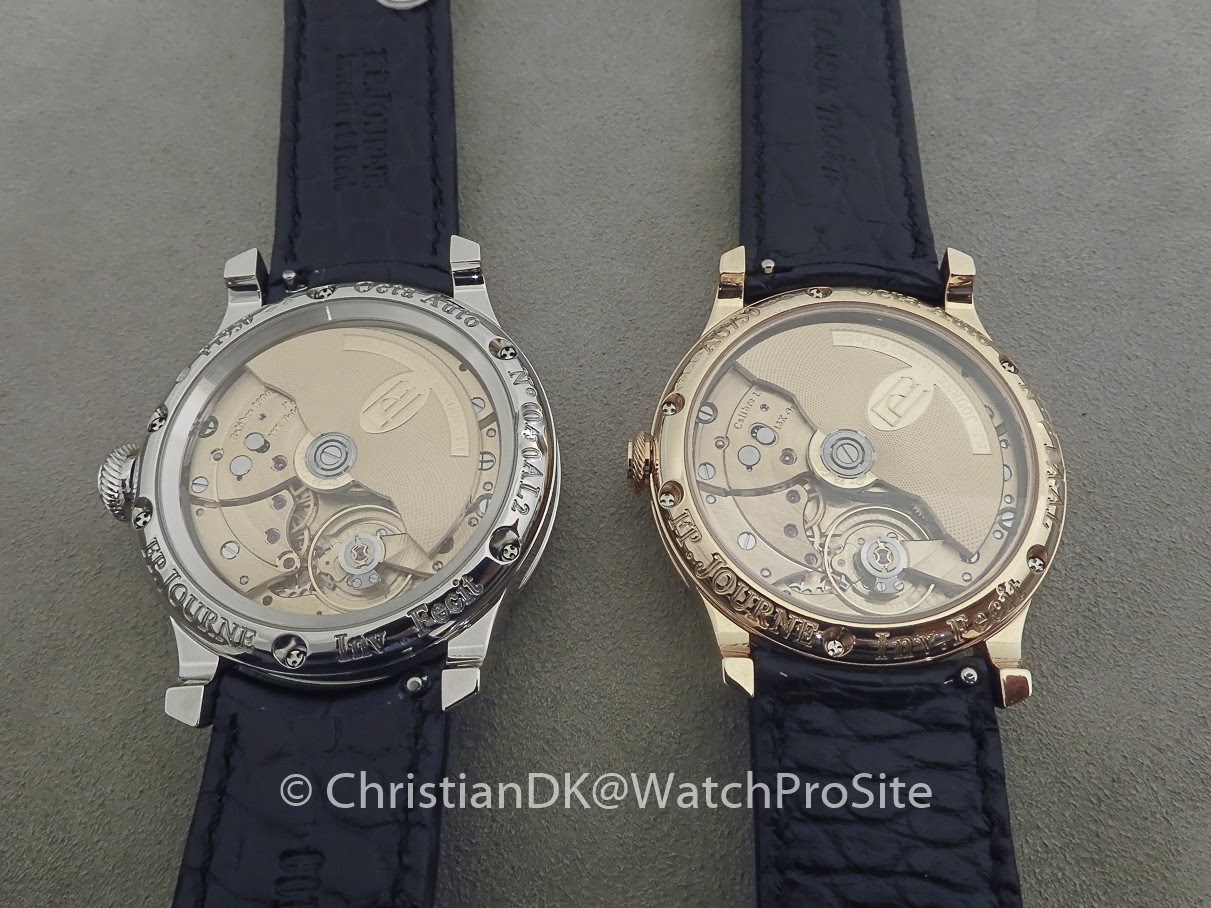 Now to something very special. The Tourbillon Souveraine Vertical.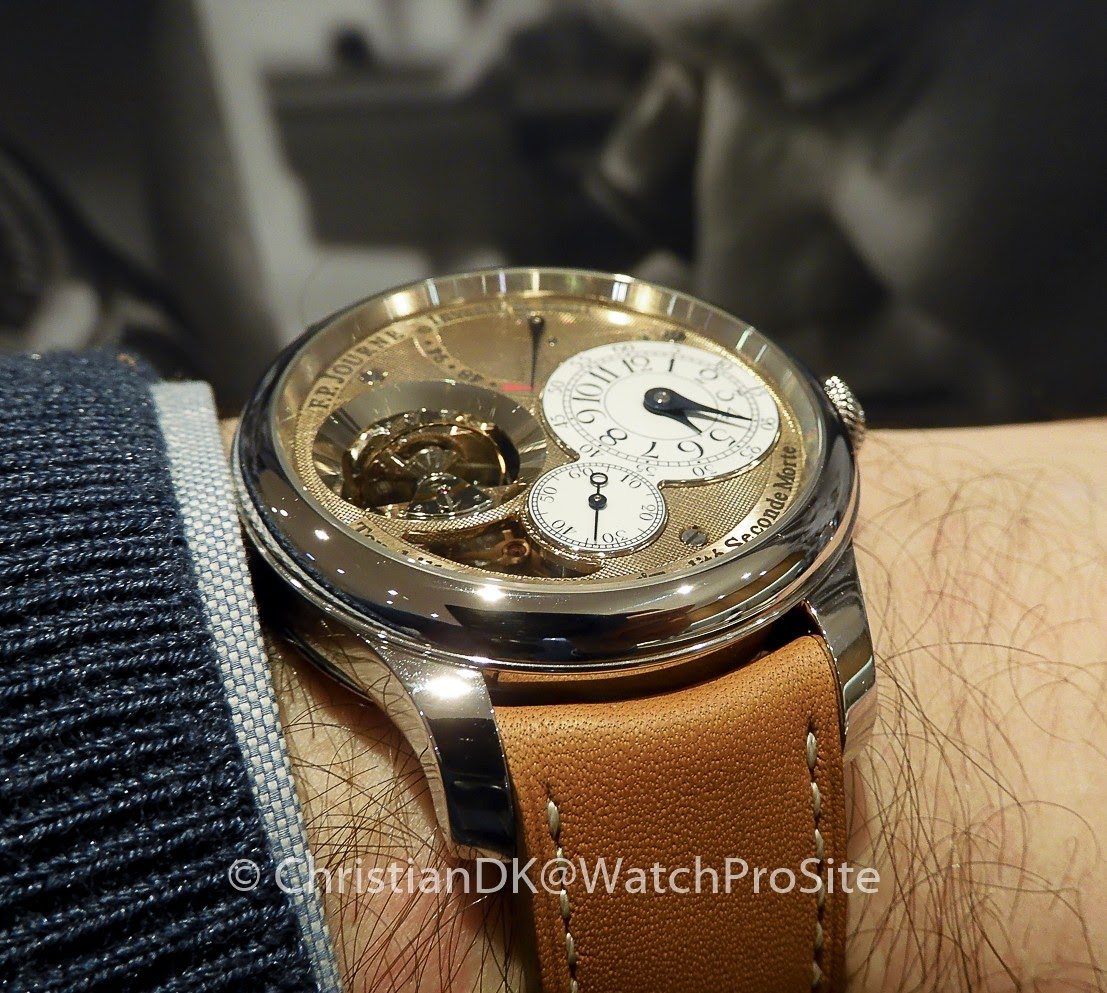 When I was at the manufacture in March, I saw the watchmakers working extremely hard to finish the first ten pieces, so one piece would go out for each boutique. These are finally available, and if you find yourself near a F.P Journe Boutique, I strongly urge you to go and see this highly original piece.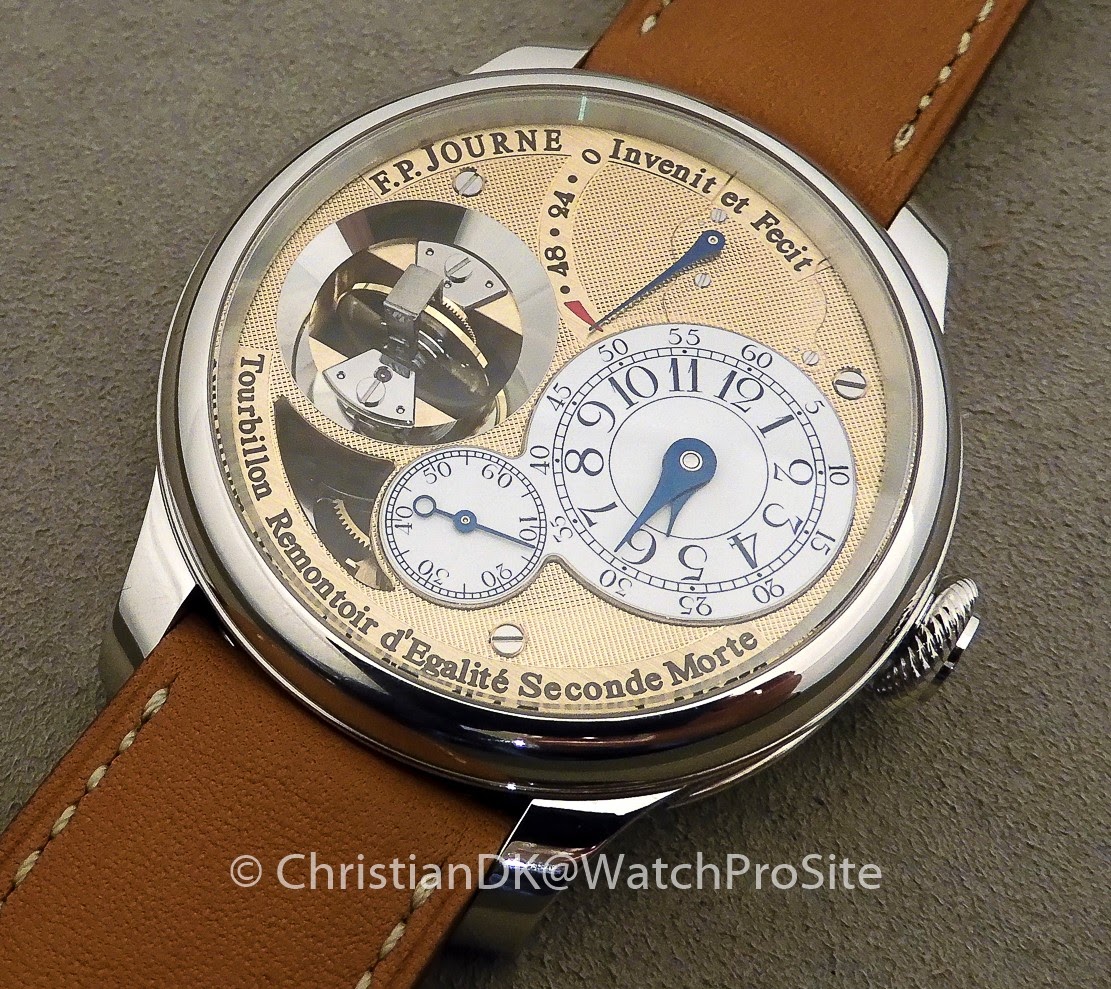 This was my first time to try it on the wrist. I was very excited to try it since I saw the unfinished pieces at the manufacture.
It is original and the concept is interesting – but there is always the important question: How does it feel on the wrist? We know it is a thick watch – but was it too thick? (I don't like thick watches in general!).
It also applies a slight shift of aesthetics as I discussed in my interview with Mr Journe – what was my impression, now that I had some time with the piece?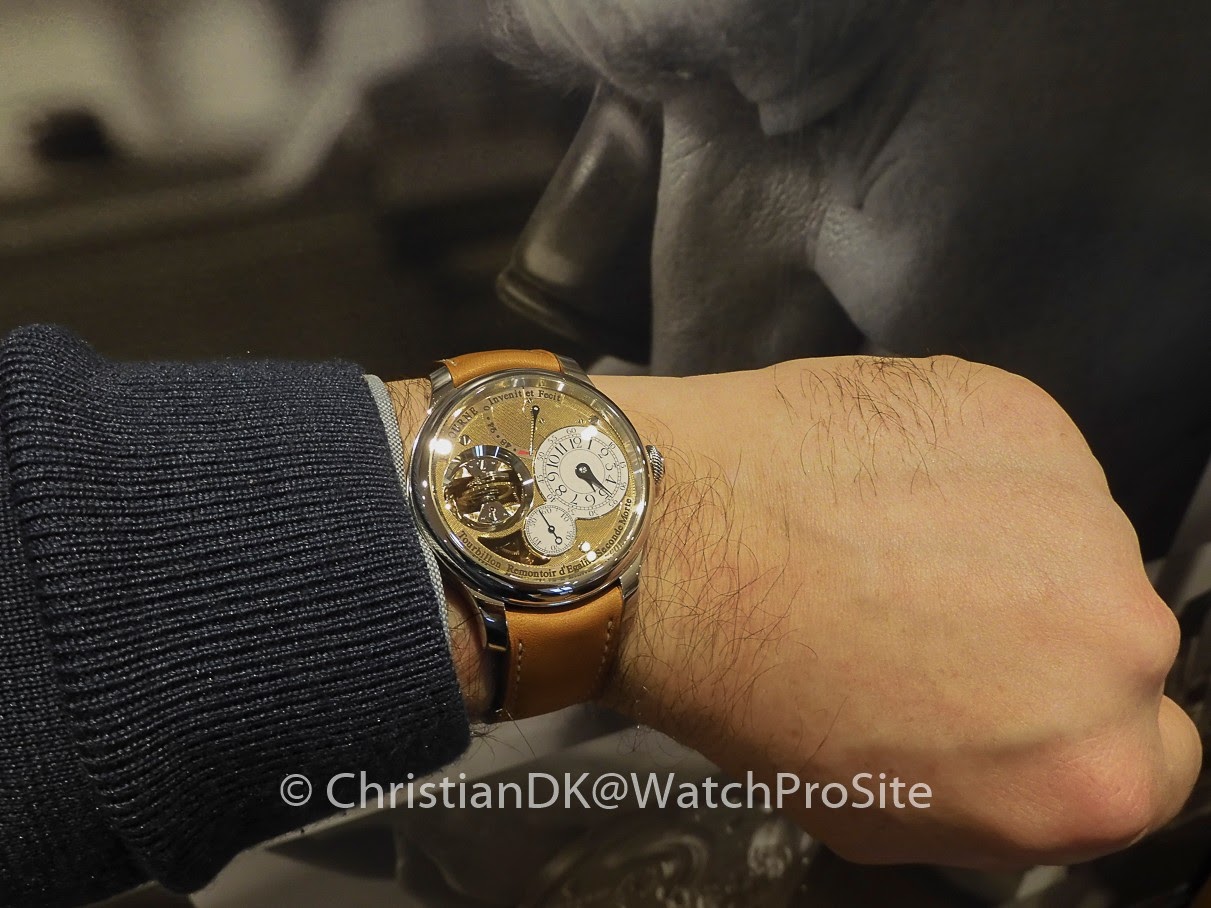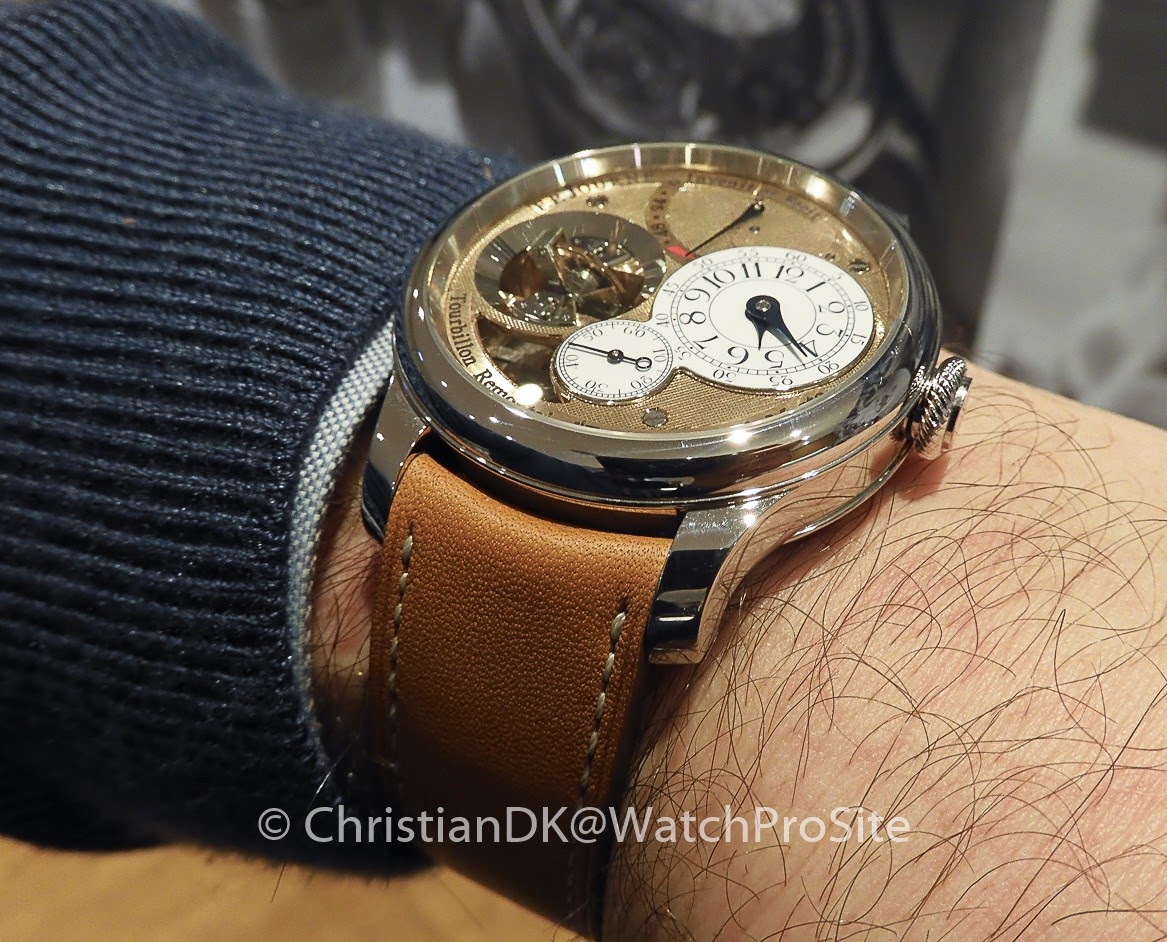 The case is 42 mm, with a thickness of 13,6 mm. That is 0,5 mm thicker than a Lange Datograph or the exact same thickness as a Patek 5370.
So, yes it is thick - but not too much. It is definitely wearable!
42 mm casea are generally too big for my taste in watches and especially for FPJ watches - Even if I have a big wrist. My only real complaint is the diameter. I really hope we will see it in a 40 mm case down the road. That would really help making it more wearable and balanced. For my taste, at least.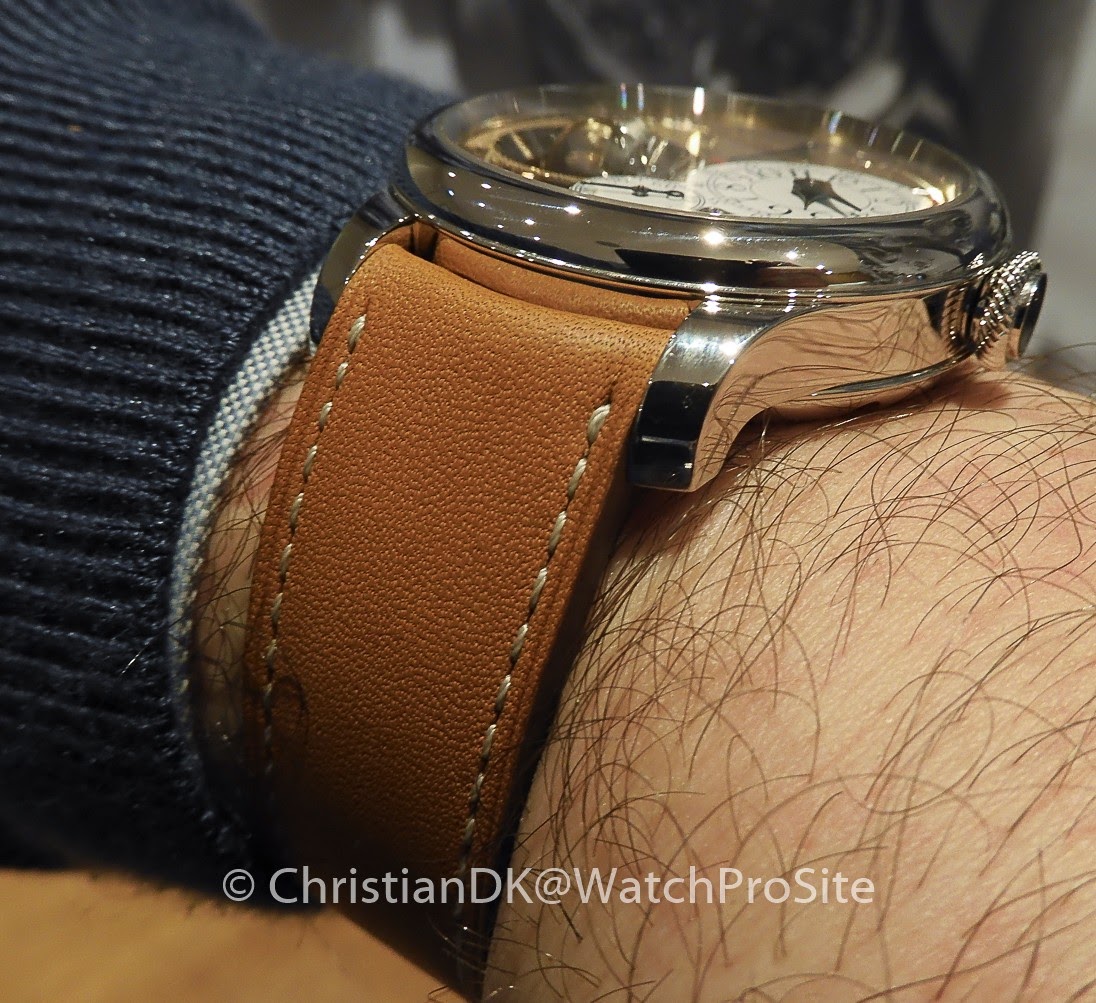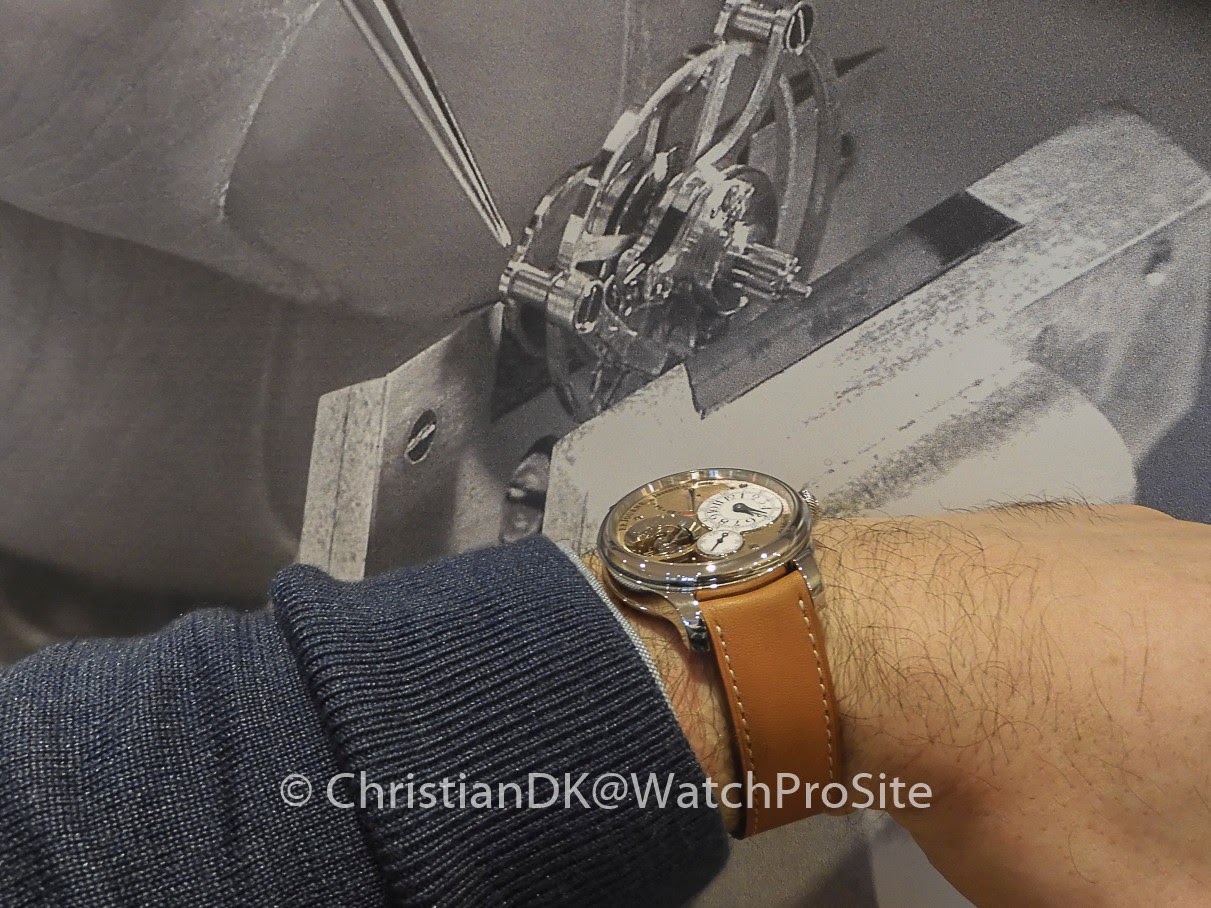 The idea of turning the Tourbillion in to a vertical position, has been explained many times over, so I will not repeat that. It is, of course, more of a concept to come up with a fresh take on how to make an interesting tourbillon.
Visually, I think the concept only works because of the SPACE created around the moving tourbillon.
I see Mr Journe has worked here, with a fundamental, classic architectural theme. To create an interesting space that "stages" or becomes the "device to experience" the OBJECT (the Tourbillon). So Object and Space unite and create a synergy between them.
The Space as I call it, is a conical void that is covered in a highly reflective metal alloy called ARCAP. This is polished to the nth degree and works as a mirror, reflecting the image of the moving tourbillon. The whole thing becomes something to sit and explore and has an ephemeral quality that I quite like.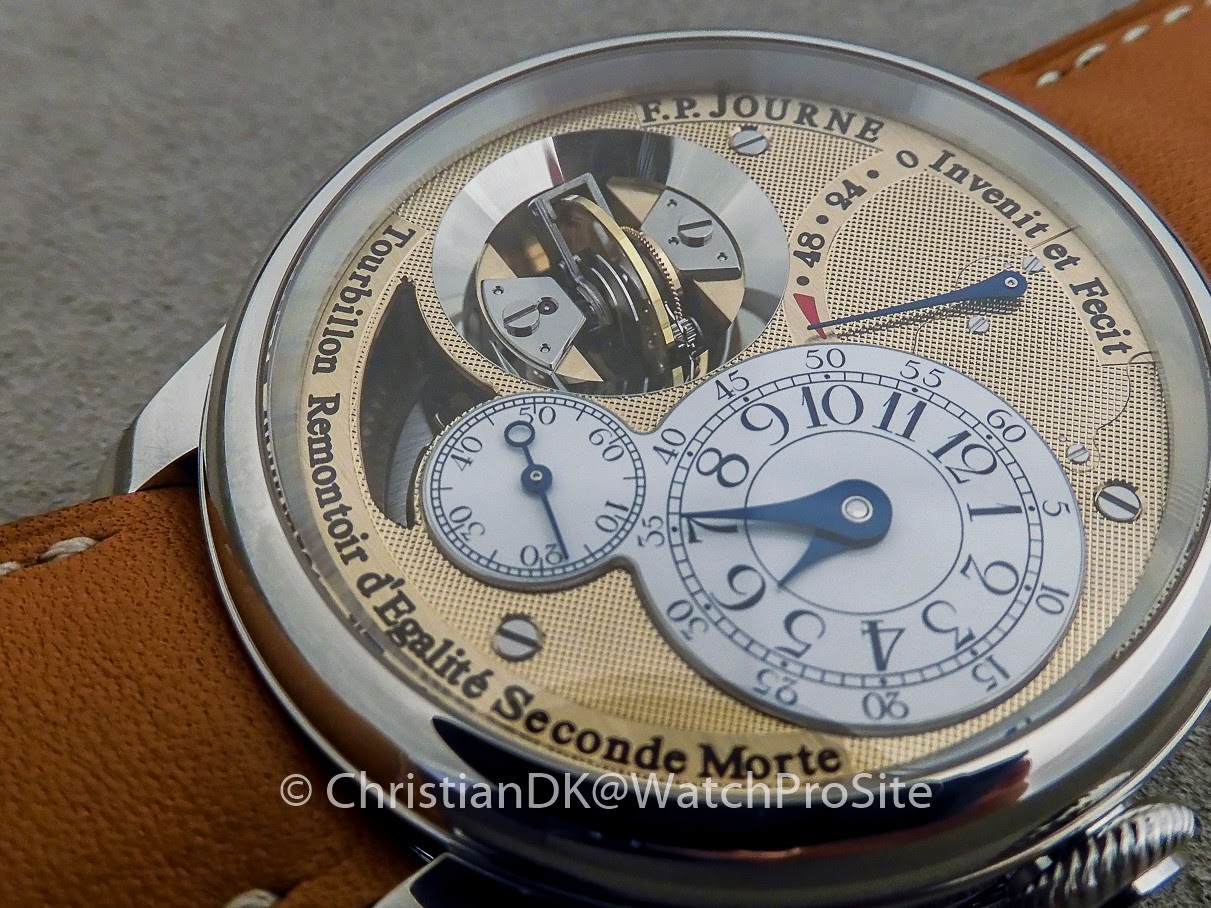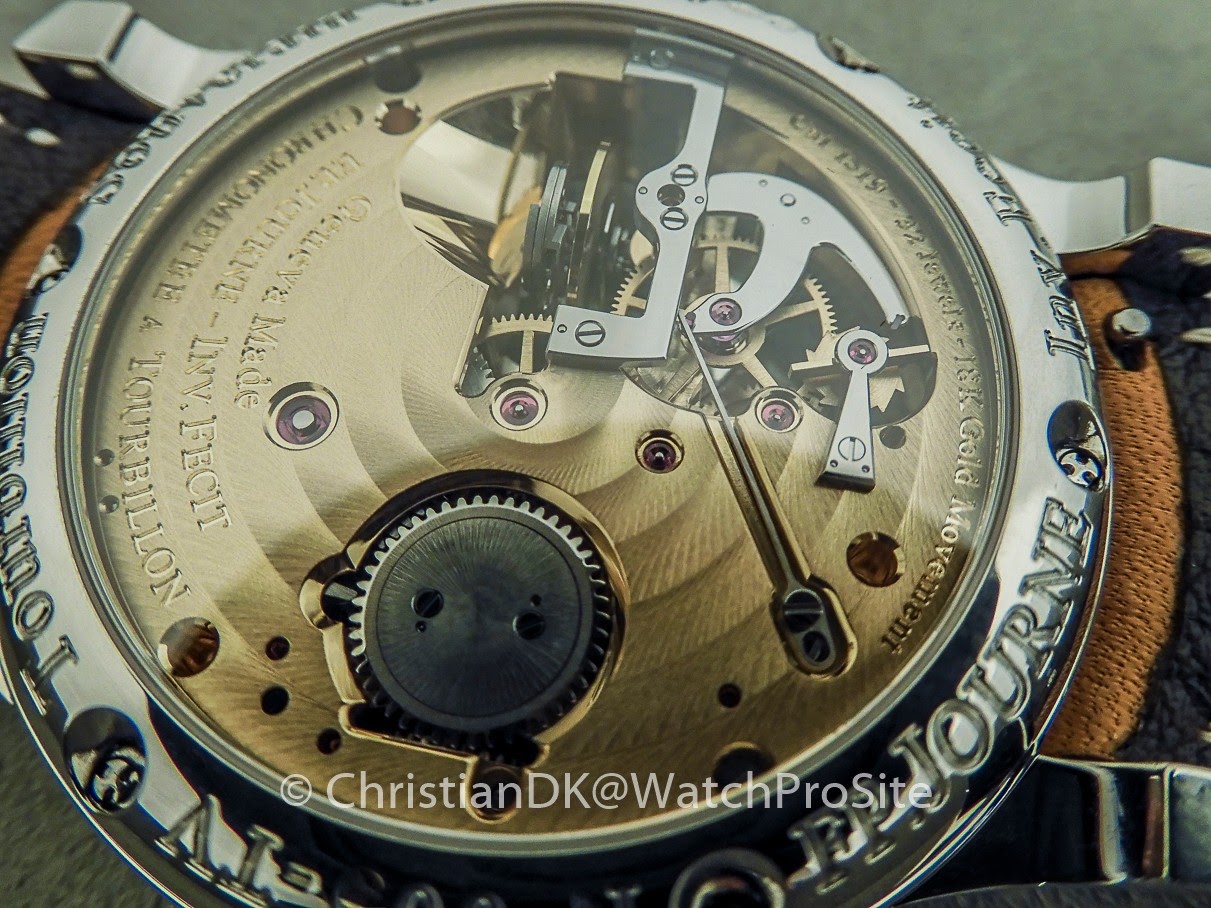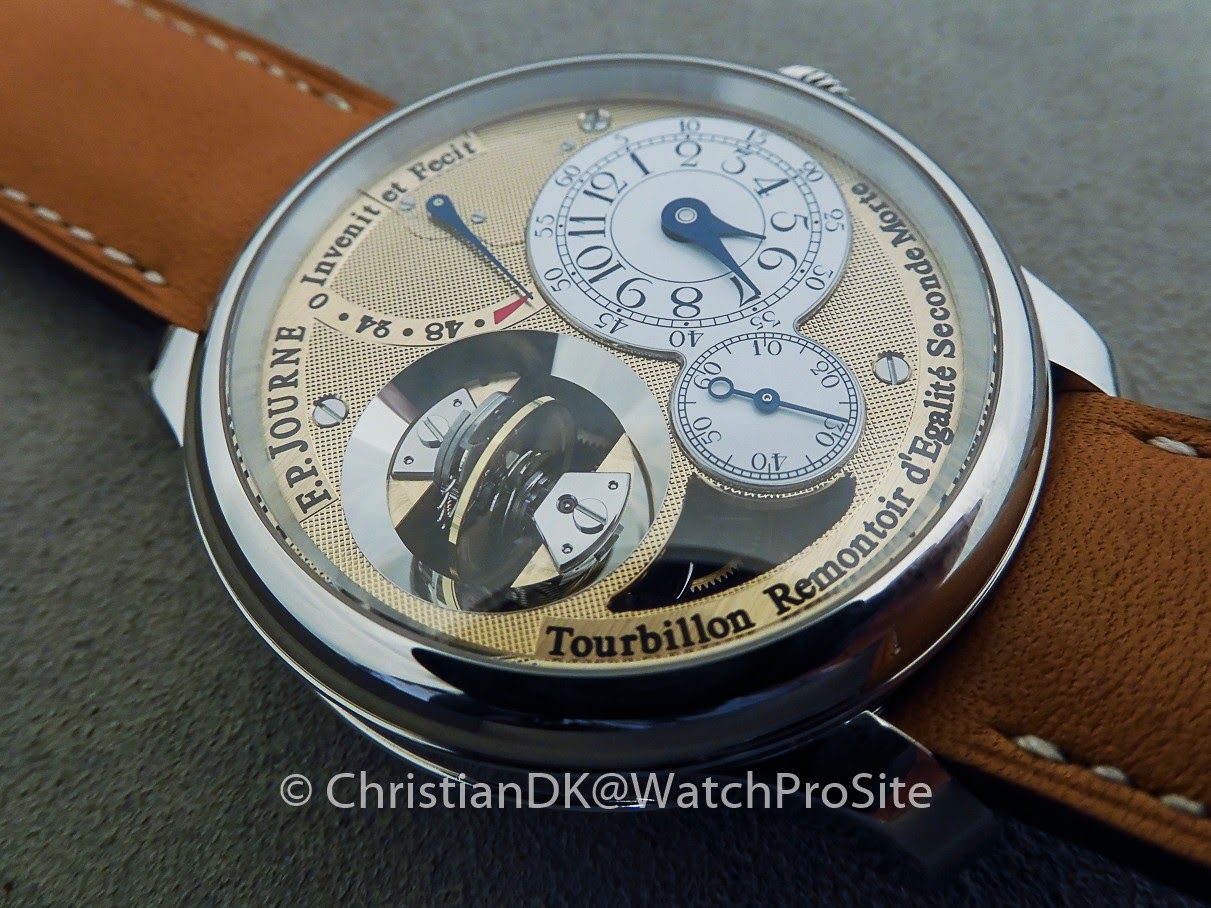 The aesthetics of the dial is something that I asked Mr Journe about in the interview last month (see www.watchprosite.com )
It has a rawness about it that I quite like. It suits this watch, in the sense that it is conceptual and tries to do the Tourbillon in a new way. On the other hand, someone introduced the idea in a post a few days ago, that it would look better with a real dial. More finished. I can see that point also. If it gets a calmer dial, I think the Tourbillon will stand out much clearer.
I would not be surprised if we will see this piece with a full dial, knowing how many amazing variations of dials Mr Journe is able to make. (Just think of the incredible dials he has created for the Dead Seconds Tourbillon)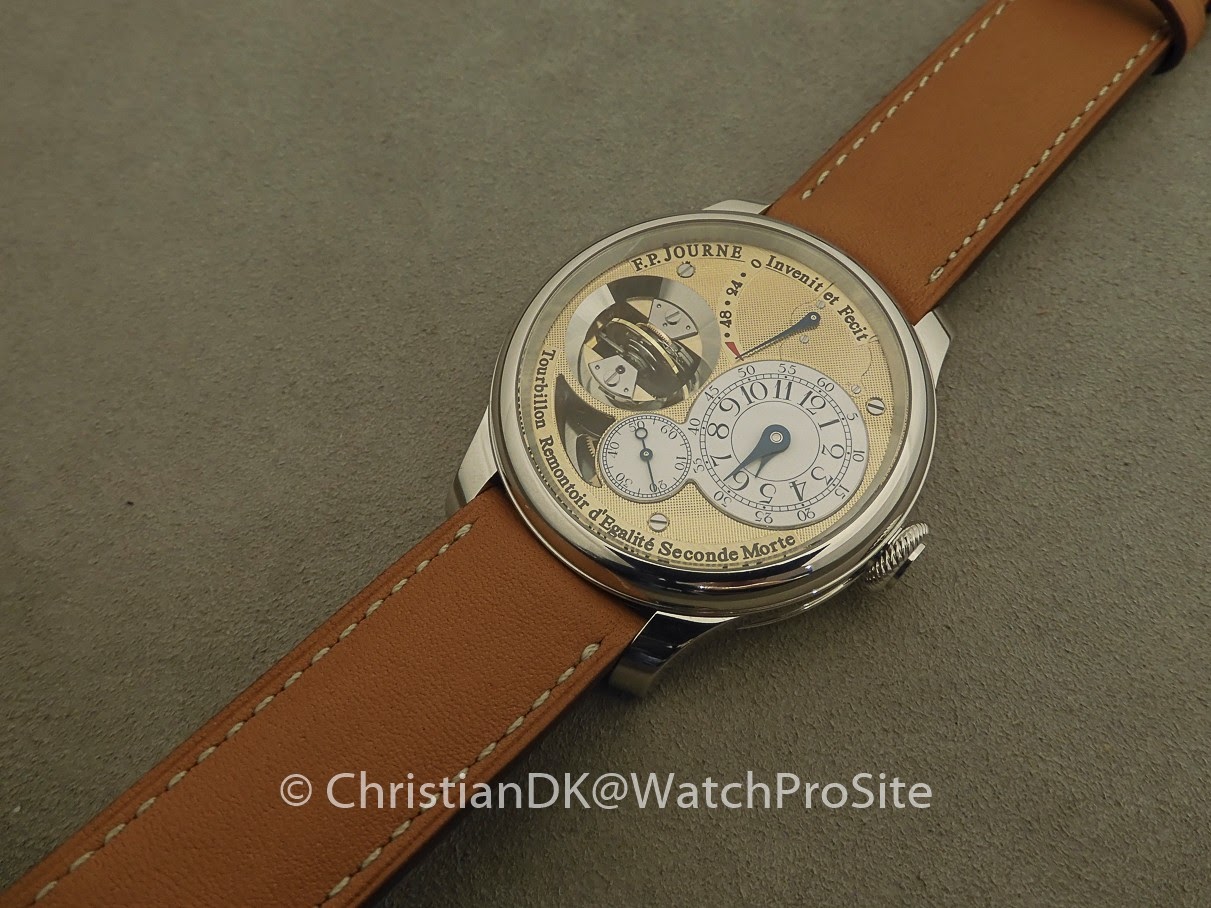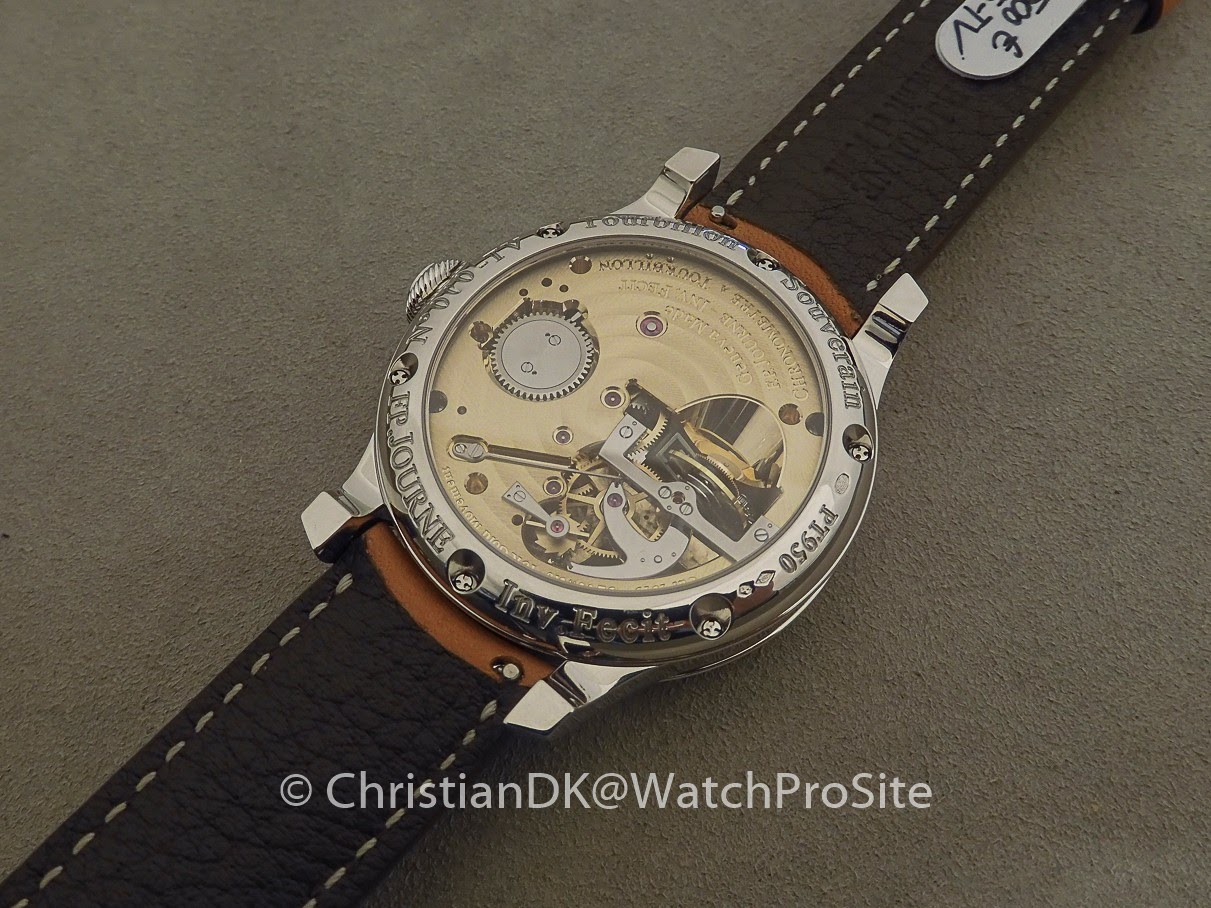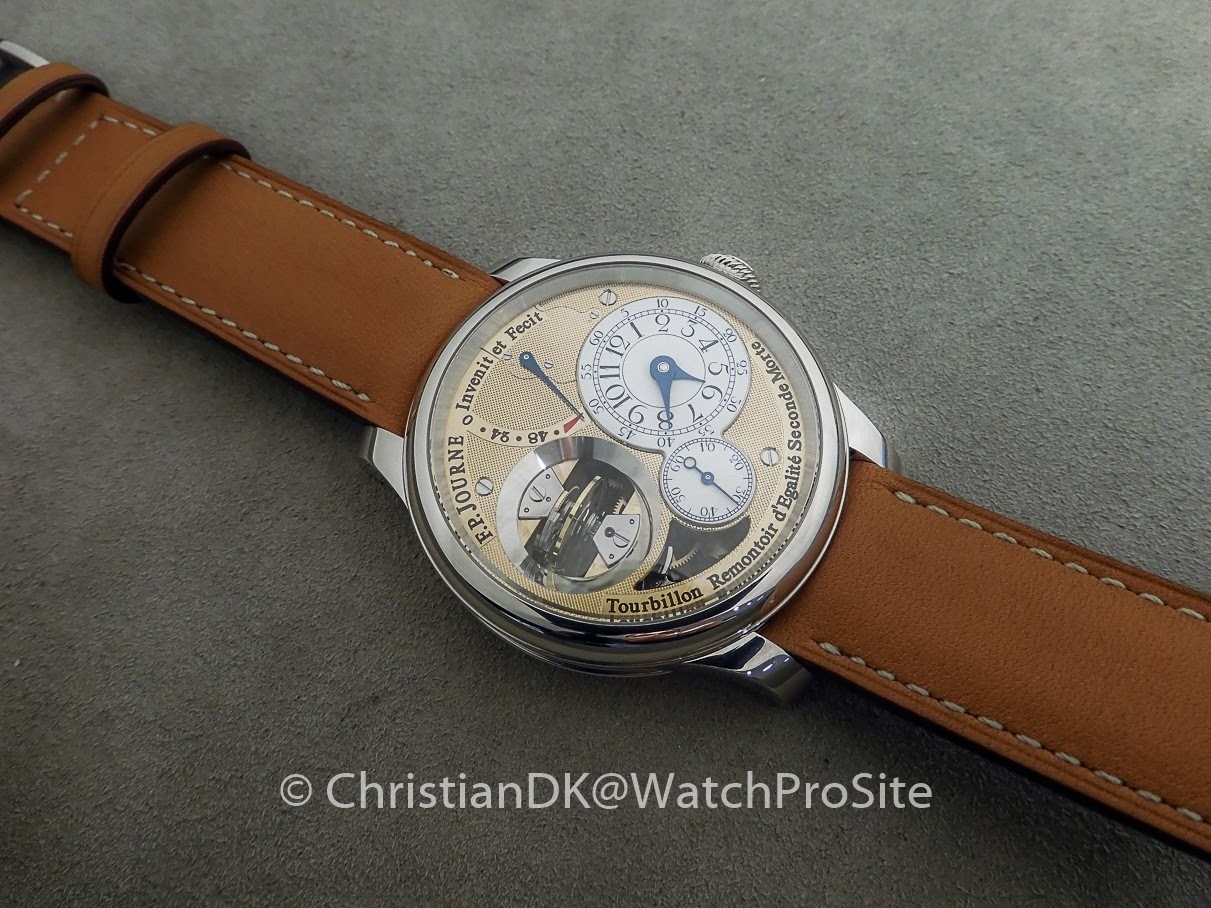 The next watch took me completely by surprise. The Octa Automatique Reserve from the LINESPORT collection.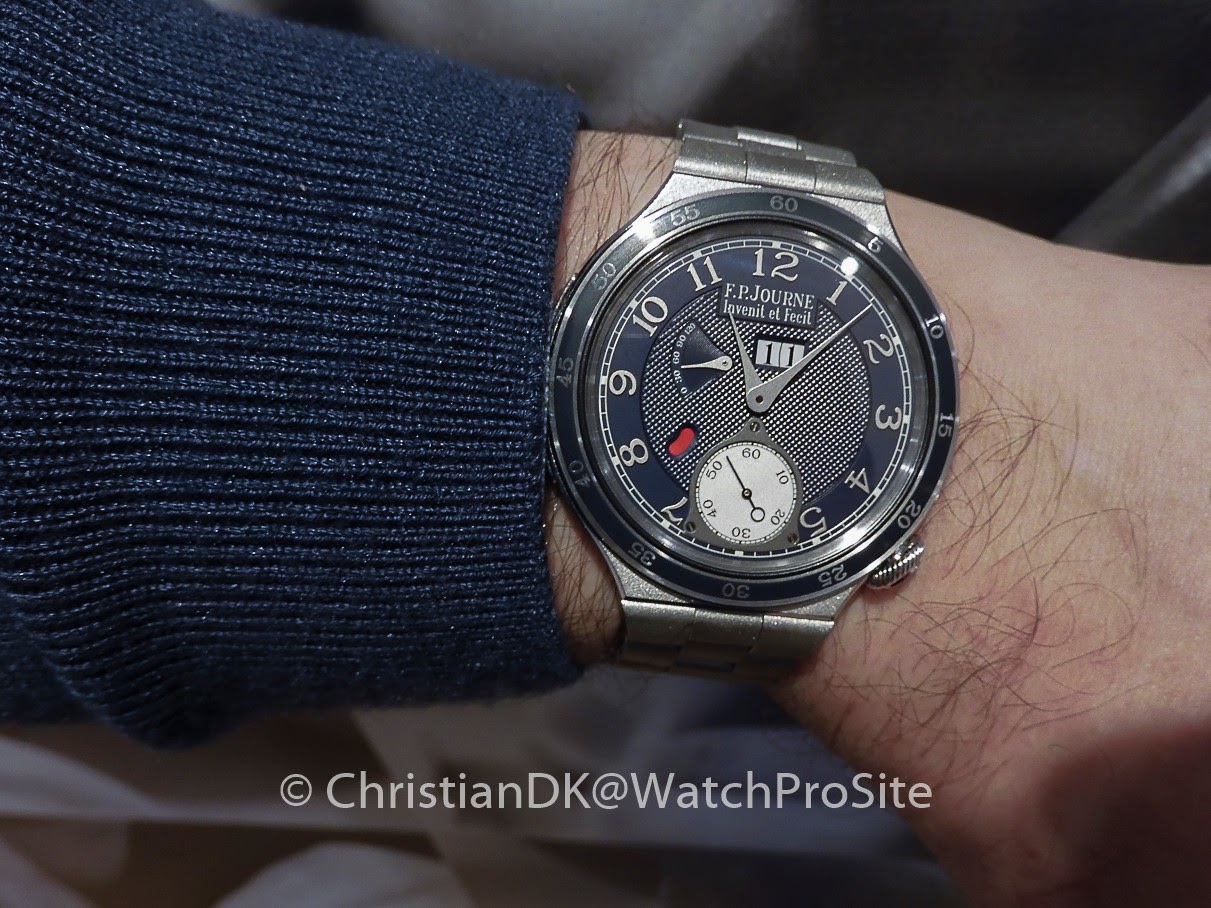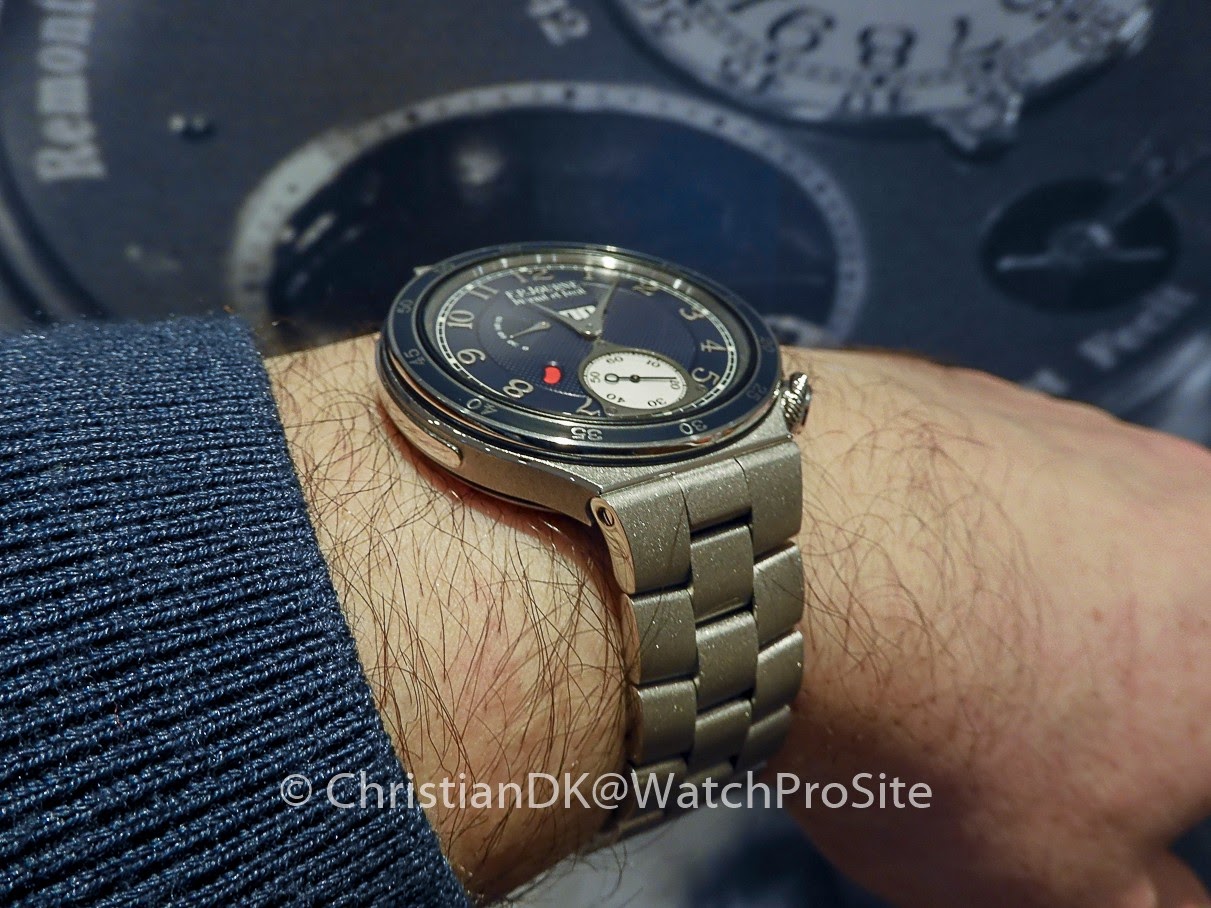 I had never paid much attention to this watch. However, I really loved it on the wrist!
It is a full platinum piece in 44 mm. It is a very hefty (heavy) watch. Notice, it is without the rubber ends! I think that looks great.
The dial is a kind of blue/lavender color. Yes, a hint of purple. But a very, very nice color. Certainly not something I would have expected to like, but I love it.
Moreover 44 mm is a definitely not a size I normally like, but because the watch is without lugs, it suddenly became a very nice and wearable size!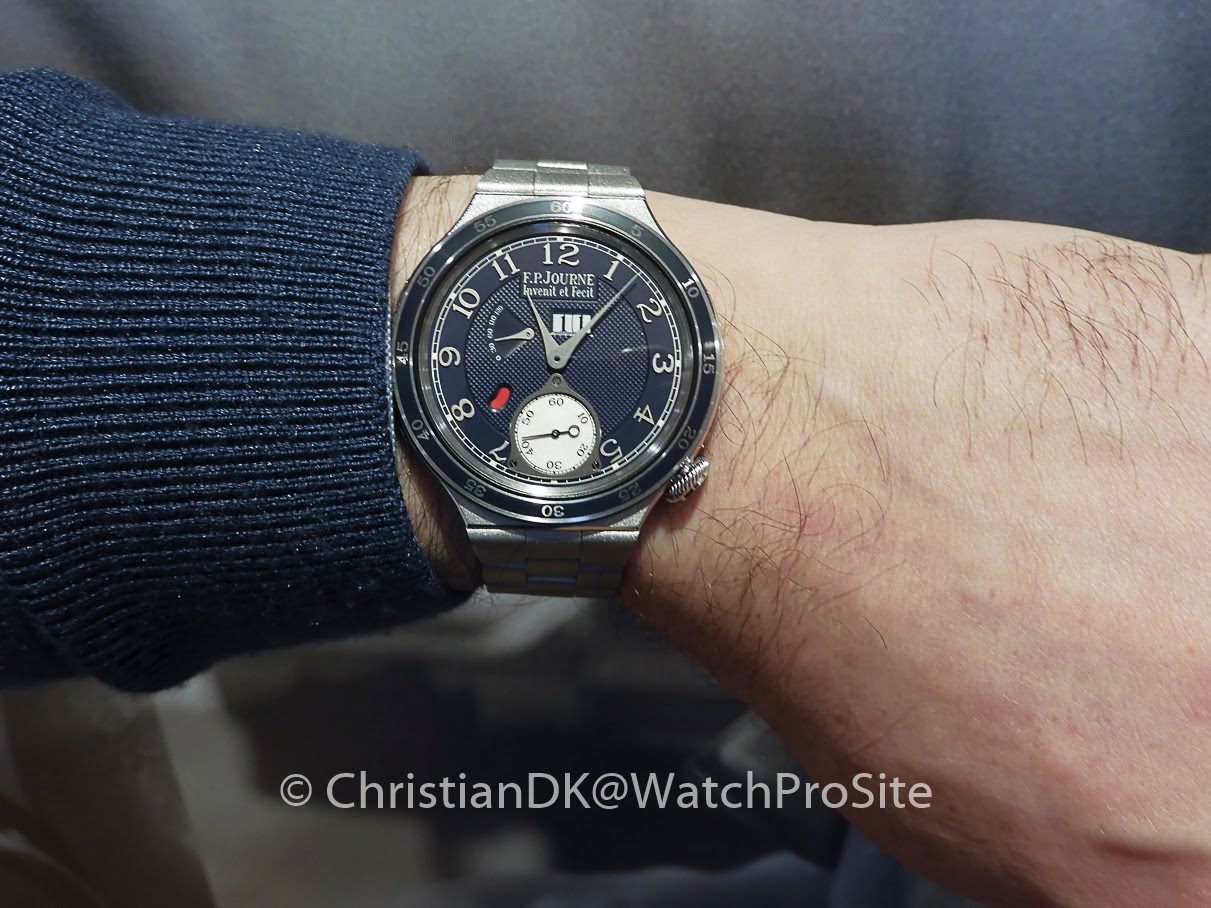 The treatment of the platinum looks spectacular. It has a granular (beadblasted surface) combined with polished ends. I think the effect of the finish is just wonderful.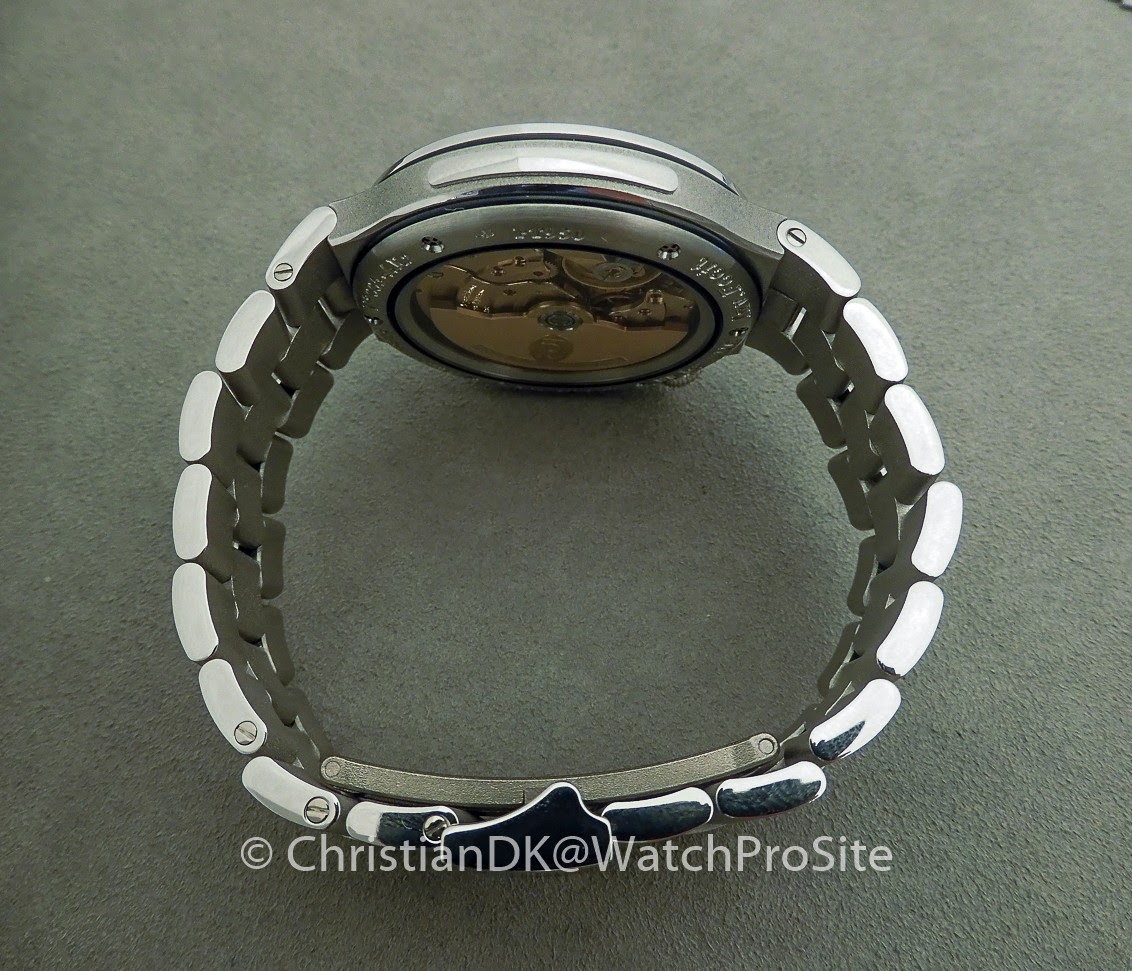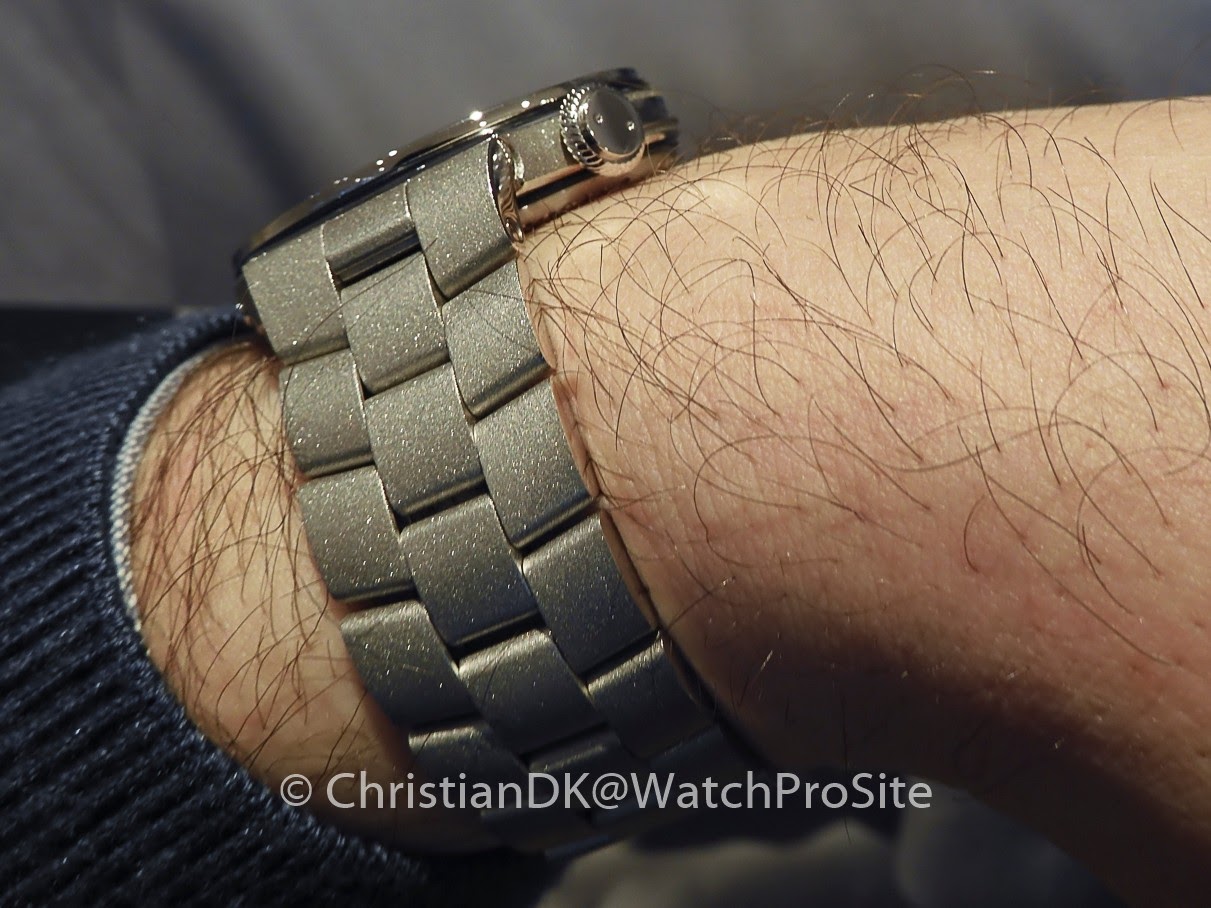 The bezel is spectacular. You could (wrongly) think it is an insert like we know form Rolex and others. But no! The bezel has been carved out with a cnc machine, leaving only the numbers. Then the void has then been filled with a ceramic material!!! Talk about doing things right! I find that fascinating.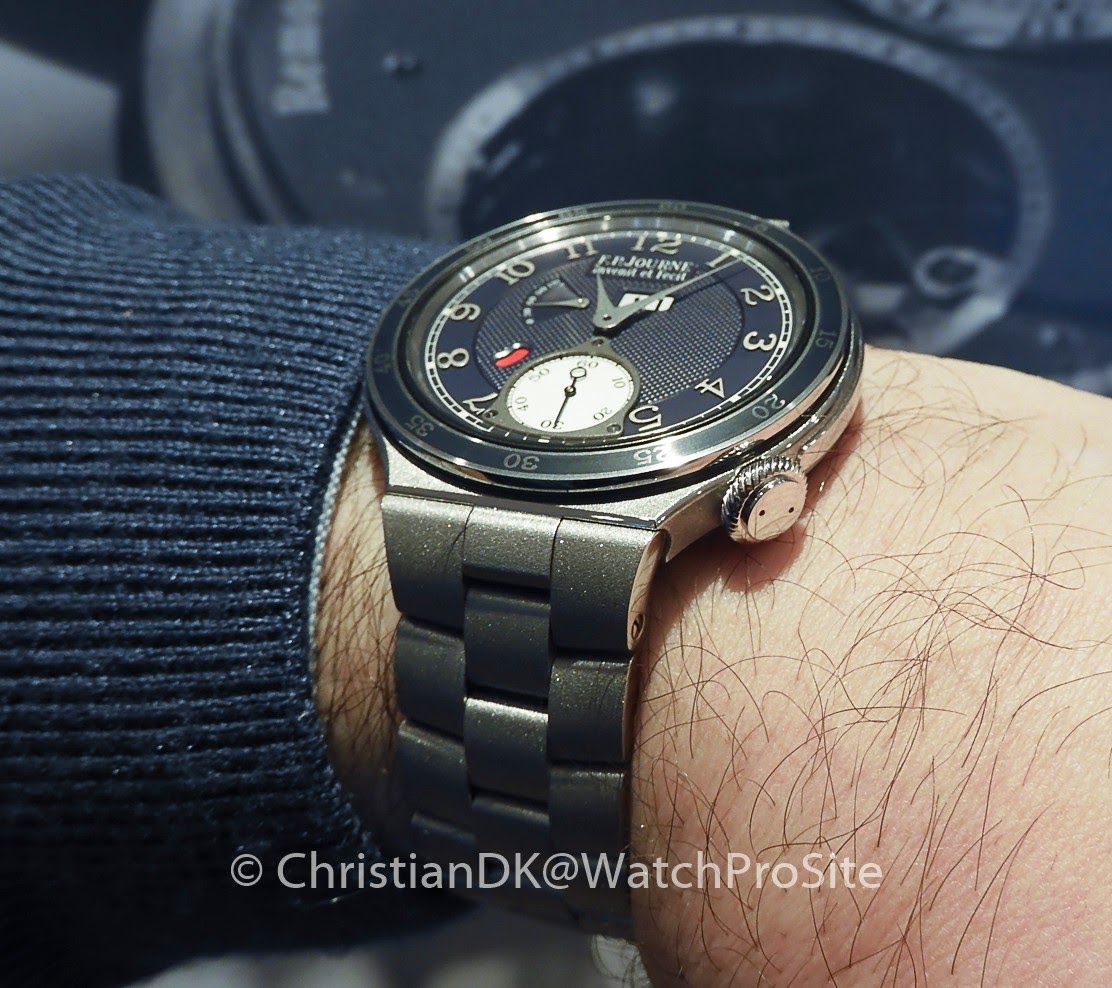 Next up – a watch that I personally keep circling around. This could find its way to my collection one day. The Chronographe Monopoussoir Rattrapante also from LINESPORT. Lets just call it the Rattrapante ;-)
I was shown the Platinum and the Titanium. In principal the same, but so different when you experience them in the metal.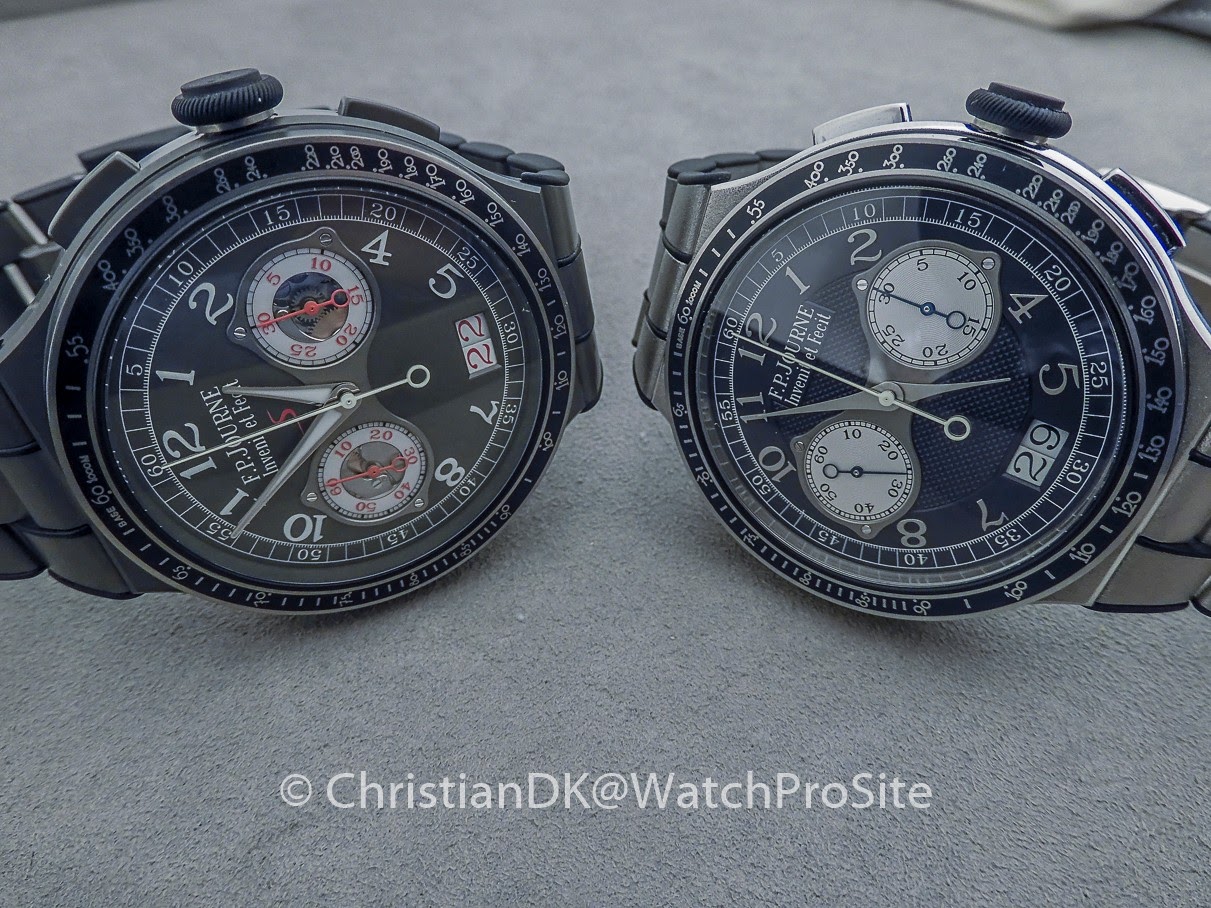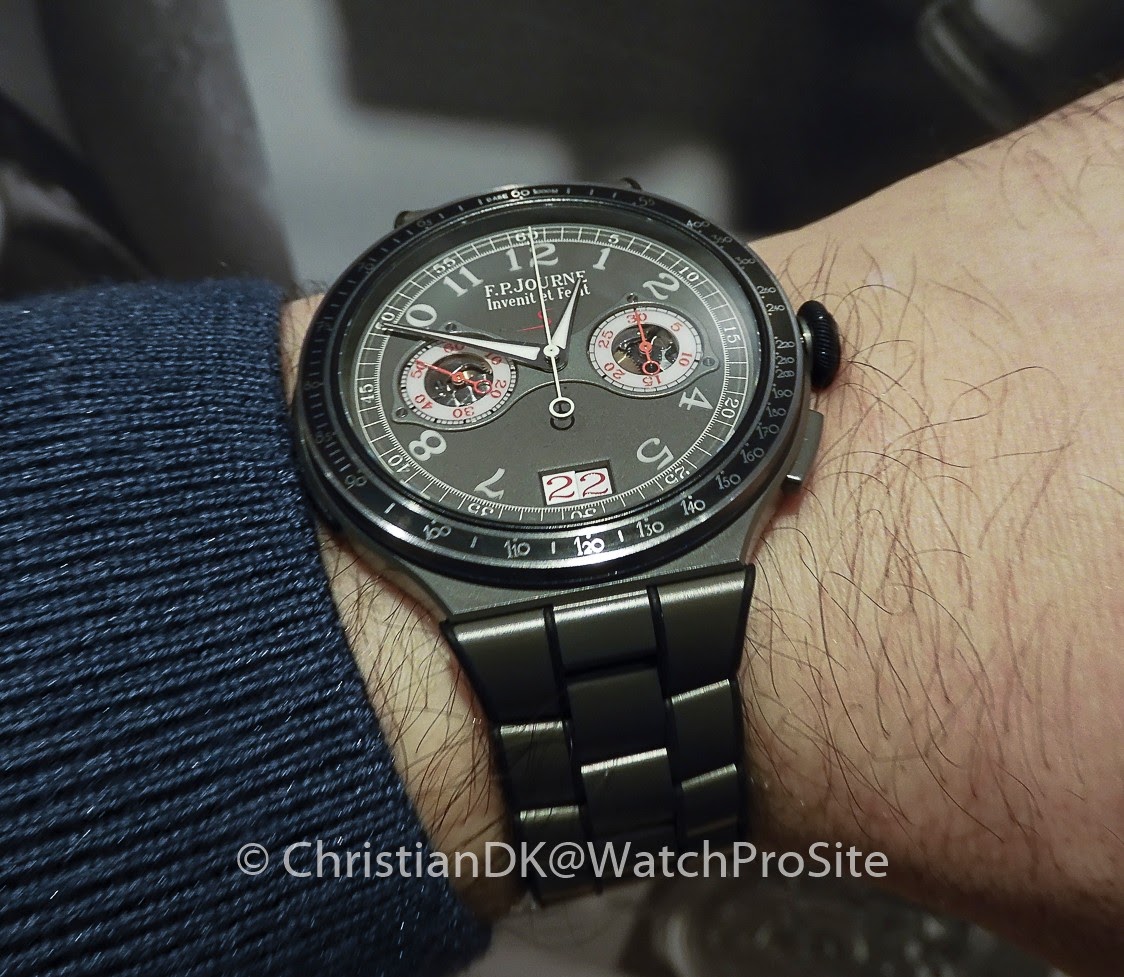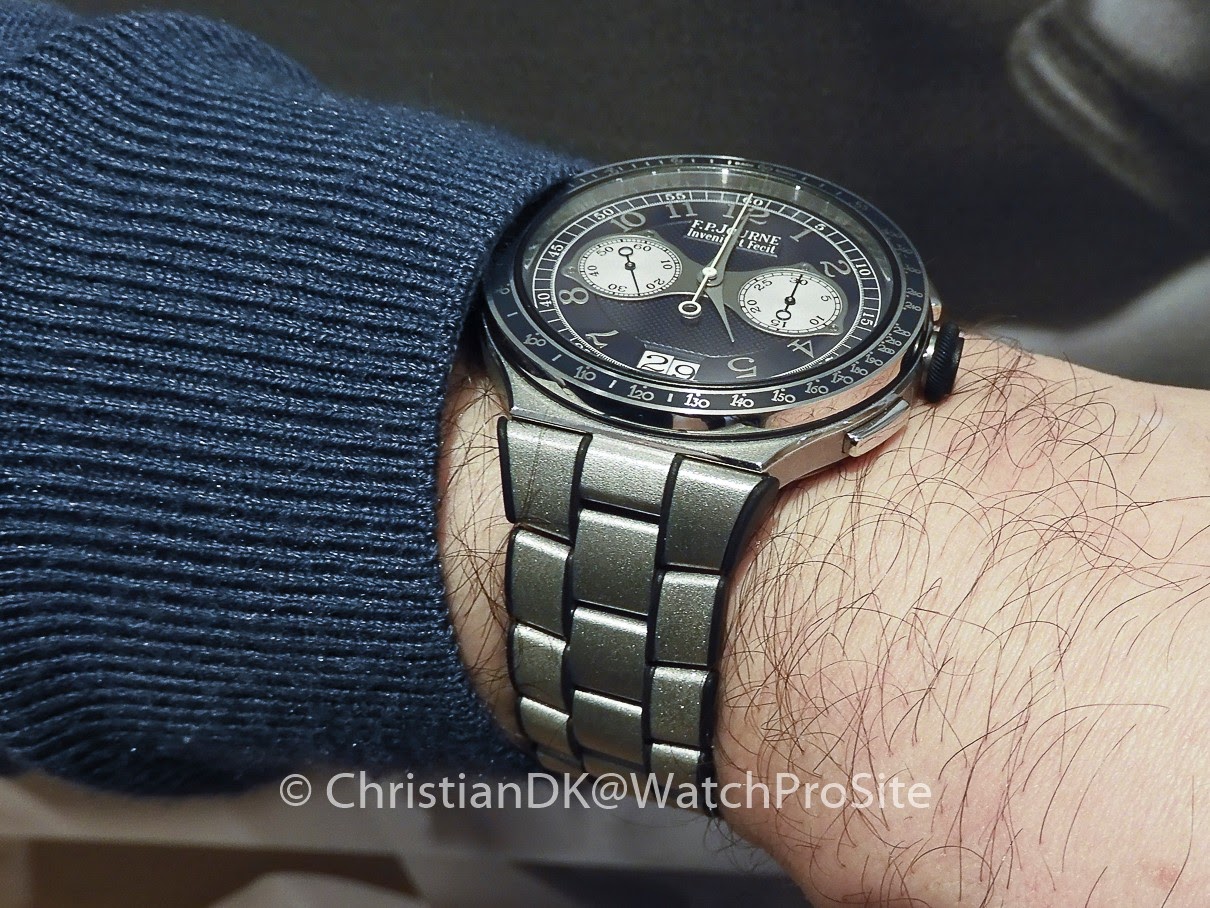 Both are stunning, stunning watches. For some reason, the Titanium seemed more convincing. Perhaps because a lot is going on, on the dial, the Ti feels more calm and balanced.
The weight was also much more comfortable for me. It is feather light compared to the platinum piece. However, I am still hoping and praying that we will see this piece in the Souveraine Collection. That's the one I REALLY want! What do you think? Please chime in ;-)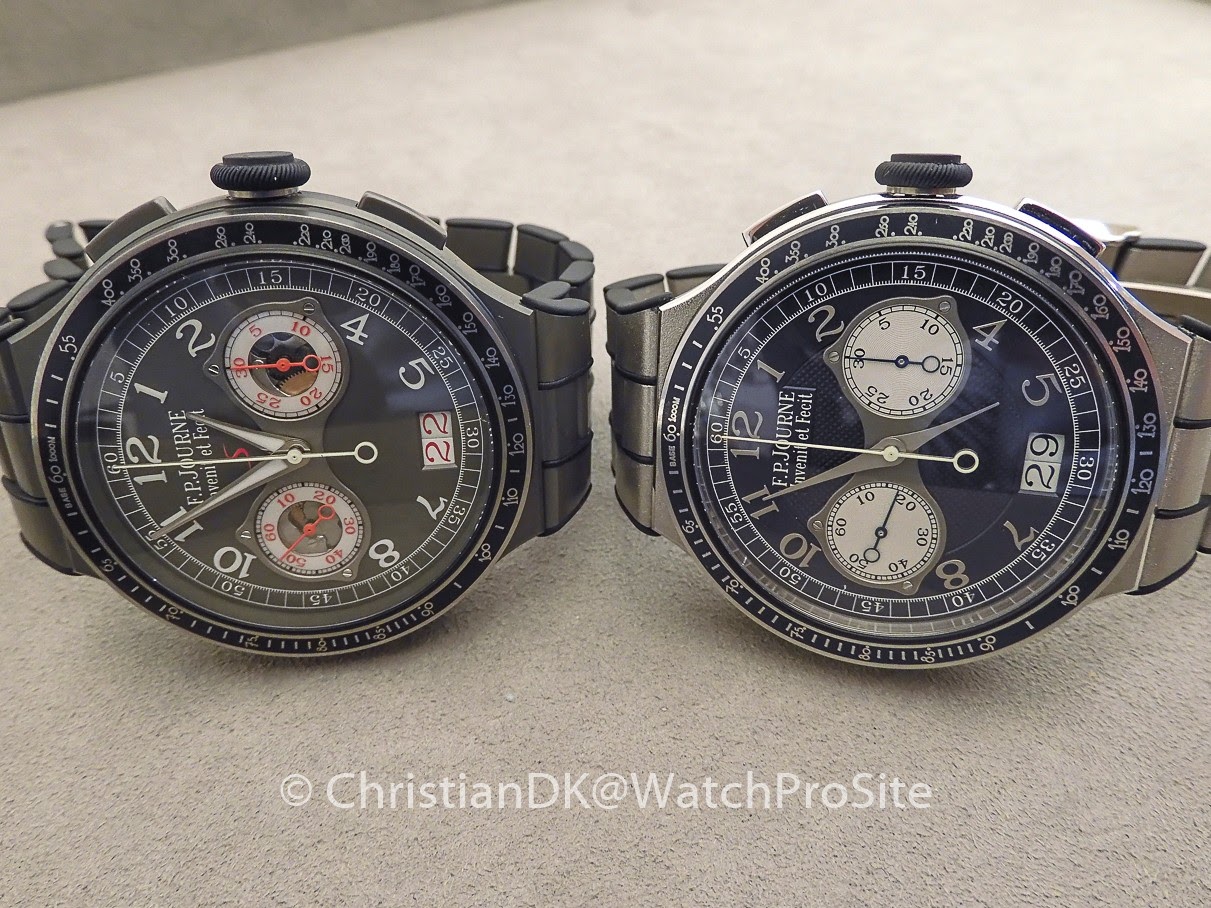 The movement is just stunning as most split seconds movents are. I just love to stare at it.
The titanium watch has the movement built in solid Aluminum, whereas the Pt has the movement built in rose gold.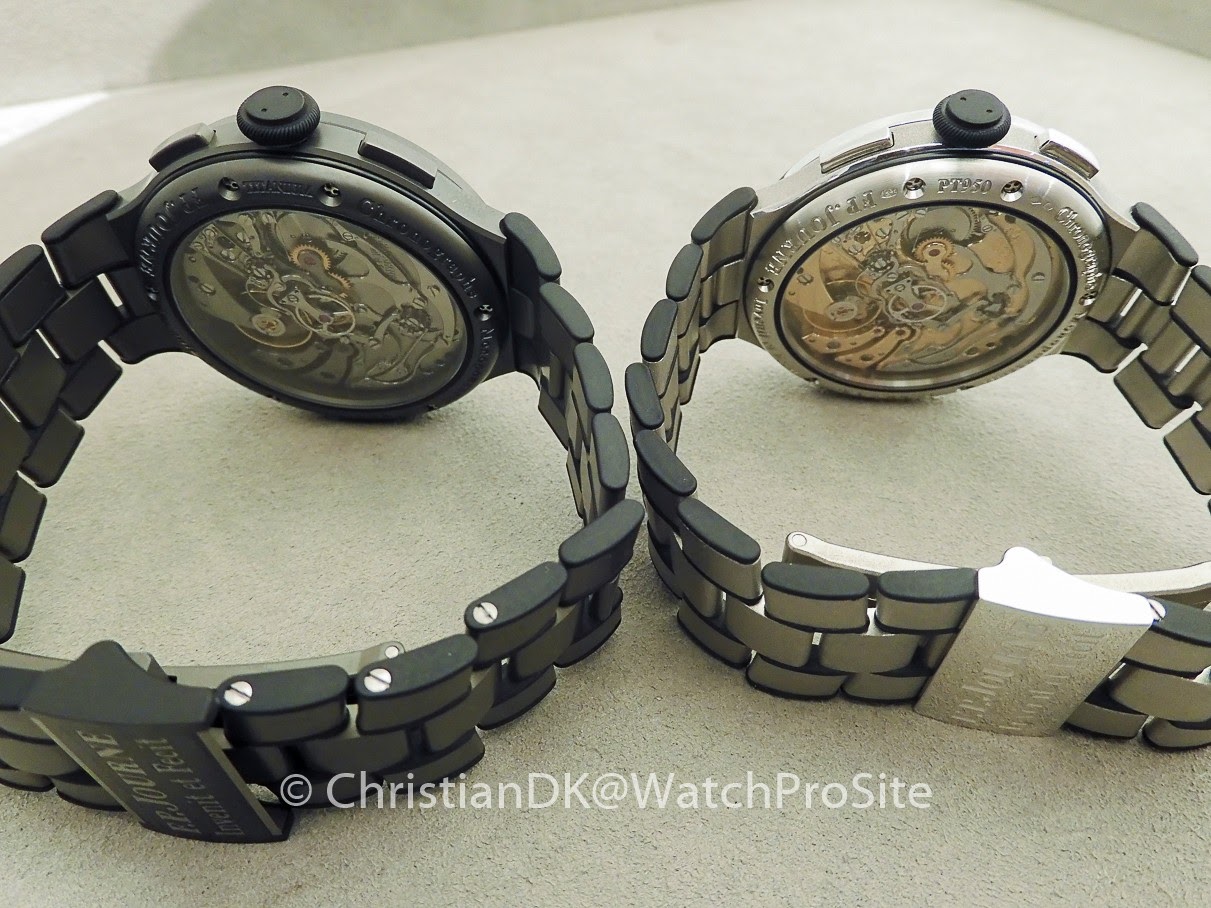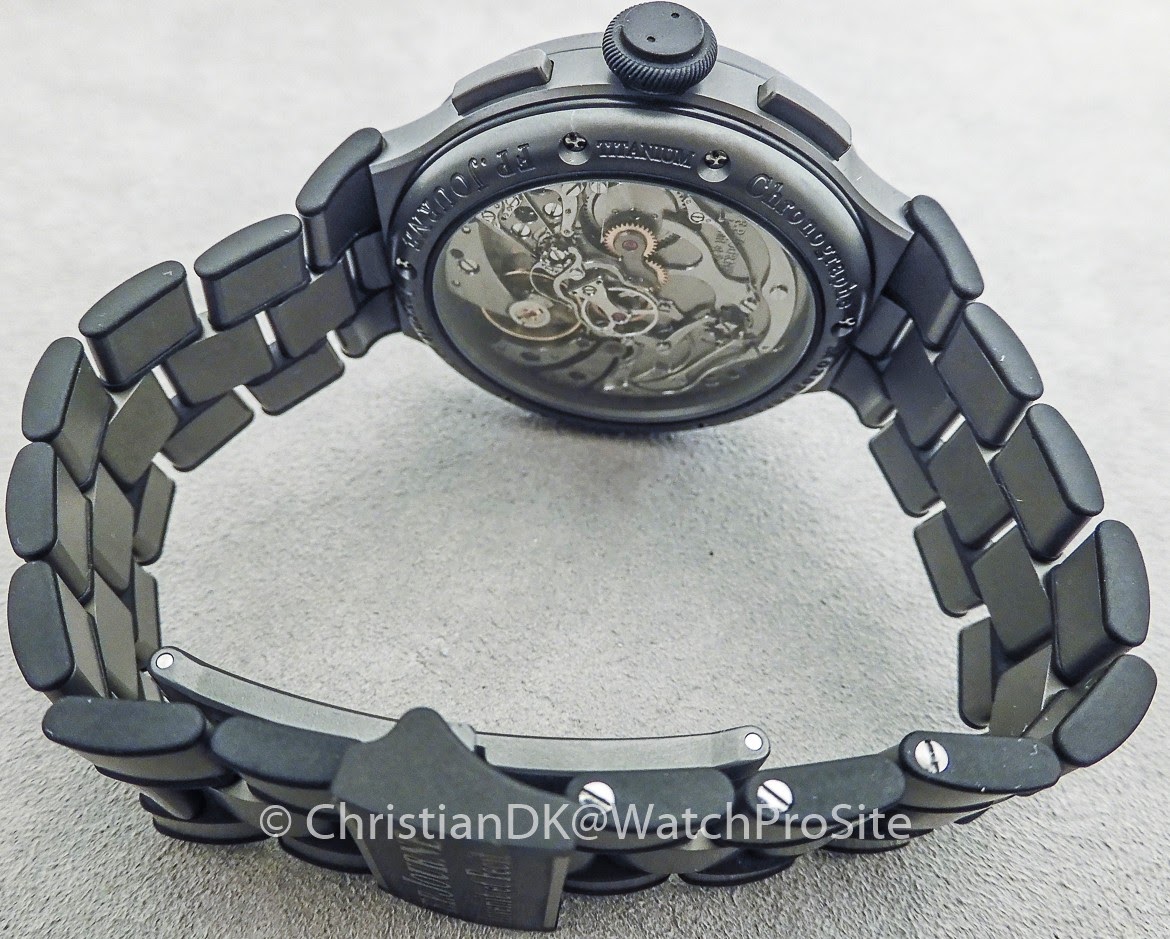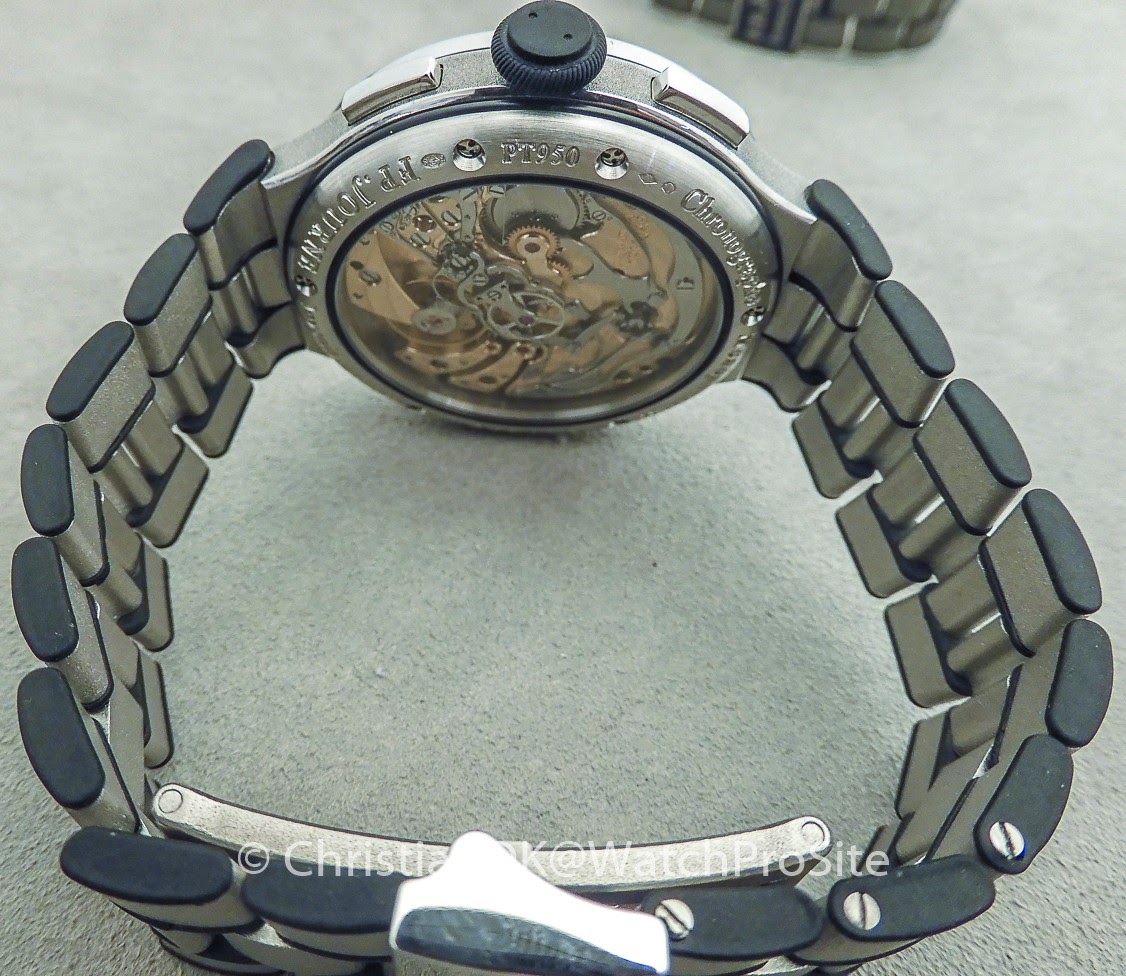 Finally, I was shown the new table clock. It is a quartz clock with alarm, but it done in a very nice quality and finish. (price is 2230 Euro incl tax)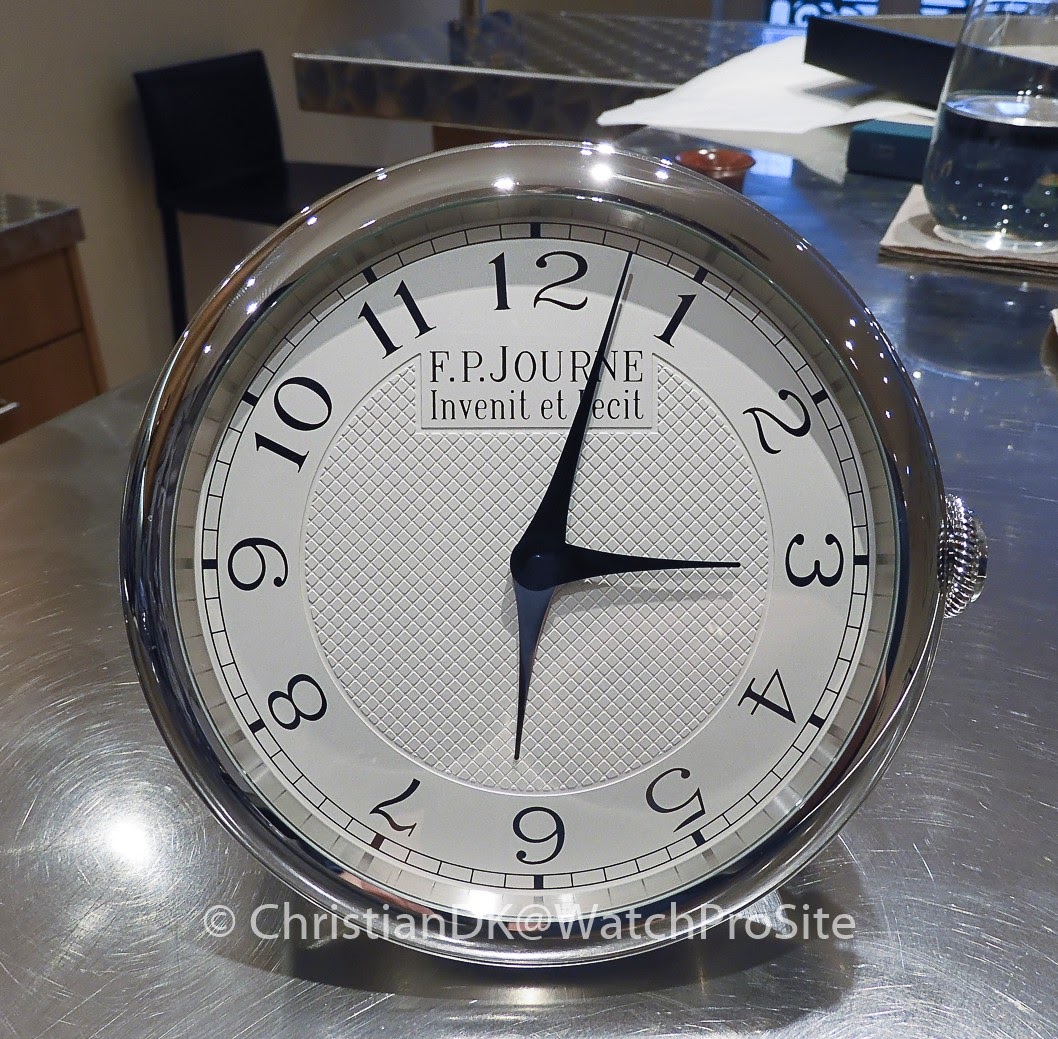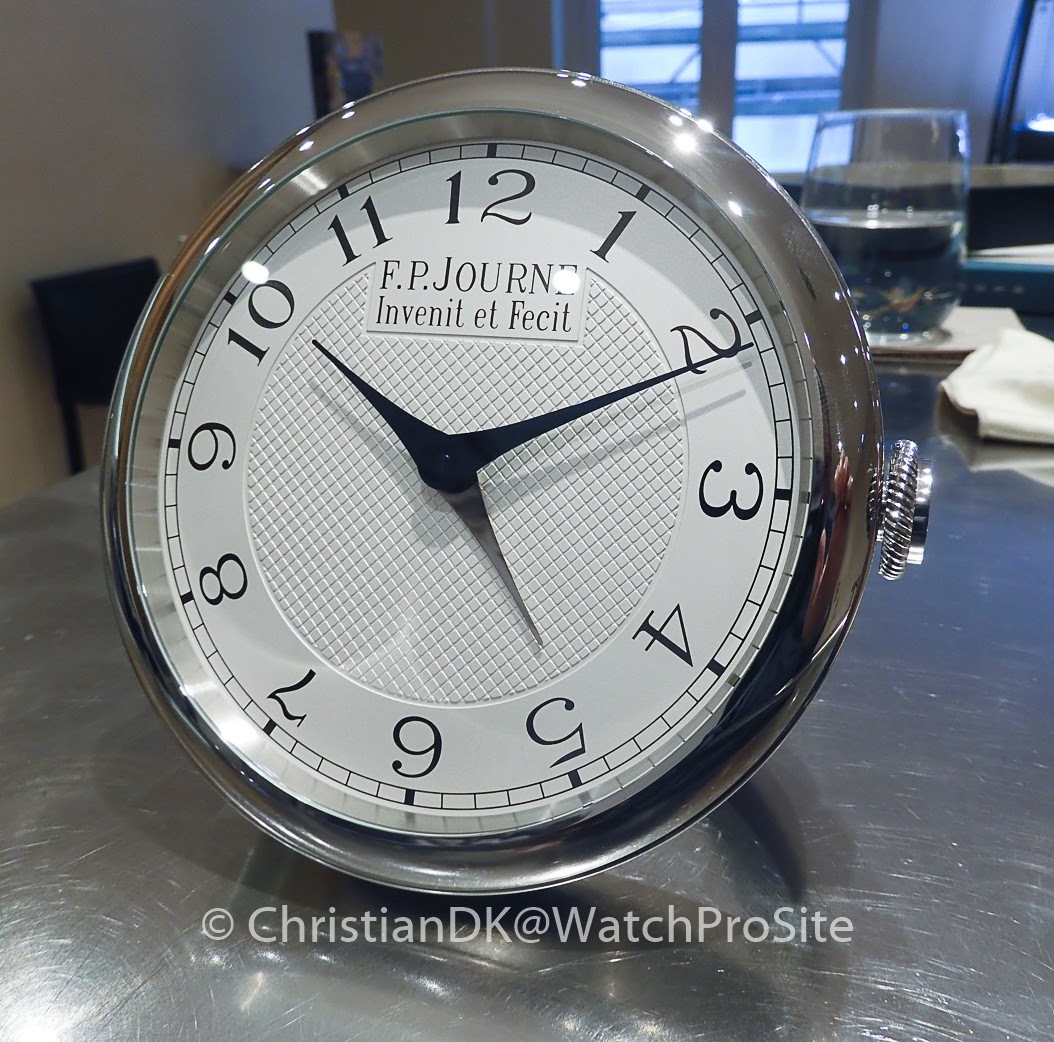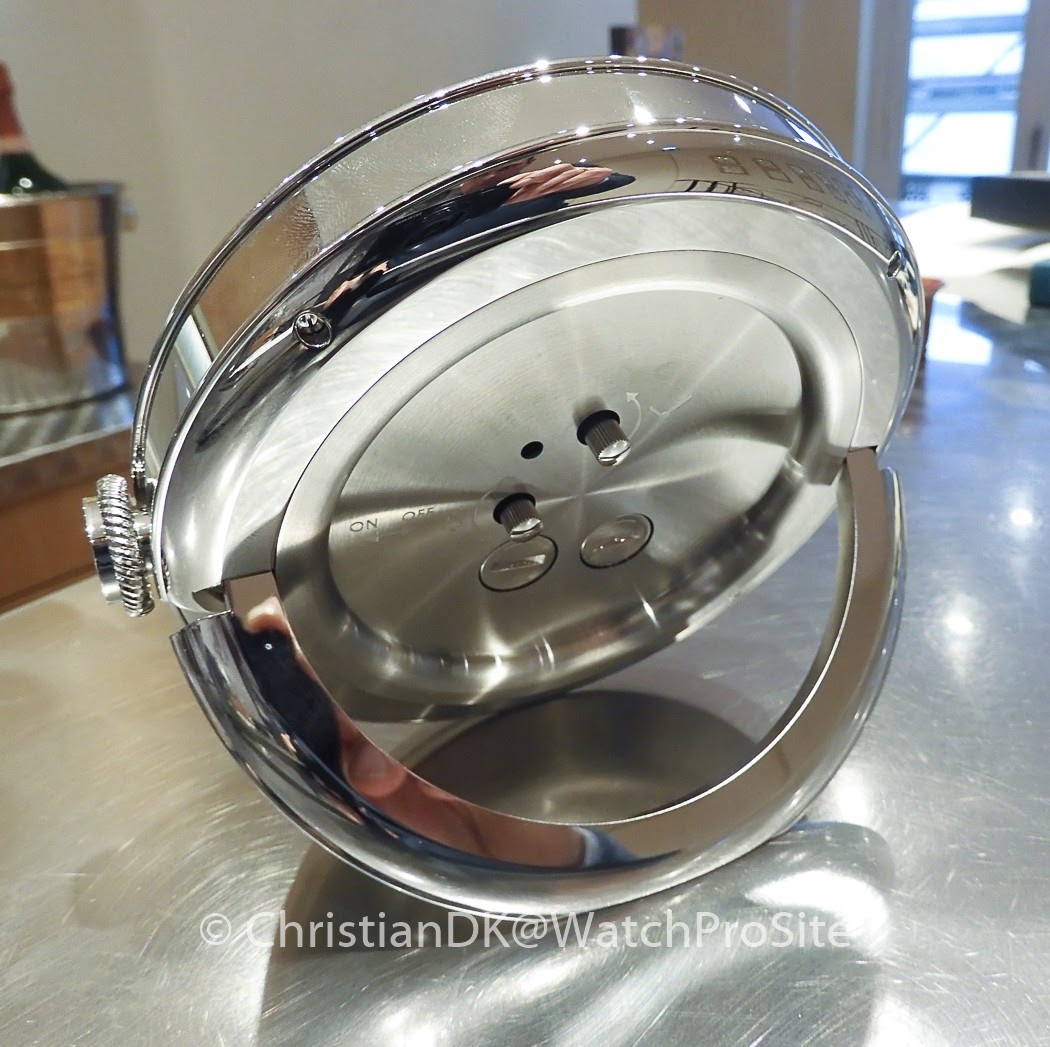 Finally we went downstairs to see the service workshop where Lucas had a small surprise for us.
I didn't take many pictures here because Christophe was not in.However, I wanted to show you this machine.
It is a laser welding machine. Christophe uses it to weld gold or platinum on to your watch case if you have dinged it. Ive heard about this technique but wasn't aware that it is so widely used.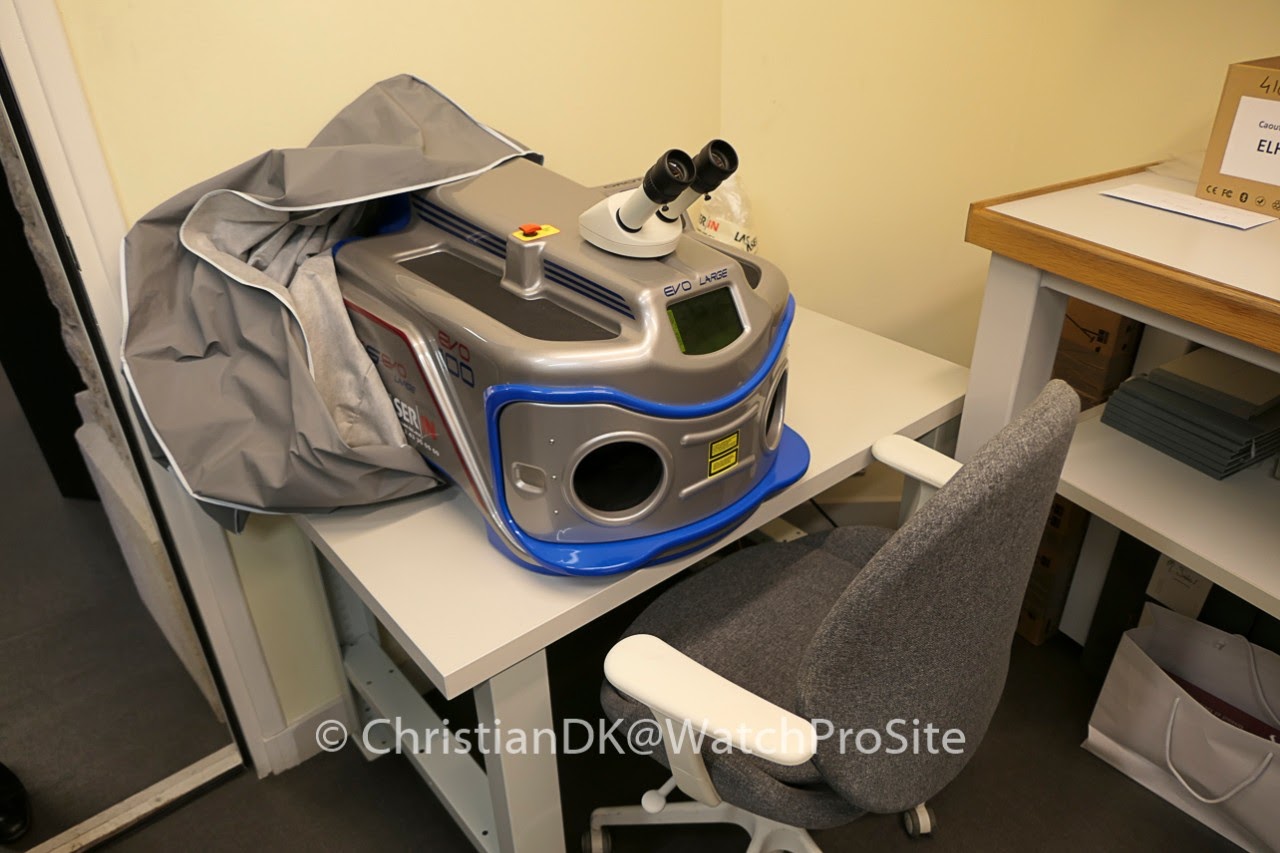 And now, to what it was Lucas wanted to show us. In the workshop, I was pointed to an other machine.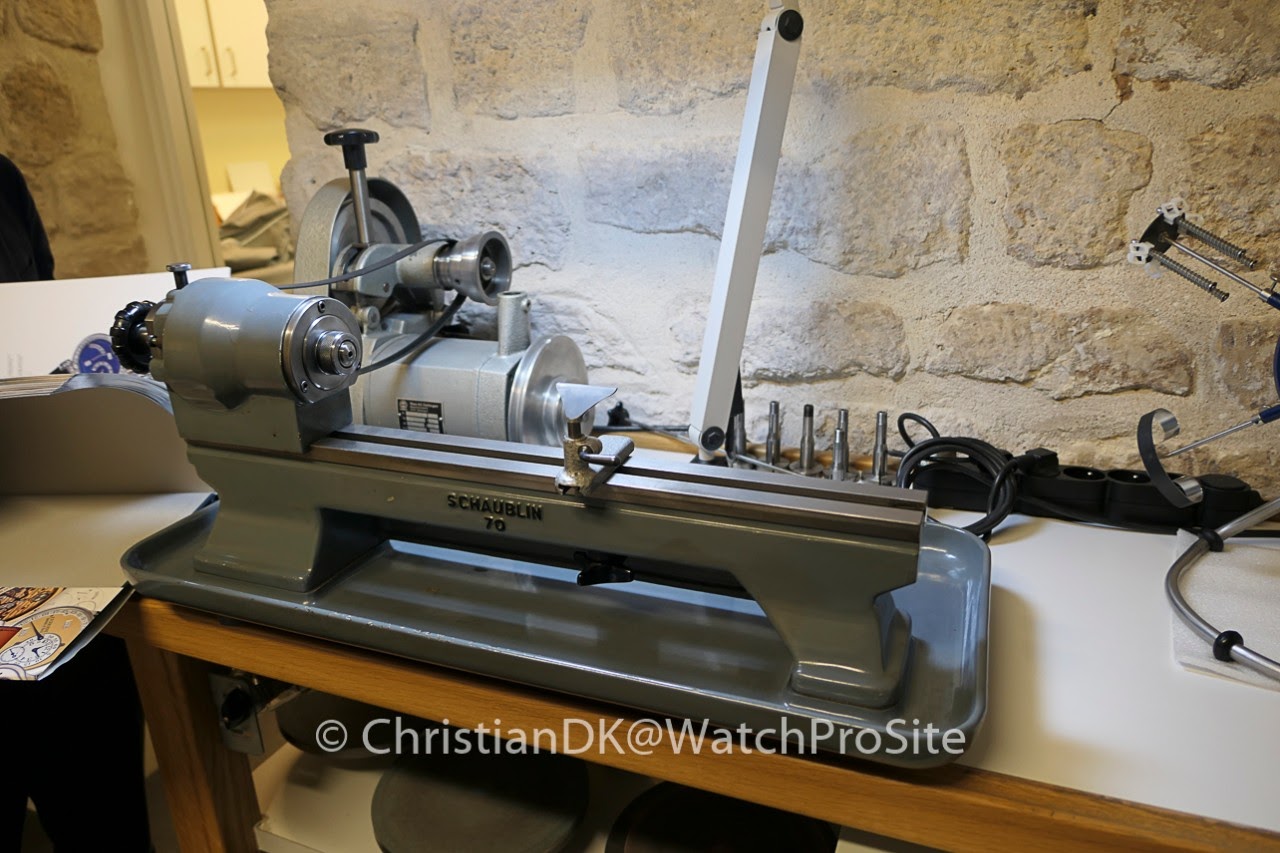 This is the original Lathe that Mr Journe used to build all of his first watches, when his Atelier was located in Rue de Verneil, inParis - and he made every watch himself. In the book by Jean-Pierre Grosz, you find a picture from 1987. I personally found it fascinating to see it and to think for a minute about the amazing watches that have come from this old lathe.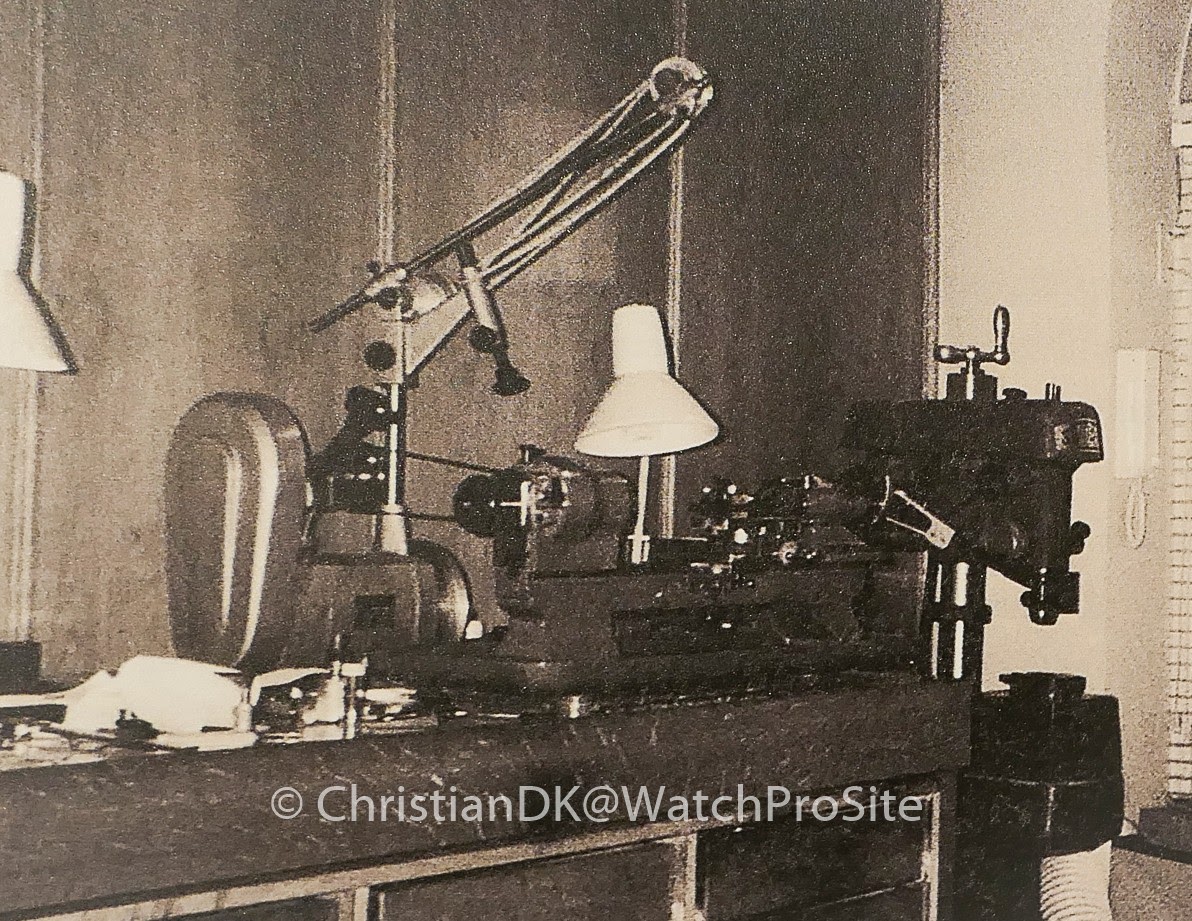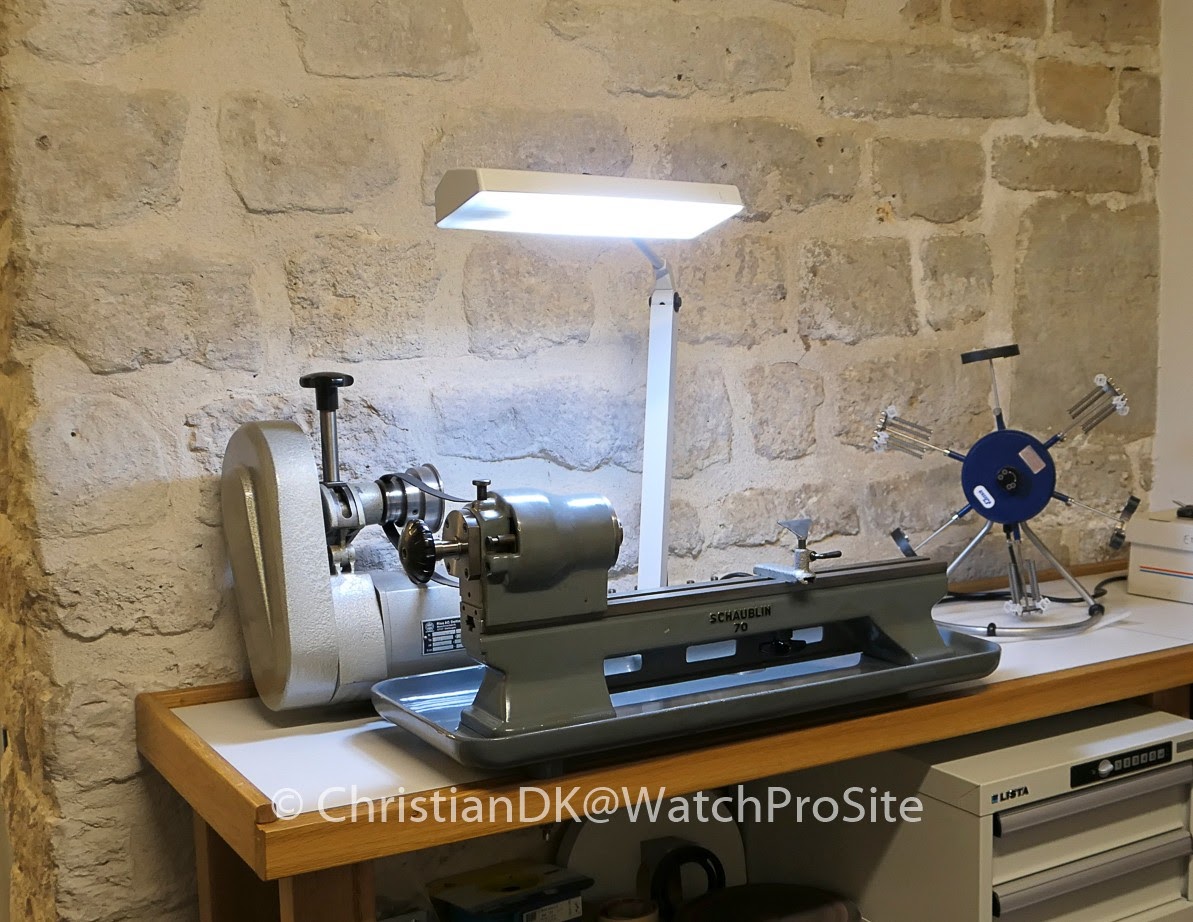 I hope you enjoyed this visit to the F.P. Journe Paris Boutique!