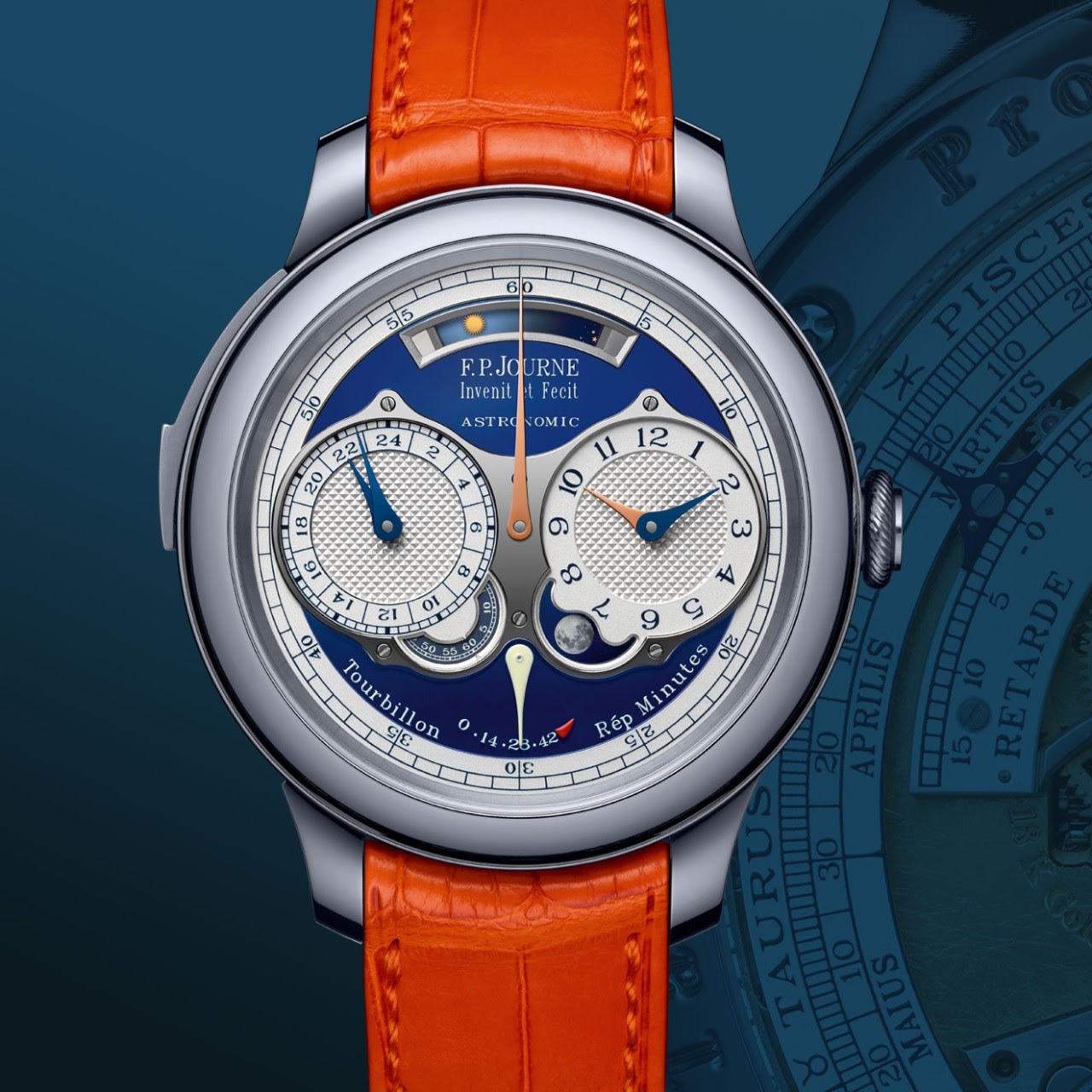 The watch presented is a protype movement encased in a tantalum case and a special blue dial for Only Watch.
Finally, we get to see the long anticipated F.P. Journe Astronomic. The watch was expected in 2019 and the end of 2018 we got a hint from super collector Claude Sfeir that we would get a taste of this new super complicated piece at OnlyWatch 2019. (end of video) www.youtube.com
A lot of speculation has been done about this watch, since it has existed as a rumor among FPJ collectors for years.
From the Only Watch Website as an official press release has not been issued by Montres Journe:
Prototype movement, with unique case and dial developed especially for Only Watch, 44 mm tantalum case, Astronomic prototype movement in 18K rose gold and blue chrome dial. Number of components (without casing): 758 Functions and complications: 18 All settings and corrections adjusted by the crown. SPECIFICITIES Model name: Astronomic Blue/AST 1.7.2019 Association Monégasque contre les Myopathies - F.P. JOURNE www.onlywatch.com 2/2 Version imprimable | Plan du site © Association Monégasque contre les Myopathies Connexion Case: Case in Tantalum, unique piece developed exclusively for Only Watch Dial: Blue chrome dial, unique example developed exclusively for Only Watch, with Silver parts. Front indications: Hours, minutes and seconds of average time. 2nd time zone. Hours and minutes of sidereal time. Sunrise and sunset. Day and night indication. Moon phases. Power reserve. Back indications: Annual calendar. Equation of time. Calibre: Exclusive manual winding prototype calibre 1619 in 18K rose gold. Double barrel, minute repeater, tourbillon with « Remontoir d'égalité » performing a complete rotation in 60 seconds, dead-beat second. Bracelet: Orange Alligator strap. Dimensions: Diameter: 44 mm Thickness: 13.75 mm Estimate: CHF 300,000 - 600,000 EUR 270,000 - 539,000 USD 300,000 - 600,000
See the official release here:
There is a lot to absorb and still much more to learn when we see the final watch.
Firstly, let us remember, that the ability to create such a watch is a monumental task in terms of movement design but also putting it in to a manufacturing process afterwards. Even more, for a relatively small independent brand without hordes of movement engineers. I think it is, once again, a testament to Mr Journes amazing skill as a watchmaker and running a small manufacture.
The watch belongs to a genre of watches with multiple complications. On a personal level, I gravitate more toward simple concepts to be fully unfolded. Singular, strong expressions like the Resonance, which to me, is still the quintessential FP Journe watch. However, when that is said, I am absolutely impressed with this piece and I love the whimsical and esoteric complications such as e.g. equation of time, Sideral time, sunrise and sunset. In our daily lives totally impractical but It subscribes to the classical and historical tradition within high horology. I find it charming and connects the mind to the bigger dimensions beyond our boring little daily routines.
Time is displayed like it is on a regulator type of watch where hours and minutes and seconds are displayed on separate dials. The hour dial has two hands, so two time zones can be displayed.
As you can see from the "menu" FPJ once again makes use of the remontoir dègalite to make sure the timekeeping is not destroyed when the double barrels have to deliver energy to the multiple complications – another among them – the Minute repeater.
The complication I am most surprised about is the addition of the Tourbillon. Normally that has a much more elevated position in the FP Journe universe. Here, I'm getting the thought it was added just because he can. Maybe I'm wrong. We will need to learn more at the presentation. Im not sure how it fits in with the theme of of an astronomic watch?
The dial is once again, evidence that Mr Journe is a master at designing a beautiful dial. He has so much information he needs to display. Wisely he uses both sides of the watch and applies his strict basic layout of the two symmetrically arranged circles, composing the smaller elements around that. I think he gets away with it very beautifully. The dial is simply good looking!
An amazing detail is that all displays are set through the crown. Tecnically amazing and Very elegant!
What has me a little concerned, is the 44 mm case. I can understand that space is needed for a super complicated piece. The thickness is 13.75 and 44 mm diameter. That is slightly thicker than the Tourbillon Vertical but with an added 2mm on the diameter. This combination mages it a very big watch and beyond what I am personally in favor of. We can see from the movement name cal 1619 that the movement is 16 linge where as the Tourbillon Vertical was 15 Linge. So I would not expect to see a smaller version of this watch.
My own first impressions are, that I am hugely impressed. I appreciate and respect what is presented to us today. To just be able to construct a watch like this is very special. But also make it in to a beautiful design with all the complications it displays is an other issue in it self. I think, oftten, grand comlications end up looking like dinnerplates from a buffet, which is clearly not the case here. I think this piece will make an amazing trophy in any top level collection.
I also think it deserves a proper presentation from Montres Journe. It is not an easy watch to understand instinctly. Unlike the I Monopoussuir Rattrapante Blue for Onlywatch in 2017. That is a watch a watch connoisseur understands almost instantly. This one is different. That's why it surprises me a little that F.P. Journe has not made a bigger effort to explain the watch at its release.
Please let me know your first impressions and keeping in mind that we don't know the full story yet…
Best regards
Christian