As you may know in the early part of the 1900, Girard-Perregaux and MIMO were managed by the same owners.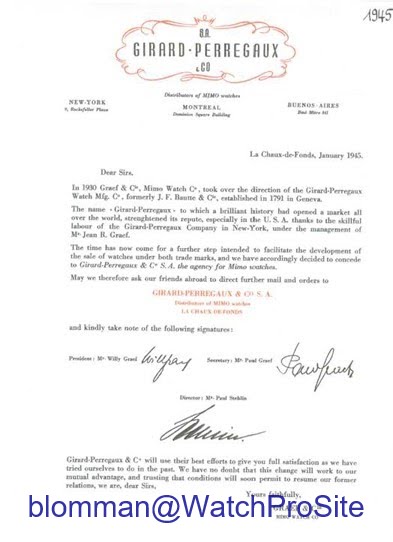 Due to that the brands shared several models with just the name on the dial different.
Like the Large Date from the 1940s:
GP Catalogue 1940 –
MIMO 1940s –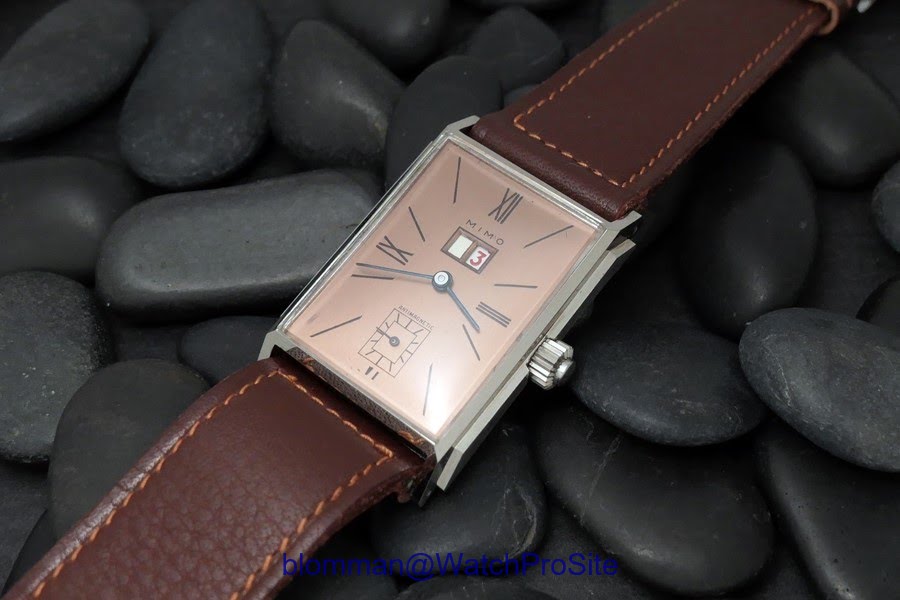 Another example of these models which were featured by both brands was the GP Regulator or MIMO CENTRIC.
Not too far apart you can spot these for sale in bad shape or with repainted dials…
But to find one in good original condition takes time…
I have been working this theme for four years now and this is how far I have come:
1) MIMO CENTRIC whit Grey dial and dark blue tracks. Gold hands and gilt numbers with red central seconds hand.
Large Stainless-Steel case, 35mm in diameter with long slender lugs.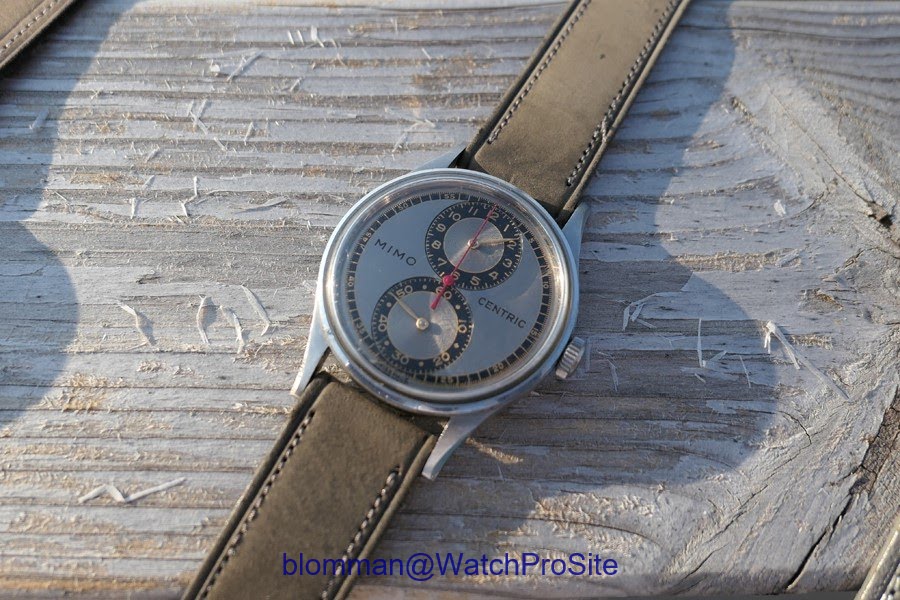 2) MIMO CENTRIC with sunburst Silver dial and black tracks. Blue Pulsation scale, heated blue hands, black numerals with red central seconds hand.
Nickel Chrome hunter case, 33.5mm in diameter with loop lugs. Most likely a converted pocket watch case.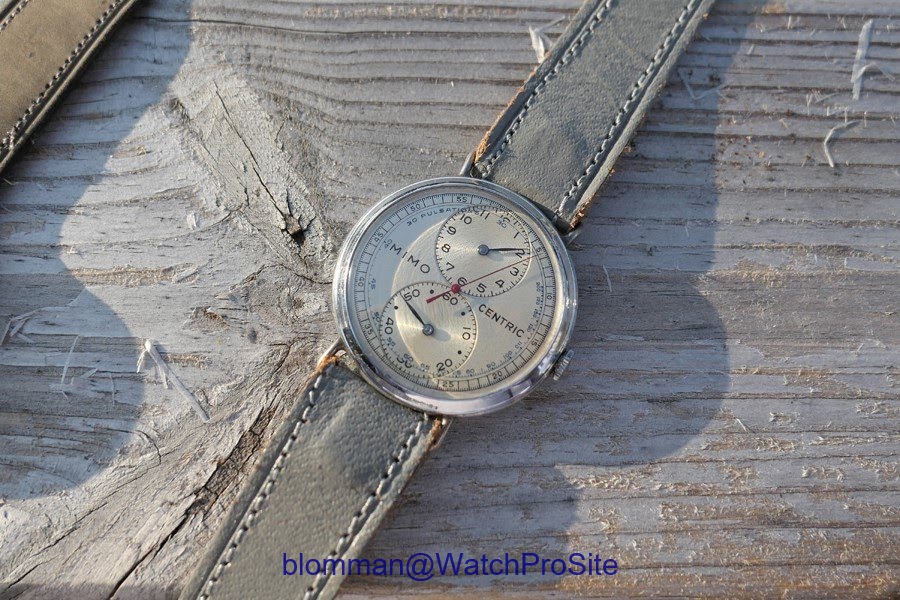 3) MIMO CENTRIC whit sunburst Black dial and silver tracks. Silver hands and silver numbers with white central seconds hand.
A mixed case with the middle part of Nickel Chrome, top and back of Stainless-Steel. 33.5mm in diameter with teardrop lugs.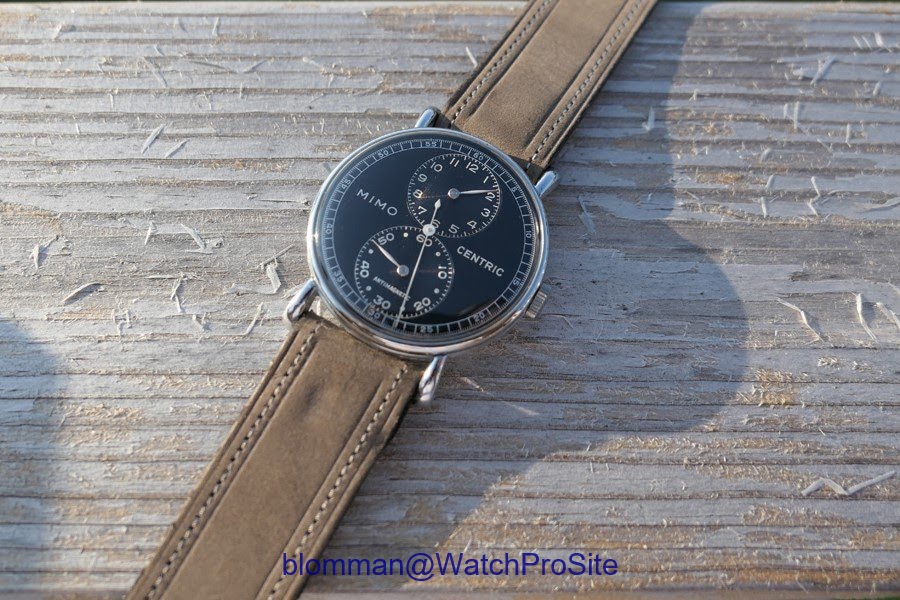 4) MIMO CENTRIC whit Silver dial and White Sub-dials and track. Red Pulsation scale, heated blue hands and red central seconds hand.
The case of this one is identical with the black dial version.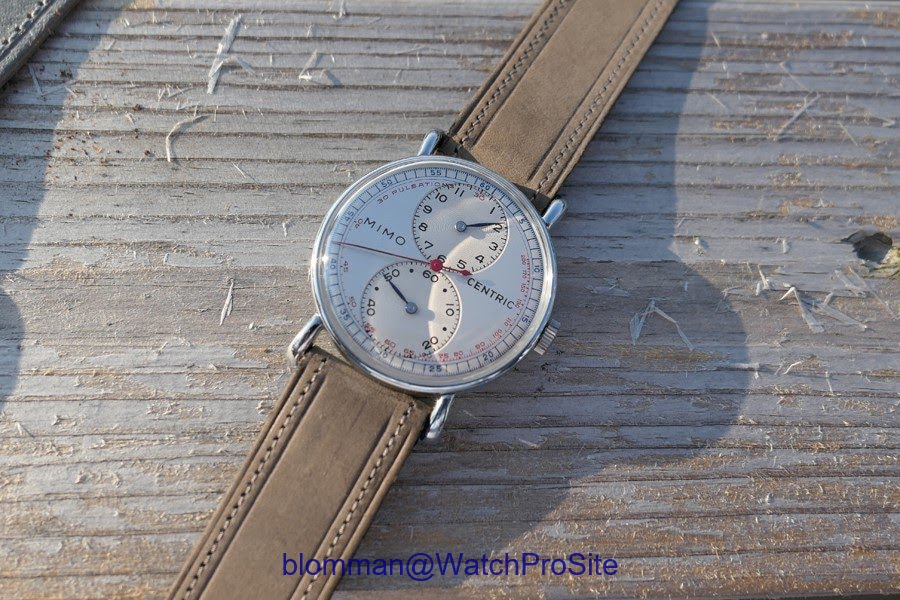 Four watches in four years… Not the easiest target to get…
And as you know, I love to verify my watches with original documents.
The only document I have so far in my possession where the watch is shown is this ad from 1943.
"MIMO prépare ses nouveautes de printemps", translated "MIMO prepares its spring novelties".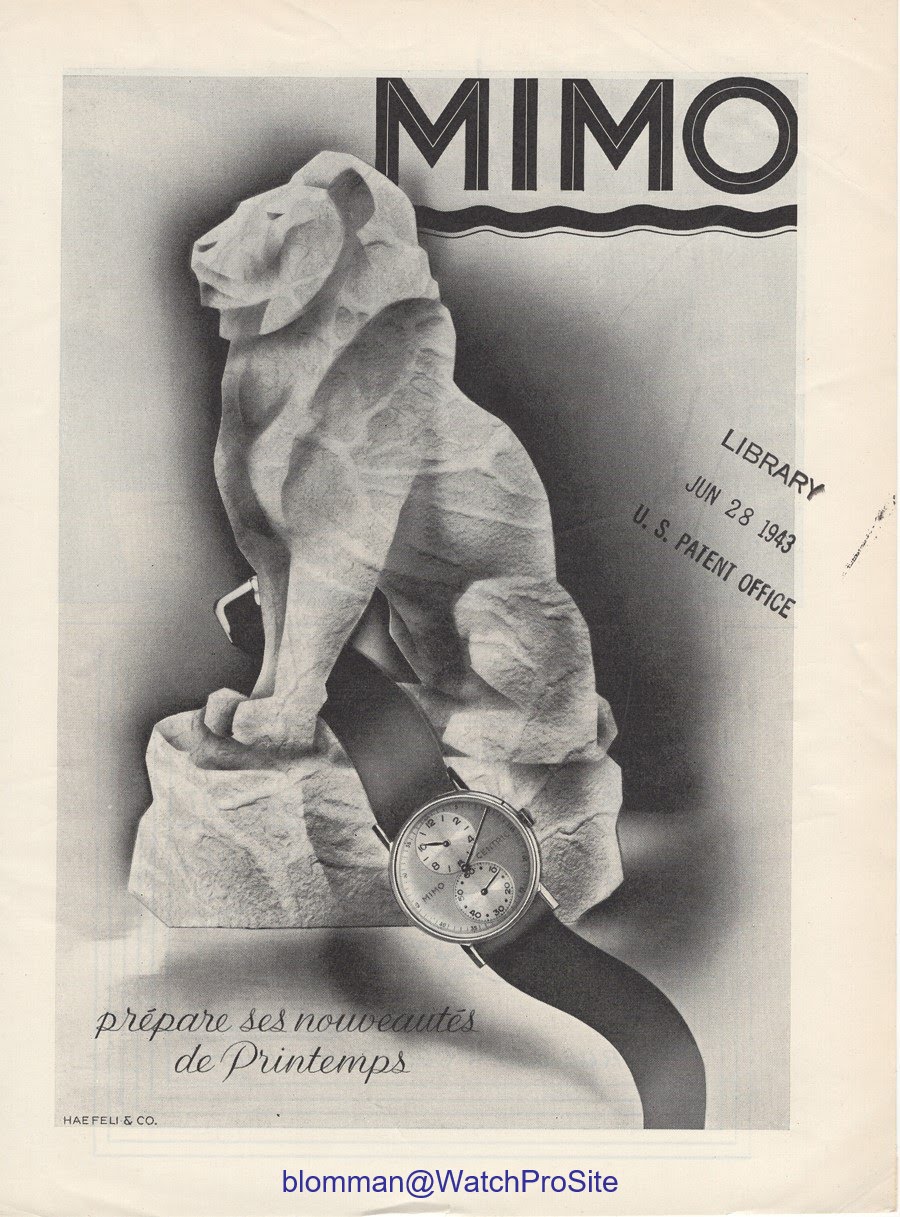 None of my MIMO CENTRIC is identical as in the ad, but font used is, same for the hour and minute hands.
The central seconds hand differs, but my 1) and 2) have the same hands and so do my 3) and 4).
Inside is the GP Calibre 28, based on the FHF Calibre 200.
13''', 29.33mm movement, 15 Jewels, beating at 18000 vph.
You can see the discoloration on the movement from the Nickel Chrome case…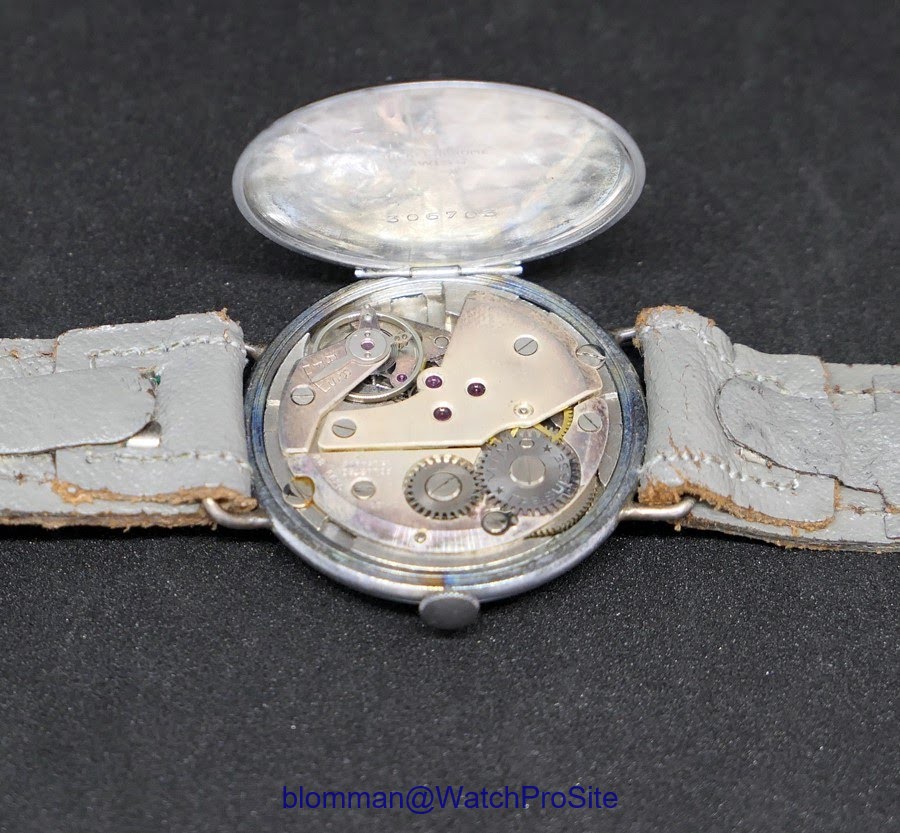 According to Girard-Perregaux records the GP Calibre 28 was in use in only for two years, 1942-1943.
Which aligns with the text and date in the ad.
"JUN 28 1943" is the stamp on the ad, so a qualified guess would be – produced during 1942 in Switzerland, release in the US spring 1943?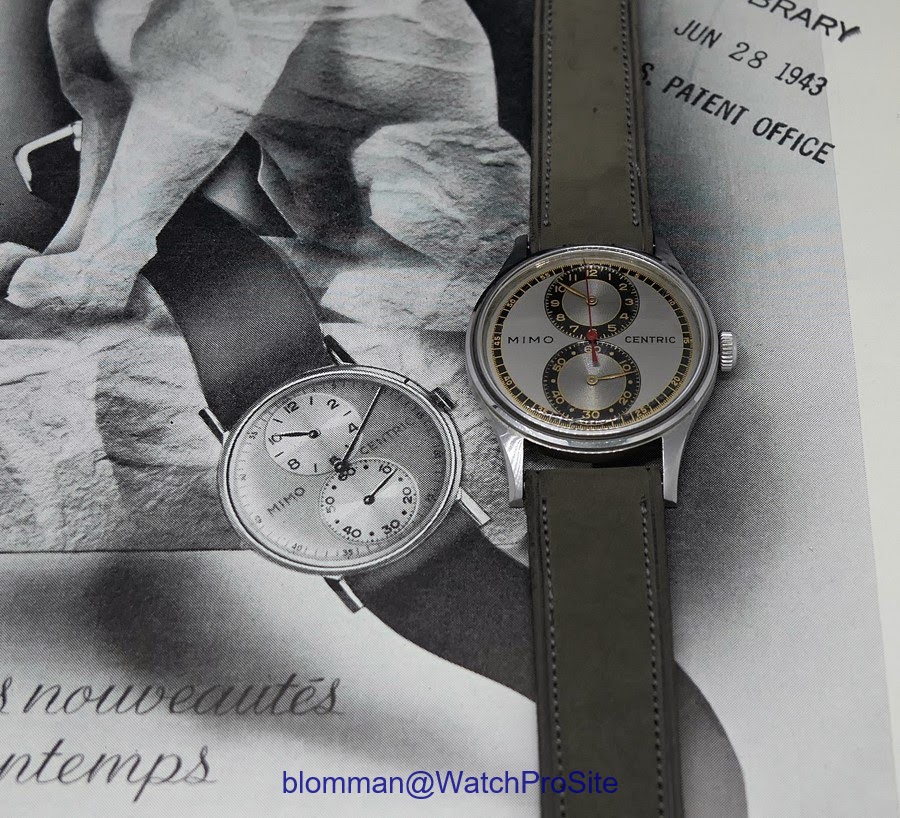 I have no records of how many were made or partition on GP vs MIMO…
But the two-year production indicates it's not a very large number of GP Regulator and MIMO CENTRIC out there!
It's a lovely theme I will continue to work on.
If I find out more, I will make sure to report it here!

Best
Blomman