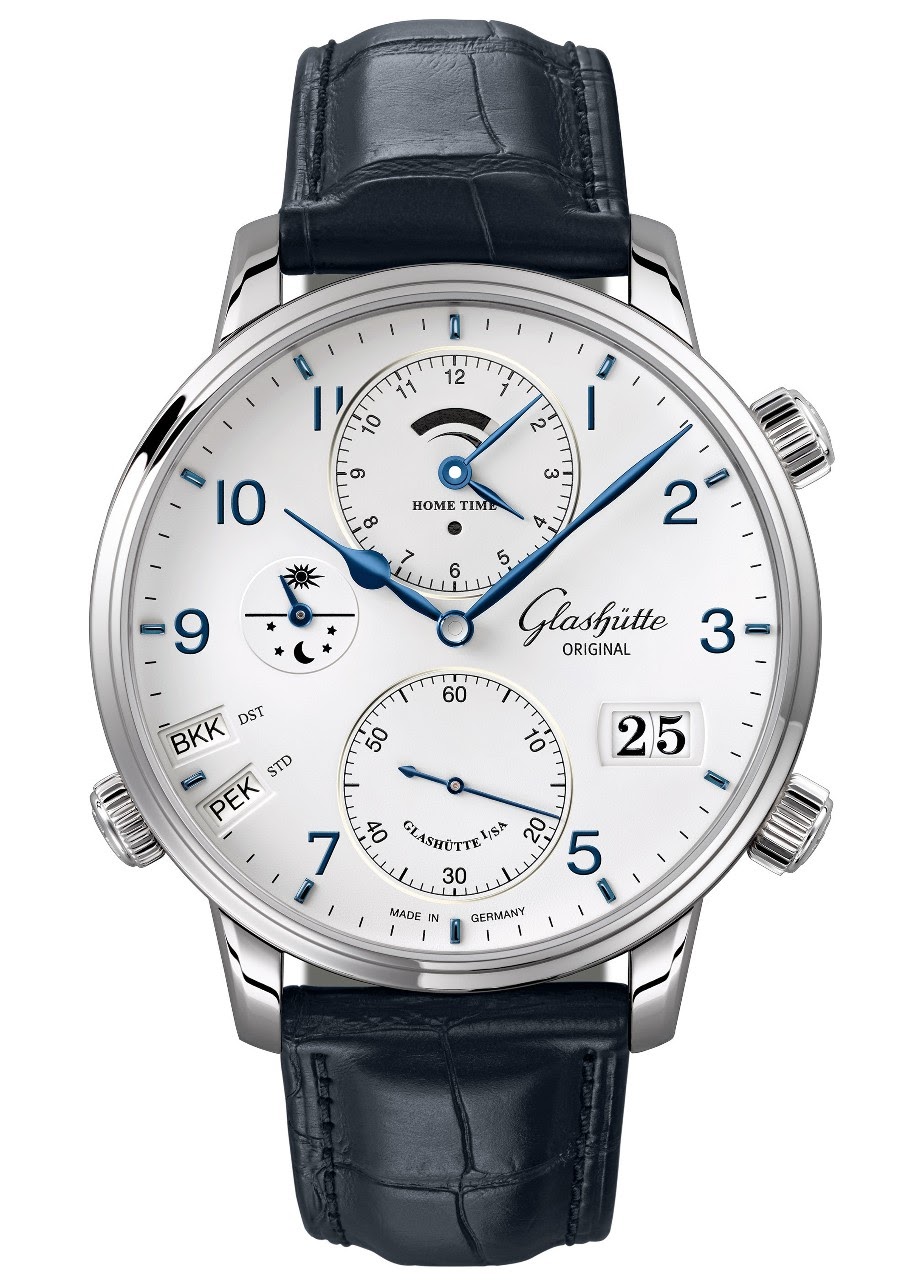 Finally, I could see the Senator Cosmopolite in the reality. It is one of these watches which I seriously wanted to see, because I like the concept of this Travel Watch a lot, as well as its look, but I was afraid it was a bit too big for my taste.
All these feelings are confirmed.
The " Cosmopolite " is a very seductive watch, even more now that It adopted arabic numbers for its hours markers, rather than roman which was not much for me, as I find it cooler, more casual, less formal with arabic numbers.
The first editions, born in 2015, were in rose gold and in white gold: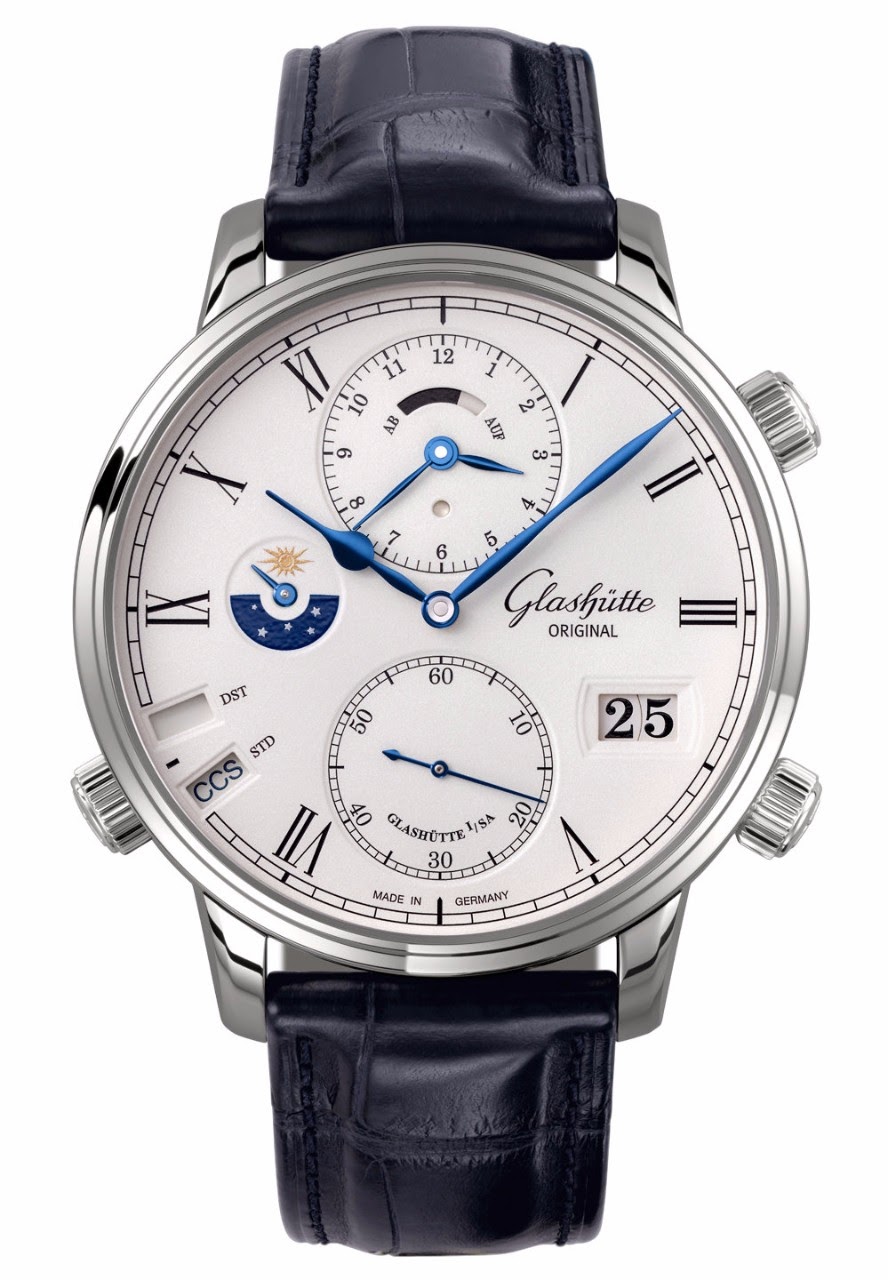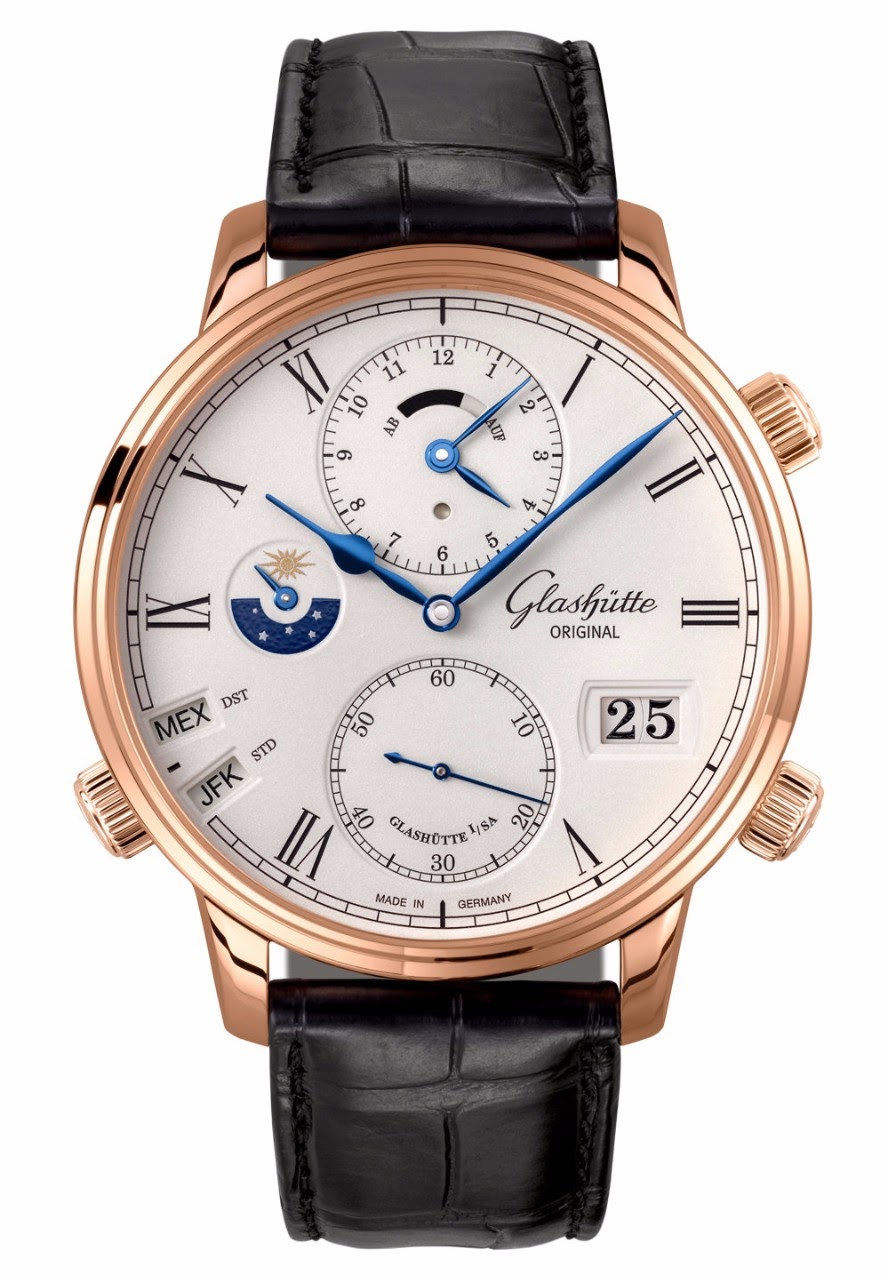 From let to right: Steel, White Gold, Rose Gold: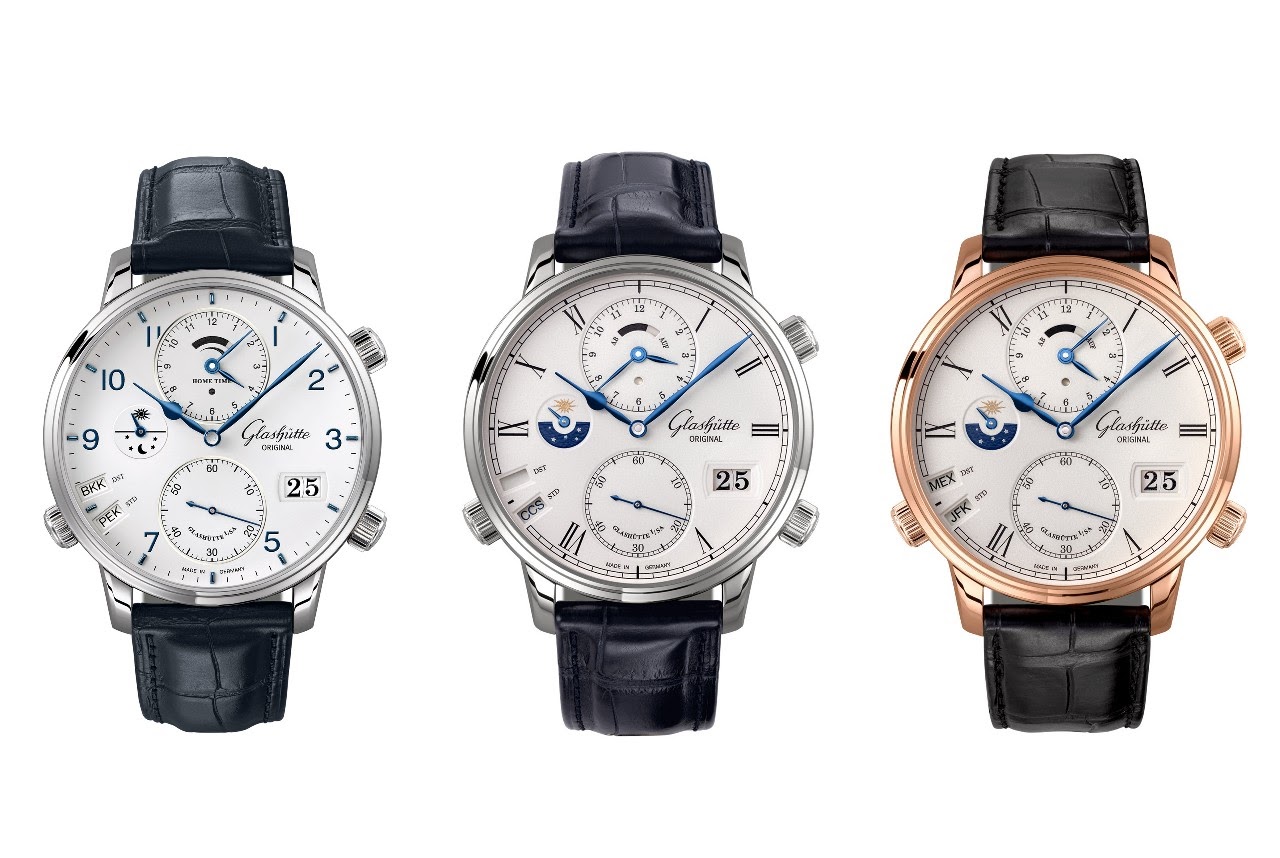 The Cosmopolite makes me think of the Jaeger Lecoultre Géographique, with its system which consists in choosing your destination, which will automatically give you the destination time on the main dial, the smaller one being dedicated to the home time.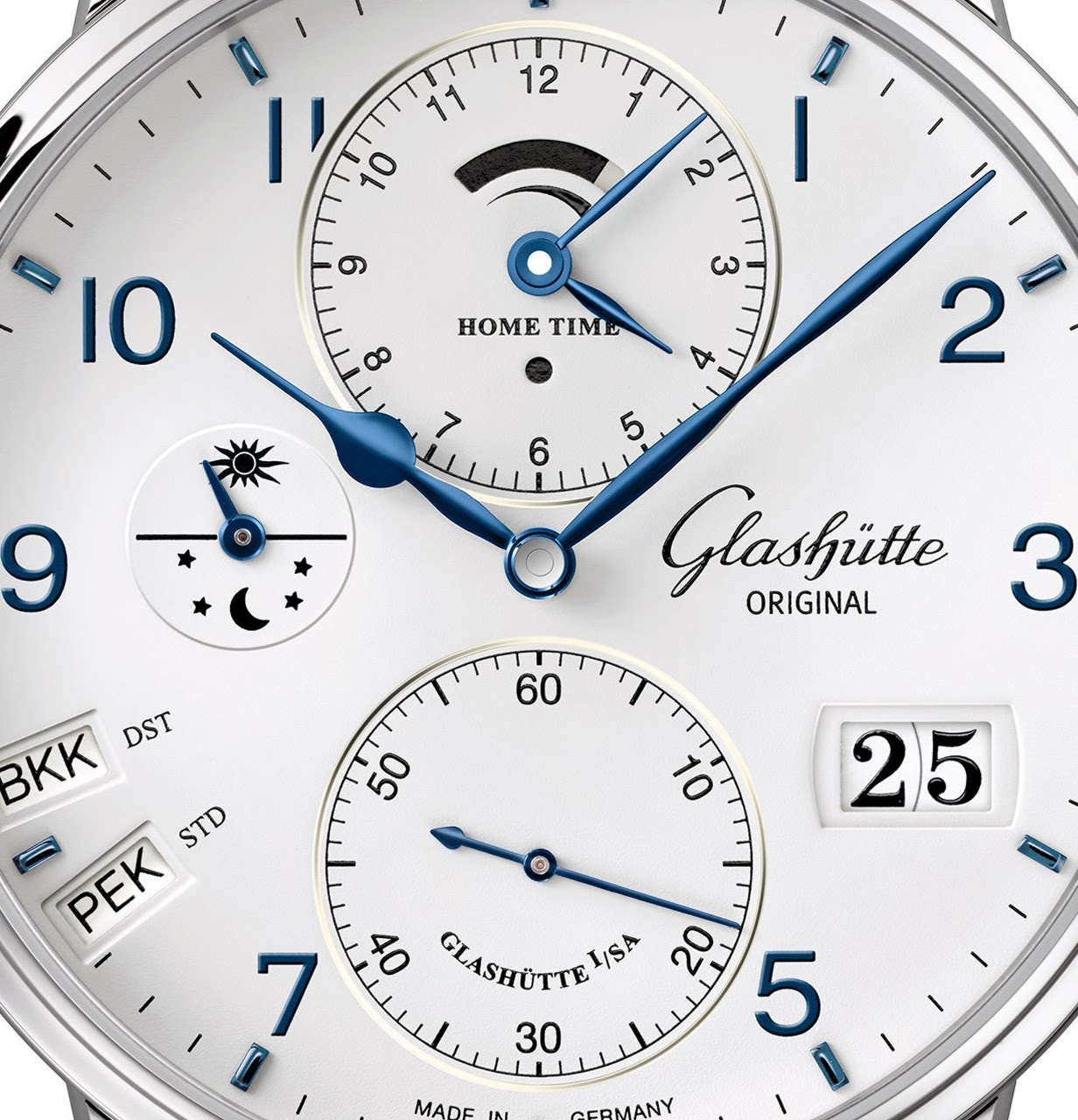 Here, a specificity which I find very à propos: Rather than putting the name of the city you haver to go to, you have the airport code name. For example, if you want to go to Los Angeles, you will have to select " LAX ". For a Travel Watch, I find that idea very pleasant to have the airport code name. The downside is that you have to know which is the code name of your destination...
The other very good detail is that you have all the different time zones of the world ( 35, here ), including those who have a difference of only 30 or 45 minutes, and not in full hours, such as...
Katmandu ( KTM being its airport code name ), which is 4.45 hours after Paris Time, or Delhi ( DEL ), which has 4.30 hours difference with Paris Time. A classic world time will not offer you that possibility.
The Cosmopolite also has a day-night indication to show you if your destination is in the PM or AM zone. But any word time will give you this information with its 24 hours ring.
Other than that, you have a power reserve indicator in the home time sub dial... Was it mandatory, I don't know. And a Grande Date, which I like much more than just a simple date.
The dial has a classic design, with splendid hours and minute hands, and these blue applied indices. Not disappointing at all, in the reality.
Let's see some live pictures, now: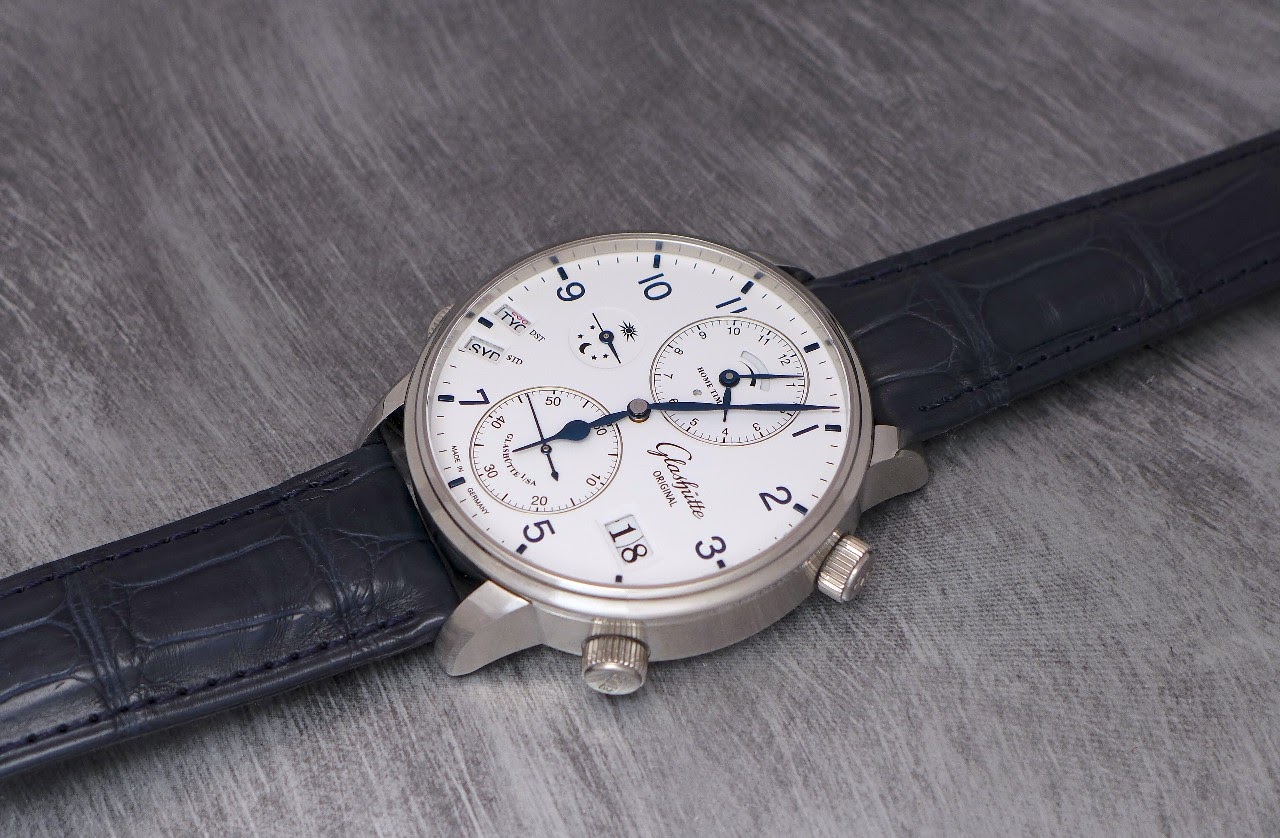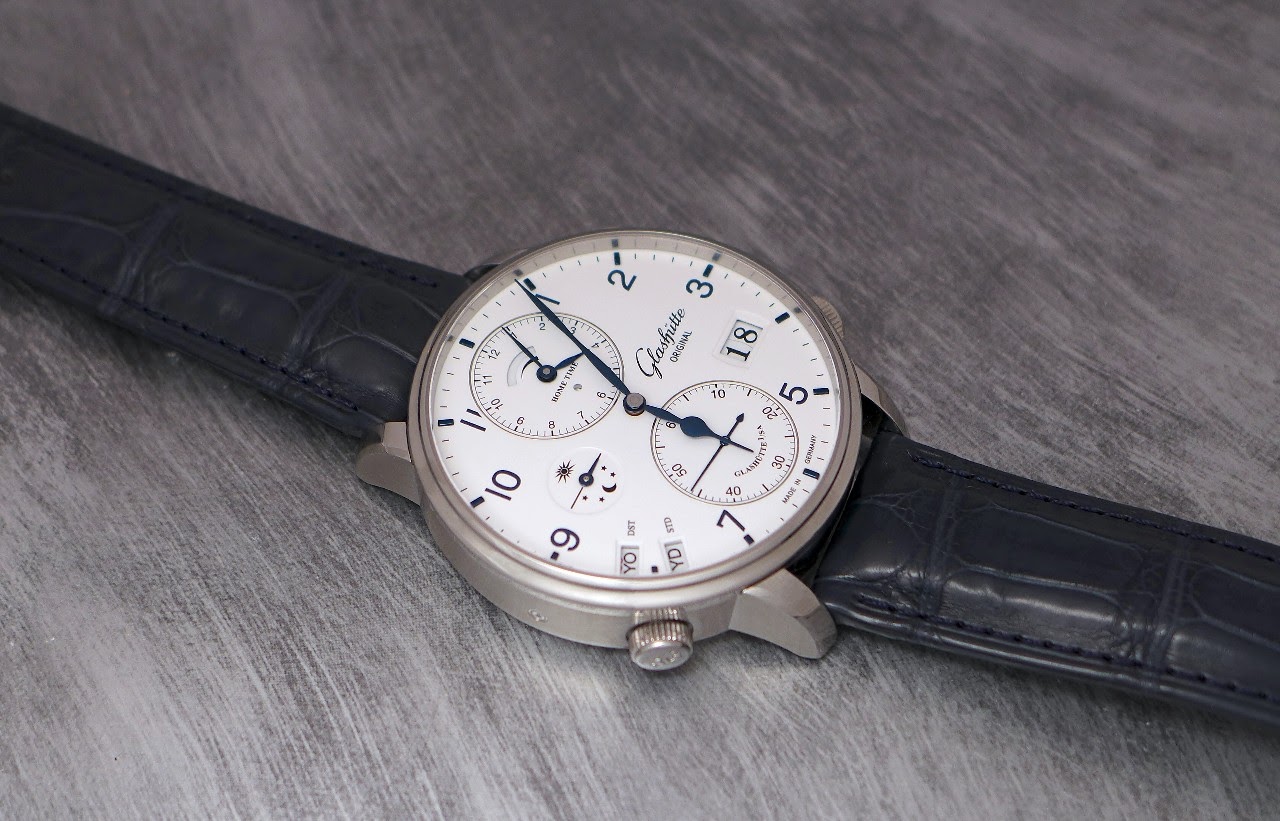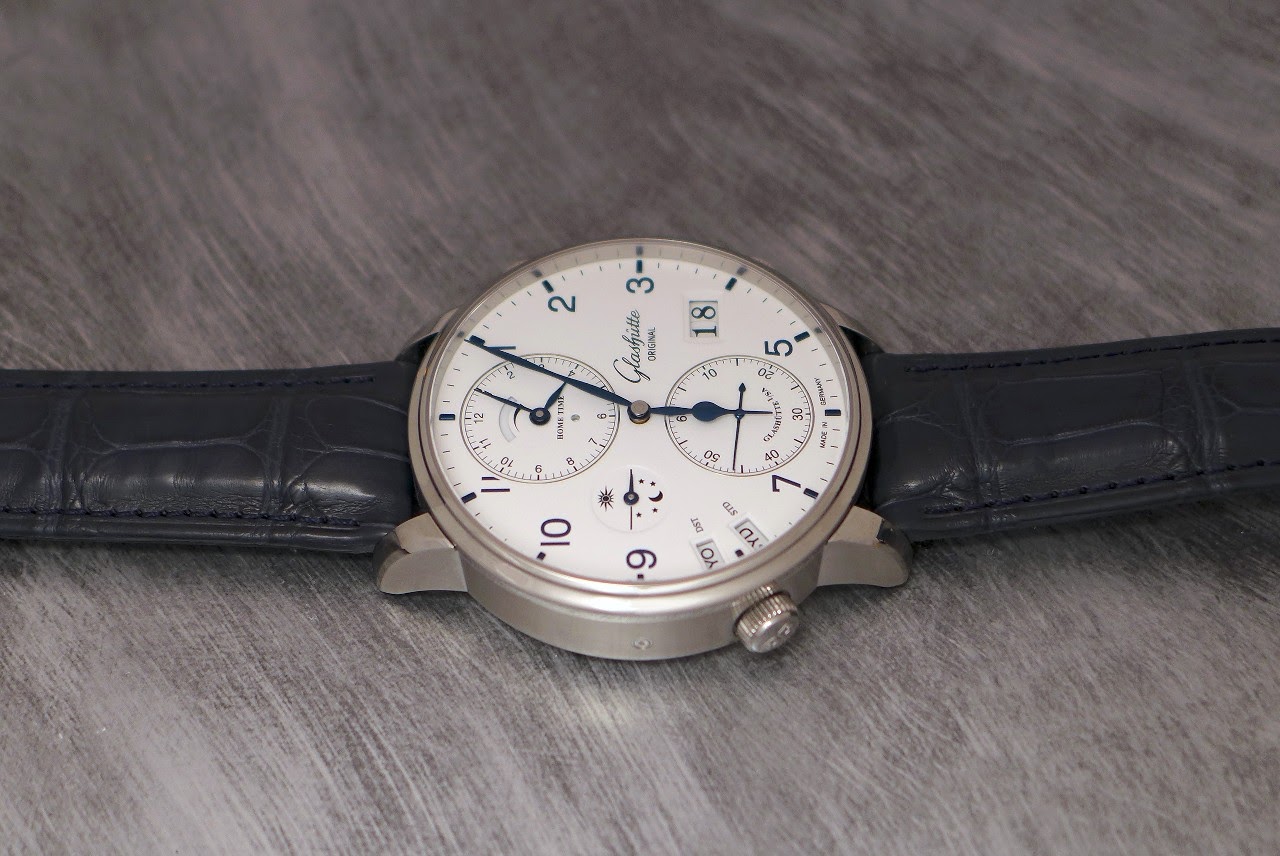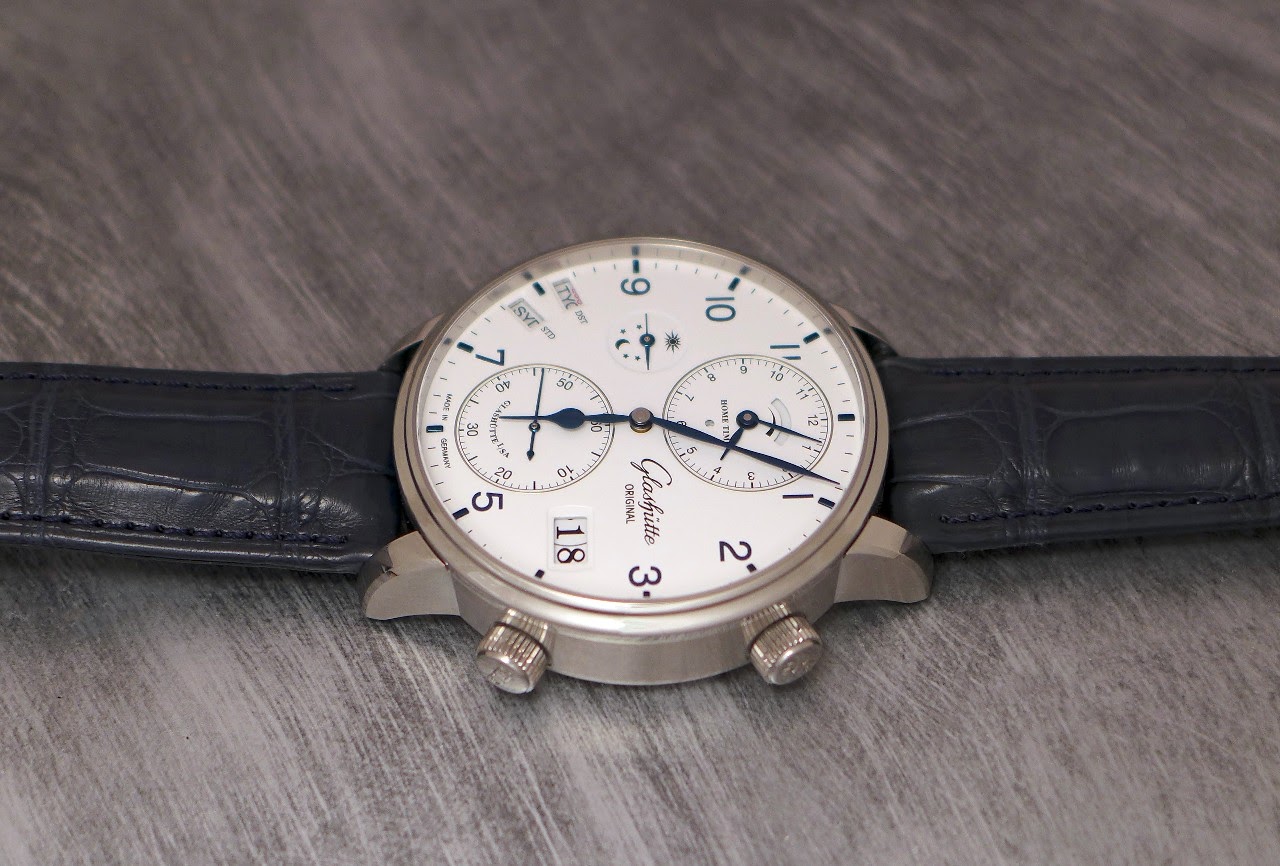 As for the movement, the Cal 89-02, it is automatic, with a splendid three quarter rotor, nice decoration and finishings: Bevels, Cotes de Genève, Perlage, double balance cock which is hand engraved, double swan neck, it is really nice looking.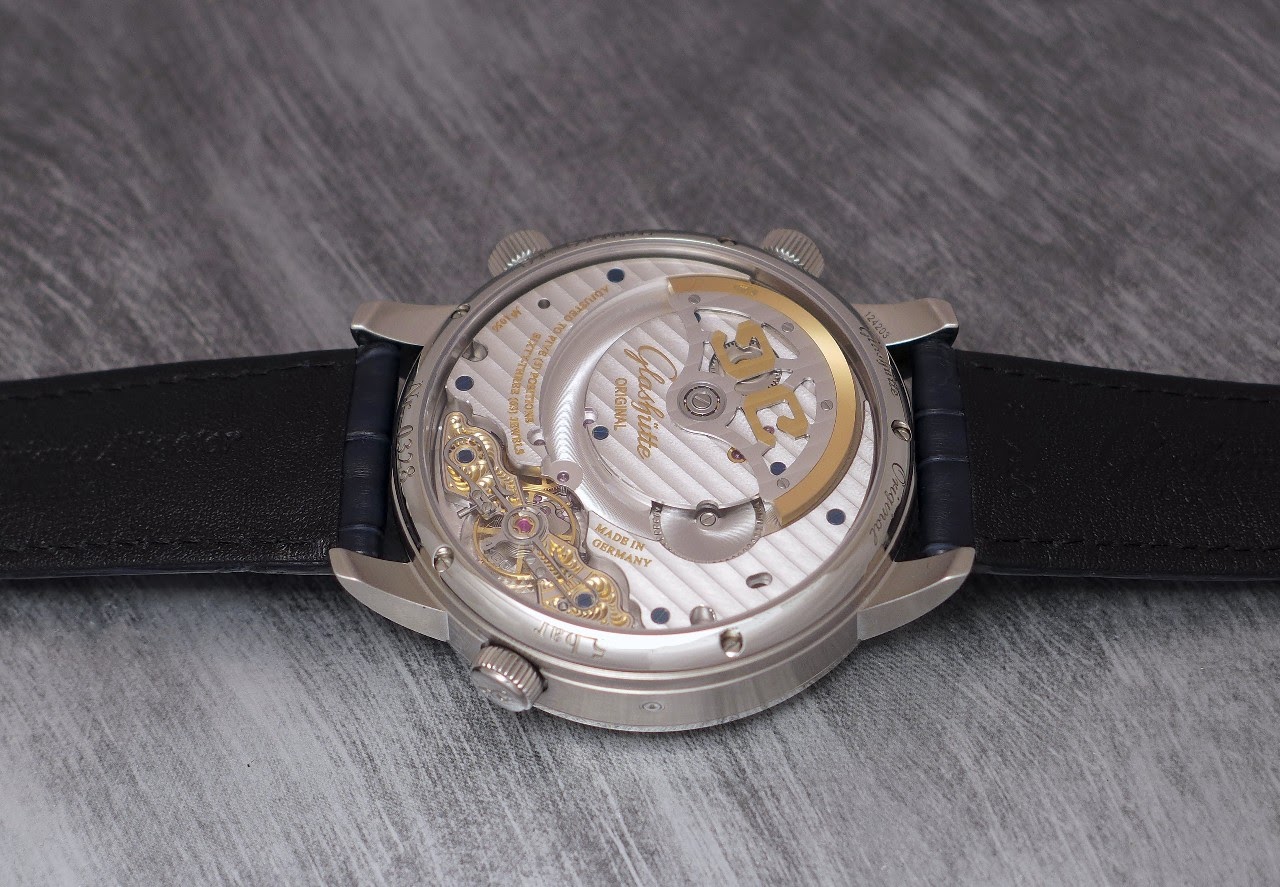 It is big, with a diameter of 39, 1 mm and thick ( 8 mm ), which explains the dimensions of the case... It beats at 28, 800 vibrations per hour, and offers a power reserve of 72 hours.
Now, the only issue I found to this watch... Its case. Its dimensions are " generous " with a diameter of 44 mm and a thickness of 14 mm. Generous is a weak word, as, in the reality, it looks even bigger due to the important aperture of the dial and the lack of bezel. And it is really thick!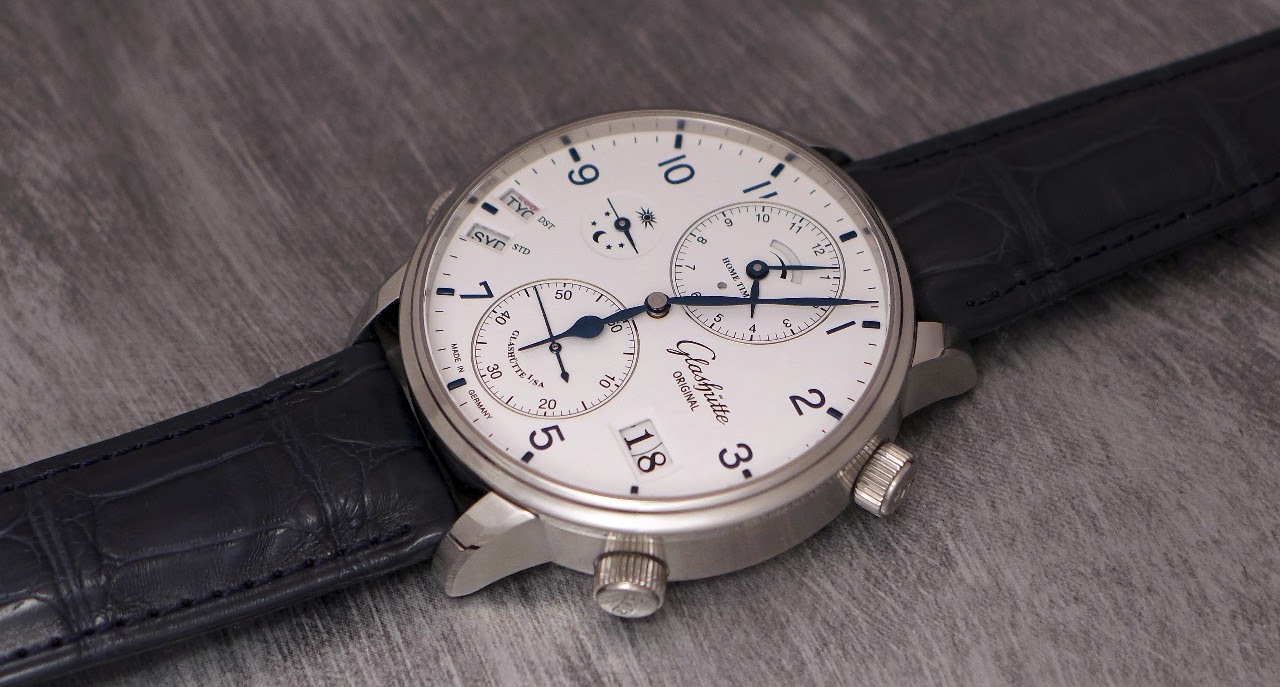 That is really disorienting. Now, I should ask Glashutte to let me play with one for some weeks, as I might get used to it. Let's say that compared to the Duometre Unique Travel Time from Jaeger Lecoultre, the Cosmopolite feels much, really much bigger. Though, it is made with great care, with beveled lugs which are nice looking.
I will give some time, and will test it several times, to see if its dimensions are a no go, or if I can deal with that.
All in all, a good watch, original, well thought, which is one of the most sophisticated of its category, with a splendid automatic movement. The interrogation point... The size, which is a point I immediately noticed when I saw the first official pictures...
Looking forward to reading your comments and thoughts,
Best.
Nicolas