Sassoun Sirmakes is frequently touted as the youngest CEO and founder of a watch brand. His father happens to be Vartan Sirmakes, co-owner of Franck Muller Watchland Group, which has annual revenues in the region of CHF400 million, according to industry sources. Franck Muller annual production is in the low five figures, while Cvstos made about 2000 watches in 2008 and 2009 output will be in the region of 3500 watches.
As he tells it, after Sirmakes completed high school in 2005, he had three options - attend university, join Franck Muller or strike out on his own. He chose the third option and founded Cvstos with Antonio Terranova, an engineer who had previously worked at several major watch brands. Terranova explains that he spearheads the brand's aesthetics while Sirmakes takes care of the nuts and bolts of running a business.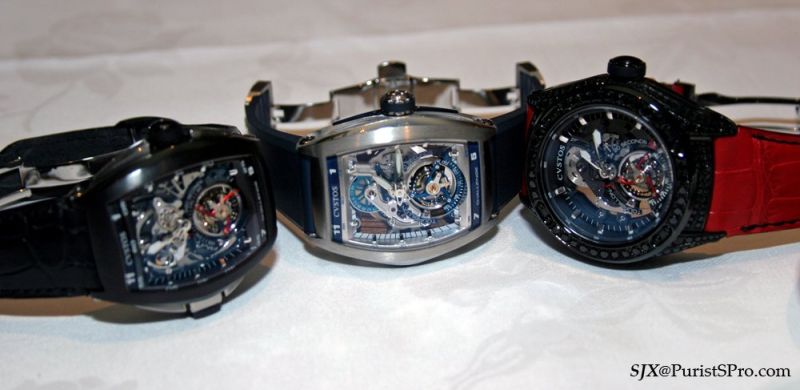 From left: Minute repeater tourbillon worn by Antonio Terranova, the Yachting tourbillon in platinum, Tourbillon with black diamonds worn by Sassoun Sirmakes
Sirmakes decided to start Cvstos due to the simple fact that Franck Muller was already an established business, he did not want to merely "manage [a successful] business". But the more important reason is that both Sirmakes and Terranova saw the potential in the market – 2005 was some time before brands like Richard Mille and Urwerk had taken off – for watches that looked different. Terranova put it simply, "People don't want to wear their father's watch." One also gets the impression that Cvstos is an opportunity for Terranova to execute ideas that never took off while he was at brands like Breitling and TAG Heuer.
Sirmakes does not conceal the obvious, he openly admits being his father's son was an advantage. Referring to the initial search for a dial supplier, "When we first started, it was difficult, no supplier was doing what we wanted", but he continues, "[but they] said 'This guy's father has money, so it should be OK' and they did a few dials for us."
Nonetheless, being connected to a large and profitable group independent from the industry giants drew the ire of some competitors. He relates the story of the inaugural presentation of Cvstos watches at the La Reserve hotel during SIHH. Cvstos had leased substantial space from the hotel for its exhibition and its banners and posters were plastered all over the hotel premises. Sirmakes says Richemont then called the management of La Reserve with the ultimatum: remove the Cvstos material or all Richemont room reservations at La Reserve would be cancelled; Richemont had booked a large proportion of its rooms for SIHH visitors. Sirmakes' reaction was to comply, but he adds, "So instead we put our nice cars outside [in the driveway] with Cvstos decals!"
Sirmakes exudes a confidence and enthusiasm that is genuine, but also reflective of the security of his background. On the other hand, Antonio Terranova is more subtle, possessed of a knowing and slightly impatient demeanour. Some of Terranova's comments on various aspects of the industry are amusing yet true. Speaking about the aggressive lifestyle advertising used by some brands, he says, "A watch only gives you the time, not a good character or new personality or better life." And when the conversation moves to limited editions, "A [limited edition] for France is not just the French flag on the dial and [the] Paris map on the back". Terranova cites the Yachting Tourbillon as an example of a genuine limited edition, because in addition to the blue and white nautical colours, the movement has strips of wood inlay in the baseplate, recalling the planked deck of a yacht.
At the same time, Terranova's insistence that Cvstos is nearly wholly vertically integrated is much less easy to swallow. He characterises the brand's links to Franck Muller Watchland as a "privileged relationship", explaining "Franck Muller has production power [so] we have some help from them," but he notes the majority of components in Cvstos watches are not from Franck Muller, he pegs the proportion of parts sourced from Watchland at 20%. In an earlier thread on this forum several images of a chronograph calibre from Martin Braun, a Franck Muller Watchland company, is identical to the purportedly in-house Concept S chronograph movement.
Whatever the truth may be, the movements created by Franck Muller and its associated companies are frequently interesting and occasionally impressive. Aficionados frequently give Franck Muller short shrift, thanks in no small part to its ridiculous slogan "Master of Complications", but that is doing the boffins at Watchland an injustice. The competence of Watchland is reflected in several of its associated brands, including Cvstos and Martin Braun, though Terranova and Sirmakes would be sure to note that Cvstos is far more independent of Watchland than Martin Braun.
Cvstos watches demonstrate a high degree of complexity in case and dial construction, which reminds one of the early Franck Muller watches which were widely regarded to have outstanding case and dial work. Most of the newer Cvstos models have noteworthy movements, most notably the minute repeater with a form movement and tonneau-shaped gongs.
Click here to continue reading.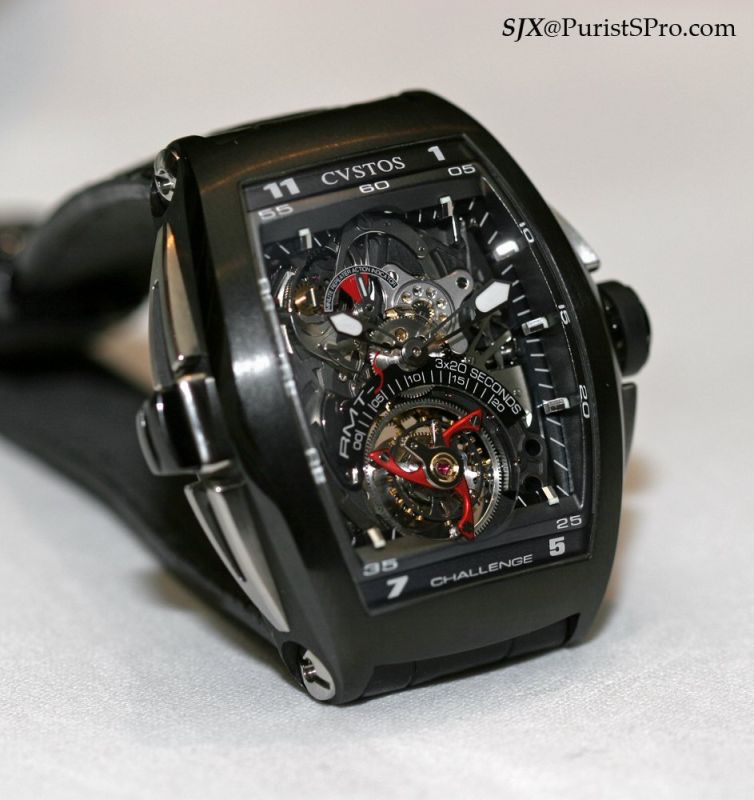 This message has been edited by SJX on 2008-12-24 02:22:14
This message has been edited by SJX on 2008-12-24 04:54:40
This message has been edited by MTF on 2008-12-26 09:38:28