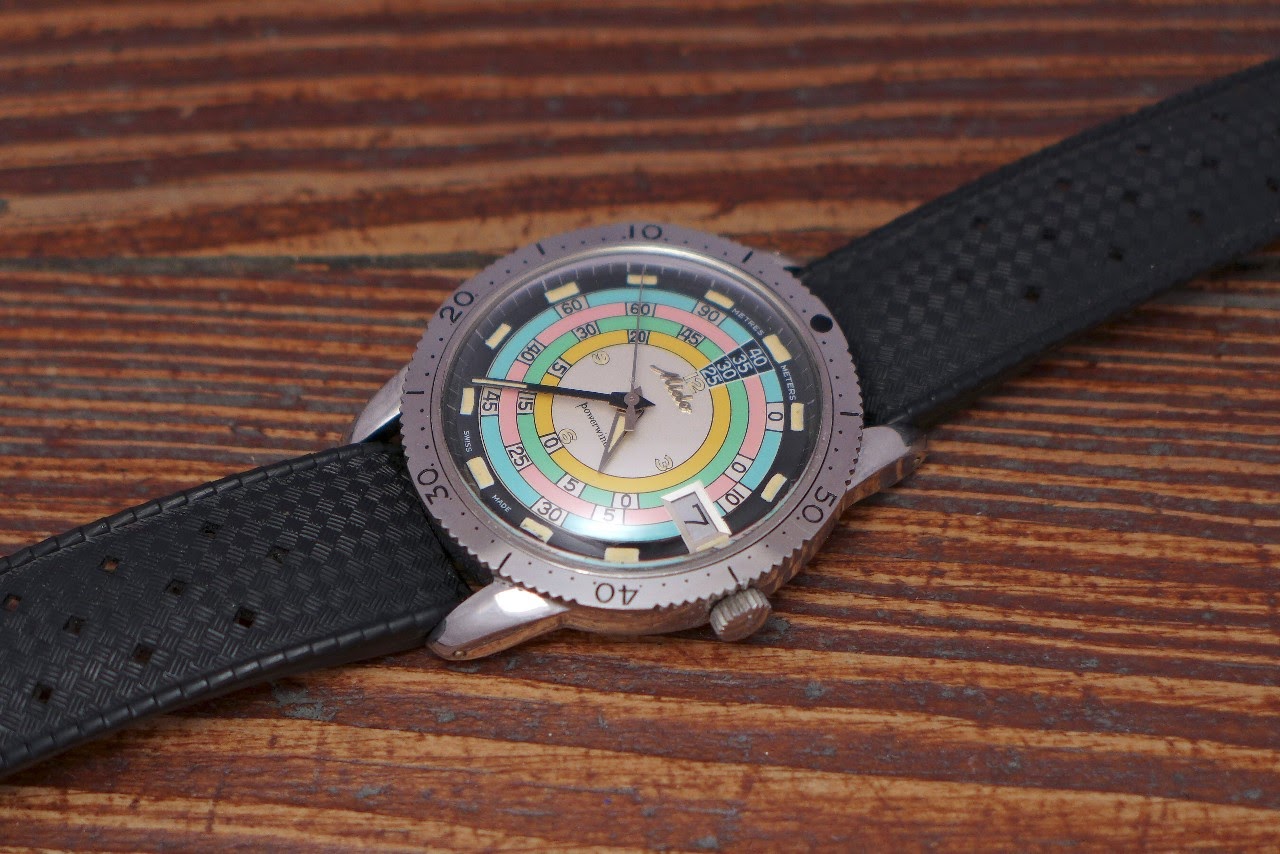 There are some positive accidents, in life.
I noticed a strange vintage diving watch in the window display of a famous parisian watch dealer, in... 2010.
Two years after, the watch was still here, like if nobody wanted it...
The watch in question? This Mido Powerwind Ocean Star Diver.
So, I made an offer, and it was mine.
It's been in my collection since 2012, for 6 years, now. From time to time, I did some searches, to see if I could find some informations on that model, but I found very few conclusive informations, sadly.
So, this review will reflect my owner's feelings, I will explain you why I decided to make the plunge on that watch, and I will include some informations I found.
First of all, this is a very nice looking watch: Colorful, fun, original, with its dial and hands.
The dial came in several versions: White or Black outer part, with or without date.
The white dialed version. Credit: Matthew Bain:
The black version ( mine ) :
I cannot say which version is the rarest, but one thing is sure, you won't find a lot for sale or posted here or there...
Both the white and the black dials had meters and feet measures.
It seems that the no date version first came, in 1959, and that the date version was introduced circa 1962. The 5907 was discontinued in 1965.
The second reason is that this watch is friendly, as the dial displays a decompression scale, which is useful for divers. Only a few brands offered a decompression scale in a watch: Vulcain comes to mind, of course, with the Nautical as soon as 1961, Buler with the Aquarius from the late 60's early 70's, Cornavin Genève Ref 118, and this Mido Powerwind Diver.
The BULER Aquarius ( Credit picture: Watchsteez ) :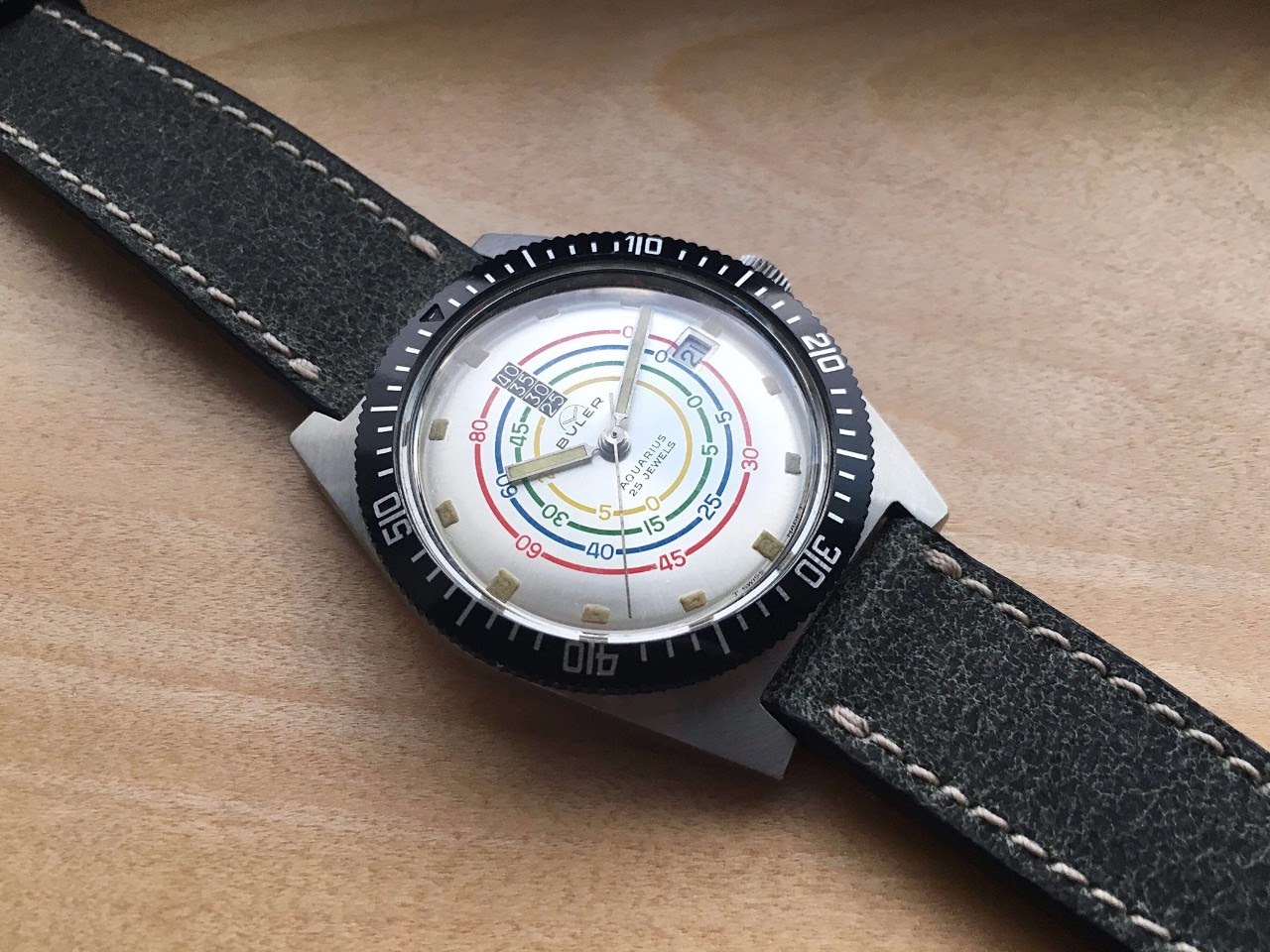 This Mido, being unveiled in 1959, it may be the first wrist watch to come with a decompression scale, BUT it is only as far as I know...
Anyway, you will find, below, a draw which explains how this dial has to be read to know what it is the necessary decompression time depending on the depth ( Credit: Diving T / Tony ) :
The decompression scale doesn't turn. It is more a reminder of the decompression time.
As you can notice, the rectangular indices located each 5 minutes, the 3 / 6 / 9 / 12 are luminous ( tritium ) as well as the hands.
Speaking about the hands, they also have a special shape: A kind of short but large Dauphine for the hours, long and slim black hand for the minutes. I never saw that elsewhere, as far as I know / remember.
The sensual slightly domed plexy glass is signed at its center:
The third reason: The case: Not the kind of case you are used to see, especially these lugs, which clearly contrast with those of our usual suspects ( Rolex / Tudor, Blancpain, Omega, Jaeger Lecoultre, Breitling ... )
This case is perfectly sized, at least for me, with a diameter of 38 mm. The crown, which is signed, is not screw in.
The case back gives the main characteristics of this watch: Self winding, anti magnetic, shock resistant, and, of course waterproof, guaranteed to 1000 feet / 300 meters... Which sounds a bit optimistic, the crown not being screw-in... Add a detail we saw on other vintage watches... The diver in action, engraved on the case back, like on the Longines Diver and the Jaeger Lecoultre Deep Sea Alarm!
This is a one piece case, which means that when you want to service the movement or change the hands, you will remove it by the top, which has been the object of a registered patent, in 1960, by Taubert. Here is a picture of the patent, to be credited to
Information/images from VintageWatchstraps.com © David Boettcher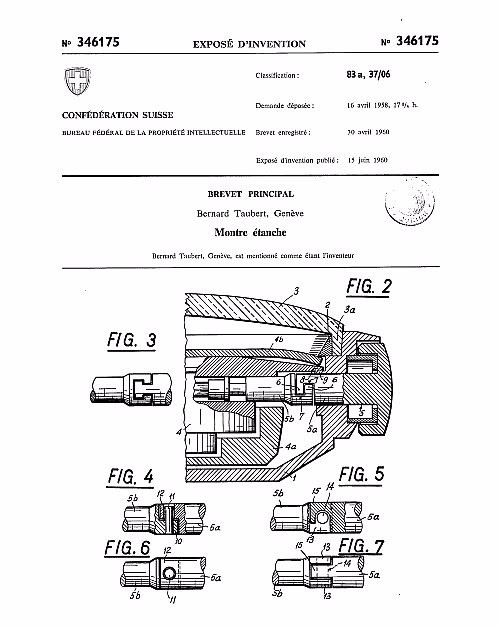 Here is another picture showing the case alone, once everything removed, which will give us an information about the name of this watch: " Ocean-Star ". Another information is written: " Limited ".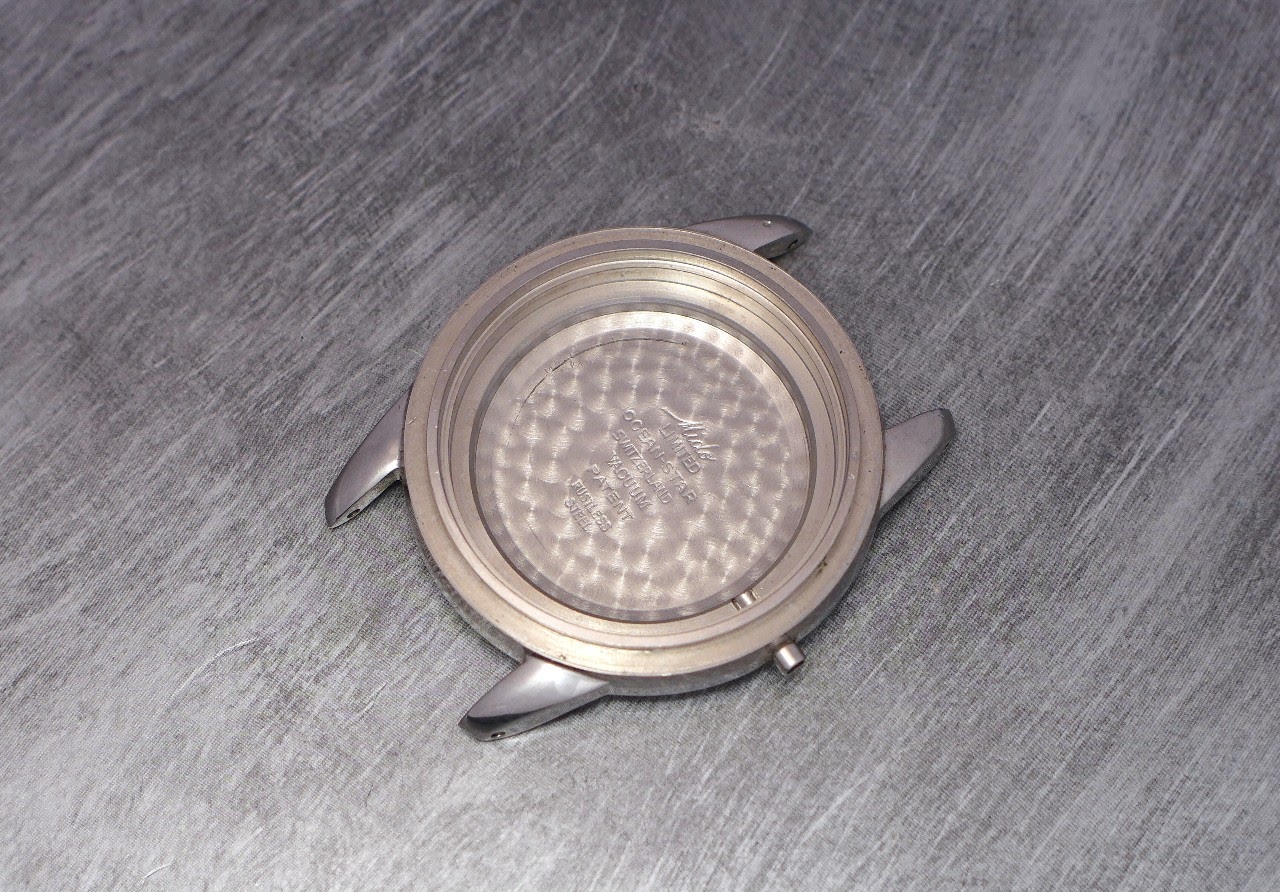 I don't know the true meaning of limited. Edition, production?
The name " Ocean Star " is relative to a line of watches, a bit like the Memovox for Jaeger Lecoutre. it is not the name of this specific model.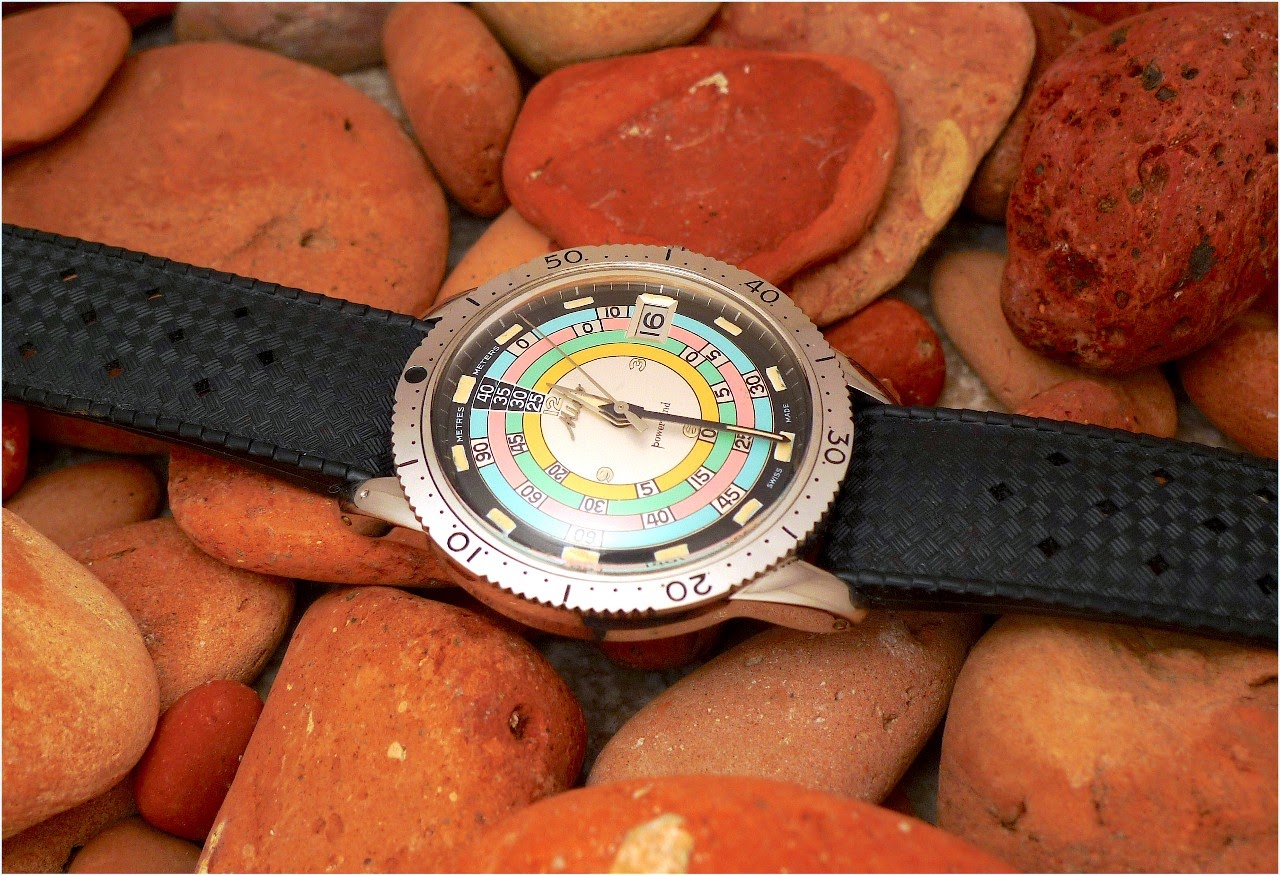 Here is mine, with most of the details hidden by the sticker, still present:
And here, a collage made by " Watches To Buy " showing the case back without tag...
The fourth reason is that my specimen is a true time capsule, as you could see on the pictures above, and below:
As for the movement, I found that the Mido reference is 11370C which corresponds to an AS 1717, automatic, beating at 19, 800 alternances per hour, and offering a power reserve of 43 hours. I managed to take these two pictures with the help of my watchmaker. You can see that its condition is mint, too: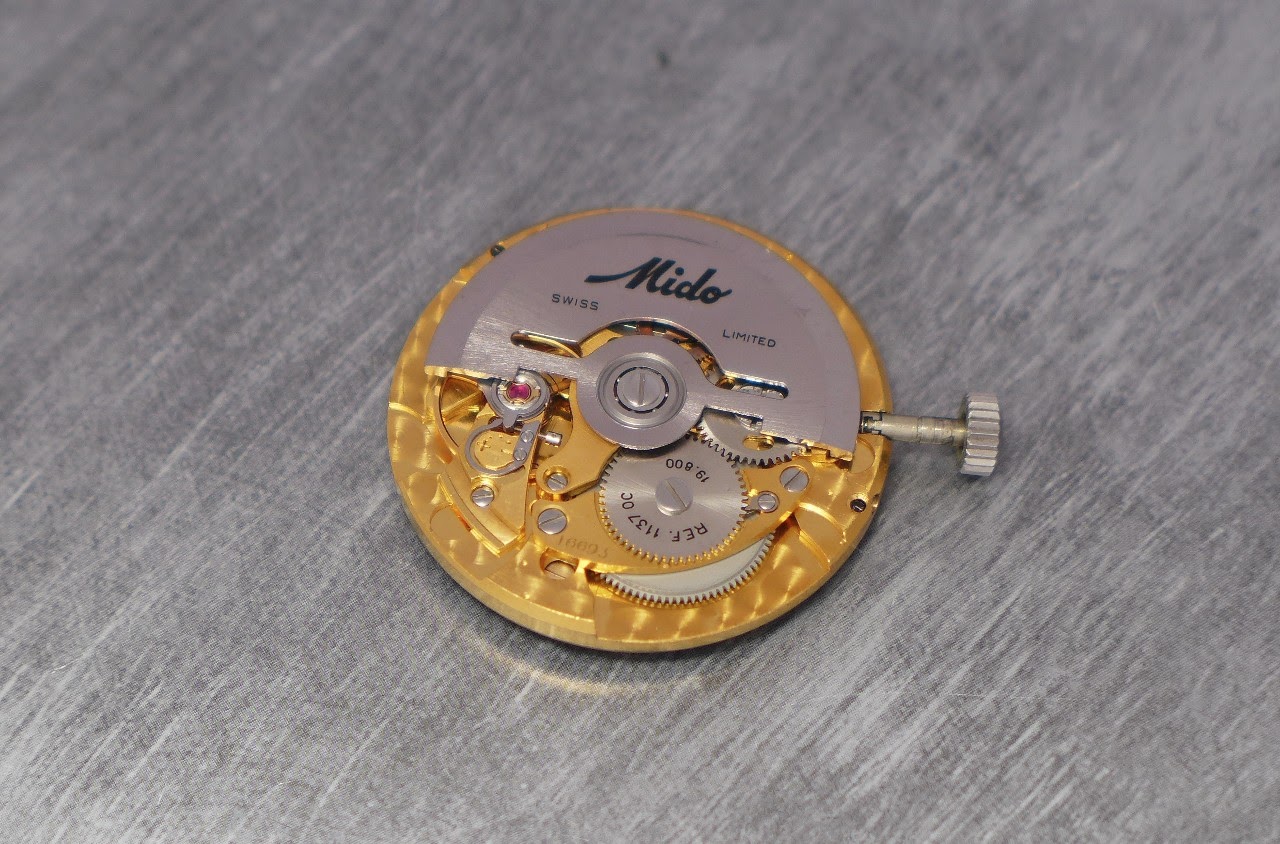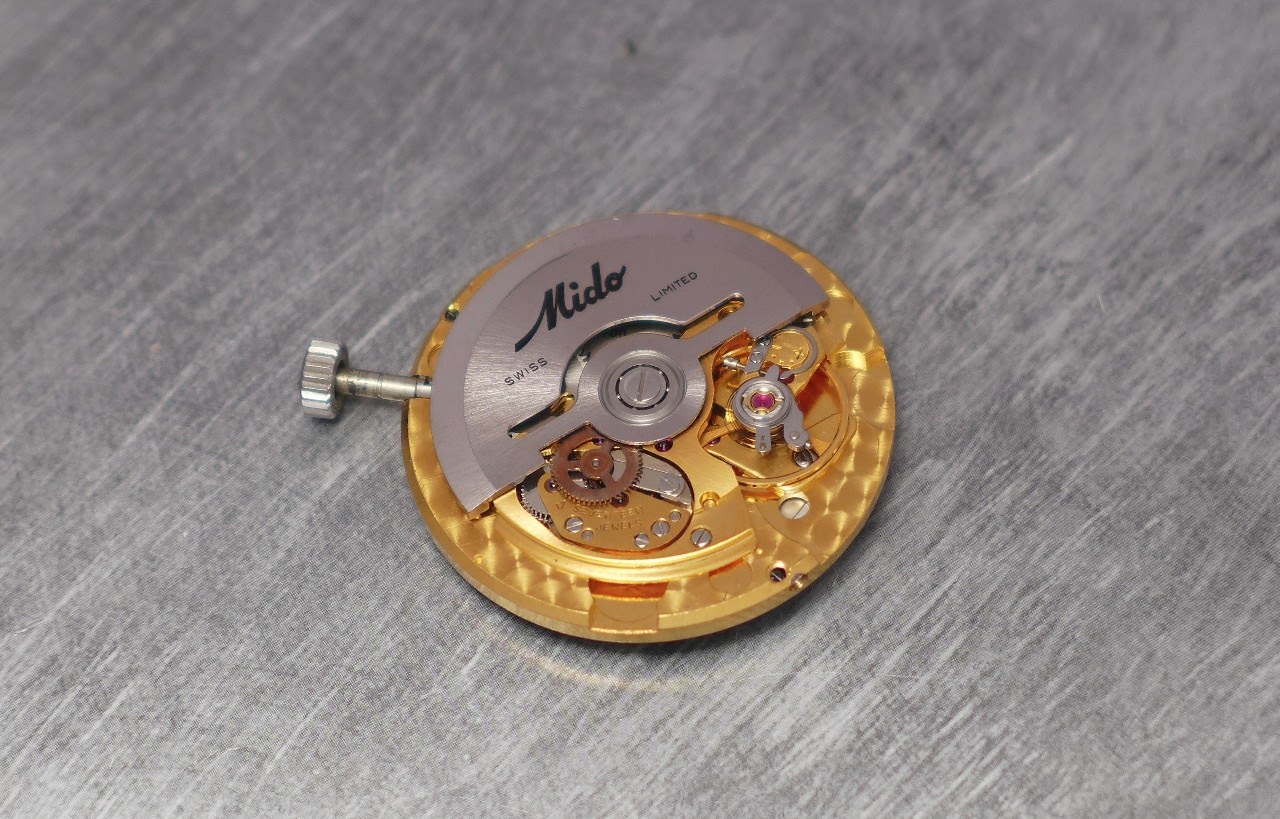 The last killing detail is that the watch came with its original Mido buckle...
On a tropic, it is much better than on its original steel bracelet, at least from my point of view: ( Credit picture: Menta Watches )
It also came with a Mesh bracelet, originally, with a signed buckle.
So, as a vintage diving watch fan, you now understand why I am happy to own such a specimen, which is a part of the diving watch history due to its specificity.
If you have more informations on this watch, please feel free to add them!
Best,
Nicolas