Stefan Kudoke
is a kind of a lone warrior who successfully created his own niche of nicely skeletonised and hand-engraved watches. Just before BaselWorld, Stefan upped his game with his first in-house movement, the
Kaliber 1
, developed in cooperation with Habring2 and UWD.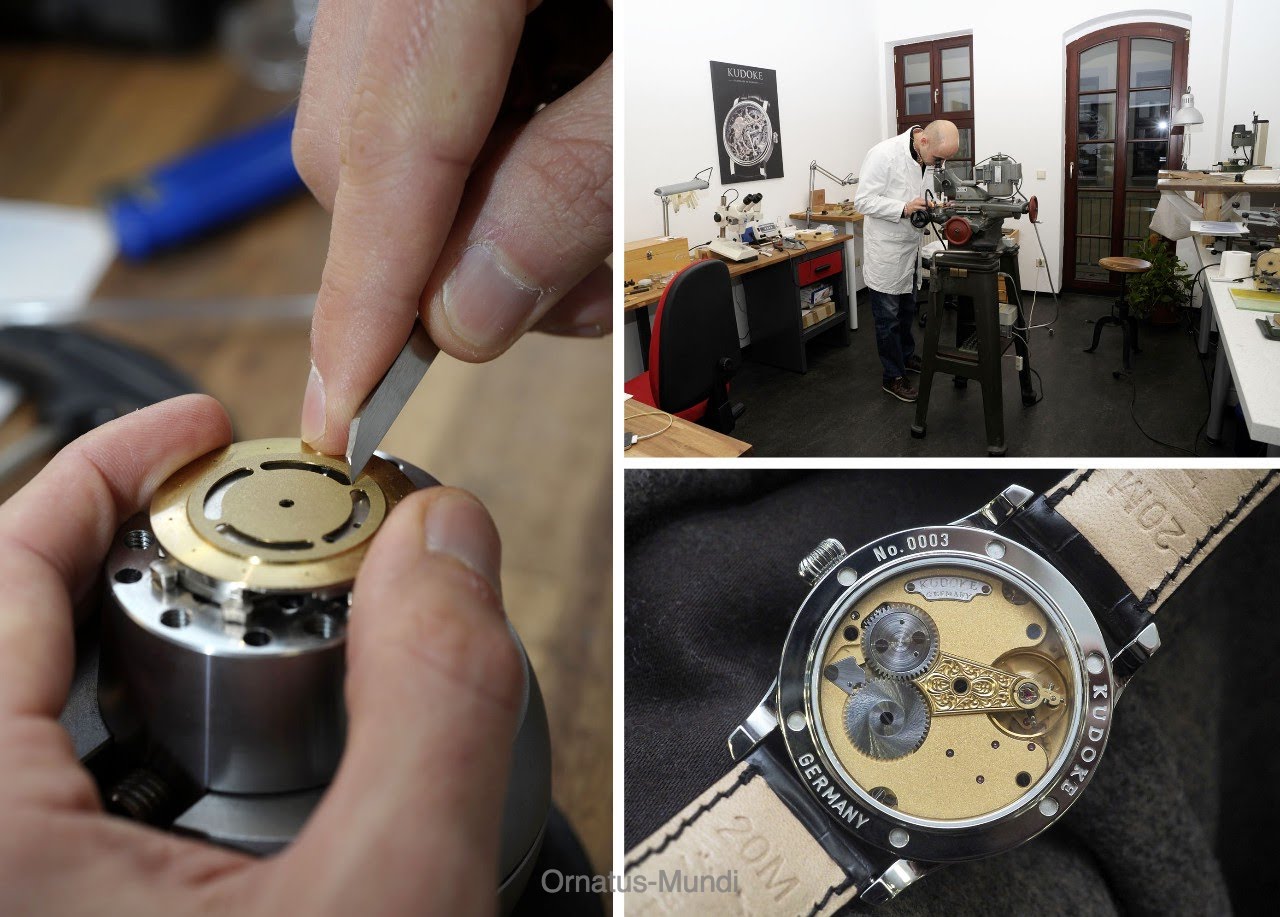 At the end of last year I seized an opportunity that presented itself ad hoc to spend sone spare time in his atelier in Dresden.
Stefan's atelier is located in the beautiful baroque quarter called 'Neustadt at the 'other' side of the Elbe river. The Neustadt (*new town') is considered the creative part of Dresden, and the part I love most - so I never reject an excuse to get there - and visiting a watchmaker's atelier does not really require an excuse, doesn't it?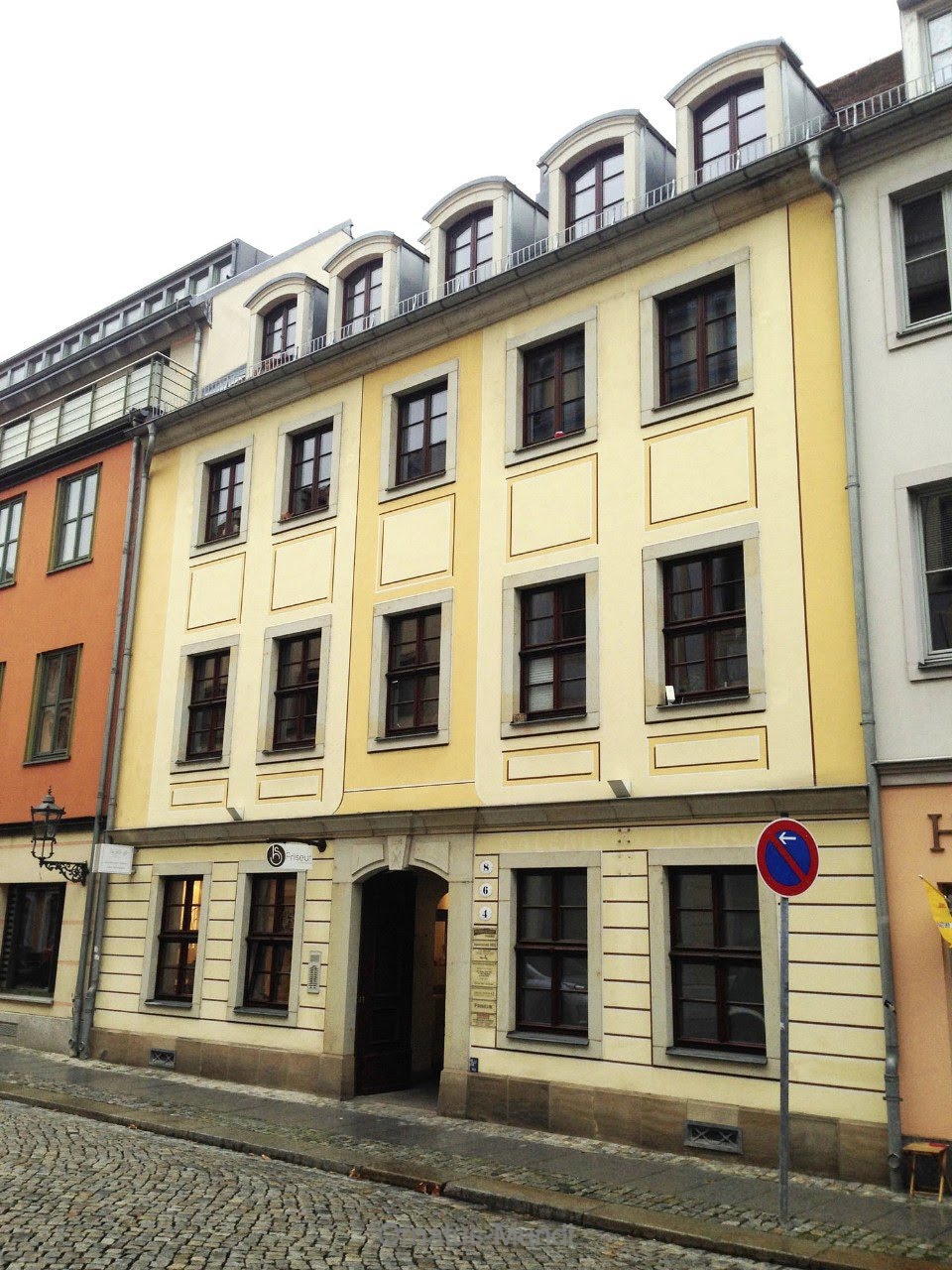 The Kudoke headquarters are small but completely equipped. Practically (I am discounting administration and kitchen now) they consist of two separate workshops, one for the 'dirty' stages of watch creation (cutting, milling and engraving), a galvanisation room ...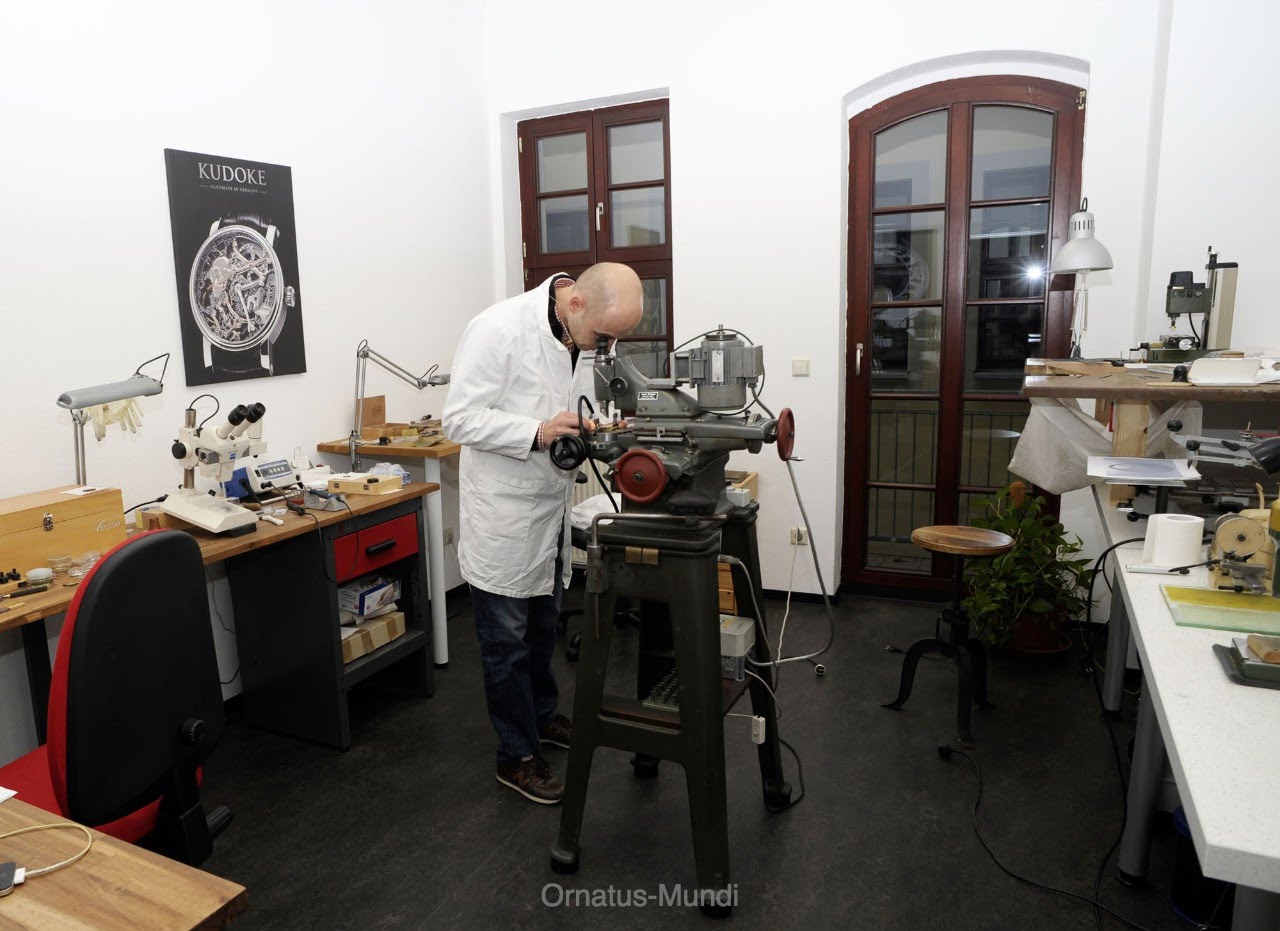 ... and one of the 'clean' ones.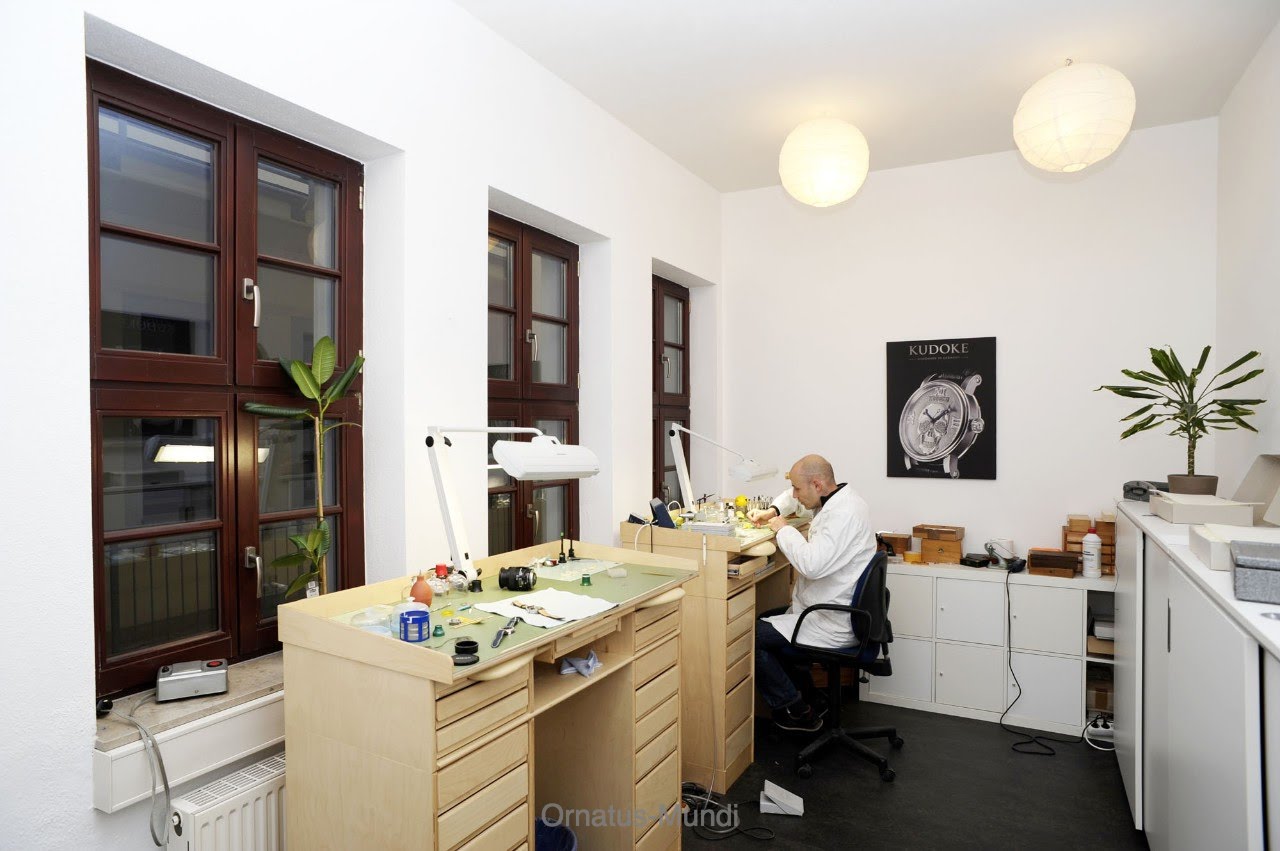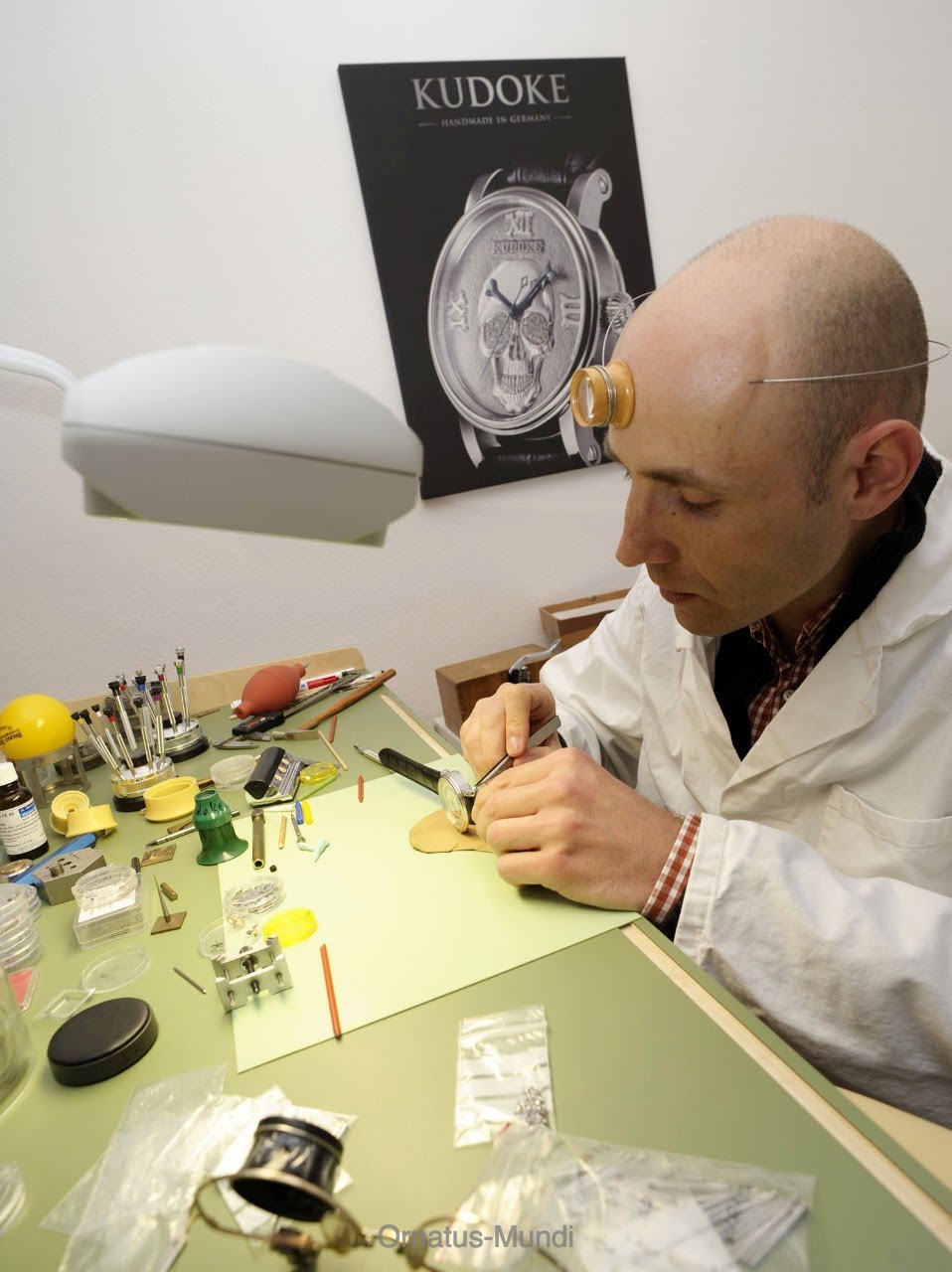 It is the former where the uniqueness of the Kudoke watches starts to exist…
Stefan's watches are known for creative skeletonisation and engraving, and this of course takes place in a room separated from the final assembly, encasing and testing. His workshop is fully equipped for this type of work, with very streamlined and efficiently setup facilities: cutting machines, engraving styluses and the like - practically all you need to cut and put into shape of movements, dials and hands.
Most of the work is done here by Stefan himself, only for the most elaborate engraving work he would consult a local master engraver. Work like the skeletonisation of the ratchet wheels are entirely done by himself. From left to right we see a freshly cut and sawn wheel, an anglaged one and then the final anglaged and brushed wheel: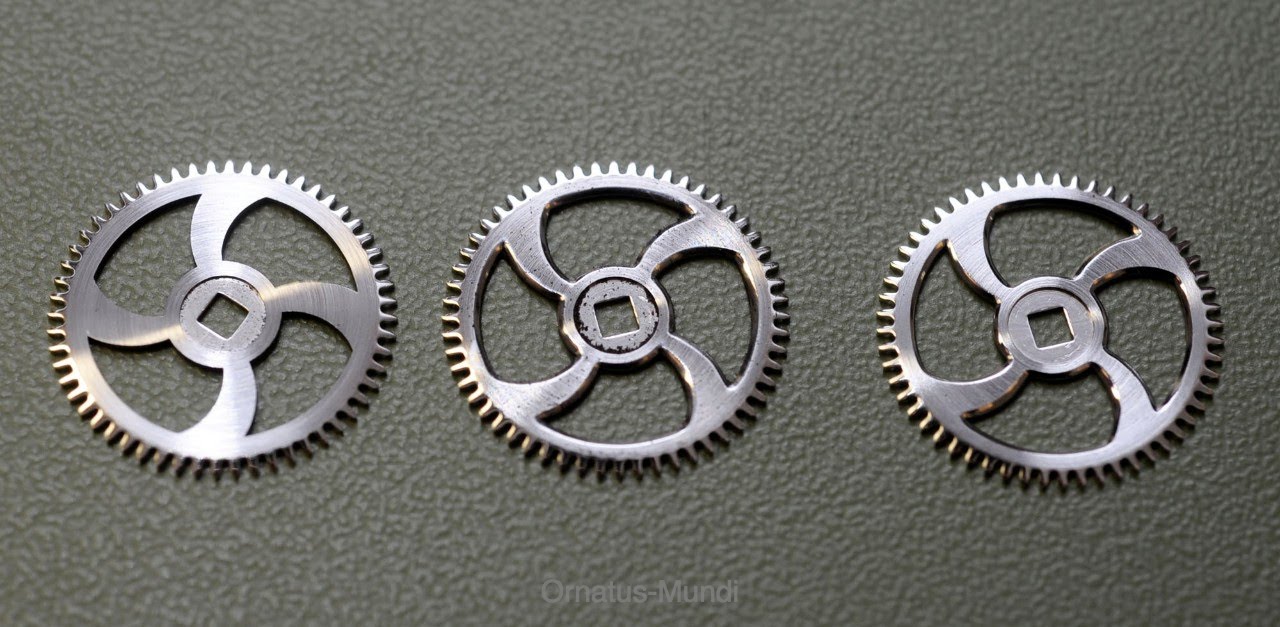 When I visited him, on his desk was the partially open-worked dial plate for the
Kudoke Mysticum
, which he was about to apply anglage: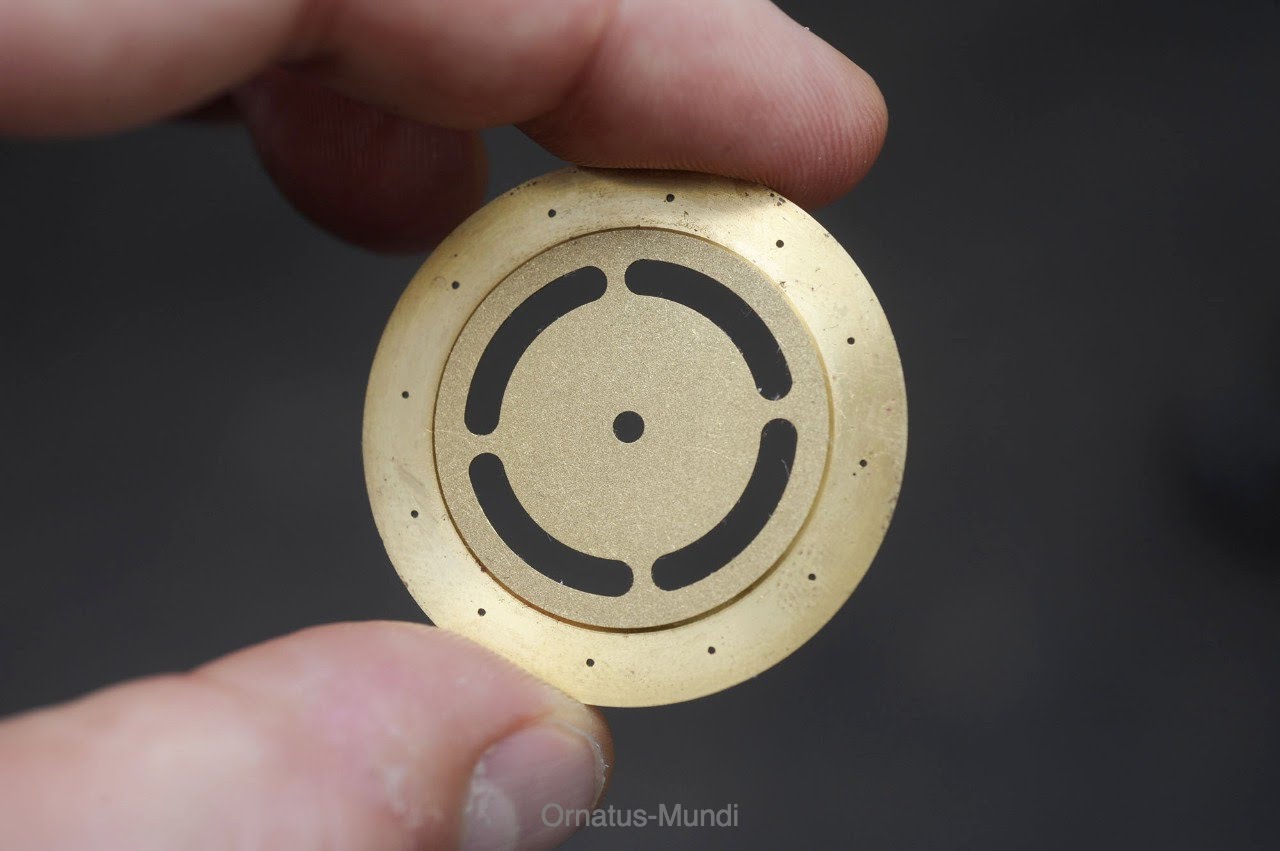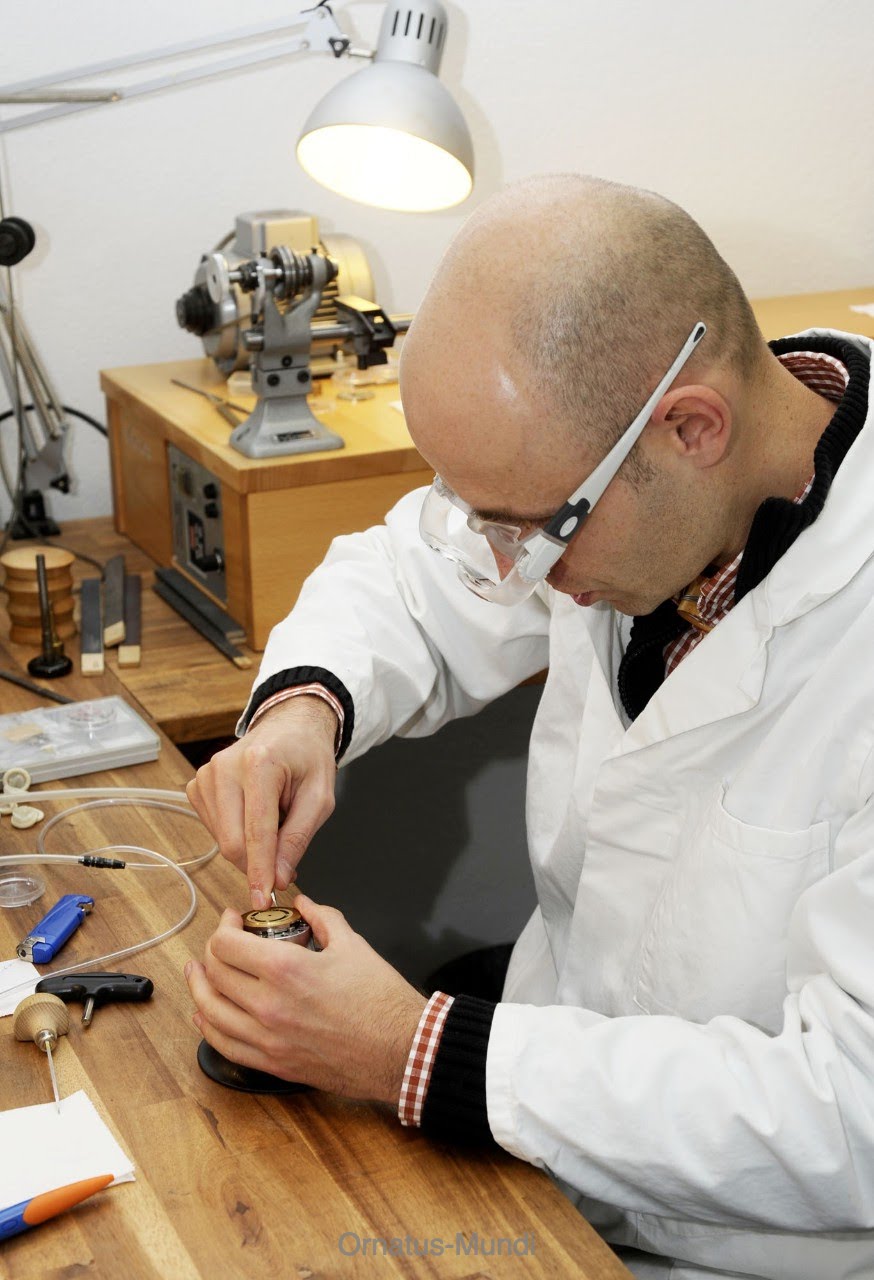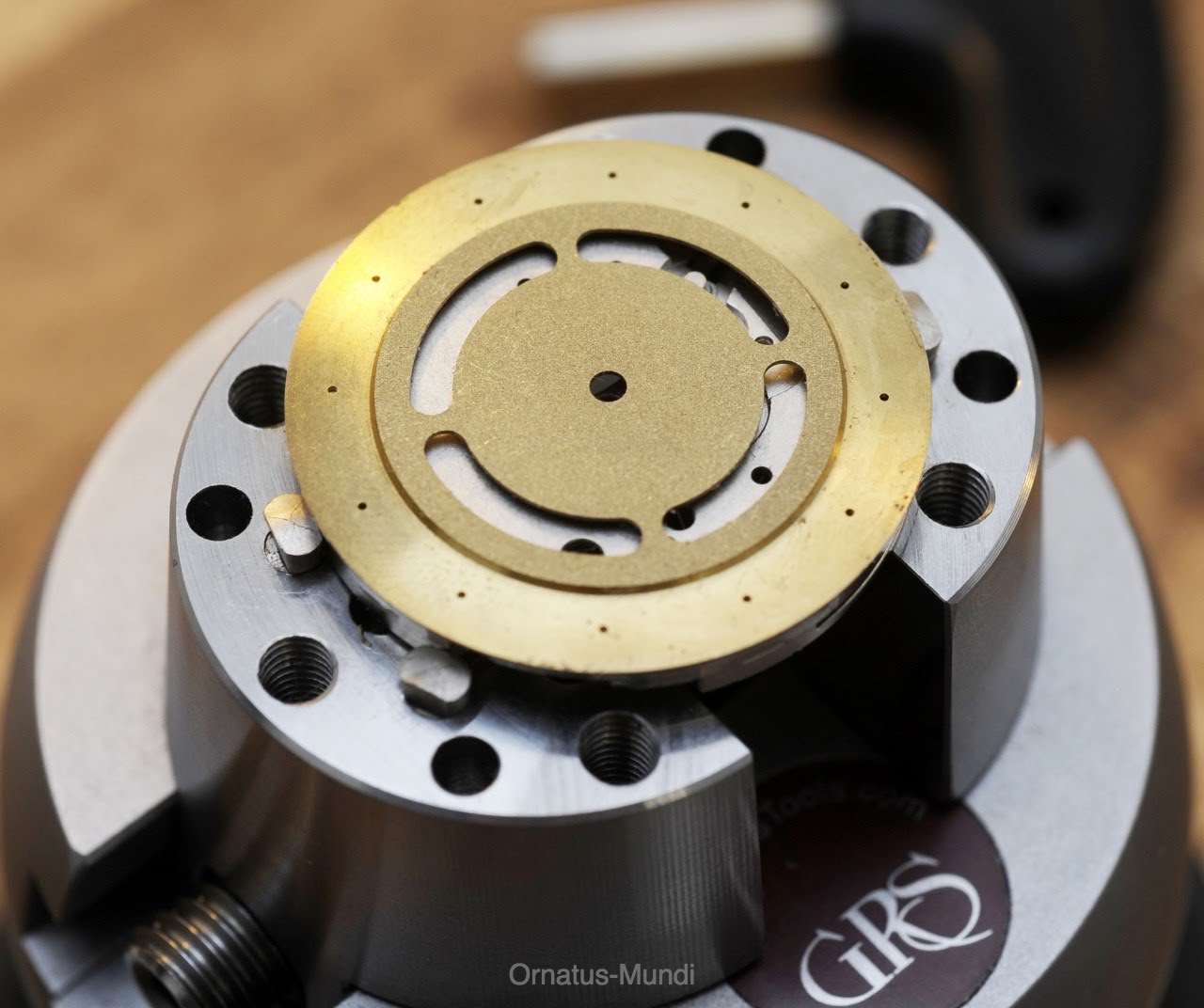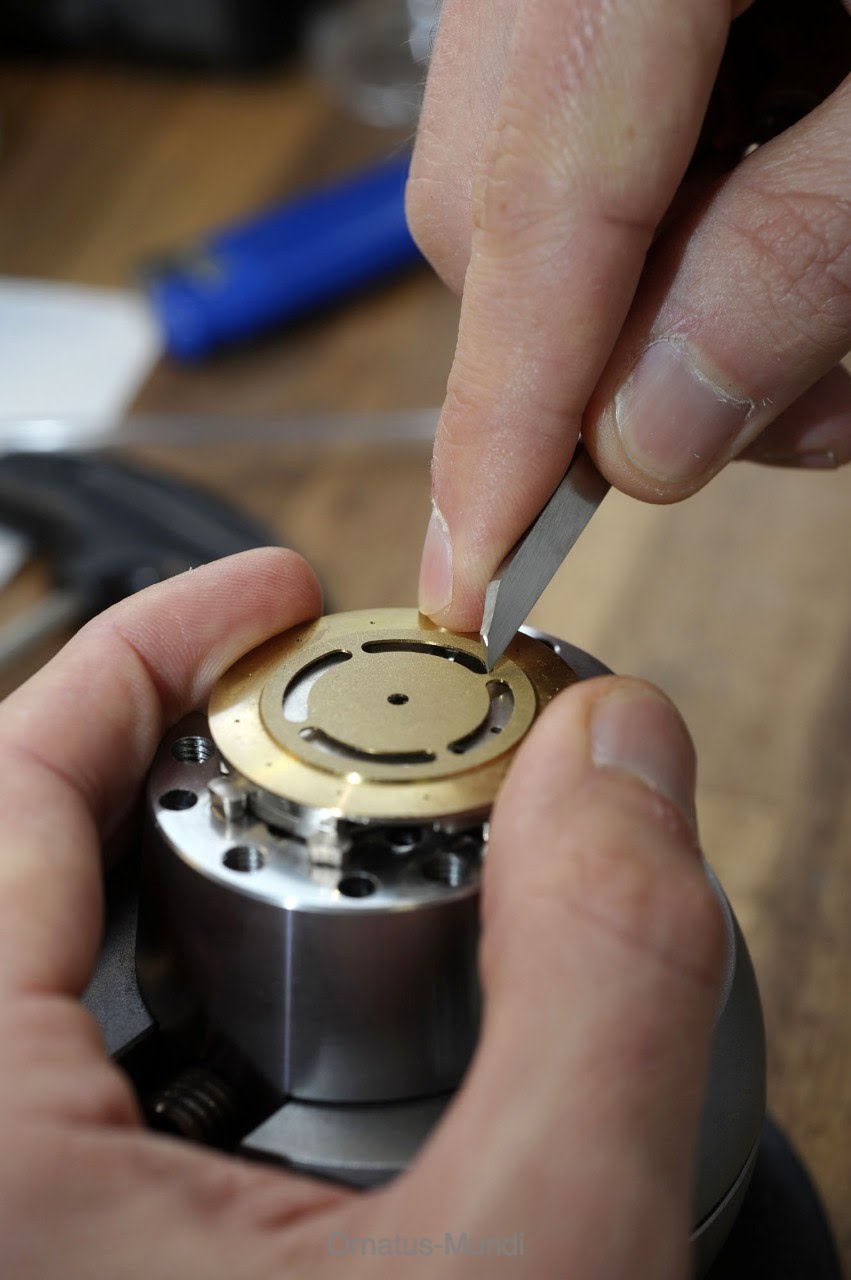 Eventually, the watch would like like this: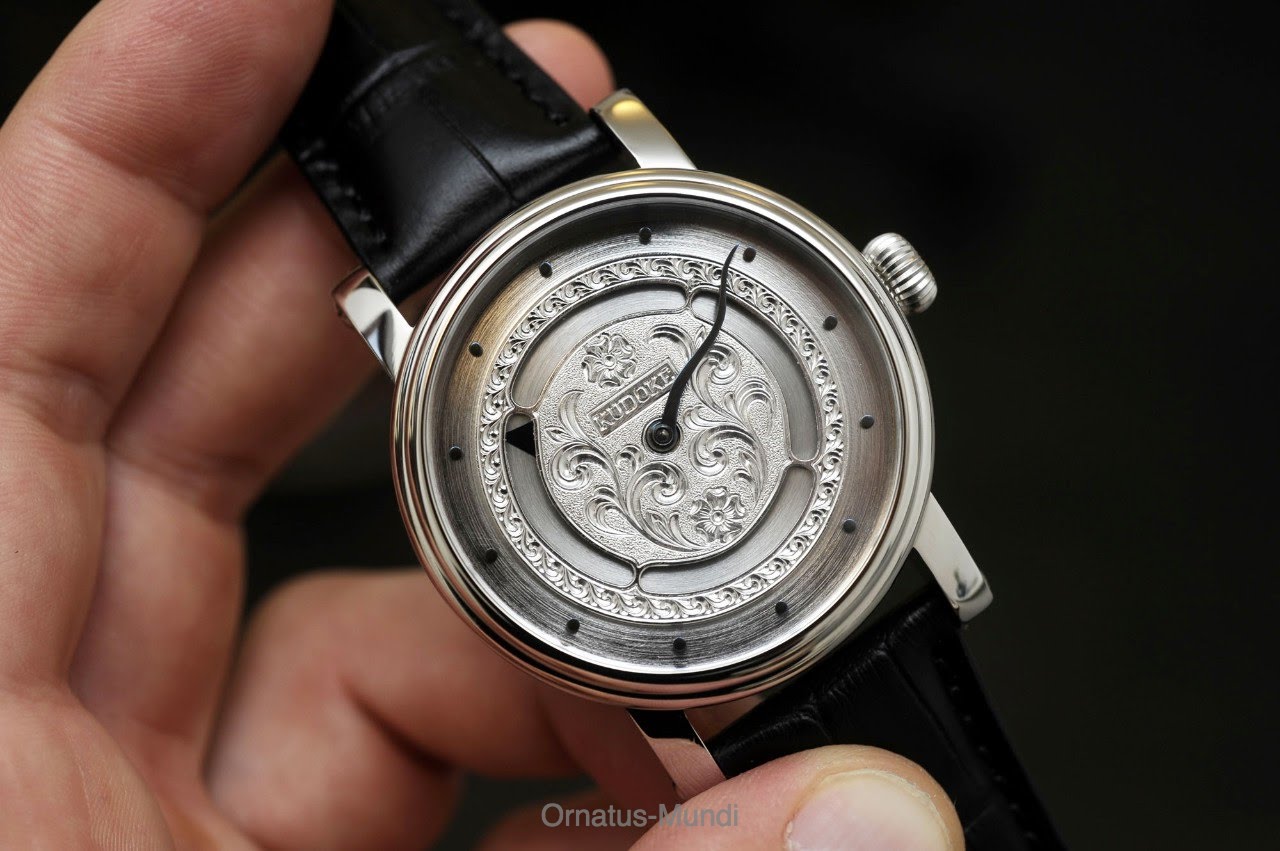 And then there was this piece which did not fit to any of Stefan's designs so far…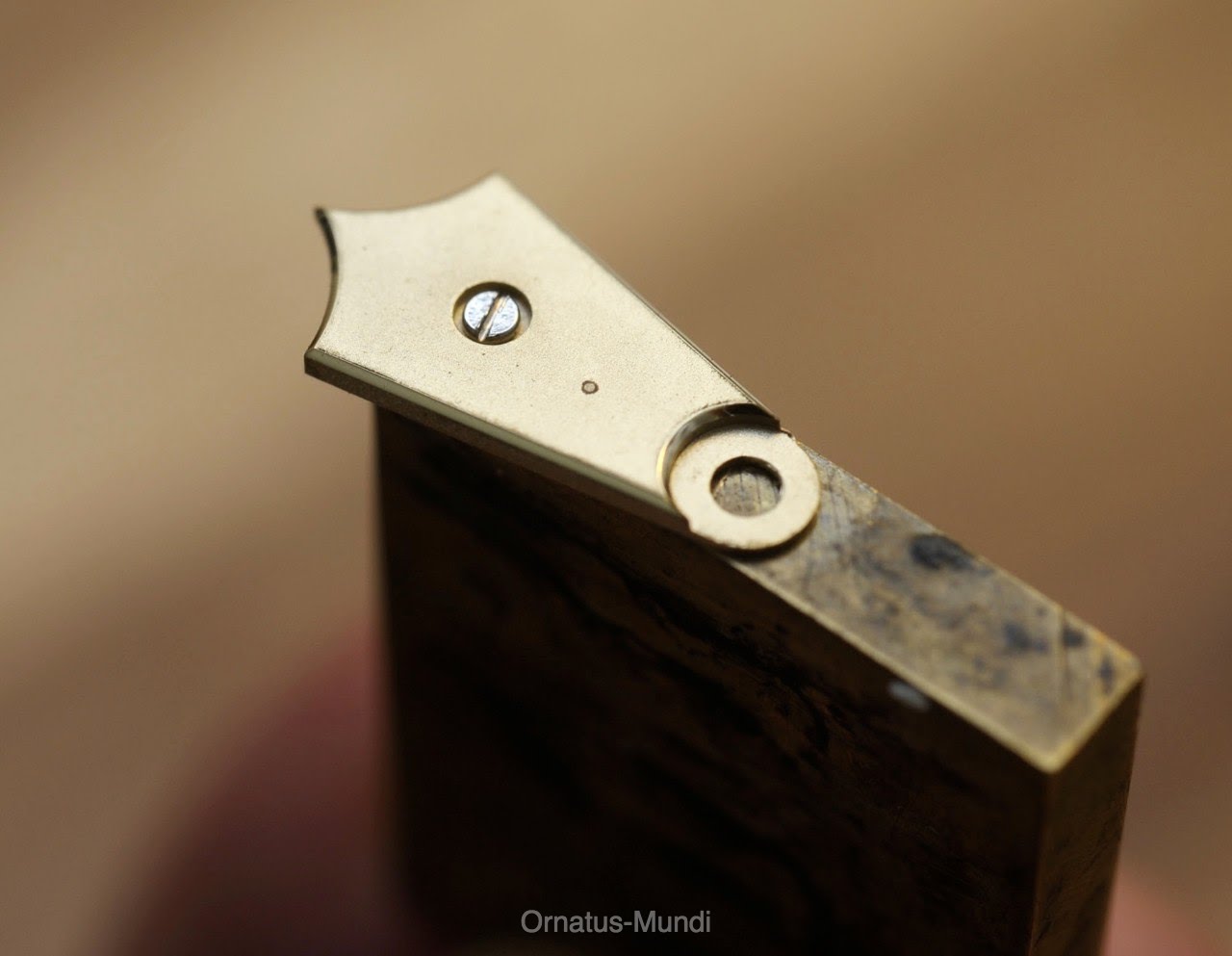 … Stefan at that point hinted at an own in-house movement, which he was developing together with Habring2 and the Uhrenwerke Dresden (UWD), which belongs to the same group as renowned watch manufacturer Lang and Heyne. The movement was not ready for prime time when I visited him, but Stefan hinted it would not be for long to wait. And indeed, the new watch housing this movement was ready for BaselWorld 2018: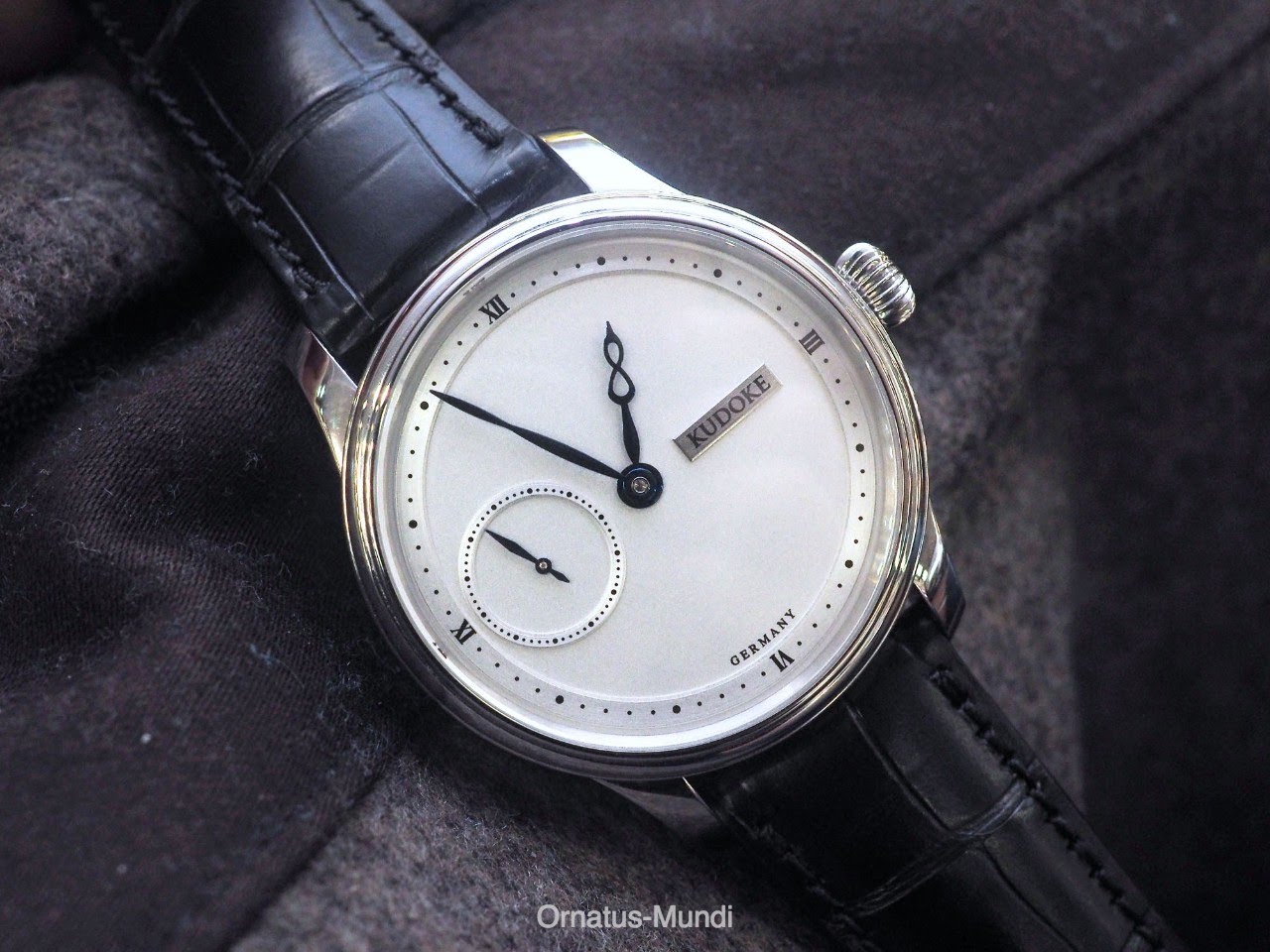 The design of the watch is a departure from the open-worked pieces he is known for, and I think this is for a good reason: Stefan wanted to showcase the new movement, and therefore a restrained, classical watch design would fit best.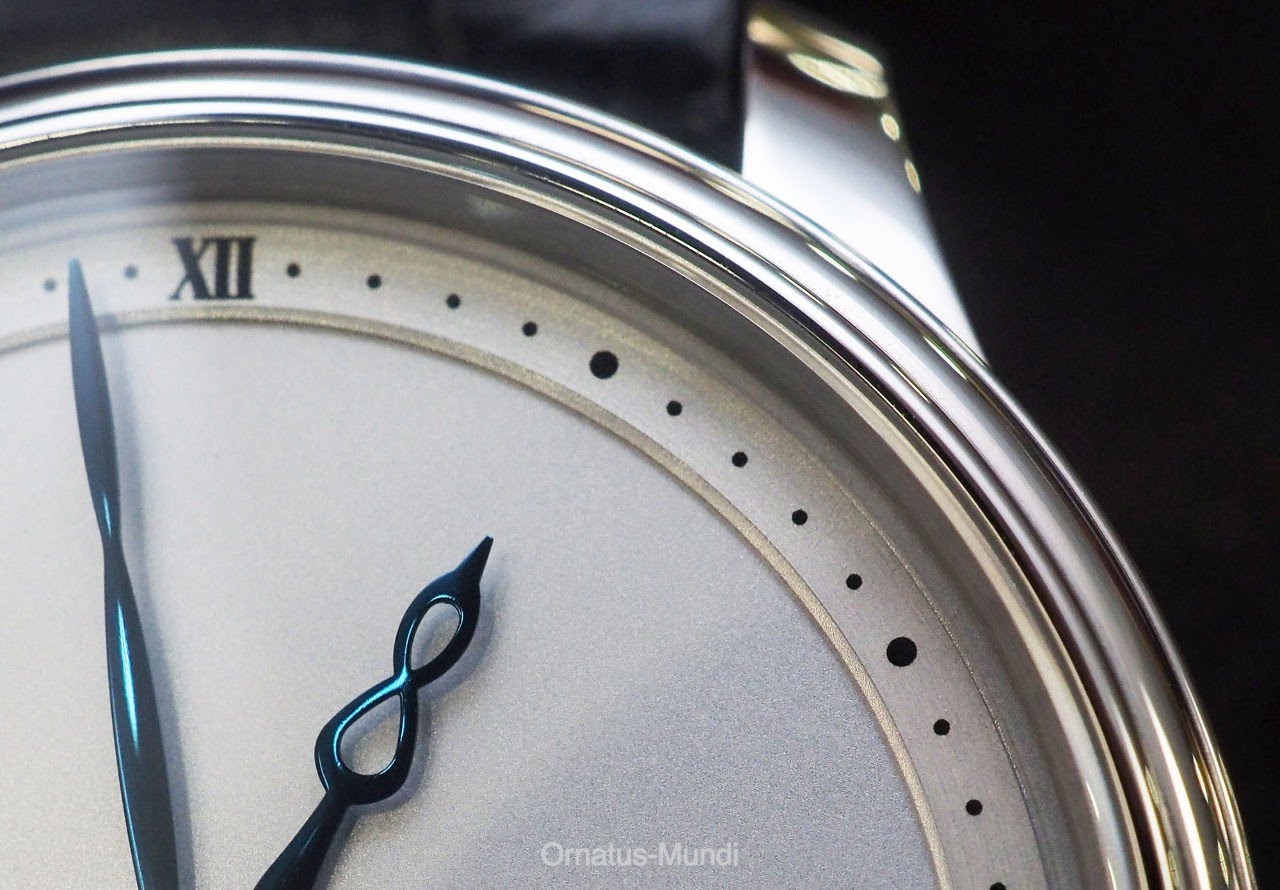 If you look at the hand though, the typical Kudoke finishing is well visible - just notice how finely rounded the pieces are (and how nicely they consequently reflect the light):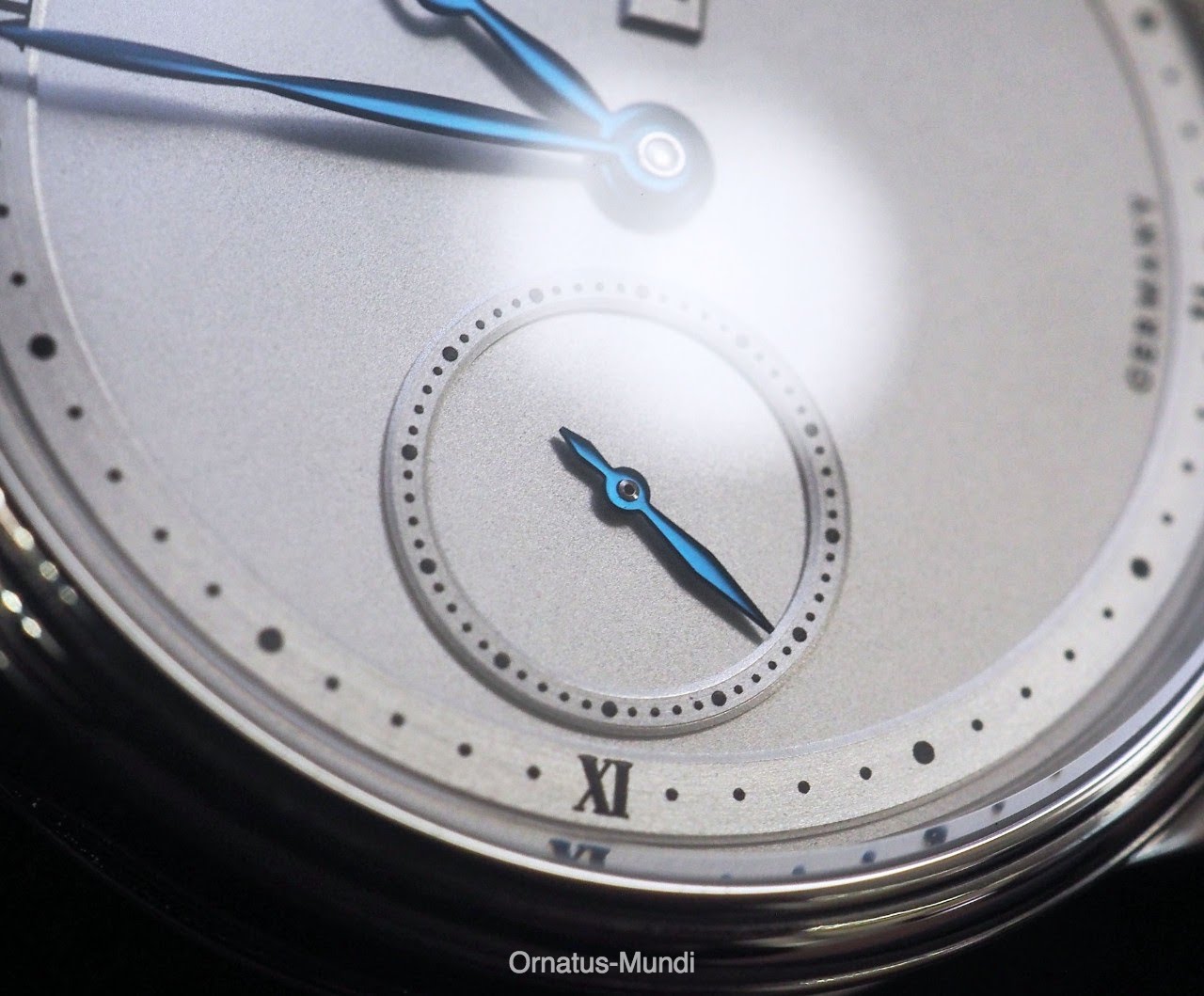 The case is fashioned in the so-called 'dog collar' style, with overlapping front and back bezels on a very straight and classical case band. This is English watchmaking exemplified (I have in mind a great number of vintage English watches, Frodsham for example). The case measures 39mm (with bezel) or 38mm body only.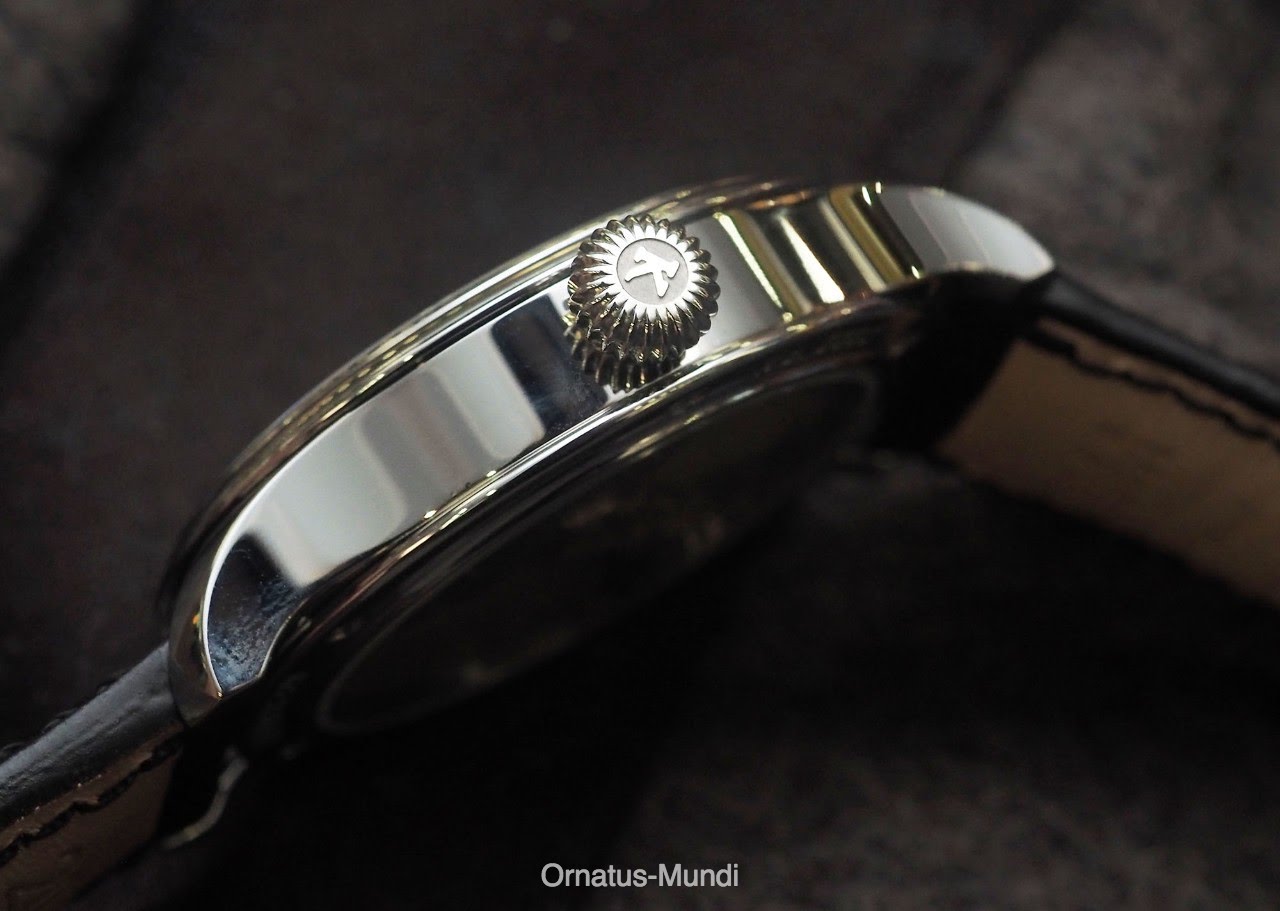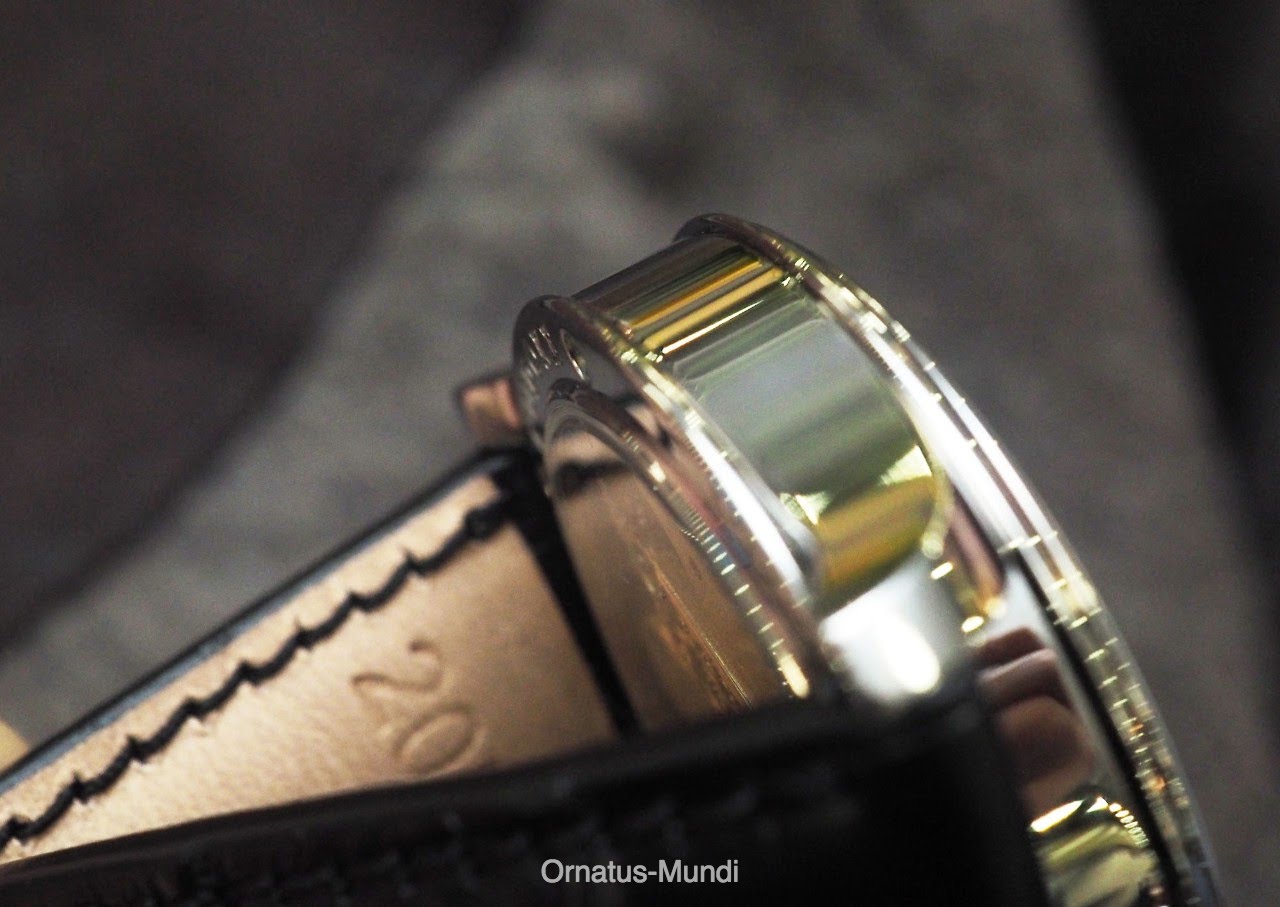 With in mind that the layout of the
Kaliber
1 bridges with a gilt-frosted full bridge, as well as a large, engraved balance cock is no longer surprising at all. It looks distinctly English - perhaps a bit irritating from a distant view.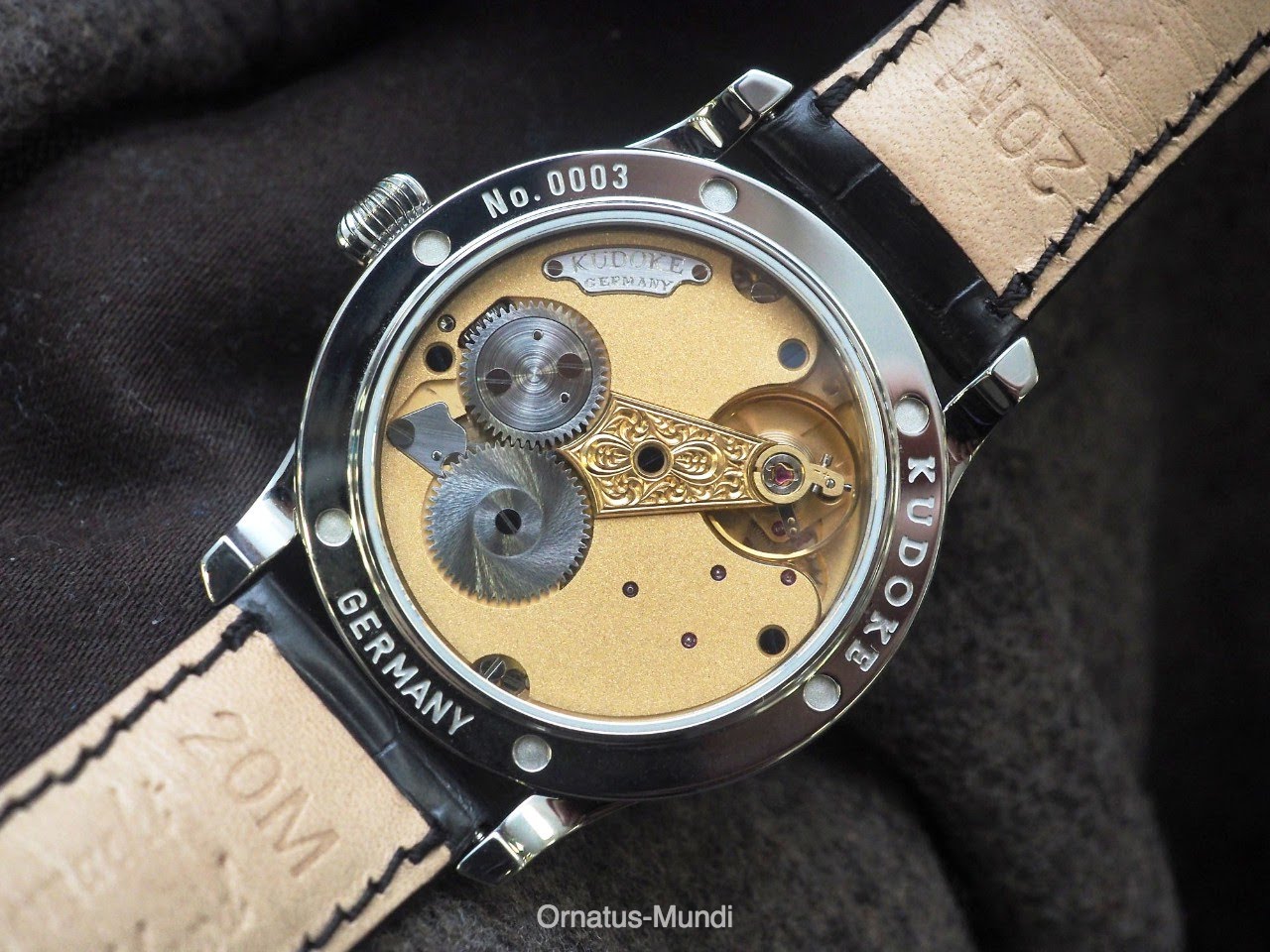 But Stefan assured me that this is very well in the tradition of the development of the typical 'German' style of movement design, today perfectly known by the fantastic examples of A. Lange & Söhne as well as Glashütte Original: It was the English watchmaker who had a great influence on what should become the 'German School', with the German diplomat and astronomer
Hans Moritz von Brühl
(1736 - 1809) as a prime driver, who supported English precision watchmaking (for example by patronising Thomas Mudge) and finally bringing it to Saxony and Dresden - the rest is history. von Brühl was a scientist of international repute, known for his efforts to precisely determine the longitude, and also what we would call today an actor in the field of science diplomacy. It this capacity von Brühl was mainly responsible for the current collection of chronometers in the Mathematisch-Physikalischen Salon in Dresden, and as I mentioned, for the transfer of English chronometric excellence to Saxony.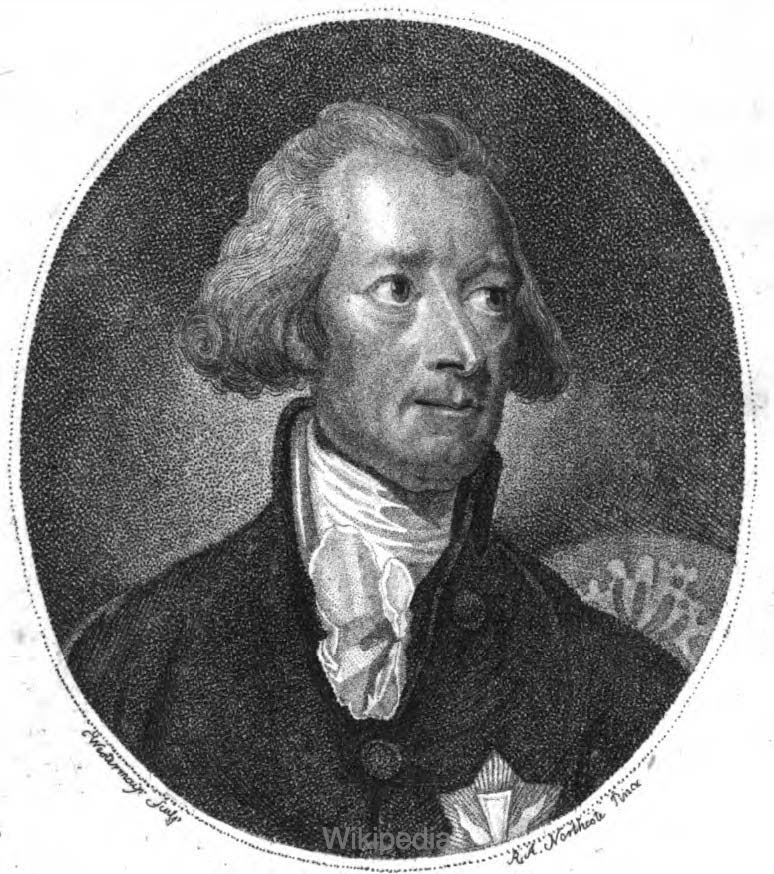 (Hans Moritz von Brühl, copperplate engraving from 1799)
If a personality like Count von Brühl is to be a role model, it should not surprise that Stefan Kudoke chose to highlight the beneficial cooperation between English and German watchmaking art as role model for his first in-house movement. It is not only the layout of the movement, but also the way it was realised: while von Brühl recognised the superior state of chronometric art of the English, Stefan sought for like-minded partners to realise his ambition: he resorted to Austria (Maria Kristina and Richard Habring for the base construction) and Dresden (the Uhrenwerke Dresden (UWD) supplies precision parts fo the Kaliber 1. Here we should also count family ties, as his wife Ev Kudoke works closely together with Marco Lang at Tempus Arte).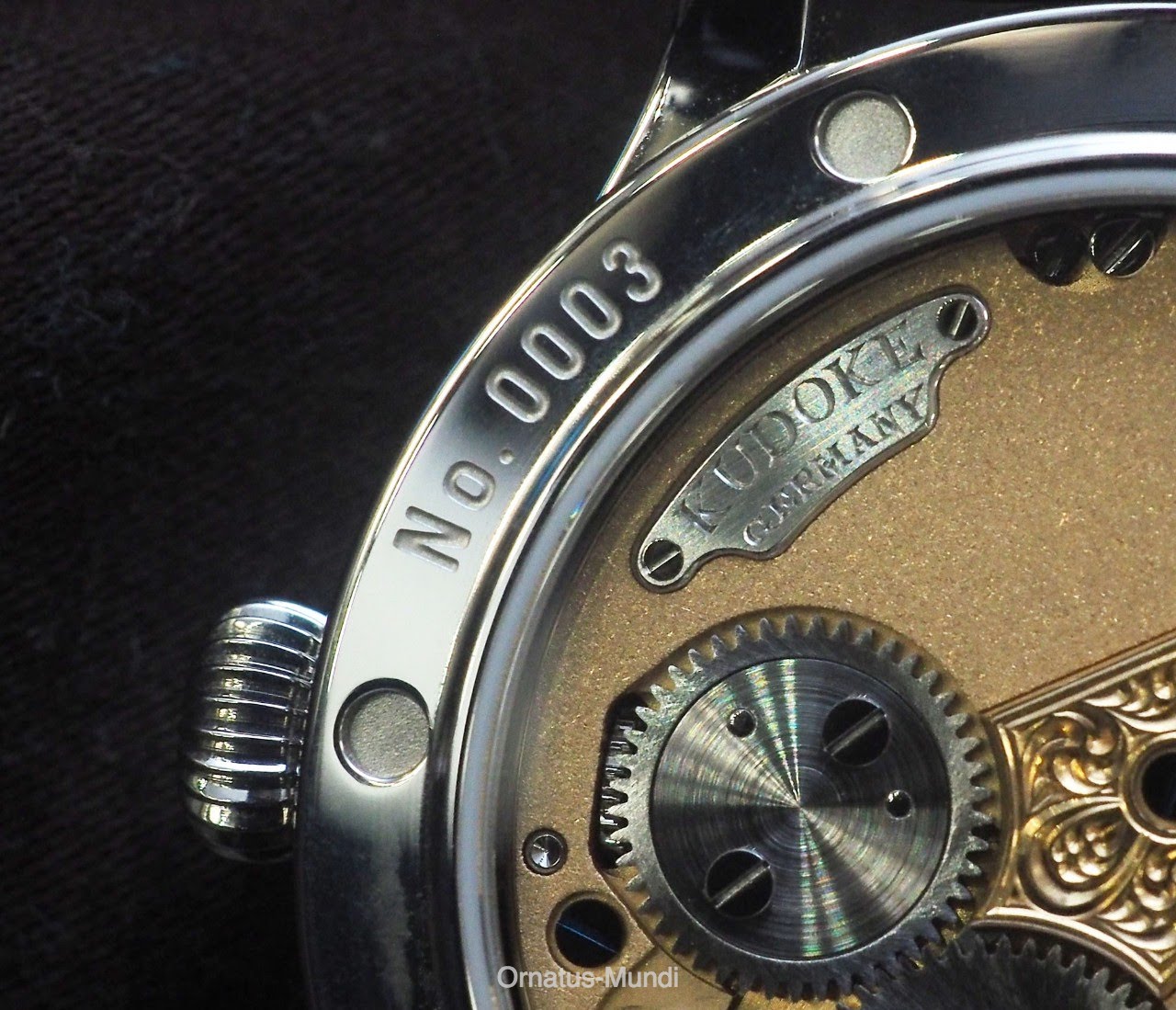 Let's quickly recap the basic technical facts of the new movement:
Diameter 30 mm; Height 4.3 mm
Indication of hours, minutes, small second at 9 o'clock
28.800 half-oscillations/hour (4Hz)
Manual winding movement with 46 hours power reserve
Fine adjustment with tangent screws
Amagnetic escapement with Carl-Haas balance spring in Chronometer quality • KIF-shock protection
18 jewels
Finish by hand with polished edges, decorative grindings etc.
Special reaming technology to finish the surface of the wheel bridge (by hand) • Hand engraved balance cock
Screwed small plate with hand engraved KUDOKE Logo
That sounds very familiar with Habring's movement, and in fact it technically is. With the current focus on hand-skeletonisation Stefan can only achieve a limited quantity. Thus developing a completely new movement from scratch is not exactly feasible (in terms of finances as well as his personal resources), and therefore it makes sense to resort to like-minded small(er)-scale specialists. With the Habring2-based movement, Stefan has access not only to very flexible and proven structures, but also to the expertise of down-to-the-earth experts and wonderful people. The specialists at UWD ensure that any modification is exactly made to spec. A dream-team, so to speak.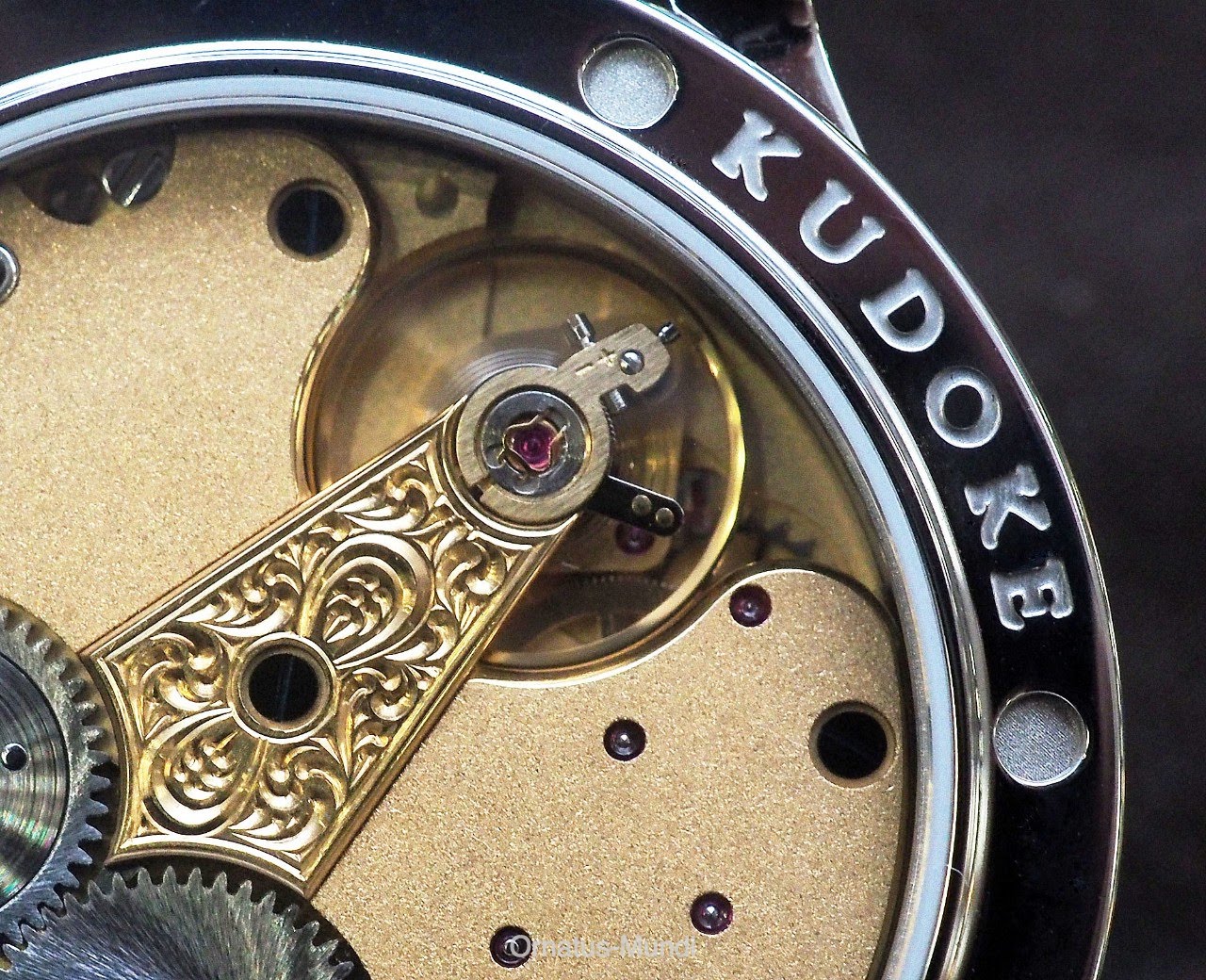 As a side note, this is not the first collaboration between the Habrings and Stefan: the former also created the tourbillon modules for the
KudokTourb
i tourbillon watch: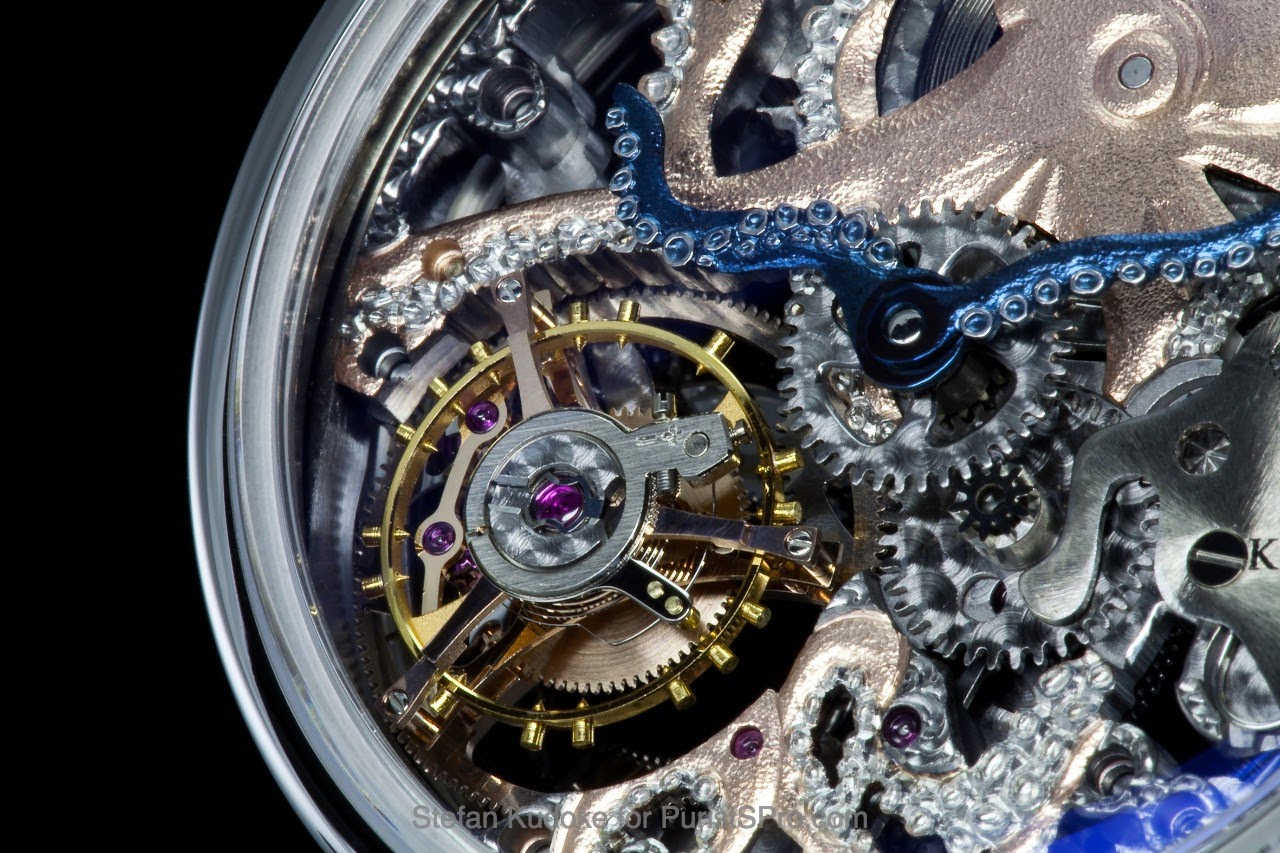 The Kaliber 1 is an elegant and very restrained watch, and it takes some effort to appreciate it in detail I personally think this is time well spent: it lays a foundation to Stefan's future work, with more independence (hopefully) translating into a great number of outstanding pieces.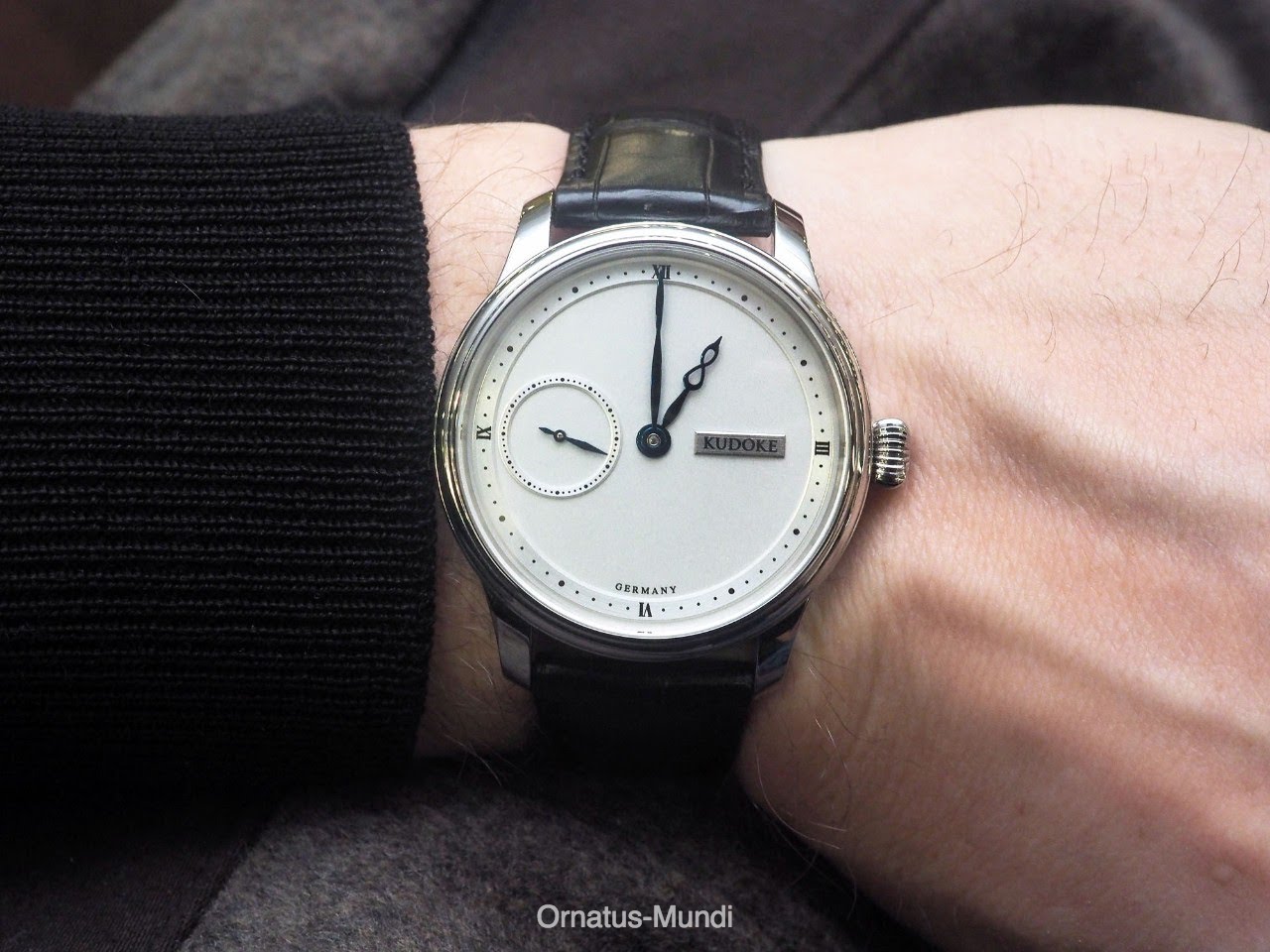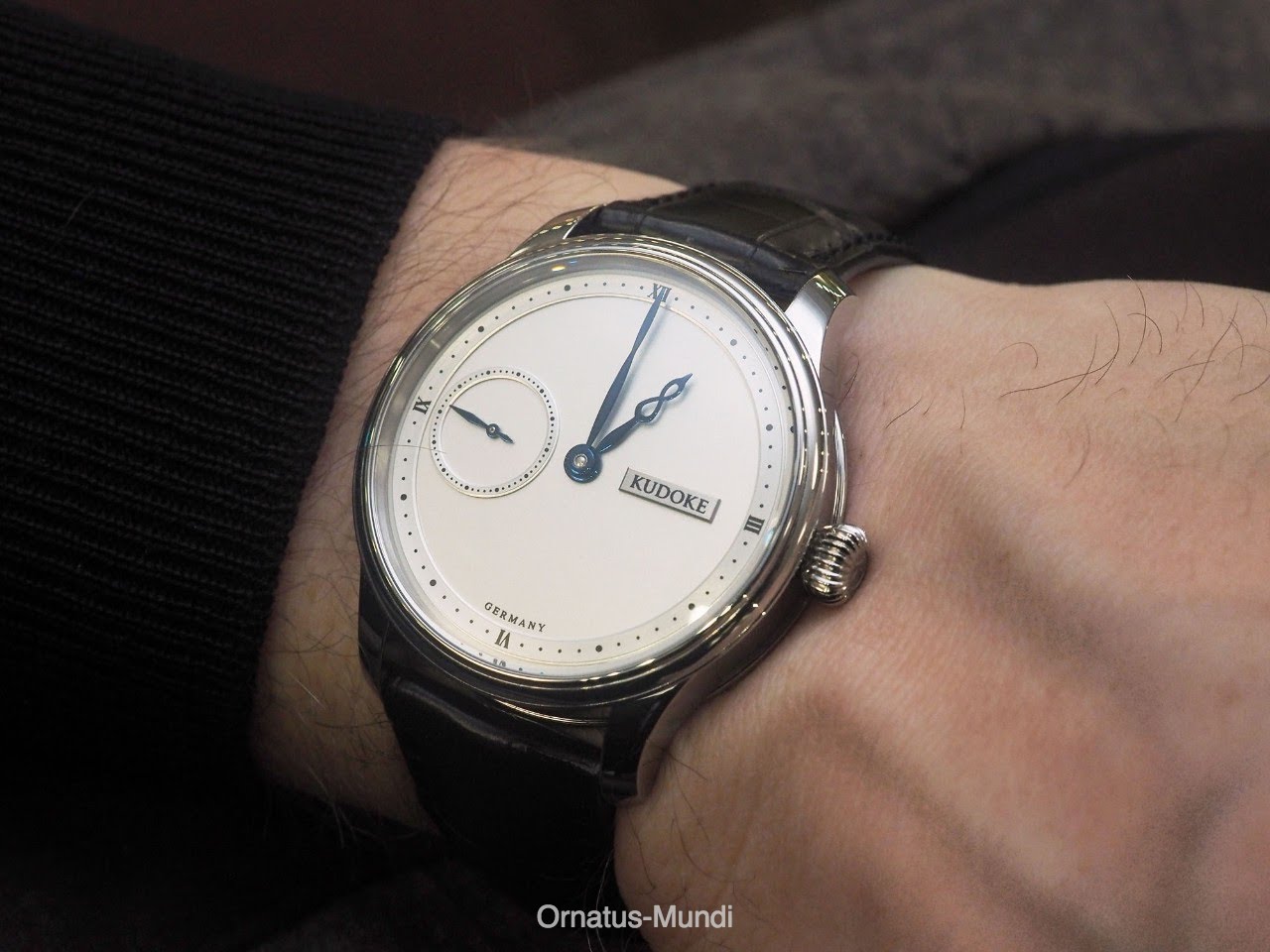 I find the sober design very appealing, and totally apropos to its intention: Stefan's unique appeal lies elsewhere than in movement manufacture. The Kaliber 1 solidifies his independence and creative freedom for years to come. It is a basis which allows Stefan to move up the horological ladder without sacrificing his artistic drive and energy. - and this at a price of € 7500 (incl. VAT).
Seeing the layout of the movement, my mind spins around and imagines what Stefan would do next to it!
Cheers (and a big thanks to Stefan who was willing to accept me as guest on very short notice),
Magnus