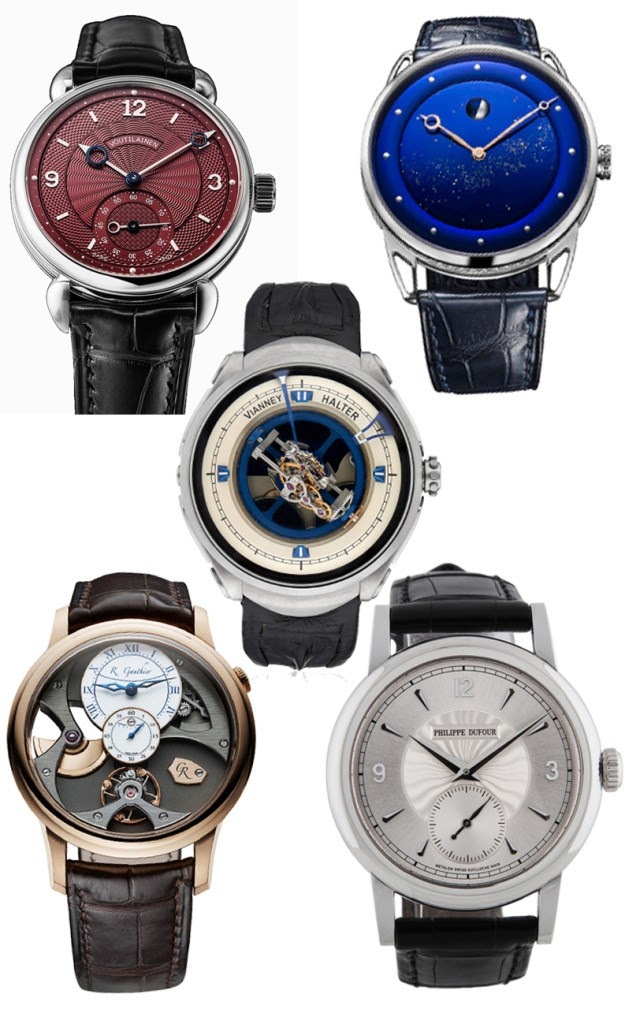 Most independent watchmakers actively invite enthusiasts to visit their manufacturing place. Opportunities not to be missed! Participating in the Independent Tour/GTG superbly organised by Mike H in June 2017, I apprehended one thing: I cannot get the full picture of such special watches as we have seen by reading company brochures or even looking at them in a shop window (including the booth at shows). At least for me, the desirability comes with knowing the ideas implemented in the watches as well as the individuals who have conceived them. Otherwise it is just a nice commodity without a lot of emotional attachment to it.
Listening to these most interesting and enthusiastic explanations by the master watchmakers, I also wondered a bit why the copywriters often cannot pick up what their bosses are living for day and night. Every-one of them has "Passion". Why not replace such platitudes with a description of the specific ideas and convictions of the master watchmaker that make the watches special or even unique compared to others? Watches I have before not necessarily considered (most often not understanding why they look the way they do and what gems are hidden within them) became highly attractive with the background information we were given by our hosts at the visits.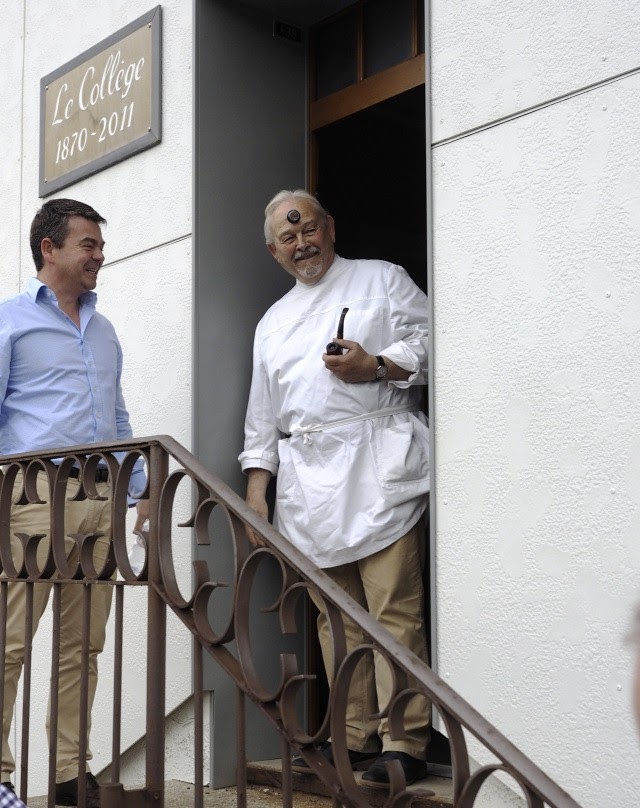 (Romain Gauthier introducing our group to Philippe Dufour at the latter's atelier.)
Based on our tour in the Jura mountains of Switzerland, I would like to give some samples of how my eyes were opened standing in these ateliers/manufacturing places:
Romain Gauthier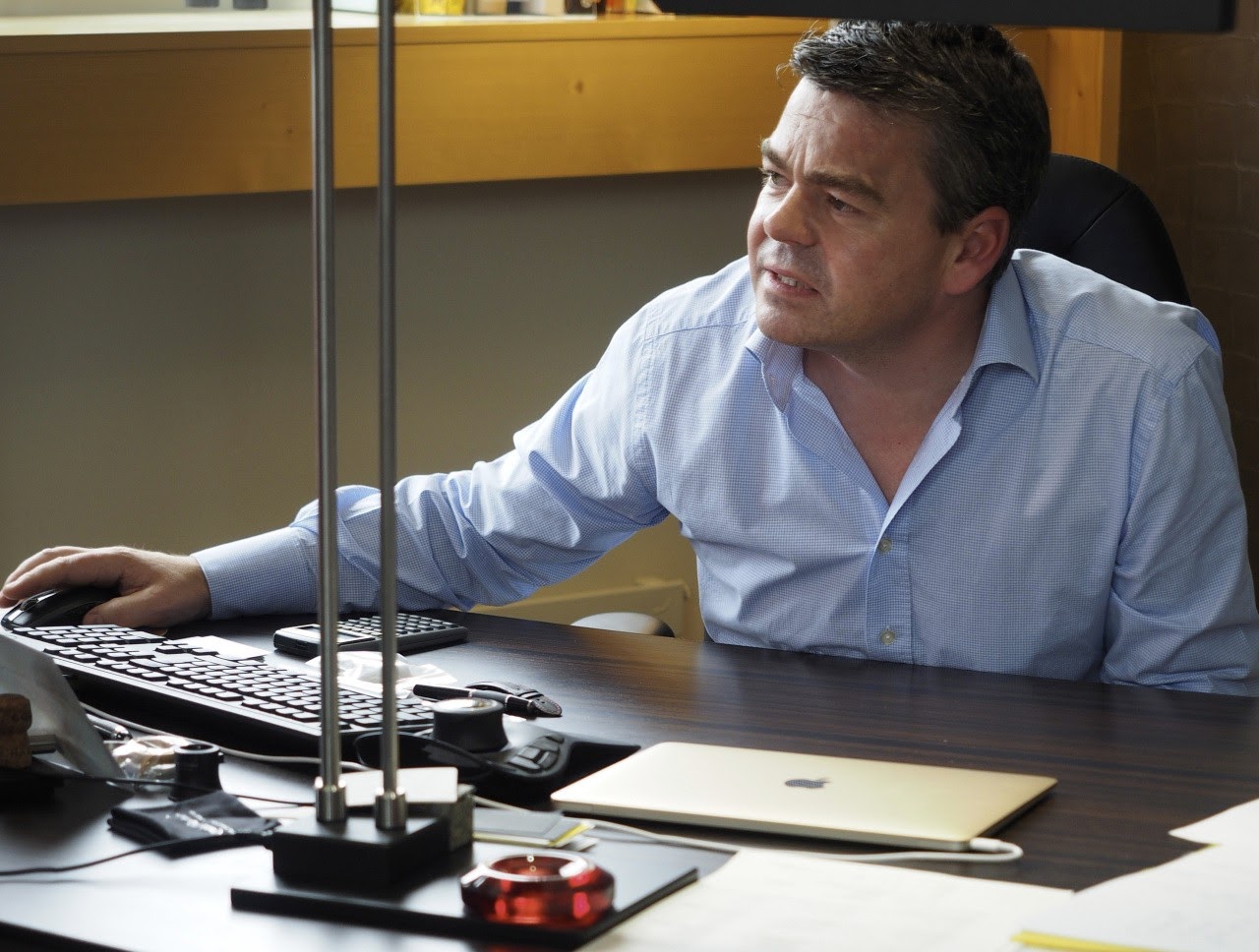 Our tour started in Le Brassus/Vallée de Joux, the historic centre of fine watchmaking. Romain Gauthier has set up his manufactory in a purpose designed building. It became quickly apparent that Romain Gauthier is a driven engineer first, but also loves fine watchmaking. We entered therefore not a quaint atelier, but a climate controlled (at a constant 24°C that tolerances can be precisely calculated) hall equipped with the latest CNC mills and a plethora of controlling devices.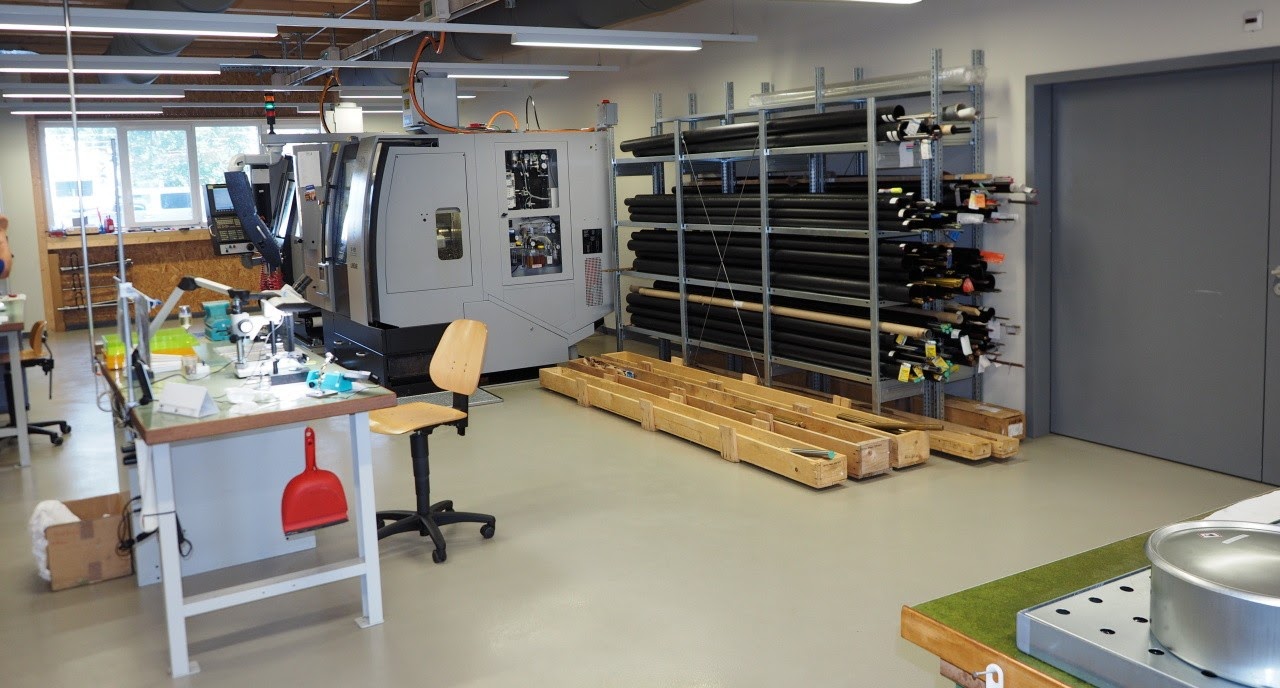 (The raw material required to produce movement parts is stored as bars right in the production hall.)
While all traces that could reveal the customers for components were carefully removed before our visit, it was obvious that Romain Gauthier is producing the most difficult parts for a lot of "big names" in the watch industry. One reason for this demand is a guarantee of constant tolerances of +/- 2 microns (diameter of a human hair: 17 – 181 microns) while the industry standard is +/- 20 microns! We have seen highly delicate open cages (where the shape and material and the tension it entails are considered in production by adapting tools and programs) and parallel gears on one shaft with inside bevelling of the parts where you cannot even imagine a tool could reach. Looking at these parts, you definitely realise that watch production with simple hand tools (in the way George Daniels built his watches) is not possible when today's complications at the top layer of watchmaking have to be accommodated.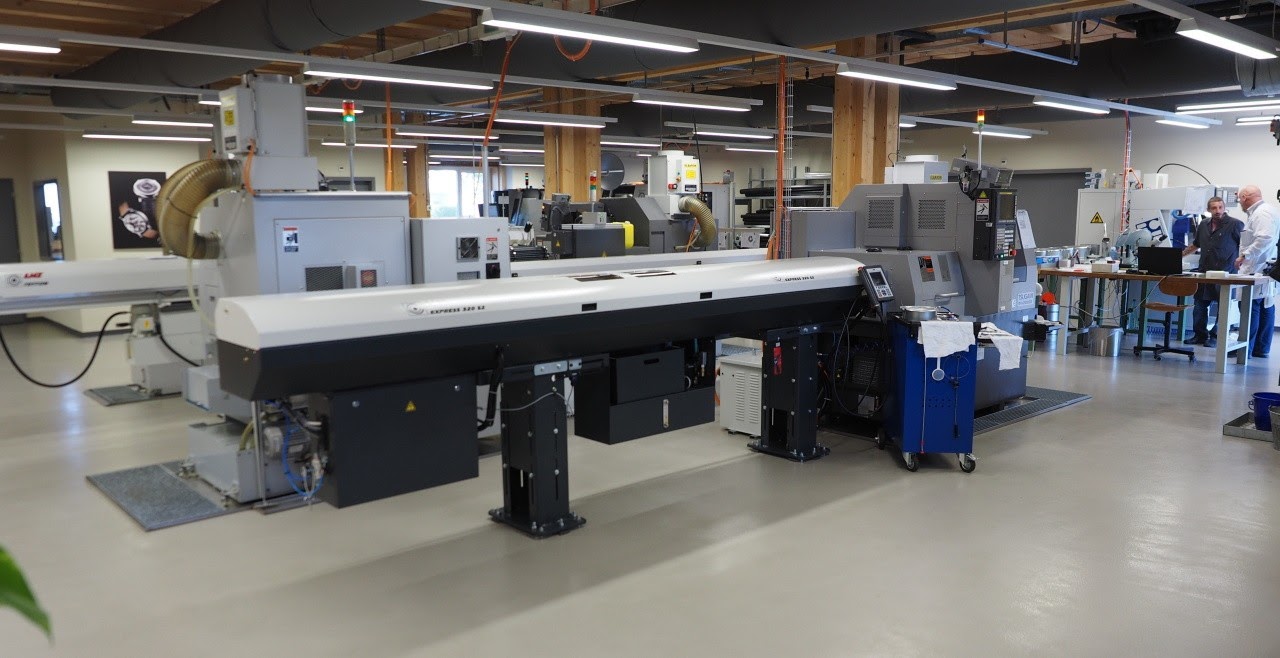 The four bar loading lathes in the hall produce at an incredible speed, with threaded tubes completely made in 35 seconds (when they have to be sucked away by vacuum because they are so tiny you could not grab them by hand). This shows how important the subcontract work for the big brands is to have a suitable utilization of such an expensive machine park. But Romain Gauthier requires this machine park also to produce the parts for his own around 50 watches he builds per year with the quality he demands. The dilemma this creates for independent watch production at the highest level is palpable: You have to invest like crazy to get quality parts, because you cannot buy them elsewhere (otherwise the big brands would not subcontract such production to Romain Gauthier), though, you could never amortize this machine park we have seen here with the quantity of parts required for artisanal watches with Romain Gauthier's own name on them.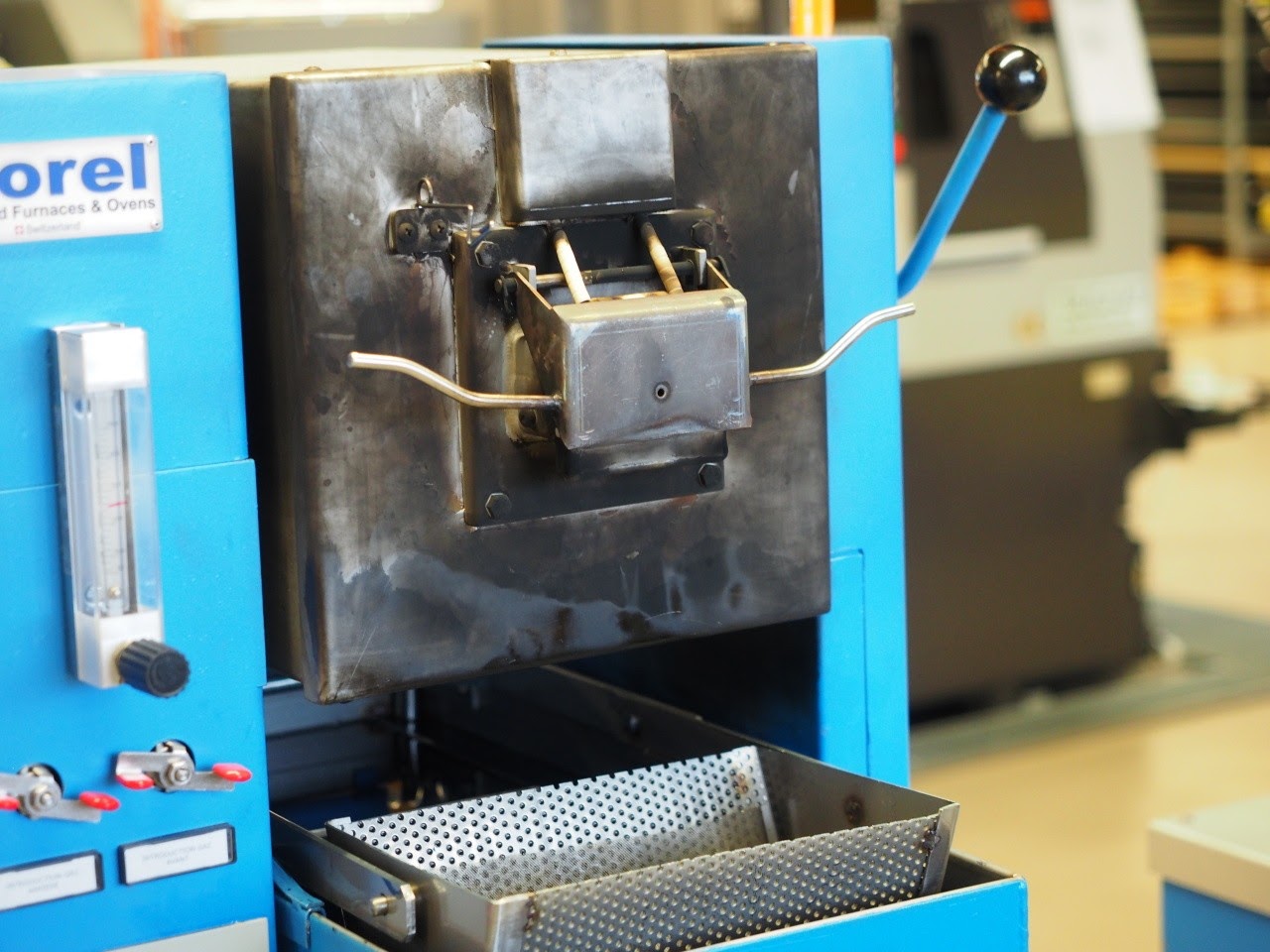 Some components in steel like shafts, pinions and screws are hardened with a hydrogen-gas oven at 800°C to 1000°C right there on the fabrication floor. This is to prolong the components' natural lifespan, but also to optimally prepare the components for the polishing process. This heating brings the hardness of the parts to the highest level (900 HV). After the machine polishing the hardness of the parts must be lowered by tempering to 550-650 HV, otherwise they would be too hard for practical, long-term use in a watch.
When you go to such lengths for an unparalleled level of reliability and durability of the parts, every detail counts. Romain Gauthier explained and demonstrated even how important it is to have a minimal distance in between the opening of the furnace (tipping down to discharge the part) and the oil bath beneath to cool the parts immediately in a controlled way. Not necessarily a consideration you would expect in artisanal watch production!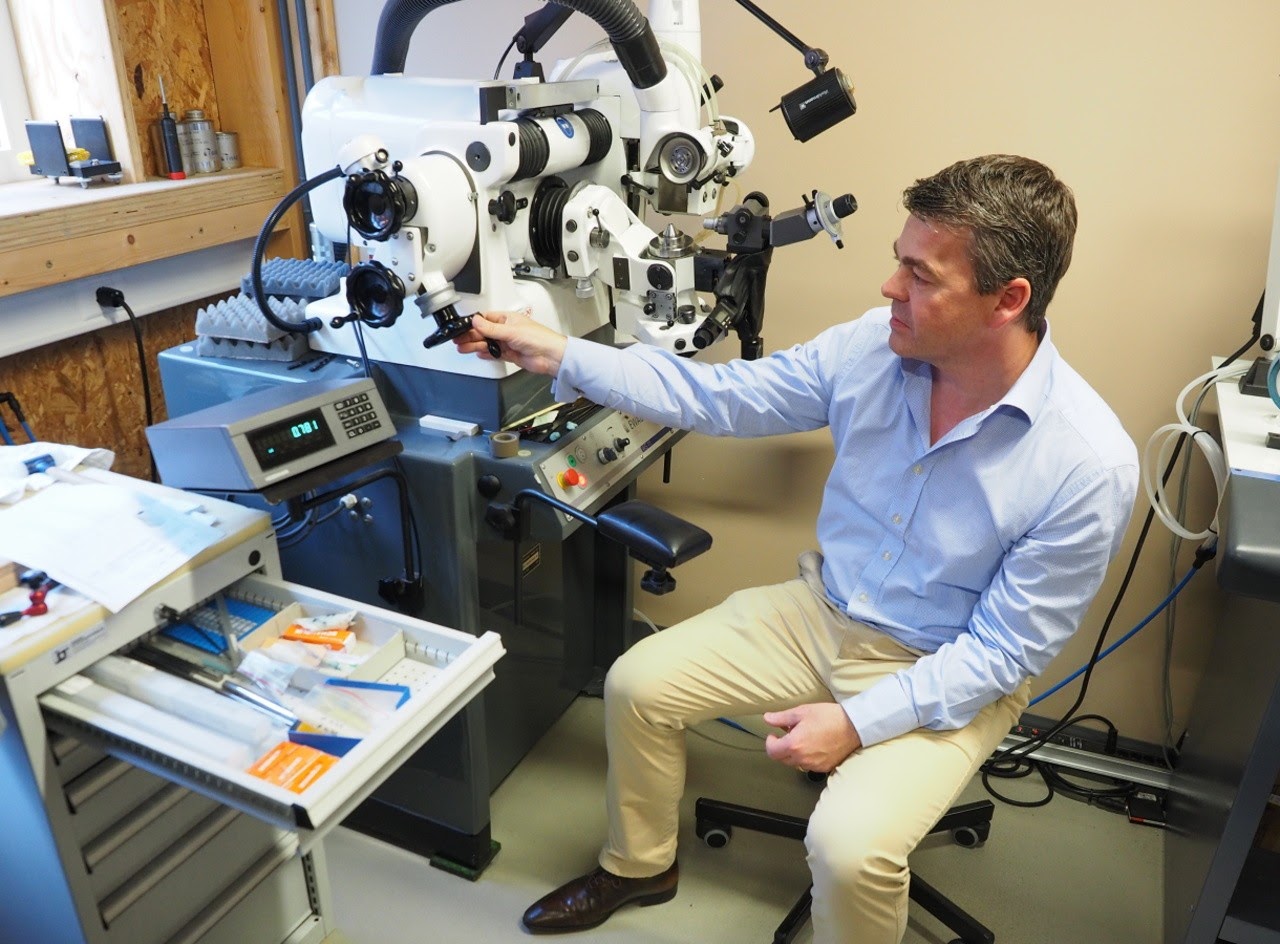 As a stickler precision, Romain Gauthier has installed a EWAG machine to produce made-to-measure tools for the production and watchmaking operations, tools (e.g. milling tools) that are not available commercially. It is manual, but he demonstrated how it can work to the micron.
Romain Gauthier's choice of thicker movement bridges is based both on engineering and aesthetic principles. With his background in using and making precision machinery, he feels that something more robust, more resistant to shock is preferable to something lighter and thinner because it will last longer.
While the architecture of the watches gives even the casual observer the impression of a sturdy and well-engineered piece, from pictures of the watches I could so far not quite understand why collectors have described anglage and bevelling to be at Philippe Dufour's level of perfection.
Here we could see that the chosen bridge architecture allows also to play with depth, because enough material is available. As many as 90 hours are spent on hand-finishing the whole movement of the Logical One.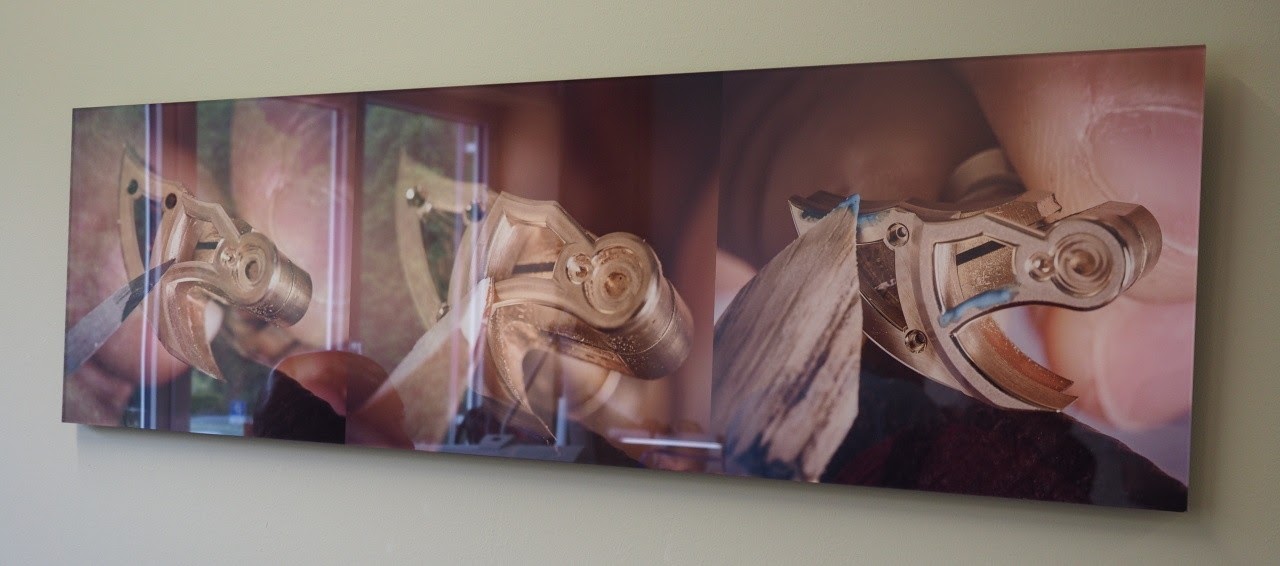 (The procedure to create the famous anglage and inside angles with different tools is shown as art on the wall of the anglage atelier, making the extent of the work visible for visitors. The specialists have to perform their craft under a loupe or even microscope.)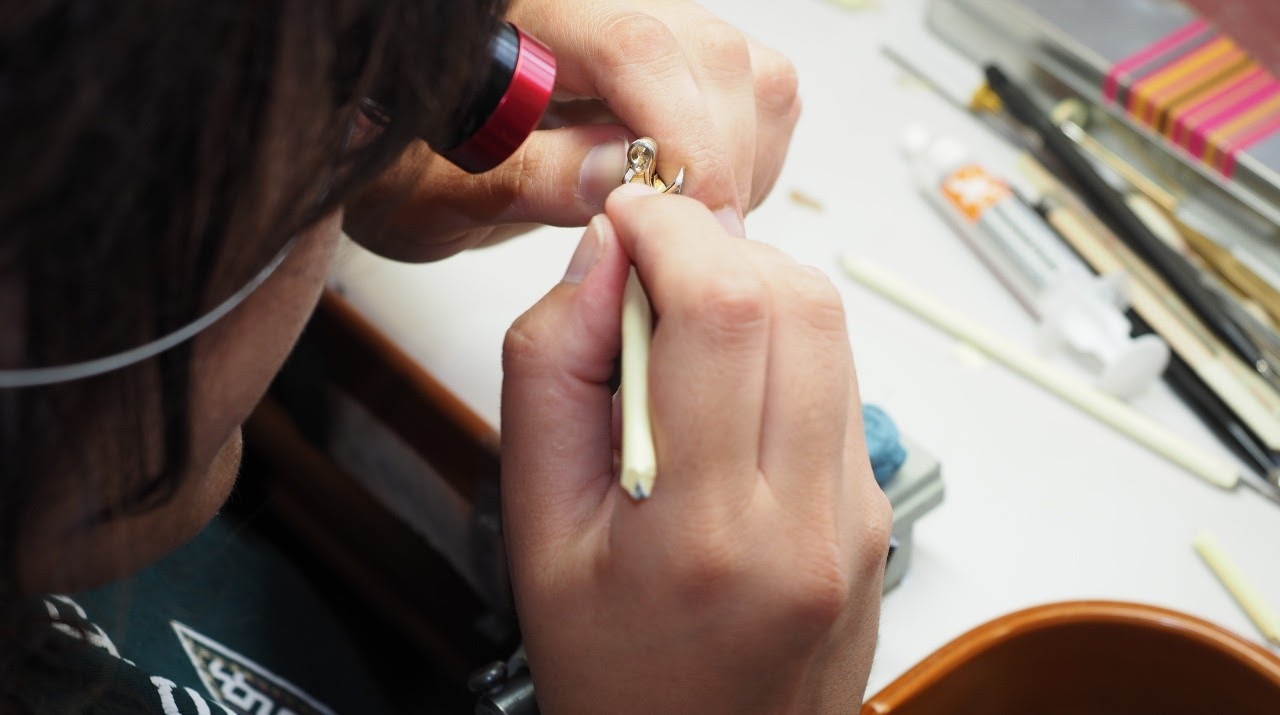 Striving for all this perfection, Romain Gauthier showed us upstairs in the atelier that artistic variation is on the other hand required when detailing/decorating the movement parts for his own watches. If, e.g., the inward angles on movement parts would always have exactly the same depth, the watches would have no soul, according to him.
How metal pieces engineered like machine parts for optimal strength and precision can become jewels was seen in the anglage atelier (Logical One parts). The time involved for hand-created and hand polished bevels, hand-frosting, hand-created and hand polished countersinks and graining is immense:

Left: Mainspring barrel bridge; 15-20 hours. Right: Balance bridge; 10-15 hours (Copyright photos: Ian Skellern for Quill & Pad; images used with permission of author)

Left: Upper bridge for constant force mechanism in titanium (freshly machined part at front, hand finished one at back); 20-22 hours. Right: Lower bridge for constant force mechanism; 15-17 hours (Copyright photos: Ian Skellern for Quill & Pad; images used with permission of author)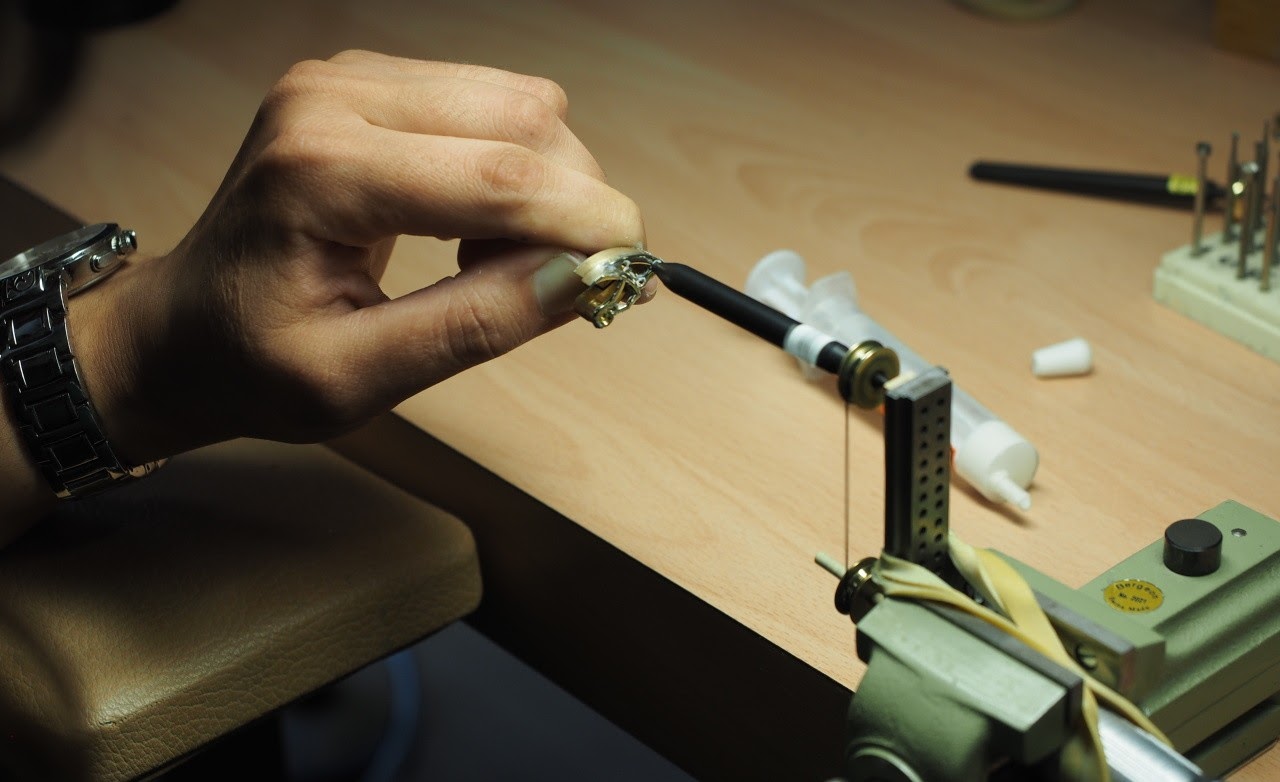 (Polishing jewel countersinks using an ebony spindle and diamond paste.)
So, up here the same procedures and age old techniques (like polishing the bevels with a gentian wood and diamond paste) are applied as you expect it in artisanal watchmaking. The boss collects even the gentian wood himself while walking with his family in the Risoud Forest around September time!
In his own office/construction station Romain Gauthier explained his ethos to create movement-first timepieces where the movement development is really dedicated to the chosen complication.
"Unique Pieces" are available, though the uniqueness is limited (in my terminology) to different decoration (surface treatment and colour of plate, bridges and dial colours, and graphic design). For customers who wish a more obvious special decoration, the Logical One is offered as a "Secret" version, where a hunter case gives a canvas for unique decorations, creating real art pieces.

(Photo: Manufacture Romain Gauthier SA)
But you cannot just ask for an additional function. This would impact the energy delivered by the mainspring barrel, lowering the power reserve with probable implications of the timekeeping precision. But Romain Gauthier does not accept any compromises with the watches bearing his name. Well, you can have a one-off with, e.g., a second time zone display or a world time function. You only have to be willing to pay for new calculations, new plans and new prototypes. For all this research, development and production to be concentrated on a single, unique piece, the price of a Prestige HM (used as a base) would increase about threefold. It needs backbone to defend an ethos as rigorously as Romain Gauthier does, particularly in today's economic environment.
While I liked the visuals of Romain Gauthier's first model – the Prestige HM – with a traditional dial better before my visit, the technical and a bit bare front views of the Logical One and the Insight Micro-Rotor are more likely what Roman Gauthier (the man) stands for. If you want to show off engineering principles, precision and perfect surface treatments, it would indeed be a pity to hide all this from the watch's owner. To my amazement the combination of a bold, engineered architecture combined with traditional detailing at the highest level works very well, making Romain Gauthier's watches very distinctive. But to fully appreciate it, you need to have the watches in front of you.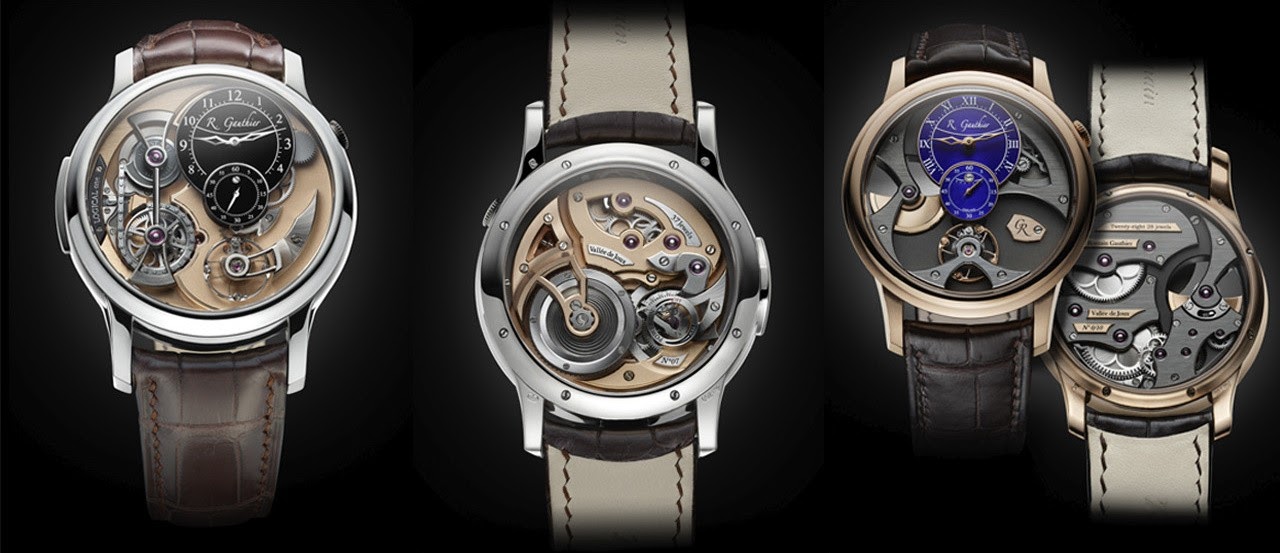 (Photos: Manufacture Romain Gauthier SA)
Denis Flageollet (De Bethune)
De Bethune put the slogan "Not Doing More But Instead Doing Better" on its website and you could find some almost hidden remarks in the press about the intention to reduce series production and further unique pieces. But there is hardly anything to be found on the web to support this offer to enthusiasts (though, with a new website in the making, this should change for the better soon). Only since the recent reorganisation at De Bethune, master watchmaker and co-founder Denis Flageollet has become a more visible person for enthusiasts and customers.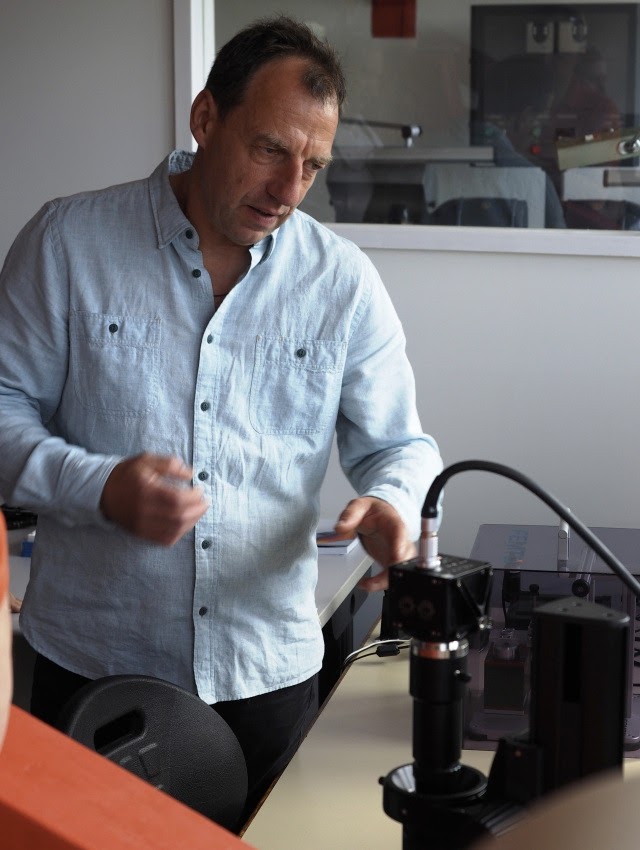 He met us for the visit in the manufactory (supported by production manager Laurent as well as Pierre from communication/sales) and joined us for two meals. Again, these were the opportunities to learn that he is prepared to discuss with you almost any idea to be realised in a watch. E.g., not being keen on the graphics as well as the case with its fixed lugs of the DB25 World Traveller model, I learned customers have not to take these colours and typography conceived by the brand, and De Bethune could, of course, also adapt a case with the superbly comfortable swivelling lugs for this model. Furthermore, you have not to take printed numerals on the dial, but can have them milled as I found them on the DB28ST so attractive.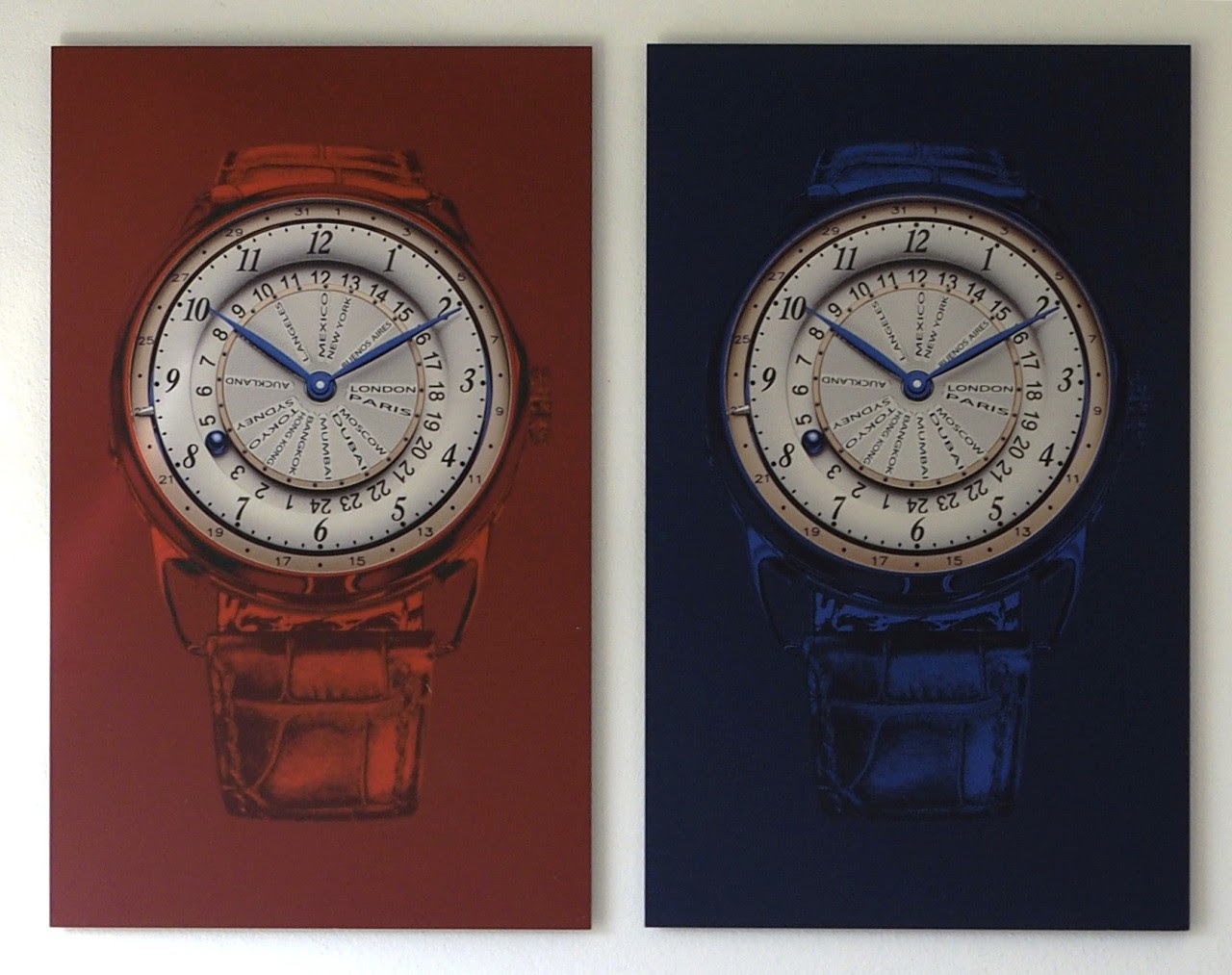 (Model DB25 World Traveller is a world time as well as a GMT watch. I am lusting after one, though with different graphics.)

(Photo: De Bethune SA - An owner in our group let me try his De Bethune with this unique system of floating lugs; they make the watch very comfortable to wear, despite its quite important size.)
Unfortunately I have not found such information in the company's literature or in other communications, thus it would never have come to my mind to ask for such alterations, believing you have to take what is officially promoted, or leave it.
But the production facilities we were going to see actually allow the customer to ask for anything. In the basement as well as on the upper floor we could then convince us ourselves that the know-how is all available in house. While not on hand in the same quantities as with Romain Gauthier, there are the milling machines available, including the bar feeding mill, producing the tiniest parts like hardly visible pinions and the "stars" (to be fitted on the blue dials of some models) from bars of raw material fed automatically.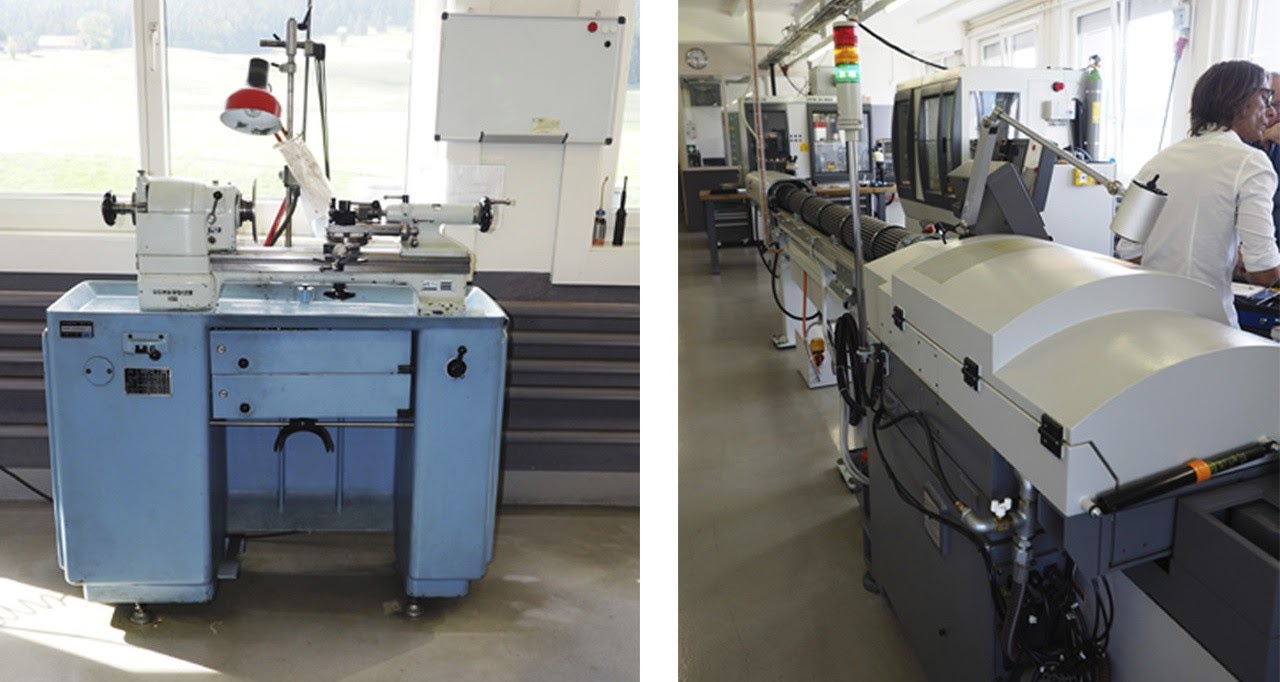 (A bar loader CNC mill is also available at De Bethune. For specific tasks very old machines are cherished and stay indispensable.)
The famous three-dimensional moon is milled in two halves of different materials, so that when heated on the flame (as demonstrated upstairs), only the one half gets blue with a very precise colour division due to the different material properties. Since the colours (from blue to purple to a brownish tint) are dependent on the heating time, the customer can again tell what is preferred, like with the other parts of the watches available flame blued.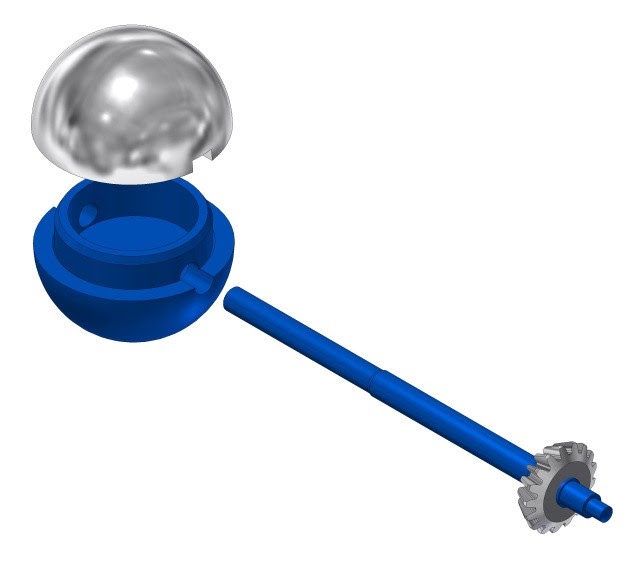 De Bethune finances the luxury of its own galvanizing center for the few watches they produce. The bathes are used to colour different parts of the movements, mainly in black, ruthenium or rhodium colors, or for dials. If a customer would be interested in red or orange hands, they could be produced immediately.
Definitely not available by galvanic process is blue. De Bethune flame blues all steel parts and they are the only manufacture in the world mastering the natural oxidation of titanium. Thus, blue titanium is obtained only by a thermal treatment in a special oven at around 730°C.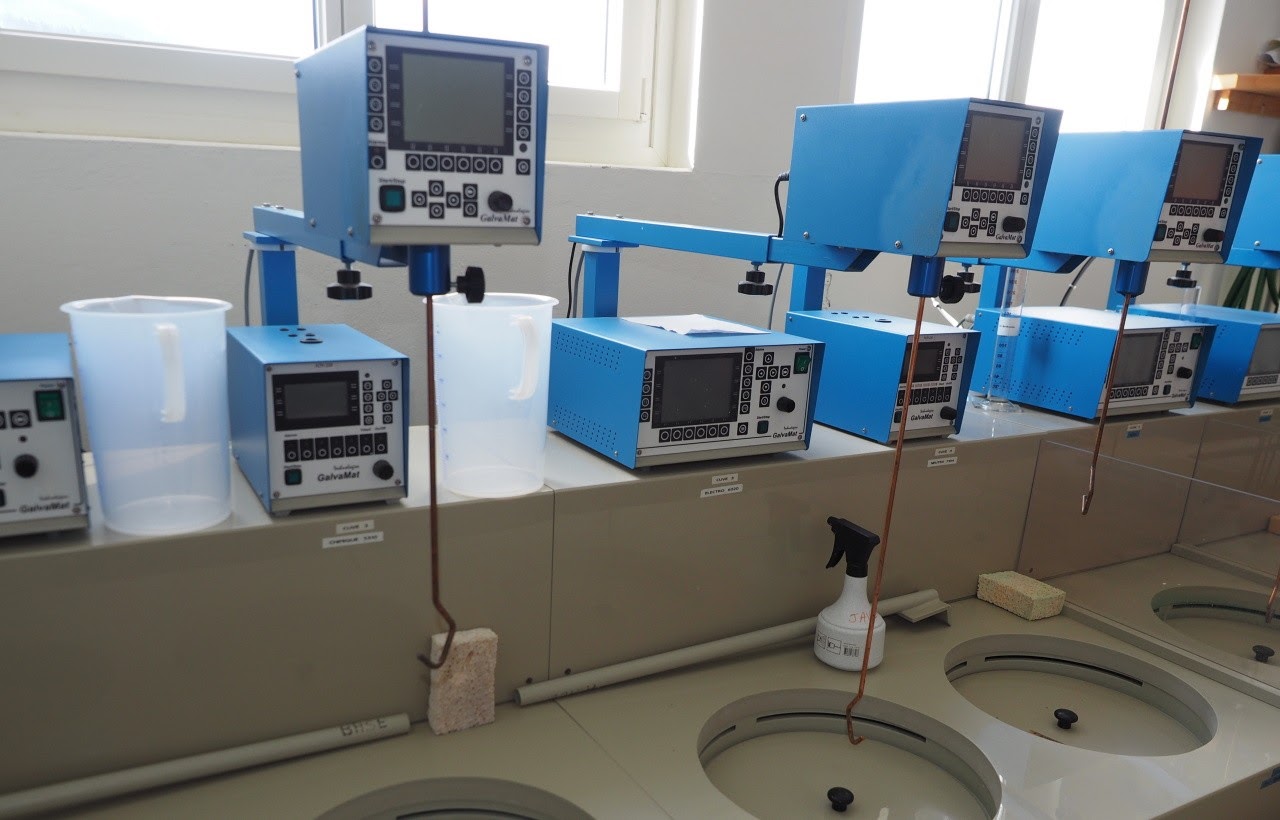 I always admire the stamina and dedication to create all the perfectly polished surfaces, be it on the polishing wheel or with wood sticks and polishing paste. While the mass producers usually design the shape of parts to do as much work as possible by machine, with independent watchmakers the aesthetics come first.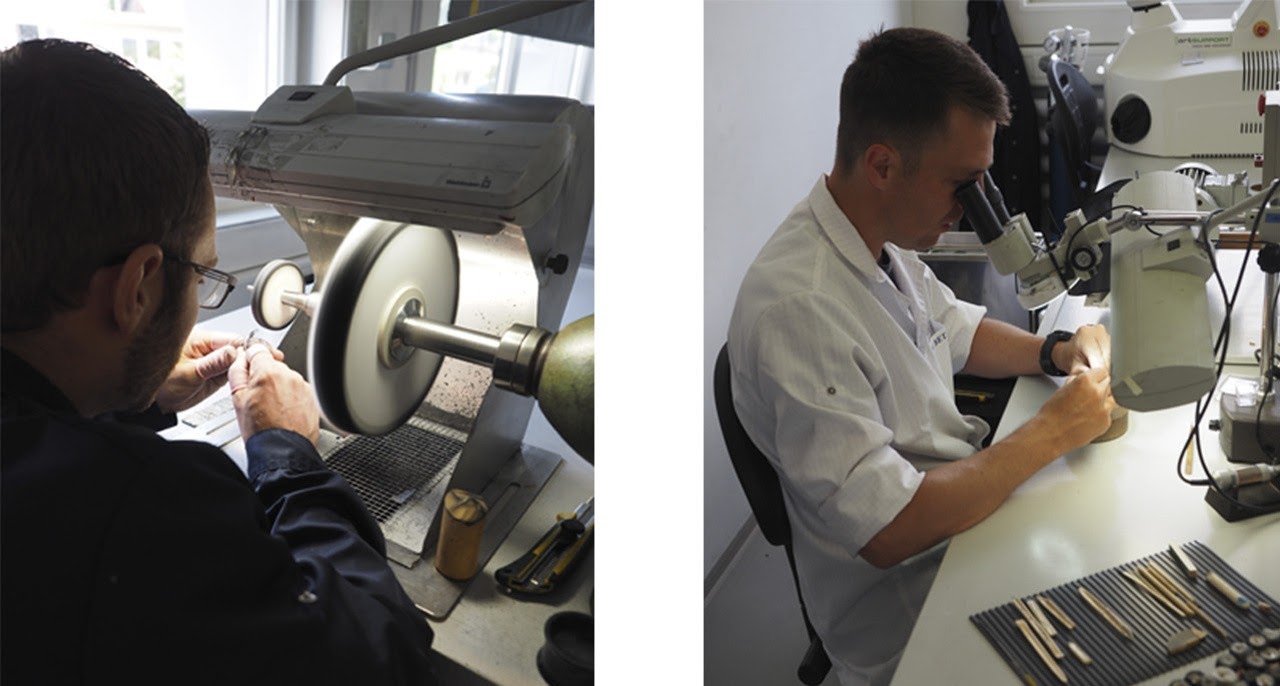 To me, the most easily visible difference between mass produced watches (including those with very important price stickers) and watches made in an artisanal way is in the dials. At Baselworld almost everything looks bland in Hall 1 when you visited before the Atelier brands. De Bethune is no exception, with their art pieces being particularly spectacular.
If "stars" are part of the dial decoration, the constellation can be chosen by the customer. And these "stars" are milled pins, with stems almost invisible which have to be threaded through holes in the dial by hand. I got dizzy just looking on when they are fitted, one by one. Seeing all this incredible detail work going into the watches gave me a new understanding for the required price.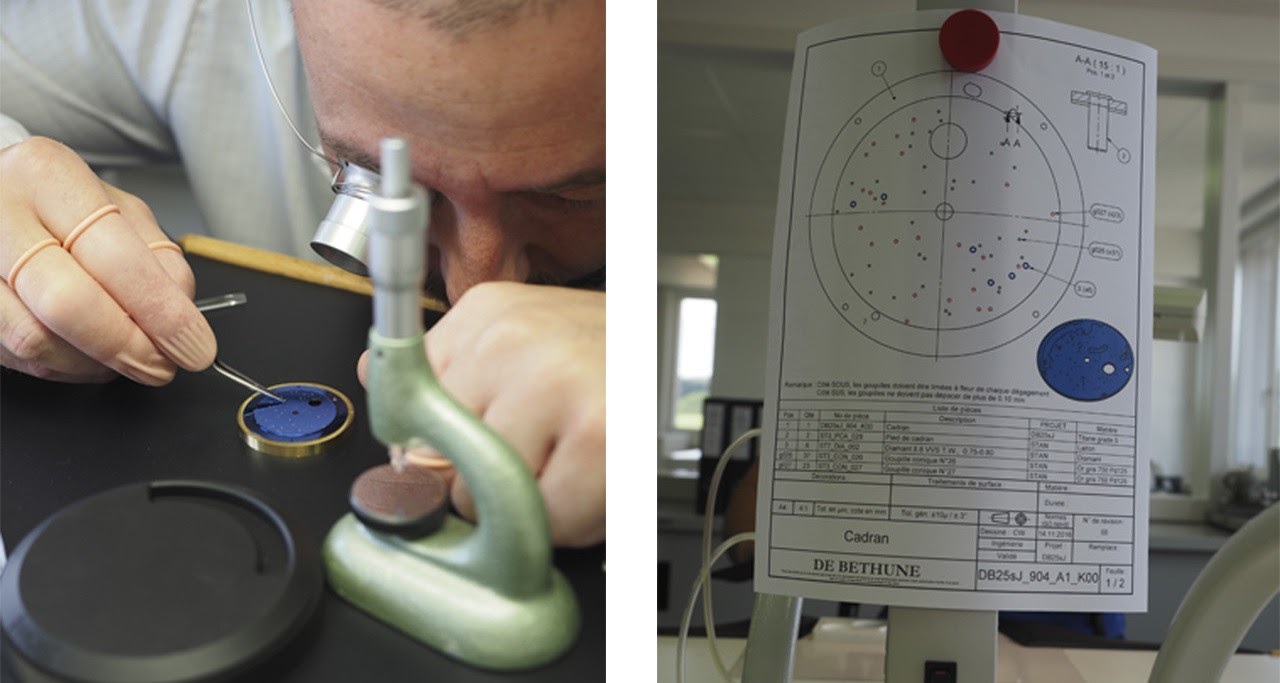 In addition to their "milky way" star studded dials, De Bethune has already made a reputation for unique art pieces with dial and/or case back sculpted based on ancient culture objects, like those of the Maya. These sculpted parts are created in a combination of in-house milling and hand-engravings by the famous Michèle Rothen. Based on what the customer has suggested, De Bethune creates first illustrated proposals for approval.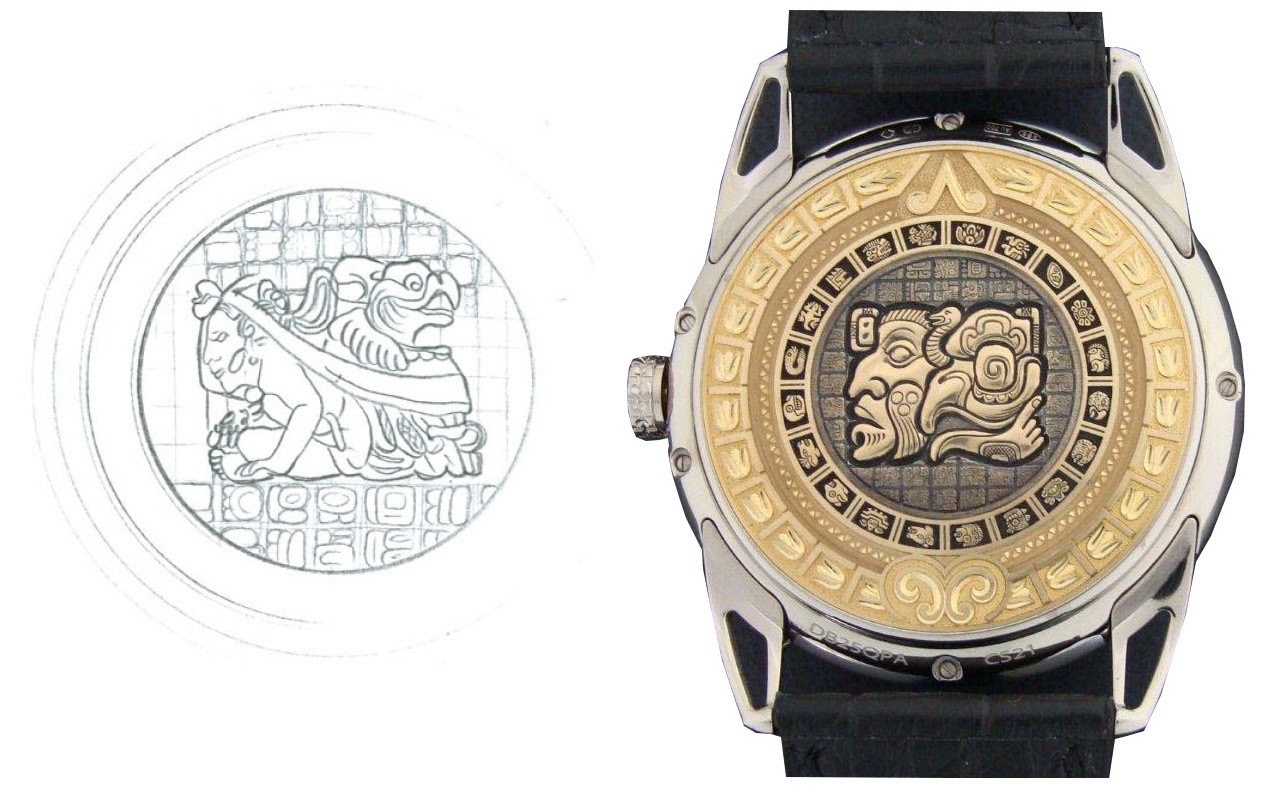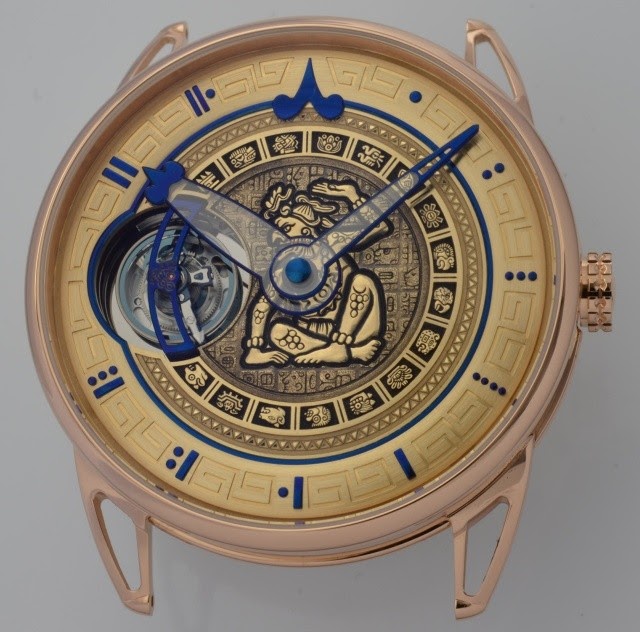 We were also given a demonstration how the "Geneva striping" of movement parts is done in a way specific to De Bethune. The striping strokes are not started at the edge of the part, but in the middle, with the direction of the striping tool movement changed for alternating stripes. This gives a very distinctive and lively stripe pattern because the light is caught differently by the polishing "ridges". For me it was amazing to see to what length De Bethune goes for the details: Because they feel that at the edge of the part the finishing of the stripes could not be absolutely perfect, a separate, highly polished bezel is fitted to finish off the deltoid-shaped central bridge. What insane effort for the utmost finish!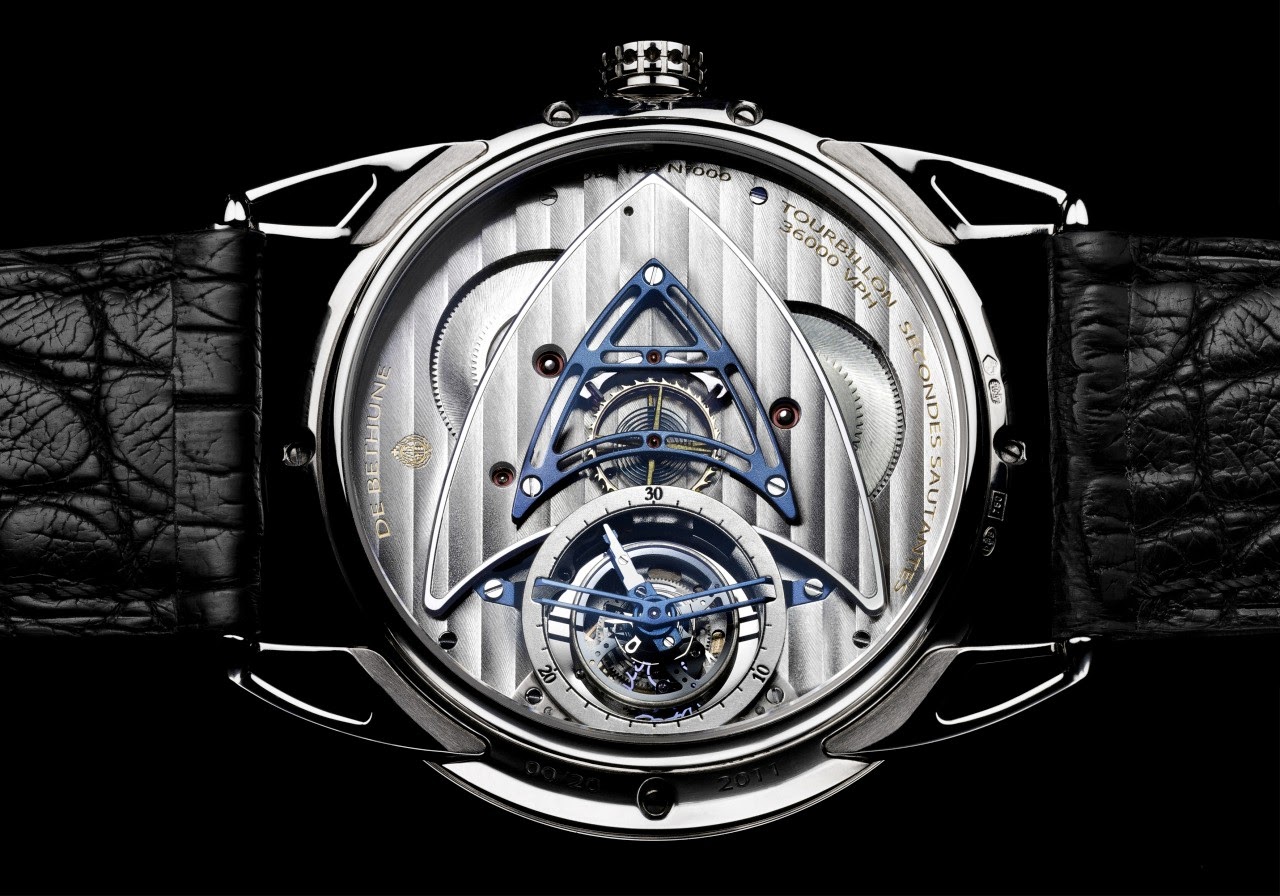 (Photo: De Bethune SA)
Supported by the enthusiasm of Denis Flageollet to try out new ideas (also when suggested by the customers) and his openness, I got a completely new picture of De Bethune, with an empathy for the brand I had not before. It showed me, how important the real people behind a brand are; the creation of goodwill is in my eyes totally dependent on them and not on standardised publicity with some "brand ambassador" who has nothing to do with the watches and the way they are built.
Denis Flageollet explained how he loves technical challenges (De Bethune is a pioneer in the use of titanium and silicon within the watch industry; they have also their own patented balance-wheels) as well as welcoming customers to come to the manufactory to discuss them. To really take full advantage of what is possible, it helps to see materials and samples right in front of you. Furthermore, the master watchmaker explaining all of it to you gets rid of misunderstandings. Like with Kari Voutilainen we went to see later on, De Bethune offers such a vast choice in creating a personal watch, it would be a real pity not to use it.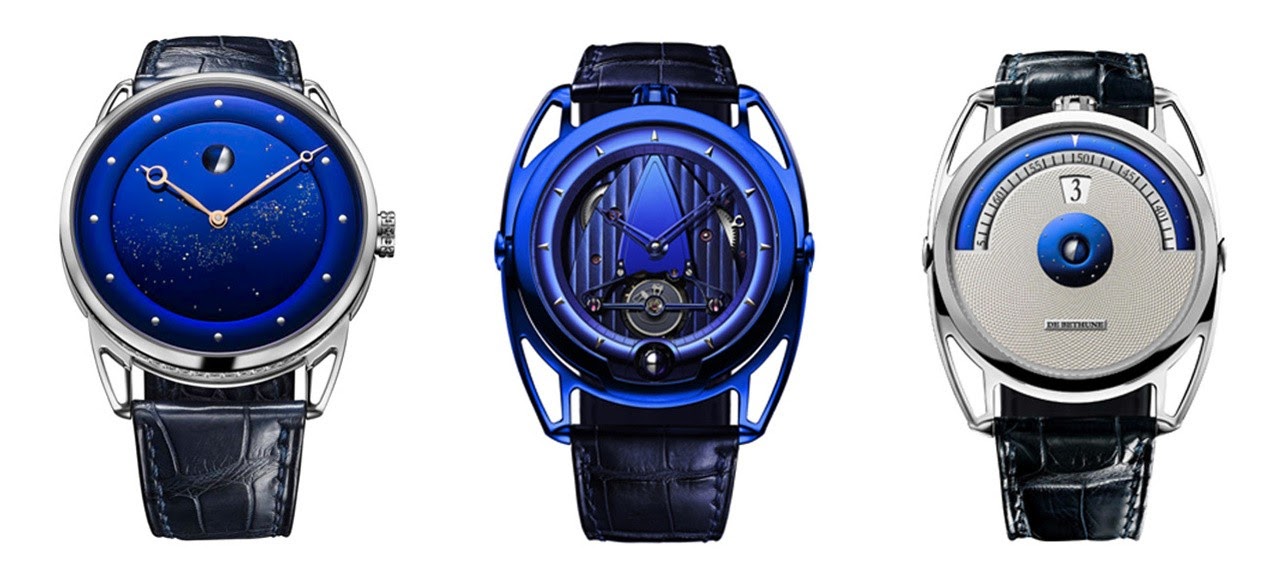 (Photos: De Bethune SA)
Kari Voutilainen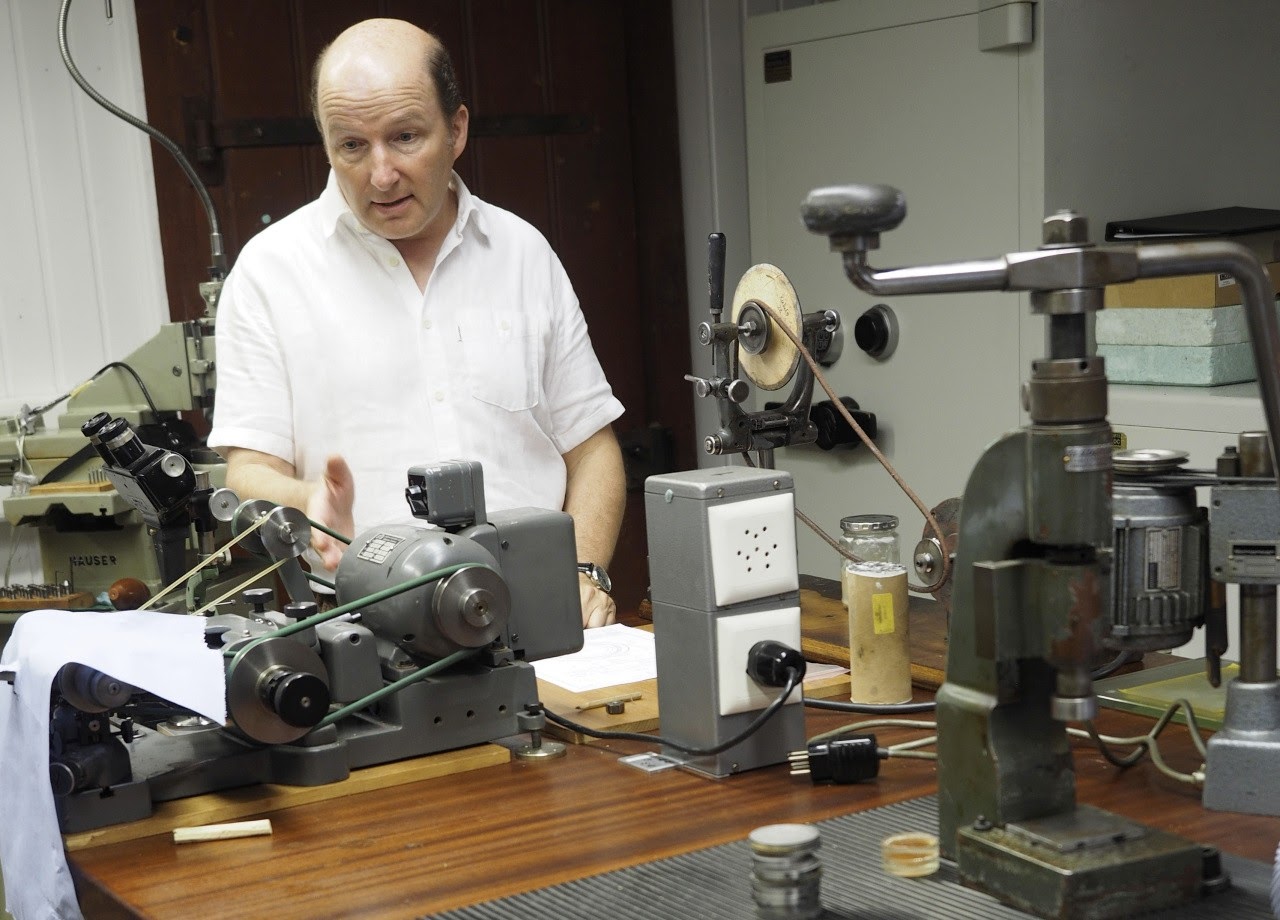 (Kari Voutilainen introducing us to the machine park required to produce parts for quality watches. For specific tasks these old machines could never be improved and it is nowadays very difficult to find serviceable ones when you want to set up shop.)
When copywriters are let loose, even the sincerity of Kari Voutilainen can be enveloped in a subtle haze, giving a completely romantic (and false) picture of watchmaking à la George Daniels. Have you, e.g., ever seen a publicity picture of Kari Voutilainen's basement with the specially adapted CNC mills? Not only we (as all visitors) were led here first, but also watchmakers joining the atelier have to start here. The reason for the latter is that for Kari Voutilainen not the non-descript "passion" is paramount (even though it is extolled in his publicity material), but respect he is demanding from his watchmakers for the work of the two machinists at the CNC mills. "Passion" is just a given, otherwise you have nothing to look for at Kari Voutilainen's place.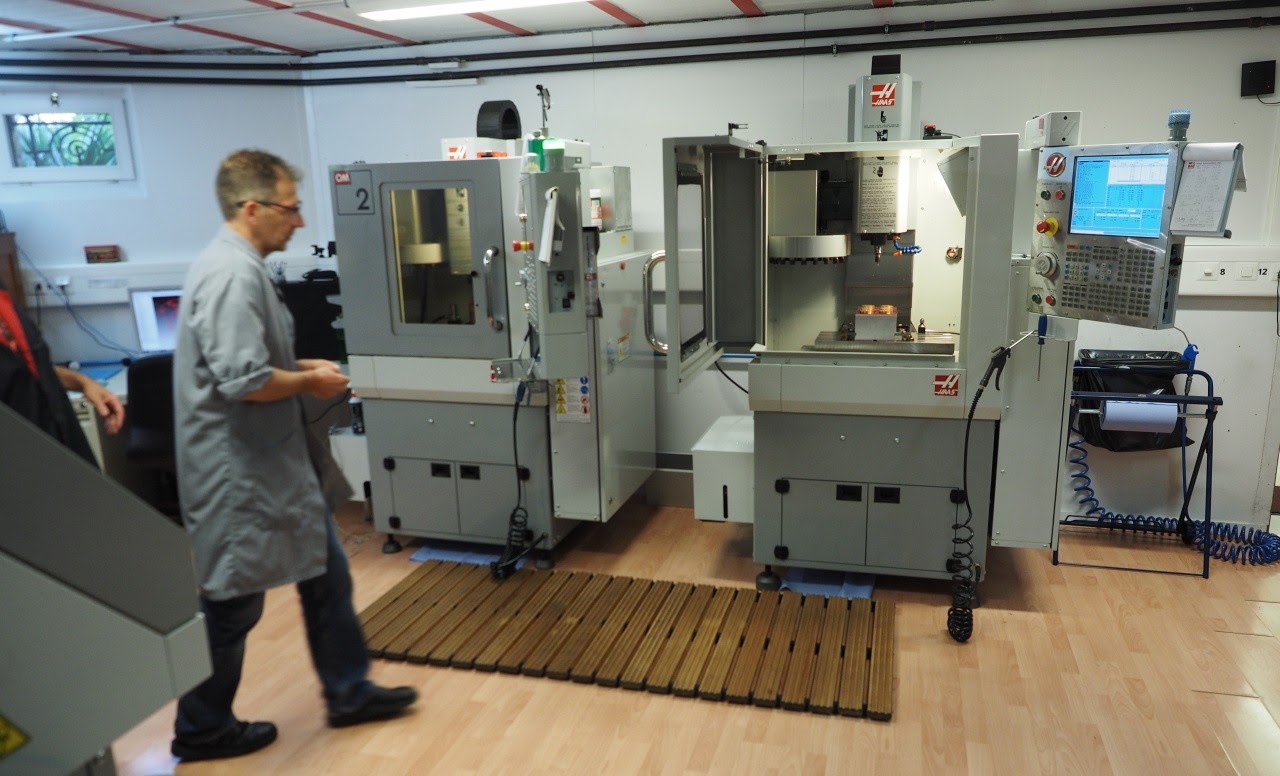 (Kari Voutilainen is about to transfer the machining of the parts into his dial factory in a neighbouring village. The machine park of currently four CNC mills will be increased, because the planned production of unique pieces will require even more production tools for the necessary flexibility.)
Kari Voutilainen sees modern production methods for the basic parts he needs for his artisanal watches as an absolute necessity to ensure consistent quality. He is proud about his industrial production capabilities since many years (now with his own dial factory added in a neighbouring village), also to safeguard real independency. He explained that without these USA sourced machines (which he had customized in Switzerland to bring them on a completely different level of versatility) he would never have been able to build the quality watches he does. He was not only fed up with the sourcing problems for small quantities of parts, but often their quality too. Therefore, Kari Voutilainen mills, e.g., even the screws for his watches. They have a coarser pitch than the watch industry standard (to avoid damage when frequently assembling and dissembling parts in trial fitting for detailing) and are harder than what is available on the market. Without these milling machines the quality parts required for 35 to 40 watches could not be produced. So Kari Voutilainen does not hide this basis of his in-house production.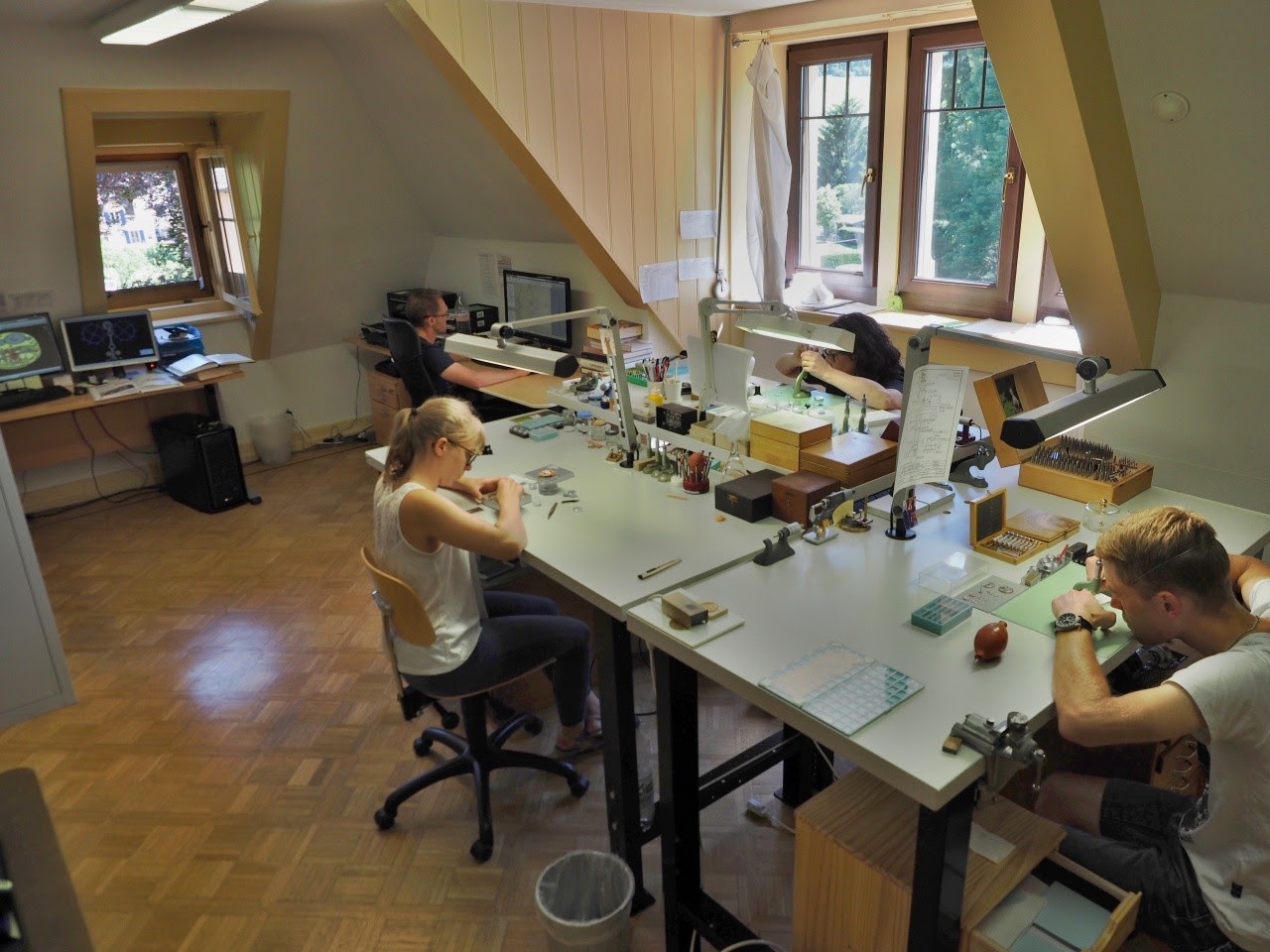 (The two CAD construction stations share a room with one part of the detailing "department".)
Furthermore, Kari Voutilainen stresses that his intention to create more unique pieces in future requires the two fulltime construction engineers he has in-house, and not only because he prefers to work at the bench to sitting in front of a CAD screen: All his unique pieces (those with a bit more than a different decoration) require a new movement construction, starting with the plate. The sample of a GMR model with the power reserve indication not at 12 o'clock, but at 2 o'clock, demonstrates this: The movement cannot just be turned a bit within the case for the new arrangement, rather it had to be constructed from the ground respectively the plate up.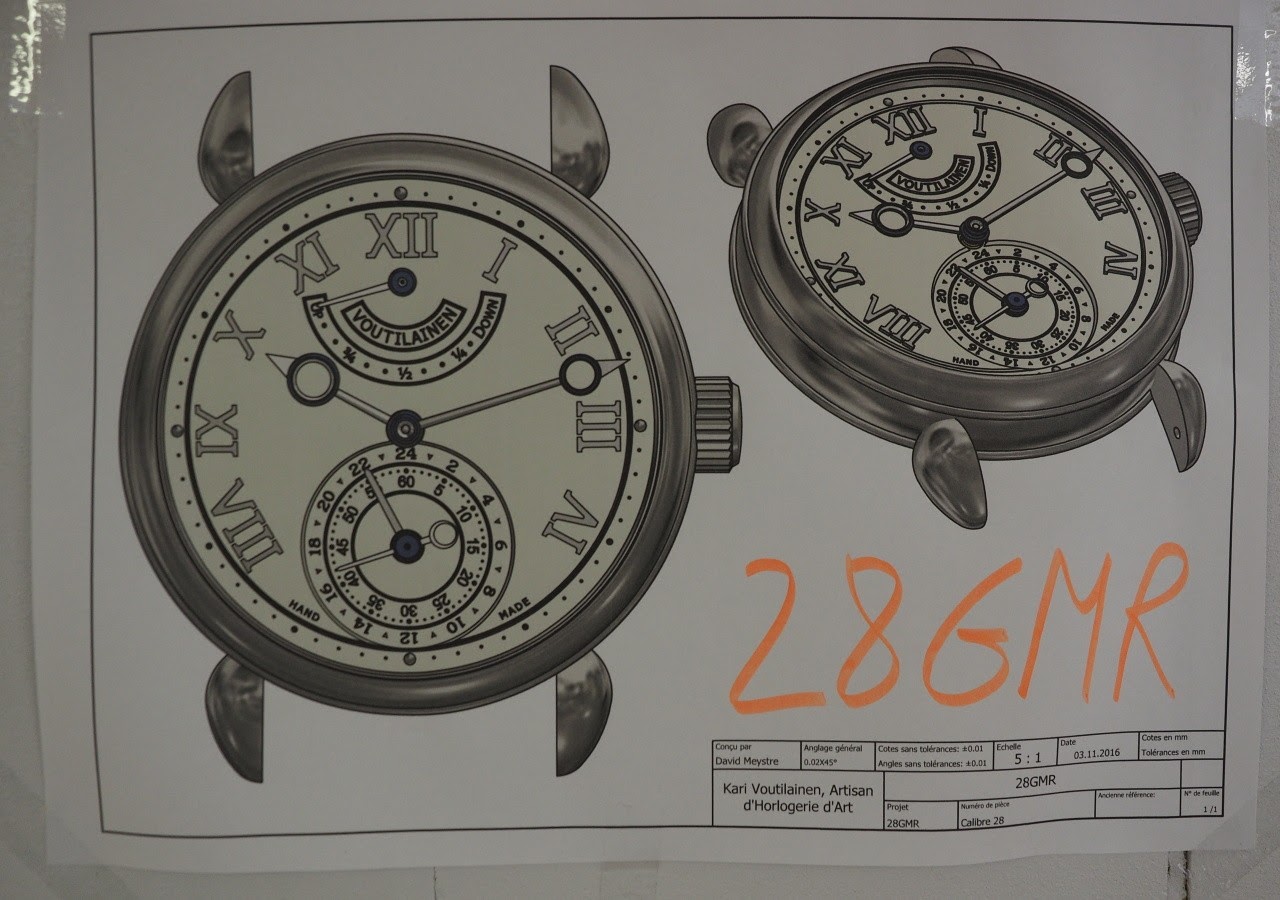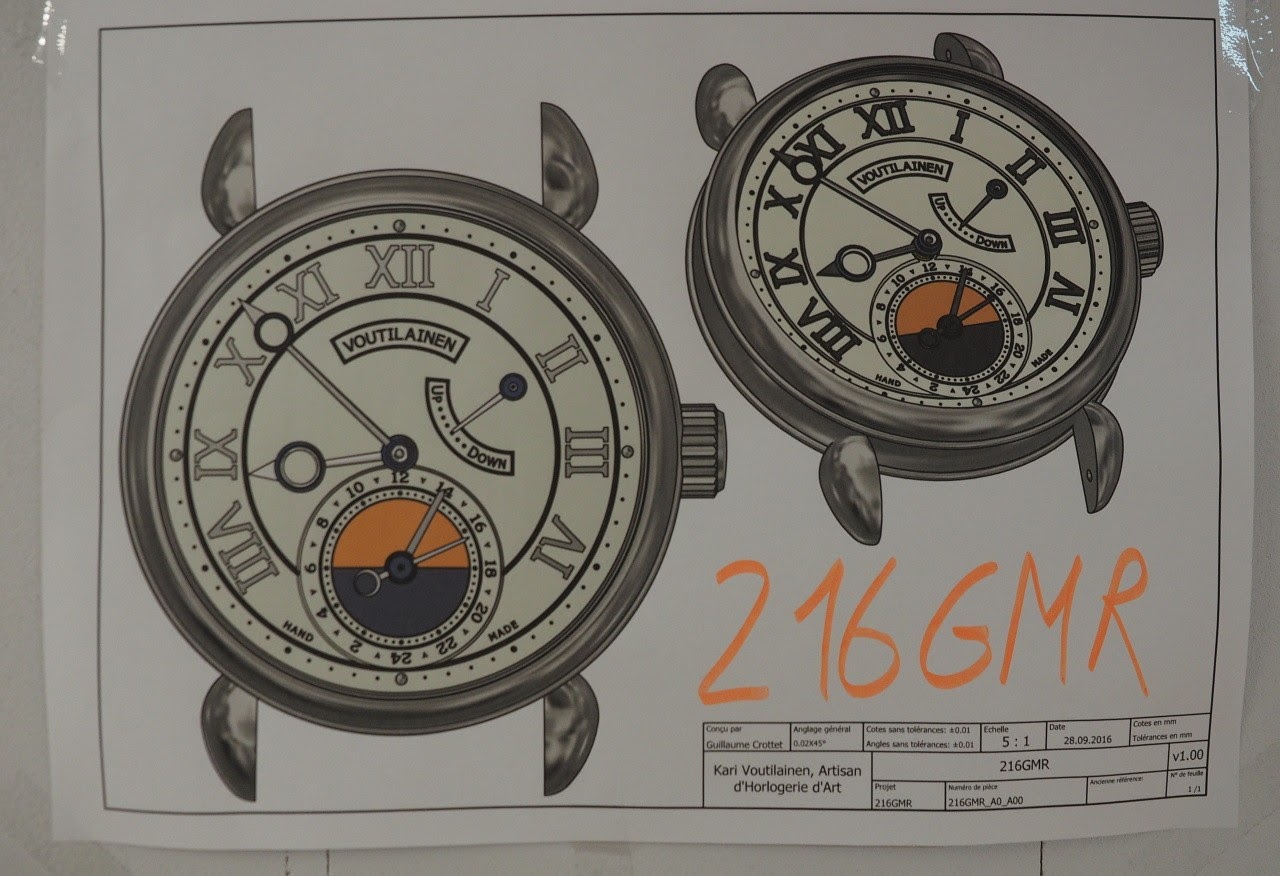 (Moving the power reserve display a few degrees on the dial requires a new construction with data and technical drawings created.)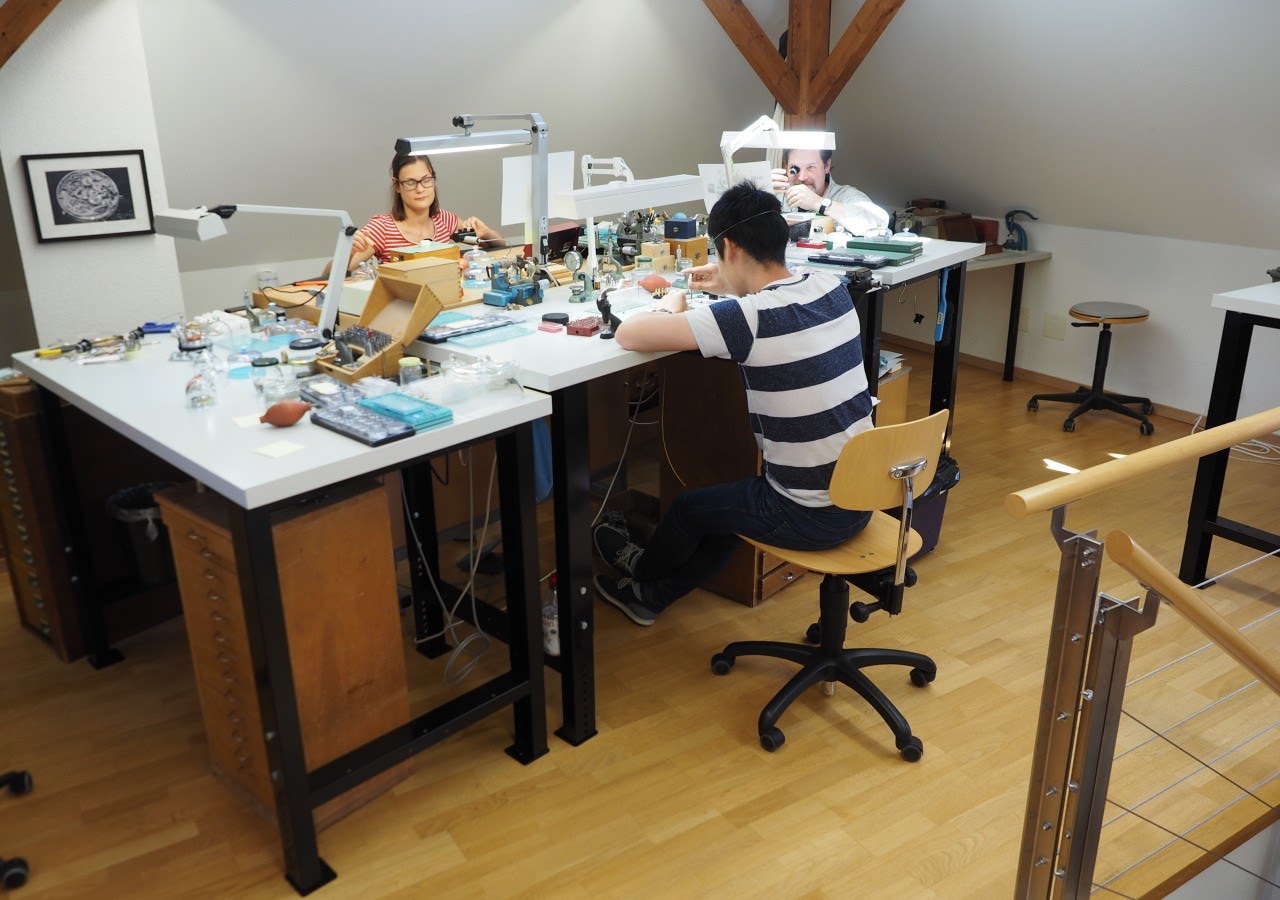 (The movements and watches are assembled at a working place in the landing of the upper floor, vis-à-vis [across the stairs] of another detailing "department". At the time of our visit a commission by one of our group was finished as well as a minute repeater built, amongst others.)
While his watches are famous for the visible detailing, for Kari Voutilainen their robustness is equally important. An extra thick thread for the crown and a patented dial locking system allowing to build "beefy" movements outside the case support this goal. Once the movement is fixed inside of the case, functions can be checked and tested, and only then are dial and hands set on. This is not industry standard, because usually dial and hands are fitted before lowering the movement into the case, and then it is no longer possible to work on/adjust the movement because there is no access to it with tools.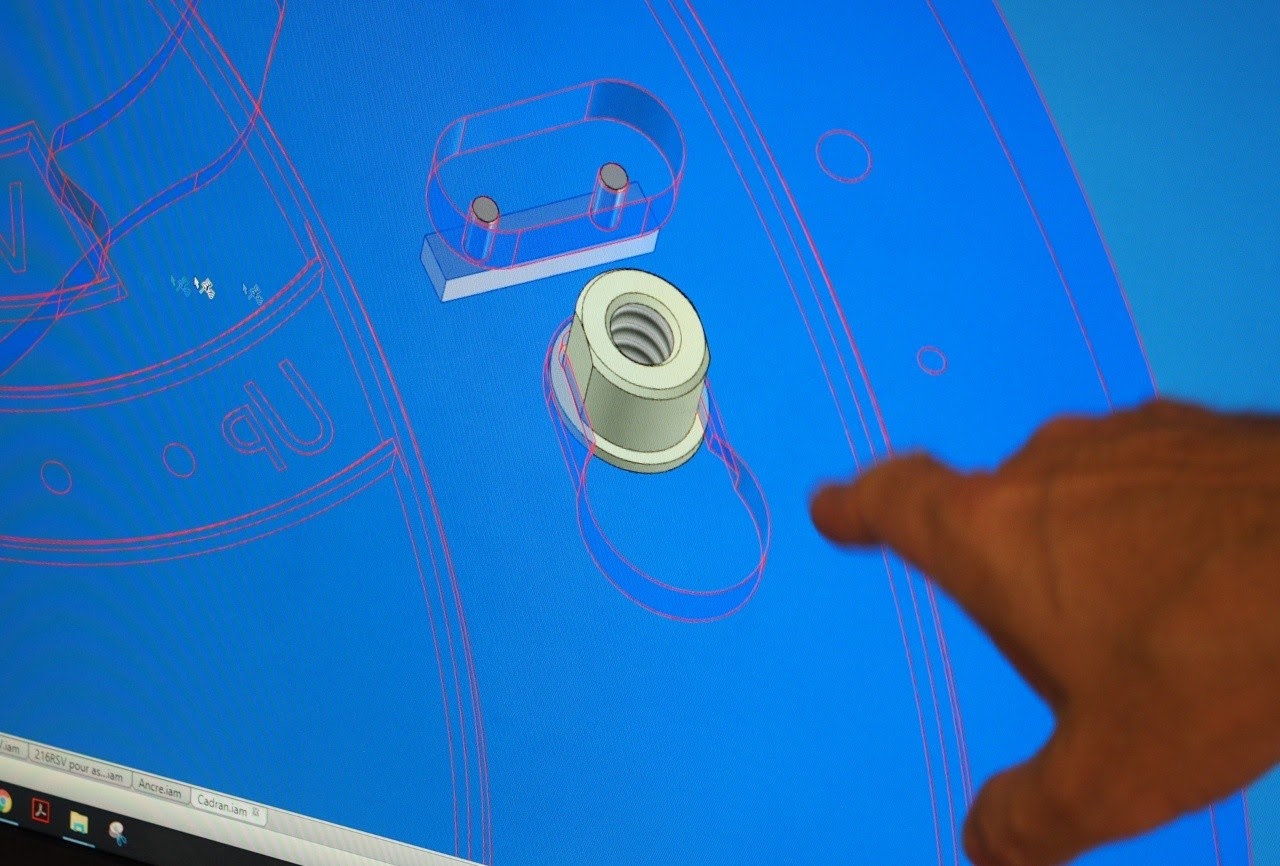 (Patented system to fit the fully built movement into the case and add dial as well as hands later on, without removing the movement again from the case.)
Again, you realise perhaps only what well built "machines" you get from Kari Voutilainen when listening to him on the atelier tour. And I realised how fair his prices are for the unique pieces, which would not be possible without such a "well-oiled" production process.
Plans exist to expand the guilloche "department" by hiring a third specialist and refurbishing a further machine already found. The guilloche dials are a speciality of Kari Voutilainen, with additional demand from other manufacturers like Grönefeld and Sarpaneva. But this is not seen as an industrial process, which is why Kari Voutilainen wants to keep this work in the same rooms as the watchmaking.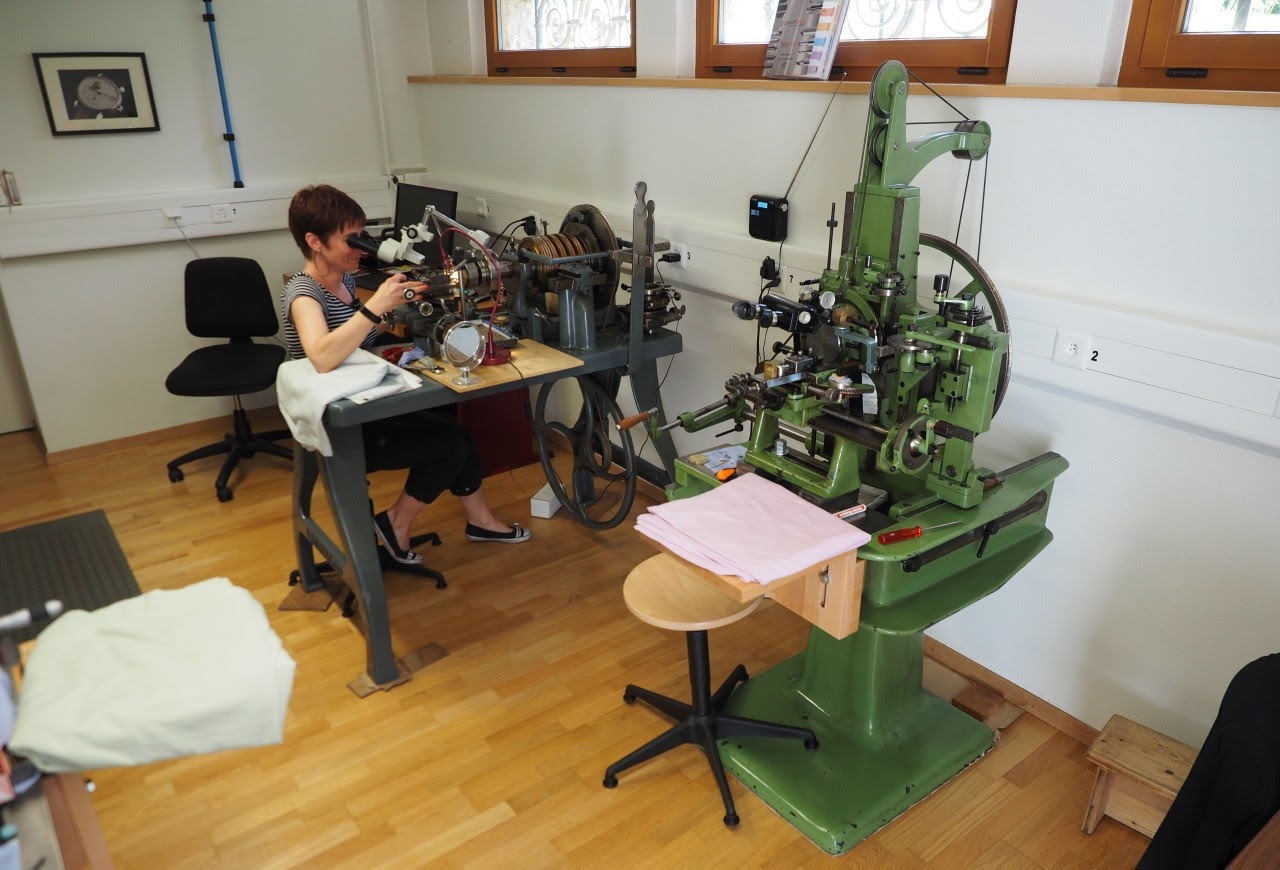 (The guilloche machines are all hand operated, turning the dial across the mill tip with an even, very slow speed, as well as pressing the mill tip at the same time gently against the dial for an even depth of the engravings. A tiny slip of concentration could ruin more than a day's work.)
Unfortunately another big advantage of an atelier visit before ordering is not often used by customers: In the guilloche atelier the two ladies creating this trademark work have a thick sample book of their art at hand, including the wildest as well as most complicated guilloche patterns they have tried out, the instructions for a reproduction carefully noted down by hand. It seems most customers do not want to see these samples but rely on what they have already found pictured somewhere on the web or other publications. Though, you have to ask for these samples, because Kari Voutilainen is not offering them routinely, likely fearing to turn customers away because they can then no longer decide what they want due to an abundance of choices.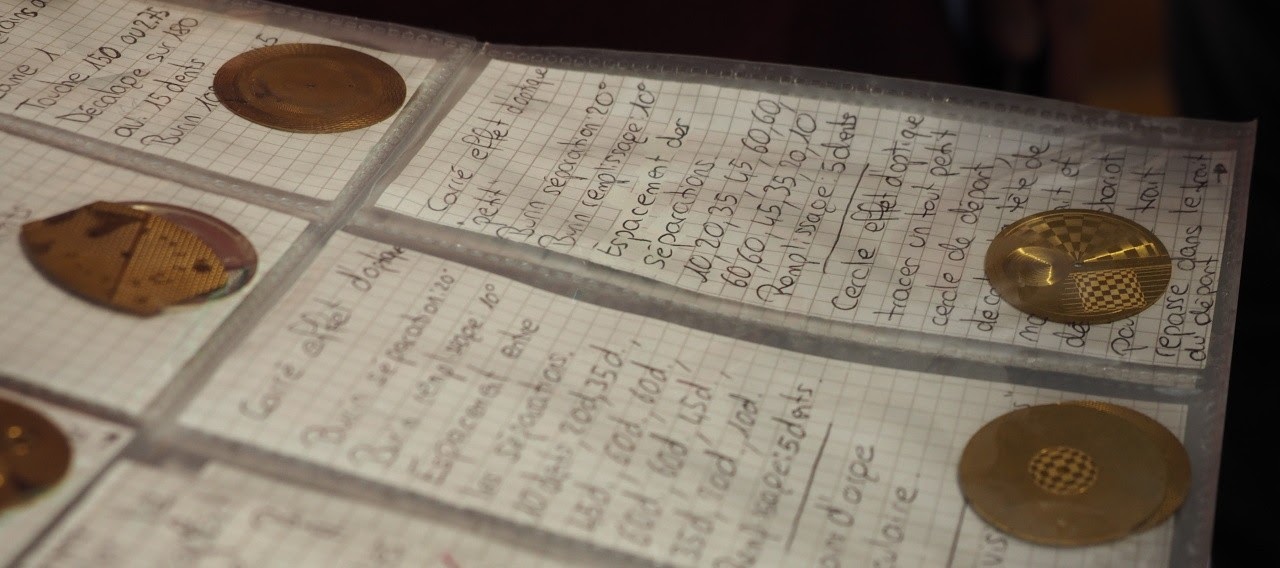 (Samples of guilloche work are documented in files, including instructions how to proceed to replicate the patterns successfully. The tromp d'oeil patterns based on paintings of Vasarely were deemed to be the most difficult to do, according to the guillocheuse we asked.)
Even with the well-publicised watches of Kari Voutilainen, a lot of choices available would not even come to mind without a visit to the atelier. And I have now understood what it means to have a properly engineered and documented unique piece compared to one done "freehand" by modifying an existing movement to create a special watch for a customer.

(Photos: Kari Voutilainen)
Vianney Halter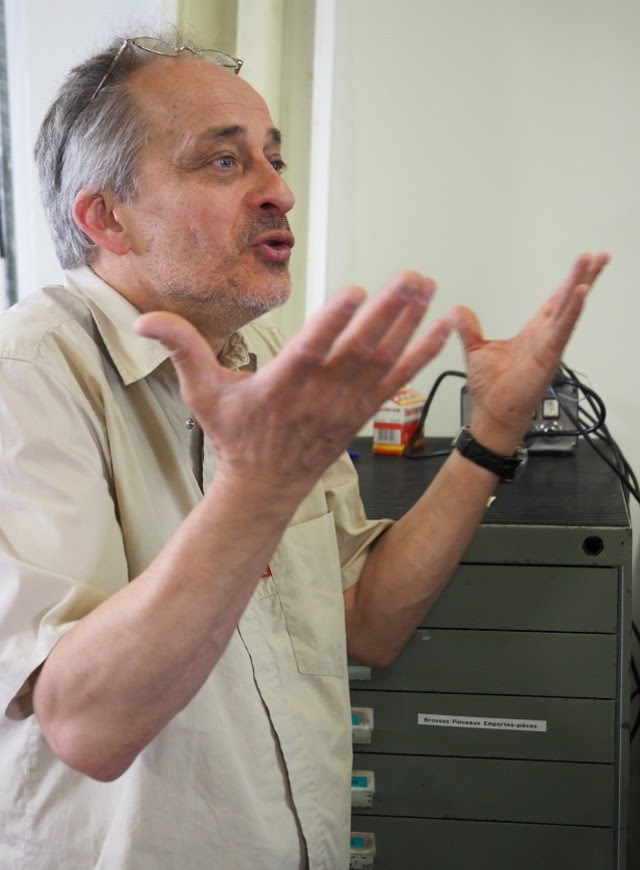 In the atelier of Vianney Halter we found row upon row of perfectly serviced ancient machines, all set up for specific work to create the multitude of parts (even required just for the cases) the traditional way. It is a completely different approach to high-end watchmaking to what we had seen before on our tour, and I could imagine what skill is required to produce every single watch (respectively its individual parts) by setting up these machines by hand (based on hand written specifications and the technical drawings, some lying beside the machines on the benches) and advancing the cutting tools with the hand wheels on the machines for a result that will be judged with the same magnifying glasses as used by enthusiasts for checking the CNC milled parts.

Imaging how long Vianney Halter has to toil away until he has a properly finished watch made me comprehend why they cost quite a bit more than those, say, of Kari Voutilainen (but the additional complications on many of Vianney Halter's watches have also to be considered). Vianney Halter's fascination for the inventiveness of the engineers at the time of the industrial revolution (and what help their new machines brought to mankind to make life easier) makes it a joy for him to still appreciate these machines and instruments in his own daily work.

(According to Vianney Halter this machine is most often used, to produce all the parts from precious metals. No other metals are worked on this dedicated mill.)
There is a CN mill even in Vianney Halter's atelier, however it does not behave like the modern CNCs. He has built it himself based on a micrometric pointing tool SIP from 1943, with a 1981 control unit. He said, they are very reliable and precise, but it is only two-axis and more or less hand controlled. In other words, the production methods are very coherent with the thinking of Vianney Halter.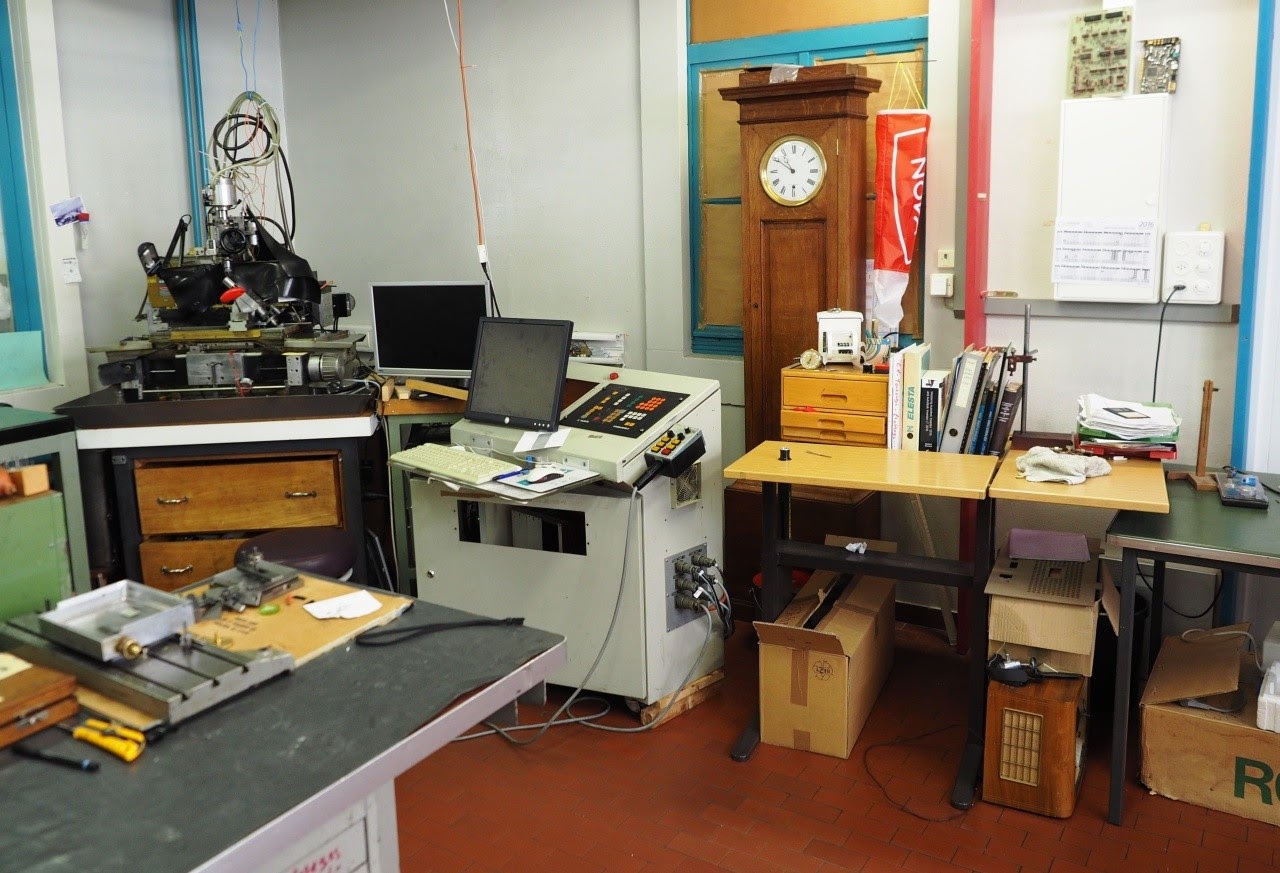 "Subcontract work" is limited to what Vianney Halter needs for his other interests. We were not first shown any watches, but parts he had machined for a new construction he had thought out to improve the operation of an aircraft. What he wants is being able to operate/steer the wing flaps as well as the brakes with the same foot pedals. He sees this as a major help in landing manoeuvers (the skills to operate and coordinate two pedals pivoting in different directions seems to be a given to him…).
But the atelier visit has brought other valuable impressions: From reports I had read in the press (including web publications), I always had the feeling that Vianney Halter's production must be highly chaotic and happing in between old engines and whatever he has collected, provoking slight question marks about the detail quality of the watches. But this picture I had in my mind turned out to be wrong. Even though Vianney Halter's atelier is currently in temporary rooms due to building work at his own place, all the machines could not look in better condition or better organised. He even works at two different assembly benches, to further divide work according to the required cleanliness for it.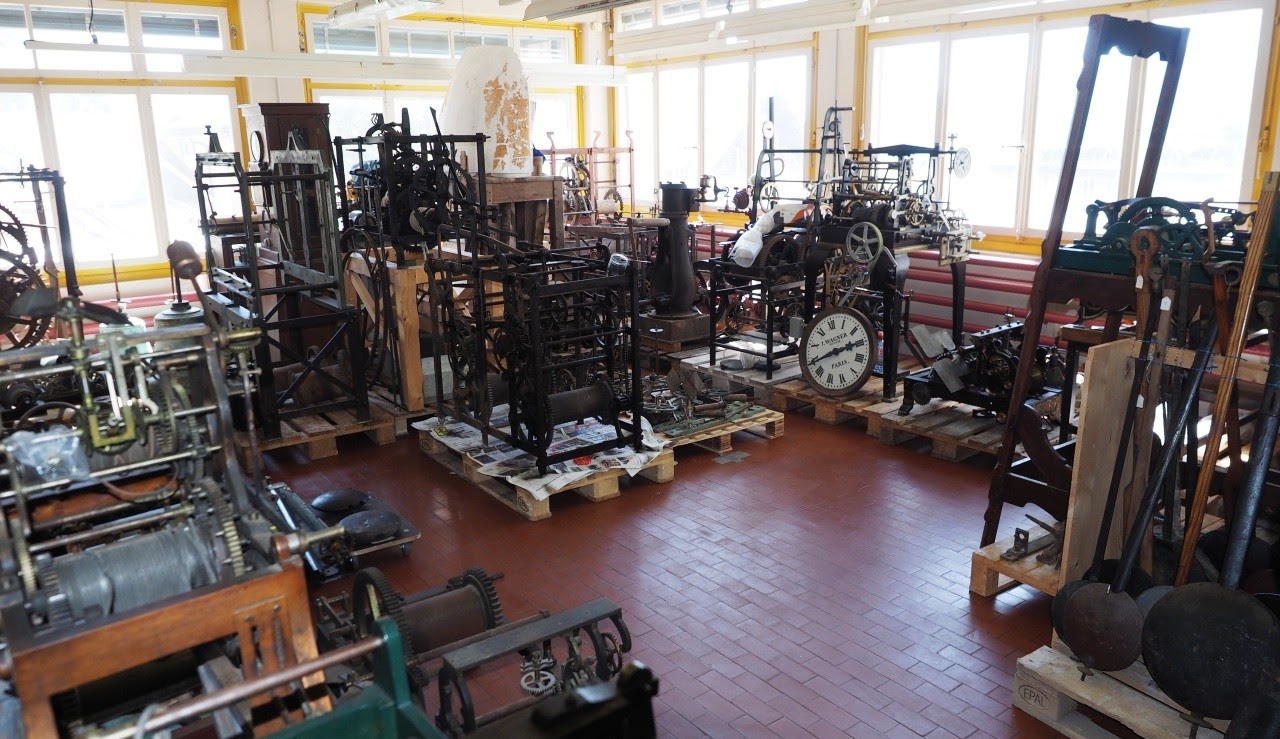 More than anywhere else we have been in the three days, visiting the atelier and listening to Vianney Halter brought another experience to me, that of understanding better the sometimes challenging shapes and visuals of his watches. "Steampunk" is often mentioned when describing his watches. The back-ground, though, is not a forced design to attract interest to them, but Vianney Halter's other interests and fascinations. This starts with the linear arrangement of his movements. The back-ground of this speciality we found in an adjoining room, where Vianney Halter has a huge collection of antique tower/church clock movements he is gradually restoring. He told us how fascinating some of the technical solutions are that these watchmakers had found ages ago. He likes not only the quality of forged shafts, but the solutions found to simplify functions, all with a linearly arranged gear work. To him these old movements are as inspiring (and preferable to) reading books on the subject.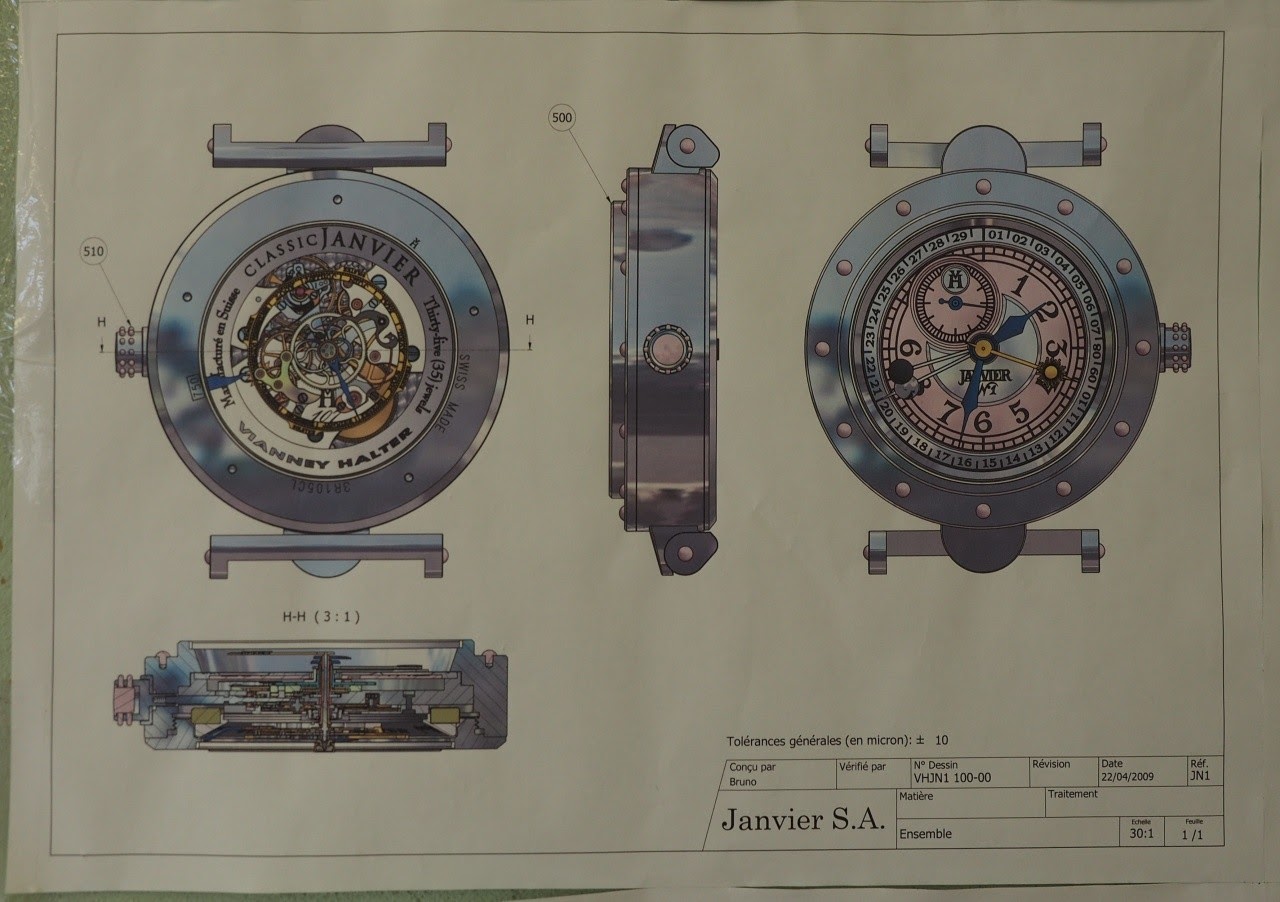 That the Classic Janvier (Masterpiece Equation of Time) is a tribute to Antide Janvier (who got a separate department in the library at the workplace) is well known. New to me was how the iconic Antiqua model (Perpetual Calendar) came about. When the last watchmaking crisis took away subcontracting work Vianney Halter did then with around 20 employees, he wanted to use idle time to create a wrist watch picking up the display arrangement of antique marine chronometers. Particularly the chronometers of Ferdinand Berthoud have separate dials under one protective glass. Vianney Halter wanted not one cover glass for everything, so he went for a separate window/porthole for each indication. The resulting layout is more intuitive for him, with four dials to show hours and minutes; month and leap year; day of the week; and quantième (date).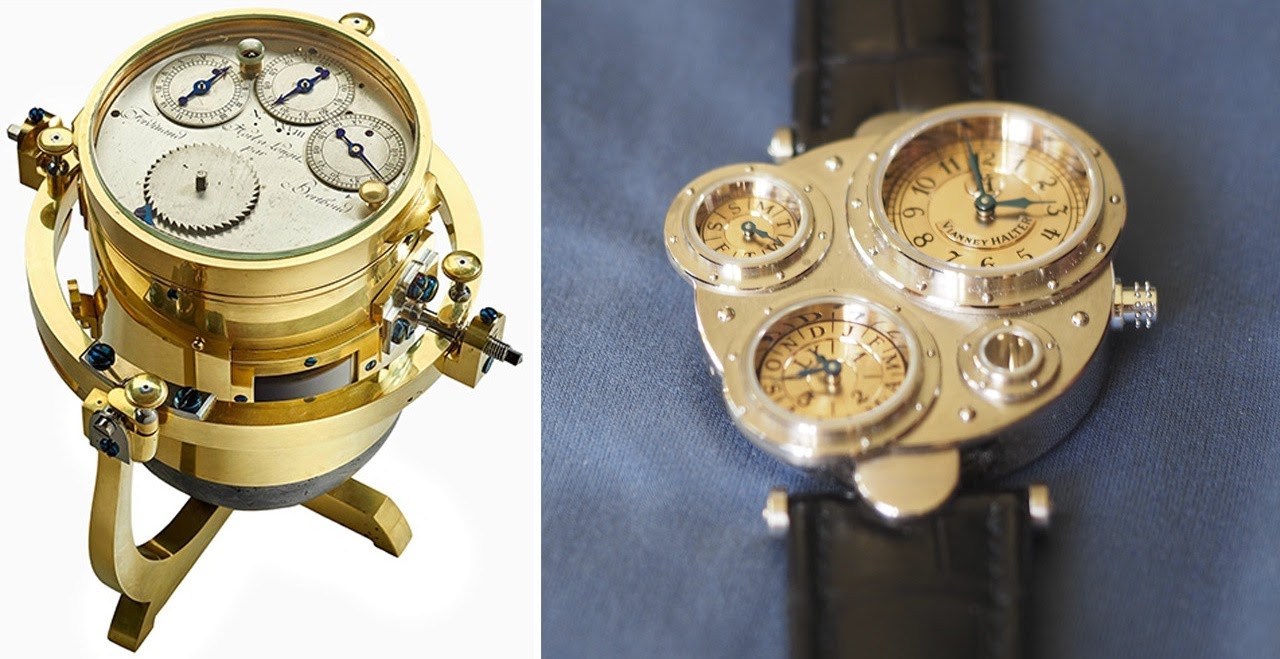 (Marine Chronometer of Ferdinand Berthoud with its separated dials for hours, minutes and seconds. It was the inspiration for the Antiqua of Vianney Halter.)
The Trio (still produced) as well as the Contemporaine (only five built, with Kari Voutilainen snapping one away from Vianney Halter when they both bid at the same auction) are – according to Vianney Halter – declinations of the Antiqua.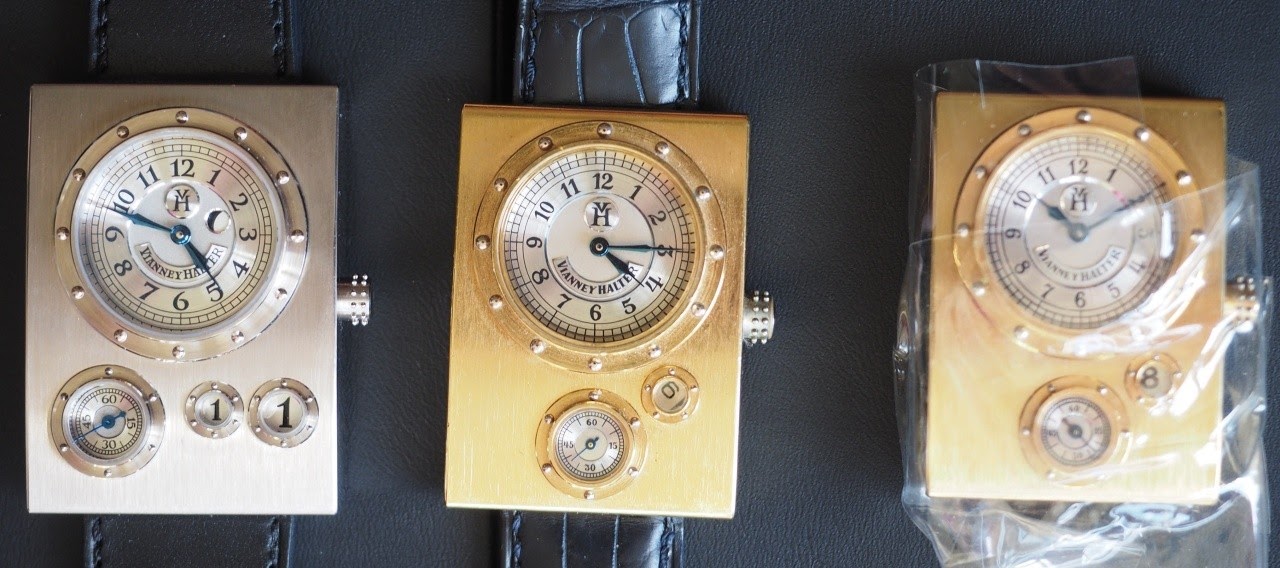 (The Trio is still in production. The production model is on the left hand side; the other samples are prototypes.)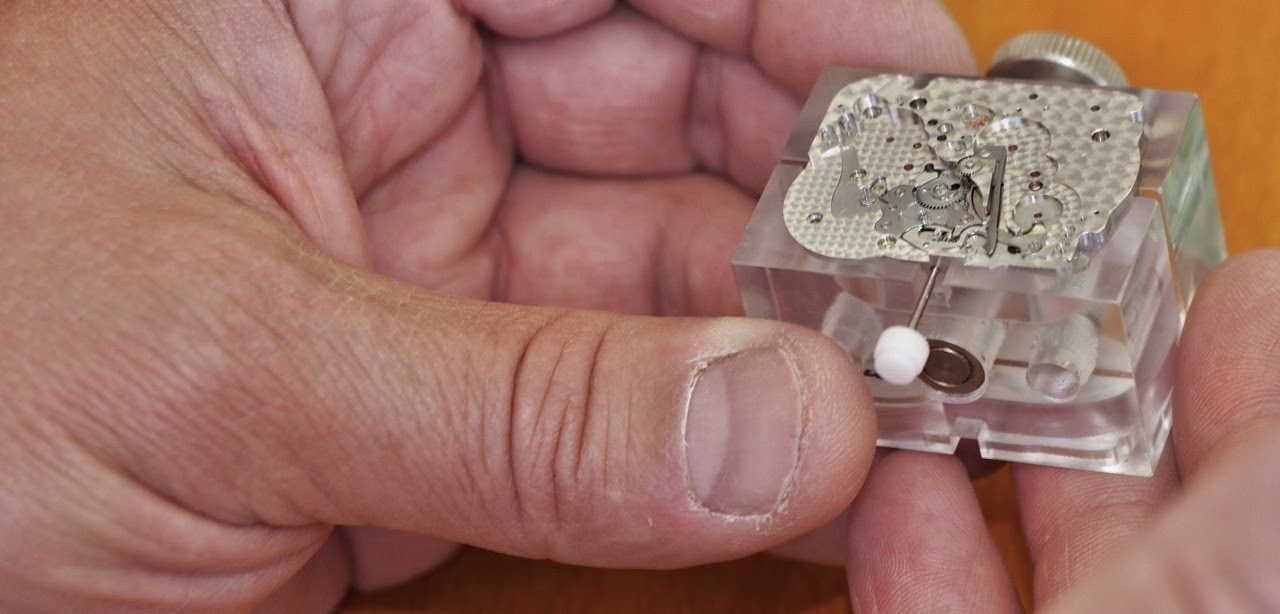 (Movement of a Trio)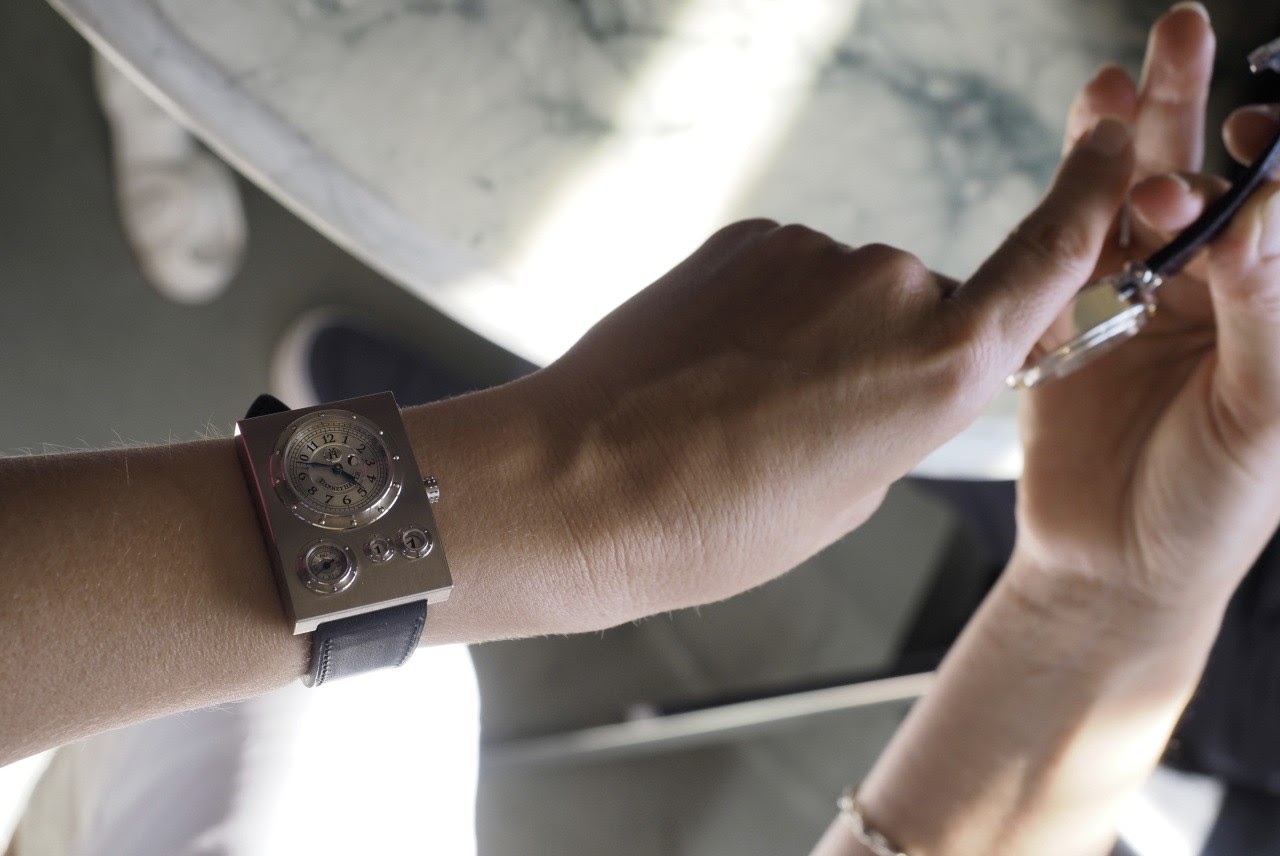 (Laurence demonstrates how good a Trio looks on a lady's wrist.)
Vianney Halter's best-selling watch at the moment is the Deep Space Tourbillon. He explained that this model shall remind mankind of the four dimensions that rule our lives (three space dimensions and a time dimension). As of now, widely accepted (until proven false) physics principles state that one cannot uncouple space and time, so it's even inaccurate to speak in terms of time OR space. There is only space-time, and it is a 4-dimensional environment. We only think time is special because we are unable to travel both ways.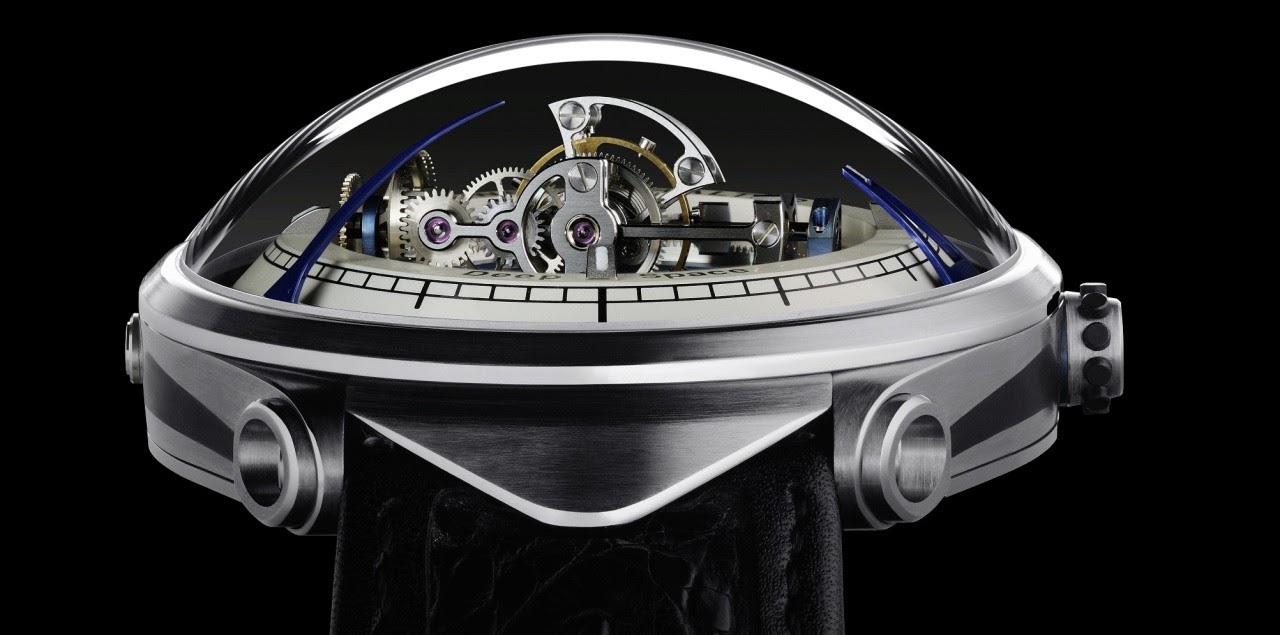 (Photo: Janvier SA)
This lecture shows the deep thinking nature of Vianney Halter. Though, I could not quite follow and looked for material things in the atelier I could better comprehend. I always get excited when I find projects that have not yet got the full publicity. One of these was indeed to be found in between paperwork and tools on a desk: The HTO Grand Voyageur was a project in 2007 together with designer Jean-Yves Mariez. Inspiration for the design came from a railway clock. The watch has an ETA quartz movement.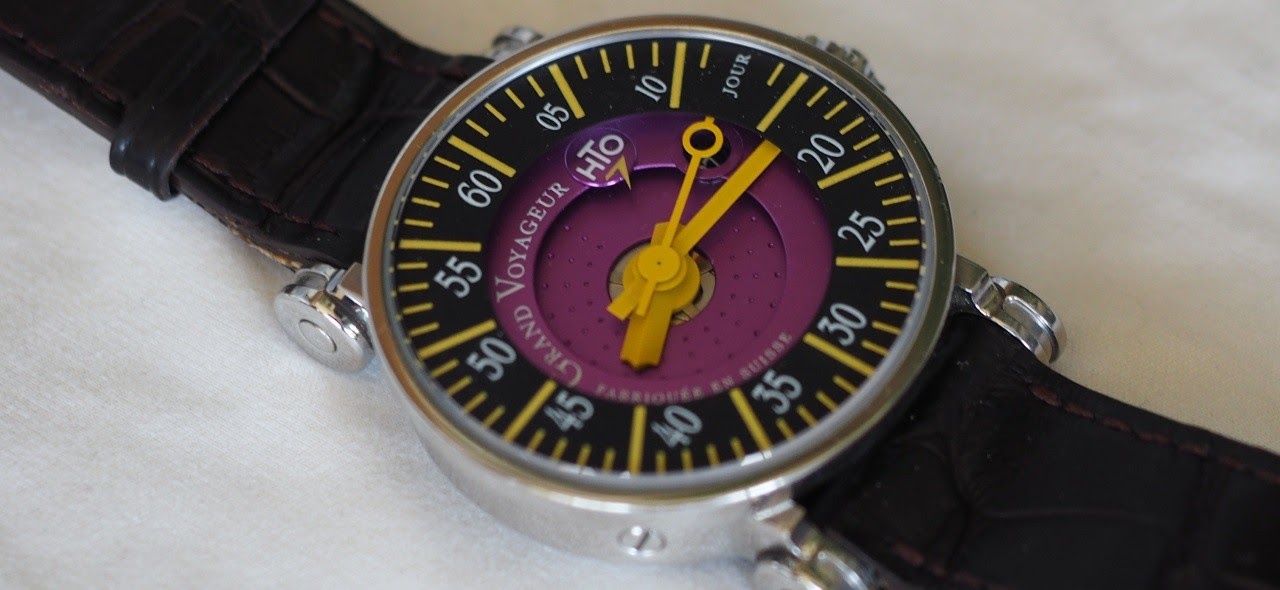 You can learn a lot about people when looking around their work place for personal items. At Vianney Halter's desk only what you have already gathered before following him around the atelier is emphasized: He is not driven by commercial calcul but by the desire to make dreams become reality. And I am in no doubt that his fantasy reaches much further than the one of most of us.
To experience the man act accordingly in a natural and not rehearsed way, it brought me the insight that with a Vianney Halter watch you really get a watch with his DNA ingrained and not a design soiled by marketing considerations. What more could you ask for as a collector?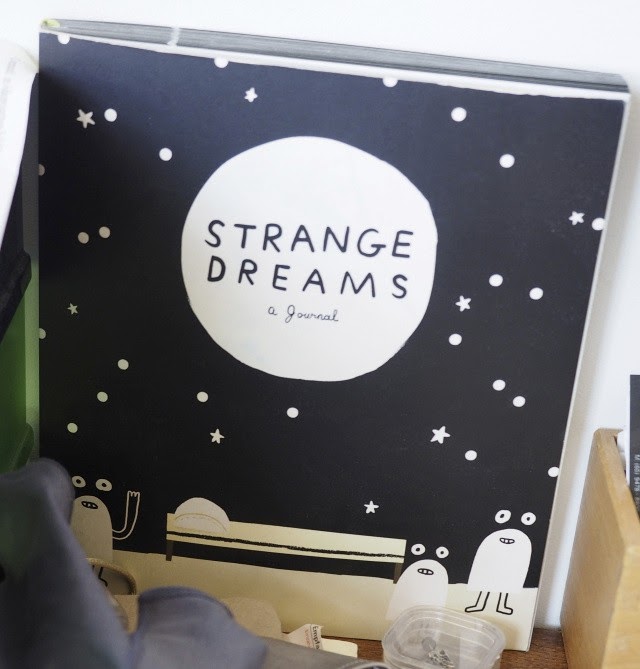 On a bench I saw a spare case of the Satellarium watch Vianney Halter had made for the "Faces of Time" project of Goldpfeil in 2001. It was meant to be a unique piece. Based on this spare case, I left the atelier with my own dream: How great would it be if a world time/time zone watch could be created out of this by Vianney Halter!

Philippe Dufour
We had the great honour of Philippe Dufour not only joining us for a meal, but the whole group being let to roam around his atelier and to be entertained with his experiences and anecdotes.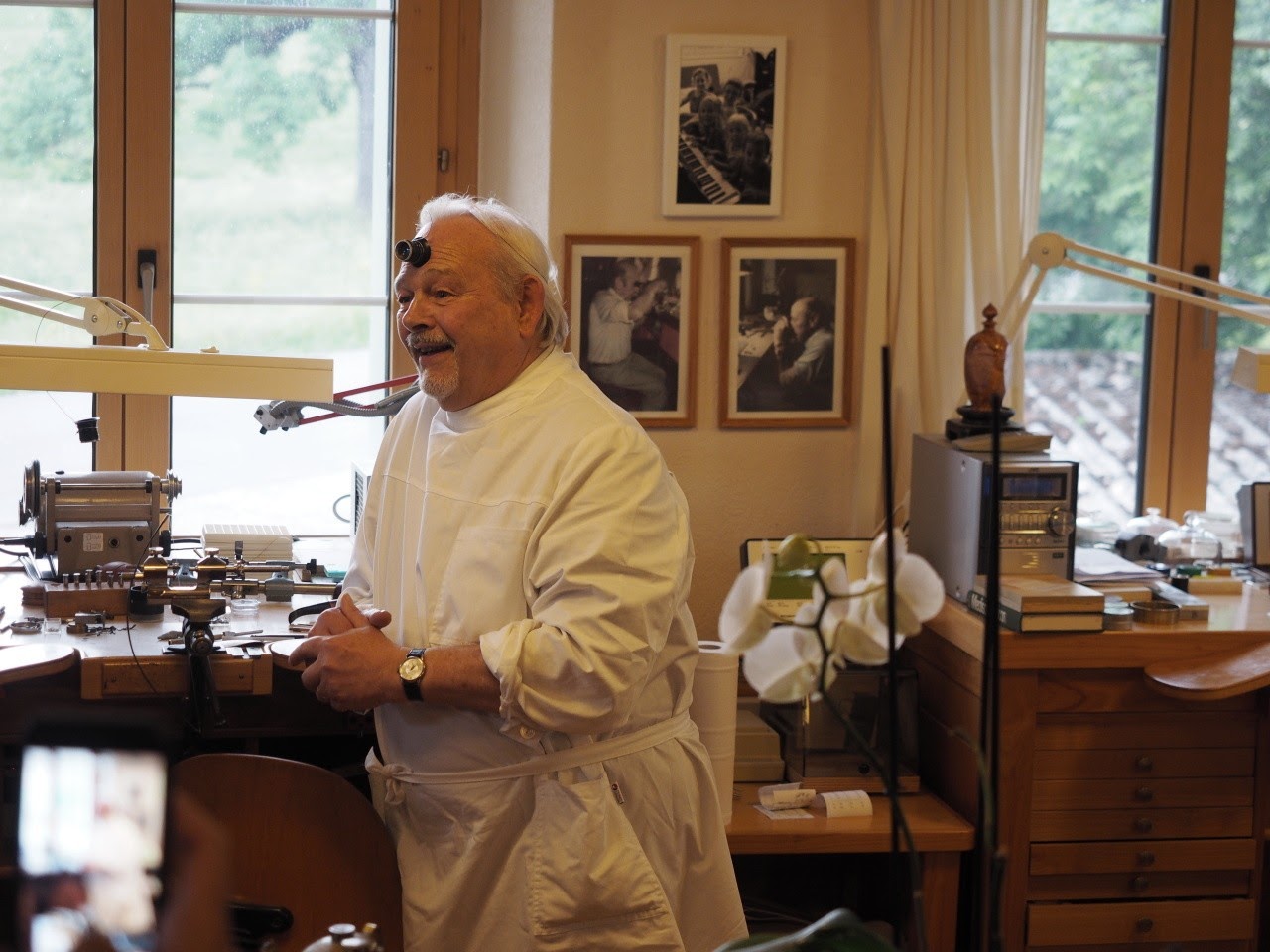 Since I always wondered how he manages to get these distinctive Geneva stripes on his movements that look so deeply ingrained into the metal, but hardly being felt when you run your fingertip over them, his explanations were most interesting. Unlike the "mass producers" he is not using emery paper, but a piece of special wood with the core part removed, so that only the hard and slim outer rim is doing the polishing work with the help of a paste added.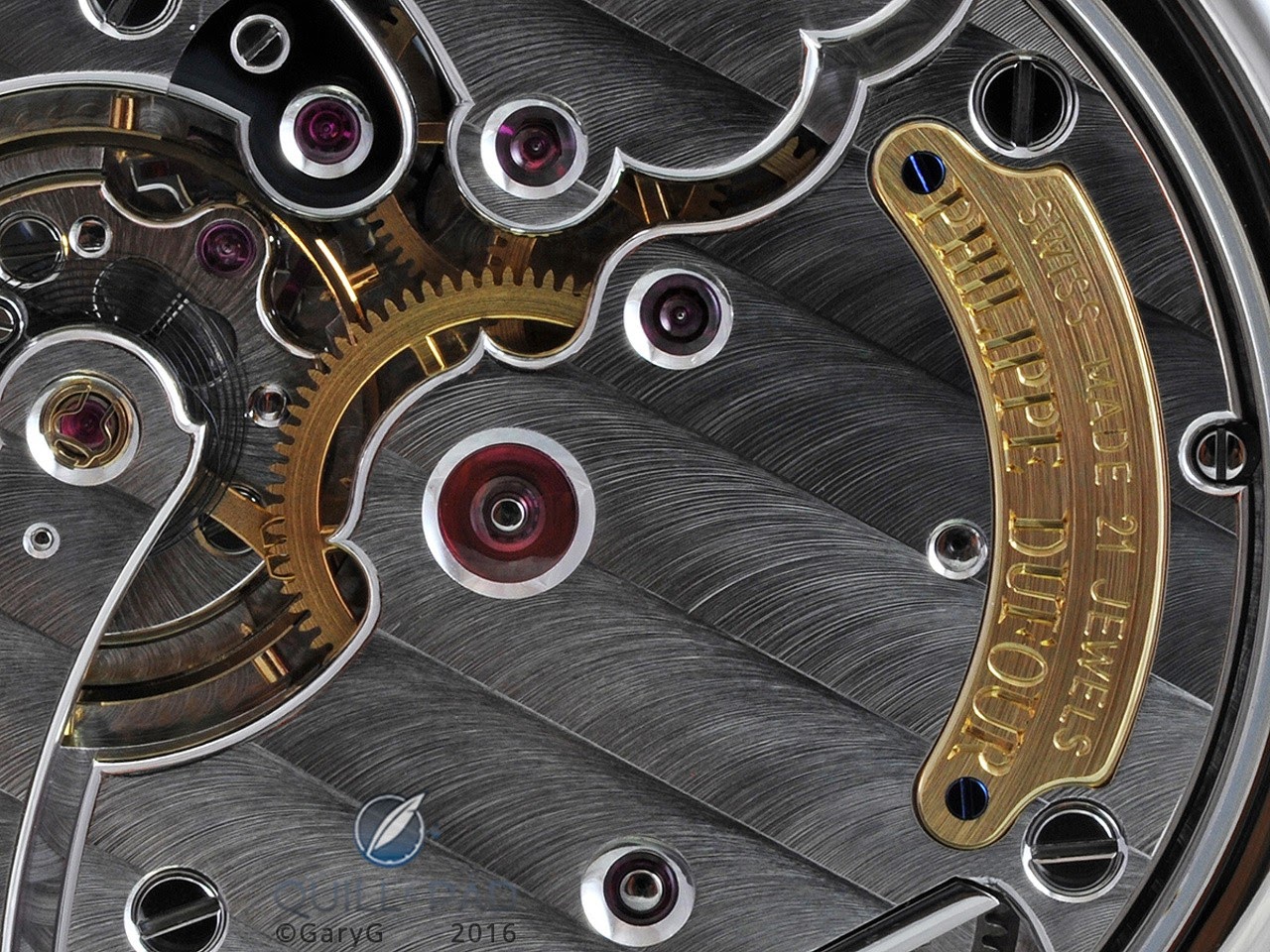 (Copyright photo: GaryG for Quill & Pad; image used with permission of author)
There is, of course, no CNC mill to be found in his atelier. Philippe Dufour did not make all parts for his watches himself but had quality suppliers for some of them. But there was never anything hidden, because the dial supplier Metalem was even allowed to display the name prominently at the front of the dials.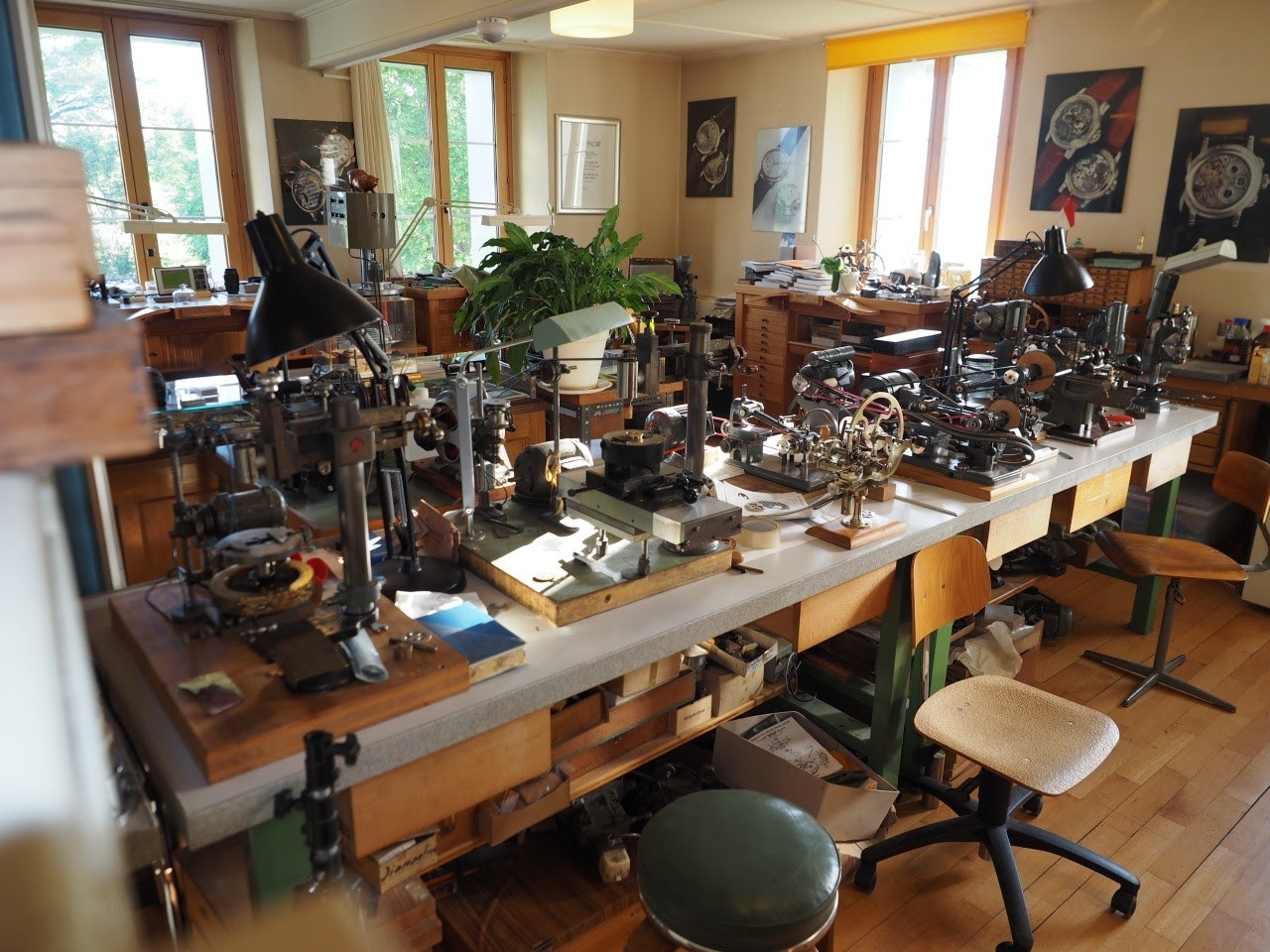 Philippe Dufour demonstrated to us one of his old mills/lathes and explained why it is perfectly fine to produce quality parts to his highest standards on them.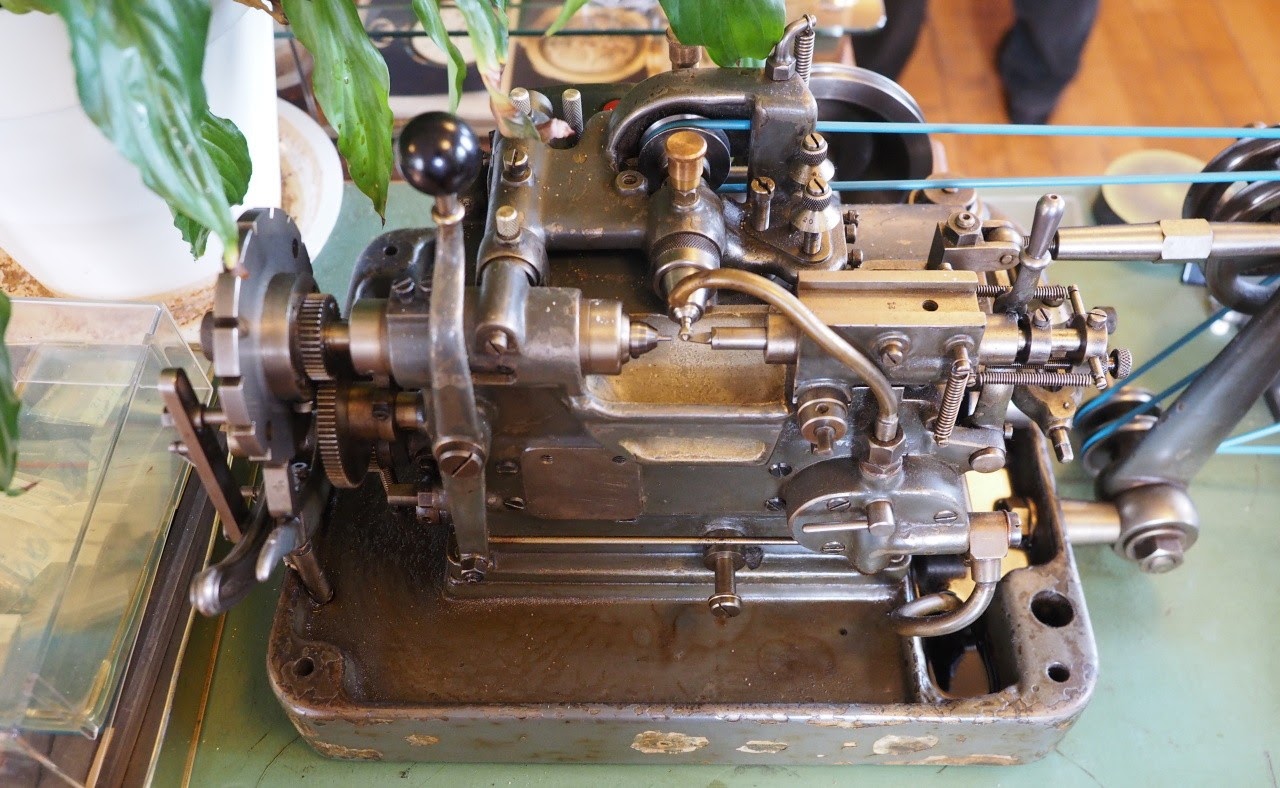 While Philippe Dufour was working on two watches (one a pocket watch) at the time of our visit, only another retired watchmaker is nowadays coming in to work with him in the atelier.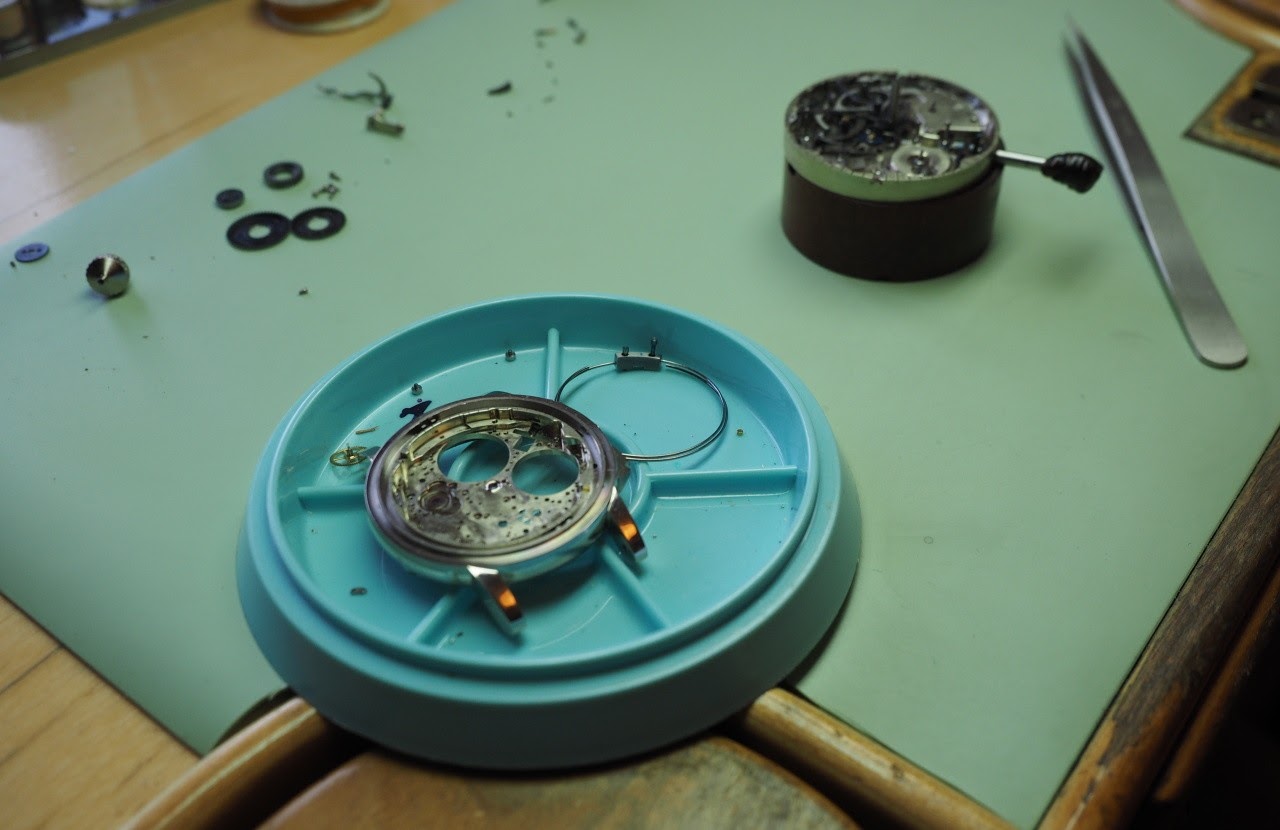 Philippe Dufour never managed to find a watchmaker with the required stamina to carry on the philosophy of watchmaking with handwork and all this extreme detailing. While very good watchmakers are available, they seem not keen to work the way Philippe Dufour had all his life. He thinks about (no, he would love) to create another watch series as he had done with the Simplicity. But he feels doing all on his own would lead to nowhere, so for the moment he is working on "single issue" time pieces.

Unless the situation changes, the Simplicity and others of his watches are likely to soar further in value, too many collectors are lusting after too few watches. So there was only his own Simplicity "00" to admire in the atelier.
Thinking about this situation, I believe Roger Smith is the only one who has managed to be accepted as "successor" of a master watchmaker, his mentor George Daniels. But he carried on the principles and ideas of Daniels, particularly he built not only on a recognisable design, but also adapted only subtly the way the watches are made nowadays. When it is believed the exterior design to be a sufficient USP, the attraction of the watches vanishes, at least for the enthusiasts (and the masses hardly ever discover these niche brands).
On this tour we have experienced how much these artisanal watches are formed by the beliefs and principles the masters follow. To produce watches based on valuable personal convictions is hardly a way to get rich quick. No wonder then that the master usually leaves the ship quickly when financial goals become the focus. After the samples given by Gerald Genta, Daniel Roth and Martin Braun, I wonder where Christiaan van der Klaauw and Peter Speake-Marin will move without their name giving founders.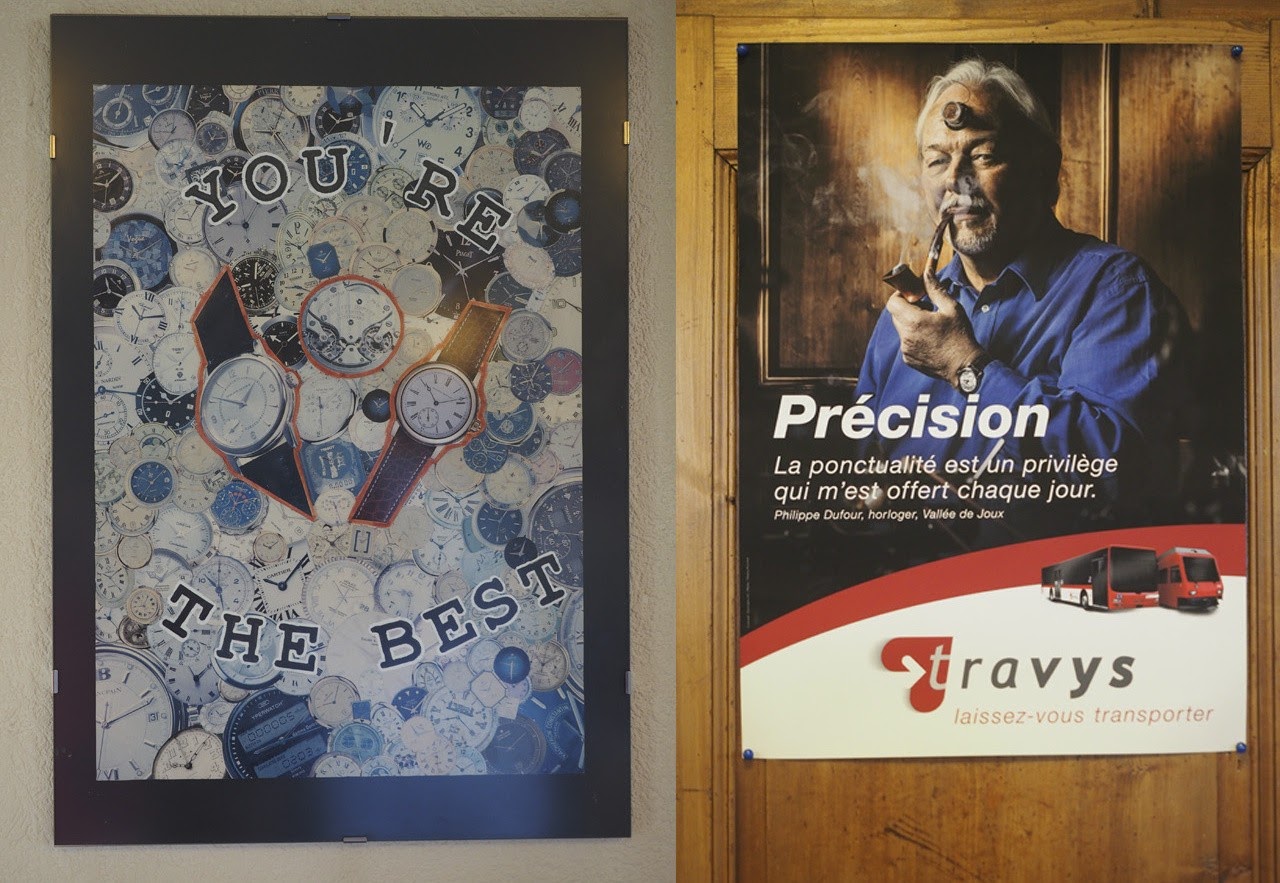 While diplomas and prizes won were proudly shown on cupboards and walls of the other ateliers we had visited, in Philippe Dufour's place quite a few more personal expressions of appreciation could be found, and he had even proof that watchmakers can themselves become "ambassadors" when they are of his standing.
But first of all, Philippe Dufour did perhaps more to interest enthusiasts in fine watchmaking of the type we have seen on the tour than anyone else, particularly in Asia. As real ambassador for this kind of watches he tours the world since many years and stayed accessible to watch lovers. The success of his watches on the secondary (auction) market is likely not only the result of his fine craftsmanship, but linking the watches to a cult person. One well-known collector and columnist stresses again and again: "It is all about the people!"
Driving home in the late afternoon of Saturday, I had time to reflect what I had seen on these three days in the ateliers. All of the watchmakers we had met buzzed with an infectious enthusiasm and to experience them 1:1 gave trust that they will do the utmost to create a watch of the highest quality and one the customer can enjoy for years. And trust is indispensable when quite important sums shall be spent on an often individualised watch or even a unique piece that likely cannot be flipped the next day without financial consequences. Discussing such buys – requiring competent advice, some guiding in the choices available and also decisions on the part of the watchmaker – I am not accepting "interfaces". Therefore it is good to know that the masters we have visited are prepared to deal with customers directly.
It leaves me to thank Mike H and the generous hosts for providing me with three unforgettable and inspiring days. It was in addition a superb experience to share all this with other like-minded enthusiasts.
Björn
This message has been edited by andrewluff on 2017-06-28 03:11:50