In 2015, when Ferdinand Berthoud gave birth to its first watch, I was more intrigued than seduced.
Truth to be told, I was in awe in front of the horological approach, less seduced by the aesthetics, I swore to myself to first see these watches in real life before any final judgement.
It took me some time, 8 years, precisely, to be able to spend some time with this brand, and to visit their booth, this year, at Watches And Wonders.
Of course, I couldn't see everything, but at least, I now have a first idea of the direction this brand took.
First things first, The FB 1 with its extraordinary Cal FB T.FC for Tourbillon Fusée and Chain, providing a Constant Force to this Chronometer, whose accuracy is superlative, with a precision between - 1 and + 2 seconds per day. Extraordinary not only because of its accuracy but also because of its level of finishings. The dimensions of this movement are quite generous ( 35, 50 mm / 7, 96 mm high ).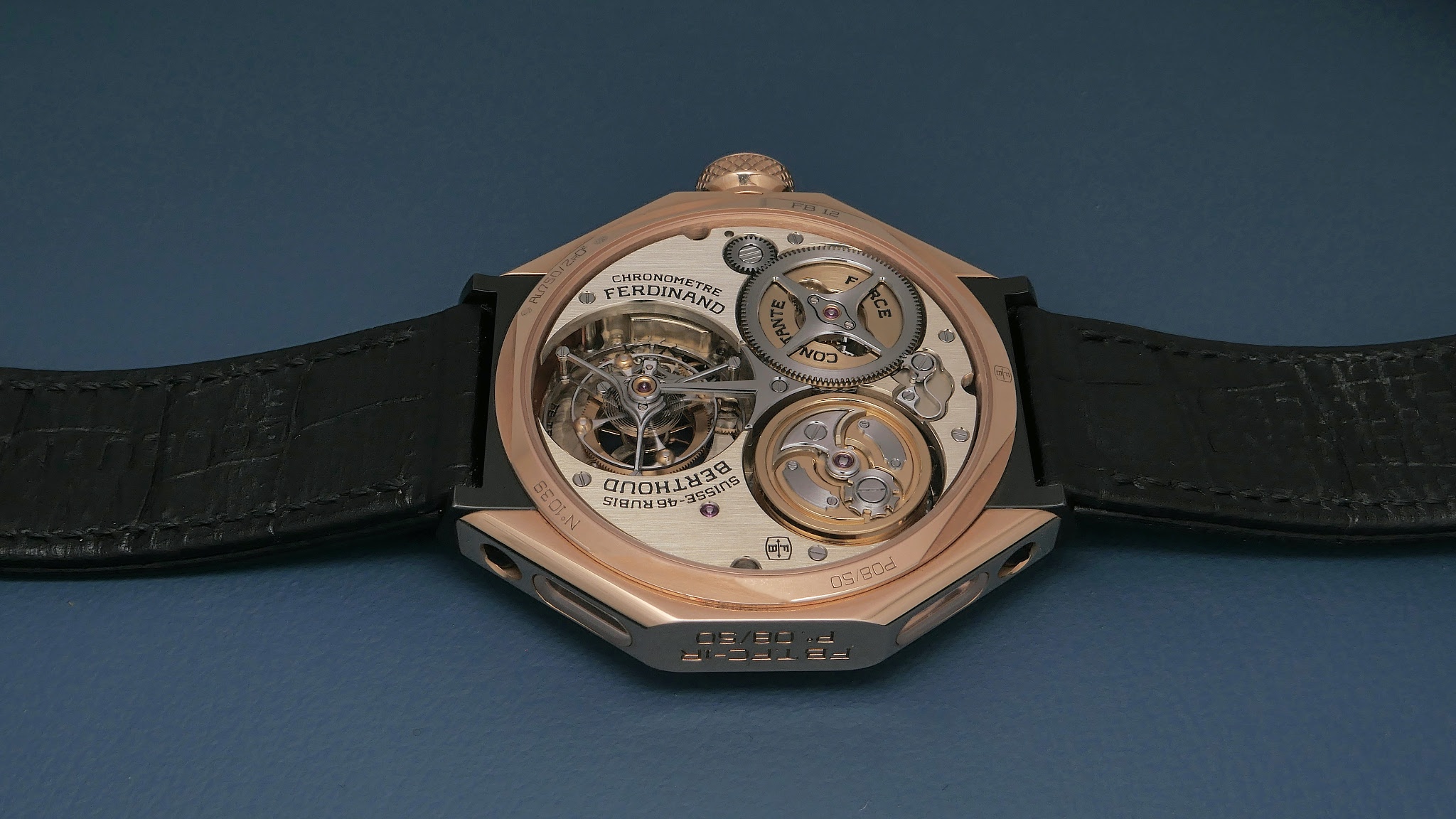 On the dial side, you can see the Tourbillon at 6 o' clock, the grande seconde and at 9 o'clock the power reserve indicator ( 53 hours ).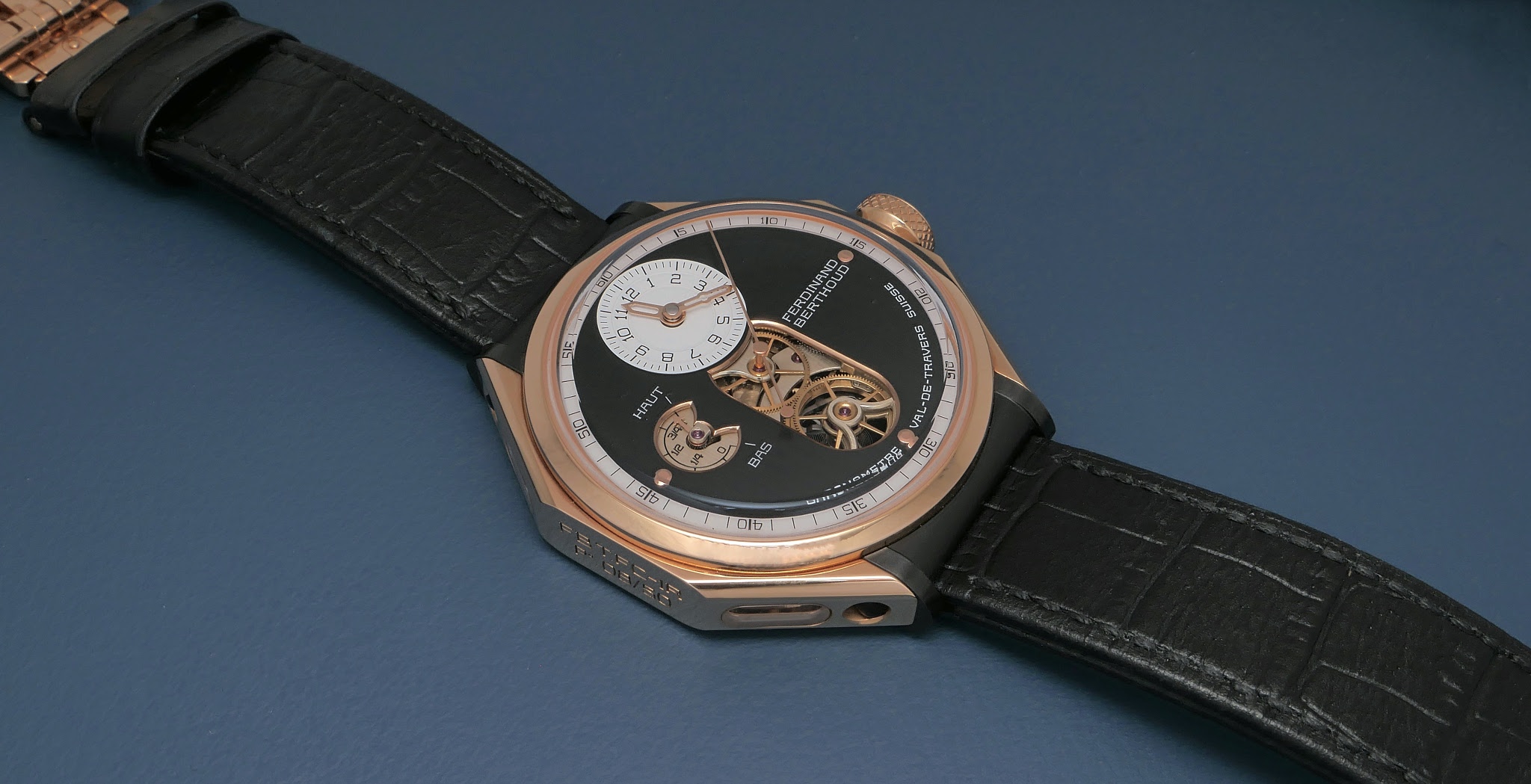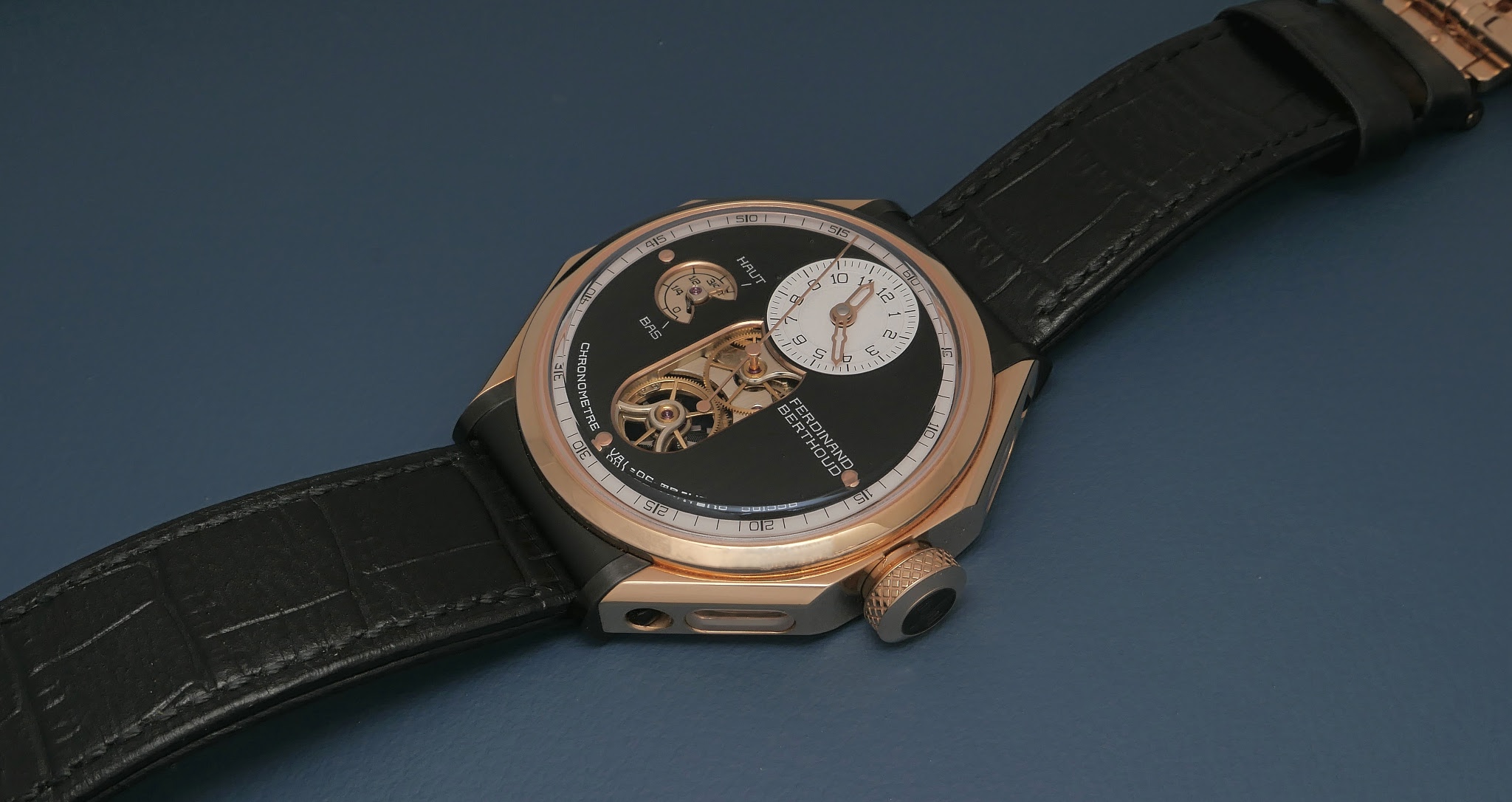 And let's not forget the octogonal case, which adds some special character to this very special watch. A quite big one,as it is 44 mm big and 13 mm high.
To be complete, the crown is big, oversized even ( 9 mm ), for a good purpose: To totally wind the watch, you'll need to give it... 70 turns.
This year, Ferdinand Berthoud pays a last homage to the FB 1 with the FB 2T in white gold with a blue satin dial, or in rose gold, with the choice between two dials, one in black satin and another one in ruthenium satin. Both of these FB 2T now come with a round case, and are the final edition of the movement Cal FB T.FC. The case is 44mm big, and 14, 30 high, water resistant to 30 meters.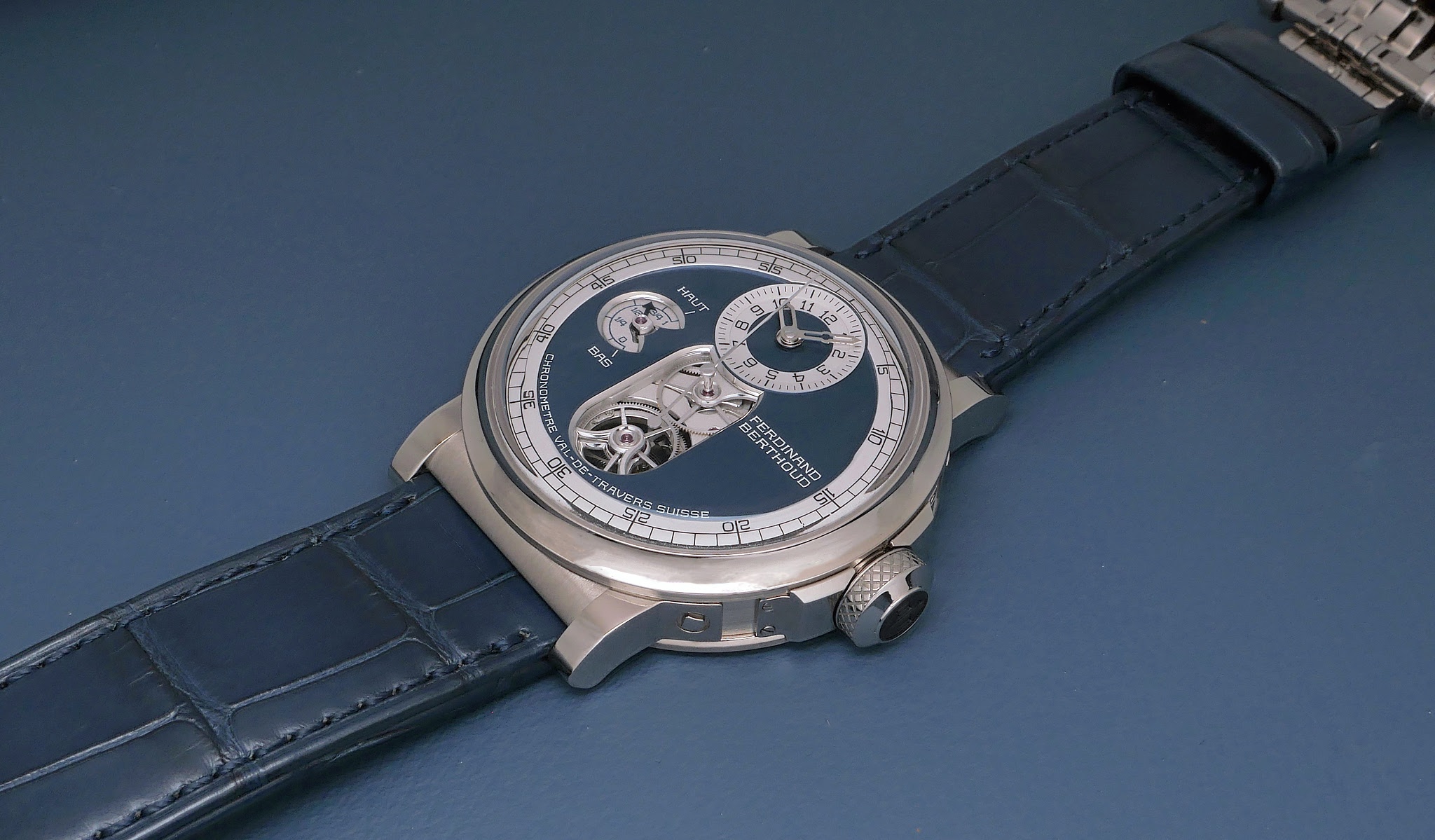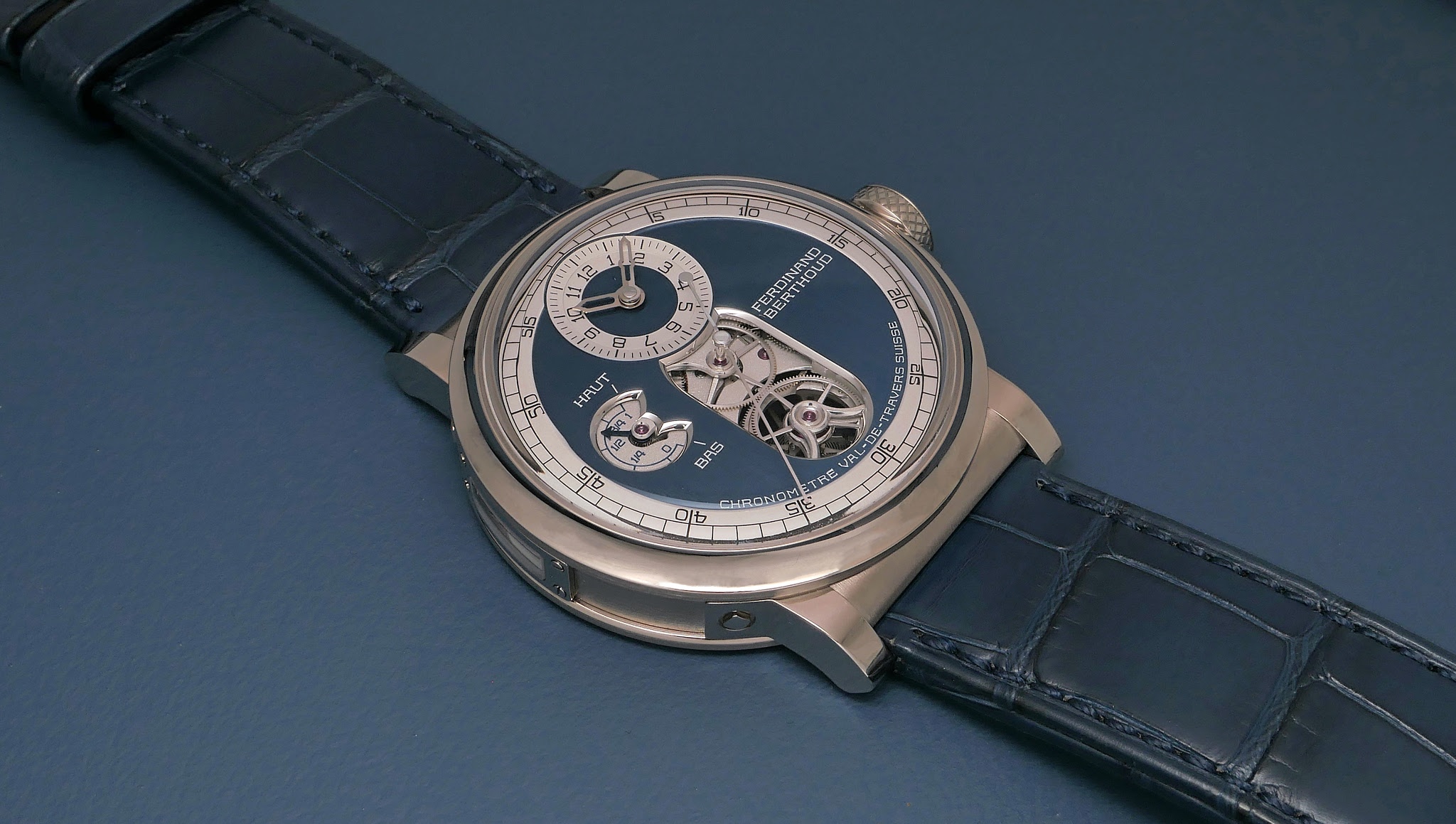 The other main difference will be found on the back side, with three sublime sapphire half bridges. On the case side, you also have a porthole allowing you to admire the spectacular movement. To be precise, you already had 4 portholes on the FB 1 case side.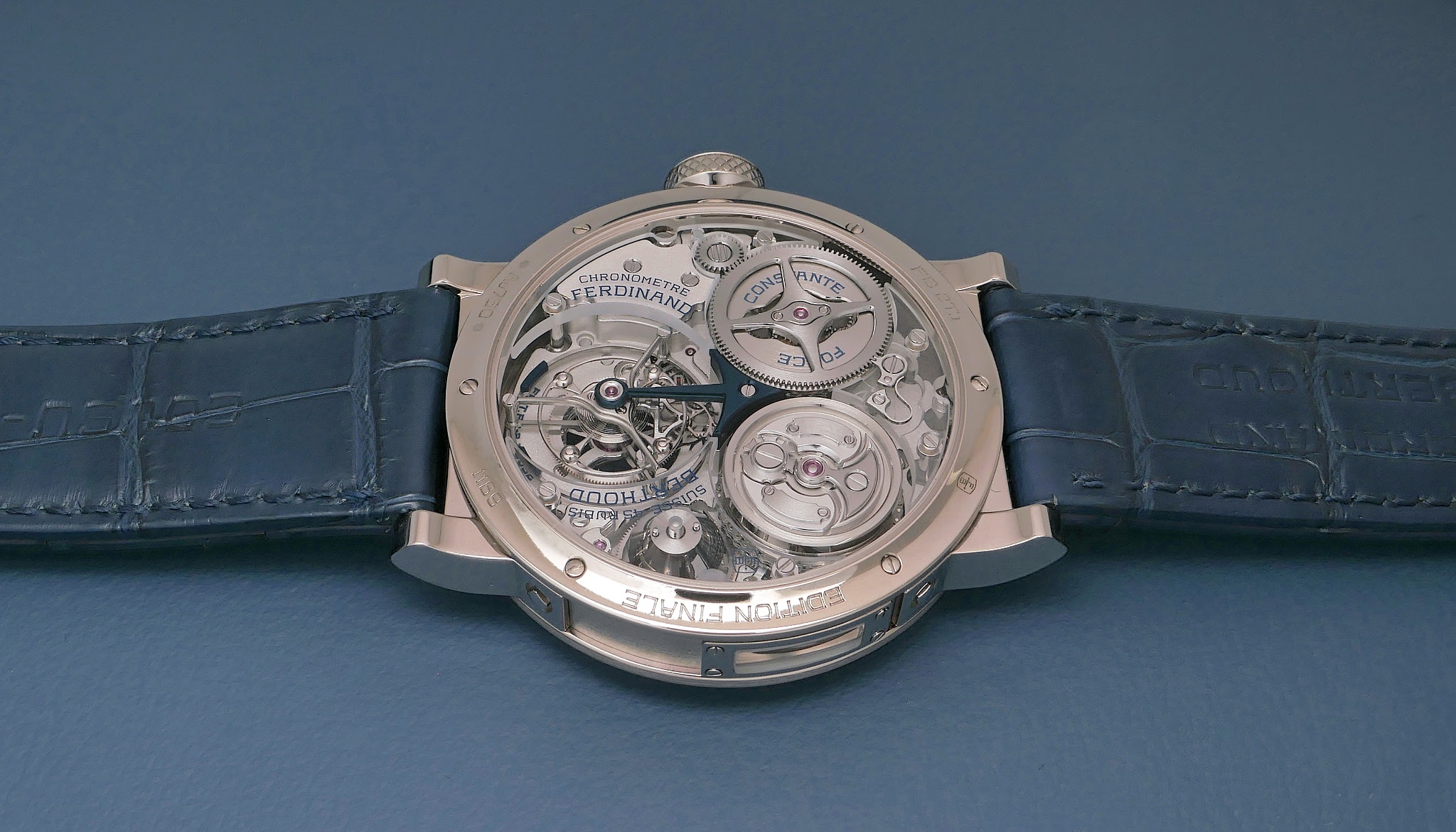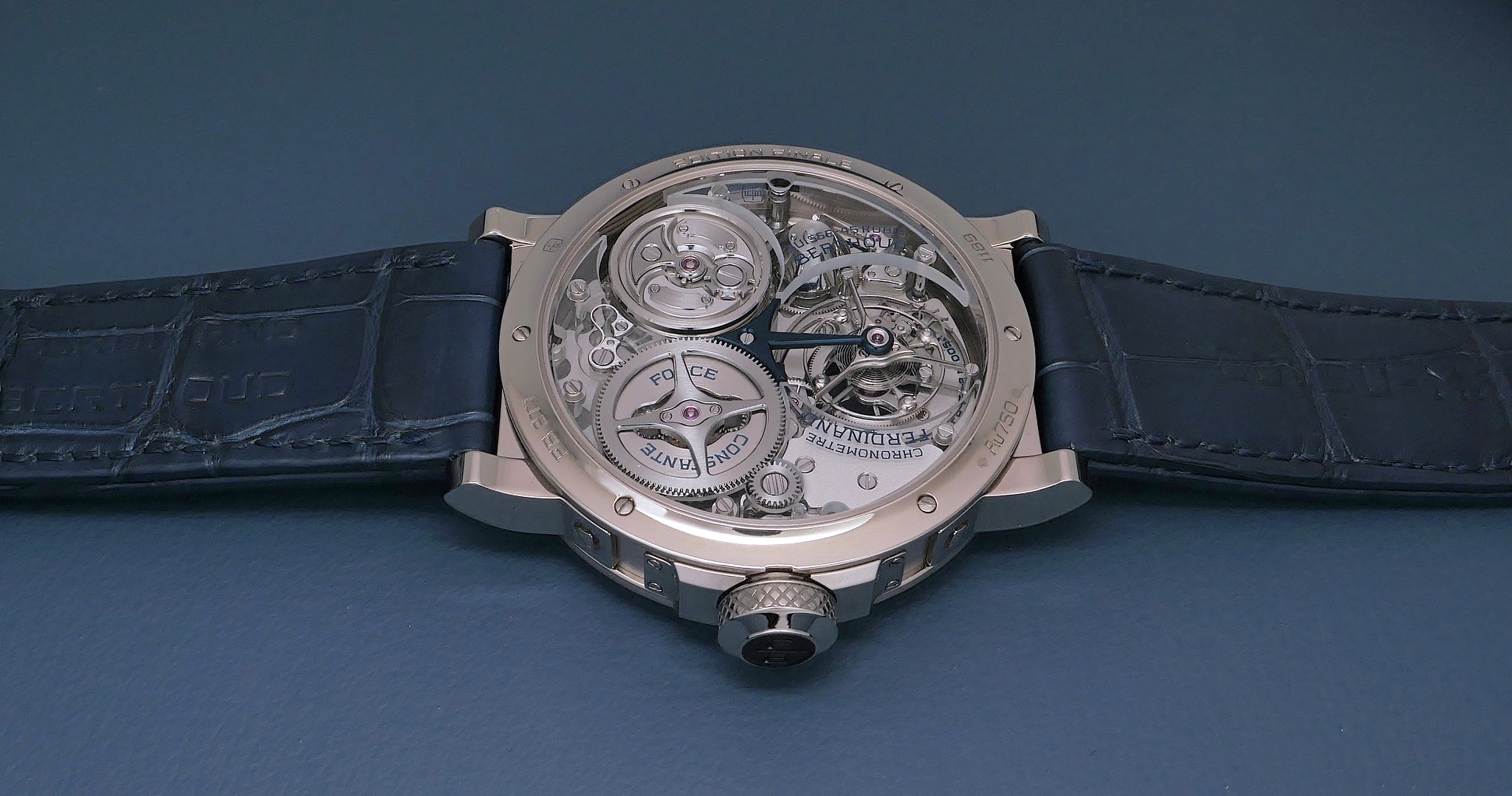 This final edition is limited to 38 pieces.
The third Ferdinand Berthoud watch I could see is the last one, the FB 3SPC. Another Chronometer, no Tourbillon, no Fusée and Chain here, but a superb detail which is quite rare nowadays: The Cylindrical Spring. There might be other brands which use this special spring, but the names which come to my mind are Jaeger Lecoultre on the Duometre Sphero Tourbillon or in some of their Gyrotourillons, and Montblanc with the Geospheres Vasco de Gama.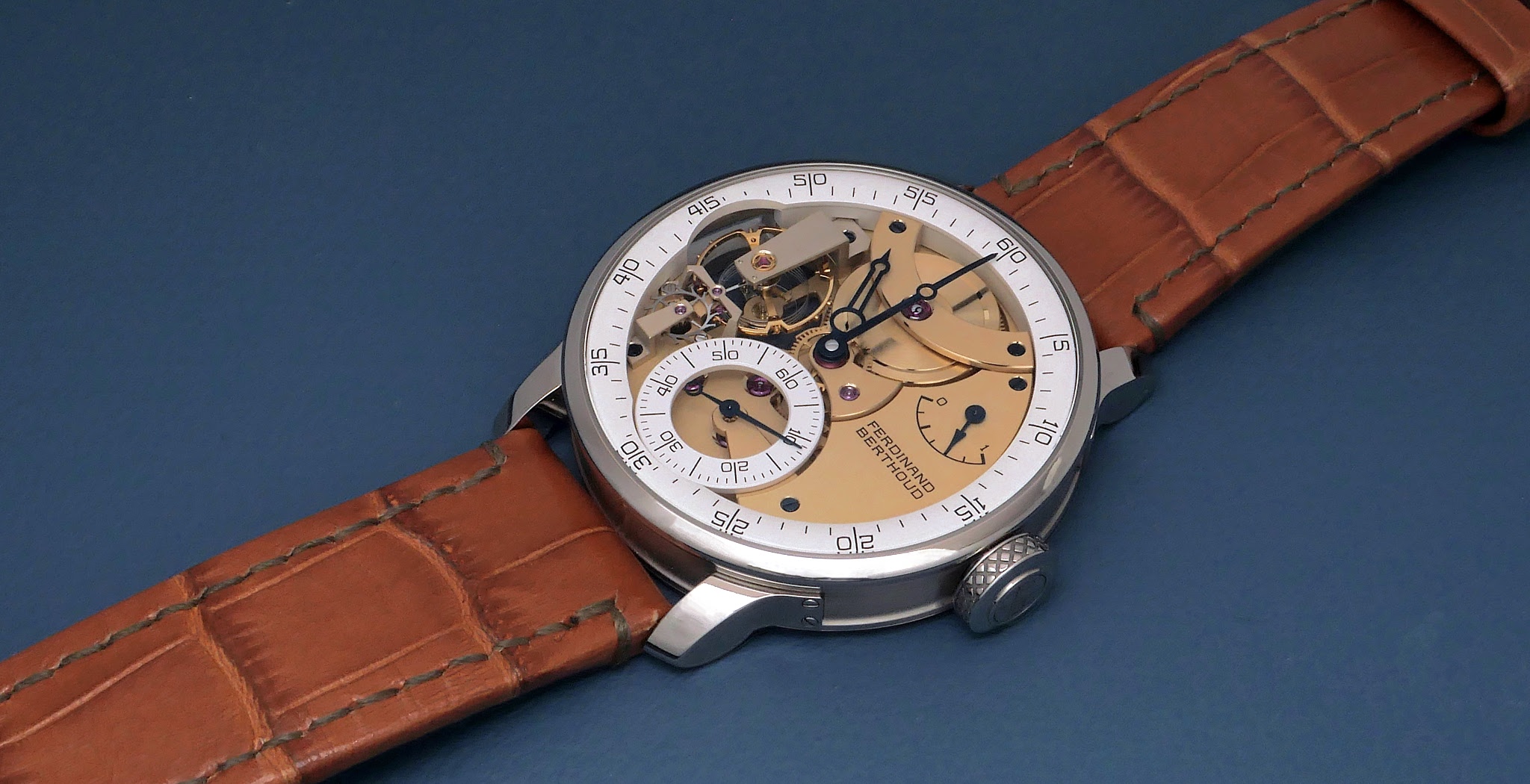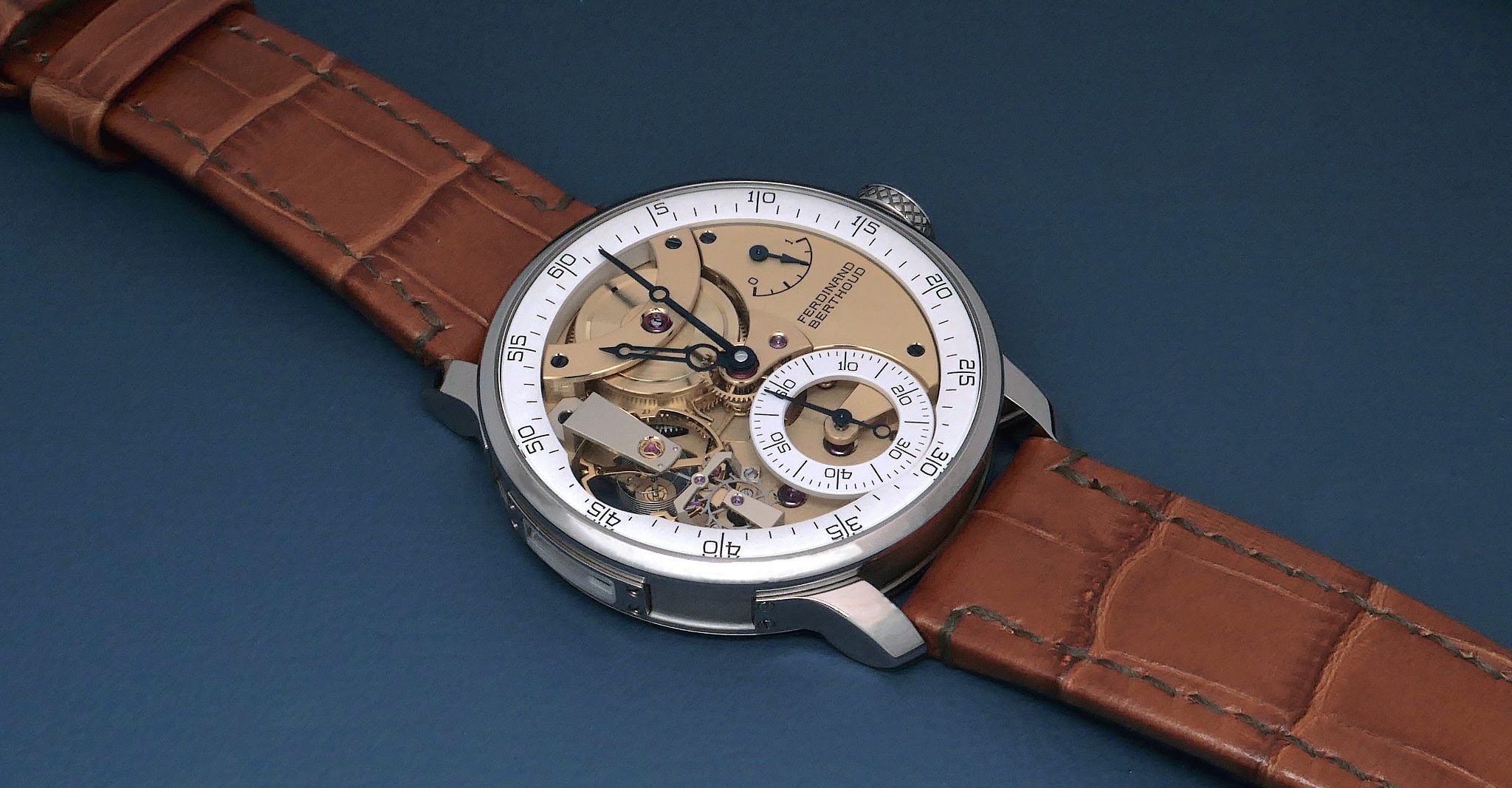 The round case, in white or rose gold, has a more traditional design, and smaller than the FB1 or 2, with a diameter of 42, 30 mm and a height of 9, 43 mm. It is water resistant to 30 meters.
At 9 o' clock, you also have a porthole, to admire the cylindrical spiral.
The crown has the same design that the one you find on the FB 1 or 2, but looks a tad smaller.
The movement, the Cal FB SPC, is quite big, with a diameter of 34 mm and a height of 6, 84 mm. Beating at 21, 600 vibrations per hour, it has a power reserve of 72 hours. It is made of yellow gold, While the rose gold has a different treatment, as you can see on my photos.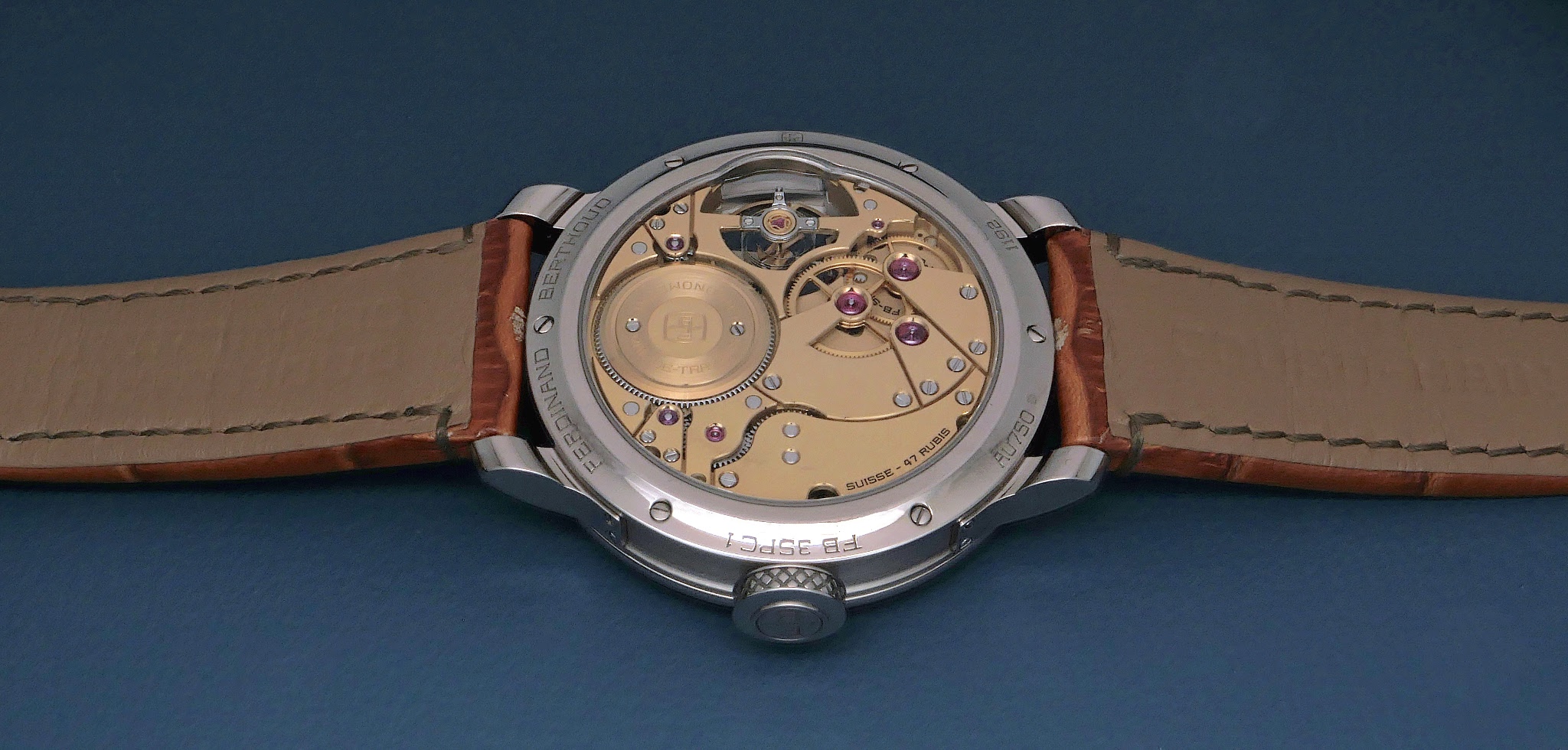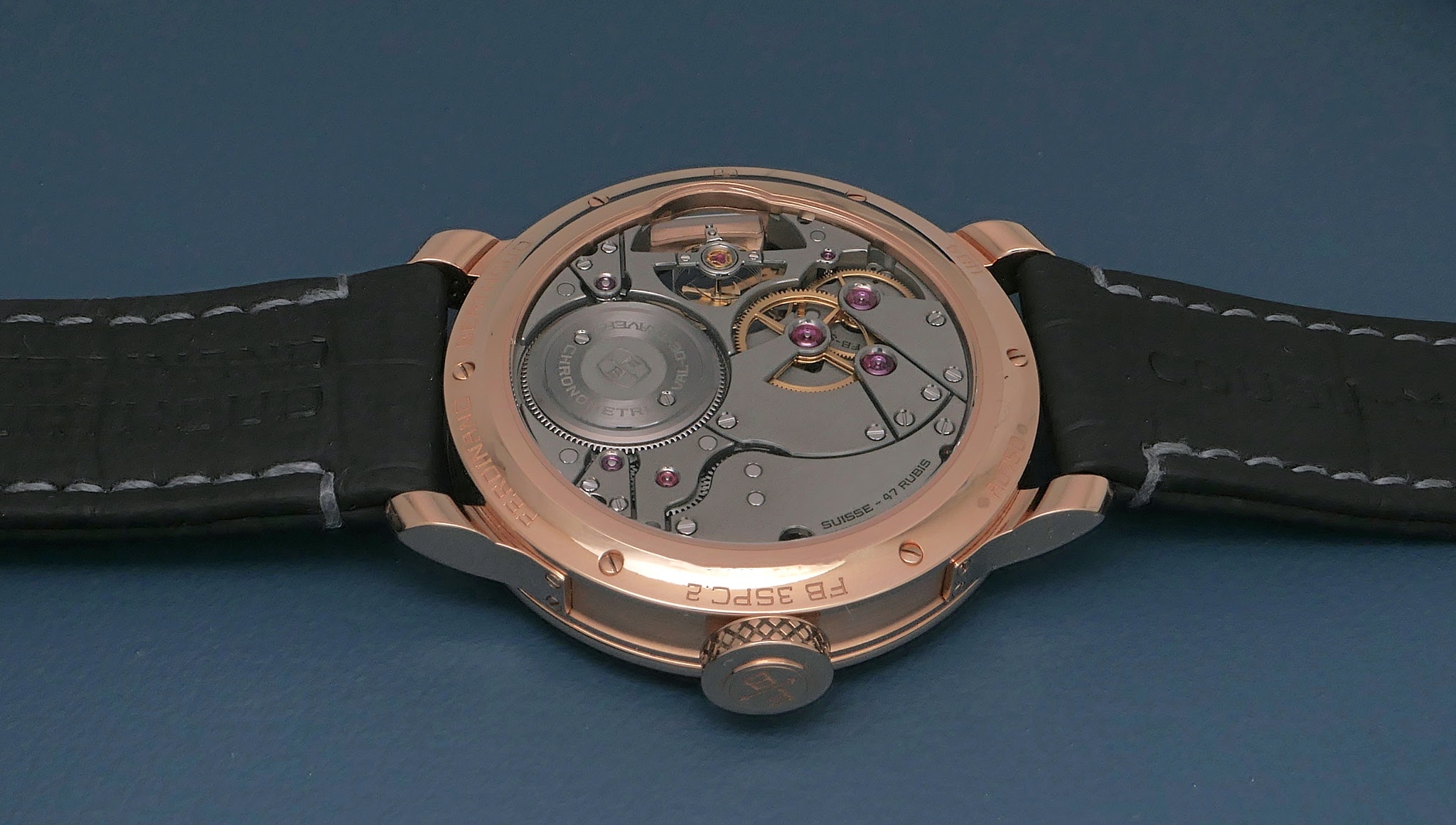 Same for the dial: The Rose gold is darkened with a black varnished minute ring and black rhodium parts of the movement.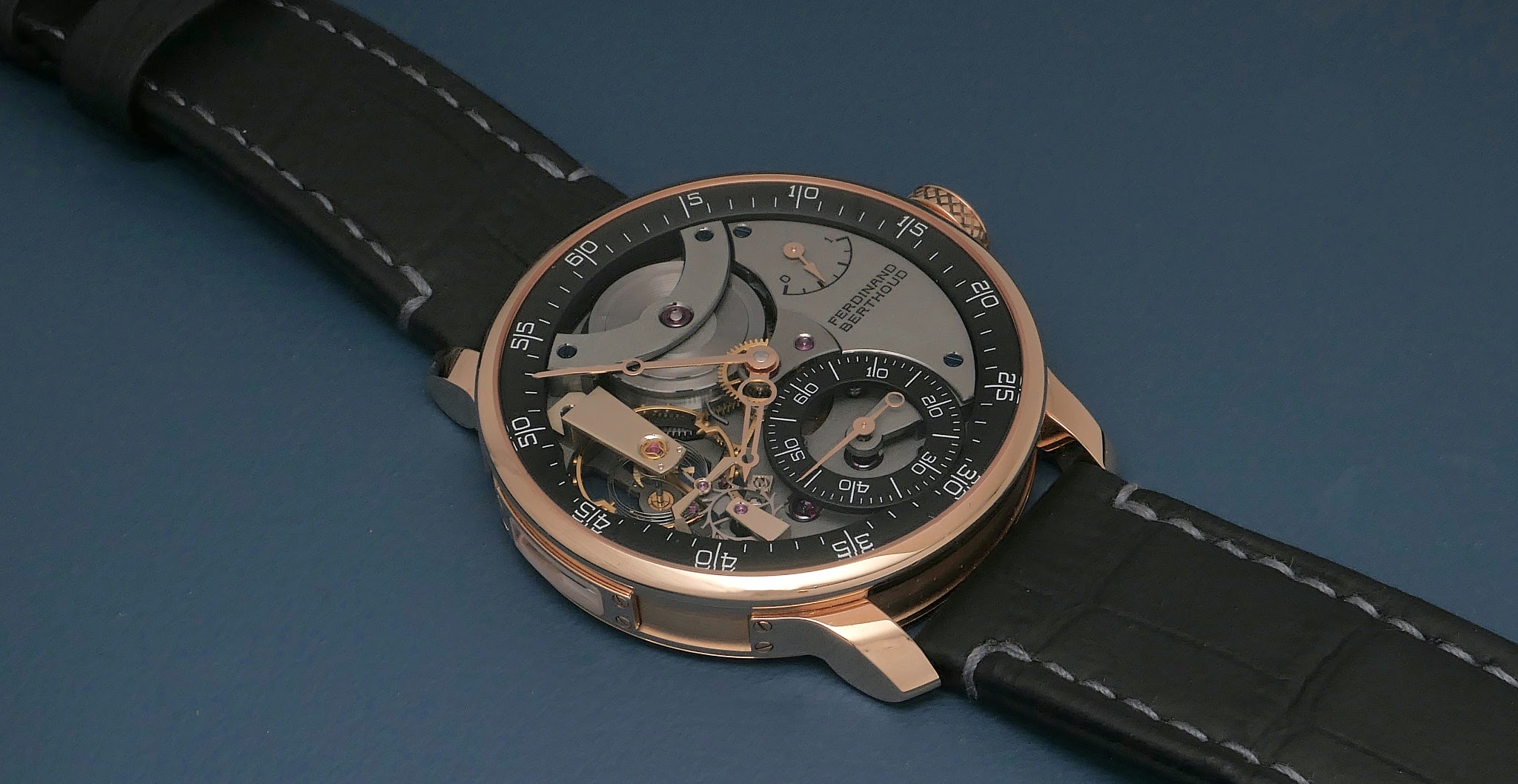 Didn't these bridges over the balance wheel and the escapement wheel make you think of the Breguet La Tradition?
As you can expect from this brand, the level of finishings is superb. It might well be my favorite Ferdinand Berthoud.
The problem is the retail: More than 100, 000 Euros for the FB 3SPC, this is something... But it is the price of exclusivity and bienfacture.
Here we are with my first impressions on some Ferdinand Berthoud watches. We'll come back to them, for sure!
Looking forward to reading your comments and thoughts,
Best.
Nicolas