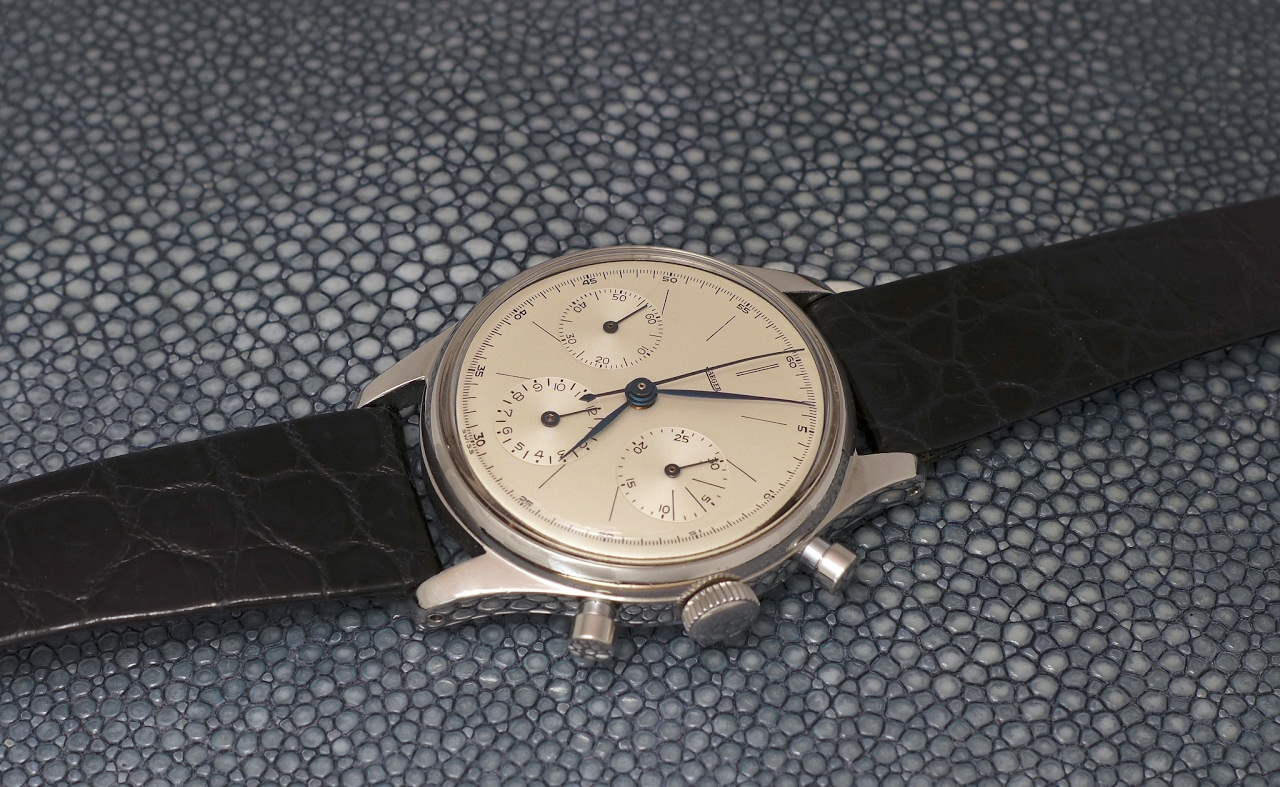 Here, to avoid any confusion, we will discuss and share some thoughts, informations and pictures about vintage Jaeger Chronographs, no Lecoultre nor Jaeger Lecoultre, just Jaeger signed chronographs.
A precision, here. The Jaeger and Jaeger Lecoultre signed chronographs were issued for the European market, sometimes exclusively for France, while the Lecoultre badged ones were destined to the US market. Sometimes, you have the same model, badged Lecoultre or Jaeger Lecoultre, such as the E 2643 better known under the nickname " Shark ".
Collecting vintage Jaeger Chronographs is an even tougher challenge than trying to build a collection of vintage Memovoxes. There were a lot of different references and versions, at the point I think it is almost impossible to post all of them.
For example, the Reference 5186, which came with different dials, such as this one:
Or this one: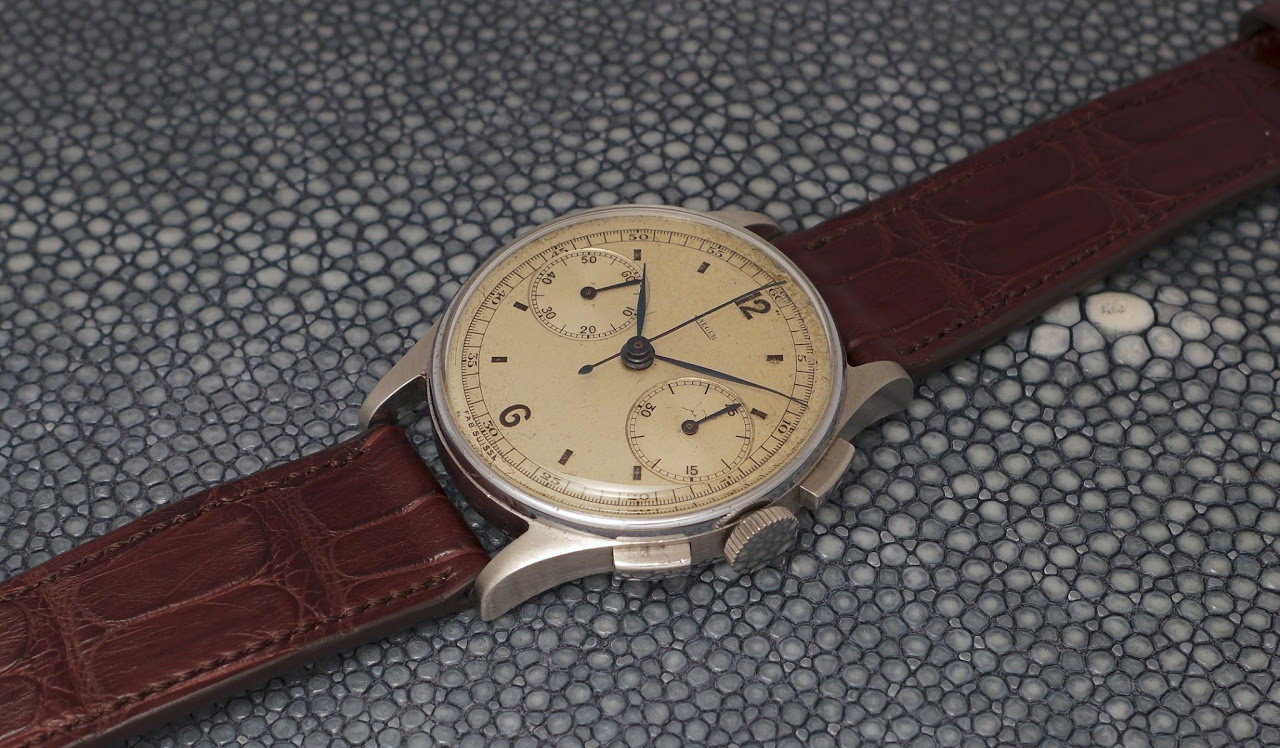 The Reference 5184 is very close, too:
Here, we have a 35 mm case, with a snap back case; for a reference which was made in the 50's. The movement is the Cal Universal Genève 285.
Another reference housing the Cal 285 in a steel 35 mm case, this sublime 22 439 from the very early 40's. An awesome black dial, a superb flat bezel, for a watch full of character:
In the early 40's, we also had this one, whose reference is unknown to me, alas. A 32 mm case, with a sector dial.
I couldn't check the movement beating inside, but I would bet on a Valjoux 23. Please correct me if I am wrong.
Circa 1943 / 1944, this 22526, which didn't originally come with this bracelet, to be clear.
Another 35 mm case with some very nice and elegant lugs. Cal UG 285.
The Ref 224 120 is simply awesome. The condition of this chronograph is worth belonging to a Museum collection. 35 mm case, snap back case, UG 285, from 1954 / 1955:
From the mid 40's, this Jaeger in solid gold, 36 mm case, whose reference is not known, but which came with different dials. Here is one of them:
I could not open it and check the movement, sadly.
Let's go on with one of my favorite from this series, the reference 22 448, which is a 36 mm case, with some really awesome lugs, full of character and charm, blending style and distinction, and a very pure dial:
Snap back case, protecting the Cal 285 from Universal Genève.
Purer and more spectacular than the 22 448, the reference 224 105-1, with a rather unique big case ( 38 or even 39 mm! ), and its screw-in case back, from 1956, which is pretty unusual for that era. Look at this beauty!
Now, let's make a jump in the late 50's early 60, with the references 2634 and 2638.
Here is a 2634, whose picture is credited to S Song. 35 mm case, snap back case and Valjoux 72:
And my 2638, which comes with its original box and papers:
35 mm case, screw-in case back, Valjoux 72. As you can read, this one was issued for the french market.
Another Valjoux 72, 35 mm case, from a friend. Reference unknown:
And now, let's end with the most famous Jaeger Chronograph, the most sought after, the Ref E 13001, better known as the 4 ATM. Water resistant to 40 meters, hence its nickname, 40 mm case, screw-in case back, from the very late 60's, early 70's, with a very limited production. The movement is the Valjoux 72.
Mine shows something very rarely seen, the " made in France " mention:
While this other one doesn't have this mention, and comes with another ( correct, too ) bezel:
Strangely, these vintage Jaeger Chronographs are very rarely posted and seen. Try to do a search, and you will find almost nothing, watch, brochures, ads or catalogs related to them.
A pity, as there are some very interesting ones, from an aesthetic and horological point of view.
I hope that this article will help you to better know and appreciate them, as they truly deserve some consideration.
Looking forward to reading your thoughts and comments,
Best,
Nicolas