Panerai just opened their latest corporate-run boutique in city of Palo Alto, California a few weeks ago at the Stanford Shopping Mall near Stanford University. Palo Alto is a town about 20 miles (30 kilometers) South of San Francisco in Silicon Valley.
Panerai is a brand experiencing a resurgence in popularity. Panerai culture peaked right around 2010 in the West and interest in the brand started stagnating - partially driven by the Great Recession and the Mortgage Crisis. And in recent years, Panerai popularity has exploded again! Last year at Pebble Beach Concours d'Elegance, and other big events on the social calendar, I noticed Panerais were extremely popular again! It's a Panerai Renaissance!
I also spoke with the Panerai Retail Director of North America and with the Boutique Manager.
Speaking with the Boutique Manager, a Mr. Clark, I learned that he was an FHH (Foundation of High Horology) Certified Advisor and that he had passed his FHH Certification test a few months ago! Congratulations! Here is a paraphrased summary of our interview.
You can learn more about the test here: fhhacademy.hautehorlogerie.org . Click or tap to follow the link." style="border: 0px; font-style: inherit; font-variant-caps: inherit; font-stretch: inherit; font-size: inherit; line-height: inherit; font-family: inherit; font-size-adjust: inherit; font-kerning: inherit; font-variant-alternates: inherit; font-variant-ligatures: inherit; font-variant-numeric: inherit; font-variant-east-asian: inherit; font-variant-position: inherit; font-feature-settings: inherit; font-optical-sizing: inherit; font-variation-settings: inherit; margin: 0px; padding: 0px; vertical-align: baseline; color: blue;"> fhhacademy.hautehorlogerie.org
WPS: Congratulations on passing your FHH Certification at the Advisor level! That's quite an achievement! Are you going to go for the next higher level? The Specialist Level?
Mr. Clark: Yes! I definitely intend to pursue the Specialist level and possibly even strive for the Expert level.
WPS: How about your team? Will your sales team become FHH Certified Advisors?
Mr. Clark: It's not a current job requirement for them to become FHH Certified, but I am encouraging all my team members to become FHH Certified. All my team members have downloaded the FHH studying tool application, which is the first step towards studying for the examination. And I'm also planning to support my team by providing a budget for trainings and Panerai has already approved reimbursement for future FHH test fees.
WPS: That's wonderful! Music to my ears! I'm so pleased that Panerai will support the trainings with test fee reimbursements. Trainings and product knowledge are especially important in this market, Silicon Valley is filled with scientists and engineers; with that engineering mindset, it's important to have a team that understands how watch basics work. A sales team that says "that looks beautiful on your wrist, you should buy it" or sells only based on emotion won't be successful in this Silicon Valley environment.
Mr. Clark: We are definitely aware of the very intelligent local clientele and that's an extra challenge for me to make sure my team has the product knowledge to meet the expectations of the technically inclined clientele here.
I spoke with Mr. Clark for some more time and he shared his Panerai story with me (you'll have to ask him for the full story), he bought his first Panerai many years ago before he worked in the watch industry. Definitely seems like this store is in a good position to succeed! I was really impressed to meet another FHH Certified Manager too. Supposedly, there are about 7,000 to 8,000 individuals who've passed the FHH Certification test and very few of these Certified Individuals are in the USA - hopefully that will change and the USA can catch up!

Here are some photographs of the Panerai boutique on a busy weekday late afternoon!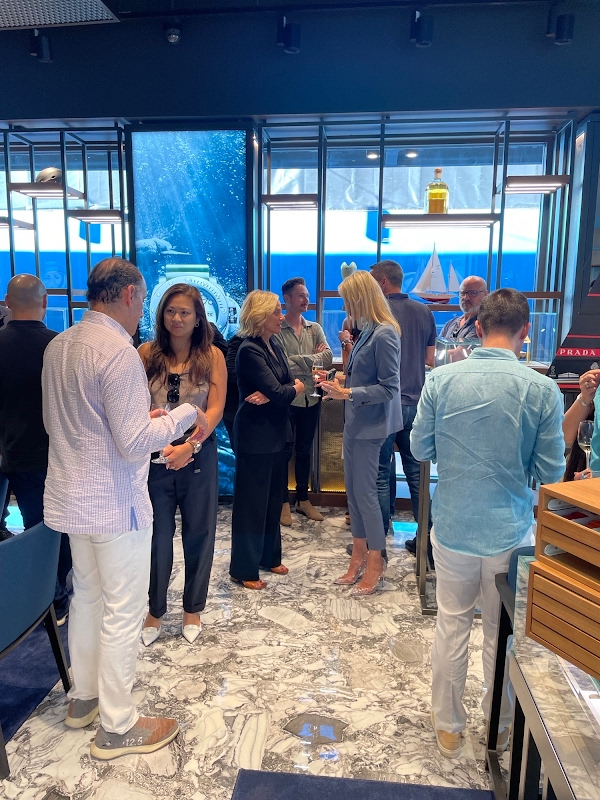 The boutique resembles a comfortable Italian home environment. With beautiful Italian Marble flooring (this extra hard flooring is very painful for the employees to walk on in stiff dress shoes every day). The upholstery on the chairs are a wool flannel that is extremely comfortable and temperature neutral. Panerai is one of the leading watch brands in sustainability, and has chosen more eco-conscious materials in their stores. Photo provided by Panerai.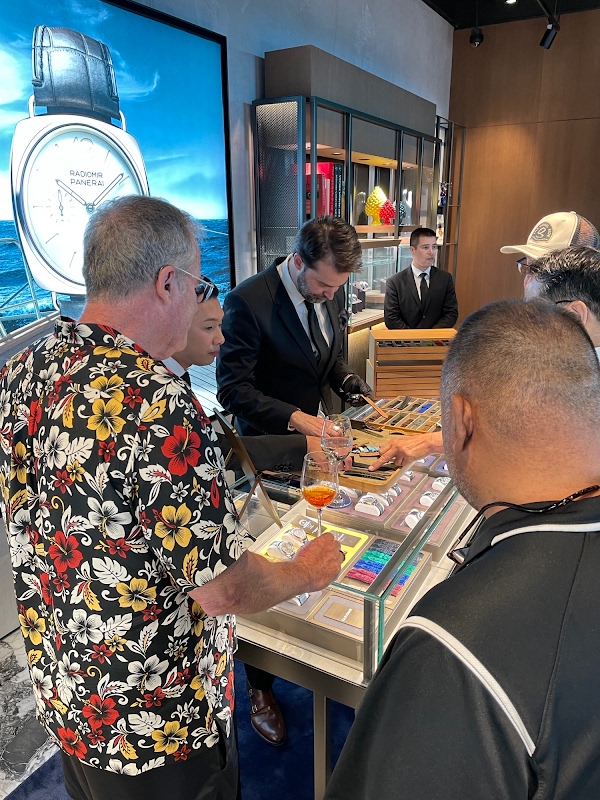 The space is comfortable, and follows a modular open space. It's also beautifully furnished. Many WatchProSite members and readers were in attendance! What a pleasant surprise! Photo provided by Panerai.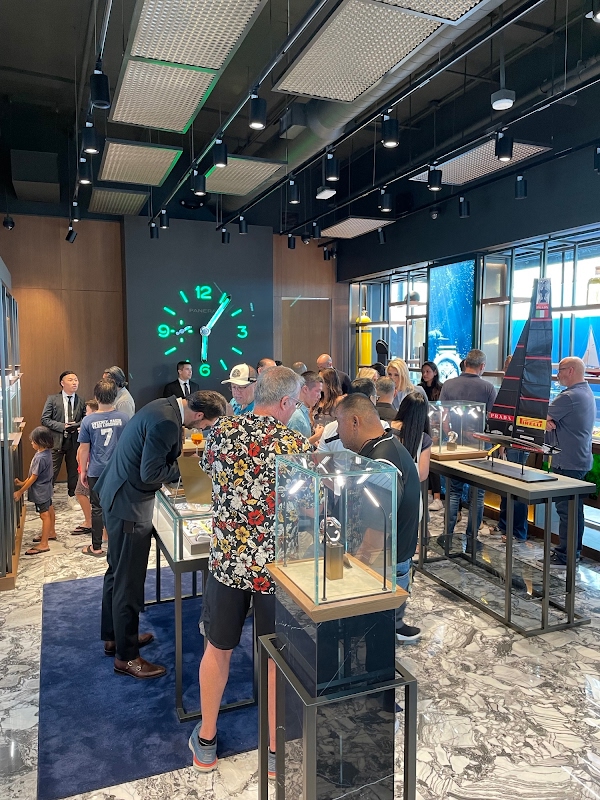 The furniture is all custom made for Panerai stores in Italy by famous Italian brand Molteni, they were shipped via boat rather than air to reduce carbon emissions. Every Panerai boutique has the giant clock on the wall and this one is no different! Overall, a beautiful and appropriate store for Silicon Valley. Photo provided by Panerai.

As the evening continued, I paid close attention to the staff and client interactions in the store. I have to say, I am impressed. The staff is young and energetic, but also knowledgeable, opinionated (with good reason), and confident. One staff member even explained the Equation of Time model and what it does - rather well I might add. Bravo! I'm impressed! Staff are always energetic during a new store opening, so l hope that energy stays with them for the years to come!
I cannot emphasize how pleased I was to hear Mr. Clark, the Boutique Manager, explain his vision for Panerai Palo Alto - and how he insisted training and product knowledge was one of his highest priorities. Mr. Clark is different than other Boutique Managers, it's obvious to me that most Boutique Managers I speak with clearly prioritize producing high sales figures and then try to figure out what they have to do to achieve those sales figures. Mr. Clark gave me the impression that he plans to operate his boutique well, build local relationships, and train his team well - from these efforts good sales numbers will come. That's the right attitude! And that perspective is NOT something that is taught in any FHH training course!
I really wish the team at Panerai Palo Alto great success! I urge all WPS members and Panerai fans to make a stop if they're in the area!